Good morning! Has your best friend signed up yet?
Fun fact: Things that didn't exist when the Rams and Patriots first met in the Super Bowl 17 years ago: iPhone, iPad, Android, Facebook, Gmail, Twitter, Uber and YouTube.
1 big thing: Finally, an actual storyline
Super Bowl week is always strange, but this year's coverage has felt especially weird, as it would appear that there is ... nothing worthwhile to talk about.
"It should be interesting that the game involves the Patriots, the greatest NFL team of all time … but it isn't!" writes Deadspin's Tom Ley. "We already know everything there is to know about the greatness of the Patriots … and there's literally nothing left to say about them."
"And then there are the Rams, who can score 44 points in any game and are on the forefront of the NFL's offensive revolution. But that's all on-field stuff, and Super Bowl media week isn't really built to reckon with any of it. … That's how we end up reading about Jared Goff's 'California cool' and Sean McVay's texting habits."
Axios Sports to the rescue: We have an actual storyline! I repeat, WE HAVE AN ACTUAL STORYLINE!!!
What we did: We compared the Elo* ratings between the competing teams in all 9 Super Bowls that the Patriots have played in this century.
What we found: This year's Super Bowl is the closest matchup by far, which means Sunday could be a nail-biter. Then again, the undefeated Patriots were HEAVY Elo favorites in 2008, but then that thing happened. So who knows with this prediction stuff.
Other findings: The Patriots have had the higher Elo rating in every Super Bowl they've played in except for 2015 against the Seahawks and 2002 against ... the Rams.
*FiveThirtyEight's Elo system rates teams using only the scores and locations of games. In Week 8, the only teams with double-digit Super Bowl odds according to Elo were the Patriots, Rams, Chiefs and Saints — all of whom made the conference championship game. Elo knows.
More Super Bowl:
Yesterday I learned: Memorabilia sales are like stocks — it's all about supply and demand. That explains why a helmet signed by Sam Darnold is more expensive than a helmet signed by Dan Marino. The 21-year-old Darnold has simply signed fewer helmets.
Tale of the tape: The WSJ sifted through 46 hours of footage to determine how often Tony Romo's pre-snap predictions are actually right. The results: Romo made 72 predictions this season and saw them come true 68% of the time.
Game preview: I'm not sure it's humanly possible to write a more in-depth preview of a game. Hats off to ESPN's Bill Barnwell. Worthy of your time.
2. What MLB expansion might look like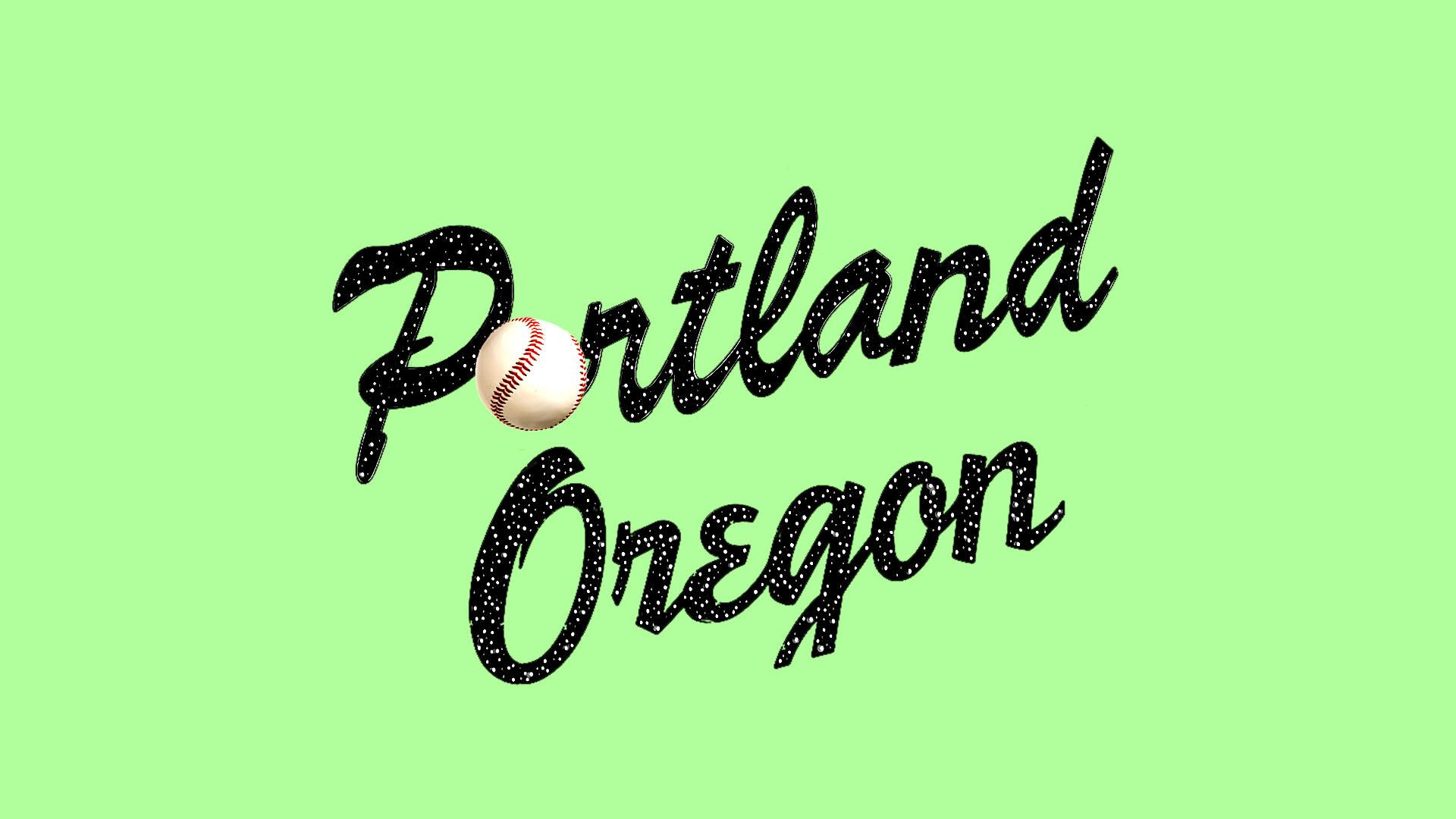 There is a growing sense around Major League Baseball that the league will eventually expand from 30 to 32 teams, and Portland, Ore. has consistently been mentioned as a potential landing spot.
Driving the news: The Portland Diamond Project, the group attempting to bring baseball to Oregon, recently revealed a list of 12 charter investors. One of them is Seattle Seahawks quarterback Russell Wilson.
The investor group has already committed a reported $1.3 billion to the cause, which would be enough to build a new ballpark. This is a major milestone, as it proves that the MLB-to-Portland effort is more than just a pipe dream.
The big picture: When I heard this news, I was instantly reminded me of a Baseball America article I read about a year ago that explained what MLB might look like with 32 teams.
"One proposal would be to geographically restructure into four divisions, which would create a major reduction in travel ... and add to the natural rivalries by not just having them as inter-league attractions, but rather a part of the regular divisional battles." (It would also likely mean every team would use a DH.)
The 4 divisions: Thoughts on this? The proposal assumes the 2 expansion teams end up in Portland and Montreal.
East: Atlanta Braves, Baltimore Orioles, Cincinnati Reds, Miami Marlins, Philadelphia Phillies, Pittsburgh Pirates, Tampa Bay Rays, Washington Nationals
North: Boston Red Sox, Cleveland Indians, Detroit Tigers, Minnesota Twins, Montreal (Expos?), New York Yankees, New York Mets, Toronto Blue Jays
Midwest: Chicago Cubs, Chicago White Sox, Colorado Rockies, Houston Astros, Kansas City Royal, Milwaukee Brewers, St. Louis Cardinals, Texas Rangers
West: Arizona Diamondbacks, Los Angeles Angels, Los Angeles Dodgers, Oakland Athletics, Portland (Hipsters?), San Diego Padres, San Francisco Giants, Seattle Mariners
Go deeper: Longtime baseball scribe Jayson Stark wrote extensively on this topic for The Athletic (subscription).
3. 🏒 The NHL's power play revolution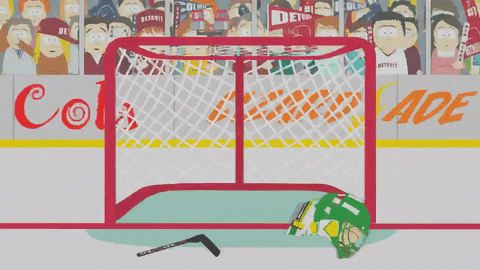 Virtually every sport is changing offensively and hockey is no different, as the NHL is currently experiencing a power play revolution, Axios' Mike Sykes writes.
What's happening: Teams are abandoning the conservative power play approach in favor of a more aggressive one, and they're scoring a record number of goals as a result.
By the numbers: Power play success rates have been on the rise and peaked at 20.2% last season. That number, and this year's 20% mark, are the highest since 1989-90.
Fun fact: Through half of the season, the Tampa Bay Lightning (29.5%, 6th), Boston Bruins (27.2%, 25th), Florida Panthers (26.8%, 34th) and Winnipeg Jets (26.0%, 46th) all rank top 50 all-time in power play conversation rates.
Between the lines: The most common power play lineup used to be 2 defenseman and 3 forwards, which meant lots of slap shots from the blue line and some added protection against short-handed goals.
Now, the most common lineup features just 1 defensemen and 4 forwards, resulting in more puck movement and side-to-side action. Sure, it leaves teams more susceptible to short-handed goals, but the uptick in scoring makes up for it.
The 1-3-1 formation, popularized by the Washington Capitals, is at the core of this offensive boom. It emphasizes spacing and creates triangular action similar to what you'd see on a basketball court.
4. The Super Bowl coin toss has gotten out of hand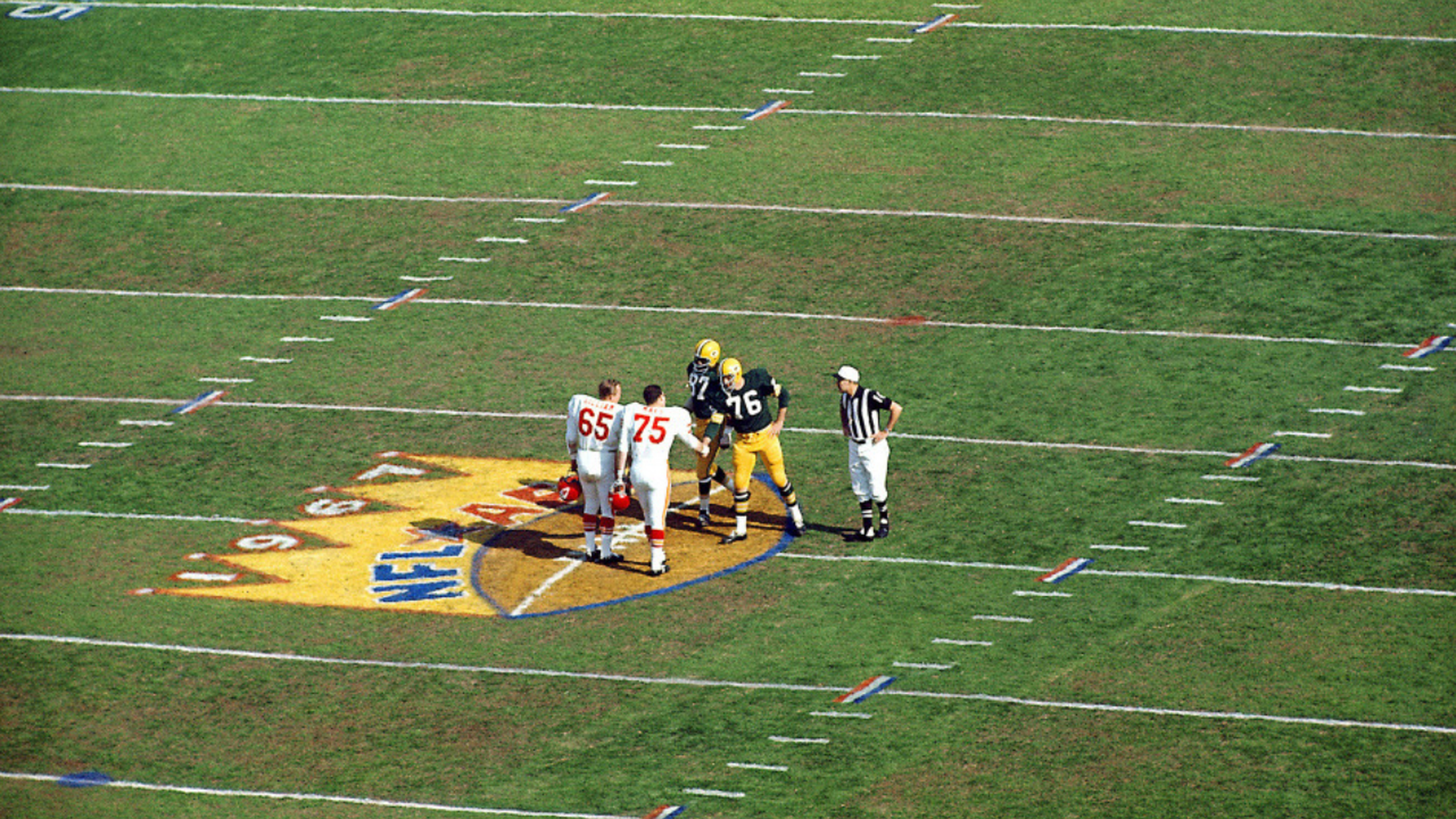 Above: The coin toss at Super Bowl I (1967). Final score: Packers 35, Chiefs 10
Below: The coin toss at Super Bowl XIX (1985). Final score: 49ers 38, Dolphins 16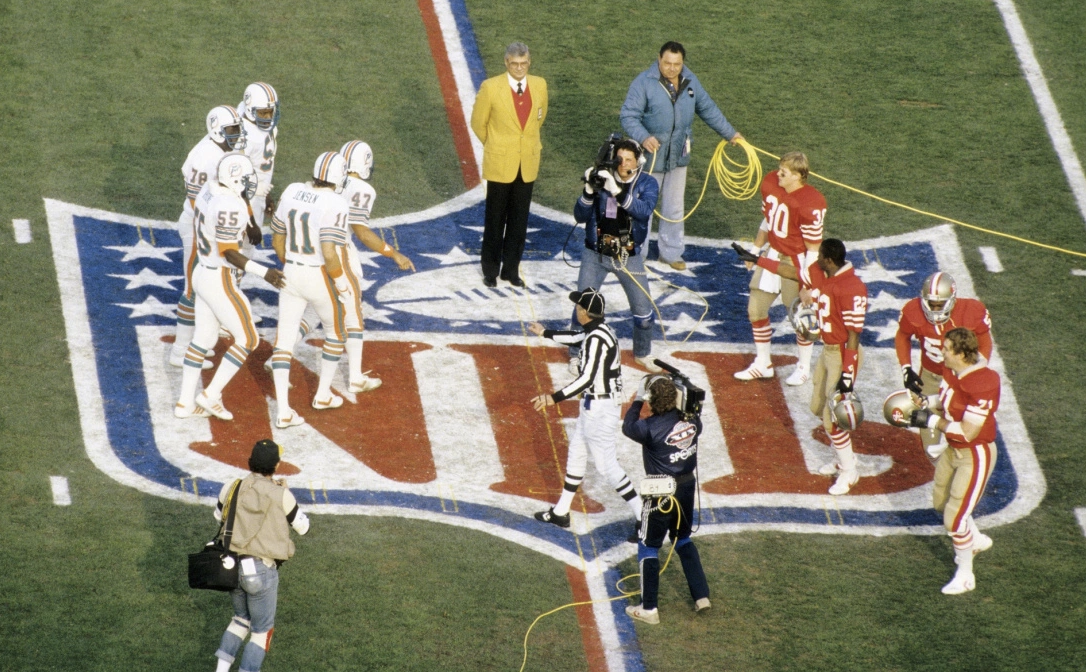 Photo: Icon Sportswire/Getty Images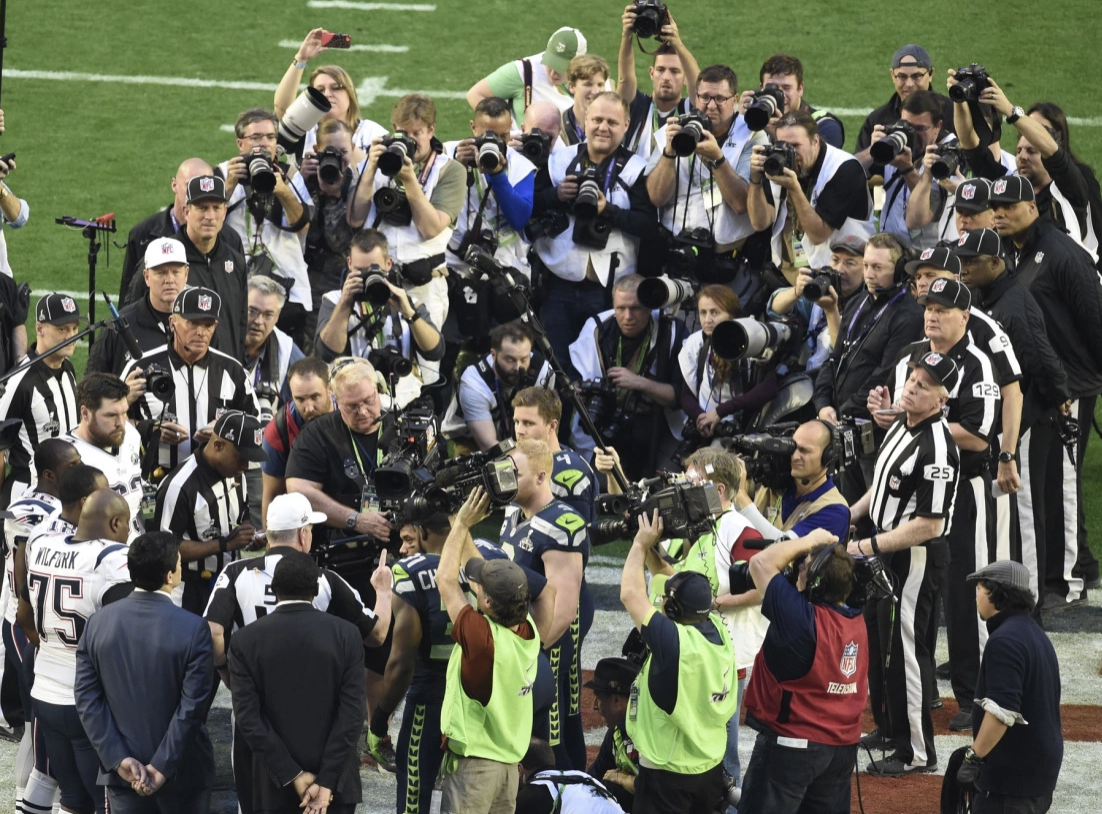 Photo: Focus on Sport/Getty Images
Above: The coin toss at Super Bowl XLIX (2015). Final score: Patriots 28, Seahawks 24
Below: The coin toss on Sunday (projected). Final score: N/A. Game canceled due to safety concerns over coin toss overcrowding.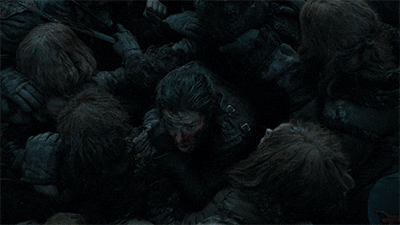 5. Good reads
📰 The Greatest Paper That Ever Died (Grantland)
29 years ago today, The National Sports Daily began publishing. Armed with an all-star lineup of writers and steered by the legendary Frank Deford, the newspaper wanted to reinvent sports journalism. 18 months and $150 million later, The National was dead.
⚽️ Can Big Global Sports Come Around to Human Rights Advocacy? (New York Times)
Since late November, a Bahrain-born soccer player named Hakeem al-Araibi has been detained by Thai immigration authorities, who have been asked to extradite him to Bahrain, where al-Araibi says he had been tortured. Over the past week, the international sports community has come to his aid.
🏀 Northern Exposure (The Ringer)
"Things are going better than ever for the Raptors, but it's hard to quell the anxieties wrought by the past, the franchise's place in Canada's sports hierarchy, and its perception in the States. Our intrepid reporter braved the subzero conditions to take the temperature of a city and a team on the precipice of greatness."
6. On this date: 1/31/2015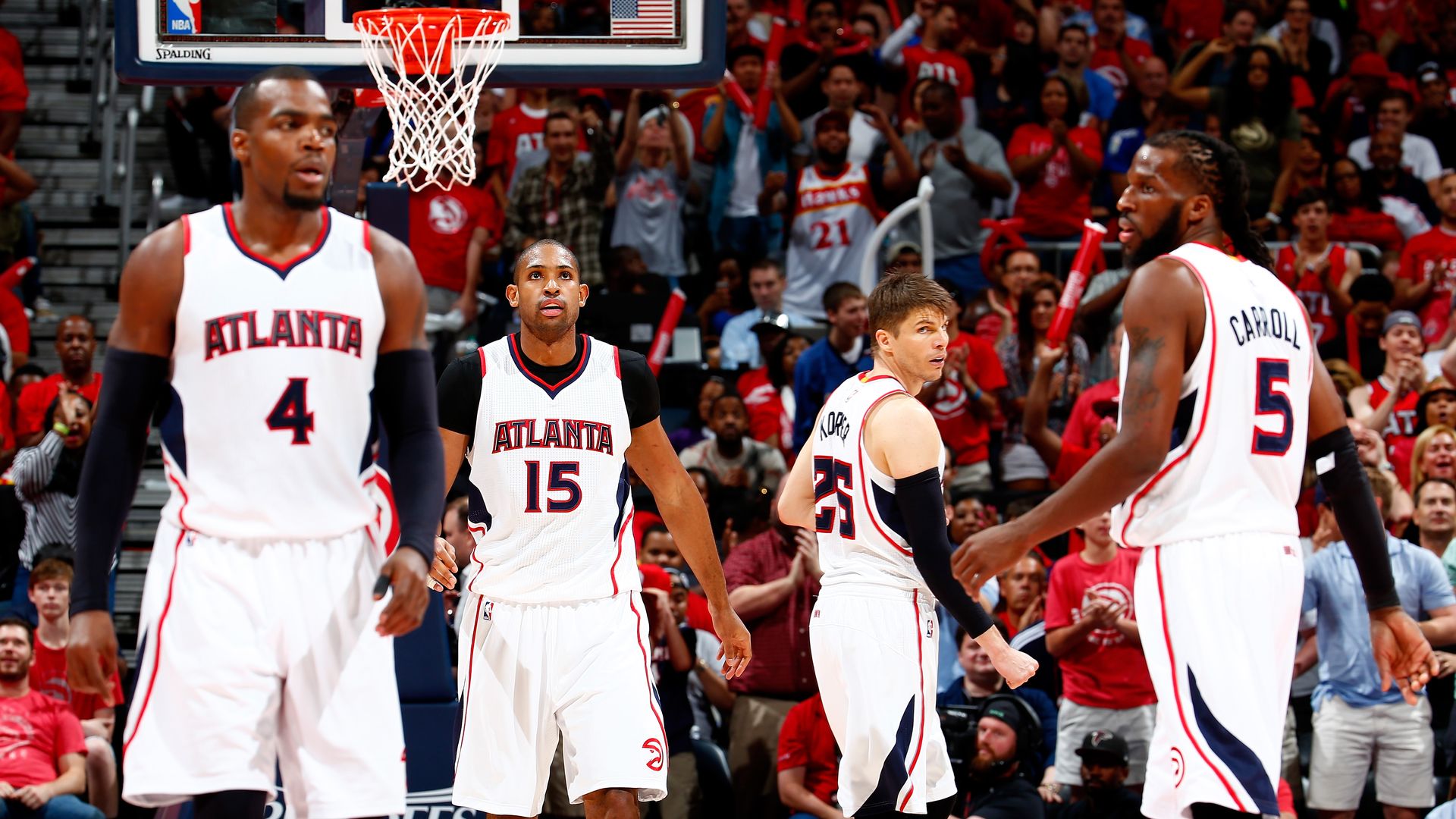 4 years ago today, the Atlanta Hawks beat the Philadelphia 76ers 91-85 to finish 17-0 in January, setting a new NBA monthly win record.
The big picture: The Hawks finished with a franchise-record 60 wins and earned the No. 1 seed but were swept by LeBron James and the Cavs in the Eastern Conference Finals. Atlanta slipped back into mediocrity in 2016 and has been rebuilding ever since.
7. 🏈 Super Bowl trivia
Jared Goff needed just 3 seasons to reach the Super Bowl, the fewest by a quarterback picked No. 1 overall in NFL history.
Question: 4 quarterbacks who were drafted No. 1 overall reached the Super Bowl by year 4. Can you name them?
Hint: 2 played for NFC East teams.
Answer at the bottom.
P.S. Yesterday's trivia question was a disaster, as plenty of teams in addition to the Pacers and Packers differ by one letter (Jets, Mets, Nets; Bills, Bulls; Ducks, Bucks; Rams, Rays).
The question should have asked "which 2 team names differ by 1 additional letter." And even then, it turns out that there is a second example: Astros and Stars. Sorry for the confusion! #TriviaGate
8. The Ocho: I went down a kitesurfing rabbit hole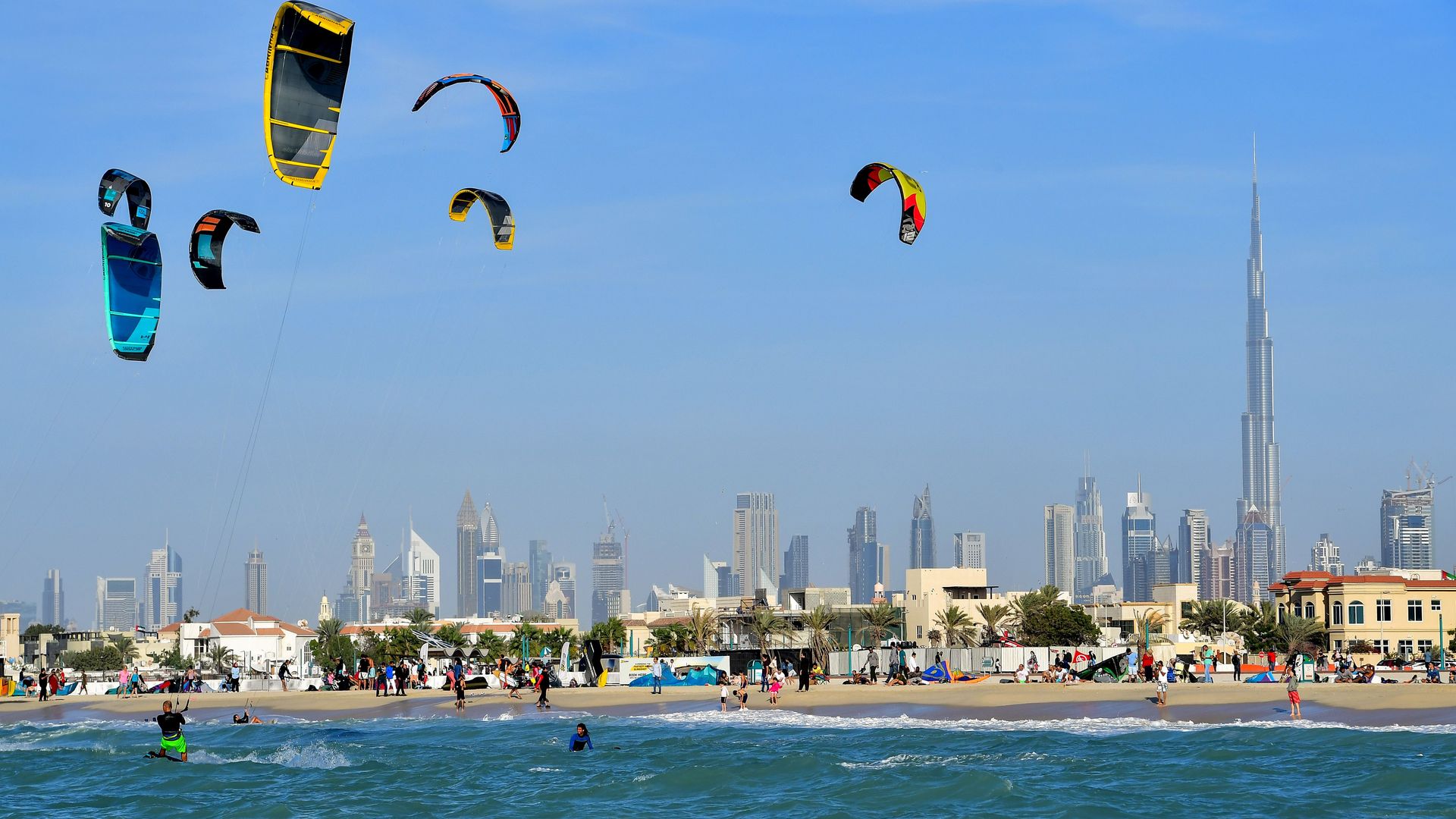 Thanks,
Kendall "Imagine sifting through 46 hours of footage" Baker
Trivia answer: John Elway, Troy Aikman, Drew Bledsoe, Eli Manning