Axios Sports
June 22, 2020
👋 Happy Monday! Shoutout to all the dads out there. Especially mine (hi, Dad).
🏀 Enjoy: Our MLB all-time rosters were a hit, so we're doing the same thing for all 30 NBA teams. The countdown begins today (see item No. 5 below).
🎧 Listen: Our brand new "Axios Today" podcast, with host Niala Boodhoo, debuted this morning! Listen/subscribe.
Today's word count: 1,621 words (6 minutes).
1 big thing: ✋ 103 days (and counting)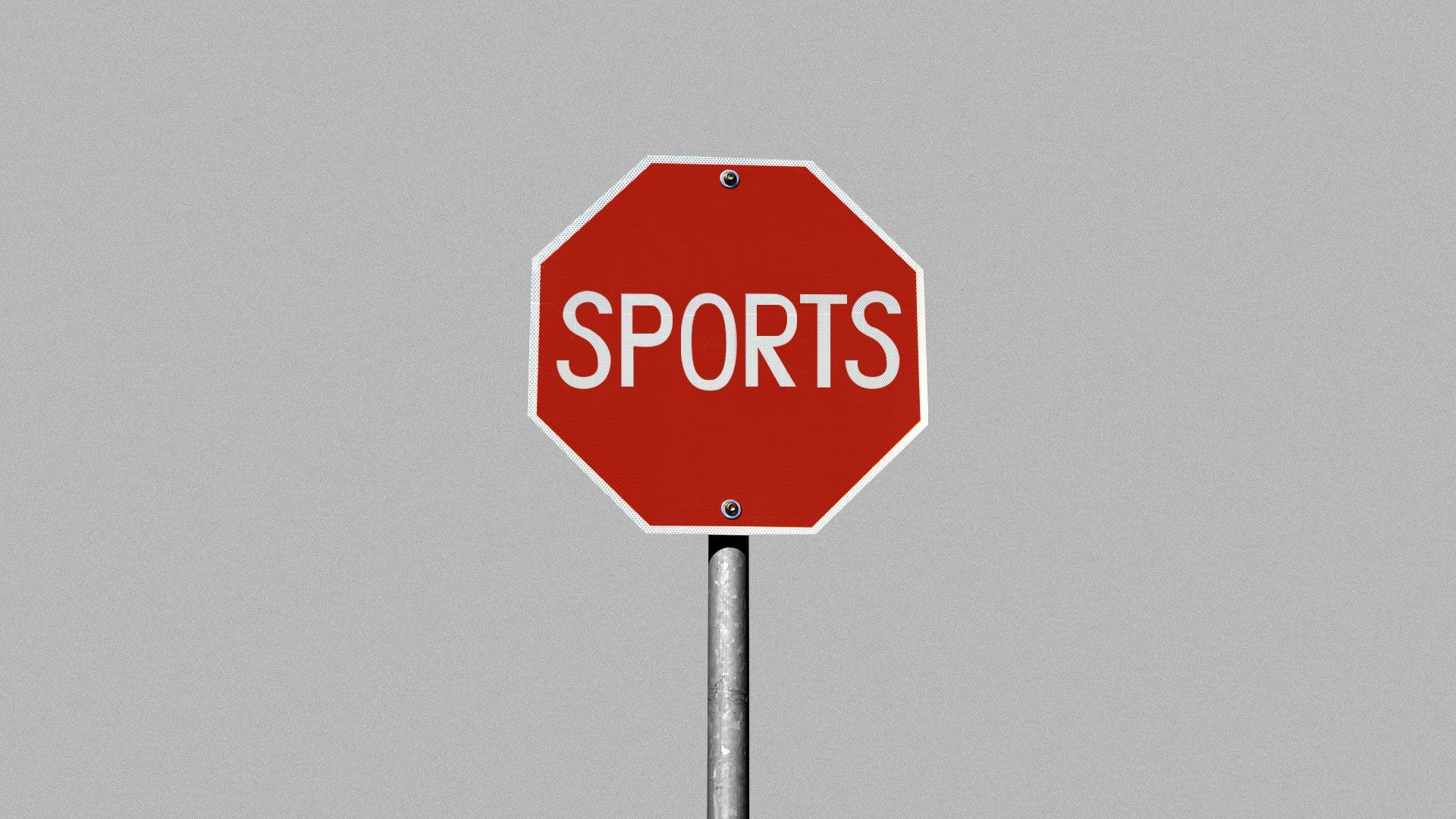 Today marks 103 days since the last MLB, NBA, NFL or NHL game — the longest such drought since the fall of 1918, when the World Series was held in September amid WWI and the Spanish flu.
Of course, there was no NFL or NBA back then, and the NHL had only been around for a year, so there wasn't nearly as much to miss.
Television hadn't been invented, either, so unless your ancestors lived down the street from Ebbets Field, they probably didn't miss the Dodgers games.
Driving the news: Following a rough weekend, the comeback might have to keep waiting.
Elsewhere: Hundreds of college football players (including 23 at Clemson) have tested positive since returning to campus, and the fear among administrators that the fall season will be interrupted — or even canceled — is stronger than it's been all month.
"This is going to be a very bumpy landing. We haven't even brought back all our teams. And this is the most controlled setting. There's no one else on campus."
— Anonymous Power 5 athletic director,
via Yahoo Sports
Meanwhile, abroad ... Multiple countries have seen major sports return. The world's four biggest soccer leagues (England, Spain, Italy, Germany) are back; baseball resumed in Japan this weekend; and basketball resumed in China.
2. 🏁 NASCAR investigating noose in Wallace's garage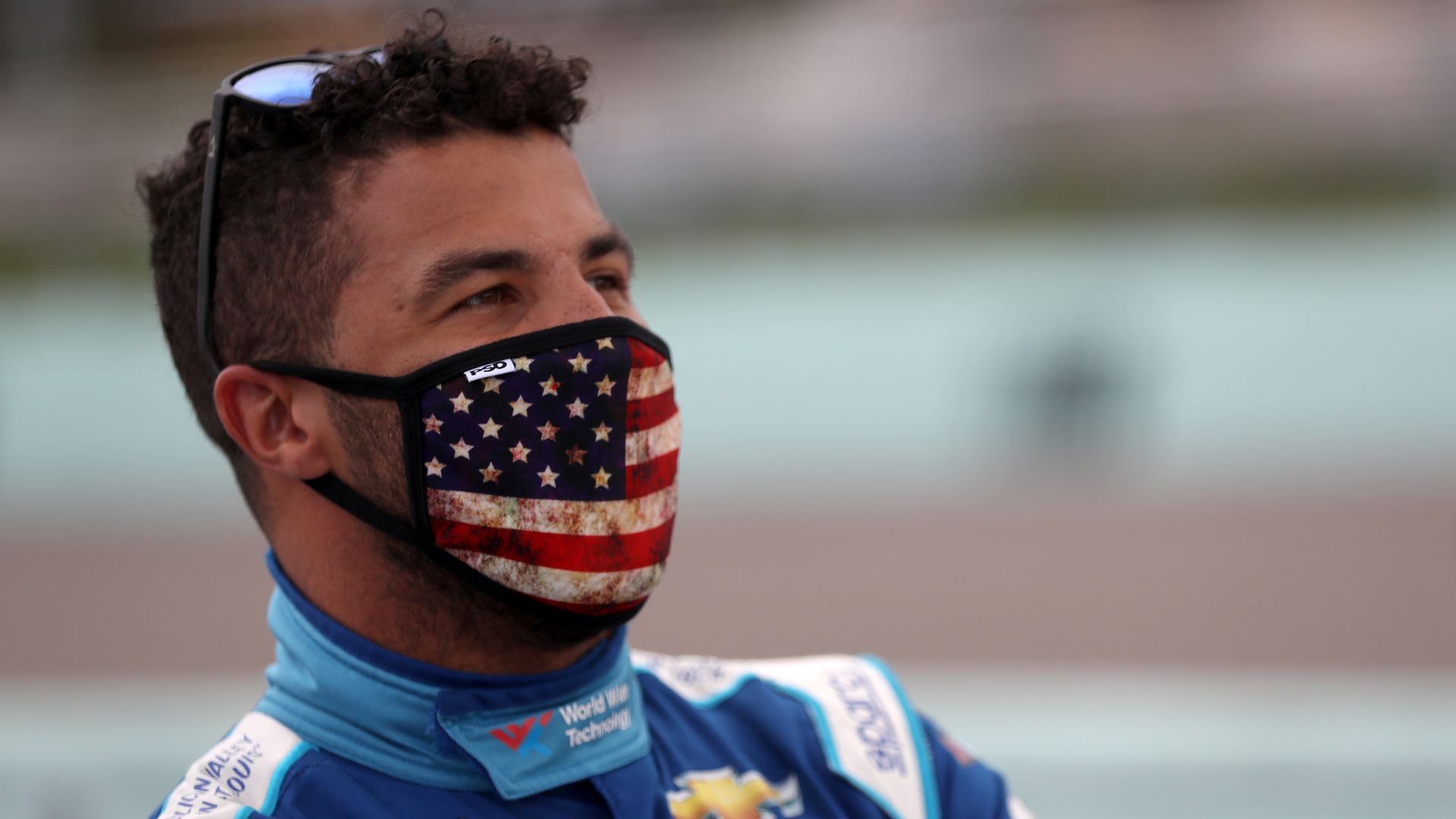 A noose was found in Bubba Wallace's garage Sunday at Talladega Superspeedway, and NASCAR has launched an immediate investigation.
What they're saying:
NASCAR: "We are angry and outraged, and cannot state strongly enough how seriously we take this heinous act. We have launched an immediate investigation, and will do everything we can to identify the person(s) responsible and eliminate them from the sport."
Wallace: "Today's despicable act of racism and hatred leaves me incredibly saddened and serves as a painful reminder of how much further we have to go as a society. ... As my mother told me today, 'They are just trying to scare you.' This will not break me, I will not give in nor will I back down. I will continue to proudly stand for what I believe in."
The backdrop: This comes less than two weeks after Wallace, NASCAR's only black driver, successfully pushed the company to ban the Confederate flag at its tracks and facilities and unveiled a Black Lives Matter-themed car.
Outside the track on Sunday, vehicles flying Confederate flags lined the streets, and a plane flew overhead pulling a banner of the Confederate flag that said, "Defund NASCAR."
Inside the track, where fans were permitted for the first time since the pandemic began (5,000 person limit), no Confederate flags were seen. The race was ultimately pushed back to 3pm ET today due to inclement weather.
The bottom line: This makes my heart sink and my blood boil. Sending love and support to Bubba this morning. We're with you.
3. 📺 2020 ESPY Awards: Highlights, award winners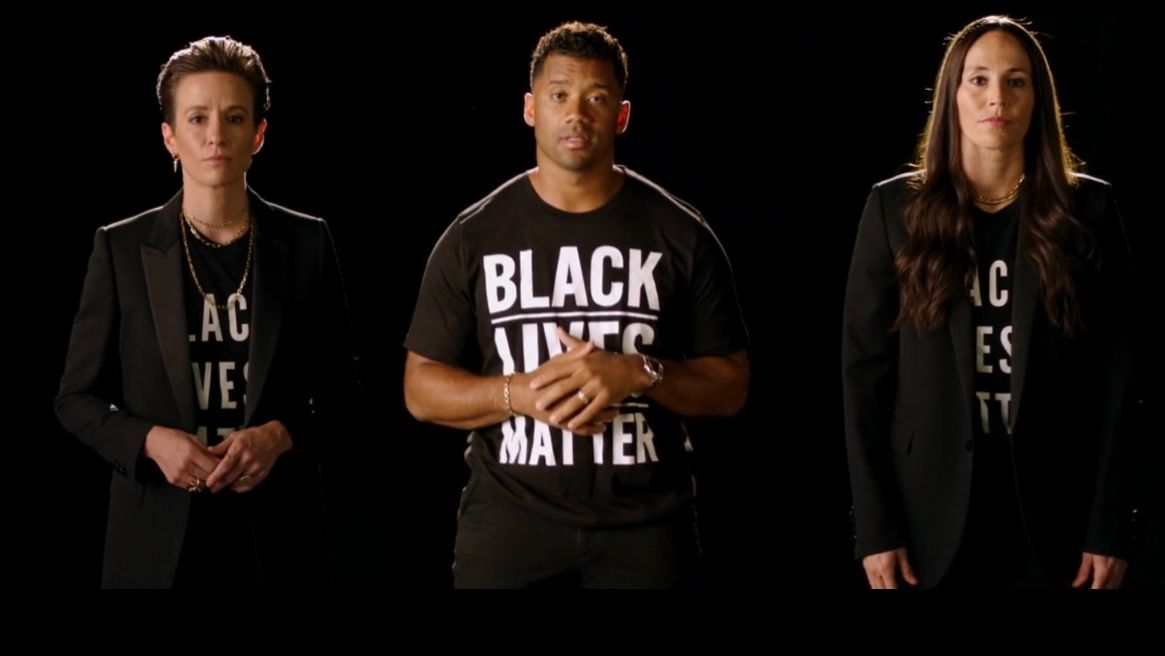 The 2020 ESPY Awards were held virtually Sunday night. Awards for on-field performance were not handed out, as the focus was placed entirely on inspirational stories and change-makers in sports.
Highlights:
Opening video: The broadcast, hosted by Russell Wilson, Megan Rapinoe and Sue Bird, began with a message about race and equality and the power of sports to inspire change.
Class of 2020: Tom Brady and Robin Roberts honored high school and college seniors who did not get a proper send-off.
RIP, Kobe: Pau Gasol honored late Lakers teammate Kobe Bryant and introduced Snoop Dogg's incredible rap tribute to the Black Mamba. 
"The time is now": Saints safety Malcolm Jenkins urged the sports world "to do our part to make this country better," calling the past month "a tipping point."
Awards:
4. 📸 Photos 'round the world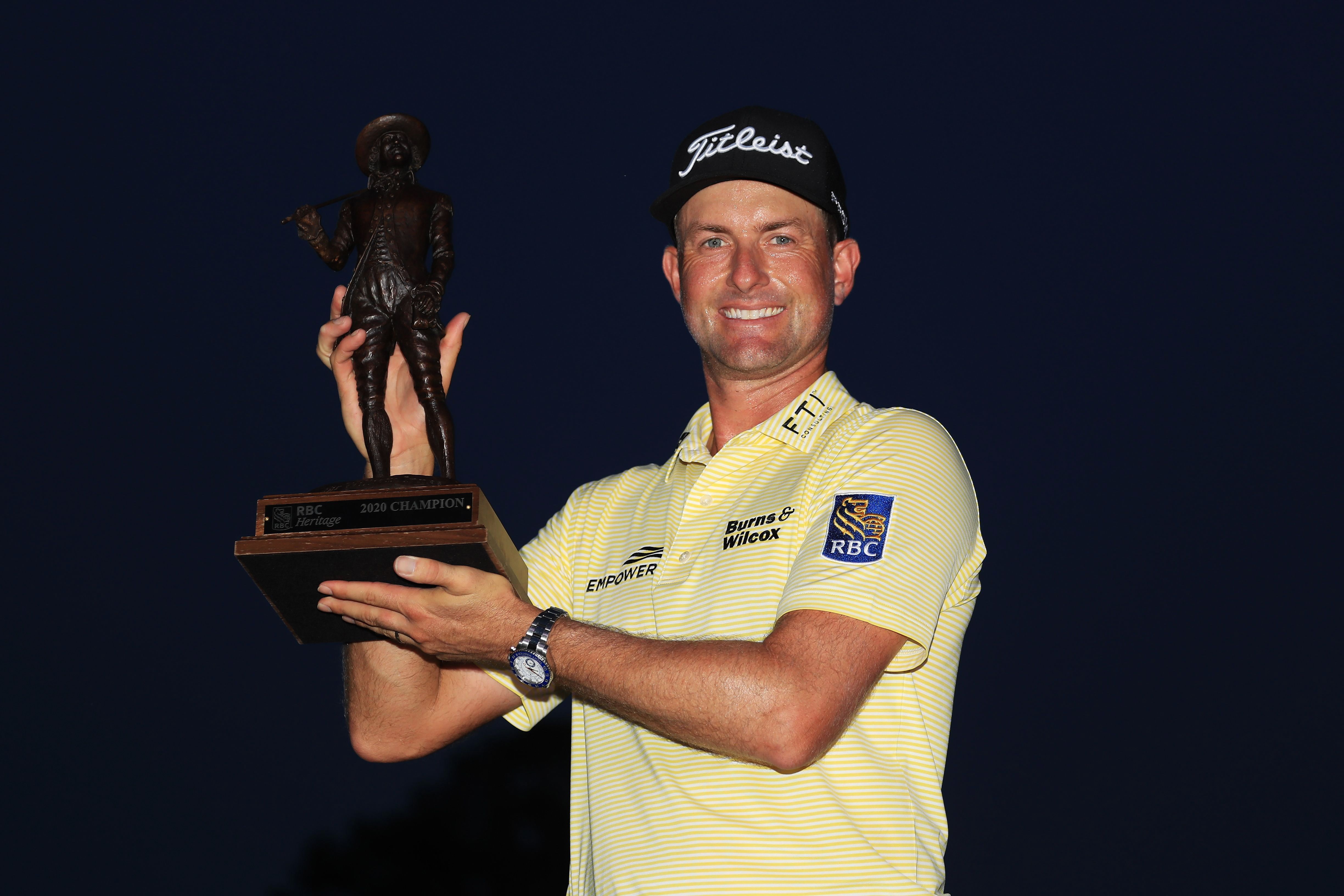 HILTON HEAD ISLAND, S.C. — Webb Simpson won the RBC Heritage on Sunday with a tournament record score off 22-under. The win lifted him to No. 5 in the world and gave him the lead in the FedEx Cup standings.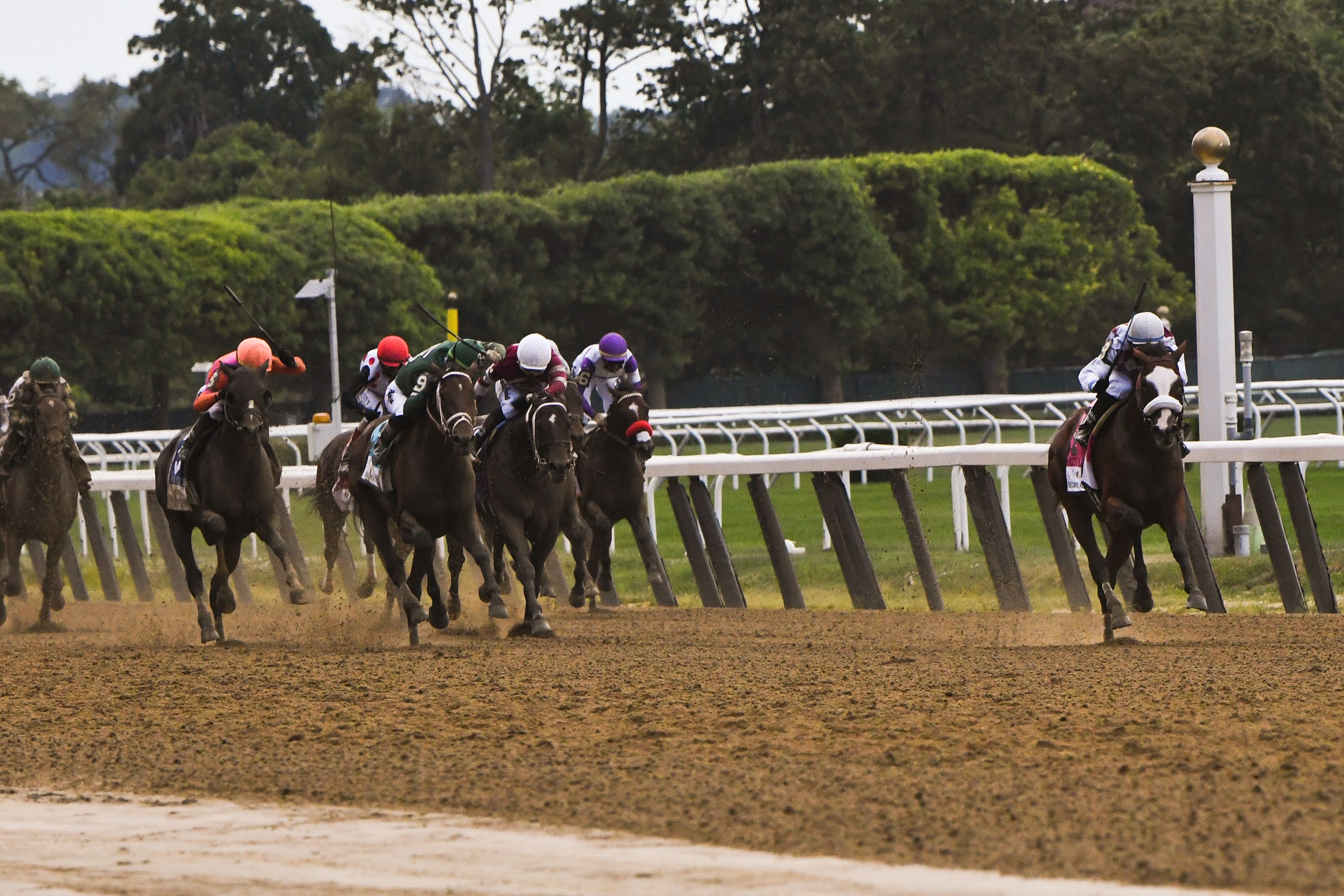 ELMONT, N.Y. — Heavily favored Tiz the Law won the 152nd Belmont Stakes on Saturday. The Triple Crown race was held without fans and shortened from its usual 1 1⁄2 miles to just 1 1⁄8 miles, which the 3-year-old Colt covered in 1:46:53.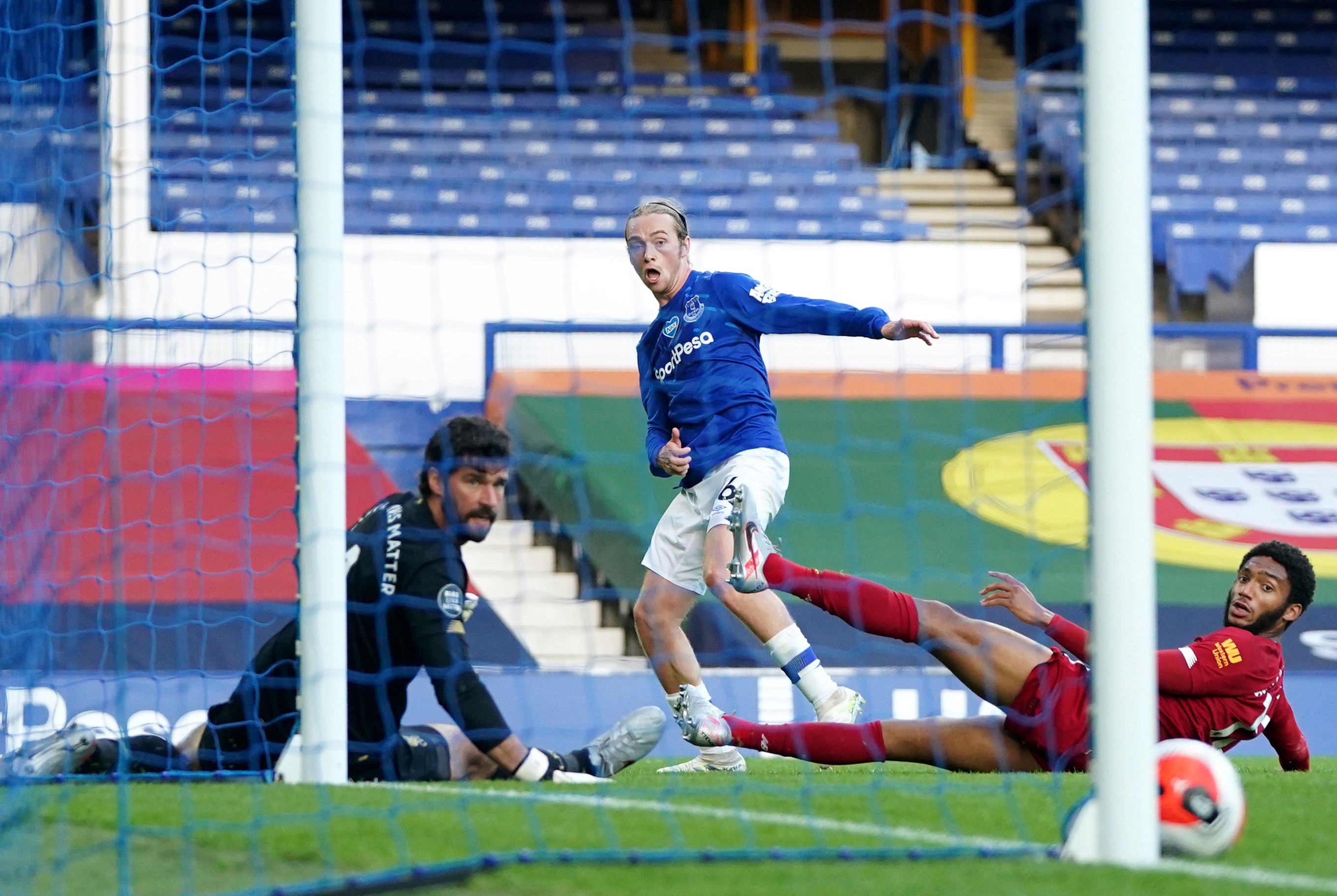 LIVERPOOL, England — First-place Liverpool drew 0-0 with intercity rival Everton on Sunday, producing just three shots on goal and coming within inches of a loss (see above). The Reds remain 23 points ahead of Manchester City but have won just two of their last seven games across all competitions.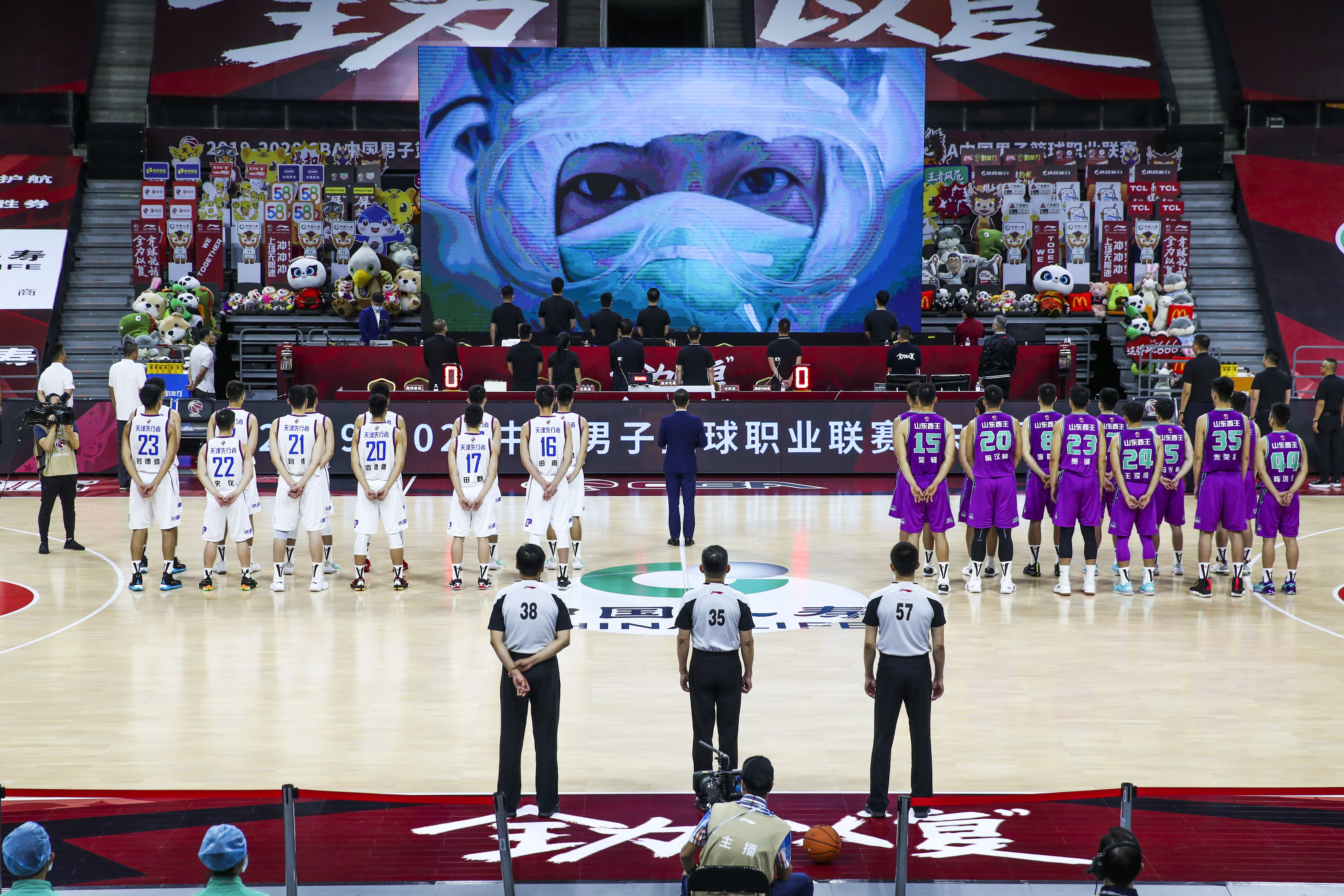 DONGGUAN, China — The Chinese Basketball Association resumed play this weekend after a nearly five-month shutdown, with fewer foreign players and no fans in the stands. Prior to tip-off, teams paid tribute to healthcare workers and others who died from COVID-19.
5. 🏀 Ranking the NBA's all-time rosters (No. 30)
We're ranking the all-time rosters for all 30 NBA teams. Note: Rosters and stats based only on time spent with this specific team. Thoughts? Email me at [email protected].
30. Memphis Grizzlies
The "Grit and Grind" Grizzlies have a lot of heart, with guys like Tony Allen and Zach Randolph embodying that ethos. But heart only gets you so far, and despite a recent streak of seven straight playoff appearances (2011-17), the NBA's second-youngest franchise sits at the bottom of our rankings.
Year established: 1995 (as Vancouver Grizzlies)
All-time record: 824-1,161 (.415)
NBA Championships: 0
Hall of Famers (indicated by *): 0
Starters:
Mike Conley, PG (14.9 pts, 3.0 reb, 5.7 ast, 17.7 PER/71.4 WS)
Tony Allen, SG (8.9 pts, 4.3 reb, 1.7 stl, 14.6 PER/26.3 WS)
Shareef Abdur-Rahim, SF (20.8 pts, 8.2 reb, 2.9 ast, 19.7 PER/31.7 WS)
Zach Randolph, PF (16.8 pts, 10.2 reb, 2.0 ast, 19.5 PER/51.2 WS)
Marc Gasol, C (15.2 pts, 7.7 reb, 3.4 ast, 18.5 PER/77.4 WS)
Sixth man: Pau Gasol, PF/C (18.8 pts, 8.6 reb, 3.1 ast, 21.6 PER/53.8 WS)
Bench:
Rudy Gay, SF (17.9 pts, 5.8 reb, 2.0 ast, 16.1 PER/29.2 WS)
Jason Williams, PG (11.5 pts, 2.3 reb, 7.0 ast, 16.1 PER/15.3 WS)
O.J. Mayo, SG (15.2 pts, 3.3 reb, 2.7 ast, 14.1 PER/14.9 WS)
Shane Battier, SG (10.2 pts, 4.8 reb, 1.7 ast, 14.5 PER/34.9 WS)
Mike Miller, SF (13.2 pts, 4.5 reb, 3.0 ast, 15.9 PER/33.1 WS)
Bryant Reeves, C (12.5 pts, 6.9 reb, 1.6 ast, 13.8 PER/13.0 WS)
Notes:
The Gasol brothers were traded for each other, so we never got to see them share a (non-international) court. That fact remains here, keeping the elder Gasol as sixth man and giving Randolph some room to cook.
Conley is severely under-appreciated. His 73.48 win shares ranks 24th among active players, yet he's never made a single All-Star team.
Stats, explained: Player Efficiency Rating (PER) is a measure of a player's per-minute productivity (20+ is elite); Win Shares (WS) attempts to divvy up individual credit for team success (6 per season is elite).
6. June 22, 1994: ⚽️ USA 2, Colombia 1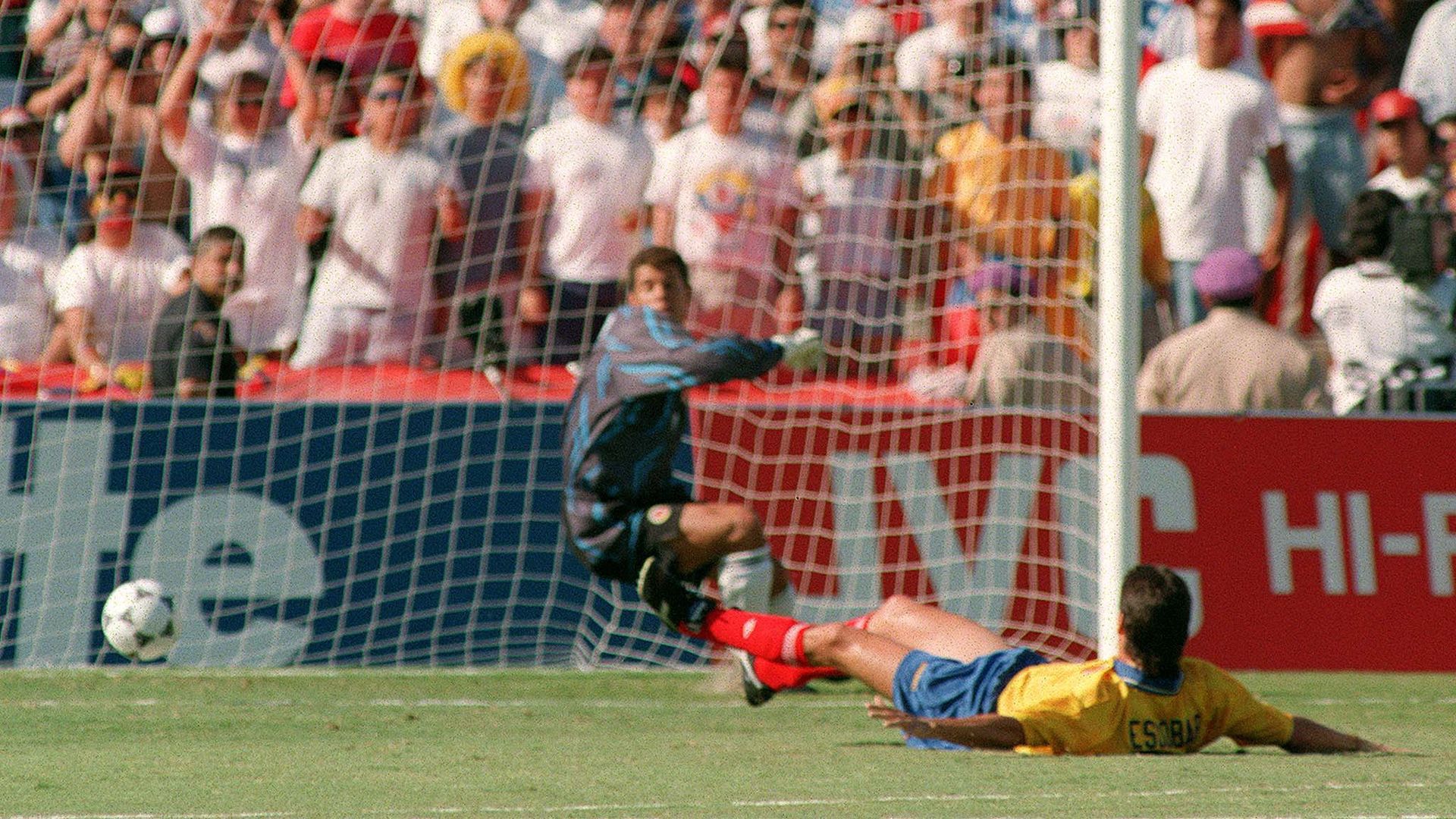 26 years ago today, the U.S. beat Colombia, 2-1, at the Rose Bowl, giving the Americans their first World Cup victory since 1950.
The game: The win helped push the U.S. into the knockout stage, but of far greater consequence was Colombia defender Andrés Escobar's own goal in the 34th minute, which ultimately led to his murder just 10 days later.
The aftermath: A soccer-crazed Colombia was coming off a disappointing 1990 World Cup, where they lost in overtime to tournament darling Cameroon in the round of 16.
So when they failed to even emerge from the group stage in 1994, Escobar's own goal became the finger-pointing moment for an angry nation.
When the team returned to Colombia the following week, Escobar was murdered outside a club in Medellín, shot six times by what are believed to have been drug traffickers who'd lost money gambling on the game.
🎥 Watch: 30 for 30: "The Two Escobars" (ESPN+)
7. 📚 A belated Father's Day read
8. The Ocho: 🦘 Flying cars down under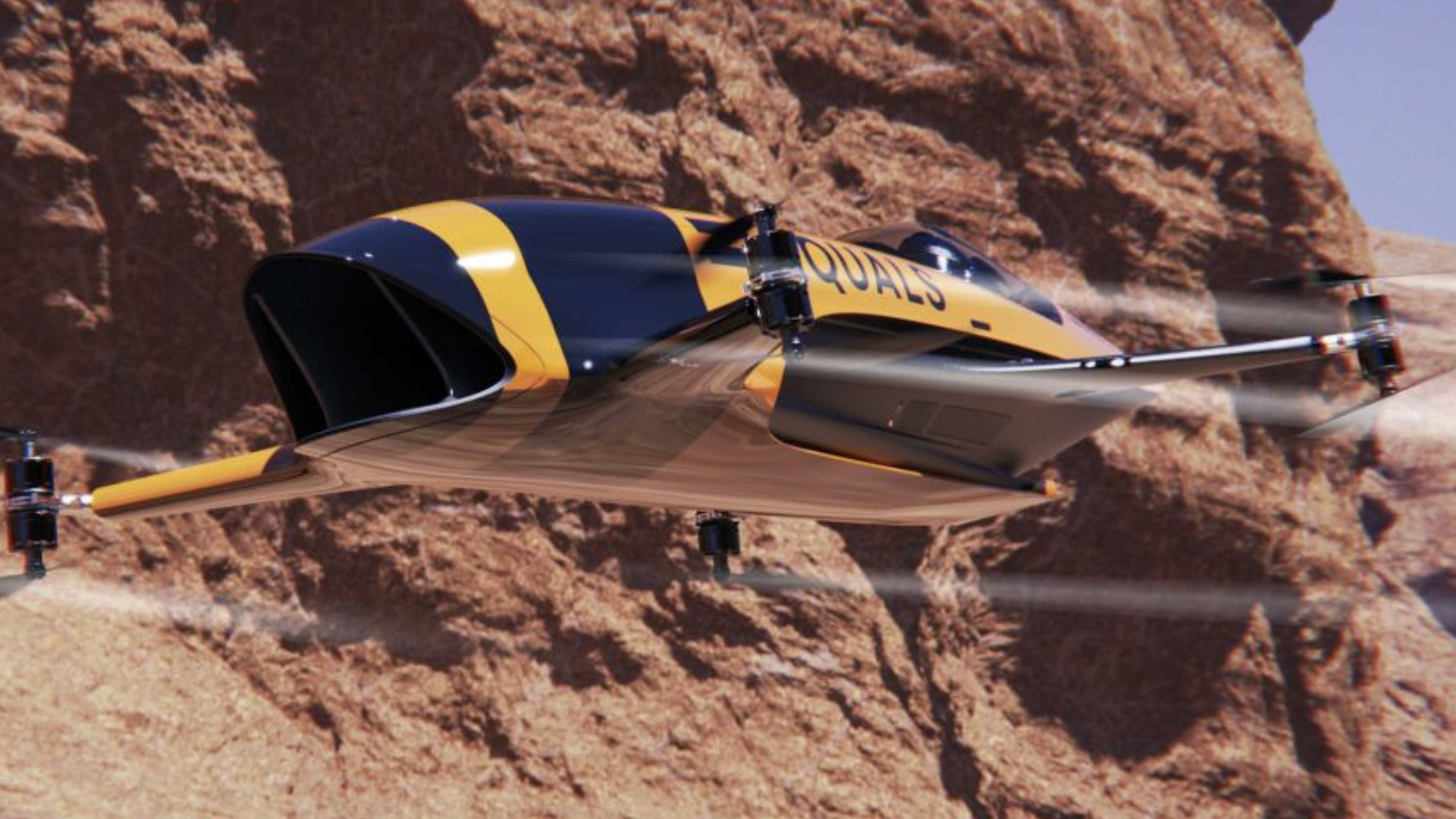 Flying cars may no longer be reserved just for Doc Brown.
Driving the news: An international startup, Airspeeder, has developed the world's first manned, flying car racing series, with plans to debut the technology later this year in the Australian outback.
Details: Pilots aren't allowed just yet, but the remote-controlled, full-size speeders will soon race in Coober Pedy, a sparsely-populated town where 1985's "Mad Max Beyond Thunderdome" was filmed.
🎥 Watch: The evolution of motorsport (YouTube)
9. ⚾️ MLB trivia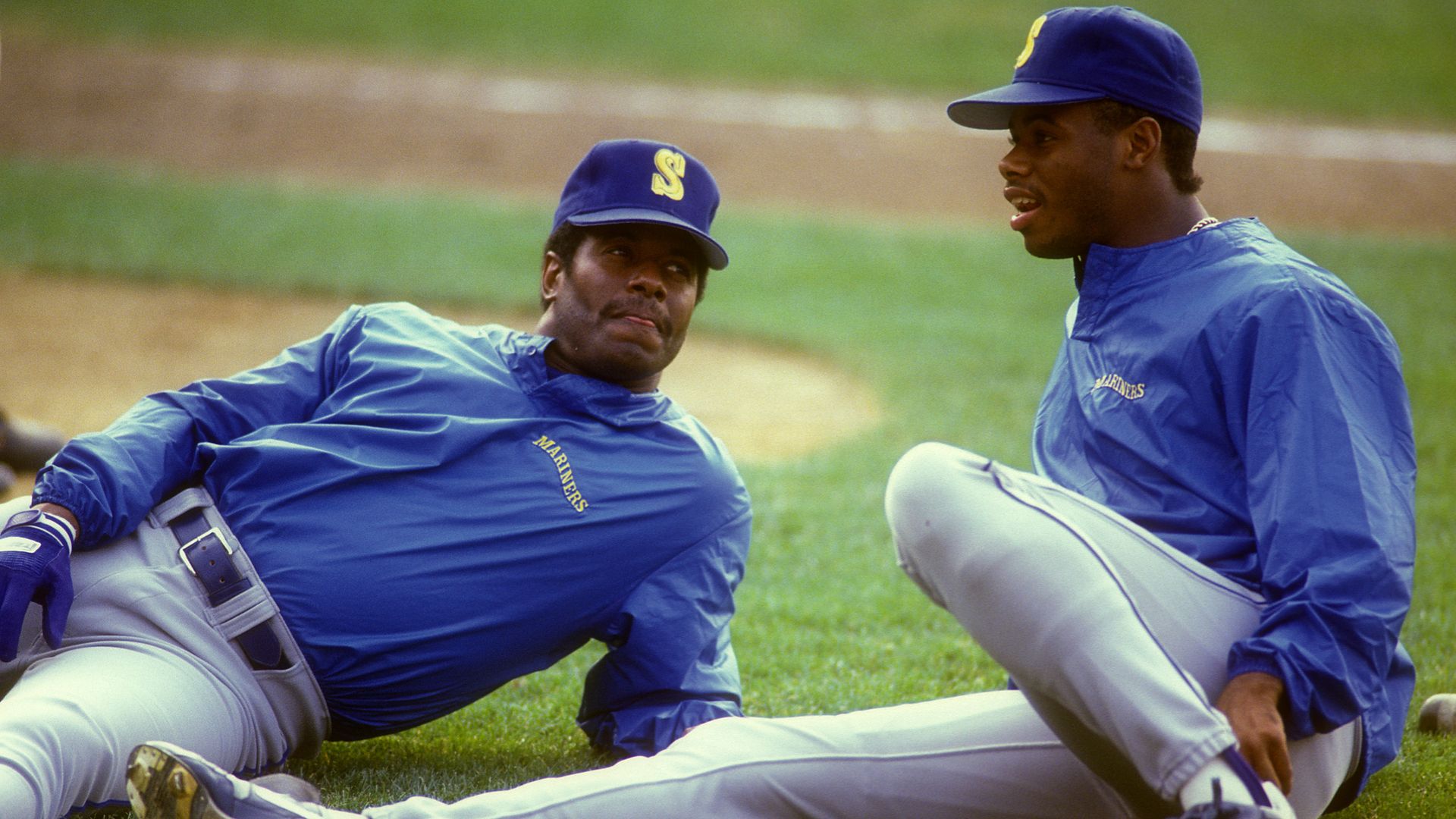 There have been 255 father-son combos in MLB history, but just 14 of those fathers — and two of those sons — are in the Hall of Fame.
Question: One of the sons is Ken Griffey Jr. Can you name the other?
Hint: Infielder. Spent eight of his 17 seasons in the AL East.
Answer at the bottom.
10. ❤️ Why we love sports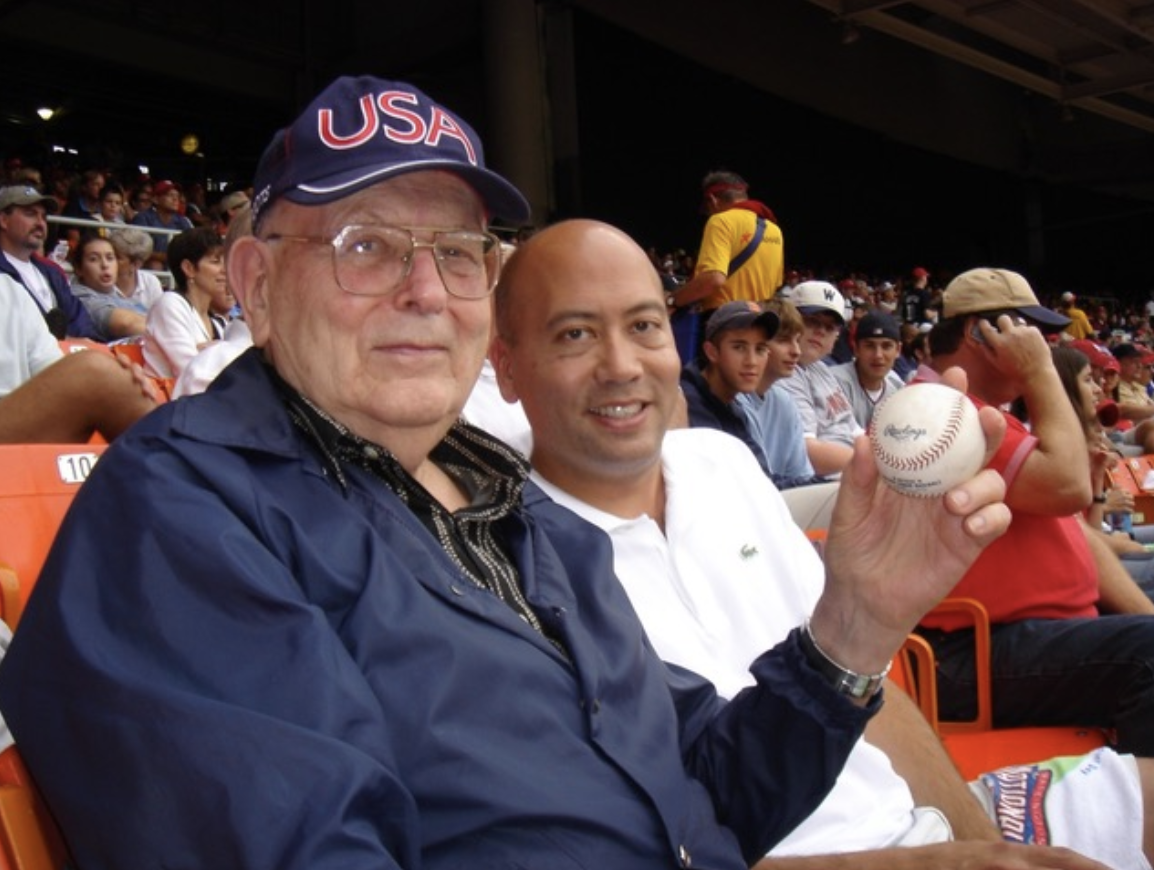 Jimmy L. (Washington, D.C.) writes:
"My family lived in Japan for most of my youth and moved to the Washington, D.C. area when I was 16 years old. My father, brother and I were huge sports fans, but there was no baseball team here for us to root for or attend games in person.
"Then, in 2005, the Nationals came into existence. My father's health had started to decline, but in August of that season, the three of us went to a Saturday afternoon game between the Nats and the Cardinals (my brother's favorite team).
"In the fifth inning, a foul ball was hit behind home plate and miraculously spun out of the upper deck back into the lower deck, where my father caught it against his chest. He raised the ball up with his right hand and couldn't stop smiling as the fans sitting around us applauded him.
"I thought to myself — wow, this is incredible. We finally have a baseball team in D.C., we get to attend a game with our father and he catches a foul ball. I knew right then and there that this was a lifetime memory being created.
"A couple years later, my father passed away and I delivered the eulogy at his memorial service. As I was writing the speech, three memories stood out, one of them being that game. I had the ball in my suit pocket as I spoke.
"And so, on the saddest and most difficult day of my life, it was a memory from a baseball game — along with the support from family and friends — that helped keep me strong."
✍️ Submit your story: Do you have a fondest sports memory? Or an example of sports having a positive impact on your life? If you'd like to share, simply reply to this email. We'll be telling your stories until they run out.