Axios Sports
January 25, 2023
👋 Good morning! Are your friends reading Axios Sports? Why the heck not? Send them this link to join.
Today's word count: 1,654 words (6 minutes).
Let's sports...
1 big thing: 🌊 The "Super Bowl of Surfing" gets a storybook ending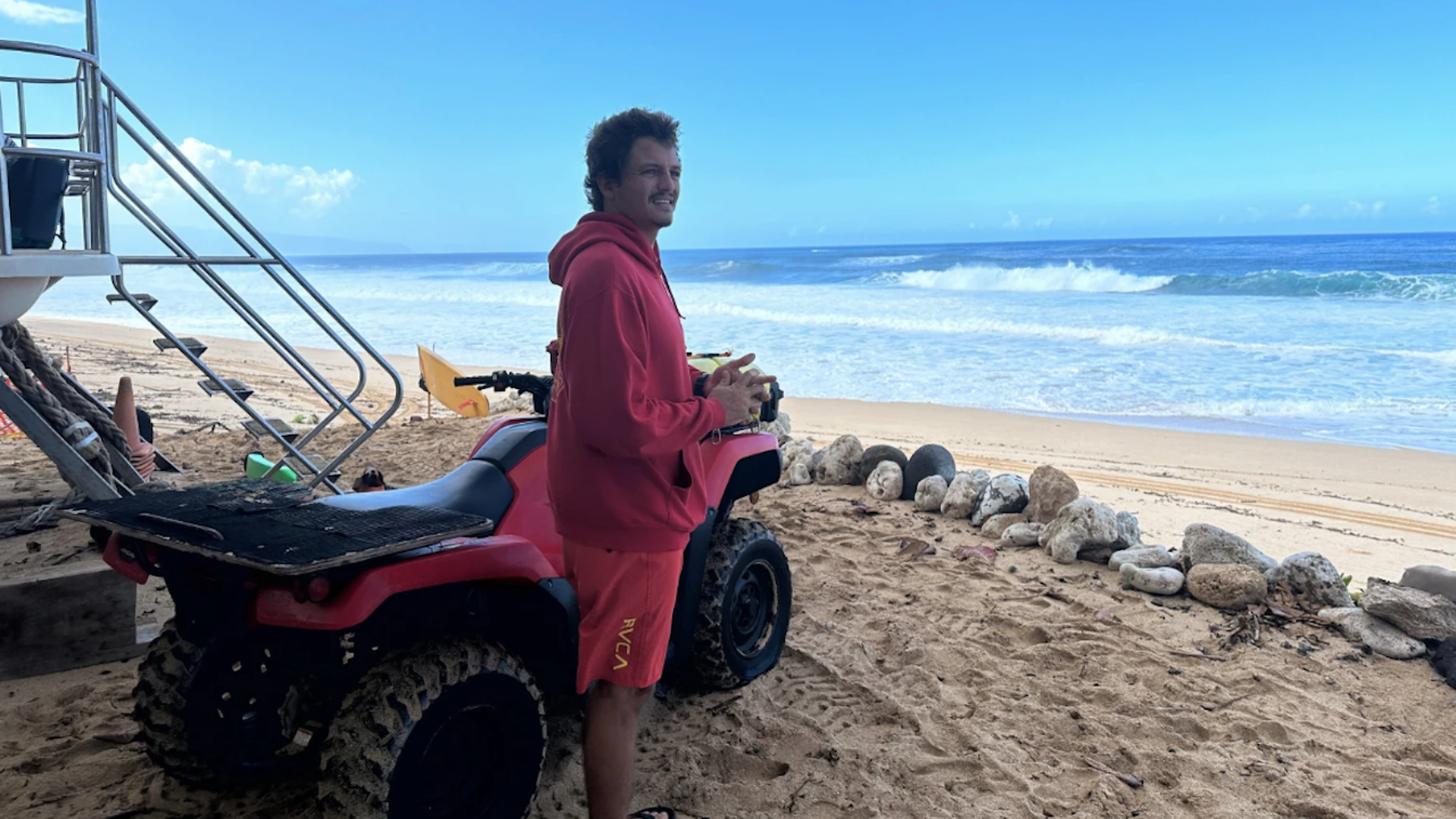 The "Super Bowl of Surfing" returned to the North Shore of Oahu this weekend for the first time in seven years. What followed was something straight out of a Hollywood movie.
Driving the news: On-duty lifeguard Luke Shepardson won the prestigious Eddie Aikau Big Wave Invitational on Sunday, competing during breaks from his job and returning to the lifeguard tower between heats.
"I can't believe it, it's surreal, it's a dream come true," said Shepardson, who scored an 89.1 out of a possible 90 points while riding 50-foot waves in front of an estimated 60,000 spectators.
He bested the biggest names in surfing, including two-time world champion John John Florence, who finished second after winning the previous edition of The Eddie.
The big picture: An on-duty lifeguard winning one of the world's most prominent surfing events is incredible on its own. But what makes this story truly spectacular is the link between Shepardson and the man for whom the competition is named.
What he's saying: "To surf in [The Eddie] and perpetuate his legacy as a lifeguard and riding big waves and being in the ocean, being a waterman, it's what I live for," Shepardson told local news station, KHON2.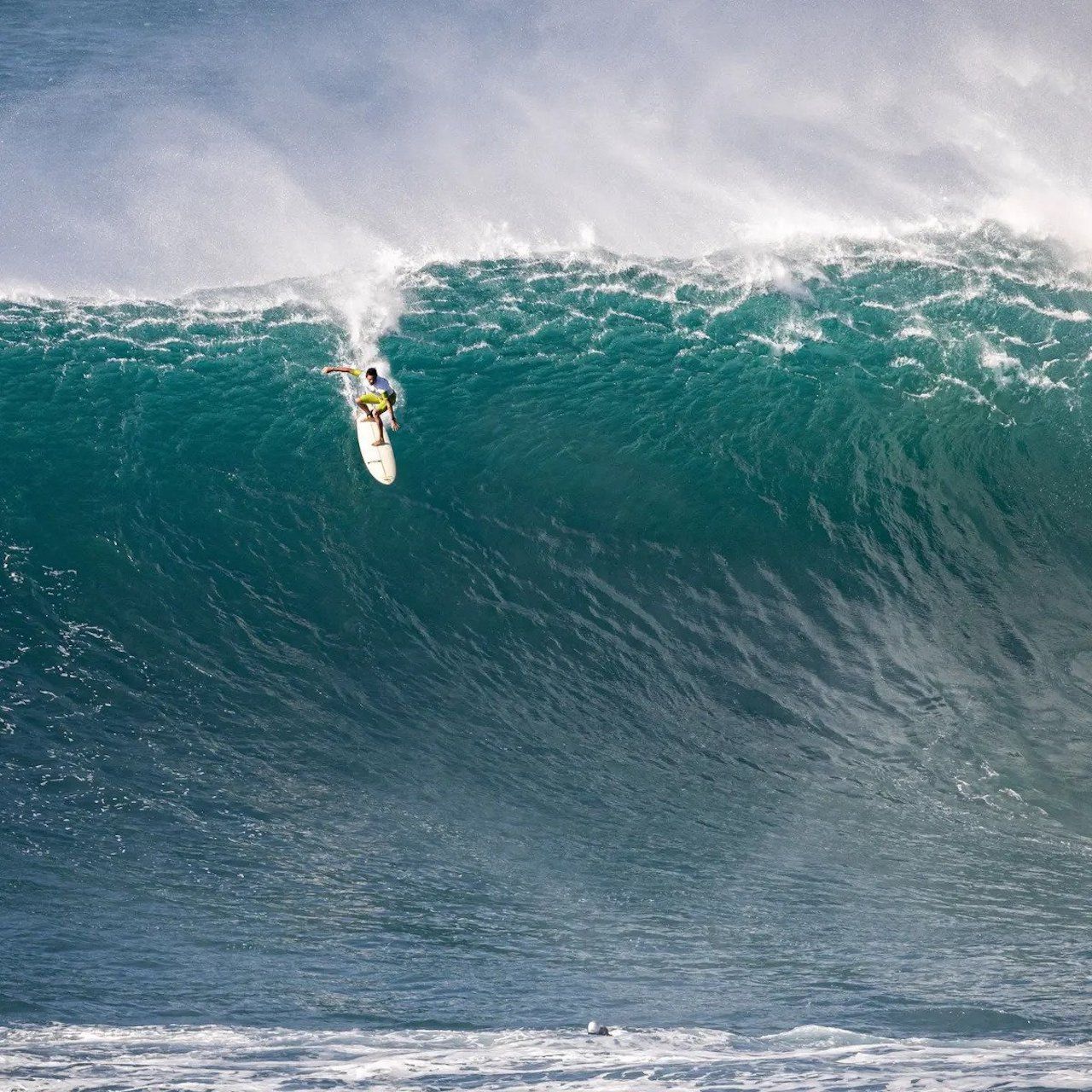 The backdrop: The Eddie is renowned for many reasons, from the iconic Waimea Bay location (the birthplace of big-wave surfing) to the sheer difficulty. But what makes the event unique is its elusiveness.
The Eddie is only held when waves are consistently 40+ feet at Waimea Bay during the winter big-wave surfing season (mid-December to mid-March), which is rare.
As a result, the competition has been held just 10 times in its 39-year history (1985, 1986, 1990, 1999, 2001, 2002, 2004, 2009, 2016 and 2023). Safe to say this year's edition had the most storybook ending yet.
The last word: "I've got to get back to the tower to make sure everyone is OK until the end of the day," said Shepardson after a brief victory celebration. Eddie would be proud.
2. 🏀 The Clippers own the Lakers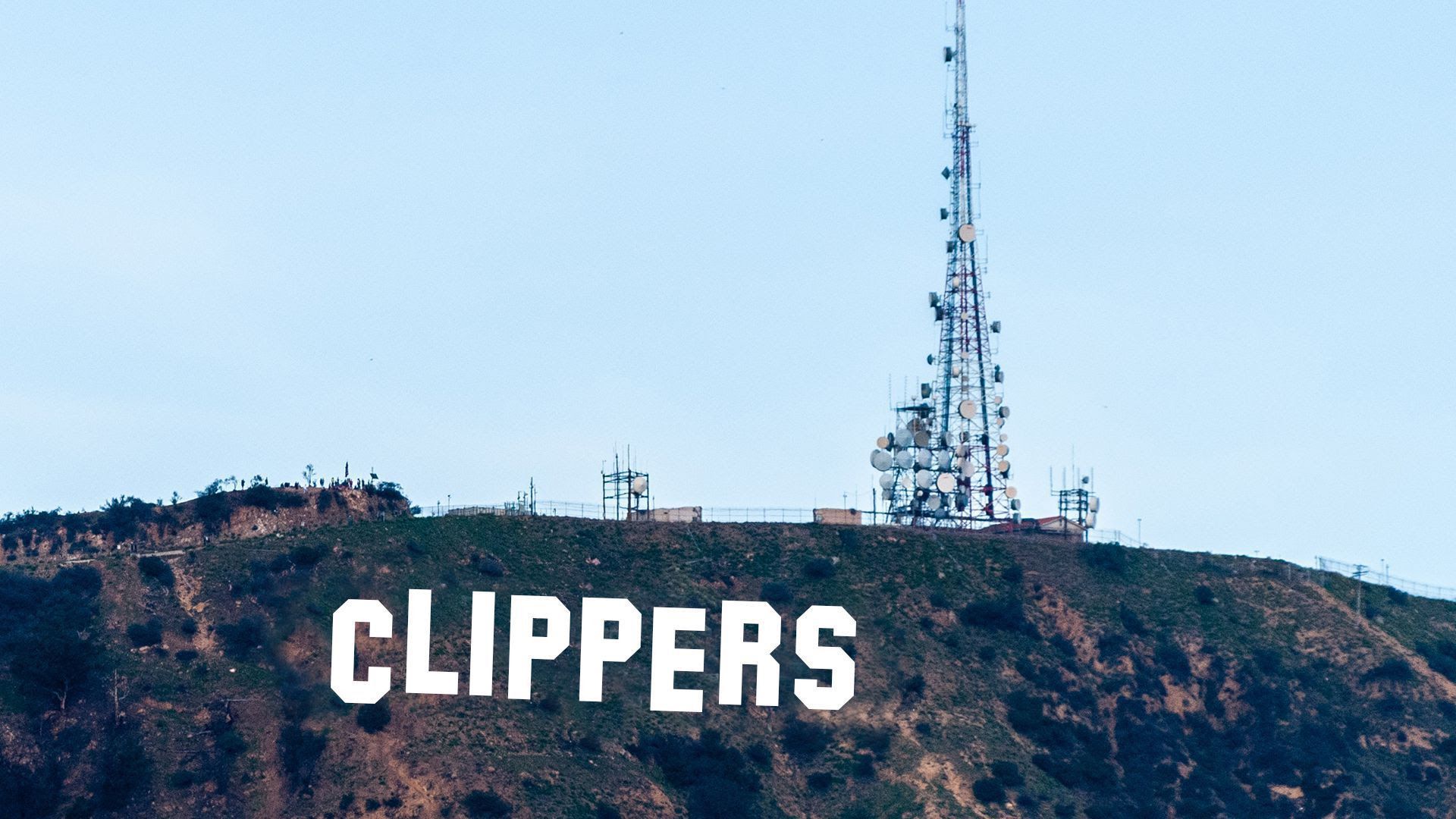 The Clippers beat the Lakers, 133-115, on Tuesday night, notching their 10th straight victory over their L.A. rival and co-tenant.
State of play: What was once a one-sided rivalry in favor of the Lakers is now a one-sided rivalry dominated by their longtime "little brother."
Since the 2012-13 season, the Lakers and Clippers have gone head-to-head 42 times. The Clippers have won 37 of those games.
Tyronn Lue is 10-0 against the Lakers since rebuffing them in 2019 and choosing instead to join the Clippers the following year.
Reality check: The Lakers still hold an enormous advantage in the all-time series (150-84). They also have 17 NBA titles in their 76-year history, while the Clippers have none in 53 years.
The big picture: Los Angeles still bleeds purple and gold — there's no debate there. But the Clippers are clearly closing the gap, both on and off the court.
Beating up on the Lakers has become a regular occurrence, and the franchise is gaining cultural relevance in the City of Angels after struggling for decades to define itself.
The Clipper brand should grow even stronger next year when the team moves into a privately funded, "$2 billion futuristic sports palace." Perks of having the richest owner in American sports.
The bottom line: The Clippers may still be the "little brother" in this story — and perhaps they always will be given the Lakers' history and mystique. But little brothers don't stay little forever.
Of note ... LeBron James scored 46 points in the loss, becoming the first player in NBA history with a 40-point game against all 30 franchises. Didn't look like he enjoyed the evening, though!
3. ⚾️ Rolen joins McGriff in Cooperstown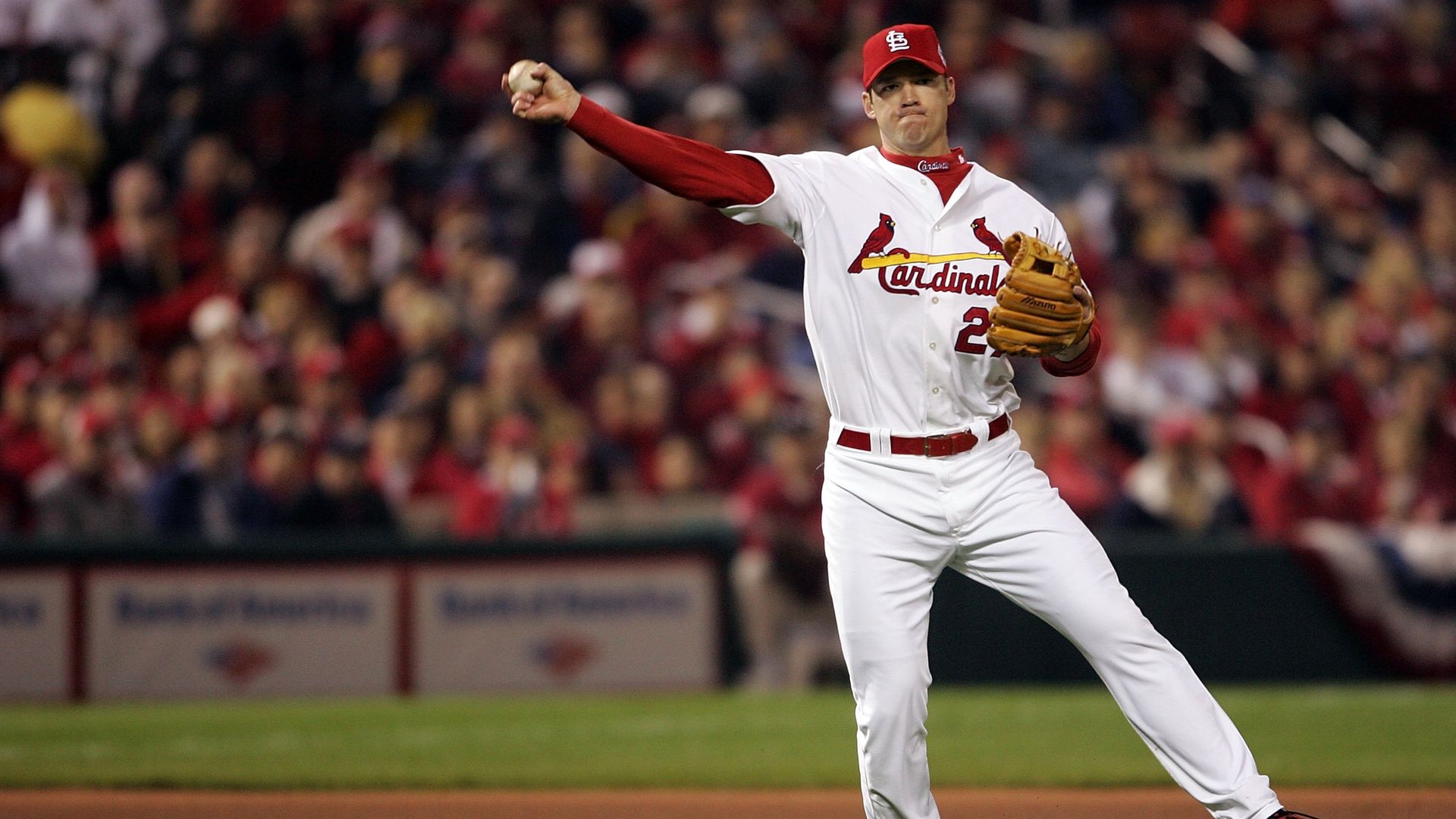 Scott Rolen was elected to the Hall of Fame on Tuesday, joining Fred McGriff — elected by the Contemporary Era Committee last month — as the only members of Cooperstown's 2023 class, Axios' Jeff Tracy writes.
By the numbers: In his sixth year of eligibility, Rolen's name appeared on 76.3% of the Baseball Writers' Association of America's ballots — just five votes over the 75% threshold required for election.
Four other players received at least 50% of the vote: Todd Helton (72.2%), Billy Wagner (68.1%), Andruw Jones (58.1%) and Gary Sheffield (55%).
12 of the 28 candidates received less than 5% of the vote, which means they won't appear on next year's ballot.
Fun fact: Rolen becomes just the 18th Hall of Fame third baseman, the fewest of any fielding position. He and Chipper Jones (2018 inductee) are the only third basemen in Cooperstown who debuted in the last 40 years.
By the numbers: Rolen played 17 MLB seasons with the Phillies, Cardinals, Reds and Blue Jays, winning eight Gold Gloves and earning seven All-Star selections.
The Indiana native was the 1997 Rookie of the Year in Philadelphia and a 2006 World Series champion in St. Louis.
He hit 316 homers with a lifetime .281 batting average and 70.1 WAR, the ninth-most among players that spent at least half of their career at the hot corner.
Behind the scenes: Online sleuths predicted Rolen would be elected based on hyperlinks on the Hall of Fame website. Gotta love the internet!
❤️ Must-see clip ... Scott telling his parents the news (Twitter)
4. ⚡️ Lightning round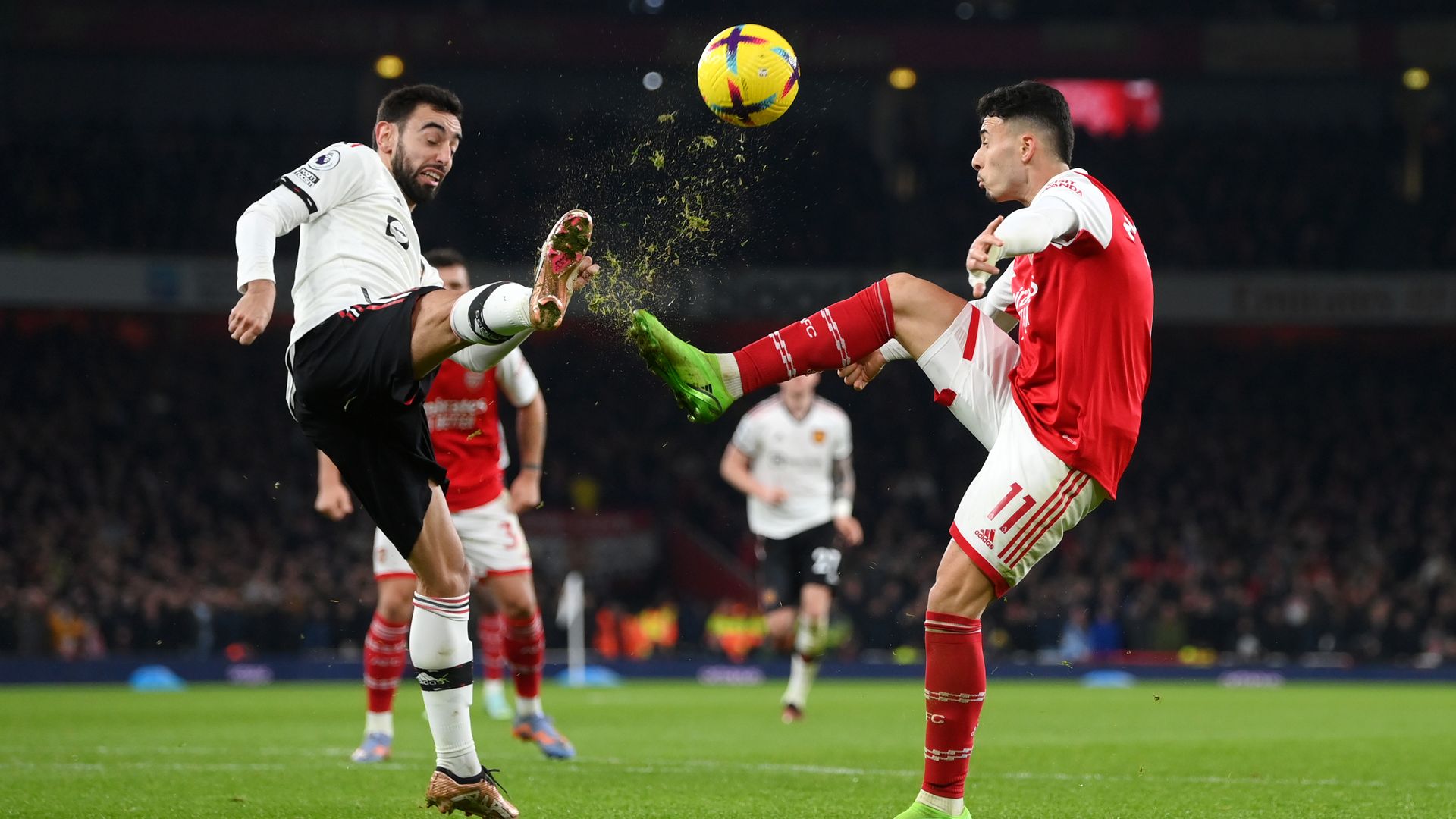 ⚽️ Historic broadcast: Sunday's Arsenal-Manchester United game was the most-watched Premier League match in U.S. history, per NBC, averaging 1.92 million viewers across NBC, Peacock and digital platforms.
🏀 The drought is over: Georgetown beat DePaul, 81-76, on Tuesday to snap a 29-game losing streak against Big East opponents. Oh, the Hoyas have fallen! But a night to celebrate, regardless.
🏒 All-Star festivities: Next month's NHL All-Star skills competition will feature two new outdoor events in South Florida: a dunk tank on the beach and a hockey/golf hybrid challenge.
🏀 Like father, like son: Bronny James (son of LeBron), Dajuan Wagner Jr. (son of Dajuan) and Andrej Stojaković (son of Peja) will participate in this year's McDonald's High School All-American Game. See the rosters.
5. 🎾 Aussie Open: The quarterfinals are set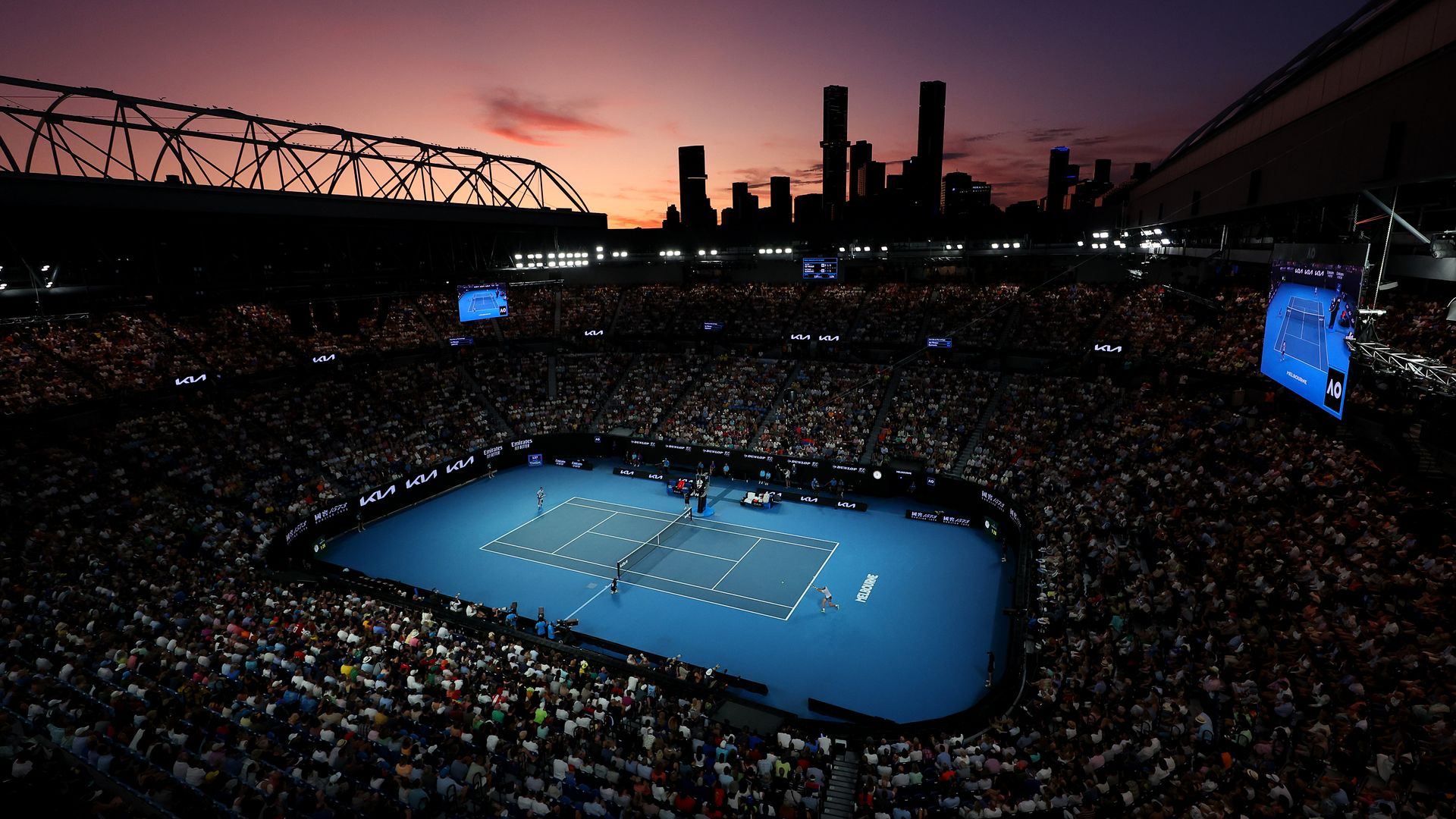 The Australian Open began on Jan. 16 with 128 men and 128 women. 10 days later, just four remain in each bracket.
Women's semifinals: Coverage begins on ESPN tonight/tomorrow morning at 3:30am ET.
No. 22 Elena Rybakina vs. No. 24 Victoria Azarenka: Rybakina (Kazakhstan) won Wimbledon last year, but this is her first semifinal in any other major; Azarenka (Belarus) is a two-time Australian Open champion (2012, 2013).
No. 5 Aryna Sabalenka vs. Magda Linette: Sabalenka (Belarus) hasn't lost a set in Melbourne and this is her fourth Grand Slam semifinal in three years; Linette (Poland) had never been past the third round at a major in her decade-long career prior to this run.
Men's semifinals: Coverage begins on ESPN tomorrow at 10:30pm.
No. 4 Novak Djokovic vs. Tommy Paul: Djokovic (Serbia) is two victories away from winning the tournament he was banned from competing in a year ago; the 25-year-old Paul (USA) is playing in his first Grand Slam semifinal.
No. 3 Stefanos Tsitsipas vs. No. 18 Karen Khachanov: Tsitsipas (Greece) is playing in his fourth Australian Open semifinal in five years; Khachanov (Russia) has never made it this far in Melbourne and is 0-5 all-time against Tsitsipas.
6. 🎿 Mikaela Shiffrin: Alone at the top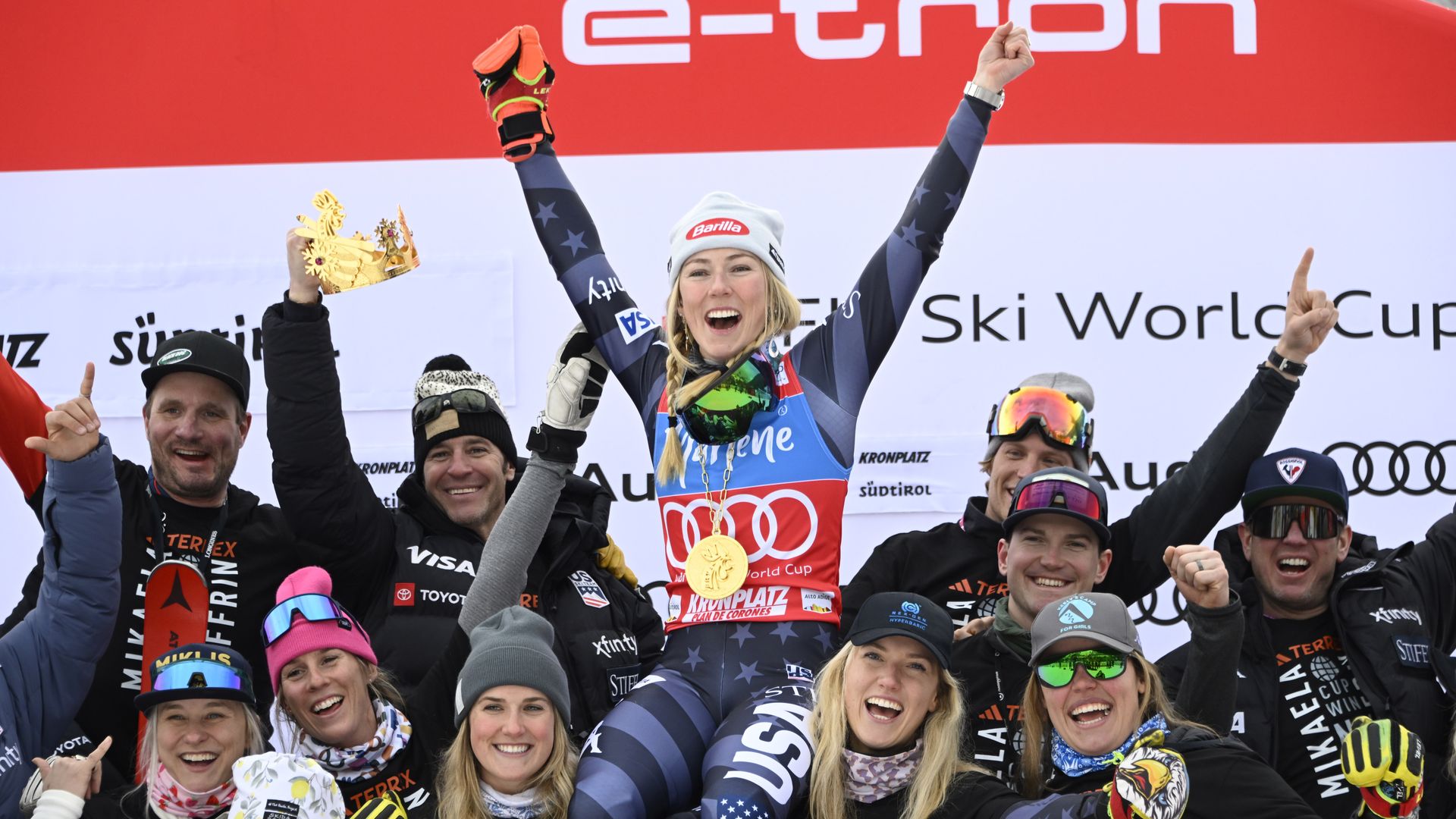 Mikaela Shiffrin won the giant slalom in Italy on Tuesday for her 83rd career World Cup victory, passing Lindsey Vonn for the most wins all-time by a woman, Jeff writes.
The big picture: Shiffrin and Vonn have a massive lead over the rest of the field, and they're the only Americans in the top 25.
What to watch: Shiffrin, 27, could break the all-time record (man or woman) of 86 wins held by Sweden's Ingemar Stenmark before the current season ends in March.
"Shiffrin is such a great skier with a fantastic technique and really deserves to break my record," Stenmark told the WSJ ($) earlier this month.
He then added a (perhaps not-so-bold) prediction: "She will be the first to reach 100 World Cup victories."
🎿 Watch: The record-breaking run (Twitter)
7. 📸 Pic du jour: Golf in the Gulf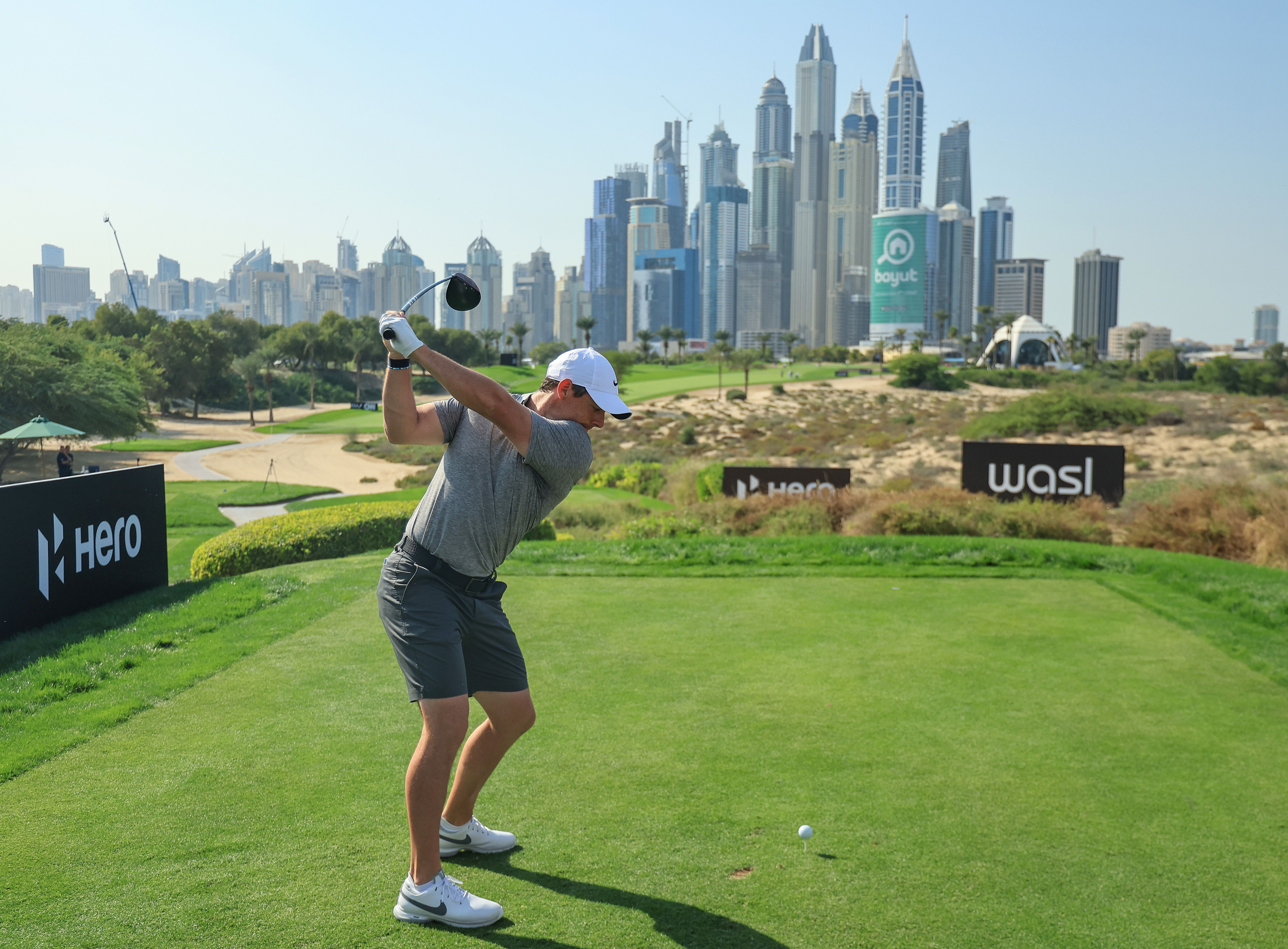 "Swinging for the fences" is cool. But have you ever tried swinging for the skyscrapers?
8. 📺 Watchlist: The journey begins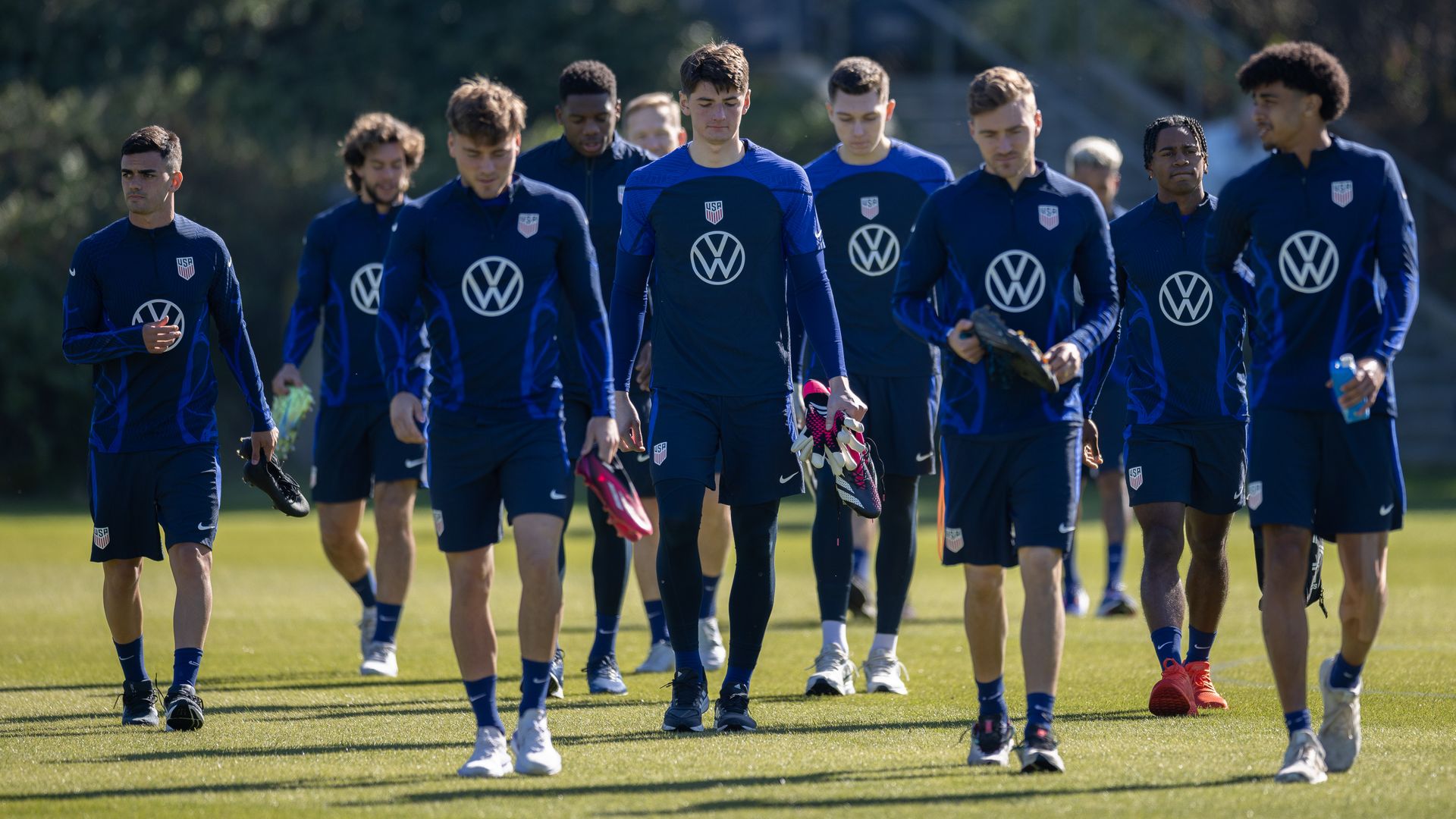 The USMNT hosts Serbia in a friendly tonight (10pm ET, HBO Max), formally kicking off the 3.5-year buildup to co-hosting the 2026 World Cup.
New faces: 11 players are participating in their first national team camp, and interim manager Anthony Hudson will make his debut.
Venue: The match will be held at LAFC's home, which just changed its name from Banc of California Stadium to BMO Stadium.
More to watch:
9. 🏀 NBA trivia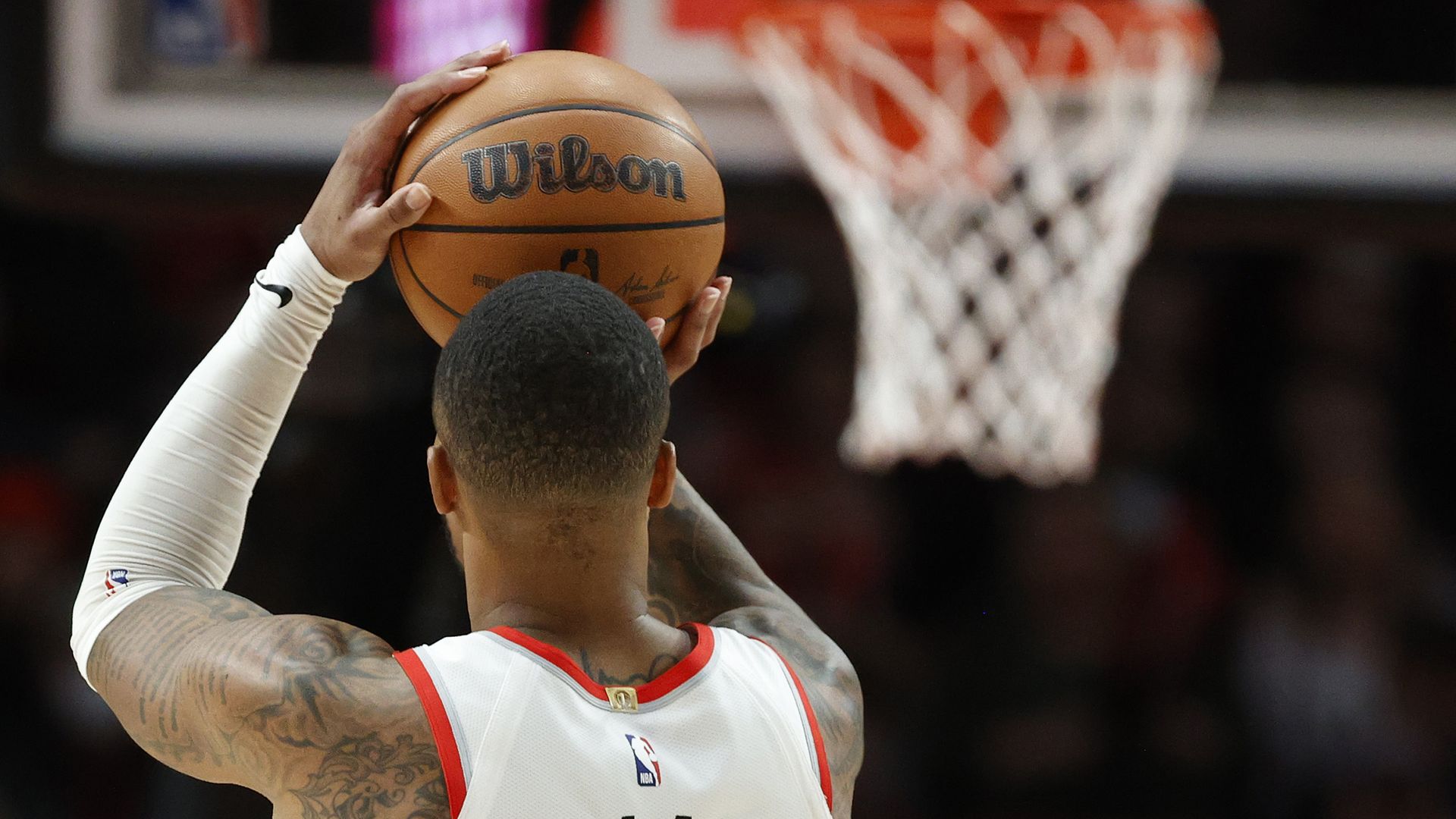 Damian Lillard hit seven three-pointers on Monday, passing Jason Terry for seventh on the all-time list (2,283).
Question: Can you name the six players ahead of Lillard?
Hint: Three of their last names end in er.
Answer at the bottom.
10. 🏈 1 rare thing: Title game rematch
The Bengals and Chiefs will meet in the AFC Championship Game for the second straight year.
Why it matters: This is just the seventh instance of two NFL teams meeting for the conference title in consecutive seasons and the first since the Ravens and Patriots met back-to-back in 2011 and 2012.
Talk tomorrow,
Kendall "It's called fashun sweetie, look it up" Baker
Trivia answer: Steph Curry (3,274 three-pointers), Ray Allen (2,973), James Harden (2,675), Reggie Miller (2,560), Kyle Korver (2,450) and Vince Carter (2,290)
🙏 Thanks for reading! Follow us for more (@kendallbaker and @jeffreytracy). Friends can sign up here. Thanks to Carolyn DiPaolo for copy edits.