Axios Sports
June 10, 2022
🎉 Happy Friday! You made it.
Today's word count: 1,680 words (6 minutes).
Let's sports...
1 big thing: 🥎 Sooners repeat as champs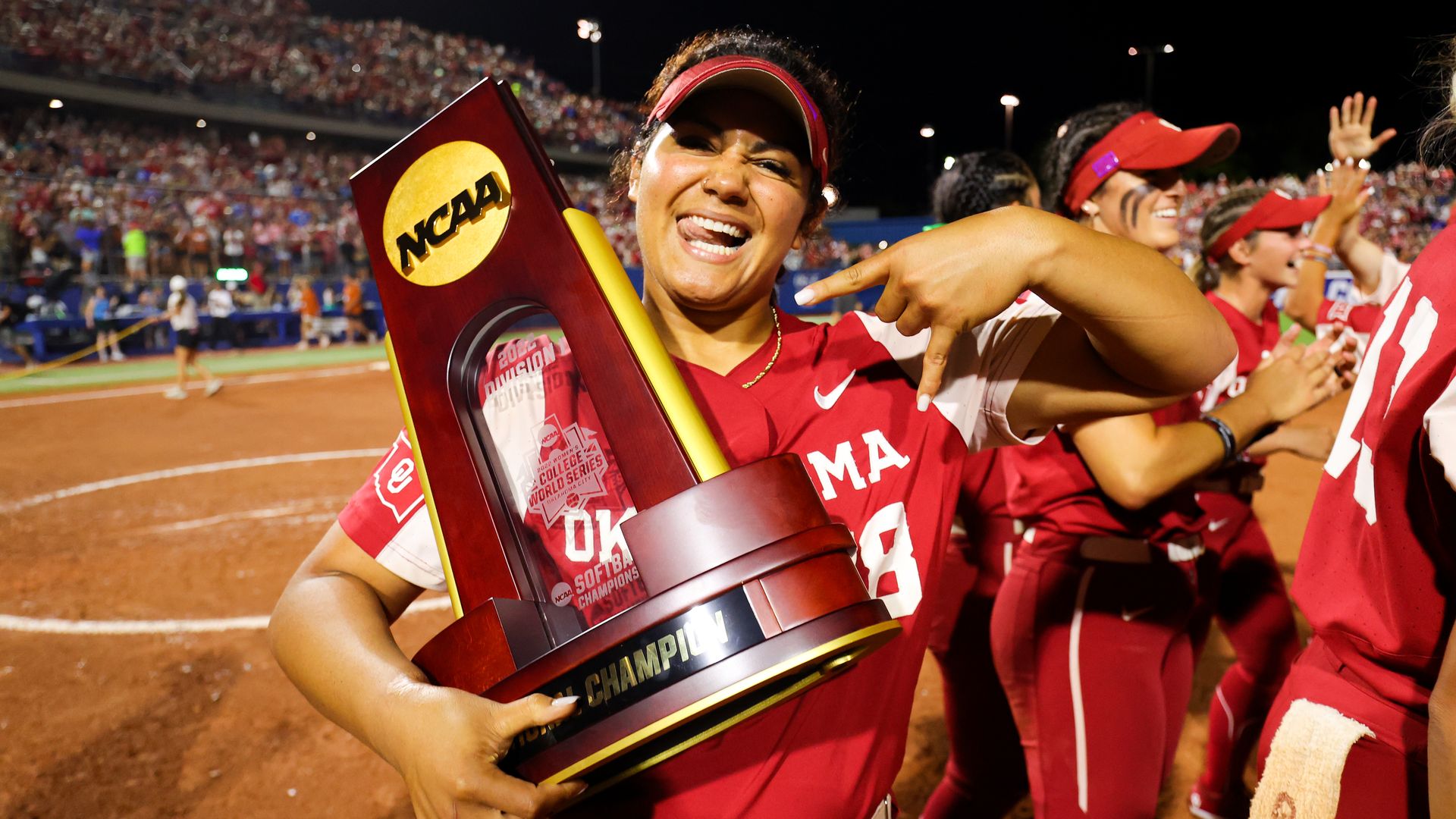 Oklahoma beat Texas, 10-5, on Thursday to repeat as softball national champions, the first team to do so since national seeding began in 2005.
Why it matters: The Sooners have cemented themselves as an all-time dynasty, winning four of the past seven Women's College World Series titles and 115 of their last 122 games (!!!).
A fond farewell: Thursday was the final college game for fifth-year senior Jocelyn Alo, the greatest home run hitter in softball history and one of the most dominant athletes in any sport.
She ends her career with 120 HR (most in NCAA history for softball or baseball) and 320 RBIs (third-most in D-I history). Her final season: .515 batting average, 34 HR, 85 RBI.
Wild stat: Alo's weighted runs created plus (wRC+) this season was 303, which was 203% better than the D-I average (100). The highest wRC+ in MLB history is 244 (Barry Bonds in 2002).
What's next: Alo will play professionally but has not said whether that will be in Women's Professional Fastpitch or Athletes Unlimited, where she was drafted No. 1 overall in May.
The bottom line: In 2021, Oklahoma went 56-4 and won a national title. In 2022, they got even better, making a case as the greatest softball team ever assembled.
2. ⚾️ Our MLB All-Star picks
All-Star voting began Wednesday for the 2022 Midsummer Classic at Dodger Stadium on July 19. Here are our starters.
American League: Astros manager Dusty Baker will manage the AL.
C: Alejandro Kirk (TOR): .322/.401/.477, 5 HR, 16 RBI, 2.2 WAR in 48 games
1B: Ty France (SEA): .327/.402/.491, 9 HR, 38 RBI, 2.9 WAR in 57 games
2B: José Altuve (HOU): .280/.355/.530, 11 HR, 19 RBI, 1.7 WAR in 42 games
3B: José Ramírez (CLE): .284/.388/.619, 15 HR, 55 RBI, 2.6 WAR in 53 games
SS: Xander Bogaerts (BOS): .319/.386/.476, 6 HR, 26 RBI, 2 WAR in 56 games
OF: Aaron Judge (NYY): .310/.383/.671, 22 HR, 45 RBI, 2.9 WAR in 55 games
OF: Mike Trout (LAA): .284/.388/.601, 14 HR, 30 RBI, 2.8 WAR in 52 games
OF: George Springer (TOR): .271/.342/.510, 11 HR, 30 RBI, 2 WAR in 52 games
DH: Yordan Álvarez (HOU): .299/.395/.630, 17 HR, 38 RBI, 2.4 WAR in 51 games
SP: Shane McClanahan (TB): 7-2, 1.87 ERA, 0.86 WHIP, 98 K/13 BB, 1.8 WAR in 12 starts
Toughest omissions: Rafael Devers, 3B (BOS); Jeremy Peña, SS (HOU); Nestor Cortes, LHP (NYY); Kevin Gausman, RHP (TOR); Martín Pérez, LHP (TEX); Justin Verlander, RHP (HOU)
National League: Braves manager Brian Snitker will manage the NL.
C: Willson Contreras (CHC): .277/.403/.530, 10 HR, 23 RBI, 2.4 WAR in 47 games
1B: Paul Goldschmidt (STL): .338/.420/.596, 12 HR, 47 RBI, 3.1 WAR in 56 games
2B: Jazz Chisholm Jr (MIA): .255/.311/.527, 10 HR, 37 RBI, 1.9 WAR in 45 games
3B: Manny Machado (SD): .329/.401/.543, 9 HR, 36 RBI, 3.4 WAR in 55 games
SS: Tommy Edman (STL): .274/.354/.406, 5 HR, 23 RBI, 3.2 WAR in 57 games
OF: Mookie Betts (LAD): .289/.366/.560, 16 HR, 39 RBI, 3.2 WAR in 55 games
OF: Ronald Acuña Jr (ATL): .312/.409/.514, 5 HR, 15 RBI, 1.4 WAR in 29 games
OF: Joc Pederson (SF): .259/.333/.566, 13 HR, 30 RBI, 0.7 WAR in 47 games
DH: Bryce Harper (PHI): .308/.364/.637, 15 HR, 45 RBI, 2.1 WAR in 51 games
SP: Sandy Alcántara (MIA): 6-2, 1.61 ERA, 0.94 WHIP, 77 K/ 24 BB, 3.5 WAR in 12 starts
Toughest omissions: Trea Turner, SS (LAD); Nolan Arenado, 3B (STL); Juan Soto, OF (WSH); Mike Yastrzemski, OF (SF); Joe Musgrove, RHP (SD); Tony Gonsolin, RHP (LAD)
What's next: The first round of voting ends on June 30, at which point each league's top overall vote-getter automatically earns the starting spot at their position.
3. 🐎 The Test of the Champion
The 154th Belmont Stakes are Saturday in Elmont, New York, bringing the 2022 Triple Crown season to an end, Axios' Jeff Tracy writes.
Post time: 6:44pm ET (NBC)
Weather: High of 75°F and 18% chance of rain
The field: After 20 horses raced in the Kentucky Derby and nine competed in the Preakness, just eight will line up tomorrow.
The favorite: We the People (2-1 odds, post No. 1) is the morning-line favorite, coming into the Belmont with three wins in four career races.
The intrigue: Rich Strike (7-2, No. 4) made history last month when he became the second-longest shot ever to win the Kentucky Derby. Now he's the third-favorite at the Belmont after skipping the Preakness.
The filly: Nest (8-1, No. 3) is the lone filly in the field, and she has the type of pedigree needed (more inherited speed than stamina) to beat the boys and become the fourth female to win at Belmont.
Notably absent: Early Voting (Preakness winner) and Epicenter (Preakness and Derby runner-up) are skipping the race to prepare for the rest of their season.
Between the lines: The Belmont is called "The Test of the Champion" because at 1 1/2 miles it's the longest of the Triple Crown races (Derby, 1 1/4; Preakness, 1 3/16). It's also the oldest, dating back to 1867.
The fastest time ever is 2:24, run by Secretariat in 1973.
Last year's winner, Essential Quality, ran it in 2:27.11.
Go deeper: Meet Rich Strike jockey Sonny Leon (NYT)
4. ⚡️ Lightning round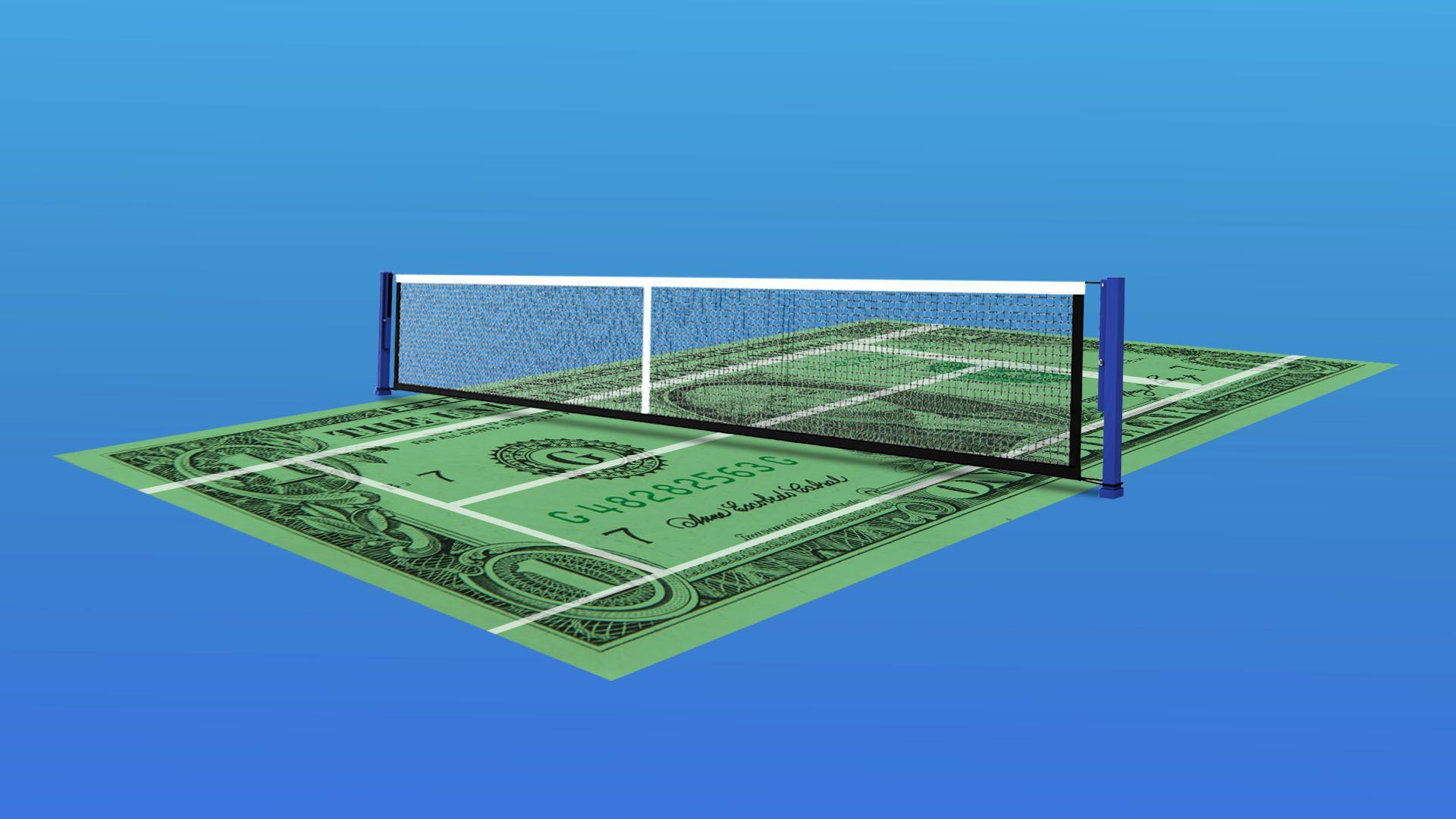 5. ⛳️ LIV tees off, PGA suspends players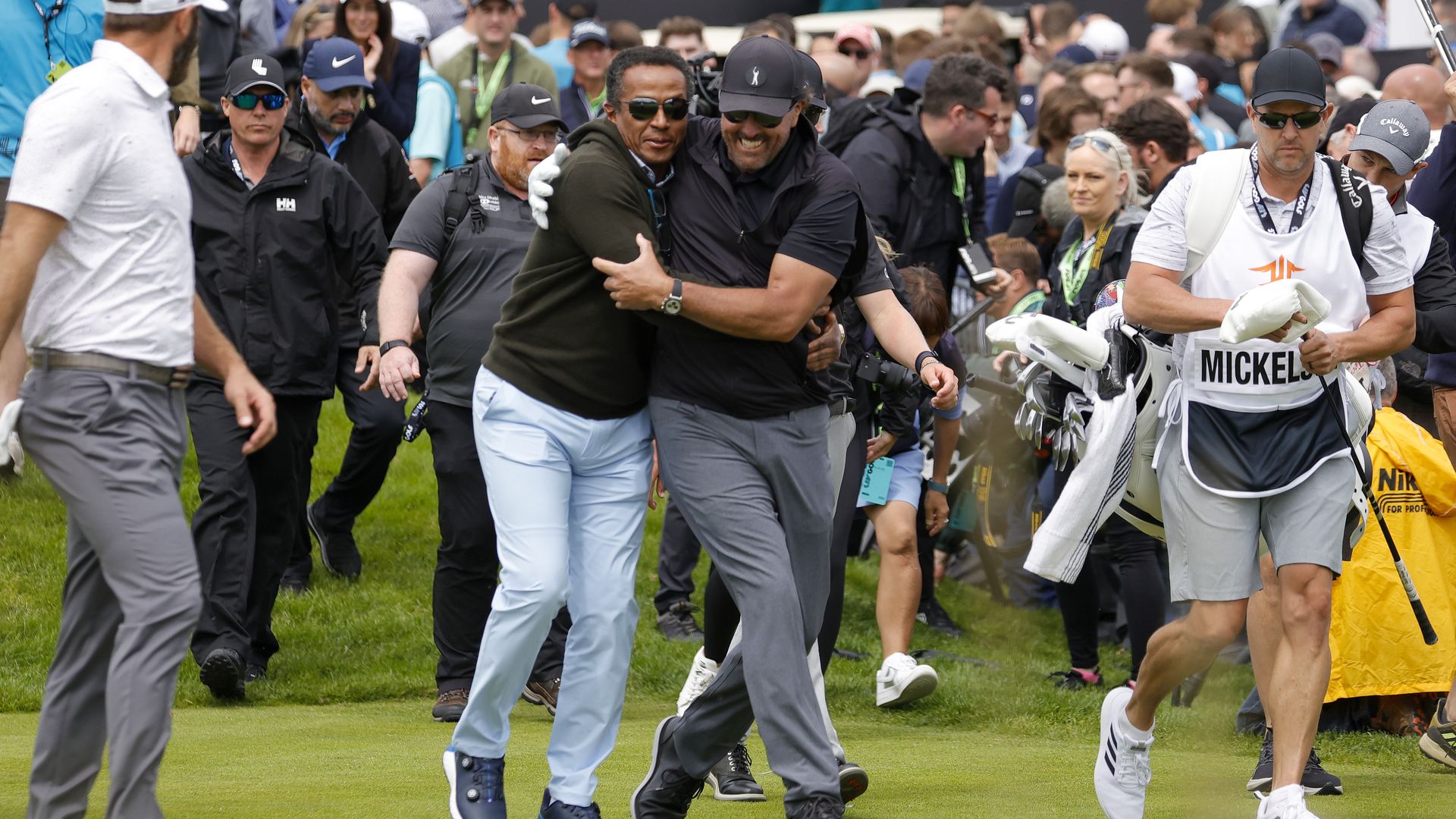 Two South Africans, Charl Schwartzel and Hennie du Plessis, lead the field after the first round of LIV Golf's inaugural event.
State of play: The PGA Tour on Thursday suspended the 17 members who are competing in the London event.
LIV members can play in next week's U.S. Open, which is run by the USGA.
The other three majors (The Open, the PGA Championship and the Masters) could announce decisions soon.
Meanwhile, in Canada: Wyndham Clark leads the PGA Tour's RBC Canadian Open after 18 holes.
ICYMI: LIV Golf, explained (Axios)
6. 🐐 GOAT talk: Ownership buzz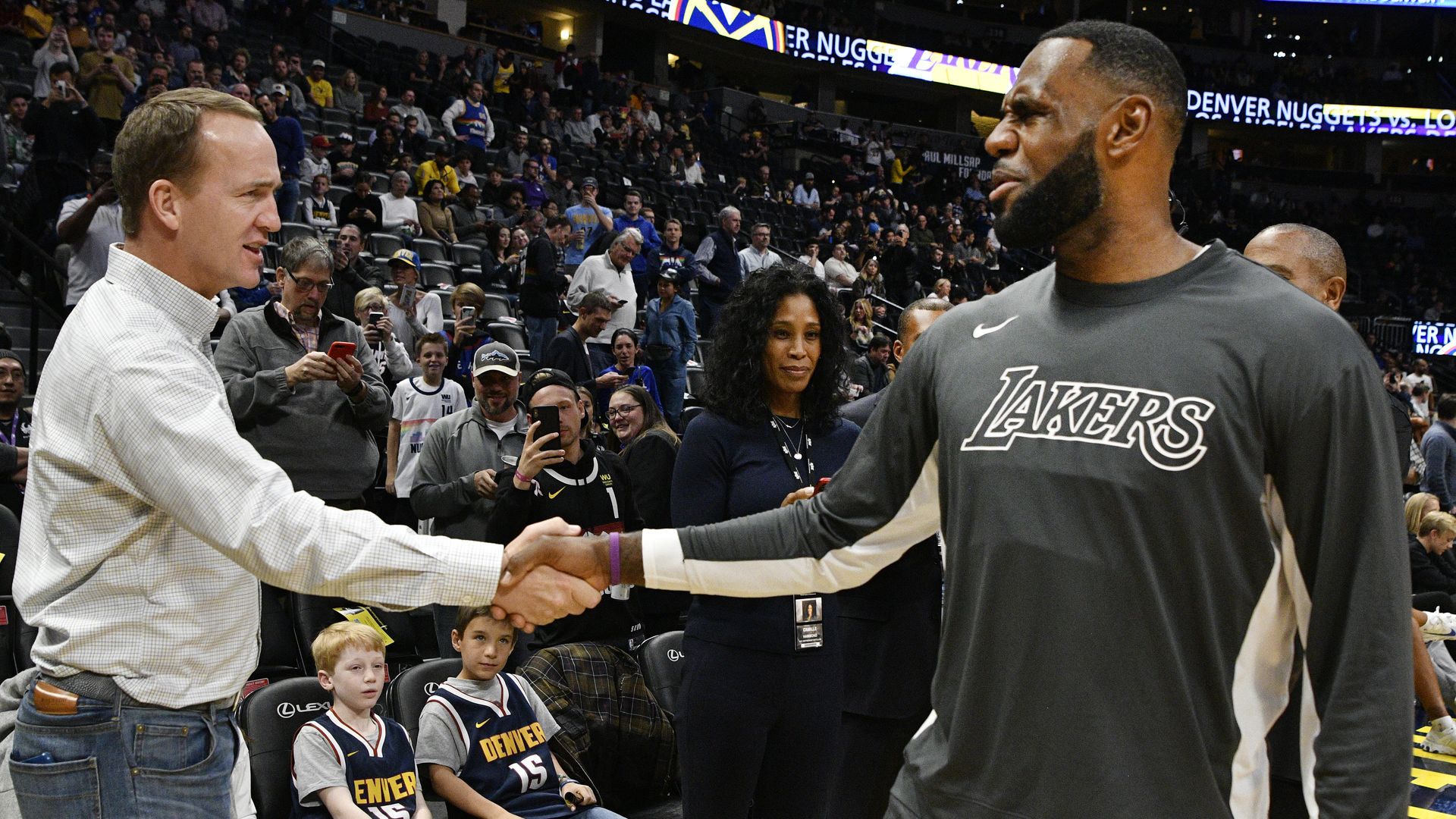 Three all-time greats, two of whom are still active, made headlines Thursday about what could be their next job title: Sports team owner.
Peyton Manning: The new Broncos ownership group has had conversations with the former QB about an advisory role that could lead to him receiving equity in the franchise, per ESPN.
LeBron James: The newly-minted billionaire has made it known for years that he plans to eventually own an NBA team. Now he has a location in mind: "I want a team in Vegas."
Tom Brady: The Bucs QB was asked Thursday about reports that he'd spoken with the Dolphins about joining their organization, possibly as a minority owner. He did not deny them.
7. 🌎 The world in photos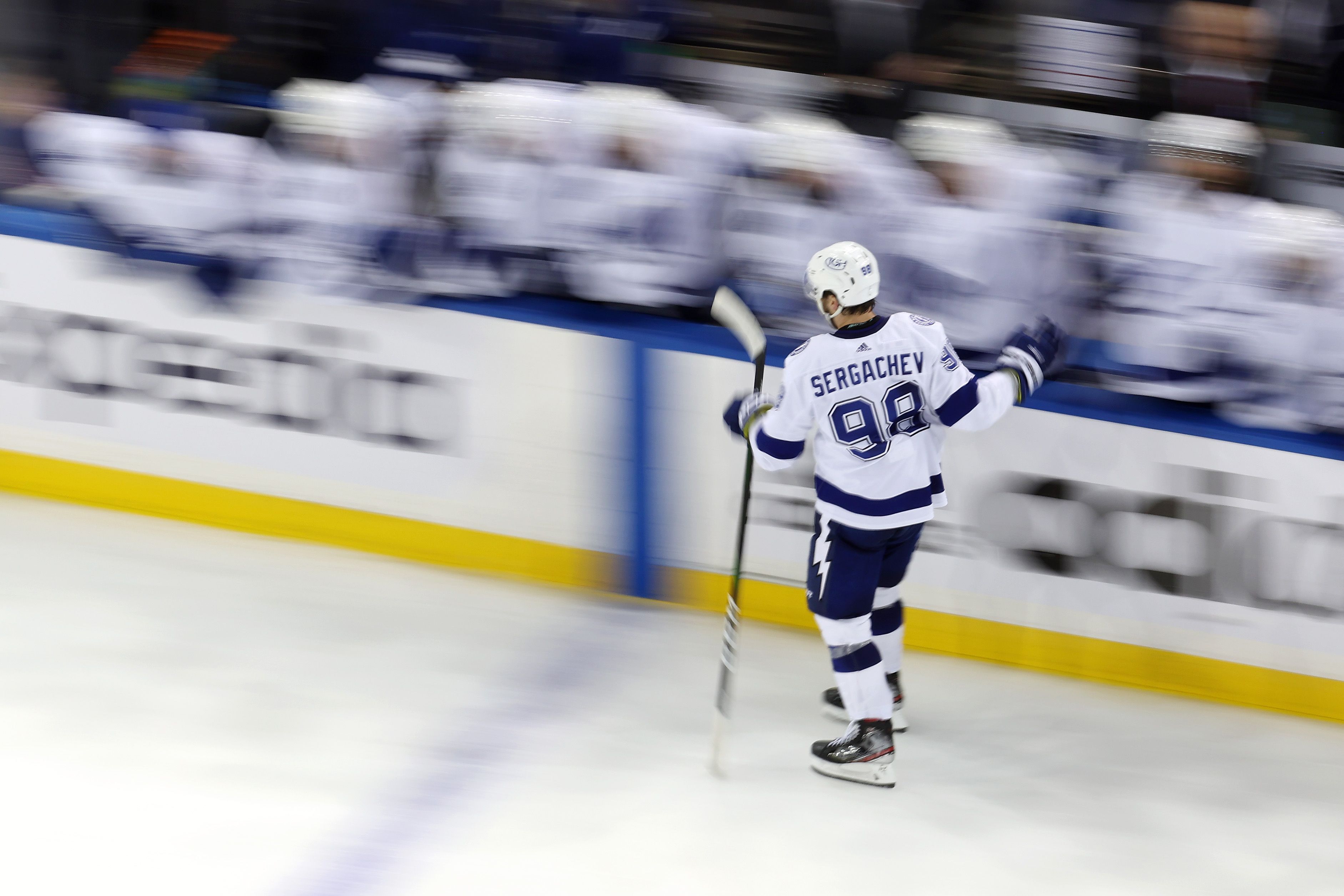 NEW YORK — The Lightning beat the Rangers, 3-1, on Thursday night, ending New York's eight-game home playoff winning streak to take a 3-2 East Finals lead.
Context: This is familiar territory for the Rangers, who have been down 3-2 in every series so far.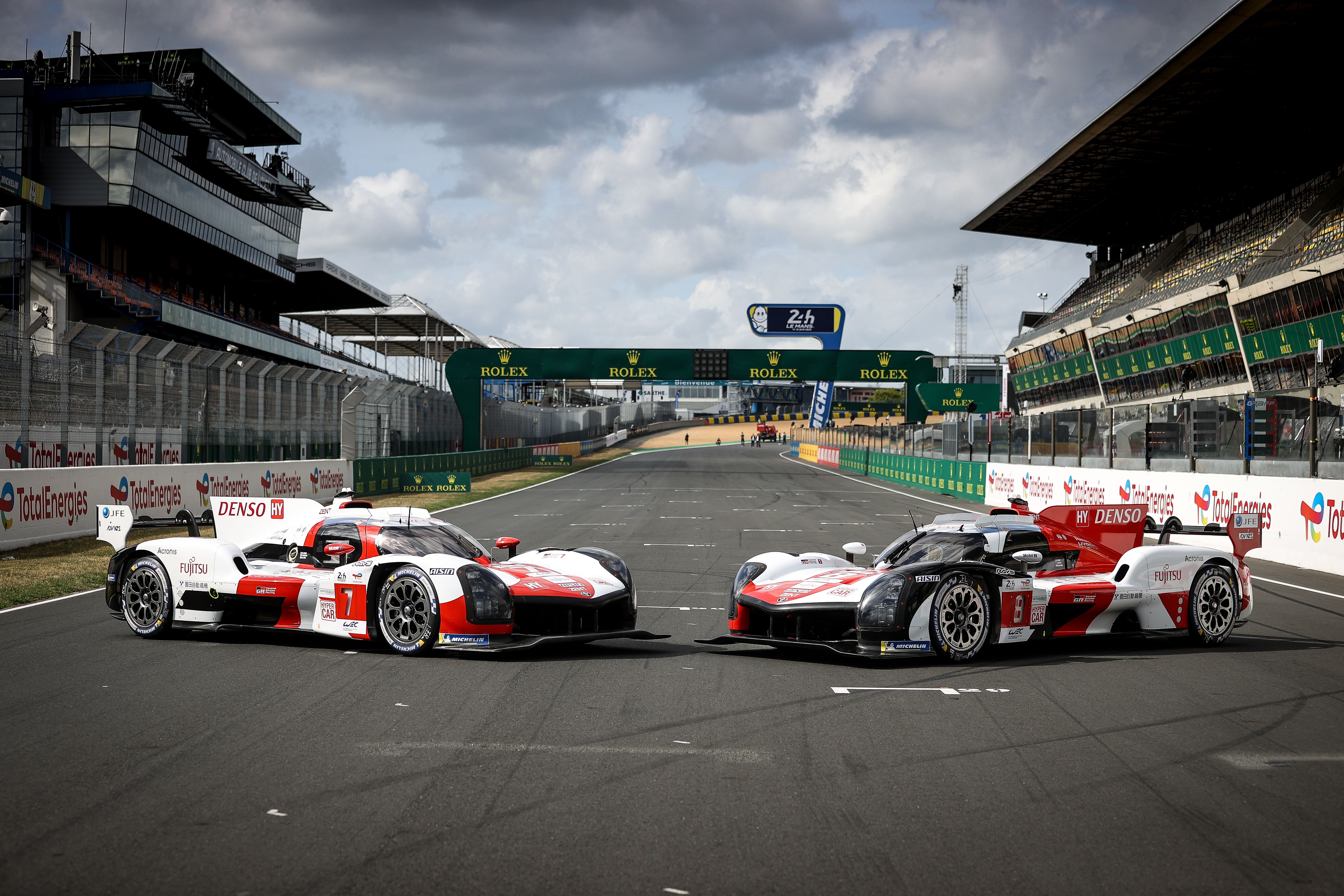 LE MANS, France — The 24 Hours of Le Mans is this weekend. Great excuse to watch "Ford v Ferrari," which rules.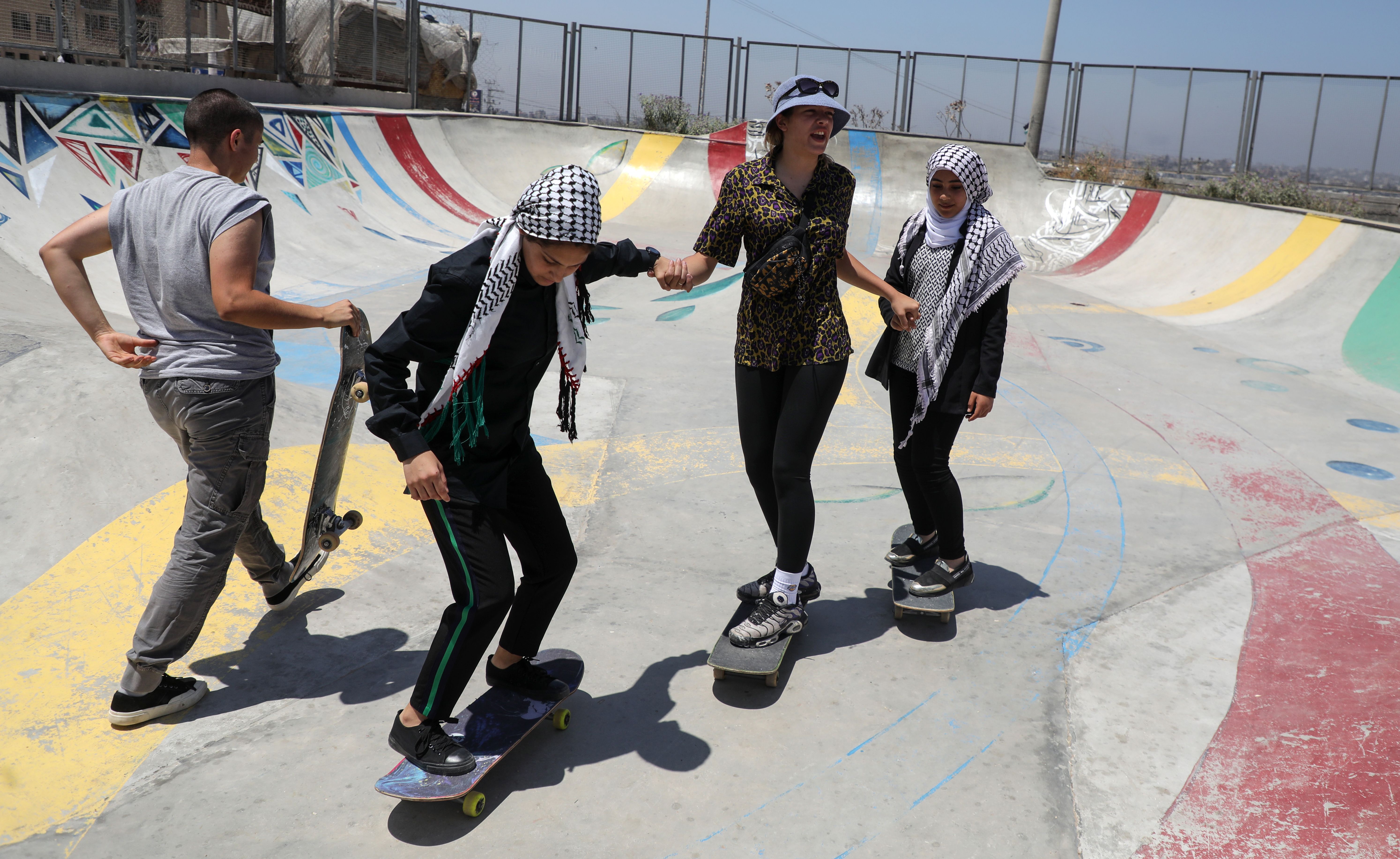 GAZA, Palestine — The Italian project Green Hopes built a skate park in the Gaza Strip to help children cope with the psychological effects of war.
8. 📺 Watchlist: Super 16
The Super Regionals begin today, as 16 college baseball teams play a best-of-three series with a spot in the College World Series on the line. The opening matchups:
Friday: No. 9 Texas at No. 8 ECU (12pm, ESPN2); Oklahoma at No. 4 Virginia Tech (3pm, ESPN2); Notre Dame at No. 1 Tennessee (6pm, ESPN2); No. 12 Louisville at No. 5 Texas A&M (8:30pm, ESPNU)
Saturday: Arkansas at No. 10 UNC (11am, ESPN); Ole Miss at No. 11 Southern Miss (4pm, ESPNU); UConn at No. 2 Stanford (10:30pm, ESPNU); No. 14 Auburn at No. 3 Oregon State (10:30pm, ESPN2)
More to watch:
9. 🏀 NBA trivia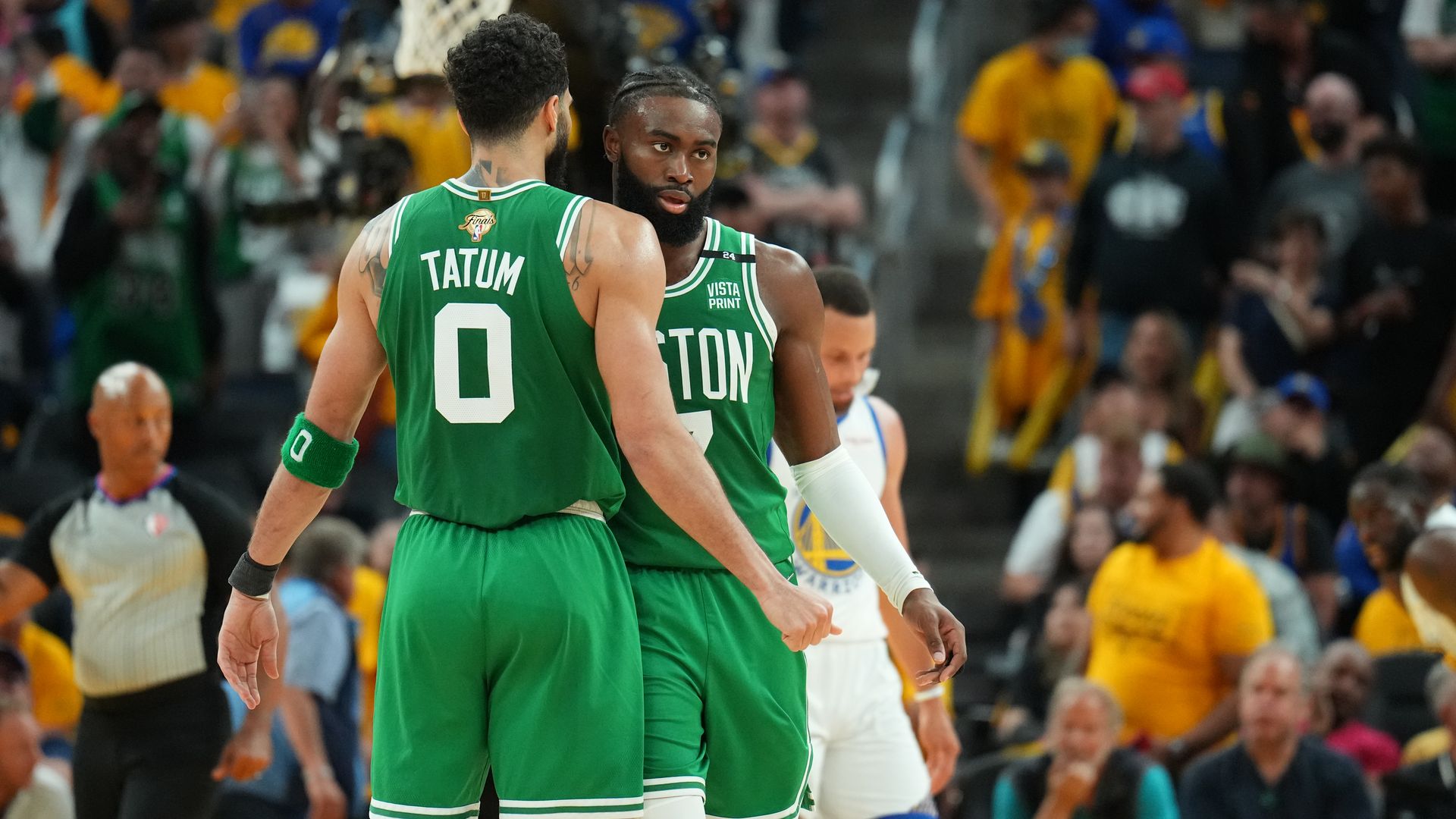 Jayson Tatum and Jaylen Brown are the second duo in NBA history to score 1,000 points in a single postseason while both age 25 or younger.
Question: Name the other duo.
Hint: Both players still active.
Answer at the bottom.
10. 🏀 Stat du jour: Third quarter Warriors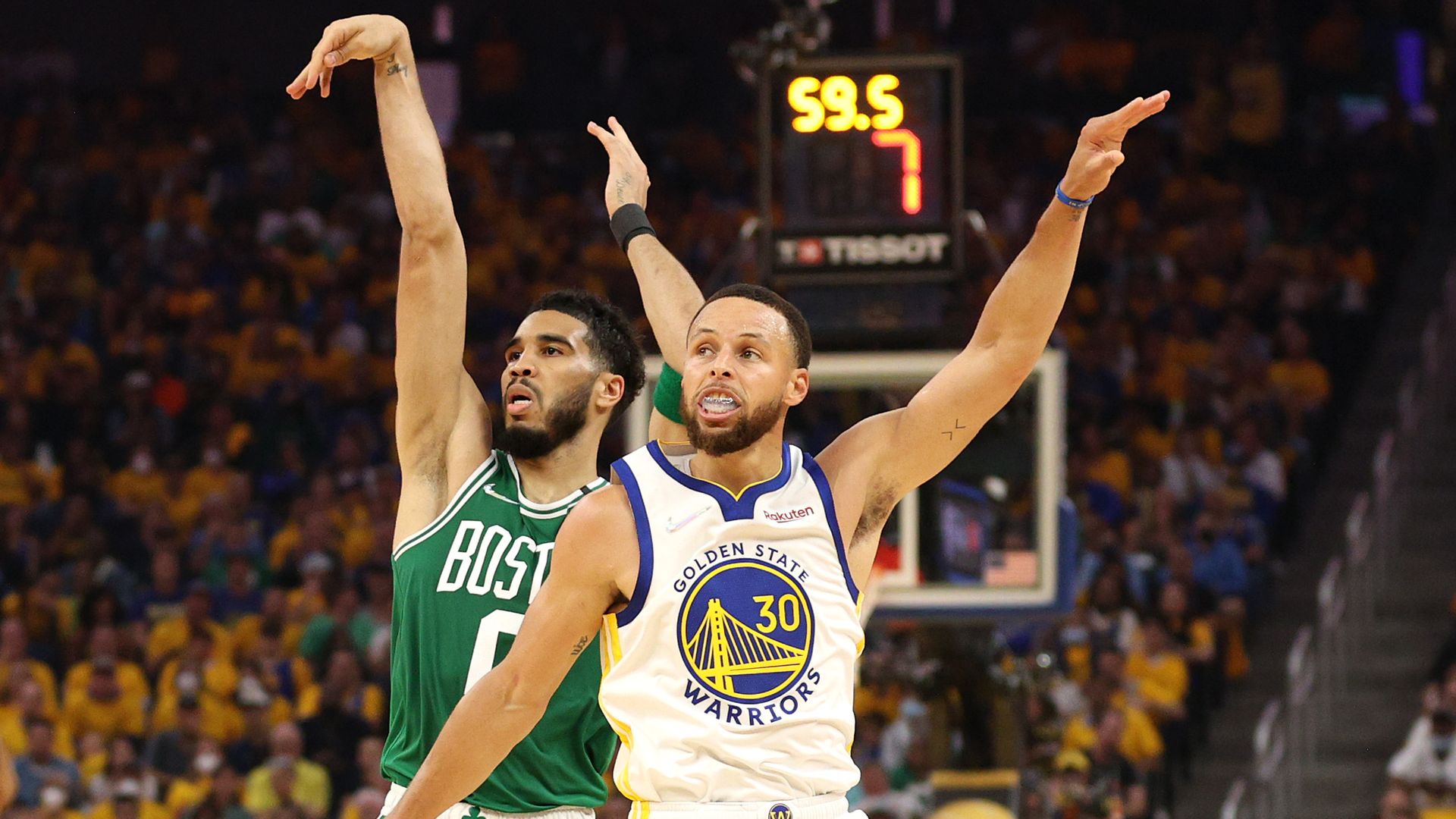 The Warriors have wreaked havoc in the third quarter of all three NBA Finals games, but their performance in the other three has them in danger of falling into a 3-1 hole, Jeff writes.
By the numbers: The Warriors have outscored the Celtics 106-63 (+43) in the third quarter, but the Celtics have outscored them 261-209 (+52) the rest of the time.
Enjoy the weekend,
Kendall "Boomer Sooner" Baker
Trivia answer: Kevin Durant and Russell Westbrook (2012 and 2014 with Thunder)
🙏 Thanks for reading. Follow us on Twitter: @kendallbaker and @jeffreytracy. Tell your friends to sign up.