Axios Sports
December 01, 2021
👋 Good morning! Happy Hump Day to you and yours.
Today's word count: 1,340 words (5 minutes).
Let's sports...
1 big thing: 🏈 The penultimate CFP rankings
Michigan's first victory over Ohio State in 10 years has given the Wolverines their highest ranking of the CFP era — and a clear path to their first playoff appearance.
Where it stands: Unbeaten Georgia remained No. 1 in the CFP rankings for the fifth straight week, followed by Michigan, Alabama, Cincinnati, Oklahoma State and Notre Dame.
By the numbers: Those six true contenders all have at least a 32% chance of making the field ahead of conference championship weekend. Notre Dame, who just lost their coach, will watch anxiously from the sidelines.
Georgia: 99% chance
Michigan: 72%
Alabama: 59%
Cincinnati: 74%
Oklahoma State: 32%
Notre Dame: 58%
Looking ahead: Georgia is in no matter what, and Michigan, Alabama and Cincinnati are almost certainly in if they win on Saturday. If the unbeaten Bearcats get jumped by a one-loss team after beating No. 21 Houston, the entire system is broken.
SEC: No. 1 Georgia vs. No. 3 Alabama (4 pm ET, CBS)
Big Ten: No. 2 Michigan vs. No. 13 Iowa (8pm, Fox)
Big 12: No. 5 Oklahoma State vs. No. 9 Baylor (12pm, ABC)
AAC: No. 4 Cincinnati vs. No. 21 Houston (4pm, ABC)
Other title games ... No. 10 Oregon vs. No. 17 Utah (Pac-12); No. 15 Pitt vs. No. 16 Wake Forest (ACC); No. 19 San Diego State vs. Utah State (MWC); No. 24 Louisiana vs. Appalachian State (Sun Belt); UTSA vs. Western Kentucky (C-USA); Northern Illinois vs. Kent State (MAC).
What's next: The final rankings will be released Sunday.
2. 🏈 November was brutal for NFL bettors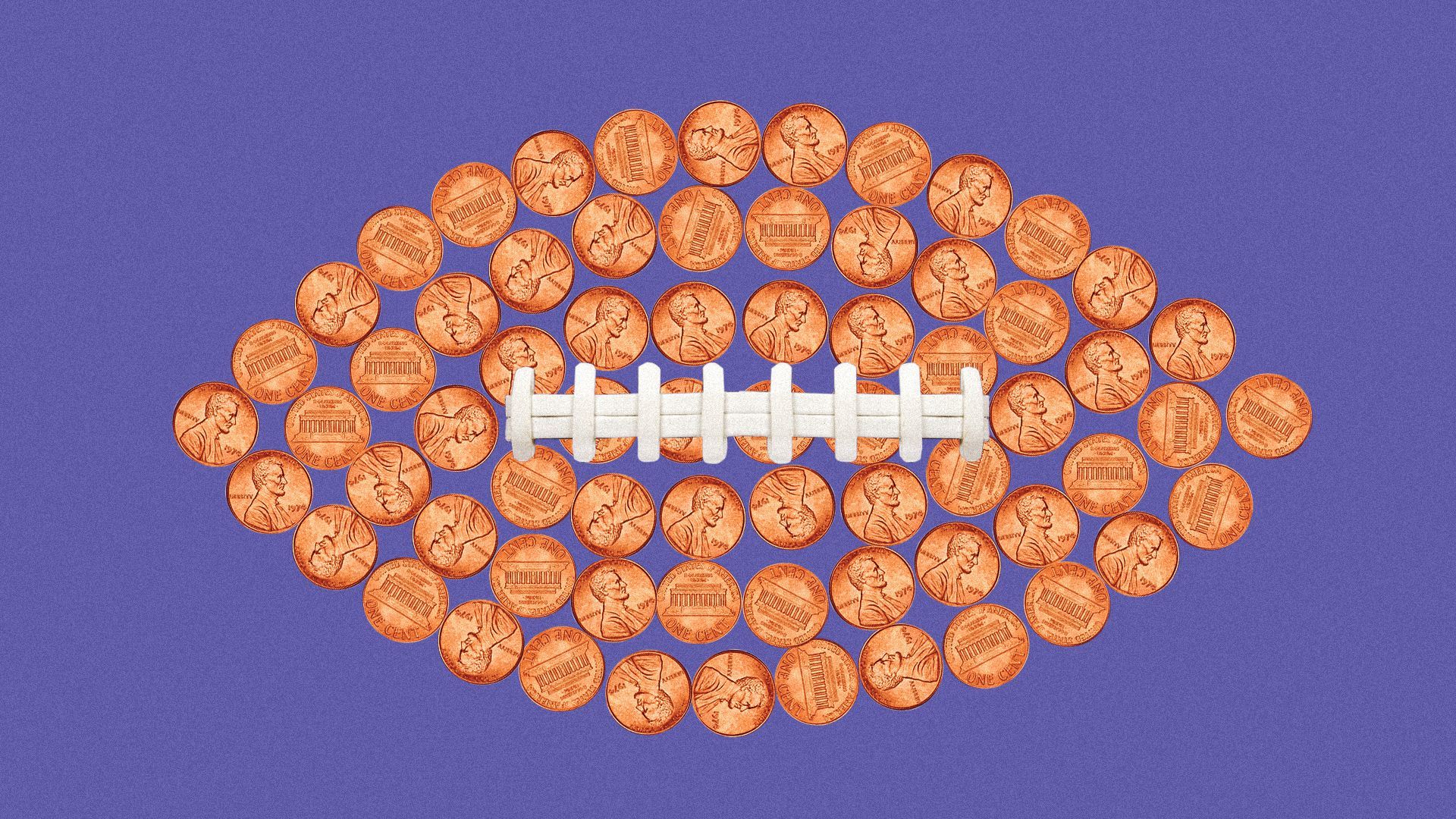 The most unpredictable NFL season in recent memory is costing bettors at a historic clip, Axios' Jeff Tracy writes.
Driving the news: November was among the worst months ever for the betting public thanks to underdogs covering the spread nearly 60% of the time and winning 23 games outright.
Notable games: Jaguars over Bills in Week 9; Dolphins over Ravens in Week 10; Texans over Titans in Week 11.
That's part of a season-long trend in which underdogs are 99-77-1 against the spread — on pace to be the best mark since 1980.
The big picture: While the NFL's chaos cursed bettors last month, it's made for a wildly entertaining season — and the upshot is a wide-open playoff race with six weeks left.
27 teams are within 1.5 games of a playoff spot, and 25 teams have at least five wins (compared to just 18 at this point last season).
This is the first year since 2014 with no 10-win teams through Week 12, and just two division leaders hold more than a two-game lead over second place (NFC North, NFC South).
Wild stat: 25 games this season have been decided on the final play — the most through 12 weeks since the merger. That kind of end-game coin flip has helped cause this unprecedented parity.
Playoff picture:
AFC: 1. Ravens (8-3), 2. Patriots (8-4), 3. Titans (8-4), 4. Chiefs (7-4), 5. Bengals (7-4), 6. Bills (7-4), 7. Chargers (6-5)
NFC: 1. Cardinals (9-2), 2. Packers (9-3), 3. Buccaneers (8-3), 4. Cowboys (7-4), 5. Rams (7-4), 6. 49ers (6-5), 7. Washington (5-6)
In related news...
3. 💵 Chart du jour: State(s) of sports betting
Sports betting is now legal and operational in 30 states, plus the District of Columbia, with Wisconsin accepting its first legal bets on Tuesday at Oneida Casino, near Green Bay.
4. ⚡️ Lightning round
🚕 Flying taxis: French officials are testing electric "flying taxis" that they plan to roll out for the 2024 Summer Olympics in Paris.
🏀 Advantage Nets: The Nets beat the Knicks, 112-110, on Tuesday to take a 102-101 lead in the all-time series. Is this becoming a true rivalry?
🦃 NFL wins Turkey Day: The NFL's trio of Thanksgiving games averaged 29.7M viewers, the highest since 1998. Raiders-Cowboys averaged a whopping 38.3M, making it the second most-watched ever.
🏈 Good read: How the power of positivity defined the moments after the injury that changed my life (Ryan Shazier, The Ringer)
Ryan Shazier came face-to-face with terror on a 2017 night in Cincinnati. In an excerpt from his new book, the former Steelers star explains how faith charted a path to his recovery.
5. ⚾️ MLB's billion-dollar spending spree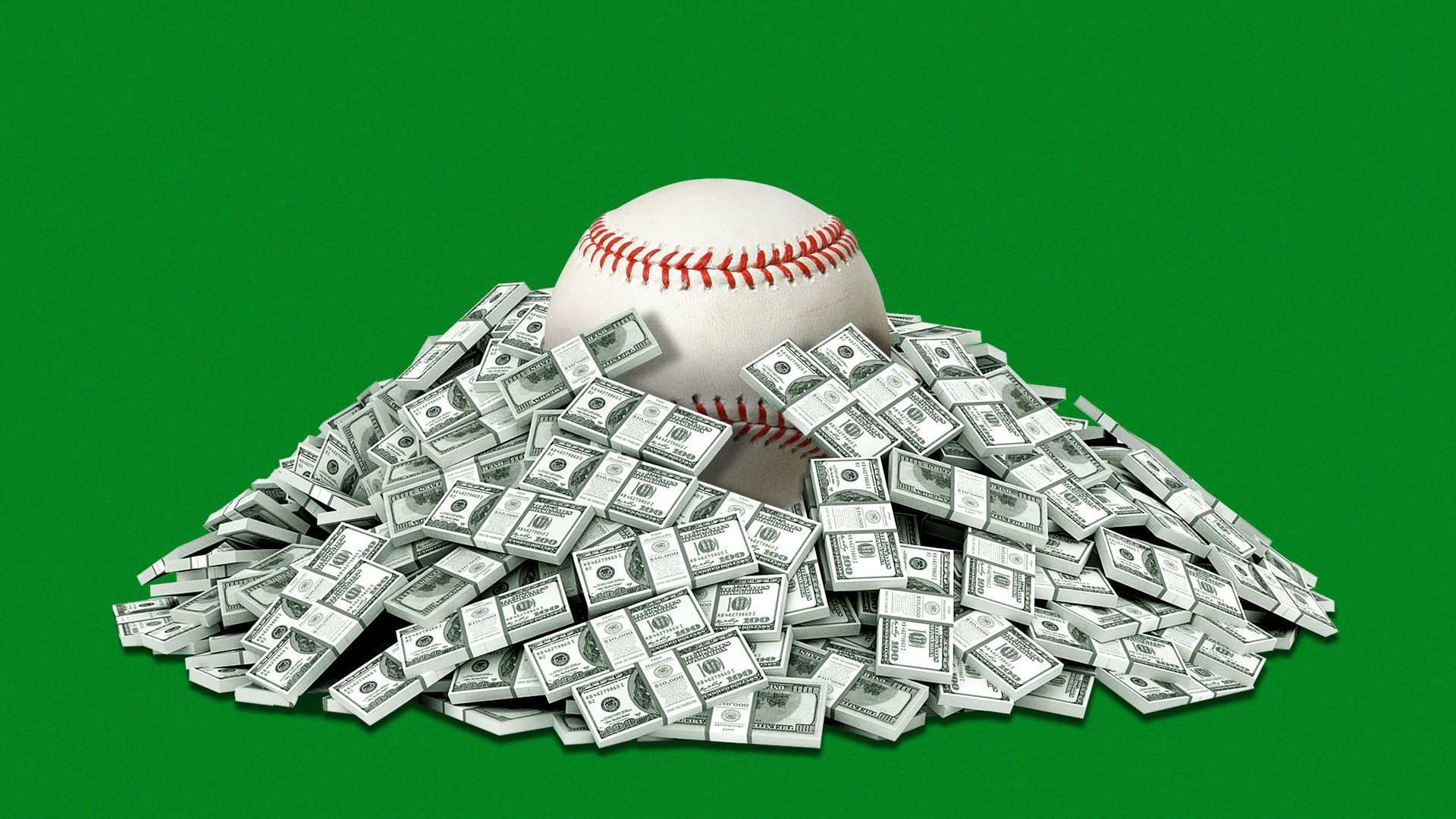 The CBA's pending expiration at midnight tonight has caused a surge of deals, with teams committing well over $1.5 billion to free agents since the offseason began, Jeff writes.
By the numbers: 20 players have already signed deals worth at least $17 million:
Corey Seager, SS: Rangers (10 years, $325M)
Marcus Semien, 2B: Rangers (seven years, $175M)
Javier Báez, SS: Tigers (six years, $140M)
Max Scherzer, RHP: Mets (three years, $130M)
Robbie Ray, LHP: Mariners (five years, $115M)
Kevin Gausman, RHP: Blue Jays (five years, $110M)
Starling Marte, CF: Mets (four years, $78M)
Eduardo Rodríguez, LHP: Tigers (five years, $77M)
Jon Gray, RHP: Rangers (four years, $56M)
Avisail García, RF: Marlins (four years, $53M)
Steven Matz, LHP: Cardinals (four years, $44M)
Anthony DeSclafani, RHP: Giants (three years, $36M)
Mark Canha, OF: Mets (two years, $26.5M)
Justin Verlander, RHP: Astros (one year, $25M)
Kendall Graveman, RHP: White Sox (three years, $24M)
Noah Syndergaard, RHP: Angels (one year, $21M)
Eduardo Escobar, IF: Mets (two years, $20M)
Brandon Belt, 1B: Giants (one year, $18.4M)
Héctor Neris, RHP: Astros (two years, $17M)
Aaron Loup, LHP: Angels (two years, $17M)
Best remaining free agents: SS Carlos Correa; 1B Freddie Freeman; SS Trevor Story; 3B Kris Bryant; RF Nick Castellanos; LHP Clayton Kershaw.
6. 🇺🇸 Photos across America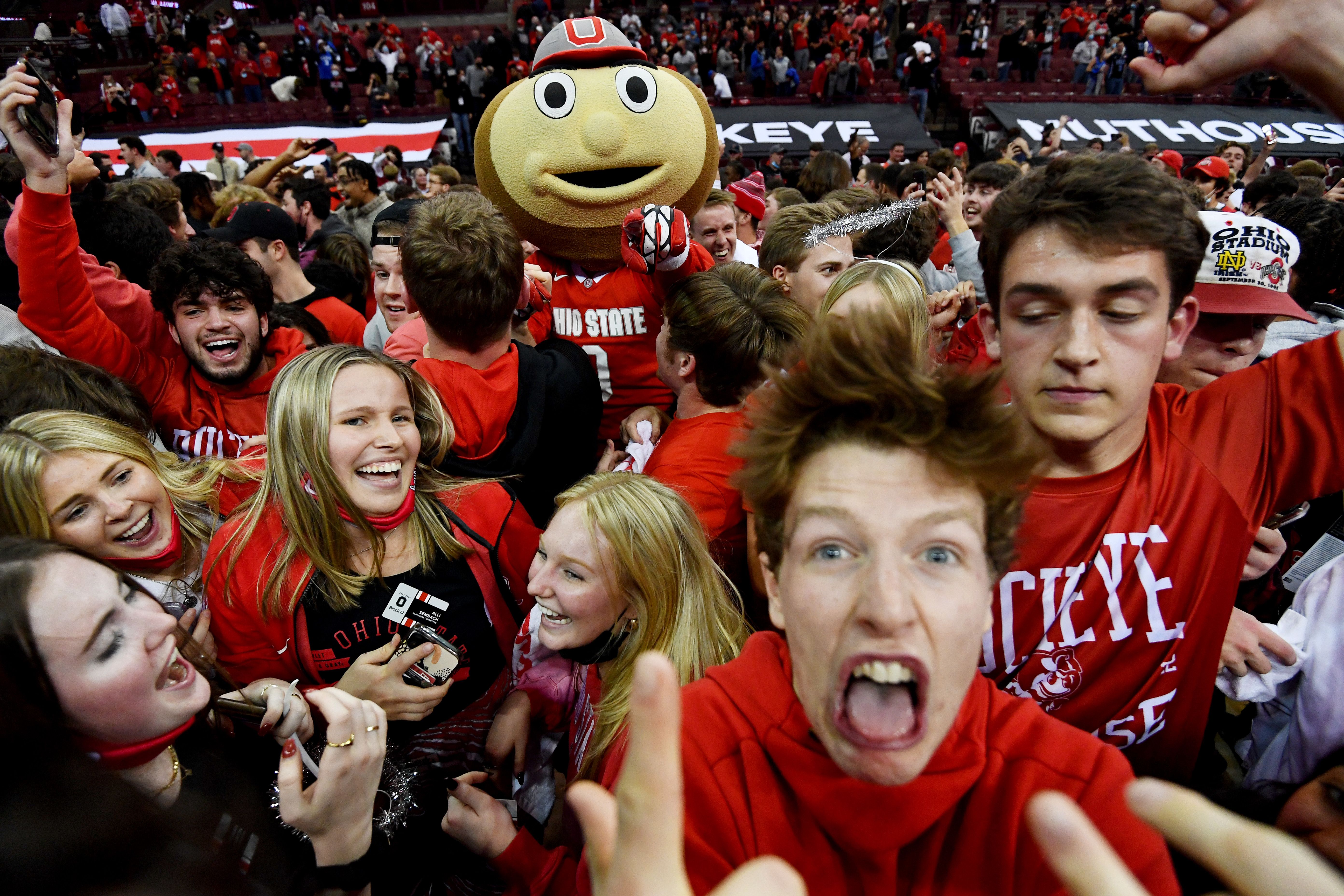 COLUMBUS, Ohio — Unranked Ohio State rallied from a 15-point second-half deficit and held Duke scoreless for the final 4.5 minutes to upset the top-ranked Blue Devils, 71-66.
Of note: This was the first time in 10 years that Duke lost after leading by 10+ points at halftime.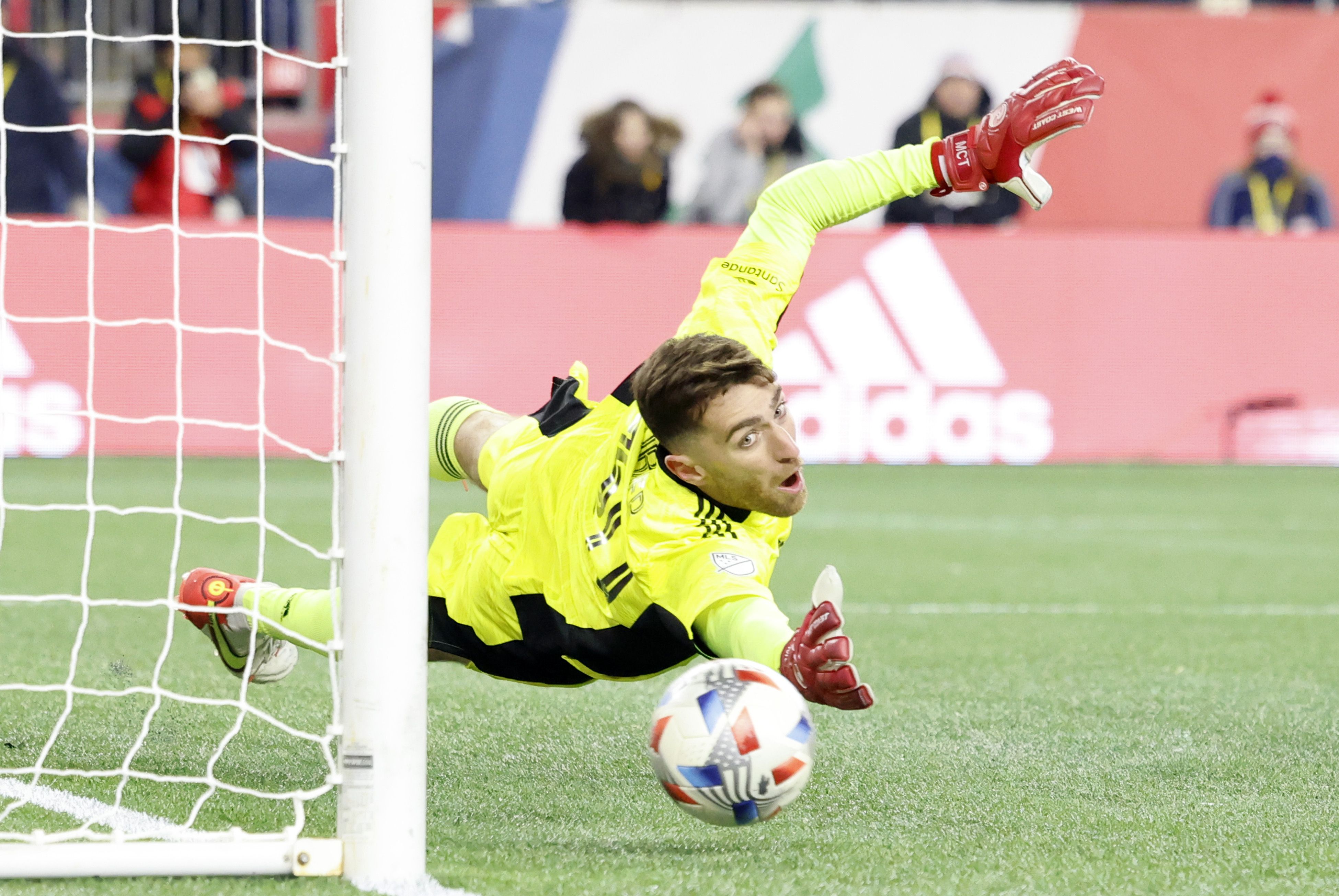 FOXBOROUGH, Mass. — Fourth-seeded NYCFC went a perfect 5-for-5 in a penalty kick shootout to oust the top-seeded Revolution and advance to the Eastern Conference finals.
What's next: Portland hosts Real Salt Lake in the West Finals on Saturday, while Philadelphia hosts NYCFC on Sunday.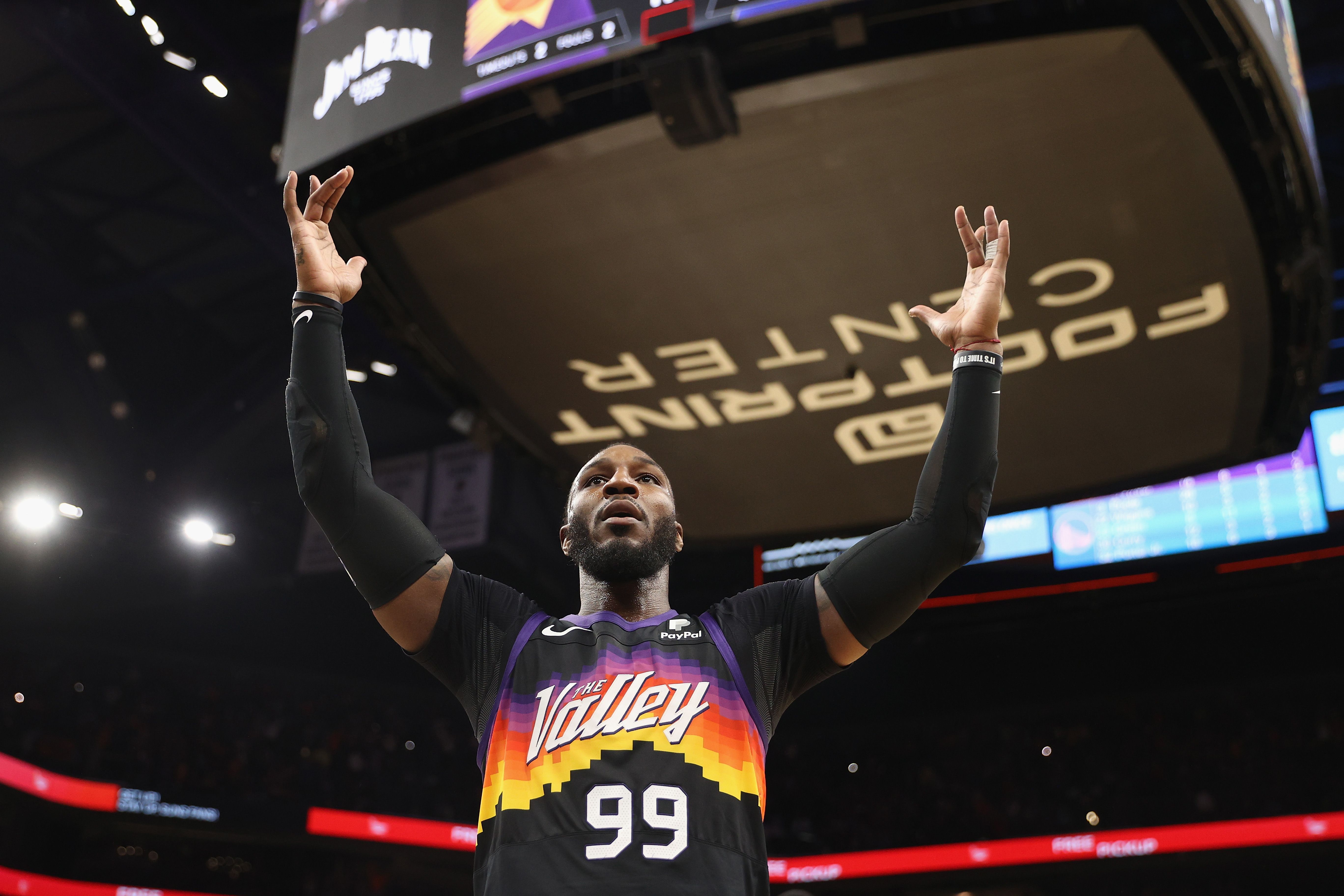 PHOENIX — The Suns beat the Warriors, 104-96, to win their 17th straight game, tying a franchise record. Both teams are now tied atop the Western Conference with 18-3 records.
Game notes: Devin Booker exited in the second quarter (hamstring), while Stephen Curry was held to just 12 points.
7. 🌍 Photos around the world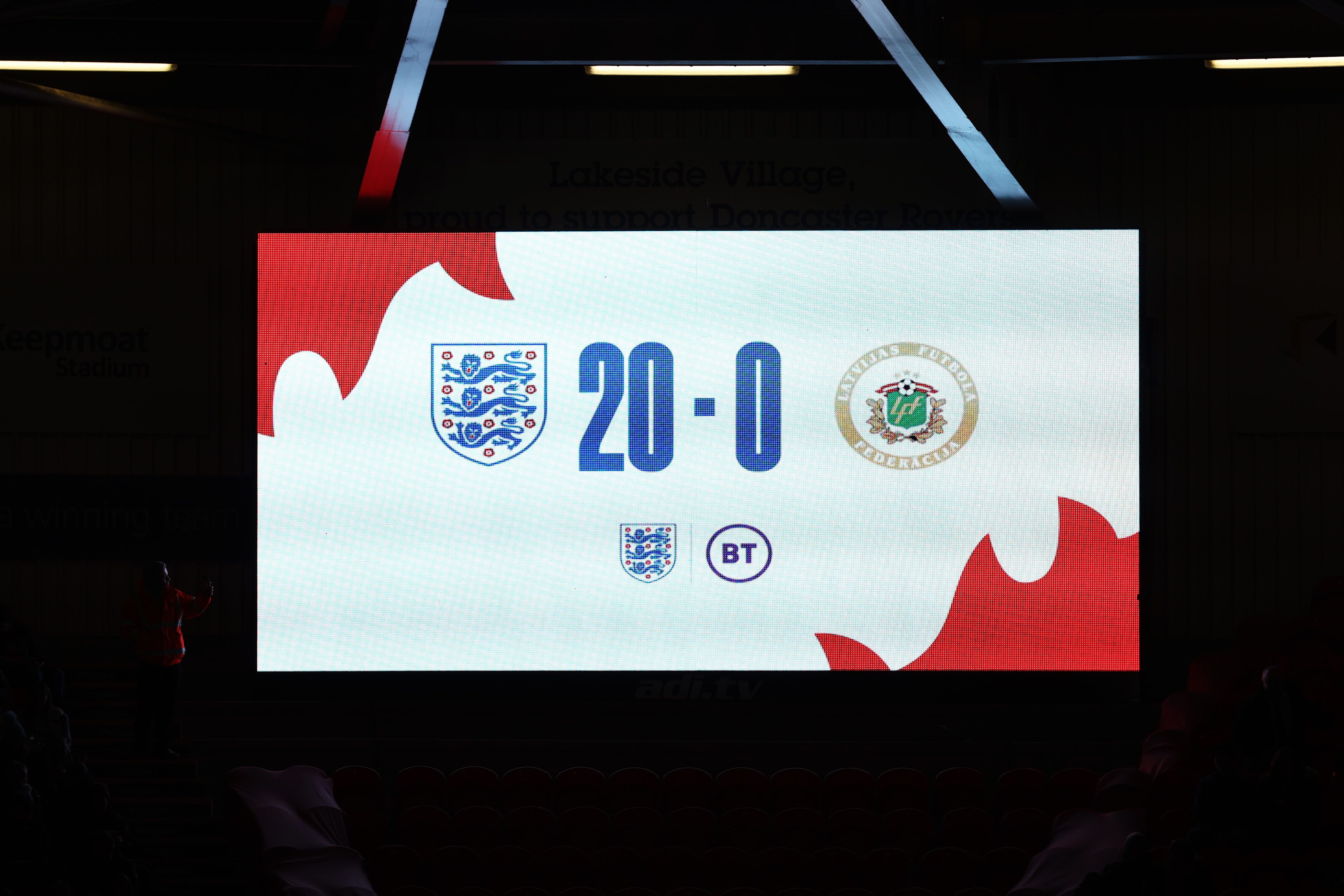 DONCASTER, England — England's national women's soccer team beat Latvia, 20-0, in World Cup qualifying on Tuesday, improving to 6-0-0 in group play with a +53 goal differential (53 scored, zero conceded).
The big picture: The gap between the top and bottom of European women's soccer is vast. Other crazy goal differentials: Spain +43, France +33, Belgium +33, Denmark +32, Germany +29.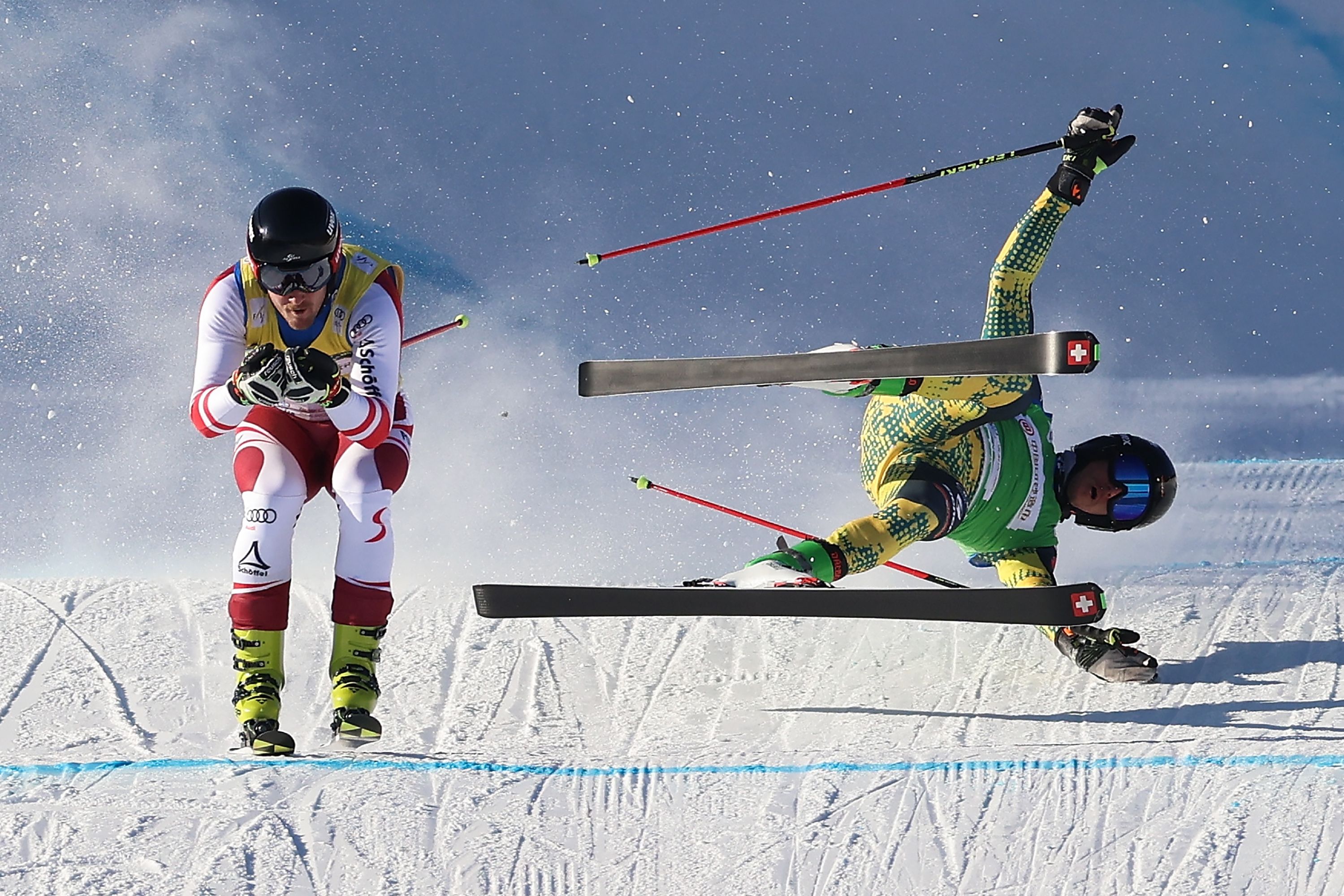 ZHANGJIAKOU, China — Here we have Germany's Tobias Mueller wiping out at the finish line during the Men's Ski Cross and Snowboard World Cup, a Winter Olympics test event.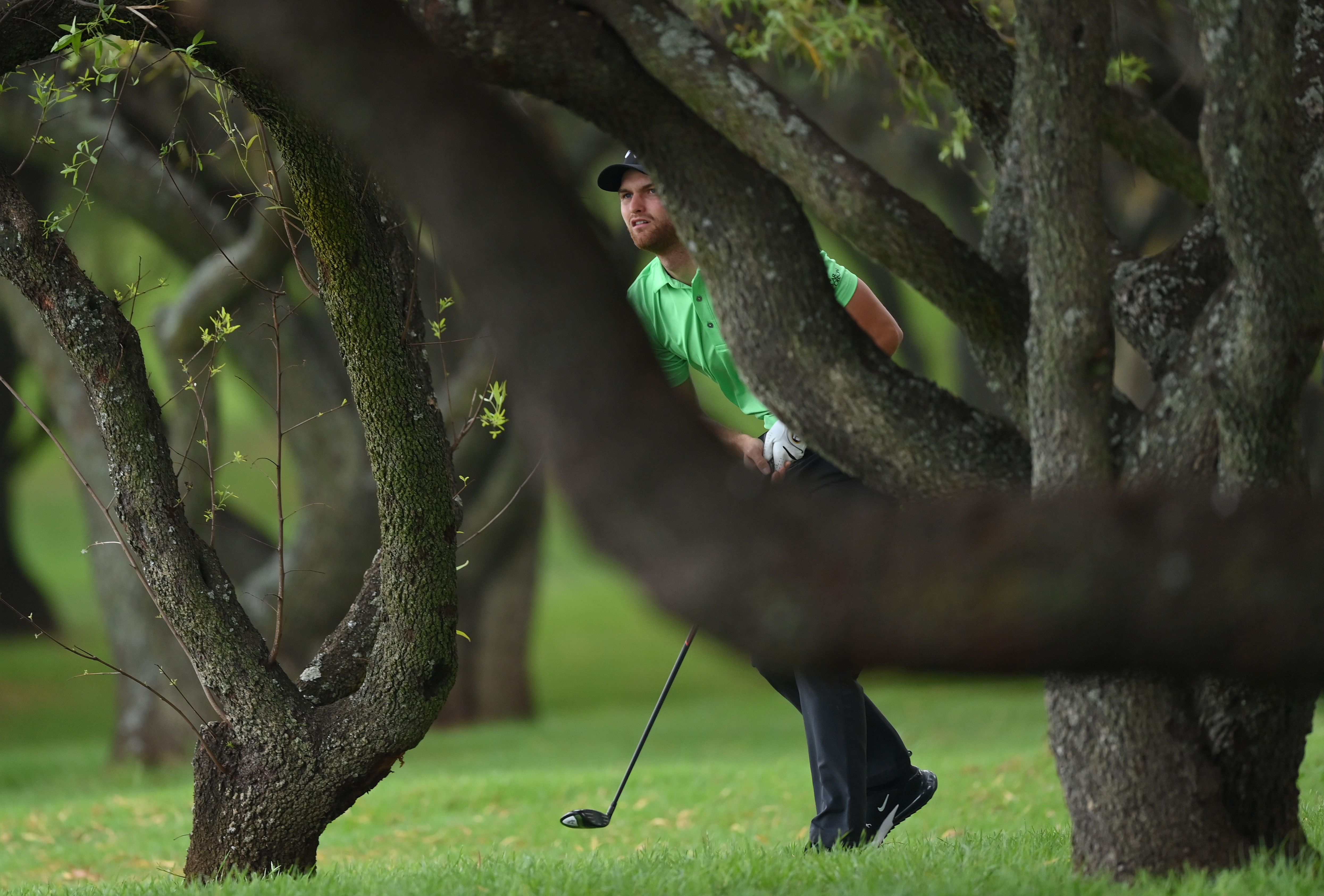 JOHANNESBURG, South Africa — Not where you want to be on the golf course.
8. 📆 Dec. 1, 1928: NL proposes DH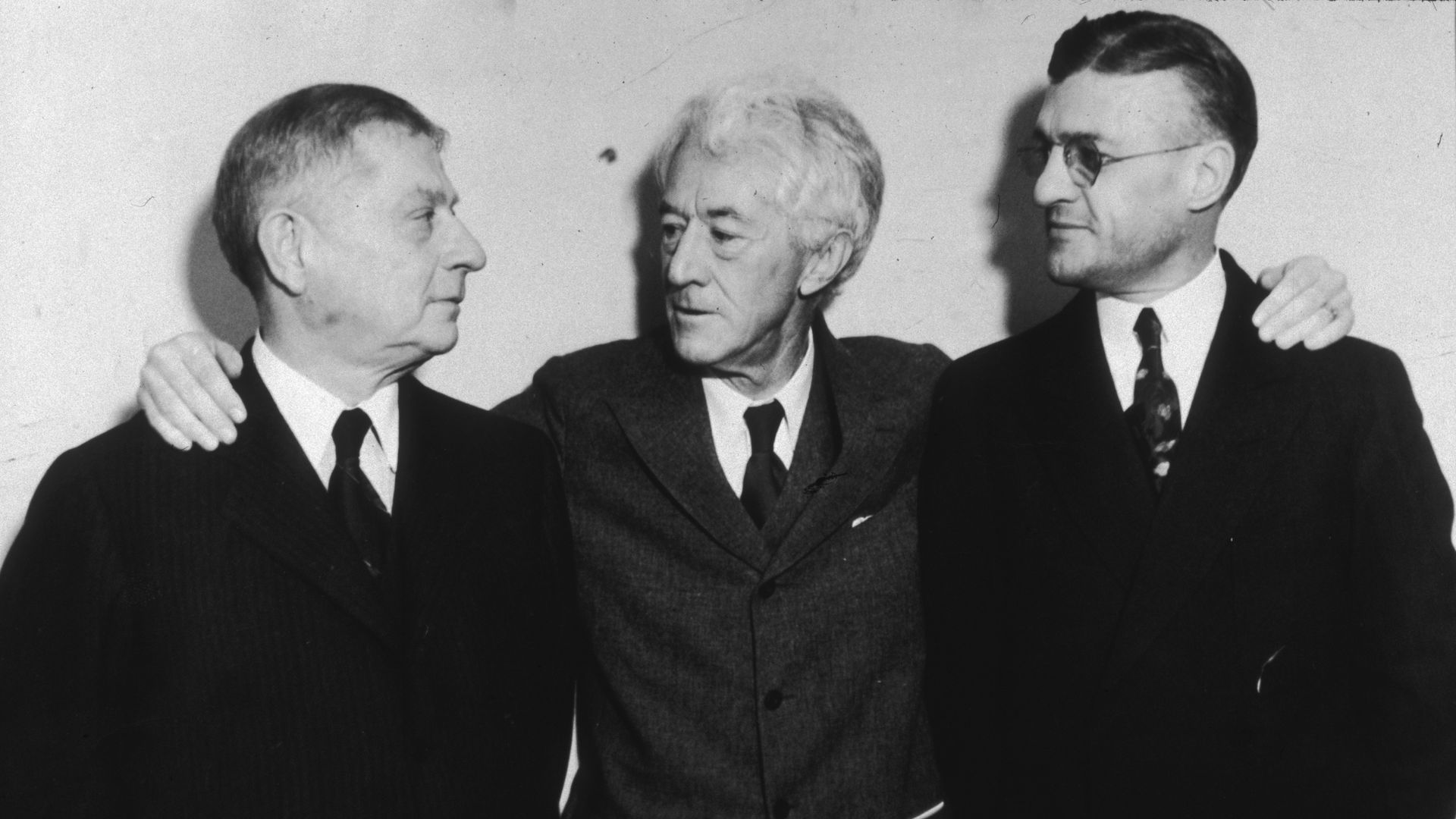 93 years ago today, the NL proposed that MLB add a designated hitter — a measure that, ironically, didn't come to pass because the AL rejected it.
The big picture: MLB executives had pushed for a DH as early as 1891, arguing that "every patron of the game is conversant with the utter worthlessness of the average pitcher when he goes up to try and hit."
It wasn't until 1973 that Ron Blomberg stepped in for the Yankees as the first-ever DH. This time, it was the NL that rejected the proposal, but the AL adopted it anyway.
The DH has been a part of AL baseball ever since, and the NL is widely expected to adopt one starting next season.
1 fun thing: Our top five DHs of all-time…
Edgar Martínez
David Ortiz
Frank Thomas
Paul Molitor
Nelson Cruz
Go deeper: The evolution of the DH (SABR)
9. ⚾️ MLB trivia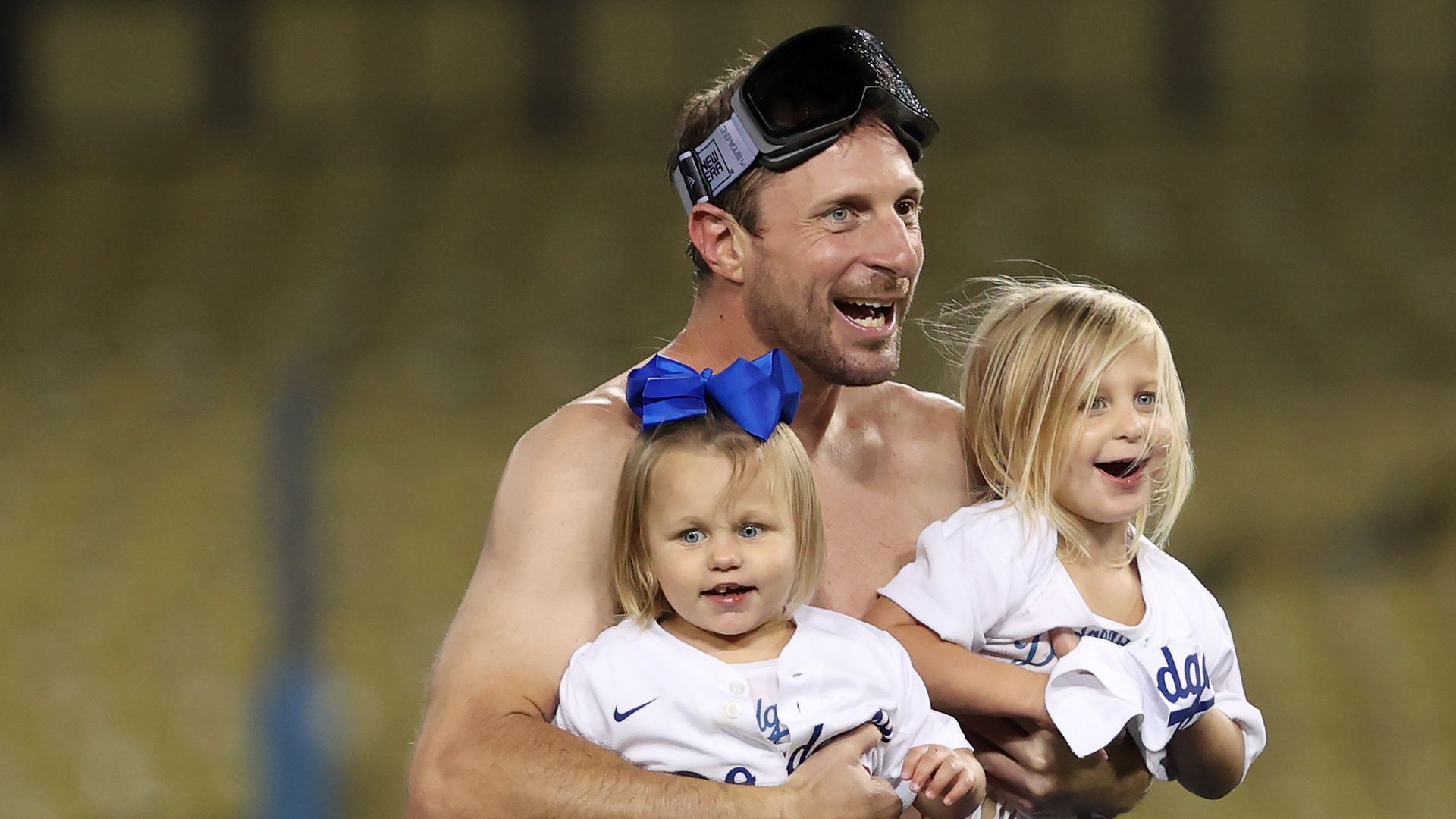 37-year-old Max Scherzer is now the oldest player in MLB history to sign a $100M contract.
Question: Who previously held that distinction?
Hint: Also a pitcher. Signed the deal in 1998.
Answer at the bottom.
10. 🎓 Graphic du jour: NCAA vs. pros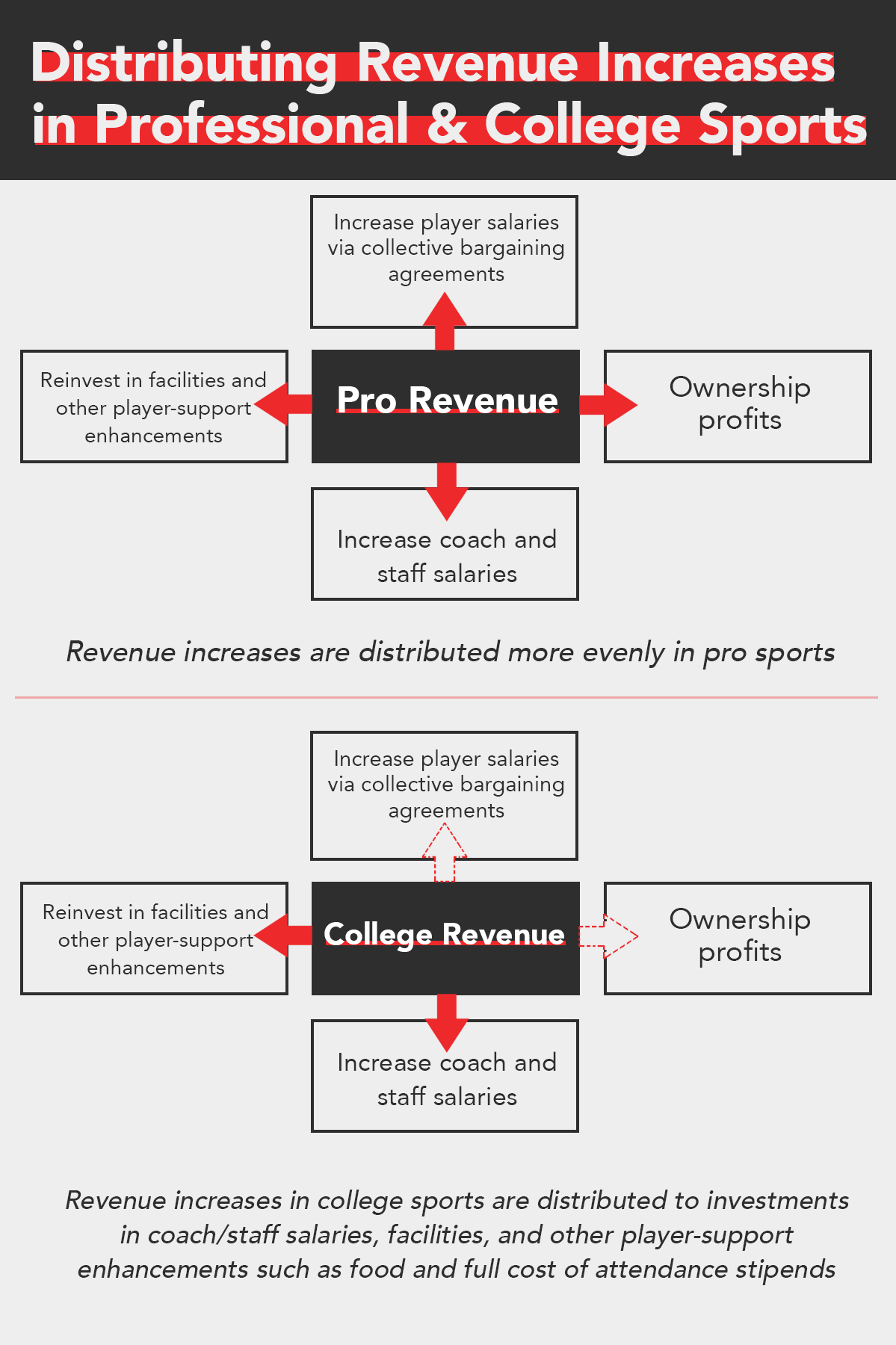 On the heels of the wildest coaching carousel ever, here's a look at the college sports business model...