Happy Friday! This weekend's Australian Open finals are now set: Novak Djokovic vs. Rafael Nadal (men) and Naomi Osaka vs. Petra Kvitová (women).
1 big thing: To pull or not to pull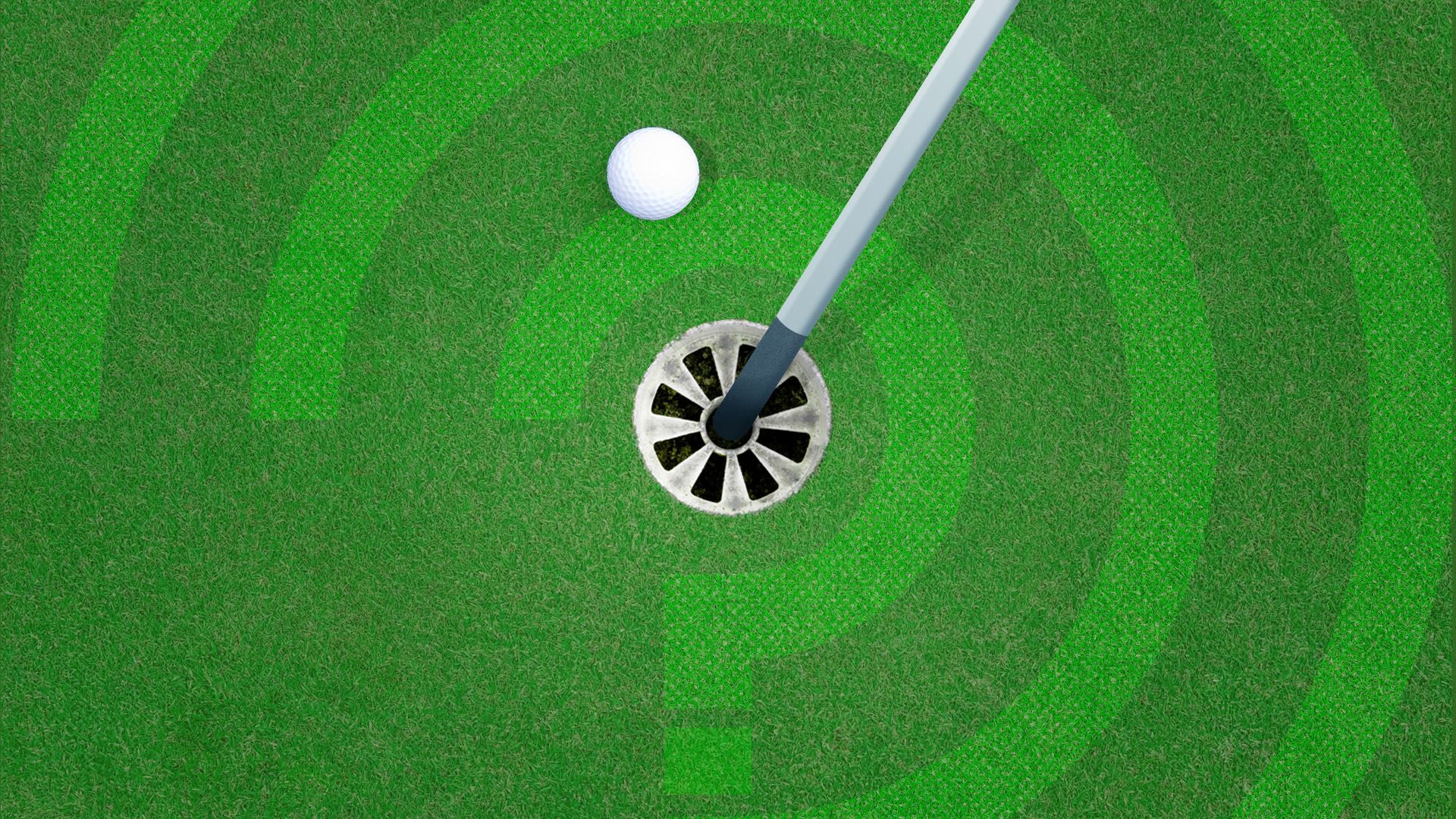 The Rules of Golf have long stated that the flagstick must be pulled out when putting from on the green. Failing to do so, and thus hitting the stick, would result in a 2-stroke penalty — until now.
What's happening: On Jan. 1, the U.S. Golf Association and its British counterpart, the R&A, made putting with the flagstick legal at all levels of golf — a rule change designed to simplify and speed up the game, as a caddie (or a friend) is no longer required to tend and pull the pin.
Golfers are, of course, still allowed to pull the pin, and one would assume that most, if not all, would do that considering (a) it's all they've ever known, and (b) the flagstick could deflect the ball from the hole.
But, but, but: This rule change has left golfers and coaches, alike, wondering whether pulling the pin might actually increase their chances of holing putts — and there's research to support that it does.
By the numbers: In 1990, short-game guru Dave Pelz published a study in Golf Magazine that found that 33% more putts rolled in when the flagstick was in versus when it was out, per the WSJ (subscription).
Multiple other studies support this general idea, and so does the No. 5 ranked golfer in the world, Bryson DeChambeau. Late last year, the 25-year-old committed to putting with the flagstick this year, and he's done just that in 3 tournaments so far (on most putts, not all).
The other side: Phil Mickelson experimented with it during a tournament last week but said "it felt very uncomfortable" and doesn't appear likely to do it again.
And then there's Justin Thomas (and others, I'm sure) who are opposed for a more aesthetic reason. "I can't really take myself seriously if I kept the pin in," he said earlier this month. "I mean, it would just be such a weird picture."
The bottom line: This rule change has resulted in a complete re-examination of the science of putting.
For now, any argument in favor of leaving the flagstick in the hole must rely on decades-old research. But soon, thanks to players like DeChambeau, we will have actual player data — and what that data says could change golf forever.
P.S. Tiger Woods made his season debut yesterday at the Farmers Insurance Open, shooting a two-under 70.
2. Ladies and gentlemen, your NBA All-Star starters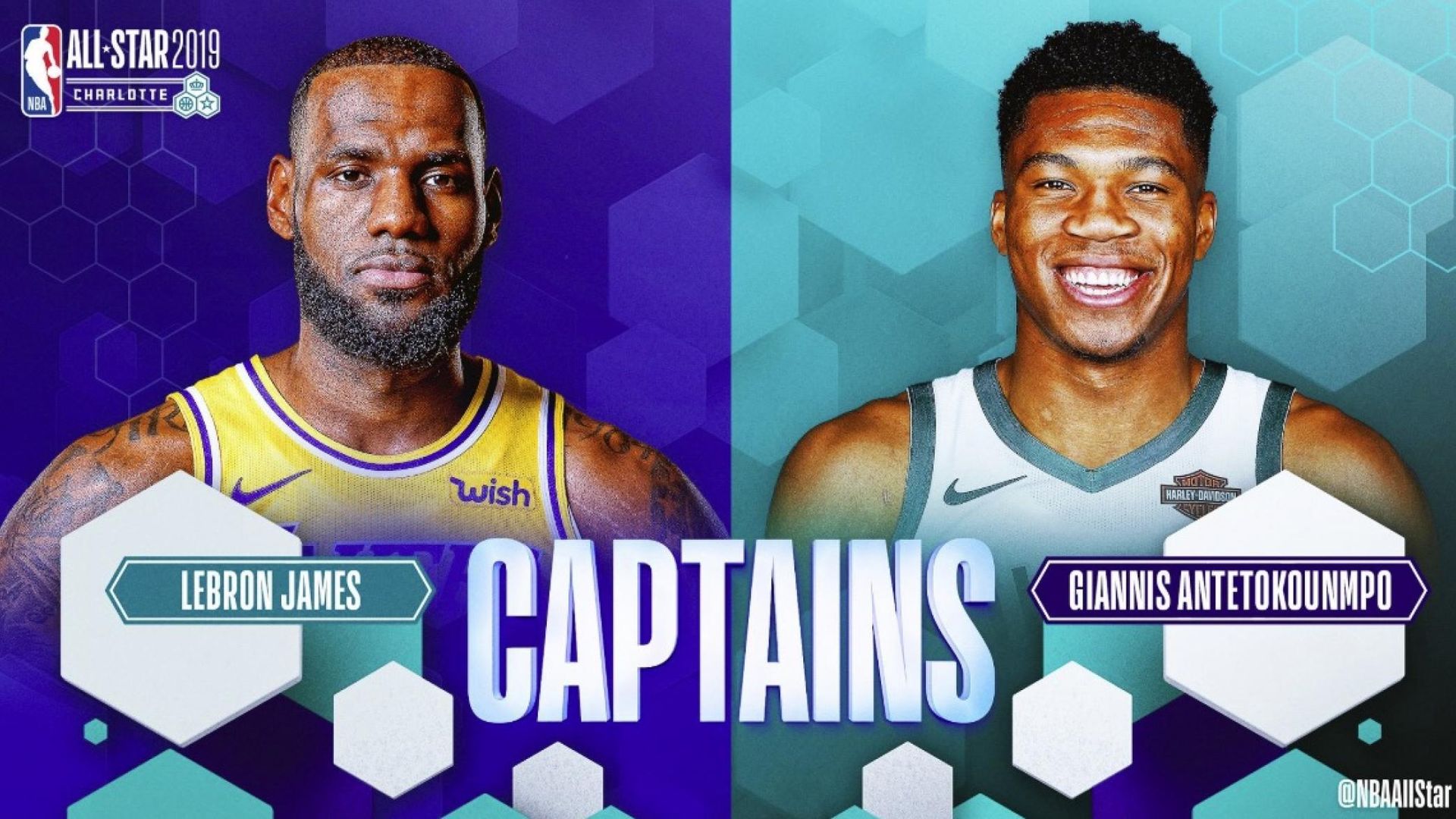 The starters for the 2019 NBA All-Star Game were announced last night, and there were no real surprises.
As the leading fan vote-getters, Giannis Antetokounmpo and LeBron James will serve as captains and pick their teammates during a live draft on Feb. 7.
Fun fact: This offseason, the NBA voted to move the trade deadline from after the All-Star Game to before it, so this year's deadline is on ... Feb. 7. What a wild day that could be.
East
Giannis Antetokounmpo, Bucks (3rd selection): 26.5 points, 12.6 rebounds, 5.9 assists
Kawhi Leonard, Raptors (3rd): 27.6 points, 7.9 rebounds, 3.1 assists
Joel Embiid, 76ers (2nd): 27.2 points, 13.3 rebounds, 3.5 assists
Kyrie Irving, Celtics (6th): 23.5 points, 4.8 rebounds, 6.o9 assists
Kemba Walker, Hornets (3rd): 25.0 points, 4.2 rebounds, 5.7 assists
West
LeBron James, Lakers (15th selection): 27.3 points, 8.3 rebounds, 7.1 assists (in 34 games)
Paul George, Thunder (6th): 26.9 points, 8.0 rebounds, 4.0 assists
Kevin Durant, Warriors (10th): 27.8 points, 7.3 rebounds, 6.0 assists
Stephen Curry, Warriors (6th): 29.5 points, 5.2 rebounds. 5.5 assists
James Harden, Rockets (7th): 36.3 points, 6.6 rebounds, 8.3 assists
Up next: Over the next few weeks, NBA coaching staffs will pick the All-Star reserves. Among the potential locks: Nikola Jokic, Russell Westbrook, Damian Lillard, Blake Griffin, Nikola Vucevic, Bradley Beal, Ben Simmons.
3. Speaking of All-Stars...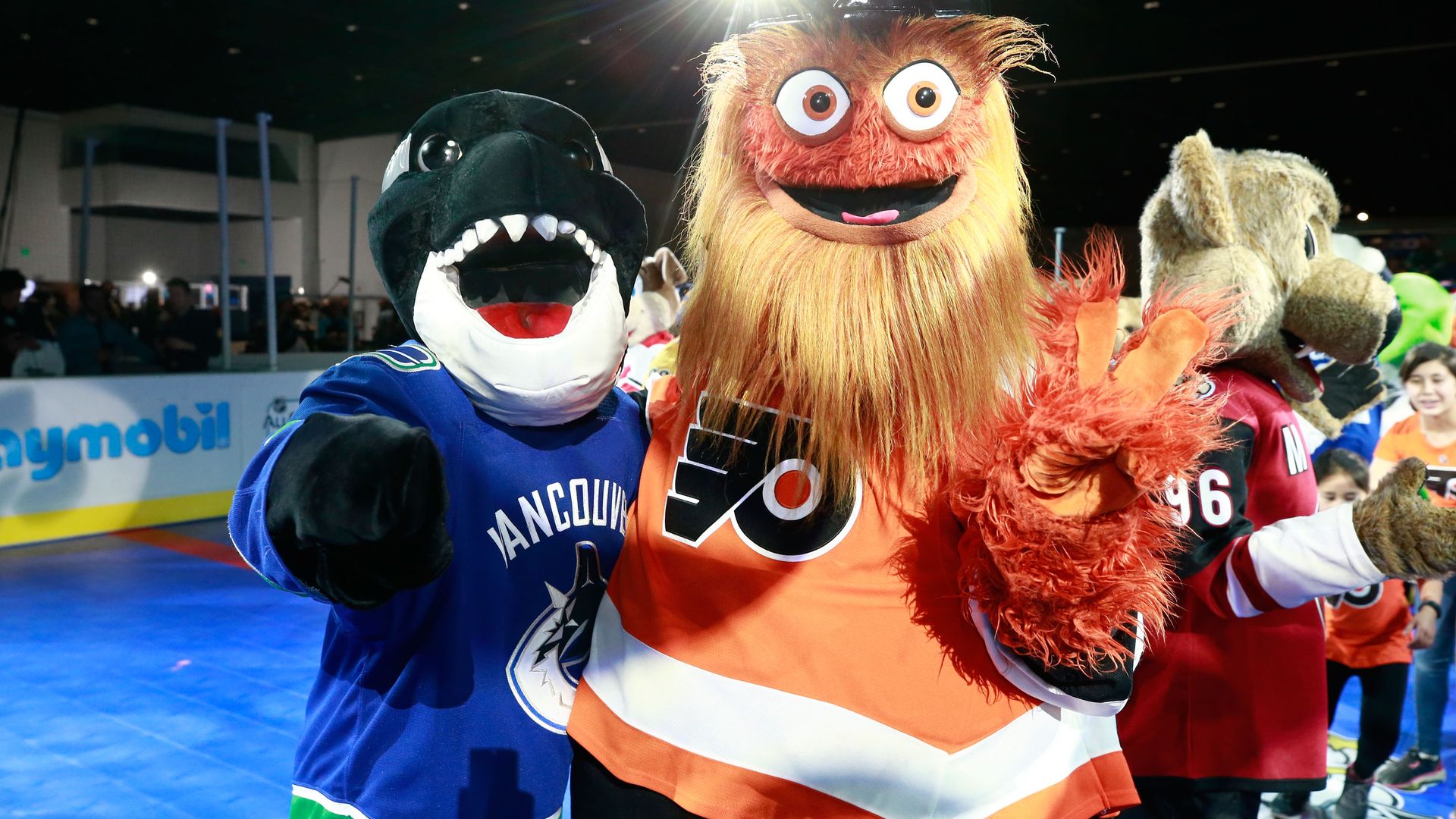 The NHL's best are in San Jose this weekend for some All-Star festivities of their own, writes Axios' Mike Sykes. Get ready for a fun-filled few days.
All-Star Skills Competition (9 pm ET): The action kicks off this evening, as players go head-to-head in a variety of skills contests. They include:
Hardest shot: 4 players are clocked twice on shots and the player with the fastest speed on their shot wins.
Accuracy shooting: 8 players compete to hit 5 LED lights positioned inside the net from 25 feet out. Time stops when all targets are hit.
Premier passer: 8 skaters are timed on various passes into targets and mini-nets behind a barricade.
Save streak: 4 goalies attempt to stop skaters from scoring on them shootout-style.
Fastest skater: 8 players are timed doing one full lap around the rink.
All-Star Game (Saturday, 9 pm ET): Teams from all 4 divisions will play in a 3-on-3 tournament for the All-Star championship.
Format: The tournament consists of 3 20-minute games. Each team has 11 players (6 forwards, 3 defensemen, 2 goalies) and every NHL team is represented.
History: Since the league instituted this format in 2015, the Pacific Division has won 3 times and the Metropolitan Division has won once.
Look: 2019 All-Star rosters.
4. 🏀 Gonzaga 98, Santa Clara 39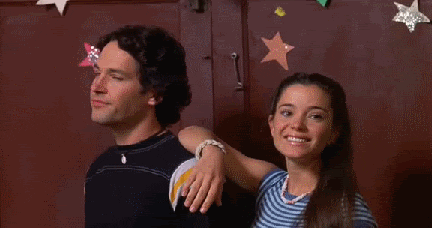 So, uh, Gonzaga beat Santa Clara 98-39 last night. The 59-point victory is the largest road win by a D-I team against a D-I opponent since Dec. 15, 1996, when USC beat UC Irvine by 62 (107-45).
Also: This was Gonzaga's 3rd 50-point road win under Mark Few (since 1999-2000). No other team has more than 1 over that span.
Even more impressive: The Zags have now won 27 straight conference road games, a new NCAA record.
P.S. The rosters for the 2019 McDonald's All-American game were unveiled yesterday. Arizona (which has the top-rated class), Duke, Florida, Villanova and Kentucky each have 2 commits in the game.
5. Inside Jimmy Haslam's tumultuous reign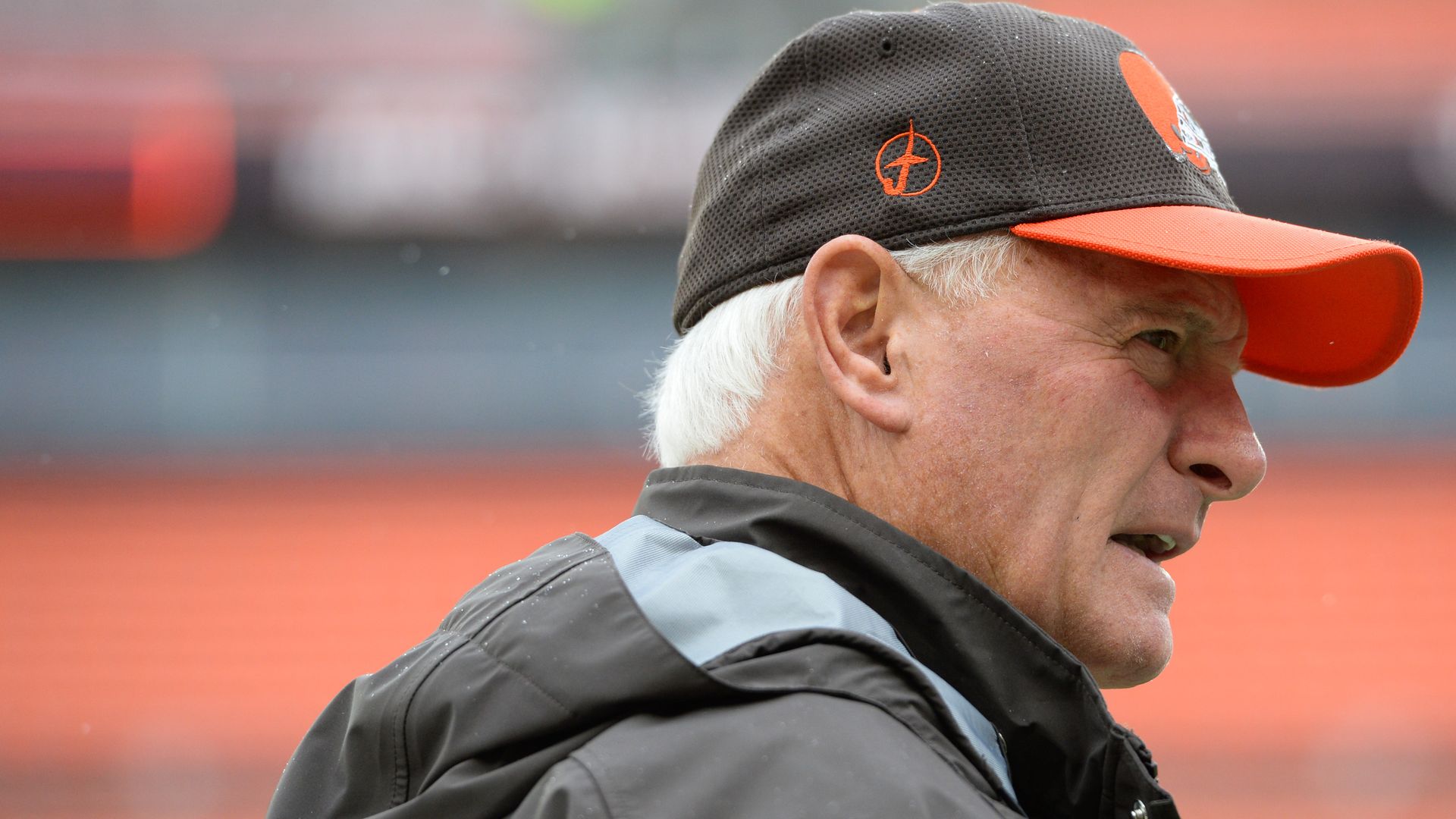 There are 3 things that seem almost certain in life: Death, taxes and the Cleveland Browns being dysfunctional, Axios' Mike Sykes writes.
Driving the news: The Browns made strides on the field last season, as rookie Baker Mayfield led them to a 7-8-1 record. But off the field, the organization was chaotic as ever, according to a lengthy, behind-the-scenes report from ESPN's Seth Wickersham.
Why it matters: When Jimmy Haslam bought the Browns in 2012, he seemed committed to building a winning culture in Cleveland. Unfortunately, his own leadership style appears to be hindering those efforts.
"In a league of absentee owners, Haslam is accessible, walking the halls of the facility and stopping to converse with coaches and staffers regardless of rank, which is both charming and problematic," writes Wickersham.
"You realize he has no true football compass and is pitting you against your peers, sometimes even your boss, but in the moment it feels like you've got the owner's ear."
"You think you're the one he trusts," says a former high-level member of Browns management. "By the time you realize that he confides in everyone, it's too late. You're gone."
The bottom line: The Browns won't change until Haslam changes. His decisions, based on whims, have pit front office members against coaches and vice-versa, and no organization can win like that.
Silver lining: Haslam turned the recent coaching search over to GM John Dorsey, who settled on Freddie Kitchens. It was one of the few times the Browns owner has taken a backseat and let someone else drive the bus, so maybe he's learned from his mistakes.
6. On this date: 1/25/1974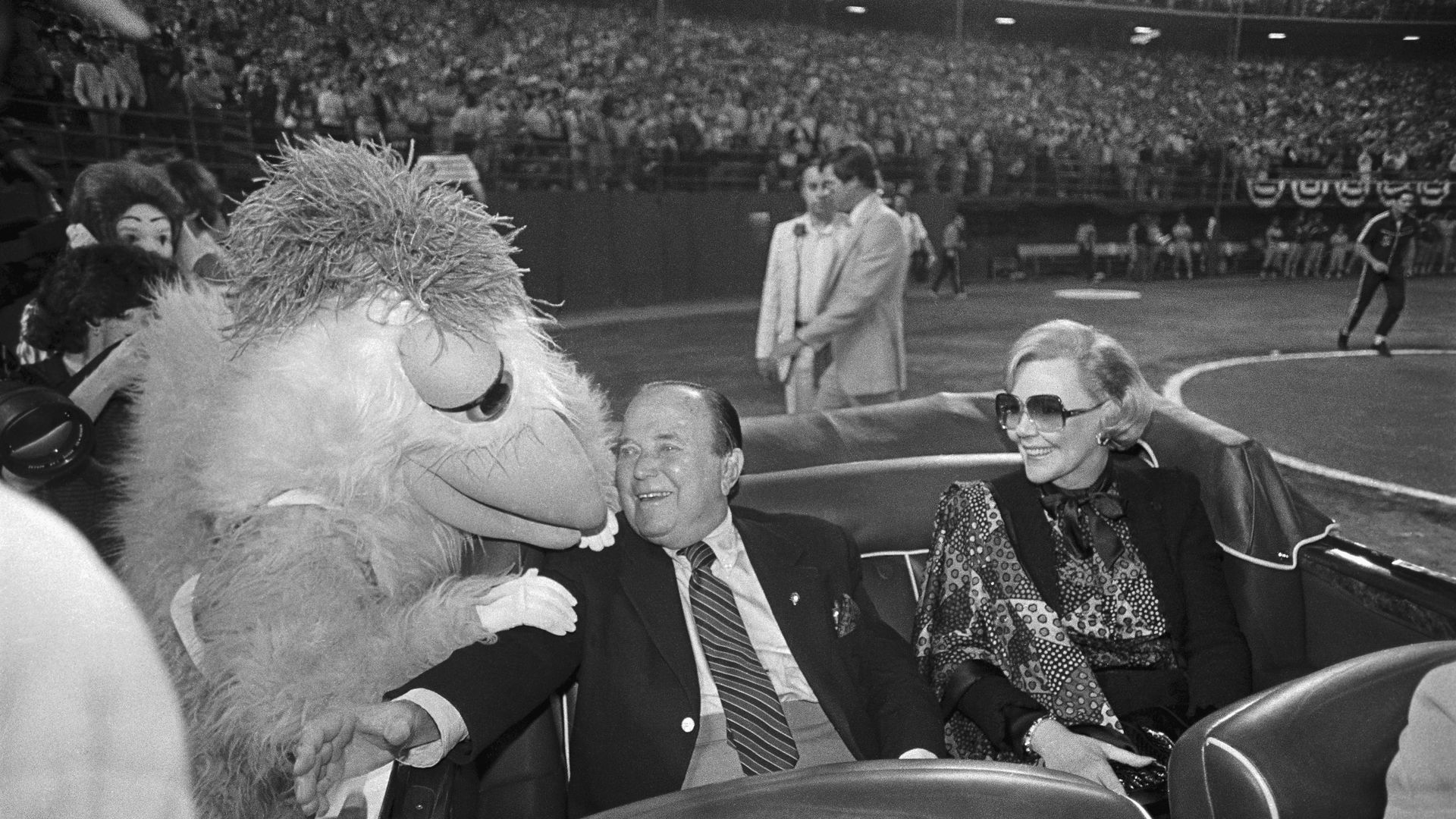 45 years ago today, McDonald's founder Ray Kroc purchased the San Diego Padres, saving the beleaguered franchise from relocation.
How it happened: While relaxing on a private yacht off the coast of Florida, Kroc read about the Padres' plight and impending move to Washington, D.C. and decided right then and there that he wanted to buy them. Rich people, man.
Kroc flew to San Diego shortly after and negotiated the purchase in a single lunch meeting with previous owner C. Arnholdt Smith. "How much?" Kroc asked. "12 million," Smith replied. "Deal," said Kroc. And the rest is history
7. 🏈 Super Bowl/Presidents Trivia
Question: Can you name the only 4 colleges that have produced both a Super Bowl-winning quarterback and a U.S. president?
Hint: One is in the Big Ten, one is in the Pac-12, one is the Mid-Atlantic Conference (MAC) and one was recently added to the American Athletic Conference (AAC).
Submitted by: Dan Bitner (Souderton, Pa.)
8. The Ocho: Underdogs prevail in Squash finals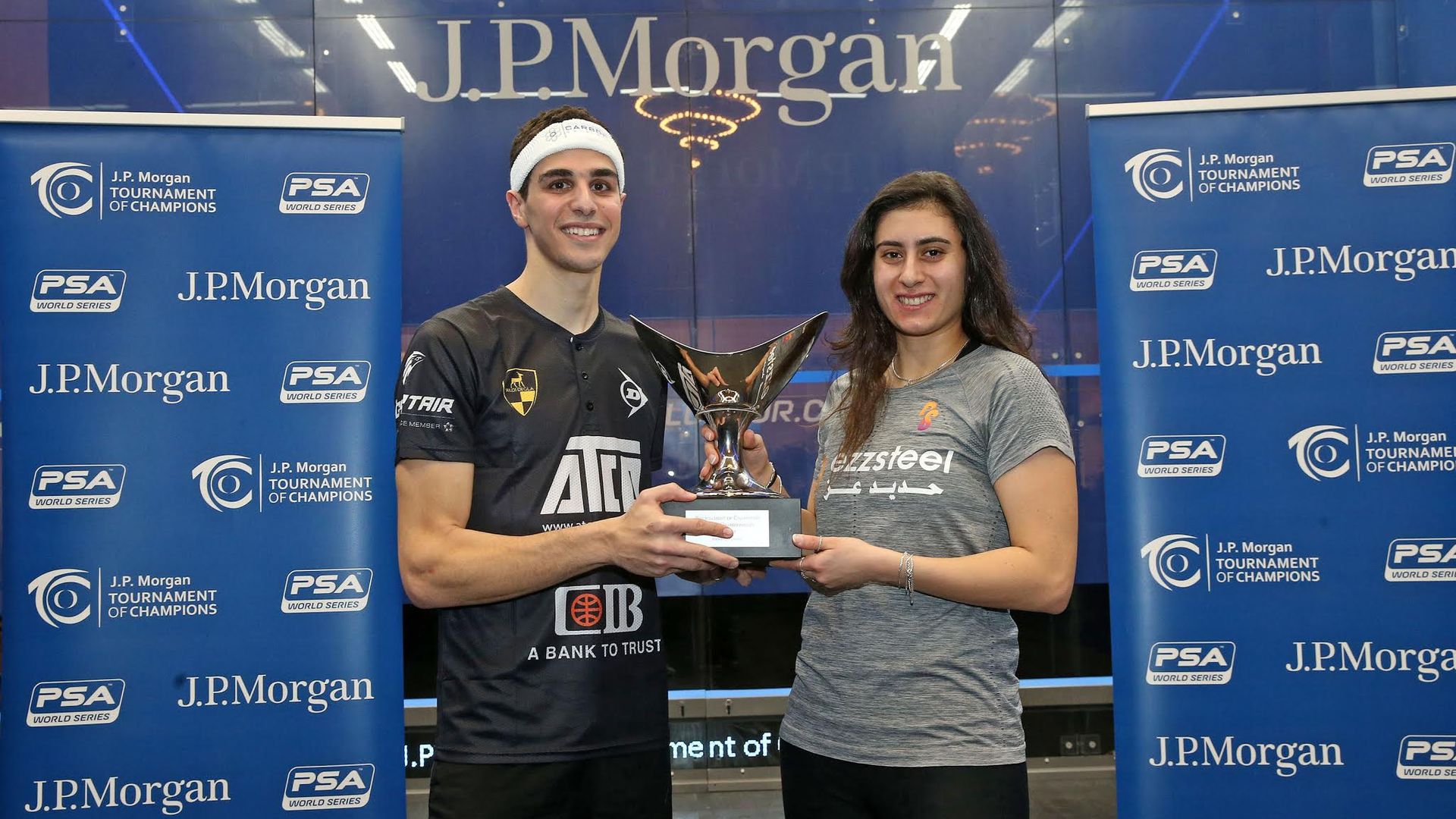 Welcome to the final day of Squash Week. Here's Day 1, Day 2 and Day 3 if you missed them.
NEW YORK — The 2019 J.P. Morgan Tournament of Champions concluded in epic fashion, with upsets in both the men's and women's finals. Here's the on-site report from contributor B.G. Lemmon:
Men: (2) Ali Farag def. (1) Mohamed El Shorbagy 3-2 (10-12, 6-11, 11-6, 11-3, 11-8)
Recap: What. A. Match. Down 2 games and trailing 6-2 in the third, Farag went on an incredible run, winning 20 of the next 24 points to knot things up at 2-2. The 5th and final game was close throughout, but Farag pulled away to win the tournament and ascend to World No. 1.
Highlight: Here's an awesome rally, and here's the match-winning point (Ali won on a stroke, which is when a player interferes with his opponent's ability to hit a clean shot).
Women: (2) Nour El Sherbini def. (1) Raneem El Welily 3-0 (11-9, 11-8, 11-8)
Recap: In what was a relatively close match in terms of points but not games, El Sherbini became the first woman to win the TOC 3 times.
Fun facts: These 2 women have played each other in the finals of the last 10(!) tournaments on the tour. Overall in their professional careers, they've faced each other 20 times, with the series tied 10-10.
Signing off: Hope you enjoyed our coverage! If you want to stay up to date on all things squash, follow the world tour on Instagram. Until next time.
Thanks,
Kendall "No football this weekend is weird" Baker
Trivia Answer: Michigan (Brady/Ford), Stanford (Elway/Hoover), Miami of Ohio (Roethlisberger/Benjamin Harrison), U.S. Naval Academy (Staubach/Carter)