Axios Sports
May 19, 2020
👋 Good morning! Jam-packed edition today. Let's sports.
🔬 Newsroom update: We're relaunching Axios Science as the world tackles the coronavirus pandemic. Delivered Thursdays starting this week. Sign up.
⚾️ MLB all-time rosters: The countdown continues below. 10 teams down, 20 to go.
Today's word count: 2,178 words (8 minutes).
1 big thing: 🎓 College football dodges budget crunch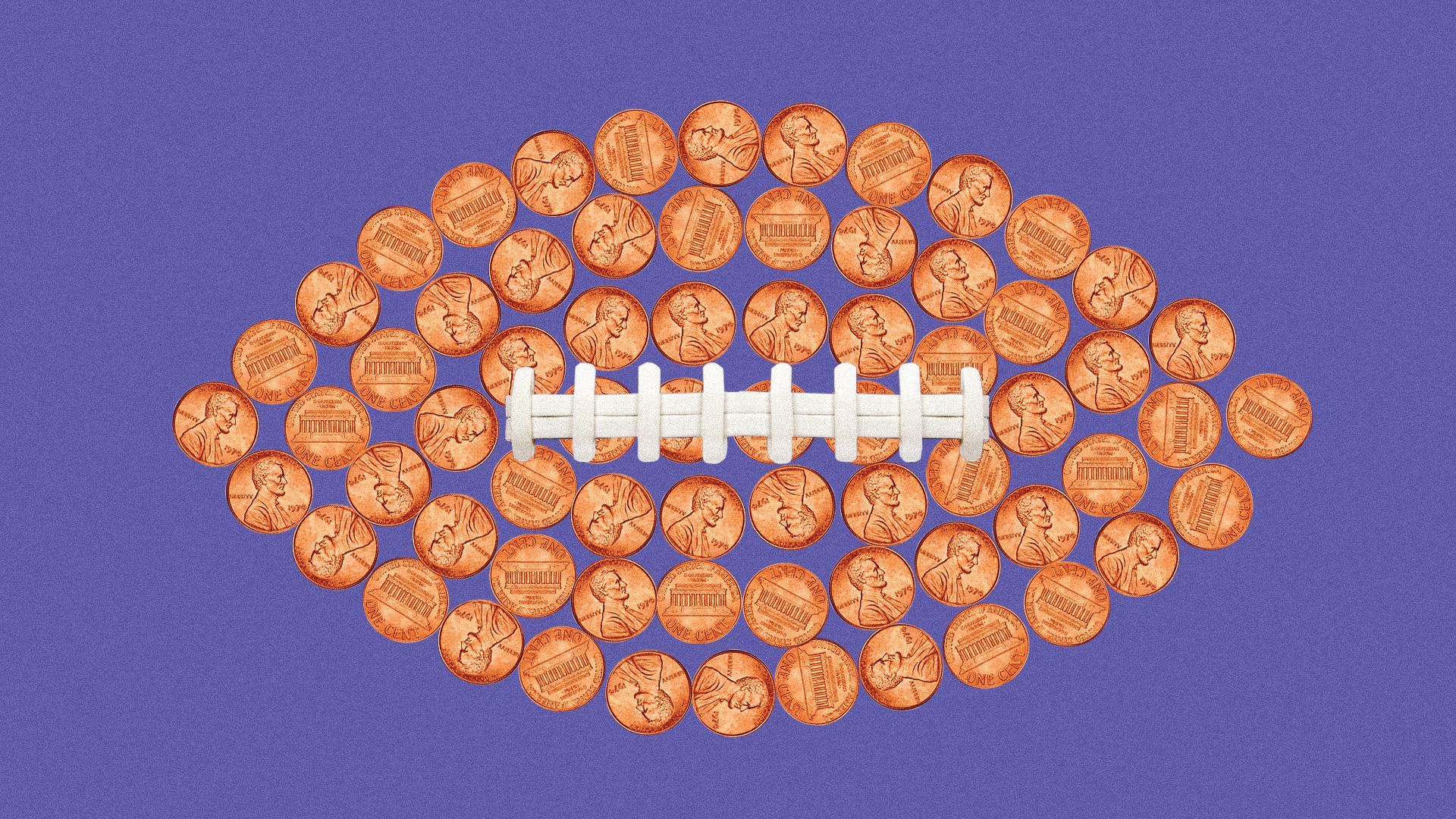 COVID-19 has shut down college sports, forcing athletic departments to search for any cost-cutting measures they can find.
Some of those are temporary, like furloughing employees, halting travel and asking head coaches to take pay cuts.
But others could be more permanent, as schools take a closer look at their budgets and revisit why they were spending money on certain things in the first place.
The big picture: In addition to dealing with the challenges of the present, athletic directors and conference commissioners are also looking ahead and weighing how they can save money whenever sports do resume. Two prime examples:
Travel: One obvious way to reduce costs is to cut back on travel and develop a more regional approach to scheduling, especially for conferences like Conference-USA, which now spans three time zones thanks to football-driven realignment.
Tournaments: The Mid-American Conference is eliminating conference tournaments for eight sports, meaning conference champions in field hockey, men's and women's soccer, men's and women's tennis, women's lacrosse, softball and baseball will now be determined based on regular-season records.
"There's a lot of criticisms [about] what's happened to athletic budgets, and frankly some of it is fair. This gives us a chance to all take a good look at ourselves and say what do we really need here?"
— Vince Tyra, Louisville athletic director,
via The Athletic
Yes, but: "There remains, however, a reluctance even to touch where the real fat sits: in the football budget," writes The Athletic's Dana O'Neil (subscription).
"There is no arguing or denying that Saturdays in the fall carry the freight for almost all football-playing athletic departments. ... But football also costs the most, and sometimes absurdly."
By the numbers:
Cincinnati cut men's soccer last month, which will save the school roughly $725,000. Last year, Cincinnati spent over $875,000 to pay its football support staff (i.e. analysts and other non-coaches).
Kansas spent over $2 million to feed its 130-member football team last year, compared to just $175,000 to feed its men's and women's track teams (combined 108 members).
Clemson paid its football support staff $6.2 million last year, "a figure that doesn't include the $8 million paid to 10 assistant coaches but does count the four staffers who make up the Clemson aviation department — a director, pilot, captain and captain/hangar manager," writes O'Neil.
Parting thought: Football is the only sport that generates a profit at most schools, which explains why the prevailing thought is to slash the budgets of non-revenue sports (or discontinue them) rather than impede the football operation.
But here's the thing: When you factor in tuition payments, many non-revenue sports are actually in the black.
This is because only six sports — football, men's and women's basketball, women's tennis, women's gymnastics and women's volleyball — are "headcount sports," meaning every athlete is guaranteed a full scholarship.
The rest are "equivalency sports," which means scholarships are limited and many athletes are paying full tuition like any normal student, making these sports far less of a financial burden than they might appear.
In related news: Furman University is discontinuing its baseball and men's lacrosse programs.
2. 😷 Governors in key states support pro sports' return
New York, California and Texas say professional sports could begin in the next few weeks without fans, writes Axios' Marisa Fernandez.
Driving the news: State governors who have been encouraged by the lower amounts of hospitalizations and coronavirus cases said Monday that the kick-start of pro sports without spectators could be something to look forward to if these trends continue.
California Gov. Gavin Newsom said they would look at statewide announcements to allow pro sports to resume without an audience as early as June 1.
New York Gov. Andrew Cuomo encouraged sports teams in the state to start planning to hold games without fans in attendance and televise them.
Texas Gov. Greg Abbott announced pro sports may resume May 31 if their submitted plans are approved by the state.
The bottom line: Whether due to social distancing efforts or summer weather, infection rates will eventually go down. But this early in the pandemic's cycle, that reality might act as a false positive of sorts if pro sports moves too quickly, endangering players and others.
Go deeper: Coronavirus dashboard (Axios)
3. 🏈 NFL to expand Rooney Rule
The NFL is expanding the Rooney Rule, effective immediately, NFL Network's Tom Pelissero reports.
The Rooney Rule, which was established in 2003, has required teams to interview at least one minority candidate for any head coaching vacancy.
Now, teams must interview at least two external minority candidates for any head coaching vacancy and one minority candidate for any coordinator job.
Why it matters: While doubling the number of required minority head-coaching candidates is significant, adding a requirement for coordinator jobs could have an even greater impact, as it addresses the pipeline problem that the previous iteration of the Rooney Rule never did.
Since 2009, nearly 40% of head coaches hired in the NFL were offensive coordinators prior to their appointment, the most of any feeder position.
During that same span, 91% of those hired as offensive coordinators were white, according to a recent study by the Global Sport and Education Lab at Arizona State University.
By the numbers: 70.1% of NFL players are non-white, but only 12.5% of regular-season games in 2019 were coached by people of color — and the same four head coaches are in place for 2020: Brian Flores (Dolphins), Ron Rivera (Redskins), Anthony Lynn (Chargers) and Mike Tomlin (Steelers).
The big picture: The NFL is not alone in its struggles to diversify its most senior positions. As of January, there were just four black CEOs at Fortune 500 companies, per NYT.
The root of the problem appears to be unconscious bias: People make decisions to hire people that they can relate to and feel comfortable around.
In the NFL, 32 of 34 owners are white, and when Panthers owner David Tepper hired Matt Rhule in January, one of the first things he said was that he reminded him of himself.
4. 🧠 The importance of mental health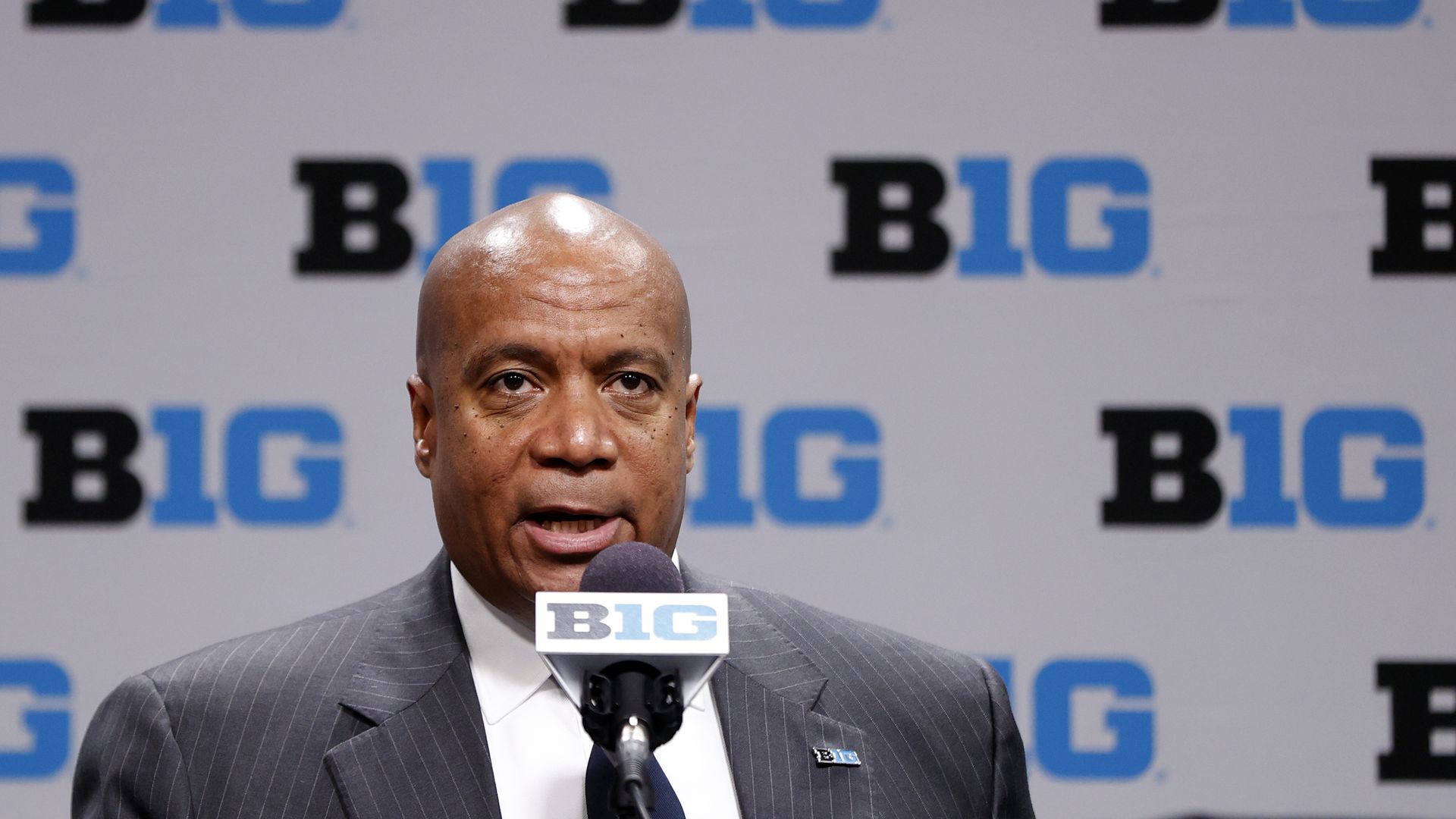 May is Mental Health Awareness Month, and for the Big Ten, it began with the announcement of the Mental Health and Wellness Cabinet, writes Axios' Jeff Tracy.
Why it matters: This is the first major initiative in Kevin Warren's young tenure as the new Big Ten commissioner, and it will help elevate the mental wellbeing of athletes at a time when so much of the focus is on physical health.
Details: The cabinet is composed of 31 experts represented by each of the 14 Big Ten schools plus two affiliates — Notre Dame (hockey) and Johns Hopkins (lacrosse).
The first tangible change they've made is purchasing subscriptions to Calm, the app aimed at reducing stress and anxiety, for all 9,600 of their student-athletes and coaches. But the general idea is to unify the heretofore siloed efforts to improve mental health.
"This was one of my key pillars, even when I interviewed for the job. This is all about the student-athletes, to tell how much we love, admire, respect, appreciate them, to give them the resources, that we're here, they can talk about it."
— Kevin Warren, Big Ten commissioner
The big picture: Led by high-profile athletes like Michael Phelps, Kevin Love and Sean Doolittle, sports have recently experienced a major step forward in the cause of de-stigmatizing mental illness.
"This is the most overwhelmed I've ever felt in my life. That's why I have times where I don't want to be me," Phelps wrote yesterday in an incredibly transparent story published on ESPN.
The bottom line: The pandemic has pushed mental illness to the background in favor of the more easily-digestible physical aspect of the virus, and in that way, Mental Health Awareness Month has come just in the nick of time.
5. ⚡️ Catch up quick
⚽️ The Premier League will return to contact-free training today, and June 12 remains the favored date for games to resume, though nothing is set in stone. See above for what the standings looked like when the league hit pause.
🏁 NASCAR's return averaged 6.32 million viewers. That's a 38% increase compared to their last, pre-COVID-19 race, and is a three-year high for races other than the Daytona 500.
🏀 "The Last Dance" averaged 5.6 million same-day viewers across the 10 episodes. It's easily ESPN's most-watched documentary ever, with every episode blowing away the previous record of 3.6 million viewers, set by "You Don't Know Bo" in 2012.
🏈 LeBron James said playing in the NFL "came into my mind" during the 2011 NBA lockout. Cowboys owner Jerry Jones apparently reached out, too.
Bonus: ⚾️ Ranking MLB's all-time rosters (No. 21)
We're ranking the all-time rosters for all 30 MLB teams. Note: Rosters based only on time spent with this specific team. Thoughts? Email me at [email protected].
21. New York Mets
David Wright was the best. Right up there with the Penny Hardaways and Brandon Roys of the world as an all-time "what if?" He made 40 doubles, 30 homers, 20 steals and a .300 average happen like clockwork, and then spinal stenosis came and wiped it all out in an instant. It's really just not fair.
Year established: 1962
All-time record: 4,448-4,808 (.481)
World Series Championships: 2
Hall of Famers (indicated by *): 2
Starting lineup:
SS José Reyes (27.9 bWAR with team)
1B Keith Hernandez (26.6)
3B David Wright (49.2)
OF Darryl Strawberry (36.6)
C Mike Piazza* (24.6)
OF Carlos Beltrán (31.1)
DH John Olerud (17.3)
OF Lenny Dykstra (16.6)
2B Edgardo Alfonzo (29.6)
On the mound: SP Tom Seaver* (78.7)
Bench:
Infield: 2B Daniel Murphy (13.2), 3B Howard Johnson (22), SS Bud Harrelson (18.7), C John Stearns (19.6)
Outfield: Mookie Wilson (20.8), Cleon Jones (18.1), Kevin McReynolds (15.8)
Utility: Al Leiter (26.4), David Cone (20.2)
Rotation: Dwight Gooden (46.4), Jacob deGrom (35.5), Jerry Koosman (36.8), Jon Matlack (27.1)
Bullpen: Jesse Orosco (12.6), John Franco (11), Tug McGraw (13.5)
Additional notes:
Daniel Murphy's epic 2015 postseason set the record for most consecutive playoff games with a HR (6). They came against Clayton Kershaw, Zack Greinke, Jon Lester, Jake Arrieta, Kyle Hendricks and Fernando Rodney. Wild.
Dwight Gooden's 1.53 ERA in 1985 is the lowest since Bob Gibson's 1.12 in 1968, which was so dominant it forced MLB to lower the mound the next season.
Jesse Orosco and John Franco pitched the most (1,252) and third-most (1,119) games in MLB history, respectively.
Huge thanks to Tom Stone, whose book "Now Taking the Field: Baseball's All-Time Dream Teams for All 30 Franchises," provided the inspiration for these rosters.
6. May 19, 1984: 🏒 Gretzky's first Stanley Cup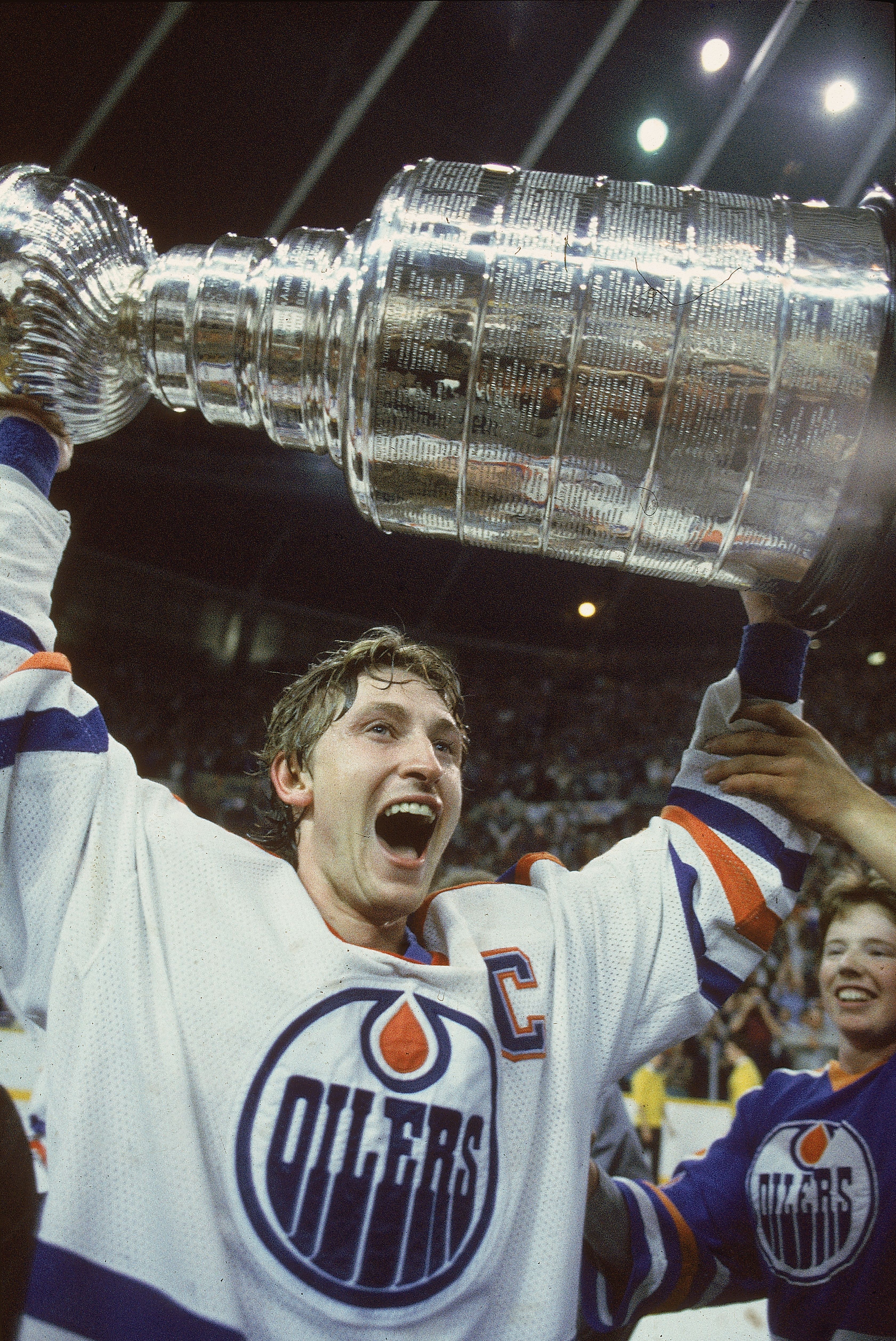 36 years ago today, Wayne Gretzky won his first Stanley Cup, leading the Edmonton Oilers past the New York Islanders, four games to one.
The backdrop: This Islanders team was one of the great dynasties ever, having won the Cup four straight years from 1980 to 1983, including a sweep over the Oilers the previous season.
The big picture: Gretzky and fellow Hall of Fame teammate Mark Messier would go on to win three more titles together in the '80s, but mere hours after the fourth one in 1988, Gretzky learned he would be traded to the L.A. Kings.
In the wake of "The Last Dance," it's worth noting that just a decade apart, the two most dominant team sport athletes of all time were denied the chance to continue the dynasties they each made possible in the first place.
P.S. ... Always loved this quote from Gretzky, describing his own playing style:
"I don't care if you're Carl Lewis, you can't outskate that little black thing. Just move the puck: give it up, get it back, give it up. It's like Larry Bird. The hardest work he does is getting open. The jumpshot is cake. That's all hockey is: open ice. That's my whole strategy: Find Open Ice."
7. 📚 Good reads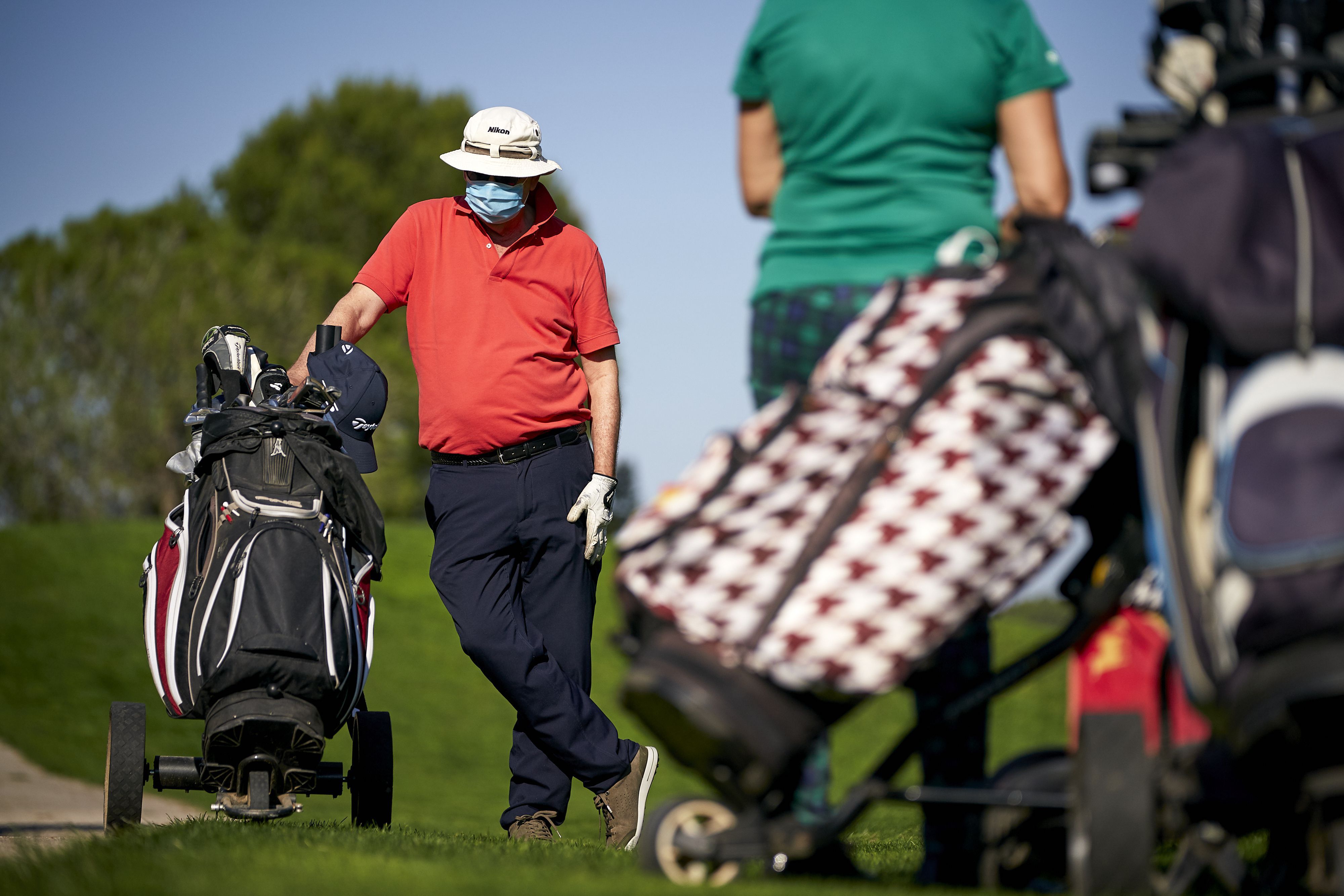 ⛳️ We're out of toilet paper, hand sanitizer — and golf pushcarts? (Andrew Beaton, WSJ)
"Google has documented changes in consumer behavior during the pandemic, and this month it found that golf-bag accessories were the No. 1 top-trending retail category. The most popular subtopics within that category were golf pushcarts, golf pull carts and the Clicgear 4.0."
❤️ What I want to know of kindness (Devin Kelly, Longreads)
"Men are not taught to suffer openly, and they learn their response to suffering from those who suffer openly, so often, at the hands and words of men. This is a destructive paradox."
⚾️ Reopening MLB will take a lot more than dollars and tests (Michael Baumann, The Ringer)
"MLB presented a proposal to the players on Friday that detailed the health and safety measures necessary to get back on the field. But that's just where the complications begin."
8. The Ocho: 🏡 Working (out) from home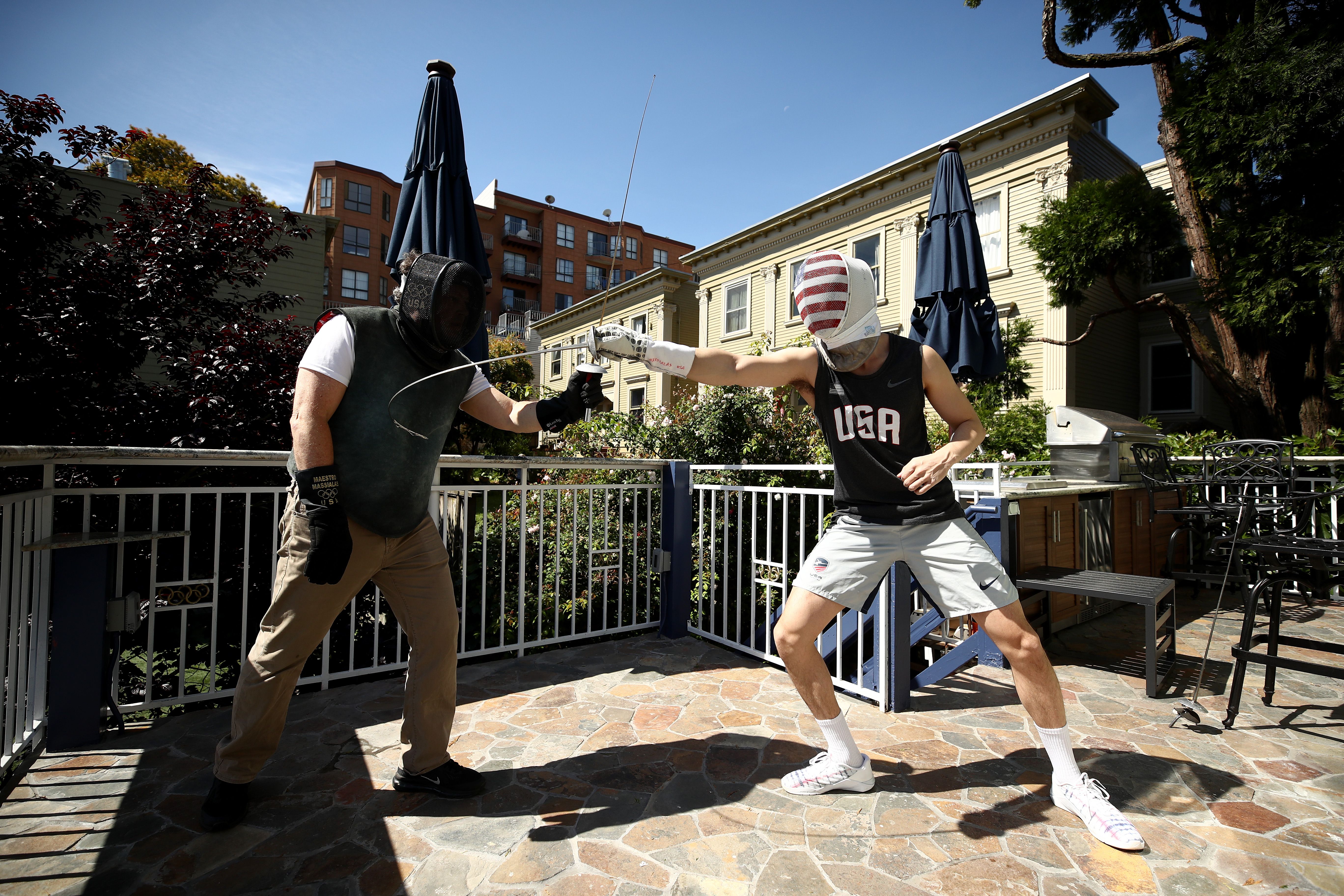 SAN FRANCISCO — Olympic fencer Alexander Massialas (right) trains with his father and coach, Greg Massialas, on their back porch.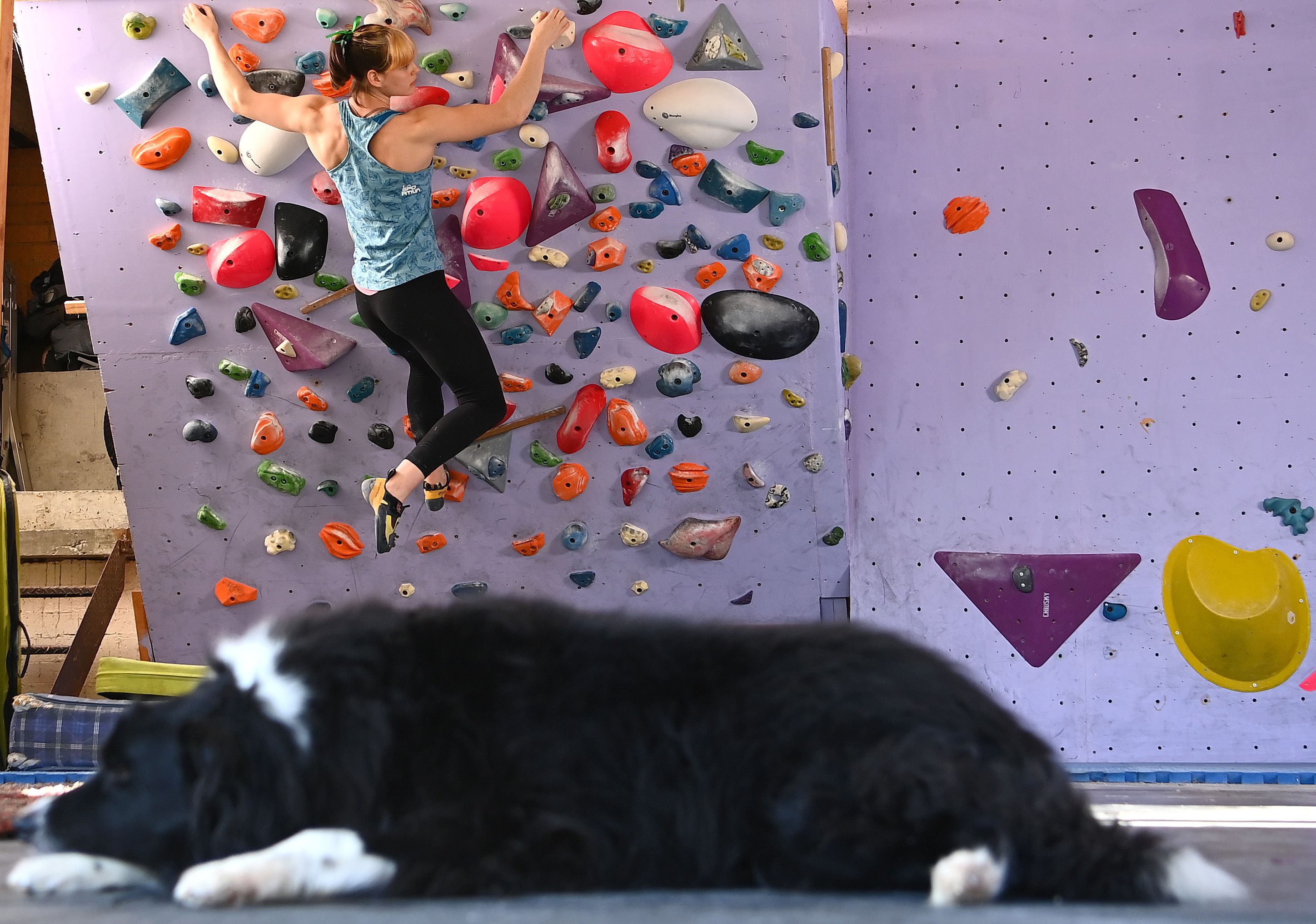 MELBOURNE, Australia — Climber Oceana Mackenzie trains in isolation at her home, while her dog keeps her company. Good boy.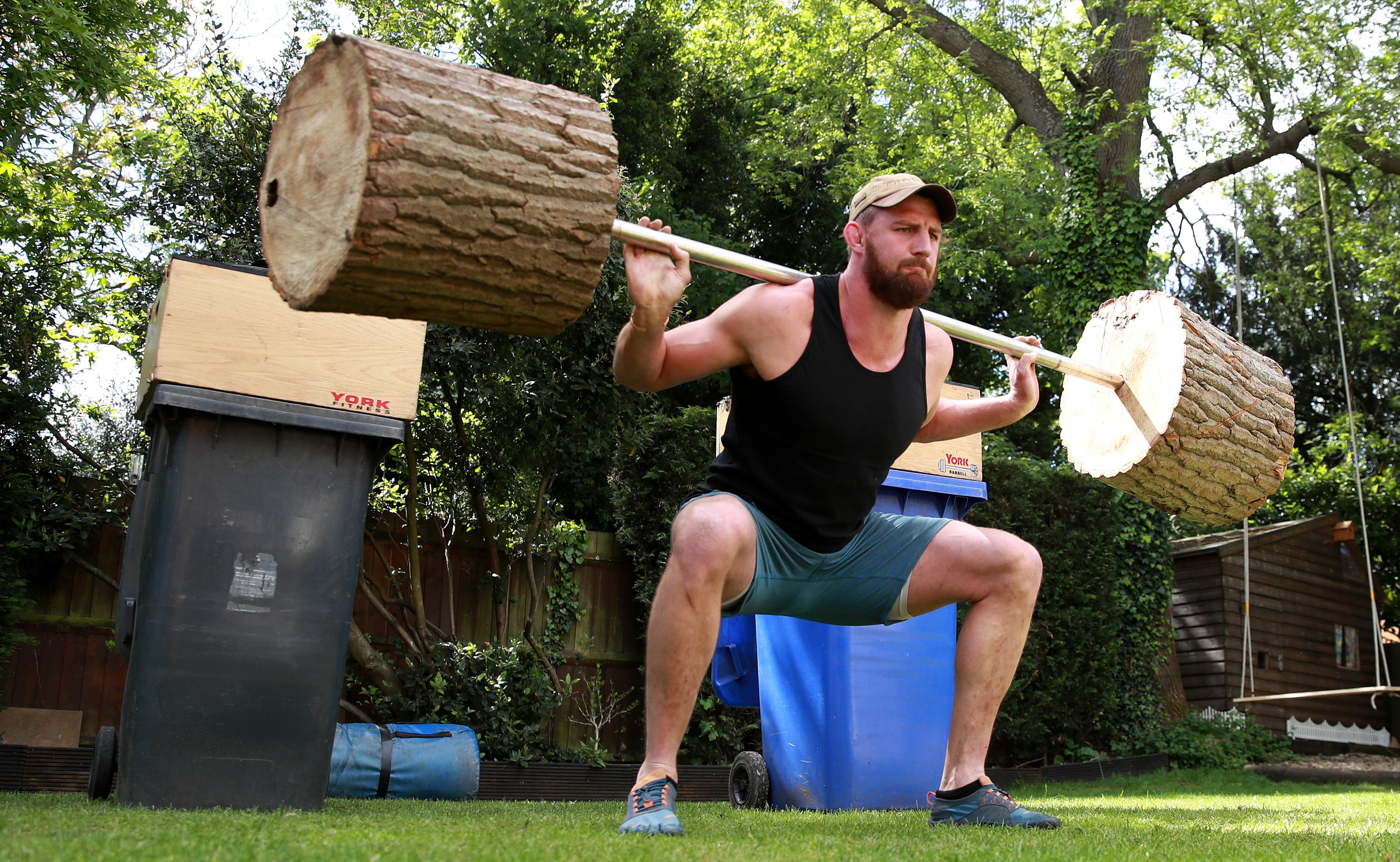 NORTHAMPTON, England — Rugby player Tom Wood works out in his back garden using a homemade barbell.
9. ⚾️ MLB trivia
Bartolo Colon, 46, thinks he's got one more year left in him.
Question: Colon is one of five players since 2010 to play in the majors at 45 or older. Can you name the other four?
Hint: Two position players, two pitchers.
Answer at the bottom.
10. ❤️ Why we love sports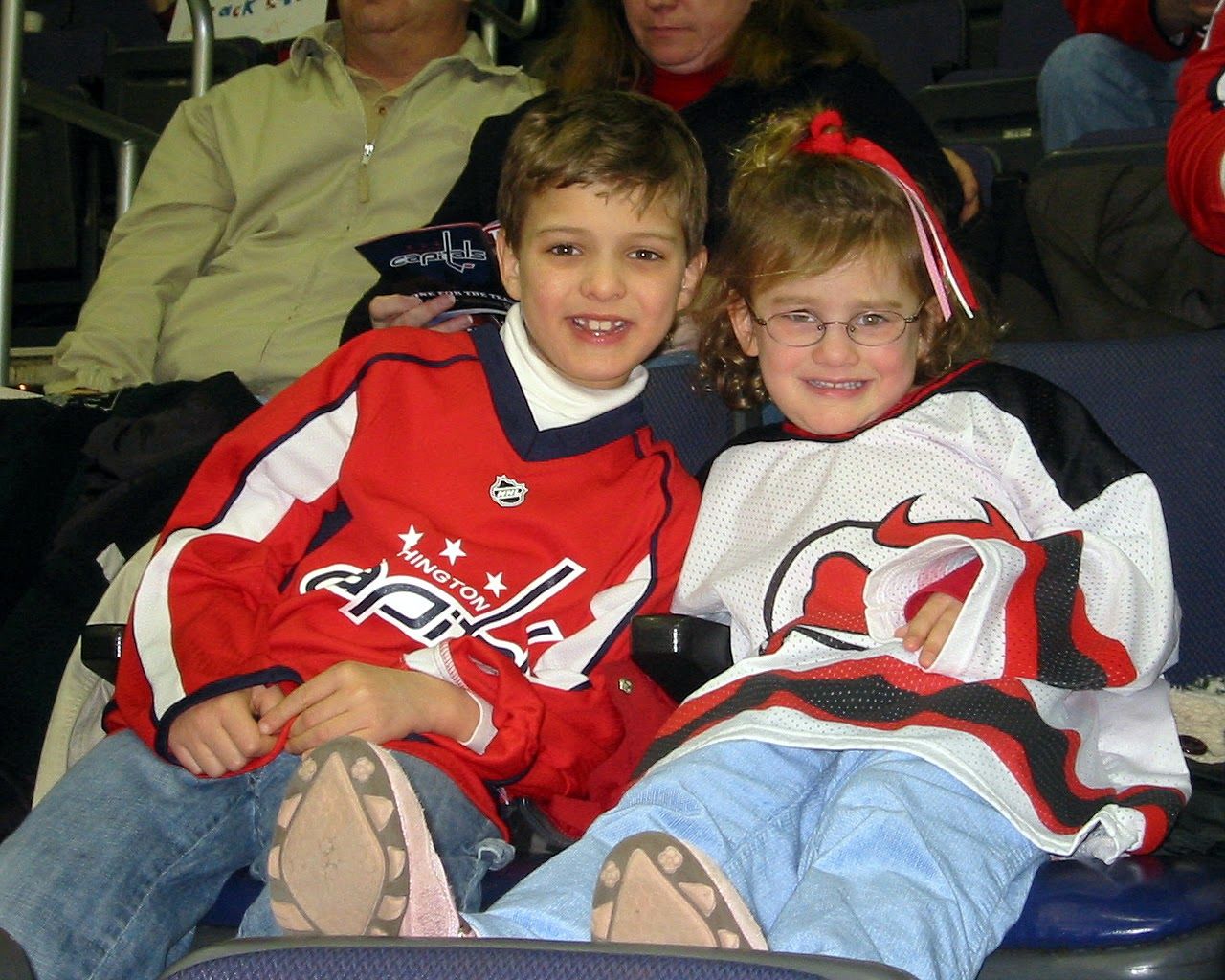 Russell L. (New Jersey) writes:
"Why do sports matter to me? For many reasons, but none more important than this: Sports are where I found my connection to my son, who is on the autism spectrum.
"I grew up with a love of almost all sports, especially hockey. I started playing at age four, and have now worked in hockey for 20-plus years. Naturally, my kids were going to get an early start on becoming hockey players and fans.
"But when my son was born, those plans gave way to our new reality: an autism spectrum diagnosis, early intervention, behavioral, speech and occupational therapy.
"We were advised to avoid team sports. We tried taekwondo instead, but he showed only a passing interest. One season of rec soccer was met with similar indifference.
"Everything changed on Feb. 24, 2008 when we attended a Devils-Capitals game in Washington, D.C. Something clicked for my son that day. He latched onto the game, and to the Capitals (and later, the Sharks). He began talking to his younger sister — already an involved Devils fan — about the action on the ice.
"For whatever reason, that experience lit a spark. He began following the game and memorizing statistics. Later that year, he expressed a desire to play — an idea we had dropped years earlier when he balked at the sensory challenges of wearing tightly laced skates and a helmet with a mask.
"But now he was determined. He took skating lessons. He began attending hockey clinics. He eventually joined a house league team. As a family, we started to go to more games together.
"Fast-forward 12 years, and my son moved on from house league to travel hockey. He played four years in high school, and he was on his college's club team as a freshman. His sister remains a huge fan of the Devils, and she served as the manager of his high school team.
"Hockey has given him confidence. It makes him feel accomplished. It helped him make friends and conquer the social challenges of college — daunting for anyone, but particularly a student on the autism spectrum thrown into this new experience.
"Hockey is still the thread that binds our family together. My son is anxious for the NHL to return and to get back on the ice. My daughter is anxious to start her own college career at a hockey-crazed school. Even in a world turned upside down, we still share our hockey bond."
✍️ Submit your story: Do you have a fondest sports memory? Or an example of sports having a positive impact on your life? If you'd like to share, simply reply to this email. We'll be telling your stories until they run out.
Talk tomorrow,
Kendall "You're a great dad, Russell" Baker
Trivia answer: Ichiro Suzuki, Omar Vizquel, Tim Wakefield, Jamie Moyer