Axios Sports
August 04, 2020
👋 Good morning! Our NBA all-time rosters countdown wraps up today. But don't worry — we'll be keeping the countdowns going, possibly forever. It's been a huge hit.
📺 ICYMI: HBO has made last night's entire episode of "Axios on HBO" — Jonathan Swan's 38-minute interview with President Trump — available for free. See it here.
🎓 Happening today: The NCAA Board of Governors will meet to discuss if and how sports can be played this fall.
🏈 Coming up: The deadline to opt out of the NFL season is Thursday at 4pm ET. Over 40 players have already opted out.
Today's word count: 1,767 words (7 minutes).
1 big thing: 🏈 XFL sells to "The Rock"-led group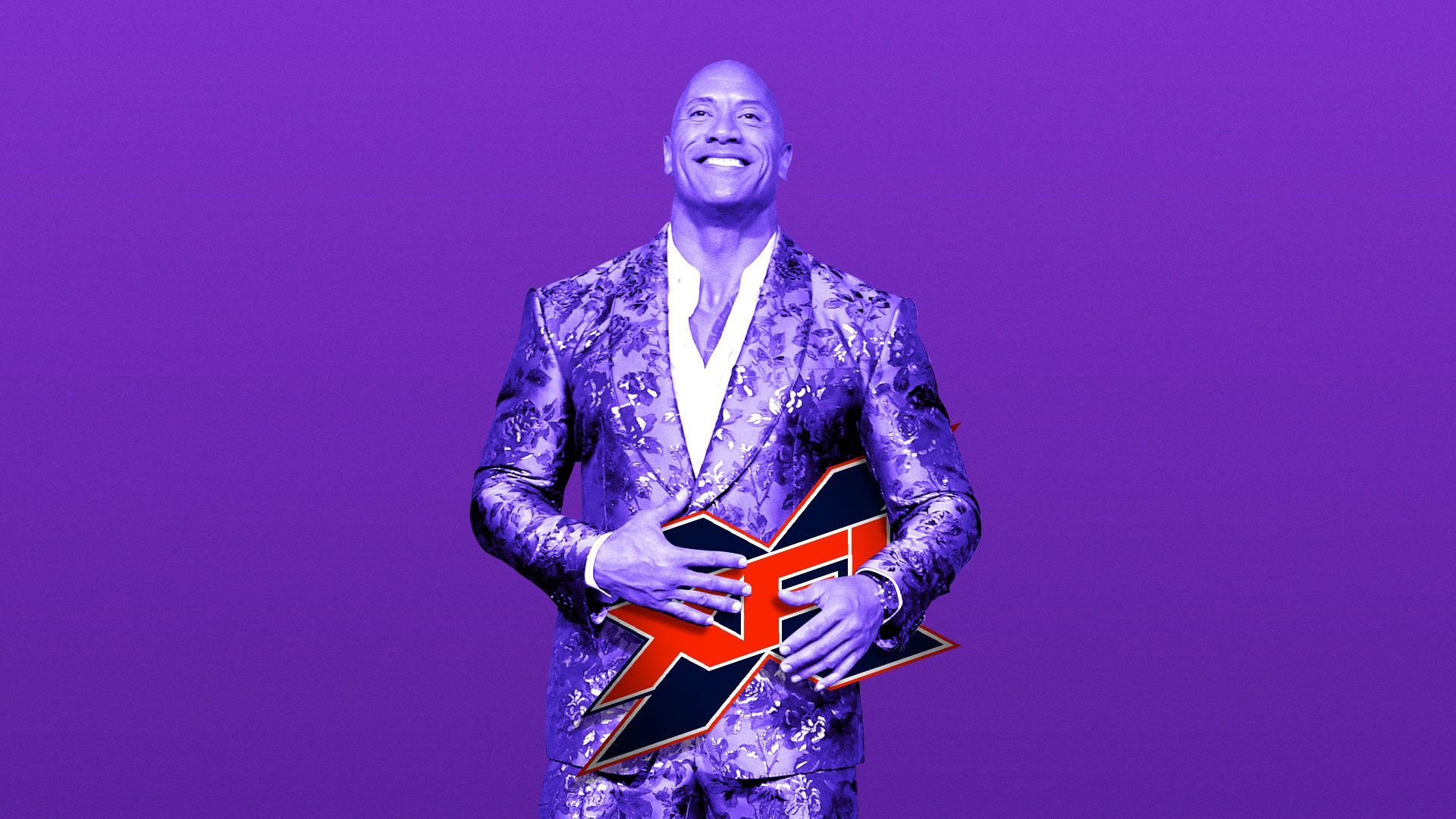 The XFL sold Monday to a group led by Dwayne "The Rock" Johnson, Sportico reports.
By the numbers: The group — which includes Johnson's ex-wife Dany Garcia and RedBird Capital's Gerry Cardinale — paid $15 million for the league. Vince McMahon previously poured around $200 million into it.
The state of play: The move does not necessarily mean the upstart football league is returning.
Axios has learned that the buyers plan to first seek major media deals before committing to the major capital expense of launching a new season.
They landed the deal just hours before the league was set to be up for sale at auction, and there were no other qualified bids, according to the court filing.
What to watch: Putting the 32-team NFL in a bubble (or two) is a logistical nightmare, but it'd be much easier for the eight-team XFL to go that route.
So, if the XFL 3.0 is ready to play by early 2021, it may be worth a lot more than $15 million — especially if the NFL struggles, and Americans are itching for football.
P.S. ... The XFL is the latest sports-related move for Cardinale and RedBird, which recently bought French soccer team Toulouse and is an investor in the YES Network.
In addition, Cardinale and "Moneyball" GM Billy Beane recently formed the first special purpose acquisition company, or SPAC, with the stated goal of buying a sports company or franchise.
Be smart: SPACs are shell companies designed to raise capital through an IPO for the purpose of acquiring an existing company. They have flooded Wall Street in recent months, creating new paths to the public markets for companies like DraftKings, writes Axios' Kia Kokalitcheva.
2. ⚽️ "The richest game in football"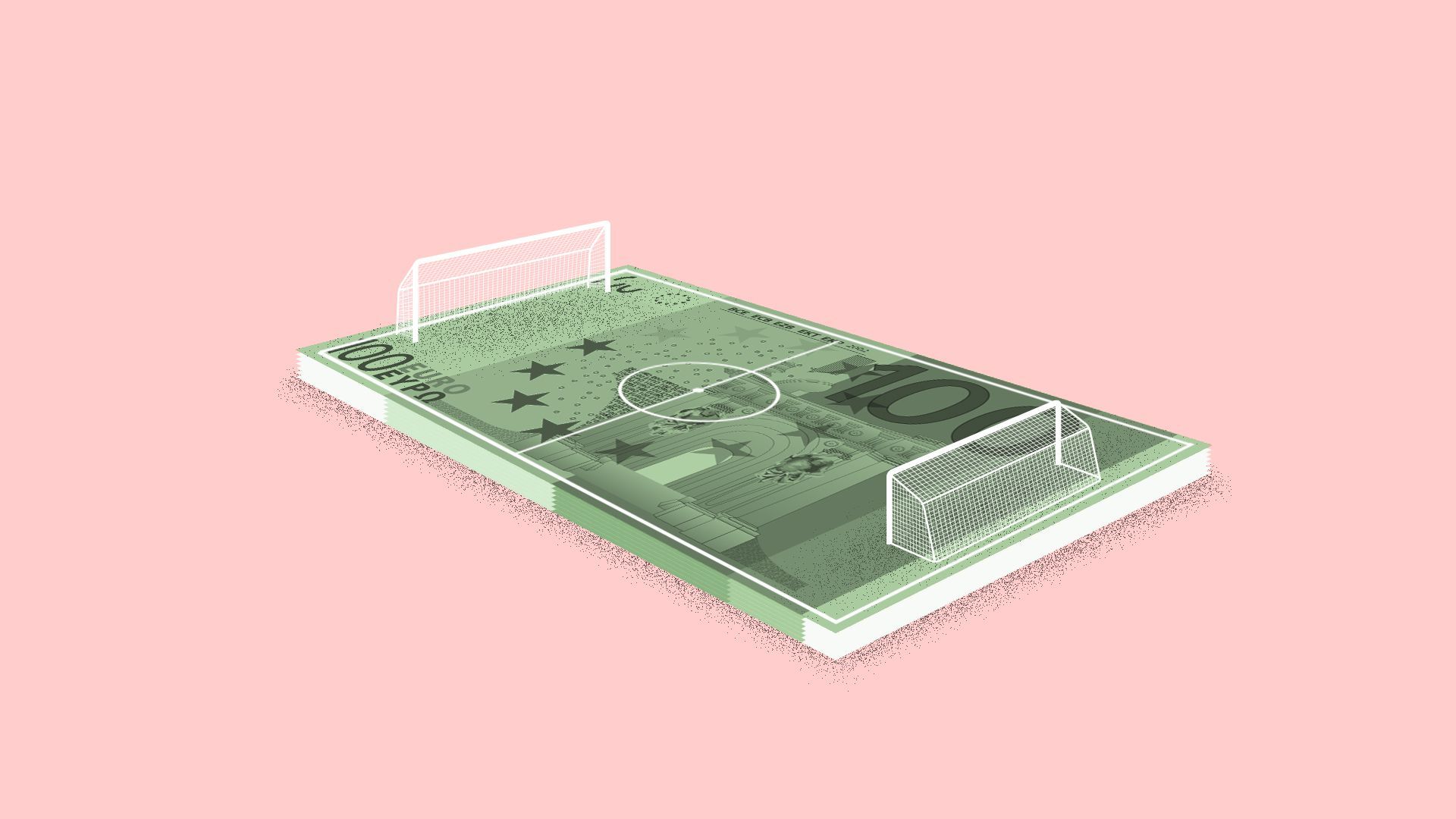 Brentford and Fulham match up today at world-famous Wembley Stadium (2:45pm ET, ESPN+) in the EFL Championship Playoff Final, with the winner earning promotion to the English Premier League.
Why it matters: The annual match has been dubbed "the richest game in football," with the winner receiving hundreds of millions of dollars thanks to increased TV revenue and other financial perks of joining the world's best soccer league.
How they got here: The 24-team Championship automatically promotes its top two finishers, while Nos. 3–6 fight for the third and final slot.
No. 1 Leeds United and No. 2 West Bromwich Albion earned automatic promotions.
No. 3 Brentford beat No. 6 Swansea City, 3-2 on aggregate.
No. 4 Fulham beat No. 5 Cardiff City, 3-2 on aggregate.
Match preview: Brentford and Fulham are local rivals, living in the shadow of Arsenal, Tottenham and Chelsea in West London.
Brentford is looking to return to the Premier League for the first time in 73 years.
Fulham is hoping to bounce back after being relegated last season. The club is owned by Jaguars owner, Shahid Khan, and is known for signing Americans like Clint Dempsey and Brian McBride, and currently has two on the roster: starting defender Tim Ream and reserve midfielder Luca de la Torre.
Go deeper: What would U.S. soccer look like with promotion and relegation? (Fansided)
3. 🥍 PLL Elimination Round begins in Utah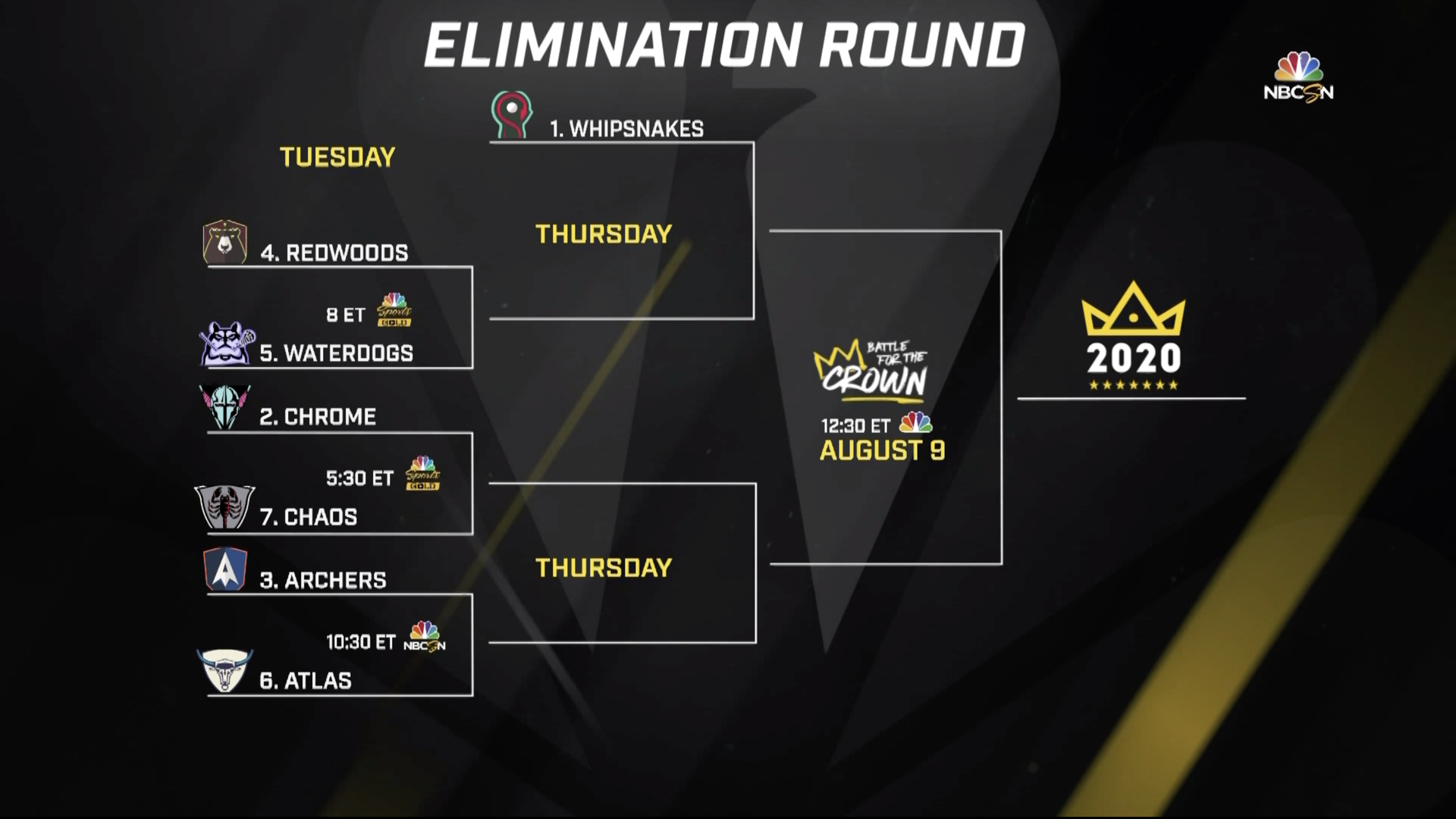 With 14 group-play games in the books, the 2020 Premier Lacrosse League Championship Series — a 16-day quarantined tournament in Utah — moves on to the elimination round.
Tonight's slate: The reigning champion Whipsnakes earned the top seed and a bye into the semifinals with a 4-0 record. The other six teams all play tonight.
5:30pm ET: No. 2 Chrome vs. No. 7 Chaos (NBC Sports Gold)
8pm ET: No. 4 Redwoods vs. No. 5 Waterdogs (NBC Sports Gold)
10:30pm ET: No. 3 Archers vs. No. 6 Atlas (NBC Sports Network).
The backdrop: The PLL changed the lacrosse landscape when it debuted last year, signing the world's best players — many of whom left the incumbent Major League Lacrosse to join — and offering a new tour-based model, higher pay and player equity.
Following a successful first season full of broadcast innovations (like interviewing mic'd up players in-game after they score), this summer's 12-city, 15-weekend season was poised to bring even more attention to the sport.
Then the pandemic arrived, and PLL co-founders Paul Rabil (who's also a player) and his brother, Mike, scrambled to come up with a plan, laying out 12 possible scenarios in a shared Google Doc on a flight from New York to L.A.
Ultimately, they decided to host a bubble tournament near Salt Lake City, using the same venue — Zions Bank Stadium — that the NWSL used for its tournament last month.
Go deeper:
4. ⚡️ Catch up quick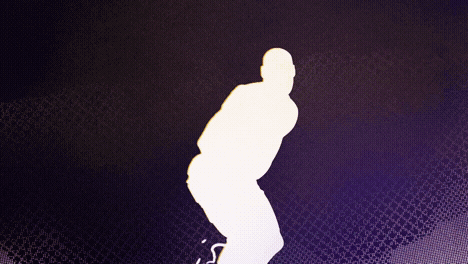 🏀 NBA: Anthony Davis scored 42 points, LeBron James had a near triple-double (22-9-8), and the Lakers clinched the No. 1 seed in the Western Conference playoffs with a 116-108 win over the Jazz. ... Elsewhere, Zion Williamson (23 pts) led the Pelicans past the Grizzlies, and Shake Milton's late three-pointer lifted the Sixers past the Spurs. Full scoreboard.
⚾️ MLB: 13 Cardinals (seven players and six staffers) tested positive for COVID-19, leading to the postponement of their four-game series with the Tigers in Detroit. This comes after their three-game series against the Brewers this past weekend was also postponed following two positive tests. Yikes.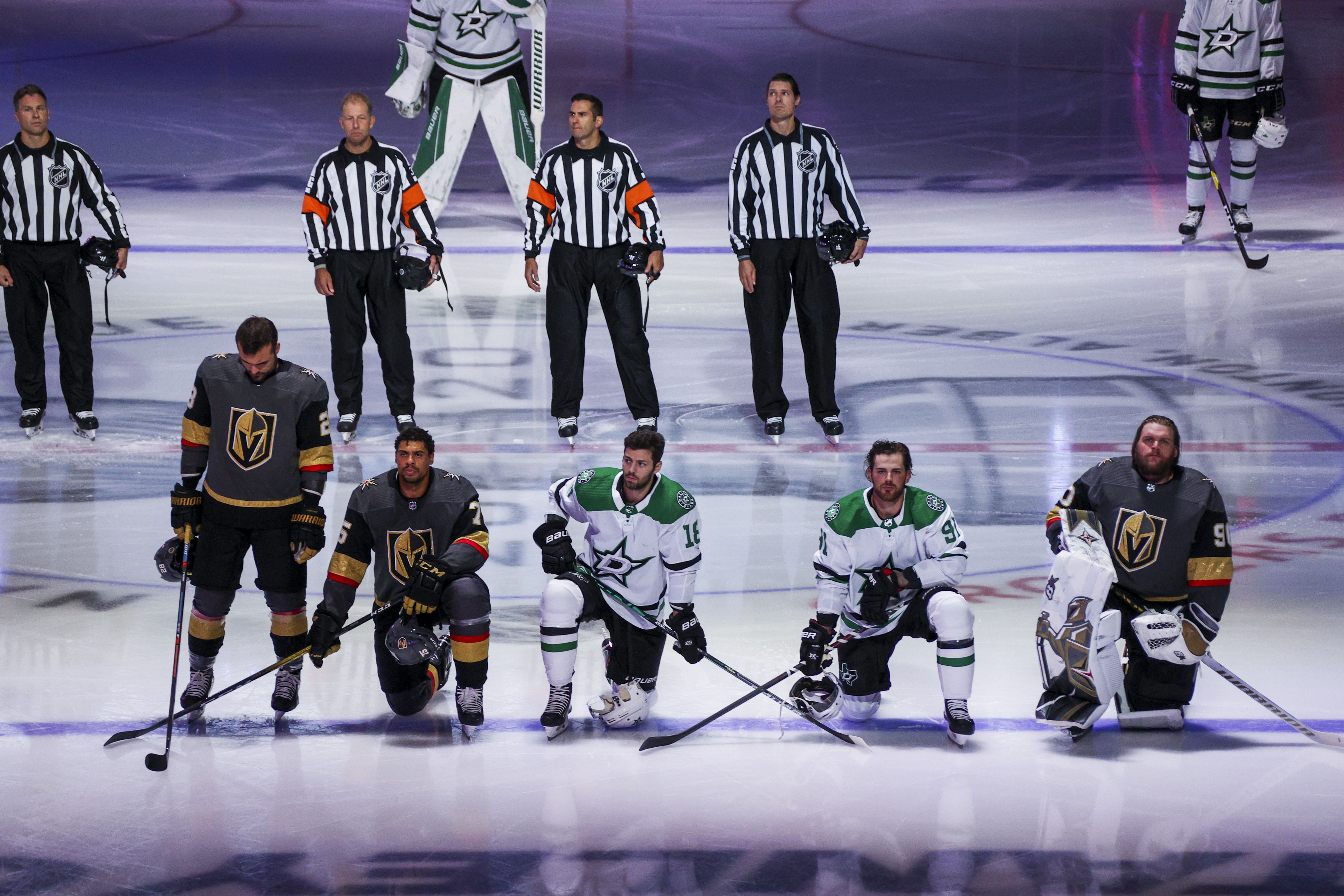 🏒 NHL: Through the first two days of the NHL postseason, one player — Minnesota's Matt Dumba — had knelt during a national anthem. Make that five now, as Dallas' Tyler Seguin and Jason Dickinson and Vegas' Robin Lehner and Ryan Reaves all took a knee on Monday night in Edmonton.
🏒 More NHL: Playing in his home arena, Connor McDavid recorded his first postseason hat trick in the Oilers' 6-3 win over the Blackhawks. And earlier in the evening, another young star, Andrei Svechnikov, unleashed three goals in the Hurricanes' 4-1 win over the Rangers. Full scoreboard.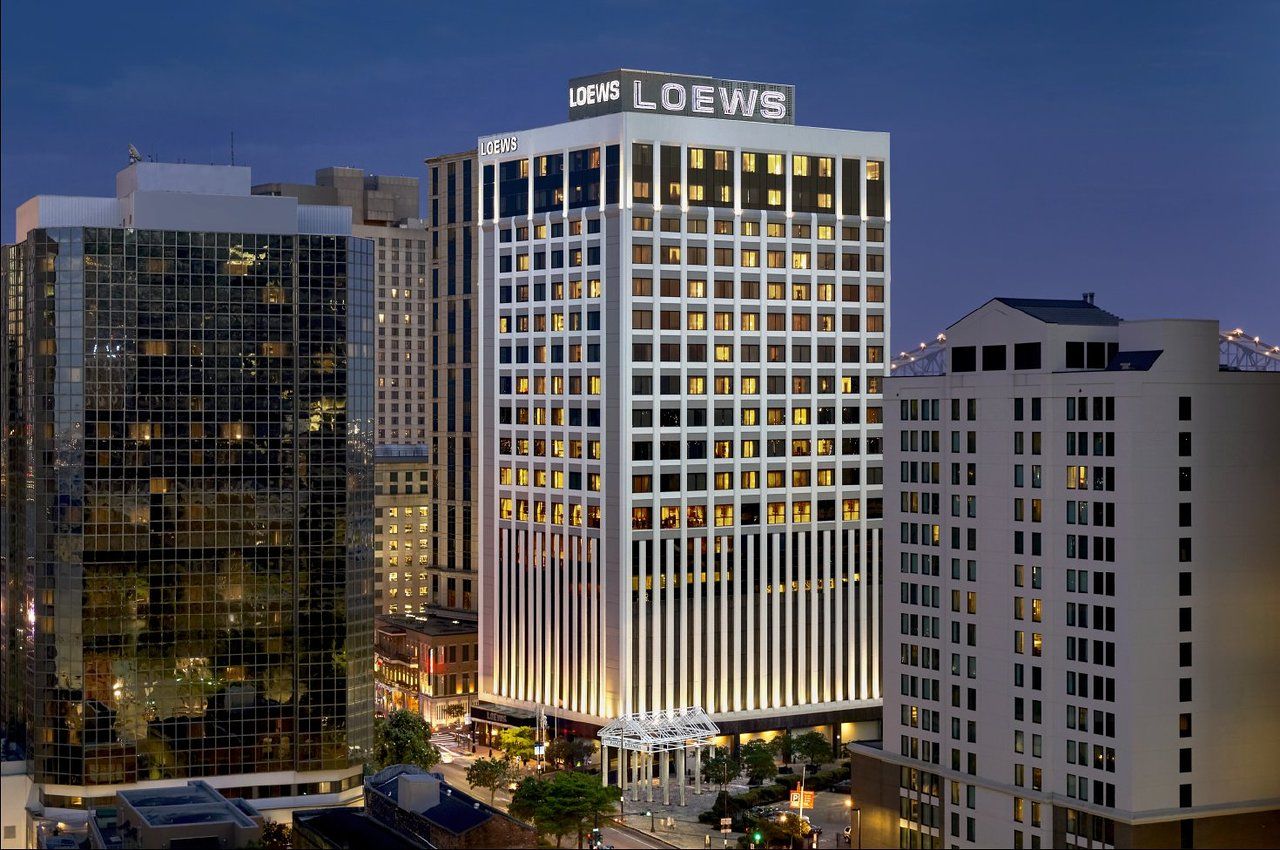 🏈 NFL: The Saints rented out four floors of the Loews Hotel in downtown New Orleans to create an optional bubble-like atmosphere for players and staff members who choose to stay there during training camp.
🎥 Best thing I saw: Five-time gold medalist Katie Ledecky posted a video of herself swimming a full length of the pool with chocolate milk balanced on her head. Incredible.
5. 🏀 Ranking the NBA's all-time rosters (No. 1)
We're ranking the all-time rosters for all 30 NBA teams. Note: Rosters and stats based only on time spent with this specific team. Thoughts? Email me at [email protected].
1. Los Angeles Lakers
It's not unreasonable to say this roster has eight of the top 20 players in NBA history. And, to preemptively answer your two most burning questions: (1) I know Kareem isn't a forward, but he and Shaq will make it work. (2) Despite only being a Laker for two years, there was simply no leaving LeBron off this roster.
Year established: 1948 (as the Minneapolis Lakers)
All-time record: 3,382-2,296 (.596)
NBA Championships: 16
Hall of Famers (indicated by *): 10
Starters:
Magic Johnson*, G (19.5 pts, 7.2 reb, 11.2 ast, 24.1 PER/155.8 WS)
Kobe Bryant*, G (25.0 pts, 5.2 reb, 4.7 ast, 22.9 PER/172.7 WS)
Jerry West*, G (27.0 pts, 5.8 reb, 6.7 ast, 22.9 PER/162.6 WS)
Kareem Abdul-Jabbar*, F (22.1 pts, 9.4 reb, 3.3 ast, 23.4 PER/158.7 WS)
Shaquille O'Neal*, C (27.0 pts, 11.8 reb, 3.1 ast, 28.9 PER/97.0 WS)
Sixth man: Elgin Baylor*, F (27.4 pts, 13.5 reb, 4.3 ast, 22.7 PER/104.2 WS)
Bench:
Wilt Chamberlain*, C (17.7 pts, 19.2 reb, 4.3 ast, 20.2 PER/63.6 WS)
George Mikan*, C (23.1 pts, 13.4 reb, 2.8 ast, 27.0 PER/108.7 WS)
James Worthy*, F (17.6 pts, 5.1 reb, 3.0 ast, 17.7 PER/81.2 WS)
Pau Gasol, F/C (17.7 pts, 9.9 reb, 3.5 ast, 21.4 PER/59.2 WS)
Gail Goodrich*, G (19.0 pts, 3.0 reb, 4.2 ast, 17.2 PER/56.4 WS)
LeBron James, F (26.5 pts, 8.2 reb, 9.5 ast, 25.8 PER/16.8 WS)
Notes:
This roster comprises half of the top-10 all-time scoring leaders: Abdul-Jabbar (No. 1), James (No. 3), Bryant (No. 4), Chamberlain (No. 7) and O'Neal (No. 10).
💔 RIP, Mamba: Can't believe it's been six months since we lost Kobe and Gigi.
ICYMI ... 30. Grizzlies, 29. Timberwolves, 28. Hornets, 27. Raptors, 26. Pelicans, 25. Pacers, 24. Clippers, 23. Mavericks, 22. Nets, 21. Cavaliers, 20. Bucks, 19. Hawks, 18. Wizards, 17. Suns, 16. Kings, 15. Magic, 14. Nuggets, 13. Trail Blazers, 12. Rockets, 11. Knicks, 10. Thunder, 9. Jazz, 8. Heat, 7. Pistons, 6. Bulls, 5. 76ers, 4. Warriors, 3. Spurs, 2. Celtics
Stats, explained: Player Efficiency Rating (PER) is a measure of a player's per-minute productivity (20+ is elite); Win Shares (WS) attempts to divvy up individual credit for team success (6 per season is elite).
6. Aug. 4, 1984: 🇺🇸 Carl Lewis' first gold
36 years ago today, Carl Lewis won gold in the 100 meter dash at the 1984 Los Angeles Olympics — his first of nine gold medals.
The big picture: Across four Summer Games, Lewis won as many gold medals as any other Olympian not named Michael Phelps.
Los Angeles, 1984 (🥇🥇🥇🥇): He set a world record in the 4x100 meter relay (37.83 seconds) and an Olympic record in the 200 meter dash (19.80, third-fastest ever). His 100 meter dash (9.99 seconds) was six-hundredths shy of the world record and his long jump (8.54 meters) blew away second place (8.24 meters).
Seoul, 1988 (🥇🥇🥈): Three days after Lewis won silver in the 100 meter dash, Canadian speedster Ben Johnson was disqualified for steroid use, giving Lewis the victory and a new Olympic record (9.92 seconds). He also took gold in the long jump and silver in the 200 meter dash.
Barcelona, 1992 (🥇🥇): He won the long jump for a third straight time and anchored the world record-setting, 4x100 meter relay team (37.4 seconds).
Atlanta, 1996 (🥇): He won the long jump in a fourth straight Olympics. Only Danish sailor Paul Elvstrøm, U.S. discus thrower Al Oerter and Phelps (200 meter medley) have matched him in winning the same individual event four times.
🎥 Watch: Lewis at the '84 Olympics (YouTube)
7. 📚 Good read: Nneka's remarkable year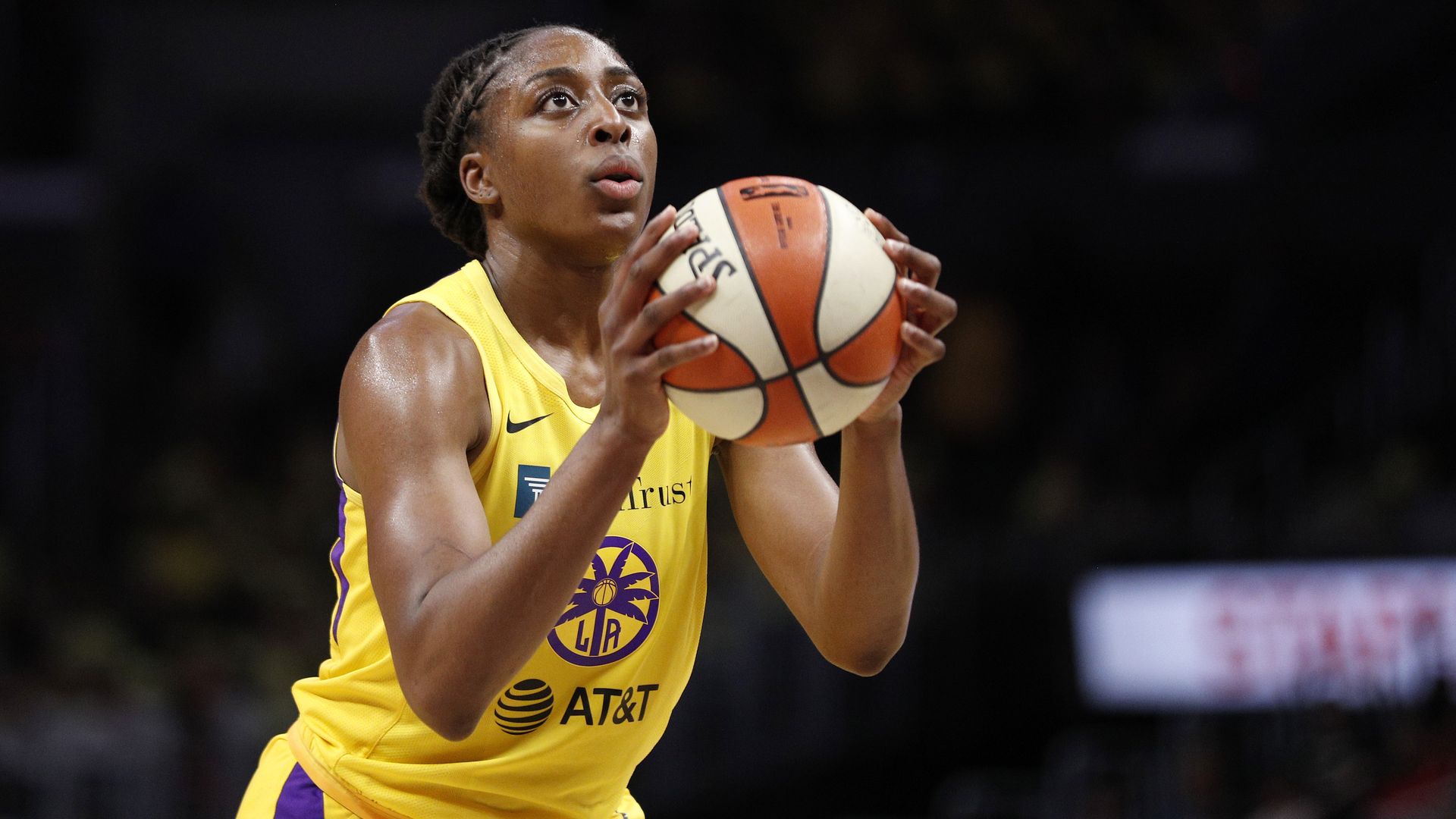 "Nneka Ogwumike's parents, Peter and Ify, were born within a hundred miles of each other, in Nigeria. They met, years later, in Colorado, got married, and settled in Houston," the New Yorker's Louisa Thomas writes.
"They have four daughters: Nneka, Chiney, Olivia, and Erica. Growing up, the girls played basketball, volleyball, and soccer, and did gymnastics.
"There was also 'student council, playing the piano, going to church, mentoring others, being role models, having straight A's, cleaning the house, mowing the lawn with me,' Ify said recently."
"Our custom and culture is about excellence," Peter said.
Among the sisters, Nneka, the eldest, is the "mother hen," according to Ify — a role that helped prepare her for the series of challenges she's taken on this year.
"As the president of the WNBA's players' union, she helped complete the negotiations for a historic collective-bargaining agreement, in January," writes Thomas.
"A couple of months later, she played a central role in deciding how to start the season during a pandemic."
"On the season's first night, she scored 21 points for the Sparks ... in the most-watched WNBA opener in eight years. She didn't miss a shot."
8. The Ocho: 🌊 Water snowmobiling
Those Norwegians really know how to live.
9. 🏀 College hoops trivia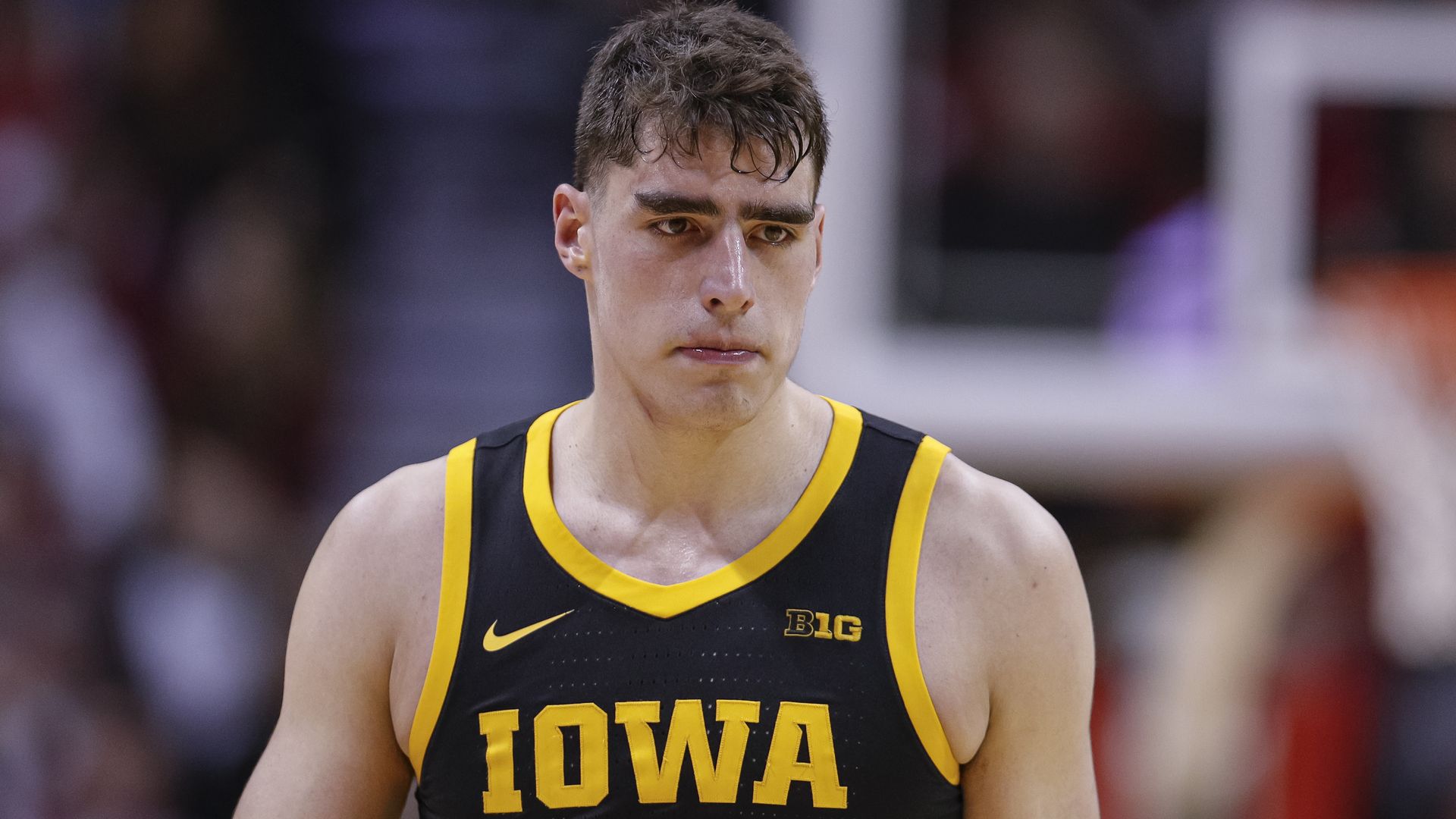 Iowa's Luka Garza, a Naismith Player of the Year finalist last season, will return to school after withdrawing from the NBA draft.
Question: Who was the last Power 5 player to return to school after being a Naismith finalist?
Hint: Big Ten. Returned to school for the 2011-12 season.
Answer at the bottom.
10. ❤️ Why we love sports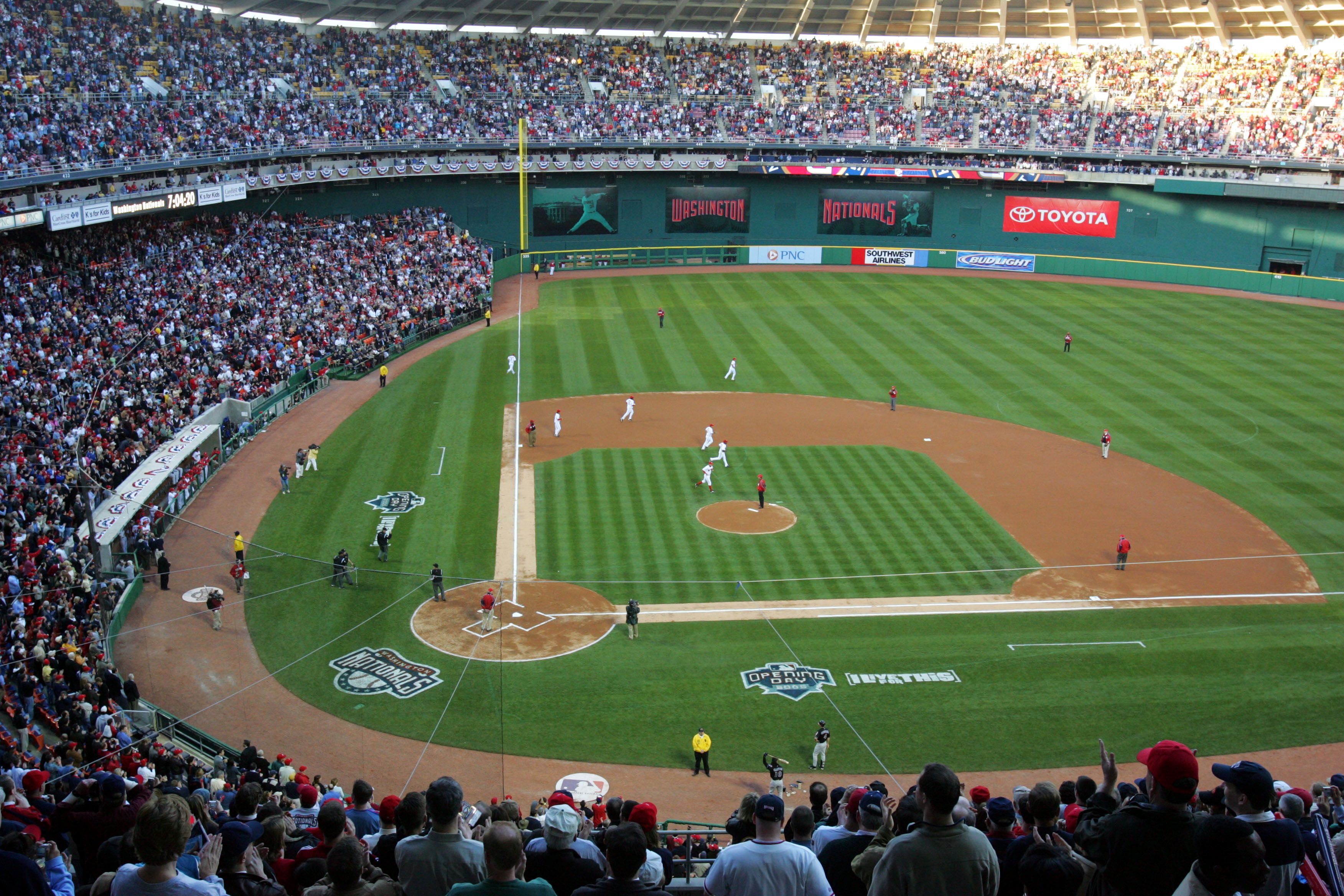 Billy V. (Fairfax, Va.) writes:
"I grew up in Northern Virginia in the '90s. My dad and his dad were big baseball fans, so I was, too. Once I started playing tee-ball, I was hooked.
"At some point, I was old enough to figure out that D.C. was a big metro area that didn't have a team, and I started to question it. In high school, I stumbled upon the group Virginians for Baseball and volunteered immediately.
"My younger brother and I would take the Metro after school to attend meetings, phone bank, and canvas at local malls. When the Orioles, who were blocking D.C. from getting a team, hosted a fan-fest downtown, we went and protested.
"When the Arlington County Board sent a letter to the state saying they didn't want baseball in Arlington (without any public hearings), I volunteered to be 'NIMBY the County Board Chicken,' and led a protest on a humid summer night.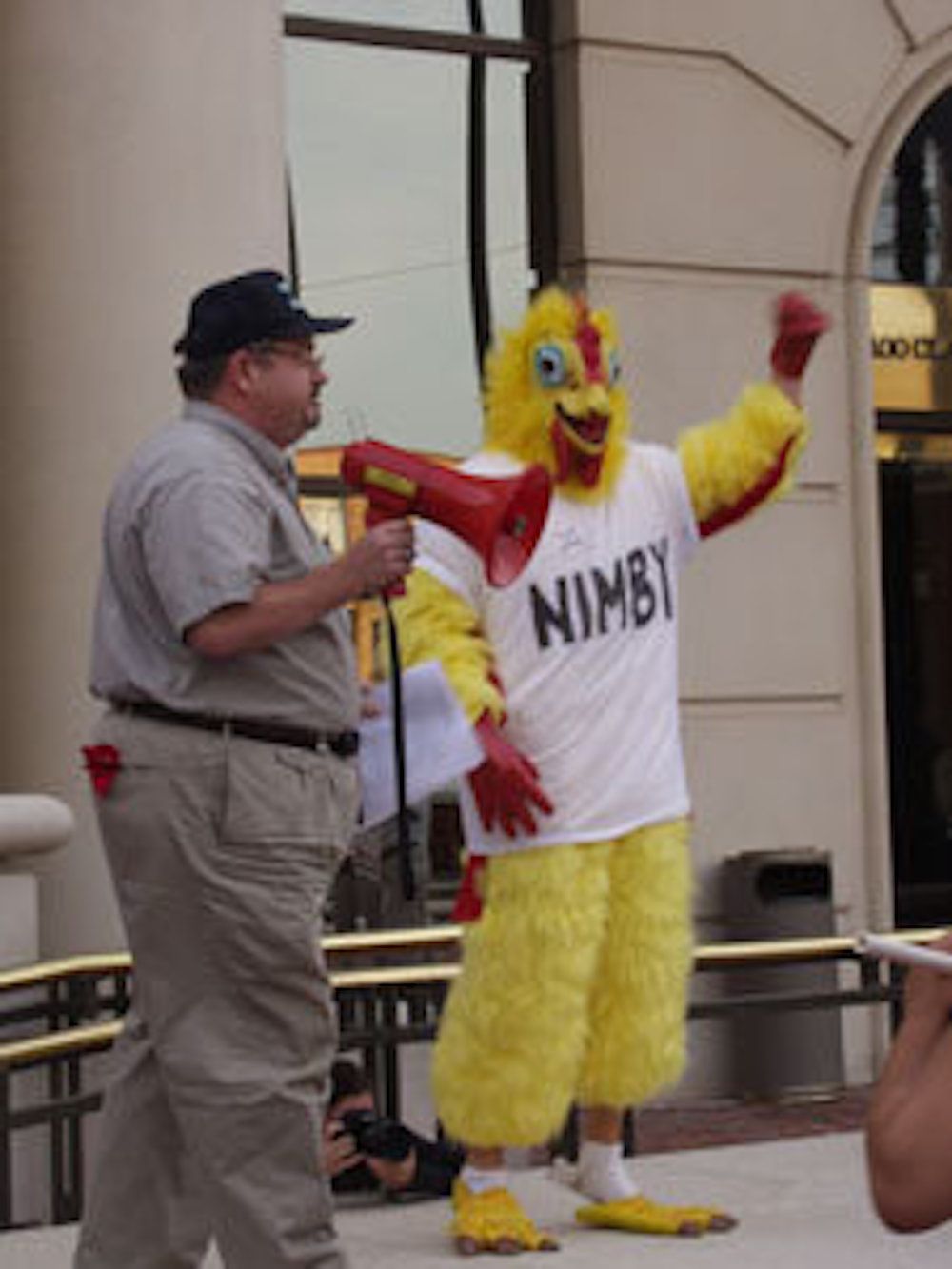 "Bringing baseball back to D.C. seemed hopeless at times. So on Opening Day in 2005, when I entered RFK and caught a glimpse of the field for the first time (see first photo), I cried like a baby at age 18.
"Fast forward to 2019, I was able to take my eight- and six-year-old sons to the Wild Card game (which was truly wild), an NLCS game on my son's sixth birthday, and then to the World Series. Tears flowed again, this time at age 33.
"It is an amazing feeling having been deprived of baseball in D.C. as a kid to be able to take my sons now. They're hooked. And of course, my four-year old daughter — who we brought to the World Series — still sings 'Baby Shark' nearly every day.
"Even when things seem hopeless, don't give up on baseball."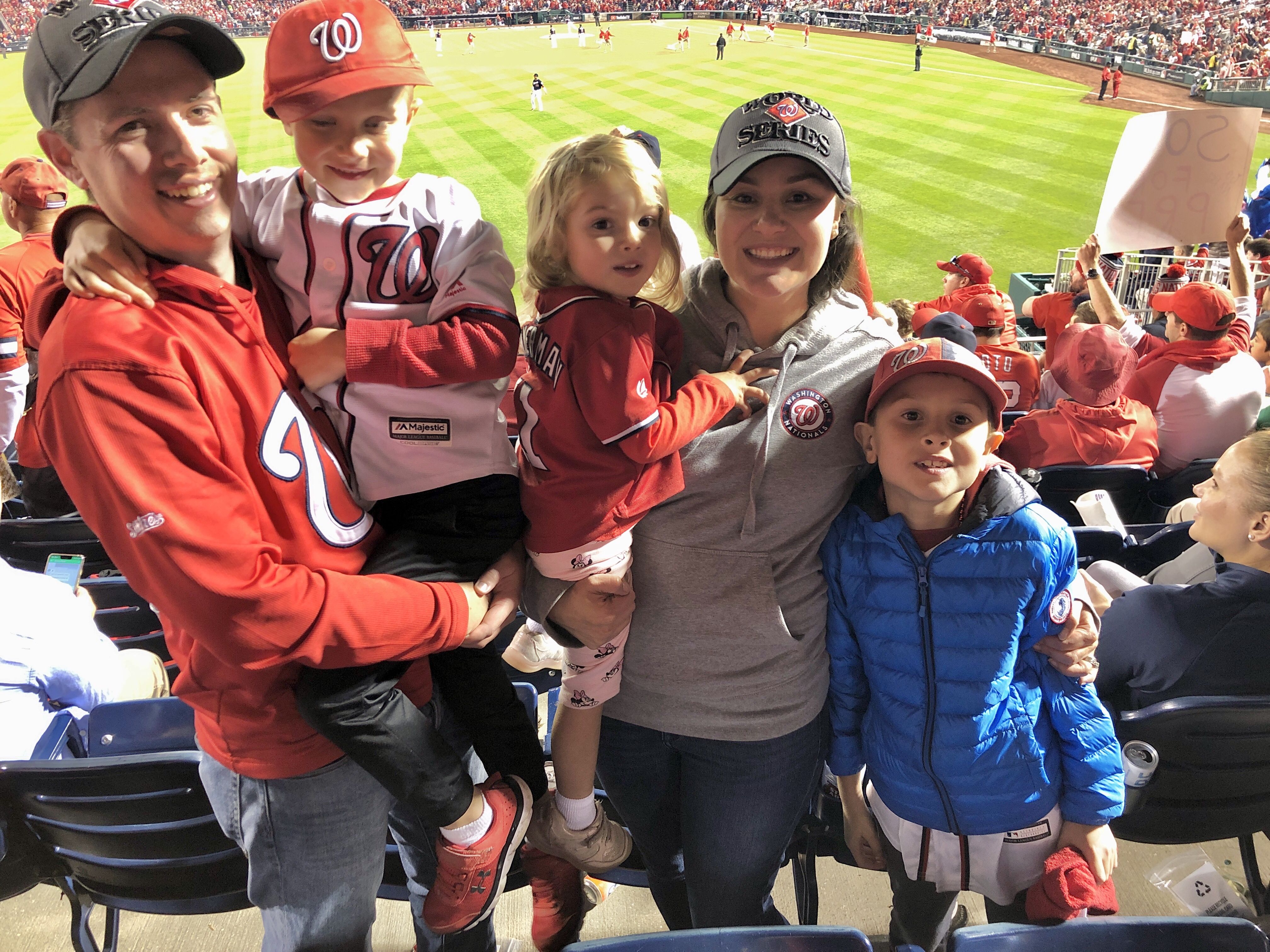 ✍️ Submit your story: Do you have a fondest sports memory? Or a story about sports having a positive impact on your life? To share, simply reply to this email. We'll be telling your stories until they run out.
Talk tomorrow,
Kendall "We are living in an episode of 'Ballers'" Baker
Trivia answer: Ohio State's Jared Sullinger