👋 Good morning! Short one this morning (only 1,131 words), as I'm currently writing this on a plane traveling cross country.
⚽️ WWC: Italy vs. China (12pm ET), Netherlands vs. Japan (3pm ET)
⚾️ CWS: Michigan vs. Vanderbilt, Game 2, 7pm ET (MICH leads 1-0)
1 big thing: 🎥 Sports in a digital-first world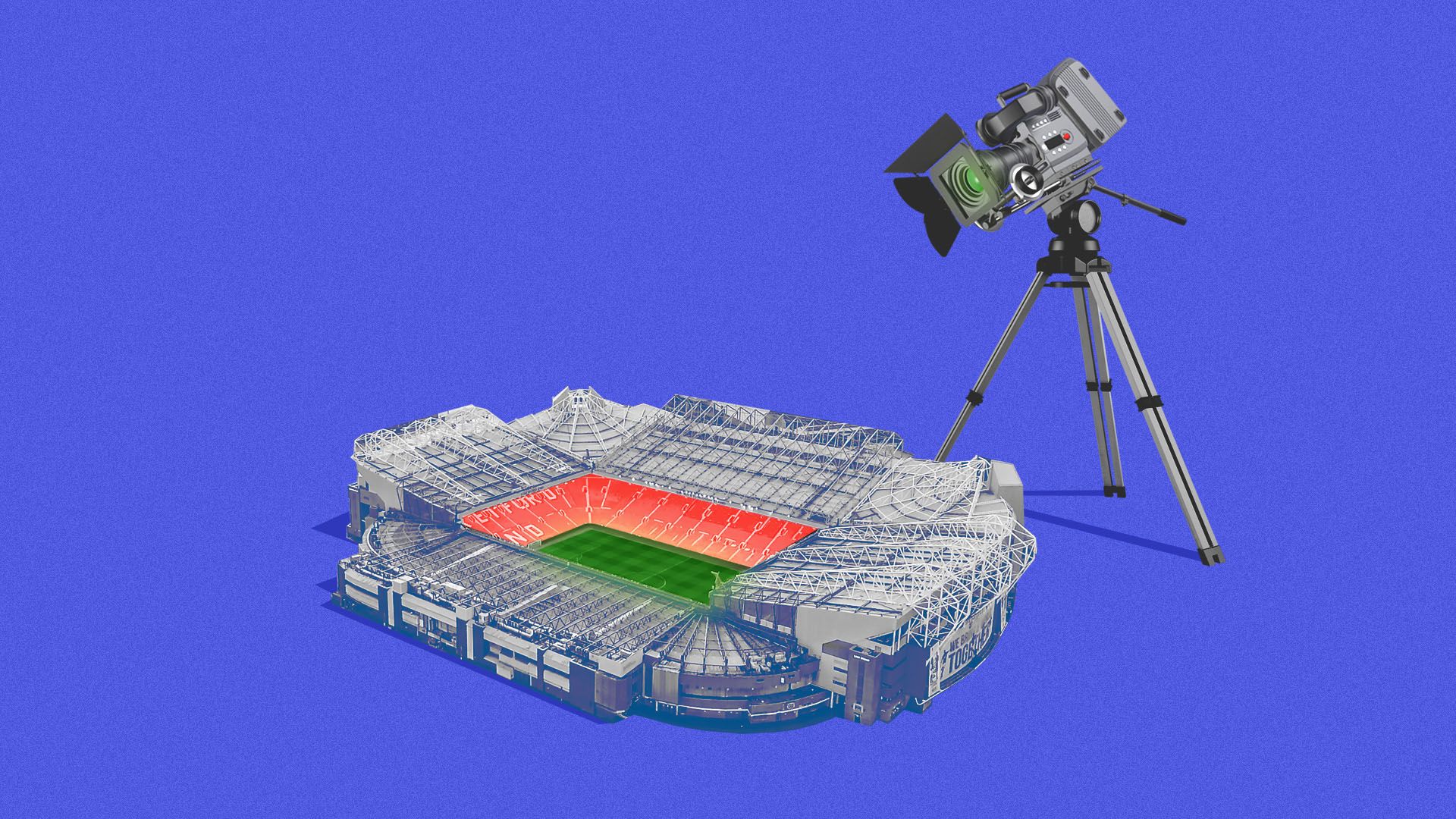 As sports becomes less localized and our lives become more digital, stadiums of the future — and, in some cases, even the present — could look vastly different than stadiums of the past.
Flashback: 50 years ago, your average sports fan rooted for his or her hometown teams because, for the most part, those were the only teams being shown on TV or written about in the newspaper.
Nowadays, your average sports fan can watch any team, any time, anywhere, on any device. And, thanks to the overwhelming amount of content being created and the power of social media, they have a vested interest in far more than their local teams.
The big picture: This has had a profound impact on modern sports fandom, affecting who we root for and how we consume and follow sports.
And while I could write an entire newsletter on that topic (maybe I will), I'd like to focus on one idea — the "consume and follow sports" part.
My take: Sports fans are constantly engaging with their favorite athletes, teams and leagues through some form of media — and there's a ton of money to be made by keeping their attention.
As a result, sports now feels more like reality TV with an ecosystem of storylines and viral videos that almost feel separate from the tribal experience of going to a sporting event.
The bottom line: In our digital-first world, media rights are skyrocketing and attendance numbers are already on the decline. So my question is: Could we reach the point in the future where live attendance doesn't even matter?
With sports fans increasingly following national storylines and athletes rather than local storylines and teams, could stadiums eventually look more like sound stages optimized for content creation rather than coliseums optimized for the attending fan?
Bonus: Paul Rabil responds to the above
Paul Rabil co-founded the Premier Lacrosse League, which is one of the rare pro sports leagues actually born in the digital-first age.
The PLL's teams don't have home cities and the league has placed a heavy emphasis on content creation and broadcast innovation, so I asked Rabil what his thoughts were when it comes to live attendance.
Rabil:
"I don't particularly see a future where digital viewership, impressions, and TV are mutually exclusive of attendance. If done appropriately, they should work in concert together."
"That said, the dog days of attendance as a leading revenue figure for major sports leagues are over. ... The increasing benefits of the social and digital era are that brands are looking to spend more in these categories — where 10 years ago, this revenue stream didn't exist."
"In 2009, the fan who attended your games, purchased a ticket, merch and a concession was measured on a per cap basis. And while that's still an accurate metric today, there are fans in 2019 that are driving new revenue streams through their mobile device — purchasing league OTT packages, subscribing to social."
"The major difference? Fans onsite come a dozen times a year. Online? 365 times."
2. 🏈 NFL hosts coaching summit to strengthen diversity
The NFL and Black College Football Hall of Fame are currently hosting a quarterback coaching summit for minority assistant coaches at the pro and college levels, Axios' Mike Sykes writes.
Why it matters: The goal is to strengthen the development pipeline for coaches of color on the offensive side of the ball, where the NFL currently lacks diversity.
By the numbers: Offensive coaches — and particularly offensive coordinators — are prime targets for head coaching jobs, and in the NFL, almost all of those positions are currently held by white men.
12 of the 64 coordinators in the NFL are minorities and only two of them are offensive coordinators. And remember: This offseason, the number of minority head coaches was cut from eight to four.
The bottom line: The NFL's Rooney Rule was created to increase diversity among NFL coaches, and while it has certainly had a positive impact, the rule has its holes. This summit and other similar events are an attempt to fill them in.
3. ⚽️ USWNT survives and advances
Thanks to two penalty-kick goals from Megan Rapinoe, the United States survived a scare in the round of 16, defeating Spain 2-1.
The big picture: After watching them coast through the group stage, yesterday's nail-biter raised some concerns about Jill Ellis' squad (and Jill Ellis) ahead of Friday's much-hyped meeting with host and co-favorite France.
Naeher looks nervous: Untested keeper Alyssa Naeher has produced multiple nerve-racking moments at this World Cup, the latest coming yesterday when her poor decision led to Spain's only goal.
Morgan is battling injury: Leading scorer Alex Morgan appeared to be battling an injury yesterday, which was likely related to the knock she took against Sweden. Hopefully she's 100% on Friday. If not, that's a huge blow.
Speaking of Morgan ... What was Jill Ellis doing? Instead of replacing her with Carli Lloyd, Mallory Pugh or another healthy sub, she left her on the field almost the entire game.
4. ⚾️ MLB: By the numbers
27
The Yankees have hit a home run in 27 straight games, tying an MLB record set by the 2002 Rangers.
22.74
The Nationals have released reliever Trevor Rosenthal following one of the worst starts to a season ever. In his first year with the team, he walked/hit almost as many batters (18) as he got out (19) and finished with a 22.74 ERA in 12 games. The end of an era — and of an ERA.
.306
Zack Greinke homered off Clayton Kershaw last night in the Diamondbacks' 8-5 win, giving him a career-high three on the young season. Greinke's current slash line: .306/.342/.667.
$8,100,000
The Orioles are giving No. 1 overall pick Adley Rutschman a record $8.1 million signing bonus, eclipsing the previous high set by Gerrit Cole ($8 million) when he went No. 1 overall to the Pirates in 2011.
6. June 25, 2014: ⚽️ Suarez strikes again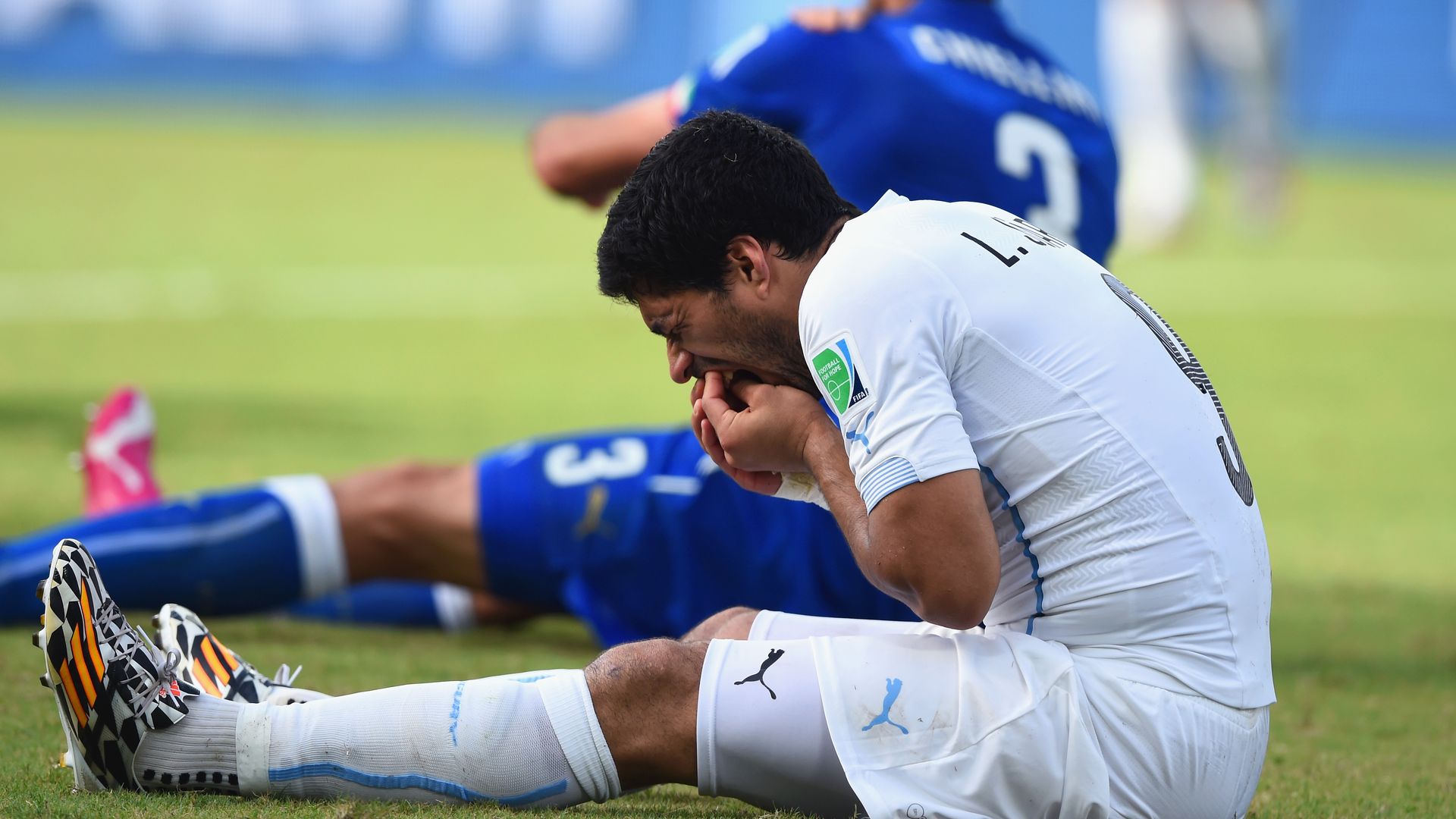 Five years ago today, FIFA banned Luis Suarez for four months after he bit Italy's Giorgio Chiellini in the middle of a World Cup match.
The big picture: The bite to Chiellini was actually the third time Suarez bit an opponent in his career, leading us to believe he might actually be a vampire.
Go deeper: A look at Suarez's three bites
7. 🏀 NBA Trivia
At the NBA awards show last night, Luka Doncic became the second player in Dallas Mavericks history to win the Rookie of the Year award.
Question: Can you name the first? 
Hint: He won a championship with them.
Answer at the bottom.
8. The Ocho: 🎬 "Space Jam" box score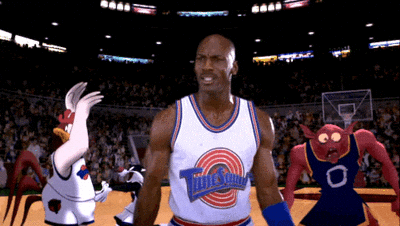 With so much chatter about "Space Jam 2," I figured now was the perfect time to reminisce about the original "Space Jam."
See you tomorrow,
Kendall "Bet you guessed Dirk" Baker
Trivia answer: Jason Kidd (1994–95)