☀️ Good morning! Up until now, Axios Sports has been a newsletter. Starting today, Axios Sports is a newsletter WITH A DAILY CONTEST AT THE BOTTOM.
Each morning, we'll ask you to make a prediction about a game or event taking place that night. Make the correct prediction and you're eligible to win a prize.
More info at the bottom. Good luck!
1. ⛳️ Golf's simmering distance debate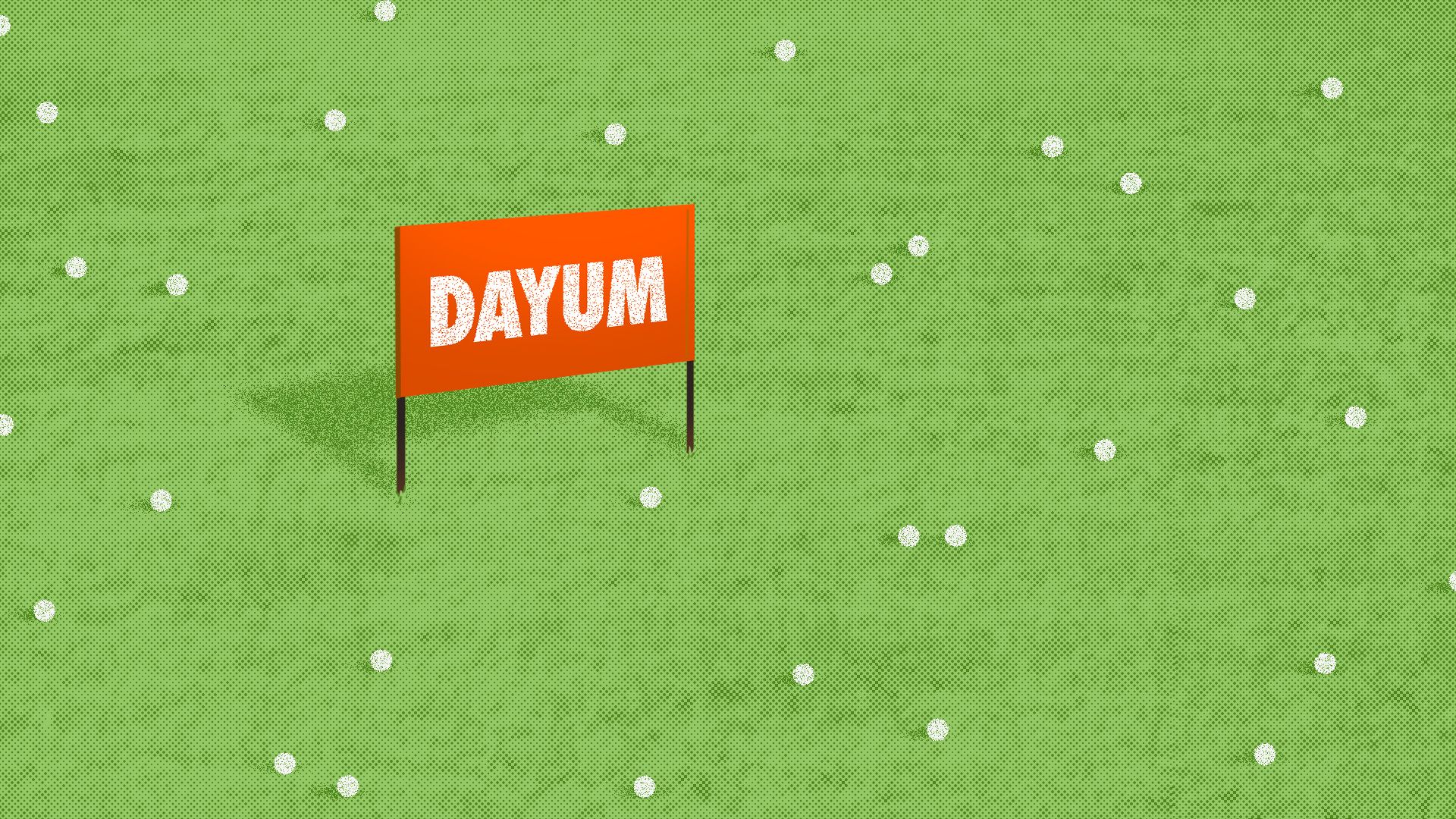 Professional golfers are hitting the ball such long distances that iconic holes, and even entire courses, are being rendered obsolete. It has the sport at a crossroads:
Should golf courses get longer to keep up with the modern player?
Or should golf balls be physically altered to reduce driving distances?
By the numbers: In 1990, the average PGA Tour driving distance was 262.8 yards. In 2018, it was 295.3 yards — an increase of more than 12%.
Bernhard Langer, who is currently dominating the 50-and-over PGA circuit, drives the ball farther at age 61 (282 yard average in 2018) than he did in his prime (269.7 yards in 1985).
What's happening: Three key factors in determining the flight of a golf ball have experienced significant advancements this century, explains Sports Illustrated's Daniel Rapaport.
The swing: Better, stronger athletes — many of whom were attracted to golf by Tiger Woods — generate greater swing speeds, while modern technology allows them to fine-tune their form.
The club: Most modern drivers are adjustable, meaning players can custom tailor them to their specific needs. Meanwhile, state-of-the-art clubface design means that even off-center mishits can travel absurd distances.
The ball: Since the early 1900s, pros used balls covered in a rubber called balata. Then, in 2000, Titleist introduced the Pro V1, a urethane-covered ball that traveled farther. By 2001, not a single winner of any pro tournament used a balata ball. Golf had changed forever.
The big picture: Golfers will only continue getting more athletic and club regulations are already in place (and updated frequently). That leaves the ball as the primary factor at the center of the distance debate.
Ideas gaining traction: Reducing the ball's maximum velocity (Jack Nicklaus has suggested a 20% reduction), outlawing certain materials and changing construction methods and dimple patterns.
"The loudest calls are not for a blanket rollback but a bifurcation of the rules, similar to baseball's. Just as metal bats are legal at every level except the pros, today's golf balls would be permitted for amateurs but not Tour players," writes Rapaport.
The other side: The opposition argues that it should be courses, not balls, that evolve. Why make the best players in the world ostensibly worse when you could just make the holes longer?
Others point out that courses don't even need to be lengthened; just designed in smarter ways. More strategically-placed bunkers, thicker rough, different fairway heights — anything that might make pros second-guess pulling out the driver.
The bottom line:
"Imagine baseball not being able to have games at Wrigley Field or Fenway Park. That's where we're headed."
— Andy Johnson, founder of
The Fried Egg
P.S. Yesterday's final round of the Pebble Beach Pro-Am was suspended due to darkness. Play will resume shortly (11 am ET), with Phil Mickelson (-18) sitting on a three-stroke lead.
2. ⚾️ Panama makes history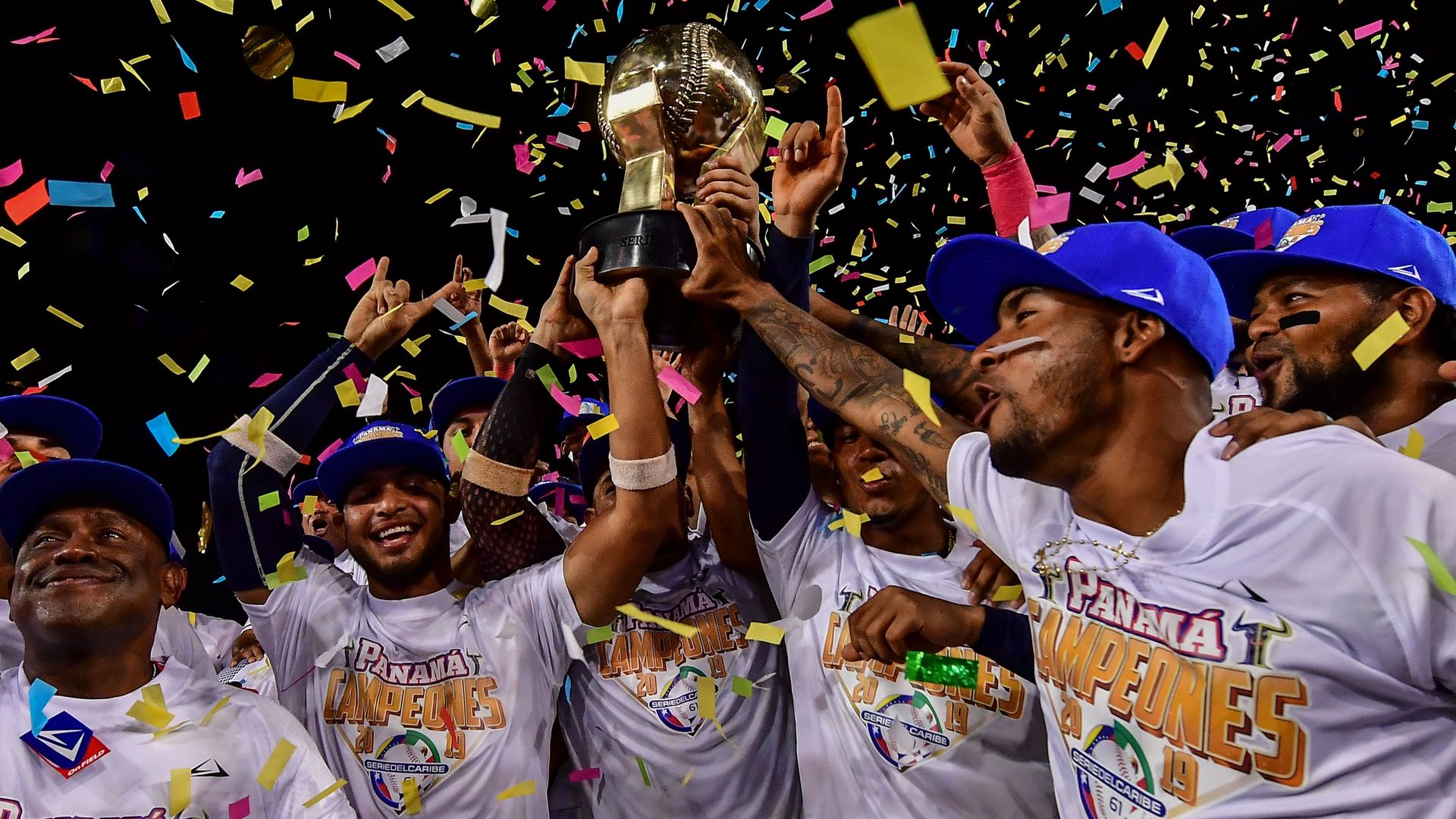 PANAMA CITY — "With a team that wasn't even supposed to be in the tournament, Panama beat Cuba 3-1 on Sunday to win its second-ever Caribbean Series and first since 1950," the Associated Press reports.
"Panama was represented in the tournament for the first time since 1960 only after the Caribbean Professional Baseball Leagues moved the series out of Venezuela because of security concerns shortly before it began. With Panama hosting, [they] were invited to play as a guest." Sports, man.
3. 📱 The social followings of NBA, NFL, MLB and NHL All-Stars
From Mike Sykes: When we set out to examine the social media followings of every All-Star starter across the four major sports, we expected the personality-driven NBA to come out ahead — but not by this much!
Takeaways:
NBA: LeBron James has more followers on Instagram and Twitter (~89 million) than every NFL, MLB and NHL All-Star starter combined. He also has more than twice as many as the next closest NBA All-Star starter (Steph Curry: ~37 million).
NFL: Trench warrior J.J. Watt has the strongest social presence (~8.8 million followers) among Pro-Bowlers. Even if Aaron Rodgers hadn't pulled out of the game, his 5.4 million followers still would have trailed Watt.
MLB/NHL: Mike Trout and Alex Ovechkin have almost the same exact number of followers across both platforms. Same with Matt Kemp and Connor McDavid.
NHL: 15 All-Star starters have either (a) no Twitter account, (b) no Instagram account or (c) neither.
To interact with the chart above, view it in your browser.
4. 🏀 ath·let·i·cism (noun)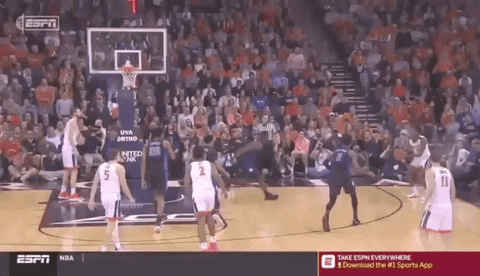 In Duke's 81-71 win over Virginia on Saturday, Zion Williamson used his freakish athleticism to boggle the mind, sprinting from the opposite side of the basket to the corner of the court to swat a 3-point attempt into the stands.
"There are probably two people in the world that can make that play, and they were both in the gym."
— UVA coach Tony Bennett (LeBron was sitting courtside)
The big picture: The NCAA Division I Men's Basketball Committee revealed its preliminary tournament rankings on Saturday and it was Duke, not top-ranked Tennessee, who earned the No. 1 overall seed.
No. 1 seeds: Duke, Tennessee, Virginia, Gonzaga | No. 2 seeds: Kentucky, Michigan, North Carolina, Michigan State | No. 3 seeds: Purdue, Kansas, Houston, Marquette | No. 4 seeds: Iowa State, Nevada, Louisville, Wisconsin
P.S. The weekend of the buzzer-beater...
Harvard's win over Columbia included a buzzer-beater to force OT and a buzzer-beater to force double-OT. Madness in Cambridge.
After trailing Northwestern by 15 with 4:30 left in the game, Iowa pulled off the improbable comeback and won a buzzer-beater.
A scrum for the ball at half court somehow resulted in Missouri State beating Illinois State at the buzzer. Actually insane.
5. ⚽️ Soccer 'round the world
6. 🥊 29 years ago today...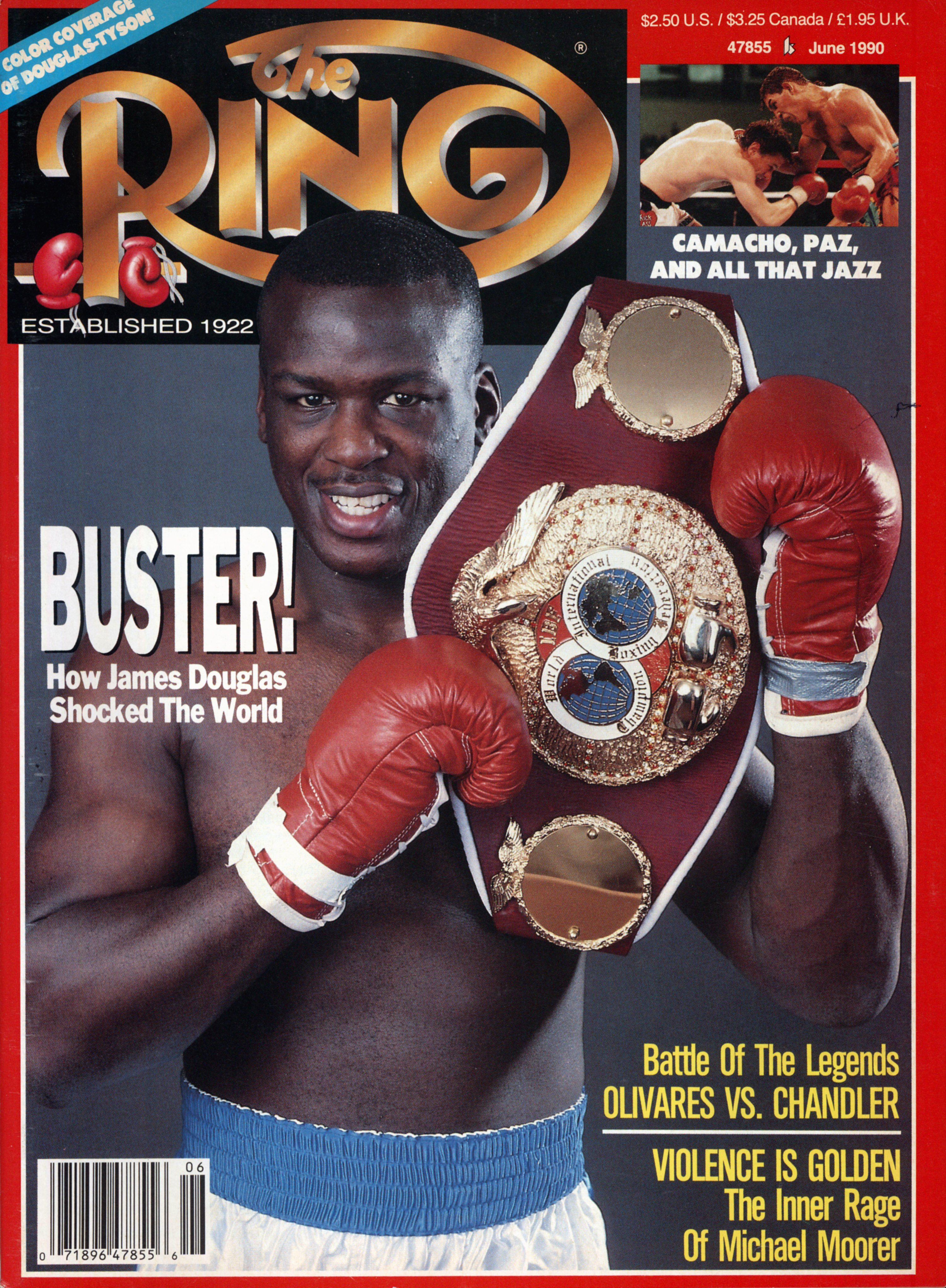 Photo: The Ring Magazine/Getty Images
2/11/1990: Buster Douglas pulled off one of the biggest upsets in sports history, knocking out the previously undefeated Mike Tyson (37-0) in the 10th round to win the world heavyweight title.
Fun fact: Douglas was famously a 42-1 underdog heading into the fight. For context, No. 16 seed UMBC was a 25-1 underdog against No. 1 seed UVA last March before they, too, shocked the world.
Watch: Fight highlights
7. 🎾 Wimbledon trivia
Question: Who was the first unseeded player to win Wimbledon?
Hint: Margaret Thatcher was prime minister of Great Britain when this feat occurred.
Answer at the bottom.
8. The Ocho: 🏄‍♀️ The fight for gender equality in pro surfing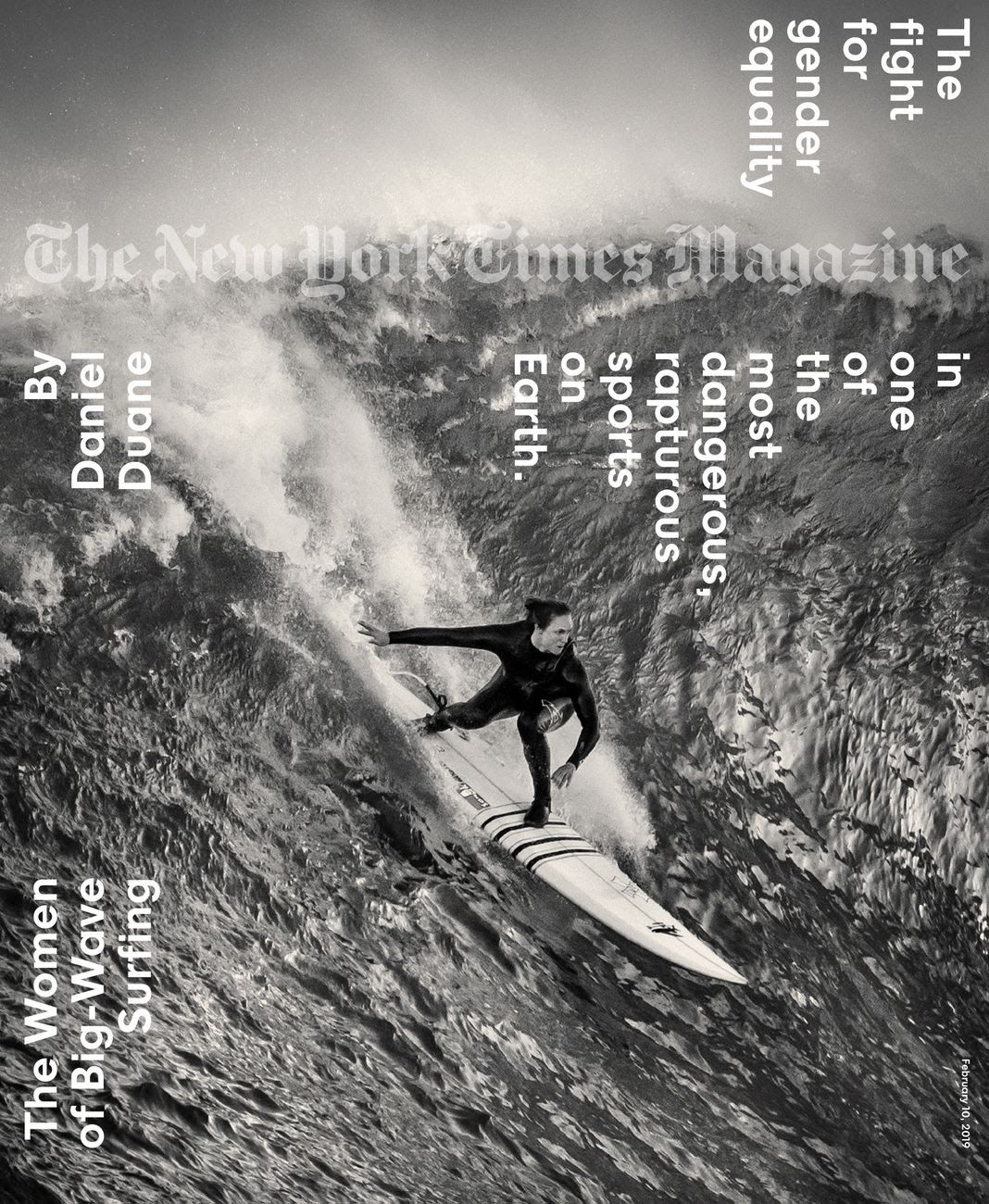 Photo: Dina Litovsky/Redux for the New York Times
Over the past two years, top female surfers have been fighting for the right to compete in big-wave contests and get paid as much as men do, and their efforts have been "more successful than they ever imagined," writes Daniel Duane for New York Times Magazine.
In September, World Surf League became the first global US-based sports league ever to offer equal prize money for men and women across all events in all disciplines worldwide.
"When I was a little girl, I didn't really want to be a little girl. Because when I was a little girl, I kept getting told, 'You can't do that because you're a girl.' ... So, who I really, really want to thank is everybody in my life that told me, 'You can't do that because you're a woman.' Because that drove me to dedicate my life to proving you wrong, and it's been so damn fun."
— Keala Kennelly, one of the pro surfers leading the charge
10. 🏀 Make your pick: Will James Harden score 30 points tonight?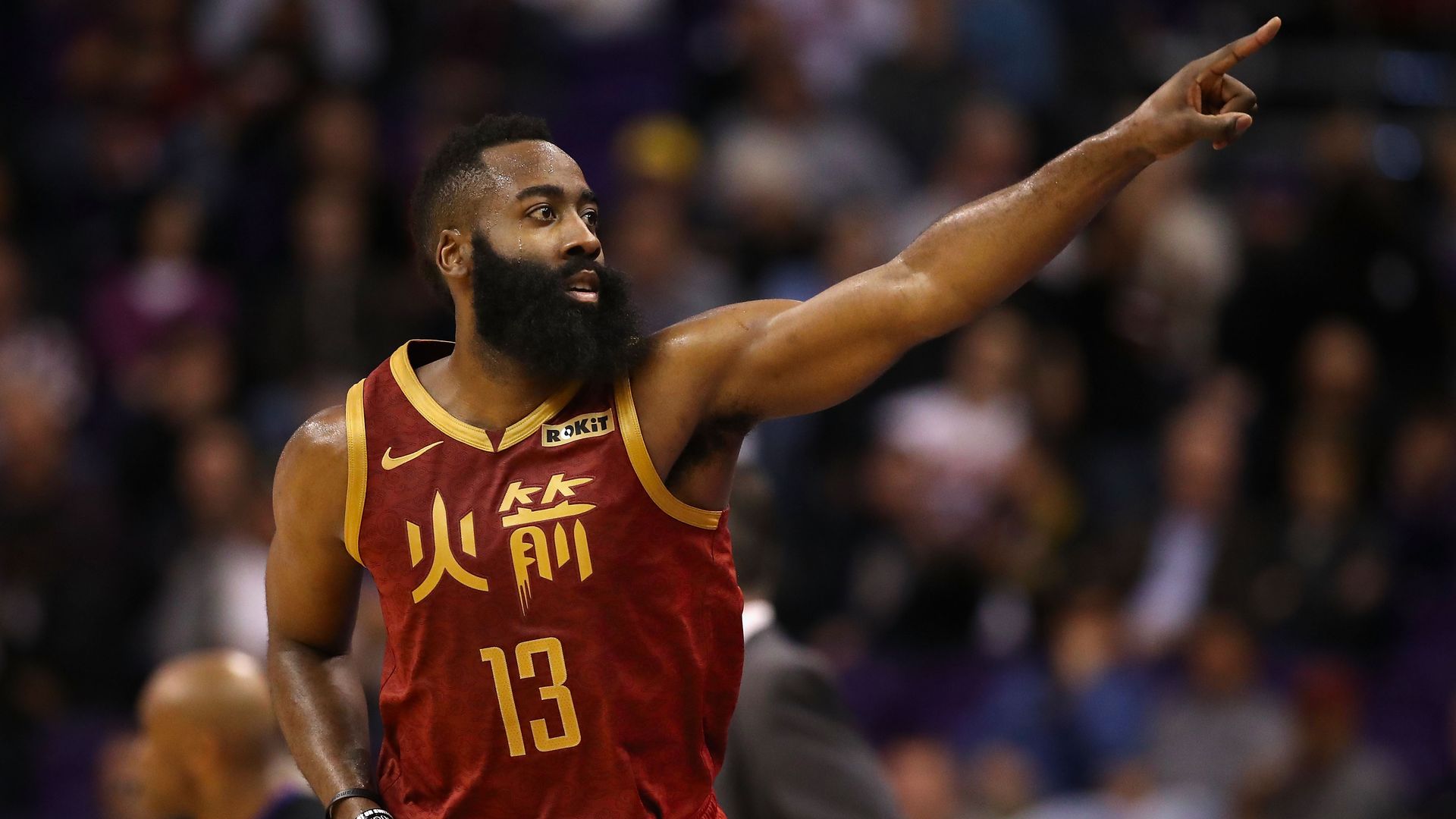 How to play: Click to vote. Once you click, your vote is registered. You'll then be sent to a separate page where you can enter for a chance to win a prize.
Game: The Houston Rockets (32-23) host the Dallas Mavericks (26-29) tonight at 8 pm ET on NBATV.
Question: MVP frontrunner James Harden has scored at least 30 points in 29 consecutive games. Will he make it 30 straight tonight?
For your pick to count, you must submit it by 8 pm ET. Winner(s) will be announced tomorrow.
Thanks,
Kendall "Perpetually scrambling to make bogey" Baker
Trivia answer: Boris Becker (1985)