👋 Honey, I'm home! After two weeks in Italy, I'm back and ready to roll. Now, let's see if I remember how to do this...
✈️ Tales from my travels: I watched a bunch of movies on my day-long journeys to and from Italy. Best one by far: "Parasite." It's a comedy, a thriller and a horror film, all rolled into one. Impossible to describe. See it immediately.
🏈 NFL playoff picture: If the season ended today, these 12 teams would be in: Ravens (Bye), Patriots (Bye), 49ers (Bye), Saints (Bye), Seahawks, Bills, Packers, Vikings, Chiefs, Texans, Steelers, Cowboys.
🏀 24 dimes: Sacred Heart's Cameron Parker set an NCAA record with 24 assists in a 101-57 win over D-III Pine Manor yesterday. The previous high was 22, achieved most recently by Oklahoma's Trae Young in 2017.
Today's word count: 1,767 words (6 mins).
1 big thing: 🏀 NBA ratings are down. Does it matter?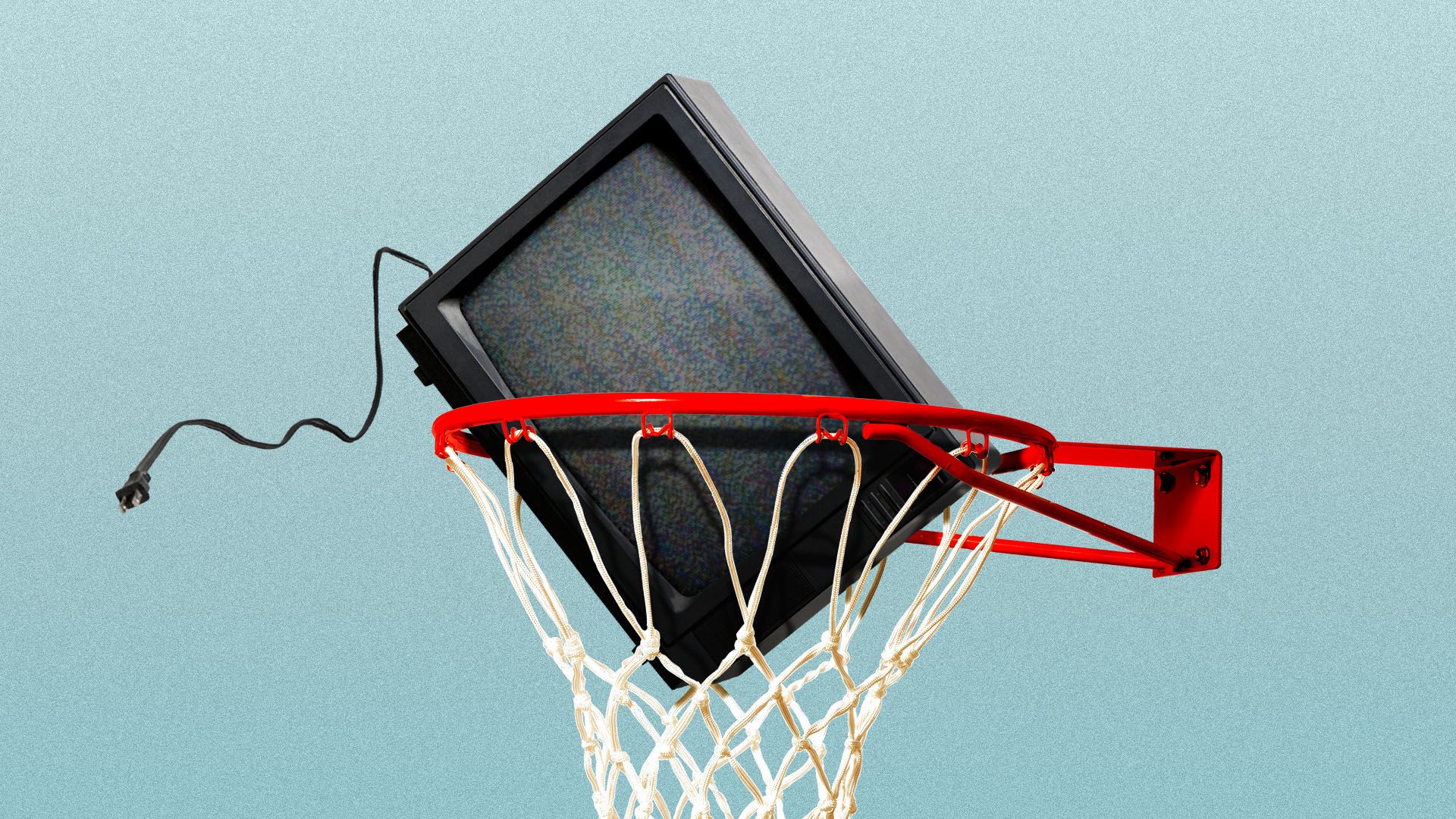 Entering December, one of the most alarming NBA storylines is the league's declining TV ratings.
By the numbers: Through Nov. 22, games were averaging 1.45 million viewers across ESPN and TNT, down 18% from the same point last year (1.75 million).
Potential reasons:
On-court stuff: Load management has soured fans on the relative unimportance of the regular season (the NBA denies that it's an issue, citing that no player has missed a national TV game this year due to load management or rest); Kevin Durant and Zion Williamson are injured; the Warriors' dynasty is dead; LeBron James and Kawhi Leonard play on the West Coast.
Fandom shift: As much fun as the free agency madness has been in recent years, it may have hurt the NBA ratings-wise by turning fans' attention away from basketball and winning and towards rumors and off-court drama.
Cord-cutting: "Ratings are down because all of our national broadcasts are exclusively available on cable, which is losing subs daily," tweeted Mavericks owner Mark Cuban. "Football benefits from being on broadcast TV, which is in every digital and traditional package."
The NBA's response:
Schedule changes: To spark fan interest, the NBA and the players' union are in "serious talks" about adding (1) a midseason tournament similar to those used in European soccer and (2) a play-in tournament for the final two playoff spots in each conference.
YouTube crackdown: The league has cracked down on YouTube creators for using unlicensed videos, a move that threatens the quasi-legal world of NBA highlight channels.
Worth noting: The NBA has been considering scheduling changes and cracked down on YouTube accounts for several years, so those aren't necessarily knee-jerk reactions to the ratings decline.
The big picture: Let's focus on the YouTube crackdown because it illustrates the world that the NBA — and all sports leagues — now live in.
For years, the NBA has viewed social media and the larger digital landscape as a giant marketing funnel, providing fans with free "snacks" (highlights, GIFs, etc) to drive overall interest and make them want to come for the "meals" (games).
But now that a large contingent of fans — many of whom don't have cable — are snacking throughout the day without ever actually showing up for dinner, the "free snacks" era could be nearing its end.
What this YouTube crackdown represents: Moving forward, the NBA could attempt to more directly monetize its digital assets, rather than turning a (mostly) blind eye to unlicensed content and using that to drive broadcast viewership.
The bottom line: TV ratings still matter, but they no longer tell the whole story when it comes to fan engagement. As leagues cope with this new reality, the ways in which they monetize their product — and measure their popularity — are bound to change.
Final numbers: Over the next five years, the value of in-play "near live" clips (+76% to $1.7 billion) and short-form highlights (+101% to $3.2 billion) is expected to rise at a much faster rate than the value of live rights (+18.7% to $49.1 billion), per sports agency Two Circles.
2. 🏈 Alabama loss sets up final playoff scramble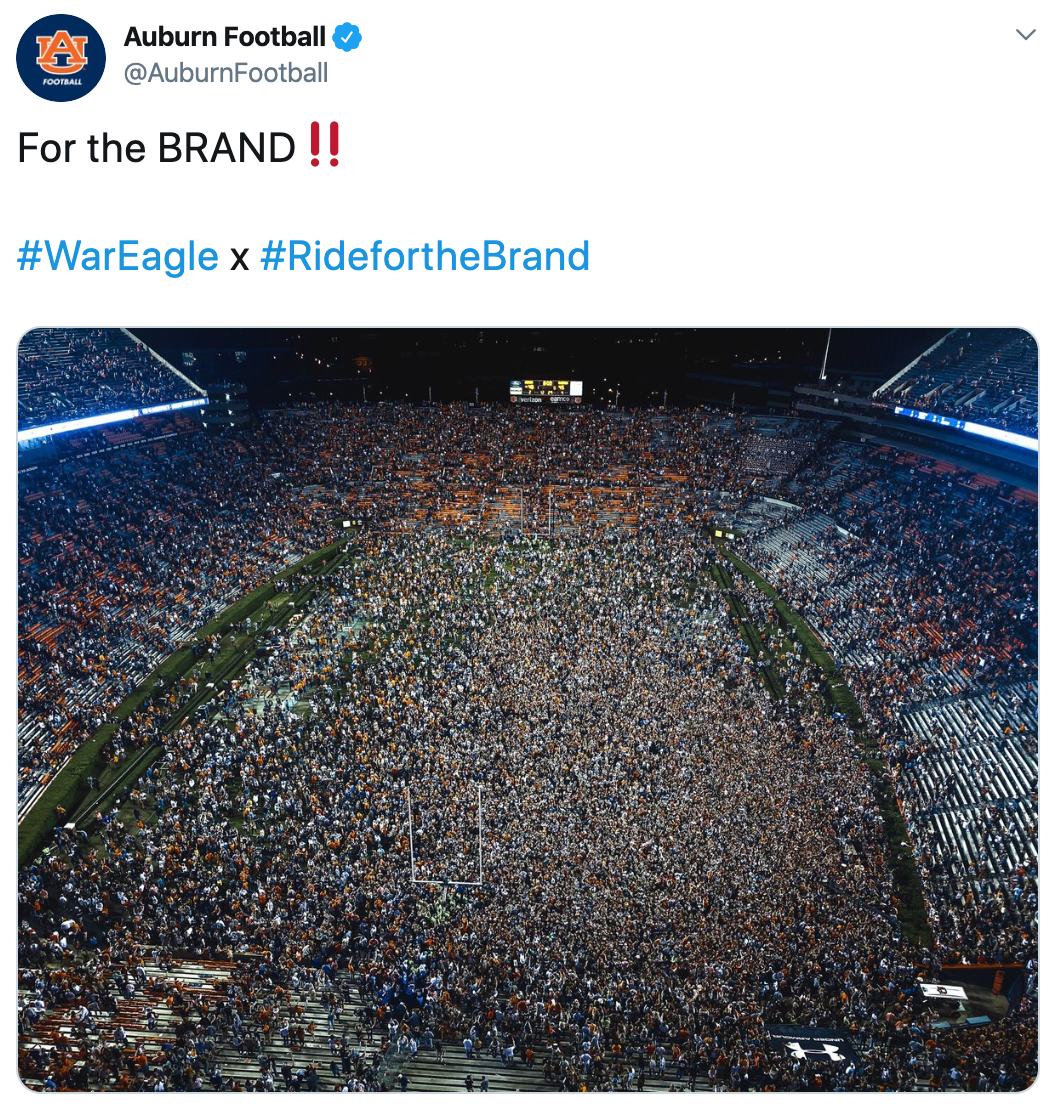 Screenshot: @AuburnFootball (Twitter)
Alabama's 48-45 loss to Auburn on Saturday knocked the Crimson Tide out of the playoff race — and made life a whole lot easier for the College Football Playoff selection committee.
Why it matters: Heading into conference championship weekend, four one-loss teams from three Power Five conferences — Georgia, Utah, Oklahoma and Baylor — have at least a shot of earning the final playoff berth behind undefeated LSU, Ohio State and Clemson.
Championships:
Pac-12: Utah vs. Oregon
Big 12: Baylor vs. Oklahoma
SEC: Georgia vs. LSU
Big Ten: Ohio State vs. Wisconsin
ACC: Clemson vs. Virginia
Looking ahead: Ohio State and LSU are in no matter what happens this weekend, and Clemson is in as long as they beat Virginia. Assuming that happens...
If Georgia wins, they're in.
If Georgia loses and Oklahoma and Utah both win by similar margins, I'd give the slight edge to Utah (cue the hate mail from Sooners fans).
If Georgia loses, Baylor beats Oklahoma and Oregon beats Utah, Baylor could get in (though a two-loss Georgia team might still have a stronger case).
Elsewhere...
Fired: Missouri fired Barry Odom, Boston College fired Steve Addazio, USF fired Charlie Strong and Ole Miss fired Matt Luke.
Hired: Rutgers is bringing back former head coach Greg Schiano on an eight-year, $32 million contract.
3. 🏁 Hamilton goes out on top as F1 season ends
Lewis Hamilton celebrated his championship-winning campaign in style with a commanding victory in Sunday's Abu Dhabi Grand Prix, the last race of the 2019 Formula 1 season.
Quick bites:
King Lewis: Hamilton won 11 races, which is more than the rest of the field combined (10). His Mercedes teammate Valtteri Bottas won four, Red Bull's Max Verstappen won three, Ferrari's Charles Leclerc won two and Ferrari's Sebastian Vittel won one.
The Big Three: Over the past six seasons, only three teams have won a race: Mercedes, Red Bull and Ferrari. Not since Kimi Räikkönen won the Australian Grand Prix with Lotus in 2013 has any other team sprayed the winner's champagne.
Young blood: Verstappen and Leclerc are both just 22 years old, while fellow top-10 finishers Carlos Sainz Jr. and Pierre Gasly are 25 and 23, respectively.
Go deeper: For Lewis Hamilton, it's to infinity and beyond (NYT)
4. 🏈 NFL Sunday in 60 seconds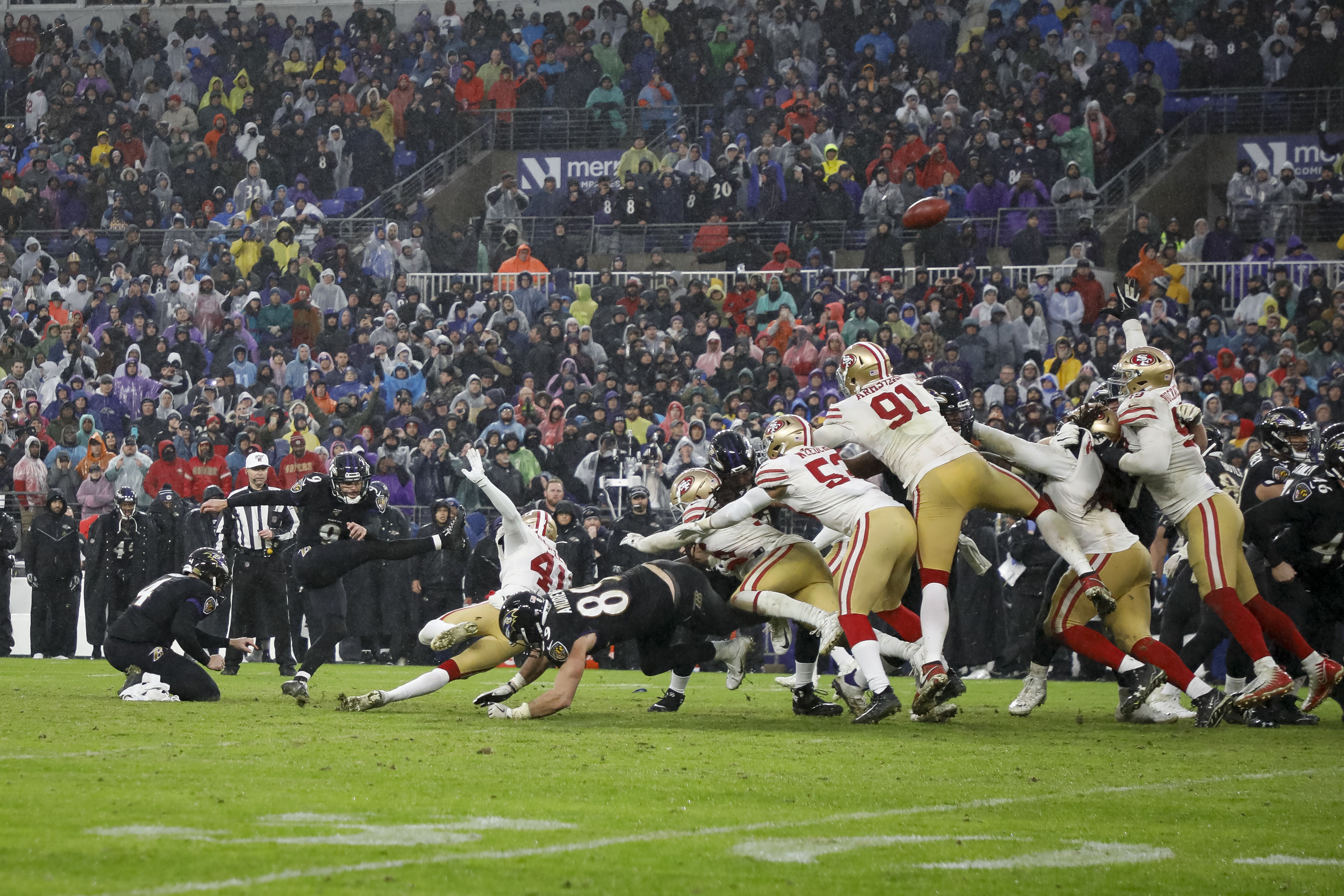 Photo: Scott Taetsch/Getty Images
Ravens 20, 49ers 17: This potential Super Bowl preview lived up to the hype, with Justin Tucker's game-winning kick giving the Ravens their eighth straight win and cementing their place as the league's best team.
Broncos 23, Chargers 20: The Chargers have a positive point differential this season (+3) and are still somehow 4-8. Please take a moment to pray for their fans.
Steelers 20, Browns 13: Speaking of fan bases in need of your prayers, the 5-7 Browns have now lost 16 straight games in Pittsburgh and look poised to miss the playoffs for the 17th consecutive season.
Titans 31, Colts 17: The Titans blocked a potential tie-breaking field goal late in the fourth and returned it for the go-ahead TD, and breakout star Ryan Tannehill improved to 5-1 as the starter.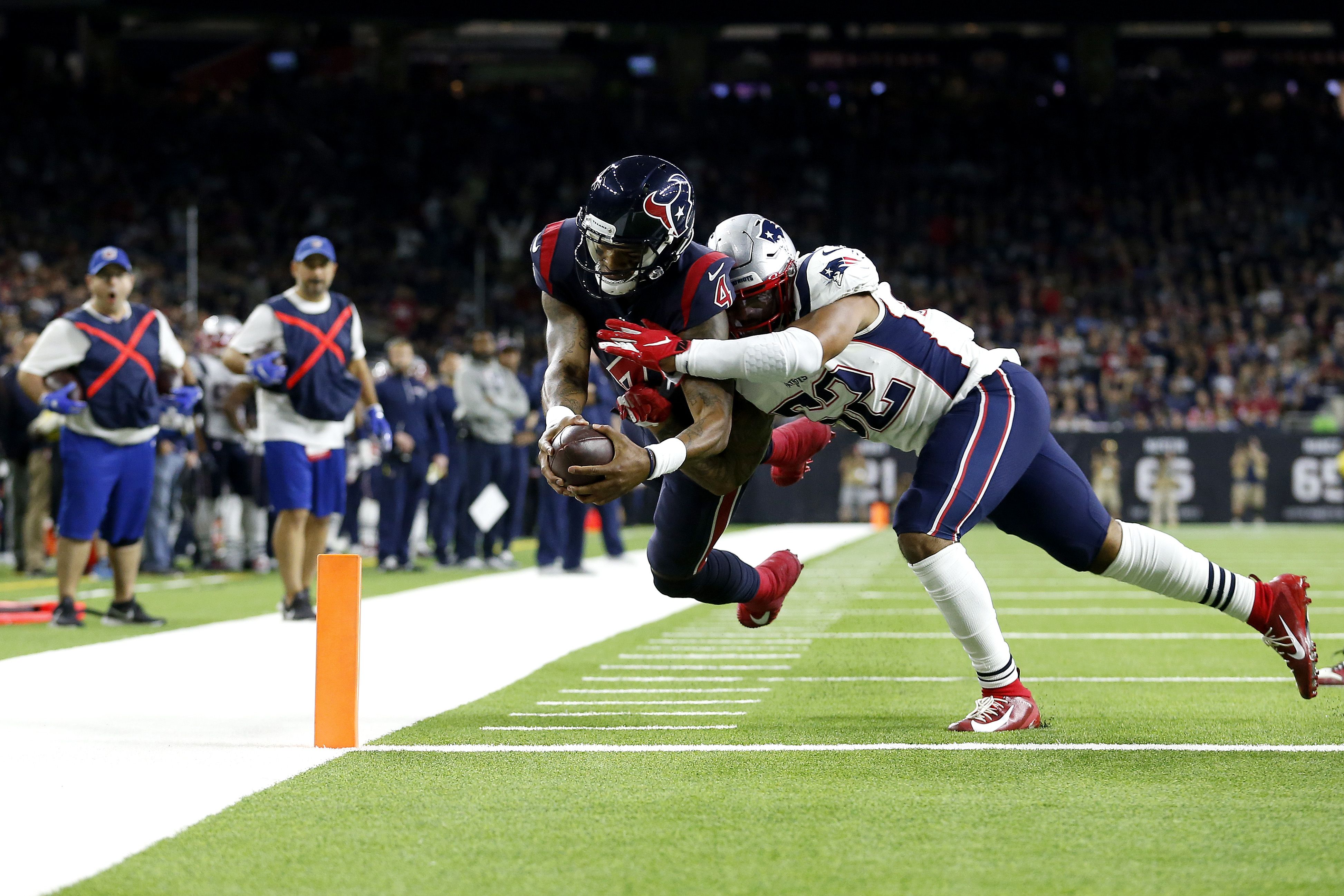 Photo: Tim Warner/Getty Images
Texans 28, Patriots 22: Deshaun Watson's four total TD (three passing, one receiving) led the Texans past the Patriots, whose offense is in shambles.
Redskins 29, Panthers 21: Somehow, the 3-9 Redskins can still make the playoffs — a testament to the NFC East's horribleness. What needs to happen: Redskins win out, Cowboys lose out, Giants beat Eagles in Weeks 14 and 17.
Rams 34, Cardinals 7: Jared Goff threw for 424 yards (including 323 in the first half) and two TD as the Rams improved to 7-5 ahead of their clash with the 9-2 Seahawks next week.
Chiefs 40, Raiders 9: Huge win for the Chiefs (8-4), who now hold a two-game lead over the Raiders (6-6) atop the AFC West standings.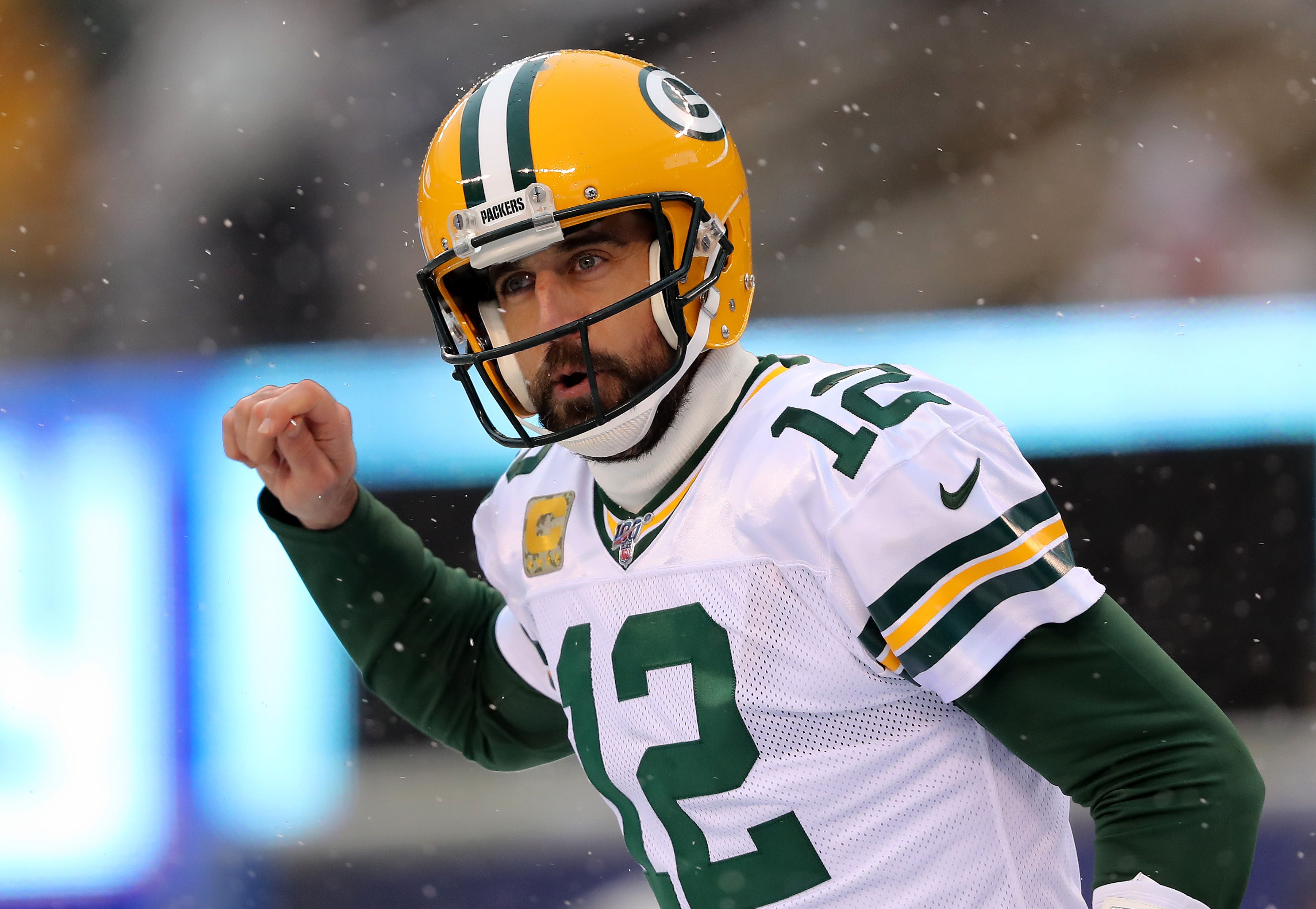 Photo: Elsa/Getty Images
Packers 31, Giants 13: Aaron Rodgers tossed four scores in the snow as the Packers rebounded from last week's ugly loss to the 49ers and handed the Giants their eighth straight loss.
Dolphins 37, Eagles 31: Miami's fake field goal was awesome. As for the Eagles, they're now 0-7 in games in which they trailed at any point in the fourth quarter.
Buccaneers 28, Jaguars 11: That's four straight losses by at least 17 points for the Jags, who benched Nick Foles at halftime. Safe to say Doug Marrone's seat is getting rather toasty.
Bengals 22, Jets 6: The Bengals finally won a football game. Classic Jets.
Bonus: ❤️ A legacy in the making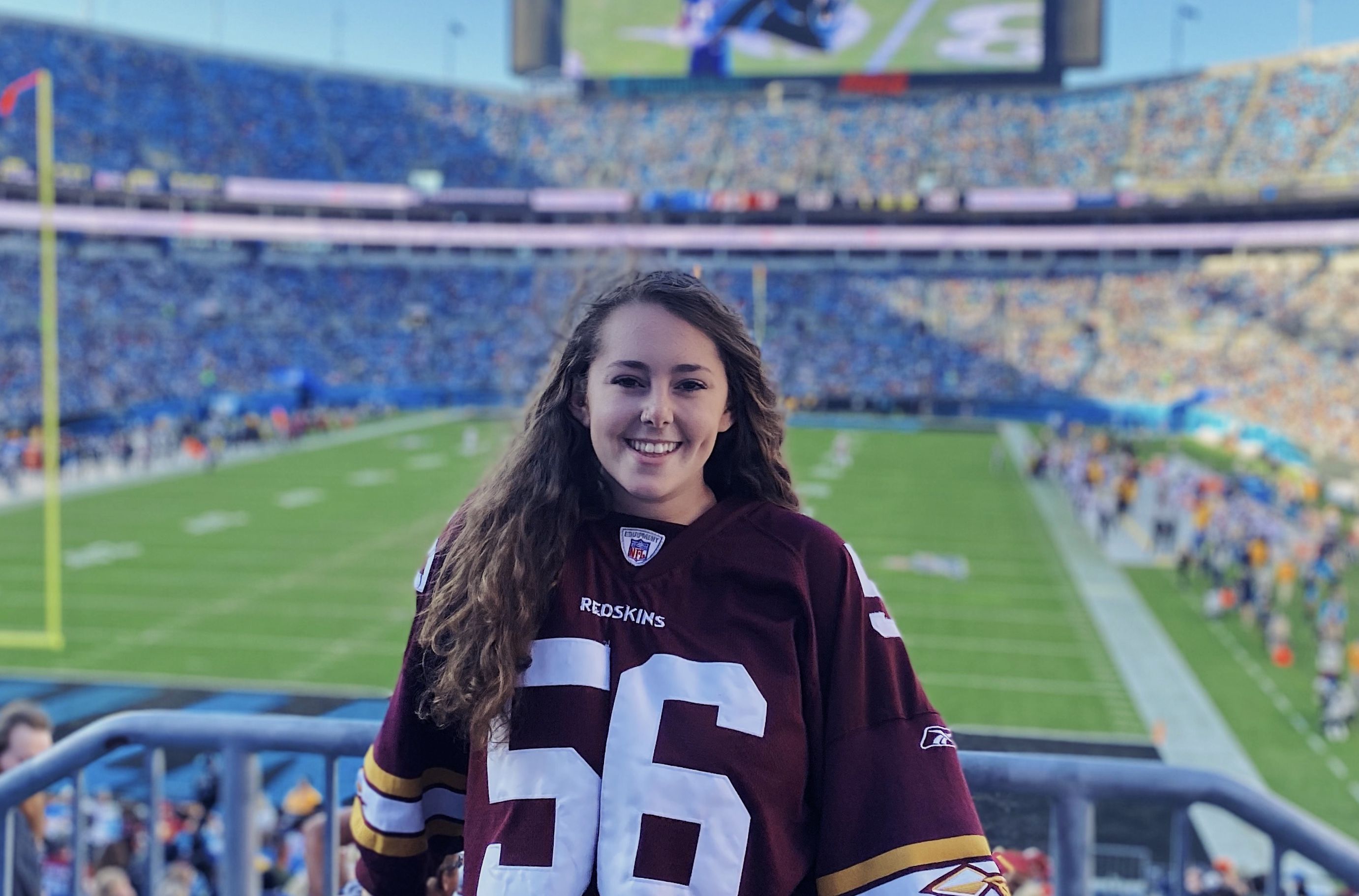 Courtesy: Sarah Miller
My colleague Sheryl Miller writes in:
"A 'sports, man' personal moment ... My husband was a lifelong Redskins fan and would always see them when they played the Panthers down here in N.C. He passed away last year. My daughter, Sarah, went to the game with friends today wearing his Redskins jersey. A legacy in the making."
5. ⚽️ Soccer rankings: USA climbs to 22nd
The USA, which beat Canada and Cuba earlier this month in the CONCACAF Nations League, rose one spot in the latest FIFA World Rankings and is now tied with Wales for 22nd.
Meanwhile, for the women: The USA sits comfortably atop the rankings, with Germany, Netherlands, France, Sweden, England, Canada, Australia, Korea and Japan rounding out the top 10.
6. 📺 Every Super Bowl ad spot has been sold
Fox Sports has sold all of its advertising inventory for Super Bowl LIV, the company confirmed to Axios. That's 77 total ads, with the most expensive 30-second spot costing $5.6 million.
Why it matters: In an on-demand world, the Super Bowl is one of the few remaining opportunities for advertisers to reach a massive live audience. As a result, the average rate for a 30-second in-game ad has increased by nearly 100% over the past decade even as viewership has waned.
Go deeper: Axios media reporter Sara Fischer dives deeper into these types of stories in her weekly newsletter. Sign up here to get tomorrow's edition.
7. Dec. 2, 2008: ⚽️ Ronaldo wins first Ballon d'Or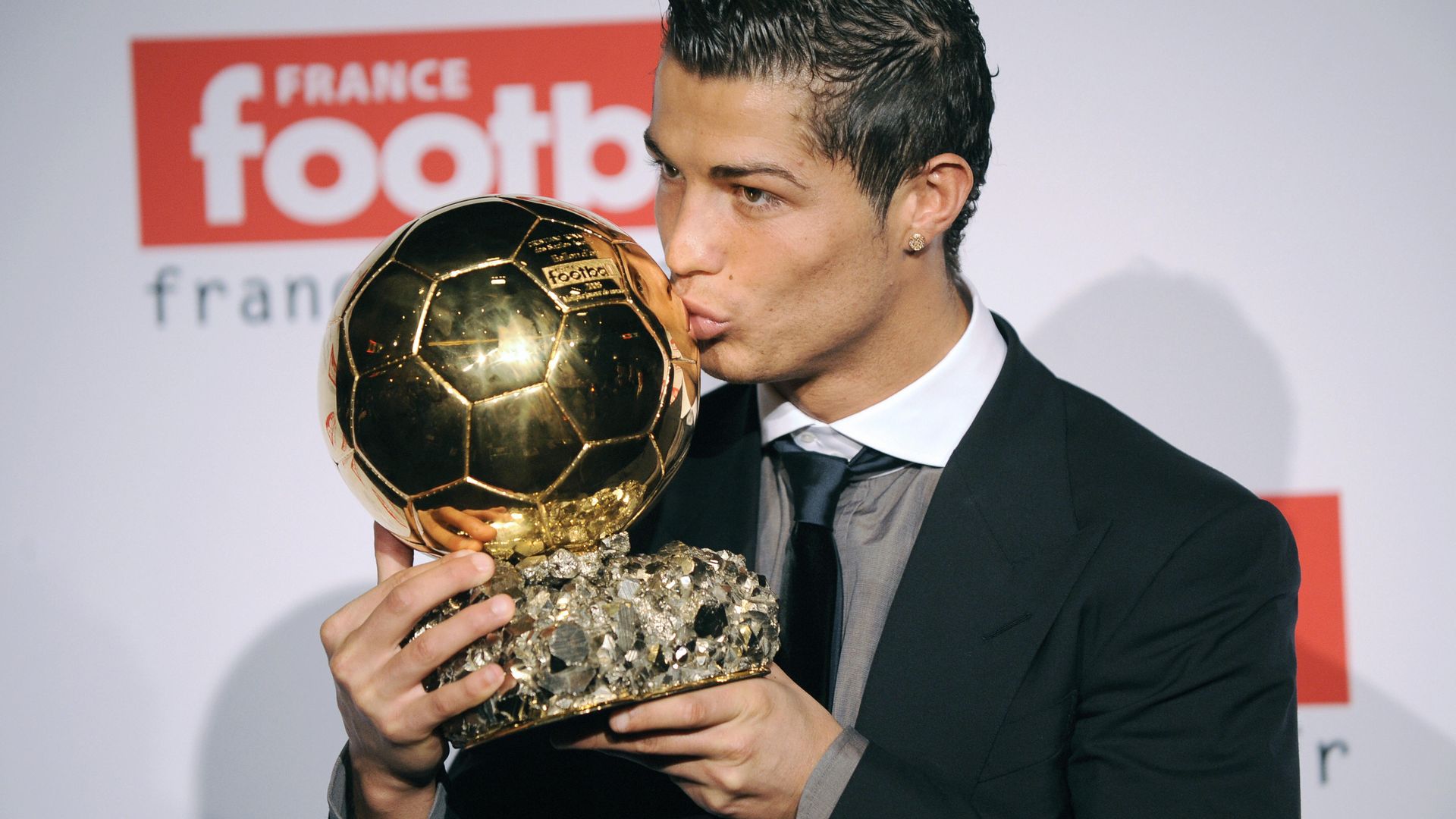 11 years ago today, 23-year-old Manchester United forward Cristiano Ronaldo beat out 21-year-old Barcelona forward Lionel Messi to win his first Ballon d'Or, given annually to the world's best footballer.
The big picture: From 2008 to 2017, Ronaldo and Messi won all 10 Ballon d'Or awards and finished first and second in voting every year except for 2010, when Messi won and his teammate Andrés Iniesta came in second.
Coming up: The 2019 winners will be announced tonight. Messi is the favorite for the men, while Megan Rapinoe is the favorite for the women.
8. The Ocho: 🥍 Indoor lax is back on the menu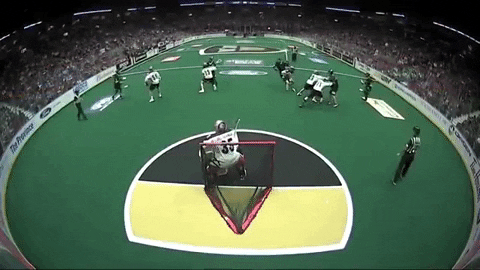 The National Lacrosse League began its 34th season on Friday, with the three most recent champs — the Georgia Swarm, Calgary Roughnecks and Saskatchewan Rush — all picking up wins.
How it works: NLL teams play box lacrosse, or indoor lacrosse, which features 5 vs. 5 action (plus goalies) on a field the size of a hockey rink.
How to watch: Every game is broadcast on B/R Live.
The teams: The NLL added two expansion franchises this season to give the league 13 teams.
East: Georgia Swarm, Philadelphia Wings, New England Black Wolves, New York Riptide (first season)
North: Buffalo Bandits, Rochester Knighthawks, Toronto Rock, Halifax Thunderbirds (first season)
West: Calgary Roughnecks, Colorado Mammoths, San Diego Seals, Vancouver Warriors, Saskatchewan Rush
9. 🏀 College hoops trivia
UNC coach Roy Williams won his 877th game on Friday, moving him past Adolph Rupp for sole possession of sixth place on the all-time Division I wins list.
Question: Who are the only five coaches with more D-I wins than Williams?
Hint: Three are still coaching college basketball.
Answer at the bottom.
10. 🏀 Vote: Who is the NBA MVP so far?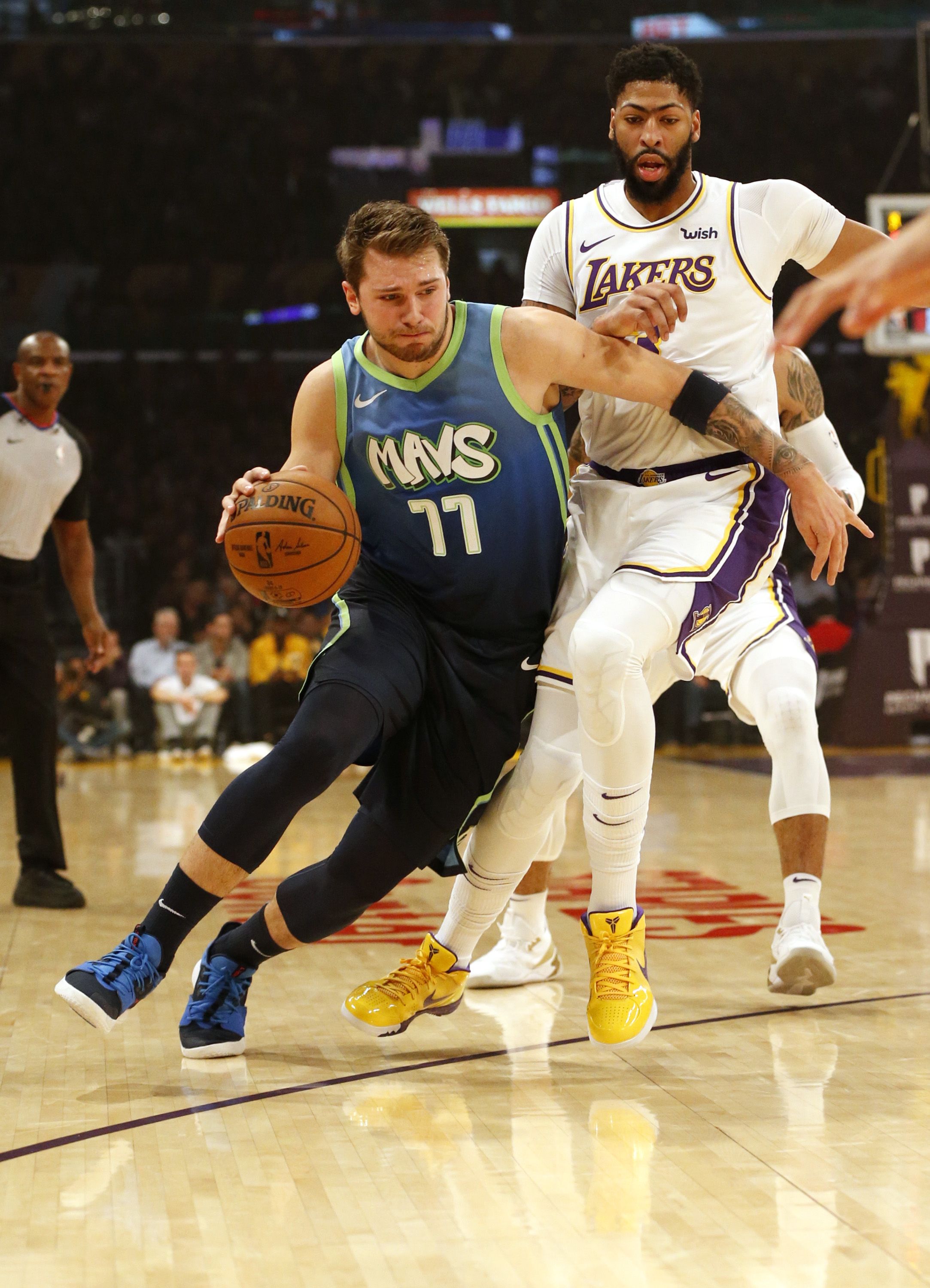 Photo: Katharine Lotze/Getty Images
Three MVP candidates were in action in L.A. last night, with 20-year-old (how?!) Luka Dončić (27-9-10) and the Mavericks taking down LeBron James, Anthony Davis and the Lakers, 114-100.
Click to vote: Who is the NBA MVP so far?
Talk tomorrow,
Kendall "Back in the saddle" Baker
Trivia answer: Dean Smith (879 wins), Jim Calhoun (892), Bob Knight (902), Jim Boeheim (950), Mike Krzyzewski (1139)
Editor's note: The top story has been updated with the NBA's position on "load management" and the league's stance that it has been considering scheduling changes and cracking down on YouTube accounts prior to last month.