👋 Happy Friday! You made it.
Happening now: Day 2 of the Open Championship at Royal Portrush is currently underway. Live updates.
Was this email forwarded to you? Sign up for Axios Sports. (Word count: 1,439/~5 mins)
1 big thing: 🚀 Three balls, two strikes, one man on the moon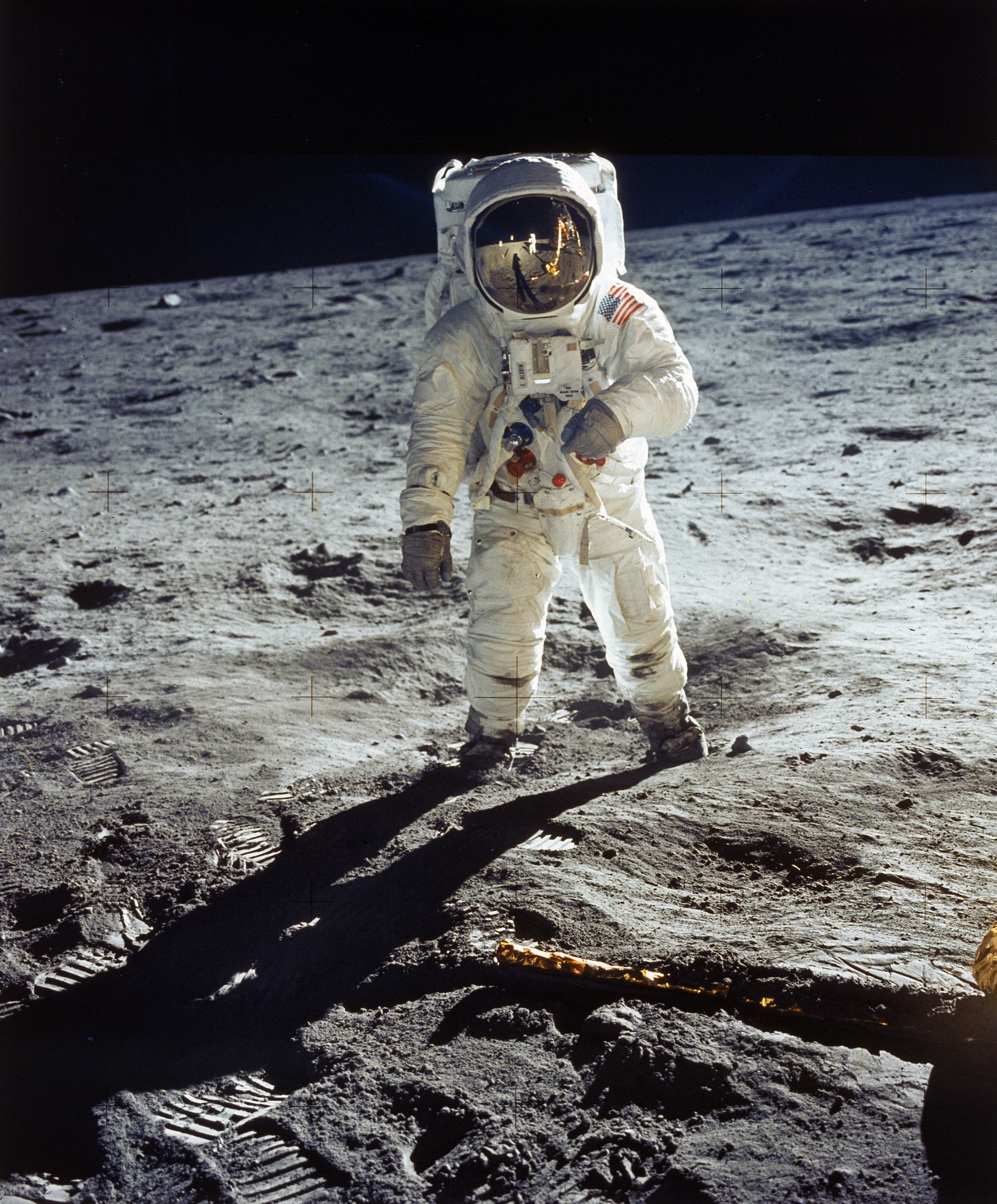 Apollo 11 astronaut Buzz Aldrin standing on the moon, with Neil Armstrong reflected in his helmet visor. Photo: NASA/The LIFE Picture Collection via Getty Images
Tomorrow marks the 50th anniversary of the first lunar landing. Grab your baseball cap and take my hand as we travel back in time...
Welcome to July 1969. The Zodiac Killer is on the loose, the first U.S. troop withdrawals from Vietnam have been ordered by President Nixon, and Bill Russell's Celtics are still celebrating their NBA Finals victory over Jerry West and the heavily favored Lakers.
Meanwhile, it's baseball season. MLB is celebrating its 100th anniversary, and the strike zone has been reduced from "knees to shoulders" to "knees to armpits" in hopes that it leads to more hits.
Both leagues have 12 teams now, by the way. The AL added the Kansas City Royals and Seattle Pilots and the NL added the Montreal Expos and San Diego Padres.
Mets and Orioles fans are giddy, as their teams begin to separate themselves from the pack. Months from now, they'll meet in the World Series, with the Mets winning 4-1.
July 20 (4:17pm ET):
It's the Sunday before the All-Star break, and 32,933 fans are at Yankee Stadium to watch the Yankees play the Senators. With the game tied 2-2 in the eighth inning, PA announcer Bob Sheppard breaks the news:
"Ladies and gentlemen, your attention please. You will be happy to know that the Apollo 11 has landed safely on the moon." The crowd goes wild. (Here's a video of the scoreboard that day with the words: "THEY'RE ON THE MOON.")
In Montreal, the Mets and Expos take a break between their doubleheader to listen to coverage of the landing, and similar interruptions take place at ballparks throughout the country.
It's a historic day — one that will change human history forever. And there's not a cellphone in sight...
Go deeper:
2. ⚽️ The battle for Los Angeles resumes tonight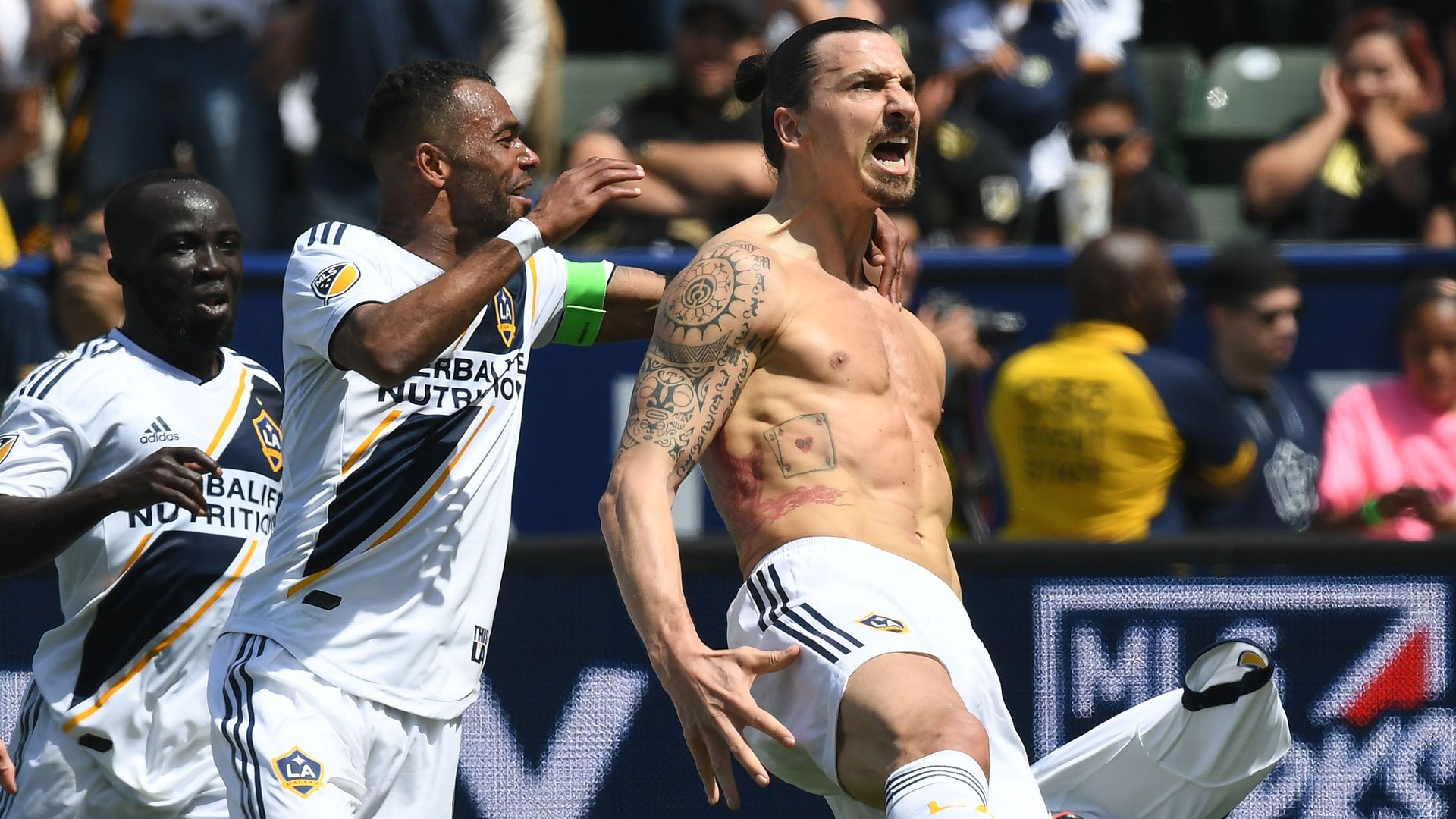 The rivalry between LAFC and the LA Galaxy is just a year and a half old, but it's already arguably the best in MLS.
Driving the news: Ahead of the teams' first meeting of 2019 tonight (10pm ET, ESPN), all eyes are on LAFC star Carlos Vela and Galaxy star Zlatan Ibrahimovic.
Vela: The 30-year-old Mexican has dominated MLS this year, leading the league in goals (19) and tied for first in assists (12).
Ibrahimovic: The 37-year-old Swede ranks third in goals (13) and remains as confident as ever. His response when asked if he's the best player in MLS over Vela: "By far."
The big picture: Did I mention LAFC is the best team in MLS? And that the Galaxy isn't far behind? Top five teams by record (full standings):
LAFC (46 pts)
Philadelphia (36)
Seattle (35)
D.C. United (35)
LA Galaxy (34)
The bottom line: LAFC, led by former USMNT head coach Bob Bradley, is an absolute juggernaut. Their goal differential? A whopping +34. The next best goal differential? NYCFC's +8.
Yes, but: The new kids on the block have never beaten the Galaxy (one loss and two ties), and Ibrahimovic and his teammates will have home field advantage tonight.
More MLS:
Harden becomes an owner: James Harden purchased a minority stake in the ownership group that runs the Houston Dynamo (MLS) and the Houston Dash (NWSL).
ICYMI: The 2019 MLS All-Star roster was chosen a few weeks ago, and that squad will play Spain's Atletico Madrid on July 31.
P.S. ... In other soccer news, Senegal takes on Algeria in the Africa Cup of Nations Final at 3pm ET today.
3. 🏀 The Basketball Tournament starts today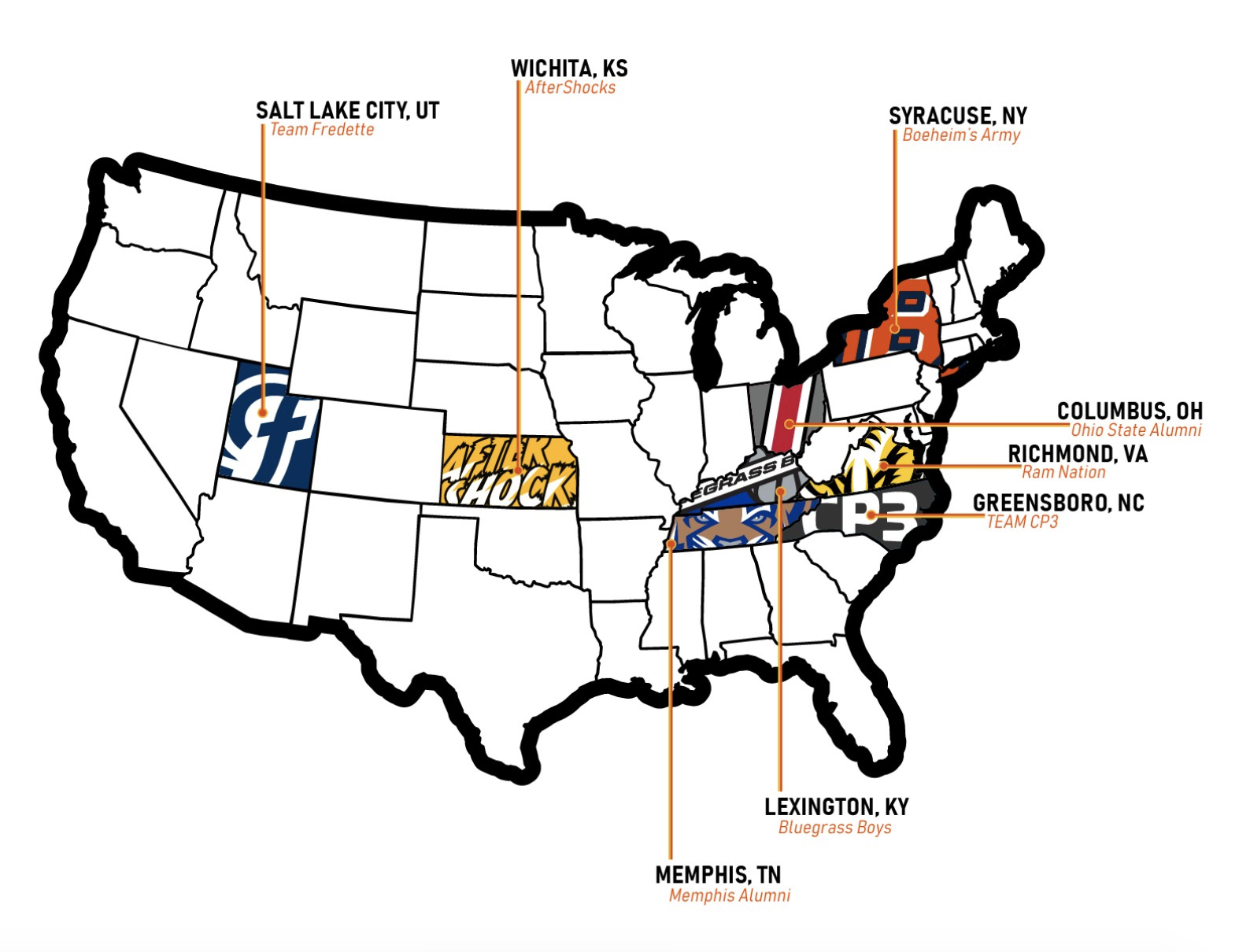 Courtesy: The Basketball Tournament
The Basketball Tournament (TBT) is a 64-team, single-elimination tournament with a $2 million prize. The action gets started today and runs through the first week of August.
The talent pool: The number of "I remember that guy!" names in this tournament is insane. Aaron Craft, Perry Ellis, Nigel Hayes, James Michael McAdoo — the list goes on.
The powerhouse: Overseas Elite has won four straight titles, but former St. John's star D.J. Kennedy will be asked to shoulder a much bigger load this year with Errick McCollum (C.J.'s brother) absent from the roster.
Watch: Today's games will be on ESPN2 and ESPN3, while the Saturday and Sunday games will be on ESPN. Full schedule.
We'll have more in-depth coverage next week, including an interview with founder Jon Mugar. Stay tuned!
4. 📺 Dan Le Batard denounces Trump, rips ESPN's no-politics policy
During his show yesterday, ESPN's Dan Le Batard denounced the scene at President Trump's latest rally, calling the chants of "send her back" directed at Congresswoman Ilhan Omar "un-American" and "deeply offensive."
Le Batard also blasted his own "cowardly" network's no-politics policy, which ESPN president Jimmy Pitaro doubled down on back in May.
Le Batard:
"There's a racial division in this country that's being instigated by the president and we here at ESPN haven't had the stomach for that fight."
"Jemele [Hill] did some things on Twitter and … all of a sudden nobody talks politics on anything unless we can use one of these sports figures as a meat-shield in the most cowardly way possible to discuss these subjects."
"We won't talk about it unless Russell Wilson is saying something about it on his Instagram page. Then we have the power to run with it. Weak-ass shield."
5. Quick hitters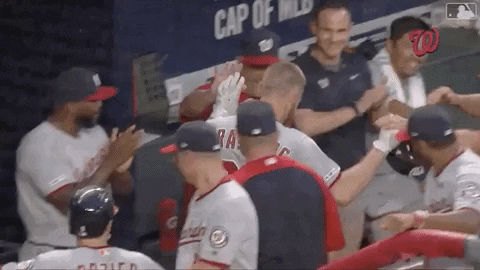 ⚾️ MLB: Stephen Strasburg went 3-3 with a monster home run and five RBIs (franchise record for a pitcher) in the Nationals' 13-4 win over the Braves. He also won his fifth straight start and is now 12-4. Have a night, kid!!!
🏈 NFL fun fact: The top five teams by record over the last decade: Patriots (123-37), Steelers (103-56-1), Packers (100-58-2), Saints (100-60) and Seahawks (94-65-1).
🥍 Lacrosse: The PLL will experiment with two rules during Sunday's All-Star Game. Rule 1: After goals in the second quarter, goalies will take the ball out of the net and immediately start play (like basketball). ... Rule 2: In the third quarter, faceoffs will be replaced by ball drops (like hockey). More on the PLL.
6. July 19, 1996: 🥇 The Olympics open in Atlanta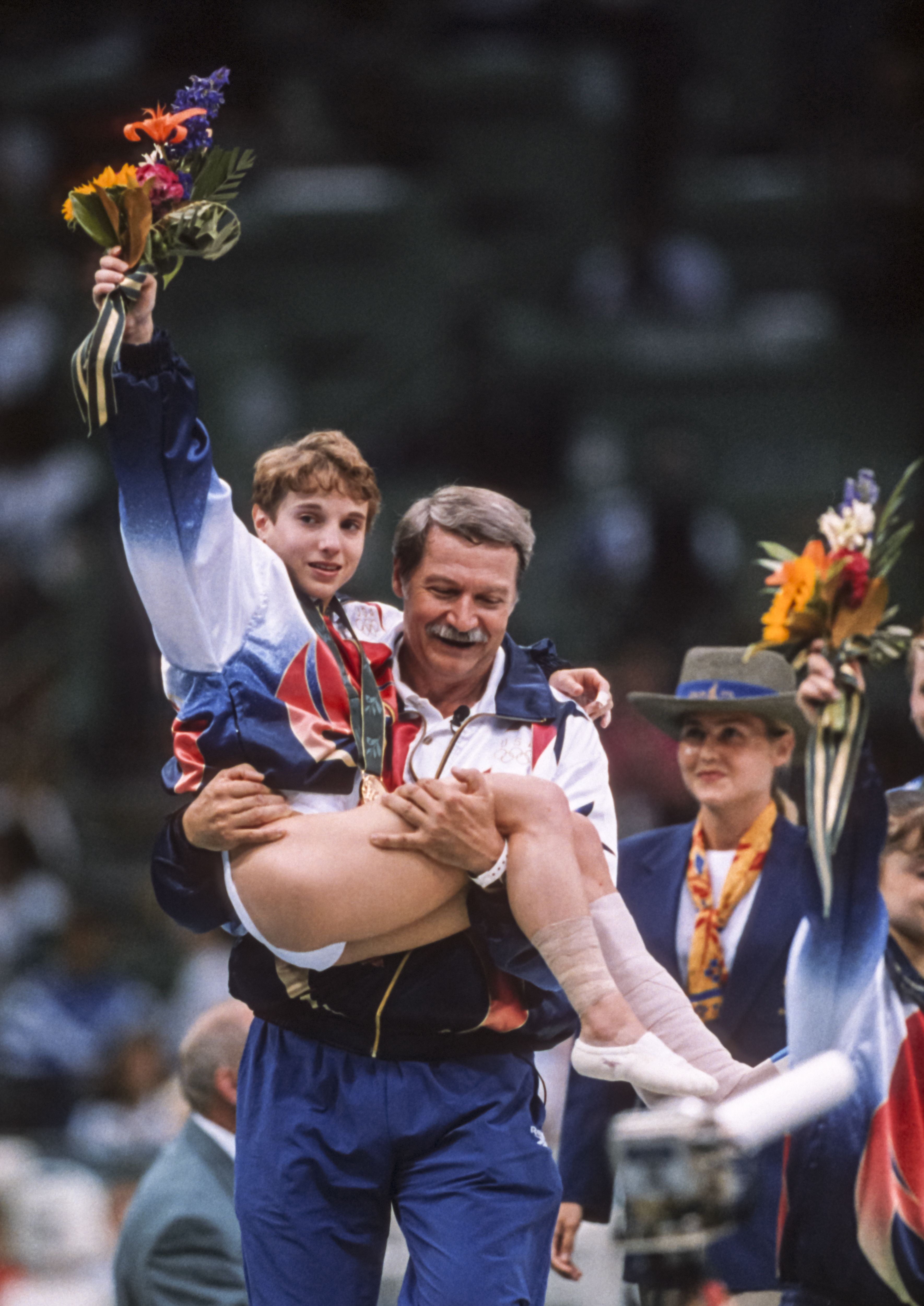 Kerri Strug. Photo: David Madison/Getty Images
23 years ago today, the 1996 Summer Olympics opened in Atlanta with 197 competing countries, including 11 former Soviet nations that had previously boycotted the Games.
Highlights: The U.S. topped the medal count for the first time since 1984 ... Kerri Strug overcame a sprained ankle to help the U.S. win gold ... Canada's Donovan Bailey ran a then-world record 9.84 in the men's 100 meters.
Lowlight: The festivities were marred by violence when Eric Rudolph detonated pipe bombs at Centennial Olympic Park on July 27, injuring 111.
What's next: The Summer Olympics will return to the U.S. in 2028 when Los Angeles hosts for the third time (1932, 1984).
Go deeper: Highlights from the 1996 Olympics
7. 🏈 Super Bowl trivia
Question: Can you name the only team in NFL history with multiple Super Bowl appearances and no losses?
Hint: They won a Super Bowl this decade.
Answer at the bottom.
8. The Ocho: 🚲 Cyclist mysteriously abandons Tour de France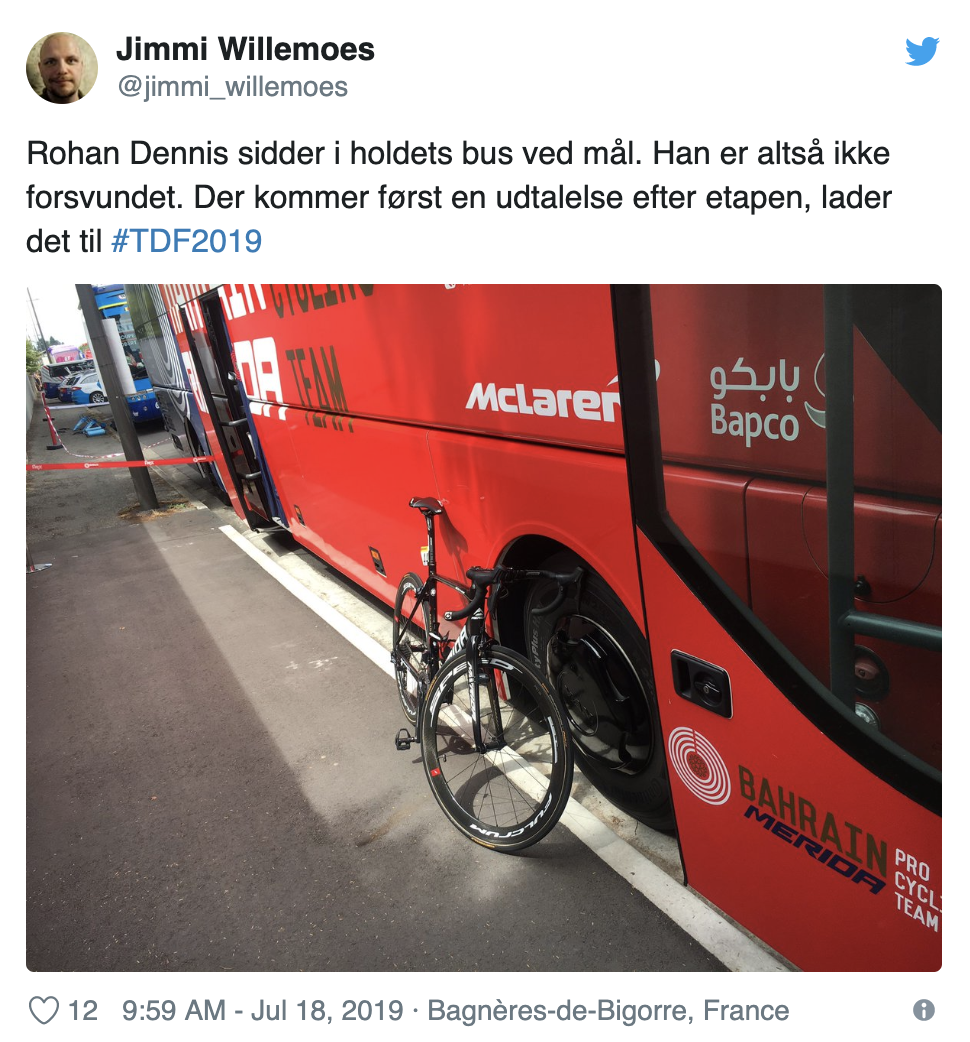 Source: @jimmi_willemoes (Twitter)
Reigning world time trial champion Rohan Dennis was racing through Stage 12 of the Tour de France when he suddenly disappeared — and nobody seems to know why.
Dennis' abandoned bicycle was eventually spotted propped up against his team bus (see above), but his reasons for dropping out remain a mystery.
"Text messages to him have gone unanswered. There is no official explanation. He is not sick; he is not injured. And so nobody knows, not for sure anyway, why he [quit]."
— Caley Fretz of Cycling Tips (
full article
)
Go deeper: Live Tour updates.
9. Good reads
📺 Kendrick Perkins and the Making of an NBA Talking Head (The Ringer)
"In the player empowerment era, we need someone who can explain the players who run the league — who can tell us not just what they'll do but how they feel. Say hello to Big Perk."
🥊 Manny Pacquiao Might Be Making a Terrible Mistake (New Yorker)
"This Saturday night in Las Vegas, Pacquiao is fighting [undefeated heavyweight] Keith Thurman … On paper, this is the most intriguing Pacquiao matchup in over a decade. But it may also be a terrible mistake."
🏀 The Rise of the Next Antetokounmpo (Bleacher Report)
"17-year-old Alex Antetokounmpo has dreams of NBA stardom, and his brother and mentor — the reigning league MVP — is showing him the way, through thick and thin."
10. ❤️ The bond between a father and his son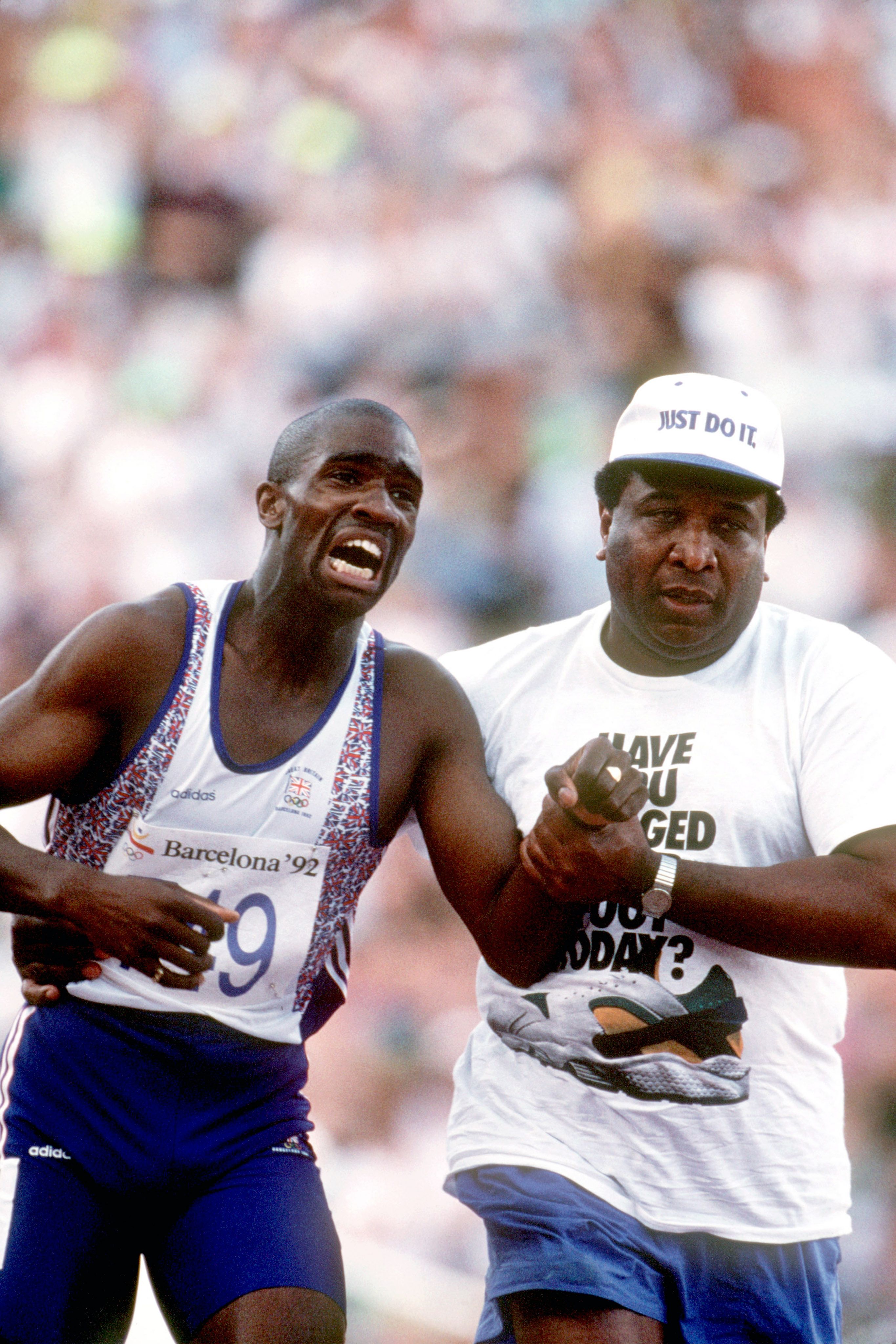 Photo: S&G/PA Images via Getty Images
On Monday, I asked you to share a memory that illustrates the power of sports. For the next few weeks, we'll be sharing your stories.
Robin Monsky (Chicago) writes:
1992 Olympics — 400m men's semifinal. After injury-prone British runner Derek Redmond posted his fastest time in four years in an earlier round, his hamstring seized up during the semifinal race and he fell to the ground.
Determined to finish what was likely his last ever competition for his country, he struggled to get up, started hobbling around the oval and was joined by his father who had rushed down to the track.
Dad put his arm around his son to support him and together they finished the race despite officials trying to wave them off the track. Still makes me shake my head in awe at the power of sports to generate emotions.
Enjoy the weekend,
Kendall "Dads rule" Baker
Trivia answer: Baltimore Ravens (2001 and 2013)