☀️ Happy Friday! The Bucks beat the 76ers last night to clinch the NBA's best record for the first time since 1974, when they were led by league MVP Kareem Abdul-Jabbar.
Might history be repeating itself? The latest spectacular performance from leading MVP candidate Giannis Antetokounmpo (45 points, 12 rebounds, 5 assists, 5 blocks) may have sealed the deal.
1 big thing: ⚾️ The evolution of the baseball bat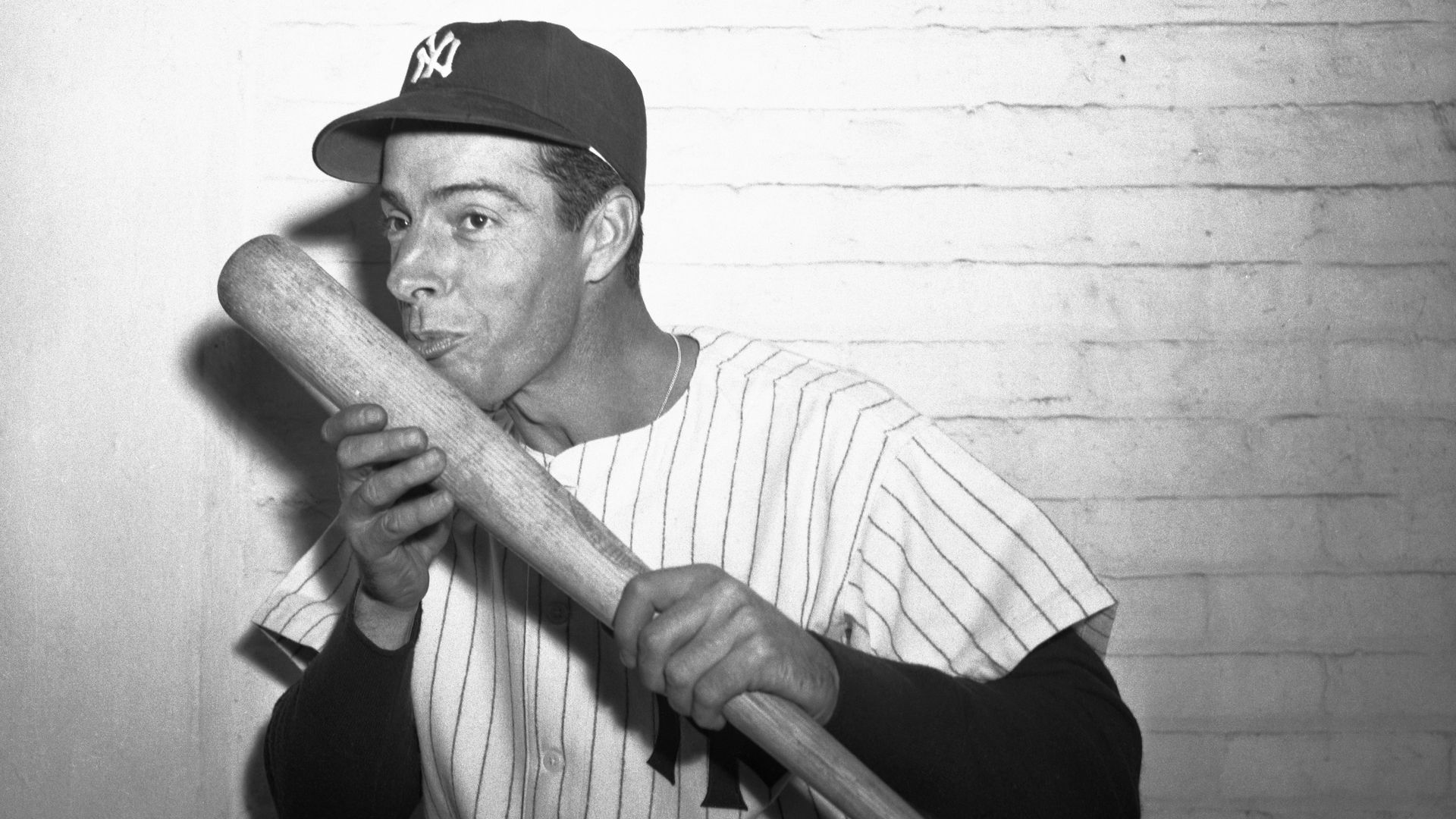 In the early days of baseball, bats were made from a wide range of woods. Shoeless Joe Jackson's famous "Black Betsy" was made from hickory, for example. Willow and oak were also commonly used.
But by the 1930s, almost every bat was made from ash, a soft wood that was surprisingly durable. When Ted Williams hit .406? Ash bat. When Roger Maris broke Babe Ruth's home run record? Ash bat. When George Brett lost his mind? His ash bat had too much pine tar.
1996: While drinking at a bar in Ottawa, Rockies scout Bill MacKenzie mentioned to local carpenter Sam Holman that ash bats kept breaking. Was there anything Holman could do?
Feeling inspired, Holman began making bats out of maple and testing them with the local minor league team, the Ottawa Lynx. A year later, he convinced three Blue Jays — Joe Carter, Carlos Delgado, and Ed Sprague — to use his bats during batting practice.
Verdict: They liked them. Heck, Carter was so smitten that he snuck one into a game later that season — and promptly hit a home run. The maple bat had arrived.
1998: While finishing his career with the Giants, Carter convinced Barry Bonds to try a maple bat. The rest, my friends, is history — with an asterisk next to it, of course.
Bonds hit 73 dingers in 2001, and broke Hank Aaron's home run record six years later — all while using a maple bat.
This helped maple's popularity skyrocket, and last season, roughly 75% of major leaguers swung maple bats.
2018: Birch is a relatively new wood for bats that surpassed ash in popularity for the first time last season, per FanGraphs.
"Birch tends to last better than maple," said the guys at Birdman Bats. "[It] has that flex, so if a player doesn't like that, he's going to stick to maple. It's kind of like a graphite shaft versus a steel shaft in golf."
The end. You are now a bat expert.
2. 🏀 Auburn vs. UVA: Best everything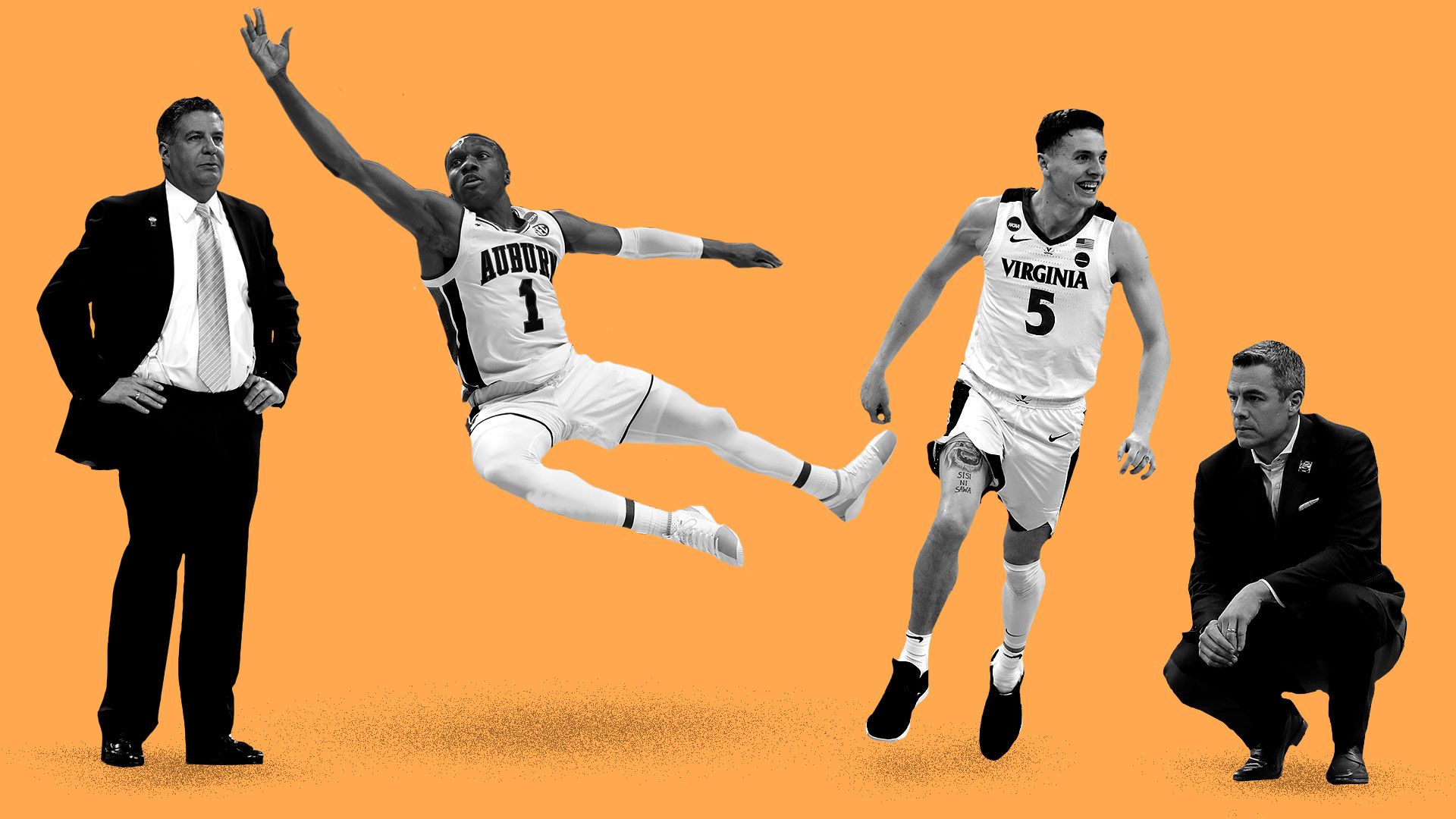 Best backcourt: Auburn's Jared Harper (17.5 ppg in the tournament) and Bryce Brown (18.2) combined for 50 of Auburn's 77 points in their upset win over Kentucky. They're both lightning fast and unafraid to let it fly.
That others might disagree with that assessment and point to other backcourts "fits the narrative of this team quite snugly," writes The Athletic's Dana O'Neil (subscription). "The Tigers remain a team that enjoys feeling underrated and underappreciated."
Best reason to root for UVA: The state of Virginia has never won a national title in basketball or football. Poor Virginians.
The closest they came was in 1999 when Michael Vick led Virginia Tech to the BCS title game, where the Hokies fell to Florida State.
Best storyline: Auburn's pesky defense versus Virginia's slow, methodical offense.
Auburn causes a turnover on nearly 25% of opponent possession and leads the nation with 22 points off turnovers per game. … Virginia is second nationally in offensive efficiency and rarely coughs it up.
Best surprise freshman: 5-foot-9-inch Kihei Clark was the 393rd-ranked recruit in the Class of 2018 and originally committed to play at UC Davis.
Now, he's starting in the Final Four and will be seeing himself on March Madness highlight reels until the end of time after making the pass of his life last week.
3. 🏀 Texas Tech vs. Michigan State: Best everything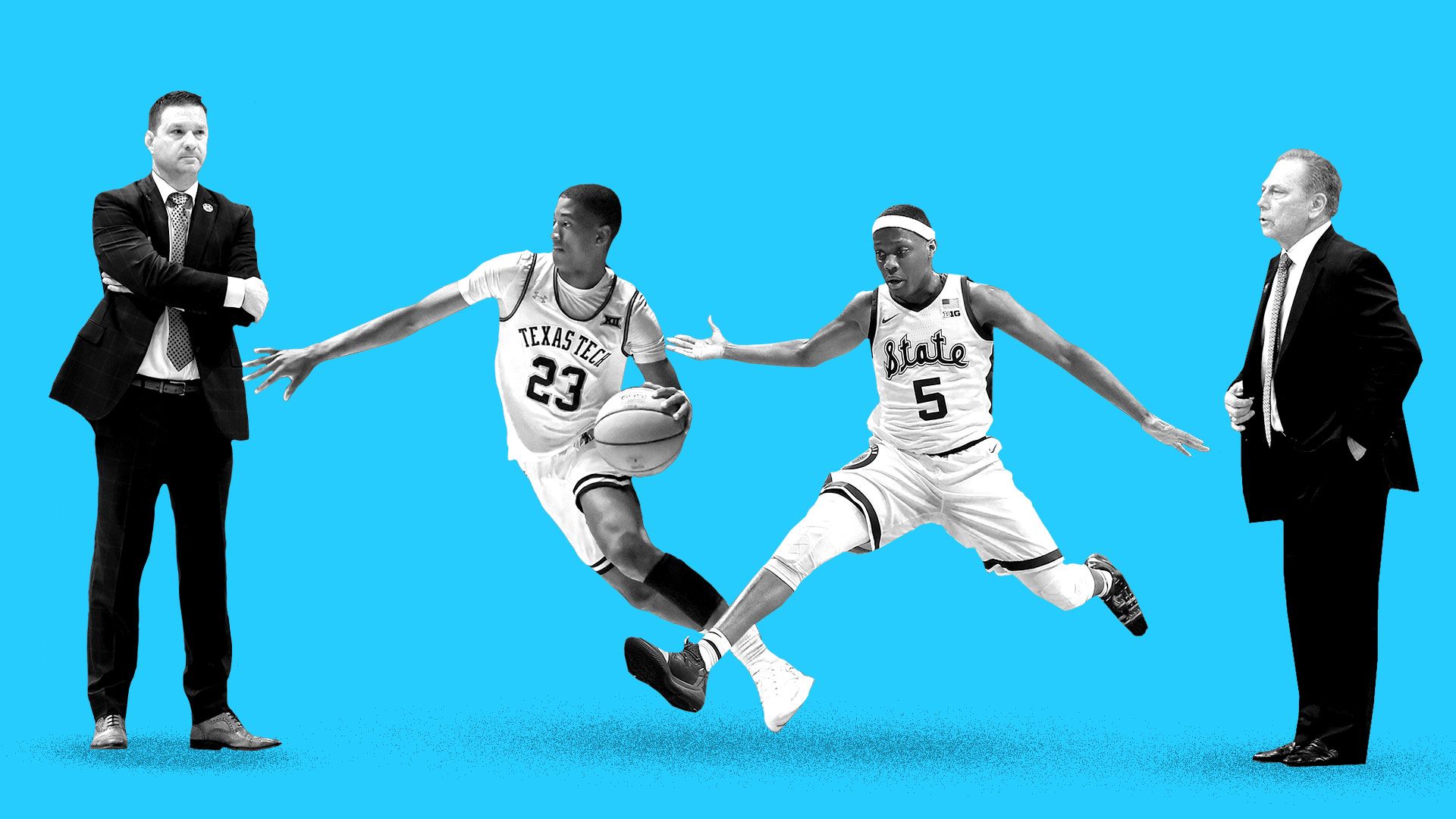 Best coach: Tom Izzo has been dominating college basketball for decades, but there was no better coach in America this year than Chris Beard, who was just named — you guessed it — AP Coach of the Year.
Beard's journey from the backwaters of college basketball to the pinnacle of the sport is iconic. The 46-year-old has coached at community colleges in Kansas and Oklahoma; at D-III McMurry University; at D-II Angelo State; and he even coached in the ABA, which I had no idea still existed. Go deeper.
Best NBA prospect: Texas Tech's sophomore shooting guard Jarrett Culver is No. 5 on ESPN's latest draft board.
Culver is averaging 18.9 points and shooting nearly 50% on one end, while collecting 6.4 rebounds and 3.4 defensive win shares (leads nation) on the other end. Go deeper on The Athletic (subscription).
Best emerging storyline: In two weeks, the NCAA's primary legislative body will vote on a rule change that could "severely restrict graduate transfers," the NY Times' Billy Witz reports.
Texas Tech has two grad transfers in its starting lineup — Matt Mooney and Tariq Owens. Could they be the last of a dying breed? It'd be a darn shame, in my opinion.
Best point guard: Through four tourney games, Michigan State's junior point guard Cassius Winston is averaging 19 points and 7.8 assists.
Only one other player — Billy Donovan for Providence in 1987 — has put up those numbers through four games since the tournament expanded in 1985.
4. 🏈 Ego is the enemy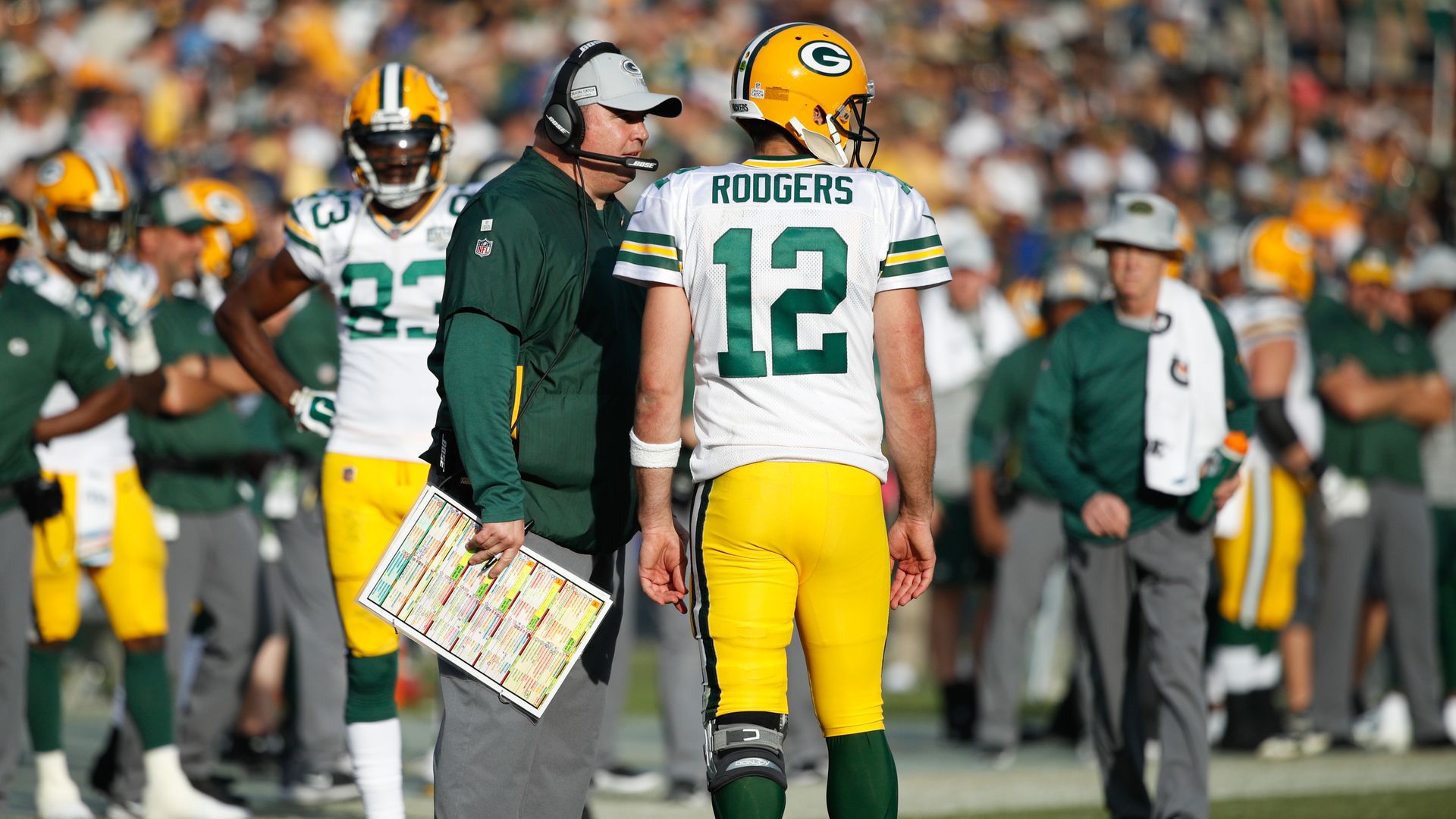 It's no secret that Aaron Rodgers and former Packers head coach Mike McCarthy weren't the best of friends during their 13 seasons together, but now we have new details, courtesy of Bleacher Report's Tyler Dunne.
The bottom line: I came away from this feeling like Rodgers and McCarthy were equally responsible for undermining what should have been a much more successful era in Green Bay. I also came away more confident than ever that ego is the enemy.
According to one Packers employee, if Rodgers thinks he's smarter than you, he won't respect you. And apparently, he didn't think McCarthy was very bright. That's ego.
Team sources say McCarthy believed his system — not the players — was the foundation for the Packers' success, and he refused to innovate or give younger coaches opportunities because he felt threatened by them. That's ego — and ego is the enemy.
5. 🏀 Women's Final Four preview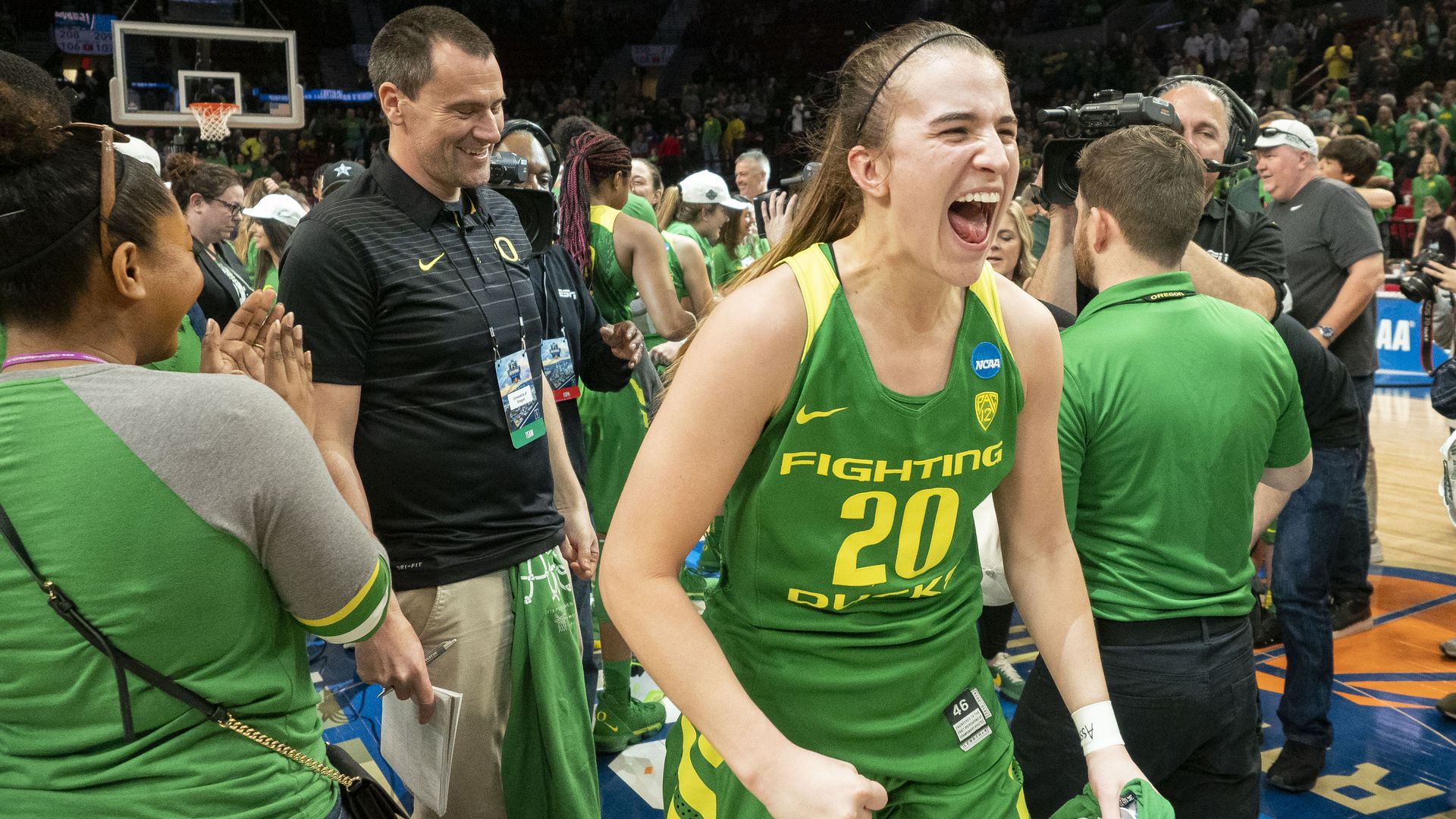 The women's Final Four tips off tonight in Tampa, Florida. Unlike years past, there's no clear-cut favorite going in, so any of these four teams could be cutting down the nets on Sunday.
No. 2 Oregon (33-4) vs. No. 1 Baylor (35-1): This is Oregon's first ever Final Four, but they have the best player on the court. Will that be enough against a Baylor squad that has beaten its tournament opponents by an average margin of 38.2 points?
When: 7pm ET (ESPN2)
National titles: Oregon has zero. Baylor has two (2005, 2012).
The intrigue: Two dominant teams with contrasting styles. The Ducks like to space the floor and are the nation's best three-point shooting team (kind of like the Warriors), while the Bears likes to get the ball inside and have the nation's best defense (kind of like the "Grit and Grind" Grizzlies).
Why Oregon will win: If the Ducks are the Warriors, their point guard and triple-double machine Sabrina Ionescu is Steph Curry. Watch Kobe Bryant break down her pick-and-roll prowess.
Why Baylor will win: The Bears are holding opponents to just 31.4% from the field and they lead in the country in defensive rebounds, so they grab most of those misses. Meanwhile, Oregon's rebounding is mediocre at best.
Players to watch: Oregon's Ionescu is the most exciting player in the country and it's not even close. ... Baylor's Kalani Brown (15.5 PPG, 8.1 RPG) is a beast inside at 6-foot-7-inches.
No. 2 UConn (35-2) vs. No. 1 Notre Dame (34-3): These two heavyweights will meet for the 50th time and eighth time in the Final Four. UConn leads the series 37-12, but Notre Dame has the edge at the Final Four, 4-3.
When: 9pm ET (ESPN2)
National titles: UConn has 11 (1995, 2000-04, 2009-10, 2013-16). Notre Dame has two (2001, 2018).
The intrigue: They met in last year's Final Four, with Notre Dame winning in overtime thanks to Arike Ogunbowale's epic game-winner. UConn prevailed 89-71 in their only meeting this season.
Why UConn will win: According to head coach Geno Auriemma, his last two teams were "playing not to lose," while this year's underdog team is "playing to win" (subscription).
Why Notre Dame will win: The Irish are far less one-dimensional than they were last year, with all five starters averaging double figures.
Players to watch: UConn's Katie Lou Samuelson (86 three-pointers) is the key to unlocking the Huskies' offense. ... Notre Dame's Arike Ogunbowale (21.5 PPG) is a walking bucket.
Go deeper:
6. 🏀 April 5, 1984: Kareem sky hooks past Wilt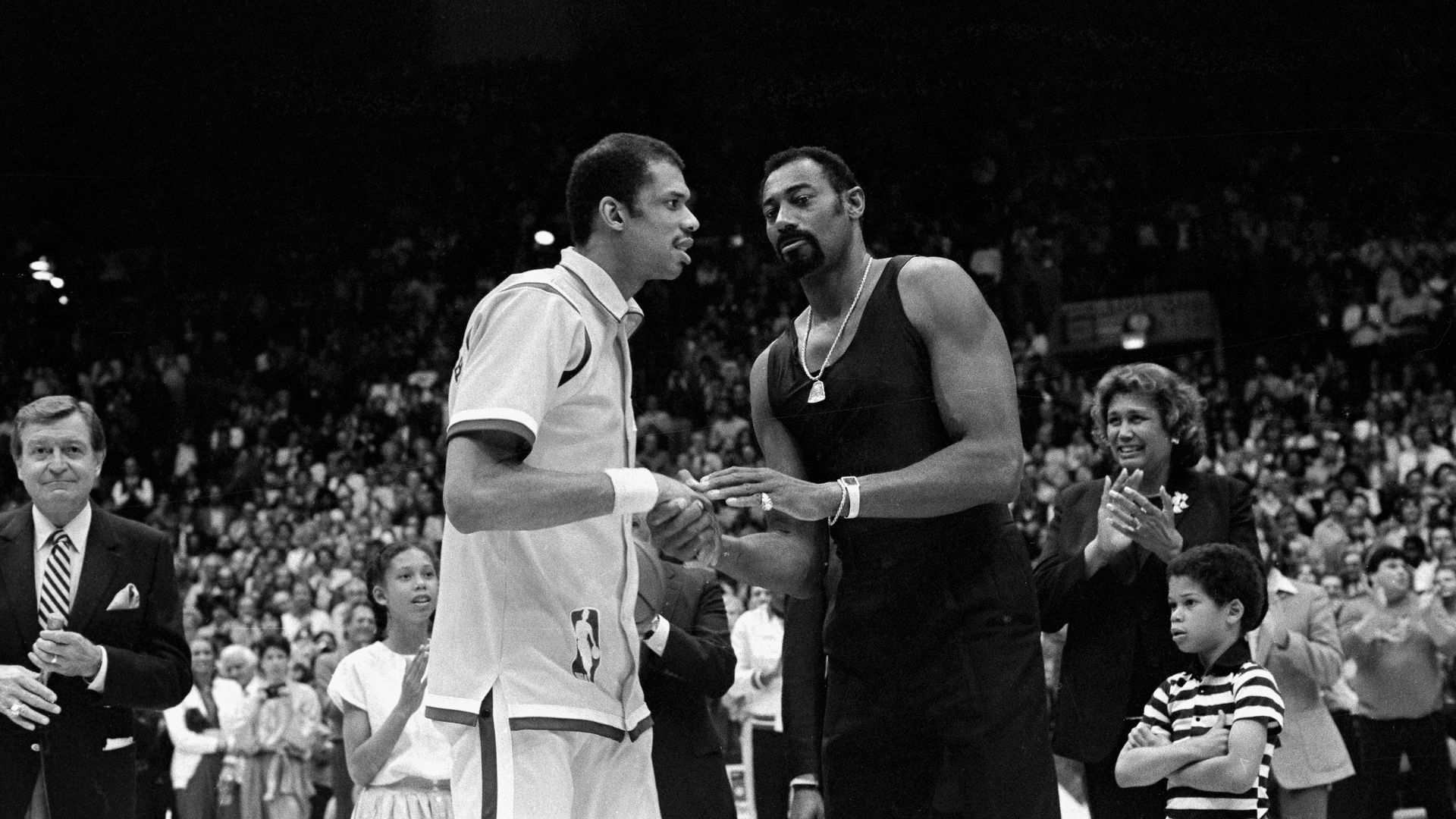 35 years ago today, Abdul-Jabbar scored his 31,421st career point against the Utah Jazz to pass Wilt Chamberlain as the NBA's all-time leader scorer.
Top 5 scorers:
Kareem: 38,387 points (1,560 games)
Karl Malone: 36,928 (1,476)
Kobe Bryant: 33,643 (1,346)
LeBron James: 32,543 (1,198)
Michael Jordan: 32,292 (1,072)
Go deeper:
7. 🏒 NHL trivia
The Carolina Hurricanes clinched a playoff berth for the first time in 10 years last night, snapping the NHL's longest postseason drought.
Question: Which team now holds the NHL's longest postseason drought?
Hint: Their last Stanley Cup appearance was in 1999 against the Dallas Stars.
Answer at the bottom.
8. The Ocho: Chase Outlaw's miraculous ride to the top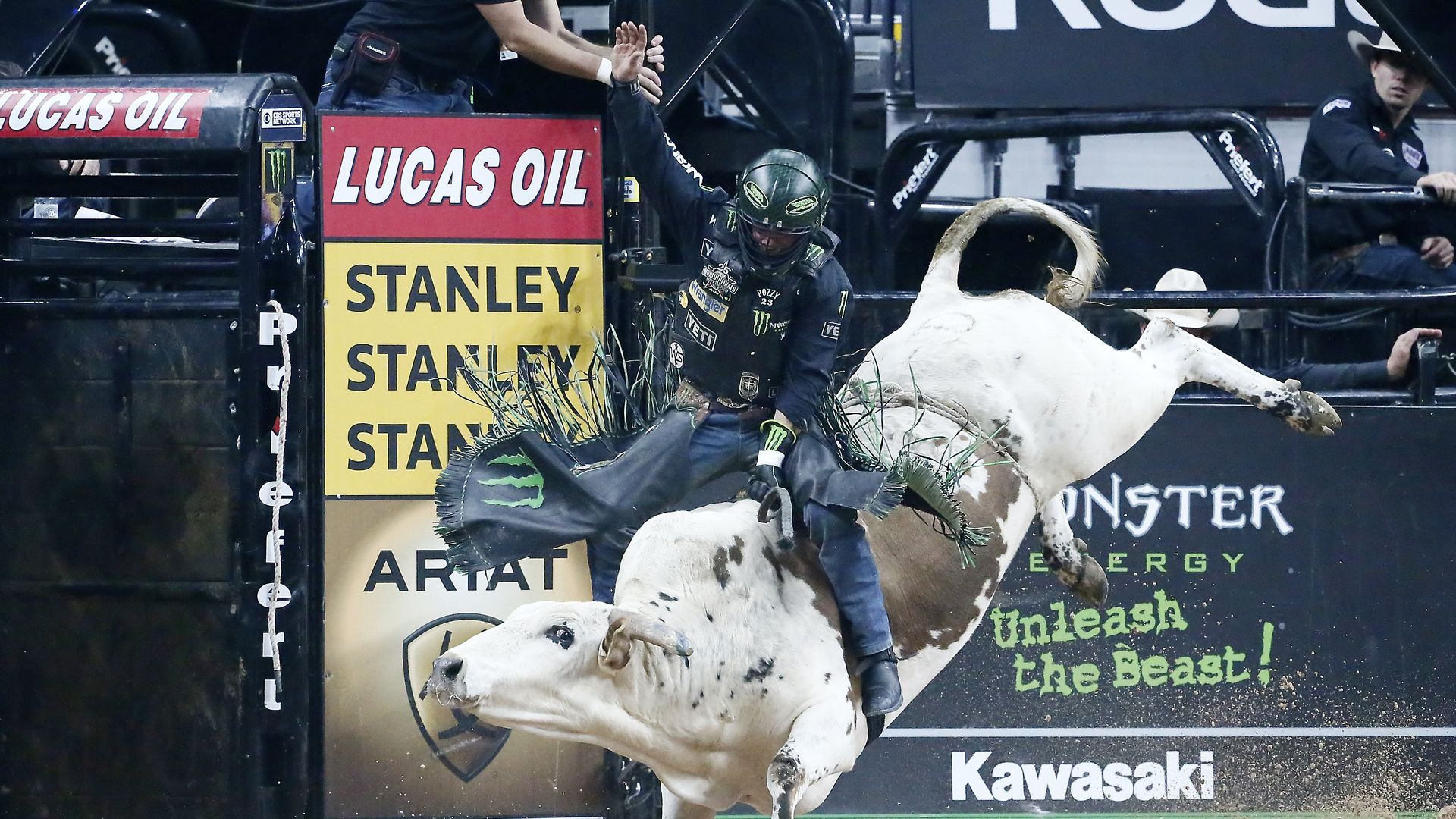 From Mike Sykes: Entering this weekend's Professional Bull Riders event in Sioux Falls, North Dakota, Chase Outlaw sits atop the world standings by a comfortable 130-point margin.
Standings:
Chase Outlaw, USA (2,228 points)
Jess Lockwood, USA (2,098)
João Ricardo Vieira, Brazil (2,055)
Jose Vitor Leme, Brazil (1,982)
Luciano De Castro, Brazil (1,333)
Details: Outlaw is the story of the year in PBR. Nine months ago, the 26-year-old suffered injuries so bad he thought he'd never ride again. Now, he's in the lead.
Last July, a bull named War Cloud head-butted Outlaw (warning: graphic) at an event in Cheyenne, Wyoming, knocking him unconscious and breaking his face in 30 different places.
12-hour facial reconstruction surgery ensued, with doctors inserting 68 screws and 11 titanium plates in the Oklahoma native's face.
The bull riding community thought Outlaw might never ride again, but he returned to action ... two months later. This time wearing a helmet.
Go deeper: Watch this weekend's event on CBS Sports Network starting Saturday at 8pm ET.
9. ⚾️ Productivity killer of the week
Major League Baseball has a database of every player's walk-up music. It's sorted by team so it's super easy to navigate.
10. 🎰 Pick 3: Make your picks!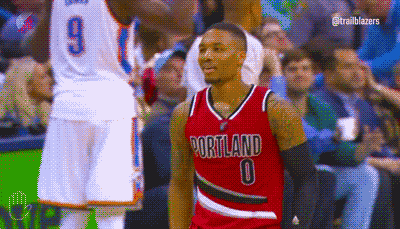 🎰 Play now: Today's contest will be held within The Action Network app. Click here to play/download the app.
--
Yesterday's results: 95% correctly predicted that the Canadiens and Capitals would combine for under 9.5 goals. The Caps won 2-1 ... 31.3% correctly predicted that Joel Embiid would put up over 50 combined points, rebounds, assists and blocks. He put up 34, 13, 13 and 3 (63) ... 74% correctly predicted that Texas (-1.5) would cover the spread against Lipscomb. They won 81-66.
48 readers correctly predicted all three outcomes ... 24 players nailed the tiebreaker (Mike Trout recorded two hits against the Rangers). We'll be in touch.
Thanks,
Kendall "Certified baseball bat expert" Baker
Trivia answer: Buffalo Sabres