Axios Sports
June 11, 2020
👋 Good morning! Let's sports.
Today's word count: 2,139 words (8 minutes).
1 big thing: ⛳️ The PGA Tour resumes in Texas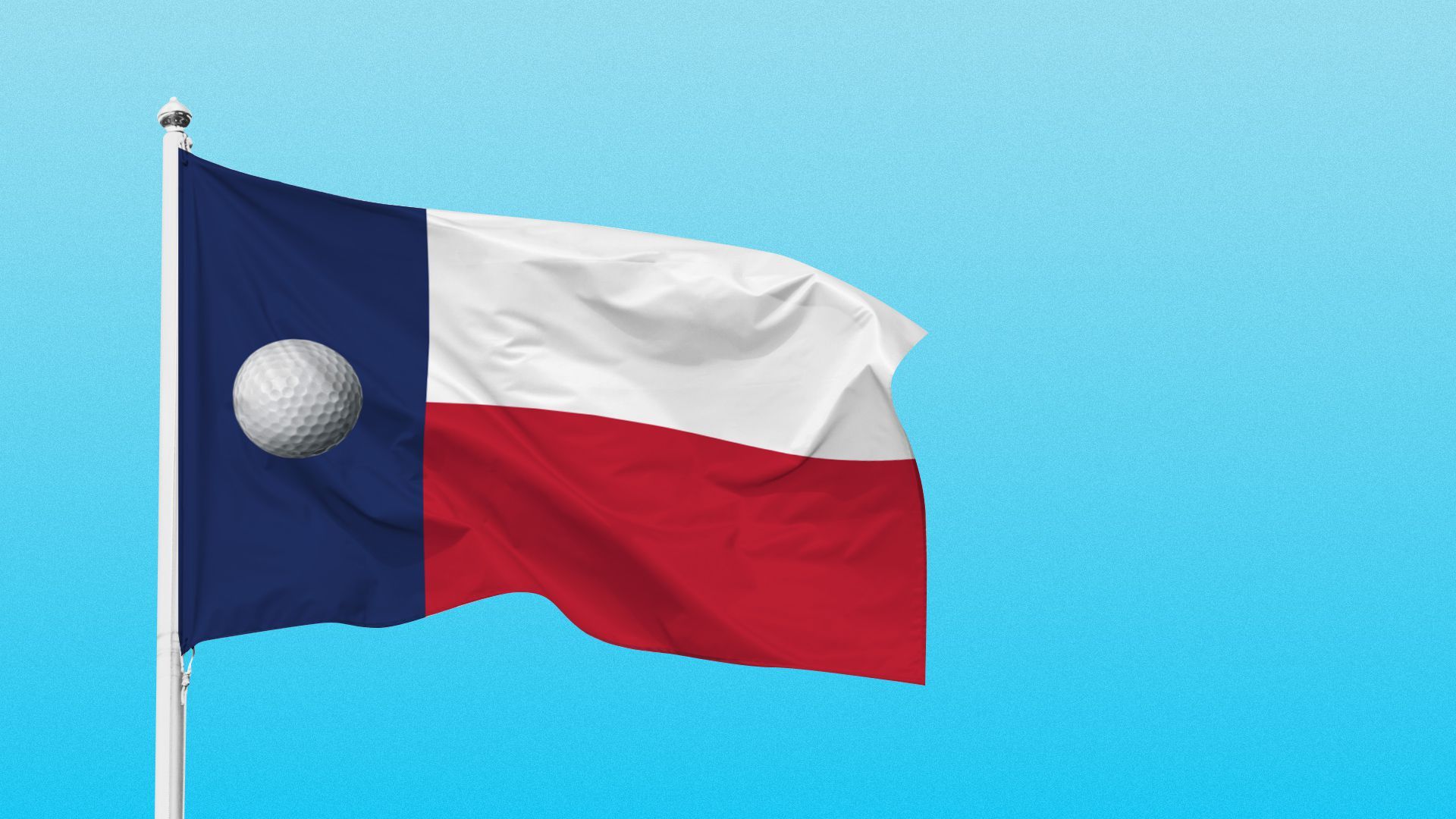 After a three-month hiatus, the PGA Tour returns today for the first round of the Charles Schwab Challenge at Colonial Country Club in Fort Worth, Texas.
No fans will be in attendance, production crews will be limited and players will be asked to adhere to health and safety guidelines released last month.
How to watch: Golf Channel has full coverage from 4-7pm ET, and you can watch featured groups from 7:45am-7pmET on PGA Tour Live.
Another option: Athletes, celebrities and media companies will broadcast their own live commentary on Twitter from 1-2:30pm ET. Got money on Rory? Tune into the Action Network's betting-centric broadcast. Fan of the women's game? Flip to the LPGA broadcast, featuring Annika Sorenstam.
Details:
The course: Colonial Country Club is the longest-running host of a nonmajor PGA Tour event played at its original site (the first tournament was held there in 1946). It's known for its narrow, tree-lined fairways and numerous doglegs.
The field: Stacked. 17 of the top 20 players in the Official World Golf Rankings will be in the field, including the top five players: Rory McIlroy, Jon Rahm, Brooks Koepka, Justin Thomas and Dustin Johnson.
Groups to watch: McIlroy, Rahm, Koepka (2:06pm ET); Thomas, Rickie Fowler, Jordan Spieth (1:55pm ET); Johnson, Bryson DeChambeau, Justin Rose (8:45am ET); Phil Mickelson, Kevin Na, Gary Woodland (8:56am ET)
The state of play: Players, caddies and essential personnel were tested for COVID-19 on Wednesday, and the PGA Tour said all 487 tests came back negative.
On the course, players will be expected to practice social distancing and "show best practices for playing golf to our fans watching the telecast."
Yes, but: In Wednesday's practice round, players and caddies exchanged clubs (players are supposed to handle the clubs themselves) and caddies frequently forgot to wipe down flagsticks and bunker rakes after use.
"I'd say for the viewing public just to give the players and caddies a little bit of leeway if they see something on TV that isn't quite right. We're having to figure it out as we go along, as well."
— McIlroy
Look: Here's the 18th green at Colonial ... with fans.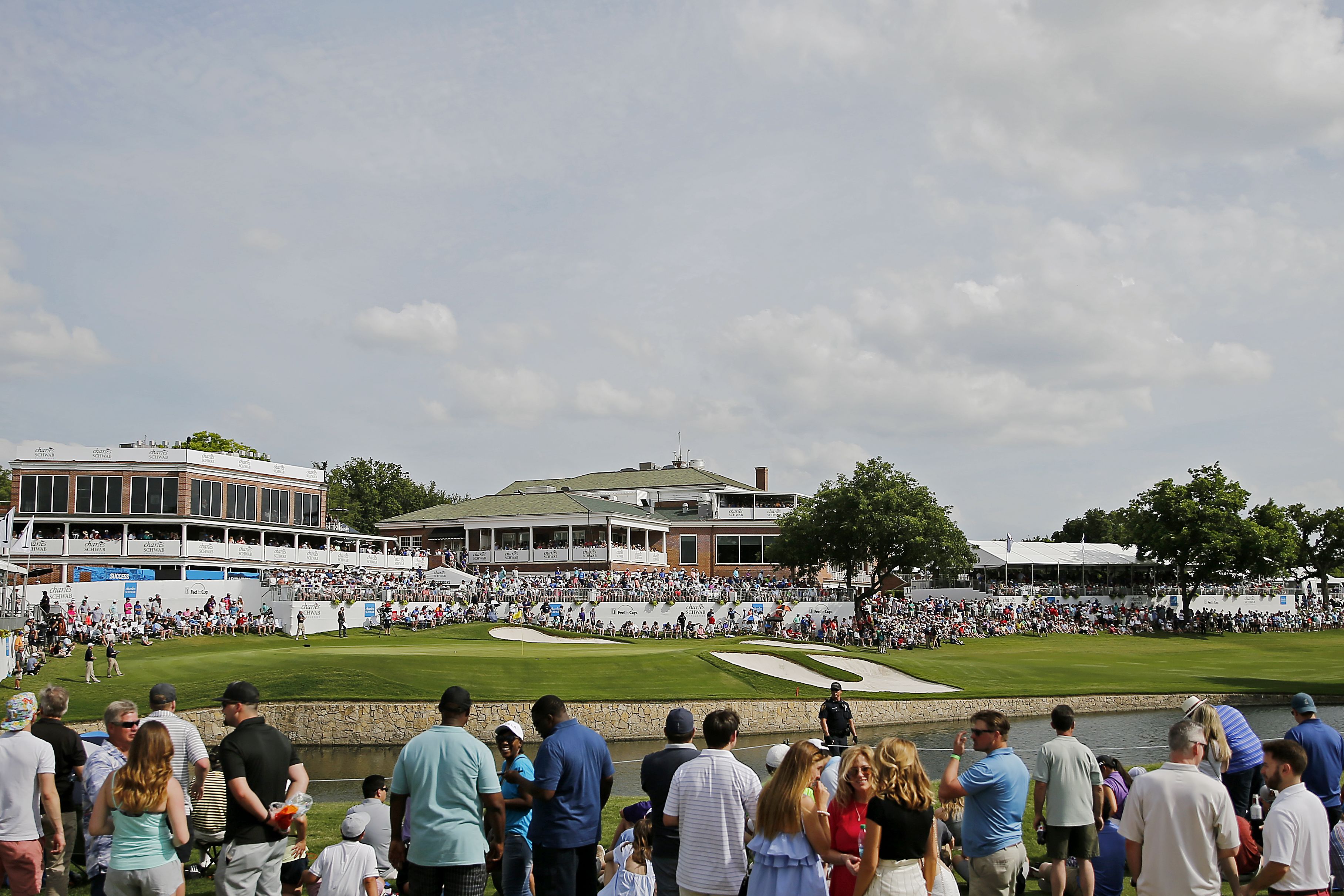 2. 🇺🇸 NASCAR bans Confederate flag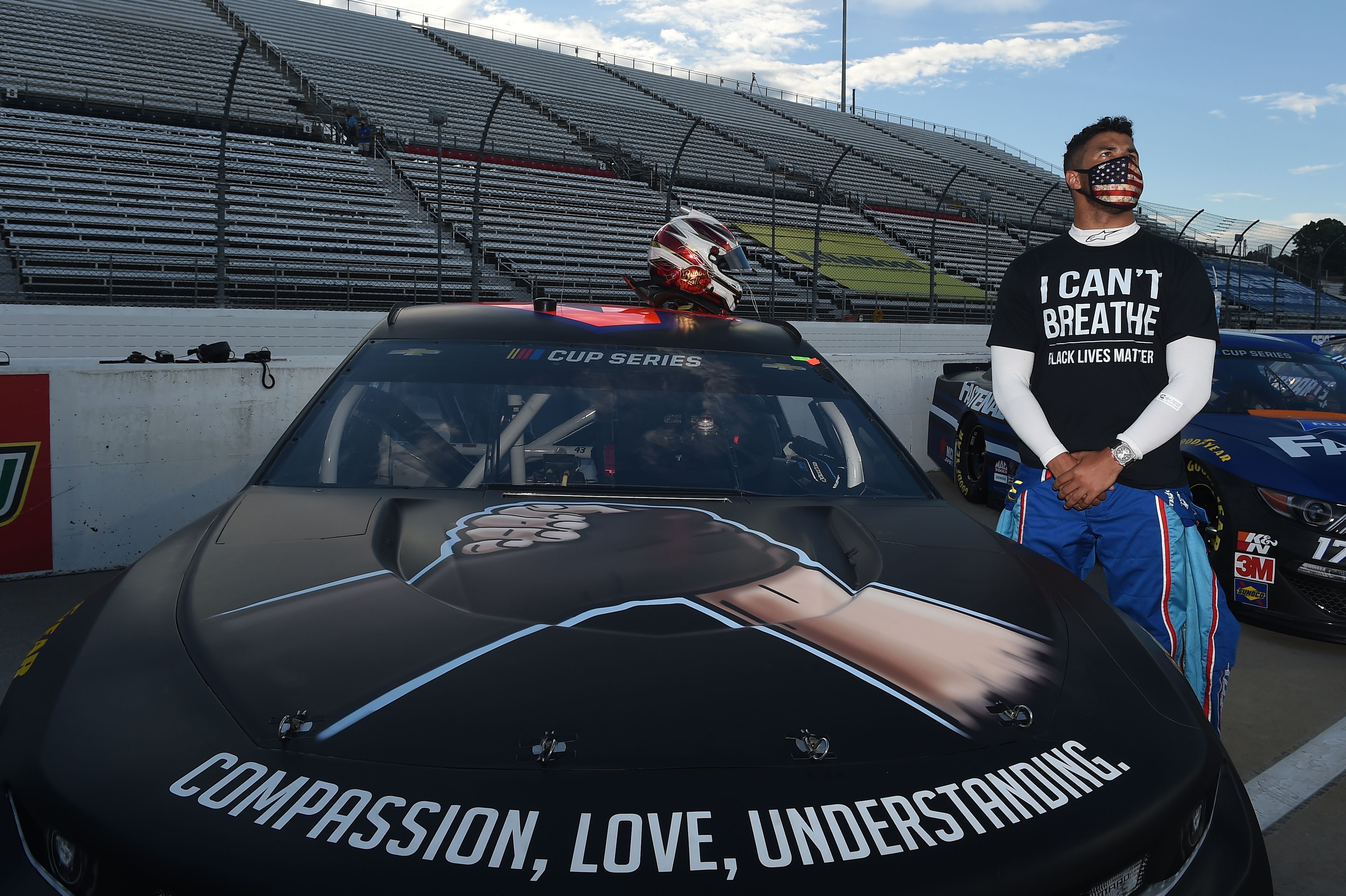 NASCAR announced on Wednesday that it will ban the Confederate flag from its events and properties.
Why it matters: The move comes amid a renewed push to ban Confederate monuments and iconography in various U.S. institutions as protests against police brutality and racial inequality have swept across the country.
The backdrop: Bubba Wallace, the circuit's only black driver, had been pushing for the change. "No one should feel uncomfortable when they come to a NASCAR race," he told CNN's Don Lemon on Monday. "So it starts with Confederate flags. Get them out of here."
Last night's race: Wallace, who praised the ban, debuted a new Black Lives Matter-themed car for the NASCAR Cup Series race at Virginia's Martinsville Speedway. He also wore an "I Can't Breathe" shirt for the second straight race.
"I am 100% confident that a real NASCAR fan has the ability to enjoy a weekend in the infield just as much while flying an American flag as they do under the flag of a misguided, defeated nation that hasn't existed for 155 years. If they can't, then they've never loved NASCAR as much they have always claimed. They certainly have never loved it as much as I do."
— Ryan McGee,
ESPN
Elsewhere:
3. 📊 Poll: 56% of Americans identify as sports fans
The majority of Americans (56%) identify as fans of pro sports, according to the Monmouth University Poll, with that number slightly higher for men (58%) and slightly lower for women (54%).
More demographic breakdowns above.
4. ⚽️ MLS is going to Disney World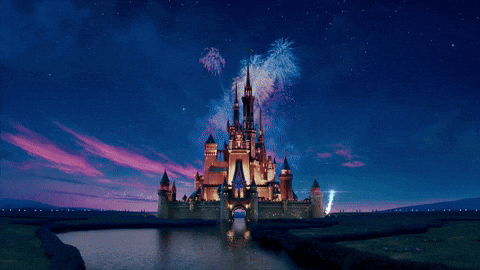 Major League Soccer will return to action on July 8 with all 26 teams competing in a 54-game, 35-day, World Cup-style tournament.
Like the NBA, the competition will be held at the ESPN Wide World of Sports Complex at the Walt Disney World Resort near Orlando.
Unlike the NBA, this is not a postseason tournament. Instead, the group stage matches will count in the regular-season standings, and once the tournament ends, MLS plans to continue its regular season with a revised schedule in which teams would play in their home cities. The playoffs would then follow.
More details:
Times: Matches will be played at 9am ET, 8pm ET and 10:30pm ET each day.
Format: After 16 days of group stage matches, the top two teams in each group and the four best third-place finishers advance to the knockout rounds.
Fun fact: The ESPN Wide World of Sports Complex (see below) was home to Orlando City Soccer Club in 2014, the year before they made the jump to MLS.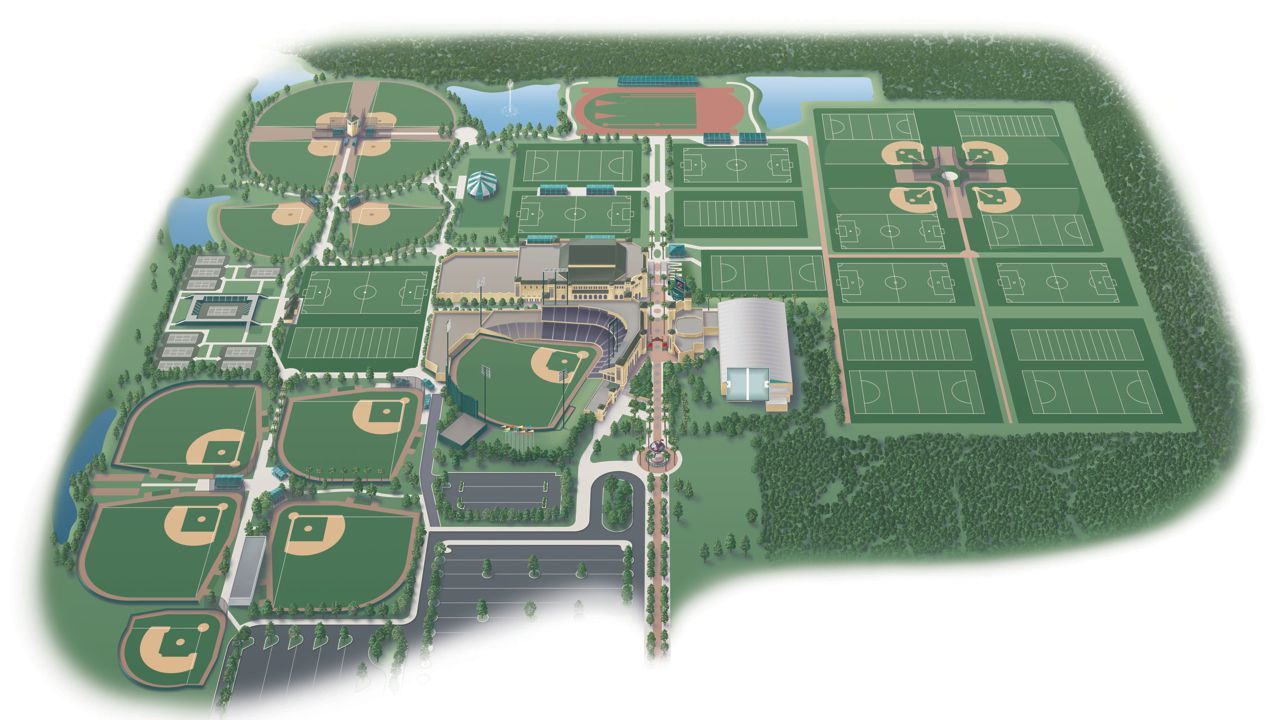 🗺 Map: There it is — the future home of the NBA and MLS. The basketball facilities are in the center near the main baseball stadium, while soccer fields are spread across the property.
5. ⚾️ 2020 MLB draft: Torkelson goes No. 1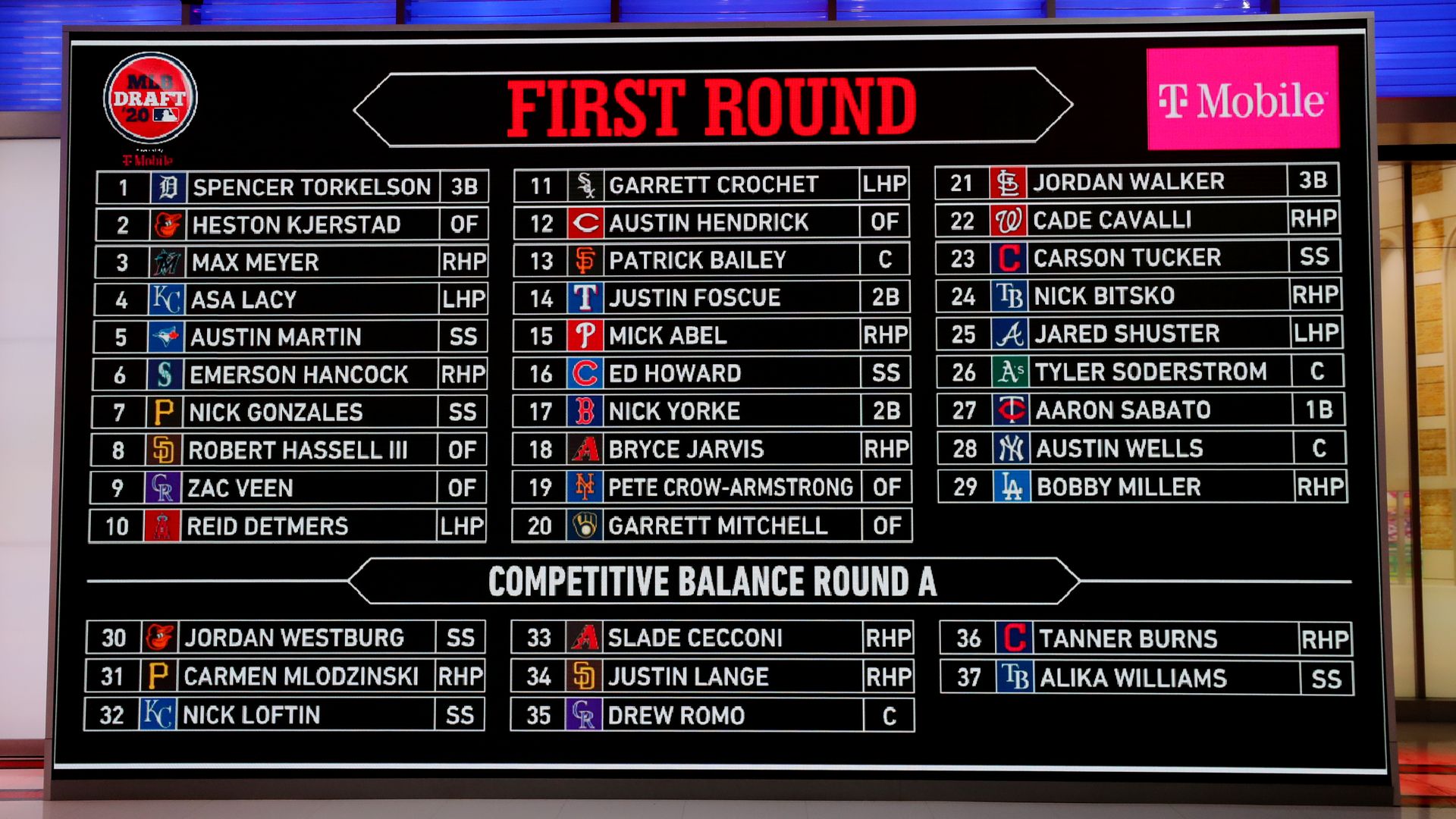 Arizona State slugger Spencer Torkelson made history when the Tigers selected him with the first pick in the 2020 MLB draft, making him the first college 1B and the first right-handed-hitting 1B ever selected with the top pick.
More history: For the first time ever, the first seven picks were all college players. This is likely a result of high school seasons getting canceled, which made it nearly impossible to adequately scout teenagers.
Go deeper:
Bonus: ⚾️ Ranking MLB's all-time rosters (No. 5)
We're ranking the all-time rosters for all 30 MLB teams. Note: Rosters based only on time spent with this specific team. Thoughts? Email me at [email protected].
5. Cincinnati Reds
When baseball's all-time hits (Pete Rose), home run (Barry Bonds) and Cy Young (Roger Clemens) leaders have all been effectively shut out of its Hall of Fame, perhaps there's something deeper that needs addressing? Anyway, the all-time Reds roster is loaded.
Year established: 1882 (as Cincinnati Red Stockings)
All-time record: 10,599-10,393 (.505)
World Series Championships: 5
Hall of Famers (indicated by *): 9
Starting lineup:
2B Joe Morgan* (57.9 bWAR with team)
OF Pete Rose (78.2)
1B Joey Votto (62)
OF Frank Robinson* (63.8)
C Johnny Bench* (75.2)
OF George Foster (39.5)
3B Tony Pérez* (45.7)
SS Barry Larkin* (70.5)
DH Vada Pinson (47.7)
On the mound: SP Bucky Walters (43.7)
Bench:
Infield: 1B Ted Kluszewski (29.9), 2B Bid McPhee* (52.5), 3B Heinie Groh (40.6), SS Dave Concepción (40.1), C Ernie Lombardi* (27.9)
Outfield: Ken Griffey Sr. (25.5), Eric Davis (30.5)
Utility: Edd Roush* (40.2), Paul Derringer (31.3)
Rotation: Noodles Hahn (44.3), Dolf Luque (42.4), Eppa Rixey* (39.9), Jim Maloney (37.8)
Bullpen: Aroldis Chapman (10.6), John Franco (13), Rob Dibble (10)
Additional notes:
Rose is the all-time leader in hits (4,256), games played (3,562), plate appearances (15,890) and at-bats (14,053).
Votto is the active leader in on-base percentage (.421), also good for 17th all-time.
Morgan's five-year peak (1972-76) has to be up there with the greatest stretches in baseball history: two MVPs, while averaging 62 stolen bases and 118 walks against just 53 strikeouts. And, despite not usually being a power threat, 22 HR and 85 RBI.
ICYMI ... 30. Rays, 29. Royals, 28. Diamondbacks, 27. Blue Jays, 26. Angels, 25. Padres, 24. Rockies, 23. Brewers; 22. Nationals, 21. Mets, 20. Orioles, 19. Twins, 18. Astros, 17. Marlins, 16. White Sox, 15. Athletics, 14. Phillies, 13. Braves, 12. Pirates, 11. Mariners, 10. Rangers, 9. Cardinals, 8. Dodgers, 7. Indians 6. Cubs
Huge thanks to Tom Stone, whose book "Now Taking the Field: Baseball's All-Time Dream Teams for All 30 Franchises," provided the inspiration for these rosters.
6. June 11, 1950: ⛳️ The Miracle at Merion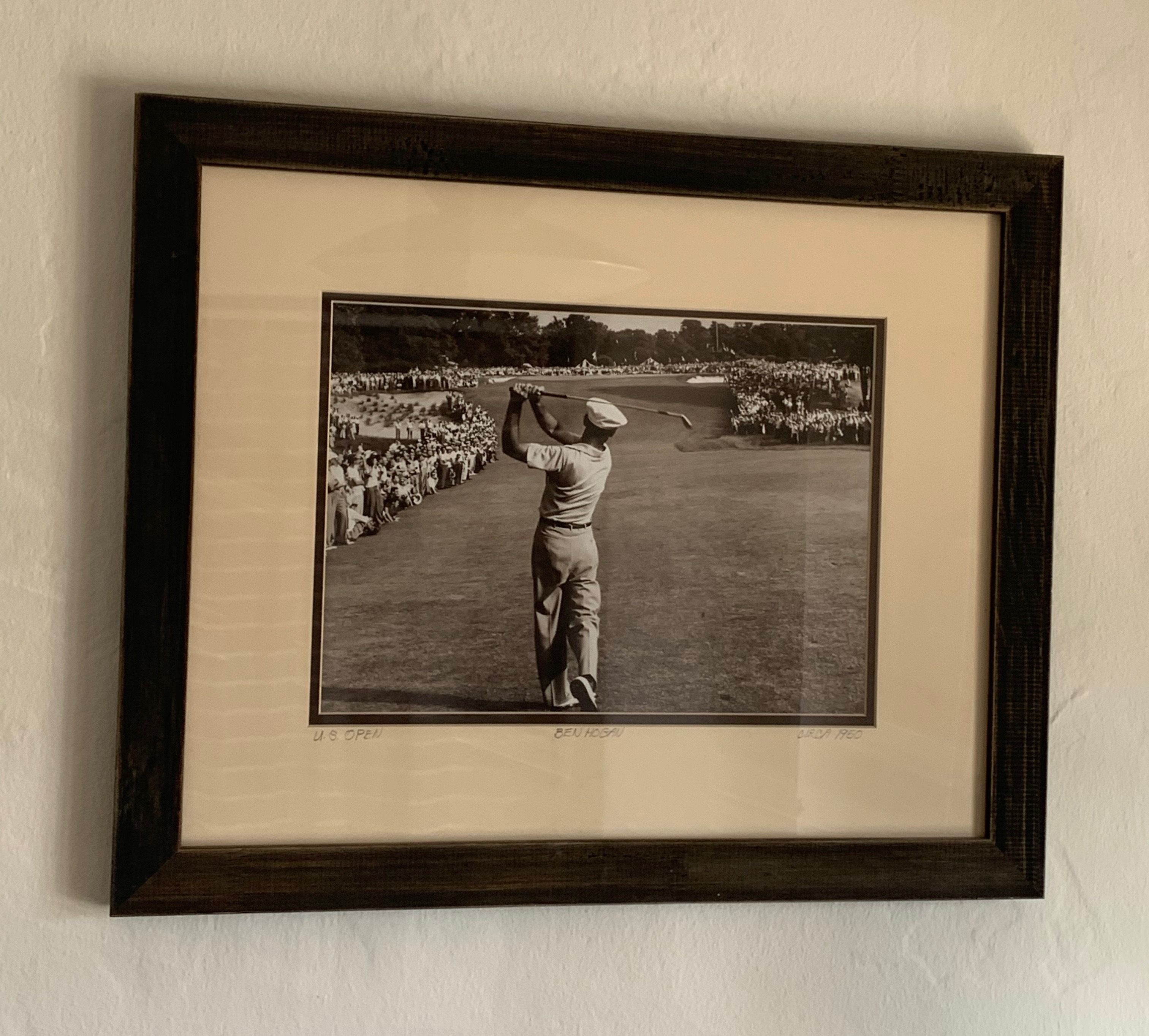 70 years ago today, Ben Hogan won the U.S. Open at Merion Golf Club (just outside Philadelphia) in an 18-hole playoff over fellow Americans Lloyd Mangrum and George Fazio.
Why it matters: Just 16 months earlier, Hogan had nearly died in a car accident that doctors believed would be career-ending at best. Instead, he won six of his nine career majors after the wreck.
The crash: While driving with his wife in February 1949, a thick fog settled on the road. Hogan slowed down due to the poor visibility but was helpless when a Greyhound bus veered and hit his car head-on.
Hogan only had time to throw himself in front of his wife in the passenger seat to protect her, and this ultimately saved his life, as the Greyhound's steering column punctured the driver's seat.
Doctors diagnosed Hogan with a fractured left collarbone, a double fracture of his pelvis, a broken ankle and a chipped rib. Blood cots complicated surgery, and Hogan weighed just 117 pounds after a month in the hospital, leaving his golf career in doubt. 16 months later, he was back.
The shot: At the 1950 U.S. Open, Hogan fought through pain during a grueling, 36-hole Saturday (rounds 3 and 4) to force a three-way, 18-hole playoff, which teed off on Sunday.
Round 4, 18th hole: In need of a par to make the playoff, Hogan pulled out his 1-iron from the fairway and hit one of golf's most iconic shots (pictured above, hanging on my wall), landing it 40 feet from the pin and two-putting for par.
Fun fact: As if the story needed any more color, Hogan's 1-iron was stolen from his bag that night and returned to him 33 years later when a golf club dealer found it in a set he bought for $150.
🎥 Watch: Highlights (YouTube)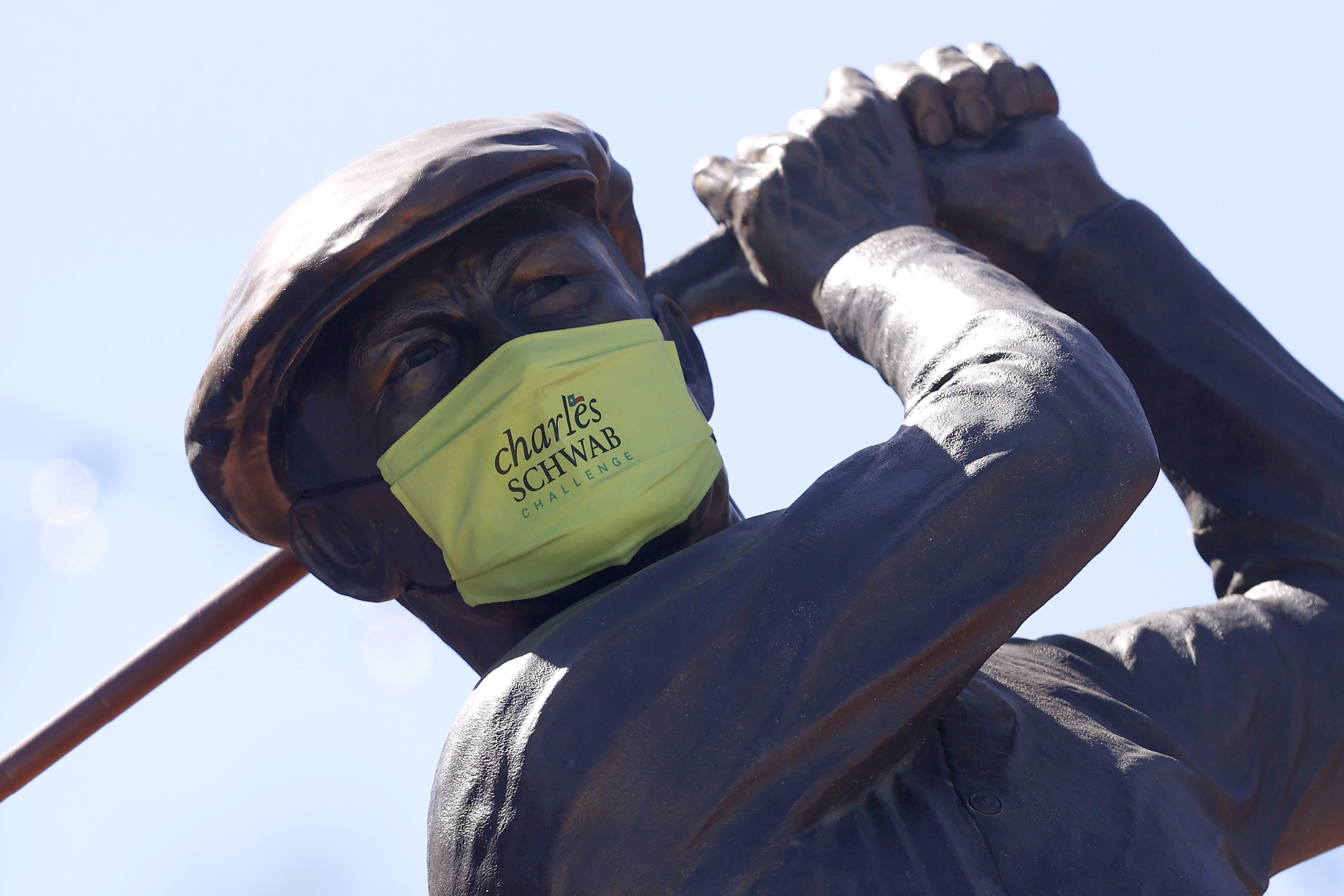 P.S. ... A statue of Hogan sits near the clubhouse at Colonial Country Club, the site of this weekend's PGA Tour event. The Fort Worth resident won there five times, earning the course the nickname, "Hogan's Alley."
7. 📚 Good reads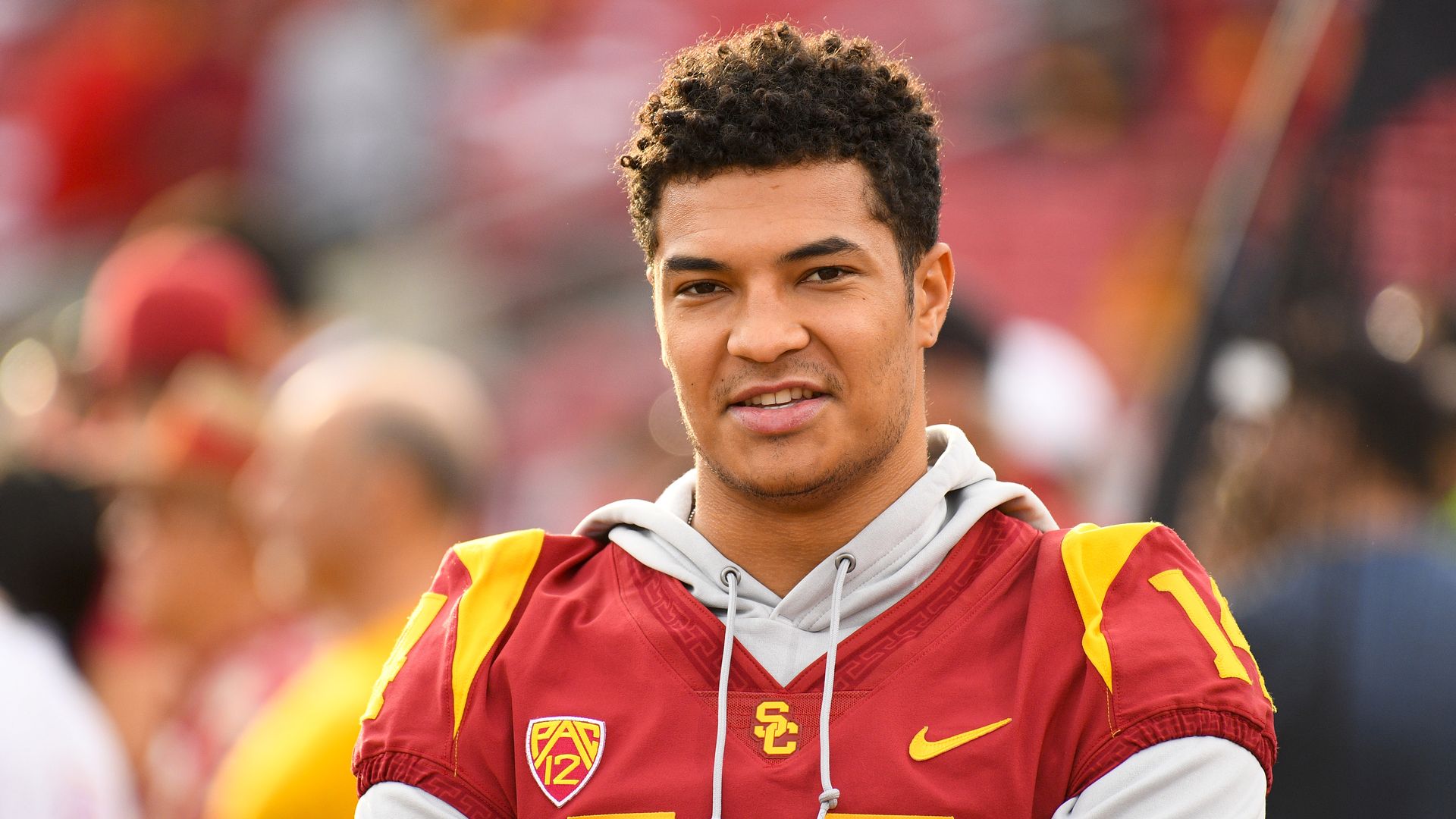 🏈 The mystery of Bru McCoy (Mirin Fader, B/R)
"He was the top athlete in the 2019 recruiting class, then transferred twice and missed time with an illness no one could explain. So what's really going on with Bru McCoy? Back with USC and yearning to compete, he finally shares his story."
🇺🇸 It's not which sports figures are speaking out that's telling. It's how many. (Thomas Boswell, WashPost)
"To a degree unseen in a lifetime, the president has lost America's clubhouse. Is the White House next?"
🏀 The zany, true story of the Colorado 14ers (Nick Kosmider, The Athletic)
"Eleven years after the 14ers left town on the ultimate high note, the Nuggets are still searching for the right opportunity to build a minor-league franchise. Denver is one of only two teams in the NBA, along with the Portland Trail Blazers, that doesn't have its own G League affiliate."
8. The Ocho: 🏓 Pickleball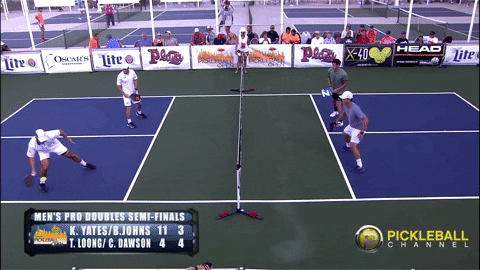 Pickleball is a combination of badminton, tennis and ping-pong — and just so happens to be the perfect pandemic pastime, Axios' Jeff Tracy writes.
History: Pickleball was invented in 1965 by future congressman Joel Pritchard in his backyard in Bainbridge Island, Washington.
Trying to play badminton, but unable to find a shuttlecock, Pritchard reached for a Wiffle ball, lowered the net and quickly fashioned some crude wooden paddles.
The name, Pritchard's wife explained, came from the mash-up of elements required to invent it, which "reminded [her] of the Pickle Boat in crew where oarsmen were chosen from the leftovers of other boats."
The rules: Games are generally played to 11 (win by two) on a badminton-sized court (20' x 44') with plastic balls and paddles. You can play doubles or singles.
Points are only scored by the service team.
Volleying is allowed as long as it's not on the service return or the return of that return, and as long as it's not from within the zone in front of the net.
Glossary:
Picklers: People who play pickleball.
Dink: The equivalent of a drop shot in tennis.
The kitchen: The zone on either side of the net (seven feet deep and the full width of the court) where volleying is not allowed. In fact, you can only step inside the kitchen if the ball first bounces there; otherwise, even your momentum is not allowed to take you inside.
🎥 Go deeper:
9. ⛳️ Golf trivia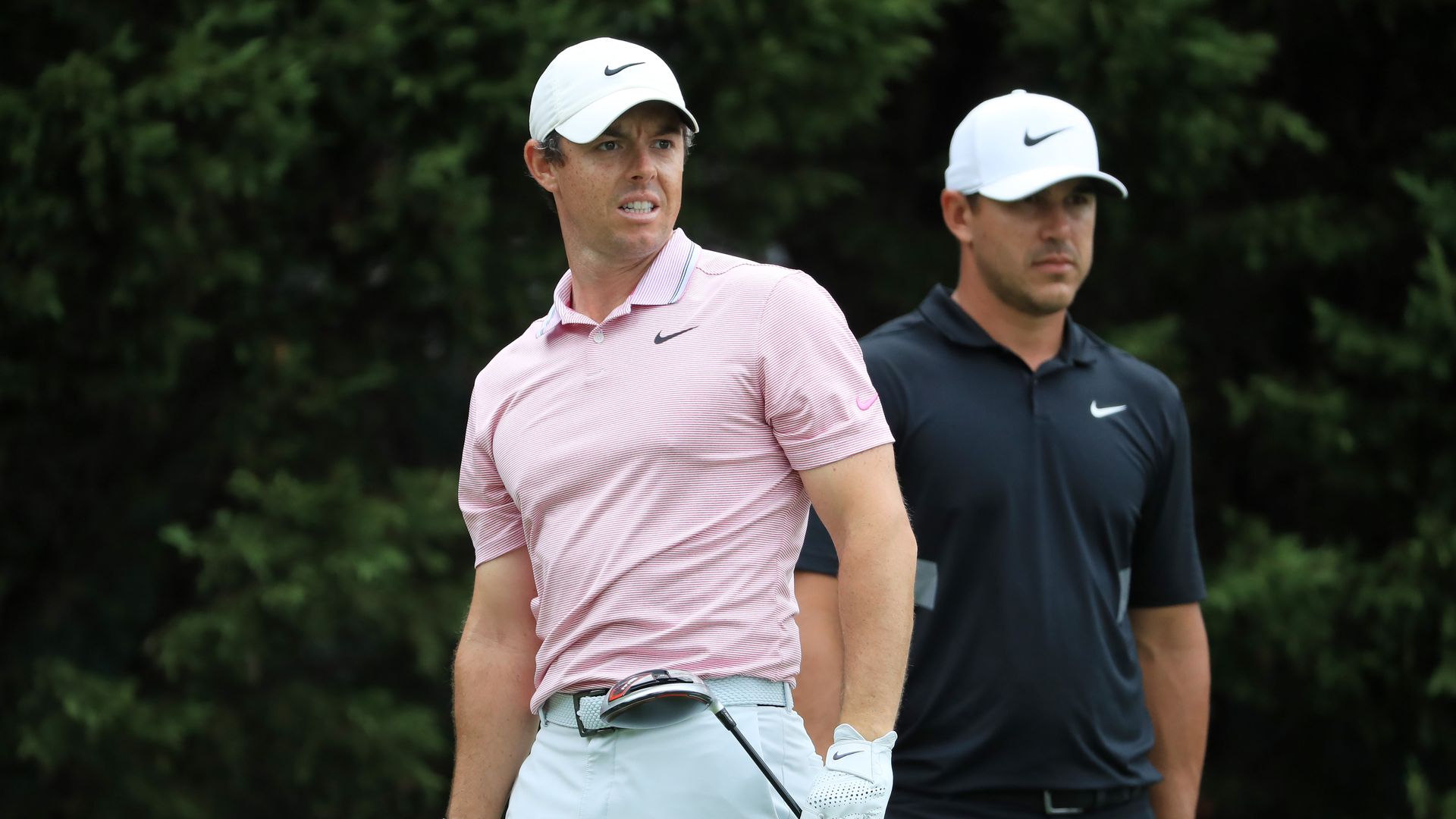 Brooks Koepka and Rory McIlroy both won four majors last decade, more than anyone else on the PGA Tour.
Question: Who was second with three major victories?
Hint: His last win came in 2017.
Answer at the bottom.
10. ❤️ Why we love sports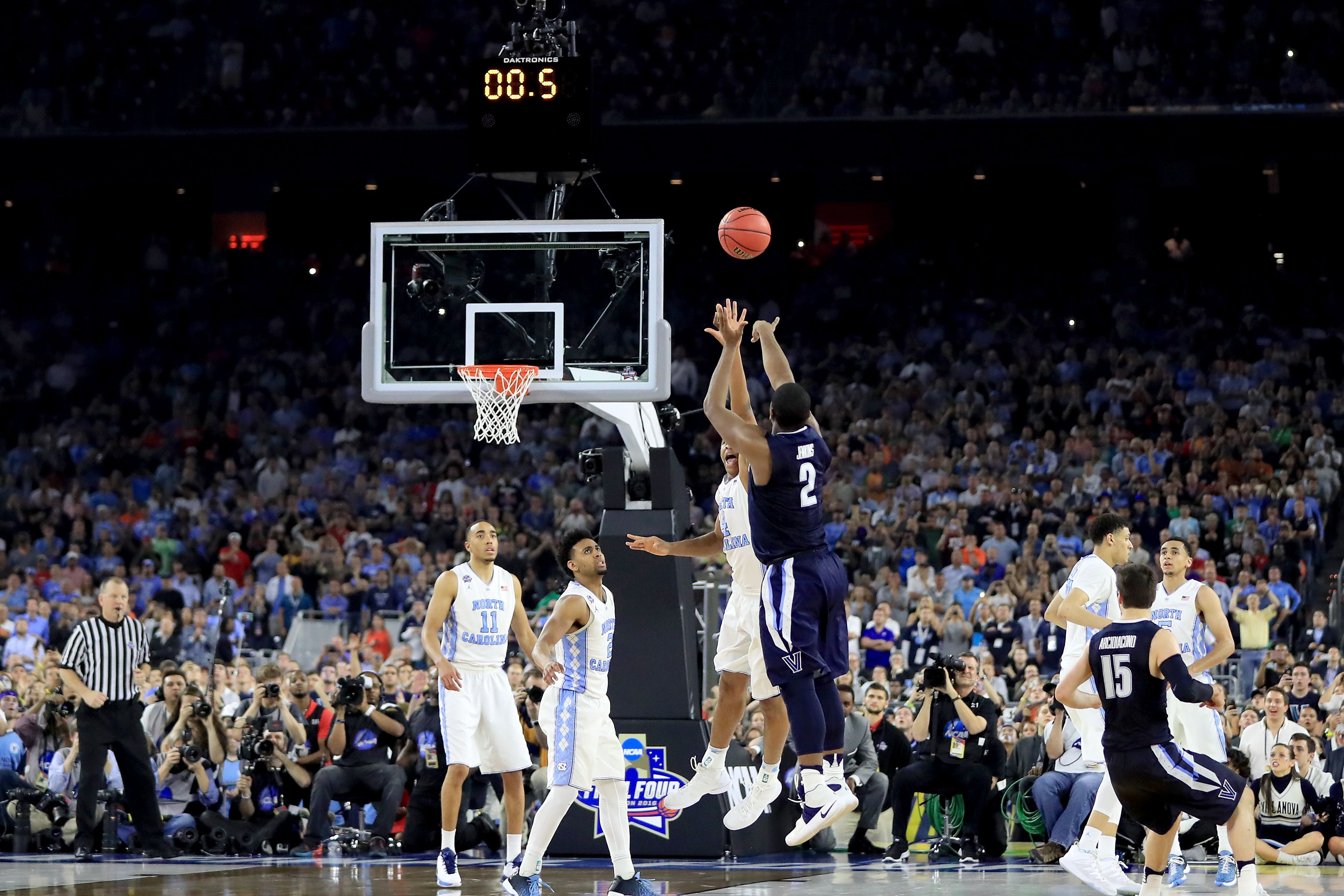 Jason S. (Seattle) writes:
"In 2016, Villanova's buzzer-beating three-pointer soured the first and only time my dad and I have been able to watch a UNC national championship game together. It was crushing for him, my wife, and me — all Carolina alumni — but admittedly ... what a shot. 
"The following year, the stars aligned in several ways. First, for his 70th birthday, my father and I went to Vegas (his first trip there) and saw Luke Maye's shot hit bottom against Kentucky amongst a sea of Wildcat fans in a crowded Caesars Place sportsbook.
"Then, in a fortuitous coincidence, my wife and I were already scheduled to be in Phoenix when the redemption-focused Tar Heels made it back to the title game. Against my checkbook's wishes, we bought tickets, and were in the building when our beloved Heels cut down the nets.
"All that build-up... Sports, man."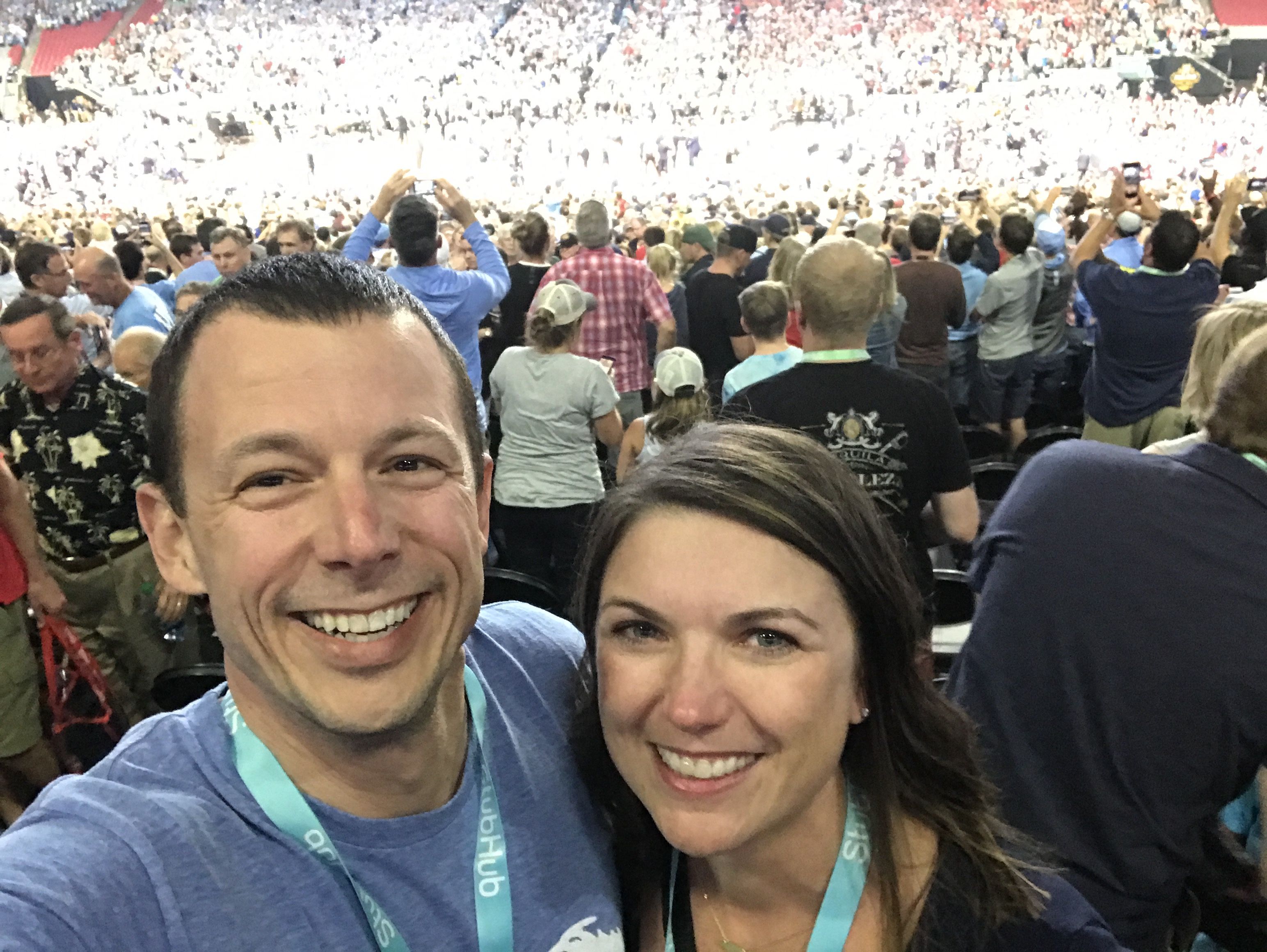 ✍️ Submit your story: Do you have a fondest sports memory? Or an example of sports having a positive impact on your life? If you'd like to share, simply reply to this email. We'll be telling your stories until they run out.