👋 Welcome back! The sports world lost three good ones this weekend.
Today's word count: 1,173 (< 5 minutes). Let's dive in...
1 big thing: 🏒 Krug soars, Boston rolls in Game 1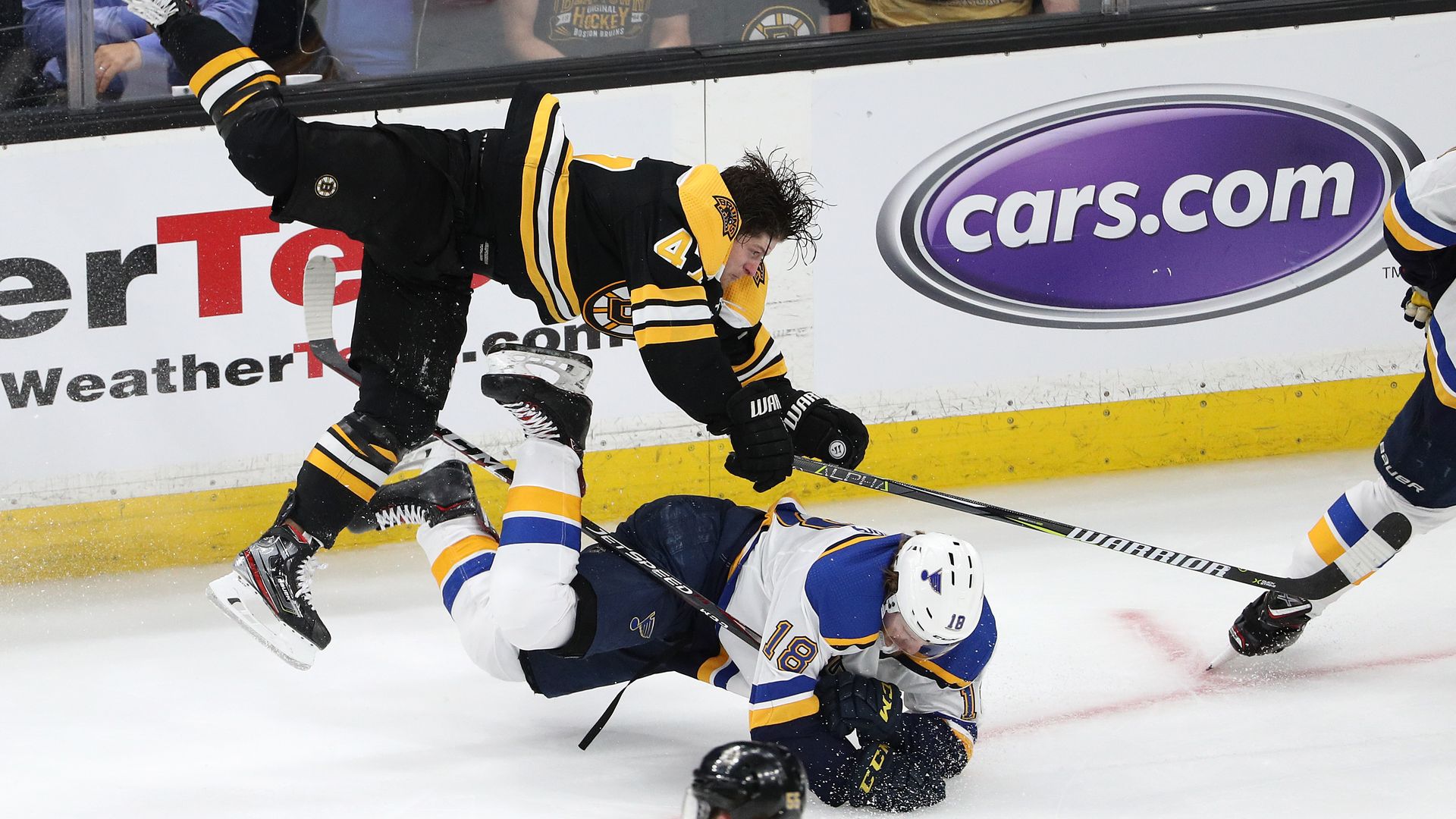 Quickly:
Score: Bruins 4, Blues 2 (BOS leads 1-0)
Stat: The Blues scored the first goal for the 14th time in 20 playoff games. Prior to last night, they had been 10-3 when scoring first and 6-1 when leading after the first period.
Highlight: After losing his helmet in a scrum, 5-foot-9 Bruins defenseman Torey Krug skated the length of the ice with his hair flowing and delivered a huge hit, flying through the air Bobby Orr style. It set the tone for the rest of the game and, potentially, the rest of the series.
The big picture: Stories matter, and the Blues are on the precipice of writing one of the great ones. But history matters, too, and the city of Boston is now three wins away from accomplishing something we haven't seen since 1936.
If the Bruins win the Cup, it will make Boston the first city/metro area in 83 years — and the first in the Super Bowl era — to simultaneously hold championships in the NHL, NFL and MLB.
The only other two cities to accomplish "The Triple" were New York in 1927-28 (Rangers, Giants, Yankees) and Detroit in 1935-36 (Red Wings, Lions, Tigers).
The bottom line: If you're from Boston or enjoy watching cities dominate for long periods of time, root for the Bruins. Otherwise, root for the underdog Blues. Pretty simple.
2. 🏀 Warriors-Raptors: Quick-hitters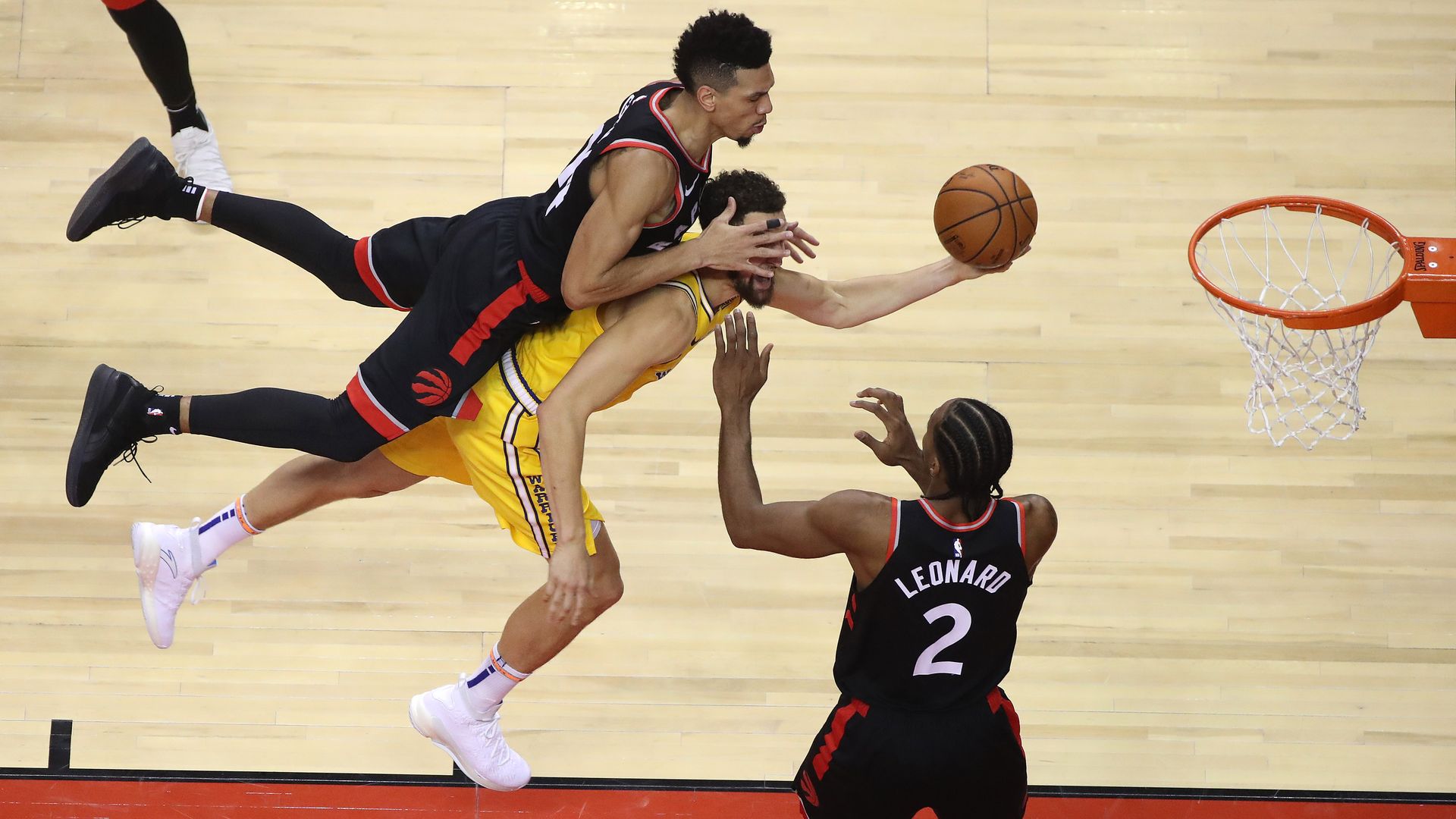 Crazy streak: Every NBA Finals since 1998 has featured either Kobe Bryant, Tim Duncan, Dwyane Wade or Steph Curry.
Crazier streak: For the 36th year in a row, the NBA Finals will include at least one player who played with Shaquille O'Neal (Danny Green played with him in Cleveland in 2009-10).
Raptors X-factor: Danny Green's shot. Toronto beat Milwaukee despite Green shooting 19% (6-of-32) from the field, largely because Fred VanVleet replaced him down the stretch. But against the bigger Warriors, playing VanVleet alongside Kyle Lowry will be tricky.
Warriors X-factor: Kevin Durant's health is obviously the most important factor in this series. Outside of that will be Steph Curry's ability to score on Kawhi Leonard, who Nick Nurse will likely have guarding him for long stretches.
Key matchup: Draymond Green vs. Pascal Siakam could decide this series. Against the Blazers, Green's matchups (Al-Farouq Aminu, Mo Harkless) were non-threats, allowing him to roam free. Siakam commands much more respect. On top of that, he's long and quick enough on defense to slow Green down in the pick-and-roll.
Go deeper: Please read this.
3. 🥍 A magical spring in Charlottesville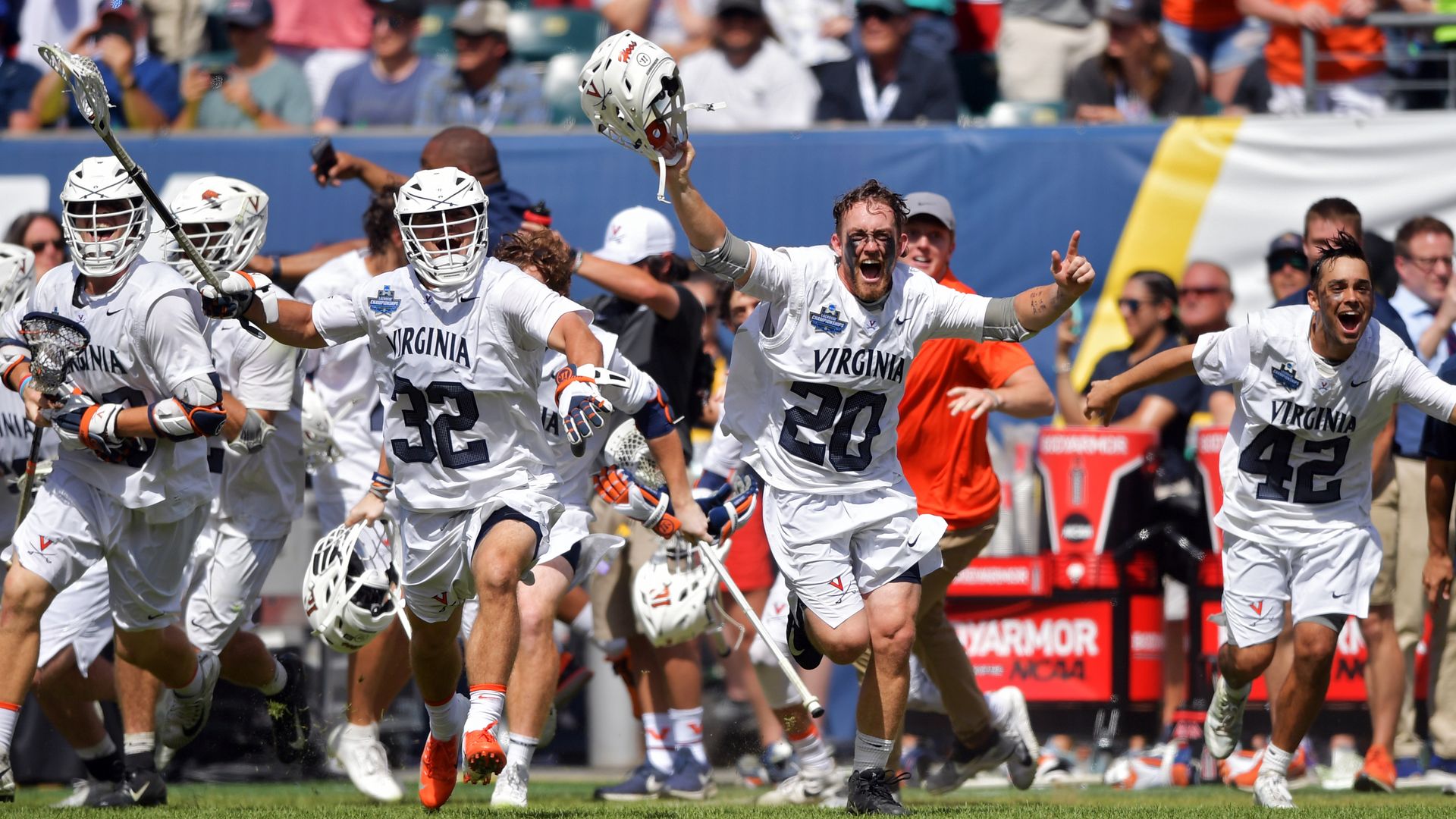 Virginia cruised to a 13-9 victory over defending champion Yale to cap off a miraculous title run and win its first men's lacrosse title since 2011.
MVPs: Sophomore goalie Alex Rode (13 saves) was named the tournament's most outstanding player, and sophomore attackman Matt Moore led the way offensively with four goals and one assist.
Highlight: Lacrosse is organized chaos.
The backdrop: Just like their basketball team, UVA suffered a first-round exit to a small college in Baltimore last season (Loyola). And just like their basketball team, UVA's title run this season was full of epic comebacks.
In the quarterfinals, they rallied to beat Maryland in OT after trailing by five with less than six minutes left in regulation. And in the semis, they beat Duke in double OT after trailing by two with 1:25 left in regulation.
Fun fact: Virginia is the third school to win a men's basketball and men's lacrosse title in the same season, joining UNC (1982) and Duke (2010).
All title games:
What's next: Plenty more lacrosse coming your way this summer. The action continues on Saturday, with Week 1 of the Premier Lacrosse League's inaugural season.
4. ⚾️ NCAA baseball bracket unveiled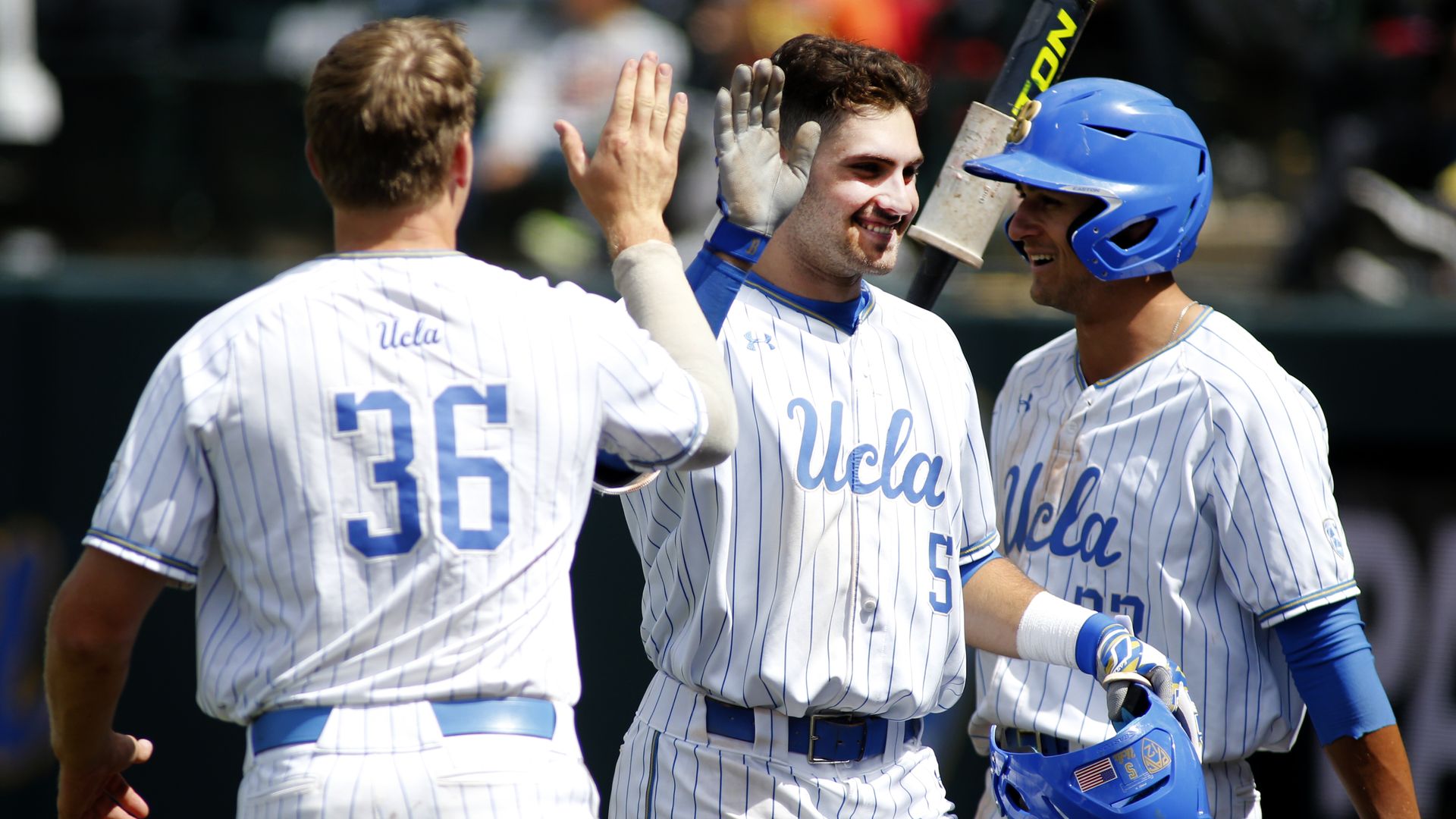 Pac-12 champion UCLA is the No. 1 overall seed in the NCAA baseball tournament, which begins on Friday with regional play. The Bruins (47-8) won every series this season and are currently riding a 10-game winning streak.
No. 2 seed: Vanderbilt (49-10) has won 22 of its last 23 games and is the first team to sweep the SEC regular-season and tournament championships since it did so in 2007.
Seeds 3-8: Georgia Tech, Georgia, Arkansas, Mississippi State, Louisville, Texas Tech (will all play at home next round if they win regionals).
Seeds 9-16: Oklahoma State, East Carolina, Stanford, Ole Miss, LSU, UNC, West Virginia, Oregon State.
Last four in: Duke, FSU, Michigan, TCU.
First four out: Houston, Missouri, Texas State, UCF.
5. 🏁 This weekend in racing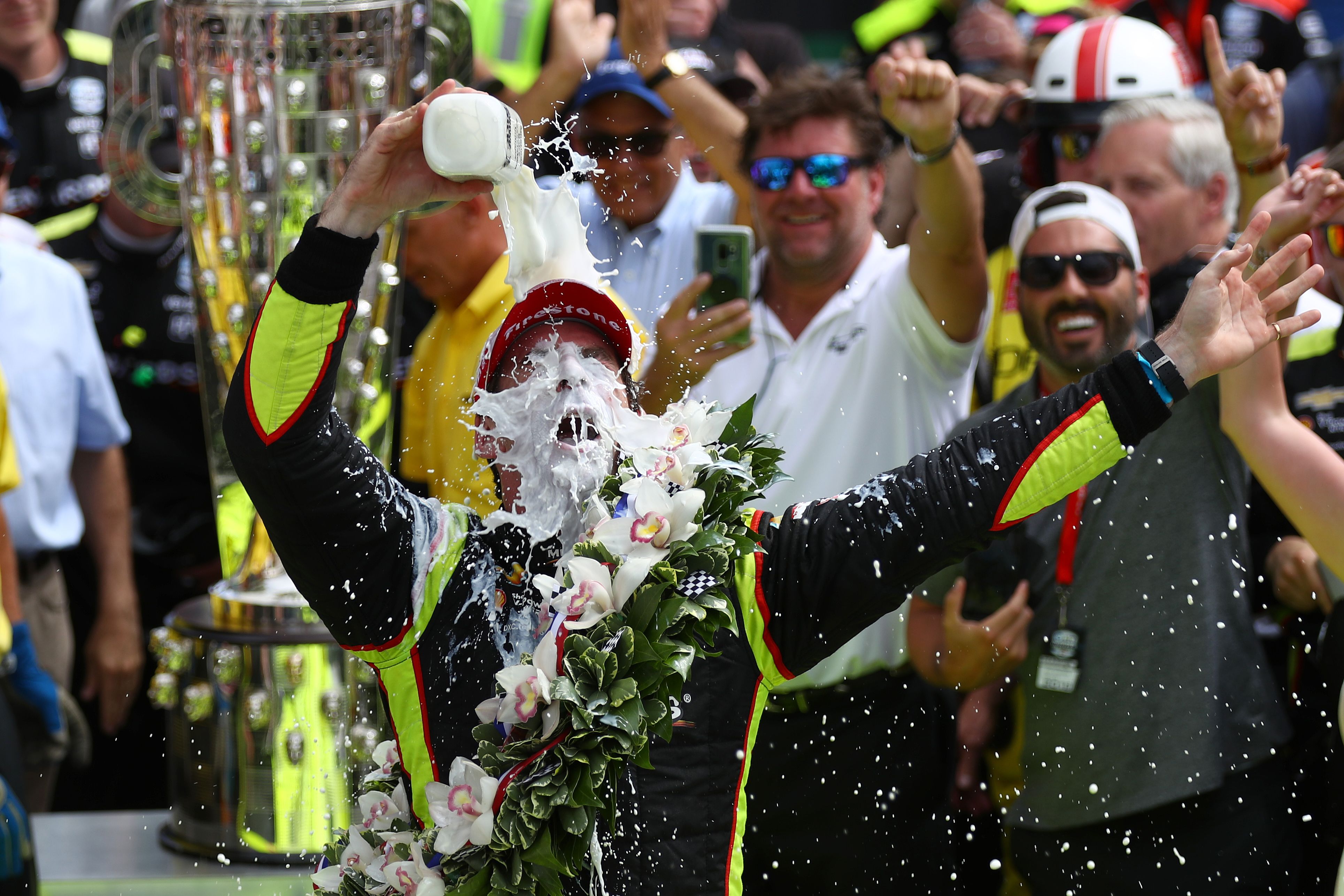 Photo: Clive Rose/Getty Images
INDIANAPOLIS — France's Simon Pagenaud won the Indianapolis 500 on Sunday, holding off Alexander Rossi, who briefly took the lead with less than two laps to go.
Milk facts: Pagenaud drank whole milk after winning, per Darren Rovell. Only one driver requested fat free milk — something a winner has never done. Thanks for the insight, Darren.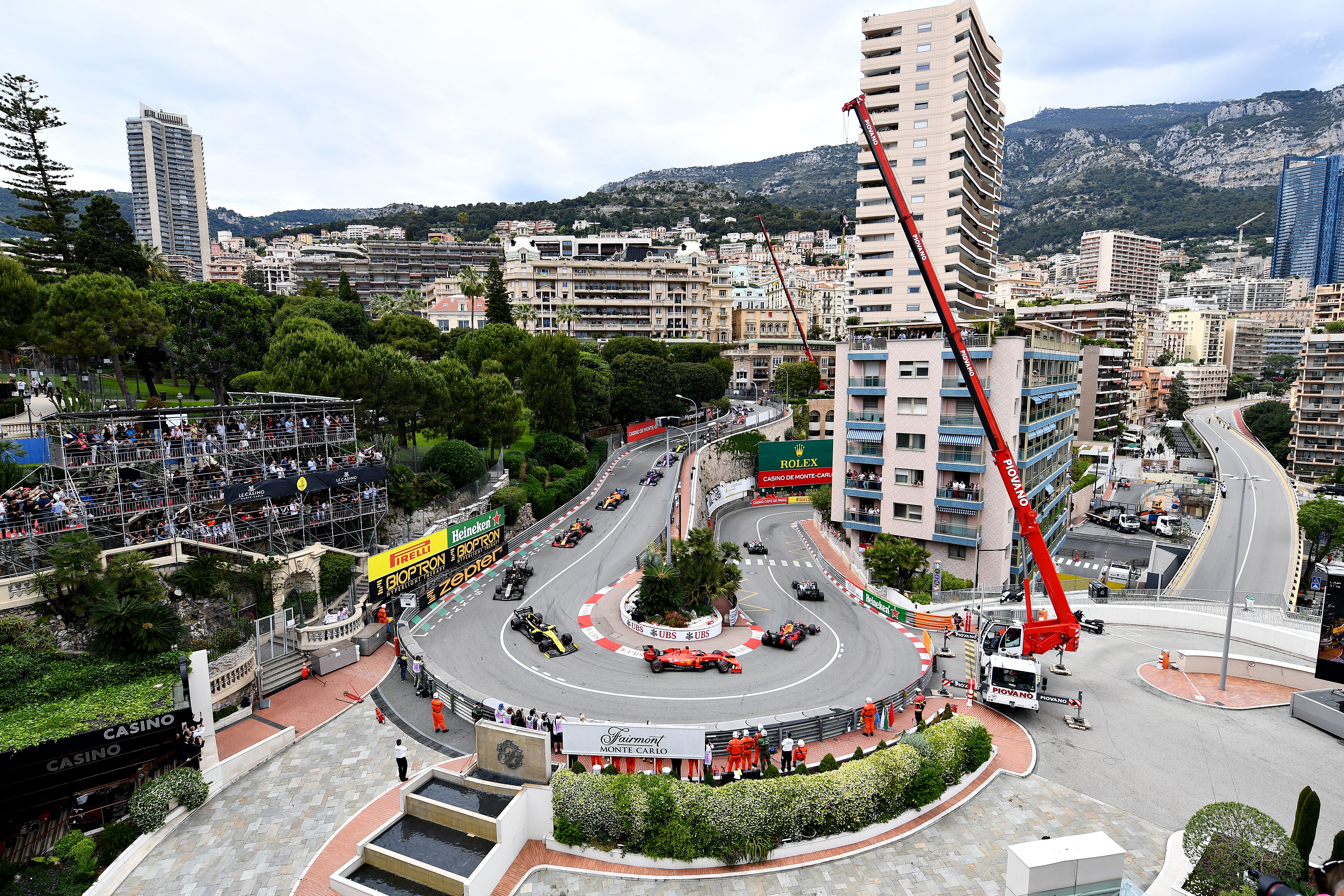 Photo: Michael Regan/Getty Images
MONTE CARLO, MONACO — With his tires failing, Lewis Hamilton (Mercedes) held on to win his third Monaco Grand Prix. Sebastian Vettel (Ferrari) placed second, denying Mercedes its sixth straight one-two finish. Go deeper.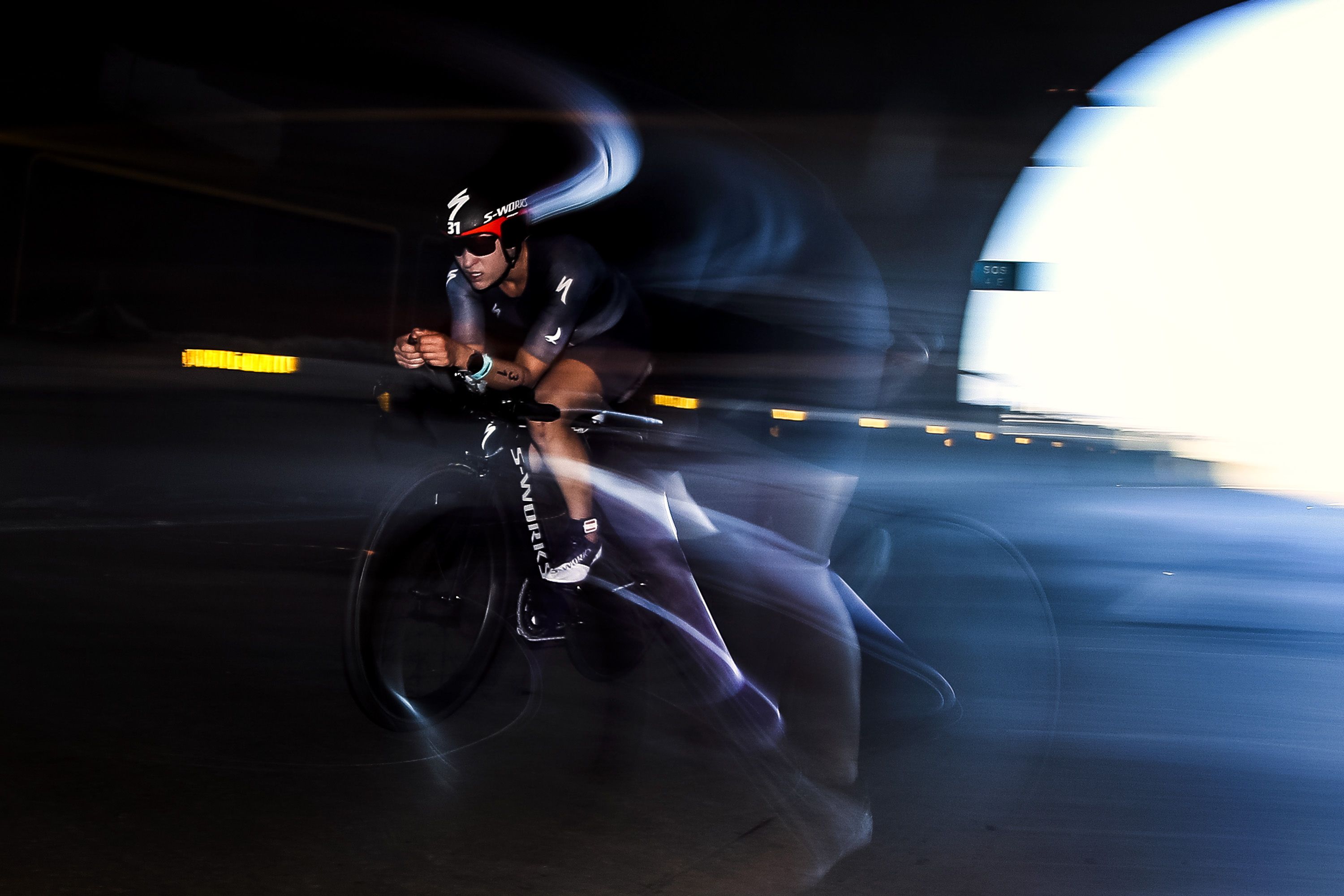 Photo: Buda Mendes/Getty Images
FLORIANOPOLIS, BRAZIL — A triathlete competes in the IRONMAN Florianopolis, which was won by two Americans, Andy Potts and Sarah Piampiano. P.S. ... This video gets me jacked up.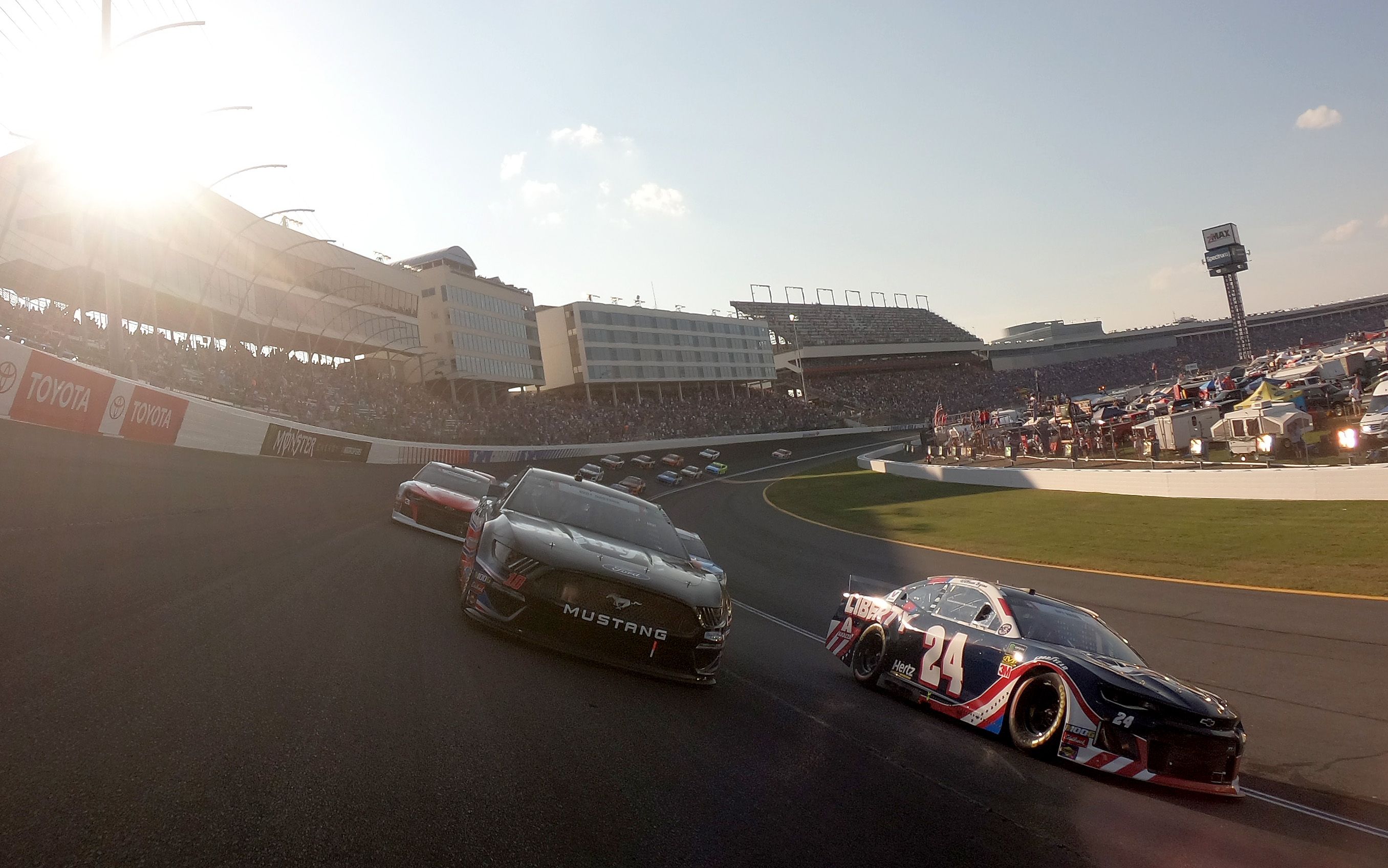 Photo: Jared C. Tilton/Getty Images
CHARLOTTE — Martin Truex Jr. overcame an early flat tire to win the Coca-Cola 600. Brad Keselowski won the first two stages, with Truex picking up wins in the final two stages of NASCAR's longest race. Highlights.
6. ⚾ May 28, 2006: Bonds passes Babe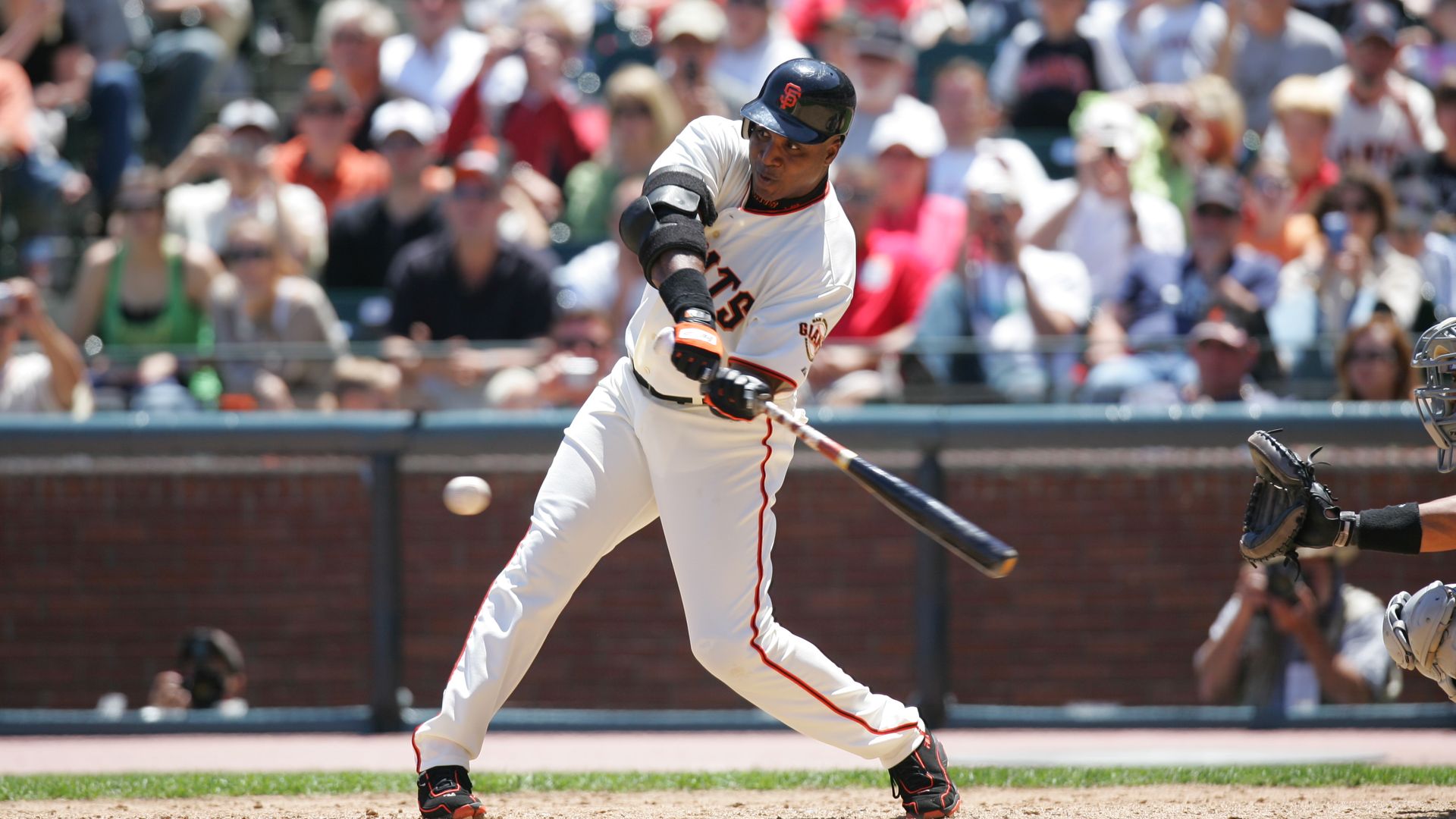 13 years ago today, Barry Bonds hit his 715th home run to pass Babe Ruth for second on the all-time list. Two years later, he passed Hank Aaron for the top spot — asterisk included.
All-time HR leaders:
Barry Bonds* (762)
Hank Aaron (755)
Babe Ruth (714)
Alex Rodriguez (696)
Willie Mays (660)
7. ⚾️ MLB trivia
Question: Speaking of dingers, can you name the top five active leaders in career home runs?
Hint: Four of the five play in the American League.
Answer at the bottom.
8. The Ocho: 🏍 The world's most dangerous race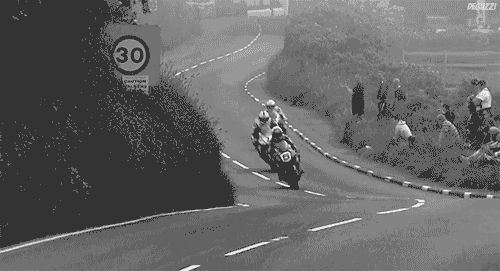 The annual Isle of Man TT Races begin on Saturday. Between 1907 and 2018, there have been 149 fatalities during official practices or races, including five in 2016.
"For this reason... the TT has few parallels within global sports," per the Times. "The concept of mortality underpins everything here. It gives the race its prestige, opens it to criticism, makes it exhilarating, makes it terrifying. It puts the island on the map."
"It is also why, for two weeks each year, this sleepy rock in the middle of the Irish Sea (population 88,000) becomes something like a rollicking festival ground."
Go deeper: We'll have additional coverage later this week, but for now, familiarize yourself with the world's most dangerous race.
9. 🔍 Reader spotlight: Meg Reilly
Want the chance to be featured in the newsletter? Invite one friend to Axios Sports by using your unique referral link.
Name: Meg Reilly
City: Boston
Job: Director of Communications, Boston Athletic Association
Favorite team: Boston Celtics
Favorite athlete: Bill Russell
Favorite sports movie: "A League of Their Own"
Favorite sports social media follow: @Fast_Women
Favorite song: "Bad Blood" by Taylor Swift
Favorite sports memory: Des Linden winning the Boston Marathon in 2018. I found out while I was also running, couldn't tell my tears from the rain!
Where/when do you read Axios Sports? On the train.
10. 🎰 Make your picks!
Axios Pick 3 is powered by The Action Network, your one-stop shop for all things sports betting. Download the app, it's free.
1. Who will cover the spread in Indians (+1.5) vs. Red Sox?
Pitching matchup: Zach Plesac (MLB debut) vs. David Price (2-2, 3.14 ERA)
2. Will Bryce Harper record an extra-base hit against the Cardinals?
Know this: Harper is 11-25 (.440) career against Cardinals starter Adam Wainwright
3. How many combined runs will be scored in Diamondbacks vs. Rockies?
🎰 Play now: Make your picks (cutoff time: 7pm ET)
See you tomorrow,
Kendall "Hello Bryce" Baker
Trivia answer: Albert Pujols (641), Miguel Cabrera (467), Edwin Encarnacion (393), Nelson Cruz (367), Curtis Granderson (338).