Axios Sports
June 08, 2020
👋 Happy Monday. Let's sports.
Today's word count: 1,926 words (7 minutes).
1 big thing: 🏈 The 72 hours that changed the NFL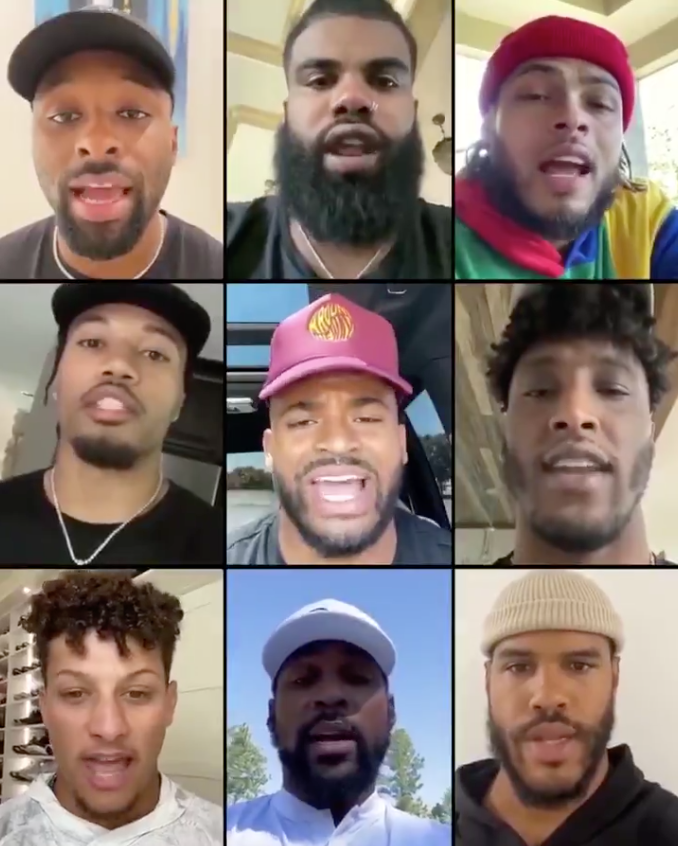 Over the course of 72 hours last week, some of football's brightest stars — with help from a pair of NFL staffers — successfully pressured the league to take a stand against racism and support their right to peacefully protest.
Why it matters: If actions follow words, then Wednesday, Thursday and Friday changed the NFL forever. And if actions don't follow words, a new generation of athletes just proved to the league — and to themselves — that they have the power to demand that they do.
How it went down...
Wednesday
Morning: In an interview with Yahoo Finance, Drew Brees says he'll "never agree with anybody disrespecting the flag" when asked about NFL players perhaps kneeling again during the national anthem.
Afternoon: Teammates and other athletes publicly criticize Brees for perpetuating the idea that kneeling was about anything other than racism and police brutality.
Night: Disappointed with the NFL's initial statement on George Floyd's death and the ensuing protests, Bryndon Minter — a white, 27-year-old NFL video producer — reaches out to Saints WR Michael Thomas about making a video to voice what players were feeling. When Thomas expresses interest, Minter (working from his home in L.A.) and colleague Nick Toney (working from his home in New York) begin writing a script.
"I'm an NFL social employee and am embarrassed by how the league has been silent this week. The NFL hasn't condemned racism. The NFL hasn't said that Black Lives Matter. I want [to] help you put pressure on. And arm you with a video that expresses YOUR voice and what you want from the league. Give me a holler if you're interested in working together, thanks bro!"
— Minter's message to Thomas
Thursday
"We will not be silenced. We assert our right to peacefully protest. It shouldn't take this long to admit .... So on behalf of the National Football League, this is what we the players would like to hear you state:
"We, the National Football League, condemn racism and the systemic oppression of black people. We, the National Football League, admit wrong in silencing our players from peacefully protesting. We, the National Football League, believe black lives matter."
Friday
Afternoon: NFL commissioner Roger Goodell holds a town hall meeting, in which numerous black employees — who had already been leading an internal push against the league's initial statement — voice their feelings. Goodell talks about being reminded of the emotions he felt as a kid watching protesters push back against the Vietnam War. "He was very, very emotional," one person in attendance told WSJ (subscription).
Night: The NFL posts a video of Goodell on Twitter, in which he states almost verbatim what the players wanted to hear. Notably absent, however, is any mention of Colin Kaepernick, which draws criticism.
Later that night: After President Trump criticizes him for apologizing, Brees fires back, saying that he now realizes "this is not an issue about the American flag. It has never been. We can no longer use the flag to turn people away or distract them from the real issues that face our black communities."
The latest ... President Trump sent the following tweet late last night.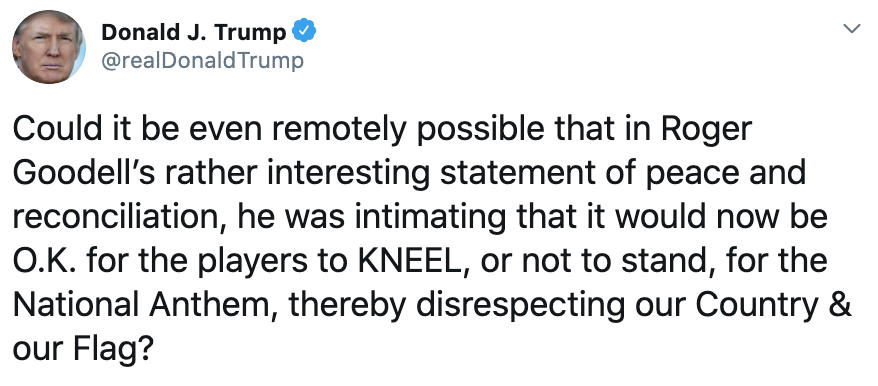 What's next: "Where the NFL goes from here is a lot like where the country goes from here," writes NBC Sports' Peter King. "Will the push continue? Will the 32 owners ... back their commissioner's words when 15 players on some team choose to kneel during the anthem this year? And make no mistake — that's coming."
2. 💬 Tracking team statements
118 of 123 teams (96%) across the big four American sports leagues have issued statements regarding George Floyd's murder and the ensuing nationwide protests.
A week ago, that number was 74 of 123 (60%), though we only reviewed Twitter last time. This week, we also included Instagram and Facebook.
Note: Despite not issuing a formal team statement, we counted the Dolphins because they promoted head coach Brian Flores' strong statement before most teams had said anything. Could go either way with them, though.
The five holdouts: The Knicks and Rangers participated in #BlackoutTuesday, the Redskins participated in #BlackoutTuesday and retweeted a few players, the Yankees posted a Nelson Mandela quote and the Bengals posted nothing.
3. ⚡️ Catch up quick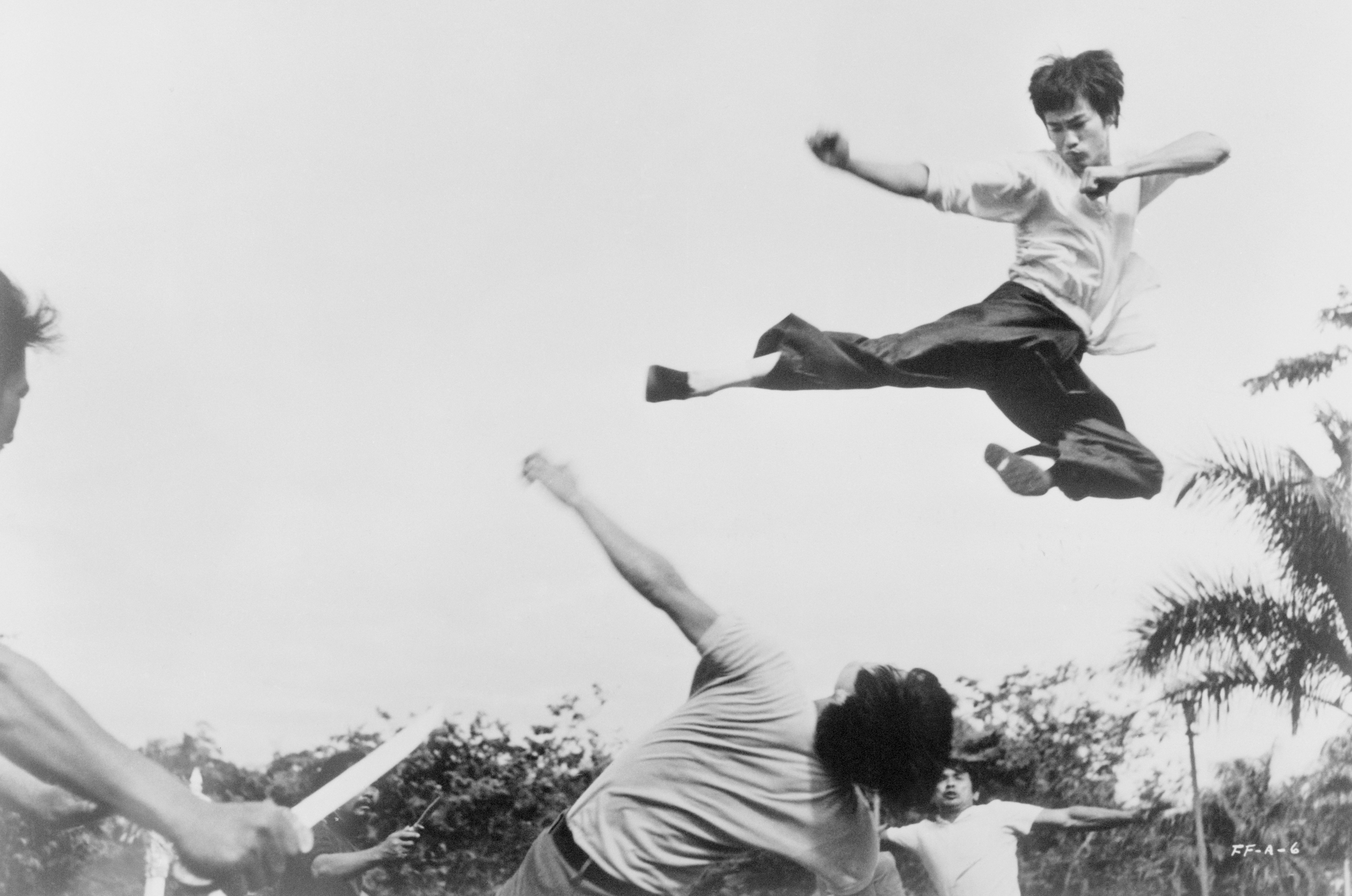 🍿 "Be Water," ESPN's 30 for 30 documentary about martial arts legend, Bruce Lee, premiered last night to rave reviews. If you didn't get a chance to watch, remedy that tonight. Here's a trailer.
🏀 Oklahoma State received a one-year postseason ban and three years probation as a result of the FBI investigation into college hoops recruiting. The nation's top recruit, Cade Cunningham, might de-commit as a result, and Kansas, Louisville and Arizona are among the schools facing similar punishment.
🏈 Donald "Reche" Caldwell, who spent seven seasons in the NFL as a WR following a stellar career at Florida, was shot and killed in his hometown of Tampa Bay on Saturday. He was 41.
🥊 Conor McGregor says he's retiring from fighting. This is the third time he's said this.
4. 📸 Photos from the weekend
LAS VEGAS — Amanda Nunes defended her featherweight title against an overmatched Felicia Spencer on Saturday night, becoming the only two-division champion in UFC history to defend both titles.
The big picture: "The Lioness" has effectively cleared out two divisions, further cementing her G.O.A.T. status. The question now becomes: what's left for her to accomplish? "I don't know what's next," Nunes said post-fight.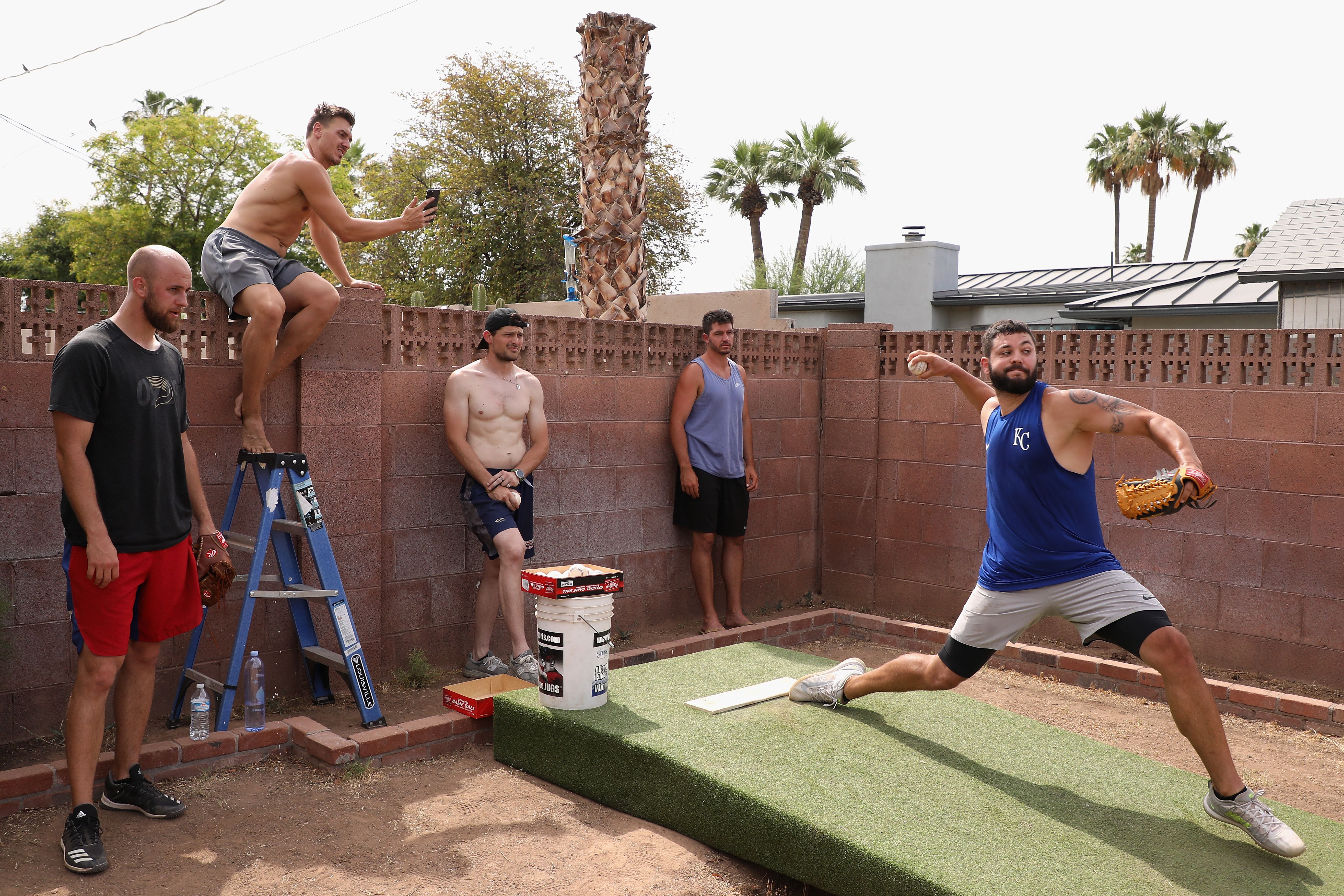 SCOTTSDALE, Ariz. — Padres pitching prospect Seth Blair (standing on stool) set up a practice area in his backyard and opened it to other players who don't have access to baseball facilities during MLB's shutdown.
What they're saying: "For how terrible the overall situation is, it's kind of taken us back to the days when we were 12," Cubs prospect Danny Hultzen (wearing blue tank) told NYT. "You don't necessarily need the turf, the fancy field — you just need a bunch of baseballs and something to throw to."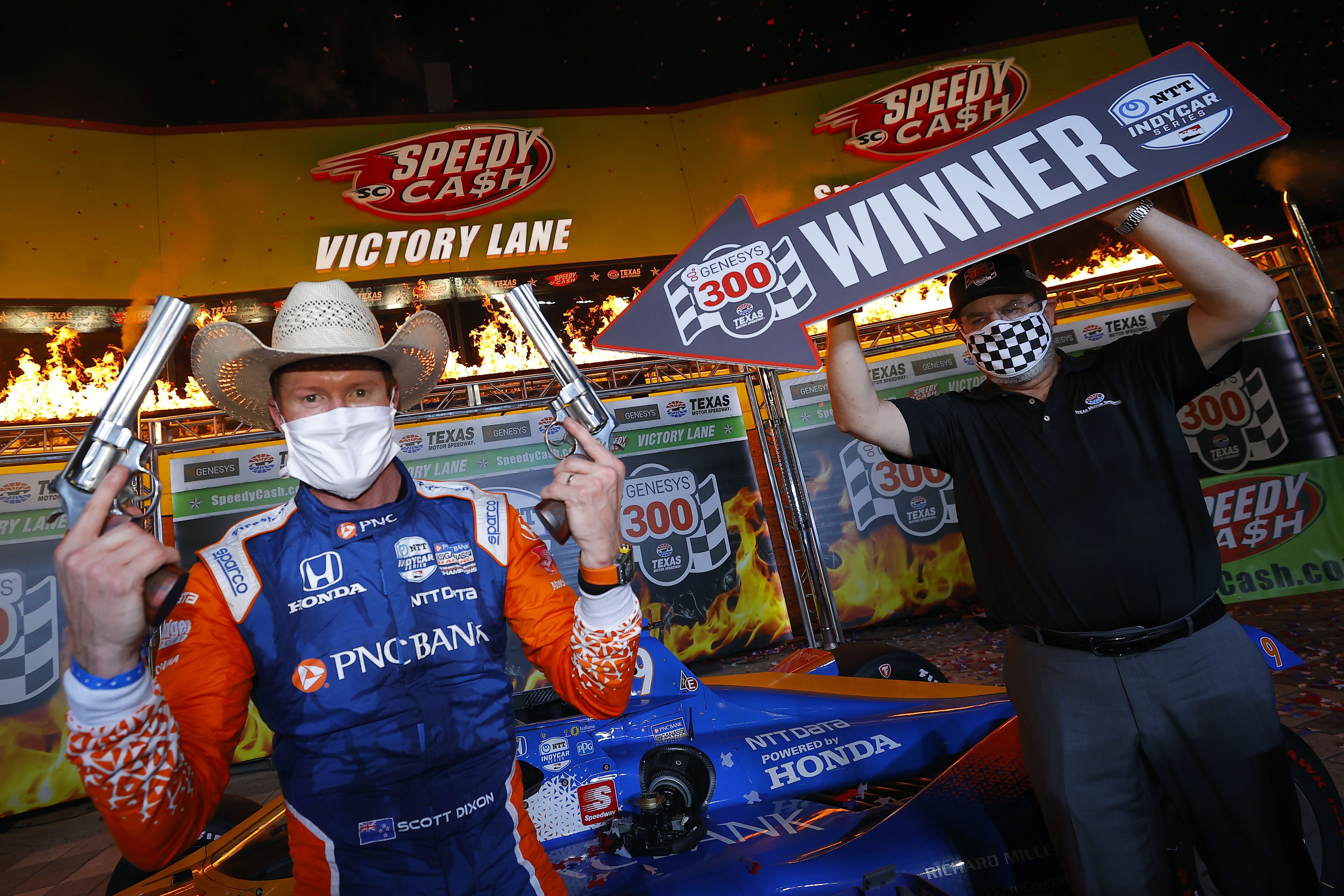 FORT WORTH, Texas — Scott Dixon won IndyCar's delayed season-opening event, racing to his 47th career victory (third all-time) at an empty Texas Motor Speedway.
What he's saying: "It's rotten that the fans aren't here. I wish everybody was here to celebrate," said Dixon, who extended his own record to 16 seasons in a row with a victory.
5. ⚾️ Ranking MLB's all-time rosters (No. 8)
We're ranking the all-time rosters for all 30 MLB teams. Note: Rosters based only on time spent with this specific team. Thoughts? Email me at [email protected].
8. Los Angeles Dodgers
They've got to have the best overall battery, right? Every starting pitcher's in the Hall (except Kershaw, who'll get there) and both catchers are, too. Mike Piazza may be wearing a Mets hat in Cooperstown, but he was never better than his seven years in L.A., with a 160 OPS+ and .331 average.
Year established: 1884 (as Brooklyn Atlantics and later Dodgers)
All-time record: 10,974-9,818 (.528)
World Series Championships: 6
Hall of Famers (indicated by *): 10
Starting lineup:
2B Jackie Robinson* (61.7 bWAR with team)
OF Zack Wheat* (59.6)
DH Mike Piazza* (31.9)
OF Duke Snider* (65.4)
C Roy Campanella* (35.6)
1B Gil Hodges (43.3)
3B Ron Cey (47.7)
SS Pee Wee Reese* (68.2)
OF Willie Davis (54.6)
On the mound: SP Sandy Koufax* (48.9)
Bench:
Infield: 1B Steve Garvey (36.7), 2B Davey Lopes (32.3), 3B Jim Gilliam (40.9), SS Maury Wills (31.9)
Outfield: Pedro Guerrero (32.7), Dixie Walker (34.7), Carl Furillo (34.6)
Utility: Orel Hershiser (44.5), Fernando Valenzuela (37)
Rotation: Clayton Kershaw (67.9), Dazzy Vance* (59), Don Drysdale* (67.1), Don Sutton* (48.7)
Bullpen: Kenley Jansen (16), Eric Gagne (11.1), Jim Brewer (15.7)
Additional notes:
Campanella and Robinson both played for just 10 years, as they didn't make their MLB debuts until their mid-to-late 20's due to the color of their skin. They still combined for four MVPs, a ROY, a batting title and an RBI crown.
Koufax and Kershaw both have five ERA titles, three Cy Youngs and an MVP to their names. Koufax was forced to retire after 12 seasons due to chronic arthritis, while Kershaw — 12 seasons into his career — is finding ways to reinvent himself after years of back issues.
ICYMI ... 30. Rays, 29. Royals, 28. Diamondbacks, 27. Blue Jays, 26. Angels, 25. Padres, 24. Rockies, 23. Brewers; 22. Nationals, 21. Mets, 20. Orioles, 19. Twins, 18. Astros, 17. Marlins, 16. White Sox, 15. Athletics, 14. Phillies, 13. Braves, 12. Pirates, 11. Mariners, 10. Rangers, 9. Cardinals
Huge thanks to Tom Stone, whose book "Now Taking the Field: Baseball's All-Time Dream Teams for All 30 Franchises," provided the inspiration for these rosters.
6. June 8, 2018: 🏀 Warriors sweep Cavs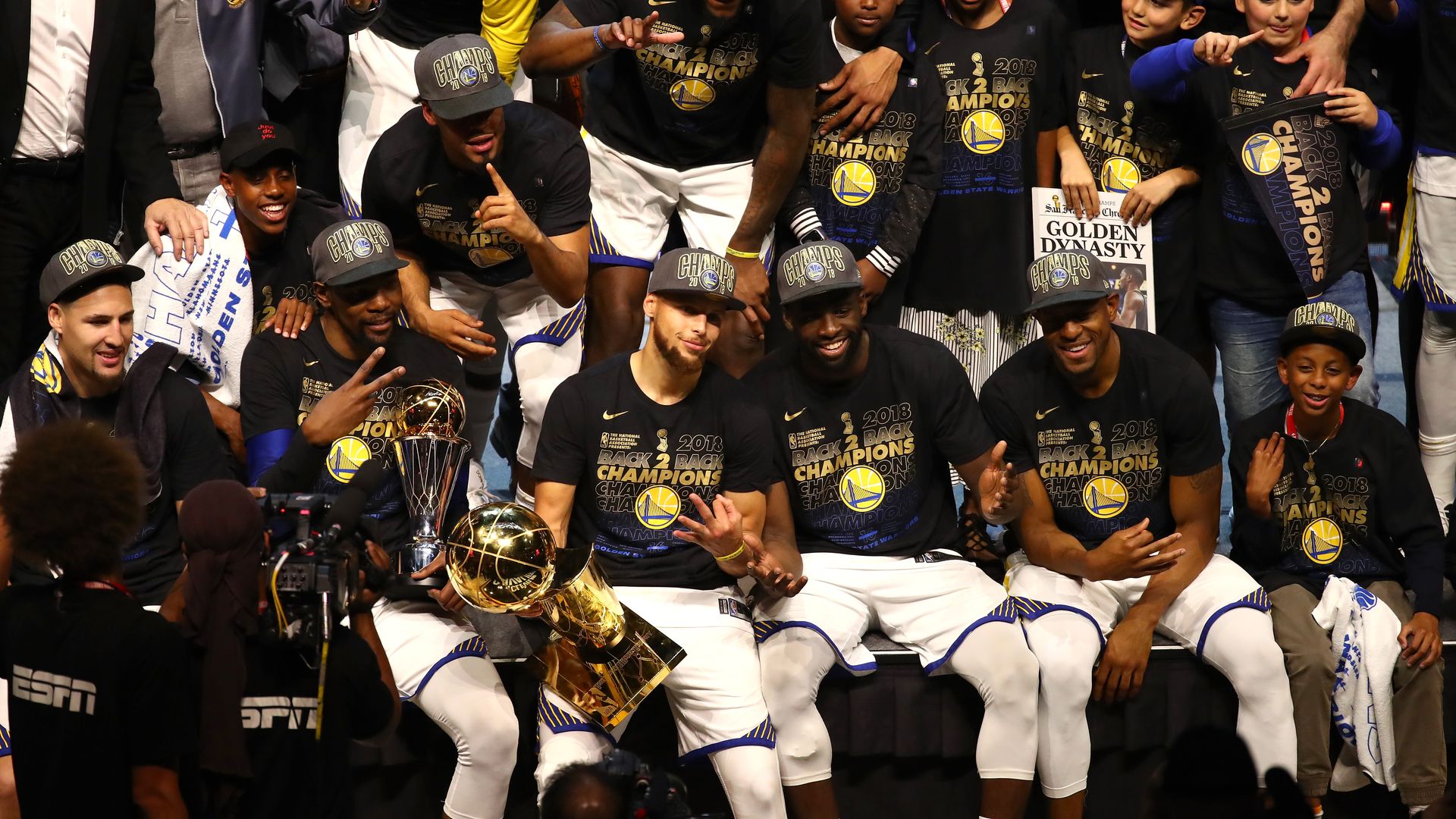 Two years ago today, the Warriors beat the Cavs, 108-85, to complete the four-game sweep and win their third title in four years.
Why it matters: This was the last of LeBron's eight straight Finals appearances, and it cemented this iteration of the Warriors as an all-time dynasty.
Game 1 will forever be remembered for J.R. Smith's epic gaffe, but it should have been remembered for James' superhuman performance (51-8-8) as he dragged an outmatched Cavs team to a near victory on the road.
Game 3 was when all hope for Cleveland was officially snuffed out. Kevin Durant continued to torch them, finishing with 43 points before closing them out in Game 4 with a double-double and his second straight Finals MVP.
🎥 Go deeper: Series highlights (YouTube)
7. 📚 Good reads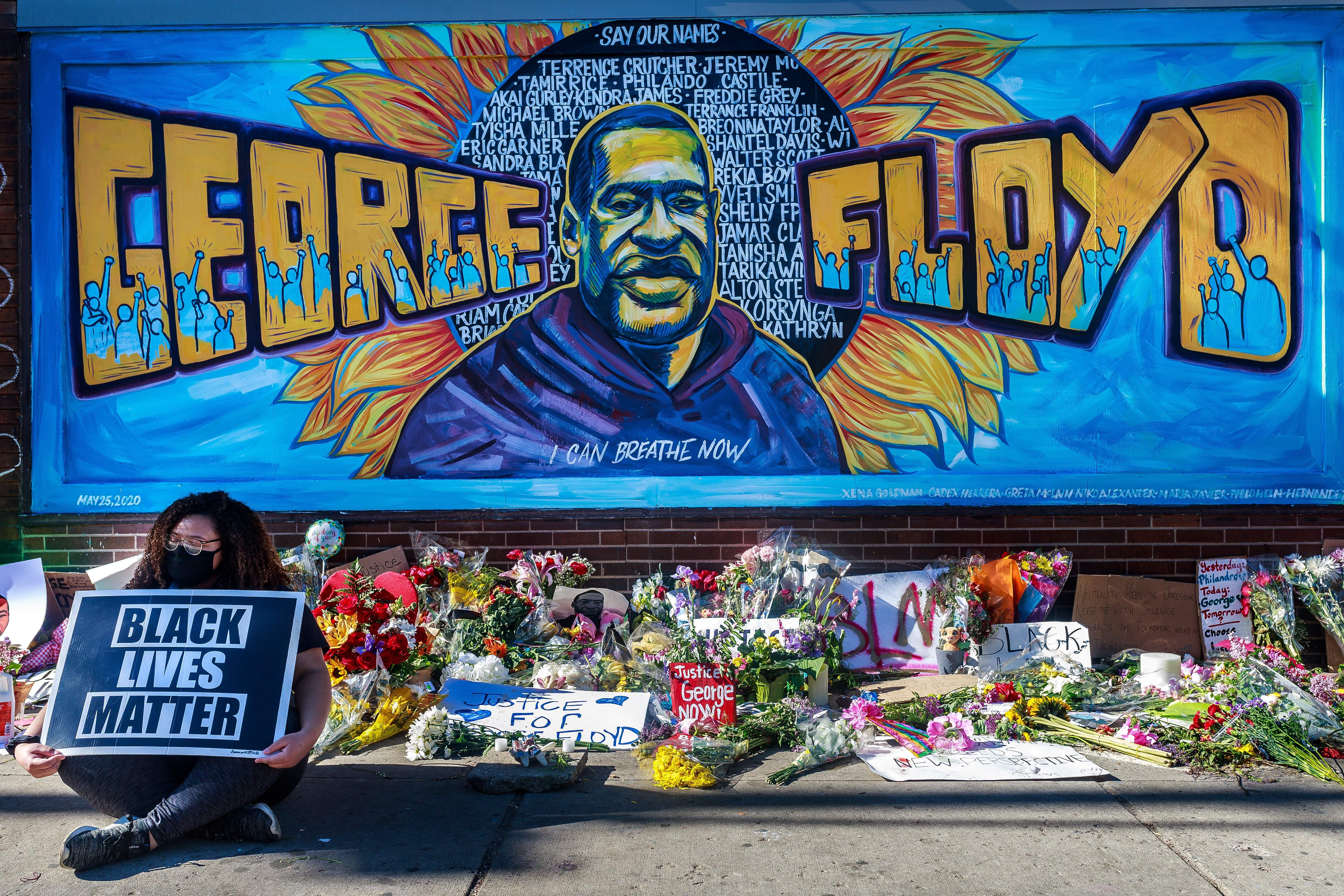 💔 This is not the Minneapolis of my youth (Larry Fitzgerald, NYT)
"People of color across this nation are screaming to be heard. ... When those screams fall on deaf ears the pain of being unheard bears down on your soul. ... Our intrinsic need to be understood intensifies our reactions. Our desperation to be heard can override our better judgment."
⚾️ How baseball can save itself beyond 2021 (Buster Olney, ESPN)
"It's too late to save the industry from all of the damage leaking from the toxic working relationship between the owners and players. ... But there is still a chance to move the game forward and generate a product collaboratively."
💔 At the lowest moment of my life, I rediscovered sports' greatest gift: Hope (Jerry Brewer, WashPost)
"Finite disappointment. Infinite hope. Relentless resistance of the norm. Those concepts are essential to American endurance. Sports, too."
8. The Ocho: 💦 Flyboarding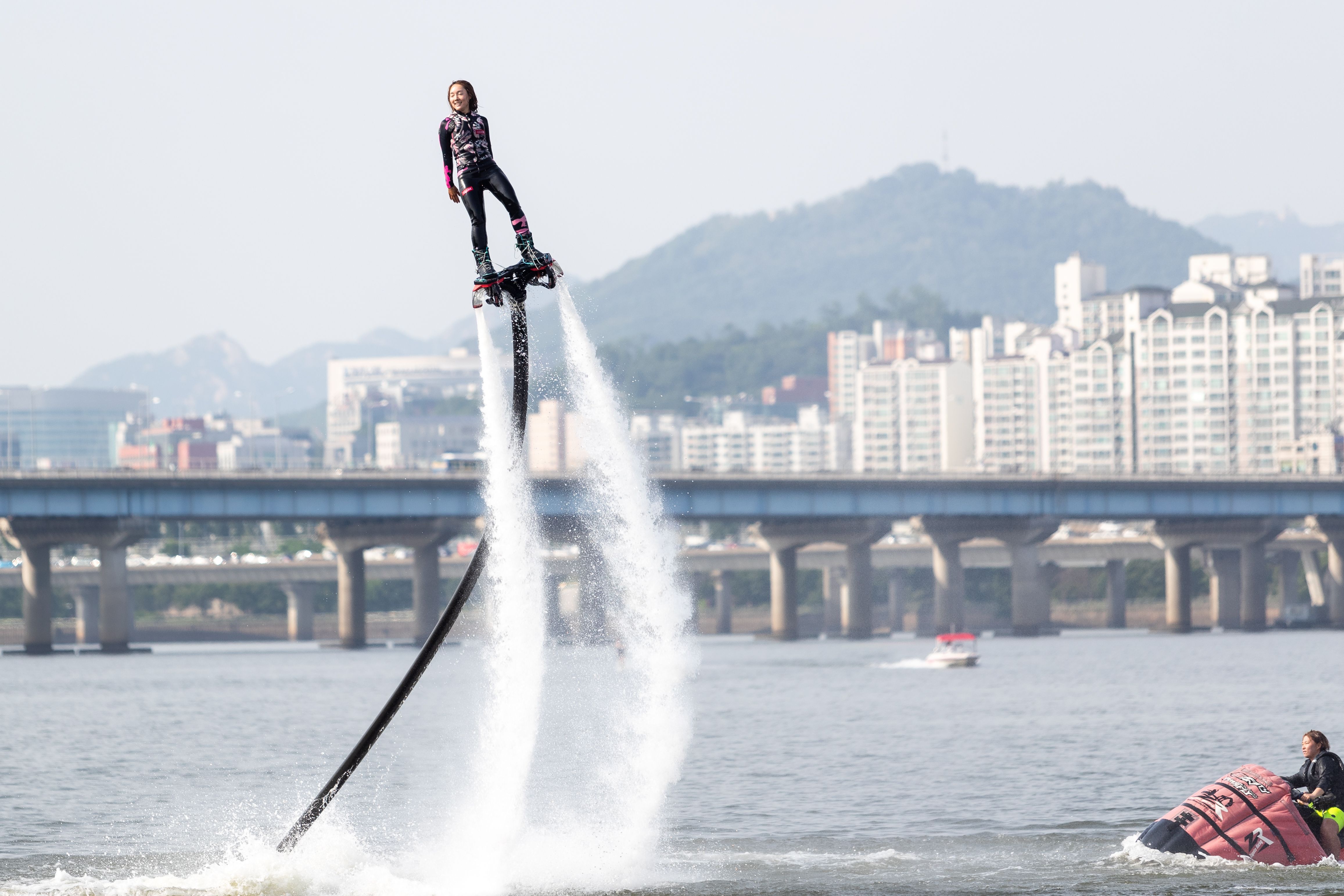 Flyboarding (basically a water jet pack) is firmly on my bucket list.
Pictured above: World champion Park Jin-min giving a demonstration in Seoul, South Korea over the weekend.
Go deeper:
9. 🏀 NBA trivia
James Harden is on pace to win his third straight scoring title, averaging a league-best 34.4 points per game.
Question: Who was the last player to win three straight scoring titles?
Hint: Happened within the last 15 years.
Answer at the bottom.
10. ❤️ Why we love sports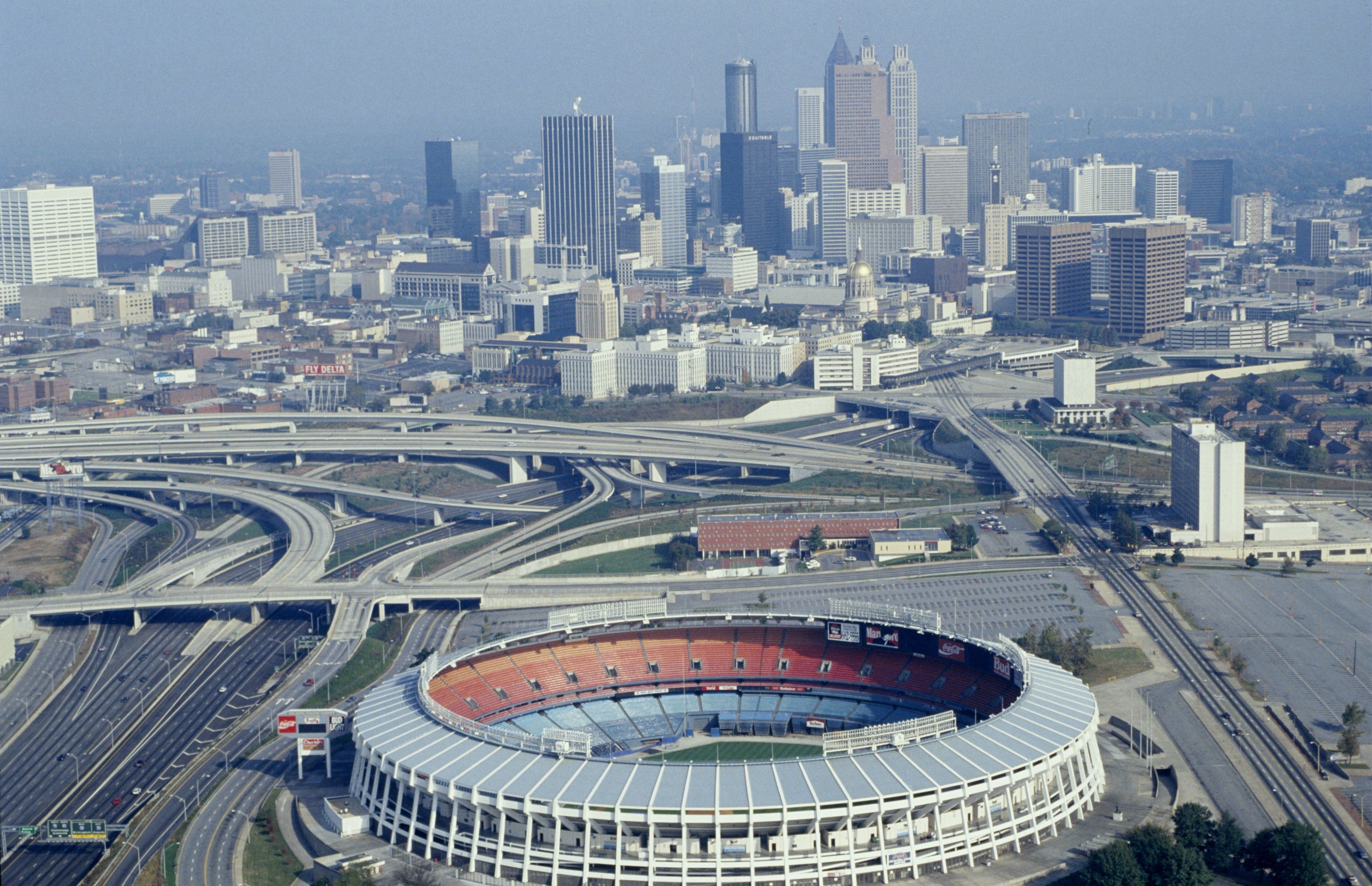 Robert R. (Atlanta) writes:
"Sid Bream's famous slide into home in Game 7 of the 1992 NLCS between the Braves and Pirates was simply sublime. But you have to understand — that moment was not just a single play in a single game.
"It was the crescendo of what had started when the Braves went from worst to first in 1991 before losing to the Twins in one of the greatest World Series ever. Growing up in Atlanta, all the years of losing — was '91 just a fluke? 
"No, sir. In 1992, the Braves claimed the division once again and ultimately faced the Pirates in the NLCS. After six games, the series was tied 3-3 and headed to Game 7 in Atlanta.
"I was a senior at Georgia Tech that year.  My dad took me to the game, and we sat in the upper deck on the 3rd base line — a perfect vantage point for what was going to happen.
"Bottom of the ninth, two outs, two on, down a run. This was it. Francisco Cabrera lines the ball to left ... David Justice scores the tying run ... Bream rounds third and heads home as Barry Bonds fires the ball to home plate...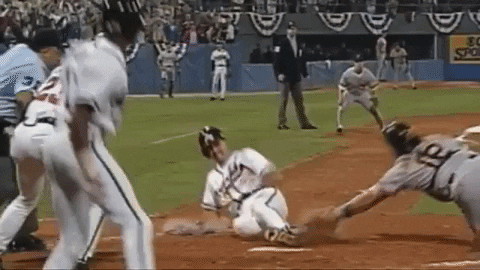 "It felt like the world was moving in slow motion. Then the ump raised his arms and made the call — safe! It was as if the entire crowd did a double take, then the place went crazy. Absolute pandemonium.
"I still get chills when I think about that night. The team going nuts at home plate. Bonds sitting on the grass in left field, deflated. Fans hung around long after the game had ended. In fact, I have no memory of ever leaving."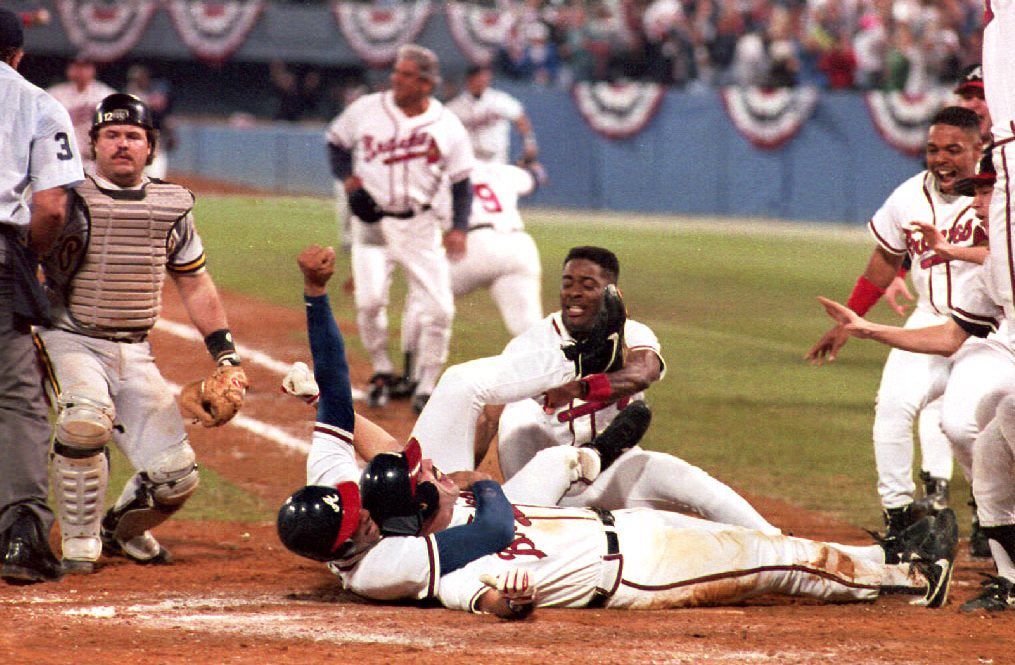 ✍️ Submit your story: Do you have a fondest sports memory? Or an example of sports having a positive impact on your life? If you'd like to share, simply reply to this email. We'll be telling your stories until they run out.
Talk tomorrow,
Kendall "Literally going insane due to lack of sports" Baker
Trivia answer: Kevin Durant (2009-2012)