🎉 Good morning!
⚾️ Watch: Nationals at Cardinals, NLDS Game 1 (8pm ET, TBS)
🏈 Stream: The 2nd episode of HBO's "Hard Knocks"-style college football show is available to stream. Episode 1 focused on Florida, while Episode 2 focuses on Penn State. Here's a trailer.
Today's word count: 1,388 words (5 minutes)
1 big thing: 🏆 Mystics cap magical year with first title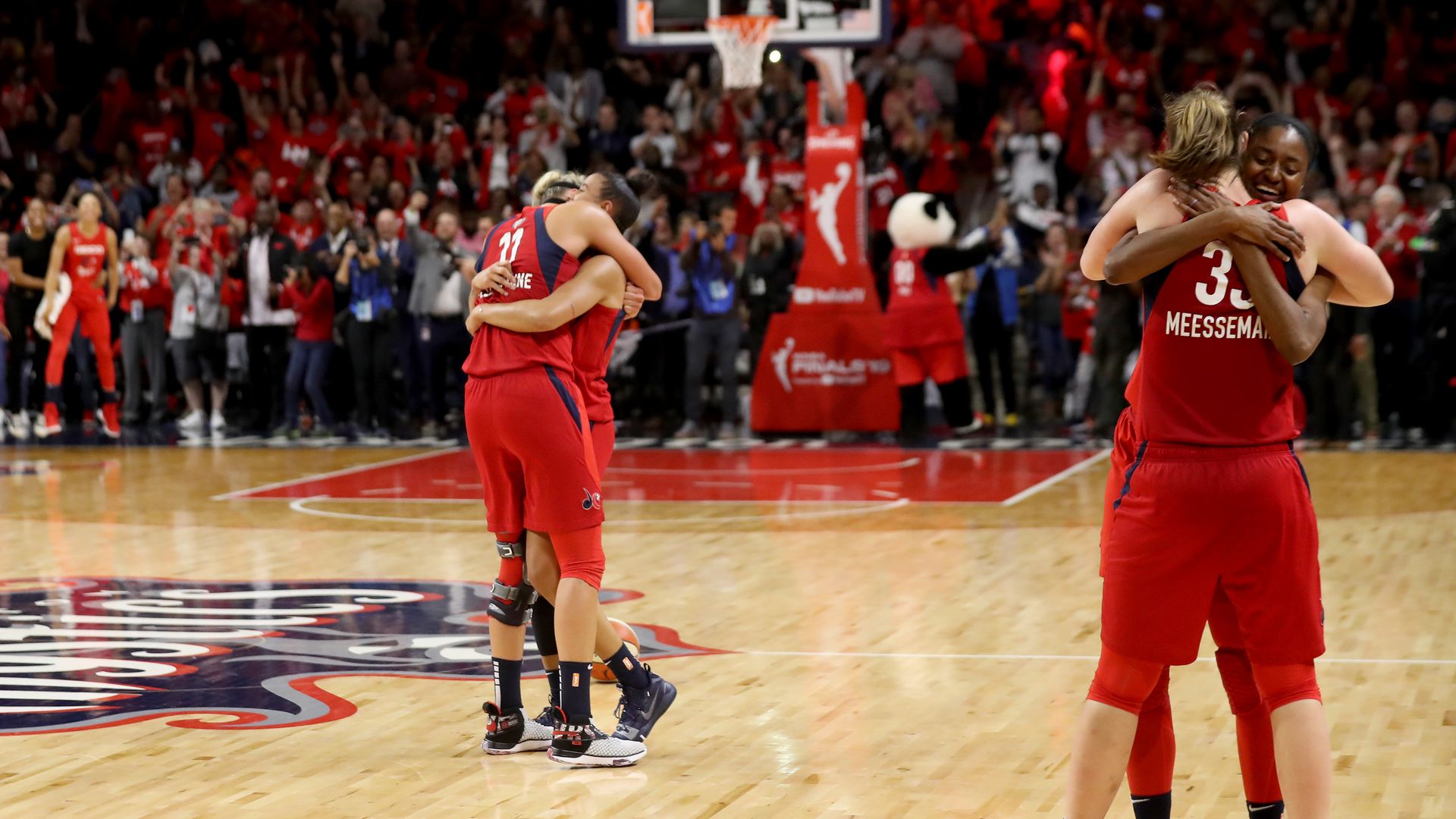 The Washington Mystics overcame a second-half Connecticut Sun lead to win Game 5 of the WNBA Finals, 89-78, and claim the franchise's first championship.
Why it matters: This win delivers long-awaited titles to the WNBA's best player, Elena Delle Donne, as well as its all-time winningest coach, Mike Thibault.
Game notes:
League MVP: Delle Donne, who was limited all series by herniated disks in her back, played more aggressively knowing she had the offseason to recover and put up 21 points and 9 rebounds in 37 huge minutes.
Finals MVP: Belgian sensation Emma Meesseman, who assumed a more aggressive "Playoff Emma" persona during the title run, finished with a team-high 22 points and became the first bench player to ever win WNBA Finals MVP.
What they're saying: Here's Delle Donne, who had fallen short in 2 previous WNBA Finals appearances, on what it feels like to finally break through:
"It feels phenomenal, my goodness, feels so good. Hard to put it into words. To win it with such a great group of people. We wanted to win it for the person next to us. We'll remember this season. I'm kind of sad [it's] about to be over. My goodness, we sure ended this on a high note."
The big picture: This is the second time in 16 months that a D.C. sports team has won its first title (Capitals in June 2018), and the second time in 2 days that a D.C. sports team played arguably its most memorable game (Nats on Wednesday).
2. ⚾️ Gerrit Cole is unhittable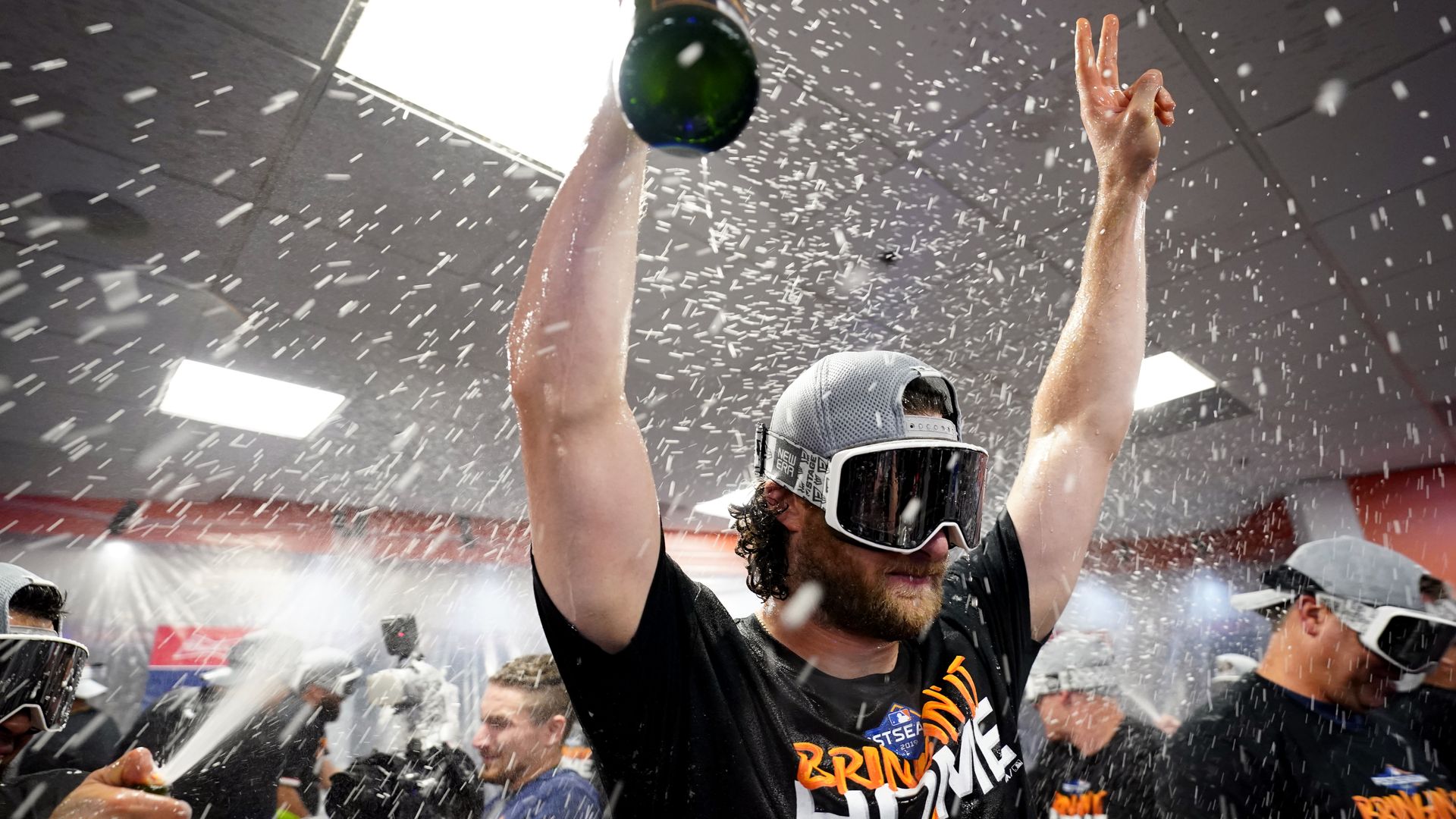 Gerrit Cole made mincemeat out of the Rays last night, racking up 10 strikeouts in 7-plus innings as the Astros beat the Rays, 6-1, and advanced to the ALCS.
By the numbers: What Cole did to the Rays in Game 5 was very similar to what he did to them in Game 2. His numbers in the series:
54 batters faced
52 swings and misses
25 strikeouts
6 hits
1 run
.118 BA against
Fun fact: The Astros haven't lost a game in Houston with Cole on the mound since May 22, which is almost 5 months ago. During that time, Cole is 18-0(!).
"[T]o find the last pitcher who won that many games in a row within a single season, you would have to go back 107 years — to 1912, when Rube Marquard spun off 19 in a row," writes The Athletic's Jayson Stark (subscription).
"We'd cue up the Rube Marquard videotape now, except that was like six decades before the invention of videotape."
What's next: The Astros will face the Yankees in a rematch of the 2017 ALCS (Houston won 4-3). It's a series loaded with pitching and power and has the makings of an all-time classic.
Bonus: ⚾️ The Final Four
Coming up:
Tonight, 8pm ET: Nationals at Cardinals, Game 1 (TBS)
Saturday, 4pm ET: Nationals at Cardinals, Game 2 (TBS)
Saturday, 8pm ET: Yankees at Astros, Game 1 (Fox)
Sunday, 8pm ET: Yankees at Astros, Game 2 (FS1)
3. 🇨🇳 China dials back the outrage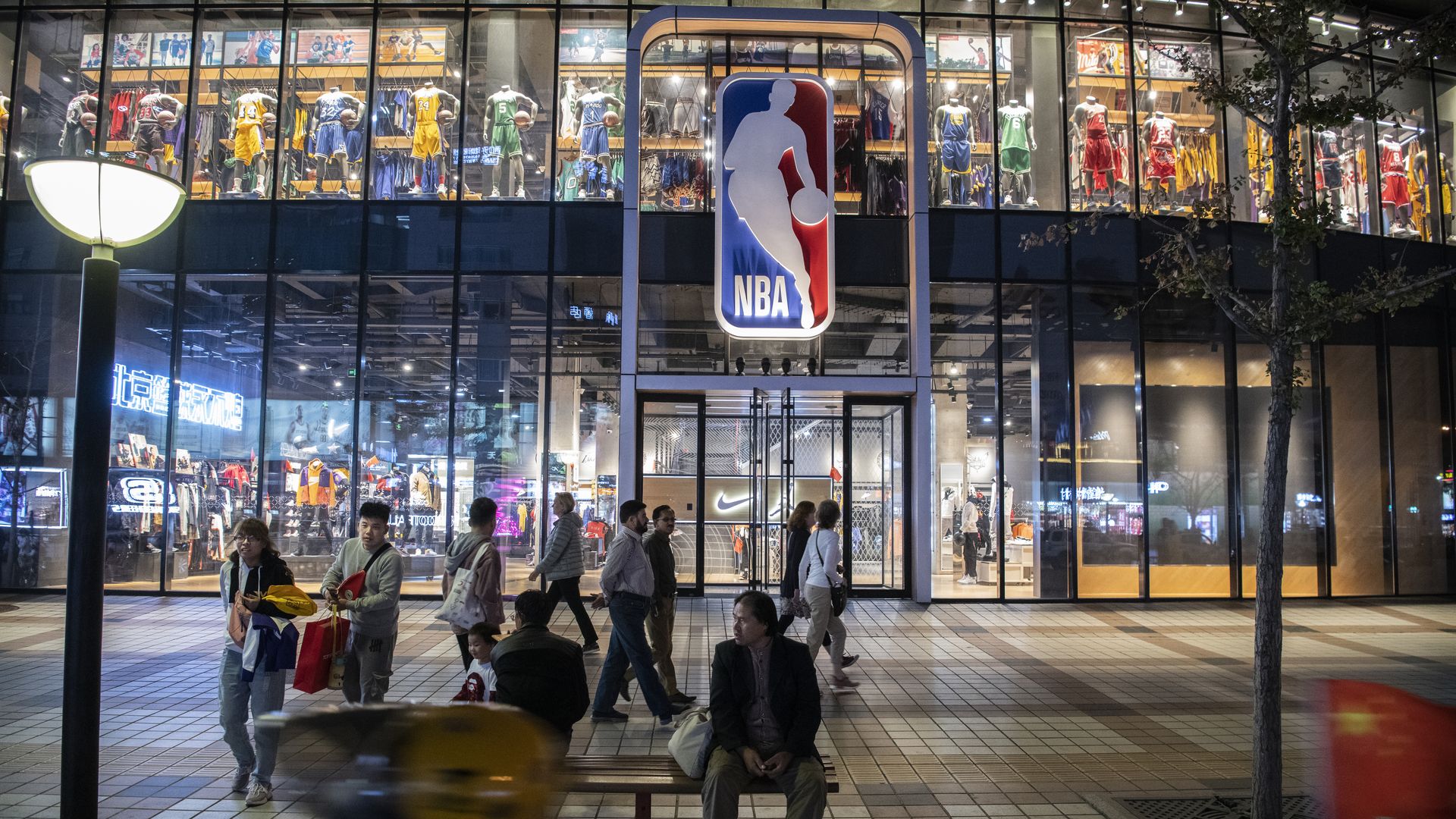 "After three days of fanning nationalistic outrage, the Chinese government abruptly moved on Thursday to tamp down public anger at the NBA as concerns spread in Beijing that the rhetoric was damaging China's interests and image around the world," the New York Times reports.
"The government is already in a bruising trade war with the United States, and a backlash against China could hurt its image in the sporting world ahead of the 2022 Winter Olympics near Beijing."
"The dispute with the NBA was also quickly politicizing an audience of sports fans who would not normally focus on issues like the protests in Hong Kong."
Meanwhile, in Japan: Following the Rockets' preseason win over the Raptors, a CNN reporter asked Russell Westbrook and James Harden the following question:
"The NBA has always been a league that prides itself on its players and its coaches being able to speak out openly about political and societal affairs. I just wonder after the events of this week and the fallout we've seen, whether you both feel differently about speaking out in that way in the future."
The response: There wasn't one. A Rockets employee interjected to prevent Westbrook and Harden from answering the question — something the NBA has since apologize for, saying the employee acted "inappropriately."
P.S. ... Oh yeah, the Lakers and Nets played a preseason game in Shanghai. Regular basketball things happened, but it was far from normal. Also, the NBA has cut off all media access to players for the remainder of the trip.
4. 🏈 Big Saturday for Heisman favorites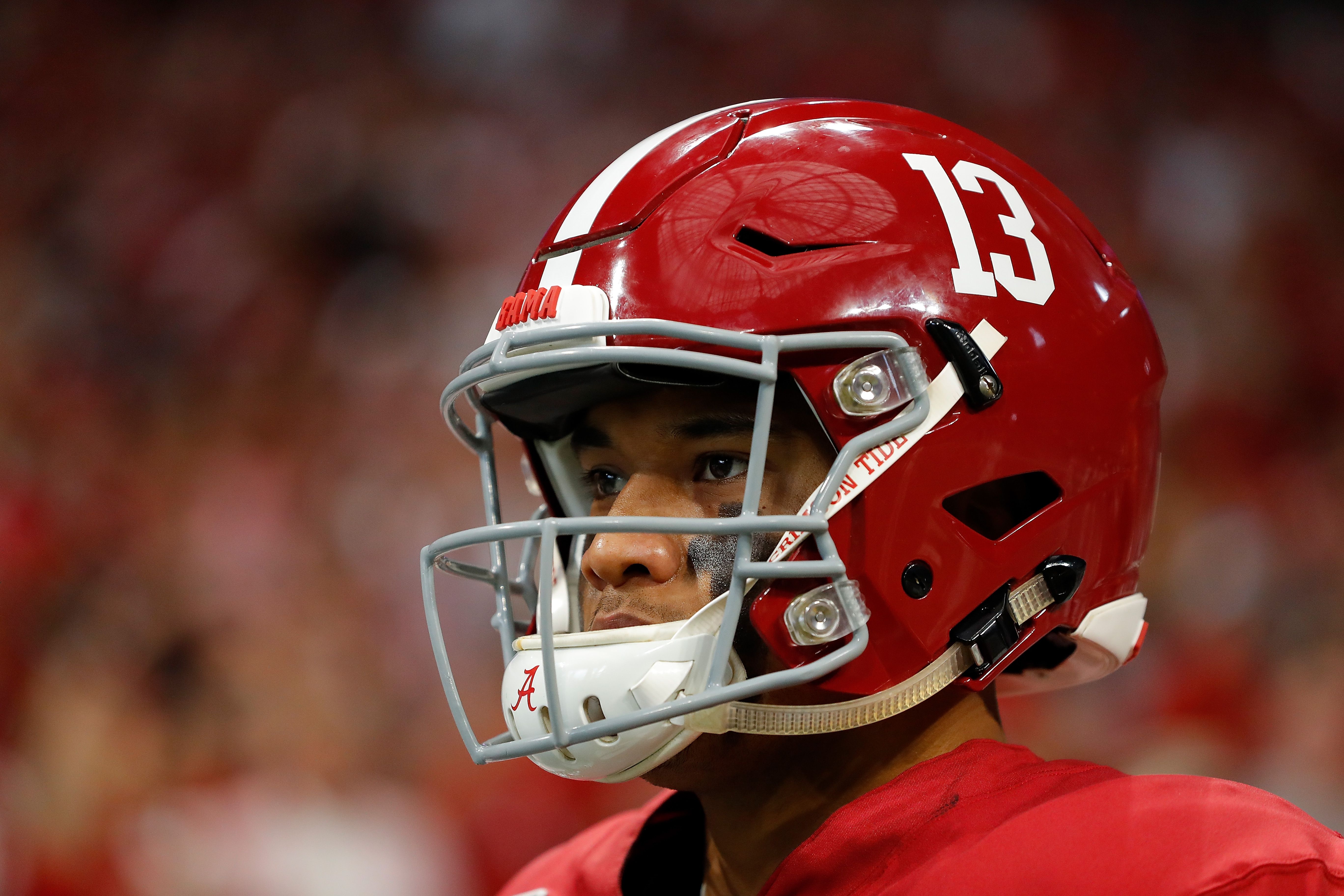 Photo: Kevin C. Cox/Getty Images
Tua Tagovailoa and No. 1 Alabama travel west to the great state of Texas to face their first ranked opponent of the season, No. 24 Texas A&M. Both teams are coming off bye weeks, giving them extra time to heal up and prepare.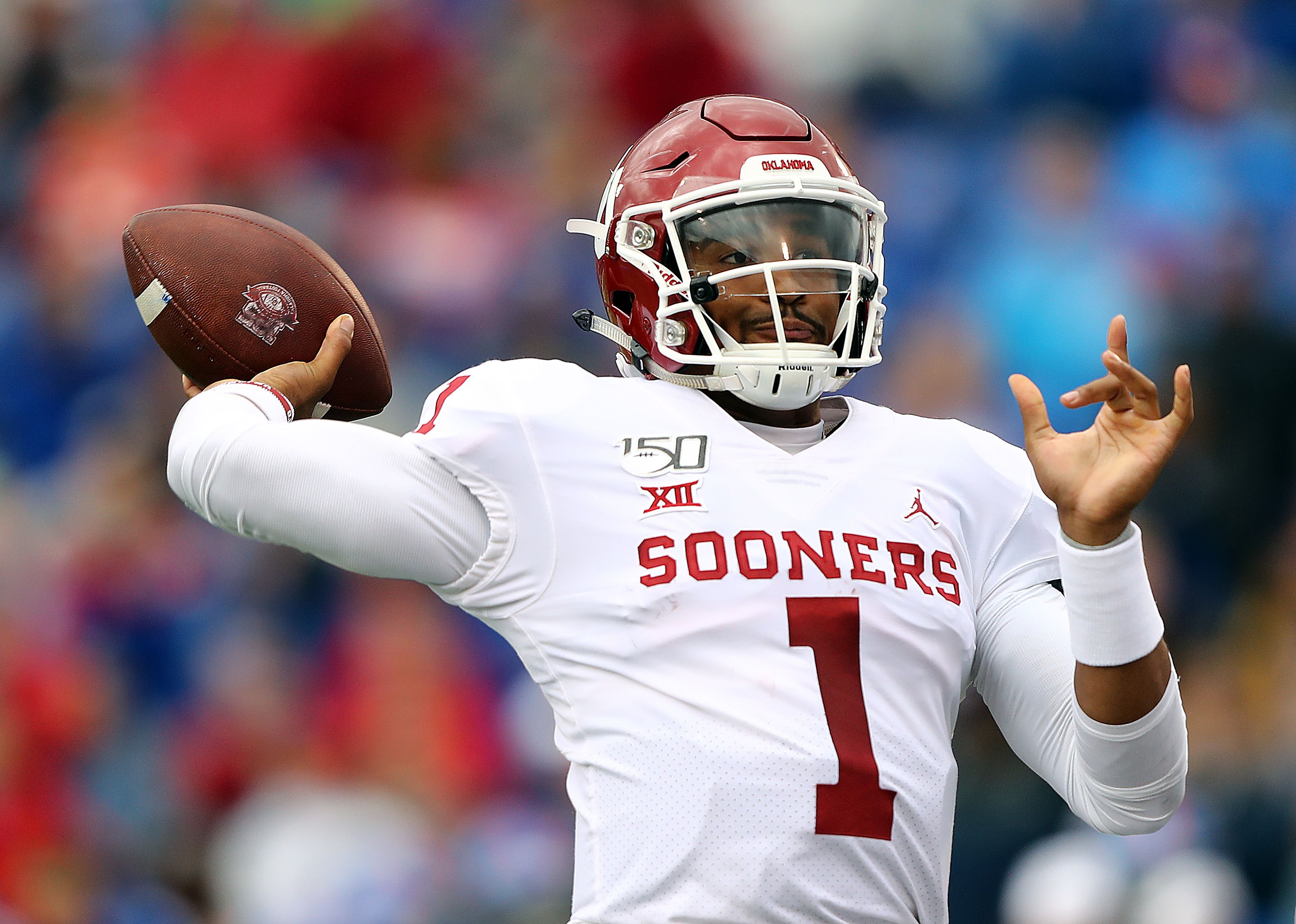 Photo: Kevin C. Cox/Getty Images
Jalen Hurts will get his first taste of the Red River Rivalry when No. 6 Oklahoma travels to Dallas to take on No. 11 Texas.
Kickoff: Noon ET (Fox)
Spread: Oklahoma -11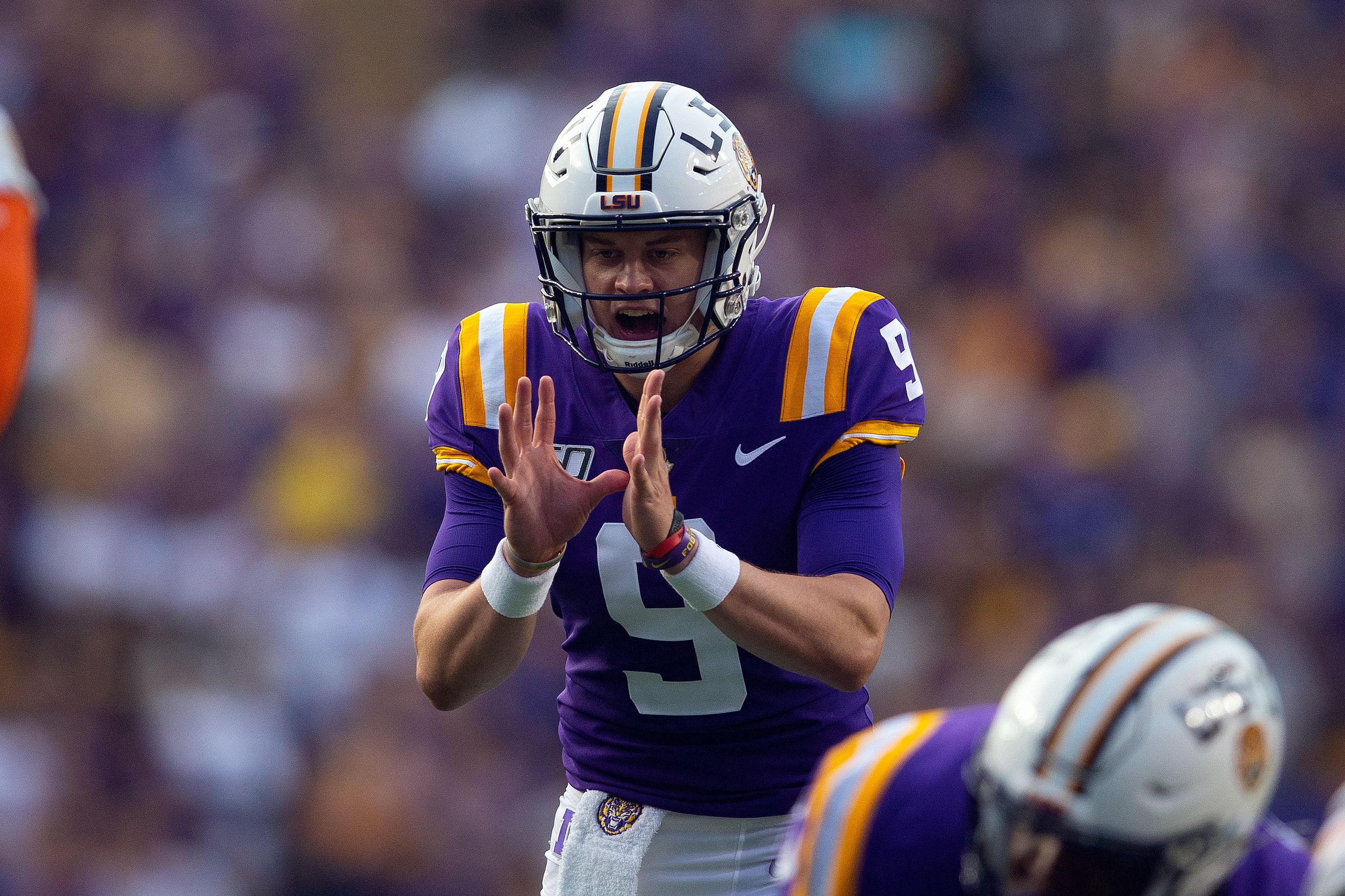 Photo: John Korduner/Icon Sportswire via Getty Images
Joe Burrow and No. 5 LSU have the toughest test of all with No. 7 Florida in town. The Gators are coming off a big win over Auburn and their defense gives up just 9.5 points per game (5th-best nationally).
5. 🏀 NBA-style media days — in high school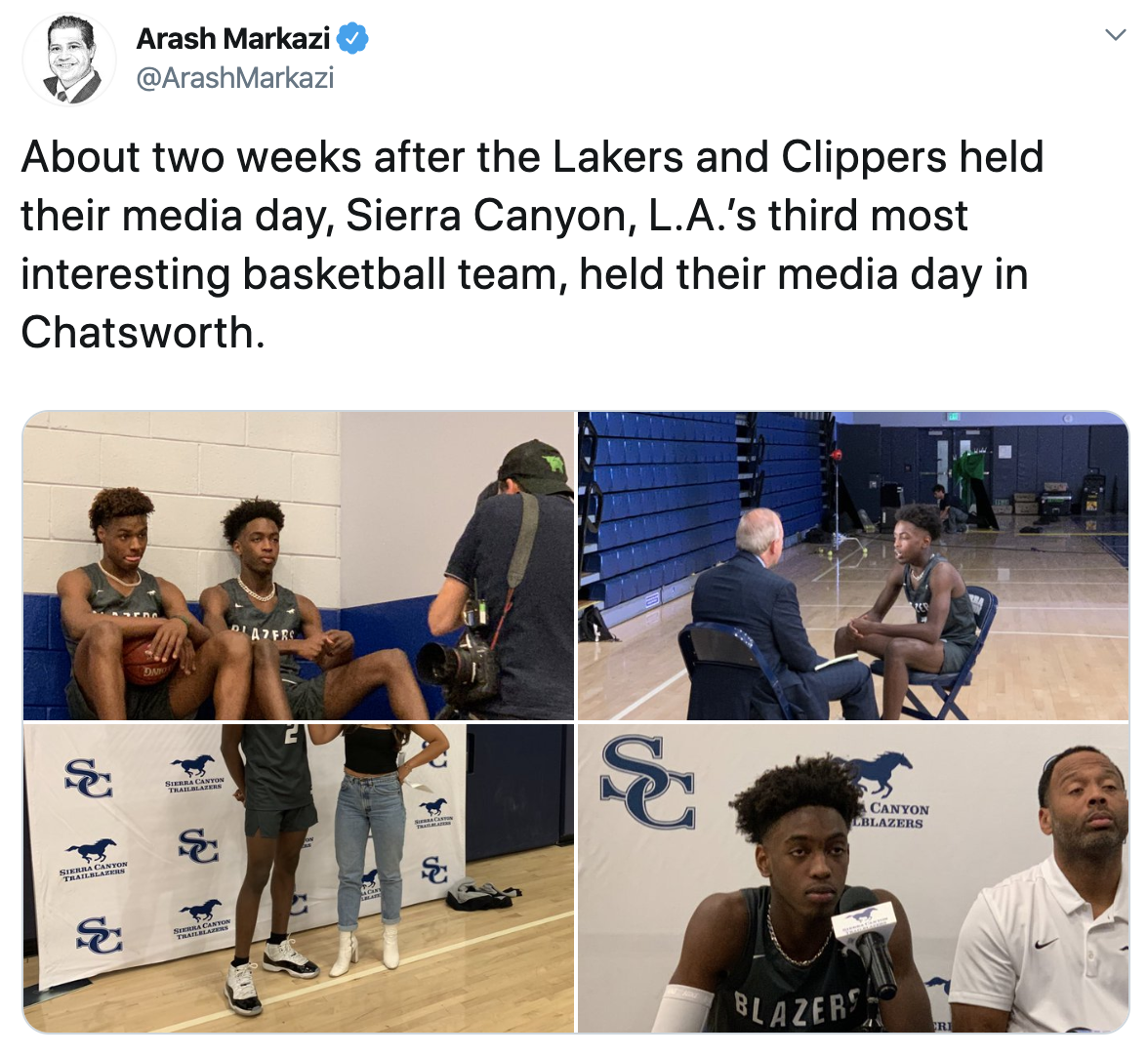 Screenshot: @ArashMarkazi (Twitter)
"Almost two weeks after the Lakers and Clippers held their media days before the start of the NBA preseason, Los Angeles' third-most interesting basketball team held its media day on Thursday," writes Arash Markazi of the LA Times.
The team: Sierra Canyon High School. Dwyane Wade's son, Zaire, is a senior and LeBron James' son, Bronny, is a freshman. They also have 2 five-star recruits and a seven-foot-two-inch center from China.
Why it matters: High school basketball teams don't normally hold NBA-style media days. Then again, the children of NBA legends don't normally team up in high school (Zaire transferred all the way from Florida) — so nothing about this is normal.
The big picture: Just like in the NBA, there are now "super teams" in high school. And, just like in the NBA, the best high school players have large social followings and function as their own brands/media companies.
Go deeper:
6. Oct. 11, 1992: 🏈⚾️ Deion does both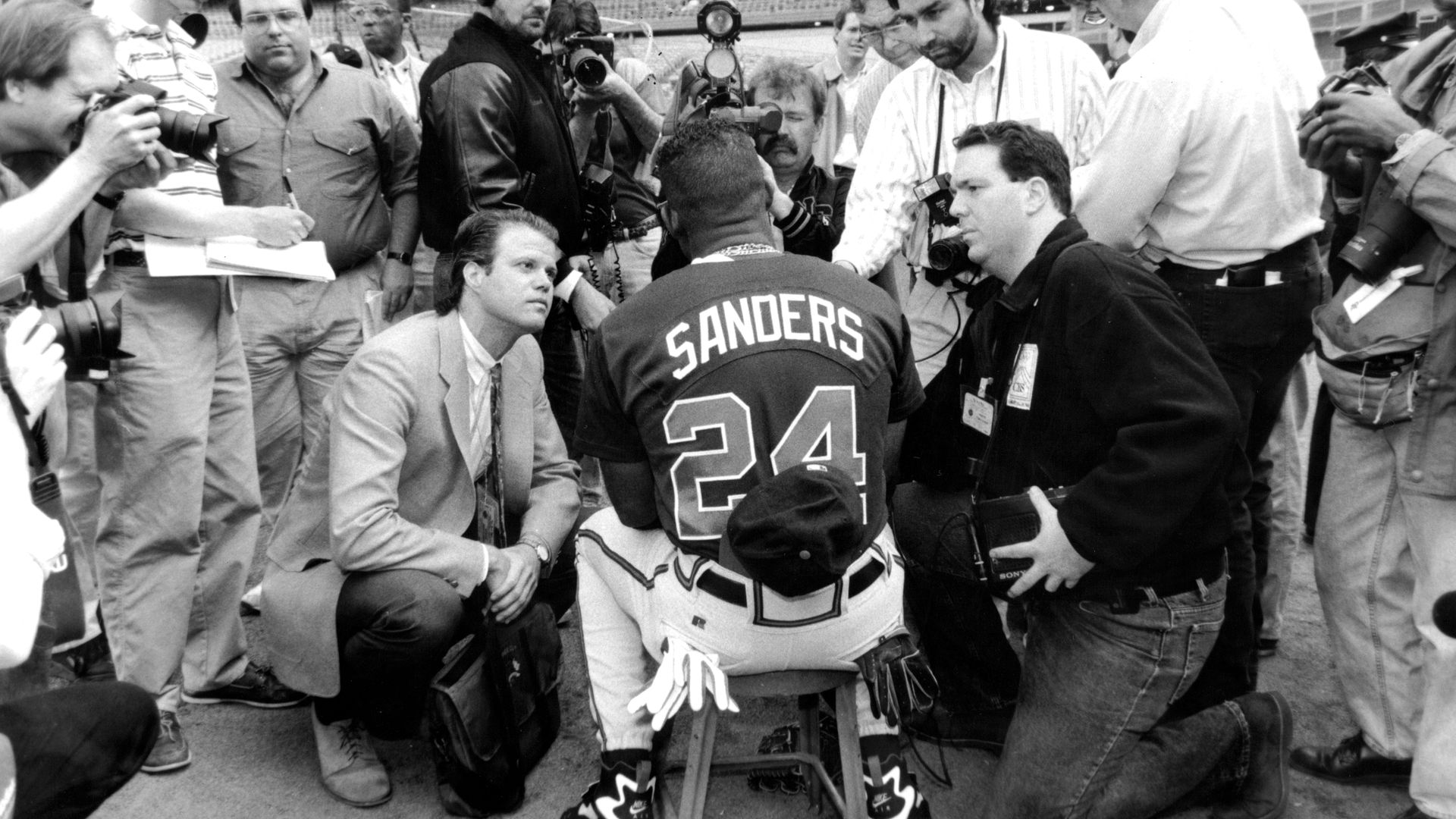 27 years ago today, Deion Sanders played a game for the Atlanta Falcons, then flew to Pittsburgh to play a game for the Atlanta Braves. We'll never see anything like it again.
The full itinerary: The night before (Saturday), Sanders pinch-hit for the Braves in Game 4 of the NLCS against the Pirates. Once the game was over, he boarded a flight to Miami.
Sunday afternoon (Falcons): Sanders played all but one snap on defense, returned punts and kickoffs and even contributed a 9-yard catch in a 21-17 loss to the Dolphins.
Sunday night (Braves): He traveled by limousine, helicopter, jet and limousine again and arrived at Pittsburgh's Three Rivers Stadium 17 minutes before the first pitch of Game 5. He dressed but didn't play in the Braves' 7-1 loss.
Go deeper:
7. 🏈 NFL trivia
Last night, Tom Brady moved into 2nd place on the NFL's all-time passing yards list.
Question: Can you name the top 5 players on that list?
Hint: All but one played this century
Answer at the bottom.
8. The Ocho: 🏁 World Solar Challenge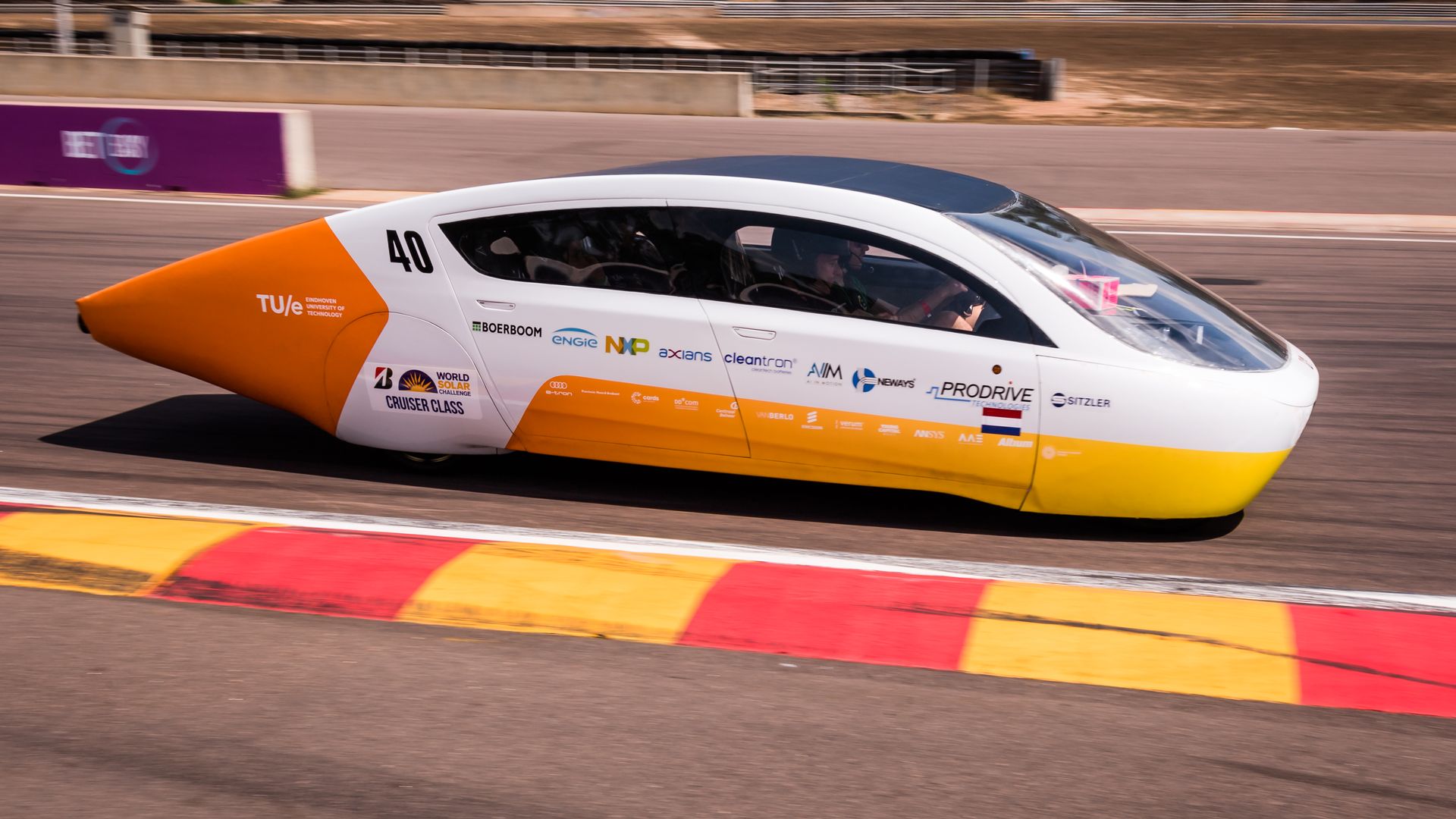 Teams from around the globe are competing in the 2019 World Solar Challenge — a roughly 2,000-mile solar-powered vehicle race between Darwin and Adelaide, Australia.
9. 🏈 Great read about Eli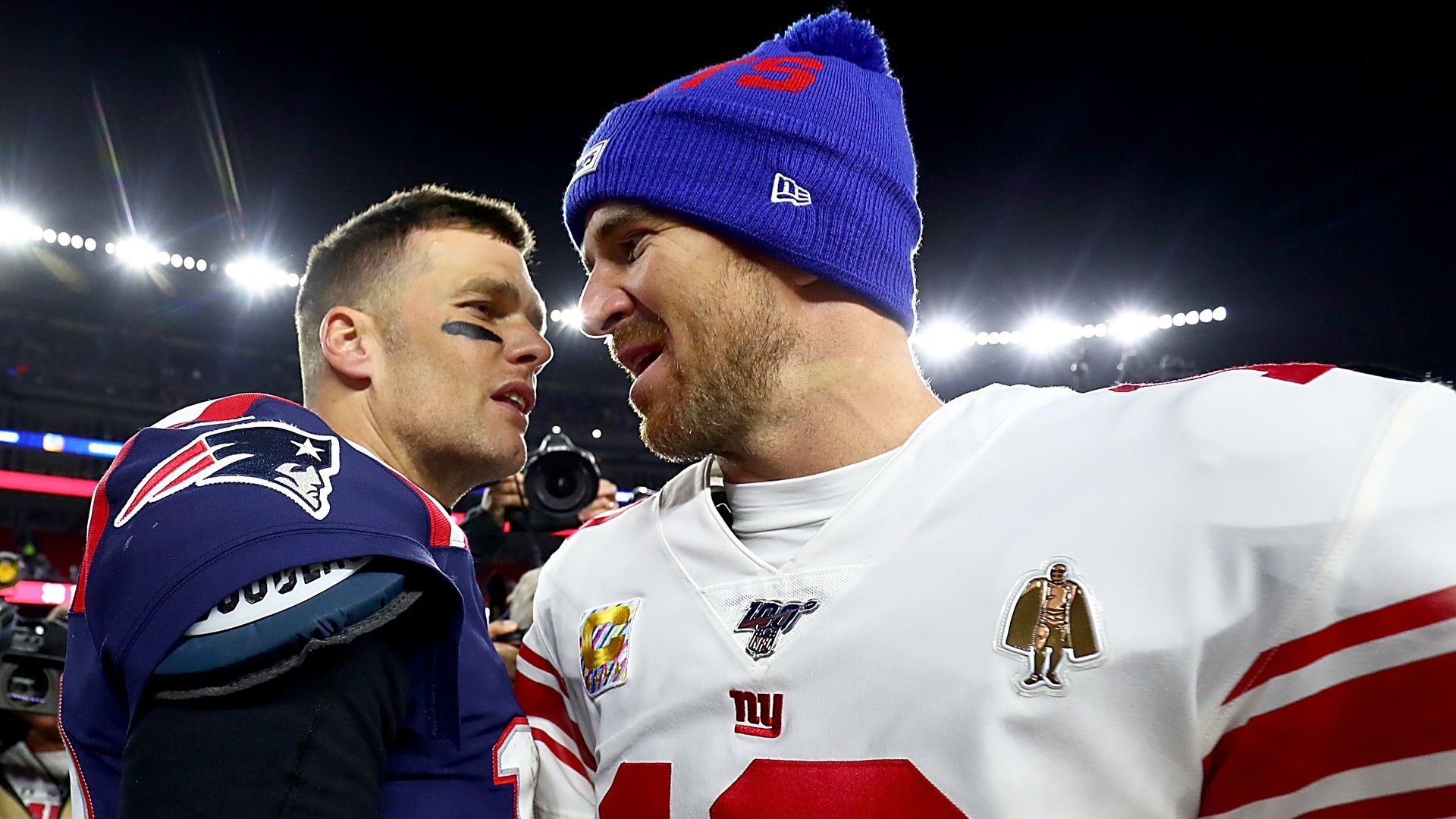 After 2 classic Super Bowls and some great regular-season matchups, Eli Manning shook Tom Brady's hand after a football game for what was almost certainly the final time last night (Pats won 35-14).
Go deeper: In an attempt to deconstruct what the last few years have been like for Eli, SI's Ben Baskin interviewed over 40 people who know him best. The end result is brilliant and one of the best things I've read in a while.
"It has always been a struggle to explain Manning. His career, his personality, his existence. He's been watched and studied his entire life, written about and dissected, and still no one has been able to define him."
"He's always liked it that way, the air of mystery, friends say. He's found it hilarious, really, that his life has been reduced to a caricature, to memes and the Manning Face."
"Those closest to him ... all aver that the outside world has never understood the real Eli Manning, although in some ways neither have they. As Manning's career has strained through its denouement, they, too, have often been left guessing at how Eli truly feels."
10. 1 fun thing: 😄 Happy Boban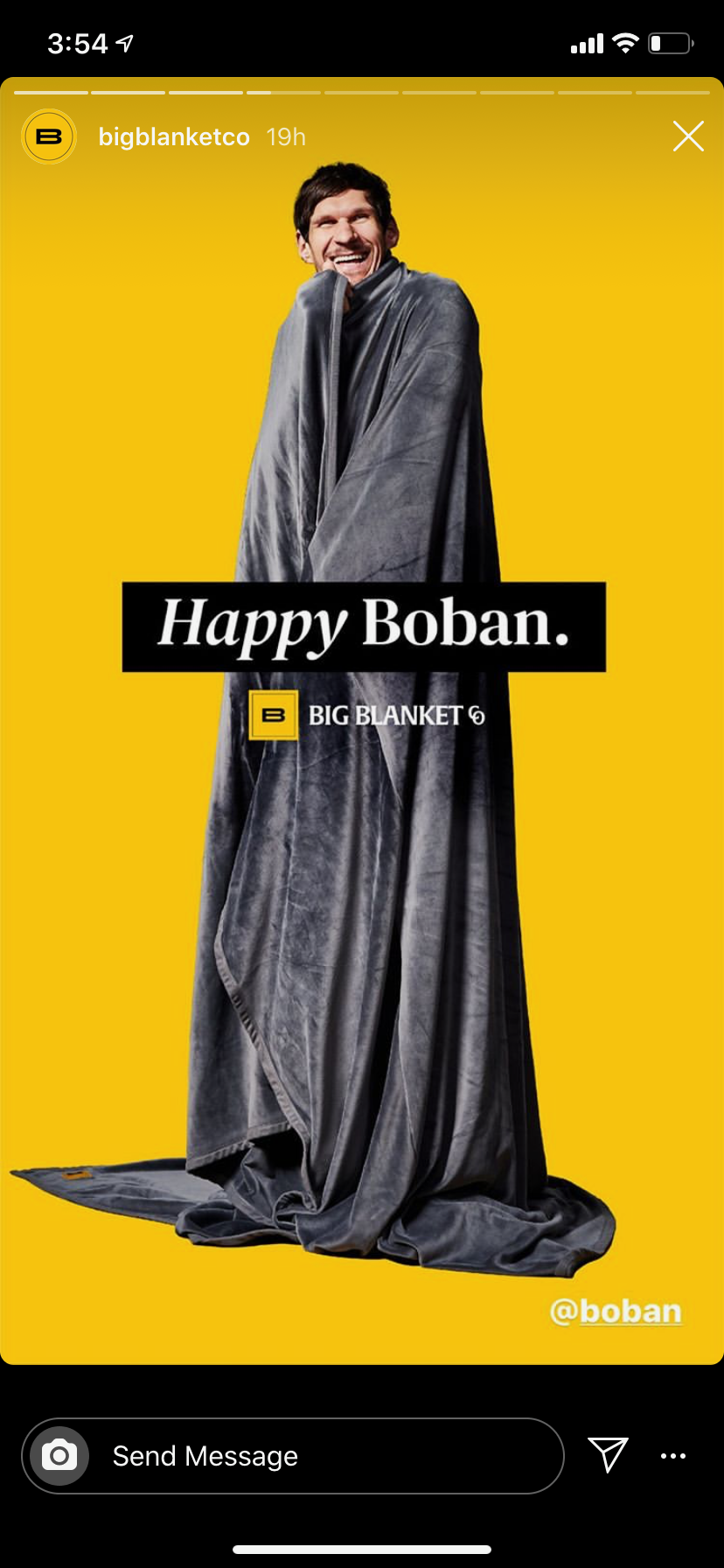 Screenshot: @bigblanketco (IG)
Seven-foot-three-inch Mavericks center Boban Marjanović is now working with Big Blanket Co, makers of — you guessed it — big blankets.
2 thoughts:
First of all, this partnership is the biggest no-brainer in the history of no-brainers and the ads are adorable.
Second of all, if someone doesn't launch a rival brand (a la "snuggie" vs. "slanket") and immediately sign seven-foot-six-inch Tacko Fall, I might have to do it myself.
Talk Monday,
Kendall "Boban is a gift" Baker
Trivia answer: Drew Brees, Tom Brady, Peyton Manning, Brett Favre, Dan Marino