👋 Good morning! Thanks for sending in your "sports, man" stories yesterday. We got hundreds of replies!! If you haven't heard back from me, you will today.
For the next few weeks, we'll be sharing your stories at the bottom of the newsletter. I hope you enjoy and feel a deeper connection with your fellow Axios Sports readers.
Today's word count: 1,459 (~6 mins)
1 big thing: 🏒 More American-born NHL picks is no fluke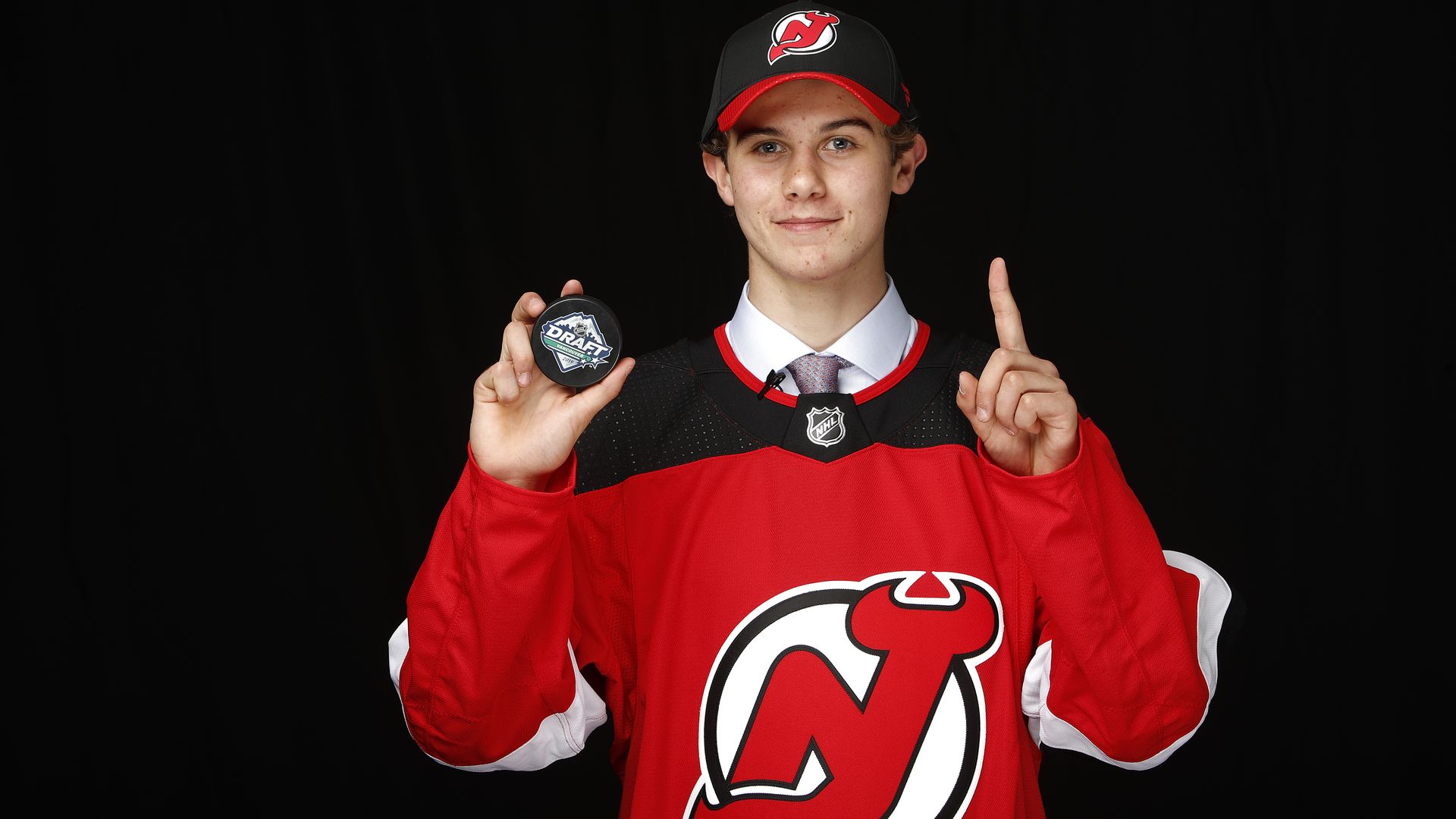 Six U.S.-born players were drafted within the top 10 picks of last month's NHL draft and, in total, 11 Americans were taken in the first-round.
Eight of them — including No. 1 pick Jack Hughes — came from the National Team Development Program (NTDP).
Why it matters: This is proof of the incredible progress that American junior hockey has made over the last two decades and bodes well for the future of the sport domestically.
The backdrop: Before the turn of the century, American hockey players with NHL aspirations had two choices.
Choice 1: Go to college, where they would develop well into their 20's before scouts took a chance on them.
Choice 2: Leave home to play major junior hockey in one of three leagues under the Canadian Hockey League (CHL) umbrella.
The CHL provided a big stage, but since players are paid "stipends," they lose their NCAA eligibility, which forced American teens to make an early call on foregoing a college career.
Fast forward: "That's no longer the case," writes Seattle Times' Geoff Baker, "with USA Hockey founding the NTDP in 1996 and designating the USHL as the nation's top-tiered junior circuit in 2002."
Since then, the USHL has spent millions on infrastructure and has added the NTDP's under-17 and under-18 squads as member teams, placing many of America's elite prospects into one central league.
Oh, and if players don't get drafted, or are looking to hone their skills further after being picked, they retain their college eligibility.
What's next: The owners of Seattle's future NHL team are interested in bringing an expansion USHL franchise to their new facility, as well as a "West Coast version" of the NTDP.
The bottom line: The growing number of top American-born NHL draft picks is no fluke, and that number should only go up as investment at the junior level continues to increase.
Watch: Day in the life of Jack Hughes while playing for the NTDP (via WXYZ-TV Detroit on YouTube).
2. 🏀 Grizzlies win Summer League, Clarke wins MVP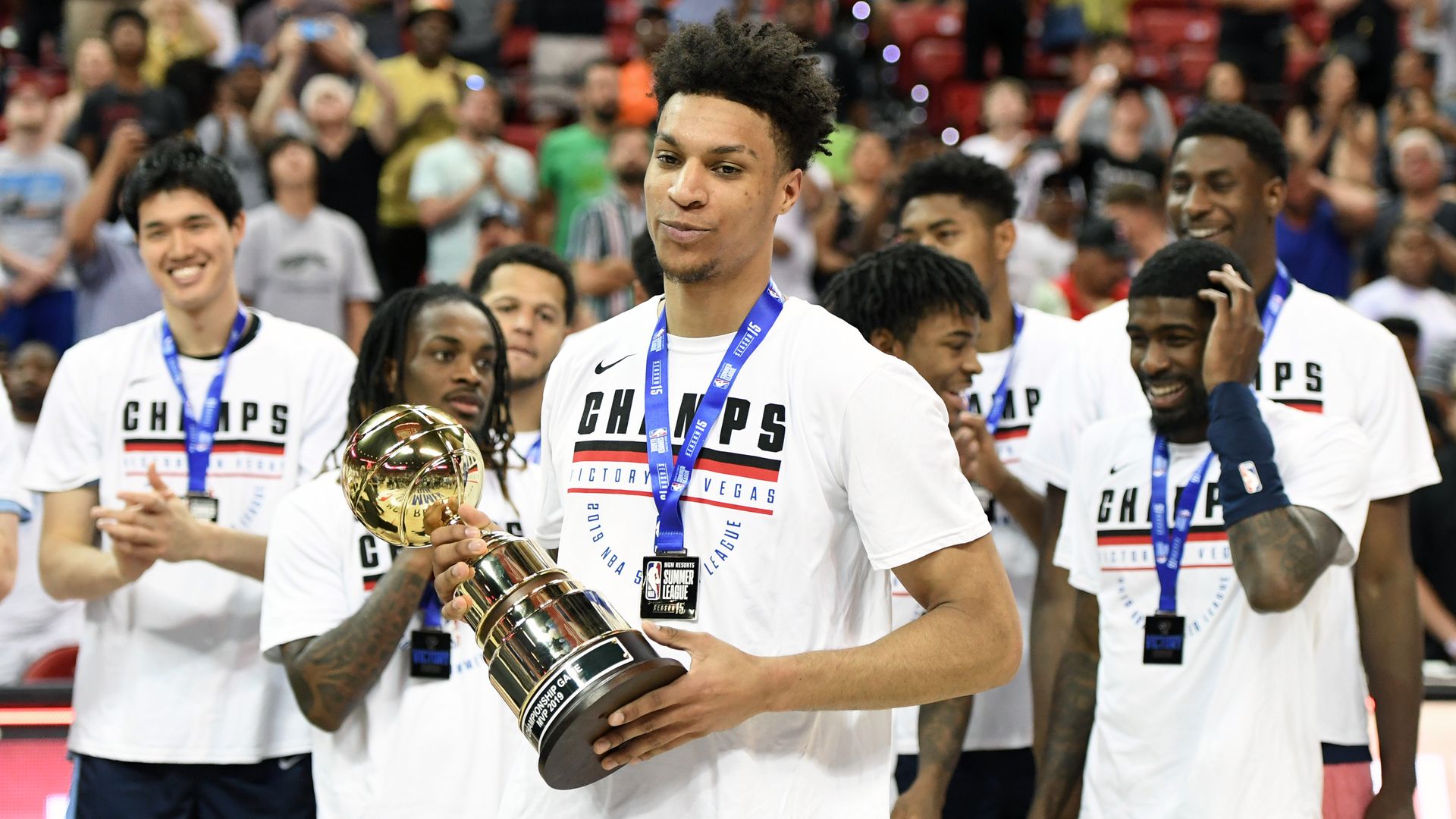 Brandon Clarke earned the Las Vegas Summer League MVP following the Grizzlies' 95-92 win over the Timberwolves in the championship game.
Why it matters: There's always the danger of reading too much into Summer League, but the No. 21 overall pick out of Gonzaga looks like one, if not the, steal of the draft.
By the numbers: Clarke averaged 14.7 points and 9.8 rebounds to pace Memphis, who was without No. 2 overall pick Ja Morant following knee surgery in June. He joins Jonas Valanciunas (2013), Kyle Anderson (2015) and Tyus Jones (2016) as Grizzlies with MVPs.
All-Summer League (via SI):
First Team: Clarke, Nickeil Alexander-Walker (Pelicans), Tyler Herro (Heat), Jarrett Allen (Nets), Carsen Edwards (Celtics)
Second Team: Bruce Brown (Pistons), Kendrick Nunn (Heat), Lonnie Walker (Spurs), Anfernee Simons (Trail Blazers), Jaxson Hayes (Pelicans)
3. 🏊‍♂️ Meet the swimmer who could match Phelps' record 8 golds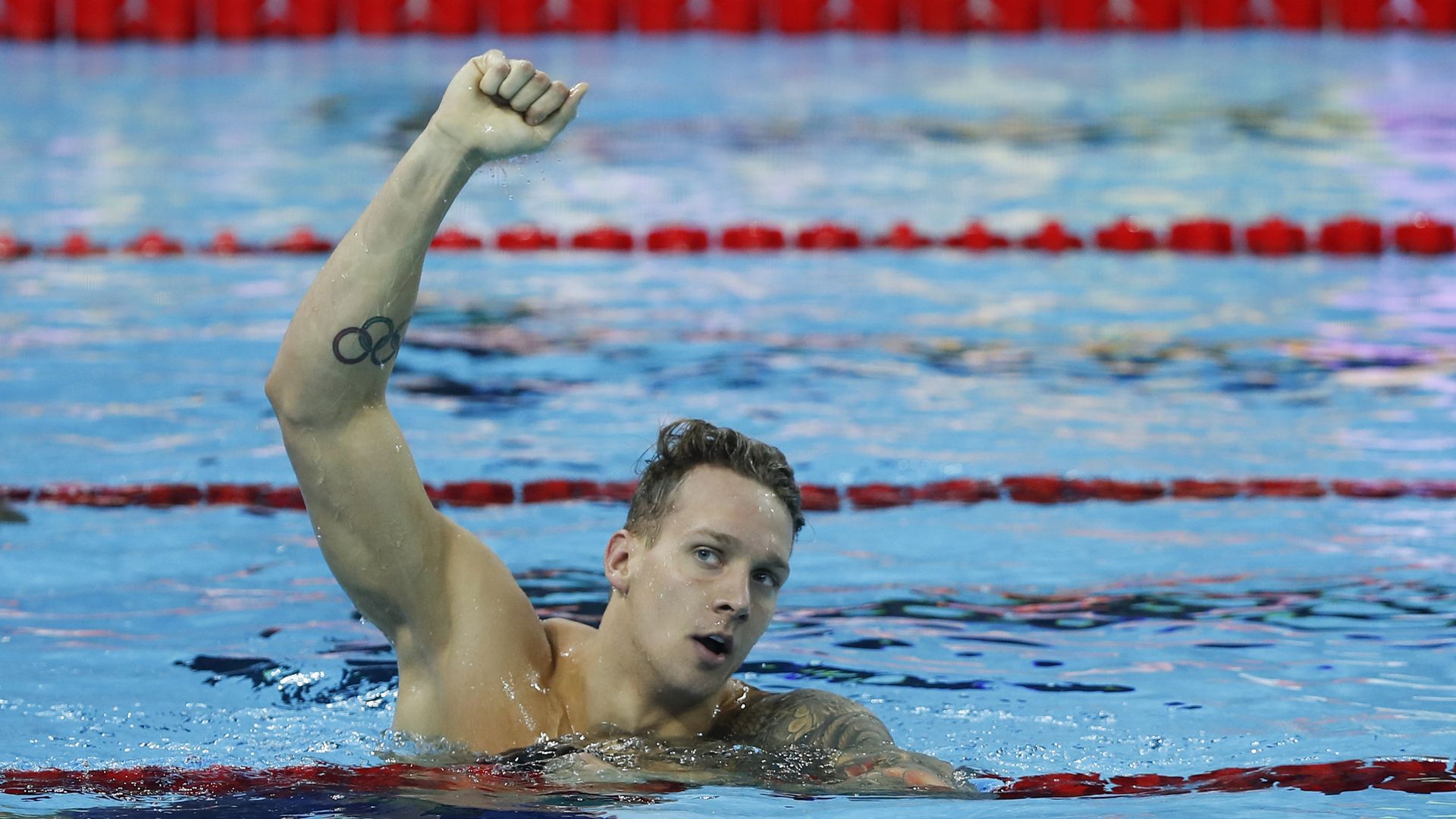 With the 2020 Tokyo Olympics approaching, 22-year-old American swimmer Caeleb Dressel has emerged as the heir apparent to Michael Phelps.
Why it matters: Dressel is expected to have a shot at eight gold medals in Tokyo, per WSJ($). That would match Phelps' 2008 haul — a record many thought would never be matched, let alone 12 years later.
With Phelps retired and his longtime rival Ryan Lochte, 34, disgraced and on his last legs, Dressel has emerged as the next face of U.S. men's swimming.
Likely 2020 events: 100 butterfly, 50 and 100 freestyle (where he's been the fastest in the world in all three at one point this year), 200 individual medley, plus four relays.
The backdrop: Unlike Phelps, who turned pro at age 16 and won eight Olympic medals by age 22, Dressel made his name at the college level.
College (2015-18): Won 10 individual titles and set all kinds of records at the University of Florida.
2016 Olympics: Won two gold medals as part of relays, both of which involved Phelps.
2017 World Championships: Tied Phelps' 2009 meet record with seven golds.
What's next: All eyes will be on Dressel at the 2019 World Championships in Gwangju, South Korea, where he'll compete beginning Sunday.
4. 🏀 Chart du jour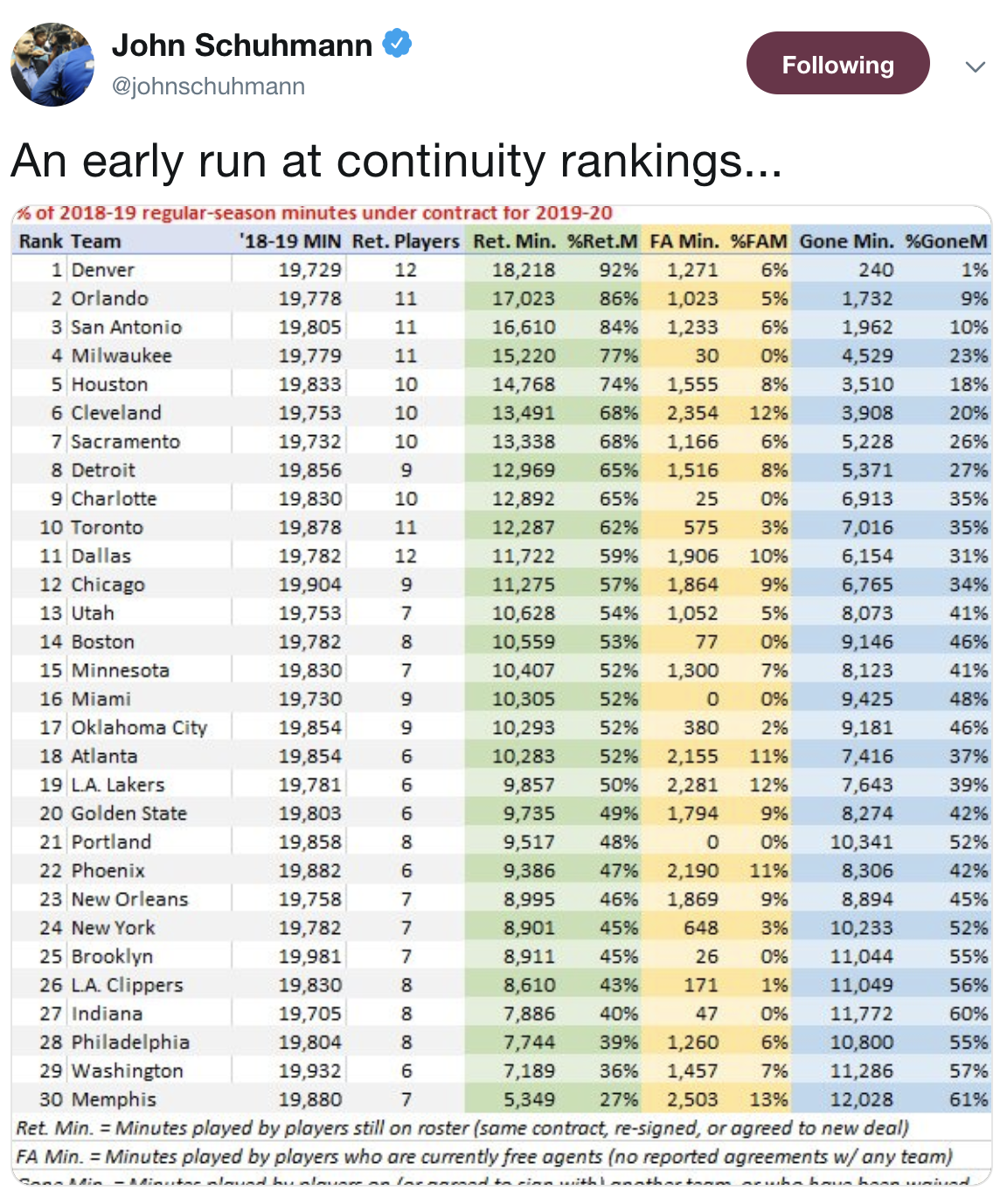 Screenshot: @johnschuhmann (Twitter)
The Nuggets top the NBA's continuity rankings, with 92% of 2018–19 regular-season minutes under contract for next season.
Top 3: Nuggets (92%), Magic (86%), Spurs (84%)
Bottom 3: Grizzlies (27%), Wizards (36%), 76ers (39%)
Note: This data has not been updated since the Chris Paul-Russell Westbrook trade, so the Rockets and Thunder both have lower numbers than indicated.
5. 🏈 Football: By the numbers
$8.78 billion
NFL: The league shared $8.78 billion in national revenue with its 32 teams this past season, with each team receiving $274.3 million. That's a 33% increase from 2013 ($187.7 million per team).
11
NCAAF: According to a fan behavior study, 11 different schools identify the University of Texas as a rival, "by far the most in the country."
4
Madden NFL 20: The number of players with a 99 overall rating: Rams DT/DE Aaron Donald, Texans WR DeAndre Hopkins, Bears OLB Khalil Mack and Seahawks MLB Bobby Wagner. See all player ratings.
6. July 16, 2003: 🏀 The NBA's first super team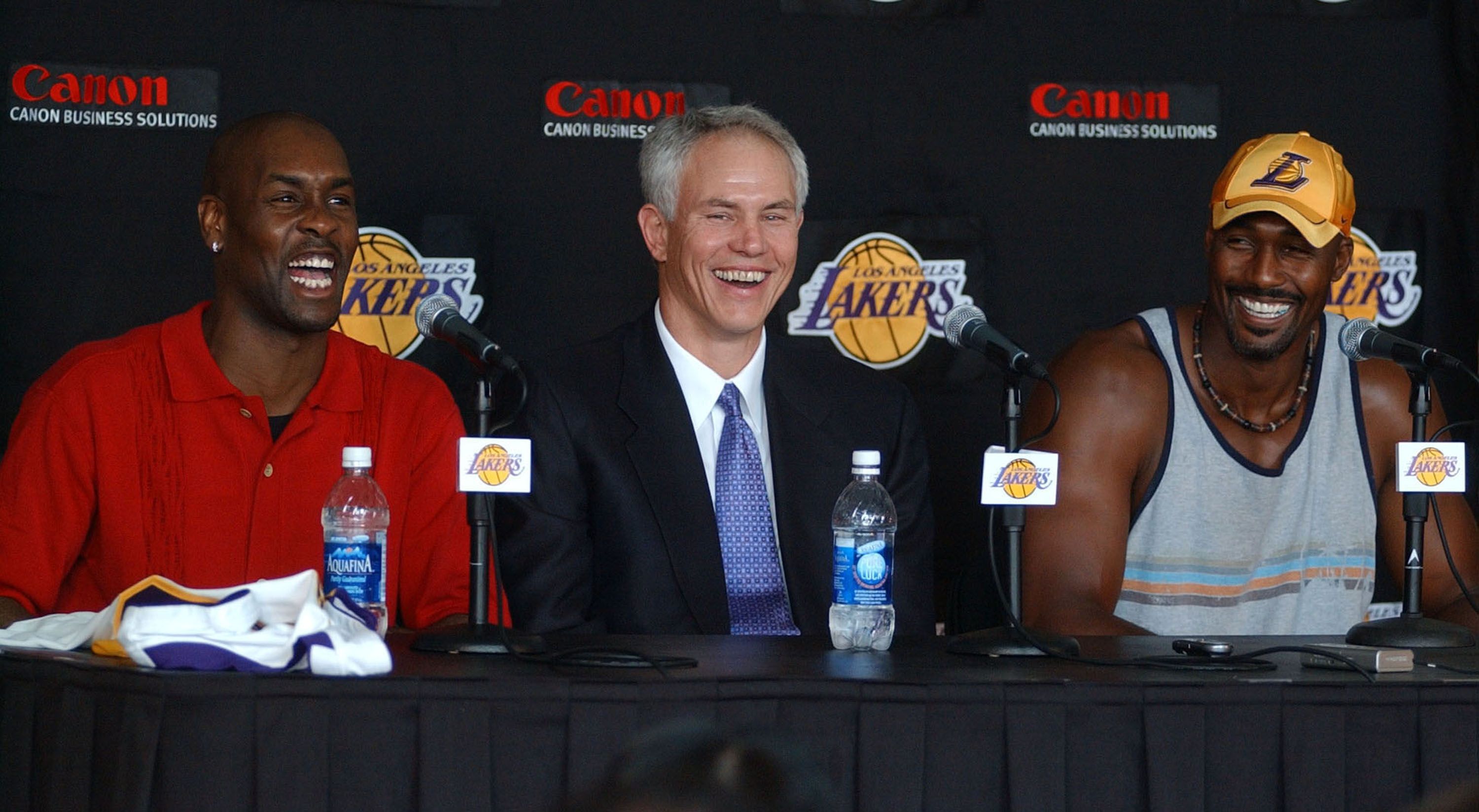 Gary Payton, former Lakers GM Mitch Kupchak and Karl Malone (l to r). Photo: Kirby Lee/Getty Images
16 years ago today, the Lakers formed what is commonly referred to as the NBA's first super team when they added Karl Malone and Gary Payton to a roster that already included Shaquille O'Neal and Kobe Bryant.
The backdrop: Malone had been just 2,014 points away from being the NBA's all-time leading scorer, but left Utah in search of a ring.
"It would've been easy for me to stay in Utah and make 10 or 11 million and get the scoring record, but I think I was holding a lot of guys back from getting their careers on track, so I made the decision to go to L.A."
— Karl Malone,
per SB Nation
The big picture: The Lakers started the season 18-3 but things quickly began to spiral thanks to an ongoing feud between Shaq and Kobe and injuries (in total, the four superstars played only 20 games together).
Despite the setbacks, the team still managed a 56-26 record and made it to the NBA Finals, where they lost 4-1 to the Pistons.
Go deeper: An oral history of the 2003-04 Lakers — the first super team (Bleacher Report)
7. 🏈 NFL trivia
Question: Who are the two Super Bowl MVPs who were born outside of the United States?
Hint: Their initials are H.W. and M.R. and they won the award while playing for the Steelers and Redskins, respectively.
Answer at the bottom.
8. The Ocho: 🐐 Afghanistan's goat-grabbing national sport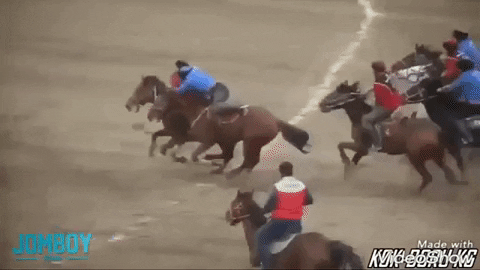 Buzkashi, which literally translated means "goat grabbing," is the national sport of Afghanistan and has been played in one form or another for more than 600 years.
How to play: A headless goat carcass is placed in the center of a circle and two opposing teams try to gain control of it and bring it to the scoring area.
Watch: Highlights (with some pretty hilarious commentary).
9. Good reads
🏀 Mavericks-Spurs, and the Greatest Coaching Performance in NBA History (Dorktown)
"In 2014, the Spurs were supposed to run all over the Mavericks. Instead we saw the best-coached series in the history of the NBA playoffs."
🚲 How to Design the Perfect Tour de France Course (SB Nation)
"To make the best course they can, [race directors] travel the roads of France and visit potential host towns along the way, scouting out the details of each stage to package them coherently. Every highway and scenic route, stage finish and geographic feature, strange place and well-worn spot was chosen with deliberate care."
🏈 Meet Joe Burrow: LSU's Toughest Renaissance Man and Maybe Savior at QB (SI)
"Joe Burrow is the toughest renaissance man in college football. He's well-read on black holes, time travel and neutron stars. He's a cartoon buff and a one-song guitarist. Oh, and he's looking to be the savior at quarterback for an LSU program that badly needs one."
10. ❤️ The little girl who could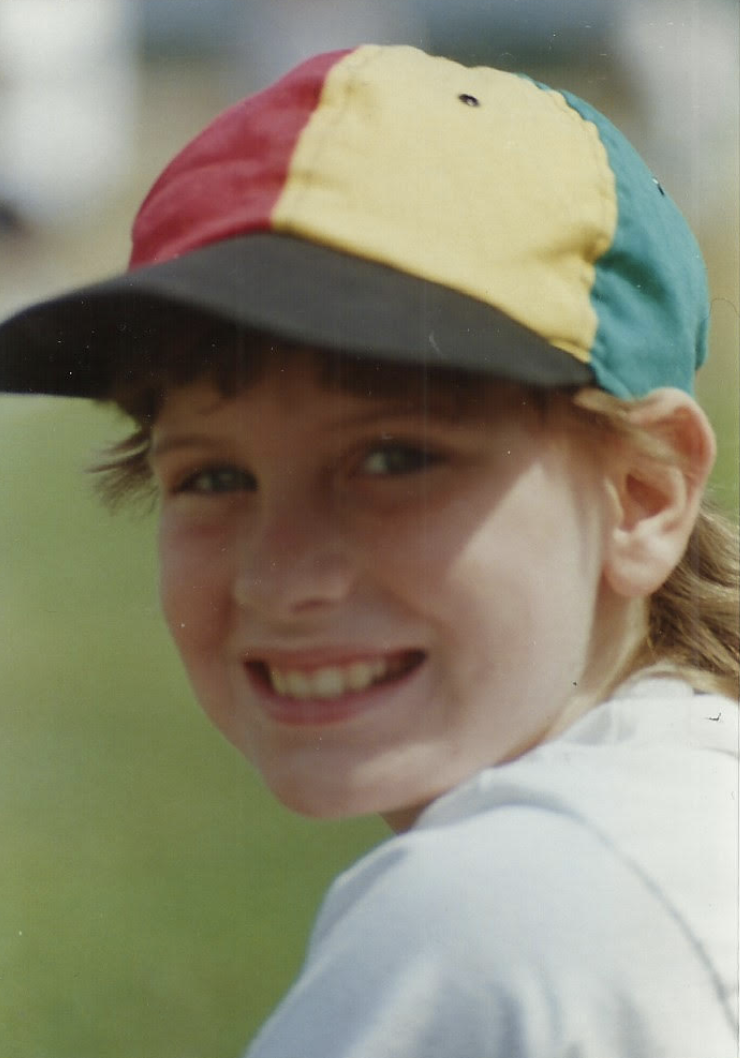 Felicia Rupp. Courtesy: The Rupp family
Yesterday, I asked you to share a "sports, man" moment — anything from your life that illustrates the power of sports. For the next few weeks, we'll be sharing your stories.
Kevin Rupp (Akron, Pa.) writes (edited for length):
Back in the 1990s, I was coaching all four of my daughters in 12-and-under softball when my daughter, Felicia, was diagnosed with cancer. Two years into her battle, chemo had destroyed her hand-eye coordination and numbed her feet so she could hardly run.
On the way home from a game one day, Felicia told me how upset she was that I never put her into the game. She was part of that team and wanted to play.
So the next game, I put her in to pinch hit. She swung at the first pitch and hit a weak little roller down the foul line. I'm not exactly sure how she did it, but she beat the throw and had a hit. She stood on first with the biggest smile. I was humbled.
That was the last time Felicia played softball. She passed away two years later at the age of 13. After that, I never coached the same again. I played every girl, no matter what her skill level was.
Things started to happen. We won championships, went on a 42-0 run at one point and had undefeated seasons. All because of a little girl who could. A little girl who refused to give up.
See you tomorrow,
Kendall "Karl Malone is so underrated" Baker
Trivia answer: Hines Ward (South Korea) and Mark Rypien (Canada)