Axios Sports
April 14, 2023
🎉 Happy Friday! 13 straight wins for the Rays, who have scored 101 runs and allowed 30. It's actually absurd.
Today's word count: 1,532 words (6 minutes)
Let's sports...
1 big thing: 🏈 Sayonara, Snyder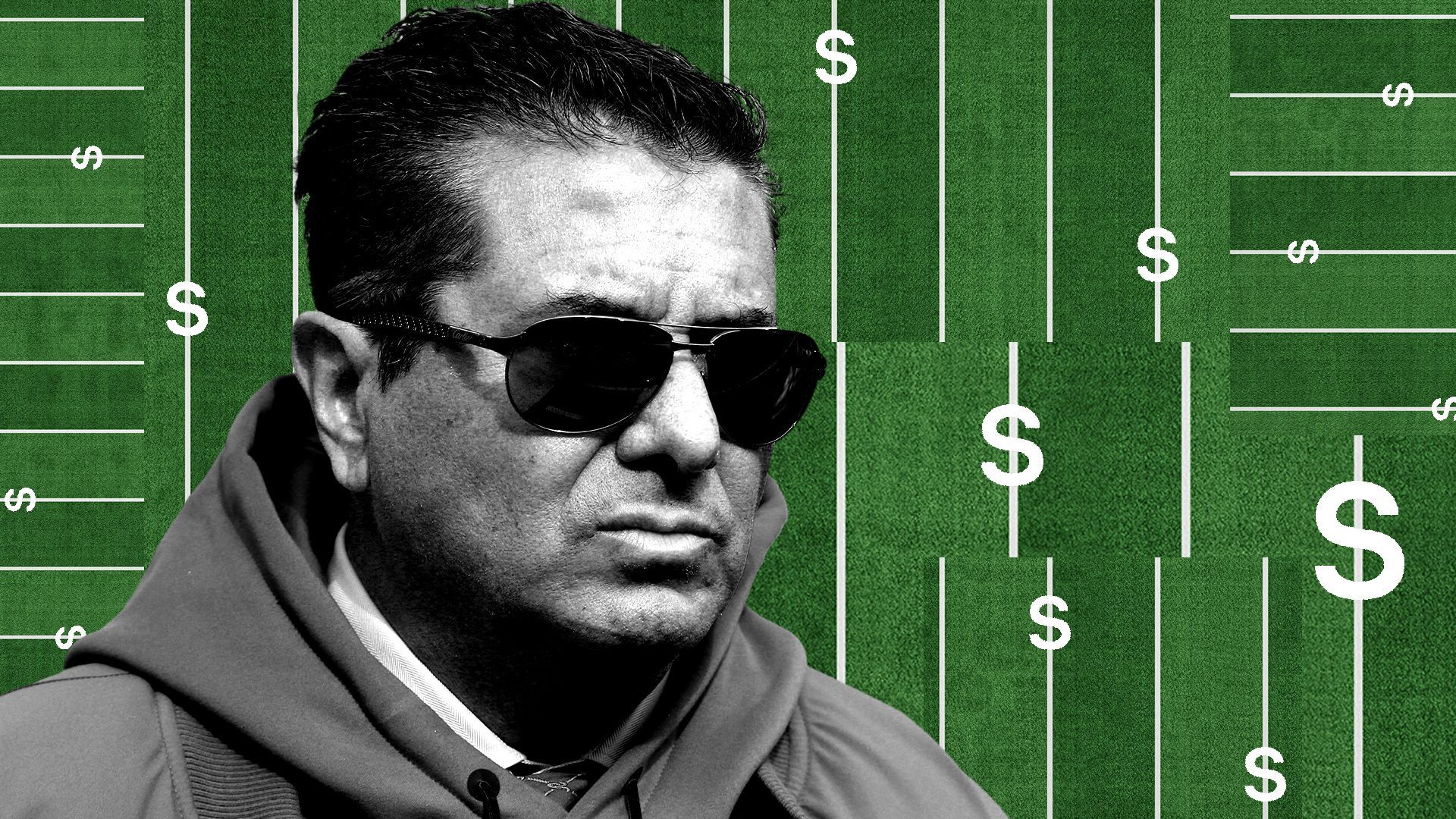 Dan Snyder has agreed to sell the Commanders for $6 billion to a group led by 76ers and Devils co-owner Josh Harris, multiple outlets report.
Why it matters: An official agreement, if reached, would end months of bidding and the tumultuous Snyder era, Axios' Cuneyt Dil writes.
The billionaire's 24-year run as owner began with great hopes and ends with the stain of harassment scandals and a drained fanbase.
It would be the highest price ever paid for a sports team, ahead of the $4.6 billion that the Walton-Penner family paid for the Broncos last year.
Of note: Harris' group includes Washington-area billionaire Mitchell Rales and Magic Johnson.
Flashback: A D.C.-area native, Snyder in 1999 described purchasing the three-time Super Bowl champions as "the most wonderful thing that's ever happened to me." The team went on to win just two playoff games.
The big picture: As the Commanders declined on the gridiron, off-field scandals piled up, puncturing Snyder's aura of invincibility.
He once vowed to never change the team's name, before folding under growing pressure.
In July 2021, he quit the day-to-day operations after an NFL investigation into the team's workplace culture led to a $10 million fine.
Last year, Tiffani Johnston, a former cheerleader and marketing official, testified to Congress that Snyder put his hand on her thigh and tried to pull her into his limousine. Snyder called the allegations "outright lies."
What's next: The sale could grease the wheels on a new stadium. Until now, local politicians were reluctant to support a new stadium that could financially benefit Snyder.
💭 My thought bubble … Snyder bought the team for $800 million, became one of the worst owners in sports, and netted a $5.2 billion return 24 years later. If you can afford to purchase an NFL franchise, it would seem wise to do so.
2. ⚾️ MLB's newest expansion candidate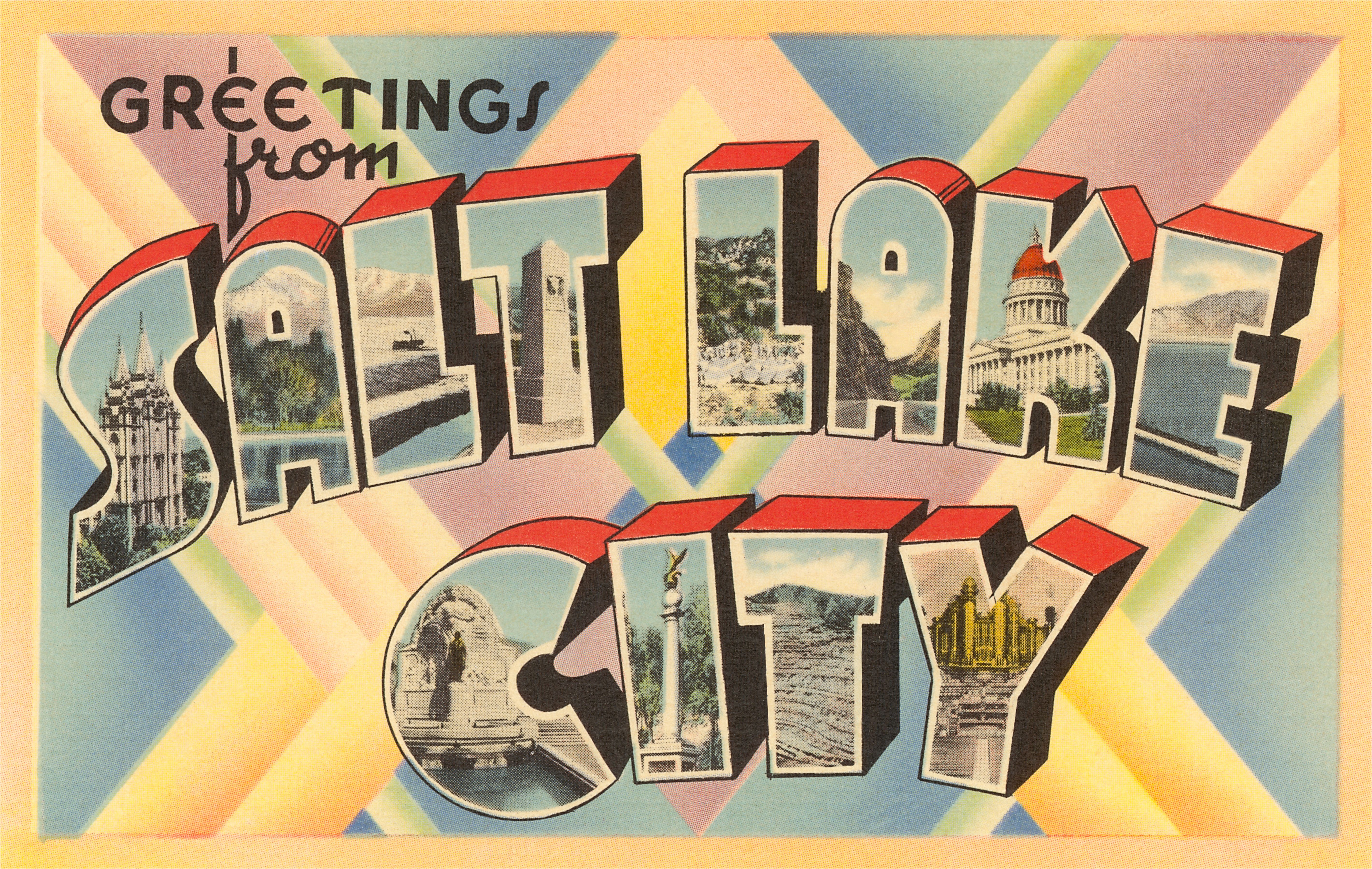 MLB is going to expand eventually, with commissioner Rob Manfred saying recently he "would love to get to 32 teams." The only question is where, Axios' Jeff Tracy writes.
Driving the news: A Salt Lake City consortium led by Gail Miller and the Larry H. Miller Company — former owners of the Utah Jazz and current owners of the Salt Lake Bees (Angels Triple-A) — have launched an MLB expansion campaign.
What they're saying: "Salt Lake City is a major league city," Steve Starks, CEO of the Miller Company, told ESPN. "We believe that as a top-30 media market in the fastest-growing state in the country with the youngest population, that's where our attention should be."
State of play: Salt Lake City isn't alone in its quest to land an MLB franchise. Nashville and Portland, Oregon, have also launched expansion campaigns.
Nashville's Music City Baseball launched in 2019 and is led by three-time World Series champion Dave Stewart. The team would be called the Nashville Stars in tribute to the Negro Leagues team, and is aiming to be MLB's first majority Black-owned club.
The Portland Diamond Project launched in 2017. It's led by former Nike executive Craig Cheek and longtime Trail Blazers announcer Mike Barrett. Broncos QB Russell Wilson and his wife, Ciara, have also signed on as investors.
Between the lines: Salt Lake City may seem like a long shot given it would have the smallest metro population in MLB. But its overall media market size is actually larger than four current MLB hubs (Cincinnati, Kansas City, Milwaukee, San Diego).
Plus, the aforementioned Bees drew the 18th-best average attendance among MiLB's 120 affiliates last season, proving the interest in baseball is there.
On those merits, Nashville makes a good case, too: Its media market is slightly larger than Salt Lake City's, and the Nashville Sounds (Brewers Triple-A) ranked fourth in attendance last season.
What to watch: Before MLB considers expansion it must determine the futures of the Rays and Athletics, who have both explored relocation amid struggles to build much-needed new stadiums.
The A's have been heavily linked to Las Vegas.
The Rays have a plan in place to build a new ballpark near their current one, though details including how it will be financed must still be ironed out.
The bottom line: Regardless of location, MLB is due for expansion. The NFL, NBA and NHL have all added teams this century; MLB's last addition came in 1998 (Rays and Diamondbacks).
3. 🏒 Coach swap: The circle of life
Four NHL teams are headed to the playoffs with new head coaches, all of whom were fired from each other's teams.
See if you can keep up…
Bruce Cassidy was fired by the Bruins last June. A week later he was hired by the Golden Knights, where he led Vegas to a 111-point season and the West's top seed.
Back in Boston, the coach who replaced Cassidy, Jim Montgomery, oversaw the best regular season in NHL history. The Bruins won again on Thursday to finish with a record 65 wins and 135 points.
Pete DeBoer, the coach Cassidy replaced in Vegas, led the Stars to a first-place finish in the Central Division, a point ahead of the defending champion Avalanche.
Rick Bowness, the coach DeBoer replaced in Dallas, was hired by Winnipeg and took the Jets to the final Western Conference playoff spot.
4. ⚡️ Lightning round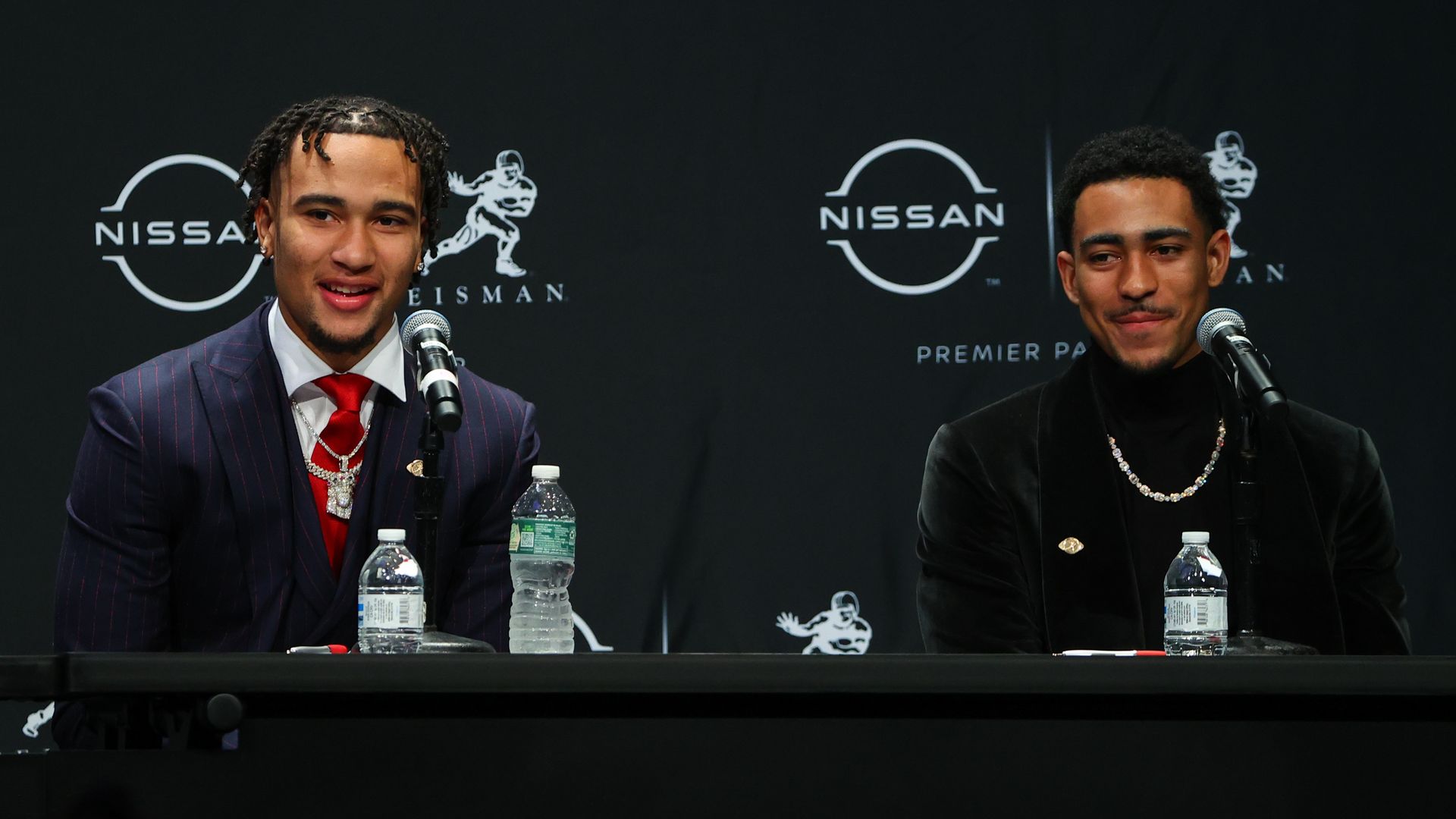 🏈 New favorite: Alabama QB Bryce Young is the new consensus betting favorite to be the No. 1 pick ahead of Ohio State QB C.J. Stroud. The draft begins April 27.
⚾️ On-base machine: Florida Gulf Coast's Brian Ellis made history this week when he reached base in his 102nd consecutive game. Is that good? That seems good.
🏆 Time 100: Six athletes made Time's list of the 100 most influential people in the world: Brittney Griner, Mikaela Shiffrin, Lionel Messi, Patrick Mahomes, Kylian Mbappé and Iga Świątek.
🏀 Portal snapshot: More than 1,000 players are in the women's college basketball transfer portal. See all the top names, starting with Hailey Van Lith.
5. 🔟 Imperfect 10s
Perfect scores in women's college gymnastics used to be a rarity. Now, judges hand them out to just about anyone, Jeff writes.
By the numbers: Entering Saturday's NCAA championship, there have been 82 perfect 10s this season.
Five years ago, there were 39 all season.
10 years ago, there were just 14.
What they're saying: "The rise in 10s is … spurring controversy about how NCAA judges are compensated, trained and evaluated," per WashPost.
6. 📸 Pic du jour: Coming soon...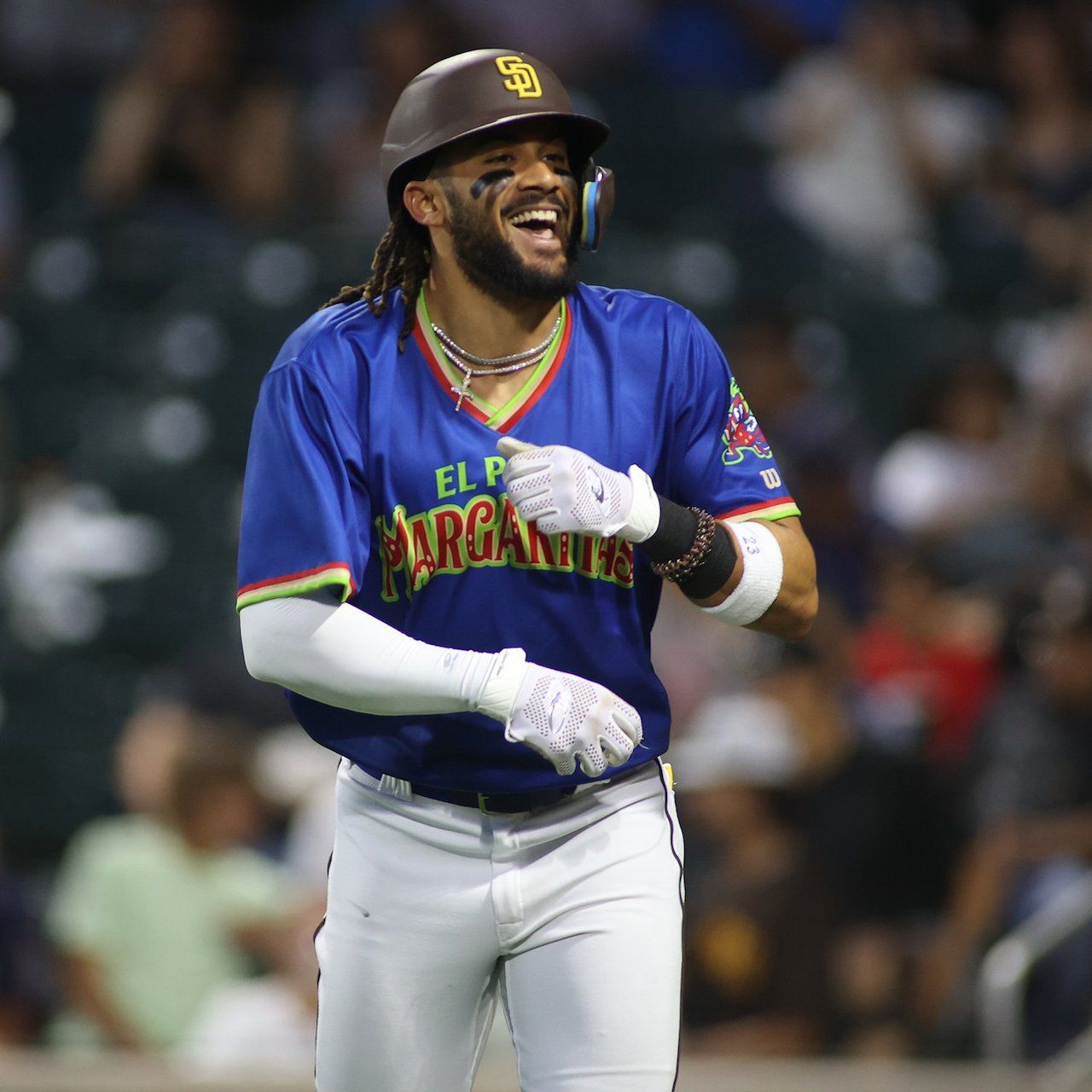 Fernando Tatis Jr. had a decent night at the plate on Thursday, going 5-6 with 3 HR and 8 RBI for the El Paso Chihuahuas, the Padres' Triple-A affiliate, Jeff writes.
What's next: Tatis, who hasn't played an MLB game since the final day of the 2021 season, is eligible to return from his 80-game PED suspension in six days. Seems he's ready.
7. 🍿 Highlight of the night
On the penultimate day of the NHL regular season, Juuso Pärssinen scored arguably the filthiest goal of the year.
Then he hit 'em with the shrug.
8. 📺 Watchlist: The playoffs are here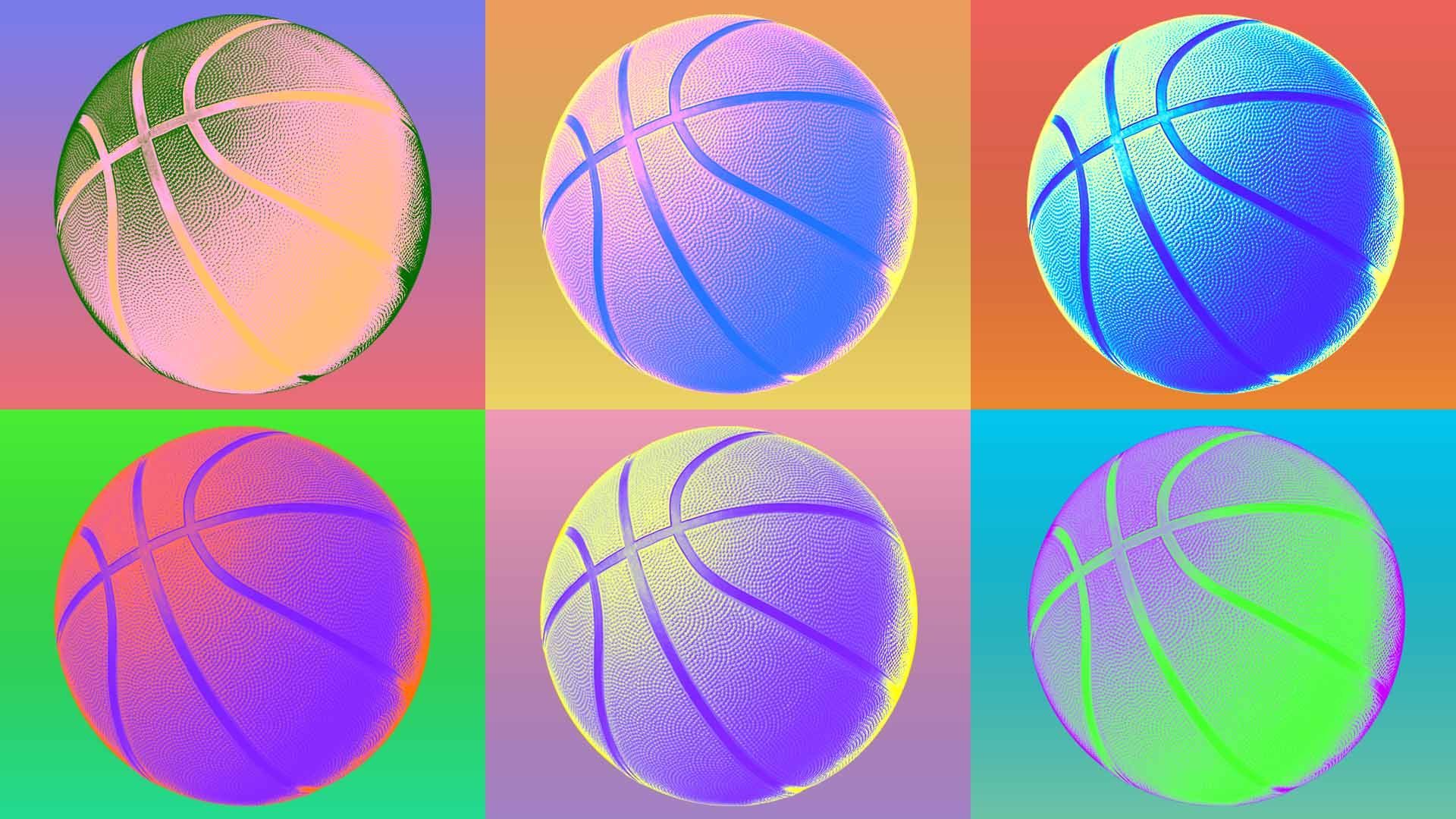 The NBA playoffs have (nearly) arrived. Once the play-in tournament ends tonight, the 16-team field will be set and the race for the Larry O'Brien Trophy will begin.
Tonight (play-in): Bulls at Heat (7pm ET, TNT); Thunder at Timberwolves (9:30pm, ESPN) … Winners earn the No. 8 seed; losers go home.
Saturday: Nets at 76ers (1pm, ESPN); Hawks at Celtics (3:30pm, ESPN); Knicks at Cavaliers (6pm, ESPN); Warriors at Kings (8:30pm, ABC)
Sunday: Lakers at Grizzlies (3pm, ABC); Bulls/Heat at Bucks (5:30pm, TNT); Clippers at Suns (8pm, TNT); Thunder/Timberwolves at Nuggets (10:30pm, TNT)
More to watch:
9. ⚾️ MLB trivia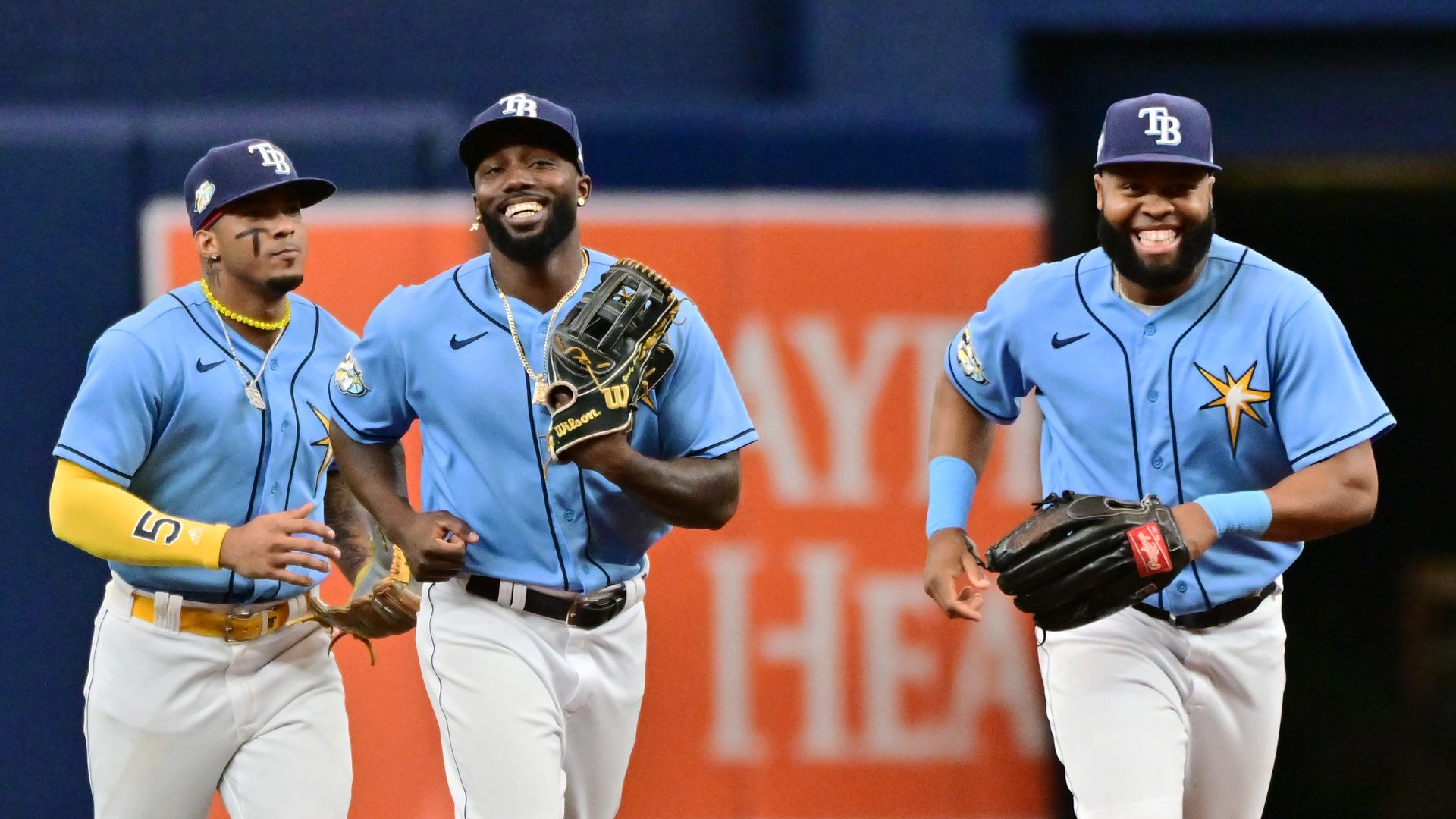 The Rays' 13-0 start ties the modern MLB record, most recently set by the 1987 Brewers — who somehow failed to even make the postseason.
Question: Who won the World Series that year?
Hint: They won again four years later, and haven't won another since.
Answer at the bottom.
10. 🐶 1 bulldog thing: End of an era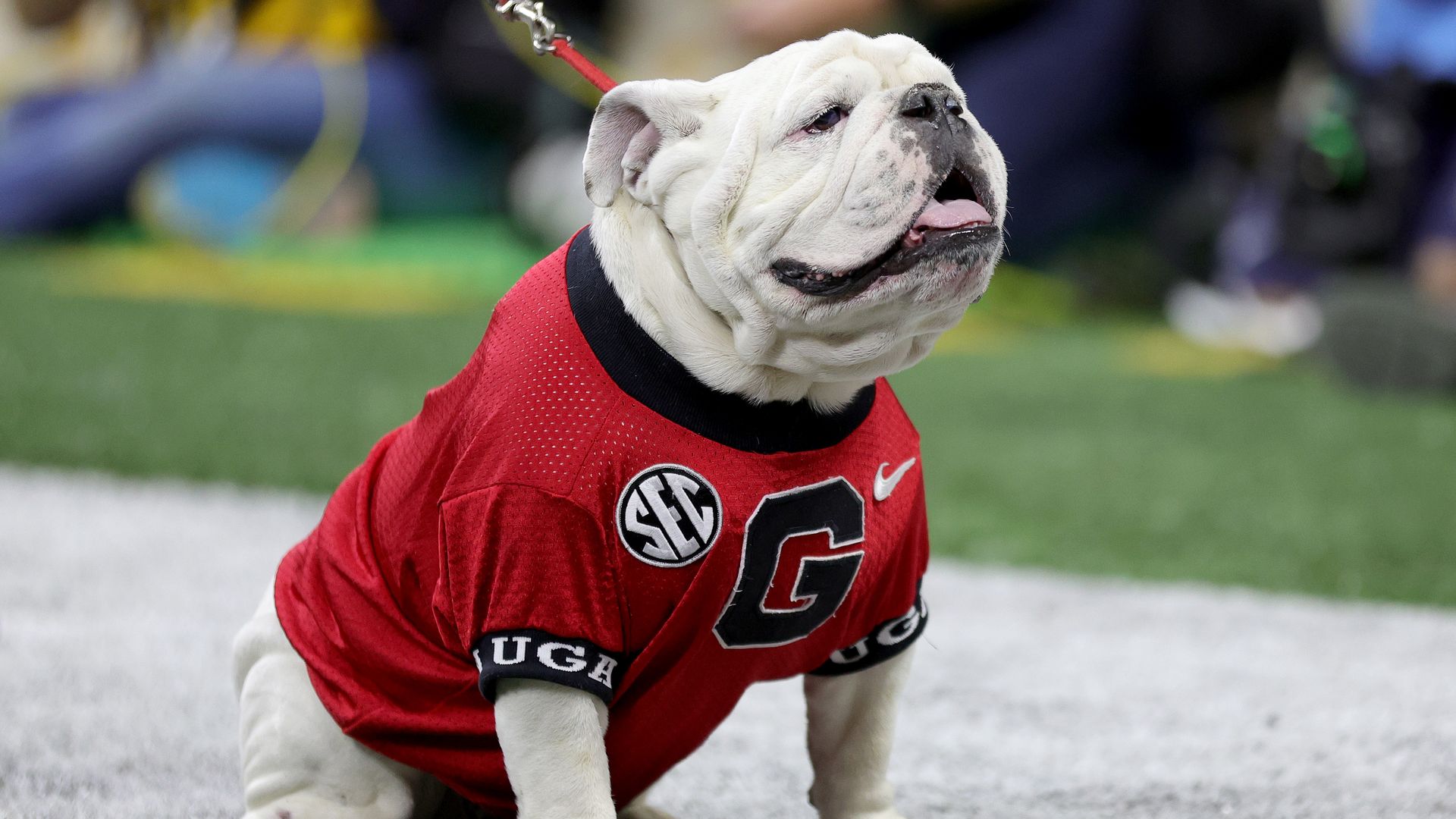 Uga X will retire on Saturday after a record-breaking career as Georgia's beloved mascot.
Since joining the program in 2015, the English bulldog saw Georgia football go 91-18 and win two national titles.
That makes him the winningest mascot in school history.
What's next: Boom, a 10-month-old puppy, will be collared ahead of Georgia's G-Day Game on Saturday and become "Uga XI."
Have a great weekend,
Kendall "No but seriously, the Rays may never lose" Baker
Trivia answer: Minnesota Twins
🙏 Thanks for reading! Follow us for more (@kendallbaker and @jeffreytracy). Friends can sign up here. Thanks to Matt Piper for copy edits.