Axios Sports
September 02, 2022
We apologize for the delay this morning due to technical issues.
👋 Happy Friday! Reminder that the newsletter will be paused next week. When it returns on Monday, Sept. 12, Kendall will be back ... and so will the NFL.
Today's word count: 1,538 words (6 minutes).
Let's sports...
1 big thing: 🏈 Week 1 has arrived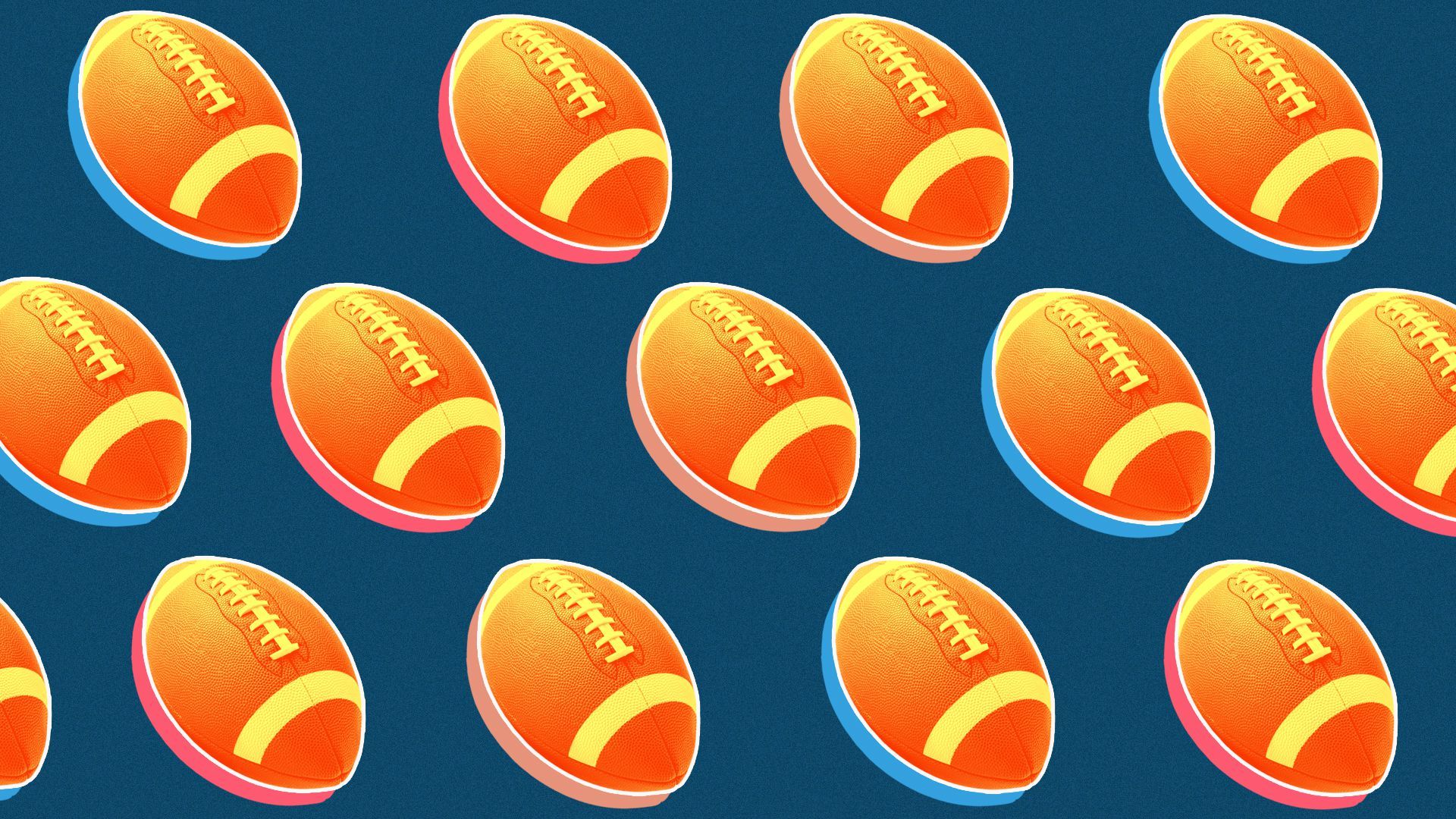 Week 0 was a great appetizer, and last night's Backyard Brawl was truly as good as it gets. But eight months since Georgia hoisted the trophy, college football returns in earnest this weekend.
State of play: There are 67 games between today and Monday, including three between ranked teams. Here are a few things to watch for in five of Week 1's best matchups.
No. 5 Notre Dame at No. 2 Ohio State (Sat. 7:30pm ET, ABC): Incredibly, this is just the seventh meeting all time between these two storied programs. First-year head coach Marcus Freeman — a former Buckeye linebacker (2006–08) — hopes to lead the Irish to their first win over his alma mater since 1936.
No. 11 Oregon "at" No. 3 Georgia (Sat. 3:30pm, ABC): The defending champs "host" the Ducks at Mercedes-Benz Stadium, home of the Falcons. Like narratives? Oregon's first-year head coach Dan Lanning was Georgia's defensive coordinator last year, helming one of the greatest defenses in college football history.
No. 23 Cincinnati at No. 19 Arkansas (Sat. 3:30pm, ESPN): The Razorbacks are in the AP preseason poll for the first time since 2015. Their reward? A Bearcat team that hasn't lost a regular-season game since 2019. Cincy did, however, lose nine players to the NFL this year.
No. 7 Utah at Florida (Sat. 7pm, ESPN): The Utes — getting some early College Football Playoff love after last year's run to the Rose Bowl — head to The Swamp for their first game against an SEC opponent since 2009. The Gators hope new head coach Billy Napier is the answer after last year's disappointing campaign.
Florida State "at" LSU (Sun. 7:30pm, ABC): Speaking of disappointing teams from Florida and new head coaches: FSU hasn't had a winning season since 2017, while LSU welcomes Brian Kelly, who led Notre Dame to the CFP in two of the past four seasons. Like the Oregon-Georgia game, this one's being played at the local NFL stadium (Caesars Superdome, Saints).
Go deeper:
2. ⚾️ Judge vs. Ohtani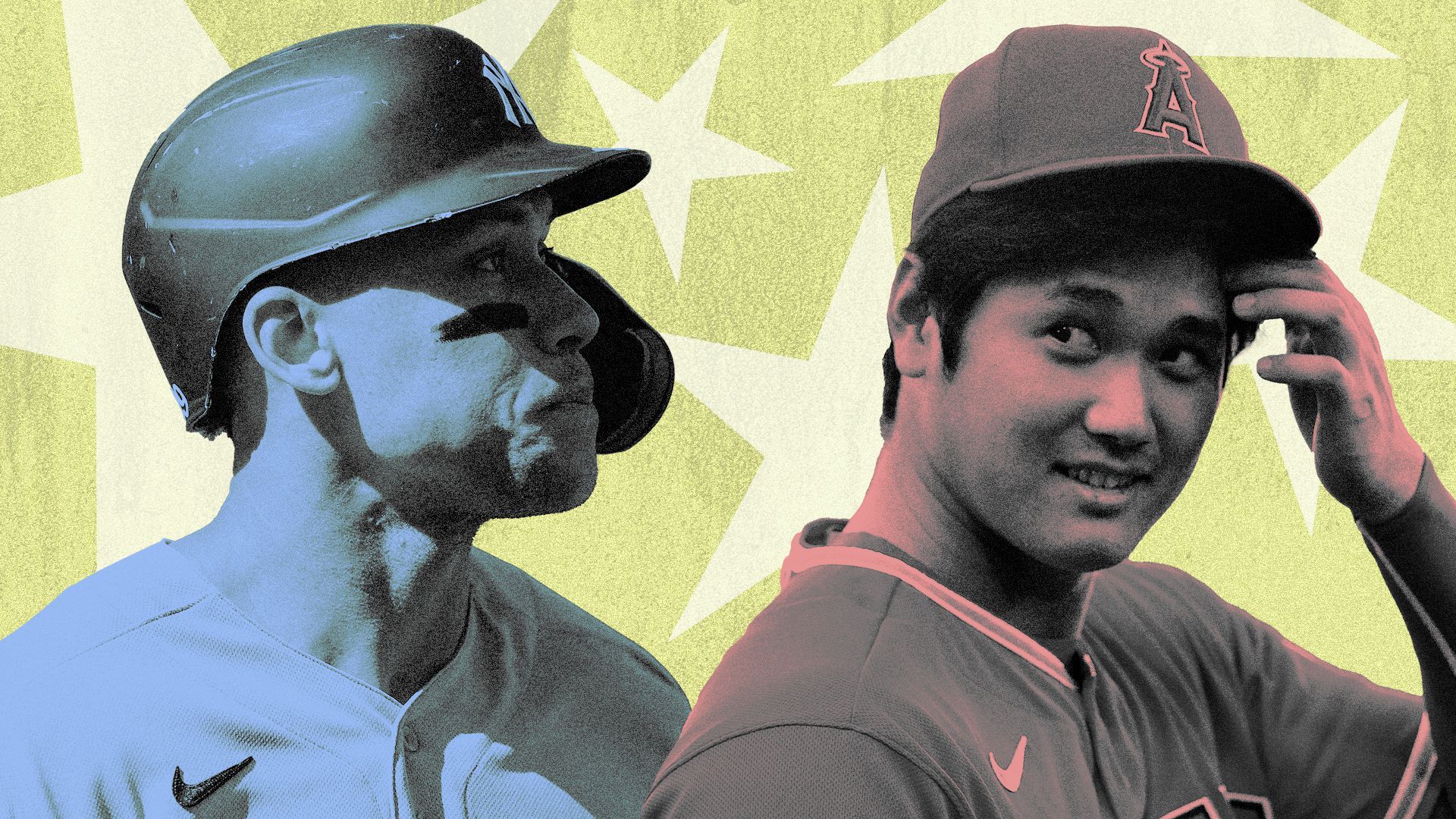 One of the most fascinating storylines to follow as the MLB season winds down is how voters will parse the cases of the only two players that still have a real shot to win AL MVP: Aaron Judge and Shohei Ohtani.
Where it stands: Judge is heavily favored thanks to his legitimate pursuit of an AL-record 62 HR and the fact that he plays for a potential 100-win team.
Yes, but: Ohtani shouldn't be viewed as merely the second-most likely to win this race. Not when he's putting together a season that may exceed even last year's unanimous MVP-winning campaign.
Let's break it down...
Judge: The Yankees outfielder is, quite simply, engineering one of the greatest offensive seasons of the 21st century.
He leads all of MLB in most major categories, including HR (51), RBI (113), OPS (1.062) and WAR (7.7).
His 199 OPS+ is the sixth-best mark since 2000 (min. 100 games), behind only Barry Bonds (4x) and Sammy Sosa.
Wild stat: Judge joined Babe Ruth (5x) as the only players in MLB history to enter September with at least 15 more HR than anyone else (Kyle Schwarber, 36).
Ohtani: It's easy to forget that what he's doing is about more than "just" being an elite hitter and pitcher: While every other starter gets four days to recover between outings, Ohtani is right back in the lineup the next night.
Among AL hitters, he ranks third in HR (30), second in triples (6), fourth in RBI (82) and OPS (.888), and sixth in walks (64).
He leads AL pitchers (min. 120 IP) with 12.38 strikeouts per nine innings, and he's got the fifth-most strikeouts (176) and sixth-best ERA (2.67). He's a legitimate top-five Cy Young candidate.
Add it all up, and his 7.3 cumulative WAR is second only to Judge.
The bottom line: No matter who wins, let's not take for granted that seasons like these don't come along very often, and we're lucky enough to witness both simultaneously.
3. ⚡️ Lightning round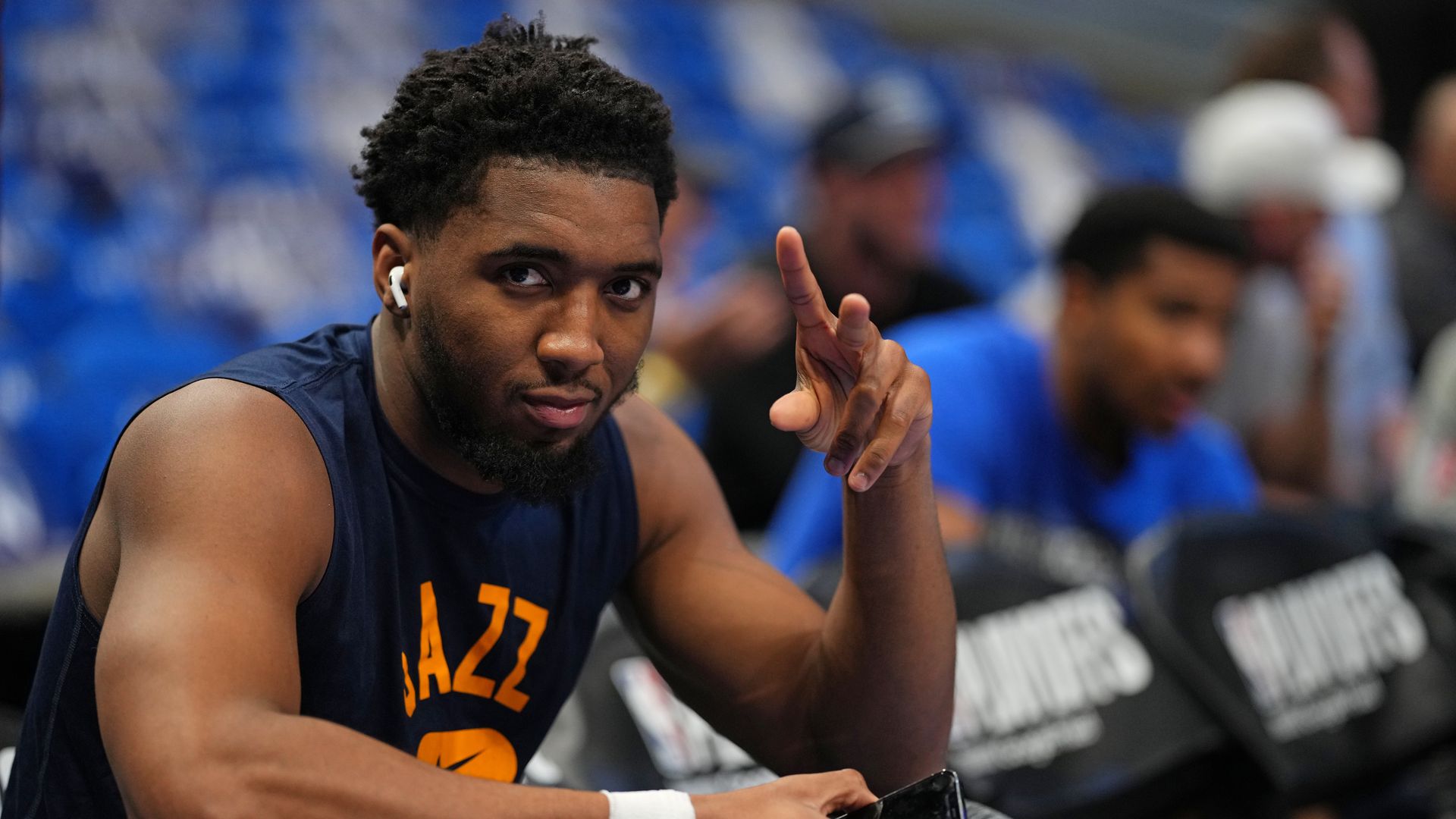 🏀 NBA blockbuster: The Jazz finally traded Donovan Mitchell, but not to the Knicks. He's going to Cleveland for Lauri Markkanen, Collin Sexton, Ochai Agbaji, three first-round picks and two pick swaps. Utah now has 15 first-round picks in the next seven drafts.
🏈 CFP expansion coming? The College Football Playoff's 11-member board will meet today to discuss the possibility of expanding the playoff as soon as 2024.
⚾️ Braves record: Rookie Spencer Strider struck out a Braves franchise-record* 16 batters on Thursday (*nine-inning game). His 137 strikeouts through 17 career starts are the third-most in MLB history.
💵 Micro-betting launches: Betr, the micro-betting company backed by Jake Paul, launched on Thursday. Instead of game outcomes, bettors will wager on the nitty-gritty aspects of sporting events, like the result of Bryce Harper's next at-bat or the Warriors' next possession.
⚽️ Transfer deadline: USMNT defender Sergiño Dest joined AC Milan on loan from Barcelona just before the summer transfer window closed on Thursday. Christian Pulisic and Cristiano Ronaldo stayed put at Chelsea and Manchester United, respectively. Transfer tracker.
4. 🏈 Russ got paid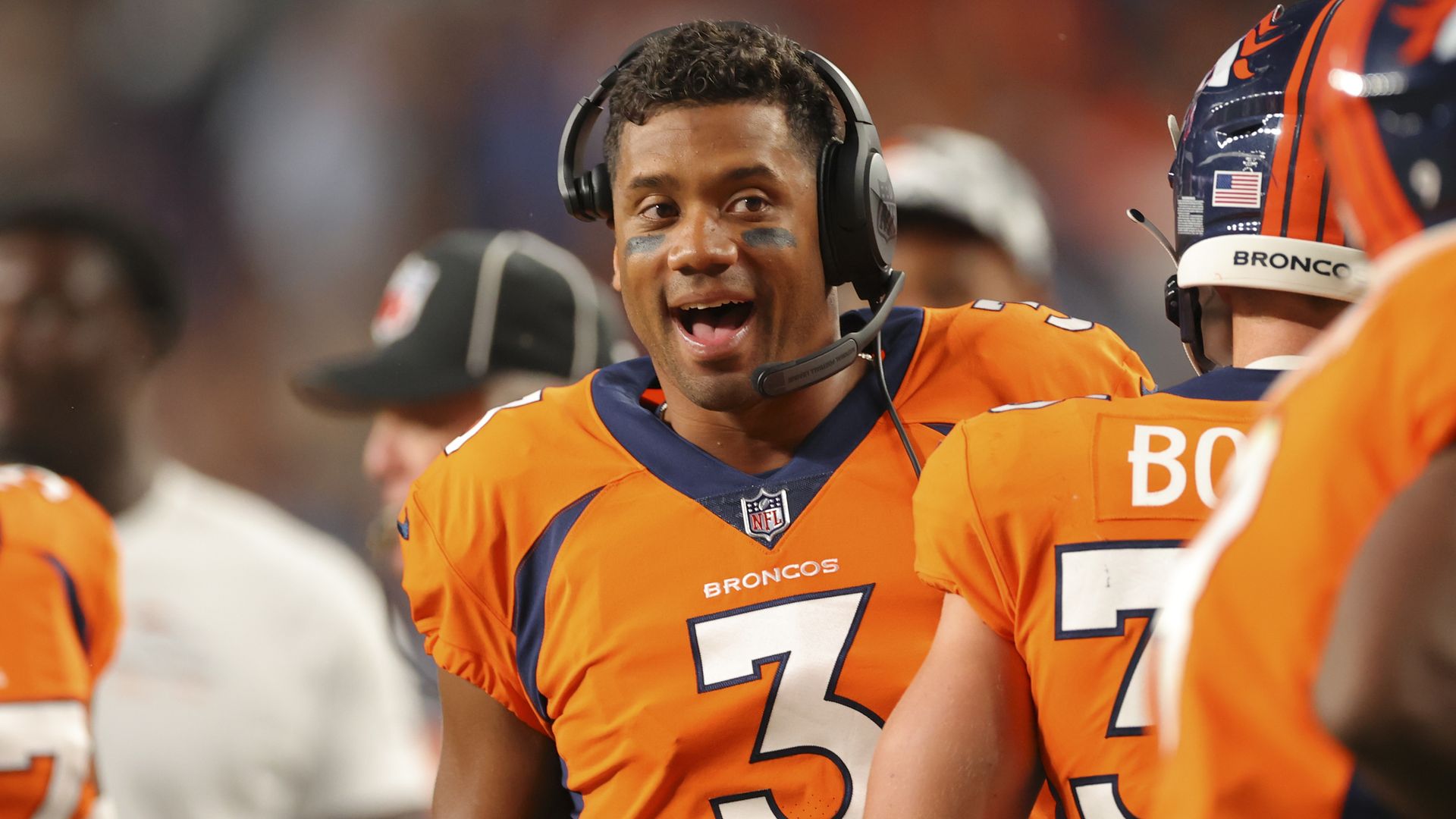 Russell Wilson and the Broncos agreed to a five-year, $245 million extension on Thursday.
Why it matters: It's one of the most lucrative contracts in NFL history.
The total value ($245 million) ranks third behind Patrick Mahomes ($450 million) and Josh Allen ($258 million).
His guaranteed money ($165 million) also ranks third behind Deshaun Watson ($230 million) and Kyler Murray ($189.5 million).
The average annual value ($49 million) is second only to Aaron Rodgers ($50.3 million).
Between the lines: With two years still left on his current deal, Wilson's under contract in Denver for the next seven seasons. Such stability should do wonders for a team that hasn't made the playoffs since 2015, in large part due to their revolving door of sub-par QBs.
Broncos starting QBs since 2016: Trevor Siemian (24 games), Drew Lock (21), Case Keenum (16), Teddy Bridgewater (14), Joe Flacco (8), Brock Osweiler (4), Paxton Lynch (4), Brandon Allen (3), Jeff Driskel (1), Brett Rypien (1), Kendall Hinton (1).
Go deeper: How Wilson's deal impacts the rest of the league (ESPN)
5. 🌎 The world in photos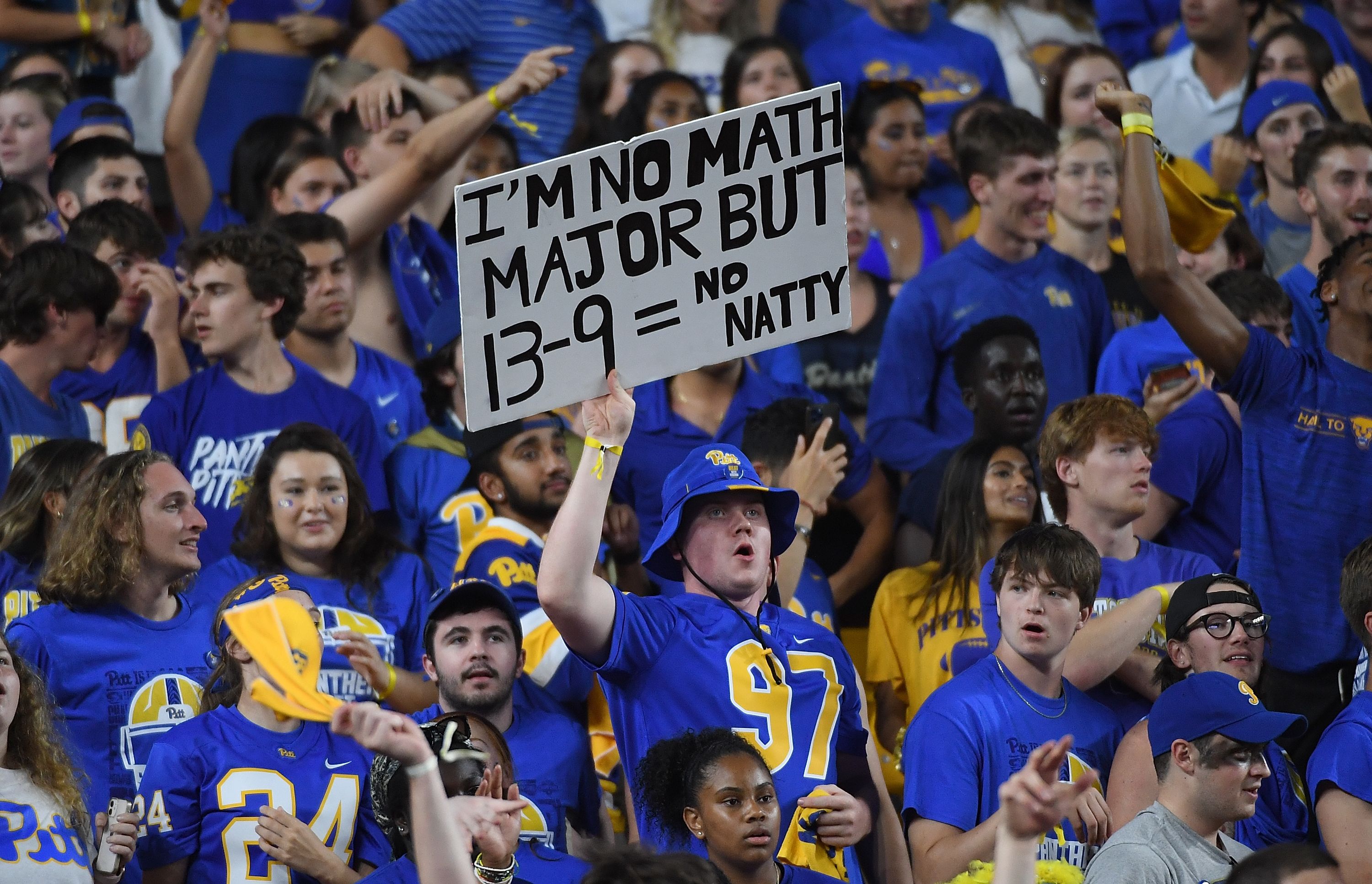 PITTSBURGH — With the help of a late pick-six — and an even later catch ruled incomplete after review — Pittsburgh took down West Virginia in a 38-31 thriller to win the first Backyard Brawl since 2011.
NEW YORK — Venus and Serena, who hadn't played together in over four years, lost in straight sets on Thursday night to Linda Nosková and Lucie Hradecká.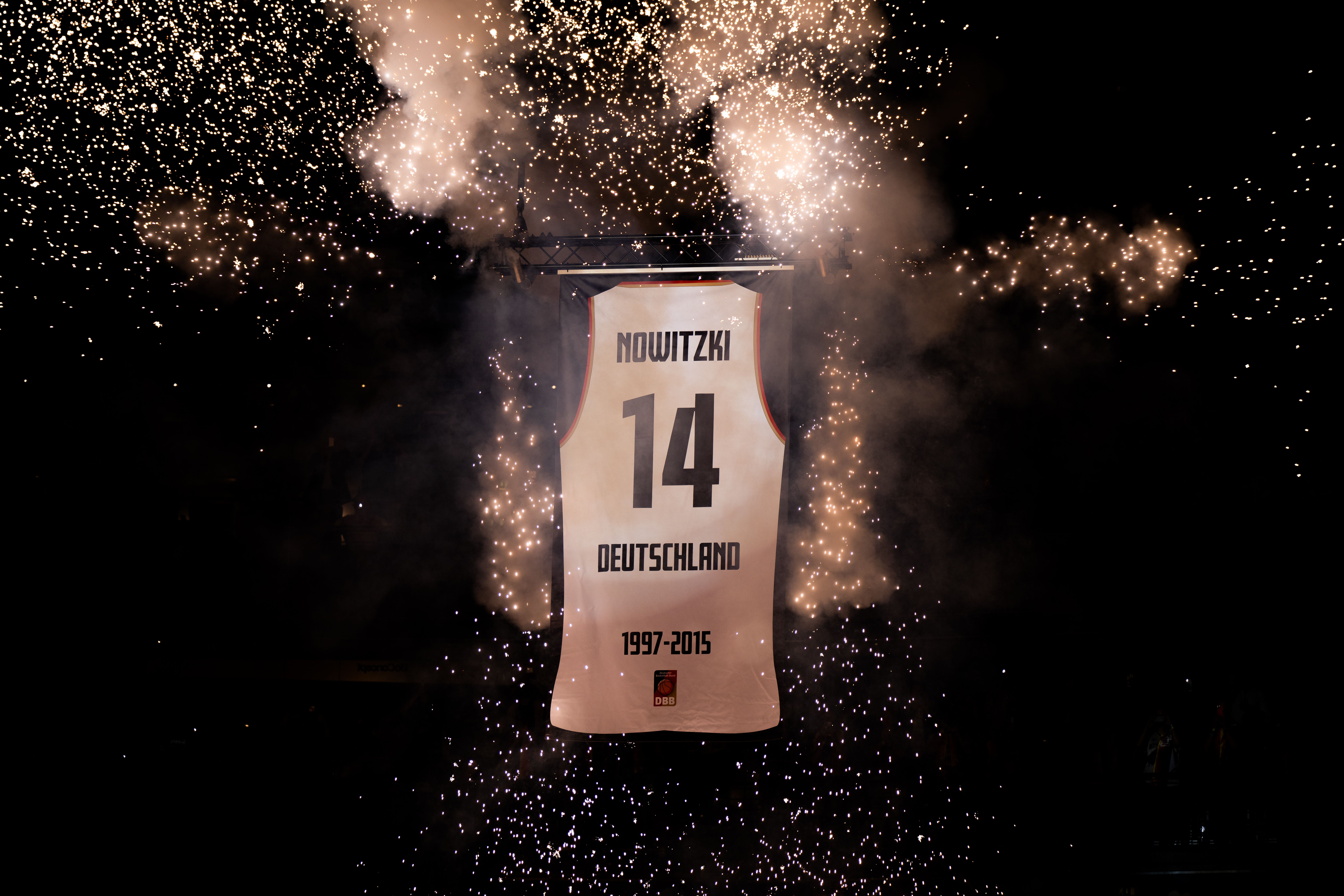 COLOGNE, Germany — Dirk Nowitzki's national team jersey was retired before Germany's EuroBasket opener against France on Thursday.
Why it matters: His is the first jersey retired by the German Basketball Federation.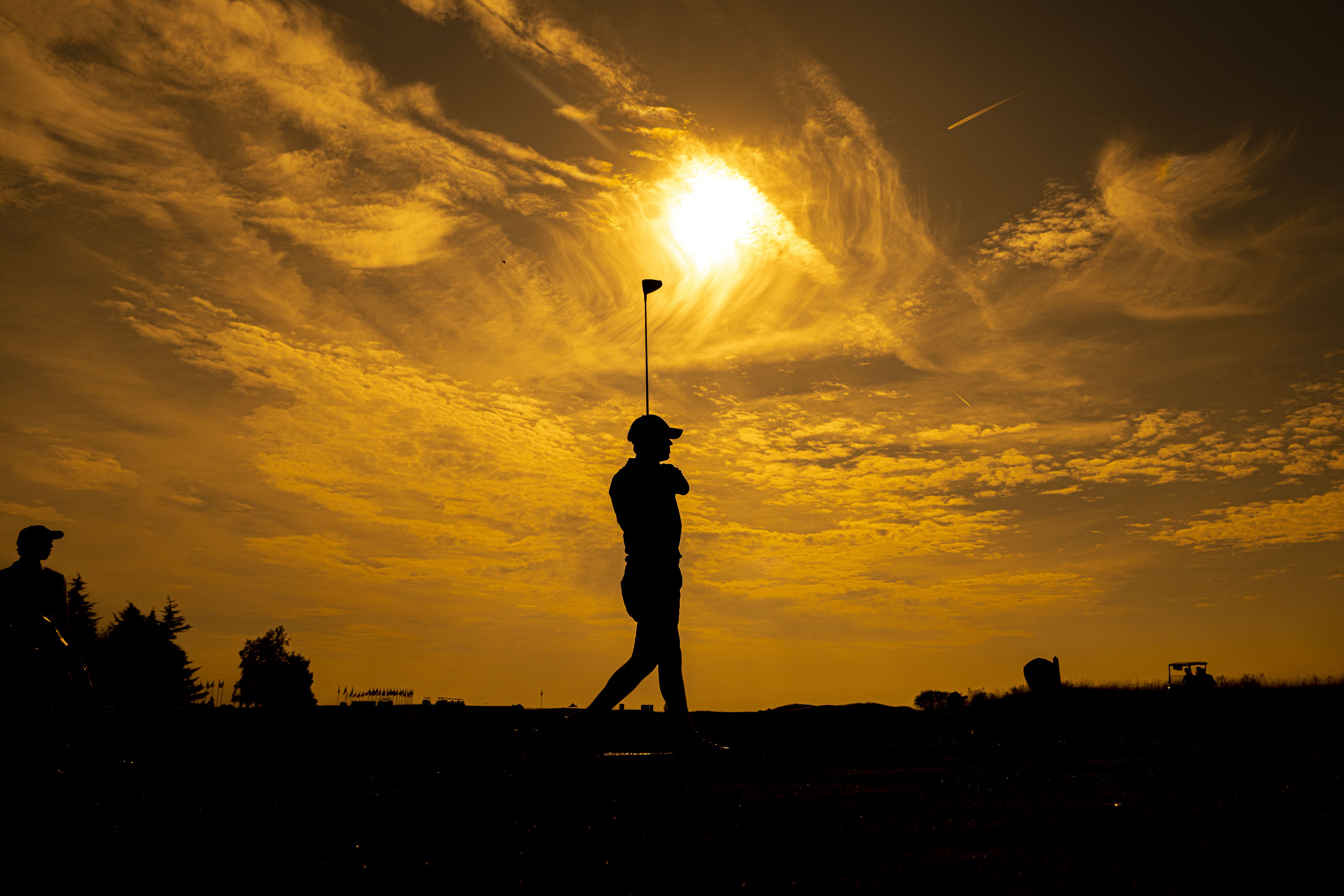 PARIS — I like to imagine this is how I look playing golf. (It's not.)
6. 📺 Watchlist: A pair of Game 3's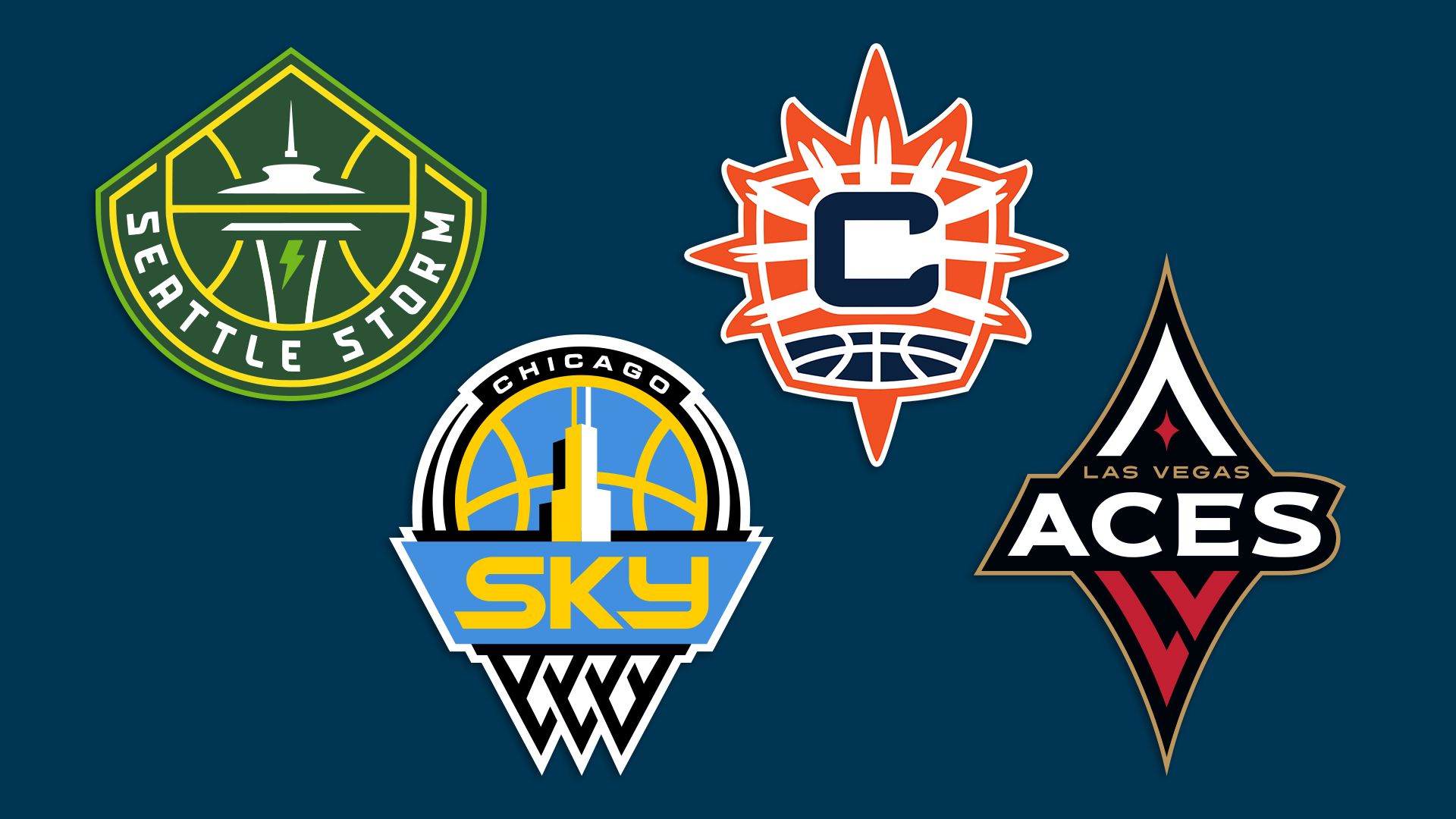 Both WNBA semifinals head to pivotal Game 3's on Sunday, with each best-of-five series tied at one game apiece.
Sky at Sun (1pm, ESPN2): Candace Parker's averages through two games for the defending champ Sky: 20.5 points, 11 rebounds, 4.5 assists, 2.5 steals, 4.5 blocks and just 3 total turnovers. She's 36!
Aces at Storm (3pm, ABC): The matchup of MVP favorites has not disappointed, with A'ja Wilson and Breanna Stewart going toe-to-toe in two close games. Sue Bird, meanwhile, is still a beast at age 41.
More to watch:
7. 🏈 CFB trivia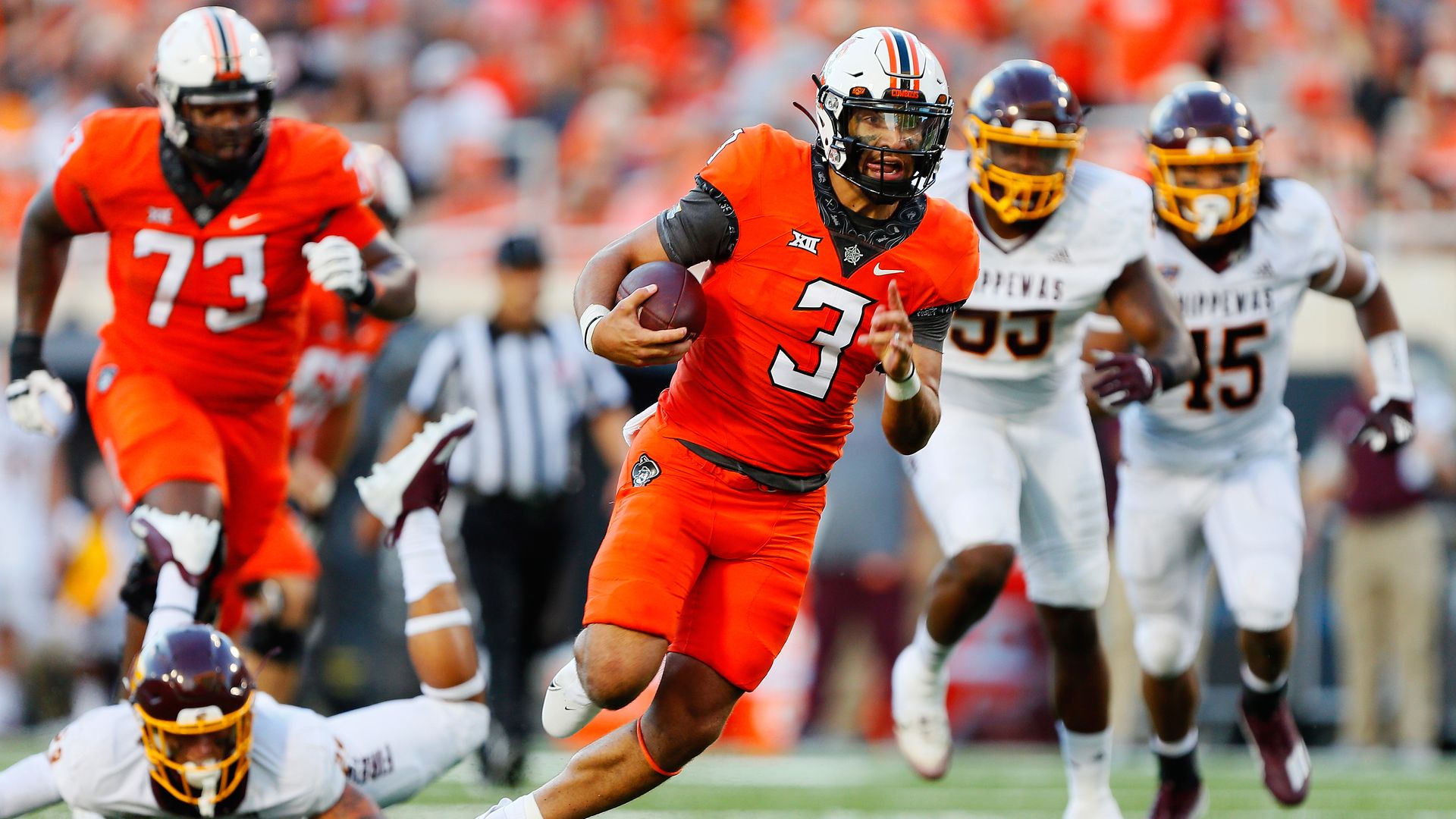 Oklahoma State QB Spencer Sanders on Thursday became the second player in Big 12 history with 300 passing yards, three passing TD and two rushing TD in a single half.
Question: Who was the first?
Hint: He did it in 2016.
Answer at the bottom.
8. 🔥 Díaz throws flames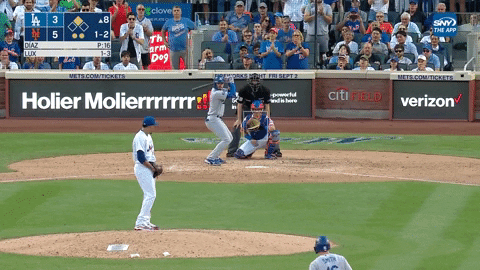 At 102.8 mph, this was the fastest pitch of Edwin Díaz's career.
It also helped the Mets (84-48) take two out of three from the Dodgers (90-40). NLCS preview?
Have a great holiday weekend,
Jeff "Six more sleeps 'til the NFL's back" Tracy
Trivia answer: Patrick Mahomes
🙏 Thanks for reading. Follow us on Twitter: @kendallbaker and @jeffreytracy. And of course, tell your friends to sign up.