Axios Sports
January 24, 2022
👋 Good morning! Playoff football is a hell of a drug.
Today's word count: 1,732 words (7 minutes).
Let's sports...
1 big thing: 🏈 The greatest playoff weekend ever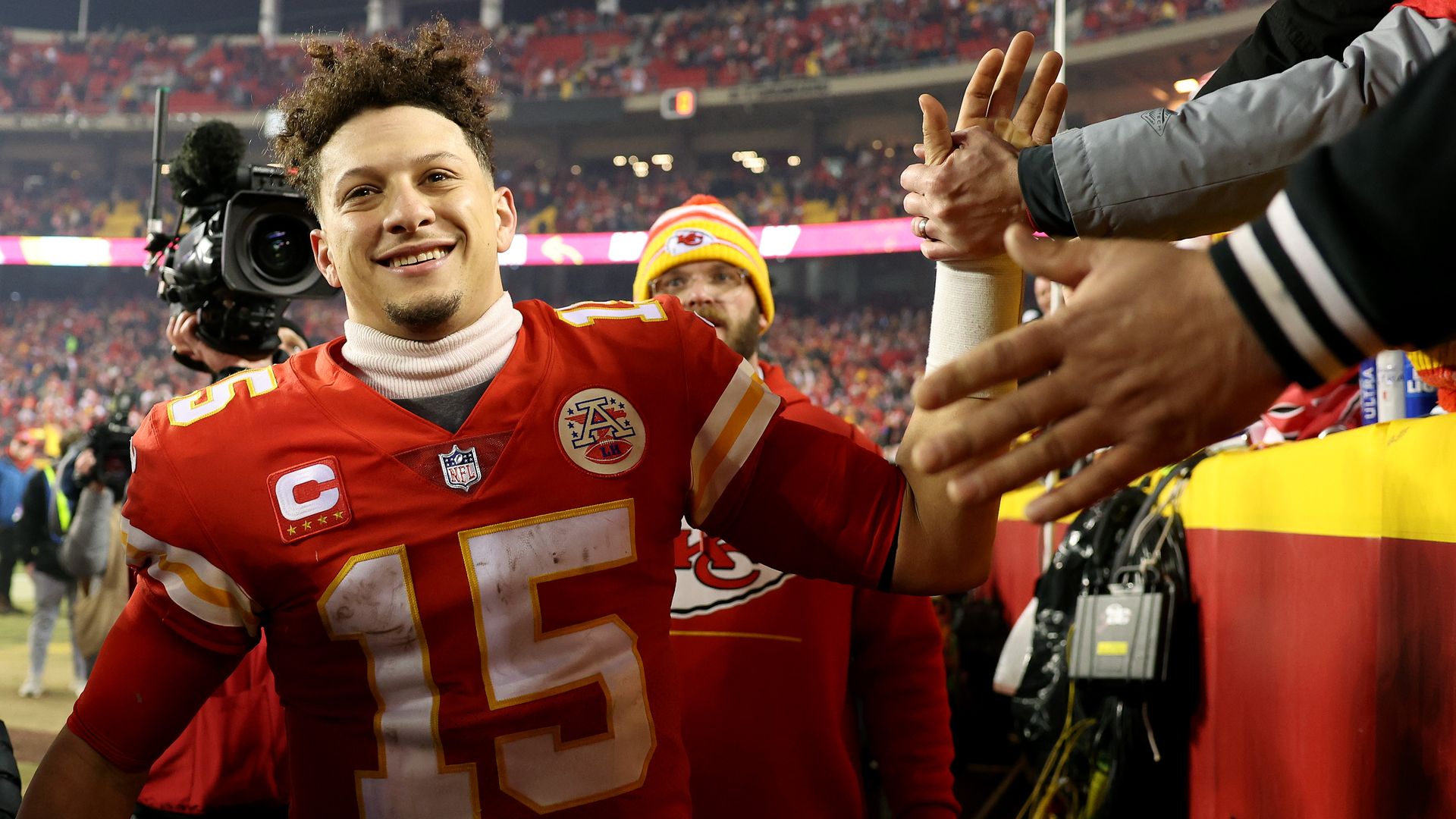 The 2021 NFL season featured unprecedented parity and a record number of walk-offs. This weekend was more of the same — and then some.
Why it matters: For the first time in NFL history, all four Divisional Round games ended in walk-off fashion. It was, quite simply, the greatest playoff weekend ever.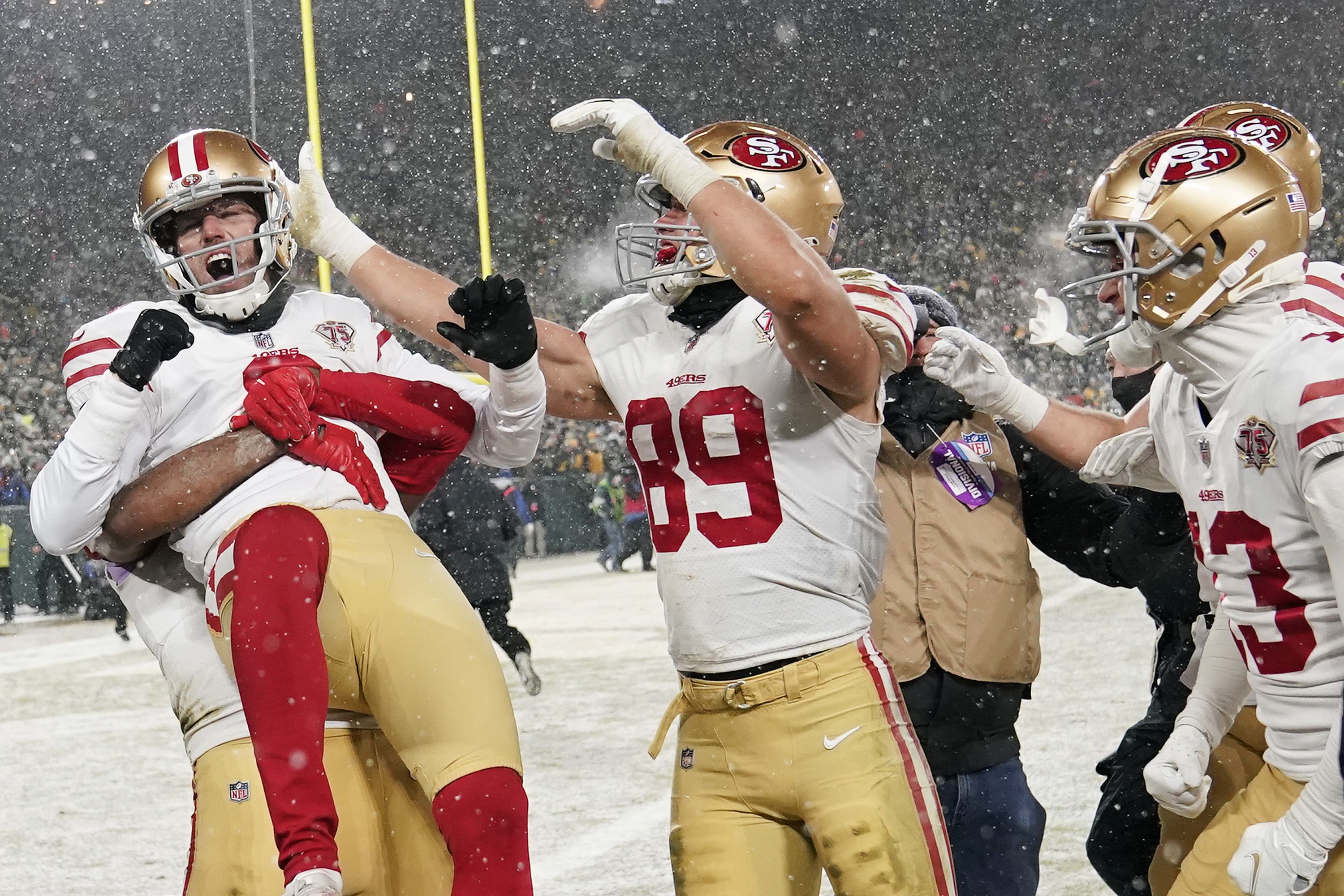 Notes:
Night and day: The average margin of victory in the largely forgettable wild-card round was 17.2 points. The average margin of victory this weekend? 3.8 points.
Top seeds tumble: Both No. 1 seeds lost in the Divisional Round for the first time since 2010, when the top-seeded Patriots lost to the Jets and the top-seeded Falcons lost to the Packers. Jets fans click here.
Head up, Josh: Allen put together one of the finest two-game stretches in playoff history (771 total yards, 9 TD, 14 incompletions), but it wasn't enough. I have a feeling he'll be back — many times.
Golden legs: McPherson remains perfect on the road in his rookie season (18/18 FG), and Gould has still never missed a kick in the playoffs (20/20 FG, 32/32 PAT). Two absolute studs.
Hollywood ending? Last season marked the first time a team played the Super Bowl in its own stadium (Buccaneers). The Rams are one win away from making it happen two years in a row.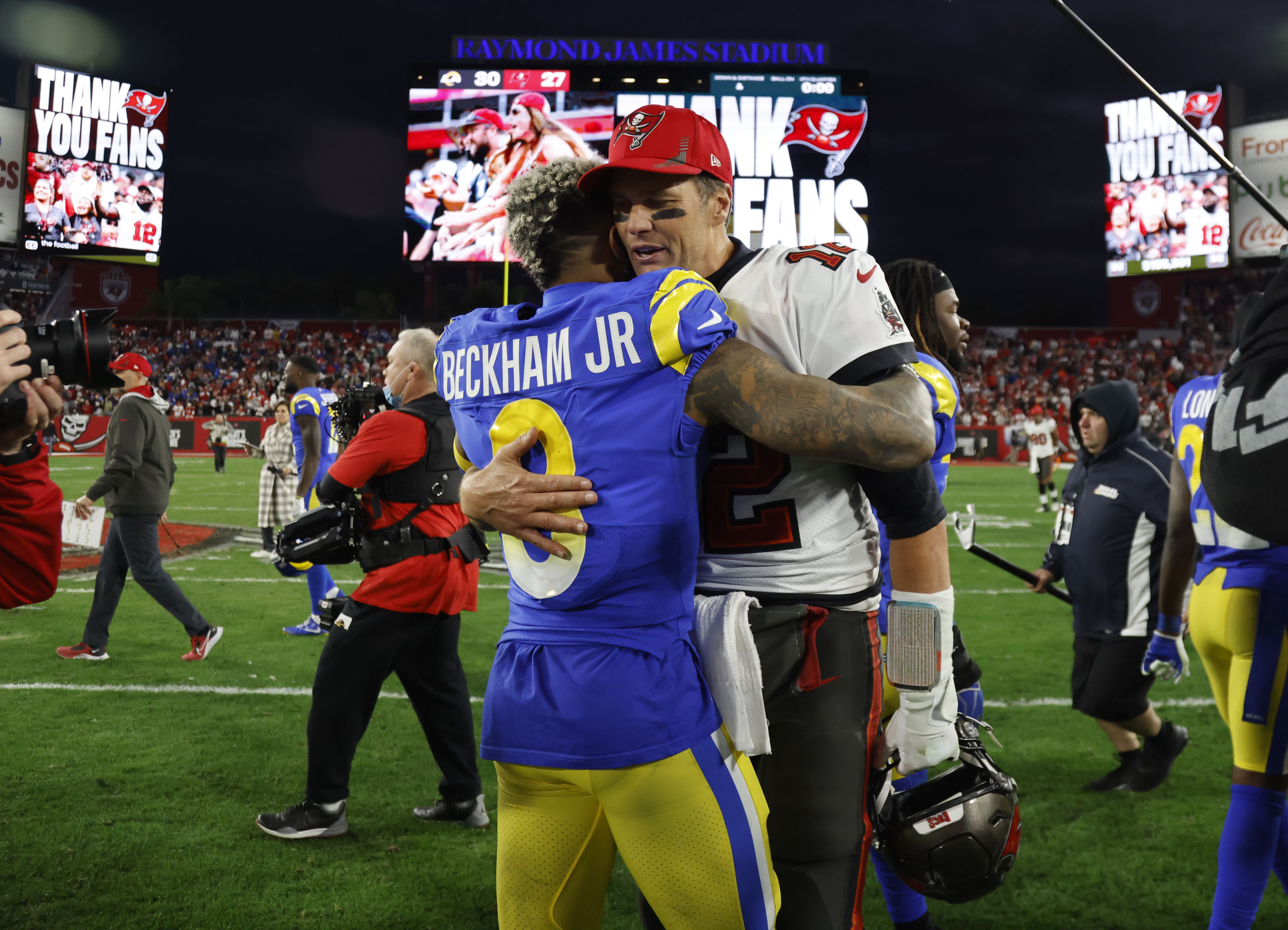 The big picture: Mahomes and Allen are undeniably the future of the NFL (the new Brady-Manning?). What isn't as clear is what Brady and Rodgers now represent: The present or the past?
Brady, 44, has long talked about playing until age 45, but some teammates are reportedly bracing for his retirement. Personally, I don't see it — but stranger things have happened.
Rodgers has hinted at retirement. And if he returns, it could be in a different uniform due to the Packers' financial mess. They're $44.8 million over the salary cap and Davante Adams needs a new deal.
Zoom out ... No matter what the future holds for Brady and Rodgers, this weekend already ushered in a new era of sorts: For the first time since 2010, neither of them will be playing in the Championship Round.
Looking ahead: The Chiefs opened as touchdown favorites over the Bengals, while the Rams opened as 3.5-point favorites over the 49ers.
Go deeper:
Bonus: 🤯 Craziest stat ever?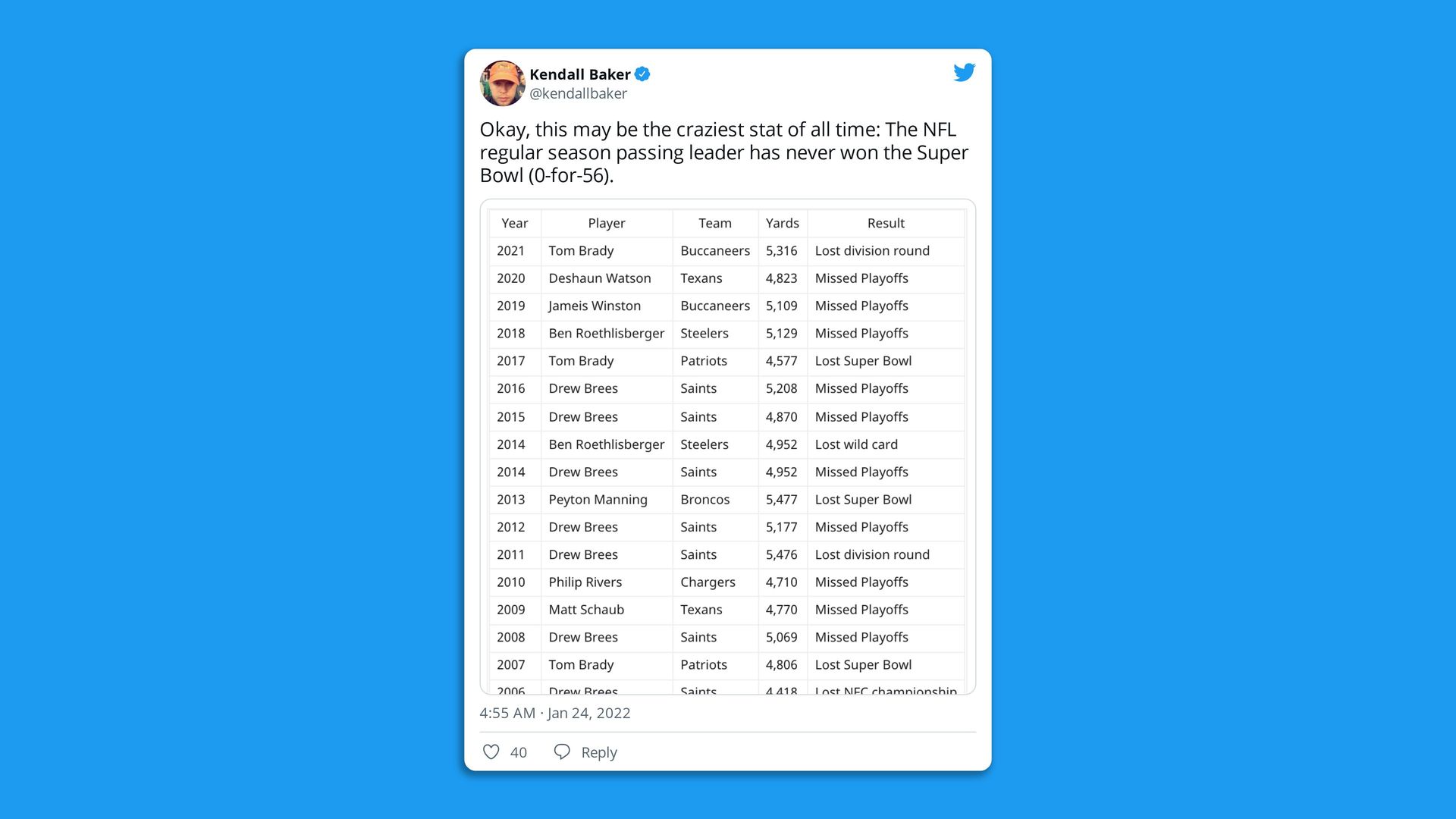 This is bonkers: Tom Brady's exit means the NFL regular-season passing yards leader has still never won the Super Bowl (0-for-56).
2. 🇺🇸 Team USA spotlight: Emily Sweeney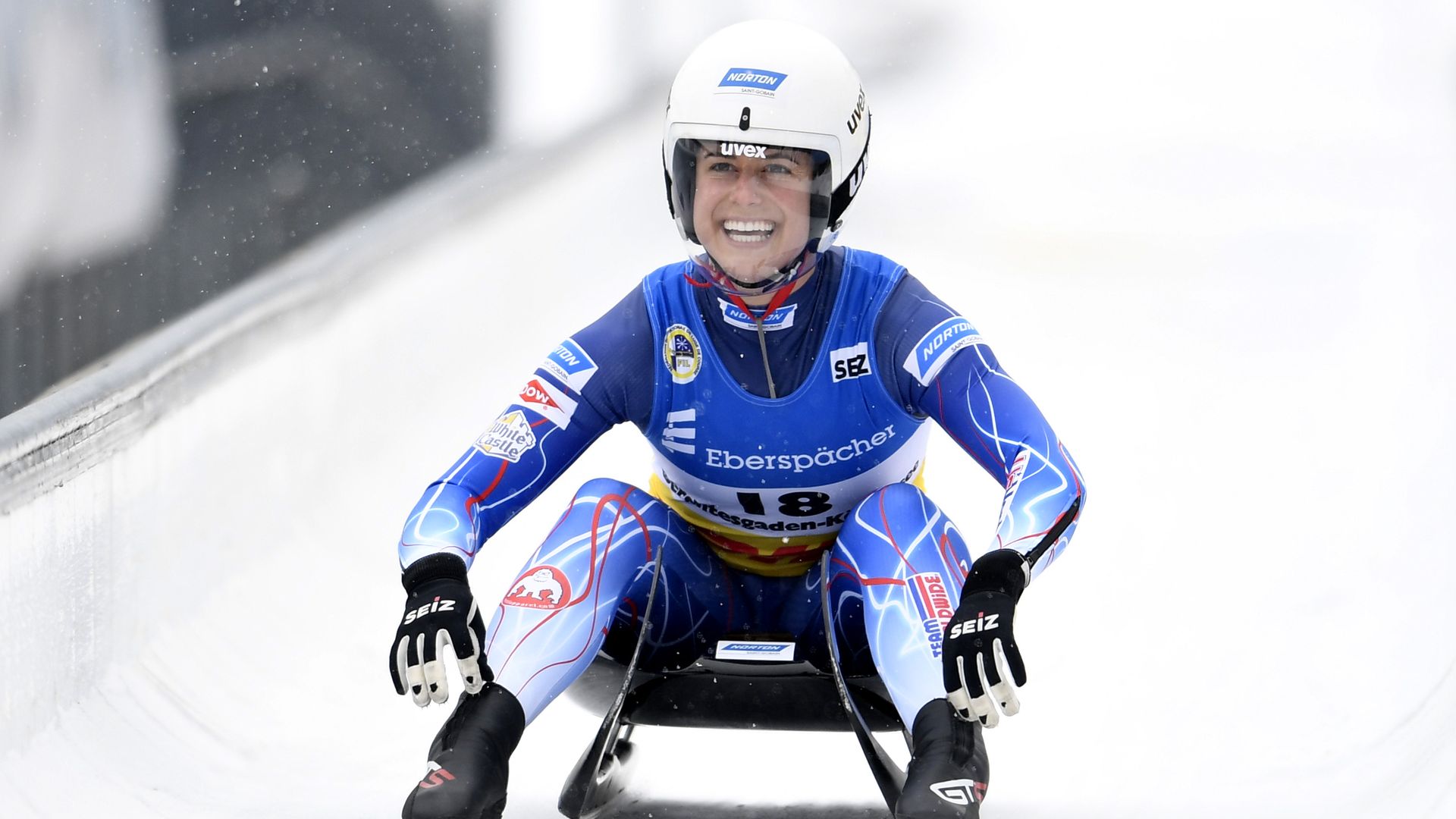 In the lead-up to the Beijing Winter Olympics (Feb. 4-20), we're profiling 10 members of Team USA.
The Olympian: After breaking her neck and back in a frightening crash at the Pyeongchang Olympics, Sweeney returns to the Games in search of her first medal.
Sweeney's older sister, Megan, was also an Olympic luger, competing for Team USA at the 2010 Vancouver Games.
Emily joined the Army in 2011 and is part of the U.S. Army World Class Athlete Program, which allows soldiers to participate in the Olympics while also serving their nation.
The event: Lugers lay on their back and steer their sleds with their legs and shoulders while racing down the track at upwards of 90 mph. There are four events: singles (men's and women's), doubles and team relay.
Team USA has won six medals in luge — three silver and three bronze — since its debut at the 1964 Olympics in Innsbruck, Austria.
Germany has dominated the competition, winning 81 of 141 possible medals, including 34 of 49 possible golds.
Go deeper: USA Luge's long, winding road to Beijing (ABC News)
3. ❤️ Why we love sports: Virginia's return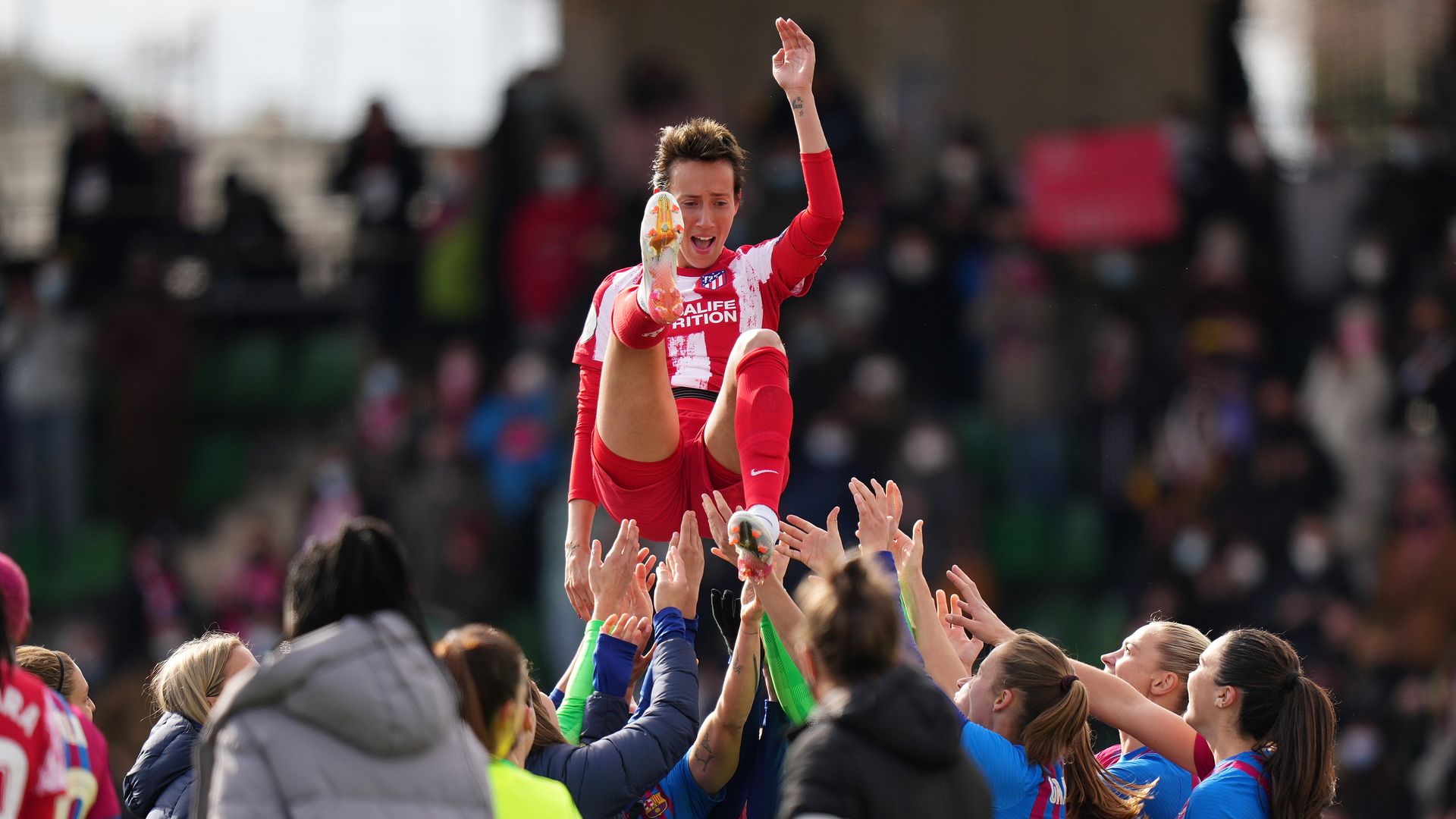 Barcelona beat Atlético Madrid, 7-0, on Sunday to win the Spanish Women's Super Cup.
Yes, but: The real winner was Atlético's Virginia Torrecilla, 27, who played her first game in nearly two years after being diagnosed with a brain tumor.
An image to remember ... Barça players hoisted Torrecilla into the air after the final whistle, honoring their former teammate (she played for Barça from 2012–15) and celebrating their fellow human. I love sports.
4. ⚡️ Lightning round
🏀 Go off, Queen: Kansas State center Ayoka Lee scored a D-I women's record 61 points (23/30 FG) in Sunday's 94-65 win over No. 14 Oklahoma. That's right — she nearly outscored the opposing team.
🏒 Colorado on fire: The red-hot Avalanche have won 15 straight home games, the longest home winning streak in team history and the longest in the NHL since the Capitals won 15 straight in 2016-17.
🏀 Stockton suspended: Gonzaga has suspended Hall of Famer John Stockton's season tickets because he refuses to comply with his alma mater's mask mandate.
⛳️ Golf roundup: Danielle Kang won the LPGA Tour opener, Hudson Swafford won the PGA Tour's American Express, Aaron Jurvis won the Latin America Amateur Championship, Thomas Pieters won in Europe.
🥇 Good read: The story behind the 1976 Denver Olympics that never happened (Les Carpenter, WashPost)
"No city had ever won an Olympics only to give it back. But then it happened."
5. 🏆 "The 50 Percent Club"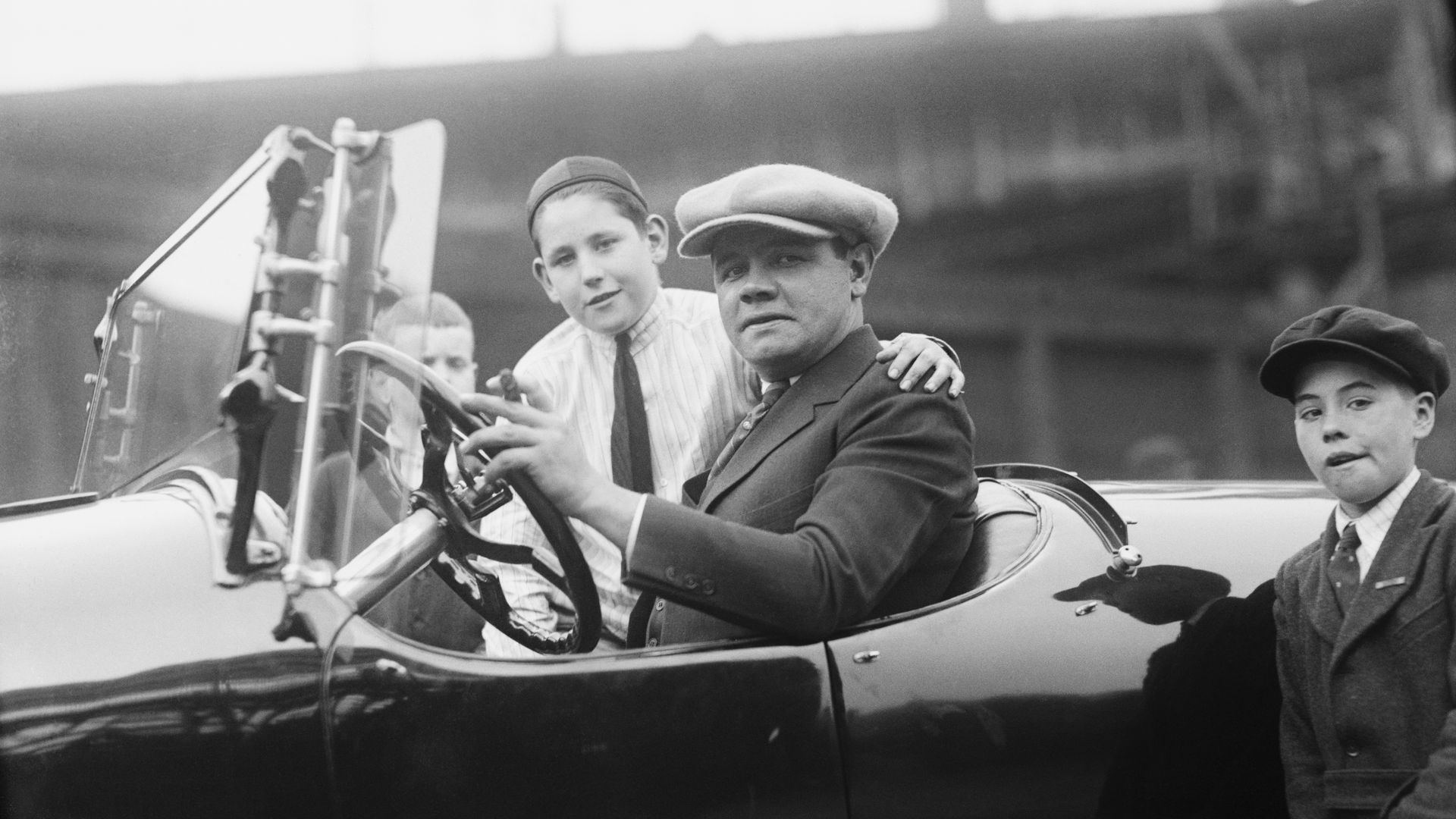 What's the most incredible statistical achievement in U.S. sports history? The Atlantic's Derek Thompson set out to find the answer.
"Everybody has their own subjective definition of amazing," writes Thompson. "But I wanted something better: an objective definition to easily compare statistics across sports."
He settled on "The 50 Percent Club:" American sports records that are at least 50% greater than the relevant second-place accomplishment.
Thompson's list: Cal Ripken Jr.'s "Iron Man" streak was among the achievements that just missed the cut, while Packers WR Don Hutson's 1942 season headlined Thompson's "outer circle." The inner circle:
Barry Bonds' early-2000s stats
Simone Biles' 19 gold medals
Steph Curry's three-point shooting
Wilt Chamberlain's 1960s scoring
Bill Russell's eight straight championships
Nolan Ryan's seven no-hitters
Tiger Woods' career
Babe Ruth's entire 1920s
Tom Brady's postseason records
Wayne Gretzky's career
6. 🏀 College basketball's "wild flea market"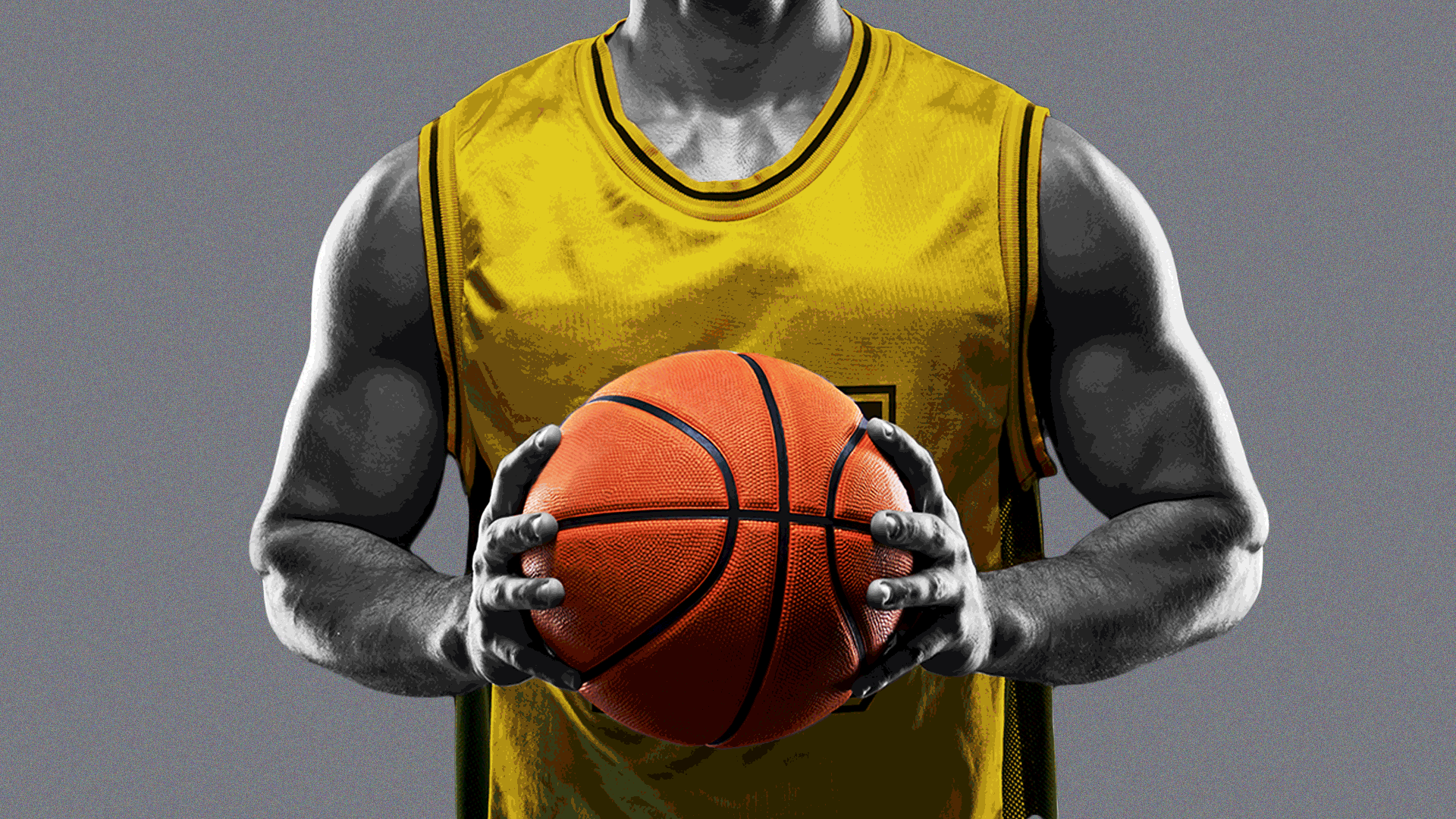 The NCAA's new one-time transfer policy has fundamentally altered college sports. And while football has garnered most of the headlines, basketball has been impacted just as much, if not more.
What they're saying: The Athletic spoke to 17 college hoops coaches about the transfer portal, which has "transformed the notion of roster building into a wild flea market of back-channel dealings."
"If you see a guy playing well at a mid-major right now, you might as well kiss that guy goodbye. Seriously. That's a fact," said one anonymous coach (subscription).
"There aren't many real NIL opportunities in college basketball, but you've still got third parties telling these kids, 'Hey come here, and I can swing a deal for you.' Kids don't know the difference," said another.
The big picture: The impact of pseudo free agency coming to college sports extends to the high school ranks, where recruits now must compete with transfers for scholarships and roster spots.
"If you're a local high school kid and you get a D-I offer, you better take it. If you're not a top 50 kid and you have an offer, take it. You wait until March and it's not going to be there."
— Anonymous coach, via The Athletic
7. 🌎 The world in photos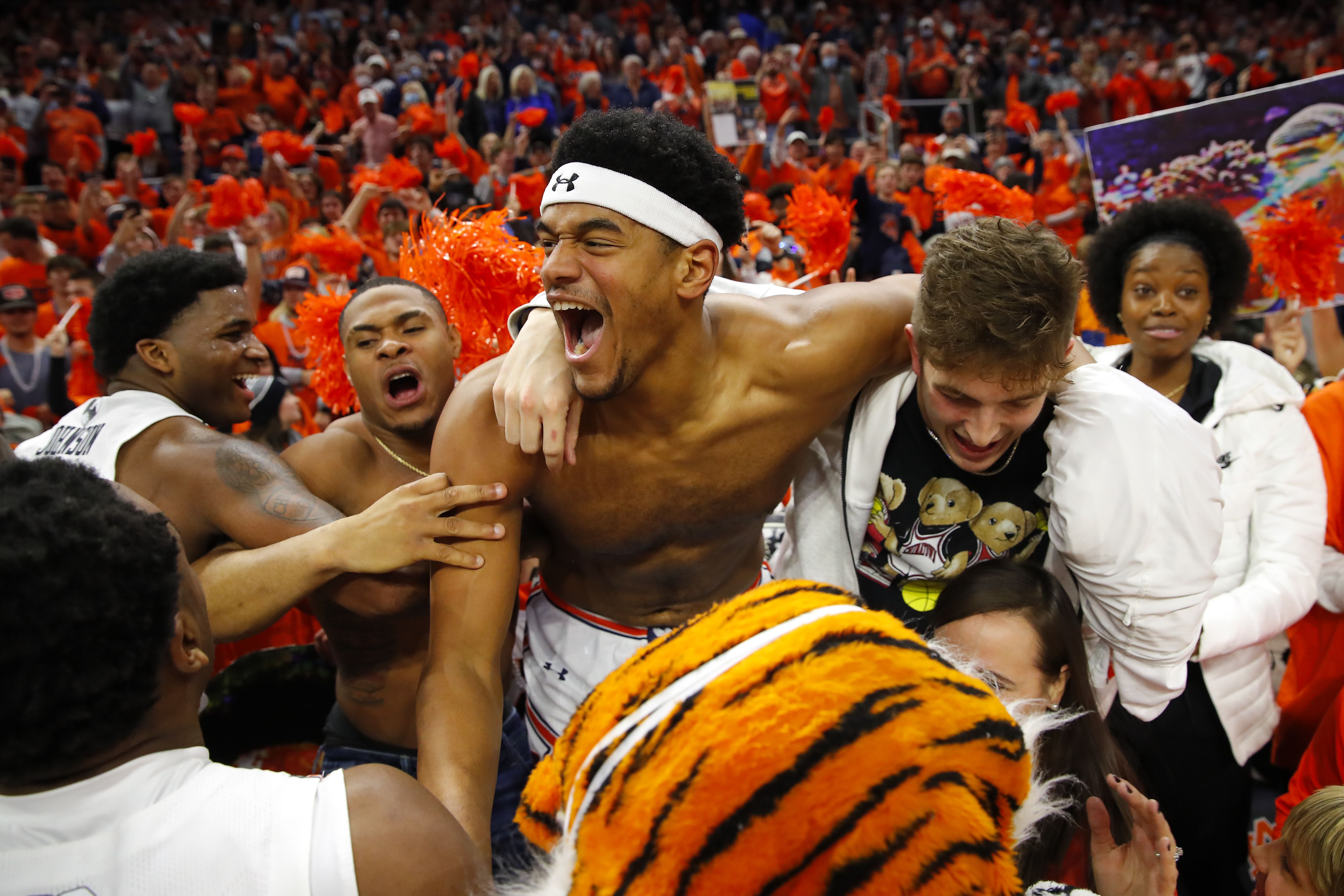 AUBURN, Ala. — No. 2 Auburn beat No. 12 Kentucky, 80-71, on Saturday afternoon in front of a frenzied, sold-out crowd. The Tigers have won 15 straight and look like national title contenders.
What they're saying: "Listen, we're a football school," said head coach Bruce Pearl. "But we're also an everything school."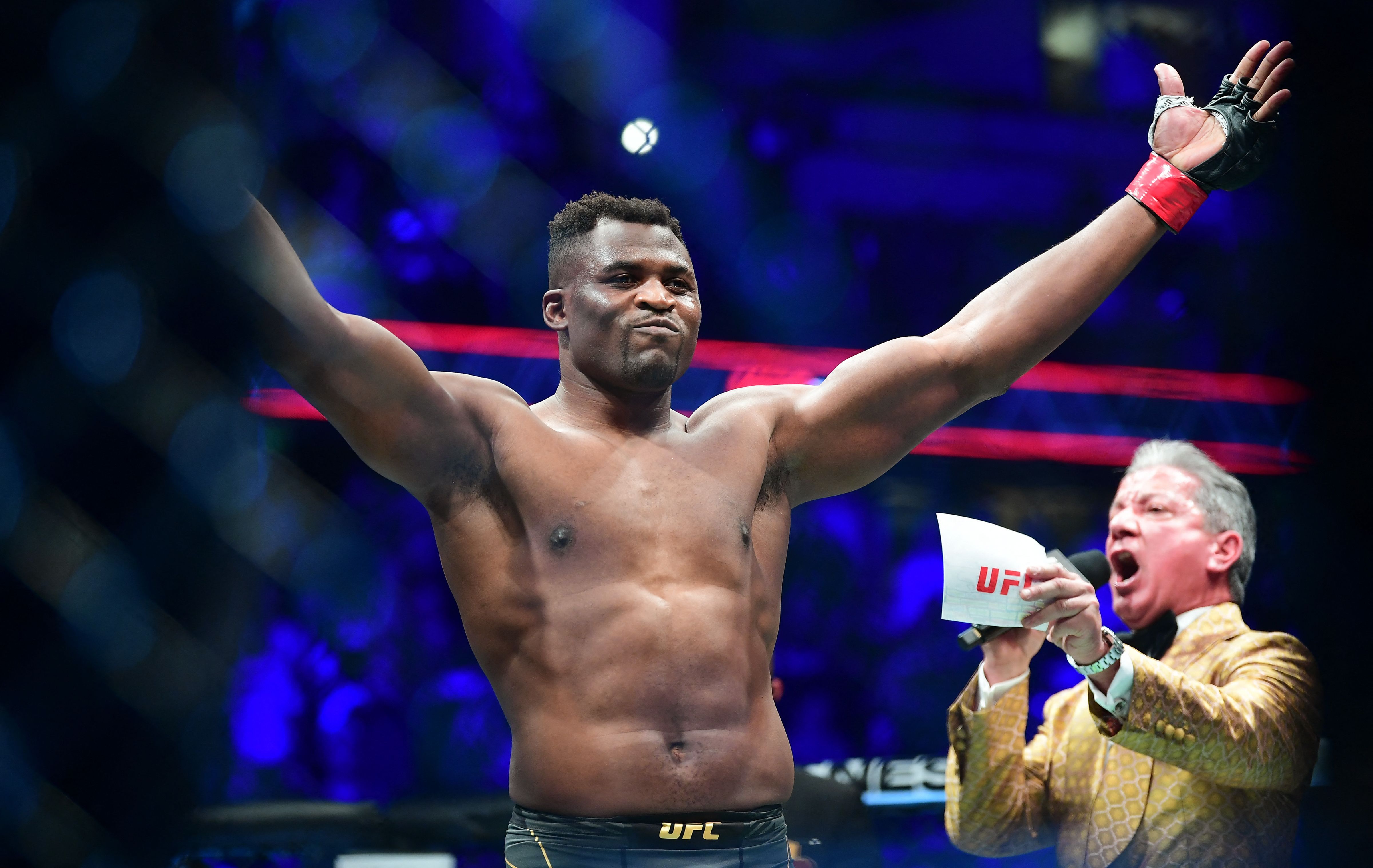 ANAHEIM, Calif. — Francis Ngannou unified the UFC heavyweight title on Saturday night, beating Ciryl Gane by unanimous decision amid a contract dispute with UFC president Dana White.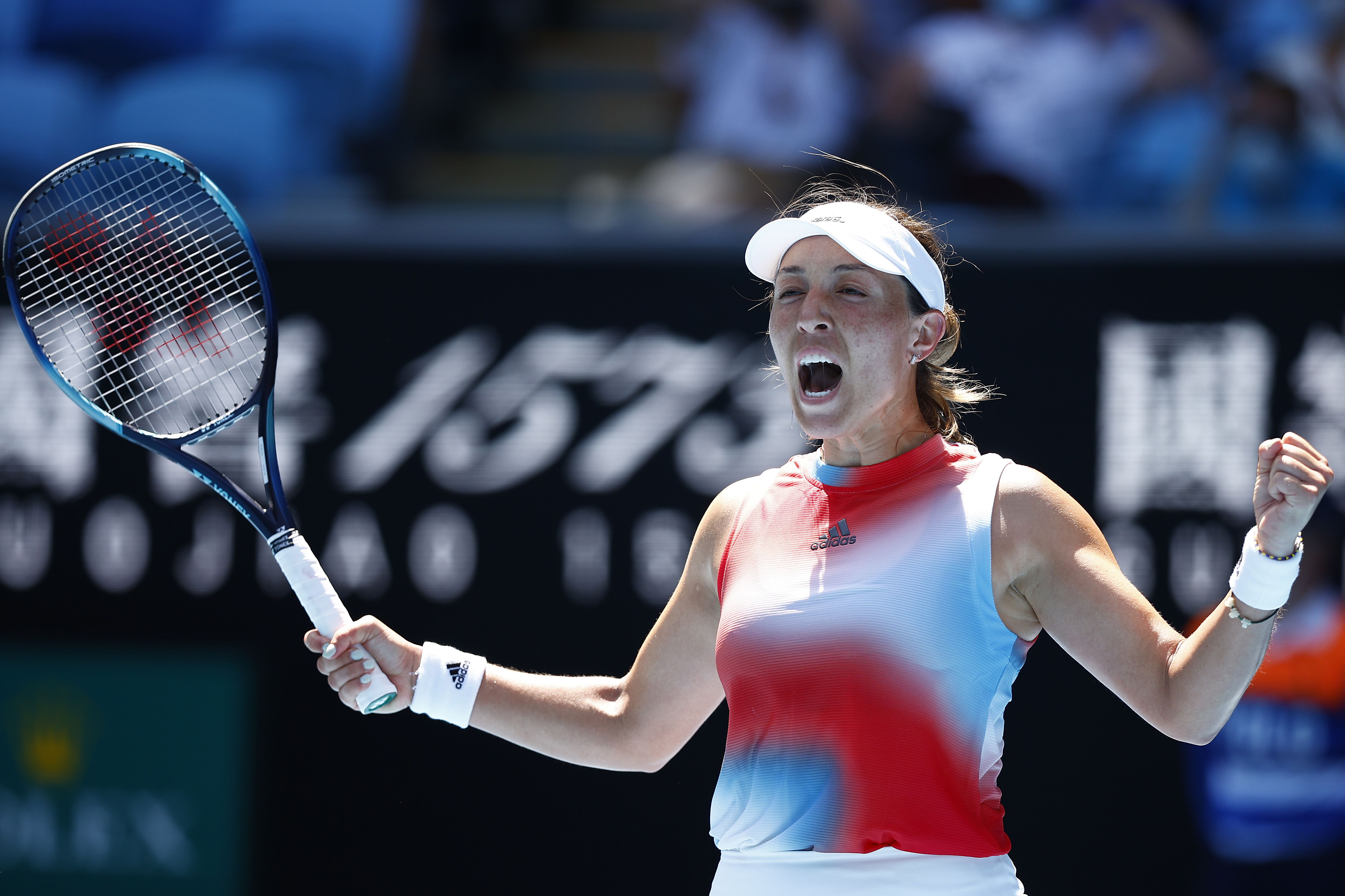 MELBOURNE — A silver lining for Bills owners Terry and Kim Pegula: Their daughter, Jessica, is one of three American women in the Australian Open quarterfinals, joining Madison Keys and Danielle Collins.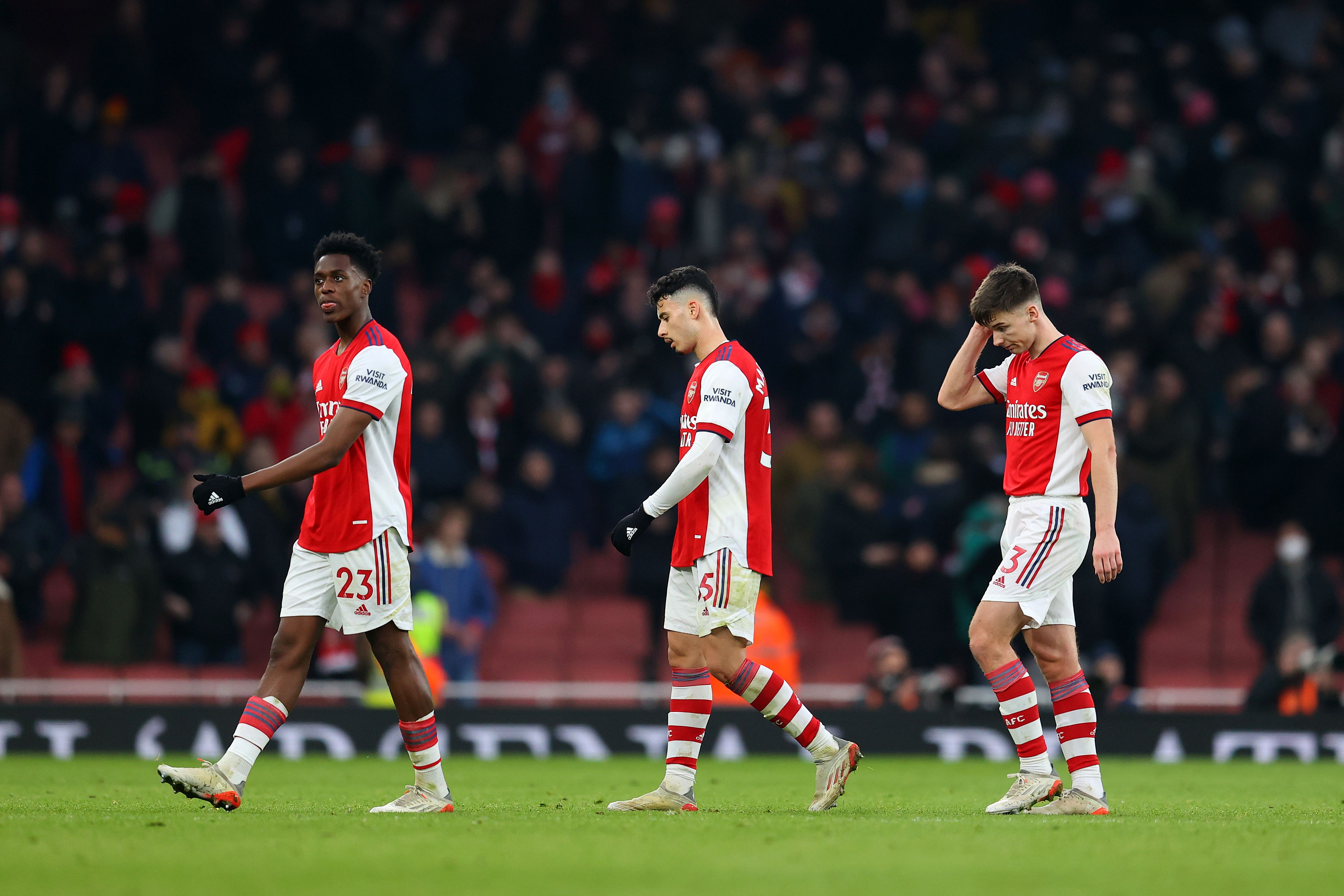 LONDON — Sixth-place Arsenal lost ground in its bid for a top-four finish with Sunday's frustrating 0-0 draw against last-place Burnley.
Elsewhere: Third-place Chelsea beat seventh-place Tottenham, 2-0, to maintain its nine-point lead over fourth-place Manchester United.
8. 📺 Watchlist: Showdown in the desert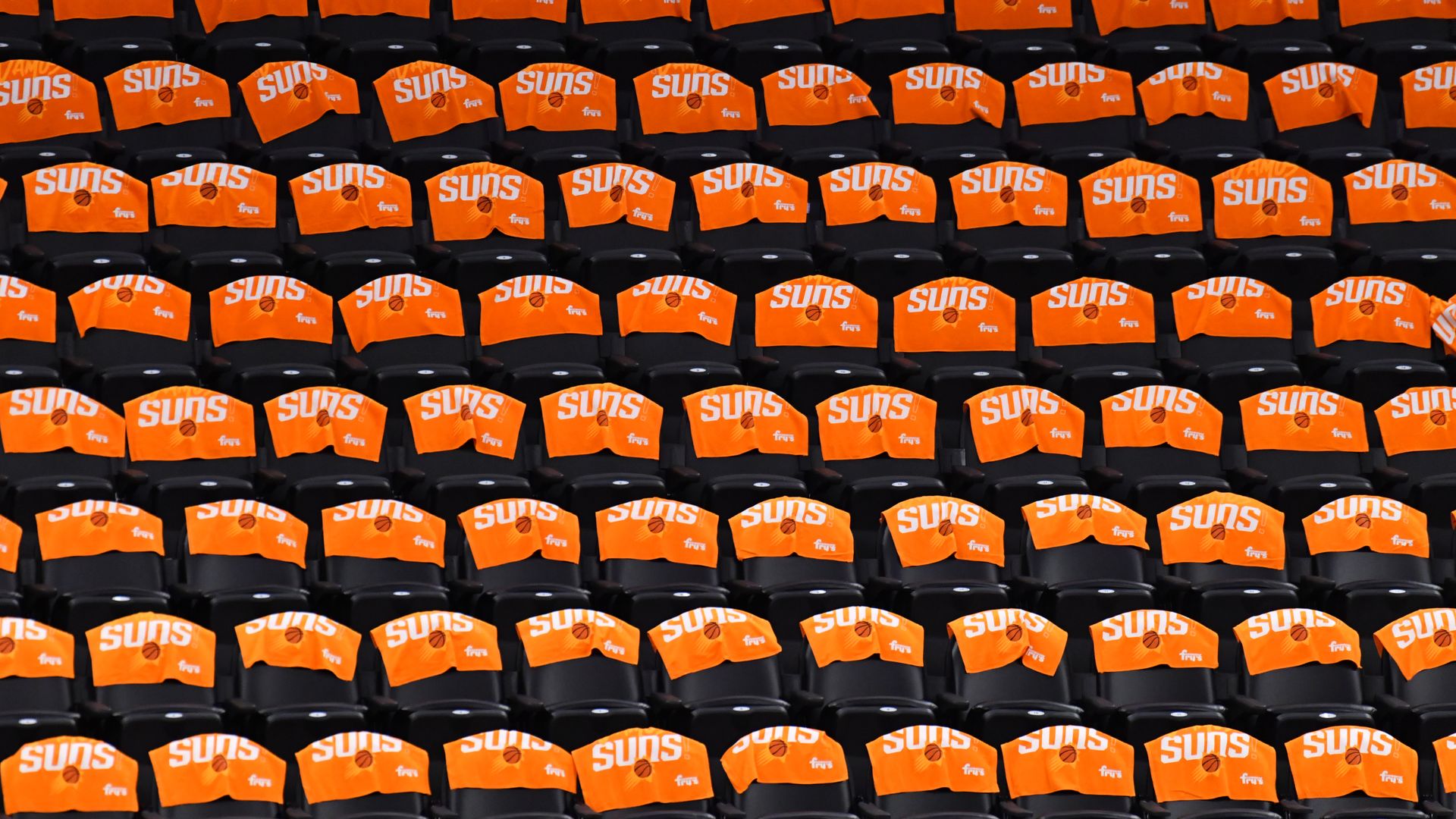 The Jazz visit the Suns tonight (9pm ET, NBA TV) in a battle of Western Conference title contenders.
Standings: The Suns (36-9) currently sit atop the West, followed by the Warriors (34-13), Grizzlies (32-17) and Jazz (30-17).
All-Stars: This game could feature as many as five All-Stars. Chris Paul, Devin Booker, Donovan Mitchell and Rudy Gobert are virtual locks, and Deandre Ayton could join them.
More to watch:
9. 🌍 Africa trivia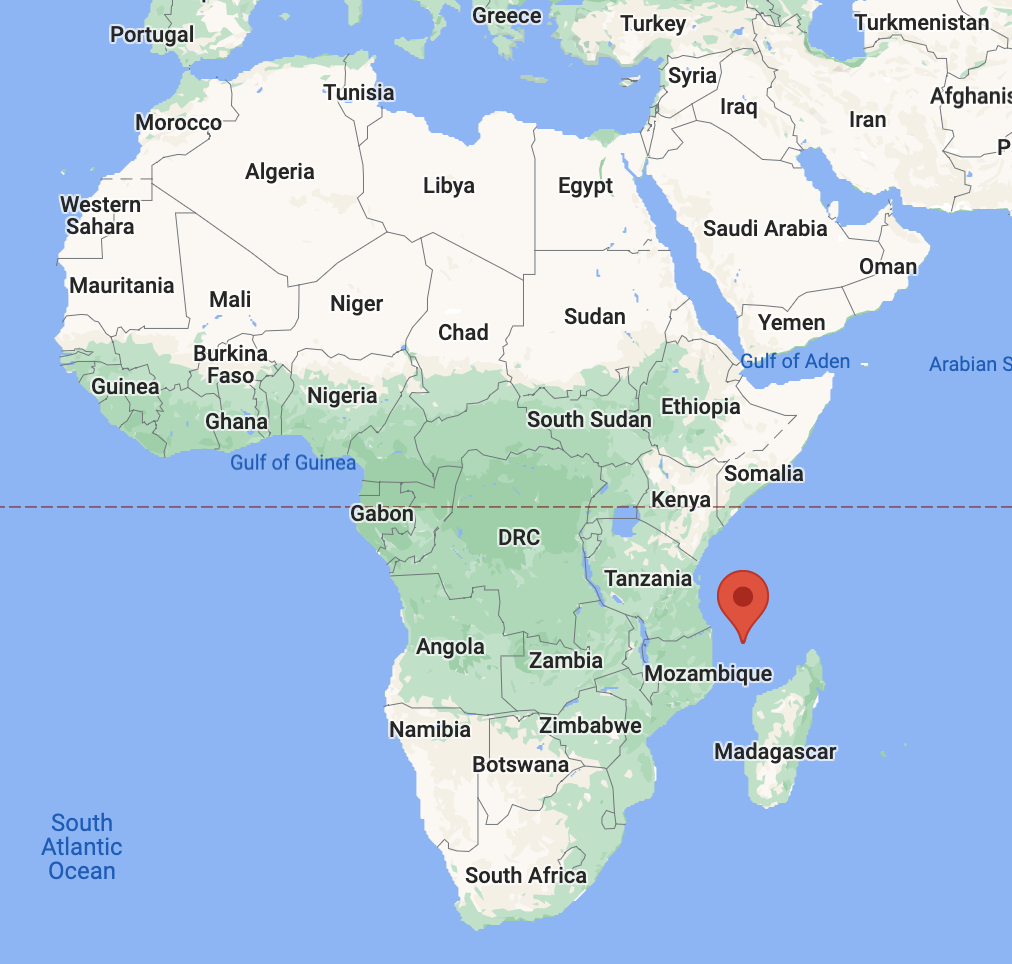 Comoros, the seventh least-populated country in Africa (~900,000 people), takes on host nation Cameroon today in the Africa Cup of Nations' knockout stage.
Question: What's the most-populated country in Africa?
Hint: Giannis Antetokounmpo.
Answer at the bottom.
10. 🎥 Top plays: Weekend edition