Axios Sports
June 04, 2020
👋 Good morning. The NBA and MLS both plan to resume play at Disney World — and more specifically, ESPN's Wide World of Sports. Here's a map of the complex.
Meanwhile, MLB rejected the players' proposed 114-game plan with no counter offer as the two sides continue to be at odds.
Today's word count: 2,233 words (8 minutes).
1 big thing: 🏈 Brees draws ire for kneeling comments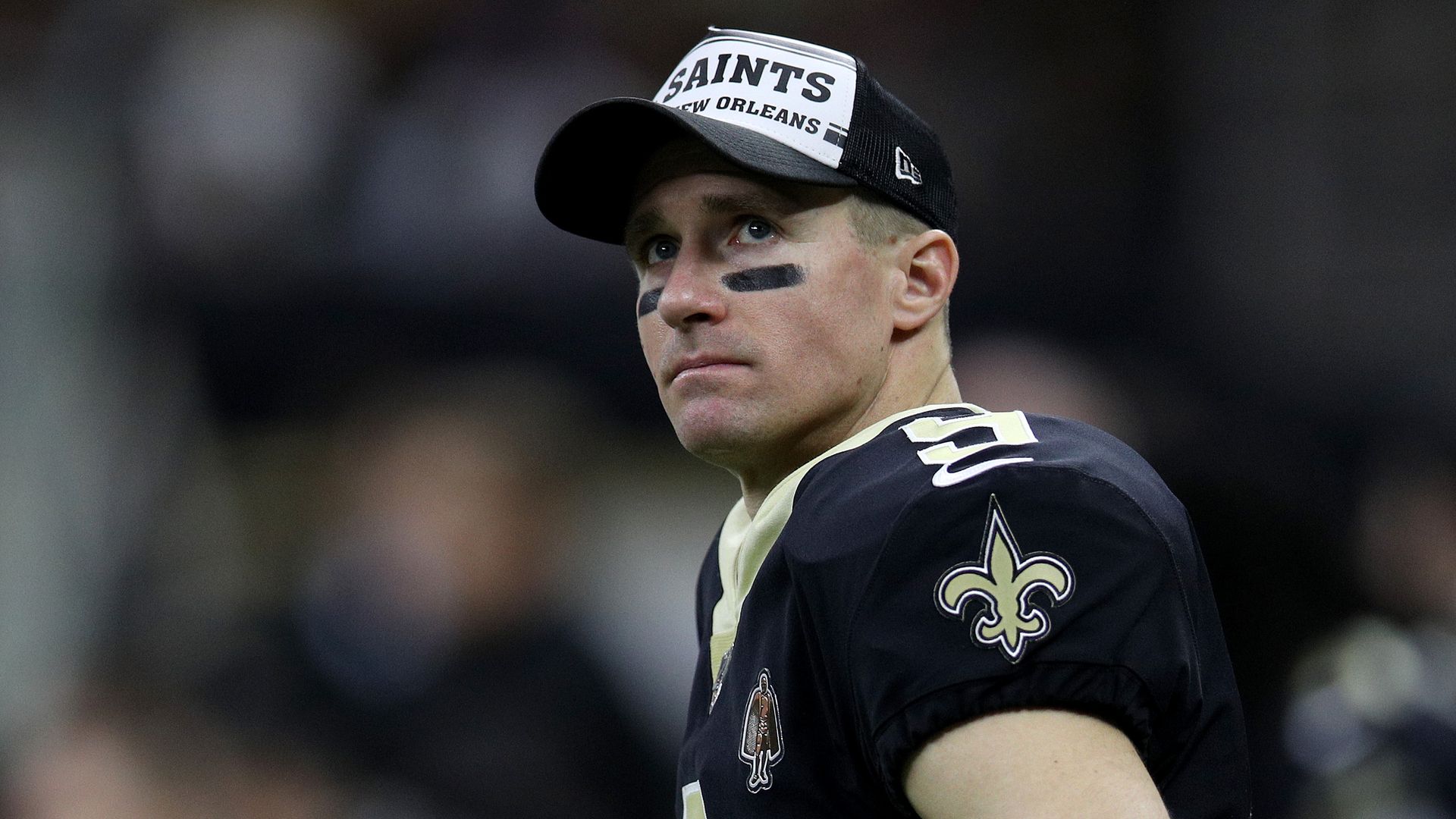 Drew Brees is facing backlash for saying that he'll "never agree with anybody disrespecting the flag" when asked about NFL players perhaps kneeling again during the national anthem following the death of George Floyd.
"[I]s everything right with our country right now? No, it is not. ... But I think what you do by standing there and showing respect to the flag with your hand over your heart, is it shows unity. It shows that we are all in this together, we can all do better and that we are all part of the solution."
— Brees in an
interview
with Yahoo Finance
The response: Numerous athletes — including his own teammates — and media members publicly criticized Brees for perpetuating the idea that kneeling during the anthem was about anything other than racism and police brutality.
Brees later tried to clarify his comments in a text message to ESPN, imploring people to look at the way he lives his life and to judge him by his actions and everything he does to "bring justice and equality to others."
Athletes:
Aaron Rodgers: "It has NEVER been about an anthem or a flag. Not then. Not now. Listen with an open heart, let's educate ourselves, and then turn word and thought into action."
LeBron James: "WOW MAN!! ... You literally still don't understand why Kap was kneeling on one knee?? Has absolute nothing to do with the disrespect of [the flag] and our soldiers (men and women) who keep our land free."
Malcolm Jenkins (teammate): "It's unfortunate because I considered you a friend. I looked up to you. You're somebody who I had a great deal of respect for. But sometimes you should shut the f--k up." (Other teammates, including Brees' favorite receiver Michael Thomas, also called him out.)
Media:
Mina Kimes, ESPN: "[Players] are tired of explaining Colin Kaepernick's intent, which he articulated over and over — that it was not about the military, it was not about the flag. It was about protesting the very issues that are being protested today: racism, police brutality. If you don't understand that by now, you don't have any interest in understanding that."
Luke Johnson, Nola.com (Marine Corps veteran): "When the anthem plays and the flag flies, feel free to stand stoic with your hand over your heart ... I might be up in the press box, standing at the position of attention, feeling something similar. But Drew, you need to listen to the people who feel something different in that moment, and you need to let them feel free, too."
In support of Brees: Current teammate Marcus Davenport came to Brees' defense, as did former Saints receiver Joe Horn, who had the following to say:
"People should not be throwing Drew Brees under the bus, and they definitely need to pump the brakes on labeling him a racist. ... They need to check his resume. I love my race. And I love New Orleans to death. But I know Drew Brees. And Drew is a good person."
— Joe Horn
2. 🏀 The NBA's 22-team restart plan
The NBA plans to send 22 teams to Disney World — the top 13 from the West and the top nine from the East — for an eight-game regular season beginning on July 31, followed by a postseason, per multiple reports.
Traditional playoffs: Top eight from each conference, four rounds, etc.
Play-in tournament: If the No. 9 seed is within four games of the No. 8 spot, a play-in tournament will be held between the two teams.
What they're saying: A 22-team format that includes regular-season games is "worth several hundred million dollars more in revenue than the 16-team straight-to-playoffs plan," league sources told ESPN.
What's next: Commissioner Adam Silver will reportedly propose the 22-team plan at the NBA's board of governors meeting today. If approved, it would then have to get the green light from the players' association.
Go deeper: How Disney World could host the NBA (Axios)
3. 👔 Meet the commissioners (Part II)
As the four major American pro sports leagues navigate both the pandemic and nationwide protests, it felt prudent to learn more about the four commissioners in charge, Axios' Jeff Tracy writes. Fun fact: They're all from New York.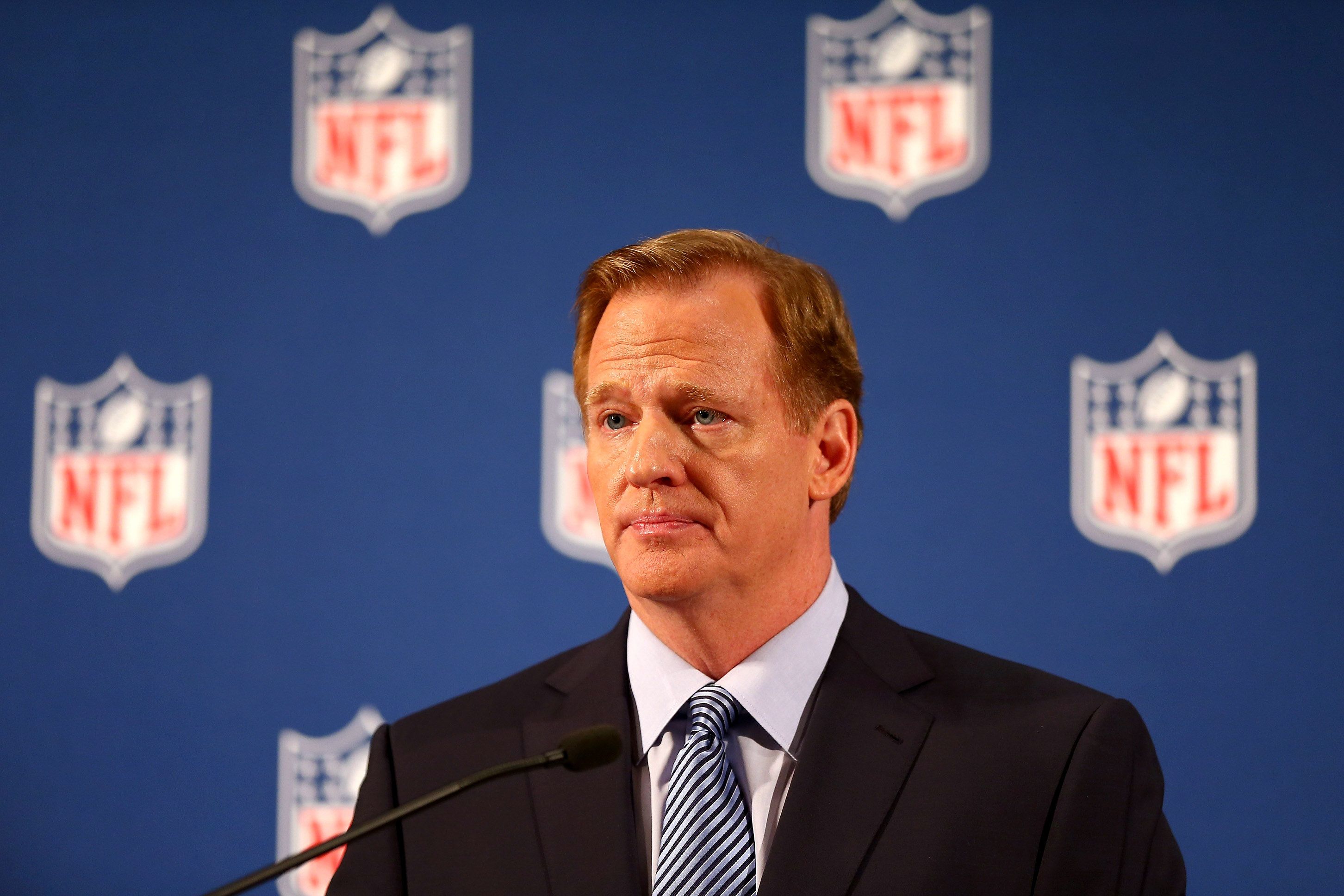 Name: Roger Goodell
Title: 6th commissioner of the NFL
Age: 61
Birthplace: Jamestown, New York
Education: BA from Washington & Jefferson College (1981)
Path to commissioner: After writing countless letters to the NFL in hopes of landing any job they'd give him, Goodell was hired as an intern in the league office in 1982. He eventually became NFL EVP and COO in 2001, where he played a key role in launching the NFL Network in 2003.
According to Google Trends, the term "No Fun League" didn't register on Google until Goodell became commissioner. Nowadays, it's a popular phrase — one synonymous with his reign.
Tenure as commissioner: Since taking over for Paul Tagliabue in 2006, Goodell has overseen a laundry list of scandals, including Spygate (2007), Bountygate (2009) and Deflategate (2015). But the two most consequential aspects of his tenure have been the ongoing fight for improved player safety (i.e. concussion protocol) and the league's response to kneeling protests.
"I don't necessarily agree with what [Colin Kaepernick] is doing. I support our players when they want to see change in society, and we don't live in a perfect society. ... On the other hand, we believe very strongly in patriotism in the NFL. I personally believe very strongly in that."
—
Goodell
in 2016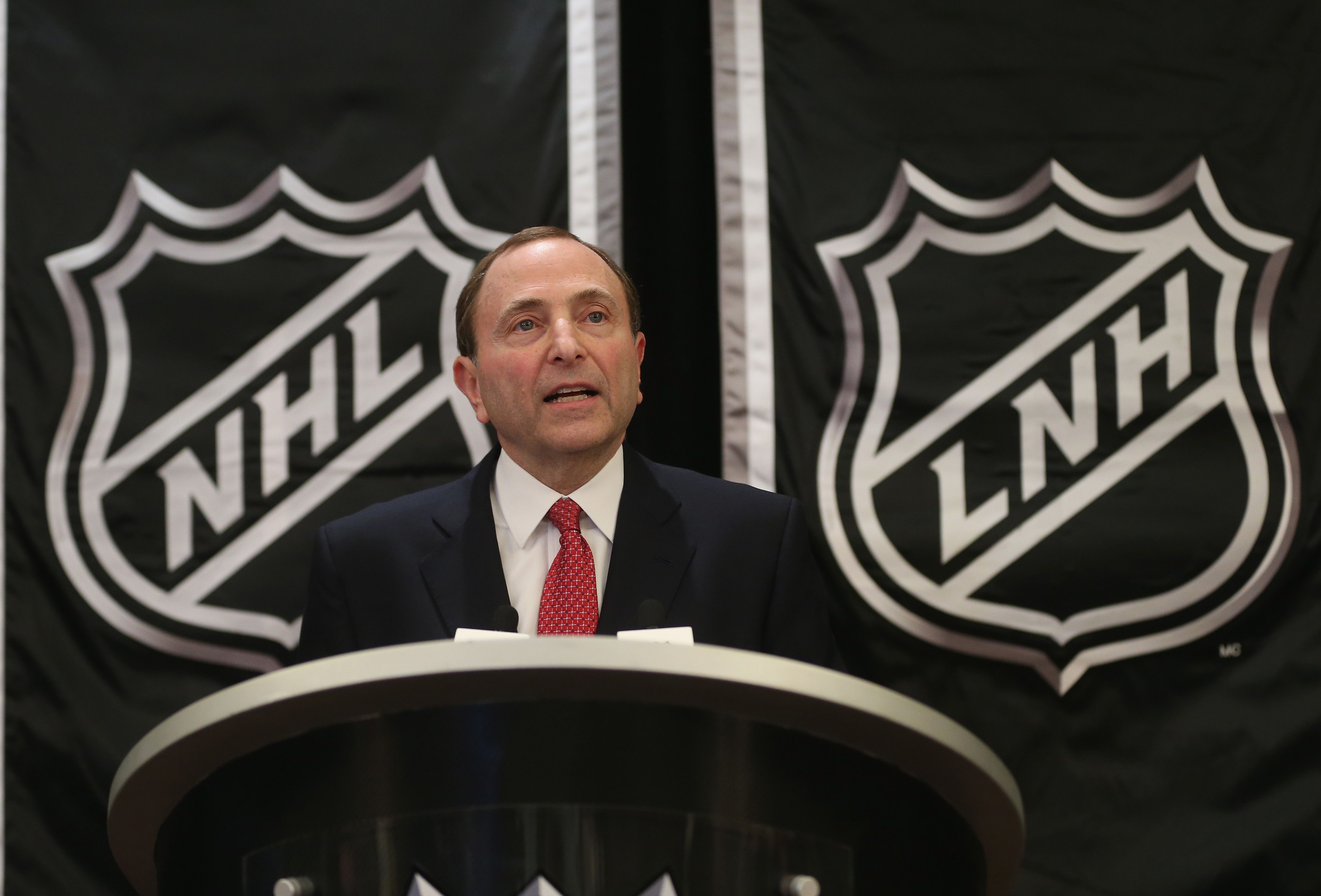 Name: Gary Bettman
Title: 1st commissioner of the NHL
Age: 67
Birthplace: Queens, New York
Education: BA from Cornell (1974); JD from NYU (1977)
Path to commissioner: After graduating law school, Bettman joined Proskauer Rose, a New York law firm whose clients include all four major sports leagues (David Stern also worked there). By 1981, he'd been plucked away by the NBA, where he rose as high as third-in-command. In 1983, he helped create that league's soft salary cap, which is still used today.
"There's good Gary and bad Gary. A lot of the fans have known bad Gary because when they see him, he seems to have a large chip on his shoulder and can come across as arrogant. But in private, Gary can be a very charming individual, which I know will be a great surprise to most hockey fans."
—
Jonathon Gatehouse
, Bettman's biographer, in 2012
Tenure as commissioner: After 75 years of NHL leadership falling under the purview of a president, the owners hired Bettman as the league's first commissioner in 1993, hoping his background in labor relations would help guide the league away from the unrest that had caused the first-ever NHL strike in 1992.
Instead, he oversaw three lockouts in his first two decades, as the league and players' union continually butted heads over CBA negotiations. The current CBA, inked in 2013, expires after the 2022 season.
4. 🥊 Boxer-turned-nurse to receive Tillman Award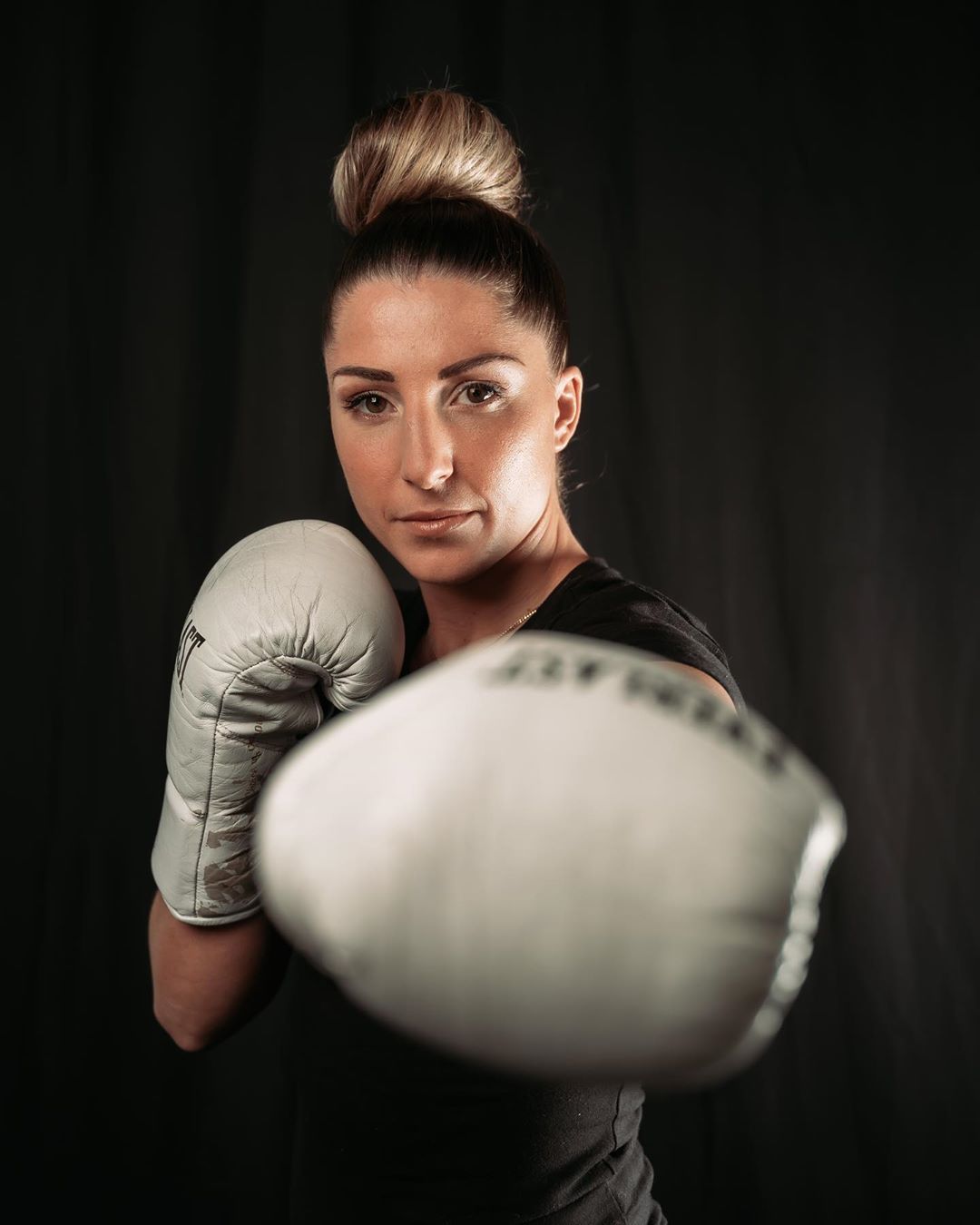 Boxing champion Kim Clavel, who left the ring to return to nursing during the coronavirus pandemic, will receive the Pat Tillman Award for Service at the ESPYs on June 21.
Clavel compiled a 11-0 record since making her pro boxing debut in 2017 and won the North American Boxing Federation flyweight title in December.
"It is an honor to receive the Pat Tillman Award on behalf of all the healthcare workers battling COVID-19 on the frontlines," said Clavel, a native of Quebec, Canada.
Recent recipients:
2019: Kirstie Ennis, a U.S. Marine veteran who lost her leg in combat and has since won three swimming gold medals at the Warrior Games and hopes to summit all seven of the world's highest peaks.
2018: Jake Wood, a U.S. Marine veteran and co-founder of Team Rubicon, a non-profit organization that mobilizes veterans to provide disaster relief.
2017: Israel Del Toro, a U.S. Air Force master sergeant who suffered burns over most of his body following a bomb explosion in Afghanistan. He went on to become the first 100% combat-disabled Air Force technician to re-enlist in the military and won medals in powerlifting and shot put at the Invictus Games.
5. ⚾️ Ranking MLB's all-time rosters (No. 10)
We're ranking the all-time rosters for all 30 MLB teams. Note: Rosters based only on time spent with this specific team. Thoughts? Email me at [email protected].
10. Texas Rangers
At last, we've reached the final "modern" franchise, as the top nine teams still to come were all established in the early-20th century or before. I'm sure I'll get plenty of flak for them being this high, but I just took one look at the lineup and became enamored of its sheer power.
Year established: 1961 (as the Washington Senators)
All-time record: 4,500-4,912 (.478)
World Series Championships: 0
Hall of Famers (indicated by *): 2
Starting lineup:
SS Alex Rodriguez (25.5 bWAR with team)
3B Adrián Beltré (41.2)
OF Juan González (31.9)
OF Frank Howard (26.8)
1B Rafael Palmeiro (44.6)
C Iván Rodríguez* (50)
OF Josh Hamilton (23)
DH Mark Teixeira (19.3)
2B Ian Kinsler (35)
On the mound: SP Yu Darvish (18.6)
Bench:
Infield: 2B Julio Franco (20.2), 3B Buddy Bell (36.3), SS Toby Harrah (32.3), C Jim Sundberg (34.7)
Outfield: Rusty Greer (22.4), Rubén Sierra (20.2), Al Oliver (11.7)
Utility: Elvis Andrus (30.9), Michael Young (25.9)
Rotation: Charlie Hough (32.6), Kenny Rogers (31.4), Fergie Jenkins* (21.9), Kevin Brown (17.7)
Bullpen: John Wetteland (7.9), Francisco Cordero (9.7), Neftalí Feliz (8.7)
Additional notes:
Palmeiro and A-Rod are two of just six players in the 500 HR/3,000 H club (Albert Pujols, Willie Mays, Hank Aaron, Eddie Murray).
Darvish has the most strikeouts per nine innings (11.1) in baseball history.
ICYMI ... 30. Rays, 29. Royals, 28. Diamondbacks, 27. Blue Jays, 26. Angels, 25. Padres, 24. Rockies, 23. Brewers; 22. Nationals, 21. Mets, 20. Orioles, 19. Twins, 18. Astros, 17. Marlins, 16. White Sox, 15. Athletics, 14. Phillies, 13. Braves, 12. Pirates, 11. Mariners
Huge thanks to Tom Stone, whose book "Now Taking the Field: Baseball's All-Time Dream Teams for All 30 Franchises," provided the inspiration for these rosters.
6. June 4, 1927: ⛳️ The first Ryder Cup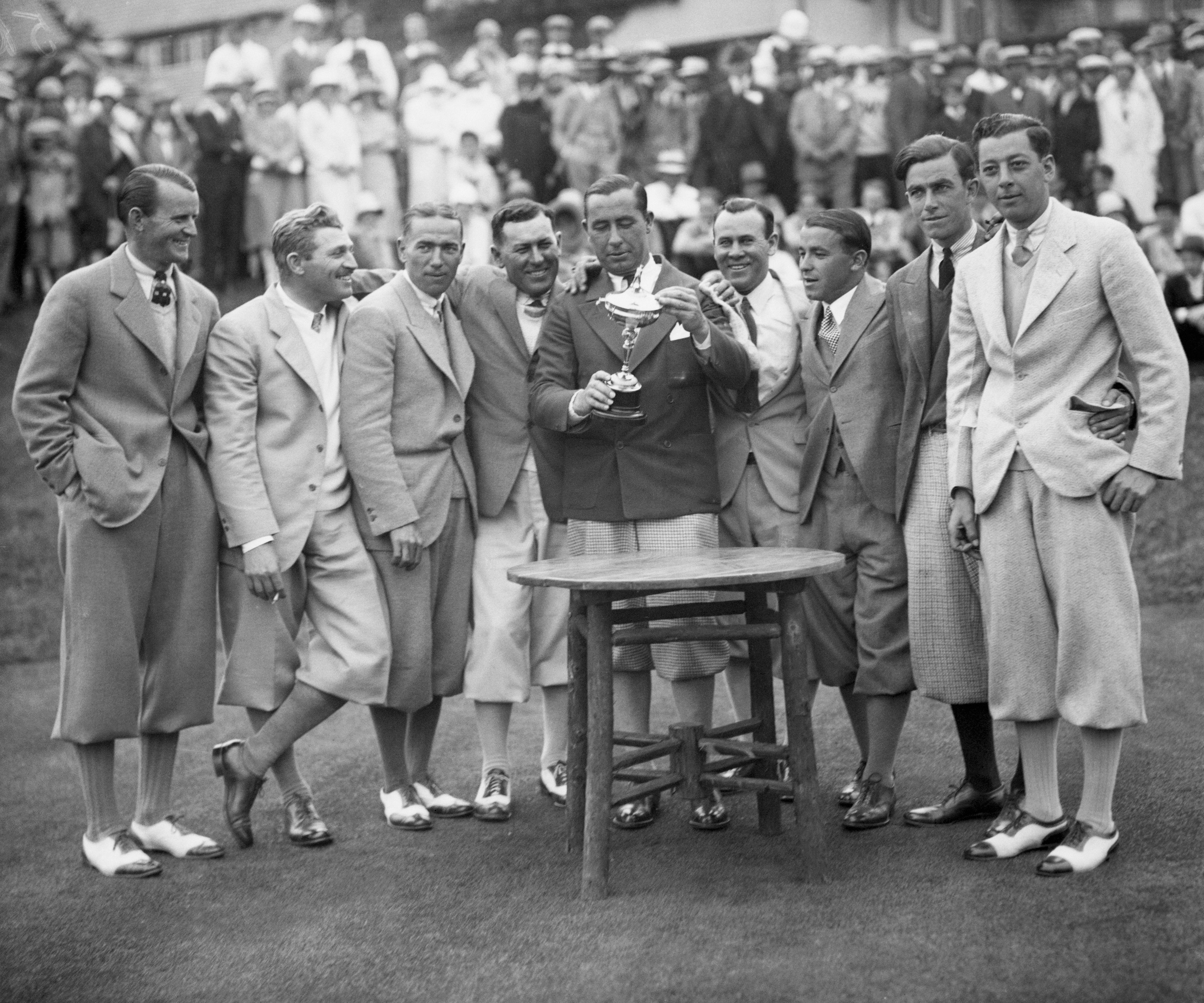 93 years ago today, the U.S. beat Great Britain in the first Ryder Cup, 9½ - 2½, at Worcester Country Club in Massachusetts.
How it works: Unlike most golf tournaments, the Ryder Cup is a team game played for pride rather than prize money, with various match play competitions across the biennial, three-day event.
Though the format has changed through the years, it has remained the same since 1979, with 28 possible points, and 14½ required to win. 16 points are available through foursomes (two-on-two matches played on Friday and Saturday) and 12 in singles (Sunday).
The host alternates each cycle between a U.S. and European golf club, and the only four Cups to be canceled were during WWII (1939, 1941, 1943, 1945). The 2001 Ryder Cup was pushed to 2002 in the wake of 9/11, and since then it's occurred on even-numbered years instead of odd.
Results: Though it began as a competition between the U.S. and Great Britain, the Ryder Cup eventually expanded to include participants from across Europe.
From 1927 to 1977, the U.S. dominated Great Britain, going 18-3 (with one tie). But ever since the European team expanded, they've gone 11-8 (with one tie).
Best players: Phil Mickelson holds the record for most appearances with 12, while Sergio Garcia holds the record for most points with 25½.
What's next: The 2020 Ryder Cup is still scheduled for September at Whistling Straits in Wisconsin. A final decision on its fate is expected by the end of June.
🎥 Watch: Top 10 Ryder Cup moments (YouTube)
7. 📚 Good reads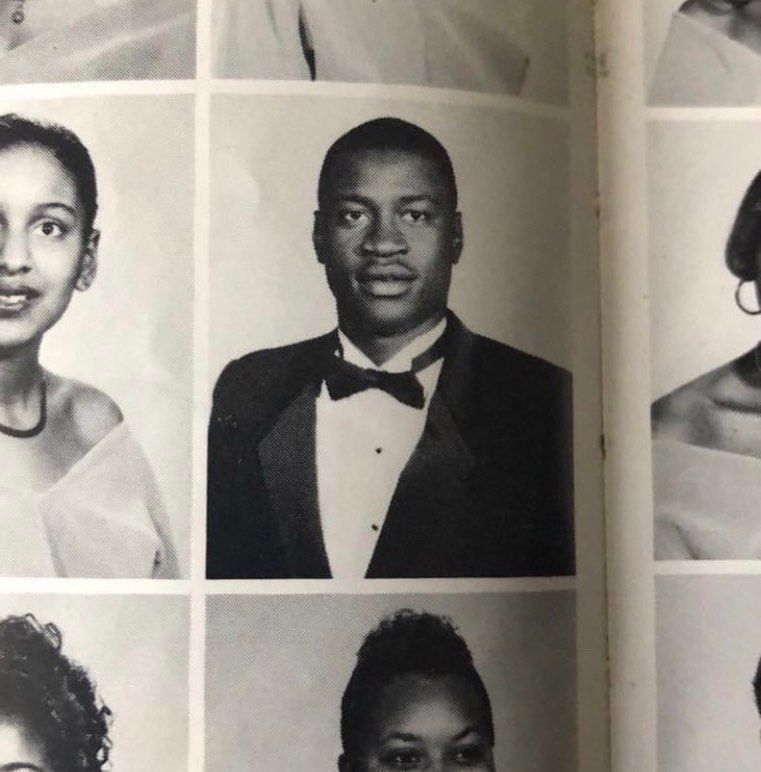 ❤️ George Floyd's lasting impact as a two-sport athlete in Houston (Jerry Bembry, The Undefeated)
"George was idolized by young boys living in the projects because he was the first guy that many of us witnessed get an athletic scholarship. He was one of my role models. He was one of us."
💦 Waterless world (Pat Forde, SI)
"Imagine the exact opposite of Kevin Costner's old post-apocalyptic summer bummer: A world on the brink ... and scarcely any water to be found. With pools closed by the coronavirus, that's precisely the reality faced by today's swimmers, Olympians on down. And like that box office bomb's mariner, they're getting creative in fixing their sitch."
⛳️ With precautions, golf is back. So are scoring squabbles. (Bill Pennington, NYT)
"The USGA amended rules on what counts as a holed shot to accommodate coronavirus health precautions. The change has lowered handicaps and started arguments in some circles."
8. The Ocho: 🆙 Uphill racing
The Red Bull 400 began on a ski hill in Austria in 2011, and has grown into a seasonal sport with upwards of 20 races each year across three continents, Jeff writes.
How it works: Competitors must climb a steep hill, up to a 37-degree incline, for 400 meters. They run for as long as they can, but are generally forced to put their hands on their knees or even crawl on all fours once the pitch reaches 30 degrees.
The fastest track is in Switzerland. The men's record is 2 minutes, 48 seconds (Austria's Jakob Mayer), while the women's record is 3 minutes, 39 seconds (Switzerland's Judith Wyder).
The slowest track is in Slovenia. The men's record is 4 minutes, 55 seconds (Slovenia's Luka Kovačič), while the women's rec0rd is 6 minutes, 19 seconds (Italy's Valentina Belotti).
The state of play: The 2020 season was postponed due to COVID-19, but is scheduled to kick off on Aug. 1 in Slovakia.
🎮 Give it a shot ... There's a computer game version of the race online. My best time was 36 seconds. Bring it on.
9. ⚾️ MLB trivia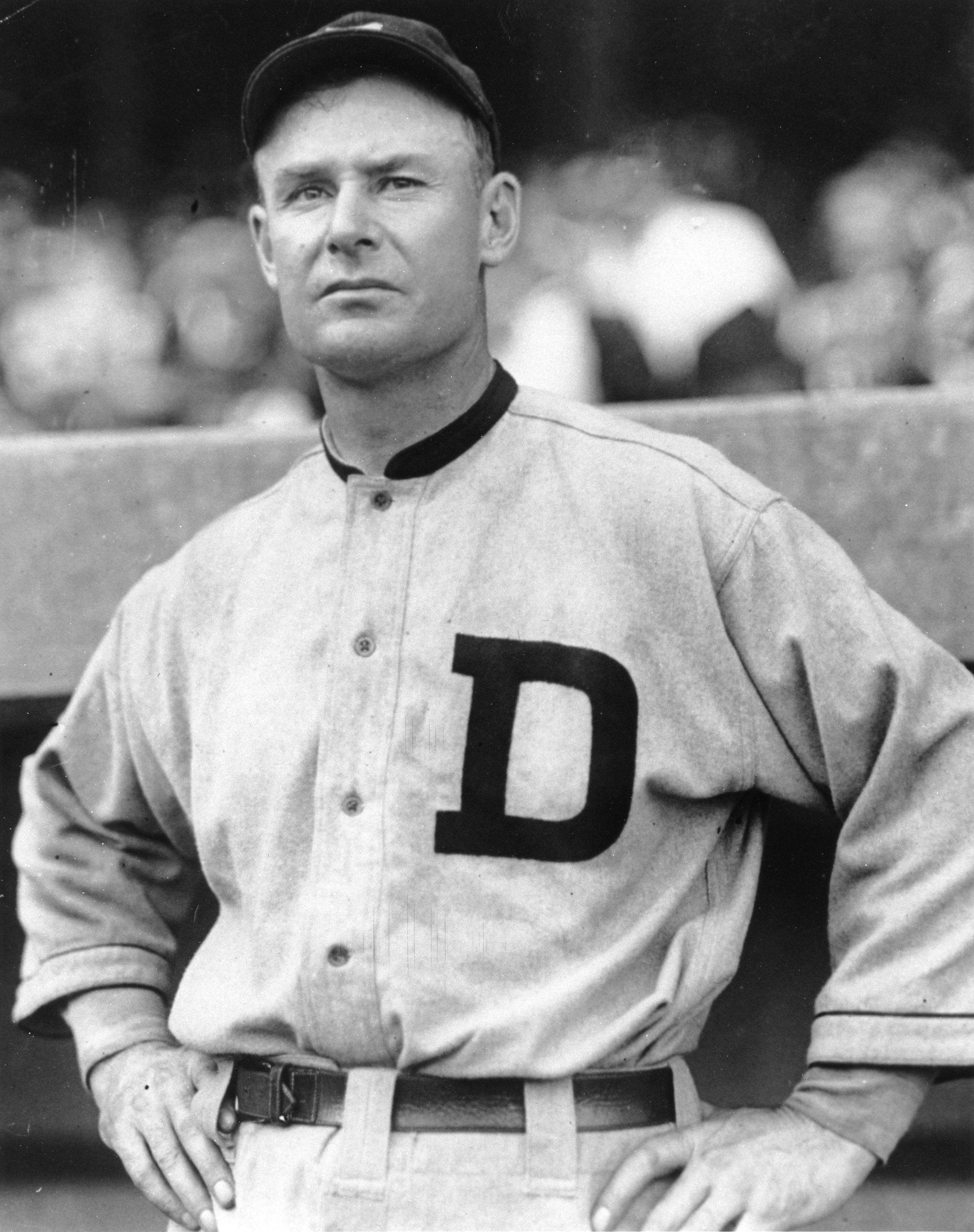 Sam Crawford, who starred for the Reds and Tigers from 1899 to 1917, still holds the MLB record for most career triples (309).
Question: Who is the active leader in triples with 82?
Hint: 2016 World Series champion.
Answer at the bottom.
10. ❤️ Why we love sports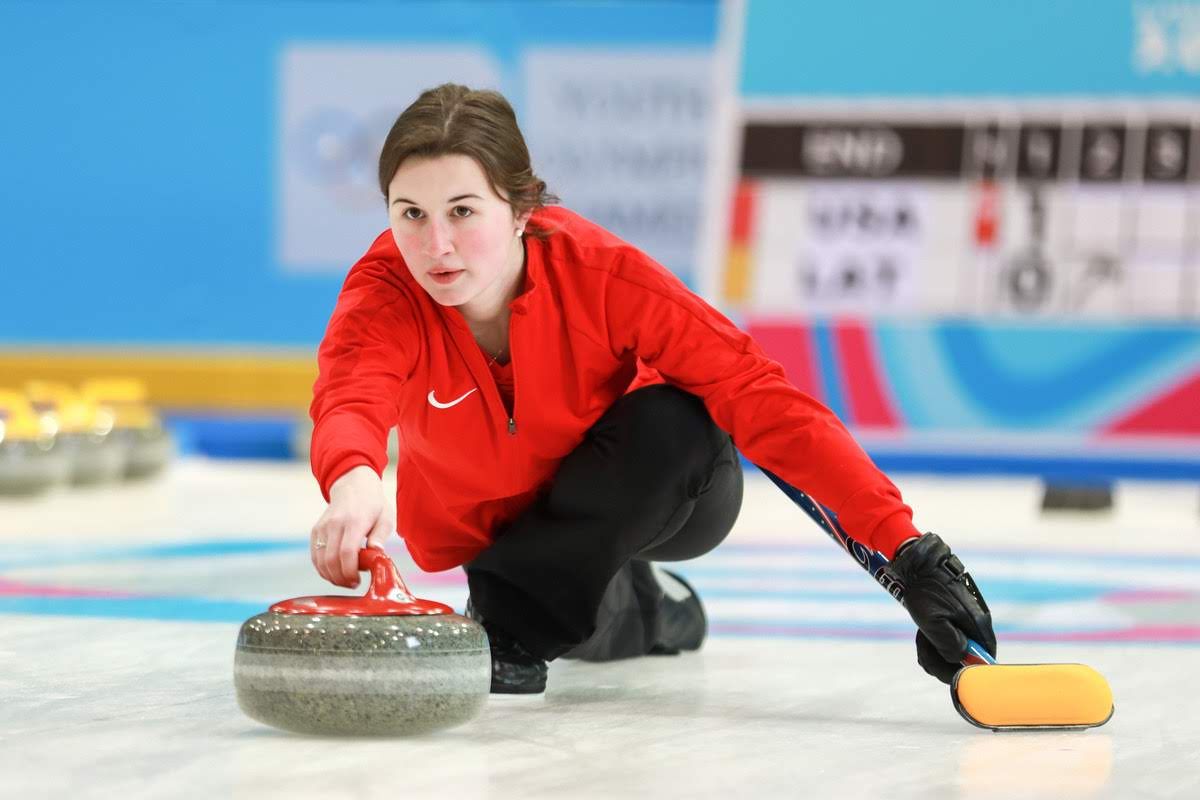 Jennifer M. (Cleveland) writes:
"Curling? How'd you get into curling? I get that question all the time.
"My mom had back surgery in 2006 and watched a ton of curling at the Torino Olympics while recovering on the couch. She decided that one day her and my dad would become curlers, and when they started playing, I just had to join in. By the time I was 11, I was playing competitively.
"In 2019, I had already competed in three U18 National Championships when I heard about the Youth Olympic Games. These are just like the regular Olympics, except you have to be between 14 and 17 years old to qualify. So, it's a once-in-a-lifetime chance.
"We formed a team of two boys and two girls hailing from Ohio, Massachusetts and Wisconsin, and when we qualified to represent the U.S. at the Games, I wasn't sure it could get any better. Hearing our coach say 'Congratulations, you are Team USA' was pretty awesome.
"But it did get better when we headed to Lausanne, Switzerland, in January 2020 to take part in the 14-day competition. We didn't perform as well as we'd hoped, and didn't bring home a medal. But it turns out, that really didn't matter.
"The experience of being there, of walking out at the opening ceremony, wearing our flag on my back, and meeting so many new friends from all over the globe was unbelievable.
"It still amazes me to think about where this crazy sport has taken me in my 17 years. I look forward to the future and hopefully the chance to represent my country again at the Olympics one day!"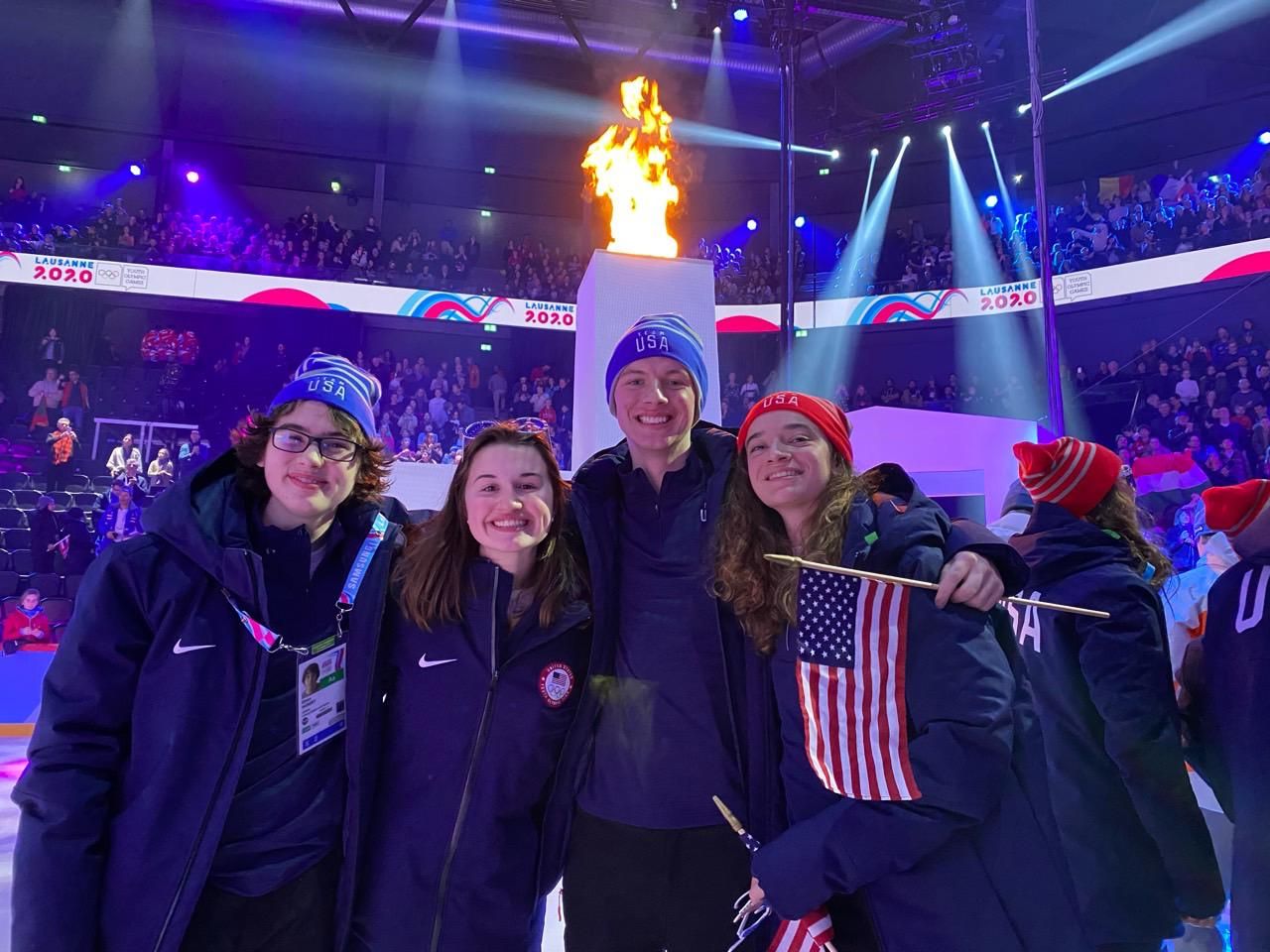 ✍️ Submit your story: Do you have a fondest sports memory? Or an example of sports having a positive impact on your life? If you'd like to share, simply reply to this email. We'll be telling your stories until they run out.