👋 Good morning! Let's sports.
Today's word count: 1,533 words (5 minutes)
1 big thing: 🏈 NFL Sunday: Winners & Losers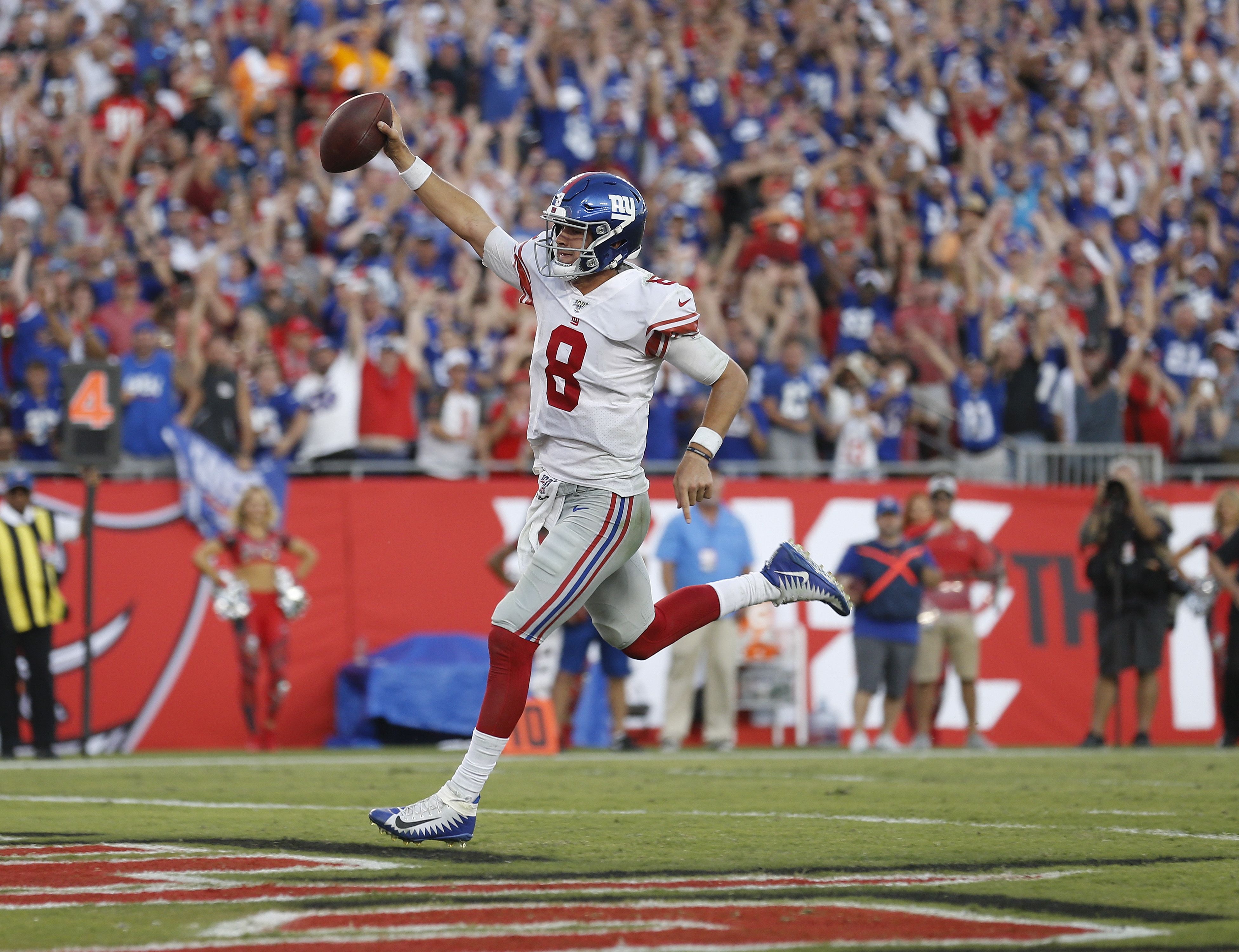 Photo: Mike Zarrilli/Getty Images
Winners
Daniel Jones: In his first career start, "Danny Dimes" threw for over 300 yards, accounted for 4 TD and led the Giants to their largest comeback win in 49 years. Is that good?!
The Saints: New Orleans became the first team to beat the Seahawks at home in September during the Pete Carroll era — and they did it with Drew Brees sidelined (thumb).
The Chiefs' stable of WRs: Tyreek Hill who? After carving up the Raiders last Sunday, Demarcus Robinson made a spectacular TD catch in the Chiefs' 33-28 win over the Ravens … and Mecole Hardman looked like Hill 2.0 on this 83-yard score.
Kyle Allen: Playing in place of an injured Cam Newton, Allen burst onto the scene with a 4-TD performance in a 38-20 win over the Cardinals … in his home state … against his former college teammate, Kyler Murray. Have a day, kid.
More winners: The Bills and 49ers are undefeated ... questions about Matt Patricia should dissipate following the Lions' solid start ... Frank Reich is an early Coach of the Year candidate ... and Dalvin Cook has become the face of the Vikings.
Losers
The Dolphins: Might as well carve out a permanent spot here for the Dolphins, whose -117 point differential through 3 games is third-worst in NFL history. Only the 1922 Louisville Brecks (-134) and 1923 Rochester Jeffersons (-122) were worse, per ESPN.
Freddie Kitchens: The Browns' offense looked bland and disjointed in their 20-13 loss to the Rams, and head coach Freddie Kitchens is catching heat for running a draw play on 4th and 9 — something no team had done in over 20 years.
Whoever has to block Shaq Barrett: The Bucs LB already has 8 sacks, which is tied with the Jets' Mark Gastineau (1984) for the most ever through 3 games — and almost as many as he had in his last 3 seasons with Denver (8.5).
The Chargers (and their fans): The 1-2 start is disappointing and could result in Melvin Gordon getting the contract he desires sooner rather than later. As for their fans … where were they yesterday? Stands were empty.
Denver's pass rush: Despite having 2 of the NFL's premier pass-rushers in Von Miller and Bradley Chubb, the Broncos still haven't recorded a single sack.
📺 Tonight, 8:15pm ET (ESPN): Bears (-5.5) at Redskins
2. ⚾️ The year of the haves and have-nots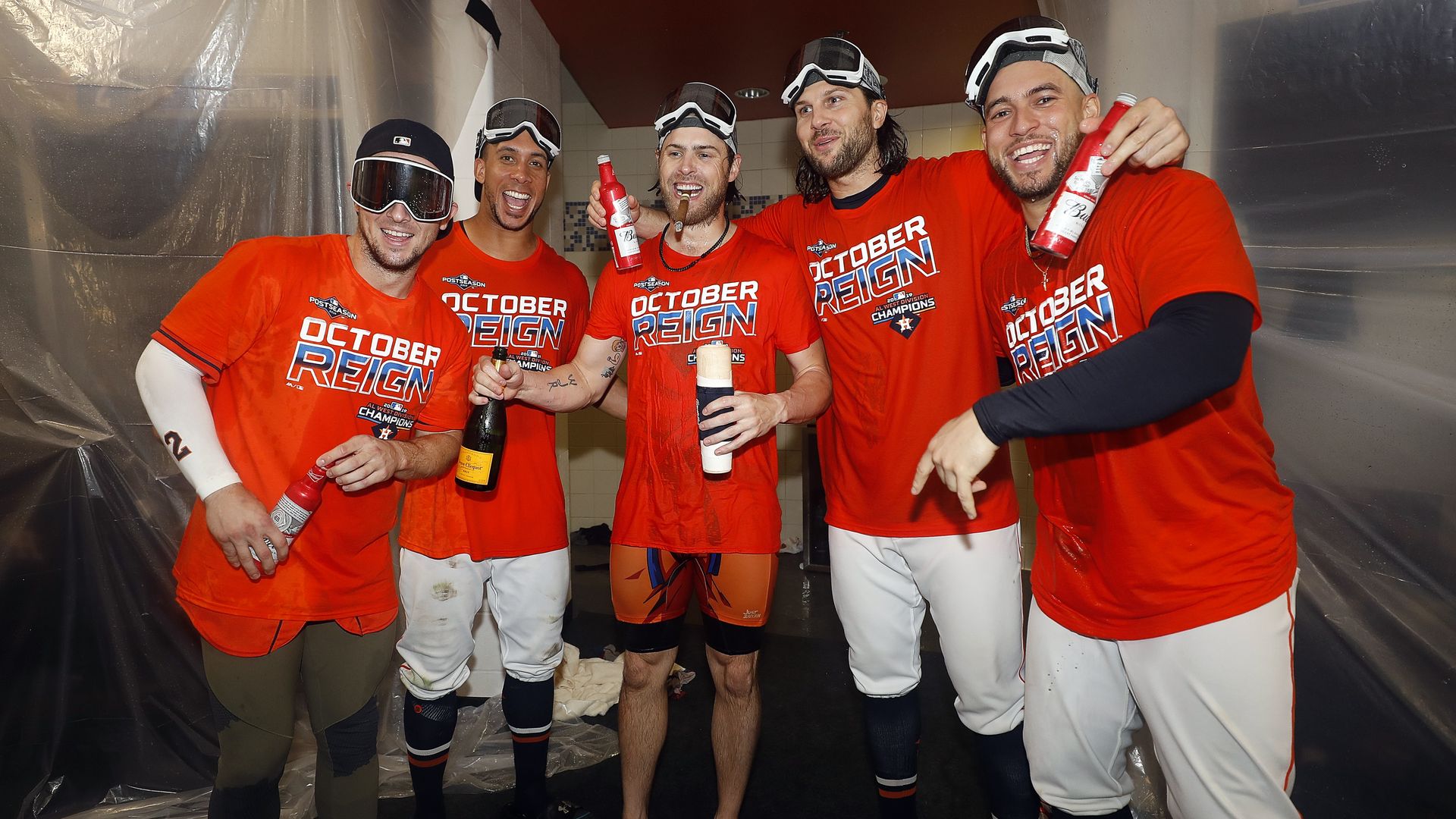 The Dodgers (100-56) won their 100th game of the season yesterday, joining the AL East champion Yankees (102-55) and AL West champion Astros (102-54) as triple-digit victors.
Why it matters: Baseball has never had four 100-win teams in a single season, but the Braves (96-61), Twins (96-60) and Athletics (94-62) could change that.
Meanwhile, on the opposite end of the spectrum, the Royals (57-100) lost their 100th game of the season yesterday, joining the Tigers (46-109), Orioles (51-105) and Marlins (54-101) as triple-digit losers.
Why it matters: This is just the second season in MLB history to feature four 100-loss teams — the other being 2002 (Tigers, Brewers, Rays and Royals).
The bottom line: 2019 was the season of the home run — and the year of the haves and have-nots.
P.S. ... In other news, the Cubs just became the second team in the last 100 years to get swept at home in a 4-game series and lose all 4 games by a single run.
They're now 4 games back of the surging Brewers for the second wild-card spot and have seen their playoff odds drop from 77% a week ago to 2.6% as of today.
3. 🏈 AP Top 25: Badgers rise, Wolverines plummet
Wisconsin moved into the top 10 in this week's AP poll after destroying Michigan. The top of the rankings remained mostly unchanged, while the middle got a big makeover.
By the numbers:
200 weeks: Alabama has been ranked for 200 consecutive weeks, the fourth-longest streak since the AP poll started in 1936.
209 minutes, 22 seconds: Before Michigan's TD late in the third quarter, Wisconsin hadn't surrendered a point since the first quarter of the 2018 Pinstripe Bowl, a streak of 209 game minutes and 22 seconds, per The Athletic (subscription).
6-1: Following his team's 23-17 win over Notre Dame, Georgia coach Kirby Smart is now an impressive 6-1 against top-10 teams not named Alabama.
~10 years: Cal was the big mover, jumping 8 spots to No. 15 — the highest the Bears have been ranked since they were No. 6 on Sept. 27, 2009.
17 pass TD: LSU QB Joe Burrow has 17 pass TD through 4 games. That already equals (or surpasses) LSU's year-long total in each of the past 5 seasons.
What's next: This Saturday features 2 matchups of ranked teams: No. 18 Virginia at No. 10 Notre Dame and No. 21 USC at No. 17 Washington.
ICYMI ... UCLA came back from a 49-17 third-quarter deficit to beat Washington State, 67-63, in one of the most absurd games ever.
Wild stats: WSU's Anthony Gordon threw 9(!) TD and lost!!! UCLA came in averaging 14 points per game, then scored 50 points ... in the second half!!!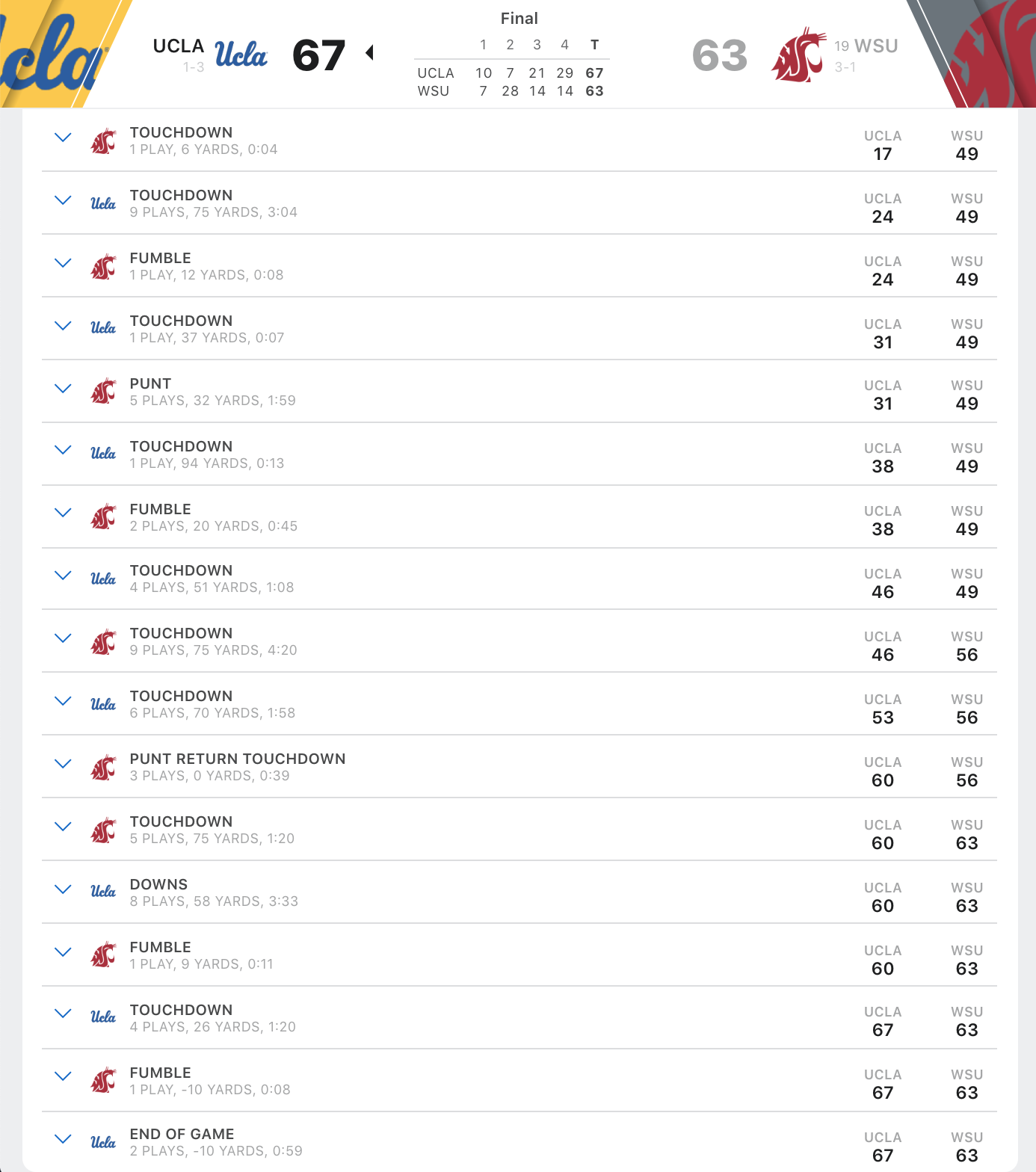 Screenshot: ESPN box score
4. 📸 Photos 'round the world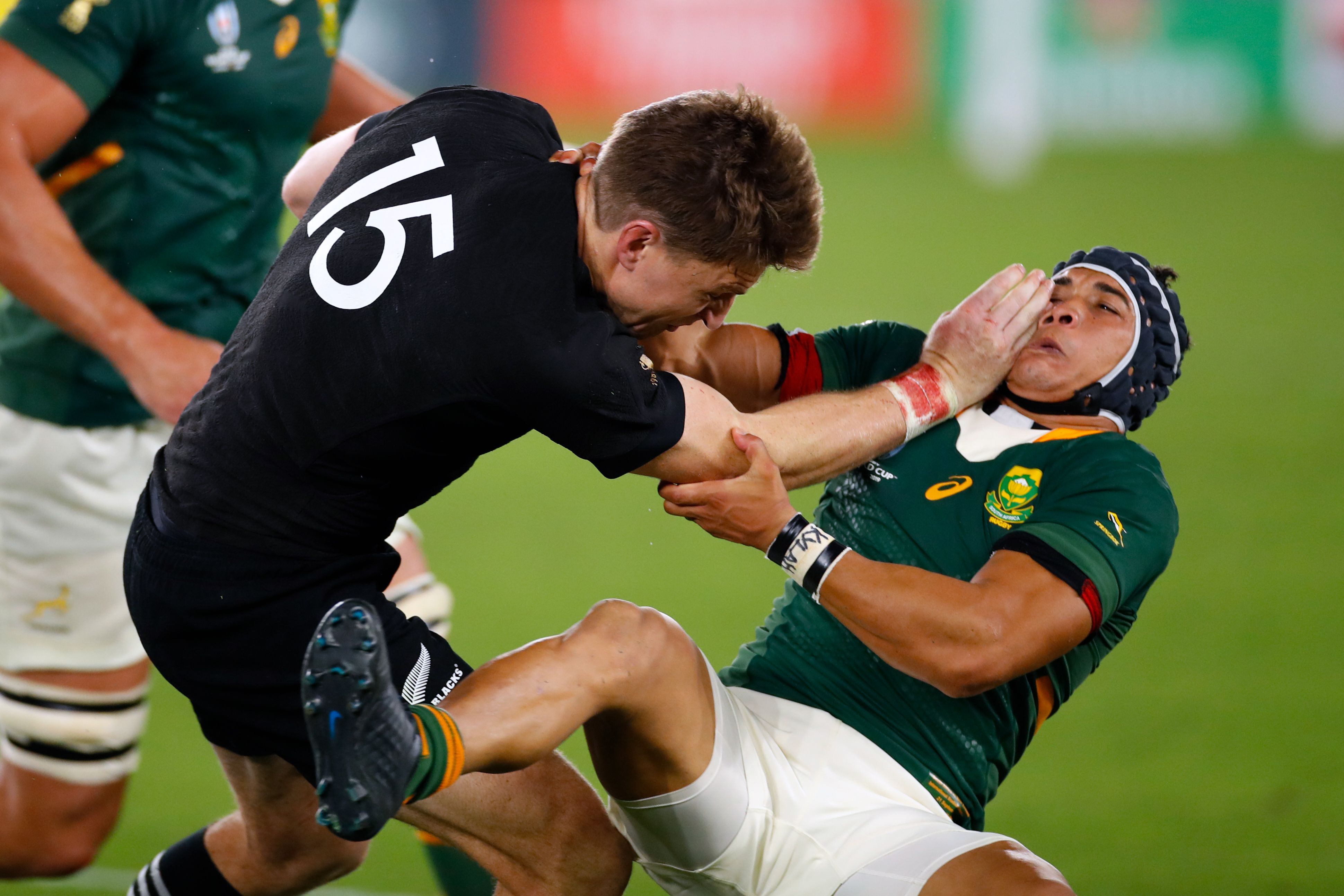 Photo: Odd Andersen/AFP/Getty Images
YOKOHAMA, JAPAN — Back-to-back champion New Zealand beat South Africa 23-13 in an early heavyweight matchup at the Rugby World Cup.
Watch: Highlights
Coming up: USA plays England on Thursday at 6:45am ET.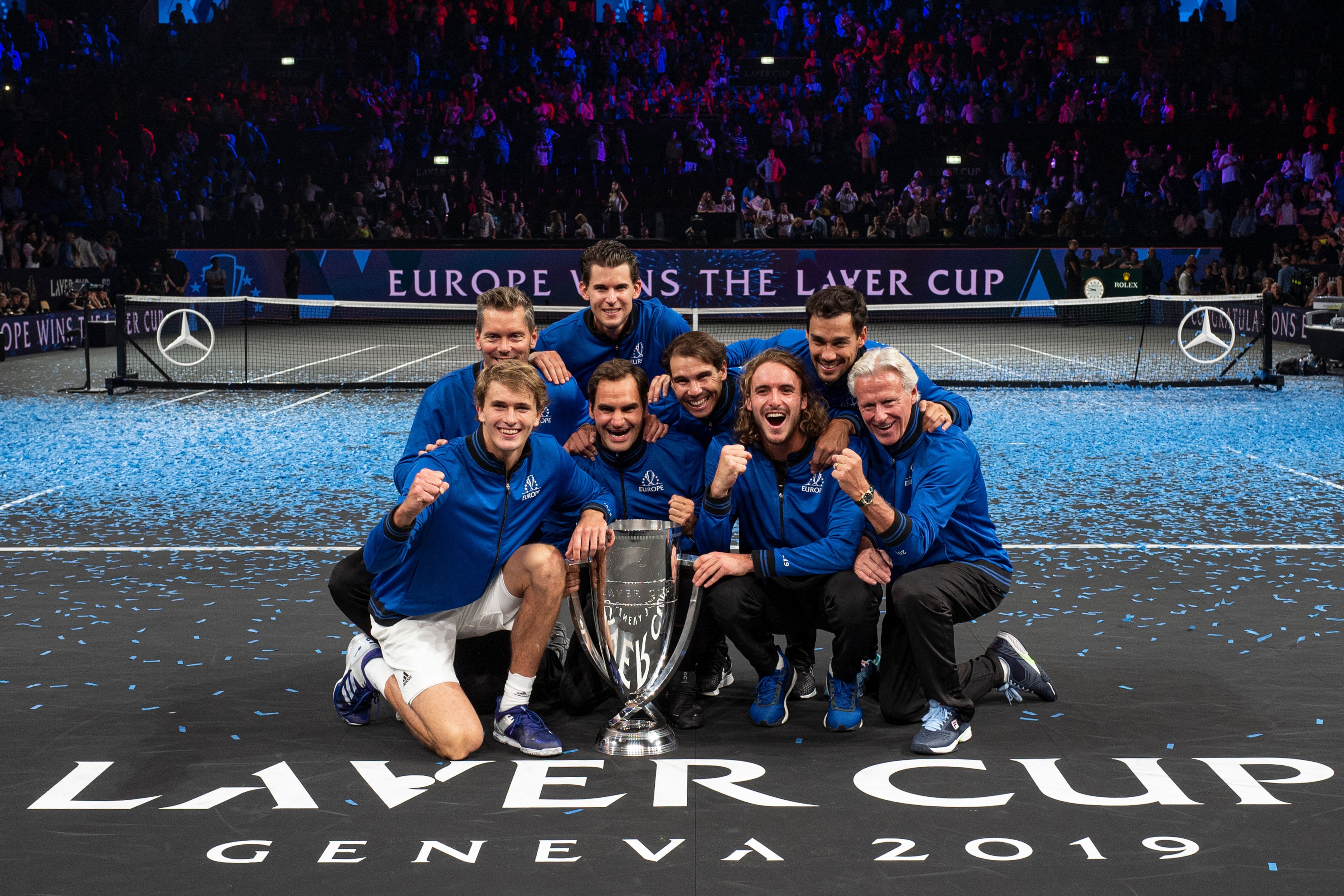 Photo: Romain Lafabregue/AFP/Getty Images
GENEVA, SWITZERLAND — Team Europe defeated Team World 13-11 to win the Laver Cup, which — good news — will be held in Boston next year.
Watch: This video of Roger Federer and Rafael Nadal dropping F-bombs while pumping up European teammate Alexander Zverev is the best. You rarely see them this raw.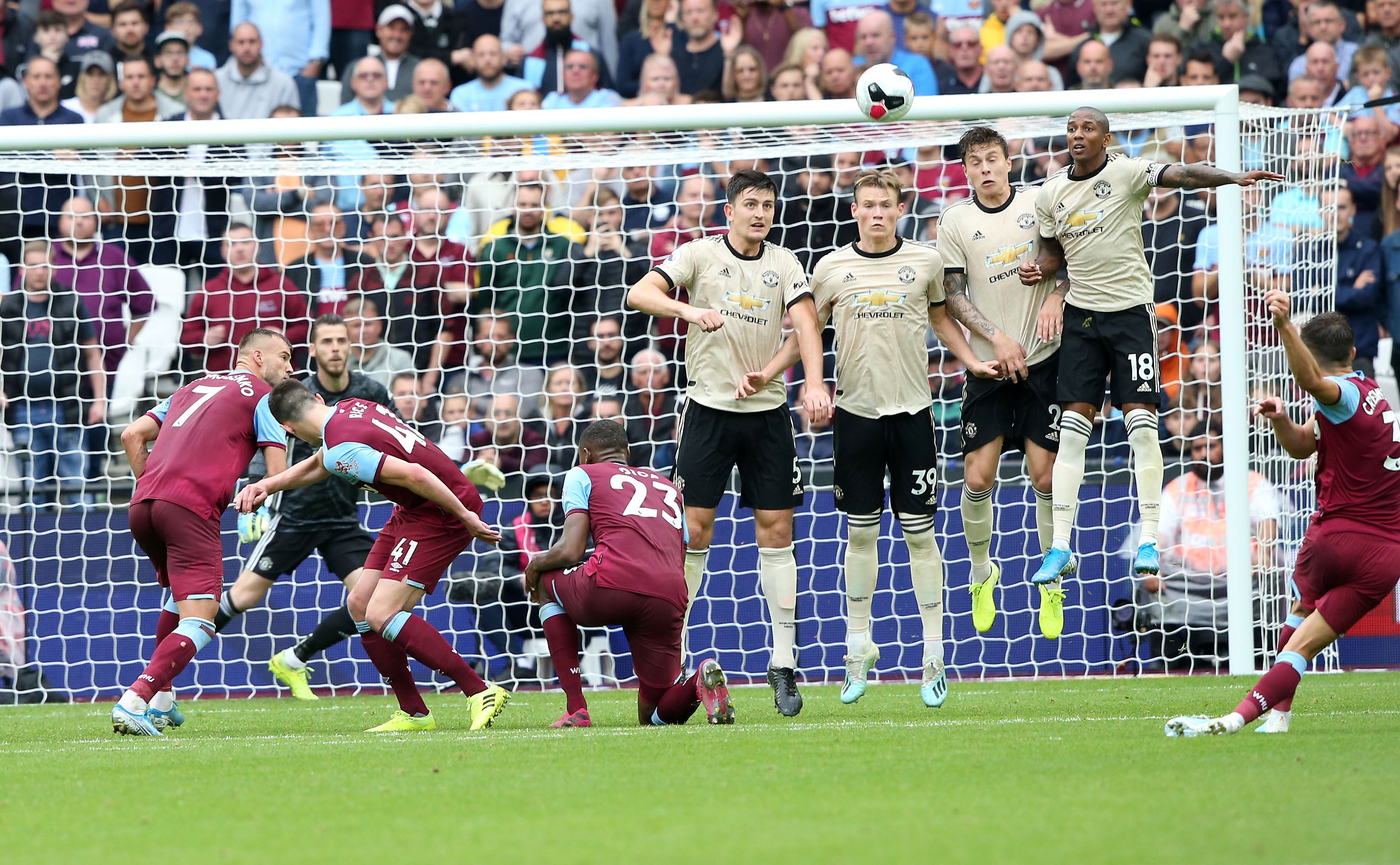 Photo: John Peters/Manchester United via Getty Images
LONDON — Manchester United suffered a humiliating 2-0 defeat to West Ham United during an upset-filled weekend in the Premier League (above: West Ham's Aaron Cresswell scoring goal No. 2). View the current standings.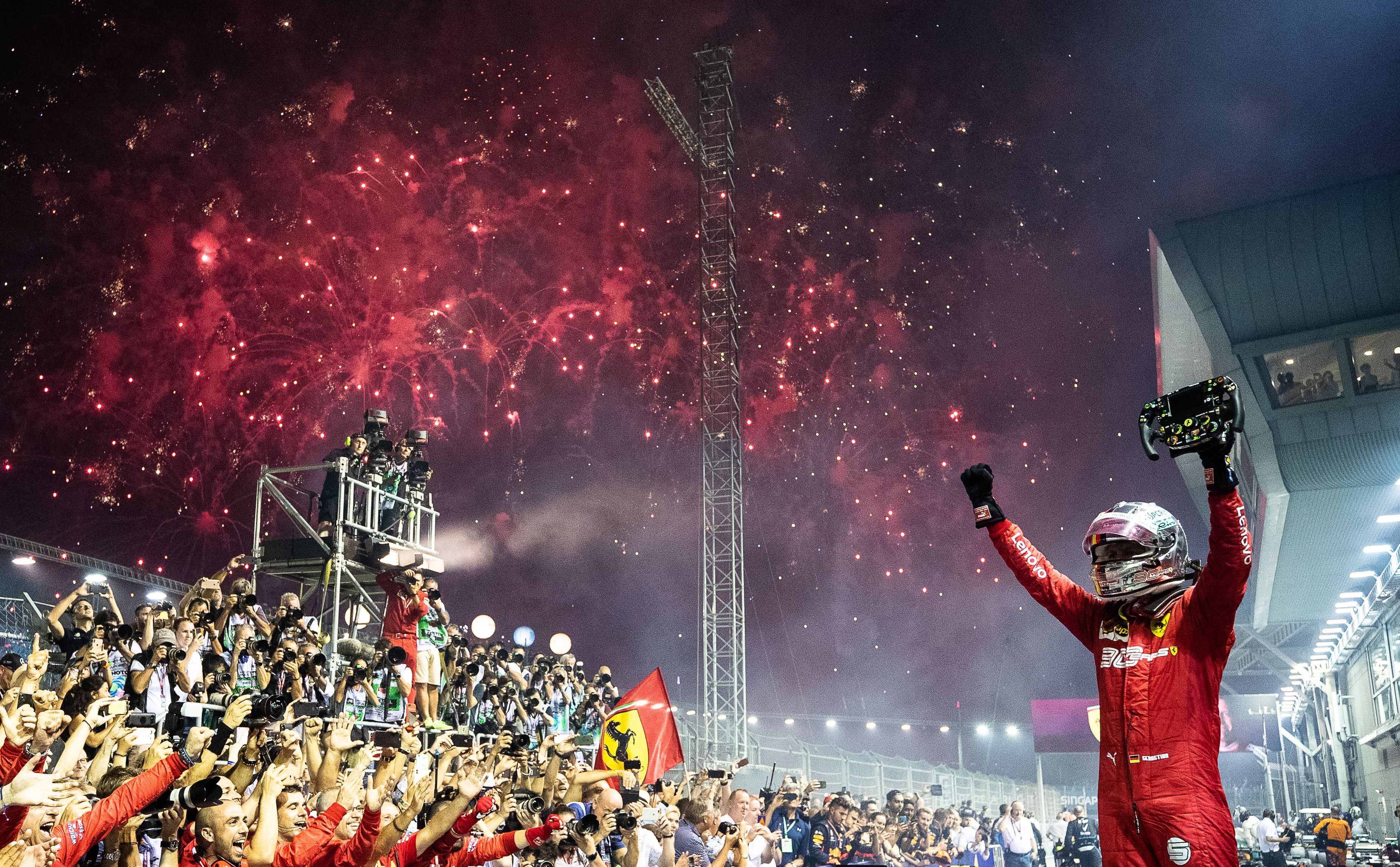 Photo: Lars Baron/Getty Images
SINGAPORE — Sebastian Vettel won the Singapore Grand Prix, his first Grand Prix victory in over a year; and his teammate, Charles Leclerc, came in second. Huge day for Ferrari.
In other racing news: Team Penske's Josef Newgarden clinched his second IndyCar title in the last 3 years, joining Sam Hornish Jr. as the only Americans since 1995 to win multiple series crowns.
5. 🏀 Basketball roundup
NBA: Roughly 2 months after NBA commissioner Adam Silver said that he believed "leakage and slippage" around free agency deadlines was "hurt[ing] the perception of integrity around the league," the NBA approved a series of new tampering rules.
Details: The NBA can now suspend executives, void contracts, take away draft picks and fine a team up to $10 million if they violate the rules. In addition, teams must save communications with agents and rival teams for a full year and 5 teams will be subjected to a random audit each season.
WNBA: The Connecticut Sun swept the L.A. Sparks to reach their first WNBA Finals since 2005. Meanwhile, the Washington Mystics lead the Las Vegas Aces, 2-1, with Game 4 set for tomorrow.
Quote of the weekend: Aces C Liz Cambage after dominating the Mystics in Game 3: "I just kept sealing inside ... If they can't handle it, get in the weight room or get out of the post."
CBB: Kansas is expected to be hit with "multiple major violations" by the NCAA stemming from last year's federal criminal trail, the Kansas City Star reports.
Why it matters: These could include Level 1 violations, "which carry some of the most severe punishment, including postseason bans and loss of scholarships," though it could take several months before such punishment is handed down.
6. Sept. 23, 1991: 🏈 Shula gets win No. 300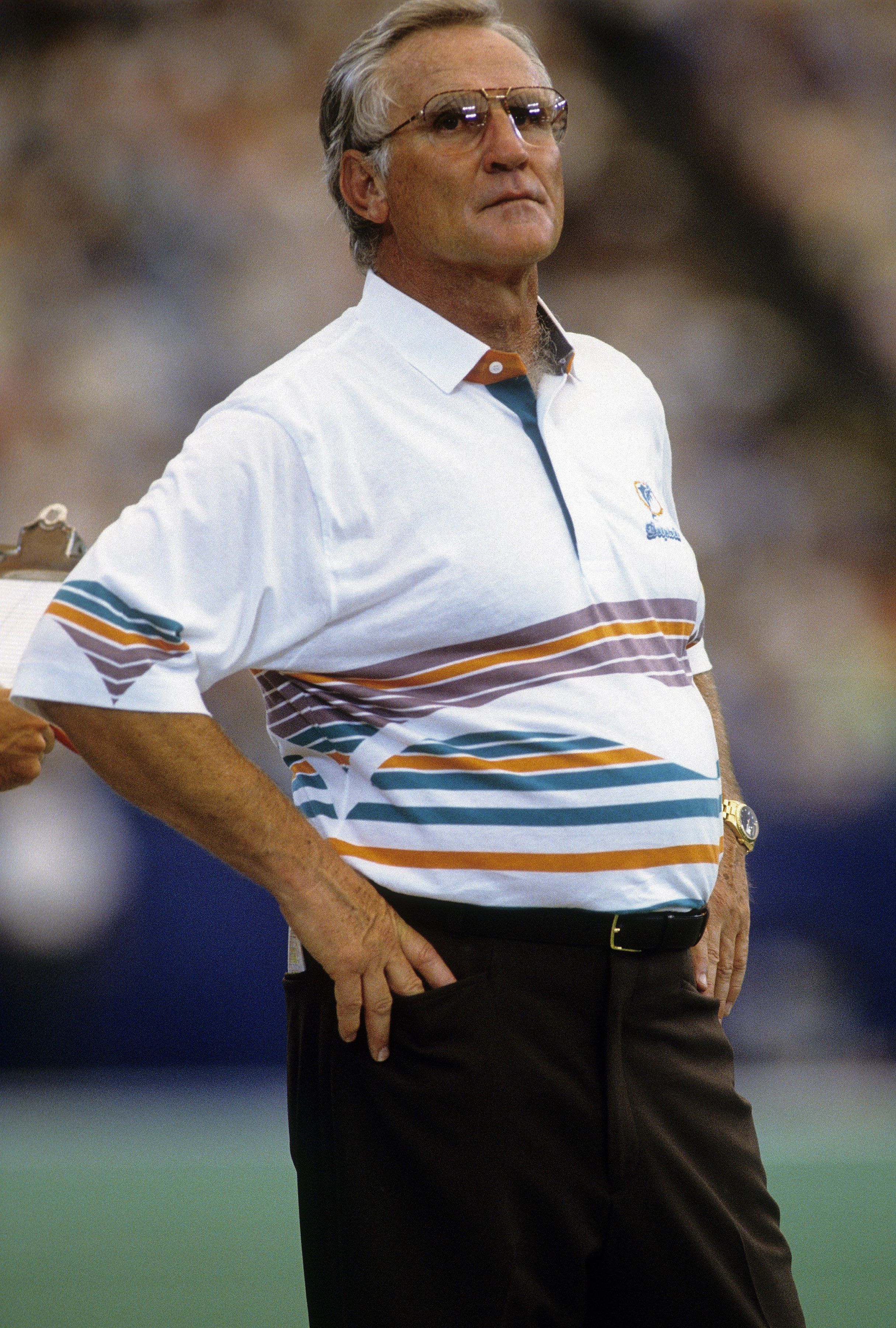 Photo: Focus on Sport/Getty Images
28 years ago today, Dolphins coach Don Shula became the second head coach in NFL history to win 300 games, joining Bears legend George Halas.
The big picture: Shula finished his career with an NFL record 347 wins, giving him a comfortable lead atop the all-time list.
Closest active coaches: Bill Belichick (295 wins) sits in third on the all-time list, while Andy Reid (210 wins) moved into sixth place following the Chiefs' victory yesterday.
All-time list:
Don Shula: 347 wins (33 seasons)
George Halas: 324 wins (40 seasons)
Bill Belichick: 295 wins (24 seasons)
Tom Landry: 270 wins (29 seasons)
Earl Lambeau: 229 wins (33 seasons)
Andy Reid: 210 wins (21 seasons)
Chuck Noll: 209 wins (23 seasons)
7. 🏈 NFL trivia
Fill in the blank: Yesterday was Patrick Mahomes' 13th career 300-yard passing game, breaking a tie with _____ for the most by a player in his first 20 games.
Hint: He was inducted into the Hall of Fame in 2017.
Answer at the bottom.
8. The Ocho: 📚 A good read about croquet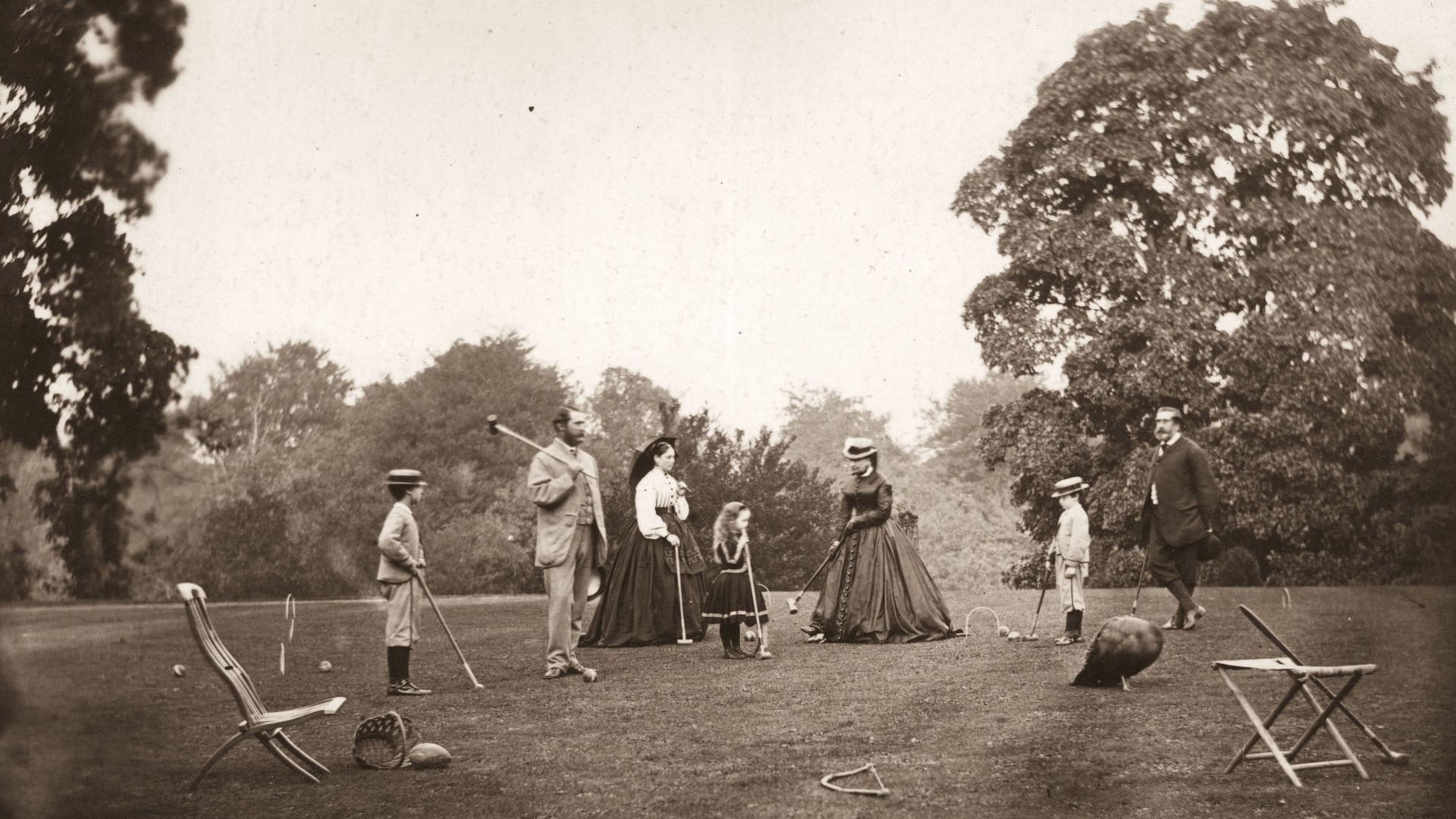 Julian Smith wrote a fantastic piece for Deadspin about croquet. More specifically, he tells the story of 2 Kentucky farmers who came to dominate the sport.
A brief history:
"Modern croquet was born in 19th-century Britain, with roots in an older French game called roque. … [It] crossed the Atlantic around 1880 and made a brief appearance at the 1900 Olympics in Paris."
"In the 1920s and '30s, Hollywood types … became obsessed with the game. On Long Island estates, Zelda and F. Scott Fitzgerald watched Groucho Marx, Dorothy Parker, and other members of the Algonquin Round Table play."
"Clay-court croquet arose in Kentucky and Tennessee during the Depression. It was cheap and open to anyone. ... [And it had] little in common with the backyard, are-the-burgers-ready version most familiar to Americans."
"In the Kentucky version, nine steel wickets are set solidly into hard-packed clay in a diamond layout. … The balls can barely fit through the wickets, and a poorly aimed shot can rebound to the other end of the 100-foot-long court. With no time limits, games could go all night, sometimes until sunrise."
See you tomorrow,
Kendall "Can't stop watching that Federer/Nadal clip" Baker
Trivia answer: Kurt Warner