April 26, 2022
👋 Good morning! Is your best friend from middle school reading Axios Sports yet? Sign them up! Also, maybe reach out — they miss you.
Today's word count: 1,765 words (7 minutes).
Let's sports...
1 big thing: 🏈 When religion takes the field
A high school football coach's longtime practice of praying after games has become a high-profile case regarding the separation of church and state, Axios' Jeff Tracy writes.
Driving the news: The U.S. Supreme Court heard oral arguments on Monday in the case of Joseph Kennedy v. Bremerton School District, which fired Kennedy in 2016 after he refused to stop his post-game prayers.
Catch up quick: Kennedy, a retired Marine, became the assistant football coach at his alma mater — Bremerton High School, 30 miles west of Seattle — in 2008. After games, he'd pray alone at the 50-yard line.
"I'd take a knee and thank God for what the guys just did and the opportunity to be a coach," he told ESPN. Before long, players asked to join him.
The tradition continued for years without issue, until 2015 when an opposing coach told Bremerton's principal that Kennedy invited his players to join in his prayer.
The school ordered Kennedy to stop, which he briefly did. But when he resumed, Bremerton placed him on paid leave and declined to rehire him the following season.
Kennedy sued the district for violating his First Amendment rights. After lower courts ruled against him three times, the Supreme Court in January agreed to hear the case.
State of play: The core issue here is the grey area between the First Amendment's establishment clause, forbidding government endorsement of religion, and its free exercise clause, forbidding restrictions on private observance of religion.
The Supreme Court, with a 6-3 conservative majority, has been more likely to protect religious freedom in recent years than maintain the separation of church and state.
This wouldn't be an issue if Bremerton High were a private school, but as a public school its actions are necessarily those of the state.
What they're saying: "If this coach were in fact doing what he says he was doing, which is praying in a private and solitary manner, we wouldn't be here, because that's fine," Rachel Laser, president and CEO of Americans United for Separation of Church and State, told CBS.
The problem, as Laser and some others see it, is that Kennedy's public act could, even indirectly, coerce students into joining him.
One parent said their son "felt compelled to participate" so as not to lose playing time. That's the exact scenario the district hoped to avoid.
The other side: "No reasonable observer could conclude that a football coach who waits until the game is over ... is speaking on behalf of the state," wrote Kennedy's lawyer in a letter to the school district.
Kennedy dismisses the idea that players felt pressured to participate in the post-game prayers.
In fact, he says he once named players captains after they objected to joining because "I need leaders, [not] drones."
What's next: A decision is expected in June.
2. 🏀 Brooms out in Brooklyn
The Celtics beat the Nets, 116-112, on Monday to complete one of the most unexpected sweeps in recent memory.
Why it matters: The Nets were title favorites as recently as February, even after the James Harden trade. Two months later, they've gone winless in the first round.
This is the first time in NBA history that the two preseason title favorites (Nets and Lakers) didn't win a playoff game. At least Lakers fans have the nostalgia of "Winning Time."
As for Boston, nobody wants to play this team. The "Nets collapse" may be the dominant narrative, but let's be clear: The Celtics are for real, and Jayson Tatum is a bonafide superstar.
What they're saying: "I think it was just really heavy emotionally this season," said Kyrie Irving, whose decision not to get vaccinated hung over the team all year.
"We were trying to exercise every option for me to play ... And I think it became a distraction at times," added Irving. Astute observation, sir.
Ben Simmons, who was expected to make his Brooklyn debut this series, wasn't in the arena for Game 4, reportedly due to back issues. Stephen A. Smith, your thoughts?
The bottom line: After Game 3, Kevin Durant said he needed to study more film and "figure it out." Now, the Nets will have an entire offseason to find some answers.
Elsewhere:
Raptors 103, 76ers 88: Doc Rivers has lost seven of his last eight opportunities to close out a series. Philly leads 3-2.
Mavs 102, Jazz 77: Jalen Brunson has 20+ points in five straight playoff games. He's never had 20+ points in more than two straight regular-season games. Dallas leads 3-2.
3. 🏒 NHL snapshot: Three spots left
The NHL regular season ends Friday, and three playoff spots are still up for grabs, Jeff writes.
How it works: The top three teams in each division, plus two wild cards per conference, make the 16-team playoff field.
Where it stands: The East is set, though there's still a race to avoid the wild card spots, while five teams in the West are fighting for the remaining three berths.
Atlantic (East): The Bruins (103 points) could still catch the Lightning (106) for third place, though Boston's remaining schedule is harder.
Metropolitan (East): The Capitals (100) barely trail the third-place Penguins (101), and have a game in hand. This race is crucial, given the loser will likely face the red-hot Panthers in round one.
Central (West): The Predators (94) and Stars (93) can do no better than the wild card, but they're in the driver's seat for those spots over their Pacific counterparts.
Pacific (West): The Kings (96) need just one point in their final two games to clinch top three, while the Golden Knights (90) and Canucks (87) try catching the Predators and Stars.
Go deeper: Playoff watch and predictions (ESPN)
4. ⚡️ Lightning round
⚾️ Classic Angel: Angel Hernandez, MLB's worst umpire, was horrendous on Sunday, missing calls on 19 taken pitches (!!!) and only calling 85.3% correctly. Can't blame Kyle Schwarber for losing his temper.
🏀 Ja's leap: Ja Morant was named the NBA's Most Improved Player, the first player to ever win both ROY and MIP. He proceeded to give his award to teammate Desmond Bane.
⛳️ Phil saga: Phil Mickelson has signed up for the PGA Championship and the U.S. Open, while also seeking permission to play in the Saudi-funded league. It's unclear if he'll play in any of them.
🏀 Historic signing: Naasir Cunningham, the No. 1 prospect in the Class of 2024, is signing with Overtime Elite — but won't take a salary so he'll remain eligible to play college basketball after graduating high school.
🎟 Ticket scandal: A former Suns ticket manager has pleaded guilty to illicitly selling over $450,000 worth of tickets on StubHub.
5. 🏈 Top pick: Walker leapfrogs Hutchinson
Georgia DE Travon Walker has gone from long shot to the consensus favorite to be the No. 1 pick in this week's NFL draft.
State of play: Walker surged past Michigan DE Aidan Hutchinson late Sunday at sportsbooks across the country. The Jaguars will almost certainly pick one of the two on Thursday night.
The big picture: Some states allow bettors to wager on the draft, but not everyone is on board given the integrity risks due to inside information.
"We try to manage the risk the best we can. But we can't eliminate it because of the uniqueness of the draft and all the people who have first-hand knowledge."
— Sabrina Perel, NFL chief compliance officer, via ESPN
6. ⚾️ A faster way to your seat
If you've flown recently, you're likely familiar with CLEAR's expedited security lanes. Soon, they could be at your local stadium, too, Jeff writes.
The big picture: Since 2015, free-to-use CLEAR lanes have begun popping up at sports venues across the country, helping fans of the following teams get to their seats quicker:
MLB: Yankees, Rockies, Giants, Rangers, Twins
NBA: Heat, Spurs, Lakers, Clippers, Knicks, Wizards
NHL: Capitals, Kings, Rangers
MLS: LAFC, NYC FC, Earthquakes
WNBA: Sparks
College football: Texas
How it works: Select entrances feature kiosks with biometric scanners that verify your identity, matching your face to the photo you've pre-loaded in the app.
Security procedures vary by venue, but CLEAR is "more frictionless and predictable, with fewer steps," Catesby Perrin, CLEAR's EVP of Growth, tells Axios.
"We were born in the airport, but as we looked [at sports], we thought we could build a better customer experience," says Perrin, adding that CLEAR is in expansion discussions with several teams.
7. 🌎 The world in photos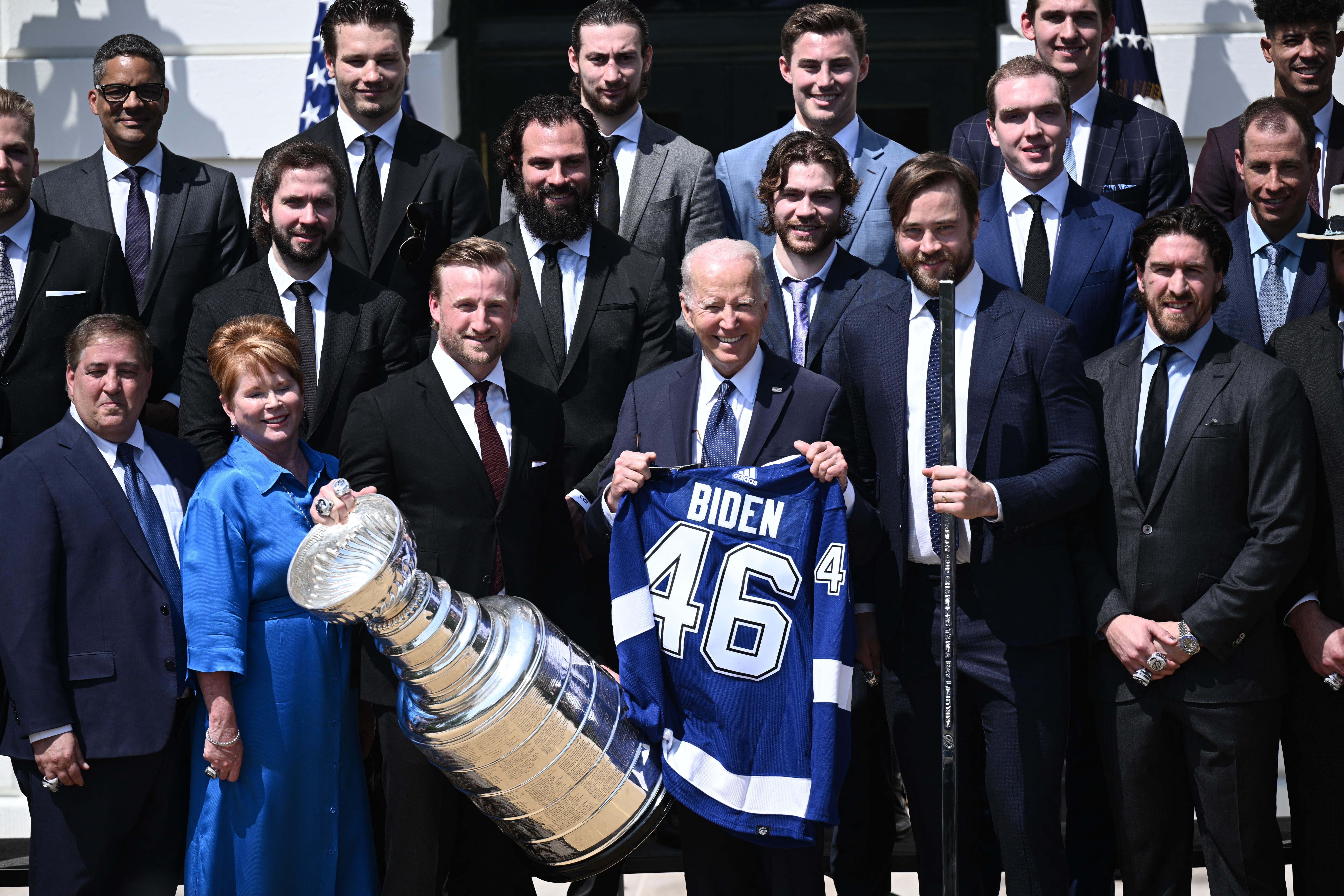 WASHINGTON, D.C. — President Biden welcomed the Lightning to the White House on Monday to celebrate the team's back-t0-back Stanley Cup championships.
What they're saying: "It's a pretty good time to be a sports fan in Tampa," said Biden. "I don't know what the hell you have in the water down there."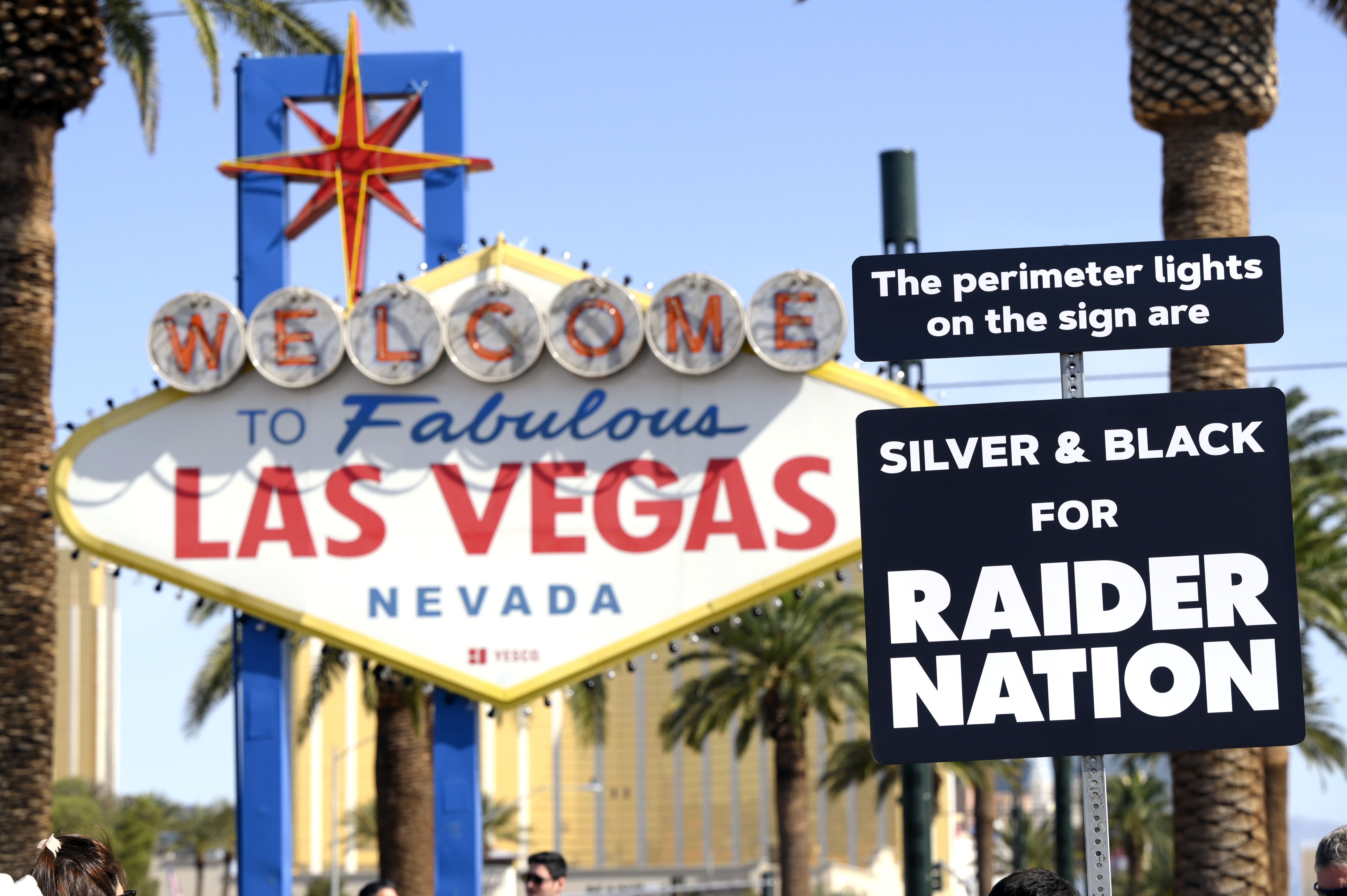 LAS VEGAS — The lights surrounding the famous "Welcome to Fabulous Las Vegas" sign were turned silver and black in honor of the Raiders ahead of this week's NFL draft.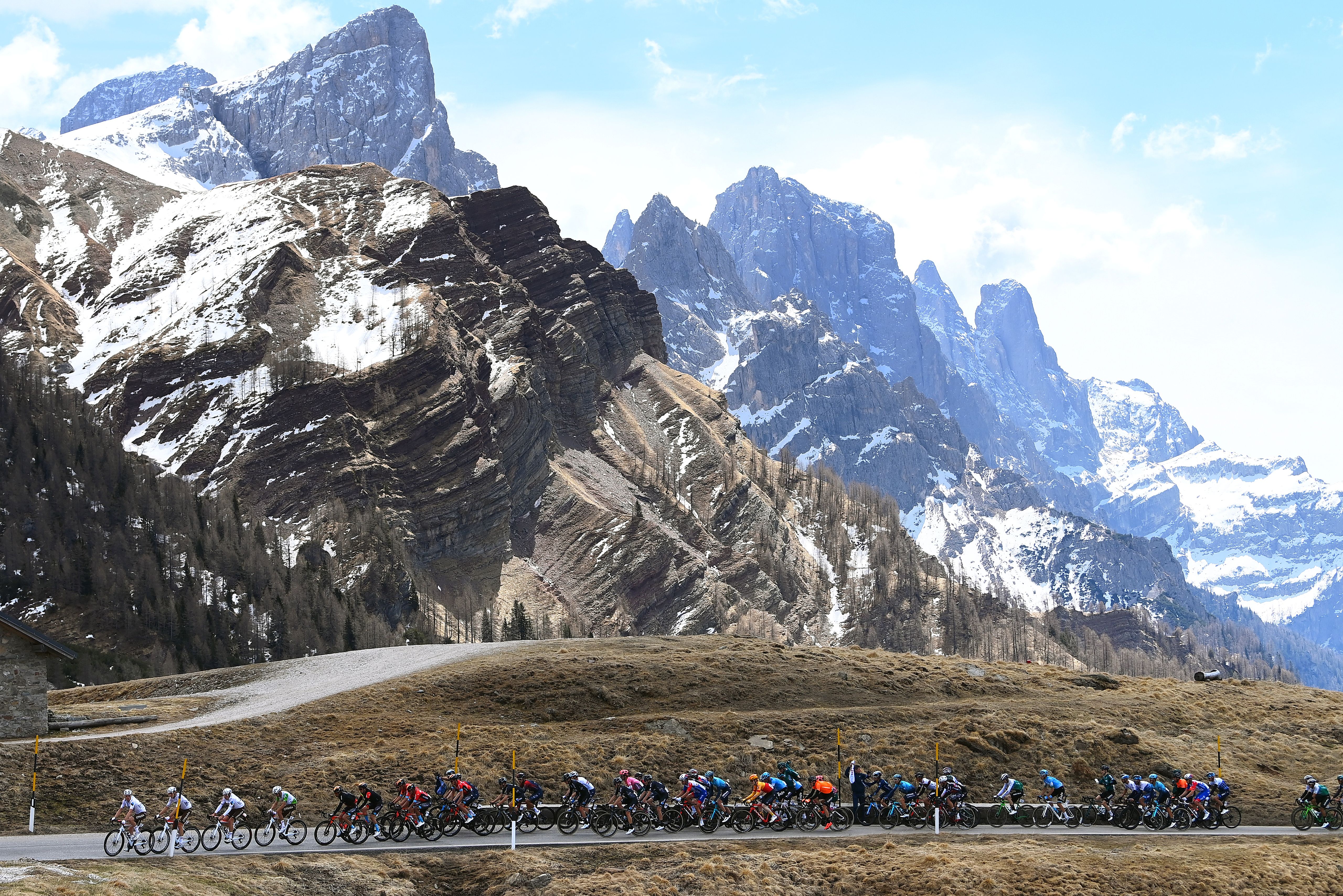 BOLZANO, Italy — Not a bad backdrop for the 45th Tour of the Alps...
8. 📺 Watchlist: Europe's Final Four
The Champions League semifinals begin today as Manchester City host Real Madrid in their first-leg match (3pm ET, CBS).
City are perhaps the best club without a title, losing in their first Final last year to Chelsea.
Madrid are the most successful team in Champions League history, with a record 13 titles.
More to watch:
9. 🏀 NBA trivia
The Nets will remain one of the 11 active NBA franchises without a championship.
Question: Can you name the other 10?
Hint: Six are still alive in this year's playoffs.
Answer at the bottom.
10. 🏀 1 hoops thing: The (other) birthplace
Basketball was invented in 1891 by James Naismith in Springfield, Massachusetts. Or was it?
Driving the news: Some residents of Herkimer, New York — a small town halfway between Syracuse and Albany — believe the sport was invented there by a Swedish immigrant named Lambert Will.
"[The] counternarrative has circulated among residents for years, in large part because of 'I Grew Up with Basketball,' a 1952 memoir by Frank J. Basloe, [an] early basketball promoter."
"Basloe's book credited Will with devising many of the rules [and] included an old sepia photograph of a Herkimer basketball team with '91-92' scratched into the ball, suggesting there was a team playing basketball during the same winter that Naismith was said to have invented it."
— Ben Strauss, WashPost
Talk tomorrow,
Kendall "Actually, I invented basketball" Baker
Trivia answer: Grizzlies, Jazz, Suns, Pelicans, Nuggets, Timberwolves, Pacers, Hornets, Clippers, Magic
🙏 Thanks for reading. Follow us on Twitter: @kendallbaker and @jeffreytracy. Tell your friends to sign up.