👋 Happy Friday! On the eve of Game 3, the Astros have fired assistant GM Brandon Taubman for inappropriate comments directed at a female reporter.
Tonight in D.C.: Zack Greinke vs. Anibal Sanchez. The cheapest ticket is currently ~$1,100 for standing room only. Game starts at 8pm ET.
That's not good: Deandre Ayton (No. 1 pick in 2018) has been hit with a 25-game suspension for testing positive for a diuretic, which are typically used as masking agents.
This Sunday: "Axios on HBO" features an exclusive interview with Iraq's President Barham Salih (sneak preview), a look inside the only offshore wind farm in the U.S. and much more. Sunday at 6pm ET on HBO.
Today's word count: 1,124 words (4 minutes).
1 big thing: 🏒 The race to find the perfect blade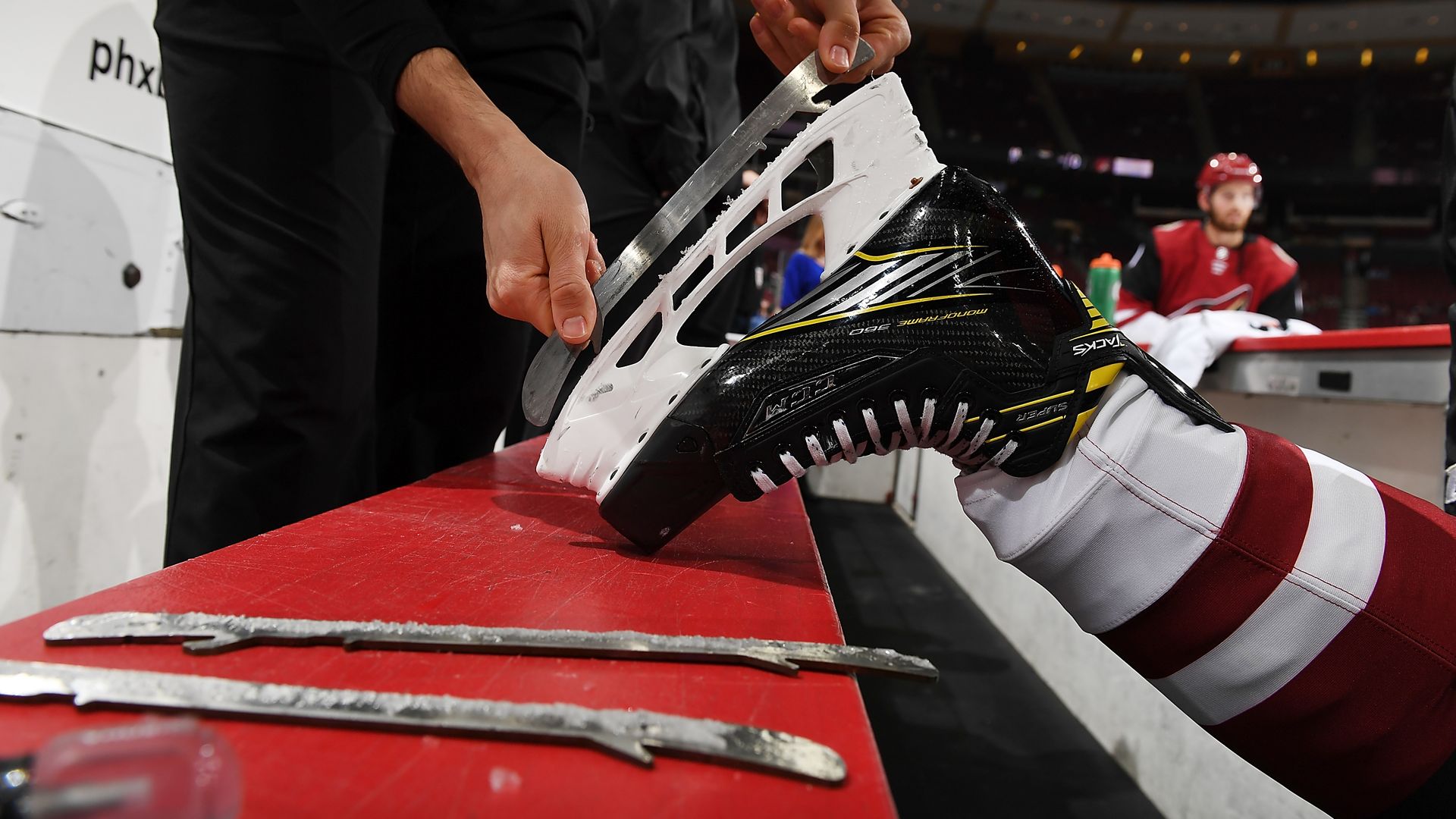 Thanks to technological innovation and a young crop of players obsessed with gaining even the slightest edge, the world of NHL skate blades is in the midst of a revolution.
Now that removable blades are the norm, it's easy to swap them out from one game to another or even between shifts. As a result, players are constantly tinkering.
Full-service sharpening shops, which can ship players custom blades overnight, are on the rise.
Teams like the Canadiens have invested in machines that can sharpen blades better than any human ever could, all while keeping its shape intact.
Why it matters: Unlocking the combination of profile (i.e. shape) and depth that best suits each player can provide them with a huge advantage on the ice.
How it works: "There are different geometries for different positions (and skating strides, and weight classes, etc.), and the range of options is only broadening as profiling precision improves," writes The Athletic's Sean Gordon (subscription).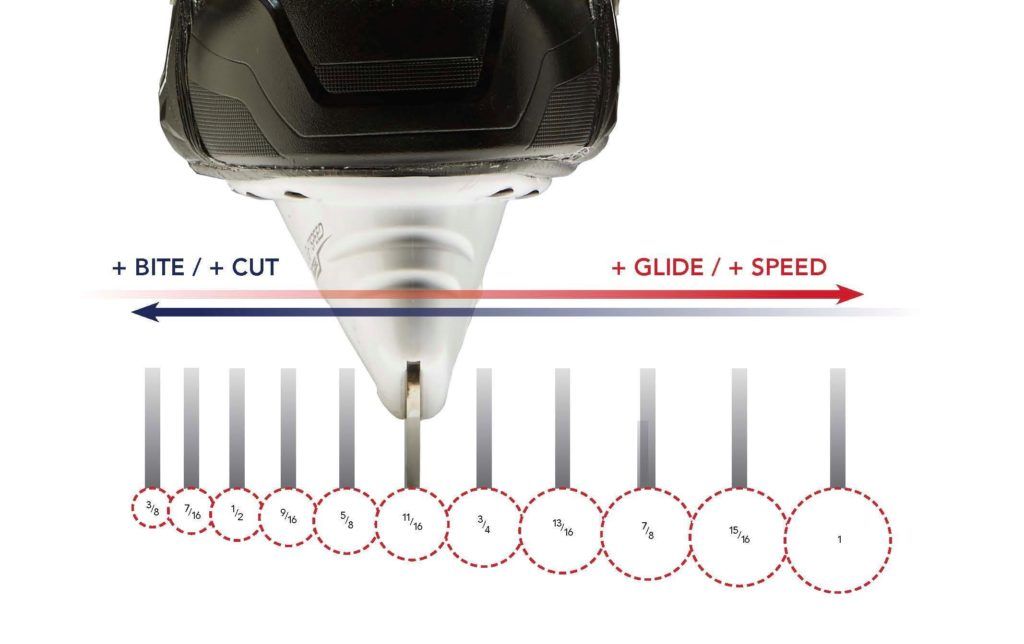 Courtesy: Elite Blade Performance
The bottom line: "Skating axiomatically comes down to a trade-off between biting into the ice (i.e. control, agility in turns) and gliding across it (i.e. speed, efficiency)," writes Gordon.
"In general terms, you boost one at the expense of the other. But what if one were able to maximize both?"
"That's the Holy Grail NHL players, and the equipment managers who kit them out, are chasing. Relentlessly."
2. ⚾️ Why baseball is finally thriving in D.C.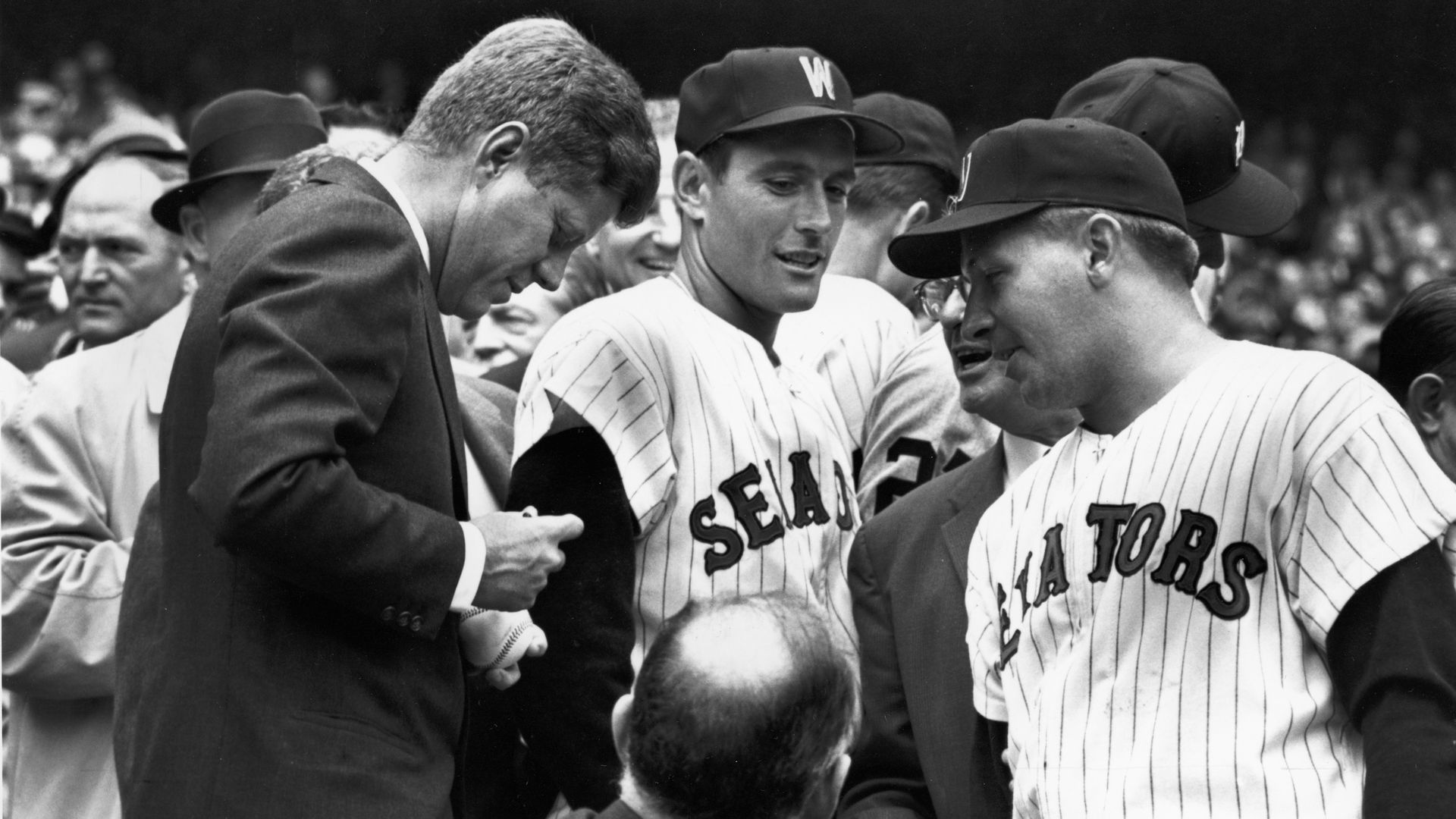 "Professional baseball was still considered an uncertain gamble when it returned to Washington in 2005 after more than three decades away. The original Senators were a laughingstock, finishing below .500 in 42 of their 60 seasons," write WSJ's Brian Costa and Jared Diamond (subscription).
"The Nationals, however, have succeeded .... Two of the biggest reasons: a publicly financed stadium that opened in 2008 and deep-pocketed owners that have made the Nationals among MLB's biggest spenders."
"Both those factors are rooted in one of the most long-bemoaned trends in American politics: the rise of big money in Washington."
3. ⚽️ Soccer in America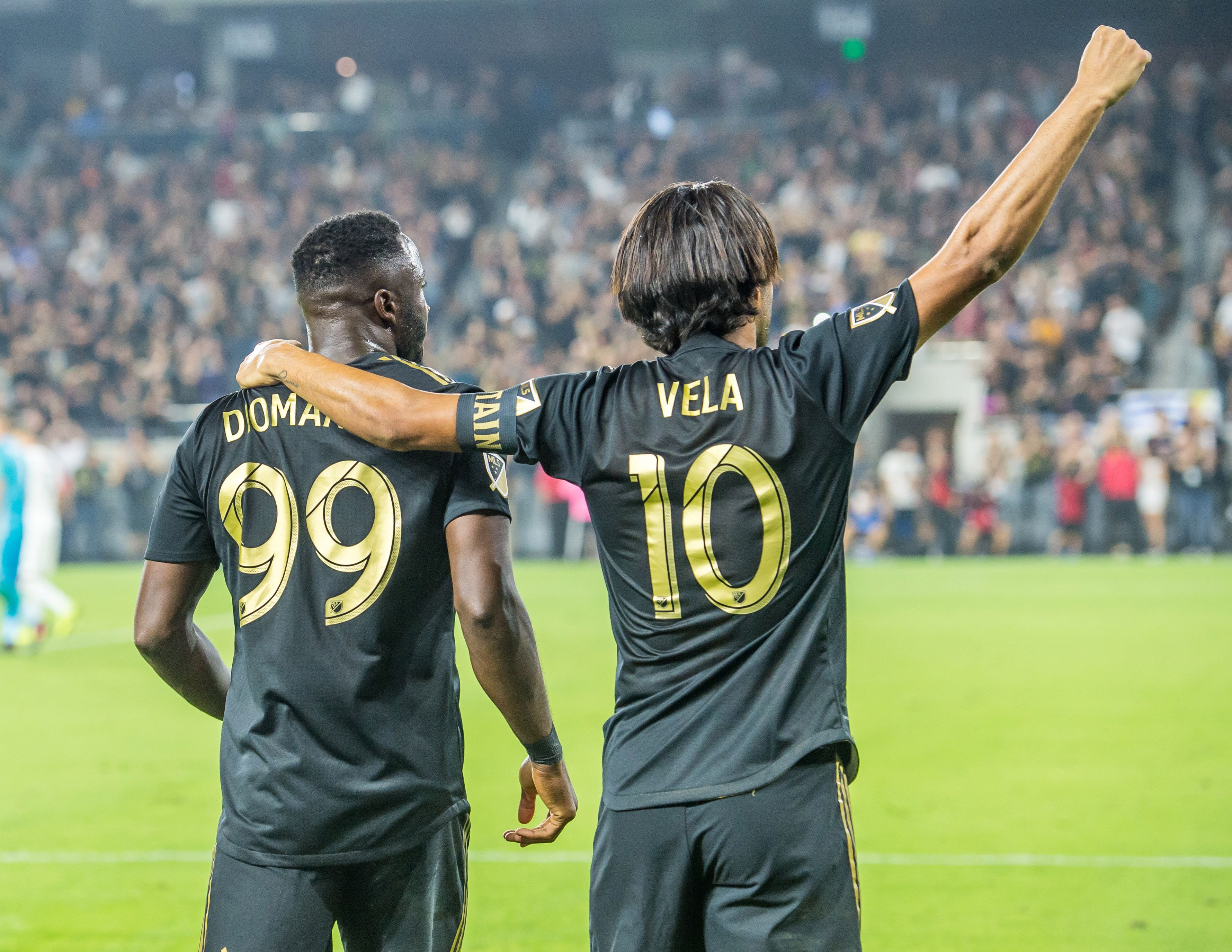 Photo: Shaun Clark/Getty Images
MLS
Carlos Vela and Adama Diomande each scored twice as LAFC beat Zlatan Ibrahimovic and the LA Galaxy, 5-3, for their first win in the "El Trafico" rivalry.
Western Conference final: LAFC will play the Seattle Sounders on Tuesday.
Eastern Conference final: Defending champs Atlanta United, which beat the Philadelphia Union 2-0 last night, will play Toronto FC on Wednesday.
NWSL
The defending champion North Carolina Courage will face the Chicago Red Stars in the NWSL Championship on Sunday (3:30pm ET, ESPN). Here's a match preview.
Notable players: This will be the final match for USWNT player Heather O'Reilly (Courage), who is retiring. It may also be the last NWSL match for likely MVP Sam Kerr (Red Stars), with reports suggesting a move to Europe.
USWNT
Vlatko Andonovski, who spent the last two years as coach of the NWSL's Reign FC, is set to become the next manager of the U.S. women's national team, replacing Jill Ellis.
"In hiring Andonovski, U.S. Soccer has entrusted its crown jewel … to a 43-year-old Macedonian-American immigrant who spent years as a player for European clubs and in American indoor leagues before moving into coaching." (NYT)
4. 🏀 Last night in the NBA: Visiting teams sweep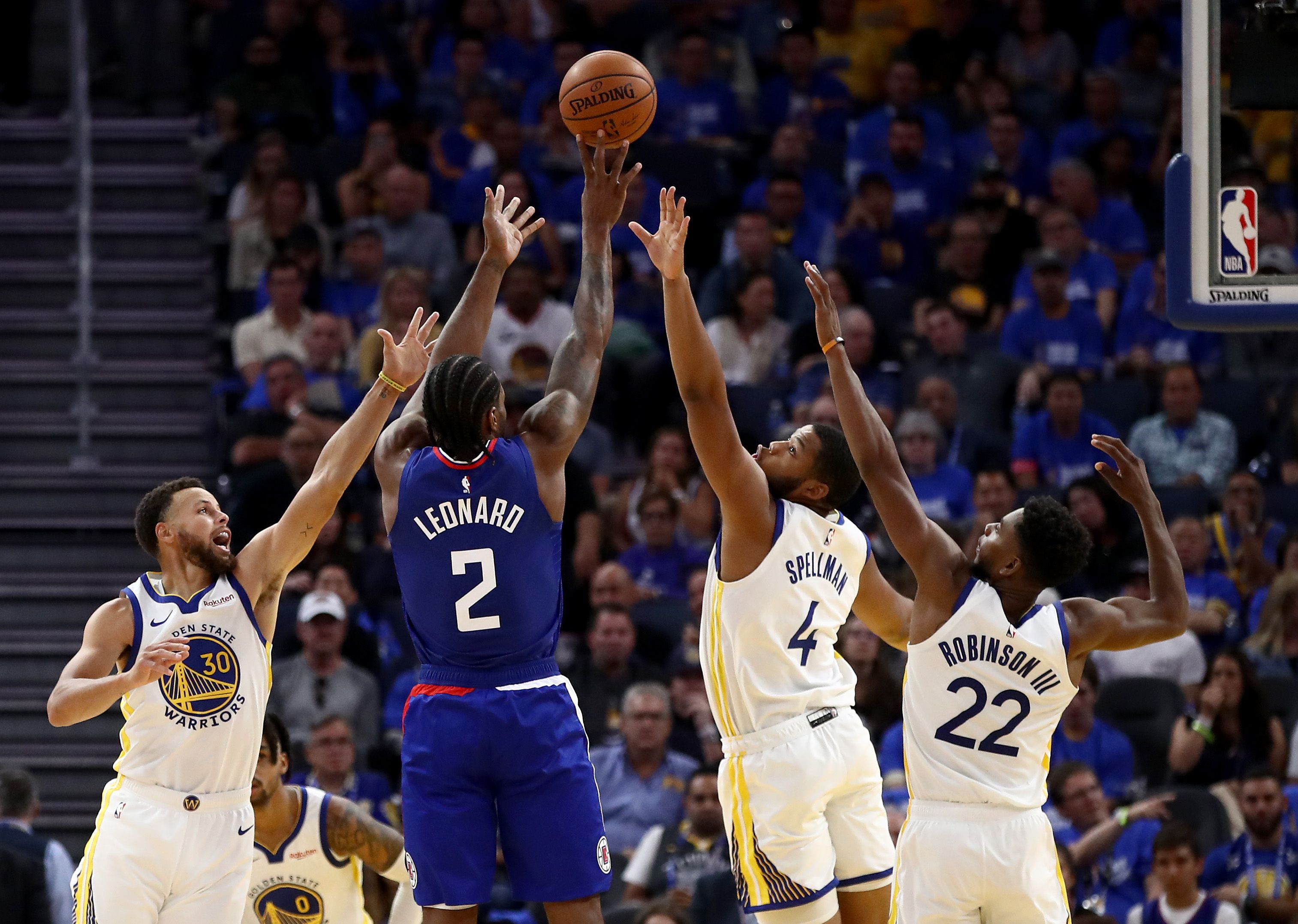 Photo: Ezra Shaw/Getty Images
SAN FRANCISCO — Four months ago, Kawhi Leonard won a title in the last game at Oracle Arena. Last night, he spoiled Golden State's fun once more, scoring 21 points and dishing out nine assists to lead the Clippers to a 141-122 win on opening night at the Chase Center.
S. Curry (GS): 23 points (8-20 FG, 2-11 3PT), 8 turnovers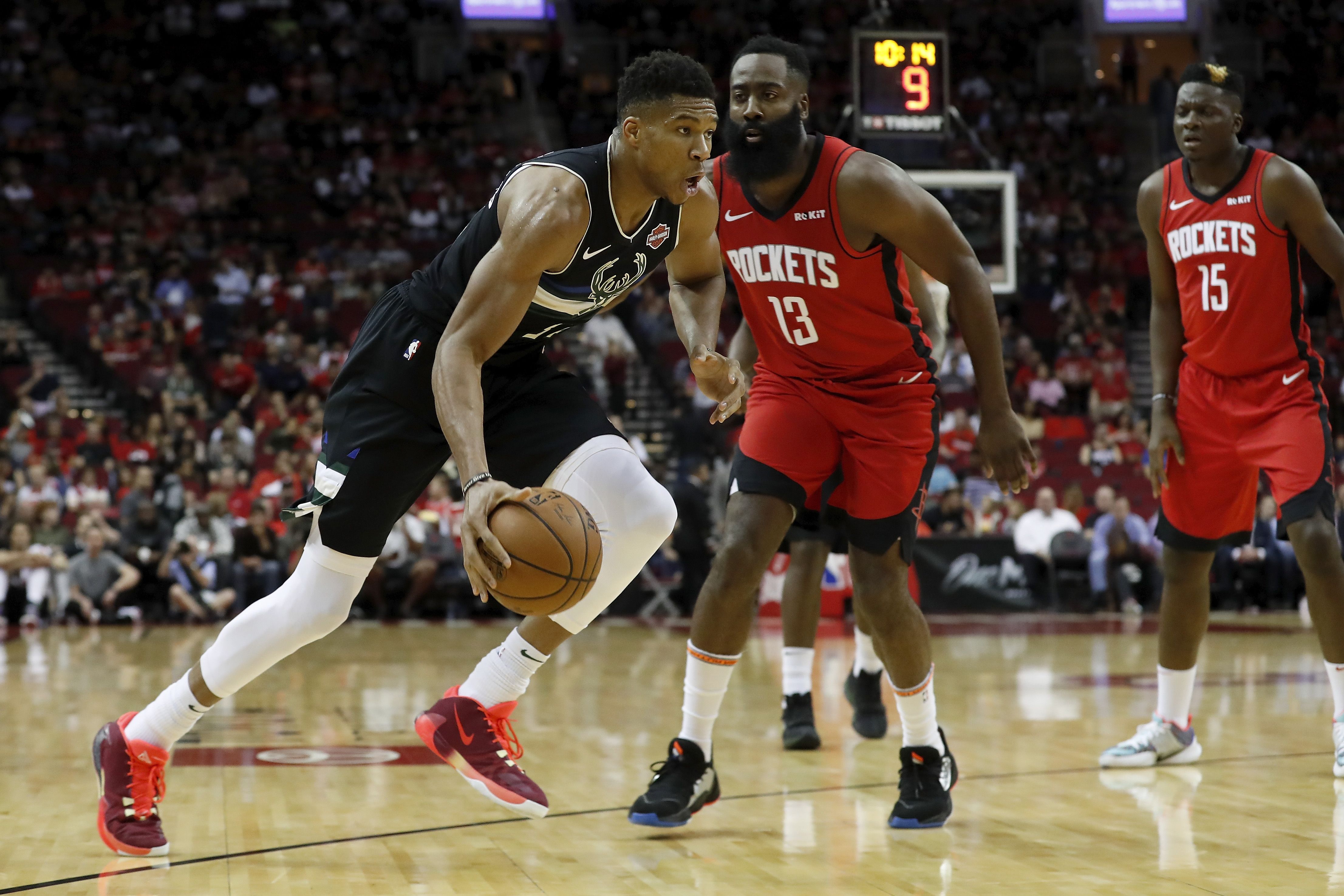 Photo: Tim Warner/Getty Images
HOUSTON — Reigning MVP Giannis Antetokounmpo put up a triple-double (30-13-11) in just 28 minutes to lead the Bucks to a 117-111 win over the Rockets in a star-studded opener featuring the last three MVPs.
R. Westbrook (HOU): 24 points, 16 rebounds, 7 assists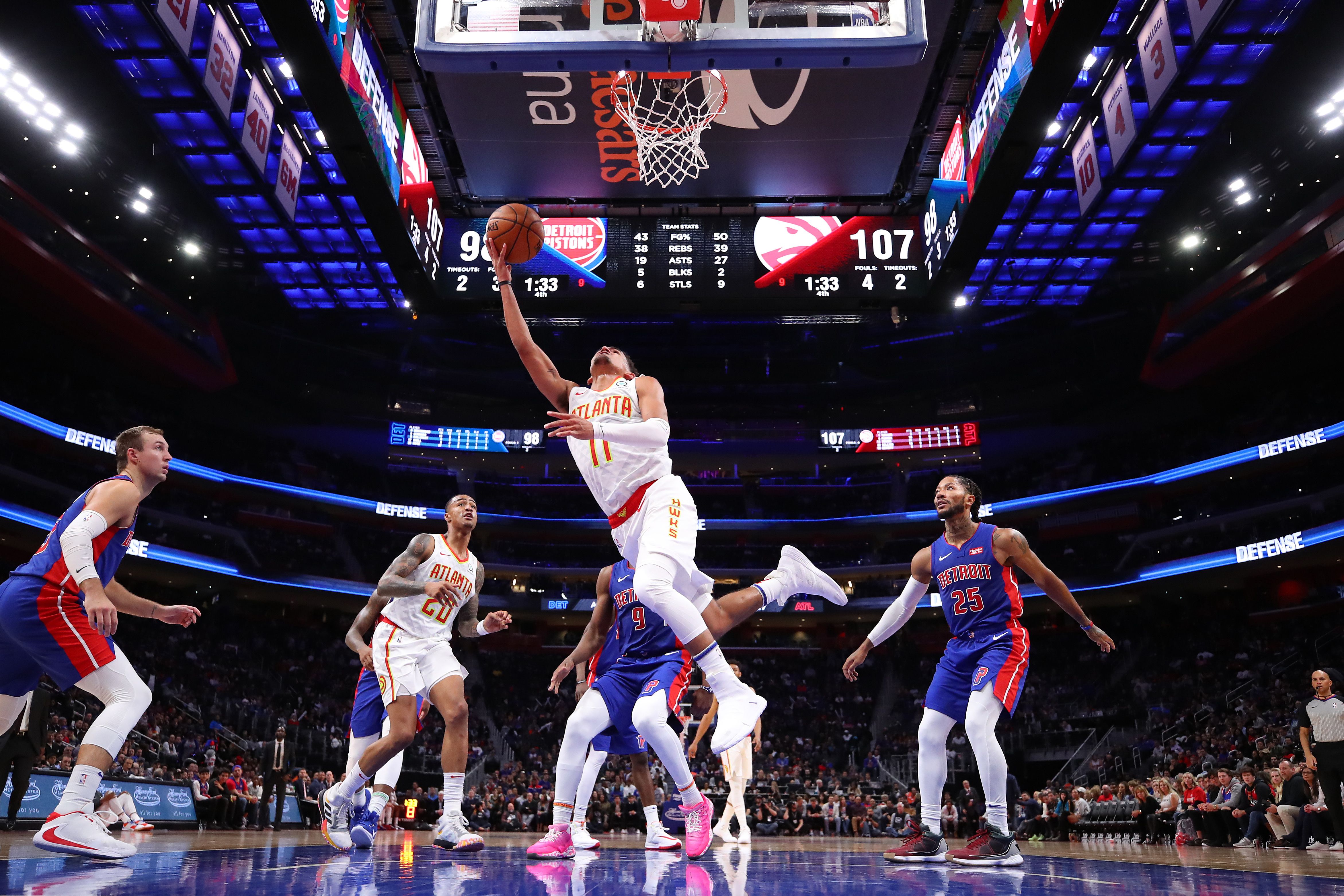 Photo: Gregory Shamus/Getty Images
DETROIT — Second-year guard Trae Young had 38 points (6-10 from deep), nine assists and seven rebounds as the Hawks opened the season with a 117-100 win over the Pistons.
D. Rose (DET): 27 points (11-16 FG)
5. 📊 By the numbers
🥍 7 teams
Following an inaugural campaign that exceeded all expectations, the Premier Lacrosse League is adding a seventh team ahead of its second season.
Details: The PLL will stage an expansion draft in February to pick the players for the new team, which doesn't have a name yet. The existing six teams will be able to protect 10 of their 24 players.
⚾️ 4 jobs left
The Phillies have hired former Yankees skipper Joe Girardi, the Angels have hired former Cubs skipper Joe Maddon and the Cubs and Padres have hired first-time managers in David Ross and Jayce Tingler.
🏈 86.5% of snaps
Power Five teams have used at least one tight end on 86.5% of all offensive snaps this year, a rate roughly 34% higher than it was at the same point in the 2014 season, per FiveThirtyEight.
The big picture: "The position's evolution — from lineman facsimile to occasional route-runner to dynamic playmaker — is a microcosm for the shift in how coaches employ the athletes they put on the field. One-note skillsets are out, versatility is in."
6. Oct. 25, 1968: 🥇 USA wins basketball gold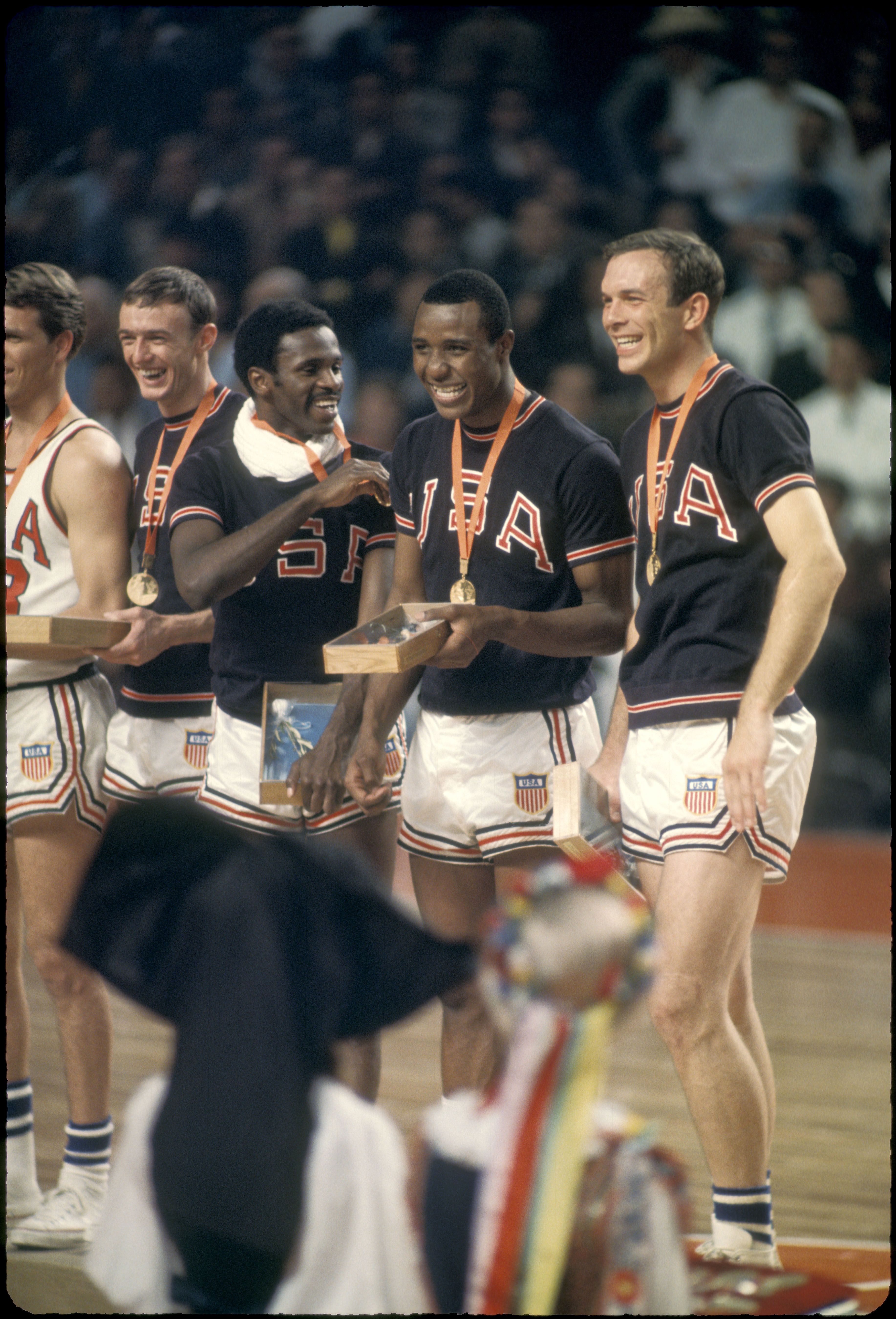 Photo: Rich Clarkson/Getty Images
51 years ago today, the U.S. men's basketball team beat Yugoslavia, 65-50, to win their seventh straight gold medal.
The NBA barrier to the Olympics wasn't broken until 1992, so the roster was made up of college stars like Spencer Haywood and Jo Jo White, both future NBA champions.
Notably absent: UCLA star Kareem Abdul-Jabbar, who declined an invitation for reasons that were bigger than basketball.
"I really, really wanted to join the team. … But the idea of going to Mexico to have fun seemed so selfish in light of the racial violence that was facing the country. The previous summer had seen two major riots [Newark and Detroit]. And on April 4, 1968, Dr. Martin Luther King, Jr., had been assassinated."
— Abdul-Jabbar in his book, "
Coach Wooden and Me
"
7. ⚾️ World Series trivia
A reader told me that he and his son love doing the trivia each morning, so I asked if his son would help me out. 13-year-old Billy Cannon from Chevy Chase, Md., provided the questions this week. Thanks, Billy!
In the past 10 World Series (2008-2018), MLB's three oldest stadiums (Wrigley, Fenway, Dodger) have all hosted games.
Question: What is the newest stadium to have hosted a World Series game during that span?
Hint: The team that plays there was in this year's playoffs.
Answer at the bottom.
8. 🏉 Rugby World Cup: Four teams remain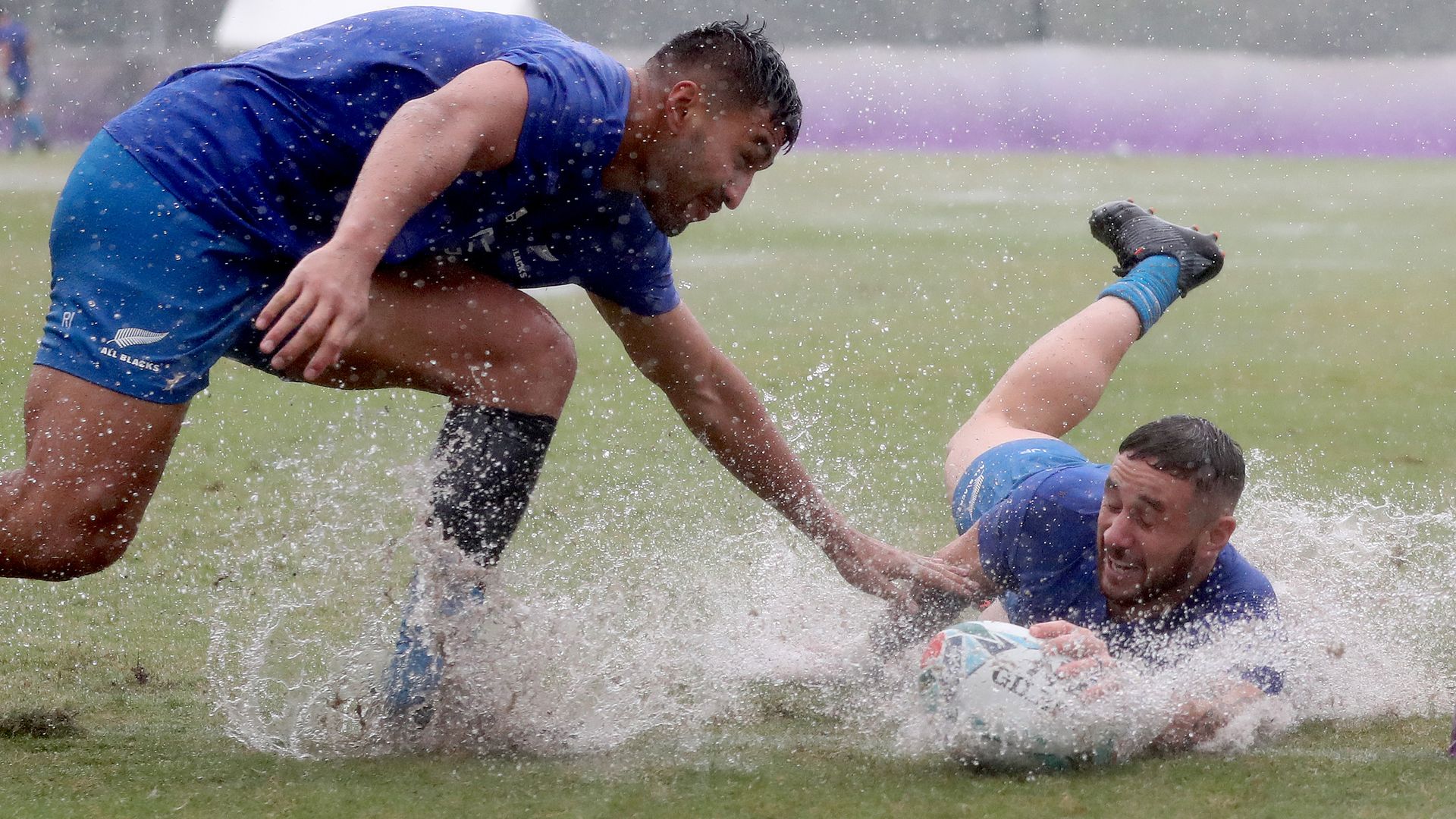 It's North vs. South (Hemispheres) at the Rugby World Cup this weekend in Tokyo, as the top four teams in the official world rankings go head-to-head in the semifinals.
Saturday, 4am ET: England vs. New Zealand
Sunday, 5am ET: Wales vs. South Africa
Go deeper: Previews, predictions (ESPN)
9. 🏈 Saturday's slate
12pm ET: No. 13 Wisconsin at No. 3 Ohio State (-14.5)
3:30pm ET: No. 9 Auburn at No. 2 LSU (-10.5)
7:30pm ET: No. 8 Notre Dame (-1) at No. 19 Michigan
ICYMI: No. 16 SMU beat Houston, 34-31, last night to stay perfect.
10. 📸 Photo of the night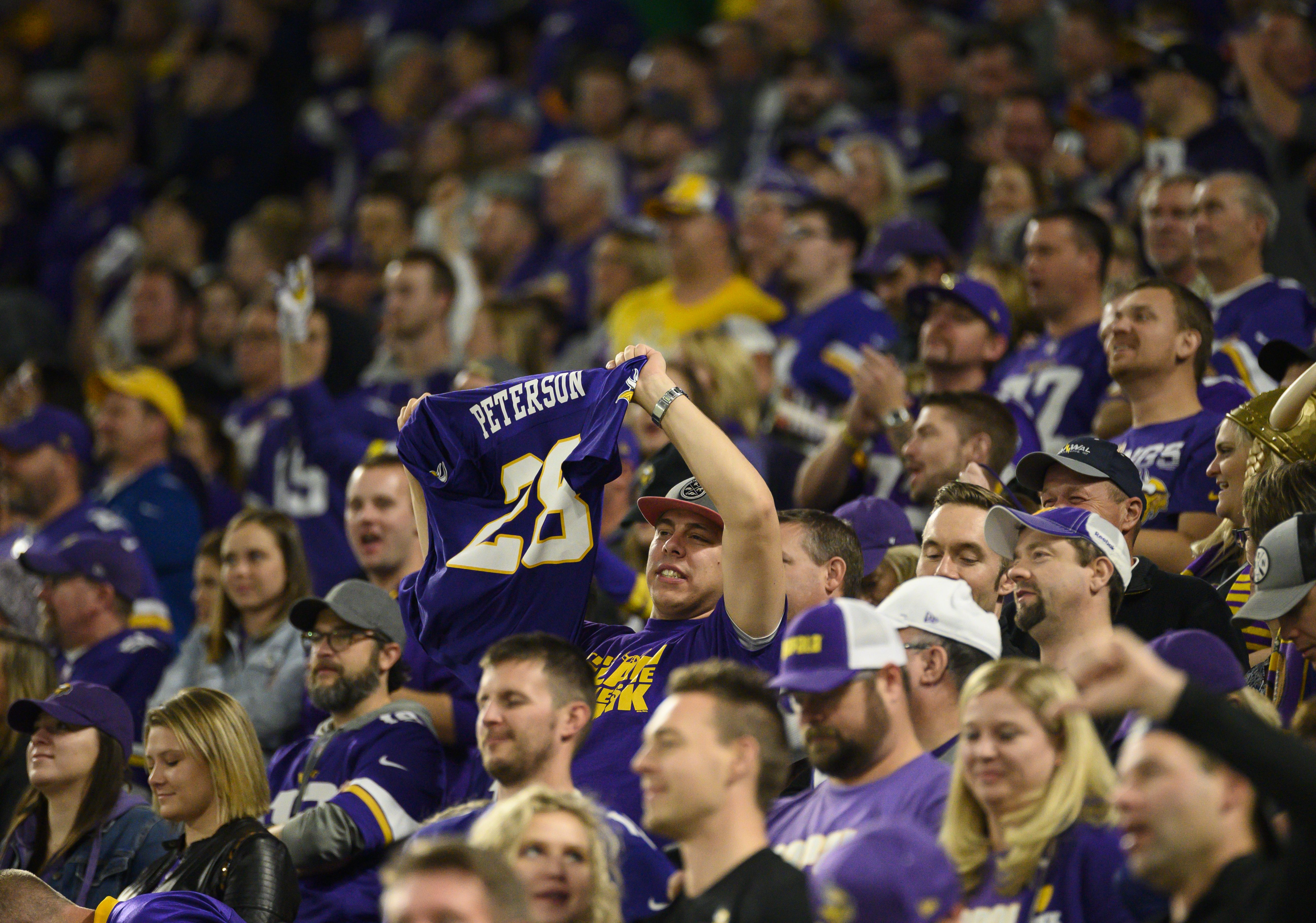 Photo: Stephen Maturen/Getty Images
With two minutes left in last night's Redskins-Vikings game (Minnesota won 19-9), the crowd gave franchise legend Adrian Peterson, now with Washington, a prolonged ovation. Chants of "AP!" rang throughout the stadium.
What they're saying: "I had to hold tears back, to be honest," said Peterson, who moved into sixth place on the all-time rushing list earlier in the game. "It was special, a special moment."
Enjoy the weekend,
Kendall "Dalvin Cook might single-handedly win me my fantasy league" Baker
Trivia answer: Yankee Stadium (opened in 2009)