Axios Sports
June 03, 2020
👋 Good morning. Let's sports.
Today's word count: 2,011 words (8 minutes).
1 big thing: ⚾️ Positive coronavirus tests halt Japanese baseball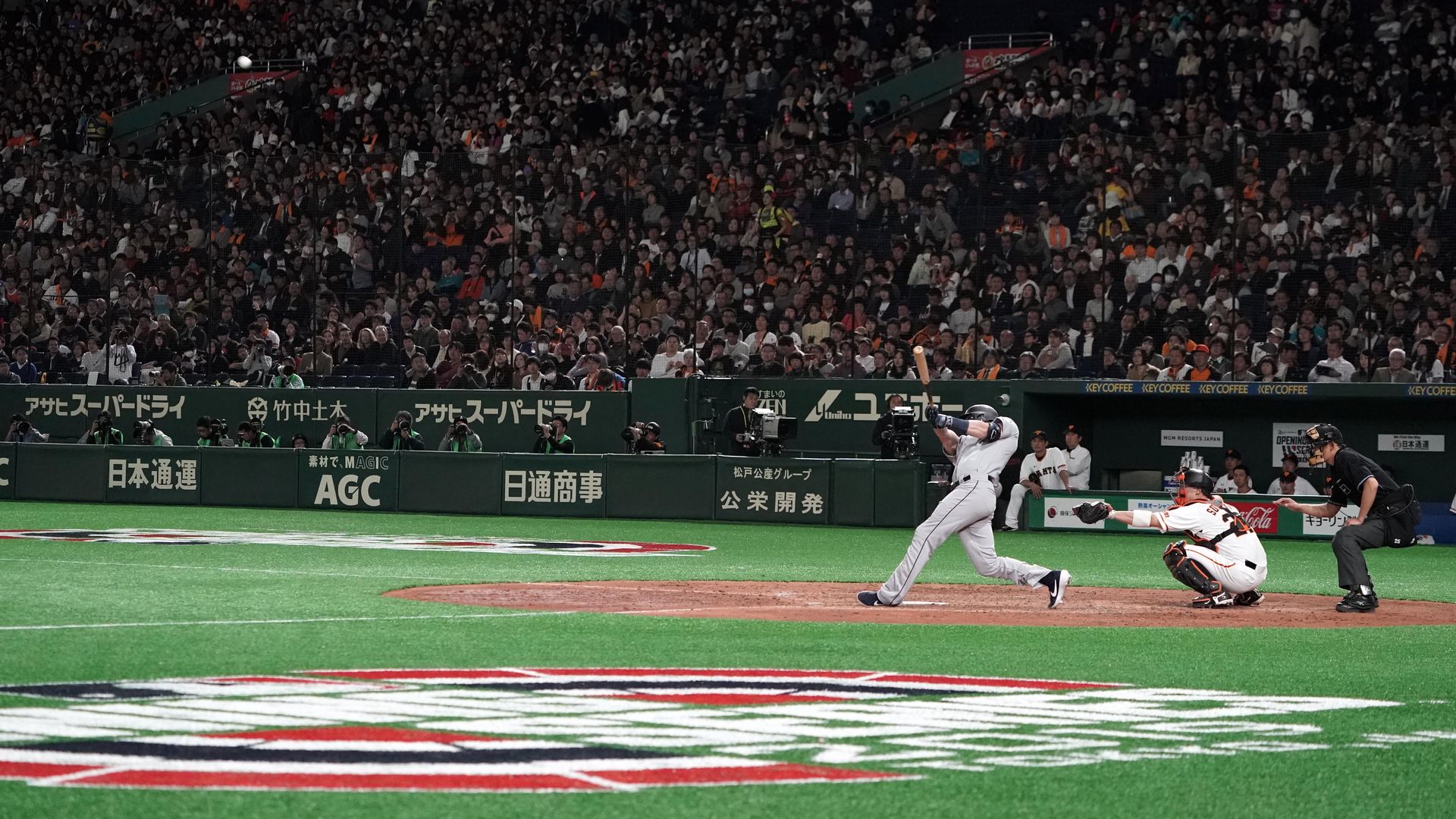 The Yomiuri Giants, Japan's most famous baseball team, called off a preseason game hours ago after two players tested positive for COVID-19, per multiple reports.
Why it matters: The 12-team league hopes to open its delayed season on June 19 in empty stadiums, but this news puts that date in jeopardy.
The big picture: This serves as a reminder that every return-to-play proposal is subject to change based on the wobble of this virus — and that all leagues are one positive test away from their plans going up in smoke.
What's next: All Giants players, coaches and staff will be tested for the coronavirus in the morning (it's currently nighttime there).
Latest headlines:
2. 🇺🇸 The biggest crisis since 1968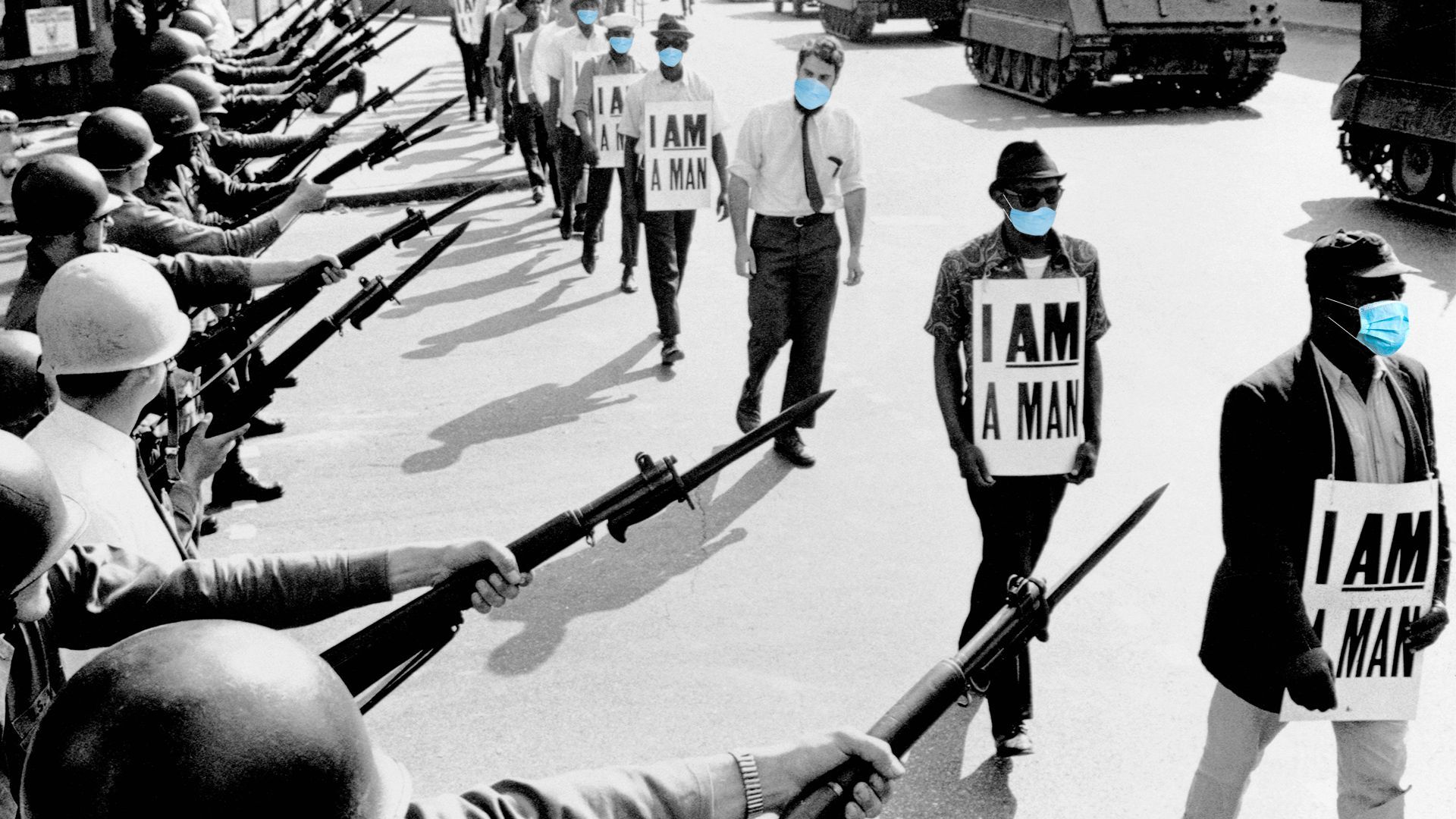 1968 has been on a lot of people's minds lately — another year of protests, violence and upheaval that tore America apart, Axios' managing editor David Nather writes.
"Yes, this year is worse than 1968. Plus it's not even half over!" said CFR President Richard Haass, author of the new book, "The World: A Brief Introduction."
The big picture: The demonstrations in the streets have a parallel in the mass demonstrations of 1968, as do the racism and police brutality.
We've seen cities burning in both years, and fearsome police crackdowns.
And both times, there was a "law and order" Republican promising to end the violence — back then, presidential candidate Richard Nixon.
What's different this time:
We're also in the middle of a pandemic, when everyone's nerves are already frayed over the more than 100,000 Americans who have lost their lives — and over the skyrocketing unemployment set in motion by the lockdown. "Twice as many Americans died in the past 4 months of COVID-19 as did in the entire Vietnam War," Haass notes.
Everything is being captured in real time on social media as well as cable news.
Thankfully, 2020 has not been a year of war and assassinations — two key differences that have led some historians to conclude that 1968 was a bigger year of upheaval.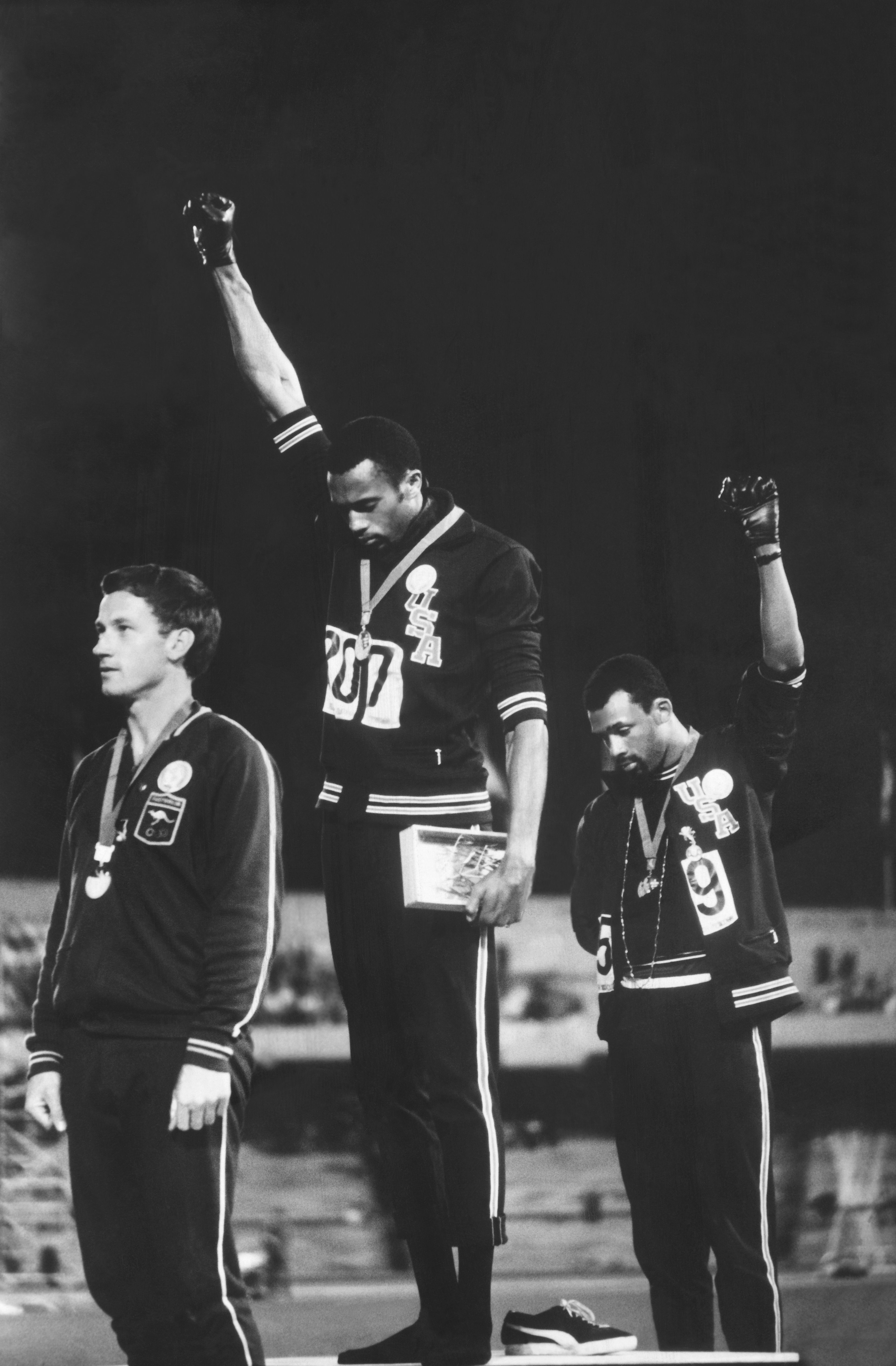 📸 The sports angle ... To add more context to David's piece, 1968 was also the year that African-American athletes Tommie Smith and John Carlos raised their fists in protest while standing on the winner's podium at the Summer Olympics in Mexico City.
That lasting image makes you realize how impactful a global stage like the Olympics can be — and how unfortunate it is that the Tokyo Games won't be happening this summer when America, and the world, so badly needs it.
3. 👔 Meet the commissioners (Part I)
As the four major American pro sports leagues navigate both the pandemic and nationwide protests, it felt prudent to learn more about the four commissioners in charge, Axios' Jeff Tracy writes. Fun fact: They're all from New York.
Today: Adam Silver (NBA) and Rob Manfred (MLB)
Tomorrow: Roger Goodell (NFL) and Gary Bettman (NHL)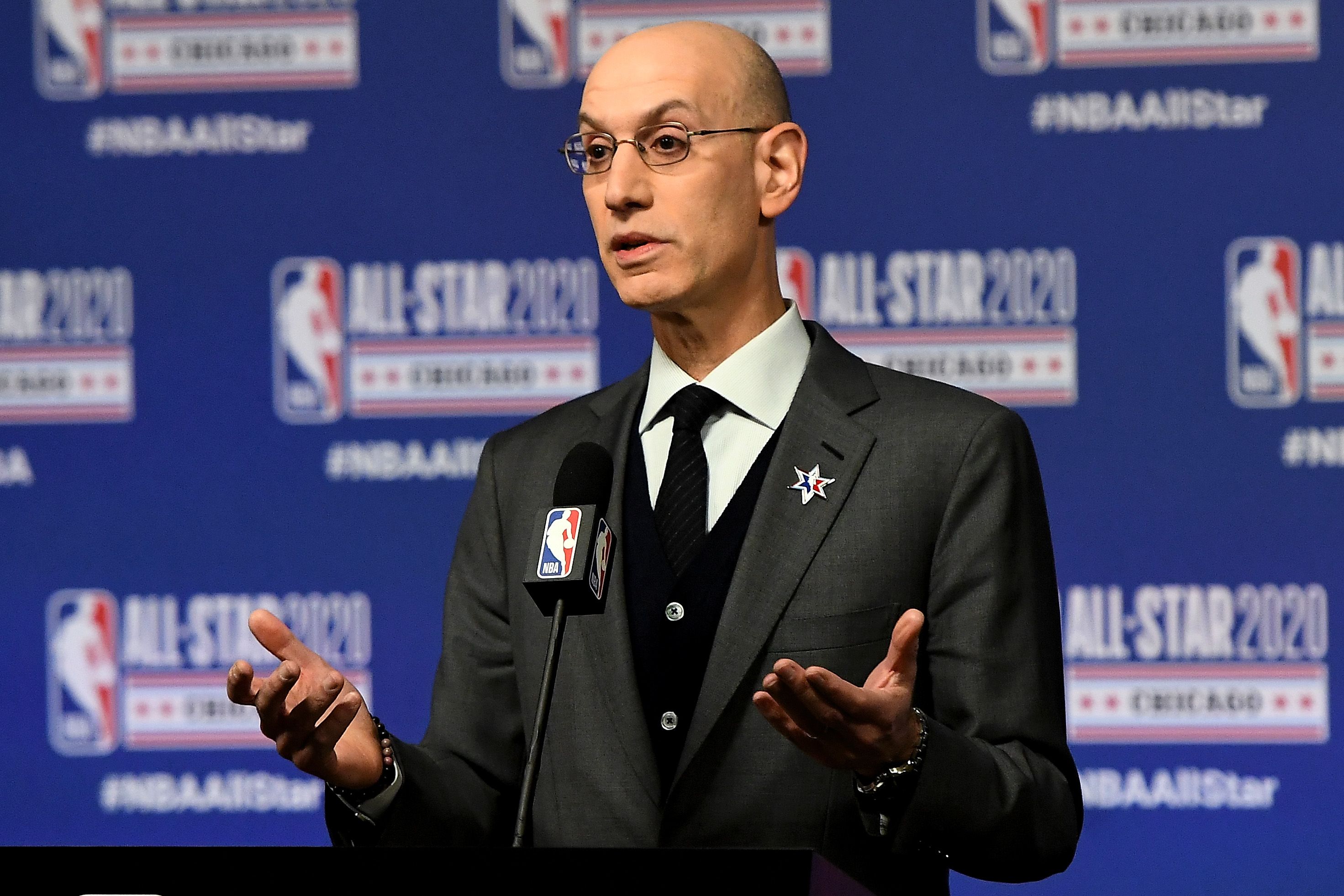 Name: Adam Silver
Title: 5th commissioner of the NBA
Age: 58
Birthplace: Rye, New York
Education: BA from Duke (1984); JD from the University of Chicago (1988)
Path to commissioner: As a New York lawyer, Silver became fascinated by media rights and reached out to then-commissioner David Stern — who'd previously worked at the same law firm as his father — for guidance. Soon thereafter, in 1992, he became Stern's assistant; his first of six roles with the NBA.
"I've learned over my time at the NBA from some of the greatest coaches ... some of the best basketball minds, and been reminded that this is a team game ... I've developed a true appreciation of the team concept and one that, sort of as the new commissioner-slash-CEO of this organization, I'm really hoping to put into practice."
—
Adam Silver
in 2014
Tenure as commissioner: Endorsed by outgoing commissioner Stern, Silver was unanimously elected by the Board of Governors in February 2014. Just three months later, Silver forcefully navigated the ugly Donald Sterling scandal, banning Sterling for life just four days after the famously leaked audio surfaced.
He's been praised by executives and the media as a "very inquisitive" leader who actively seeks out others' opinions — though the recent China conflict resulted in him "finally being judged as a commissioner, not as our pal," wrote The Ringer's Bryan Curtis.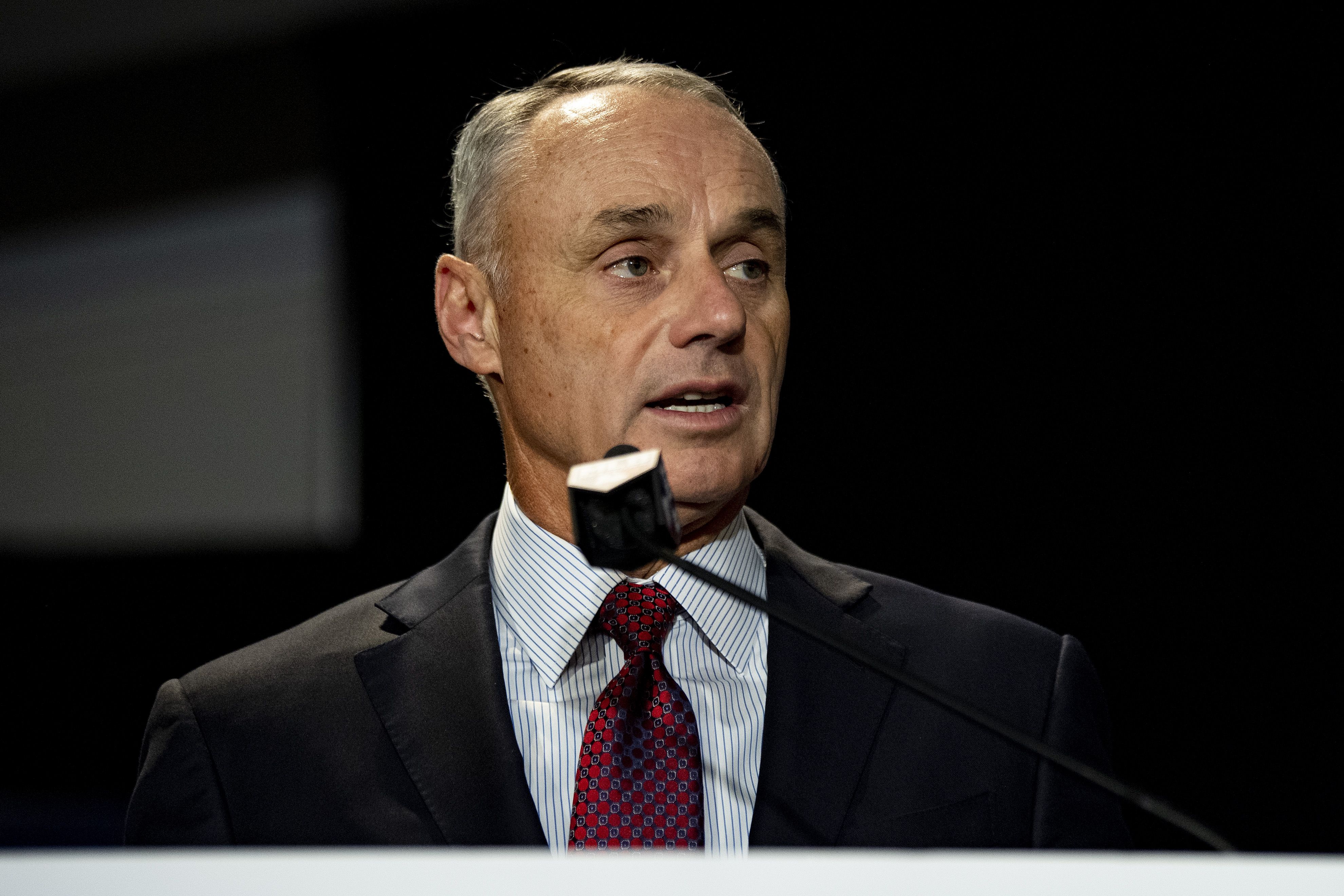 Name: Rob Manfred
Title: 10th commissioner of Baseball
Age: 62
Birthplace: Rome, New York
Education: BS from Cornell (1980); JD from Harvard (1983).
Path to commissioner: Manfred focused on labor and employment law at Morgan, Lewis & Bockius in Boston, where he became a partner in 1992. He officially joined MLB in 1998 as the EVP of Economics and League Affairs, but had already spent a decade working with them through his firm, including as outside counsel to the owners in the midst of the 1994-95 strike.
He served as EVP through 2013, during which time he helped forge three new labor deals without any work stoppage, negotiated the league's first drug-testing agreement in 2002, and led the Biogenesis investigation in 2013.
Tenure as commissioner: He became COO in 2013, but when Bud Selig's contract ended after the 2014 season, Manfred was voted unanimously by the owners to succeed him. In 2016, he helmed the league's current CBA (expires in 2021), and his biggest moment thus far was last winter's sign-stealing scandal. Additionally, Manfred has made speeding up the game his primary goal, enacting various measures such as pitch clocks. Average game time last year? A record 3:05:35.
"Bowie Kuhn declared free agency would destroy the game; Peter Ueberroth urged owners to collude to keep down salaries; Bud Selig, while claiming to be concerned about steroid use, traveled the country as Barry Bonds cheated his way to breaking Hank Aaron's home run record. And now comes Manfred, clearly believing that if he says something's true, then it's true."
— WashPost's
John Feinstein
on the heels of the Astros' scandal
4. 🥇 Olympians working (out) from home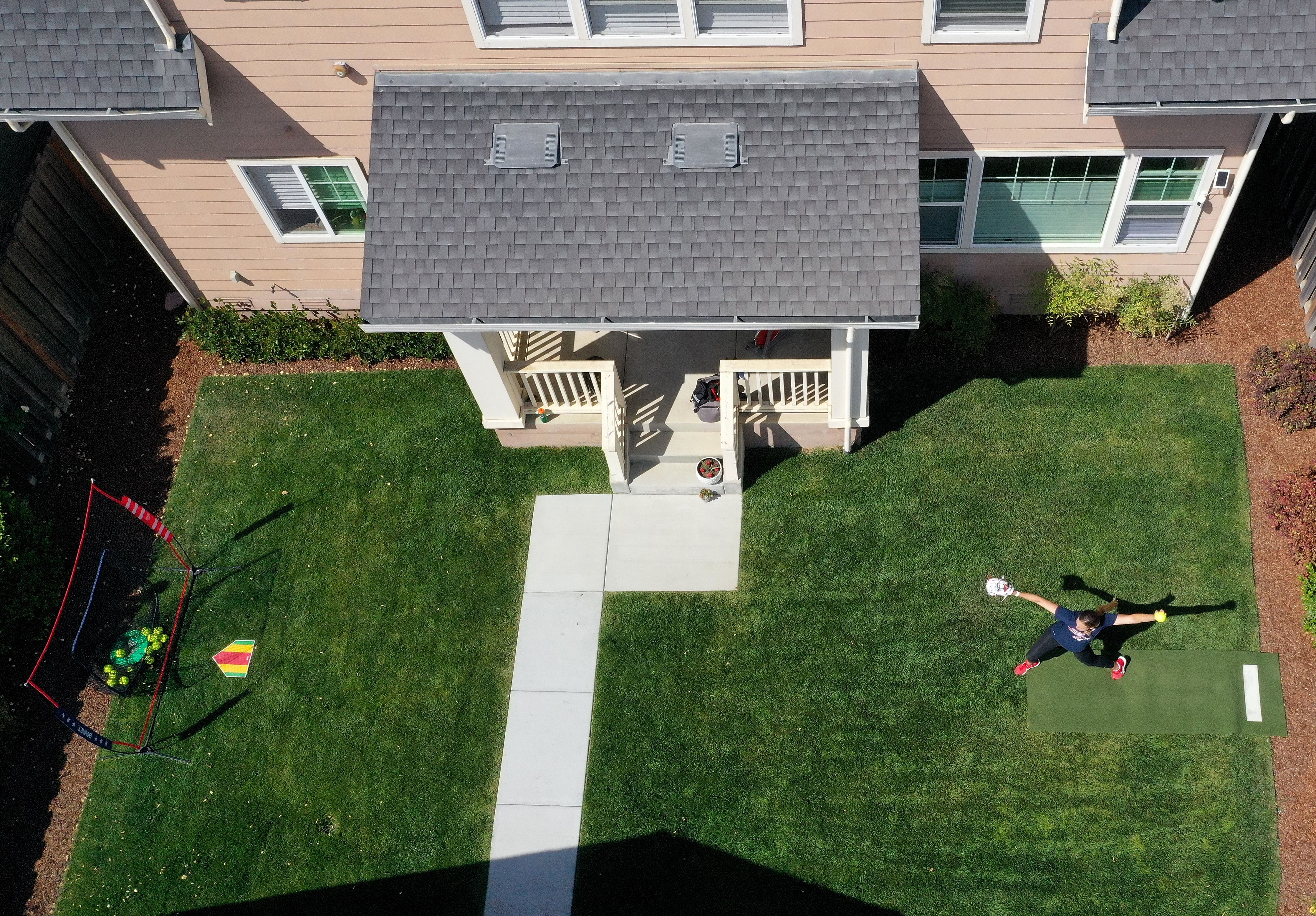 SALINAS, Calif. — Olympic softball pitcher Monica Abbott — who holds the NCAA career records for most victories, shutouts and strikeouts — practices in her backyard during a recent training session.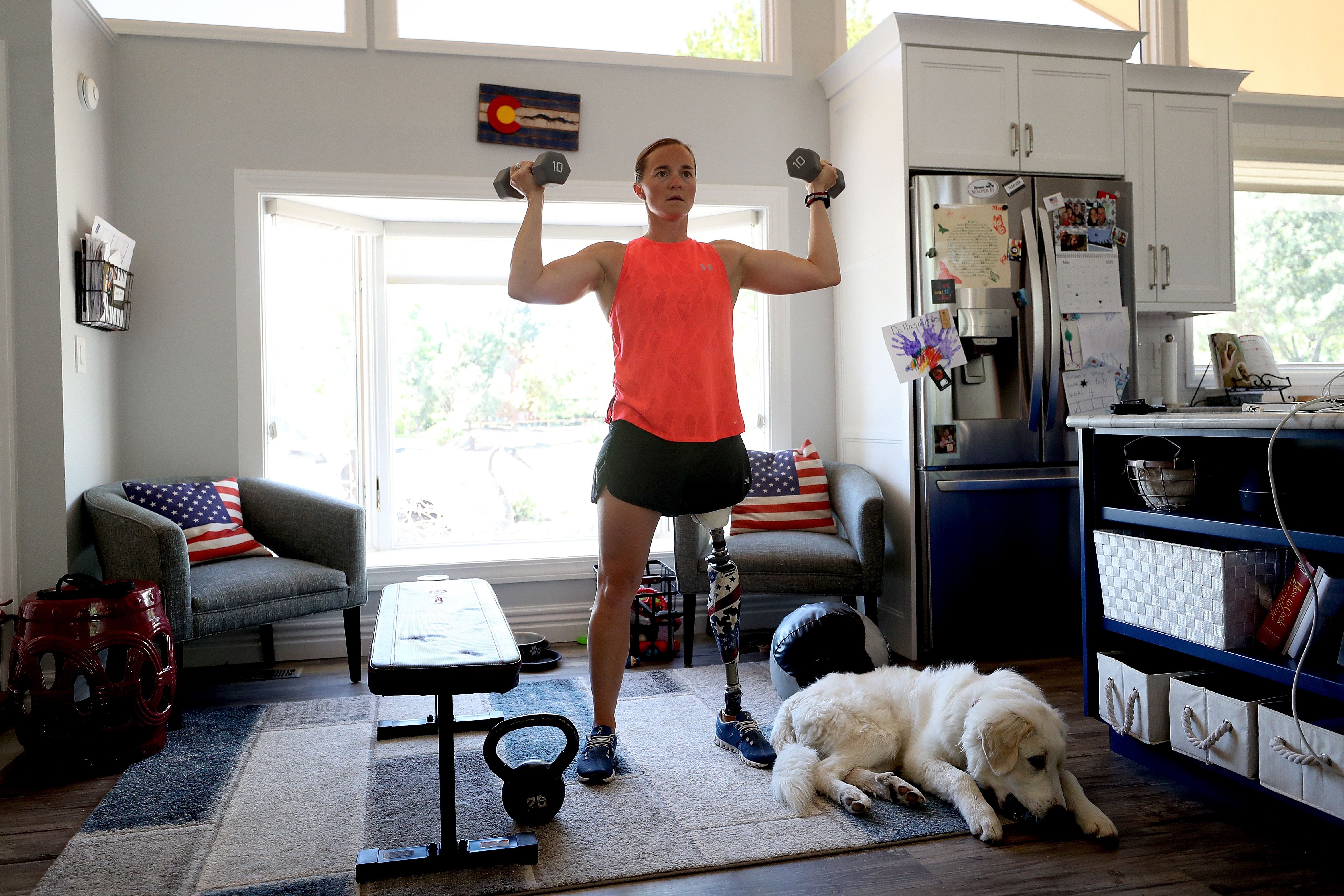 COLORADO SPRINGS, Colo. — Paralympian and retired U.S. Army 1st Lt. Melissa Stockwell lifts weights in her home. Hi, puppy.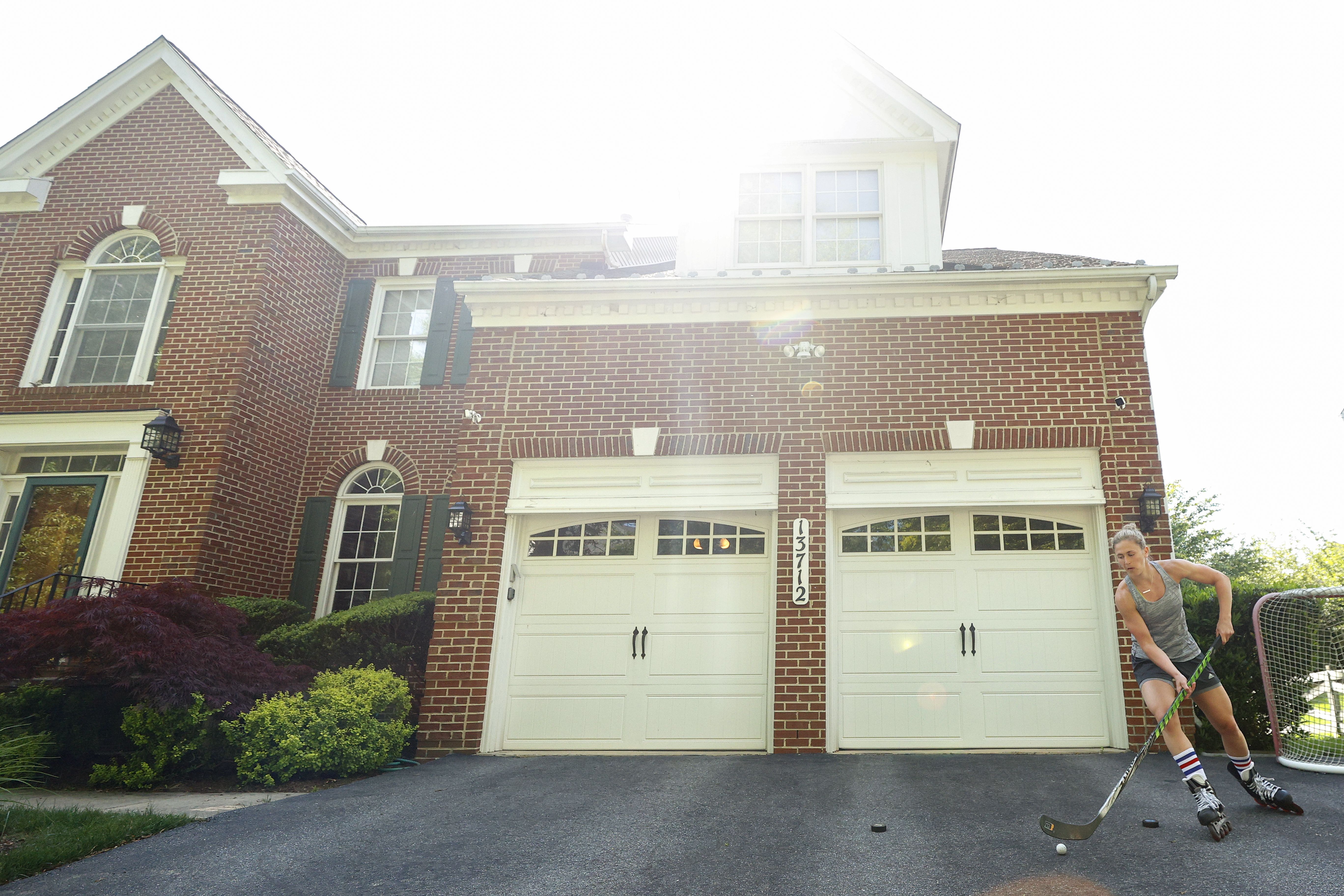 ROCKVILLE, Md. — Olympic Women's Hockey gold medalist, Haley Skarupa, has temporarily traded her ice skates for inline skates.
5. ⚾️ Ranking MLB's all-time rosters (No. 11)
We're ranking the all-time rosters for all 30 MLB teams. Note: Rosters based only on time spent with this specific team. Thoughts? Email me at [email protected].
11. Seattle Mariners
How could a team with so little history and success nearly crack the top 10? Look at the names in this batting order, that's how. Also, I'm having trouble coming up with something more beautiful than Griffey and Canó's swings in the same lineup.
Year established: 1977
All-time record: 3,219-3,622 (.471)
World Series Championships: 0
Hall of Famers (indicated by *): 3
Starting lineup:
OF Ichiro Suzuki (56.2 bWAR with team)
SS Alex Rodriguez (38.1)
OF Ken Griffey Jr.* (70.6)
3B Edgar Martínez* (68.4)
2B Robinson Canó (23.3)
OF Mike Cameron (18.4)
DH Jay Buhner (23.1)
1B Alvin Davis (20.1)
C Dan Wilson (13.5)
On the mound: SP Félix Hernández (50.1)
Bench:
Infield: 1B John Olerud (17.1), 2B Bret Boone (19.2), 3B Kyle Seager (32.5), SS Omar Vizquel (10.3), C Dave Valle (9.4)
Outfield: Nelson Cruz (17), Raúl Ibañez (14.8)
Utility: Adrián Beltré (21.2), Harold Reynolds (15)
Rotation: Randy Johnson* (39), Jamie Moyer (34.4), Mark Langston (19.2), Hisashi Iwakuma (16.9)
Bullpen: Jeff Nelson (8.3), J.J. Putz (8.4), Edwin Diaz (5.5)
Additional notes:
Ichiro holds the record for most hits in a season (262), most consecutive 200-hit seasons (10) and most consecutive Gold Gloves to begin a career (10). Seems decent.
Beltré is in a four-way tie for the most cycles (3) and Cameron is one of just 18 players to smash four HR in a game (all before the 6th inning!).
Moyer gave up more HR than any other pitcher in history (522). That's what happens when you play 25 seasons and don't hang 'em up until you're 49.
ICYMI ... 30. Rays, 29. Royals, 28. Diamondbacks, 27. Blue Jays, 26. Angels, 25. Padres, 24. Rockies, 23. Brewers; 22. Nationals, 21. Mets, 20. Orioles, 19. Twins, 18. Astros, 17. Marlins, 16. White Sox, 15. Athletics, 14. Phillies, 13. Braves, 12. Pirates
Huge thanks to Tom Stone, whose book "Now Taking the Field: Baseball's All-Time Dream Teams for All 30 Franchises," provided the inspiration for these rosters.
6. June 3, 1989: 🎙 Scully plays two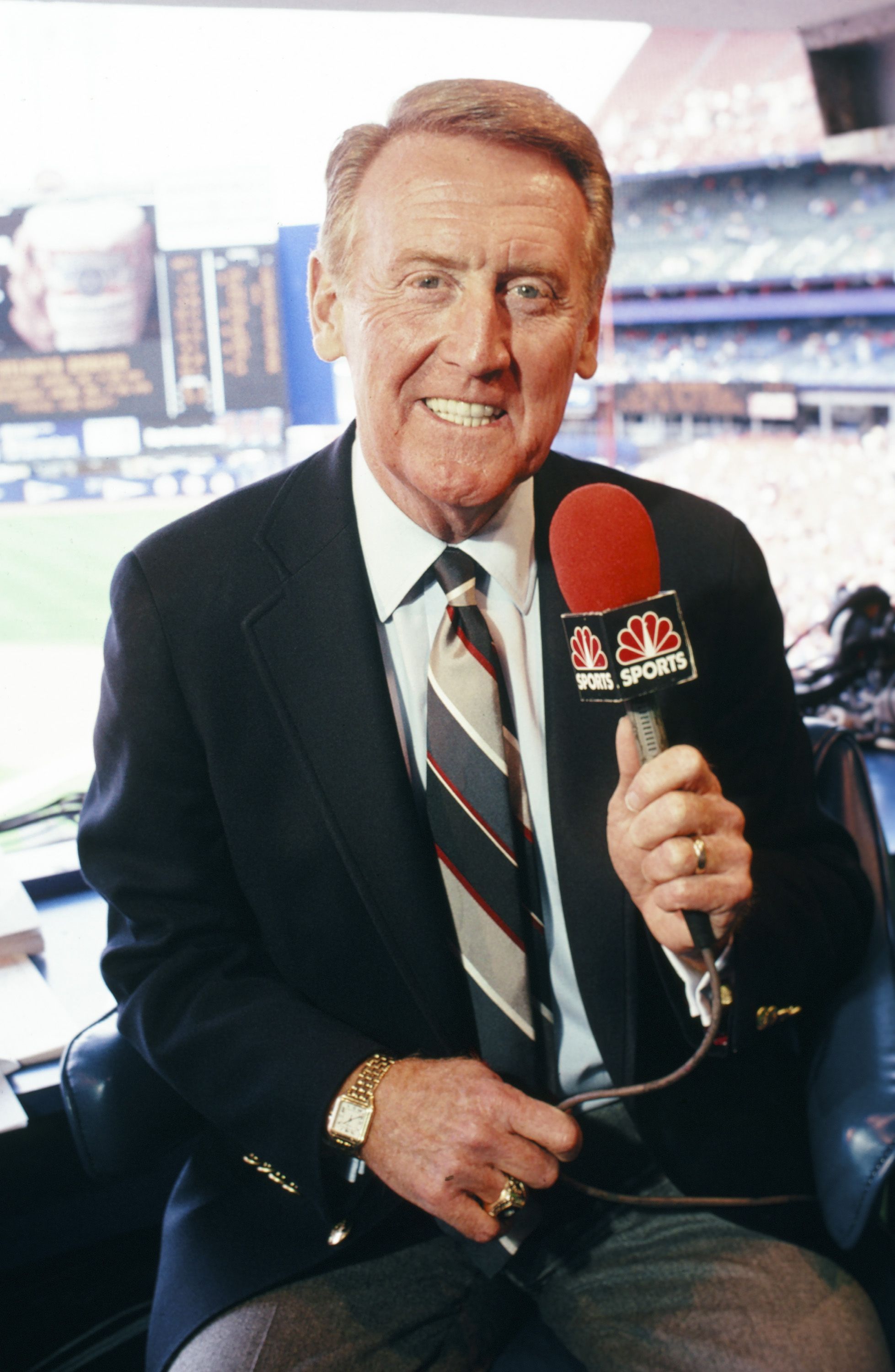 31 years ago today, Vin Scully broadcast 23 innings across two cities in the same day, meaning twice as many fans as usual were treated to the dulcet tones of the greatest sportscaster to ever live.
The itinerary: Scully, who spent 67 seasons calling Dodgers games (1950-2016), began the day in St. Louis to call NBC's "Game of the Week" between the Cardinals and Cubs.
The Cardinals won on a walk-off sac fly in the bottom of the 10th, with the game ending just before 4pm local time.
Scully was scheduled to call the final game of the Dodgers' weekend series against the Astros the following day, so he immediately flew to Houston.
But when he landed and found out the game was going to extra innings, he went to the Astrodome instead of his hotel to relieve the broadcast crew.
He picked up the play-by-play and broadcast the final 13 innings, with the Astros winning on a walk-off single in the bottom of the 22nd around 3am. One day. 23 innings. Two cities.
The big picture: Scully retired in 2016 at the age of 88, and I can't imagine how there will ever be another like him.
His sense of the rhythm of the game is so baked into his bones that he can seamlessly weave between play-by-play and the thousands of stories rattling around his mind in such a way that neither is given short shrift.
The bottom line: Last week, Scully won an L.A. Times reader vote as the most iconic sports figure in the city's history, beating out Magic Johnson, Jackie Robinson, Kobe Bryant and more.
🎥 Watch: Vin Scully's greatest calls (YouTube)
7. 📚 Good reads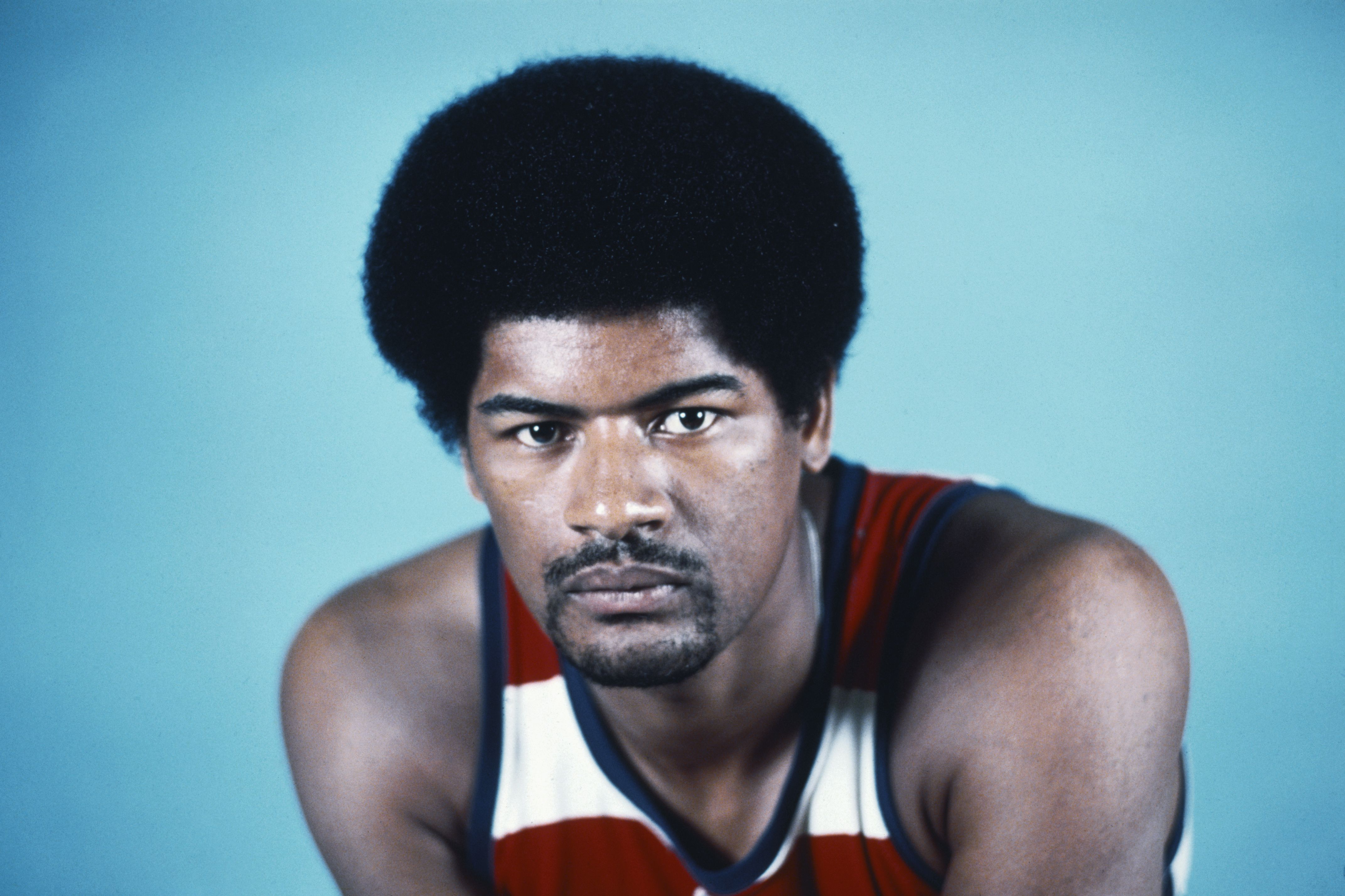 🏀 Wes Unseld was a giant by any measure (Thomas Boswell, WashPost)
"Wes Unseld [who died Tuesday at 74] was so valuable to his teams in so many ways that he confounds analysis. But consider this: Over the final eight seasons of his career ... Unseld had more offensive rebounds than he had missed shots. That's mind-bending."
🥎 The spectacular rise and sudden fall of print media ... on the softball field (John Walters, SI)
"For so many in the media space, the ball fields at Central Park were where writers and editors ... fought across decades for softball supremacy. This is the story of how the Press League — and with it, a huge chunk of the press itself — withered and died."
🏈 How each top college football team becomes a national title contender (Bill Connelly, ESPN)
"This time last year, we were wondering if Justin Fields was ready to dominate at Ohio State or if Joe Burrow's late-2018 surge at LSU meant something significant. He was, and it did. This year the questions shift, but the teams most well-positioned for a title run are about the same."
8. The Ocho: ✍️ Send in ideas!
"The Ocho" well is drying up, so we need your help.
Reply to this email with ideas for offbeat sports we should cover.
Bonus points if you're a participant in said sport and can share your personal experience and expertise.
9. 🏈 NFL trivia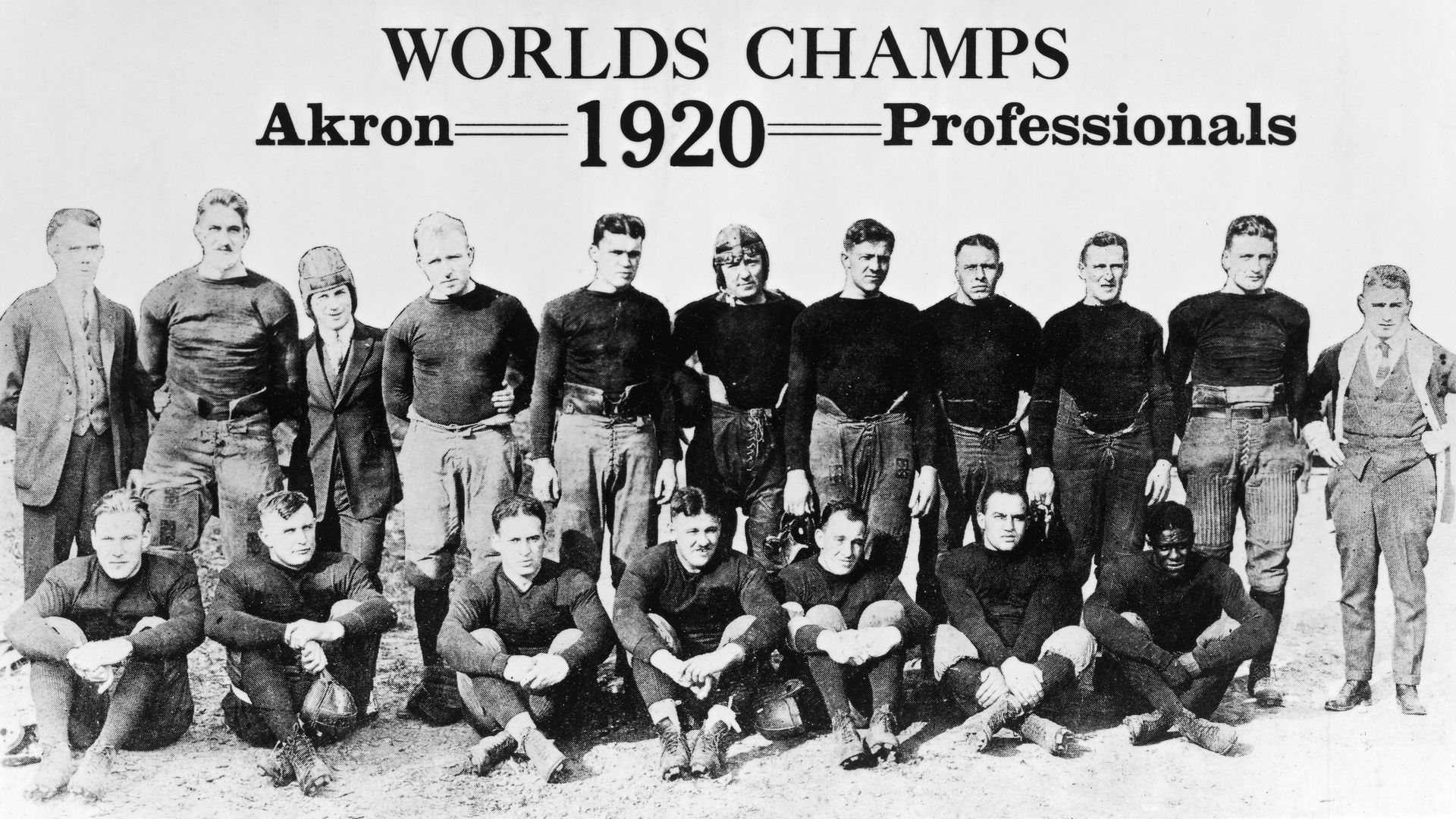 Only two of the NFL's eight founding franchises (meaning they were active during the 1920 season) are still in existence.
Question: Can you name them?
Hint: Both play in the NFC.
Answer at the bottom.
10. ❤️ Why we love sports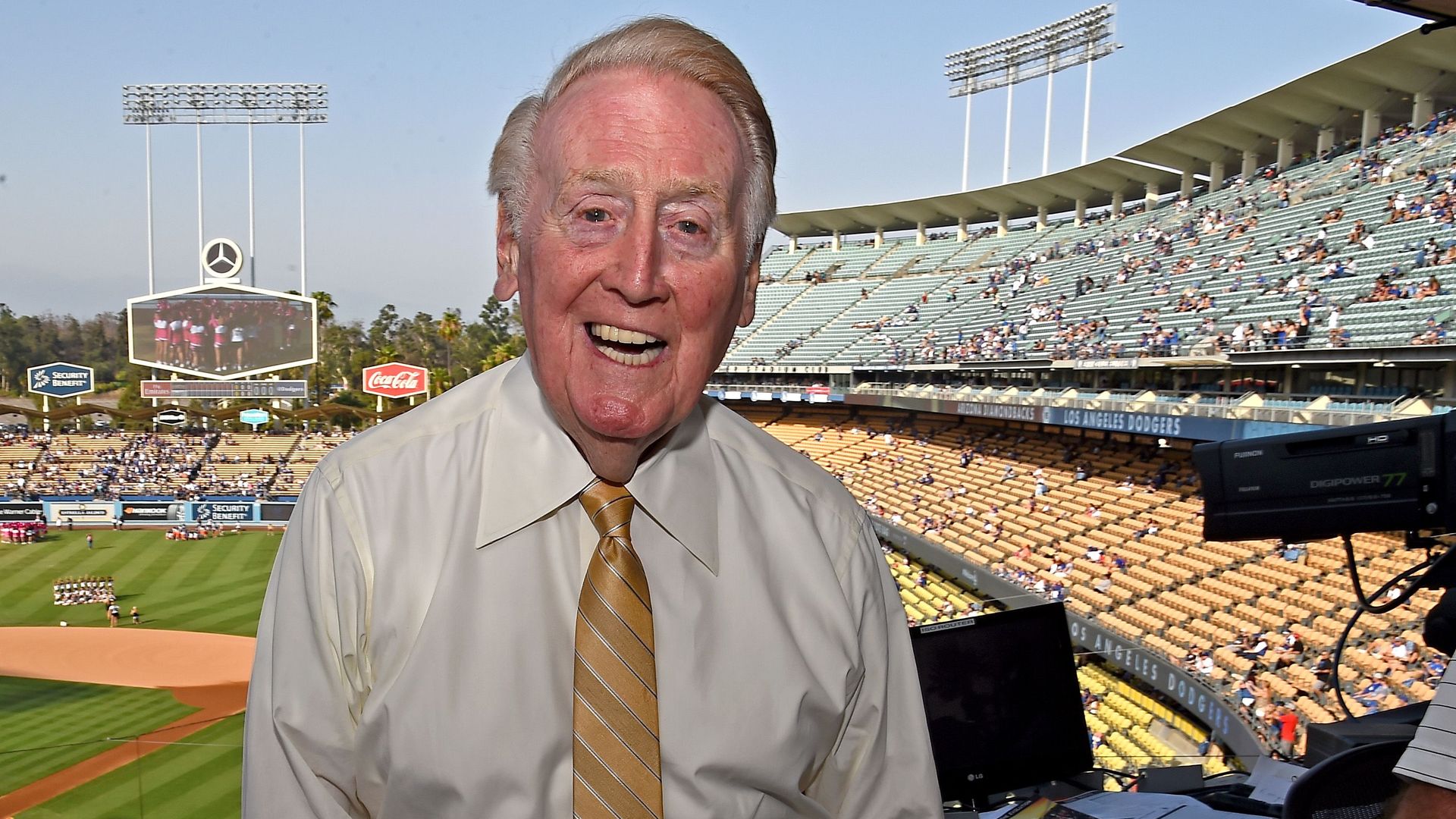 Eliot B. (North Hollywood) writes:
"I was born in Brooklyn 72 years ago and was likely a Dodgers fan long before I entered the world. My father made sure of that by taking me to so many games at Ebbets Field.
"Fast forward to the late '90s. I'm living in L.A. and still loving my Dodgers. My friend had developed a baseball 'streaming service' and signed a deal with the Dodgers to stream 20 games.
"He called me and another friend and asked us to work with him — if you want to call what we were doing 'work.' Turns out, one of the many perks of the job was that we did the streaming from the Dodger press box.
"There was a restaurant behind the press box for Dodger execs and guests, but it was also open to anyone working in the press box, so I got to enjoy the excellent buffet before each game.
"One day, I headed for the restaurant but decided to use the restroom first. There I was, standing at one of the urinals, when who walks in? My hero, Vin Scully.
"I'm speechless! He walks to the stall next to me, smiles and says hello, says how nice a day it is for a baseball game, then leaves. I could barely move and spent the next few minutes trying to pick my jaw up off the floor.
"I finally leave, grab some food from the buffet and head down to where we were 'working.' My friend tells me I'm late, so I tell him what happened. To which he replies, 'Then, no problem!'"
✍️ Submit your story: Do you have a fondest sports memory? Or an example of sports having a positive impact on your life? If you'd like to share, simply reply to this email. We'll be telling your stories until they run out.
Talk tomorrow,
Kendall "You guessed the Packers, didn't you" Baker
Trivia answer: Chicago Bears (founded as Decatur Staleys) and Arizona Cardinals (founded as Chicago Cardinals)