Good morning! Let's sports.
1 big thing: Esports on campus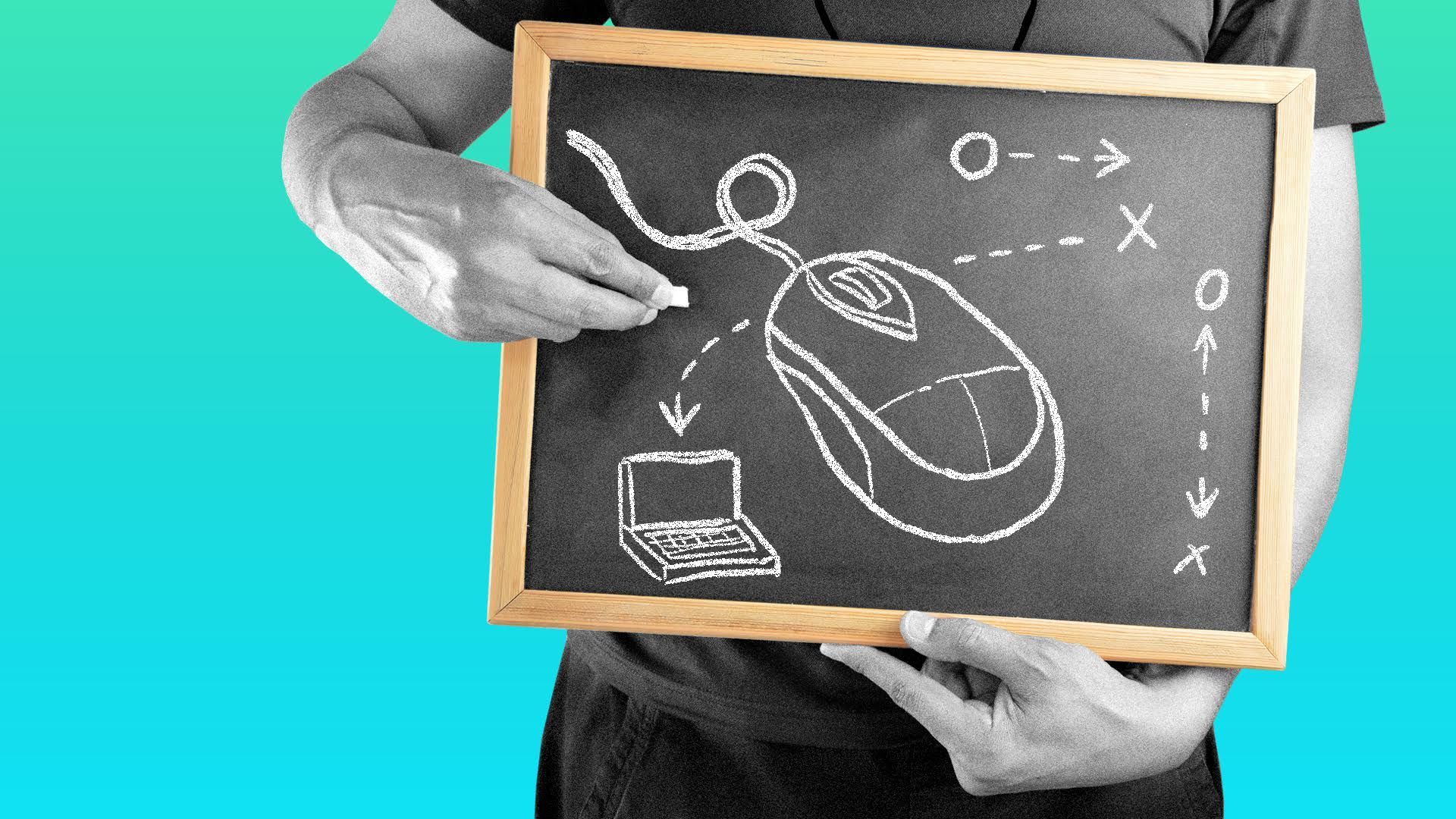 Video games were once considered a distraction. Now, they are the soil upon which a thriving esports industry has been built.
By the numbers: Esports generated nearly $1 billion in revenue last year, according to research firm Newzoo. As for eyeballs, Goldman Sachs projects viewership to reach 300 million by 2022, putting it on par with the NFL.
As a result of this explosion, investors, media partners, sponsors and [insert pretty much any industry here] have been scrambling to capitalize on what should be an extremely lucrative new industry.
Here's the crazy part: All of this — from the endless buzz, to the lucrative sponsorship deals, to the industry's first crossover star — has taken place within an ecosystem that has very little infrastructure.
Put it this way: Think about what the NFL would look like if virtually no high school or college students played football in an official setting. Yeah, maybe they'd toss the pigskin around on the weekends, but there was no "pipeline" leading to the pros.
That's basically esports at the moment. The professional leagues are succeeding despite the fact that there is no overarching amateur system to bring young people in and churn out talent.
In other words, a massive hole still remains: competitions to engage the millions upon millions of American high school and college students who already play video games (let's not even get started on youth leagues). If that hole is filled, just imagine what it could do for an already burgeoning industry.
Driving the news: That hole is being filled.
High school: PlayVS (pronounced play versus) is an esports platform that lets high schools create official esports leagues. Thanks to an exclusive partnership with the NFHS (basically the NCAA of high school sports), the company is set to kick off its inaugural season next month in high schools across 12 states.
College: Marquette University just announced that it will launch a varsity esports team in the fall, the first in the nation run by a major conference D-I athletics program. The team "will be run like any other varsity sport: there will be tryouts, a coach will be hired, regular practices will be held and the team will represent Marquette at esports tournaments."
The big picture: If the NCAA eventually decides to include esports, it would change everything — from the infrastructure to the rules (Title IX, etc) to the mainstream appeal (would games be broadcast on conference networks?).
But don't count on that happening anytime soon. NCAA president Mark Emmert voiced strong concerns about esports recently, saying the content is "hugely misogynistic" and "violent."
2. 🏈 Sights and sounds: Super Bowl media night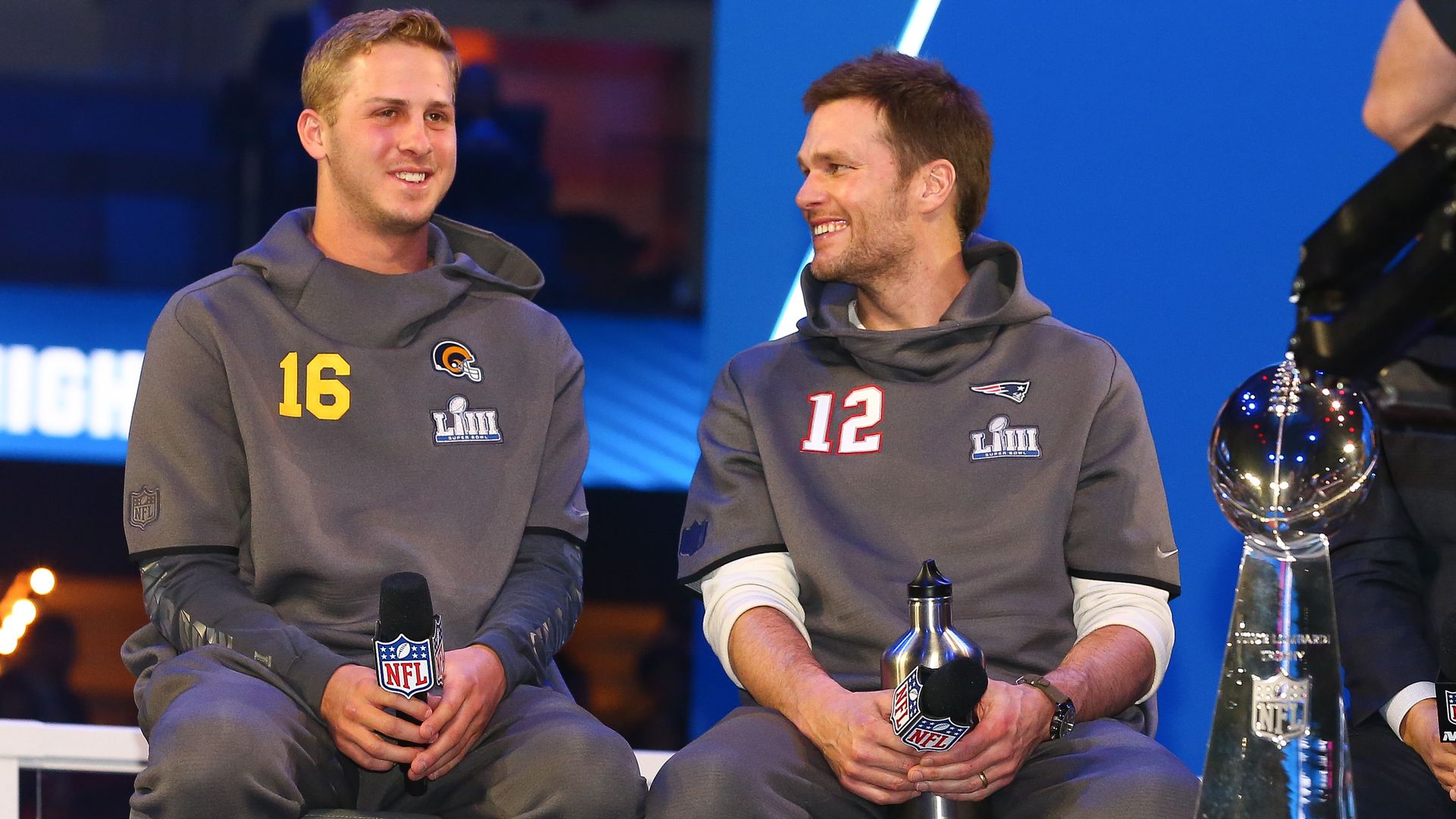 "The Super Bowl LIII media night in Atlanta was your typical circus," writes Sports Illustrated's Kalyn Kahler.
"Players tried to solve Rubik's Cubes and read fortunes from fortune cookies ... a man dressed as a clown wandered throughout the press conferences ... there were many questions about how old Goff was when Tom Brady did [significant life event]."
"Patriots fans well outnumbered Rams fans, and shouted variations of 'We Want Six! We Want Six!' as well as New England's rallying cry, 'We're Still Here!'"
More Super Bowl:
3. Revenge of the 3-point shooting nerds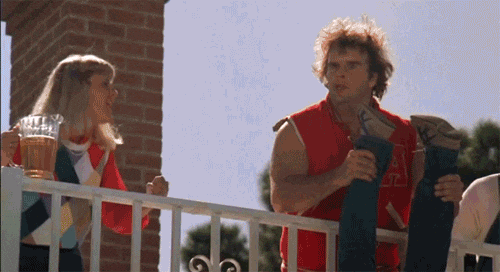 Yesterday, we told you that the NBA's 3-point craze was wrapping its tentacles around every level of basketball. Today, we have more evidence, writes Axios' Mike Sykes.
What's happening: The men's basketball team at Caltech, a school known more for science than sports, lost 365 of 366 conference games not too long ago. Now, the Beavers are suddenly a decent team. Why? The 3-point revolution has come to Caltech.
Between the lines: 3 years ago, the deep ball accounted for 30% of Caltech's field goals. Now it's 50%, one of the highest marks in all of Division III hoops.
"We want to shoot as many threes as we can," coach Oliver Eslinger told the WSJ's Ben Cohen (subscription). "The more threes you take and the more threes you make, the math works out."
How we got here: Every player on the team grew up watching Stephen Curry and James Harden launch moonshots, so naturally, they caught the 3-point bug.
"I know a lot of people don't like it," said sophomore Spencer Schneider. "But I think it's cool to do the right thing analytically." (Shooting a 3-pointer often is.)
The bottom line: "The 3-point revolution will go down as the formative event in the basketball lives of college students," writes Cohen. "It's about as hard to sell them on the virtues of shooting 3-pointers as it is to sell them free beer."
4. ⛳️ DeChambeau is putting the golf world on notice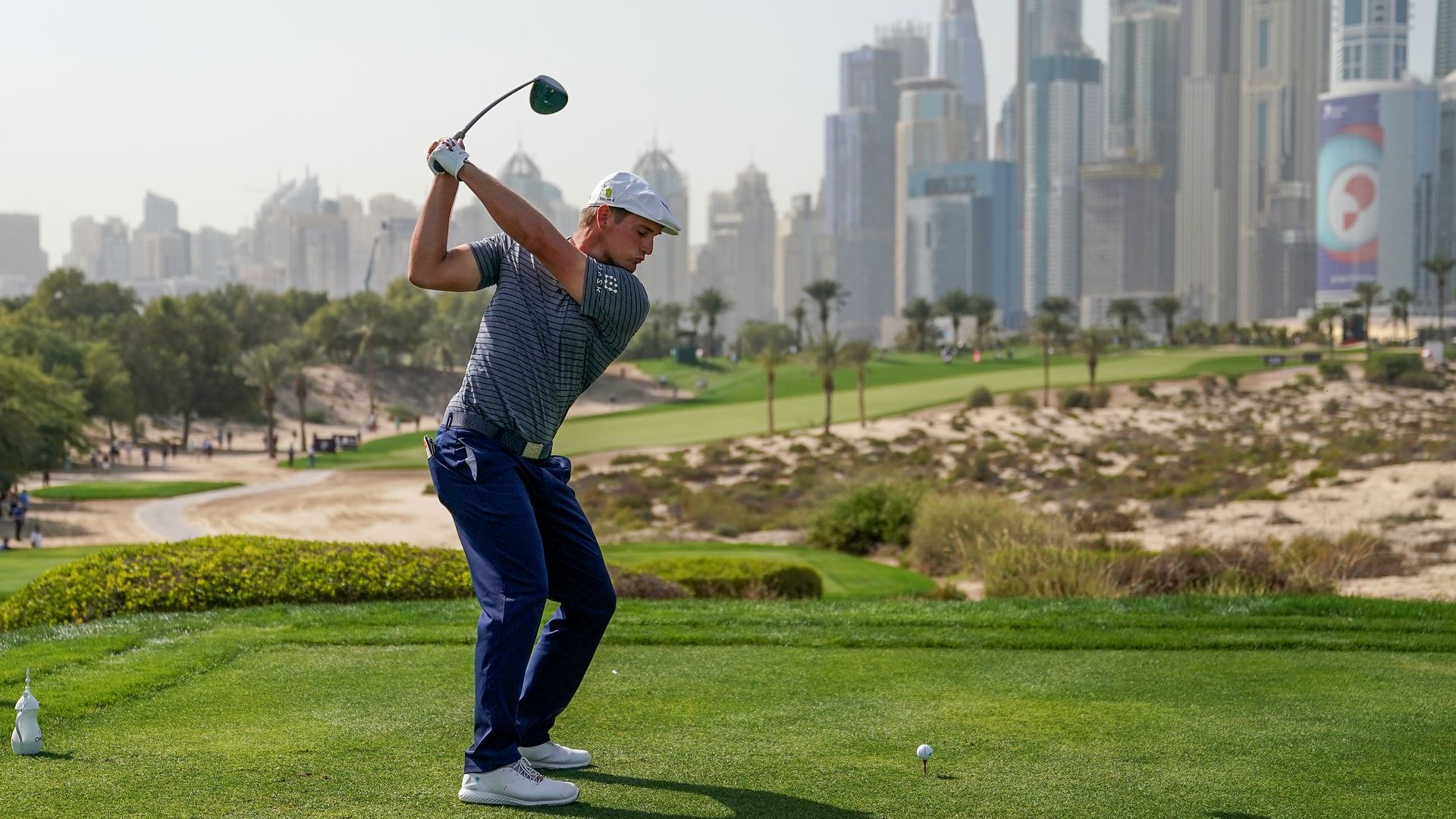 Bryson DeChambeau blew away the competition at the Emirates Golf Club over the weekend, finishing a ridiculous -24.
By the numbers: He has now accumulated more world-ranking points than any other golfer over the last 12 months and has the most worldwide wins (5) since the start of 2018.
Why it matters: As I mentioned last week, DeChambeau is keeping the flagstick in during putts this year. But his peculiarities don't end there. From his unique swing, to his irons (which are all the same length), to his intense pre-shot calculations, the 25-year-old is just ... different.
The big picture: Now that DeChambeau is winning so consistently, it's clear that whatever he is doing is working — and could transform the sport.
"No one was working out like Tiger Woods when he took over the sport in the late 90s, but his dominance forced everyone else to re-assess," writes Sports Illustrated's Daniel Rapaport. "Within a couple years, basically every Tour player had incorporated fitness and nutrition into their process."
"You can't help but wonder if DeChambeau will have a similarly transformative effect on his peers. Each successive triumph further challenges players to explore whether they can apply some of his principles to better their own games."
🎥 Watch: Here's a tour of the course DeChambeau dominated this weekend.
5. Let's check in on Super Bowl ads
"The average rate for a 30-second advertisement in the Super Bowl game increased by 96 percent during the past decade and reached $5.24 million in 2018," according to data from Kantar Media, a subsidiary of WPP.
"By comparison, during that same period average primetime ad rates fell by 12 percent, indicating the enduring appeal of the Super Bowl. (The nearest contenders in 2018 were the NFC Championship Game at $3.15 million and the Academy Awards at $2.07 million)."
Want more stuff like this? Sign up for my colleague Sara Fischer's weekly Media Trends newsletter. It's published every Tuesday and always delivers.
6. Worthy of your time
🏀 Joe Harris: Walking Down Your Street and Pushing the Nets Up the Standings
"An unsung guard who could be mistaken for a barista is the epitome of an unsung, surging team that player by player has made Brooklyn its home on and off the court." (New York Times)
🎮 Madden Is As Full Of Anonymous Players As The NFL Itself
"The vast majority of semi-anonymous NFL dudes don't have their real faces in the game. Instead they wear generic masks, one of the 146 Madden heads that look vaguely like football players but not exactly like any one of them." (Deadspin)
🏈 The Rams' $5 billion stadium complex is bigger than Disneyland
"LA Stadium & Entertainment District at Hollywood Park ... includes a 70,240-seat stadium and 6,000-seat performance center under one roof that will anchor a 298-acre complex of office buildings, shops, restaurants, residential units, hotels and parks. It's 3 1/2  times the size of Disneyland and twice as big as Vatican City." (Washington Post)
7. 🏀 College basketball trivia
Question: Since 2009, 4 schools have won multiple men's basketball national championships. Who are they?
Bonus: During this same span, 2 schools have lost in the title game multiple times. Who are they?
Submitted by: Jack M. (Chicago)
Answer at the bottom.
8. The Ocho: Not your average obstacle course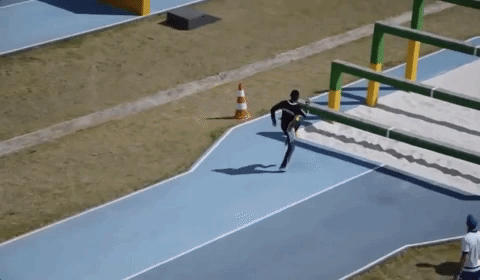 These soldiers in the Brazilian Army are running through a pentathlon course that looks like it came straight out of a video game. Watch the whole thing.
What's happening: This is something called a "military pentathlon," not to be confused with the "modern pentathlon" you see during the Olympics.
There are 5 events: Obstacle racing, obstacle swimming, simulated grenade throwing, running and both precision and rapid fire shooting.
9. On this date: 1/29/1984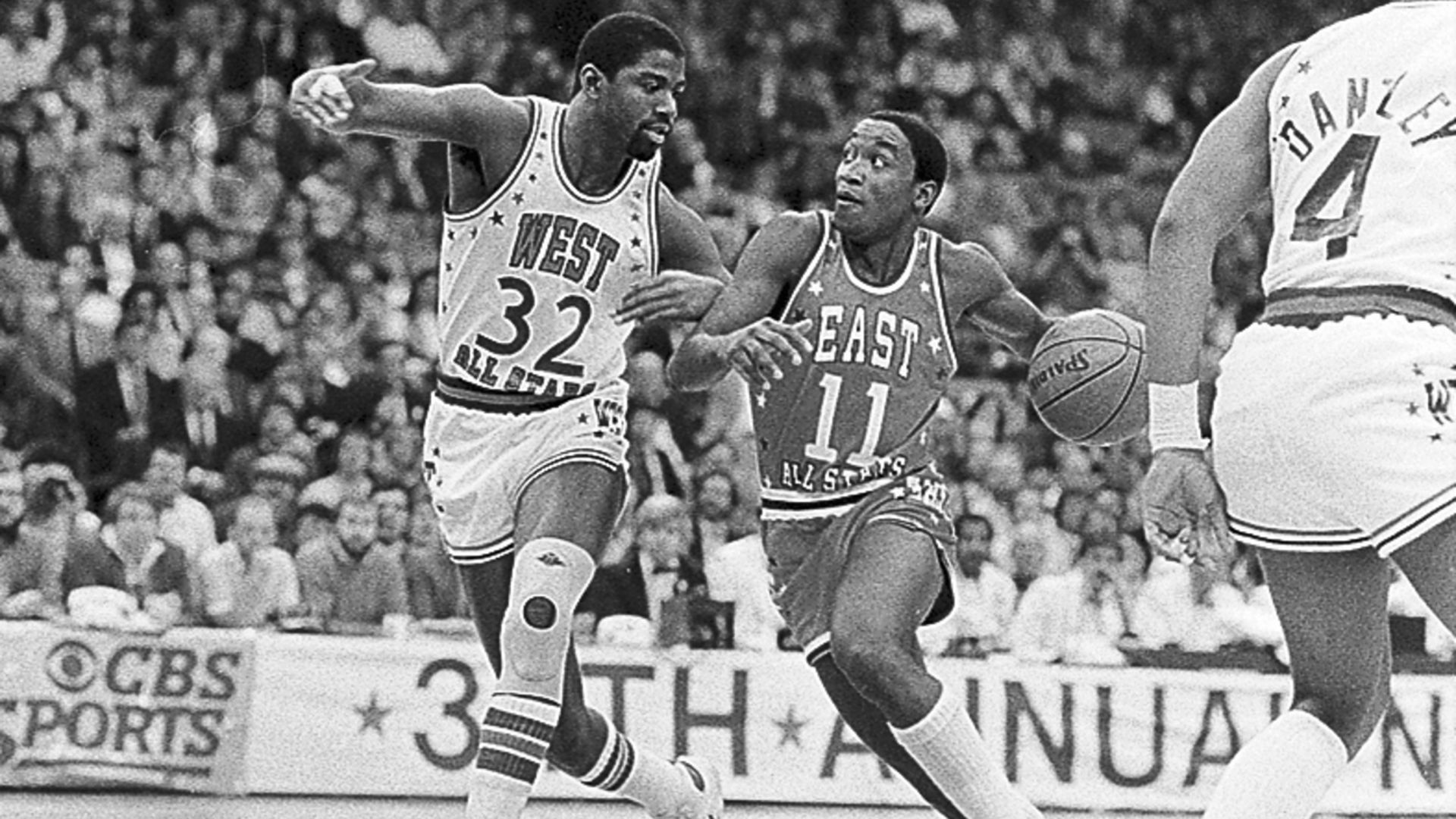 35 years ago today, Isiah Thomas and the Eastern Conference All-Stars beat Magic Johnson and the Western Conference All-Stars 154-145 in overtime at McNichols Sports Arena in Denver.
Game notes:
Magic had 22 assists, an All-Star Game record that still stands.
Thomas won MVP after scoring 21 points and dishing out 15 assists.
5 three-pointers were attempted all game. For comparison, last year's All-Star Game featured ... 123.
P.S. One night earlier, Larry Nance won the very first slam dunk contest, besting Julius Erving in the final. Best dunk: "The Cradle"
10. "Remember the Titans" captain Julius Campbell dies at 65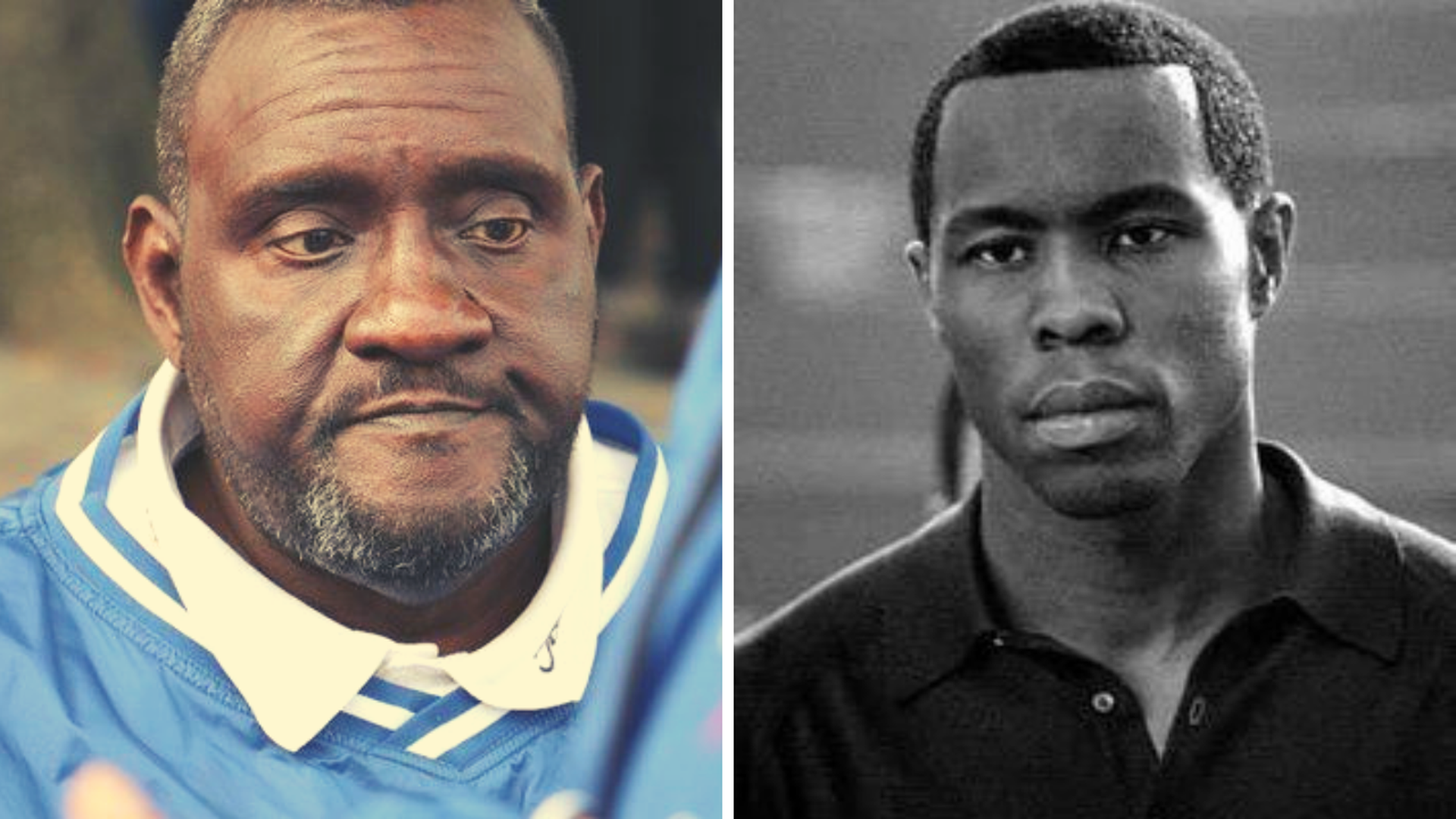 Julius Campbell, a key member of the T.C. Williams High School football team that inspired the 2000 film "Remember the Titans" died this weekend of organ failure. He was 65.
Thanks,
Kendall "Left side..." Baker
Trivia answer: Winners: UNC ('09, '17), Duke ('10, '15), UConn ('11, '14), Villanova ('16, '18) ... Losers: Butler ('10, '11), Michigan ('13, '18)