👋 Good morning! Let's sports.
Today's word count: 1,106 (4 minutes)
1 big thing: ⚾️ Houston, we have a problem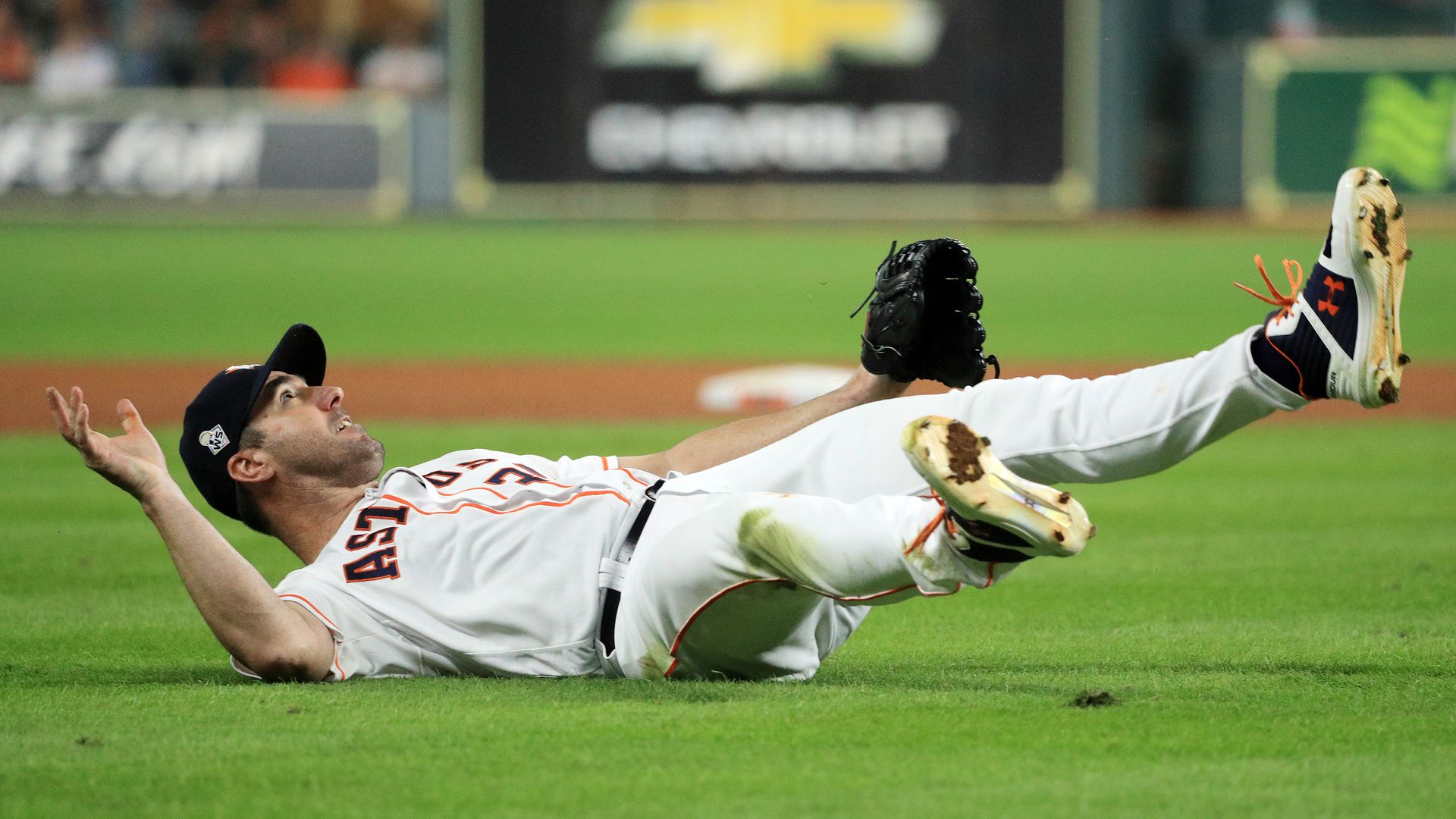 "In World Series Game 2, a bullpen imploded, but it was not the Nationals'. A lineup produced a double-digit run total, but it was not the Astros'."
— Ben Lindbergh,
The Ringer
"In further defiance of pre-series predictions, the Nats beat the 'Stros 12-3, getting the underdogs two wins away from a world championship," Lindbergh writes.
This is the first time all season that Houston aces Gerrit Cole and Justin Verlander have taken the loss in back-to-back games.
Game notes:
The 7th inning: The Nats scored six runs in a wacky inning that saw Kurt Suzuki (1-for-23 in October entering the night) blast a no-doubter off Verlander and the Astros issue their very first intentional walk of the year (Juan Soto).
Fun fact: Last night was the first time in MLB history that a No. 1 overall pick started a World Series game for the team that drafted him — and Stephen Strasburg delivered.
Uh-oh, Houston: Only three teams have lost the first two games of the World Series at home and gone on to win the title (1985 Royals, 1986 Mets, 1996 Yankees).
What's next: Game 3 is on Friday in D.C. Anibal Sanchez vs. Zack Greinke.
Inside the clubhouse: "When the Nationals left for Houston on Monday, there were 101 game balls stretching from March 31 to Oct. 15. They formed a mural of team success," write WashPost's Jesse Dougherty and Sam Fortier.
"Players often stand in the hallway to look, remembering the most random days of an eight-month sprint."
"Now [manager Davey] Martinez will leave here with a fresh pair to shelve [Soto from Game 1, Strasburg from Game 2]. And the Nationals need just two more."
Meanwhile, behind the scenes ... The Astros whiffed on multiple chances to correctly handle the fallout from Brandon Taubman. Now it's MLB's turn and harsh discipline could be coming. Good.
2. 🏈 Heisman: Burrow and Hurts are co-favorites
The top four Heisman favorites are all QBs, and they play for the No. 1, No. 2, No. 3 and No. 5 ranked teams in the country. If that doesn't intrigue you, check your pulse.
Joe Burrow (5/4 odds)
Jalen Hurts (5/4 odds)
Tua Tagovailoa (5/2 odds)
Justin Fields (7/1 odds)
What would you do? One LSU fan stands to make $10,000 if Burrow wins the Heisman. He's been offered $3,500 to cash out his bet with Burrow currently the co-favorite.
3. 🏀 NBA: Last night's top performers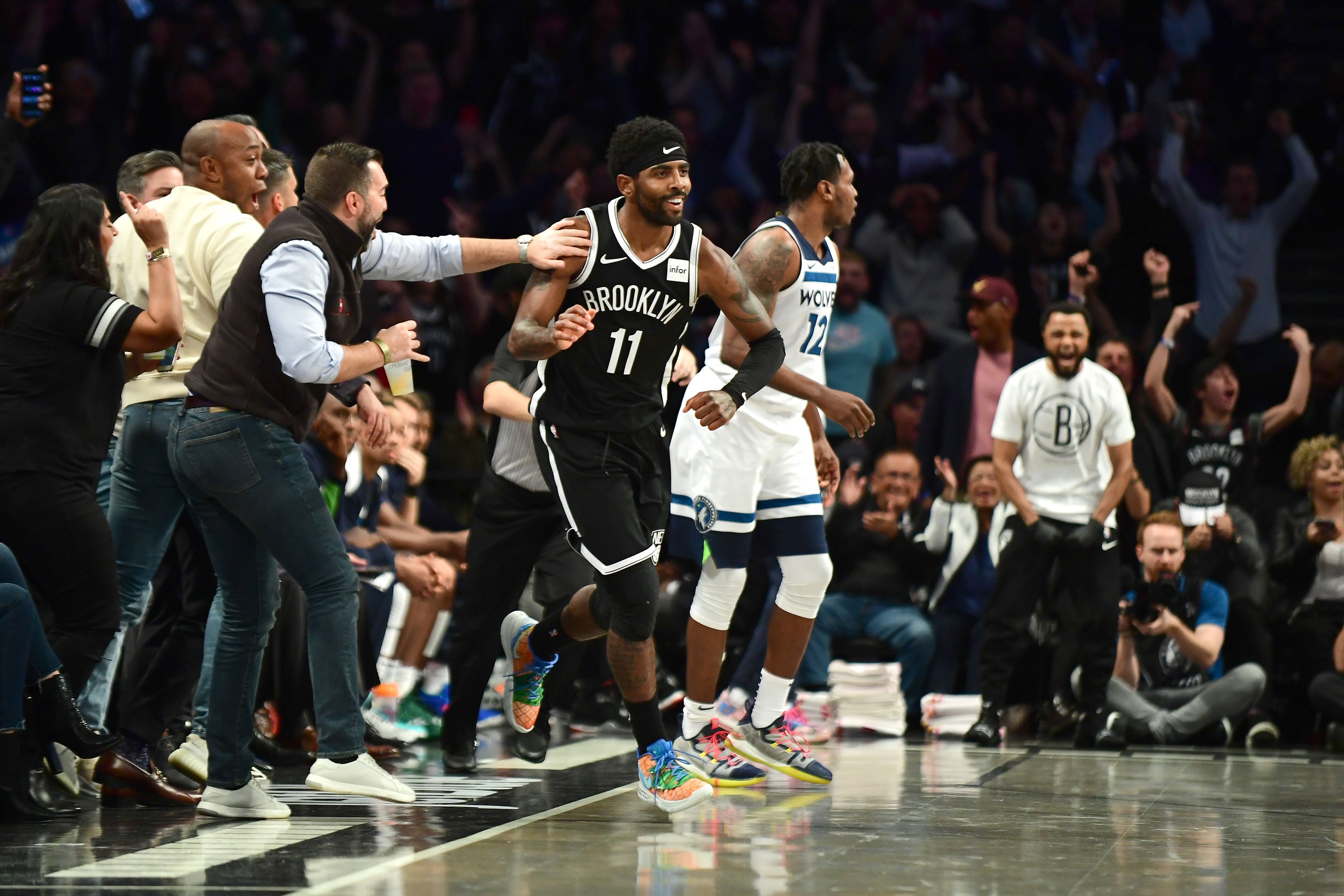 Kyrie Irving scored 50 points in his debut, but the Nets still lost. Photo: Emilee Chinn/Getty Images
22 teams were in action last night. There were winners and there were losers, and then there were these five guys — the stars of the evening.
Tonight: Hawks at Pistons (7pm ET), Bucks at Rockets (8pm ET), Clippers at Warriors (10:30pm ET)
4. ⚽️ MLS playoffs: Toronto and Seattle advance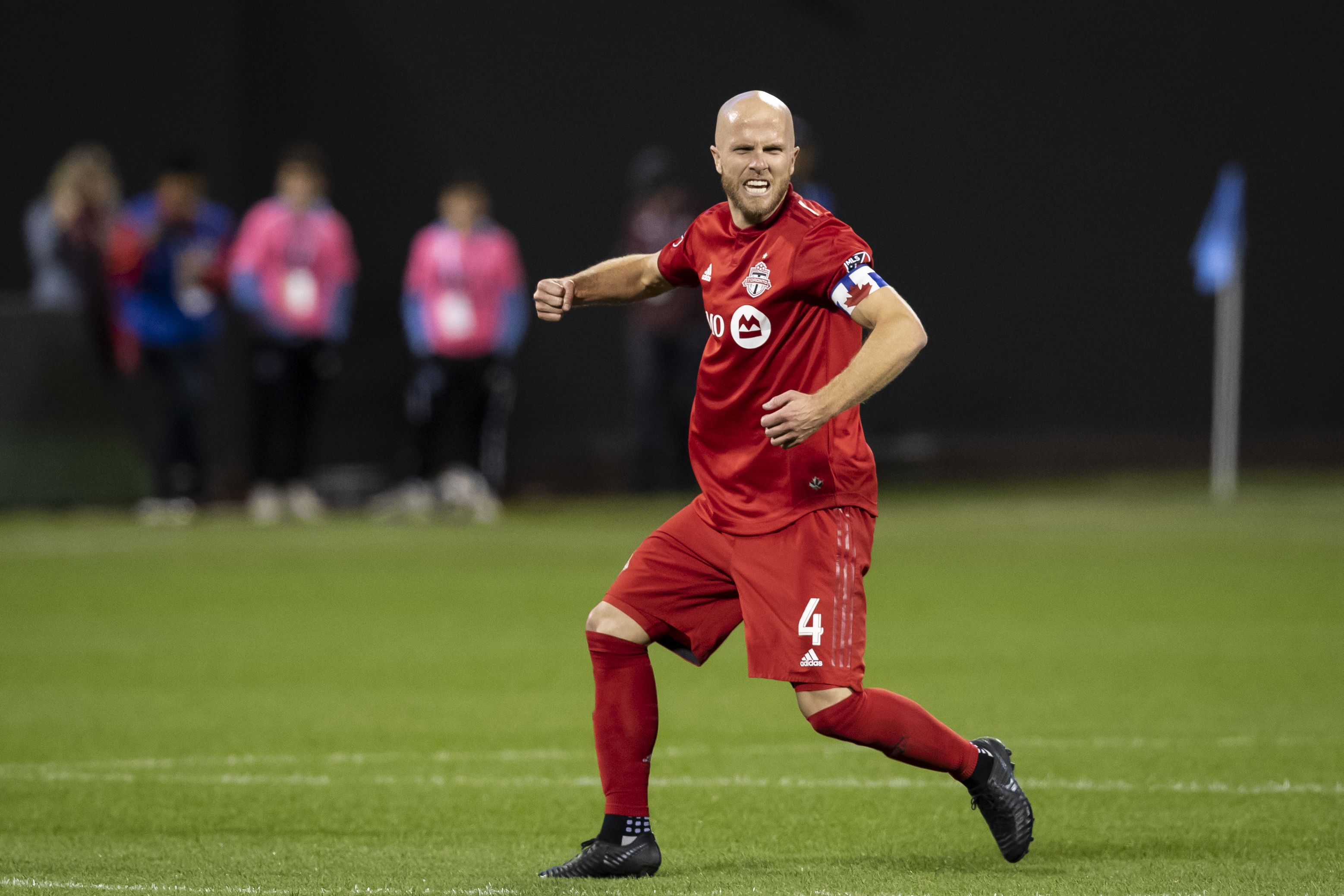 Michael Bradley. Photo: Ira L. Black/Corbis via Getty Images
Toronto FC and the Seattle Sounders played each other in the championship game two years ago, and they both took a step toward potentially meeting again with wins in last night's conference semifinals.
East: No. 4 seed Toronto beat No. 1 seed NYCFC, 2-1.
West: No. 2 seed Seattle beat No. 3 seed Real Salt Lake, 2-0.
Tonight: No. 2 seed Atlanta battles No. 3 seed Philadelphia in the East (8pm ET, ESPN2), while No. 1 seed LAFC battles No. 5 seed LA Galaxy in the West (10:30pm ET, ESPN).
Meanwhile, in Europe ... The third week of Champions League group play wrapped up yesterday. Here are the group standings with 3 games left to play.
5. 📊 By the numbers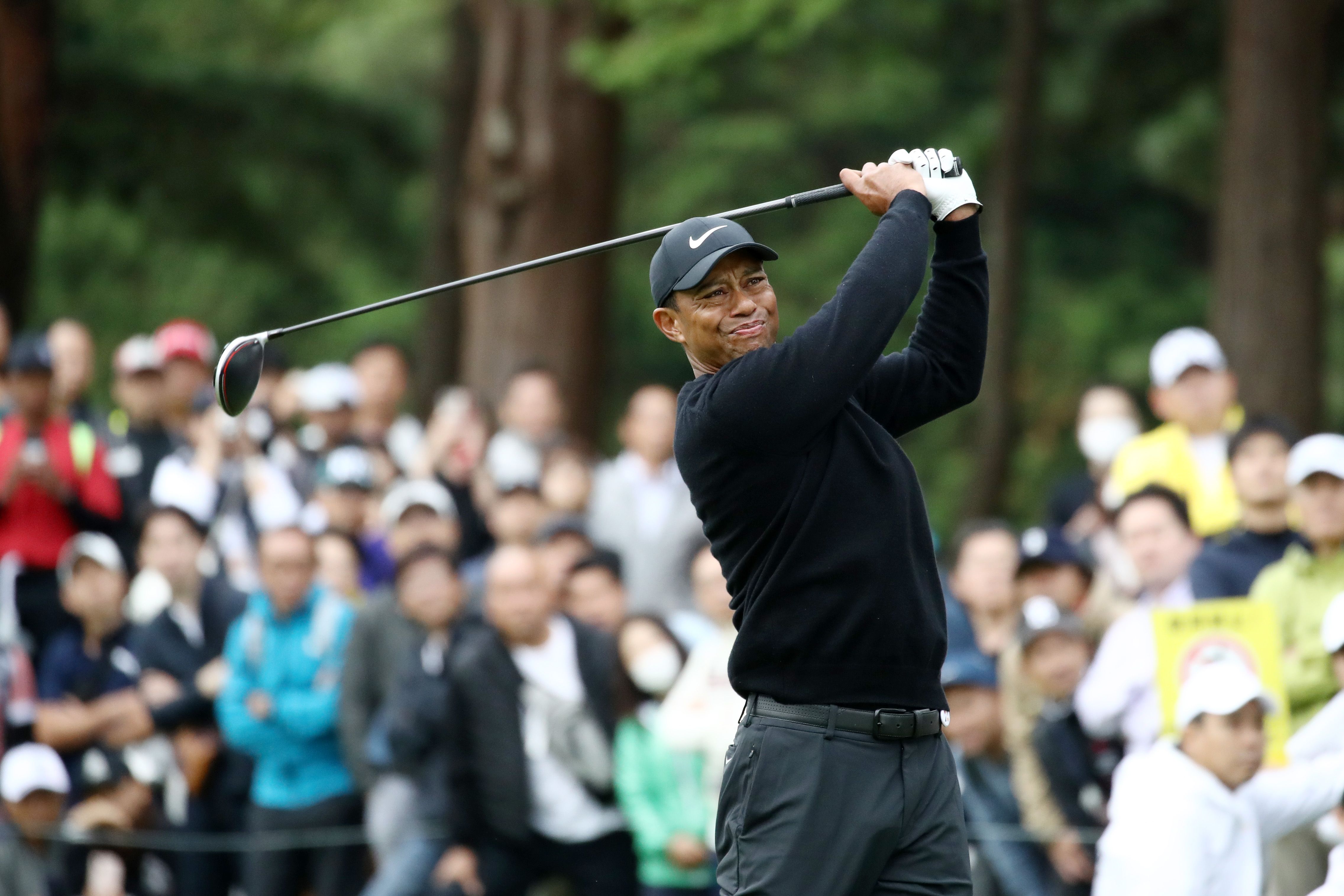 Tiger Woods. Photo: Chung Sung-Jun/Getty Images
⛳️ 6-under
After starting his round with 3 straight bogeys, Tiger Woods birdied nine of his next 15 holes to finish 6-under (tied for lead) at the Zozo Championship, the first PGA Tour event contested in Japan.
🏈 3-3-1
If the Patriots offense never took the field this year, New England's record would be 3-3-1. 3 wins without an offense!!! That's how utterly dominant their defense has been.
✈️ 2,290 miles
After calling Game 2 of the World Series in Houston last night, Joe Buck flew 1,178 miles to Minneapolis to call tonight's Vikings-Redskins game. He'll then fly 1,112 miles to D.C. for tomorrow's Game 3.
6. Oct. 24, 1968: 🥇 Meyer wins first of 3 gold medals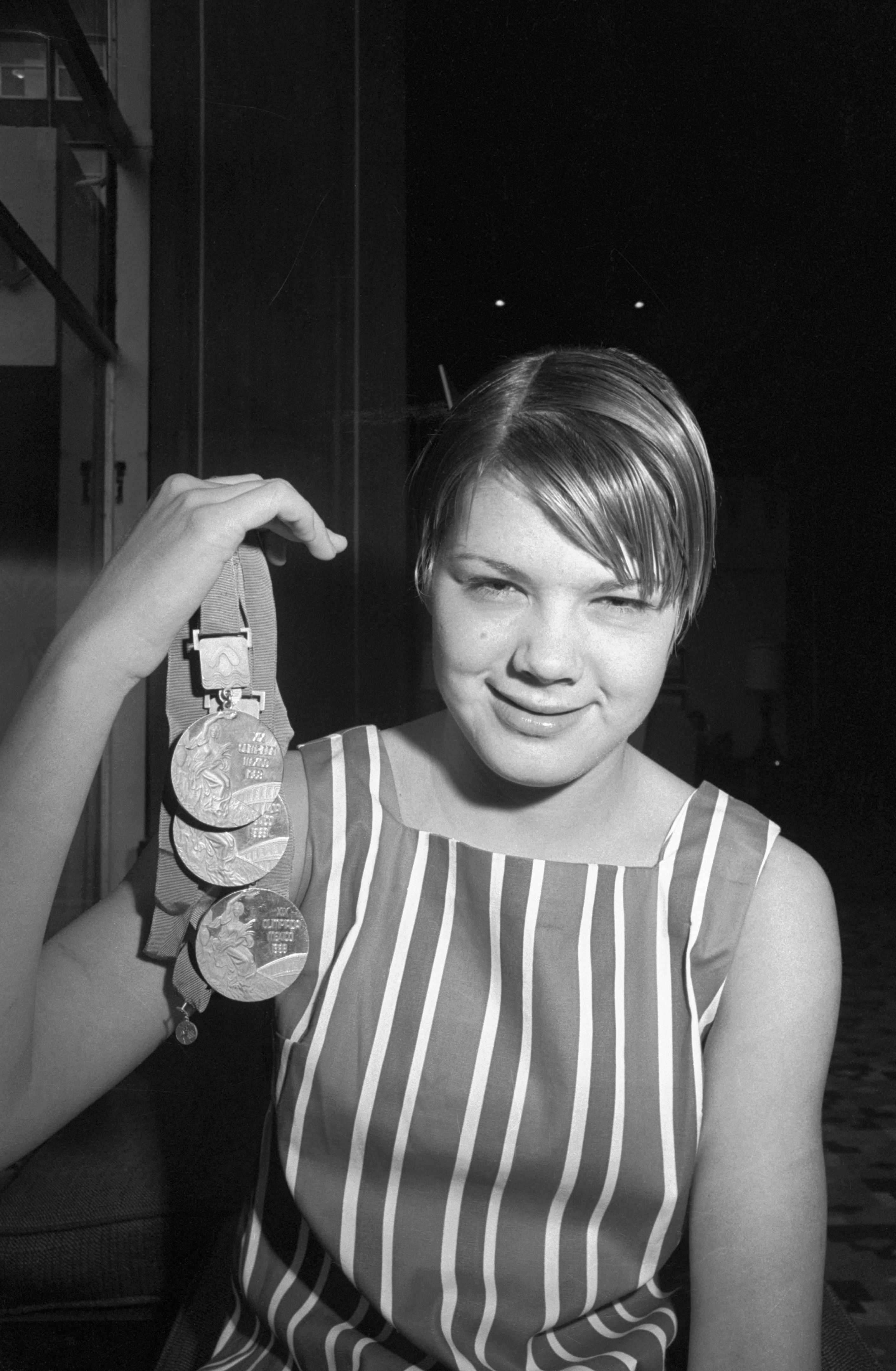 Debbie Meyer. Photo: Bettmann/Getty Images
51 years ago today, 16-year-old American swimmer Debbie Meyer won the inaugural women's 800m gold medal at the Mexico City Olympics.
Why it matters: Meyer went on to win the 200m and 400m, as well, becoming the first swimmer to win 3 individual golds at an Olympics.
Go deeper: We have footage (YouTube)
7. ⚾️ World Series trivia
A reader told me that he and his son love doing the trivia each morning, so I asked if his son would help me out. 13-year-old Billy Cannon from Chevy Chase, Md., is providing the questions this week. Thanks, Billy!
Question: Can you name the four teams who have never lost a World Series? The Mariners (never been) and Nationals (making debut this year) don't count.
Hint: AL East, NL East, AL West, NL West
Answer at the bottom.
8. The Ocho: 🕷 Spider-Woman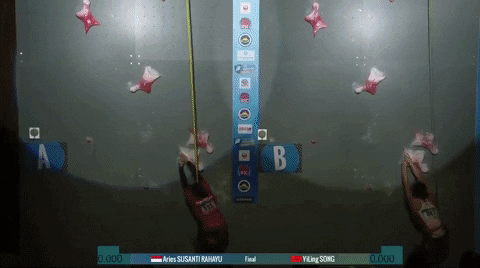 Indonesia's Aries Susanti Rahayu broke the women's speed climbing world record at the Climbing World Cup, finishing the 49-foot climb in 6.995 seconds (previous record: 7.101 seconds).
9. 📚 Good reads
🏀 Russell Westbrook finally wants to change, but can he? (Jesse Washington, The Undefeated)
"There's a difference between changing how you play and changing who you are. That's what Westbrook is trying to figure out — and it's the biggest challenge of his career."
⚽️ Carlos Vela just wants to go to work (Scott Cacciola, NYT)
"Does the Los Angeles F.C. star take soccer seriously enough? His critics, his former teams and even some of his rivals aren't sure. Vela says he will win, or lose, on his terms."
🏈 How Illinois' Irish kicker made his mark on the college football season (Ross Dellenger, SI)
"[James] McCourt was born in Ireland, moved to the U.S. at the age of 8, switched from kicking rugby balls to footballs, landed a late scholarship from Illinois, served as a backup kicker for three seasons and then made a field goal over the weekend to secure the biggest upset of the 2019 college football season. It's the football version of the American Dream."
10. 📈 Correction: The actual Nike price
Yesterday, we used an incorrect chart that showed Nike at 7% gain since November 2005 when — as the above chart correctly shows — the gain has been 772%. That's on us. Won't happen again.
P.S. ... Speaking of Nike, I made my TV debut yesterday on CBS, talking about their controversial sneakers. I was running on about an hour of sleep, but thankfully didn't bomb. You can watch the clip here.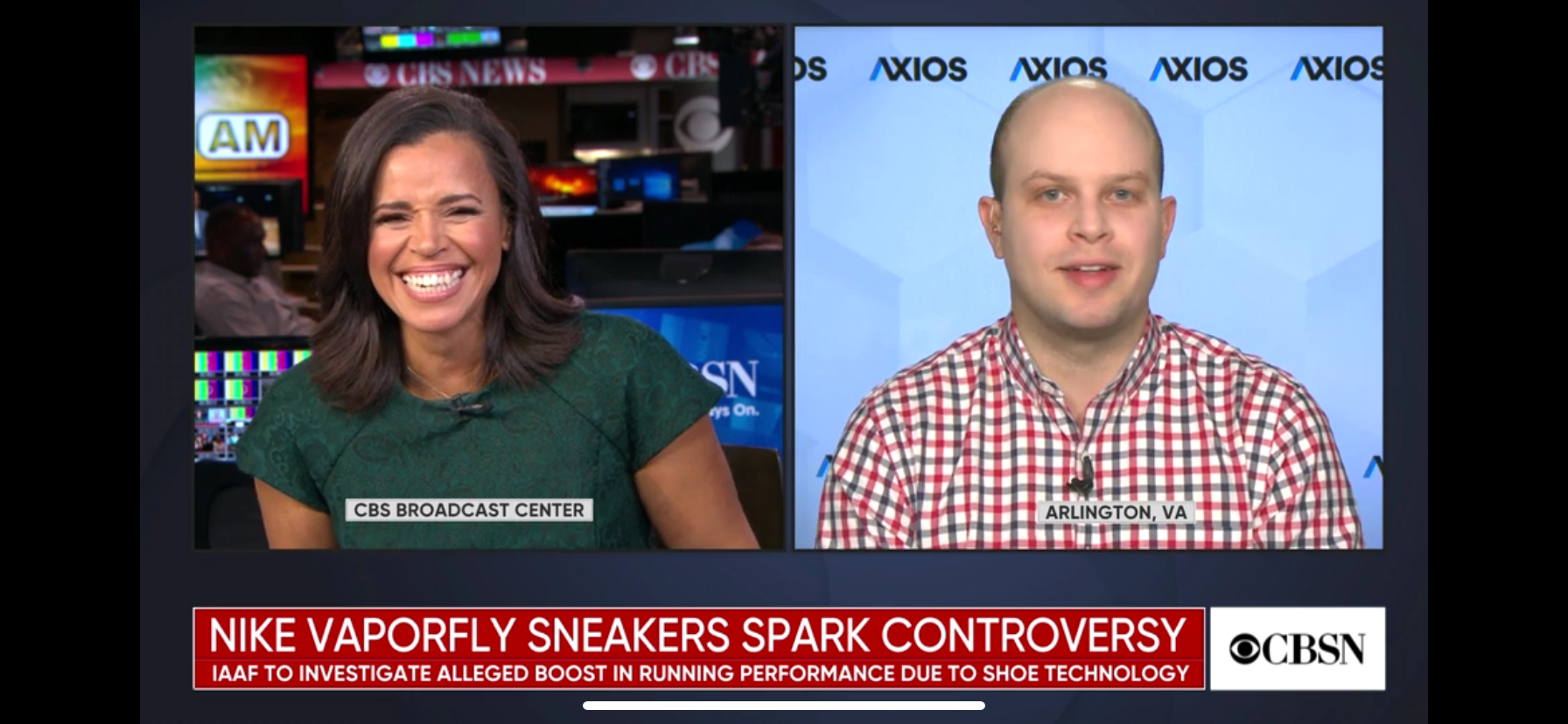 Screenshot: CBS
Talk tomorrow, Kendall "Need to work on my tan" Baker
Trivia answer: Blue Jays (2-0), Marlins (2-0), Angels (1-0), Diamondbacks (1-0)