Axios Sports
May 12, 2020
👋 Good morning! Let's sports.
What to watch: MLB owners approved a proposal that commissioner Rob Manfred plans to present to players today that would start the season in early July (as Axios previously reported) and feature a roughly 82-game regular season.
More details: Teams would play exclusively in their division and crossover division (i.e. AL East and NL East), and there would reportedly be a universal DH and a 14-team postseason (up from 10).
Today's word count: 1,781 (7 minutes).
1 big thing: ⚾️ The cost of MLB's shortened draft
The 2020 MLB draft will total just five rounds, making it the smallest draft in league history, writes Axios' Jeff Tracy.
Why it matters: Cutting the draft from 40 rounds down to five means just 150 amateurs will be selected instead of the customary 1,200, dramatically decreasing the newest crop of pros and causing a ripple effect through all levels of baseball.
Hundreds more prospects than usual will be funneled into a college system currently suffering its own financial meltdown, while simultaneously cutting off farm systems' most cost-efficient source of talent.
Details: Drafted players' signing bonuses will remain unchanged from 2019, but they'll be heavily deferred ($100,000 maximum in 2020, with remainder paid out across 2021-22). For reference, first through fifth round picks tend to earn bonuses ranging from $250,000 to $8 million.
Undrafted players' bonuses, meanwhile, are capped at $20,000. So, although teams can sign an unlimited number of undrafted free agents, it's unlikely many amateurs will accept such a pittance (sixth rounders generally earn closer to $200,000, and even tenth rounders can fetch a $100,000 bonus).
The big picture: As outlined in the table above, the most obvious impact comes in the form of those future stars who, under this year's rules, wouldn't even get drafted. But to field competitive teams, the league needs far more than just stars.
Of the 1,410 players who played at least one MLB game last year, 1,046 of them entered the league via the draft (74%). And 46% of those players were selected after the fifth round.
The bottom line: There was never going to be a universally acceptable solution to a problem this big, but there are concerns that MLB is merely kicking the can down the road for their future selves to worry about.
As super-agent Scott Boras said upon learning of this deal: "We probably should have bought a billboard that said, 'Go play other sports after Little League. Goodbye.'"
2. ⚽️ City Football Group expands empire
City Football Group has purchased second-division Belgian soccer team Lommel SK, adding a ninth club to its worldwide portfolio.
"We were attracted to Lommel's culture, training facilities and commitment to youth development and we look forward to learning from their approach and helping the club to evolve in the months and years ahead."
— Ferran Soriano, CEO, City Football Group
Why it matters: CFG is run by the Abu Dhabi royal family and was recently valued at $4.8 billion, making it the second most valuable enterprise in all of sports behind the Dallas Cowboys.
The backdrop: After buying Manchester City in 2008 and quickly turning it into a juggernaut through massive spending, CFG has continued purchasing teams in key markets in hopes of building a global sports and entertainment giant.
Geography quiz ... The graphic above shows CFG's eight clubs prior to Monday's announcement. Can you find Belgium on the map?
Go deeper: Inside the City Football Group empire (Axios)
3. 🏒 AHL cancels season, future up in the air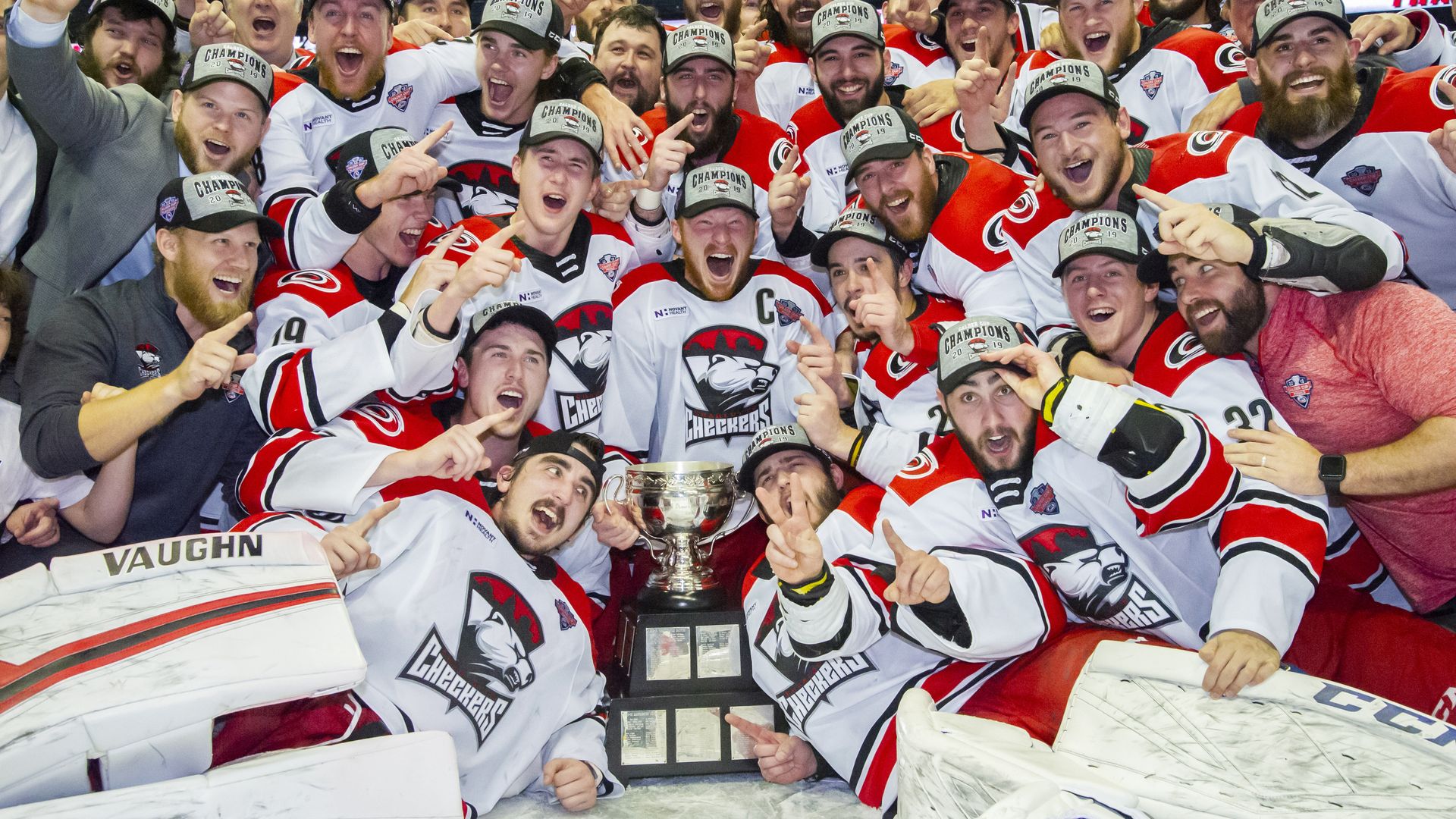 The American Hockey League, the NHL's top minor league affiliate, has canceled the remainder of its season due to COVID-19, marking the first time since the AHL was formed in 1936 that the Calder Cup will not be awarded.
Playing games without fans was never going to be an option for AHL teams, which rely heavily on gate revenue, so this announcement was inevitable. Still sad, though.
History will record the Milwaukee Admirals as the AHL's top team (.714 points percentage), the Iowa Wild's Sam Anas as its top producer (70 points) and the Providence Bruins' Dan Vladar as its best goalie (.936 save percentage).
Final standings:
Atlantic Division: Providence Bruins (82 pts), Hershey Bears (81), Charlotte Checkers (73), Hartford Wolf Pack (73), Springfield Thunderbirds (65), Wilkes-Barre/Scranton Penguins (66), Lehigh Valley Phantoms (58), Bridgeport Sound Tigers (53)
North Division: Belleville Senators (81 pts), Rochester Americans (75), Utica Comets (73), Binghamton Devils (72), Syracuse Crunch (69), Laval Rocket (68), Toronto Marlies (63), Cleveland Monsters (55)
Central Division: Milwaukee Admirals (90 pts), Iowa Wild (82), Grand Rapids Griffins (65), Chicago Wolves (62), Rockford IceHogs (62), Texas Stars (61), San Antonio Rampage (60), Manitoba Moose (55)
Pacific Division: Tucson Roadrunners (75 pts), Colorado Eagles (72), Stockton Heat (68), San Diego Gulls (68), Ontario Reign (64), Bakersfield Condors (50), San Jose Barracuda (49)
What's next: The prevailing thought among NHL executives is that the AHL won't start back up with all of its teams next season, which could force some shared affiliation agreements until normalcy returns, per Sportsnet.
4. ⚡️ Catch up quick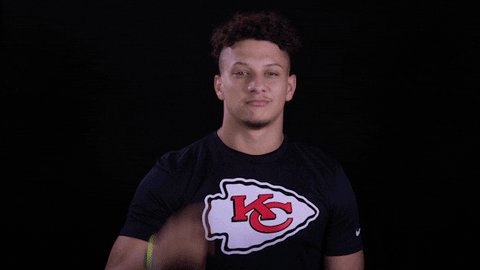 🏈 Patrick Mahomes (4-1 odds) is the consensus favorite to win the 2020 NFL MVP award, per Caesars Sportsbook. Last year's winner Lamar Jackson (13-2 odds) is second, followed by Dak Prescott (9-1) and Russell Wilson (12-1).
🏀 Kai Sotto, the 62nd-ranked player in the 2020 class, has opted to sign with the NBA G League, joining other top prospects Jalen Green, Isaiah Todd and Daishen Nix. The 7-foot-2-inch Sotto hopes to become the first NBA player born in the Philippines.
⚾️ MLB employees participated in a COVID-19 antibody study, and the results are in, showing that just 0.7% of the 5,603 individuals tested had previously contracted the virus. "I was expecting a larger number," lead researcher Jay Bhattacharya said.
5. ⚾️ Ranking MLB's all-time rosters (No. 25)
We're ranking the all-time rosters for all 30 MLB teams. Note: Rosters based only on time spent with this specific team. Thoughts? Email me at [email protected].
25. San Diego Padres
For a team with the worst winning percentage of all 30 franchises and no World Series titles to its name, the Padres made out alright, beating five other teams' lineups. No team is more well equipped to hit it past the opposing shortstop while preventing balls from making it past their own.
Year established: 1969
All-time record: 3,747-4,389 (.461)
World Series Championships: 0
Hall of Famers (indicated by *): 5
Starting lineup:
2B Bip Roberts (12.5 bWAR with team)
OF Tony Gwynn* (69.2)
1B Adrián González (20.4)
OF Dave Winfield* (32)
3B Ken Caminiti (17.5)
DH Nate Colbert (17.3)
C Gene Tenace (19.8)
OF Gene Richards (19)
SS Ozzie Smith* (11)
On the mound: SP Jake Peavy (26.8)
Bench:
Infield: 2B Roberto Alomar* (12.2), 3B Chase Headley (18.2), SS Garry Templeton (10.1), C Terry Kennedy (17)
Outfield: Brian Giles (17.4), Ryan Klesko (15.9), Kevin McReynolds (12.4)
Utility: Phil Nevin (17.8), Benito Santiago (14.2)
Rotation: Randy Jones (19.7), Andy Ashby (22.6), Andy Benes (20.2), Ed Whitson (15.9)
Bullpen: Trevor Hoffman* (25.8), Mark Davis (8.5), Heath Bell (8.6)
Additional notes:
Tony Gwynn is on the short list of greatest hitters of all time. His eight batting titles are tied with Rogers Hornsby for most in the NL, while his .338 lifetime average ranks 18th (but is by far the best for any player in the last 70 years). In 541 PA (nearly a full season's worth) against Hall of Famers in his career, he batted .331 with just 26 strikeouts.
Trevor Hoffman held the saves record (601) before Mariano Rivera passed him (652). The next closest total? 478, by Lee Smith.
Huge thanks to Tom Stone, whose book 'Now Taking the Field: Baseball's All-Time Dream Teams for All 30 Franchises,' provided the inspiration for these rosters.
6. May 12, 1979: 🎾 The end of Evert's streak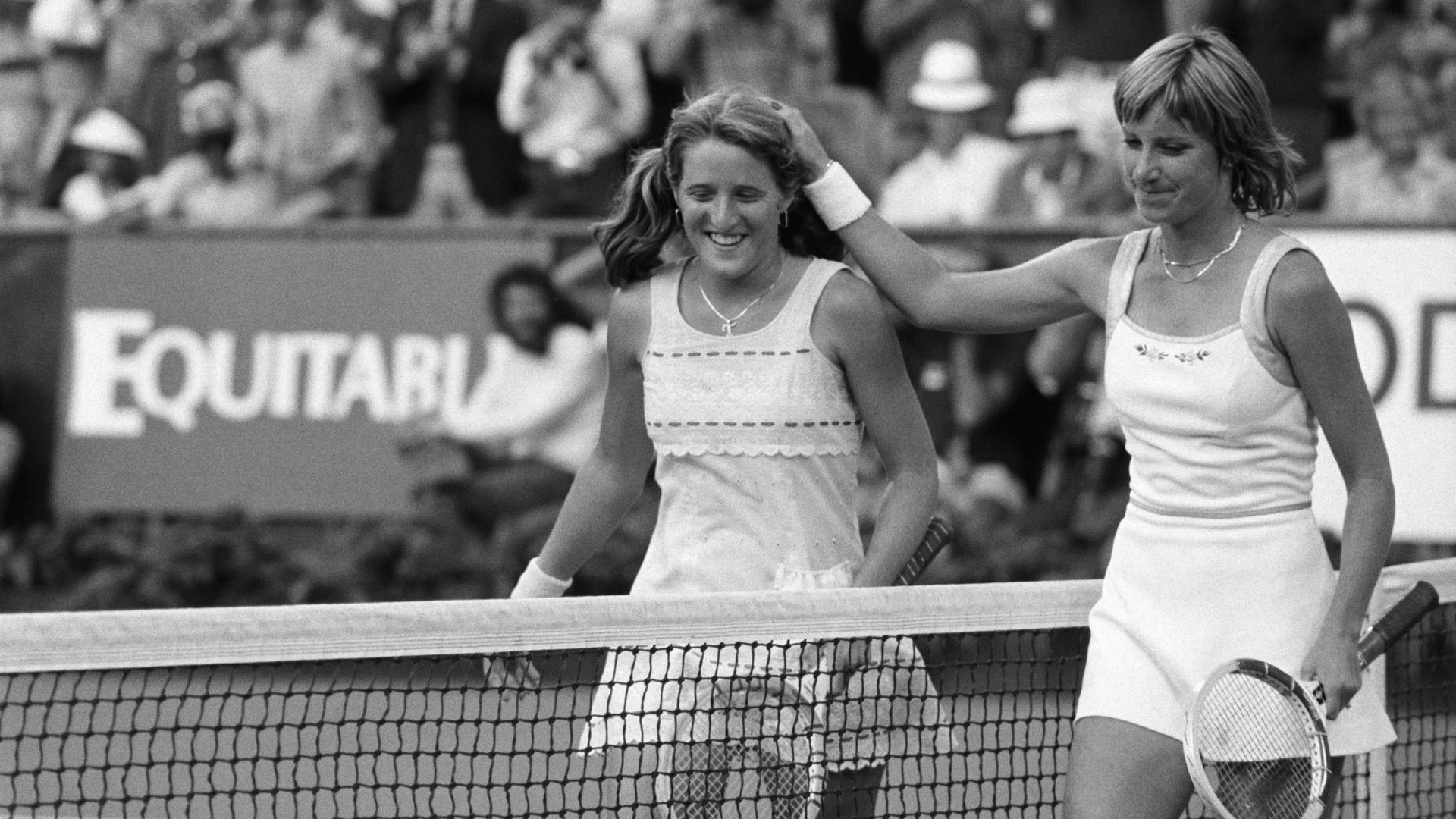 41 years ago today, 16-year-old Tracy Austin beat No. 2 ranked Chris Evert in a third-set tiebreaker in the semifinals of the Italian Open.
Why it matters: The defeat ended Evert's 125-match clay court winning streak, which remains the longest single-surface streak for men or women in the Open era (since 1968).
By the numbers: Evert's streak, which ran from August 1973 to May 1979, cemented her as perhaps the greatest clay court tennis player of all time.
94.55%: Her career winning percentage on clay courts, going 382-22.
8 sets: During the streak, she dropped only eight sets total.
197-1: After losing to Austin, Evert proceeded to win another 72 consecutive matches on clay, pushing her clay-court record from August '73 to May '81 to an absurd 197-1.
18 titles, 52 semis: Her 18 Grand Slams are tied for fifth-most, but perhaps more impressive is the fact that she reached the semifinals in 52 of the 56 Grand Slams she entered.
What they said: If you're wondering whether athletes pay attention to streaks the same way fans do...
Evert: "Not having the record will take some pressure off me, but I am not glad to have lost it."
Austin: "I don't remember what happened on the last point. I was just swinging my racquet around in the air and I just wanted to break her streak."
Go deeper: Chris Evert, the "Ice Maiden" (B/R)
7. 📚 Good reads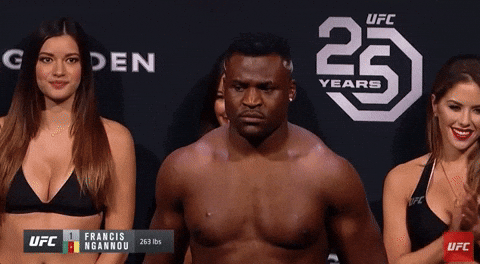 🥊 Cage-fighting during a pandemic: Is this the future of sports? (Kelefa Sanneh, New Yorker)
"On Saturday night, the UFC's voluble president finally did what he has been saying he would do: he put on the first major American athletic event since the country began its lockdown."
⚾️ Was Gwynn's quest MLB's last real run at .400? (AJ Cassavell, MLB)
"It's the story of Tony Gwynn and the summer of 1994. It's the story of an unreachable goal and a hitter who might have been good enough to reach it. It's the story of an athlete who worked tirelessly and a city who adored him for it. ... And it's a story where nobody enjoys the ending."
🏒 How players become entitled is obvious. What they do from there isn't (Justin Bourne, The Athletic)
"Teams will tolerate an awful lot if you're awesome. Quite a bit if you're good. Drop down to the 'only OK' level, though ... and boy, you can watch that illusion fall apart quickly."
8. The Ocho: 🎯 Pro darts home tour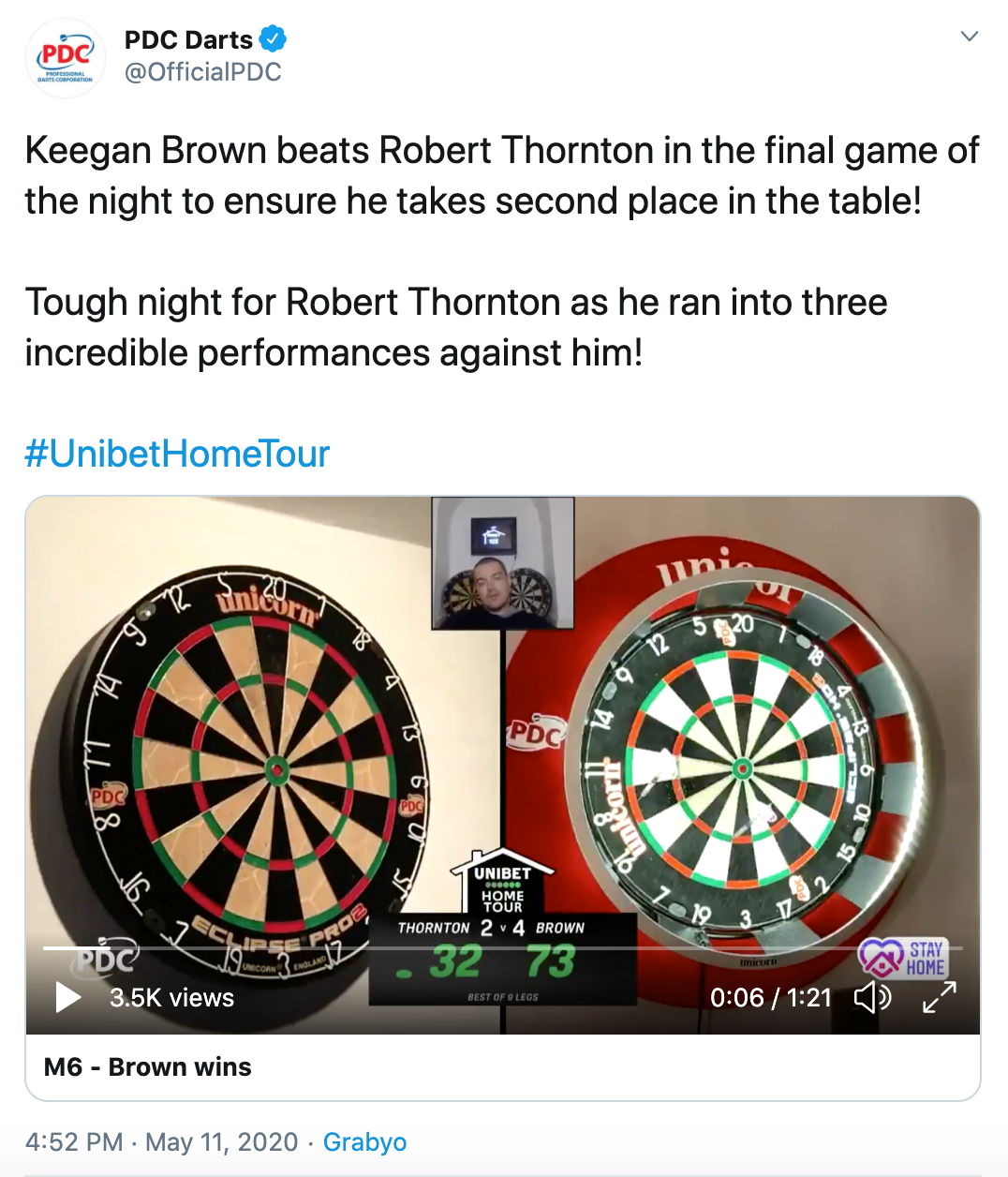 Professional darts players are among the lucky few who can continue competing more or less unbothered by the current shutdown, so the Professional Darts Corporation figured they might as well put on a tournament, Jeff writes.
What's happening: The Unibet Home Tour — surprise surprise, it's sponsored by a sports betting website — began on April 17, with round one running for 32 consecutive nights through May 18 before heading into the knockout phase.
Each night, four pros play a best-of-nine leg round robin to determine that group's winner.
They're playing "501," in which each player begins with 501 points and tries to work their way down to exactly zero, which can only be done by "doubling out." In other words, with 40 points left you must hit a double-20 to win.
Term to know: A nine-dart finish is when you complete a game of 501 in three perfect turns, with just nine darts thrown. Through the tournament's first 26 nights, it has happened just once. (Watch)
🎥 Watch for free every afternoon at 2:30pm ET.
9. 🏈 NFL trivia
Since 1990, just two players have pulled off the impressive triple of winning the MVP and Super Bowl MVP in the same season they led the league in passing TD.
Question: Name those two players.
Hint: 1994-95 and 1999-2000.
Answer at the bottom.
10. ❤️ Why we love sports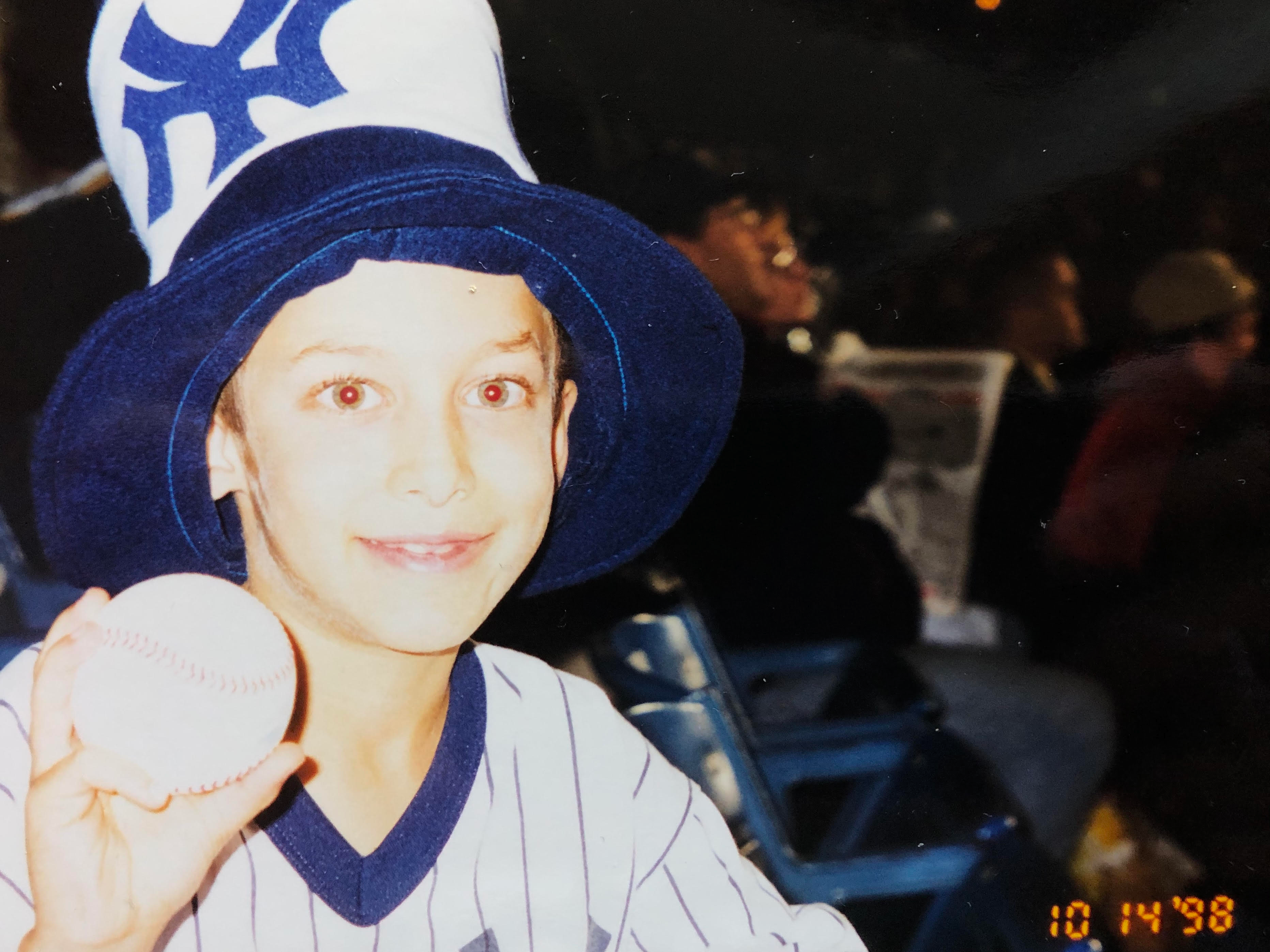 Josh K. (Philadelphia) writes:
"In 1998, you couldn't find a bigger Yankees fan than eight-year-old me. Every Saturday morning I would run downstairs to watch the Fox pre-game and practice my swings in front of the TV. I'd use the garage door as my catcher when I played outside, and I always donned a Jeter jersey.
"We got tickets to the ALCS against the Indians and showed up early so we could watch batting practice. We were about 25 rows back off the first base side and surrounded by practically no one when a ball came searing through the sky and landed right behind us.
"As I stood up, I could see the ball rolling onto the seat in front of me. I reached out to grab it when, out of nowhere, a full-grown man snagged it.
"I stood up in shock and turned to my mother for a hug while wearing a three-foot Dr. Seuss-esque Yankees hat. Emotions overcame me, and I started to cry.
"There was a large crowd assembled down by the field, searching for autographs, that took note. That's when the chants started: 'Give the kid the ball! Give the kid the ball! A--hole! A--hole!' It went on for what felt like hours.
"The man held onto the ball (he would later apologize and let us know it was for his girlfriend), but soon enough, another one was hit into the crowd that was relentlessly chanting.
"Someone caught it and immediately ran it up the stairs and handed it to me. Even as I type this now, it makes me kind of emotional.
"At some point, a newspaper reporter came over and took my picture. I'm not sure if it ended up in the paper, but the Yanks fans in the mid-to-late 90's were legends and they left my family with an amazing story."
✍️ Submit your story: Do you have a fondest sports memory? Or an example of sports having a positive impact on your life? If you'd like to share, simply reply to this email. We'll be telling your stories until they run out.
Talk tomorrow,
Kendall "The Manitoba Moose" Baker
Trivia answer: Steve Young and Kurt Warner