Axios Sports
March 19, 2021
🎉 Happy Friday! Welcome to the best sports weekend of the year!!!
Coming up: Axios' year-long "Hard Truths" series about race and inequality in America turns its attention to sports. You'll receive a deep dive tomorrow.
Today's word count: 1,794 words (7 minutes).
1 big thing: 🏀 Sports betting's Super Bowl
As recently as three years ago, sports betting was considered taboo. Now, 45% of American adults live in a state where it's legal.
The state of play: 25 states and Washington, D.C. have legalized sports betting, and 21 of those markets (plus D.C.) are live and operational.
Why it matters: March Madness is the biggest sports betting event of the year in the U.S., beating out the Super Bowl due to the sheer volume of games.
The sports betting industry took a huge hit when last spring's NCAA Tournament was canceled, along with most other sports.
But it has rebounded in a major way, with legal betting revenue reaching $1.5 billion in 2020 and projected to hit $3.1 billion in 2021.
100 million Americans can now legally bet in their home state, a 74 million jump from the 2019 tournament.
Less brackets, more bets: Filling out a bracket is an annual tradition that will never go away. But the rise of legal sports betting could steal some of the attention away from office pools.
36.7 million Americans will fill out a bracket this year, down 8% from 2019, according to a new American Gaming Association study.
30.6 million Americans plan to place more traditional bets this year, a 72% increase from 2019.
The backdrop: Given the stigma that was long attached to sports betting, the speed at which it has been normalized and gone mainstream is astounding. A brief history of sports betting in this country...
1931: Nevada opens the nation's first casinos in an attempt to avoid bankruptcy. "Any state could have done it," UNLV professor Anthony Cabot told NYT. "But no others did."
1949: Sports betting becomes explicitly legal in Nevada.
1978: Casinos open in Atlantic City, New Jersey.
1988: Congress passes the Indian Gaming Regulatory Act, permitting casinos on land owned by Native American tribes.
1992: Congress passes the Professional and Amateur Sports Protection Act (PASPA), which bans sports betting nationwide beyond a few exceptions like bike racing in New Mexico and bookmaking in Nevada.
2018: In May, the Supreme Court strikes down PASPA, determining it to be unconstitutional.
Bonus: 💵 Today's betting lines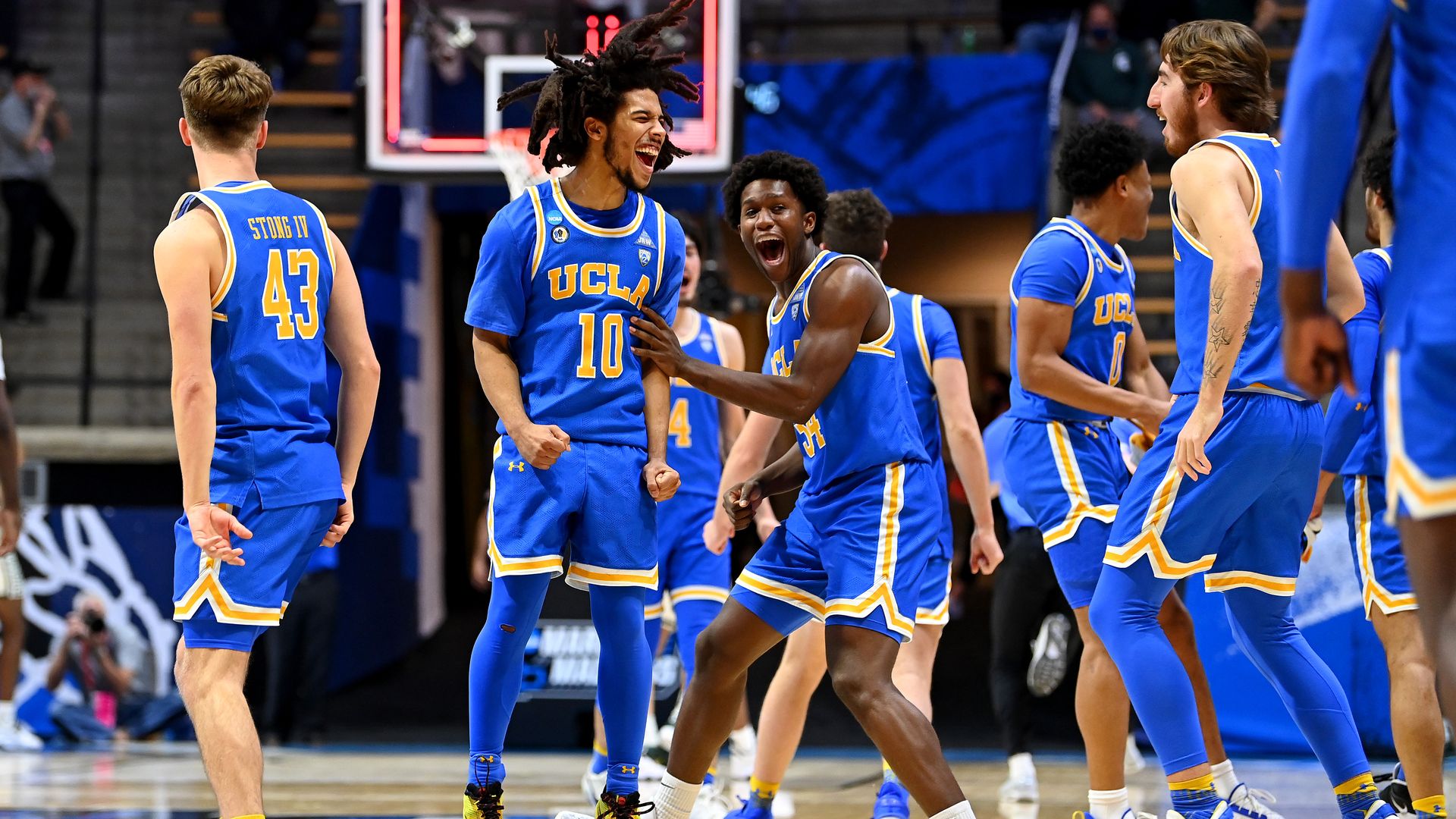 The "First Four" games were electric, with UCLA (+2.5), Norfolk State (+3.5) and Texas Southern (+1.5) all pulling off upsets.
Today's slate: The only lower seed favored to win is No. 10 Rutgers (-1.5) vs. No. 7 Clemson. Biggest line? No. 1 Baylor (-25.5) vs. No. 16 Hartford.
Early afternoon ... 12:15pm ET: No. 10 Virginia Tech vs. No. 7 Florida (Even); 12:45pm: No. 14 Colgate vs. No. 3 Arkansas (-8.5); 1:15pm: No. 16 Drexel vs. No. 1 Illinois (-22.5); 1:45pm: No. 11 Utah State vs. No. 6 Texas Tech (-4)
Late afternoon ... 3pm: No. 15 Oral Roberts vs. No. 2 Ohio State (-16); 3:30pm: No. 16 Hartford vs. No. 1 Baylor (-25.5); 4pm: No. 9 Georgia Tech vs. No. 8 Loyola Chicago (-5.5); 4:30pm: No. 12 Oregon State vs. No. 5 Tennessee (-8.5)
Early night ... 6:25pm: No. 13 Liberty vs. No. 4 Oklahoma State (-7); 7:10pm: No. 9 Wisconsin vs. No. 8 UNC (-1.5); 7:15pm: No. 15 Cleveland State vs. No. 2 Houston (-20); 7:25pm: No. 13 North Texas vs. No. 4 Purdue (-7.5)
Late night ... 9:20pm: No. 10 Rutgers vs. No. 7 Clemson (+1.5); 9:40pm: No. 11 Syracuse vs. No. 6 San Diego State (-3); 9:50pm: No. 14 Morehead State vs. No. 3 West Virginia (-13); 9:57pm: No. 12 Winthrop vs. No. 5 Villanova (-6.5)
Go deeper: Saturday's slate and betting lines (ESPN)
Note: Odds via Caesars Sportsbook (as of 7:30am ET)
2. 🏈 NFL signs new deals, Amazon gets TNF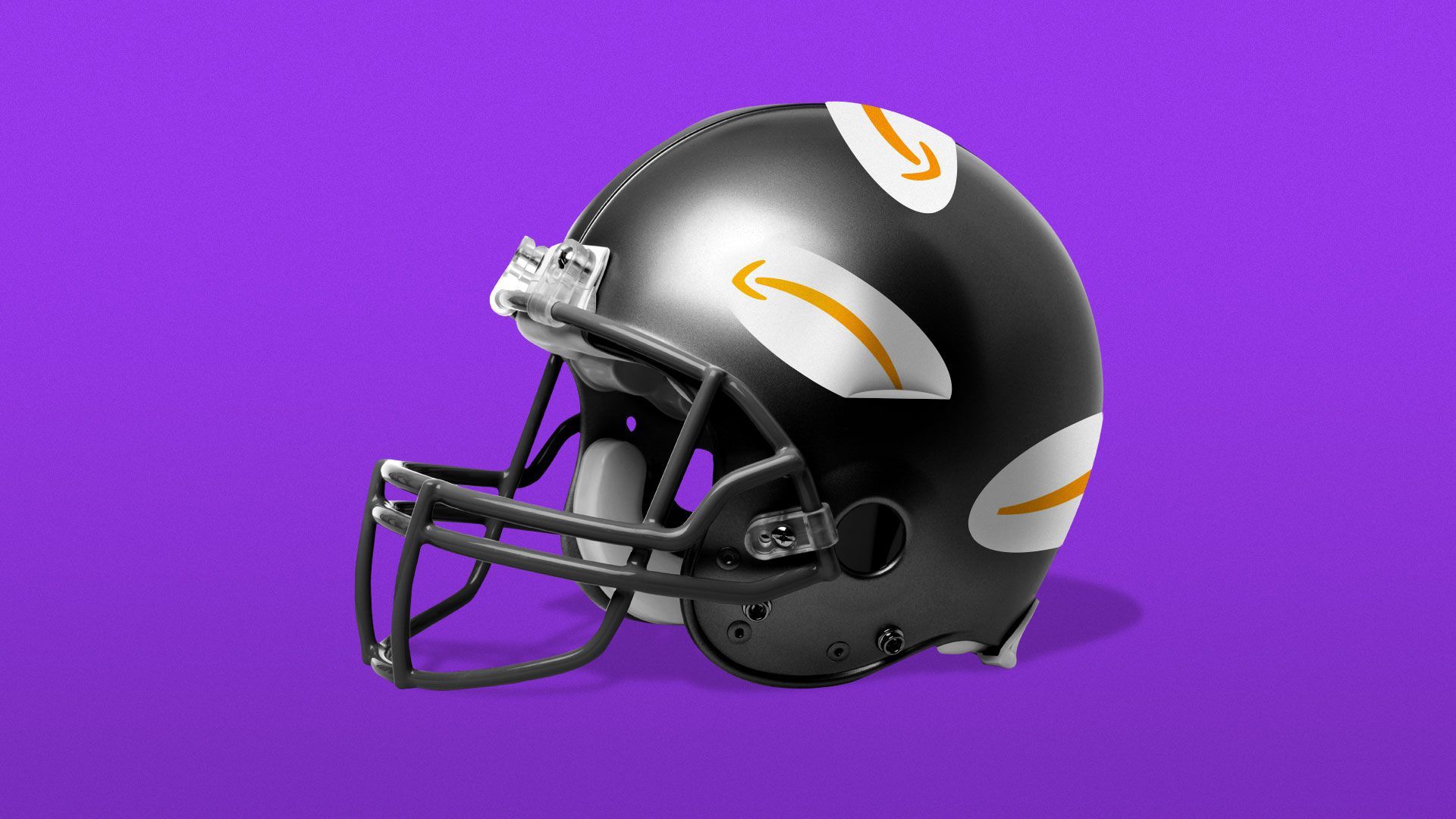 The NFL has reached new deals with CBS, Fox, NBC and Disney to distribute its content through 2033. But the major news involves Amazon.
The intrigue: Thursday Night Football will be exclusively on Amazon Prime, a watershed moment for streaming and a major change for fans, who will soon have to pay for Prime Video to watch mid-week games.
Of note: While the network deals don't kick in until the 2023 season, the Amazon deal begins in 2022.
What to expect: This is a great opportunity for Amazon to build a live sports brand. Look for them to spare no expense in hiring the best talent and introducing new broadcast innovations.
By the numbers: The four legacy networks will pay a combined $89.5 billion for the right to continue airing NFL games, a 108% increase over the $43.1 billion they will have paid when their current deals expire.
Disney: $2.6 billion annually (up from $1.9 billion)
Fox: $2 billion annually (up from $1.1 billion)
CBS: $1.9 billion annually (up from $1 billion)
NBC: $1.7 billion annually (up from $950 million)
Amazon: $1.3 billion annually
What they're saying: "While that's a monocle-popping amount of money, the NFL is arguably worth every penny," writes Sportico's Anthony Crupi.
"Not only did the league account for 71 of the 100 most-watched broadcasts in 2020, but it also was responsible for generating nearly $4 billion in ad sales revenue for the host networks."
"In the TV ad market, you're either at the top of the heap with all your enemies slain at your feet — which is to say that you air live NFL games — or you're locked in a gas station toilet filled with bees."
Don't forget: The NFL is expected to move to a 17-game season this year, which means an extra week of games for its media partners.
P.S. ... The Super Bowl schedule for the next 12 years:
CBS: 2023, 2027, 2031
FOX: 2024, 2028, 2032
NBC: 2022, 2025, 2029, 2033
ESPN/ABC: 2026, 2030
3. 🇦🇺 Another world: Scenes from Melbourne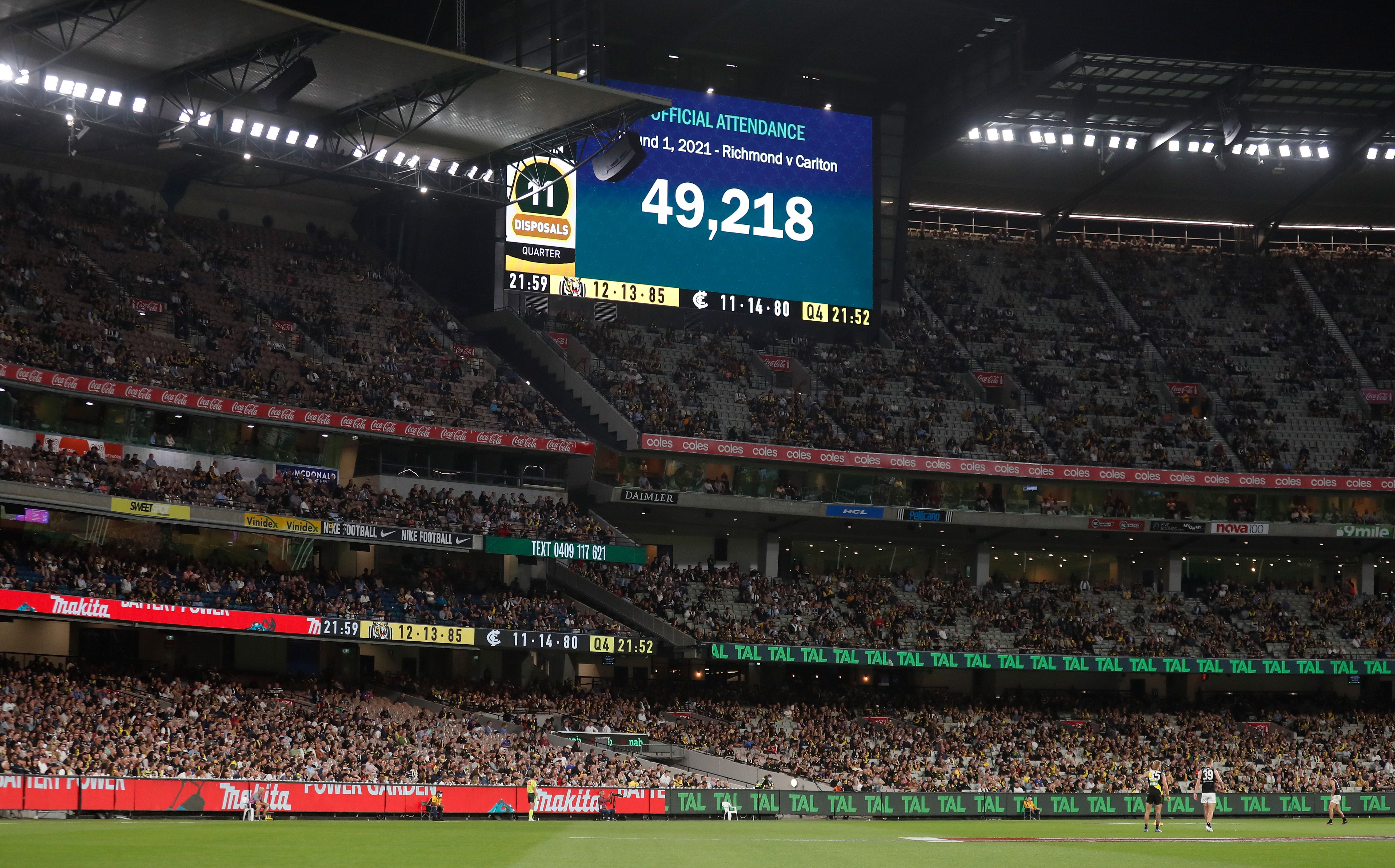 The Australian Football League's 125th season kicked off Thursday at the Melbourne Cricket Ground in front of 49,218 fans — about 50% capacity, Axios' Jeff Tracy writes.
Why it matters: This was the first time in 537 days that fans attended an AFL match at the MCG, and the relative normalcy of the experience offers a glimpse of our hopefully not-so-distant future here in the U.S.
What happened: The defending champion Richmond Tigers defeated their crosstown rival Carlton Blues, 105-80.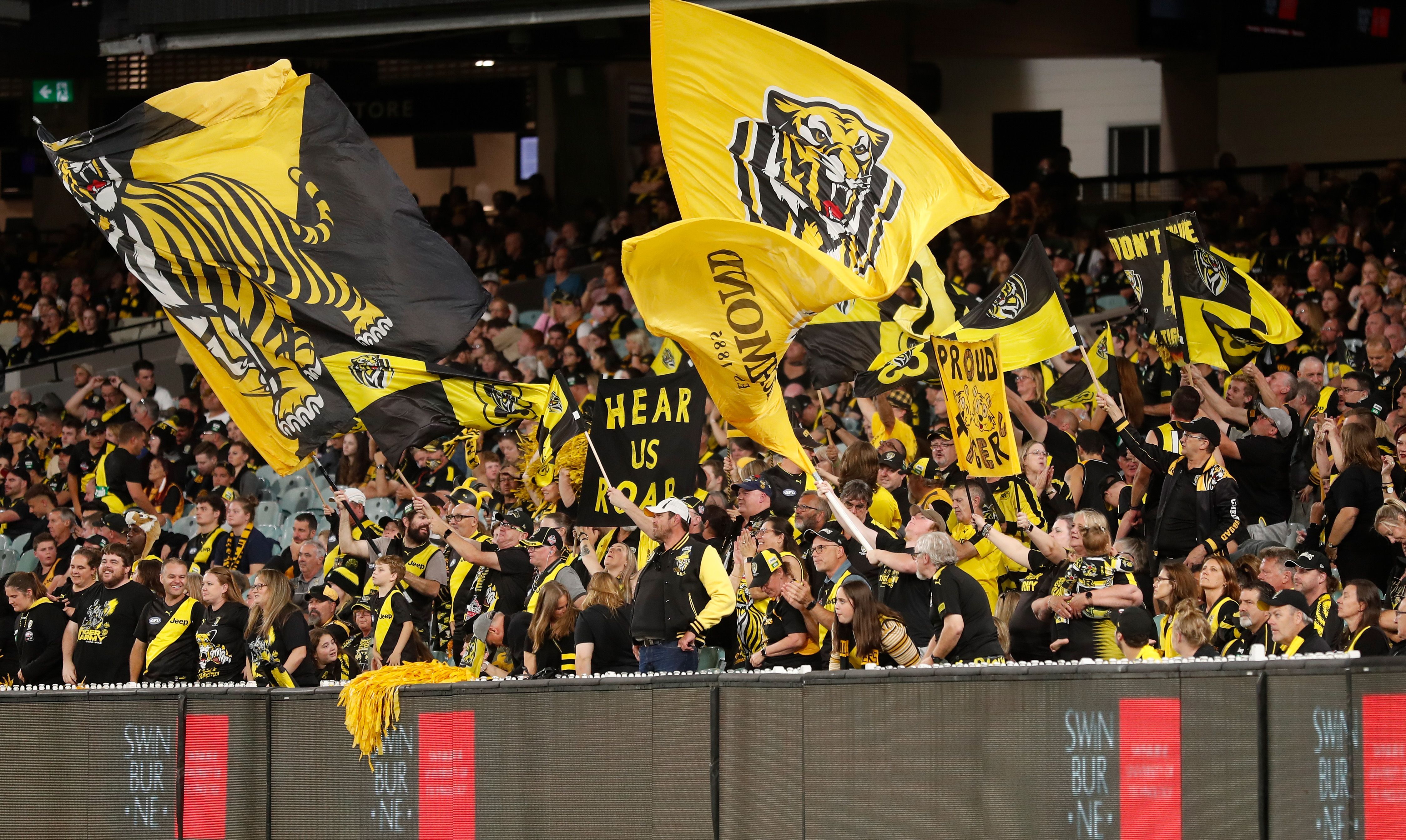 The state of play: Australia, and particularly Melbourne, responded to the pandemic as strictly as anywhere on Earth.
"At one point, we were in a hard lockdown [confined to a three-mile radius on the rare occasions they could go outside] for about three months," Melbournian Dane Norton, who was at the game, tells Axios.
"But you look at the results and see what's happened from that ... I can't remember the last time a single case was announced."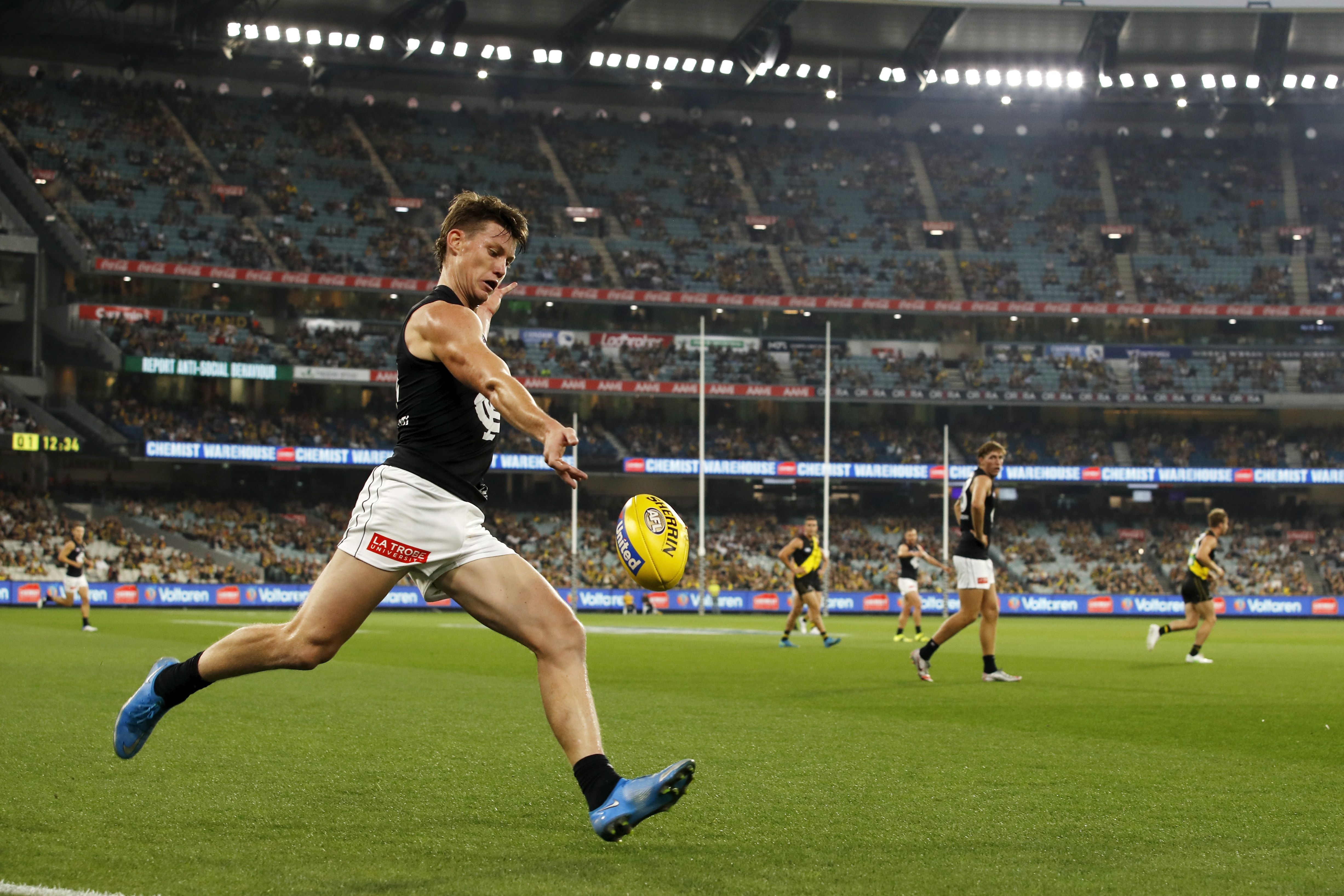 By the numbers: The state of Victoria — of which Melbourne is the capital — is riding a 20-day streak with no new cases. Overall, Australia's case rate (.0011) is smaller than the U.S. death rate (.0016).
"Now we can enjoy ourselves, and be in bars without masks, and just be with friends and socialize," said Norton, a Ph.D candidate in sport management and diehard Richmond fan.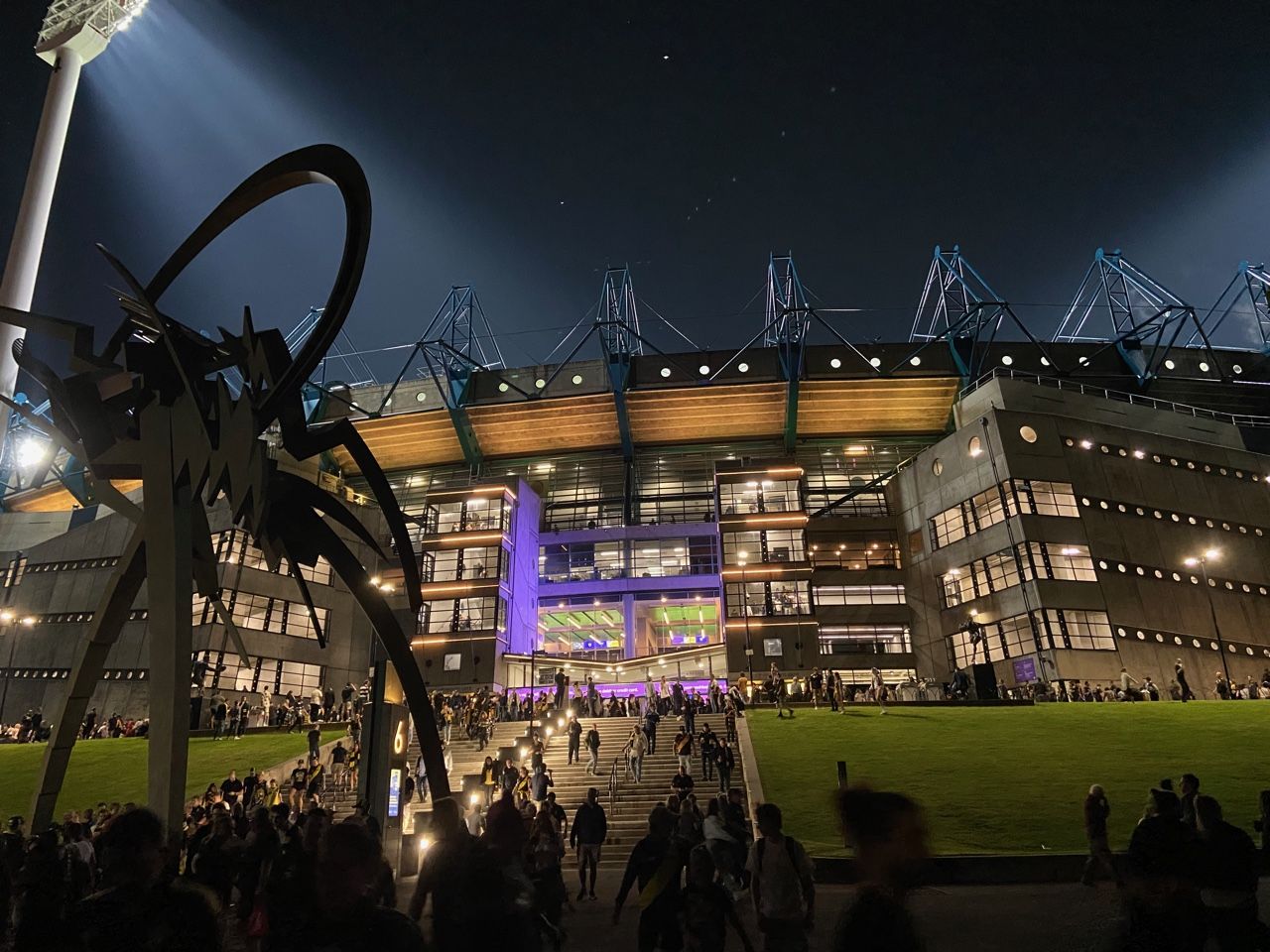 The backdrop: The AFL started in 1897 as the Victorian Football League, and its roots are still strong there, with 10 of the 18 clubs based in the southernmost mainland state.
Carlton's 16 premierships (titles) are tied for the most, but Richmond is closing in with 13, including three in the last four seasons.
"Tonight was the first time we unveiled our last two premiership flags, so it was a big moment for fans to be there," said Norton.
"Traditionally, this game would have about 90,000-plus people there — but 50,000 still sounded amazing."
The last word: "It was almost surreal, but so comforting," added Norton. "It just felt right to be back at our holy ground and see our team play again. ... It feels like you're home."
🎬 Go deeper: Watch the trailer for "Making their Mark," an Amazon Prime docuseries about the AFL's pandemic-altered 2020 season.
4. 🏈 So much spring football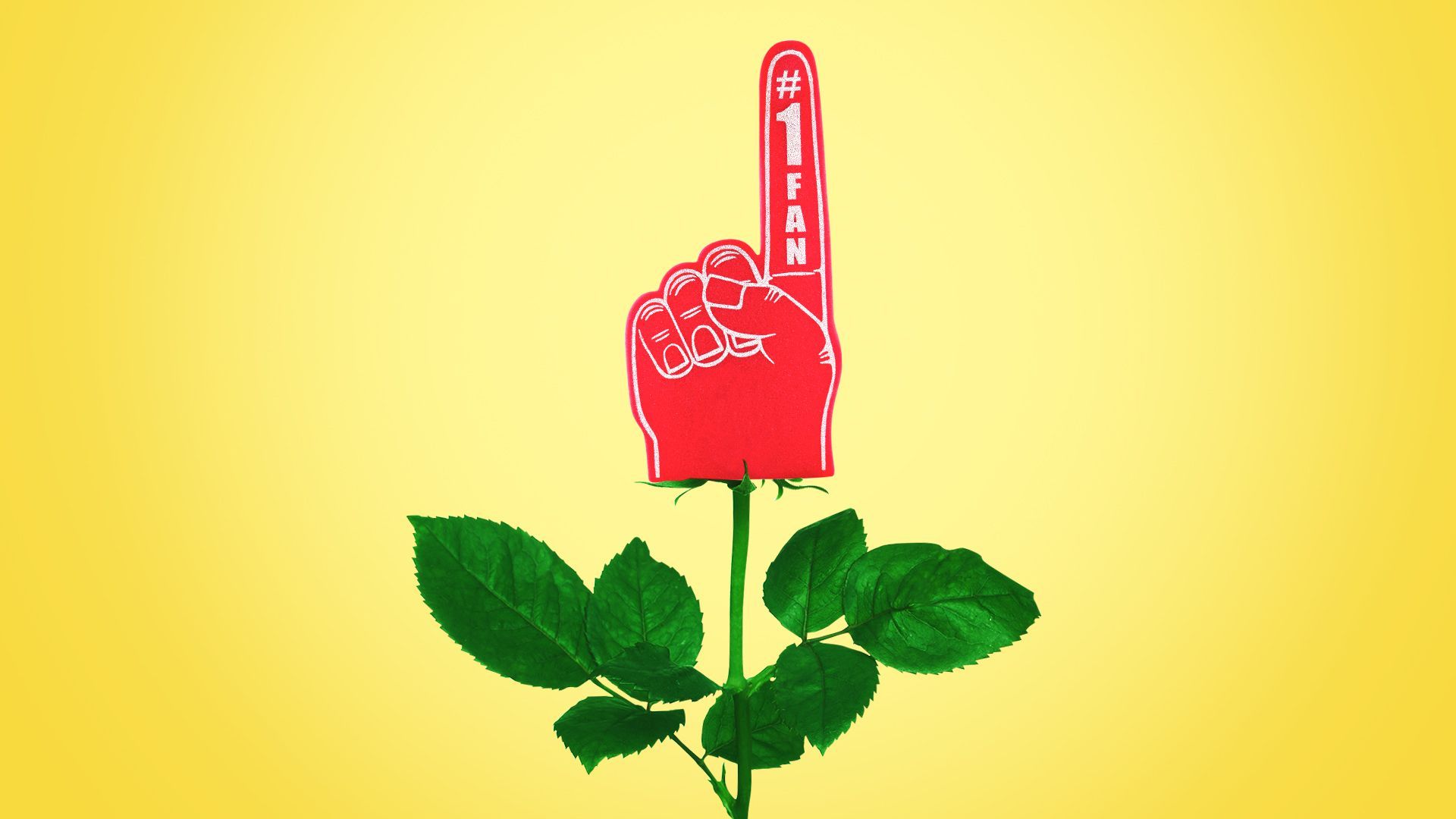 Spring begins this month, which is normal. What isn't is how much football is currently being played across the country.
High school: California is finally playing games. Defending national champion St. John Bosco won its season-opener last Saturday, while the No. 1 team in the state, Mater Dei, plays its first game tonight.
College: The University of San Diego (where Jim Harbaugh used to coach) on Saturday will attempt to tie the FCS record of 38 straight conference wins, six shy of Oklahoma's Division I record.
Pros: The Wild Aces and Glacier Boyz will meet in the Fan Controlled Football League's championship game on Saturday night.
5. 🇺🇸 Photos across America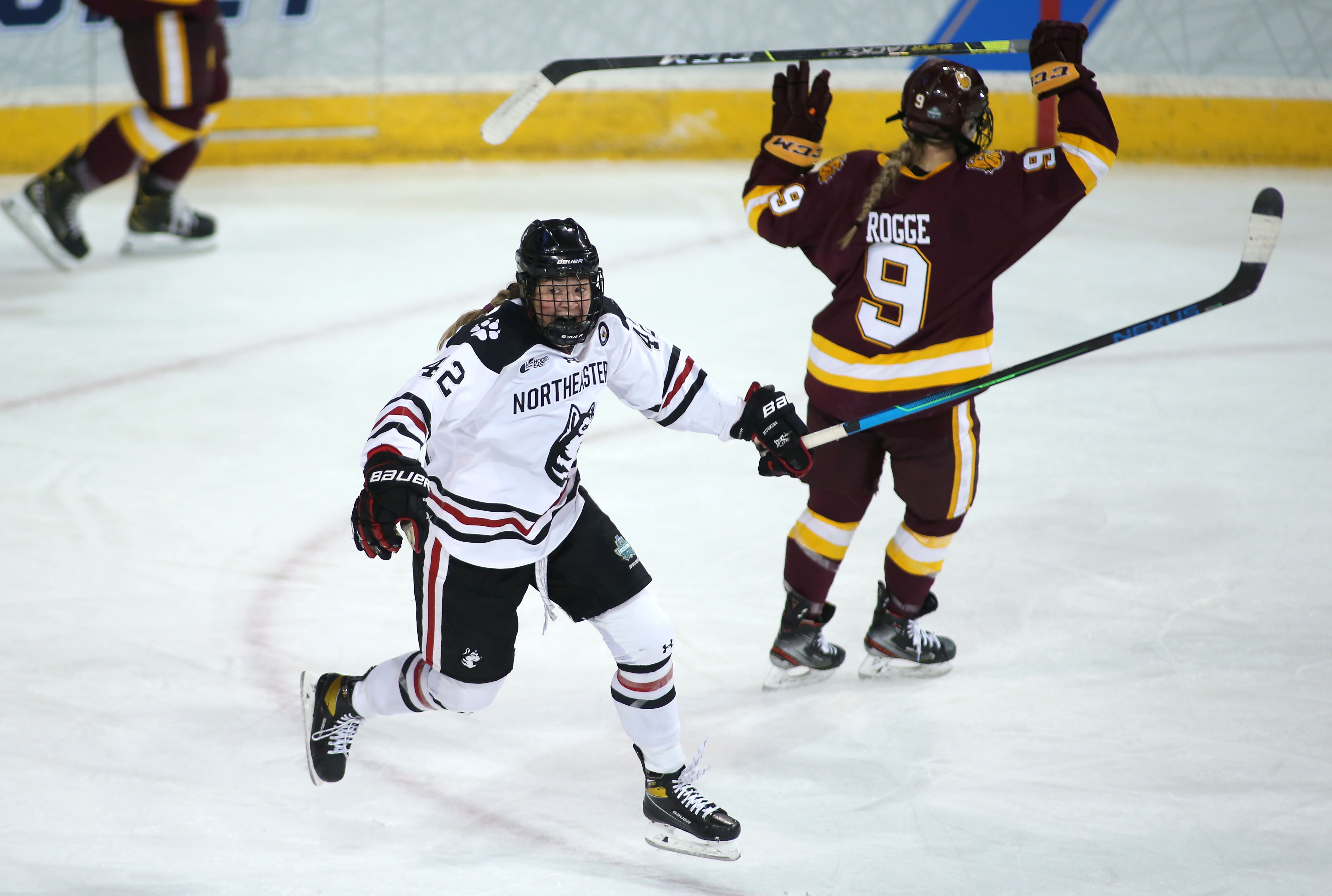 ERIE, Pa. — Playing in its first-ever Women's Frozen Four, Northeastern beat Minnesota Duluth, 3-2 (OT), to run its unbeaten streak to 22 games.
Up next: No. 1 Northeastern will face No. 2 Wisconsin in Saturday's championship game after the Badgers beat Ohio State, 4-2.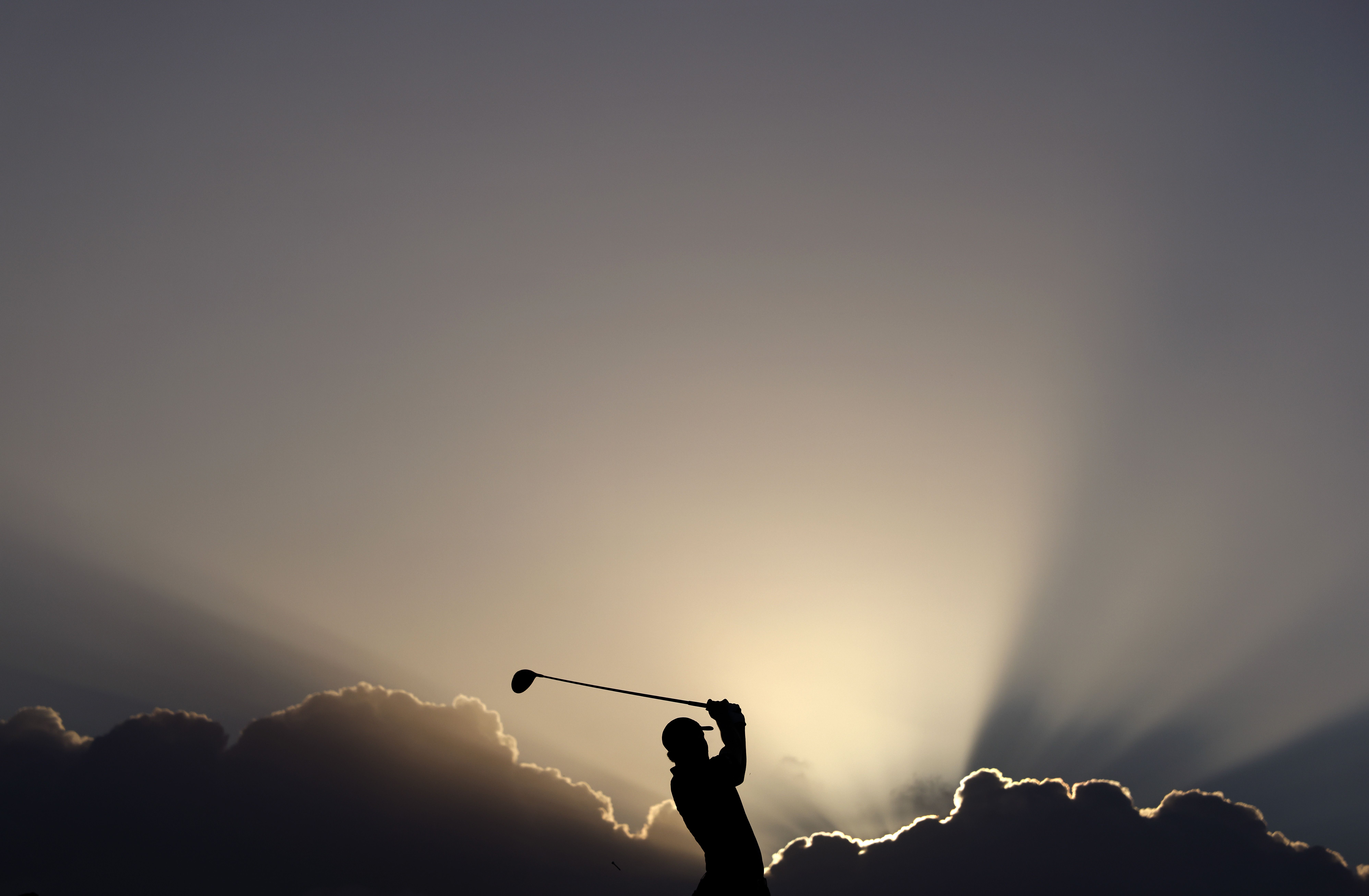 PALM BEACH GARDENS, Fla. — What a photo from the Honda Classic! Matt Jones (-9) has a three-stroke lead through 18 at PGA National.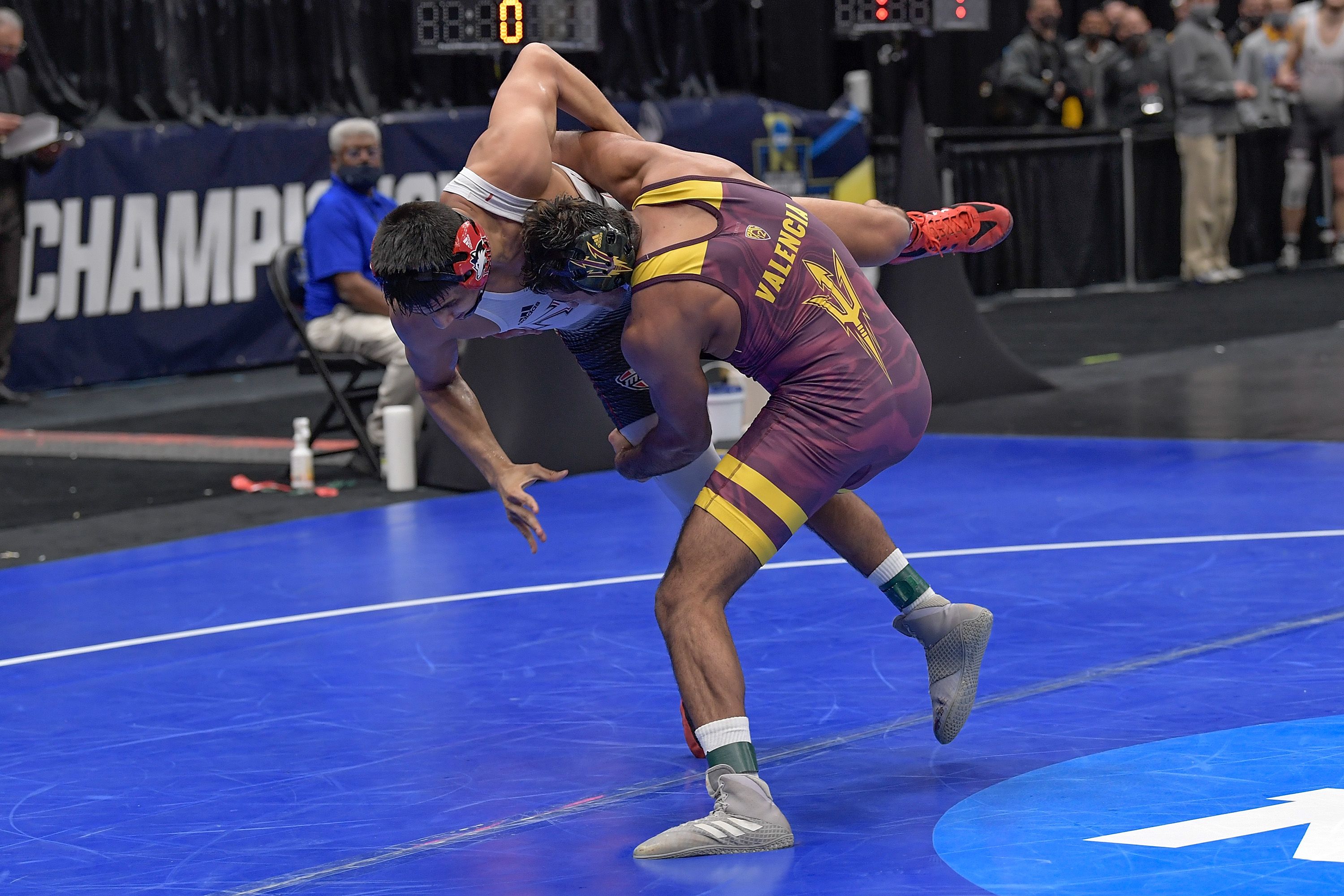 ST. LOUIS — The 2021 college wrestling championships got underway Thursday.
6. 📊 By the numbers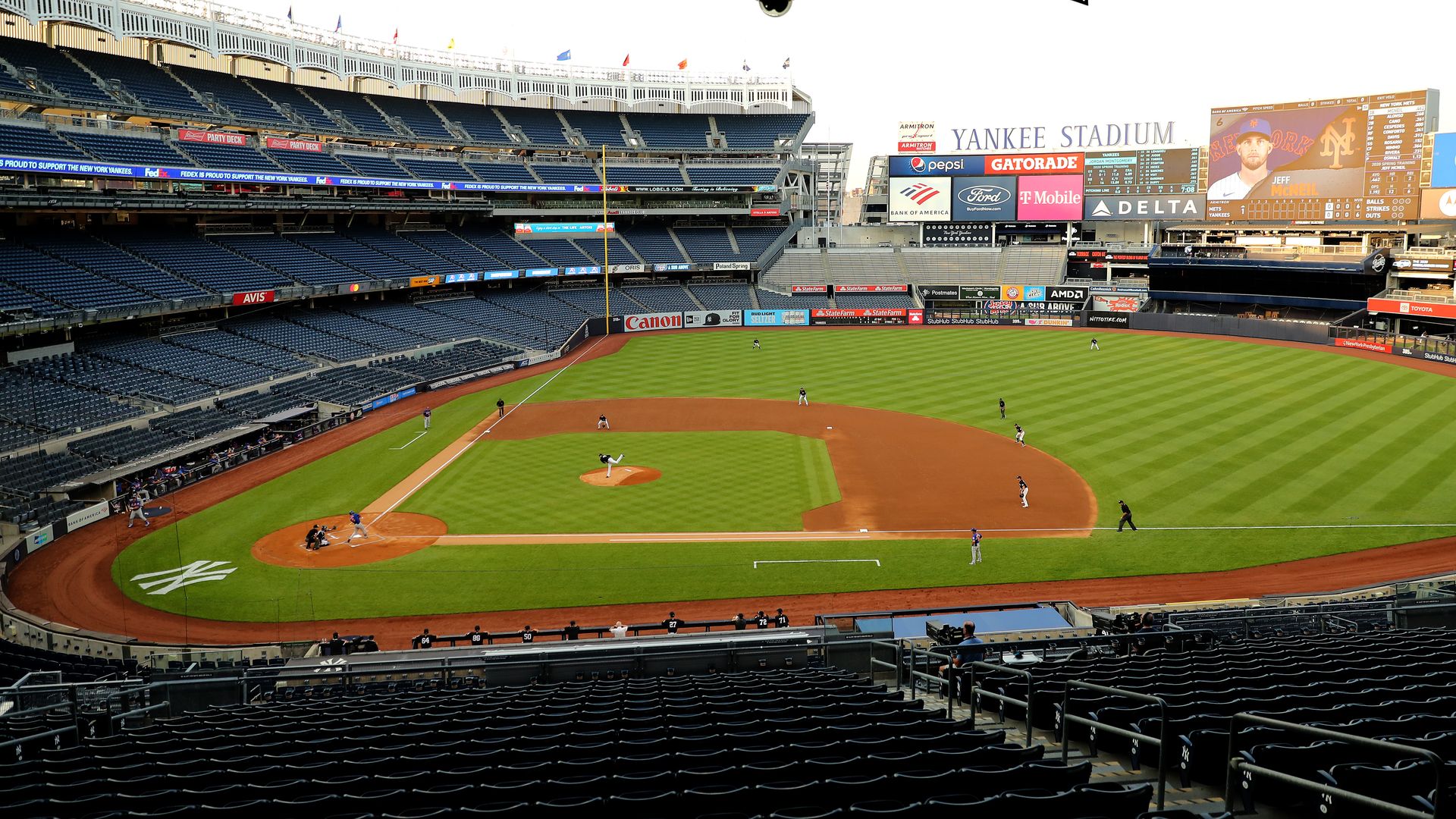 ⚾️ 20% capacity: The Yankees and Mets will be permitted to operate their ballparks at 20% capacity, joining a growing list of MLB teams that will have fans in the stands to start the 2021 season.
🏀 12 dumbbells: Men's teams in Indianapolis have entire weight rooms, while women's teams in San Antonio have a rack of 12 dumbbells...
🏈 3 lawsuits: The NFL has opened an investigation into Deshaun Watson after three female massage therapists filed lawsuits accusing him of sexual assault.
💉 2 teams: 14 Hawks players and multiple Pelicans players have received their first COVID-19 vaccinations after meeting state qualifications.
7. 🏁 Now streaming: "Drive to Survive"
"Drive to Survive," Netflix's hugely popular Formula 1 series, released its third season today.
Of note: Season 3 focuses on the pandemic-delayed 2020 campaign, which saw races reshuffled, added and dropped. It also included one of the scariest crashes in recent memory.
Quick take: This show single-handedly turned me into a Formula 1 fan. It does a great job building drama between drivers and teams, while still capturing the spectacle of F1 racing.
8. 📆 March 19, 1966: Texas Western wins it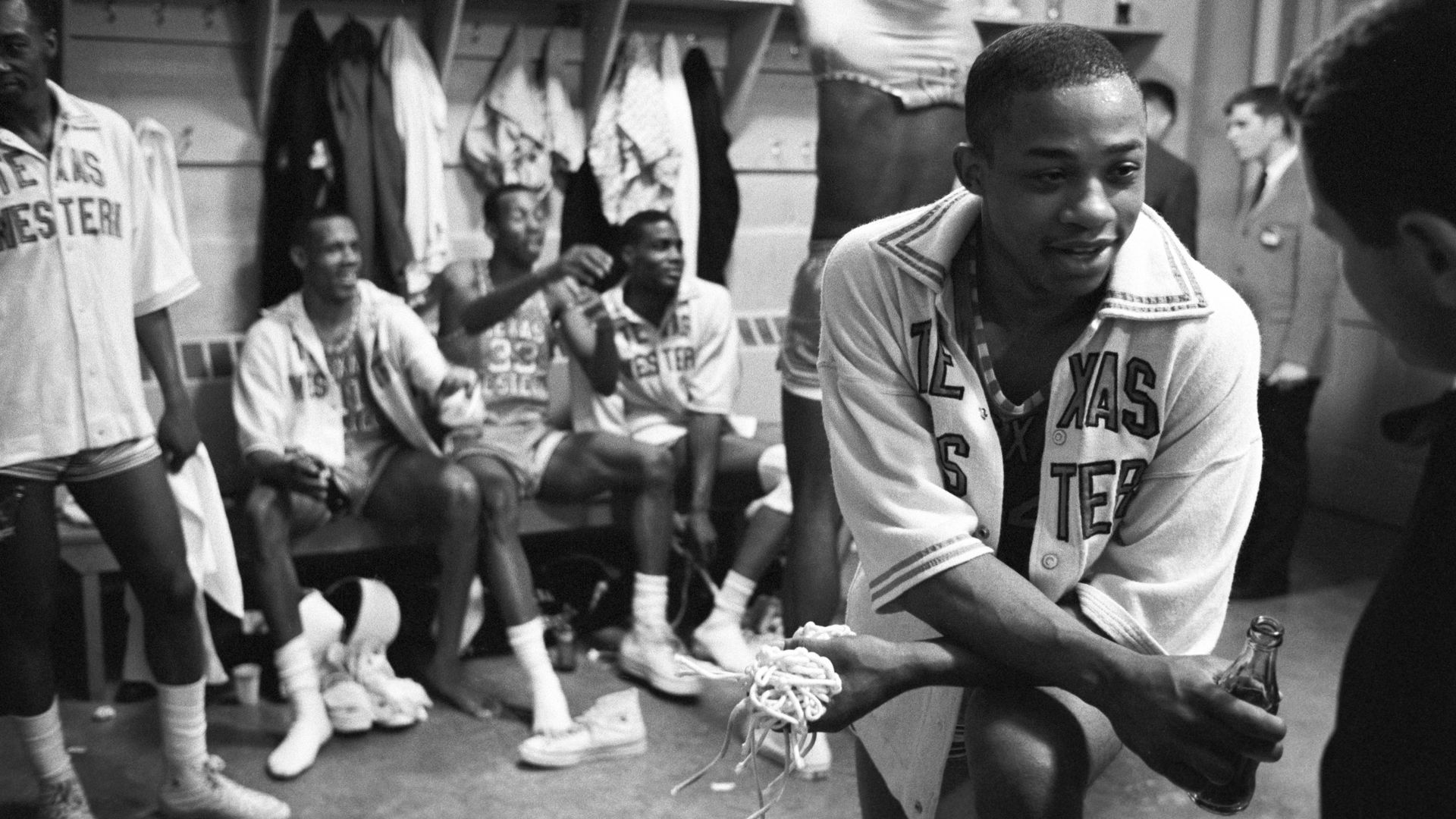 55 years ago today, Texas Western beat Kentucky, 72-65, in the national championship — a story immortalized in Disney's "Glory Road."
Why it matters: The Miners became the first NCAA champion with an all-Black starting five, just 15 months after the Celtics had made the same history in the NBA.
The starters: Bobby Joe Hill, Orsten Artis, David Lattin, Harry Flournoy and Willie Worsley.
The backdrop: Both teams entered the game with 27-1 records. Texas Western ended the season ranked No. 3 in the AP; Kentucky was No. 1.
The aftermath: Just two seasons later, the SEC welcomed its first Black player, Vanderbilt forward Perry Wallace.
Texas Western (now UTEP) never made it back to the Final Four.
Kentucky already had four titles, and they've won four more since, most recently in 2012.
Go deeper:
9. 🏀 NBA trivia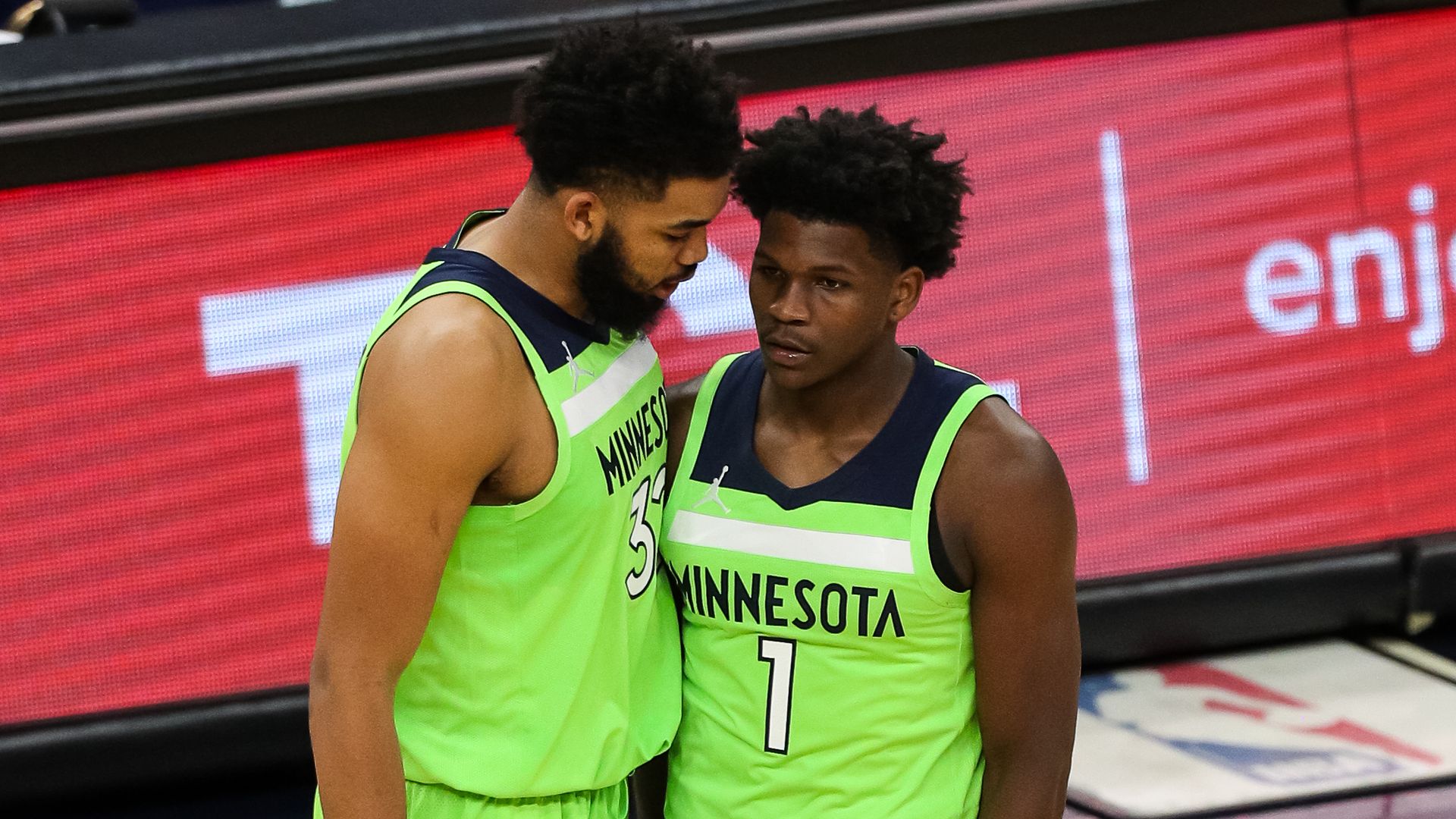 Anthony Edwards (42) and Karl-Anthony Towns (41) are the fifth pair of teammates since 2010 with 40 points in the same game.
Question: Who are the other four pairs of teammates?
Hint: Only one pair still plays on the same team.
Answer at the bottom.
10. 🏀 Fill out your bracket (hurry!)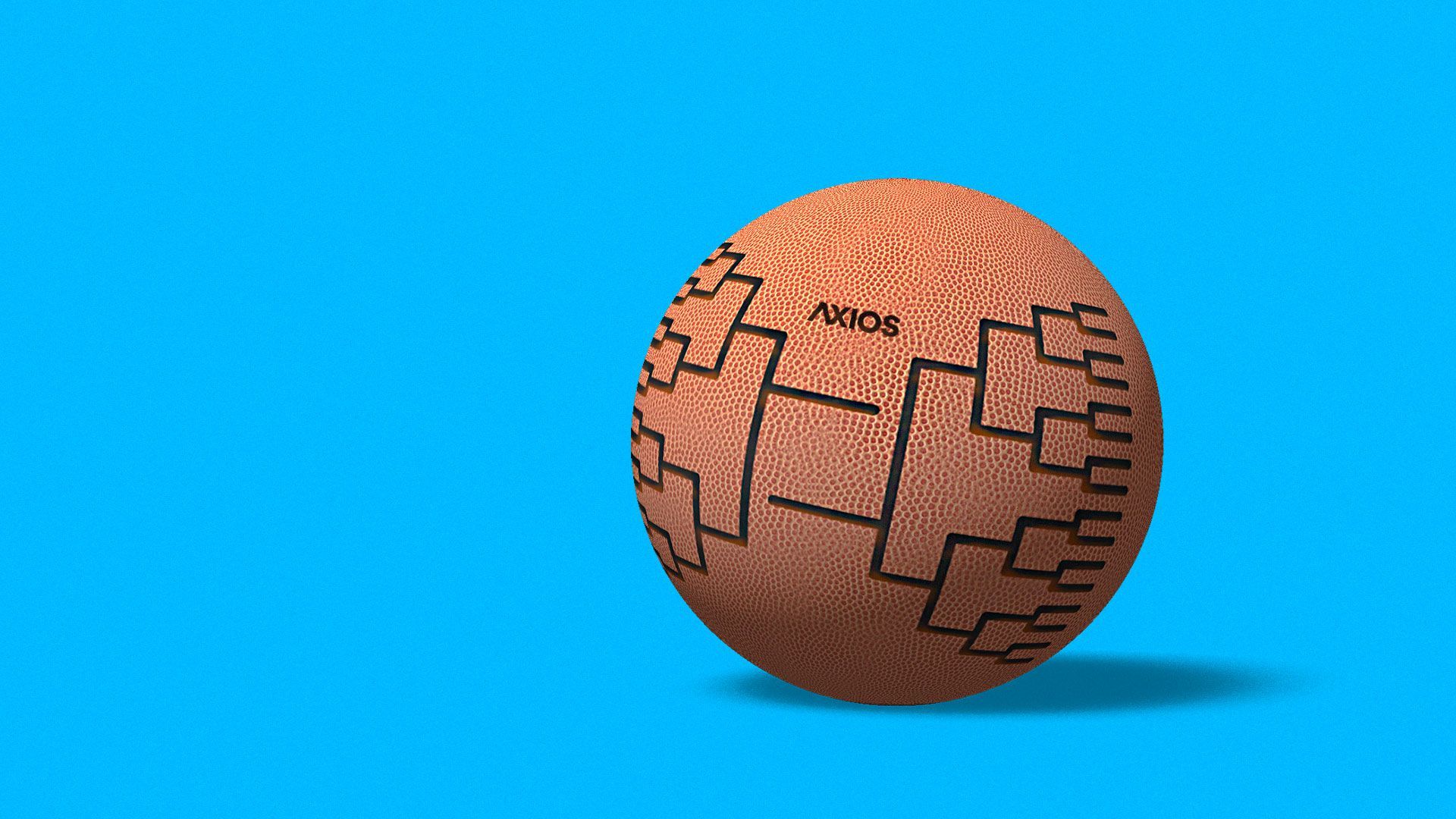 Join us: The Axios Sports Bracket Challenge is live, and you have until today's first game (12:15pm ET) to enter. There will be prizes.
Go deeper:
Enjoy the weekend,
Kendall "Let's goooo!!!" Baker
Trivia answer: Kevin Durant and Russell Westbrook (3x), Karl-Anthony Towns and Andrew Wiggins, Westbrook and Paul George, Kawhi Leonard and George