Axios Sports
June 24, 2020
👋 Good morning! Baseball is officially back, with players set to report to their home markets by July 1 and play a 60-game season starting July 23 or 24.
At 12:30pm ET today, we'll host our first-ever Axios Fundraising Event for No Kid Hungry.
The goal: Provide vulnerable kids with nutritious food, and their families with tips on how to cook healthy.
Why it matters: The summer months are always some of the hungriest times of year for many of America's young people. The pandemic is making it worse.
Take action: You can make a tax-deductible donation here. For the event, RSVP here.
Today's word count: 1,833 words (7 minutes).
1 big thing: ⚾️ Meet the American League owners
For all the recent talk of "the league did this" and "the union countered with that," the 30 principal MLB owners remain largely in the shadows and have gotten something of a free pass, despite "the league" representing their wishes, Axios' Jeff Tracy writes.
The big picture: While the pandemic will likely halt surging team valuations, the "baseball is struggling" narrative that seems to permeate every conversation these days is a bit misleading.
On one hand, 2019 marked the continuation of a 12-year slide in attendance, and the sport is clearly fading in popularity among young people.
On the other hand, MLB pulled in $10.7 billion in revenue in 2019. That was $2 billion more than the NBA and marked the 17th straight year that the league set a new record. Plus, every team except the Marlins turned a profit.
Let's meet the men in charge.
AL East
Yankees ($5B): Hal Steinbrenner, 50 — His father, George, was an Ohio shipping magnate who bought the team in 1973 for $8.7 million.
Red Sox ($3.3B): John Henry, 70 — Founded an investment management firm in 1981 and purchased the team in 2002 for $700 million, which was 4.6 times what he'd paid for the Marlins two years earlier.
Blue Jays ($1.63B): Edward S. Rogers III, 50 — His father, Ted, founded telecom giant Rogers Communications in 1960. 40 years later, the company bought an 80% stake of the Blue Jays for $112 million, before buying the rest in 2004.
Orioles ($1.4B): John Angelos, 53 — His father, Peter, was an attorney who specialized in class-action lawsuits and bought the team in 1993 for $173 million.
Rays ($1.05B): Stuart Sternberg, 61 — Retired in 2003 after rising to partner at Goldman Sachs. A year later, he bought a 48% stake in the Rays for $65 million.
AL Central
White Sox ($1.65B): Jerry Reinsdorf, 84 — The real estate investor bought the team in 1981 for $19 million, shortly before buying the Bulls for just $9.2 million during MJ's rookie year. Decent investment.
Twins ($1.3B): Jim Pohlad, 67 — Took control in 2009 following the death of his father, Carl, who initially made the family's fortune in banking.
Tigers ($1.25B): Chris Ilitch, 55 — His father, Mike, founded Little Caesars Pizza and bought the Red Wings for $8 million in 1982 before buying the Tigers in 1992 for $85 million.
Indians ($1.15B): Paul Dolan, 61 — His father, Larry, bought the team in 2000 for $323 million with funds from the family trust. James Dolan is his cousin.
Royals ($1.03B): John Sherman, 64 — Made his fortune as a Kansas City propane magnate and gave up his minority stake in the Indians when he bought his hometown Royals last year for $1 billion.
AL West
Angels ($1.98B): Arte Moreno, 73 — Bought the team in 2003 for $182 million, four years after selling his billboard business for over $8 billion.
Astros ($1.85B): Jim Crane, 66 — A $10,000 loan from his sister in 1984 turned into a freight logistics company, whose profits led to the founding of Crane Capital. In 2011, he purchased the team for $680 million.
Rangers ($1.75B): Ray Davis, 78, and Bob Simpson, 71 — The Texas oil magnates bought the team for $593 million in 2010 after the former retired and the latter sold his company for $41 billion.
Mariners ($1.6B): John Stanton, 64 — The telecom billionaire purchased a 90% stake in the team for $661 million just four years ago.
Athletics ($1.1B): John Fisher, 59 — Fisher's parents founded the Gap (clothing), and he served as president of the family investment company before teaming up with a real estate developer to purchase the A's in 2005 for $180 million.
Coming tomorrow: Meet the National League owners
2. 🏈 Ohio State takes early lead in 2021 recruiting
Here's a quick look at where the 2021 college football recruiting classes stand with six months until the early signing window, Jeff writes.
Top 10 classes (per 247 Sports): Ohio State, Clemson, Tennessee, UNC, USC, Oregon, Michigan, Florida, Texas, Miami.
Five-star recruits: 14 of the 31 five-stars have committed so far. Only two schools have more than one, led by Ohio State (4) and Alabama (2) — whose lack of depth has them currently ranked No. 24. The last time the Crimson Tide finished outside the top five? 2007.
Buckeyes dominance: In addition to having the most five-stars (including the No. 1 RB and OG), Ohio State also has the highest ranked four-star, as well as two more five-stars with a 90+% chance of committing.
State breakdown: Among the five-star recruits, Florida (6) and Texas (4) are the best represented, followed by four states with three each (California, Georgia, Virginia and Washington).
The backdrop ... "High school juniors who would now be in the thick of recruiting are losing the benefits of in-person recruiting" amid the pandemic, writes NYT's Joe Drape.
3. 📸 Pic du jour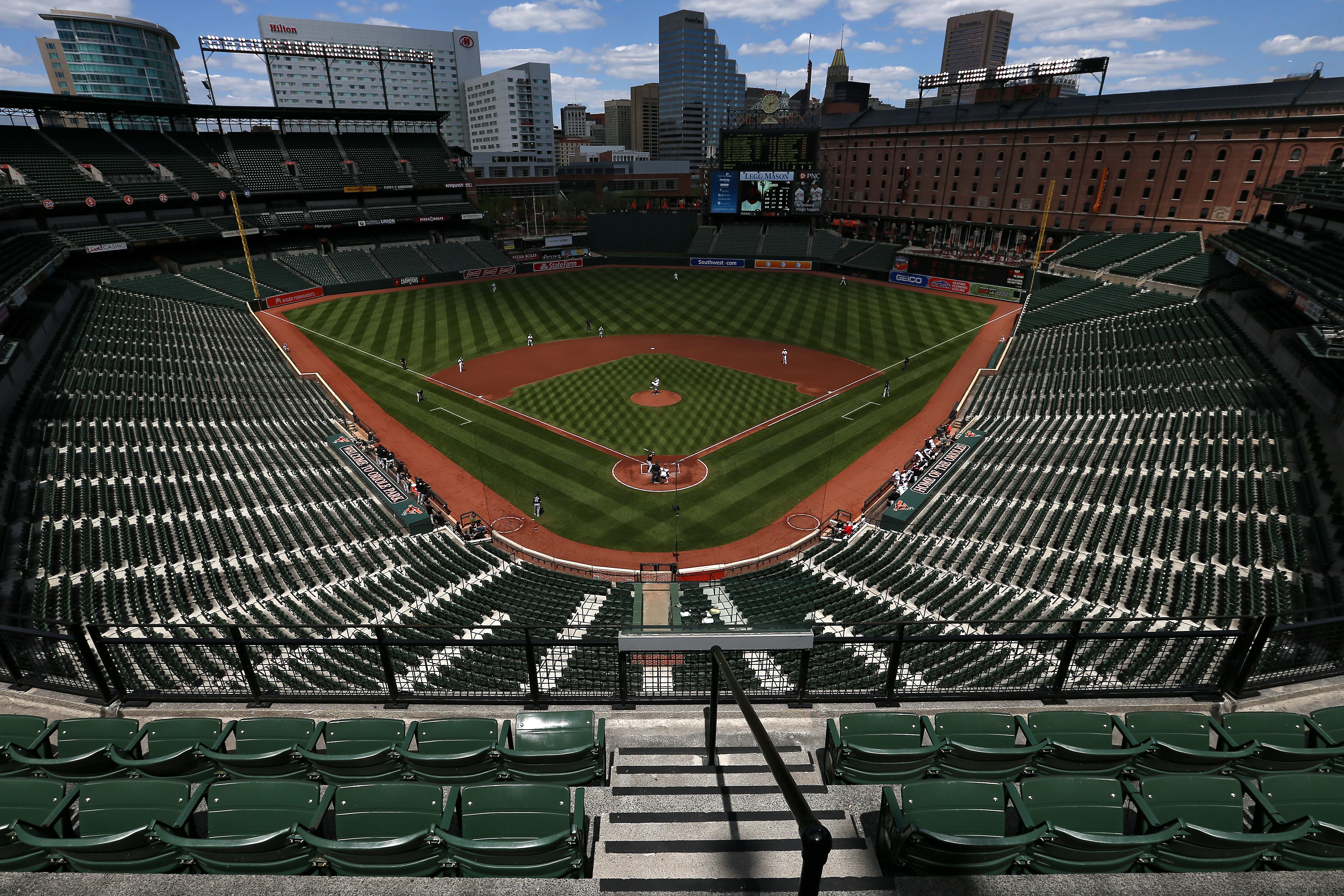 On April 29, 2015, the Orioles hosted the White Sox in an empty ballpark due to unrest in Baltimore following the death of Freddie Gray.
It was the first regular-season game played without fans in MLB history.
This season, every single game will look like this.
4. ⚡️ Catch up quick
🏒 NHL: The league has narrowed its list of possible hubs for the season restart to six cities: Las Vegas, Chicago, Los Angeles, Edmonton, Toronto and Vancouver. If I had to guess, it will end up being Vegas and Vancouver.
🏁 NASCAR: The FBI determined that Bubba Wallace was not the victim of a hate crime and that the pull rope fashioned like a noose had been there since as early as October. Wallace last night on CNN: "We've raced out of hundreds of garages that never had garage pulls like that. ... It's a straight up noose."
⚽️ NWSL: USWNT stars Megan Rapinoe, Tobin Heath and Christen Press have opted out of the NSWL's Challenge Cup tournament, which starts this weekend.
🏀 NBA: Lakers guard Avery Bradley has opted out of playing in Orlando due to his son's respiratory condition. The Lakers will be allowed to sign a substitute player to replace him. A leading contender? J.R. Smith.
5. 🏀 Ranking the NBA's all-time rosters (No. 28)
We're ranking the all-time rosters for all 30 NBA teams. Note: Rosters and stats based only on time spent with this specific team. Thoughts? Email me at [email protected].
28. Charlotte Hornets
The official history of the Charlotte Hornets includes the original iteration (1988-2002), the expansion Bobcats (2004-14) and the current Hornets (2014-present). But when the original Hornets relocated to New Orleans in 2002, that became its own new franchise in the eyes of the NBA, comprising the Hornets (2002-13) and the renamed Pelicans (2013-present). Get it? Got it. Good.
Year established: 1988
All-time record: 1050-1,345 (.438)
NBA Championships: 0
Hall of Famers (indicated by *): 1
Starters:
Kemba Walker, G (19.8 pts, 3.8 reb, 5.5 ast, 19.3 PER/48.5 WS)
Dell Curry, G (14 pts, 2.9 reb, 2 ast, 16.5 PER/31.0 WS)
Glen Rice, F (23.5 pts, 4.4 reb, 2.4 ast, 18.3 PER/28.4 WS)
Larry Johnson, F (19.6 pts, 9.2 reb, 4.1 ast, 18.4 PER/41.1 WS)
Alonzo Mourning*, C (21.3 pts, 10.1 reb, 1.3 ast, 20.8 PER/23.9 WS)
Sixth man: Muggsy Bogues, G (8.8 pts, 2.9 reb, 8.8 ast, 15.6 PER/44.8 WS)
Bench:
Gerald Wallace, F (18.2 pts, 8.5 reb, 3.8 ast, 18.5 PER/19.0 WS)
Anthony Mason, F (16.4 pts, 7.5 reb, 2.4 ast, 17.9 PER/45.9 WS)
Emeka Okafor, C (14 pts, 10.7 reb, 1.9 blk, 17.7 PER/26.2 WS)
Eddie Jones, G (19.2 pts, 4.5 reb, 4.2 ast, 19.9 PER/14.1 WS)
David Wesley, G (14.5 pts, 2.7 reb, 5.3 ast, 14.7 PER/26.9 WS)
Raymond Felton, G (13.3 pts, 3.4 reb, 6.4 ast, 14.1 PER/19.0 WS)
Notes:
Curry is tied for 38th place on the all-time 3pt% leaderboard (40.2%), but that mark is only third-best among his own family (Seth, 44.3%; Steph, 43.5%).
Mourning is one of just six players since the NBA began recording blocks in 1973 with multiple seasons of 20+ pts, 10+ reb and 3+ blk, joining David Robinson, Hakeem Olajuwon, Shaquille O'Neal, Patrick Ewing and Kareem Abdul-Jabbar.
ICYMI ... 30. Grizzlies, 29. Timberwolves
Stats, explained: Player Efficiency Rating (PER) is a measure of a player's per-minute productivity (20+ is elite); Win Shares (WS) attempts to divvy up individual credit for team success (6 per season is elite).
6. June 24, 2010: 🎾 The longest tennis match ever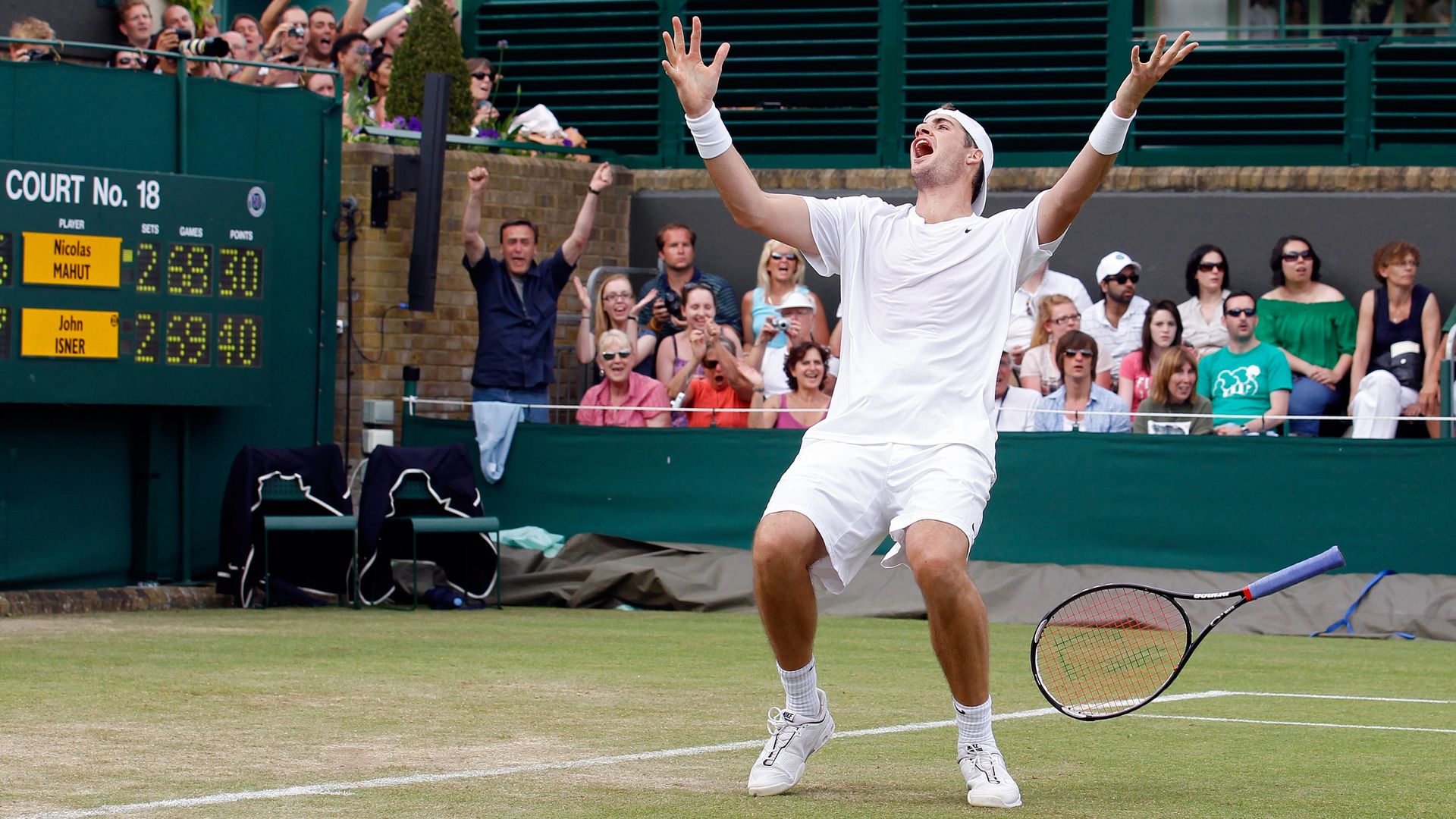 10 years ago today, John Isner defeated Nicolas Mahut in their first-round match at Wimbledon — 6-4, 3-6, 6-7, 7-6 ... 70-68.
Why it matters: At 11 hours and five minutes, it remains by far the longest match in tennis history.
Worth noting: At the time, fifth sets at Wimbledon were decided when a player won by two games. Now, they're decided by tiebreaker.
Timeline: Isner, an American, was ranked No. 23 in the world, while France's Mahut clocked in at No. 148.
June 22: Match begins at 6:13pm local time and is suspended due to darkness at 9:07pm with the score tied at two sets apiece. Time elapsed — 2:54
June 23: Match resumes at 2:05pm. Seven hours and four minutes later, play is suspended due to darkness with the fifth set tied at 59 games apiece. Time elapsed — 9:58
June 24: Match resumes at 3:40pm, and Isner finally wins an hour and seven minutes later. Total match time — 11:05
The aftermath: An exhausted Isner lost his second-round match the following day, mustering just five games in a three-set loss.
Eight years later, again at Wimbledon, his semifinal match against Kevin Anderson lasted six hours and 36 minutes, the third longest match on record.
🎥 Watch:
7. 🎵 Good songs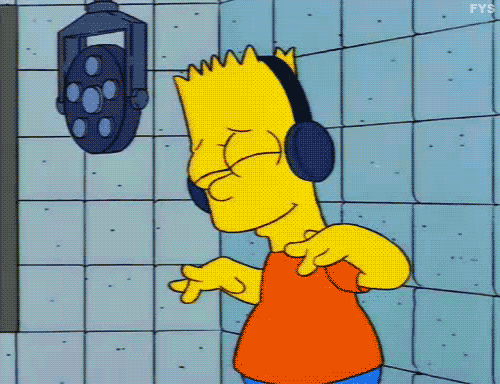 Last week, I asked you to share your current favorite song. After days spent listening to them on repeat, these are my 10 favorites (in no particular order):
"Superbloom" — MisterWives (submitted by Blair G. in Boulder, Colo.)
8. The Ocho: 🏐 Gaga Ball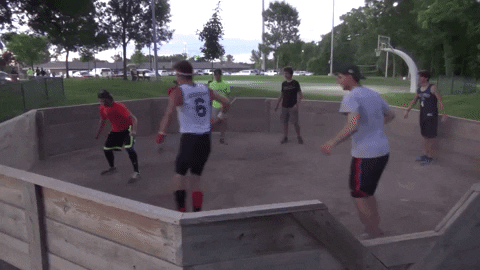 Gaga Ball is like dodgeball, but with the constraints of a wrestling cage match.
How to play: Players pile into a small, octagonal arena and begin each round with one hand on the wall. The ball is thrown into the pit, and after it bounces three times ... game on.
The object is to hit the ball into another player — below the knees — as they run, jump and use fancy footwork to avoid getting hit.
If you get hit, or if someone catches a ball you hit on the fly, you're out. The last person standing wins the round.
🎥 Watch: Highlights
9. ⚽️ Soccer trivia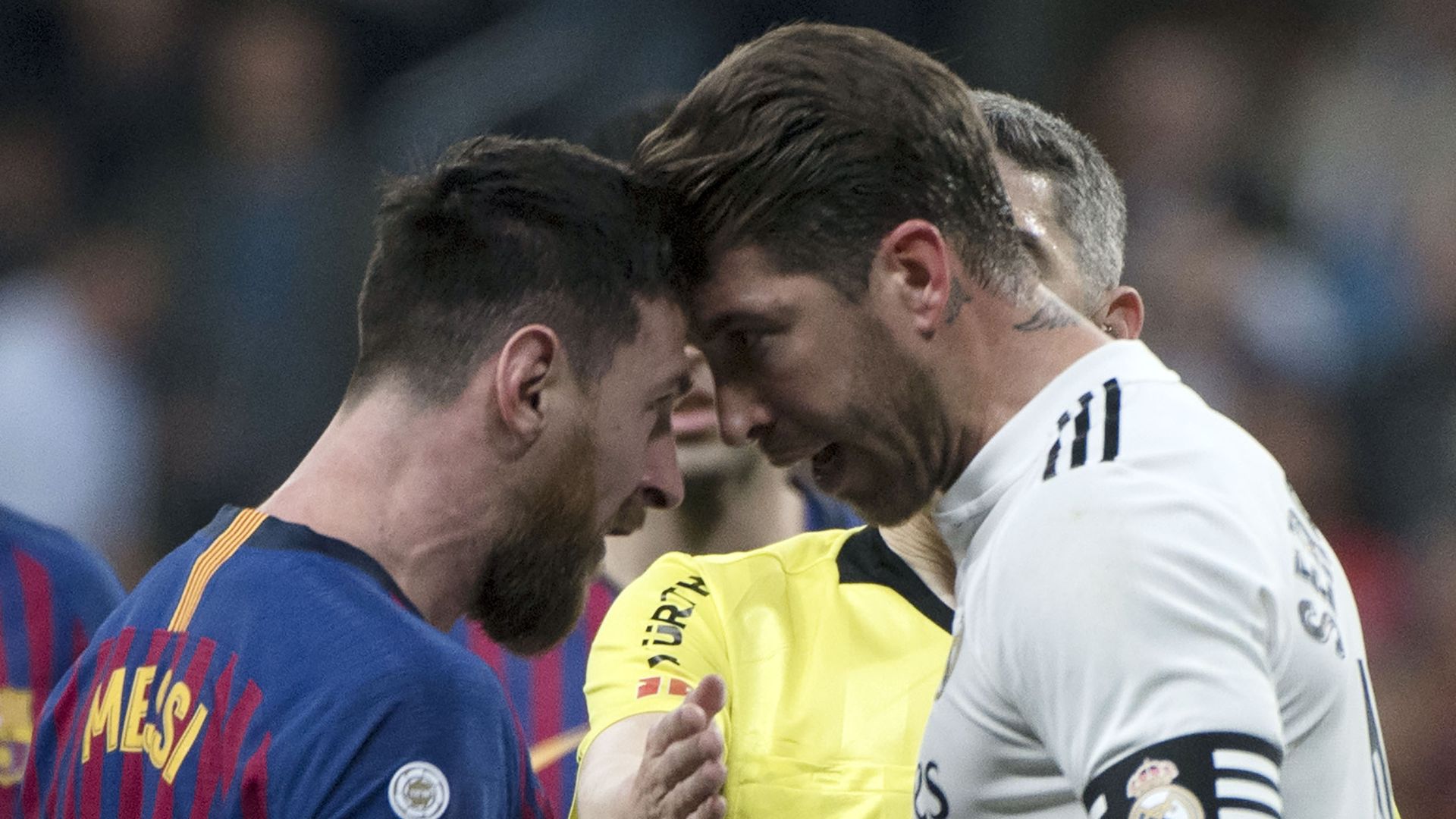 Barcelona and Real Madrid sit atop the La Liga standings, and one of them is guaranteed to win the league for the 17th time in 20 tries this century.
Question: Who are the only other two clubs to win a La Liga title this century?
Hint: One club won in 2002 and 2004, while the other won in 2014.
Answer at the bottom.
10. ❤️ Why we love sports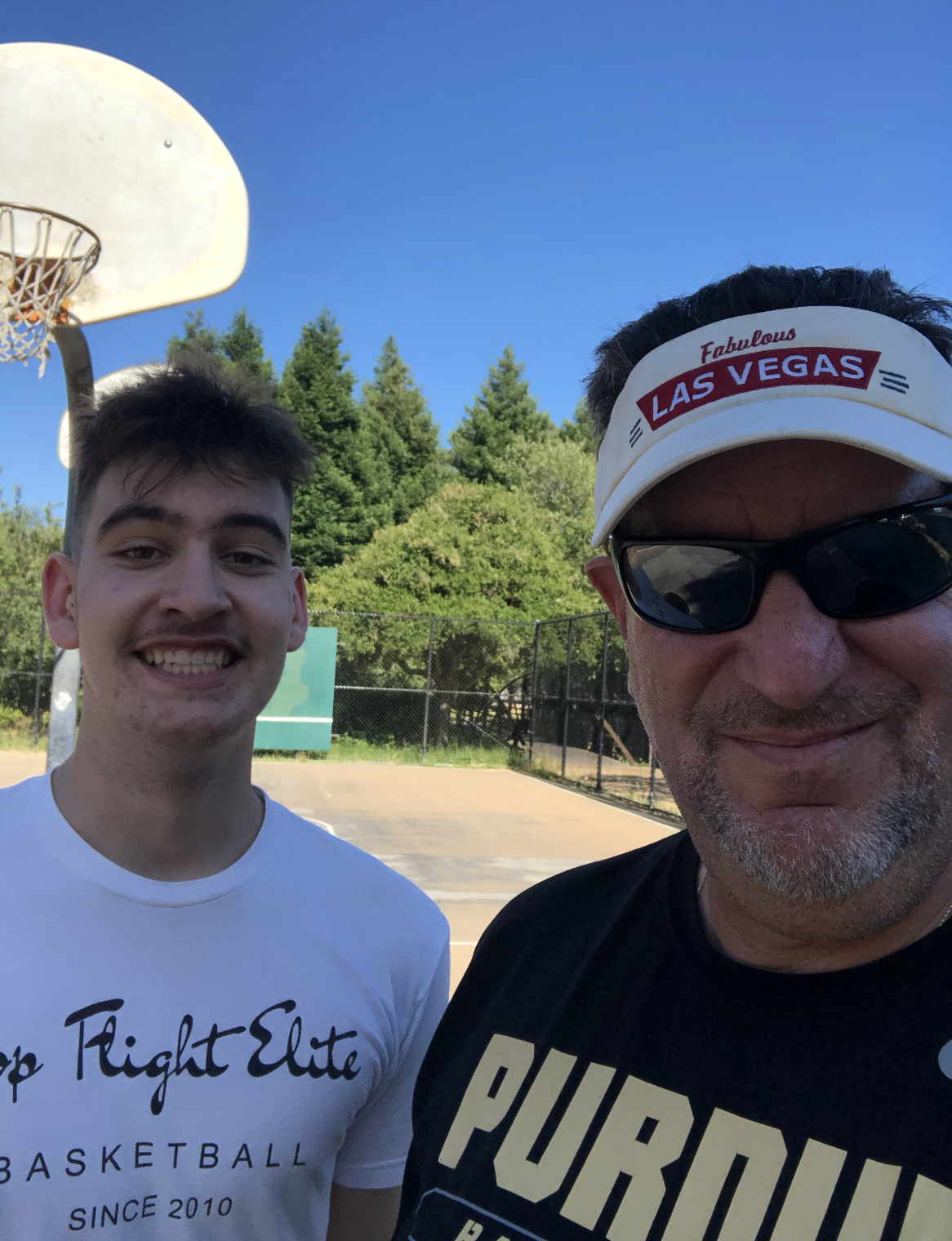 Jon B. (Bay Area) writes:
"As I sit with my wife and three sons on Father's Day, there is laughter, good food and wine and beautiful weather. But there is no basketball, as AAU tournaments and high school summer league were canceled due to COVID-19.
"For me, basketball is more than a game — it is an ongoing shared journey and bond that I've been lucky to share with my nearly 16-year-old son Harrison.
"When Harrison was two years old, I bought him a small plastic hoop and ball. We'd shoot around in the driveway and pretend we were 'real' basketball players. I loved hearing him squeal with joy when he hit a shot.
"When I got home from work, he'd run up to me and ask, 'Daddy, can we shoot?' That phrase became commonplace in our house, and shooting with Harrison became the foundation of our relationship.
"Soon, we were using a real basketball, and I was teaching him the game on a full-size court. By fifth grade, he was playing AAU, and it seemed nearly every weekend provided the opportunity for discussion in the context of life.
"When Harrison saw a parent/coach fight break out, we discussed how to handle confrontation. When he went 1-for-10 in a semifinal game, we talked about moving past failure. When his team won their division (in triple OT!), we talked about perseverance and never giving up.
"The most important thing through this journey wasn't the games won or the points scored — it was us growing closer together. Even as the teenage years arrived with hormonal vengeance, the dialogue continued, and now my 6-foot-2 son looks me directly in the eye and is beginning to dunk.
"Harrison has come a long way from the little plastic hoop, as has our relationship. And today, the best Father's Day gift I got was when he came downstairs and asked, 'Dad, can we shoot?'"
✍️ Submit your story: Do you have a fondest sports memory? Or an example of sports having a positive impact on your life? If you'd like to share, simply reply to this email. We'll be telling your stories until they run out.
Talk tomorrow,
Kendall "Thanks for the songs" Baker
Trivia answer: Valencia (2002, 2004) and Atlético Madrid (2014)