October 29, 2021
🎉 Happy Friday! You made it.
Today's word count: 1,433 words (5 minutes).
Let's sports...
1 big thing: 🏈 All eyes on the Great Lakes State
No. 6 Michigan visits No. 8 Michigan State on Saturday (12pm ET, Fox) in the game of the weekend — and one of the most anticipated matchups of the year.
Why it matters: This is just the fifth time these rivals will face off as top-10 foes, and the first time since 1964. It's also only the sixth Big Ten conference game in the AP poll era where both teams are 7-0.
The backdrop: East Lansing will be the center of the college football universe, with both ESPN ("College GameDay") and Fox ("Big Noon Kickoff") bringing their pregame shows to Michigan State's campus.
The big picture: The battle for the Paul Bunyan Trophy is big enough on its own, but adding in playoff implications takes it to another level. The CFP committee's first rankings of the season come out next week.
"It's elimination mindset, playoff mindset at this point. You win this game, it'll help your chances."
— Michigan coach Jim Harbaugh
Pregame notes:
Transfer U: Michigan State will be trotting out lots of first-time participants in this rivalry after adding 15 transfers this offseason, including star RB Kenneth Walker III (Wake Forest).
Dual QBs: Michigan has been using two QBs, with freshman stud J.J. McCarthy occasionally spelling junior Cade McNamara. How will Harbaugh manage their snaps on Saturday?
Betting lines: Michigan -4.0 | O/U: 50.5 | Moneyline: Michigan -190, Michigan State +160.
Go deeper: This time, Jim Harbaugh is having fun (SI)
2. ⚾️ Baseball takes a back seat in Atlanta
As the World Series arrives in Atlanta for the first time this century, baseball won't be only story emerging from Truist Park, Axios' Jeff Tracy and I write.
The tomahawk chop, described as "overtly racist" this week by the National Congress of American Indians after MLB commissioner Rob Manfred defended it, will feature prominently — framing the Braves as a holdout amid a cultural shift.
Former President Trump will attend Game 4 on Saturday, his first trip to a World Series since being booed in 2019 at Nationals Park. He was recently in Georgia for a "Save America" rally and has been a major backer of Herschel Walker's senate campaign.
It's been six months since MLB yanked the All-Star Game from Atlanta following Georgia's passage of a restrictive voting law. By making the World Series, the Braves have inadvertently defied MLB's decision, replacing one marquee event with another.
The bottom line: Sports exist in a vacuum — until they don't. And this weekend in Atlanta, the on-field entertainment could be overshadowed by the off-field drama.
📆 Tonight: Game 3 (8pm ET, Fox)
3. 🏈 Packers win Thursday night thriller
The short-handed Packers knocked off the Cardinals, 24-21, in one of the wildest games of the NFL season Thursday night in Arizona.
Catch up quick: After stopping the Packers on 4th and goal, the Cardinals marched down the field and looked poised to win the game, or at worst tie things up and send it to overtime.
Kyler Murray threw towards A.J. Green in the end zone with 15 seconds left, but he never turned around, allowing Rasul Douglas to intercept the pass and hand Arizona its first loss.
Douglas was added to the Packers' active roster three weeks ago after spending time on the Cardinals' practice squad earlier this season.
The big picture: Packers coach Matt LaFleur improved to 33-7, the best mark through 40 games of any coach in the Super Bowl era.
4. ⚡️ Lightning round
🏒Quenneville resigns: Joel Quenneville is out as the Panthers head coach. He was the Blackhawks coach during the 2010 sexual assault scandal and was aware of the allegations but didn't pursue further action.
⚾️ Guardians lawsuit: A roller derby team called the Cleveland Guardians is suing Cleveland's MLB club to stop it from using the name.
🏈 $128 million: That's how much NFL commissioner Roger Goodell was paid for the past two fiscal years (~$64 million per year), making him one of the highest-paid executives in America.
⚾️ Melvin to San Diego: Bob Melvin is leaving the A's after 11 seasons to become the Padres' new manager. Melvin has been to the playoffs seven times, the most of any manager who has never reached the World Series.
🍦 Good read: How an ice cream machine turned around Atlanta's season (James Wagner, NYT)
"Atlanta has been praised for its shrewd deadline trades. Braves players credit their resurgence to a midseason pickup that produces day after day."
5. 🏀 Coach on the rise: Ben McCollum
Ben McCollum of Northwest Missouri State is the best basketball coach you've never heard of, Jeff writes.
Catch up quick: McCollum's Bearcats are No. 1 in the D-II preseason poll and look poised to contend for their fourth national title since 2017.
NWMSU has gone 159-8 over the last five seasons, the best record of any team at any level (men's or women's), with McCollum earning Coach of the Year honors four times.
His 2019-20 team had the highest offensive efficiency (114.6) in the 16 years since Synergy began tracking stats. The best D-I offense during that time was Villanova's 2018 championship team (110.0).
Between the lines: McCollum, who played for the Bearcats from 2001-03 and took over as coach in 2009 at just 27 years old, has a unique coaching style that focuses on instincts rather than schemes.
His practices are mostly pickup games, which helps him learn his players' tendencies and helps his players learn to make their own reads. During games, most of NWMSU's offense is simply freelance.
"Even good plays, you can always beat," McCollum told The Athletic (subscription). "The ability to make the reads, set the proper screen ... cut at the proper time ... that's what you can't guard: the randomness."
What's next: McCollum has garnered surprisingly little interest from D-I programs, but it's hard to imagine that lasting much longer.
"Boy, he is very impressive. He's doing some game-changing things with ball screens and their different angles. My son [also a coach] thinks he'll be in the NBA someday."
— Texas Tech coach Mark Adams, via The Athletic
6. ⚽️ Snapshot: MLS playoff picture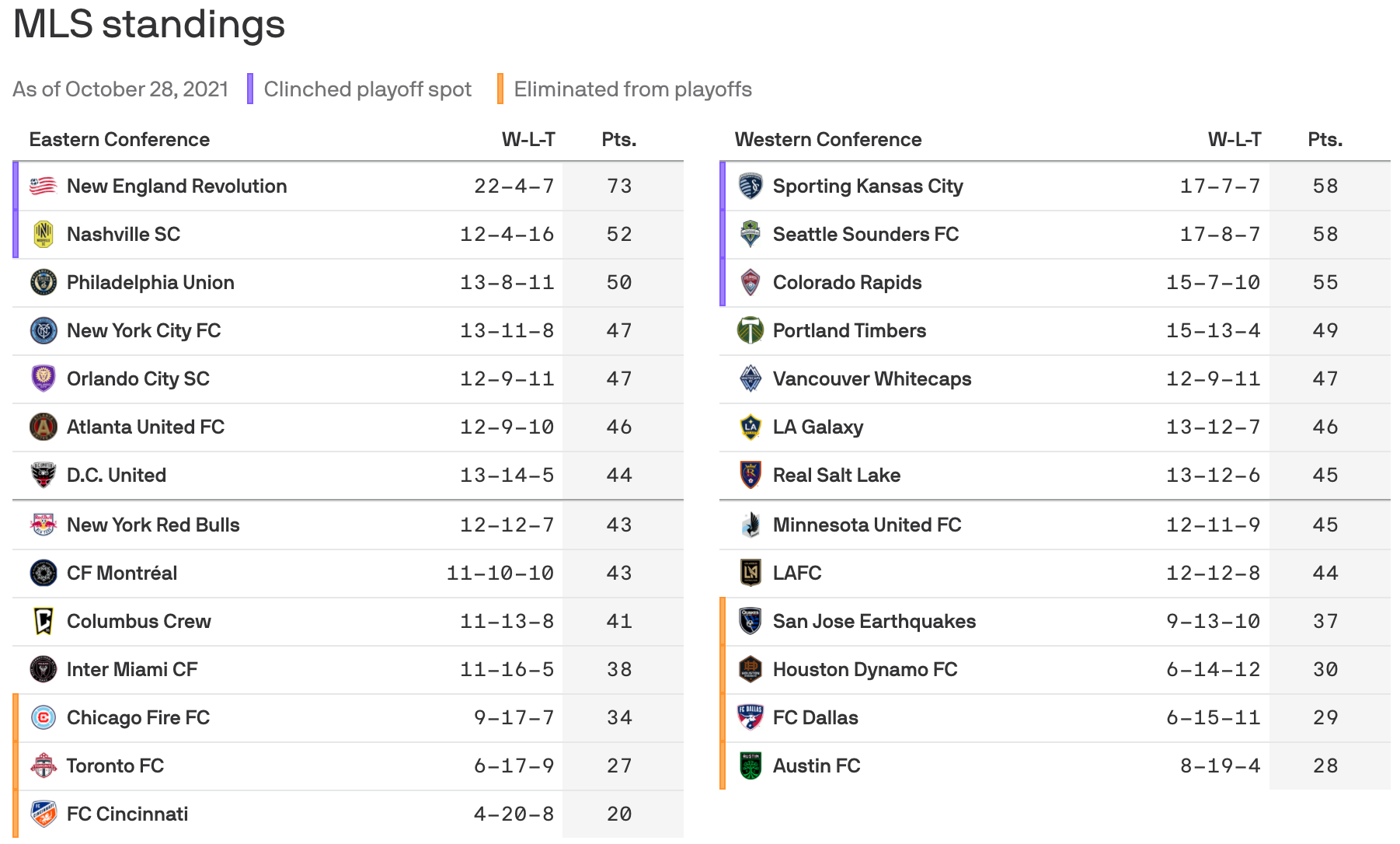 The MLS regular season ends a week from Sunday, with 15 teams fighting for the nine unclaimed playoff spots, Jeff writes.
Where it stands: The New England Revolution already set an MLS record with 73 points, besting LAFC's 72-point campaign from 2019.
Clinched (5): New England and Nashville in the East; Kansas City, Seattle and Colorado in the West.
Eliminated (7): Chicago, Toronto and Cincinnati in the East; San Jose, Houston, Dallas and Austin in the West.
What's next: Teams have between one and three games left to jockey for playoff position. The top seven teams in each conference qualify, with the top seed on each side earning a first-round bye.
Go deeper: Clinching scenarios (MLS)
7. 🌎 The world in photos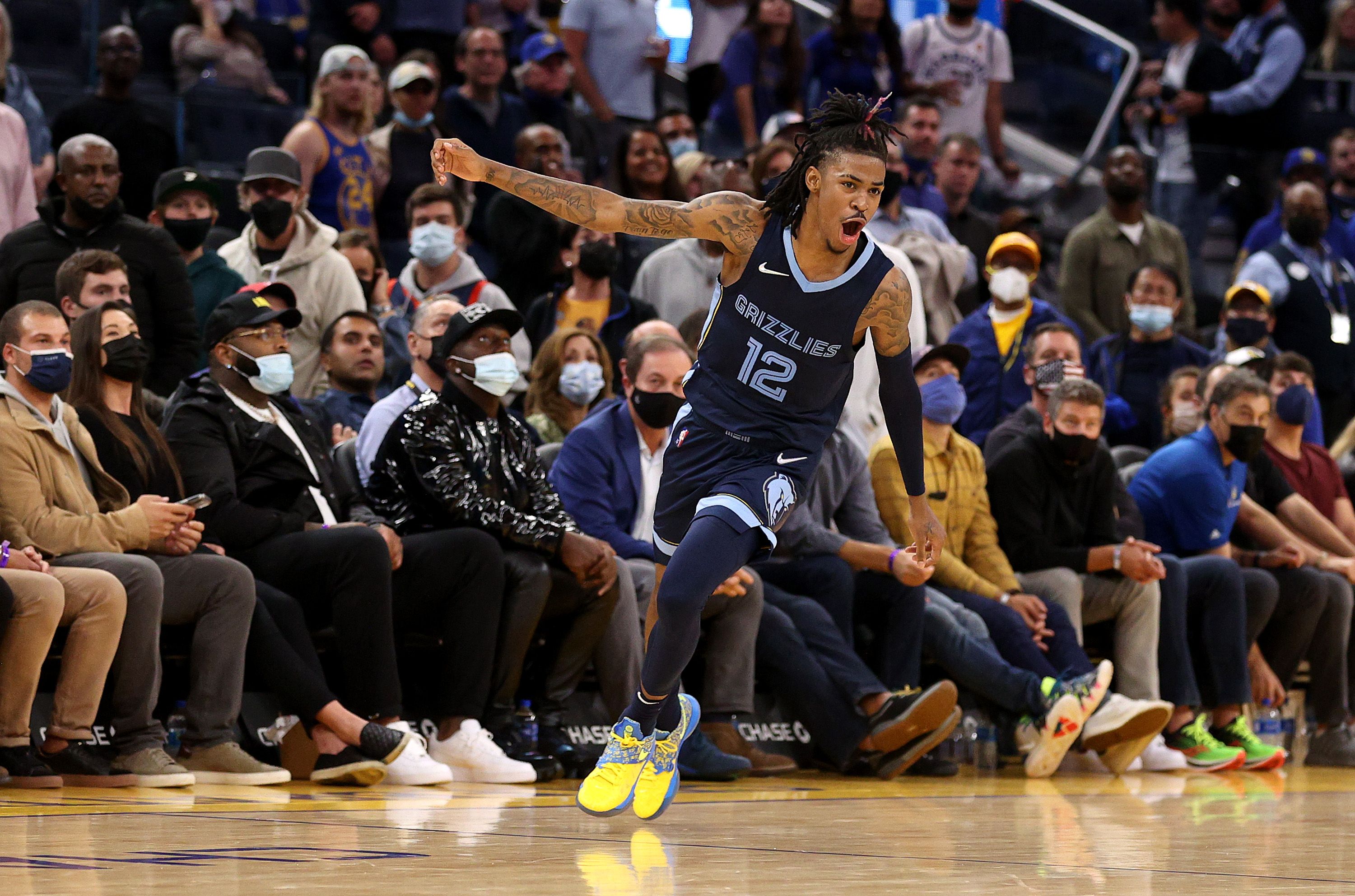 SAN FRANCISCO — Ja Morant led the Grizzlies past the Warriors, 104-101 (OT), to hand Golden State its first loss. With the Knicks beating the Bulls, the Jazz are the NBA's lone remaining undefeated team.
Wild stat: Stephen Curry hasn't scored in the fourth quarter or overtime of three straight games.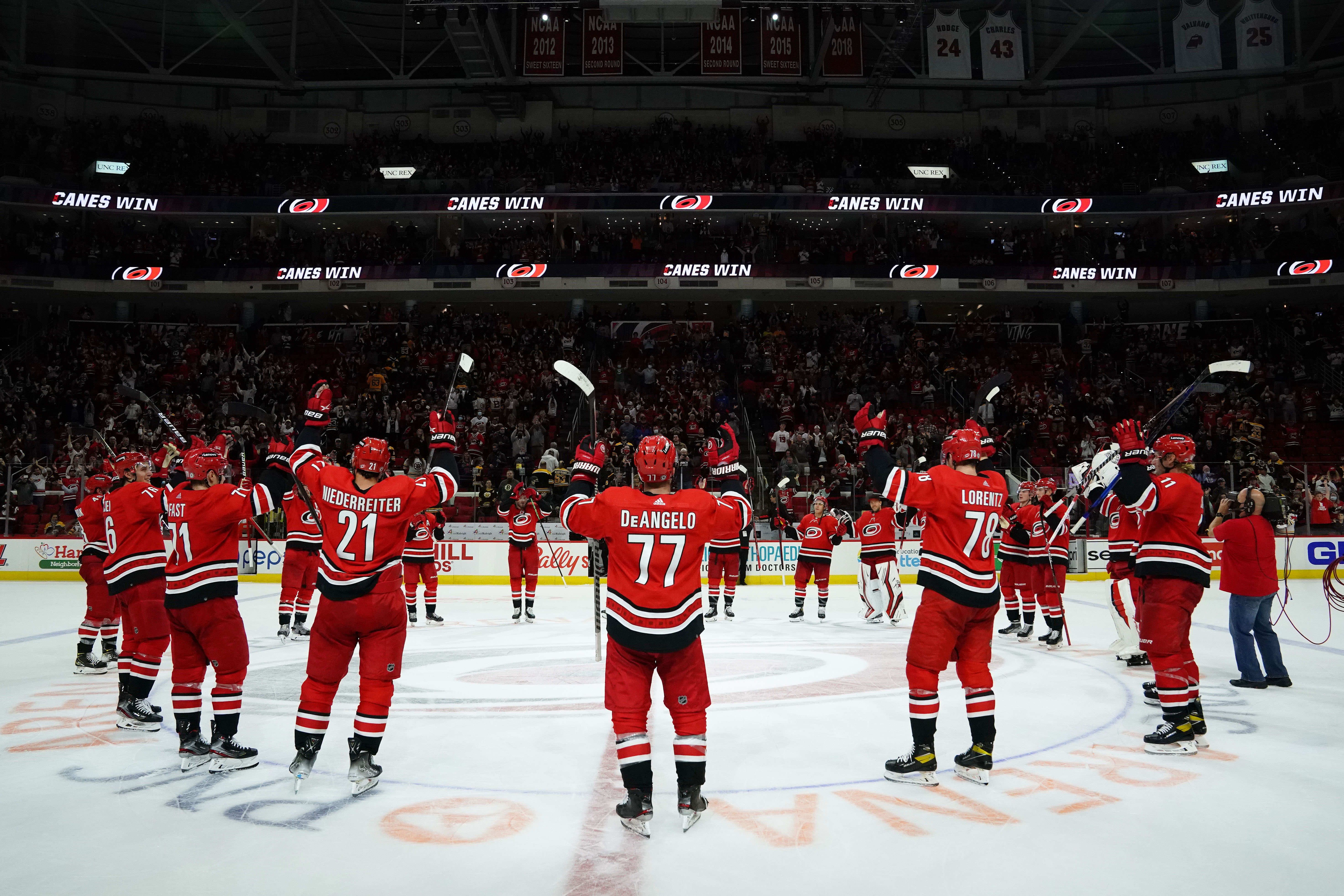 RALEIGH, N.C. — The Hurricanes beat the Bruins, 3-0, to improve to 6-0-0 for the first time in franchise history.
Elsewhere: For the second time in NHL history, two goalies — Jacob Markstrom (Flames) and Jake Allen (Canadiens) — had 45-save shutouts on the same day.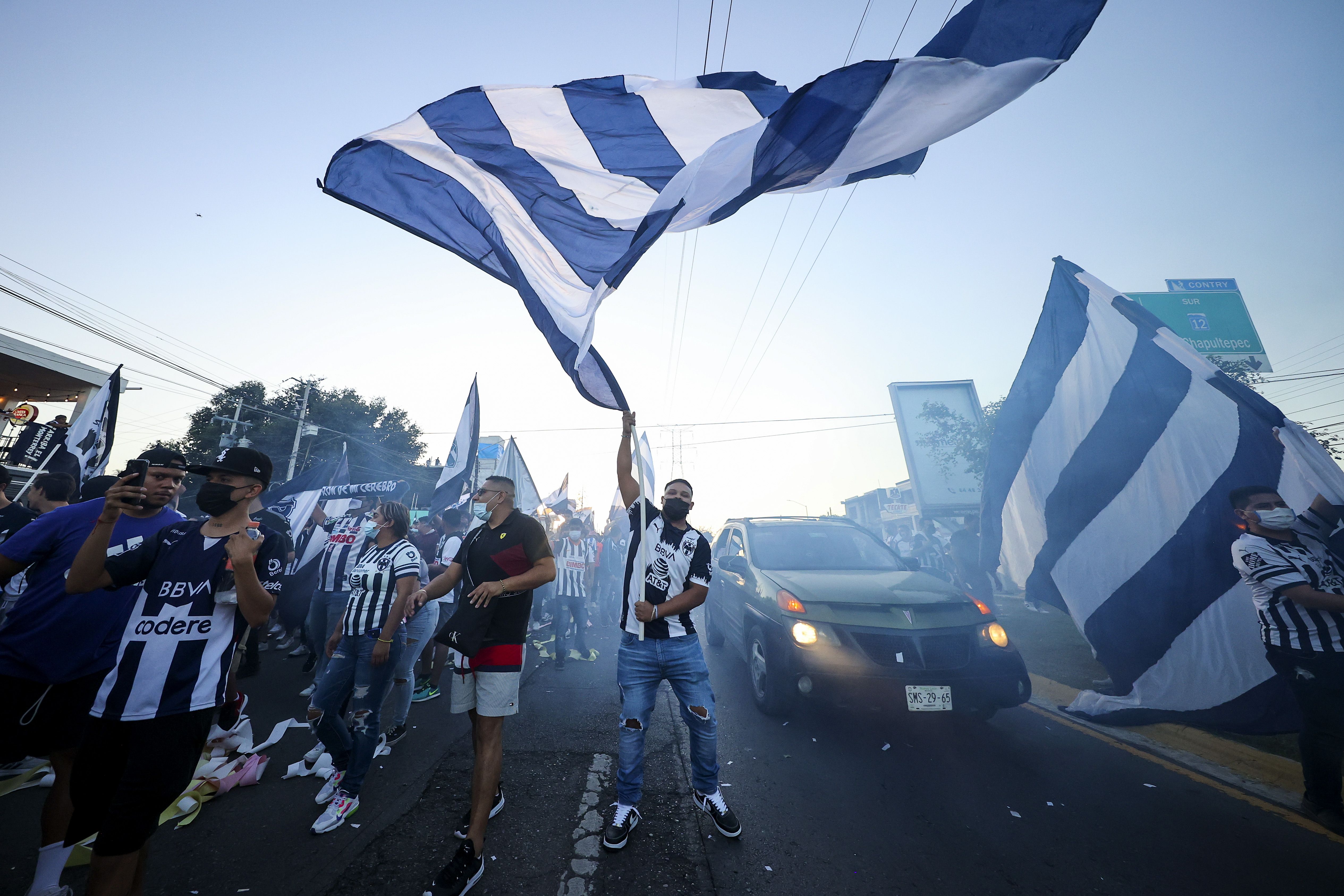 MONTERREY, Mexico — Monterrey beat Club América, 1-0, amid VAR controversy to claim its fifth CONCACAF Champions League title.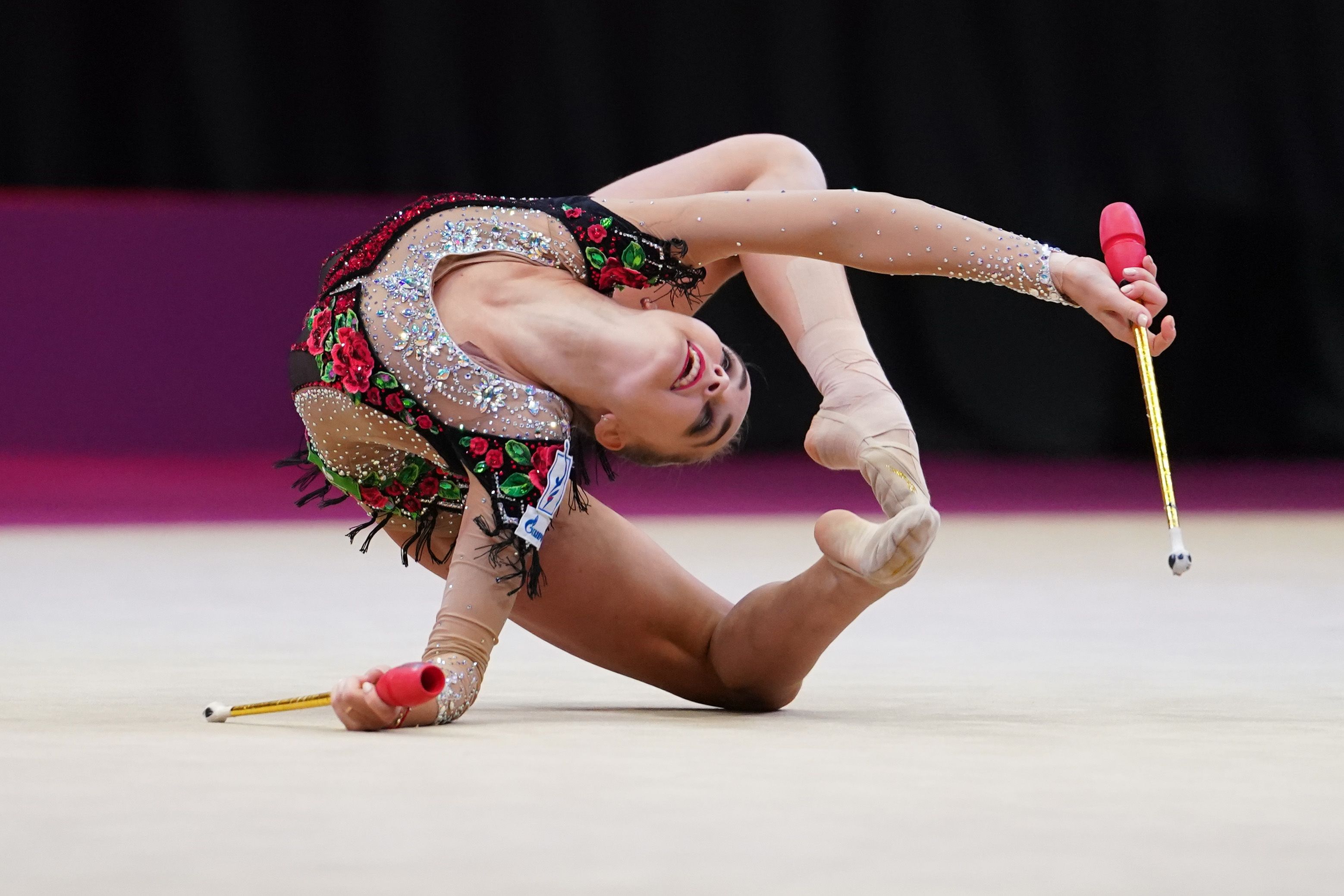 KITAKYUSHU, Japan — The Rhythmic Gymnastics Championships continued Thursday, where gymnasts were judged on their artistry, execution and difficulty.
8. 📆 Oct. 29, 2018: Klay catches fire
Three years ago today, Klay Thompson made an NBA-record 14 three-pointers in the Warriors' 149-124 win over the Bulls, breaking teammate Stephen Curry's previous record of 13.
By the numbers: Thompson made 18 of 29 shots and 14 of 24 threes to finish with 52 points — all in just 27 minutes. He didn't even play in the fourth quarter.
🎥 Watch: All 14 triples (YouTube)
9. ⚾️ World Series trivia
Only three franchises have won their only World Series appearance.
Question: Name them.
Hint: All this century.
Answer at the bottom.
10. 🏈 1 big man: The legend of Jordan Davis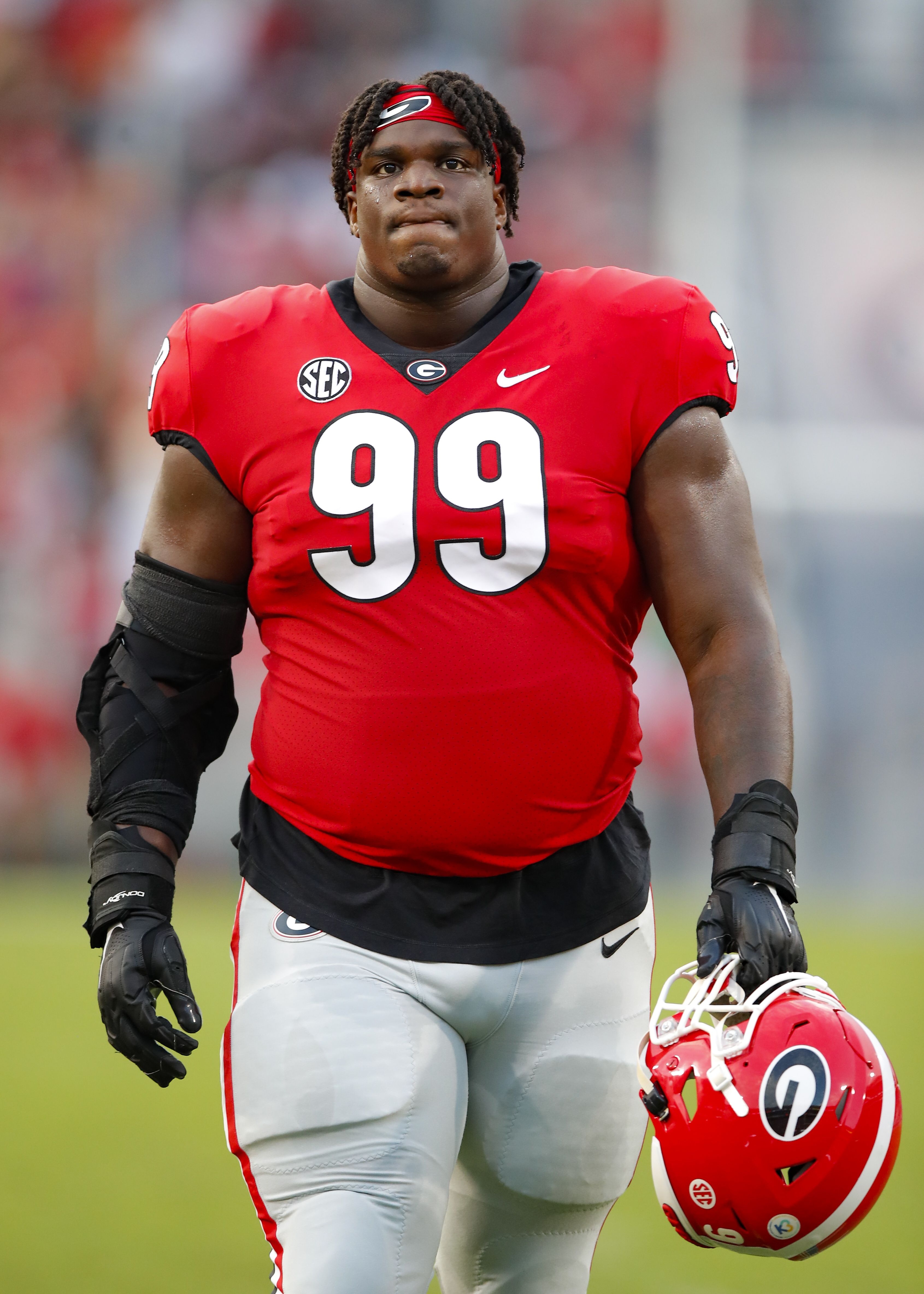 Jordan Davis, the anchor of Georgia's historically good defense, is garnering Heisman hype — not because of his numbers, "but from the sheer spectacle of his play," writes ESPN's David M. Hale.
"[Davis] has perhaps the most cynical fan base in college sports believing that the football gods have at last delivered them a hero who will lead them to that mythical national championship."
📆 Coming up: Davis, nicknamed "Godzilla," leads No. 1 Georgia into its annual rivalry game with Florida on Saturday in Jacksonville.
Enjoy the weekend,
Kendall "Misses Klay" Baker
Trivia answer: Diamondbacks (2001), Angels (2002), Nationals (2019)
🙏 Thanks for reading. For more sports coverage, follow us on Twitter: @kendallbaker and @jeffreytracy.