Happy Friday! Let's sports.
1 big thing: The Super Bowl's must-see matchup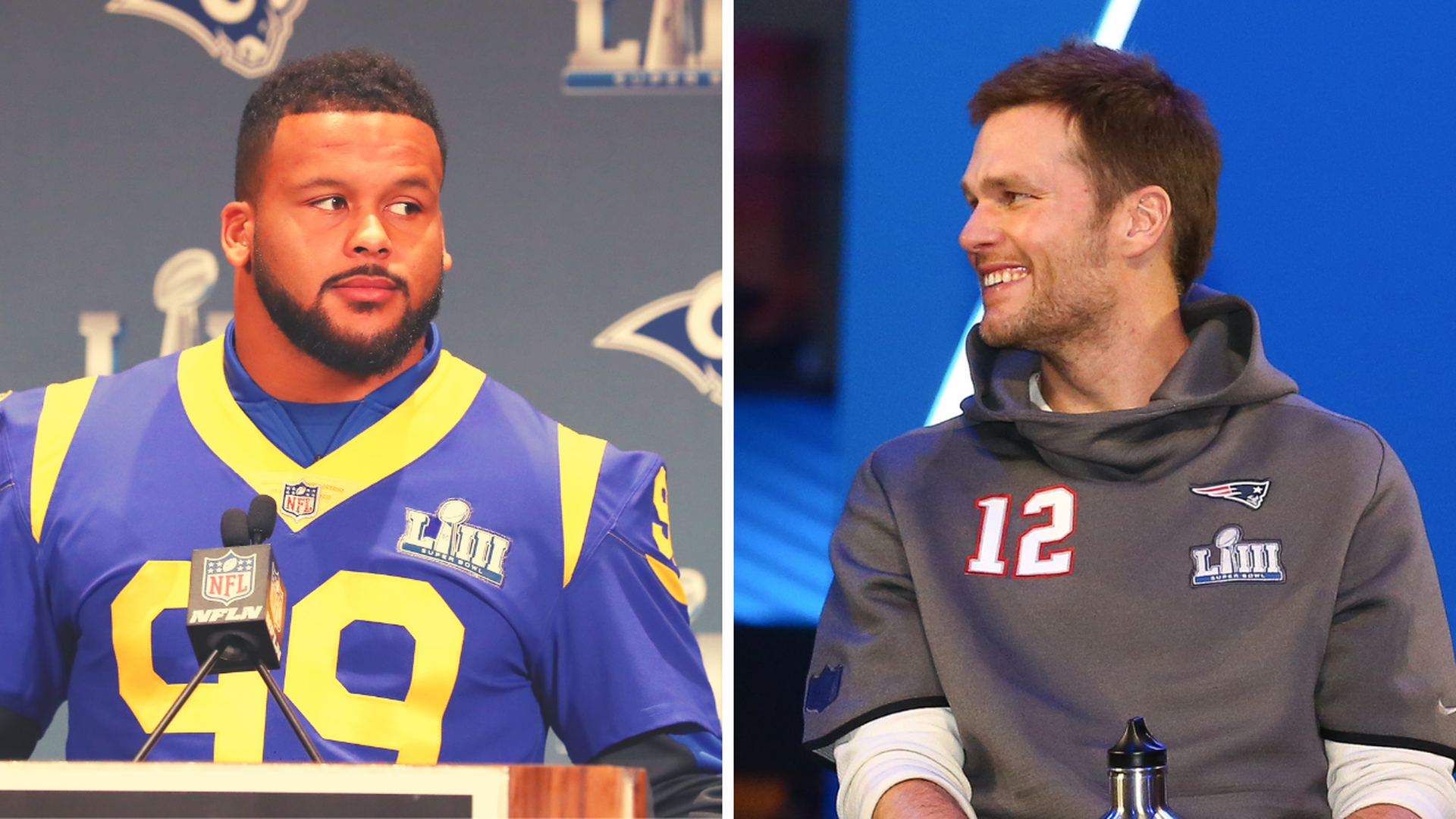 The NFL is a quarterback-driven league. After all, it is the quarterback who gets the glory, the quarterback who takes the blame and the quarterback whose face is plastered on billboards and network promos to sell America on football.
It is for this reason that the NFL probably wishes the Saints had won the NFC Championship Game (ironic, considering what happened). A Super Bowl starring Tom Brady and Drew Brees? That's a marketer's dream. Tom Brady vs. Jared Goff? Meh.
But, but, but: Have you ever considered how crazy it is that quarterbacks — again, the stars of the NFL — are never on the field at the same time?
The Super Bowl isn't Brady vs. Goff. It's Brady vs. the Rams defense, and Goff vs. the Patriots defense. Like all football games, it's 2 separate competitions rolled into one, with some special teams on the side.
By that logic, what we really ought to focus on this weekend is a matchup between an offensive and a defensive player, since, ya know, they'll both actually be on the field at the same time.
Ideally, the offensive player will be the quarterback, since he touches the ball on every snap.
As for the defensive player, a lineman, whose primary job is to sack said quarterback, makes for the perfect pairing.
Also, this is underrated: Thanks to how football games are broadcast, this matchup is fully captured on camera. Compare that to the cornerback-wide receiver matchup, which is off-screen for half the game.
Good news: Tom Brady vs. Aaron Donald is the quarterback-defensive lineman matchup of our dreams, pitting a legend who likes to get the ball out quickly against an unstoppable force capable of getting to him even sooner.
There will be plenty to watch on Sunday, both on and off the field. But if you ever find yourself losing focus on the actual football, hone in on Brady vs. Donald, as it could decide the game. Oh, and keep an eye out for this guy.
More Super Bowl:
Current line: Patriots -2.5 | Over/under: 56
2. What just happened?
Every superstar the New York Knicks have employed this century was a veteran acquired via either trade or free agency. Kristaps Porzingis was different — a homegrown unicorn with the look of an eighth-grader on stilts. And now he's gone.
Driving the news: In yet another earth-shattering, Twitter-breaking day for the NBA this week, the Knicks traded Porzingis to the Dallas Mavericks.
Knicks trade: Porzingis, Tim Hardaway Jr., Courtney Lee and Trey Burke
Mavericks trade: Dennis Smith Jr., Wesley Matthews, DeAndre Jordan and 2 future first-round picks (in 2021 and 2023).
Details:
Why for the Knicks: According to the the front office, Porzingis "wasn't fully on board with management's plan," leaving them no choice. Or ... maybe the Knicks leaked that to place the blame on K.P. and have been shopping him for a while now because they'd prefer to sign 2 max free agents this offseason (which they now can). Hmm...
Why for the Mavericks: Porzingis is the perfect co-star for standout rookie Luke Doncic. Assuming he can convince them to stay long-term, Mark Cuban can build around that core for the next decade.
What's next: DeAndre Jordan and Wesley Matthews will likely be either traded or bought out by the Knicks. Bold prediction: Jordan joins the Rockets.
Good tweets:
"Being a knicks fan is about the journey not the destination. The ride gets rough, your feet get weary yet like the ticketprices we rise." (@desusnice)
"Cap space is consistently the most oversold commodity in the NBA. Cool to have it, bummer when you end up spending it on plan B/C/D because plan A was never coming in the first place. So much of the league selling: 'Maybe we'll be good later.'" (@notthefakeSVP)
"So to recap: the Knicks draft THJ, dump him to the Hawks, sign him to an albatross contract that forces us to trade our franchise player to get out of said contract for Dennis Smith, who we passed on. Got it." (@malaletweets)
Let's check in with the local media: "There is one way, and only one, where the surreal events of Thursday afternoon make even a little bit of sense," writes the New York Post's Mike Vaccaro.
"Monday, July 7 ... A large gathering at Madison Square Garden. Two honored guests sitting near a podium, and because we are fair, they can be any two of the following three names: Kevin Durant, Kawhi Leonard, Kyrie Irving."
"Elsewhere, roaming among the Knicks brass, is Zion Williamson, flashing that bright smile of his, back for a second big day following his introduction as the Knicks' first-round draft pick a few weeks earlier."
"There it is. Snap a picture of that scene with your mind's eye. Because that is the only way to believe the Knicks, as an organization, didn't suffer the worst nervous breakdown in the history of professional sports in our town on Thursday."
Source: New York Post
P.S. This is mind-blowing: The last Knicks draft pick to sign a multi-year contract with the team after his rookie deal expired was Charlie Ward. He was drafted in 1994. (per Tommy Beer).
3. 🏀 In other NBA news...
LeBron James (24-14-9) flirted with a triple-double in his return, leading the Lakers past the Clippers 123-120 in overtime ... an invasion of bats interrupted the Nets-Spurs game ... and the All-Star reserves were announced:
East: Ben Simmons, Bradley Beal, Khris Middleton, Nikola Vucevic, Blake Griffin, Kyle Lowry and Victor Oladipo (injured).
West: Anthony Davis, Russell Westbrook, Karl-Anthony Towns, LaMarcus Aldridge, Damian Lillard, Klay Thompson, Nikola Jokic.
Oh, also: This is a fantastic profile on Boban Marjanovich, the NBA's tallest and most delightful man, whose life has been a fairy tale except for one thing: he was born 20 years too late.
4. ⛳️ Photos from Scottsdale
Above: Rickie Fowler tees off on the iconic 16th hole at TPC Scottsdale, the site of this weekend's Waste Management Phoenix Open. Fowler (-7) is in a 3-way tie for the lead with Justin Thomas and Harold Varner III. Full leaderboard.
Below: This event in a nutshell. It's a giant party. Might explain why last year's tournament set attendance records (719,179 people fans came through the gates, including 216,818 on Day 3 alone).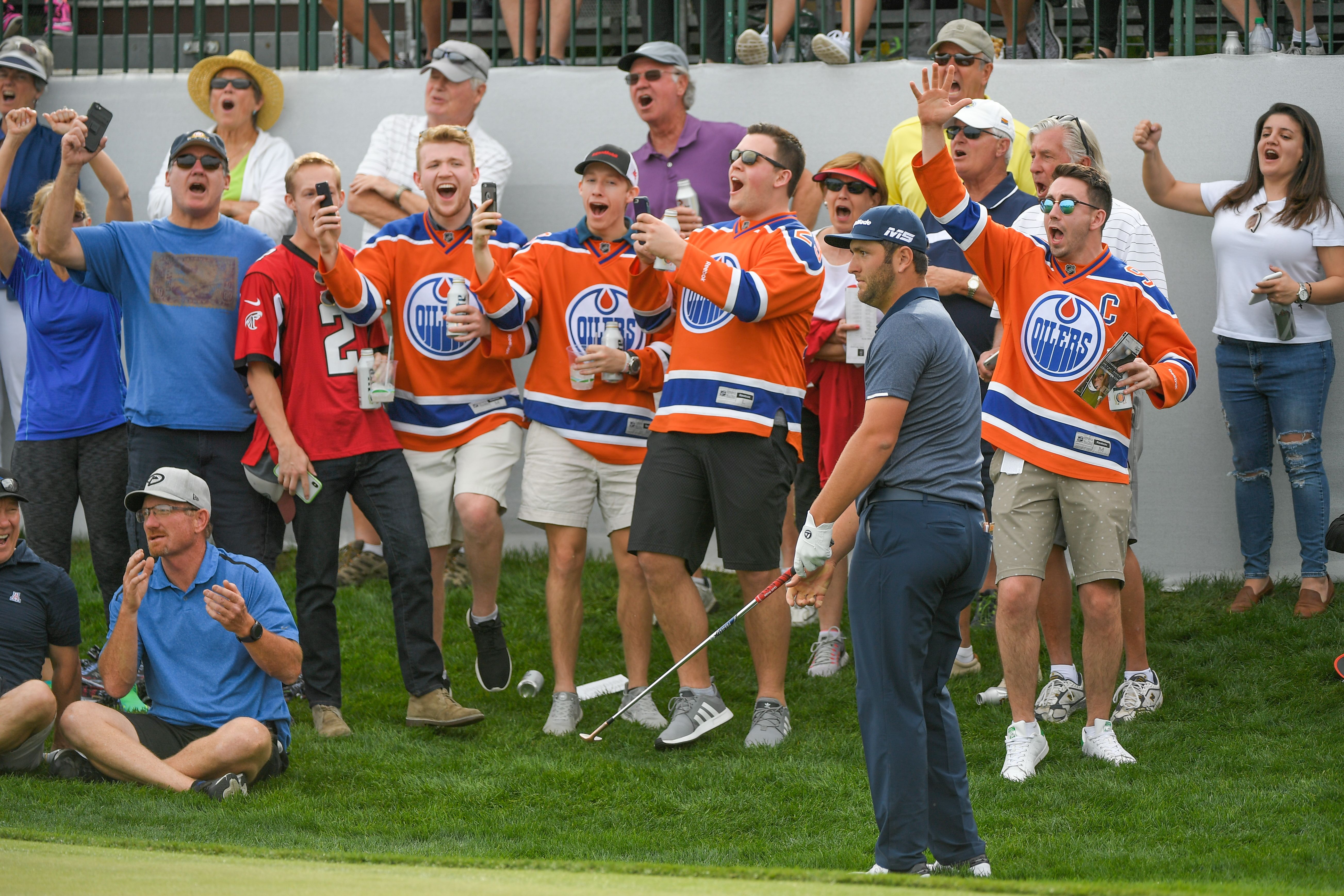 Photo: Ben Jared/PGA Tour/Getty Images
5. NCAA slaps Missouri with postseason ban, probation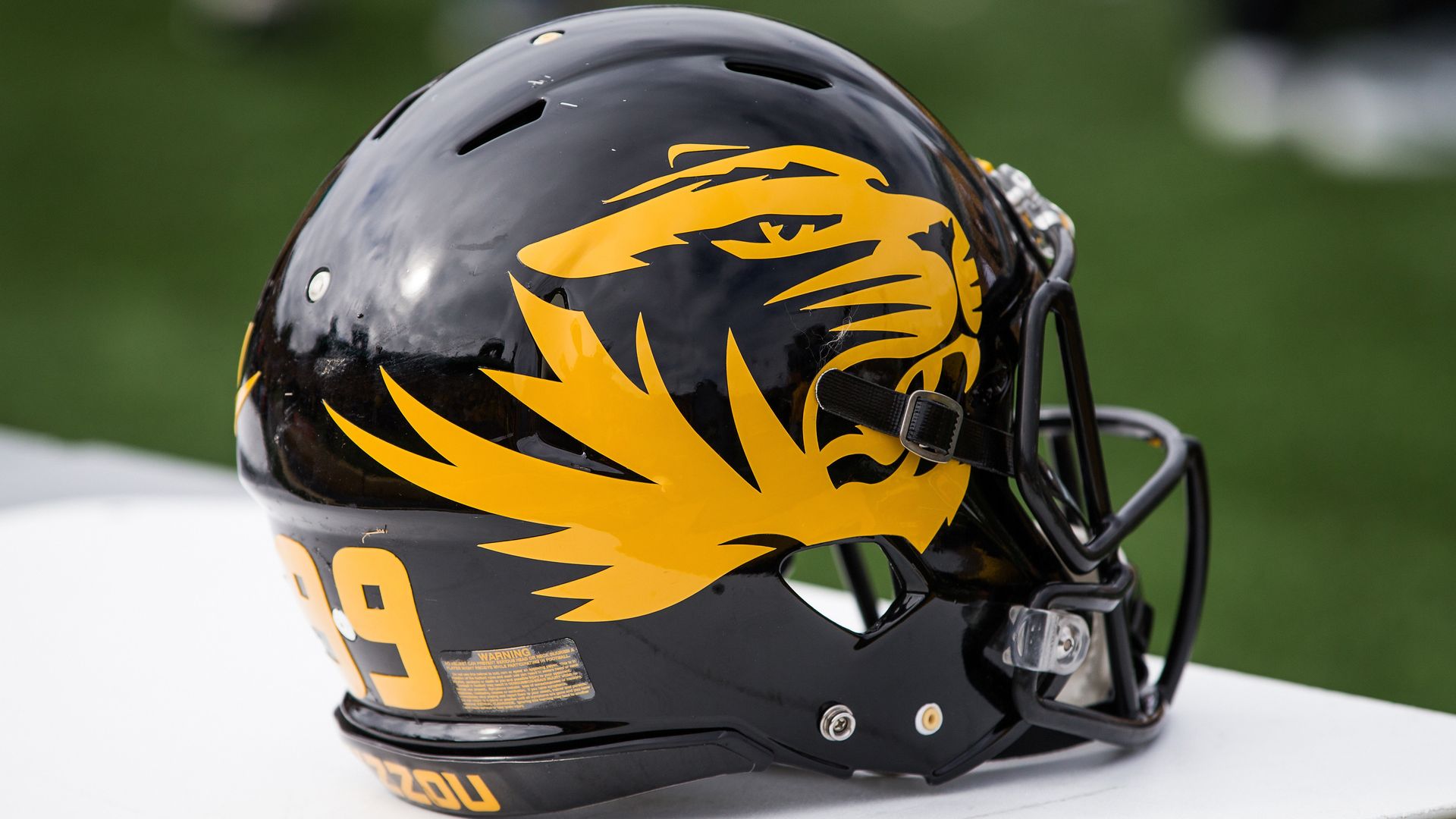 The NCAA is punishing the University of Missouri with a postseason ban for its baseball, softball and football teams, as well as 3 years of probation for its athletic department despite the school's attempt to clean up a case of academic fraud.
What happened: Former tutor Yolanda Kumar admitted to completing coursework and exams for student athletes in 2016. The NCAA followed with an investigation.
"Simply put, 12 student-athletes did not complete their own work," the NCAA's report said.
Rewind: Earlier this decade, the University of North Carolina committed a far worse infraction. But when confronted about the fake courses the school had created, UNC stood by its actions and avoided serious punishment.
Meanwhile, Missouri cooperated fully with the NCAA's investigation ... and was slapped with a postseason ban. Huh.
P.S. Poor Kelly Bryant. The former Clemson quarterback transferred to Missouri after Trevor Lawrence took his starting spot. Now he can't play in the postseason.
Be smart: Bryant could transfer again and be eligible to play immediately. According to reports, though, he plans to stay at Missouri and continue to participate in offseason workouts.
6. On this date: 2/1/2014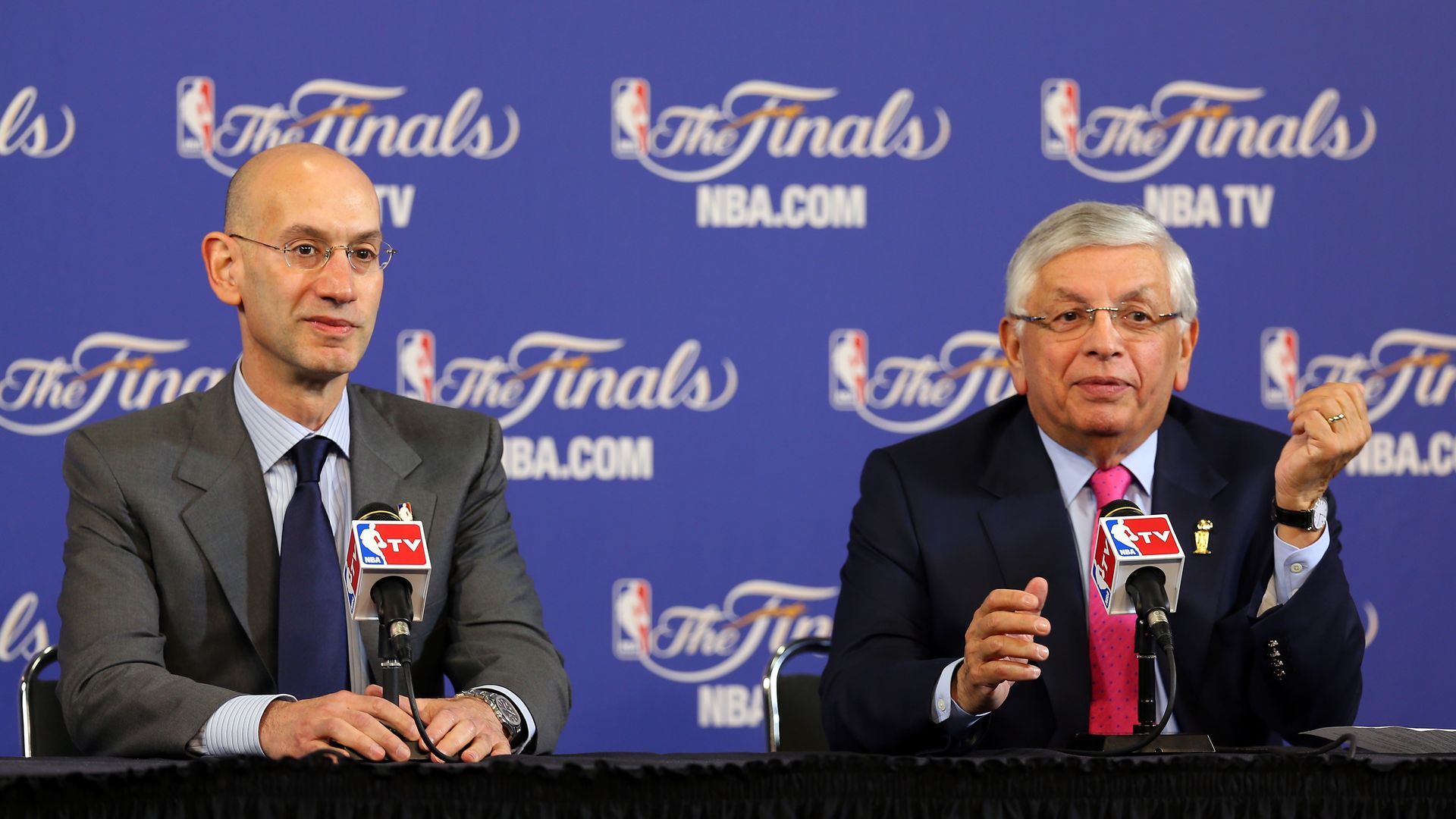 5 years ago today, Adam Silver succeeded David Stern as commissioner of the NBA — exactly 30 years after Stern succeeded Larry O'Brien (2/1/1982).
When Silver got the gig: The No. 1 song in the country was "Dark Horse" by Katy Perry feat. Juicy J, the top movie at the box office was "The Lego Movie" and the 2014 Sochi Olympics were a week away from kicking off.
When Stern got the gig: The No. 1 song in the country was "Centerfold" by J. Geils Band, the top movie at the box office was "On Golden Pond" and Michael Jordan was finishing up his final season at North Carolina.
7. 🏈 Super Bowl trivia
Question: The Patriots are just the third franchise in modern NFL history to reach 3 straight Super Bowls. Can you name the other 2 franchises?
Hint: They play in the same conference.
Answer at the bottom.
8. The Ocho: An unlikely duo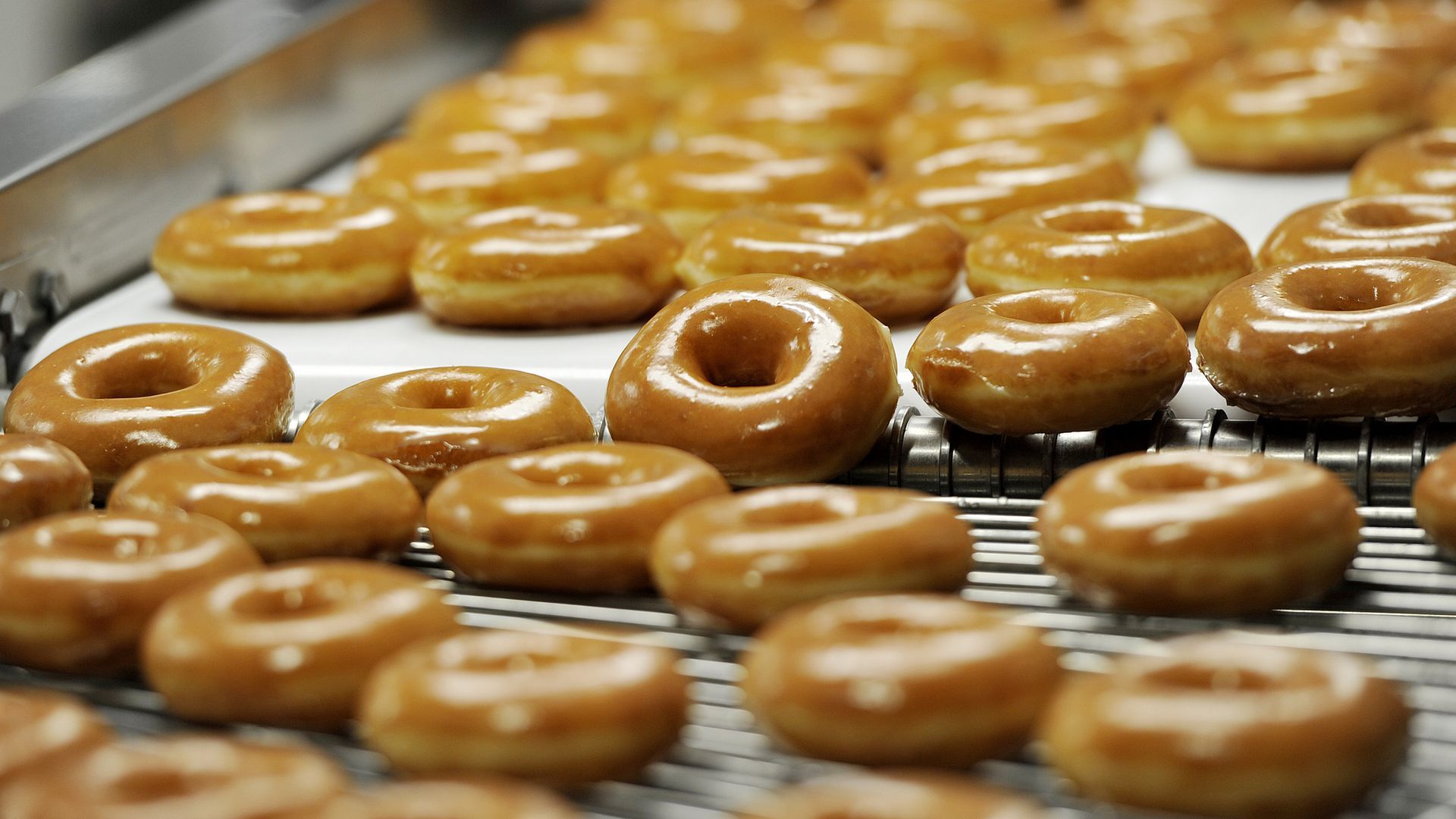 One would think that long distance running and glazed donuts mix together like oil and water. But one would be wrong, Mike Sykes writes.
What's happening: This weekend, the 15th anniversary of the Krispy Kreme Challenge takes place in Raleigh, N.C. It's the ultimate mix of competitive running and competitive eating.
Step 1: Contestants run about two miles from the Memorial Bell Tower at North Carolina State University to the Krispy Kreme doughnut store. 
Step 2: Contestants eat 1,000 doughnuts while at the store.
Step 3: Contestants run back to the Memorial Bell Tower. And that's a wrap.
How we got here: The race all started as a dare between students at NC State in 2004 before morphing into a marathon to raise money for the UNC Children's Hospital.
Watch: ESPN ran a feature on the Krispy Kreme Challenge back in 2009.
9. Predict the Super Bowl, win free stuff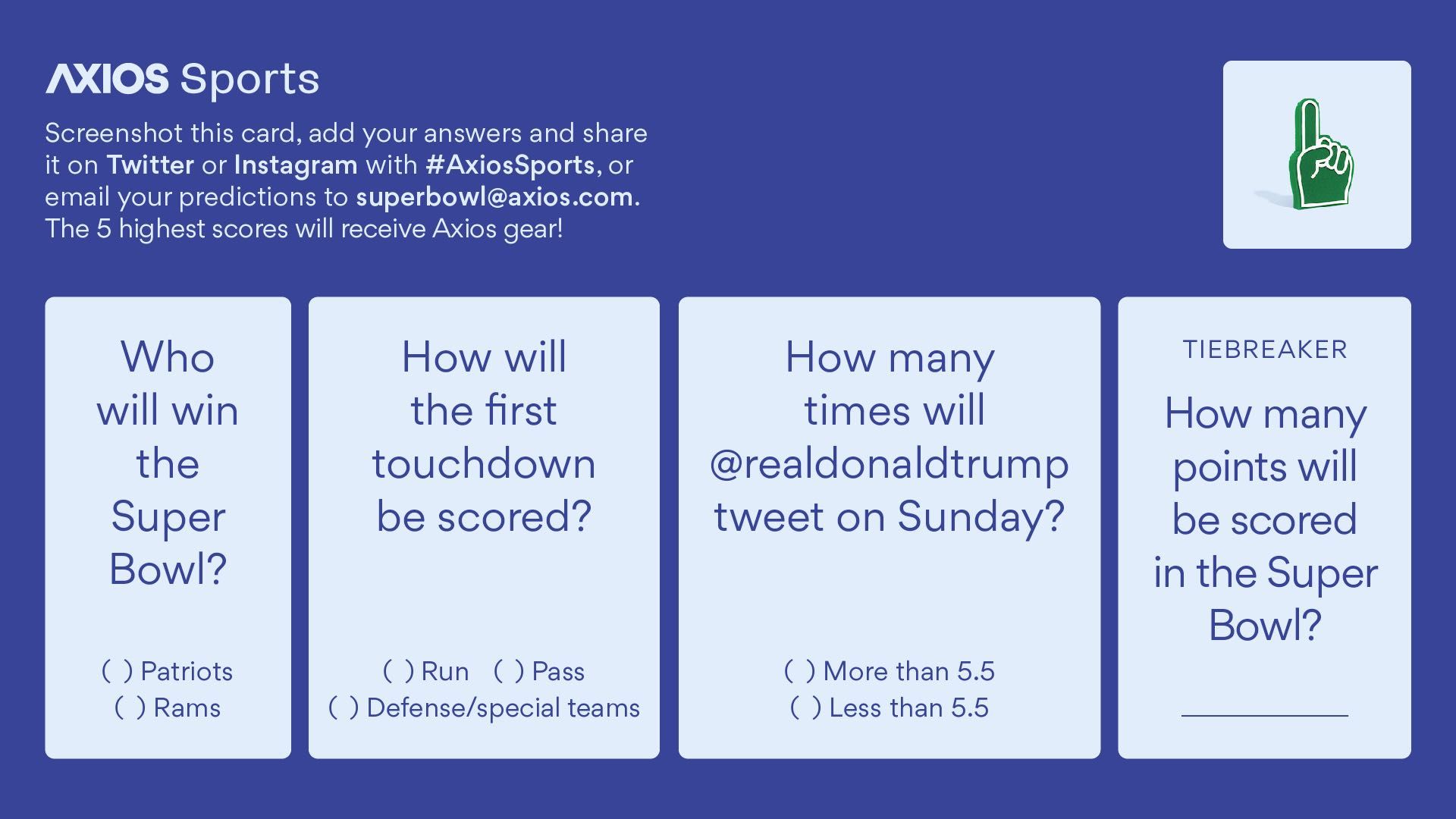 To play: Screenshot this card, add your answers and share it on Twitter or Instagram with #AxiosSports. You can also email your predictions to superbowl@axios.com.
What you win: The 5 highest scores will receive Axios gear!
10. Everything else
⚾️ The Colorado Rockies and star third baseman Nolan Arenado avoided arbitration yesterday with a one-year deal worth $26 million, a new record for an arbitration-eligible player.
🏀 The Louisville women's basketball team beat UConn for the first time in 26 years last night, 78-69. The third-ranked Cardinals ended a 17-game losing streak against the Huskies, who were ranked No. 2.
Thanks,
Kendall "How the heck has Adam Silver only been commissioner for 5 years" Baker
Trivia answer: Miami Dolphins (1971-73) and Buffalo Bills (1990-93)