September 27, 2021
👋 Happy Monday! Welcome back.
Today's word count: 1,627 words (6 minutes).
Let's sports...
1 big thing: 🏈 Kickers are stealing the show
Through three NFL Sundays, the story of the season is kickers coming up clutch, Axios' Jeff Tracy and I write.
Wild stat: There have already been 10 go-ahead field goals in the final 10 seconds of regulation or overtime. That's the most through Week 3 since the 1970 merger, three more than the previous record. Sunday's stars:
Headlines:
Mr. Primetime: The Packers have won Aaron Rodgers' last nine primetime starts.
Last-place Chiefs: The Chargers picked off Patrick Mahomes twice, and the Chiefs — under .500 for the first time since 2015 — are last in the AFC West.
Winless in New York: The Jets are 0-3 for the third straight season, and the Giants are 0-3 for the second straight season. ... At least the team up in Buffalo looks good.
King of the deep ball: DeSean Jackson had his ninth career TD reception of at least 75 yards, tying Hall of Famer Lance Alworth for most in NFL history.
By the numbers:
47 yards: The Bears produced just 47 total yards of offense against the Browns, meaning Tucker's walk-off kick went 19 yards farther than Chicago's entire offensive output.
0-4: Rookie first-round QBs Justin Fields, Trevor Lawrence, Mac Jones and Zach Wilson went winless, throwing 2 TD and 7 INT while getting sacked 19 times.
109 yards: Jacksonville's Jamal Agnew returned an overly-ambitious FG attempt for a record tying 109-yard TD. Gus Johnson, as always, nailed the call.
18 straight losses: Agnew's heroics couldn't stop the Jags from losing their 18th straight game, tying the 1973 Oilers for the fourth-longest streak ever.
Scoreboard:
📆 Tonight: Eagles at Cowboys (-3.5), 8:15pm ET
2. ⚾️ The Cardinals can't stop winning
The Cardinals kept it rolling Sunday, beating the Cubs for their 16th straight win.
Why it matters: The Redbirds are just the fourth team in MLB's expansion era (since 1961) to win 16 straight games in a season, joining the 2017 Indians (22), 2002 A's (20) and 1977 Royals (16).
They now have a six-game lead over the Reds and Phillies in the NL Wild Card race, all but guaranteeing a trip to the postseason.
With their remaining six games coming at home, the Cardinals join the 1887 Philadelphia Quakers as the only teams to win their final 11 or more road games.
More MLB:
Brewers clinch: Milwaukee clinched its third NL Central title (2011, 2018).
Yanks sweep Sox: Giancarlo Stanton's monster weekend helped the Yankees sweep the Red Sox at Fenway and take over the top spot in the AL Wild Card race.
100 wins: The Giants (102-54) and Dodgers (100-56) hit the 100-win mark this weekend. The Rays (97-59) and Brewers (94-62) are the only teams that could join them.
3. ⛳️ Team USA romps to Ryder Cup win
The U.S. reclaimed the Ryder Cup in dominating fashion over the weekend, beating Team Europe, 19-9, for the largest margin of victory in the modern era (since 1979), Jeff writes.
The big picture: The U.S. now holds a 27-14 advantage (two ties) in the all-time series, though Europe holds an 11-9 edge since 1979, when that side of the field expanded beyond just Great Britain and Ireland.
By the numbers:
417 yards: Bryson DeChambeau's 417-yard drive was merely the longest in a weekend filled with Americans bombing it off the tee — a key factor in their victory, per WSJ (subscription).
5-0: Dustin Johnson became just the third golfer to go 5-0-0 at the Ryder Cup, joining American Larry Nelson (1979) and Italy's Francesco Molinari (2018).
29.1 years old: Team USA was comprised of more Ryder Cup rookies (six) than golfers over 30 (four), with an average age of just 29.1.
The backdrop: Home field always plays a critical role at this event — with the home nation going 13-6 since 1979 — but Team USA's advantage was even greater this year.
Due to travel restrictions, 90% of fans at Wisconsin's Whistling Straits were American, and the home crowd broke into patriotic chants and songs all weekend long.
The last word: "This is a new era for USA golf," said captain Steve Stricker. "They are young. They come with a lot of passion, a lot of energy, a lot of game. They are just so good."
What's next: The 44th Ryder Cup will take place in the fall of 2023 at Marco Simone Golf and Country Club in Rome.
Go deeper:
4. 🏈 AP poll: Chaos yields parity
Alabama remains atop the rankings after winning its record-extending 100th straight game against an unranked opponent, Jeff writes.
Yes, but: The Tide's dominance contrasts with the struggles of other ranked teams. 25 have lost already this season, the most through four weeks in the AP poll era (since 1936).
Notes:
Clemson's 27-21 loss to NC State dropped the Tigers all the way to No. 25, ending a run of 97 straight weeks in the top 10.
Notre Dame's 41-13 win over Wisconsin gave coach Brian Kelly his 106th victory with the Irish, breaking Knute Rockne's record.
Moving in: Wake Forest enters at No. 24 after scoring a school-record 155 points through four weeks. No. 19 Oklahoma State, No. 21 Baylor and No. 23 NC State also joined the poll.
Moving out: Iowa State and UNC, both in the preseason top 10, are out. So are Wisconsin and Kansas State.
📆 Coming up: Saturday's slate is headlined by No. 8 Arkansas at No. 2 Georgia, No. 7 Cincinnati at No. 9 Notre Dame, No. 12 Ole Miss at No. 1 Alabama and No. 21 Baylor at No. 19 Oklahoma State.
Go deeper: What's next for each Top 25 team? (ESPN)
5. 🇺🇸 Photos across America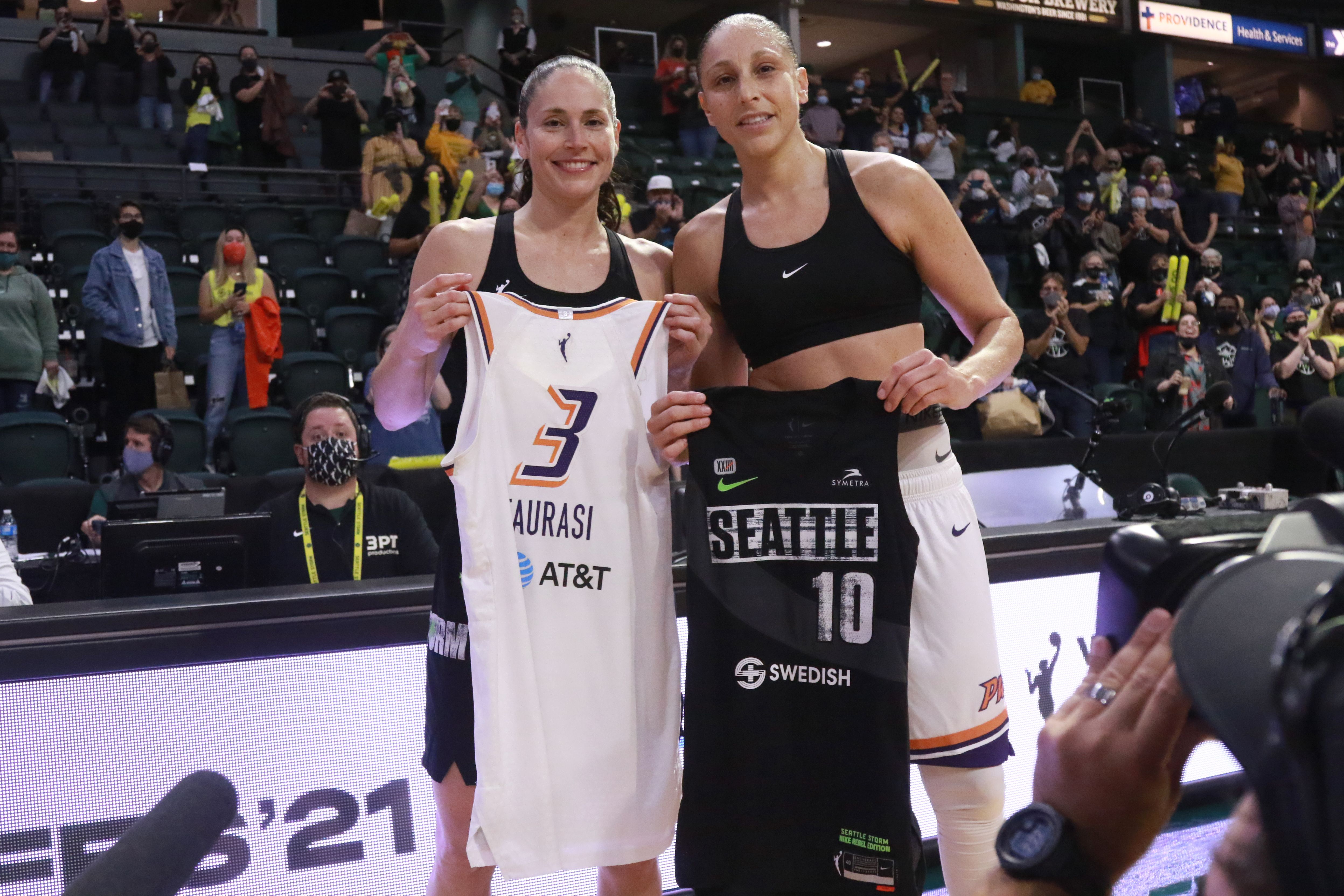 EVERETT, Wash. — The Mercury beat the defending champion Storm, 85-80 (OT), on Sunday in what may have been the final meeting between Diana Taurasi and Sue Bird.
What's next: The semifinals (best-of-five) are now set and begin tomorrow. No. 6 Sky vs. No. 1 Sun; No. 5 Mercury vs. No. 2 Aces.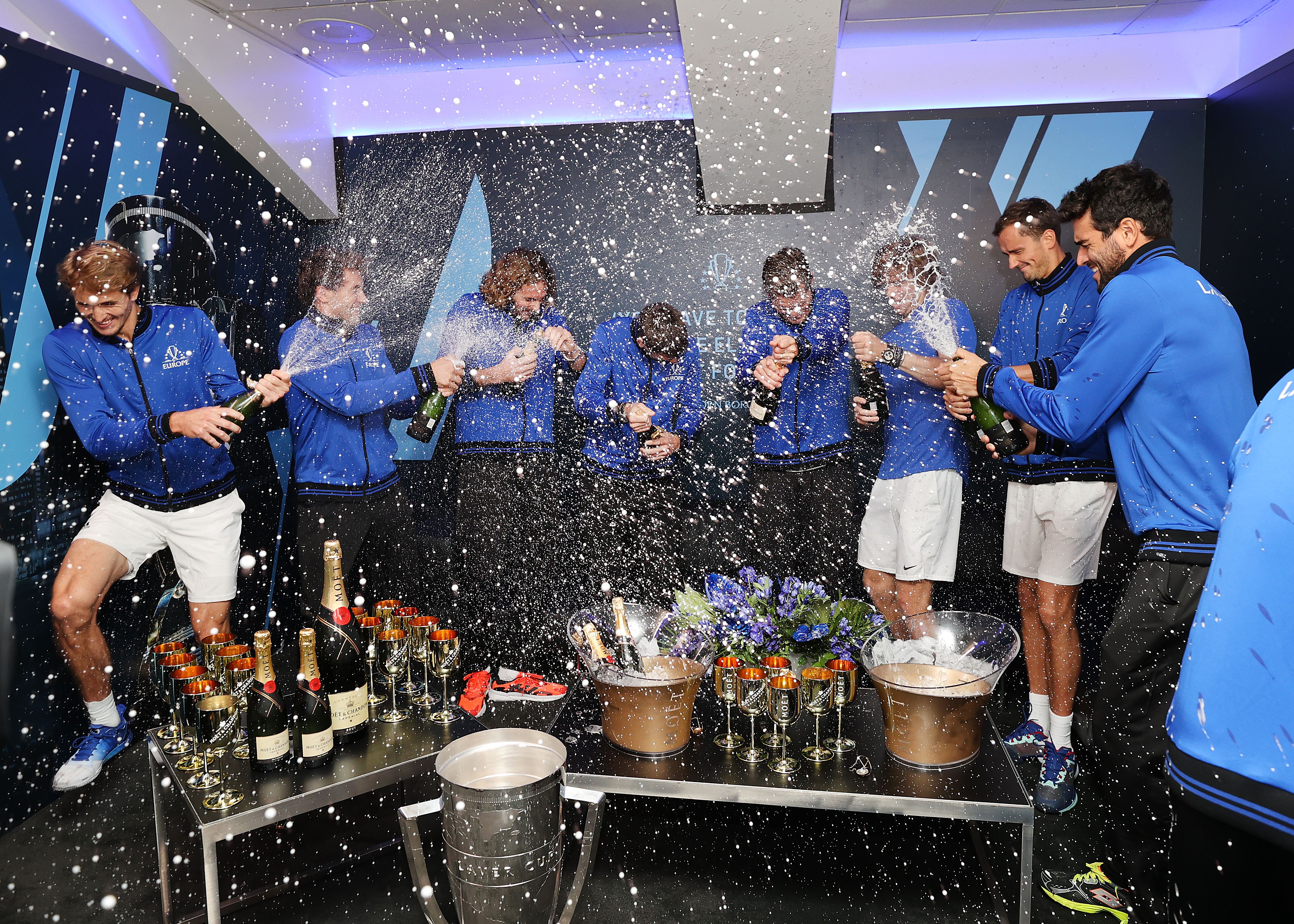 BOSTON — Even without Roger Federer, Rafael Nadal and Novak Djokovic on the roster, Team Europe easily beat Team World to win its fourth straight Laver Cup.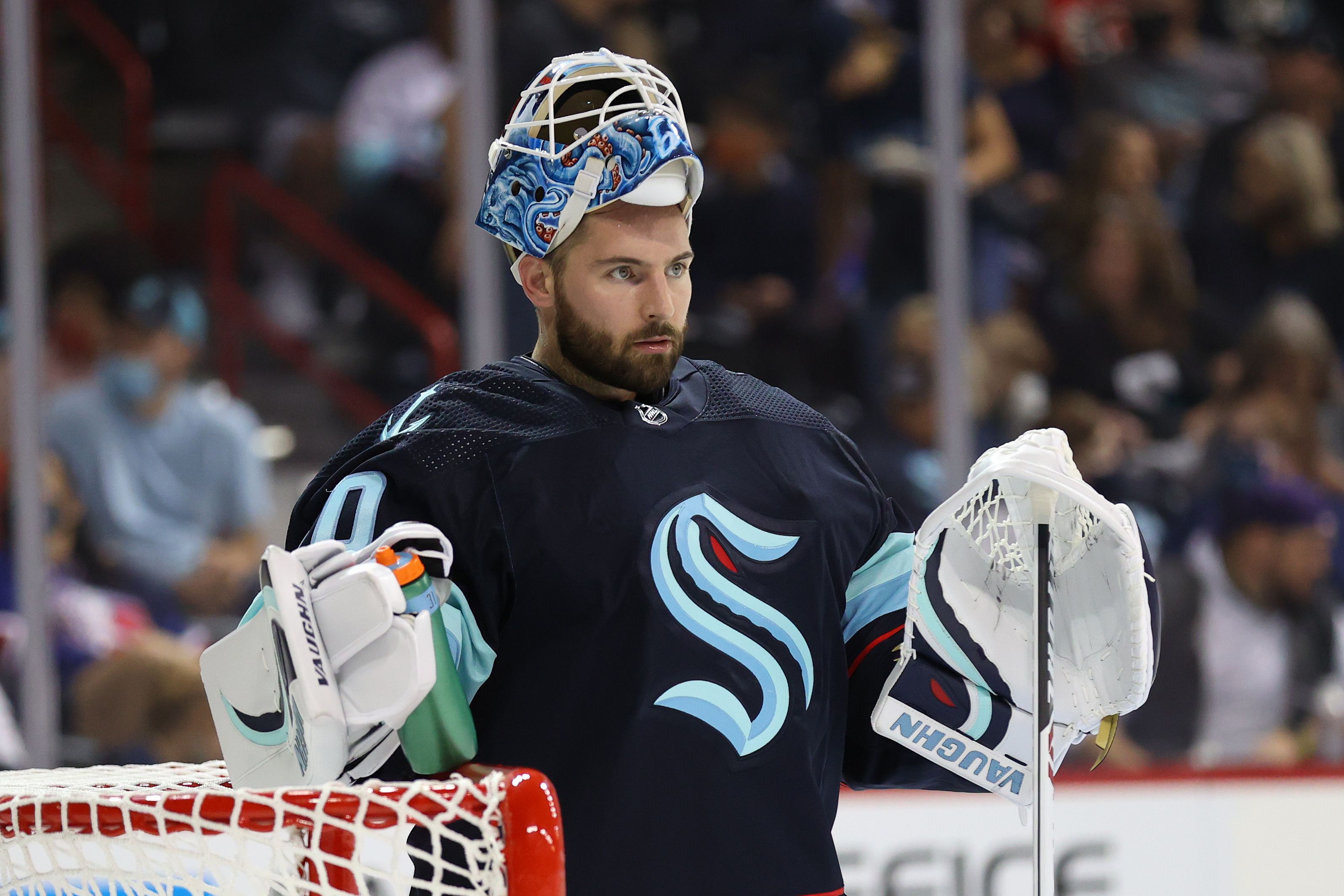 SPOKANE, Wash. — The Kraken made their debut Sunday night with a 5-3 win over the Canucks in the preseason opener for both teams. I dig the uniforms.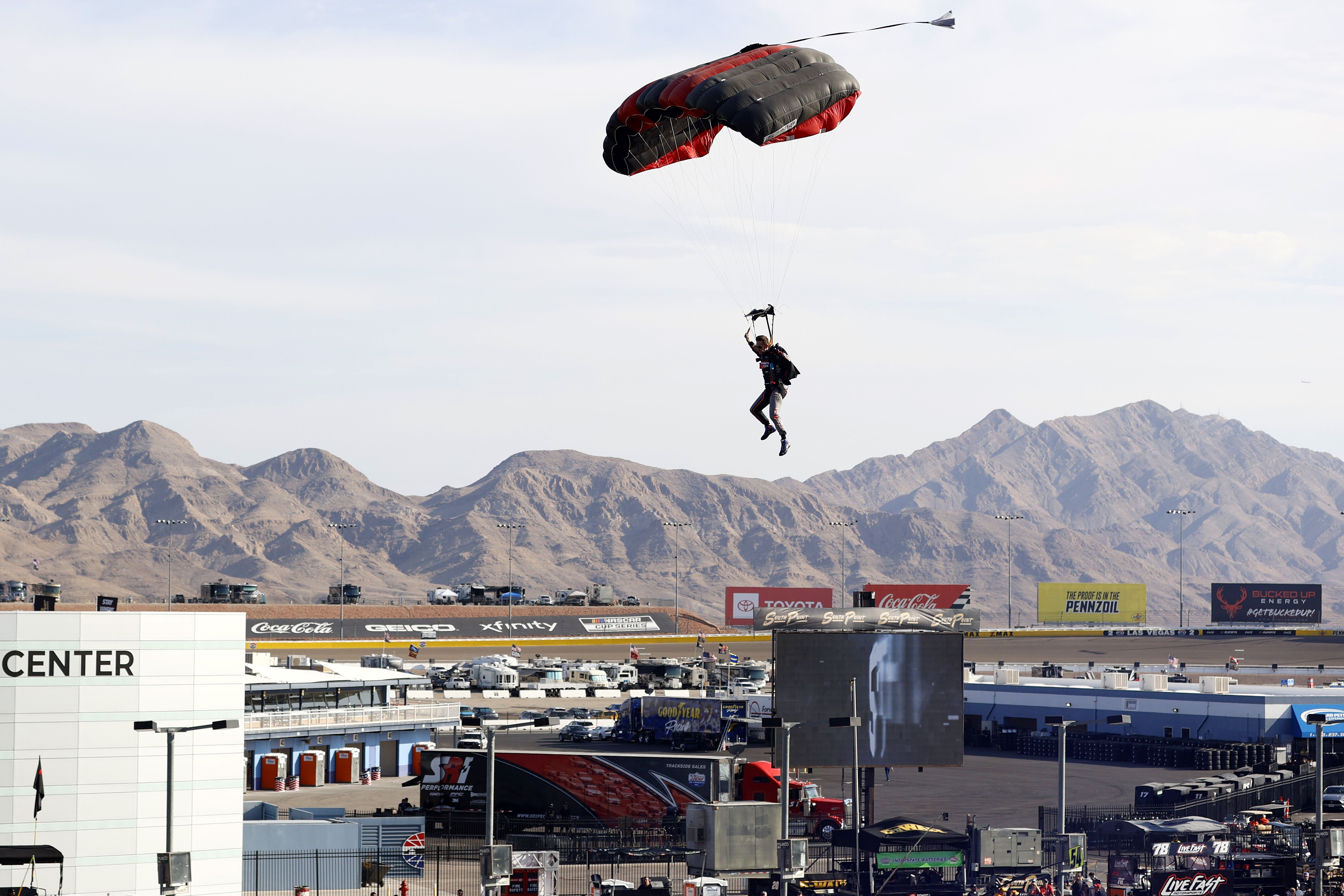 LAS VEGAS — Vegas hosted six different sports this weekend. That included a NASCAR race, which saw driver Matt Jaskol skydive onto the racetrack.
6. 🌍 Photos around the world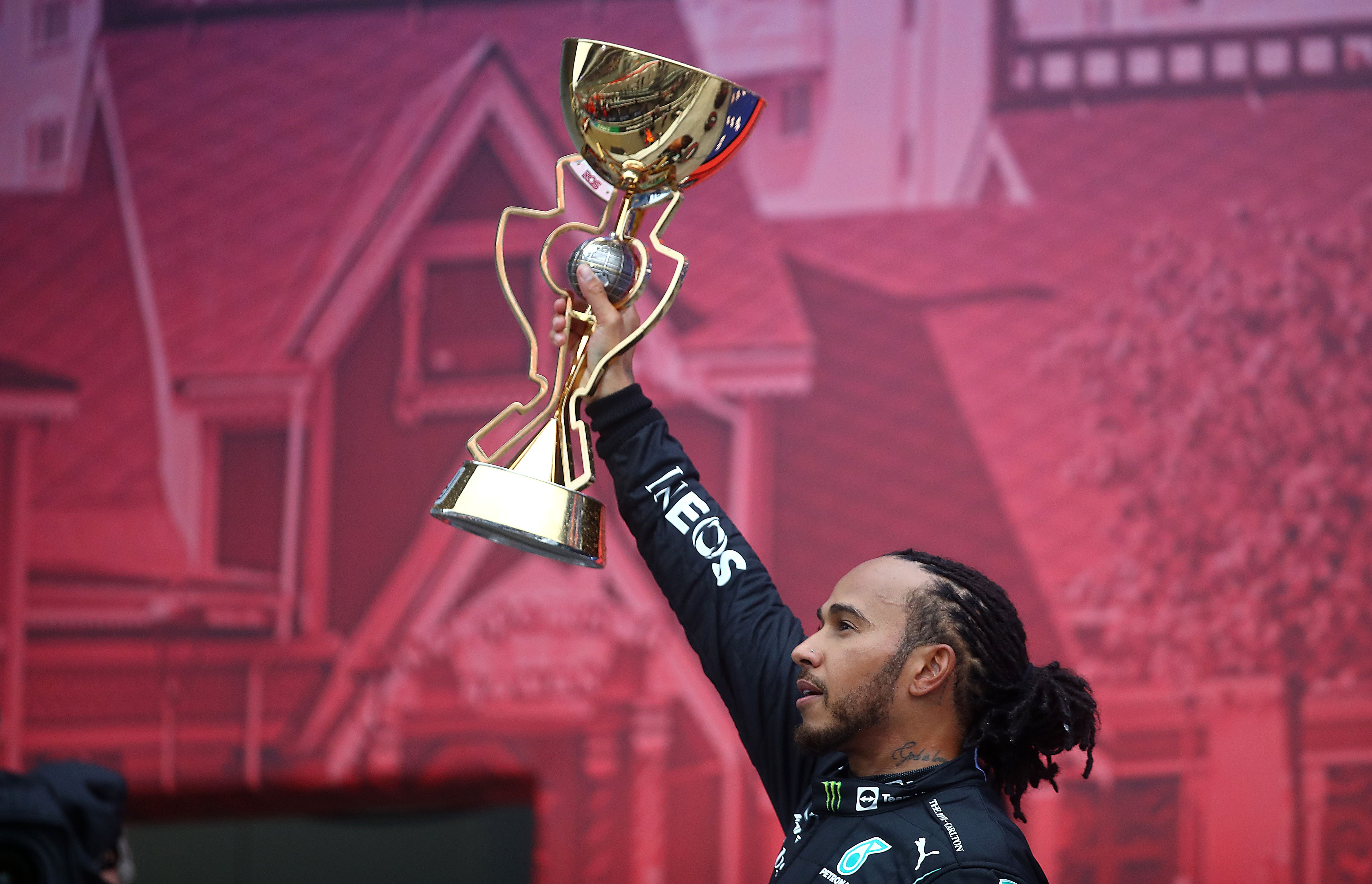 SOCHI, Russia — Lewis Hamilton won his unprecedented 100th Formula One race, fighting back from seventh place on the first lap to retake the championship lead from Max Verstappen.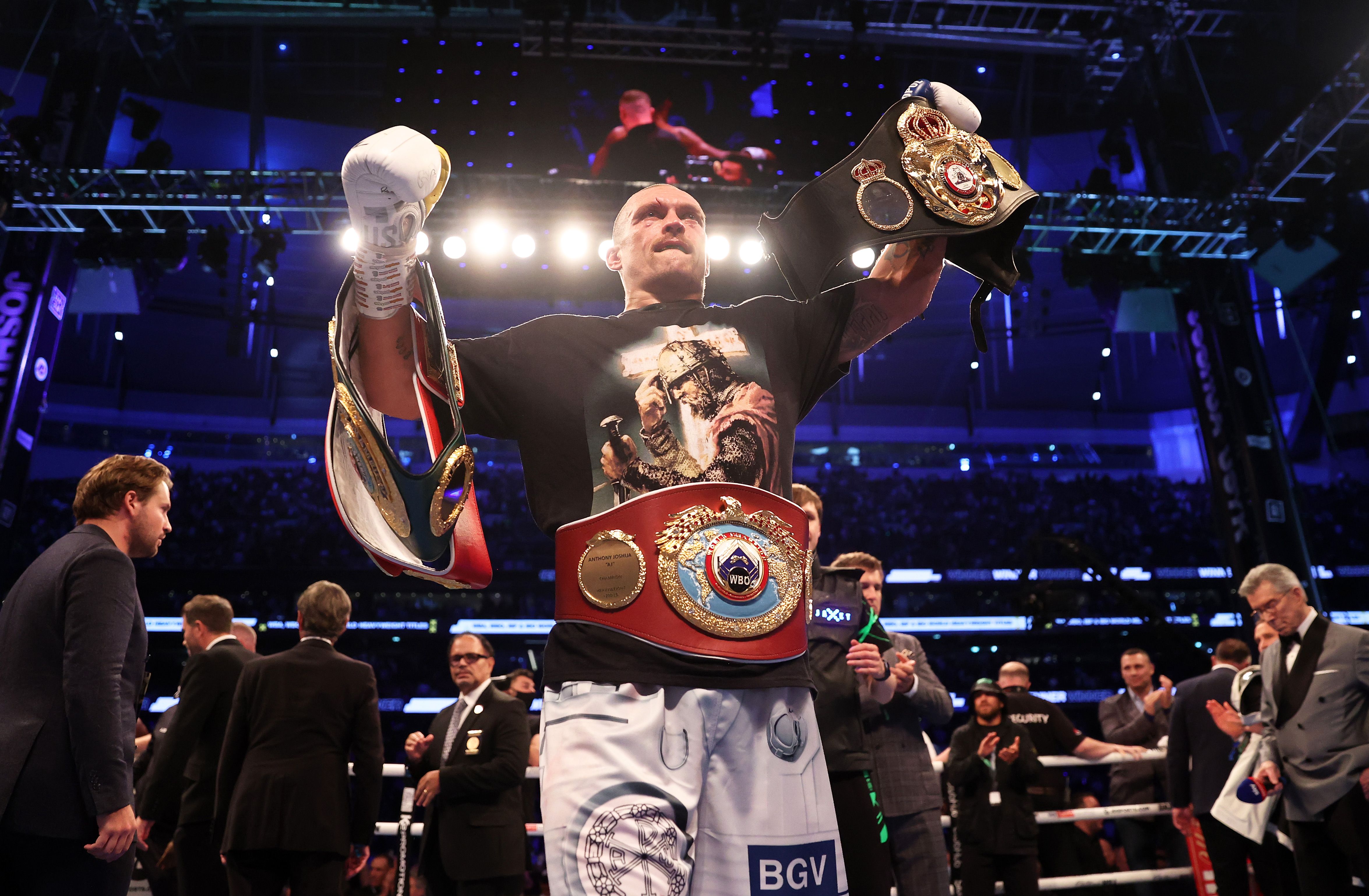 LONDON — Oleksandr Usyk (19-0, 13 KO) stunned Anthony Joshua (24-2, 22 KO) on his home turf to become a two-weight world champion and upend the heavyweight boxing picture.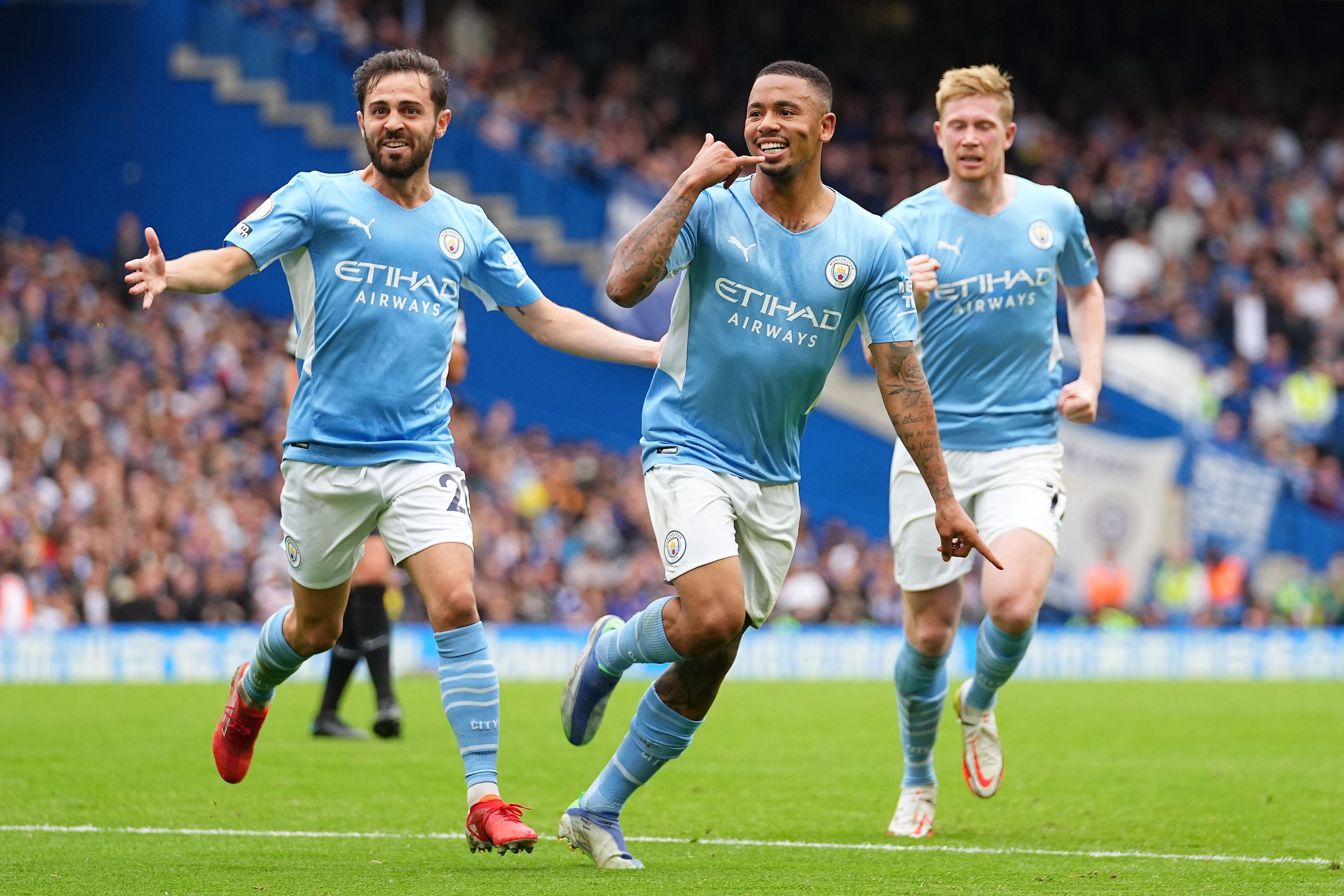 LONDON — Gabriel Jesus' 53rd-minute strike lifted Manchester City past Chelsea, 1-0, in a rematch of May's Champions League final.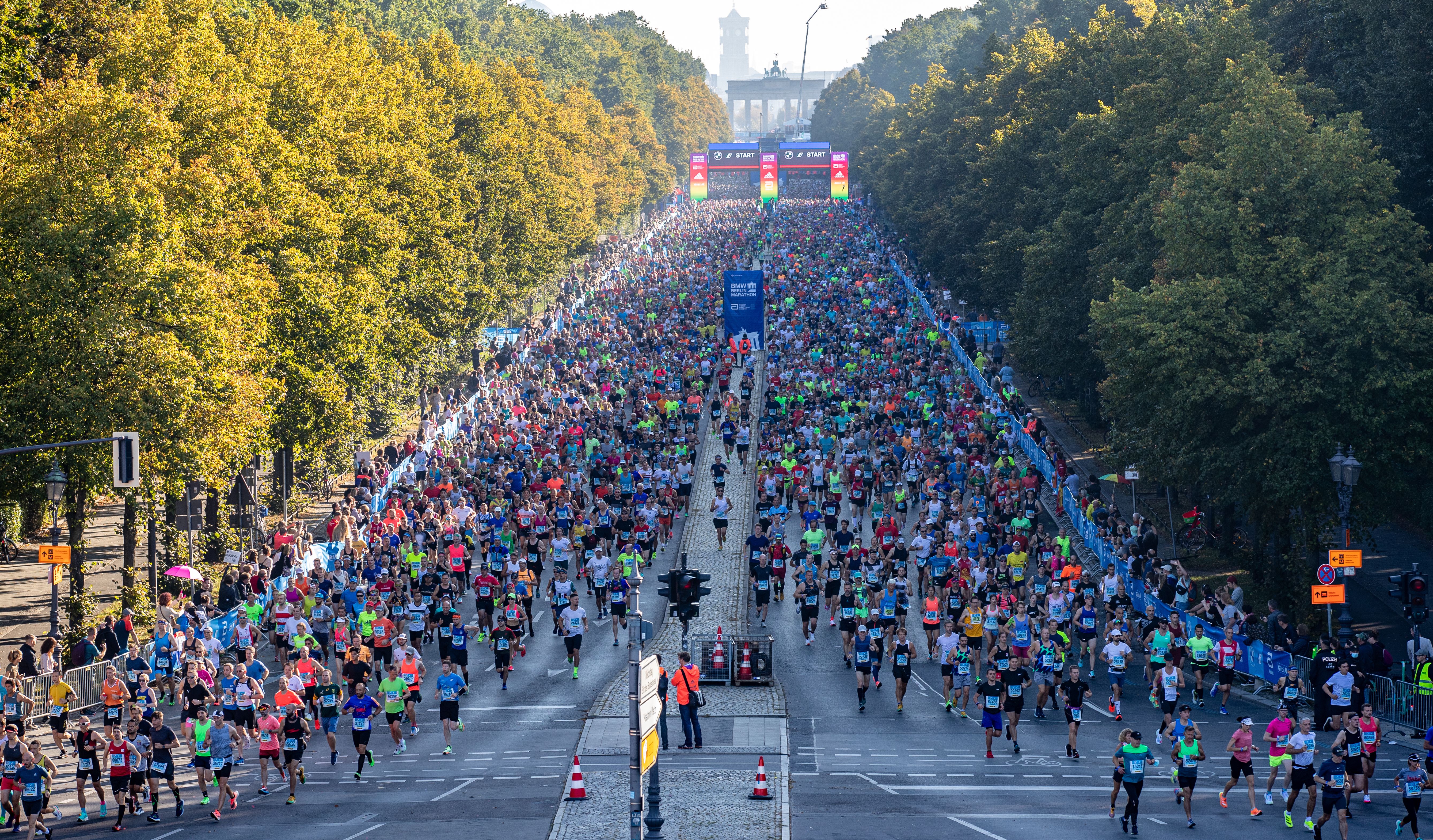 BERLIN — 25,000 runners took part in the Berlin Marathon, the biggest marathon in the world since the pandemic began.
7. ⚡️ Lightning round
💉 NBA denies Wiggins: The NBA has denied Andrew Wiggins' request for a vaccination exemption, leaving him ineligible to play home games until he meets San Francisco's vaccination requirement.
💔 Ballpark deaths: A woman and her 2-year-old son died Saturday after falling from the third level of San Diego's Petco Park.
💵 Caps + Caesars: The Capitals are the first NHL team to sell ads on their jerseys, announcing a multi-year deal that will see a Caesars Sportsbook logo on their home and third jerseys starting next season.
🏀 Manu's back: Four-time NBA champion Manu Ginóbili is returning to the Spurs as a special adviser to basketball operations.
❤️ Awesome moment: Fulham celebrated a goal alongside a teen fan with quadriplegic cerebral palsy. Sports, man.
8. 📆 Sept. 27, 2008: Maddux goes out on top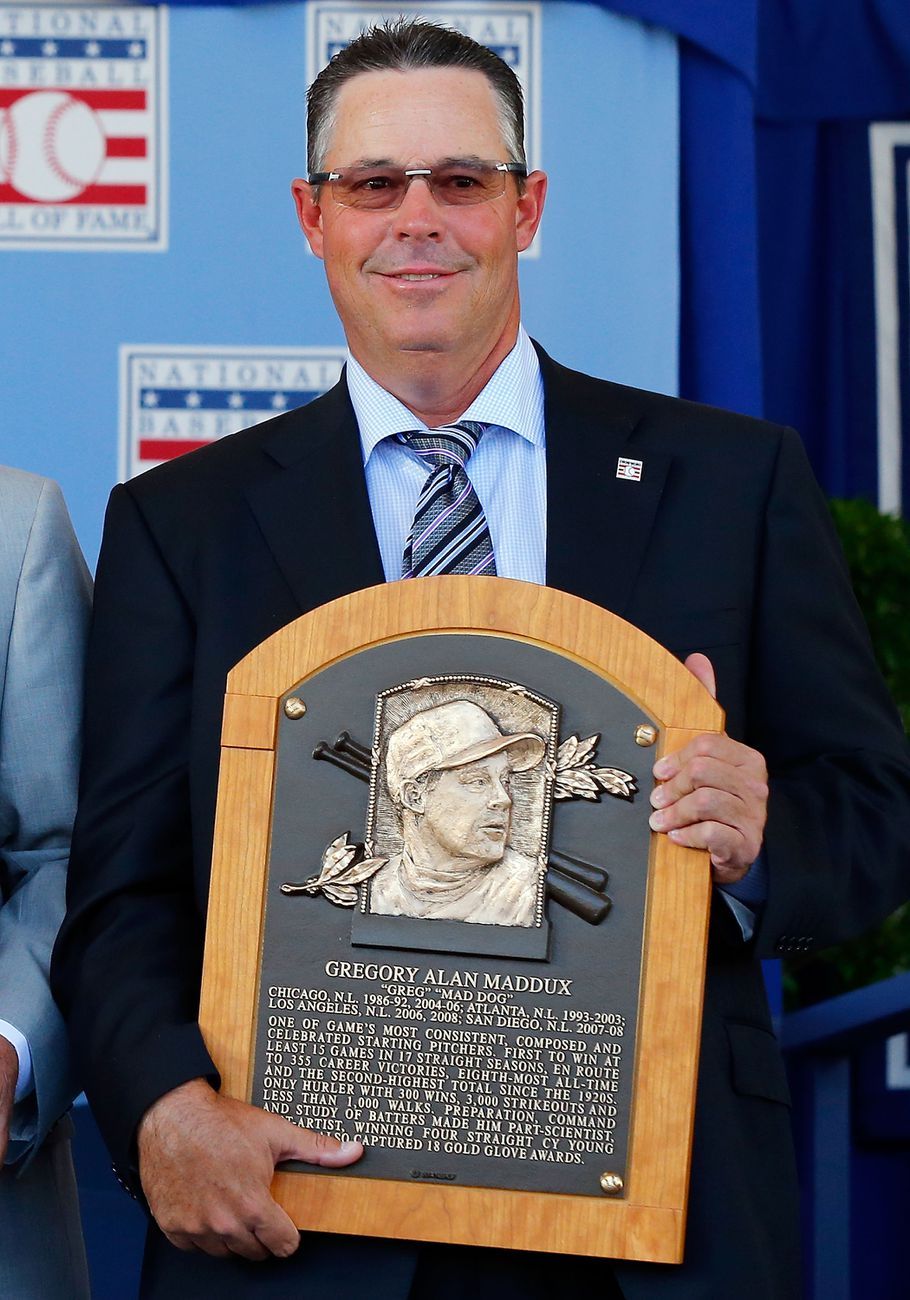 13 years ago today, Greg Maddux won his final start, a 2-1 Dodgers victory over the Giants.
By the numbers: Over the course of his 23-year Hall of Fame career, Maddux won 355 games with the Cubs, Braves, Dodgers and Padres — the eighth-most in MLB history.
All-time wins leaders (see full list):
Cy Young (511)
Walter Johnson (417)
Pete Alexander (373)
Christy Mathewson (373)
Pud Galvin (365)
Warren Spahn (363)
Kid Nichols (362)
Greg Maddux (355)
Roger Clemens (354)
Tim Keefe (342)
From the vault: Greg Maddux is the best righthander in the past 75 years — but he would rather you didn't know it (SI, 1995)
9. 🏈 NFL trivia
There are five undefeated NFL teams remaining. Can you name them?
Answer at the bottom.
10. 🎥 Catch of the weekend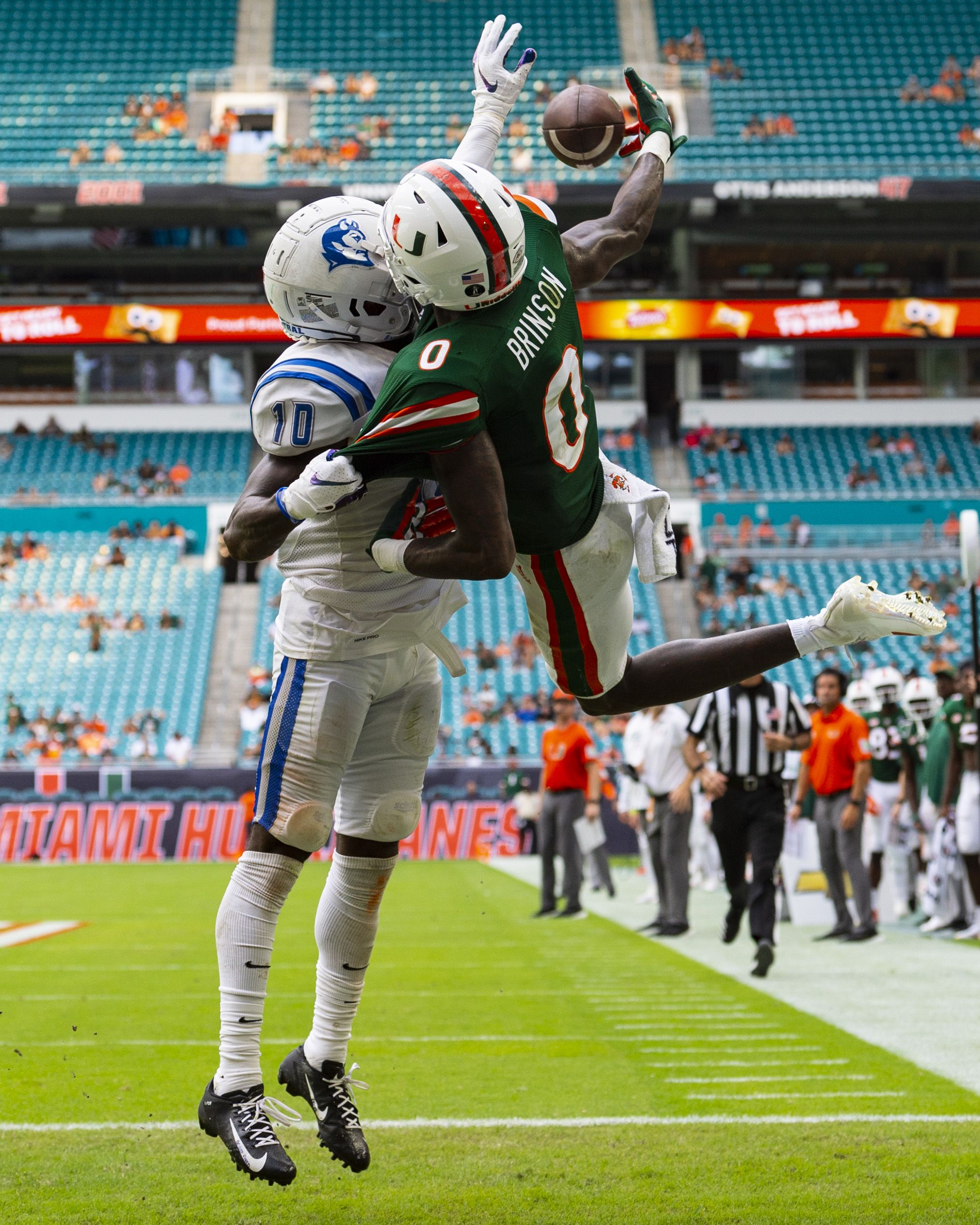 Take a bow, Romello Brinson.
Talk tomorrow,
Kendall "What a weekend" Baker
Trivia answer: Rams, Panthers, Cardinals, Broncos, Raiders
🙏 Thanks for reading. Don't forget to follow us on Twitter: @thekendallbaker and @jeffreytracy.