👋 Happy Monday! Welcome back.
Today's word count: 1,536 (< 6 mins)
Know somebody who should be reading Axios Sports? Tell them to sign up here.
1 big thing: ⚽️ Soccer kits are a gold mine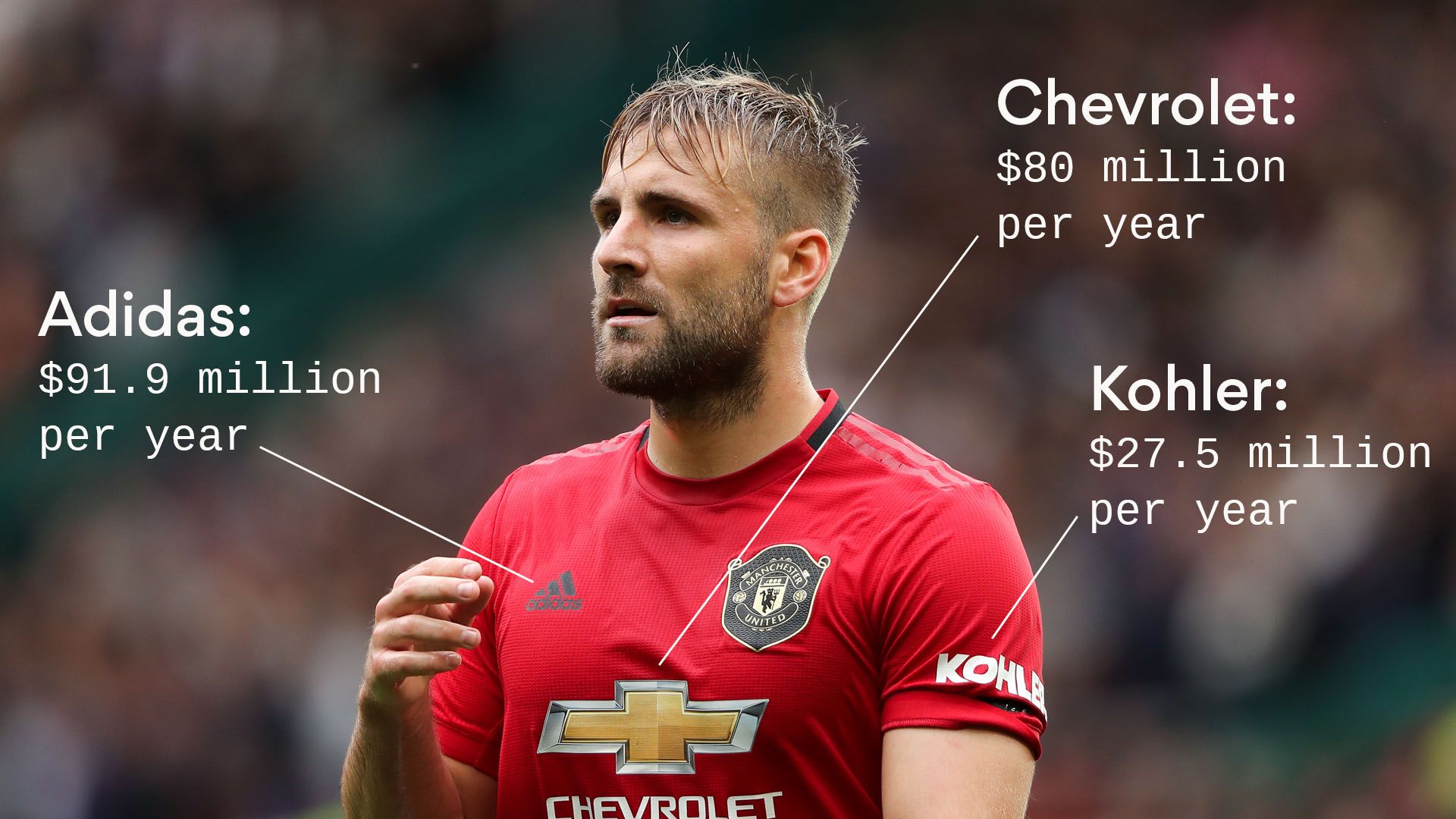 The Premier League is home to some of the world's most valuable sports teams. So, naturally, it's also home to some of the world's most valuable sports real estate: the uniforms those teams wear.
How it works: Premier League teams make money from their uniforms, or "kits," in two ways: apparel deals and sponsorship deals.
Kit supplier: While the four major North American sports leagues handle uniforms at the league-level (Nike is the official supplier for all NBA and NFL teams, for example), Premier League teams negotiate their own individual deals with companies. Examples include Adidas (Manchester United, Arsenal), Nike (Chelsea, Tottenham), Puma (Manchester City) and New Balance (Liverpool).
Main sponsor: This is the advertisement that appears across the center of the chest. Sponsors include Chevrolet (Manchester United), Etihad Airways (Manchester City) and Standard Chartered (Liverpool).
Sleeve sponsor: In 2017, the Premier League followed the lead of other European Leagues like La Liga (Spain) and began allowing teams to sell the rights to their left shirt sleeve. Sponsors include Western Union (Liverpool), Hyundai (Chelsea) and Kohler (Manchester United).
Example: This season, Manchester United will receive $91.9 million from Adidas (kit supplier), $80 million from Chevrolet (main sponsor) and $27.5 million from Kohler (sleeve sponsor). Total: $199.4 million.
Wild stat: Nike is paying $1 billion over eight years to be the official apparel provider for all 30 NBA teams, while Adidas is paying $919 million over 10 years to be the official supplier for Manchester United, alone.
The big picture: While this revenue-generating trifecta might not become the norm in the NBA, NFL, MLB and NHL (especially the team-specific apparel deals), jersey sponsorships certainly could.
In 2017, the NBA began allowing teams to sell a jersey sponsorship patch (Rakuten pays the Warriors $20 million per season, for example), and the results have been so promising that other leagues look poised to follow suit.
In May, I argued that NFL jersey patches feel inevitable, and last month, an MLB executive said the same thing about his own league: "[I]t's inevitable."
Go deeper:
2. 📸 Photos of the weekend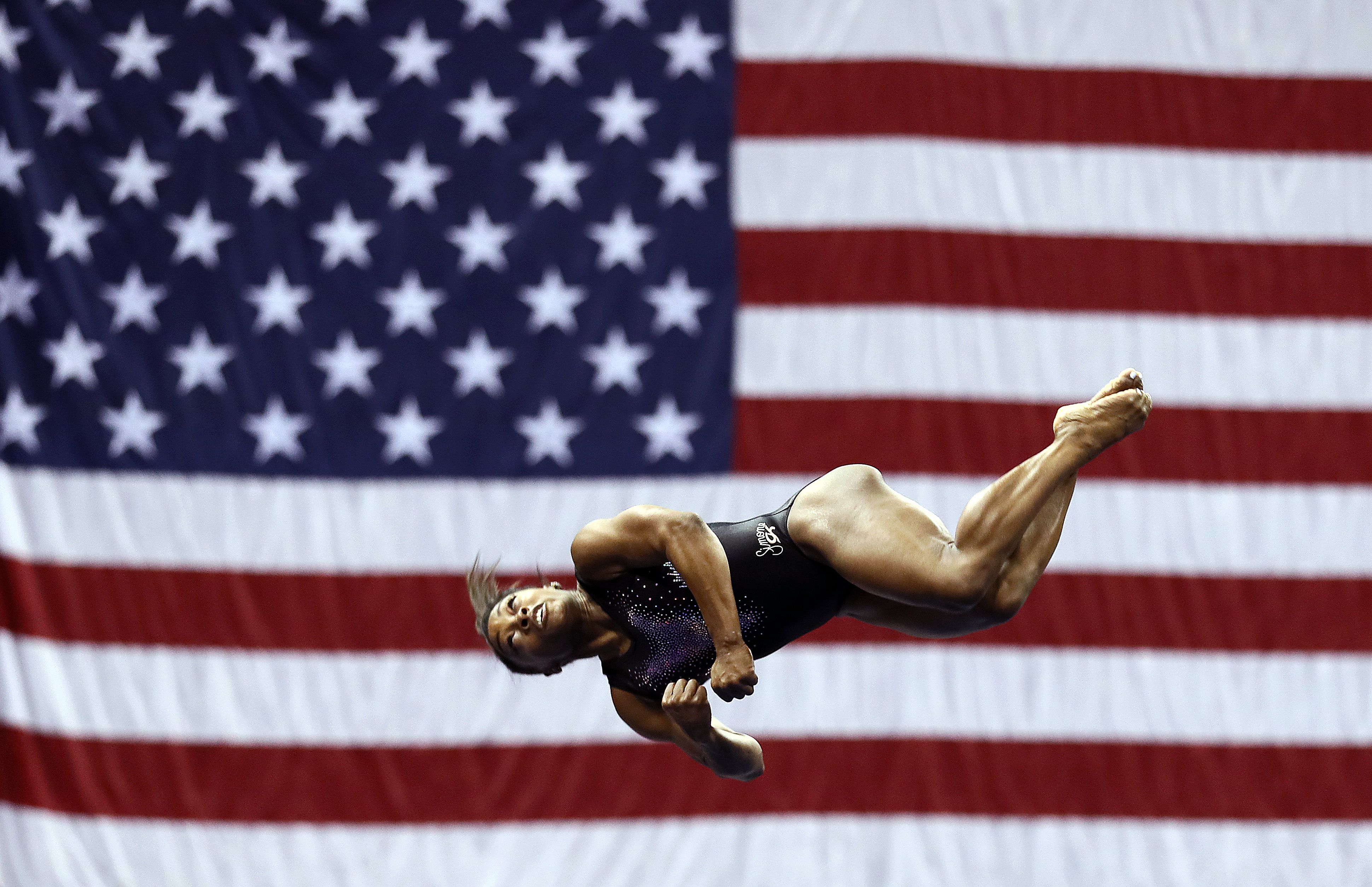 Photo: Jamie Squire/Getty Images
KANSAS CITY — Simone Biles won her sixth all-around U.S. gymnastics championship this weekend and made history not once but twice, becoming the first gymnast to perform a double-double dismount on beam as well as the first female gymnast to land a triple double on floor (watch in extreme slo-mo).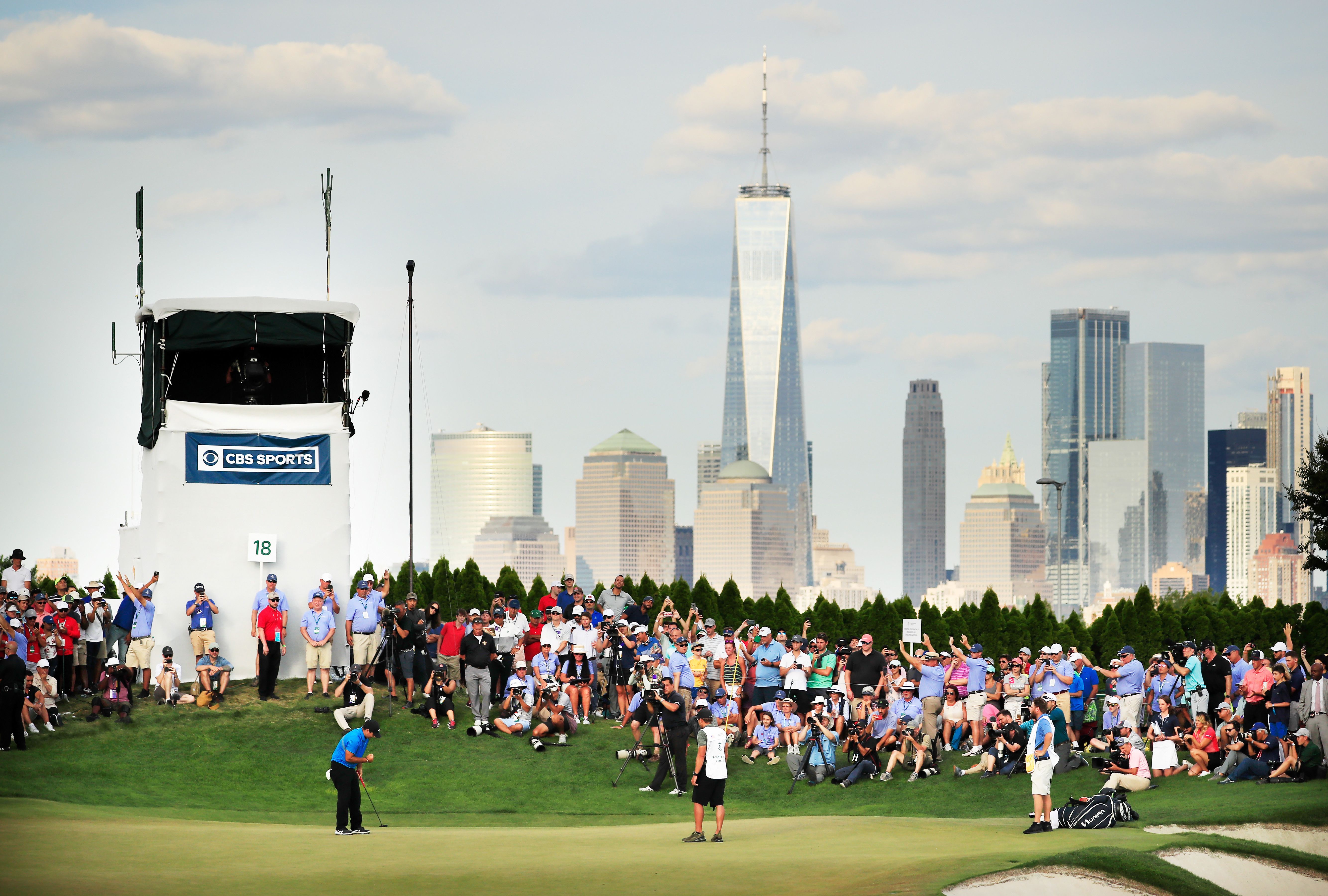 Photo: Cliff Hawkins/Getty Images
JERSEY CITY — Patrick Reed (above in blue) won the Northern Trust, but his victory was overshadowed by more pace of play controversy after Bryson DeChambeau went viral for taking an excessive amount of time to hit shots. "Dude. Putt already."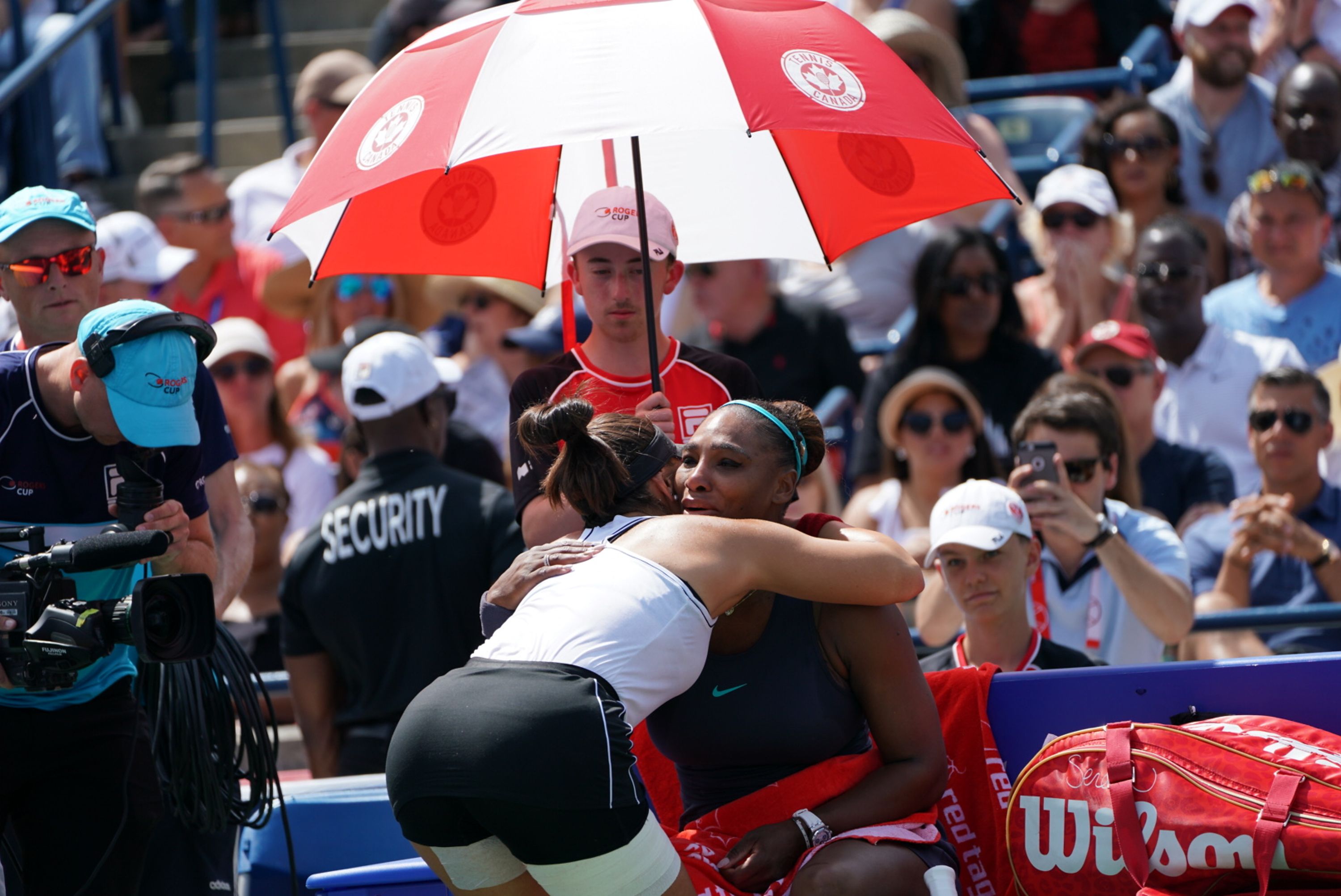 Photo: Julian Avram/Icon Sportswire via Getty Images
TORONTO — After Serena Williams was forced to retire from the Rogers Cup finals with an injury, her opponent Bianca Andreescu came over to comfort her and the two shared an awesome moment.
3. ⚾️ MLB: By the numbers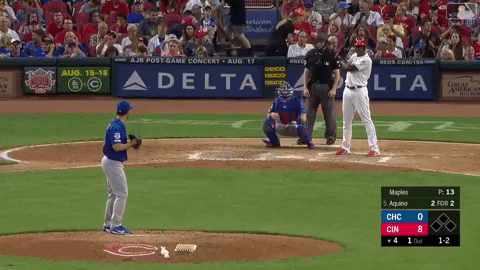 7 in 10
Reds rookie Aristides Aquino opened up his batting stance this year (see above) ... and it seems to be working. The 25-year-old smashed three dingers on Saturday, giving him seven in his first 10 career games, tied with Trevor Story for the most ever.
24 perfect games
Since 2008, MLB teams have recorded 51 cycles, 48 triple plays and 38-no hitters. In that same span, home-plate umpires have made every pitch call correctly on one team just 24 times, per The Ringer. That's roughly once per 1,200 games, or about twice per season.
+420 underdogs
The Orioles pulled off one of the biggest MLB upsets of the century yesterday when they beat the Astros 8-7 on a Rio Ruiz walk-off HR. The O's were listed as high as +420 underdogs, meaning a $100 bet would have netted you $420.
4. 🏈 Fantasy Rankings: Top 25 QBs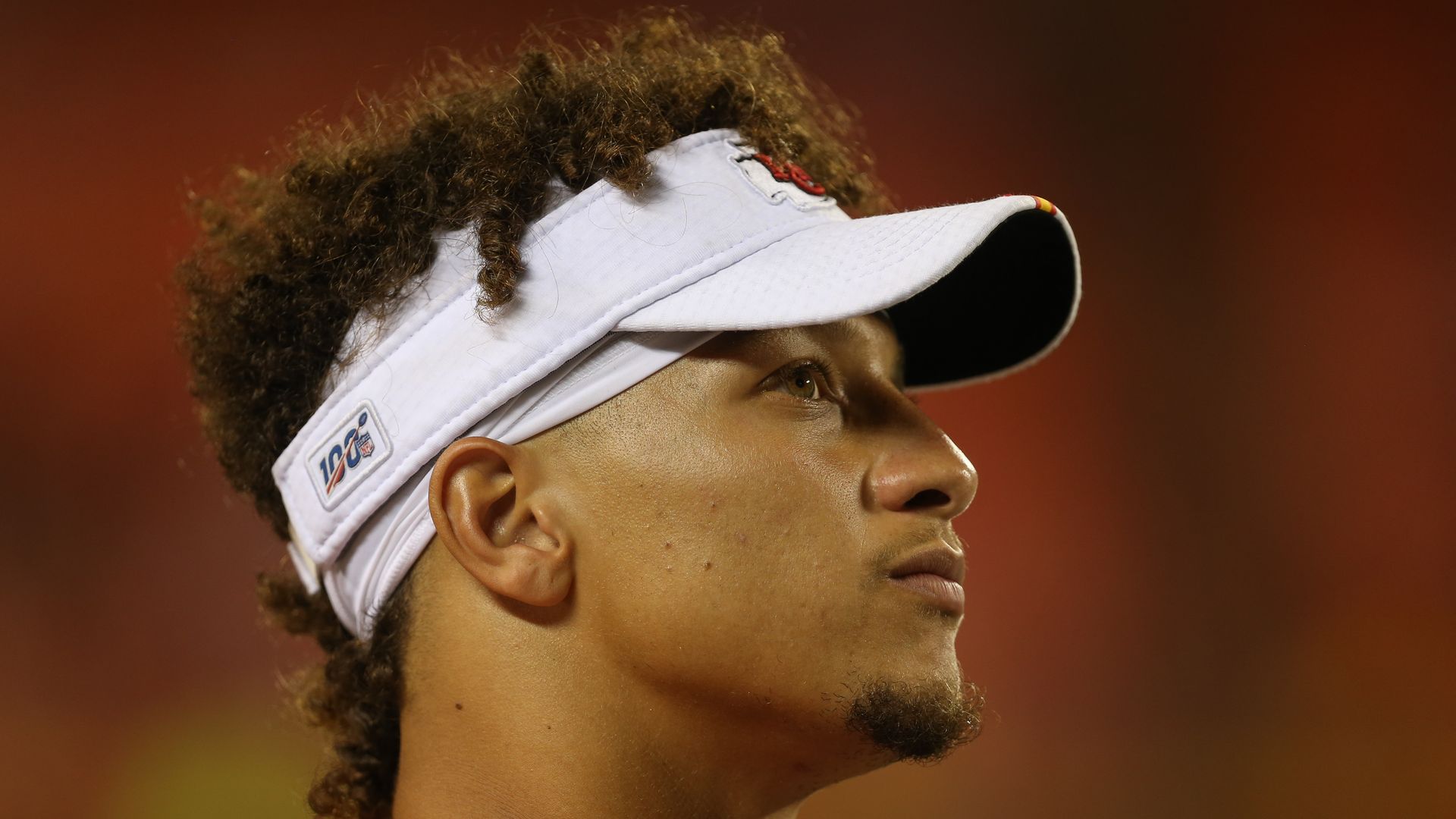 This week, we're unveiling our 2019 Fantasy Football rankings. Thanks to longtime reader Bret Chalpin for developing the formula (combines consensus rankings, last season's production, projected team offense and more).
1. Patrick Mahomes, Chiefs (last season: 1): How dominant was Mahomes last season? If you took 10 TD passes away, he still would have been the top-ranked QB. One concern: The Chiefs have the hardest schedule in terms of opposing defenses this season.
2. Aaron Rodgers, Packers (up from 6): In the eight seasons that Rodgers has played 15+ games, he's finished 1st, 2nd, 1st, 2nd, 1st, 7th, 1st and 6th in fantasy QB rankings. Matt LaFleur should bring new life to an offense that struggled to move the ball at times last year.
3. Deshaun Watson, Texans (up from 4): Watson just became the third QB in NFL history to throw for 4,000 yards and rush for 500 yards in a season (others: Cam Newton and Russell Wilson). If Will Fuller and others can stay healthy, his game could leap to a historically elite level.
4. Andrew Luck, Colts (up from 5): The 2018 Comeback Player of the Year heads into the season with positive momentum and one of the best offensive lines in football. One concern: The calf strain that won't go away.
5. Matt Ryan, Falcons (down from 2): Ryan thrived in Dirk Koetter's pass-heavy offense from 2012–14 and now Koetter is back to call the plays. With no new system to learn and 13 of the Falcons' 16 games in either a dome or warm weather, Matty Ice could put up monster numbers.
6–25:
6. Baker Mayfield, Browns (up from 16); 7. Cam Newton, Panthers (up from 12); 8. Russell Wilson, Seahawks (up from 9); 9. Drew Brees, Saints (down from 8); 10. Carson Wentz, Eagles (up from 22)
11. Jameis Winston, Buccaneers (up from 21); 12. Jared Goff, Rams (down from 7); 13. Philip Rivers, Chargers (down from 11); 14. Dak Prescott, Cowboys (down from 10); 15. Ben Roethlisberger, Steelers (down from 3)
16. Kyler Murray, Cardinals (rookie); 17. Tom Brady, Patriots (down from 14); 18. Mitch Trubisky, Bears (down from 15); 19. Kirk Cousins, Vikings (down from 13); 20. Derek Carr, Raiders (down from 17)
21. Lamar Jackson, Ravens (up from 28); 22. Jimmy Garoppolo, 49ers (up from 39); 23. Sam Darnold, Jets (up from 26); 24. Josh Allen, Bills (down from 20); 25. Matthew Stafford, Lions (down from 19)
5. 🏀 First day of (NBA rookie) school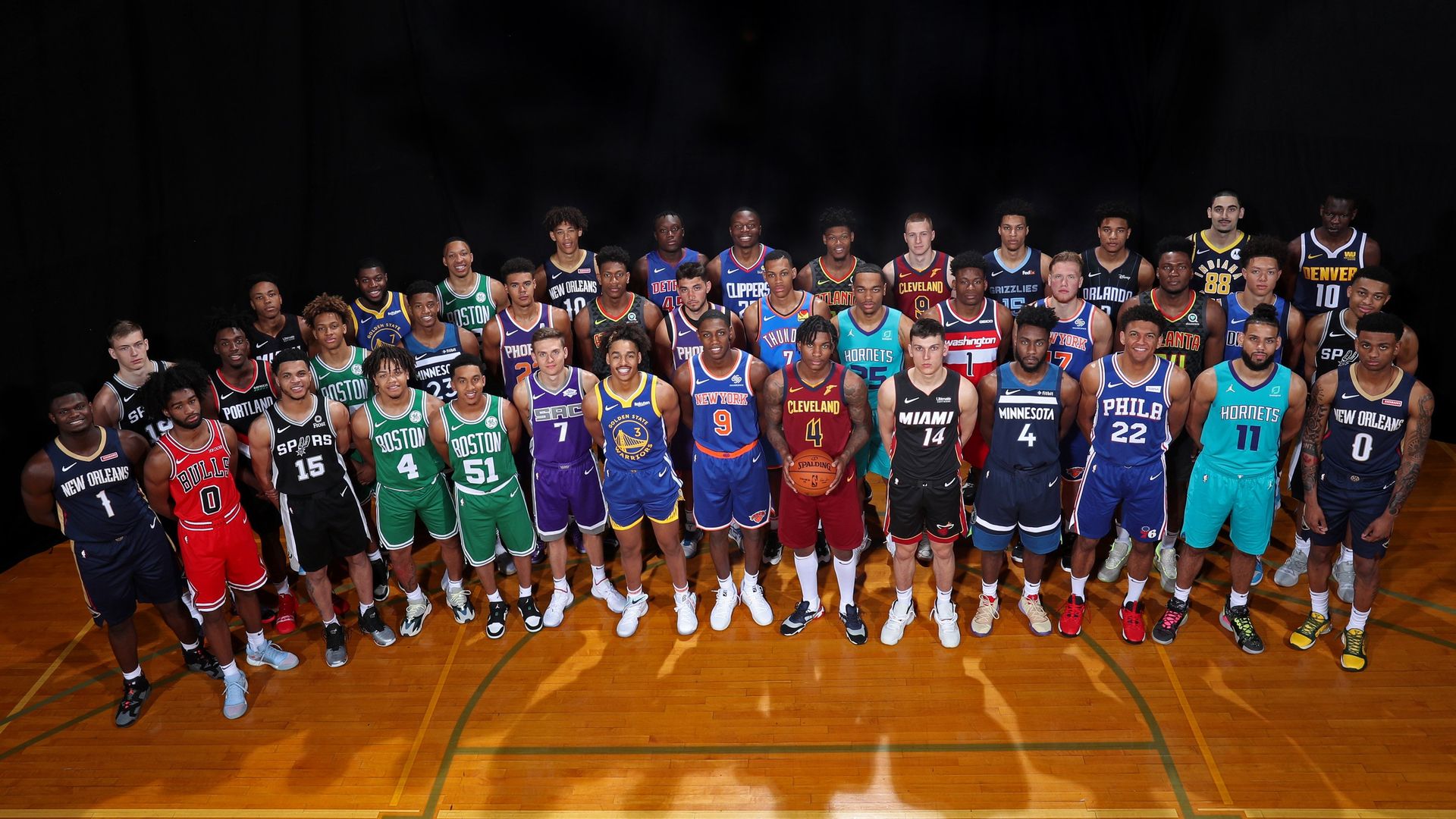 The NBA's four-day Rookie Transition Program begins today. Held annually since 1986, the event serves as an official introduction to NBA life and includes educational sessions on topics like financial planning and nutrition.
Pictured:
76ers: Matisse Thybulle (Washington)
Bulls: Coby White (UNC)
Cavaliers: Kevin Porter Jr. (USC), Dylan Windler (Belmont)
Celtics: Romeo Langford (Indiana), Carsen Edwards (Purdue), Grant Williams (Tennessee), Tremont Waters (LSU)
Clippers: Mfiondu Kabengele (FSU)
Grizzlies: Brandon Clarke (Gonzaga)
Hawks: De'Andre Hunter (UVA), Cam Reddish (Duke), Bruno Fernando (Maryland)
Heat: Tyler Herro (Kentucky) KZ Okpala (Stanford)
Hornets: PJ Washington (Kentucky), Cody Martin (Nevada)
Kings: Kyle Guy (UVA)
Knicks: RJ Barrett (Duke), Ignas Brazdeikis (Michigan)
Magic: Chuma Okeke (Auburn)
Mavericks: Isaiah Roby (Nebraska)
Nuggets: Bol Bol (Oregon)
Pacers: Goga Bitadze (country of Georgia)
Pelicans: Zion Williamson (Duke), Jaxson Hayes (Texas), Nickeil Alexander-Walker (Virginia Tech)
Pistons: Sekou Doumbouya (France)
Spurs: Keldon Johnson (Kentucky), Luka Samanic (Croatia), Quinndary Weatherspoon (Mississippi State)
Suns: Cam Johnson (UNC), Ty Jerome (UVA)
Thunder: Darius Bazley (Princeton HS, Ohio)
Timberwolves: Jarrett Culver (Texas Tech), Jaylen Nowell (Washington)
Trail Blazers: Nassir Little (UNC)
Warriors: Jordan Poole (Michigan), Eric Paschall (Villanova)
Wizards: Admiral Schofield (Tennessee)
6. Aug. 12, 1994: ⚾️ The day the baseball stopped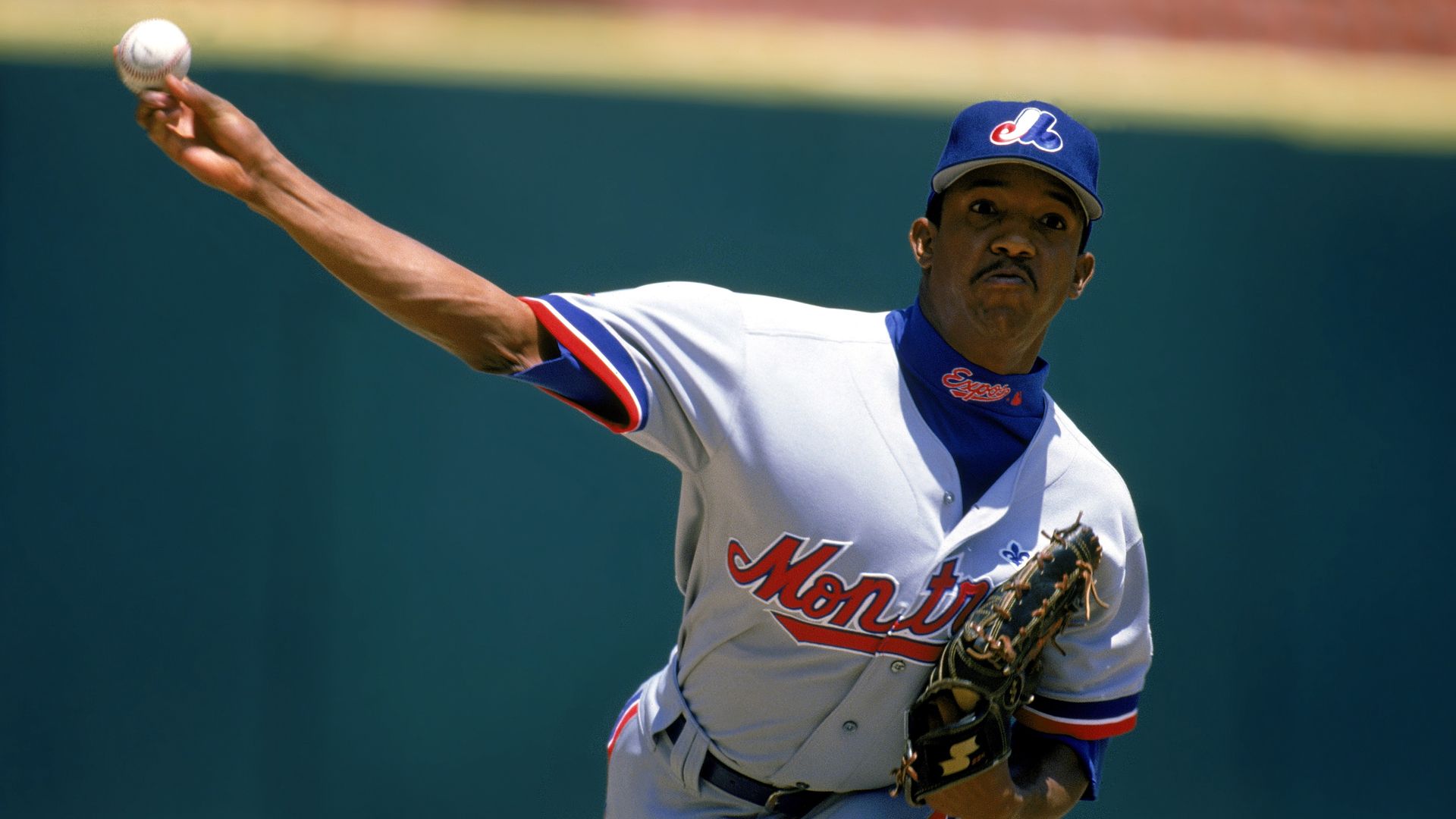 25 years ago today, Major League Baseball ground to a halt when the players went on strike rather than accede to the owners' demand for a salary cap.
Why it mattered: The strike lasted 232 days and resulted in the cancelation of the remainder of the 1994 season and playoffs, making it the only time in modern history that the World Series was called off.
The "what ifs": In addition to being a black eye for all of baseball, the 1994 strike cost certain teams and players a shot at history.
Montreal Expos: The Pedro Martinez and Moises Alou-led Expos were 74-40 at the time and looked like World Series favorites despite having the second-lowest payroll in the league. The franchise is now the Washington Nationals and has yet to win a World Series.
Tony Gwynn: The Padres legend was hitting .394 and had a legitimate chance of becoming the first player since Ted Williams in 1941 to hit .400 or better for an entire season.
Matt Williams: Roger Maris' home run record of 61 still stood at the time, and Giants slugger Matt Williams had 43 through 115 games, putting him on pace for ... 61.
7. ⚾️ MLB trivia
Padres rookie sensation Fernando Tatis Jr. is the sixth player since 1960 — and fourth this decade — to record 20 HR and 15 SB in a season before the age of 21.
Question: Who are the three other players who accomplished that feat this decade?
Hint: Two play in the NL, one plays in the AL.
Answer at the bottom.
8. The Ocho: 🔥 Does this look like the face of a yoyo champion?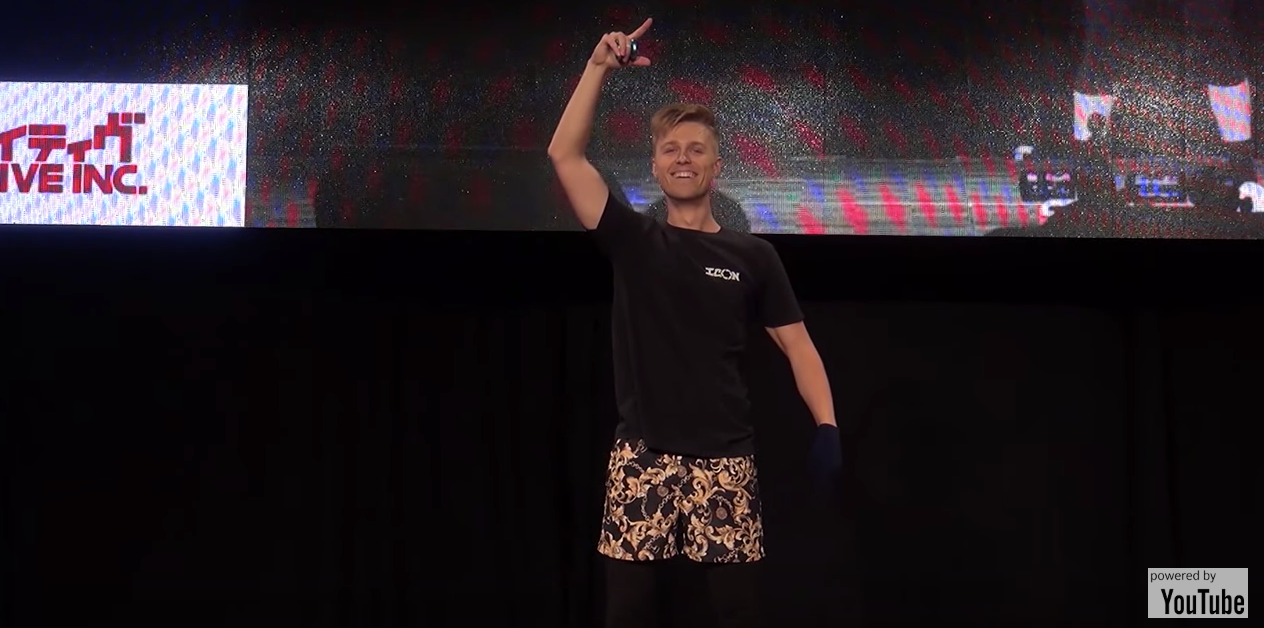 Screenshot: YouTube
Well, it is. Gentry Stein won the 1A category at the World Yoyo Contest in Cleveland this weekend and his routine broke my brain.
9. Everything else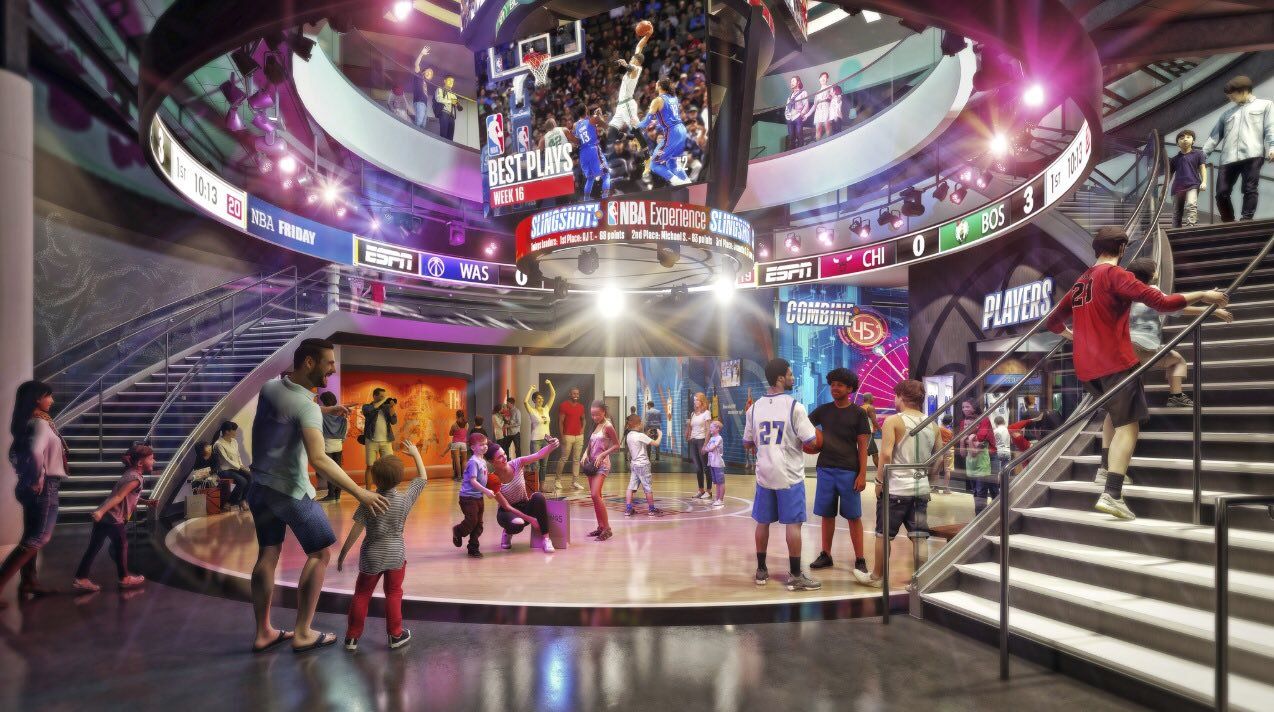 Courtesy: Disney Springs
🏀 NBA: The all-new NBA Experience officially opens today at Disney Springs in Walt Disney World Resort. The entertainment/retail attraction is packed with 13 different basketball-related activities across 44,000 square feet and two floors.
⚾️ MLS: LAFC's Carlos Vela notched a goal and two assists to tie Sebastian Giovinco for the most points in an MLS season (38) … with 10 games to go. Meanwhile in Atlanta, Josef Martinez scored a goal in his record 10th consecutive game.
🏈 Arena Football League: The NFL has Tommy Brady, and the AFL has Tommy Grady. The former Oklahoma Sooner and two-time league MVP led the Albany Empire to a 45-27 win over the Philadelphia Soul in last night's ArenaBowl 32.
10. ⛳️ I love sports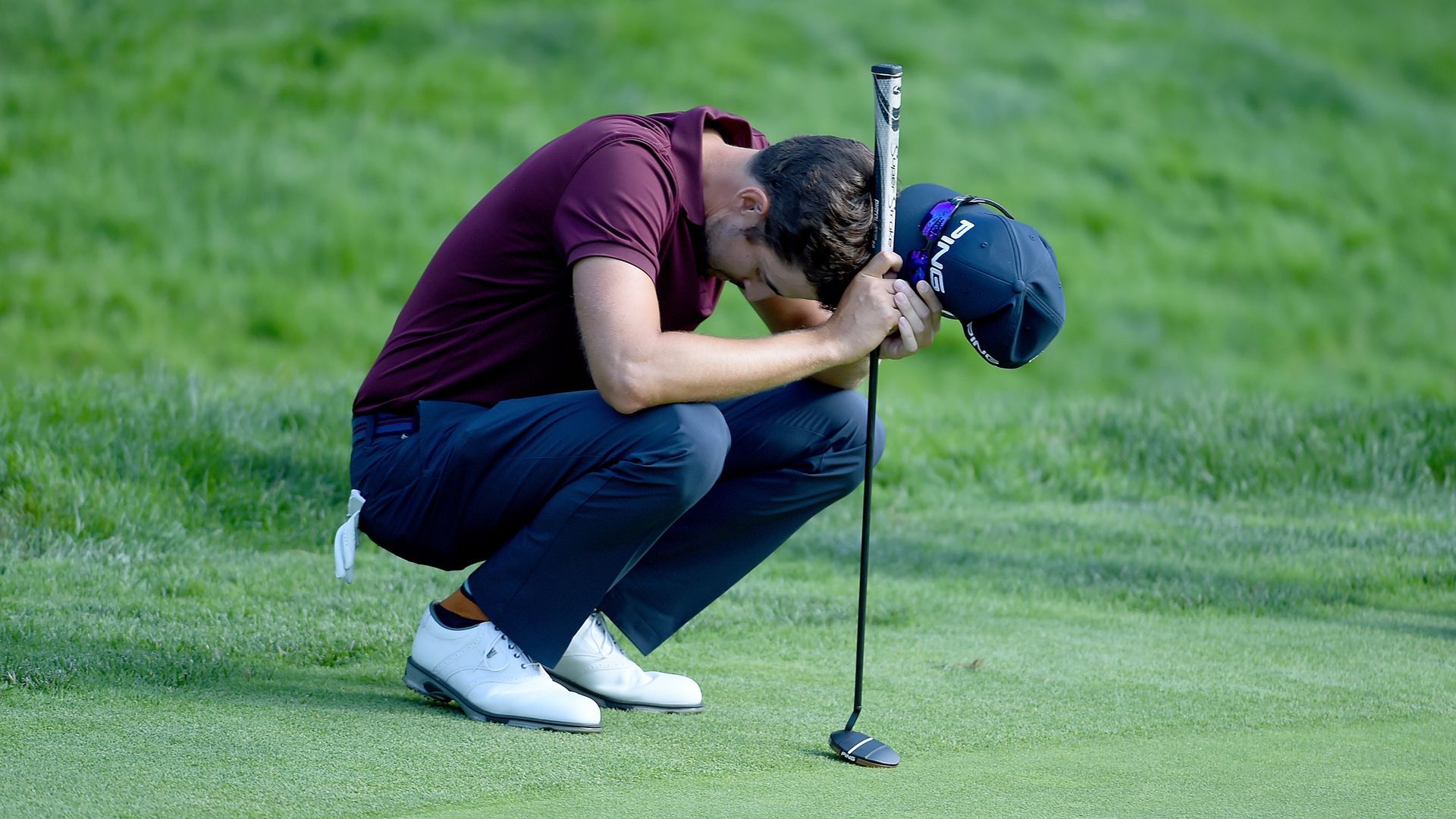 Last year, pro golfer Scott Harrington put his dream of making the PGA Tour on hold and took a leave of absence to care for his wife, Jenn, who was battling cancer.
Yesterday, the 38-year-old Harrington finally realized that dream … then fell into the arms of a now cancer-free Jenn.
See you tomorrow,
Kendall "Biles is such a legend" Baker
Trivia answer: Ronald Acuna Jr. (2018), Bryce Harper (2012), Mike Trout (2012)