Axios Sports
May 28, 2020
👋 Good morning! Let's sports.
Today's word count: 1,776 words (7 minutes)
1 big thing: 📈 Sports betting stocks are surging
Despite the lack of live games, sports betting stocks have performed particularly well over the past month, highlighted by fantasy sports/betting platform, DraftKings, and gaming operator, Penn National, writes Axios' Jeff Tracy.
By the numbers: Since going public on April 24, DraftKings' stock is up 82%, while Penn National Gaming — which acquired Barstool Sports in January — is up 130%.
Why it matters: This surge signals a wider truth about the sports betting industry — it is uniquely suited to emerge from the pandemic virtually unaltered.
COVID-19 has plunged the global economy into a crisis, and some industries might never be the same (i.e. live events); but others, like sports betting, are poised to bounce back and essentially play the same role they did pre-virus.
To put it another way, we don't know when sports will return — or what they'll look like when they do — but we do know that people will bet on them.
Between the lines: As the world remains largely shut down and people are stuck at home with little to do, they're more likely to turn to the vices that satisfy their basest instincts.
"Gambling affects a primitive bit of the brain, a bit of the brain that, from an evolutionary perspective is less advanced and it's more about immediate gains," said addiction specialist Cyrus Abbasian.
The sports schedule may be limited at the moment, but bettors tend not to discriminate, and there could be more betting interest than ever when sports resume in full.
What to watch: The coronavirus hindered what was supposed to be a monumental year for sports betting, but if the NFL and college football seasons are able to take place this fall, it'll go a long way towards softening the blow dealt by losing March Madness.
Penn National expects to launch its rebranded sportsbook as the "Barstool Sportsbook" before the start of the NFL season, while DraftKings is the NFL's official daily fantasy partner and has millions of football fans on its platform.
The bottom line: Whether DraftKings and Penn National are uniquely positioned to succeed, or are just the most-popular proxies for an exciting new industry, sports betting appears to be, well, a good bet — even during a pandemic.
2. ⚡️ Catch up quick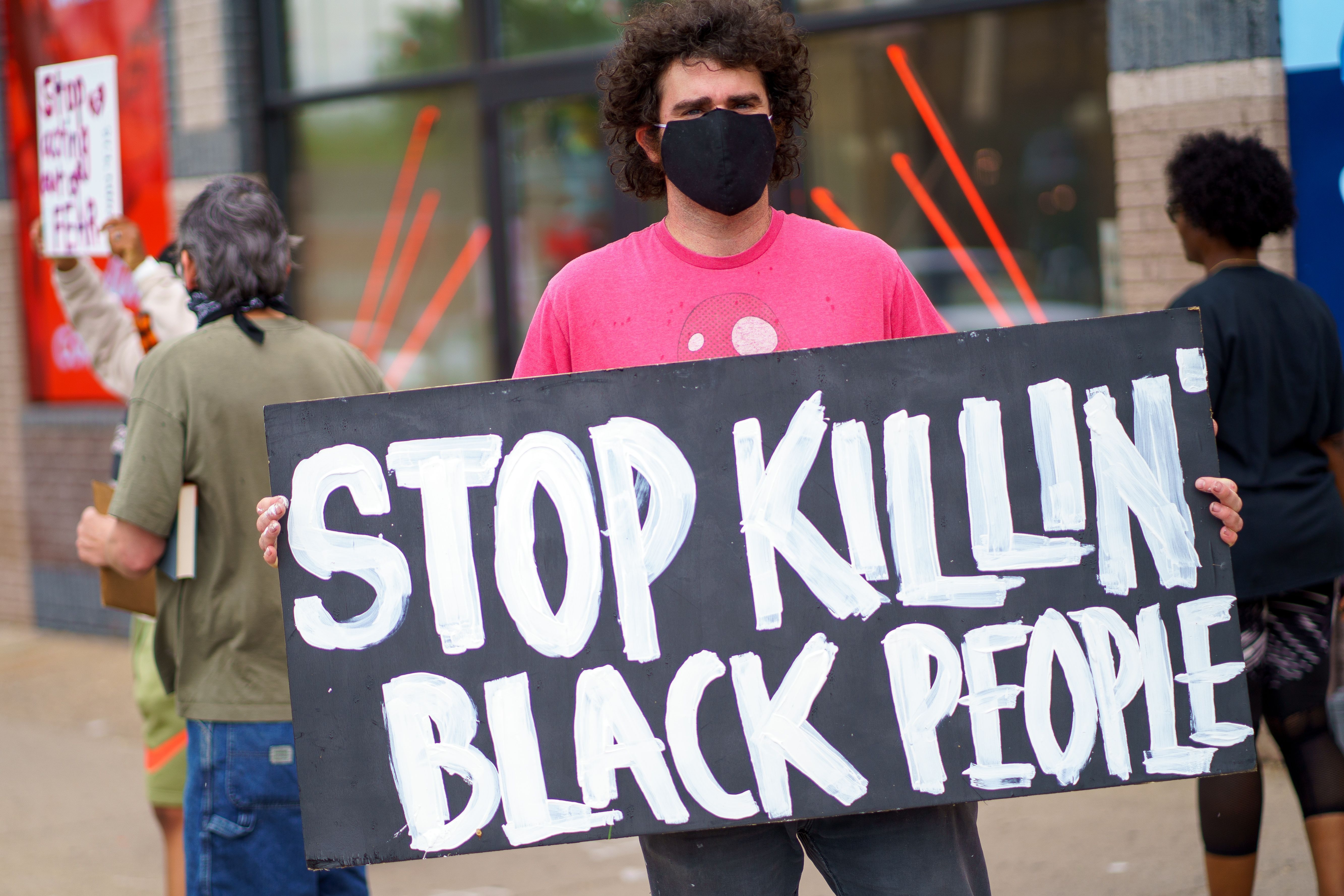 🎓 The University of Minnesota says it will no longer use local police officers to assist at major events, including football games. The news comes amid protests in Minneapolis over the death of George Floyd, an African American man who died after being pinned down by police, unable to breathe.
⚽️ The National Women's Soccer League wants to kick-off on June 27. Under the proposed plan, the league's nine teams would gather in Utah for a 25-game tournament over 30 days. The proposed event would be an Olympic-style competition with group play, followed by an eight-team knockout stage.
⚾️ Max Scherzer ripped MLB owners over proposed pay cuts, tweeting that "there's no reason to engage with MLB in any further compensation reductions," and that he believes "MLB's economic strategy would completely change if all documentation were to become public information."
🏰 Disney World, which is in early discussions to host the NBA (and possibly MLS), submitted a proposal on Wednesday for a phased reopening beginning on July 11. The plan needs approval from Florida Gov. Ron DeSantis before it can be implemented.
🏀 Former Hoya guard Mac McLung, arguably the top transfer on the market, committed to Texas Tech. "It was a number of events that made me feel I had no choice but to transfer from Georgetown," McClung told ESPN. "I'm looking for a place I can call home. A place I can be part of a family."
3. 🎟 "Worst deal ever"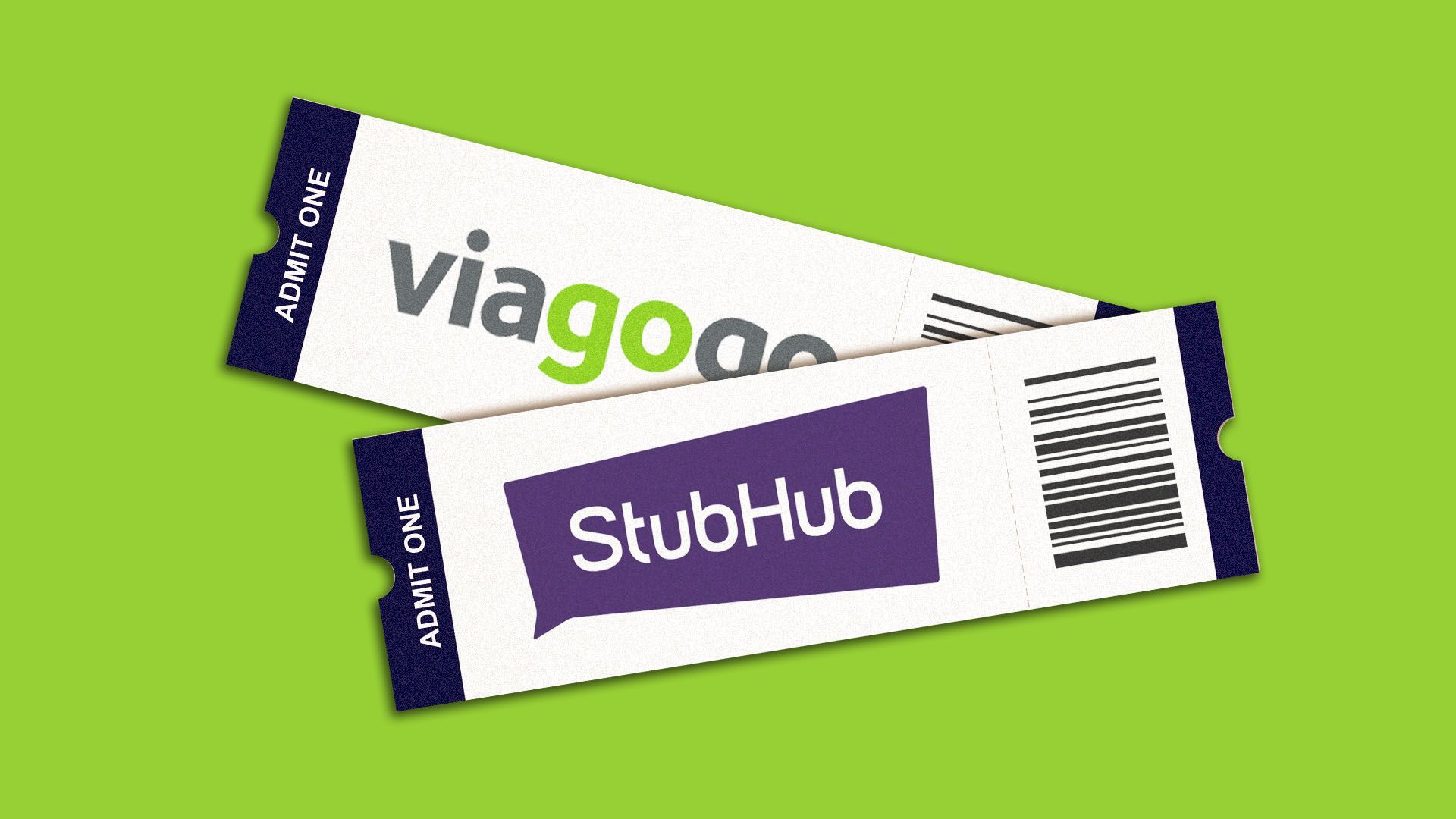 15 years ago, Eric Baker was fired from StubHub, the company he co-founded with Jeff Fluhr when they were graduate students at Stanford.
In February, Baker bought StubHub back for $4 billion — merging it with his second company, Viagogo, to create a global ticketing behemoth.
The deal made Baker a near-billionaire and was "personally satisfying," he said at the time (acquiring the company you originally founded, only to get kicked out years later, has to feel good).
Then came the pandemic, which has "utterly wrecked the business," writes Forbes' Andrew Solender. The lesson: "Revenge isn't always sweet."
"StubHub and Viagogo will likely be some of the last businesses to rebound," writes Solender. "They rely not just on live events — which will likely need a vaccine before they can fully recover — but also on excess demand for those events that forces buyers to the secondary market. That could take years."
"Success is nearly always a matter of some luck and good timing. In this case, Baker ... had neither."
4. 🏒 NHL exit interviews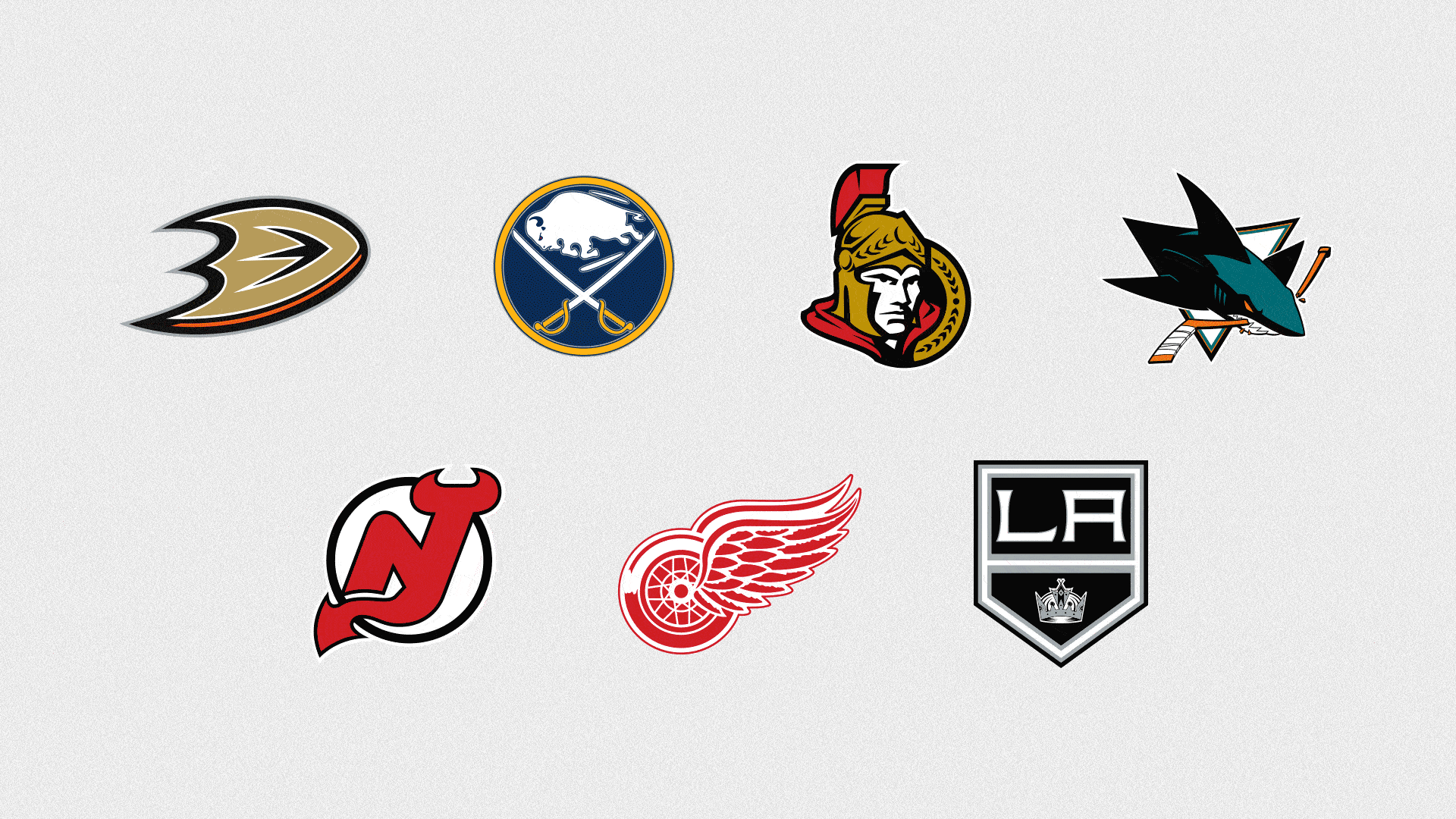 The NHL announced plans to head straight to the playoffs with 24 teams, meaning the season is officially over for the league's seven worst squads: the Buffalo Sabres, N.J. Devils, Anaheim Ducks, L.A. Kings, San Jose Sharks, Ottawa Senators and Detroit Red Wings.
Sabres
Devils
Ducks
Kings
Sharks
Senators
Red Wings
Bonus: ⚾️ Ranking MLB's all-time rosters (No. 15)
We're ranking the all-time rosters for all 30 MLB teams. Note: Rosters based only on time spent with this specific team. Thoughts? Email me at [email protected].
15. Oakland Athletics
Can't blame them for this, but through the years the A's followed a strange trend of snatching MVPs away from more deserving players. Miguel Tejada won with 5.7 WAR (2002), Mickey Cochrane with 3.3 (1928) and Dennis Eckersley with 2.9 (1992), despite those being the ninth, 17th and 17th-best totals each year, respectively. Voters must have taken Edwin Starr's famous song to heart.
Year established: 1901
All-time record: 9,028-9,452 (.489)
World Series Championships: 9
Hall of Famers (indicated by *): 13
Starting lineup:
OF Rickey Henderson* (72.7 bWAR with team)
2B Eddie Collins* (57.3)
1B Jimmie Foxx* (61.6)
DH Mark McGwire (42.9)
OF Reggie Jackson* (48)
OF Al Simmons* (50.8)
3B Sal Bando (52.1)
C Mickey Cochrane* (37.3)
SS Bert Campaneris (49)
On the mound: SP Lefty Grove* (64.8)
Bench:
Infield: 2B Max Bishop (35.4), 3B Home Run Baker* (42.2), SS Miguel Tejada (22.1), C Gene Tenace (23.6)
Outfield: Bob Johnson (43), José Canseco (27.2), Dwayne Murphy (31.7)
Utility: Vida Blue (28.4), Eric Chavez (35)
Rotation: Eddie Plank* (77.4), Rube Waddell* (44.9), Chief Bender* (46), Barry Zito (30.6)
Bullpen: Dennis Eckersley* (16), Rollie Fingers* (12.6), Huston Street (5.8)
Additional notes:
Henderson's career looks like a misprint. He scored the most runs ever (2,295), hit the most leadoff HR (81), and, of course, stole the most bases (1,406). For steals, there's as big a gap between Rickey and second-place Lou Brock (928) as there is between Brock and 46th-place Jimmy Rollins (470)!!!
Does Home Run Baker have the best nickname ever? John Franklin Baker earned the moniker thanks to being one of the first home run kings, leading the league for four straight years (1911-1914) with a combined total of ... 42. The times, they have a-changed.
ICYMI ... 30. Rays, 29. Royals, 28. Diamondbacks, 27. Blue Jays, 26. Angels, 25. Padres, 24. Rockies, 23. Brewers; 22. Nationals, 21. Mets, 20. Orioles, 19. Twins, 18. Astros, 17. Marlins, 16. White Sox
Huge thanks to Tom Stone, whose book "Now Taking the Field: Baseball's All-Time Dream Teams for All 30 Franchises," provided the inspiration for these rosters.
5. 🏀 $15 to build your all-time NBA team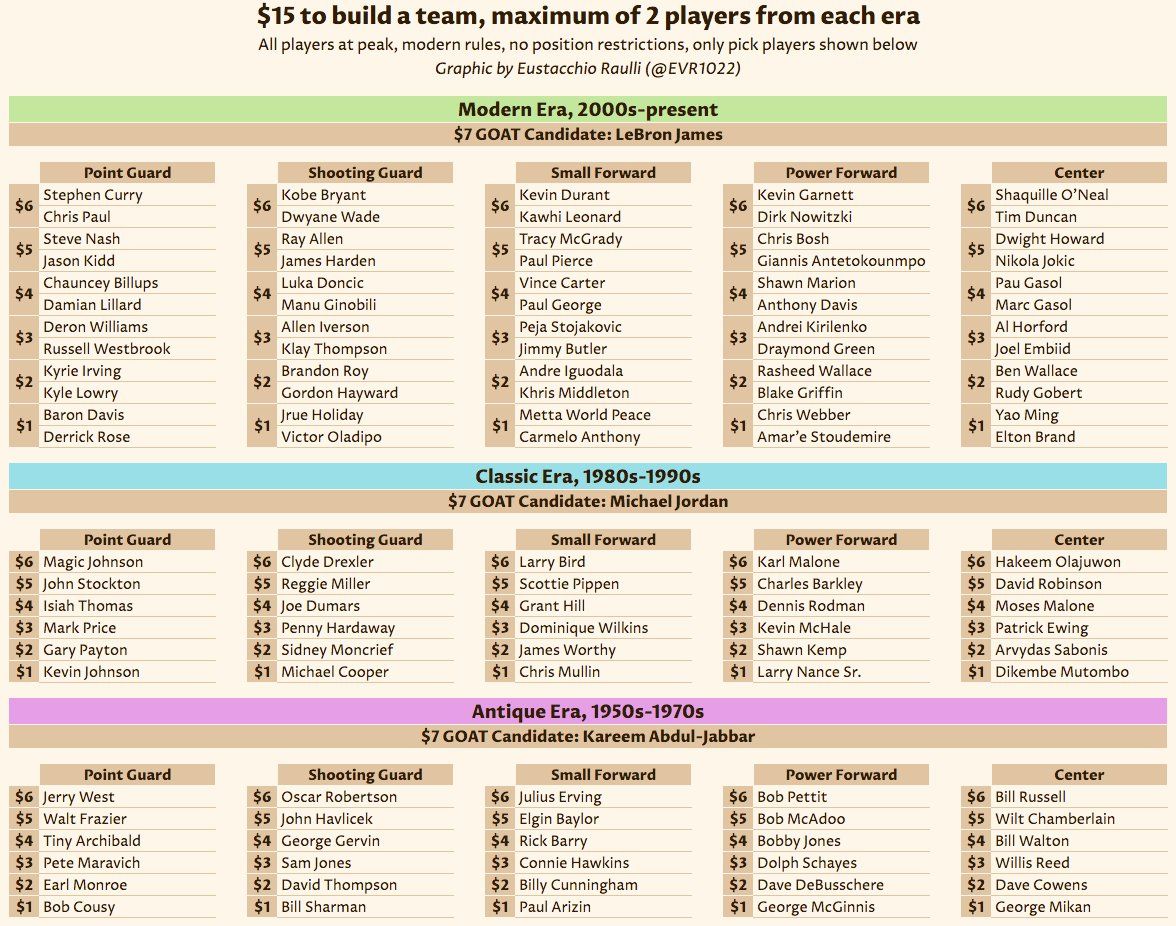 You have $15 to build an all-time NBA team using the players listed above.
Rules: Maximum of two players from each era, all players at their peak, modern rules, no position restrictions.
My squad: TEAM BALL MOVEMENT. Motto: "Enjoy your three-point barrage, losers, we're here to make the extra pass and nutmeg you into submission."
PG: $1 Bob Cousy (Antique Era)
SG: $3 Penny Hardaway (Classic Era)
SF: $7 LeBron James (Modern Era)
PF: $2 Blake Griffin (Modern Era)
C: $2 Arvydas Sabonis (Classic Era)
6. March 28, 2006: ⚾️ Bonds passes Babe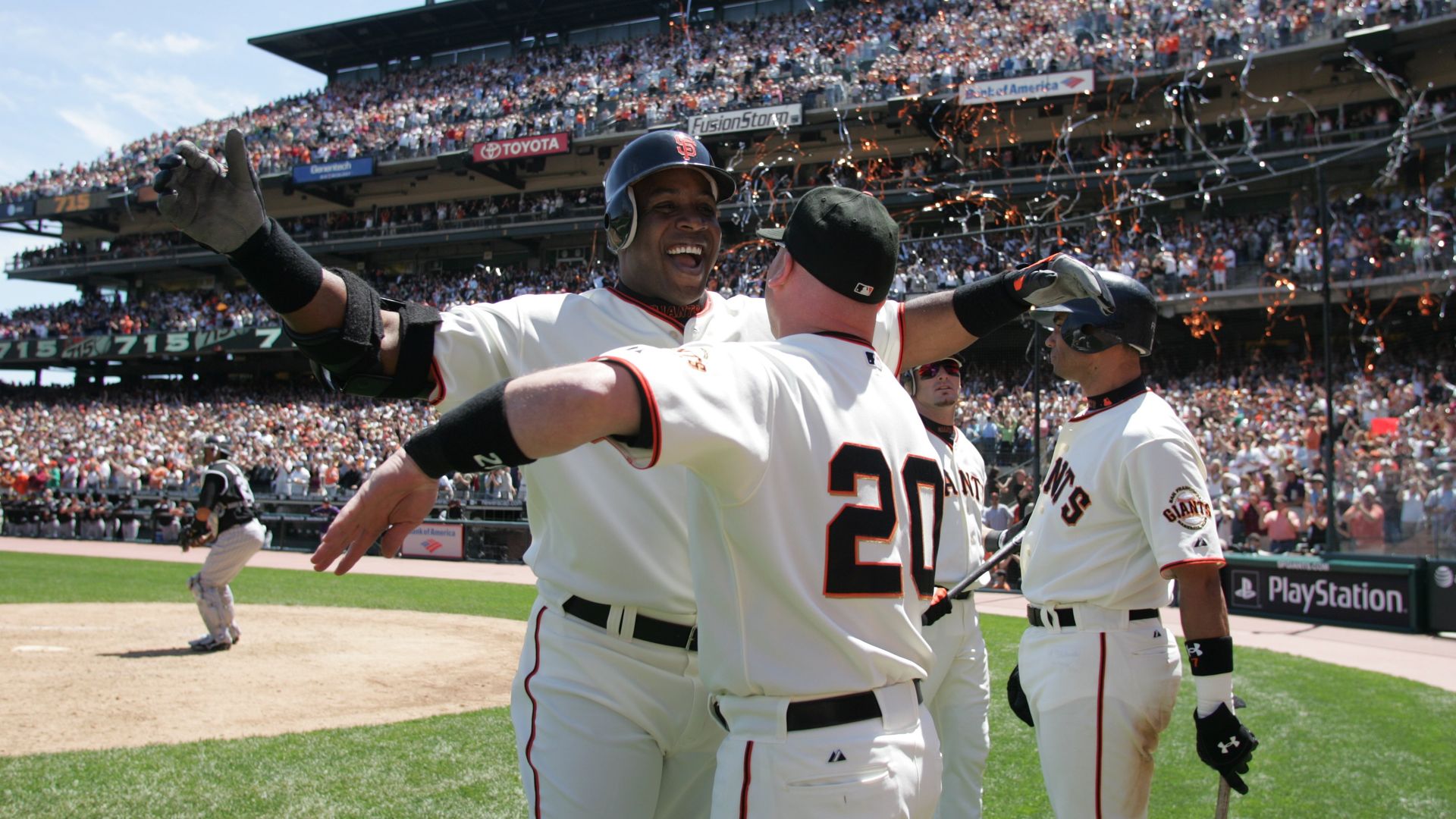 14 years ago today, Barry Bonds hit his 715th home run to pass Babe Ruth for second on the all-time list. Two years later, he passed Hank Aaron for the top spot — asterisk included.
"I know what I did out there. I know what I accomplished between those lines. It's outside those lines that I would have done some things different."
— Bonds in March,
via The Athletic
All-time HR leaders:
Barry Bonds* (762)
Hank Aaron (755)
Babe Ruth (714)
Alex Rodriguez (696)
Willie Mays (660)
Albert Pujols (656)
Ken Griffey Jr. (630)
Jim Thome (612)
Sammy Sosa (609)
Frank Robinson (586)
7. 📚 Good reads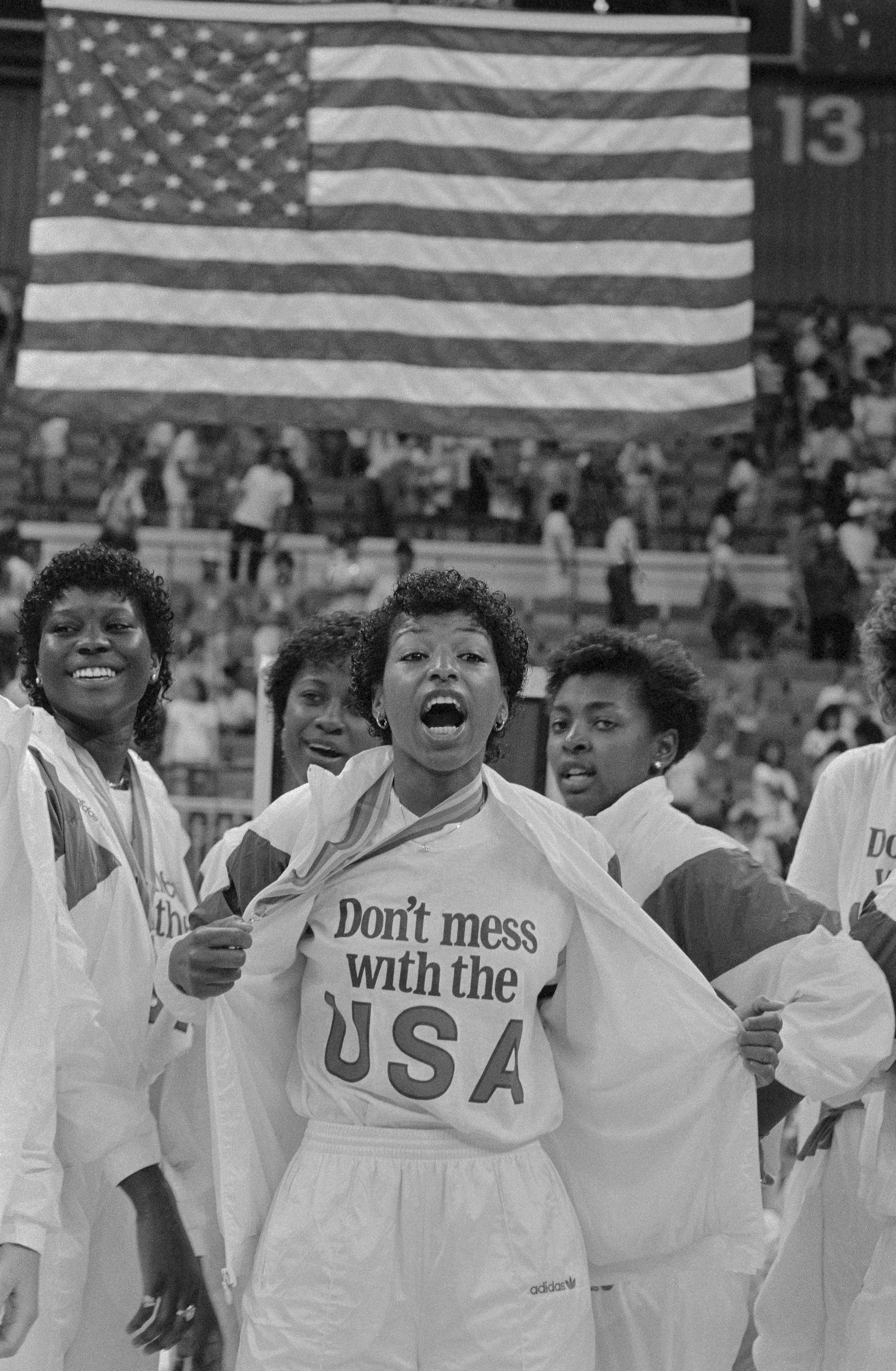 🏀 It's time to give basketball's other GOAT her due (Neil Paine, FiveThirtyEight)
"At the same time that Michael Jordan's last dance was playing out, [Cynthia] Cooper-Dyke was dominating the WNBA just like Mike was the NBA — establishing a statistical record that still hasn't been surpassed."
🏈 With or without say of players, college football moves toward a return (Billy Witz, NYT)
"The reopening plans highlight the enormous financial incentive to play football ... There are cultural pressures, as well — particularly in Southern states where college football is king and the debate about whether (and how) the sport should return has become political fodder."
📺 Five ways pandemic-era sports on TV could be better than ever (Bryan Curtis, The Ringer)
"The COVID-19 crisis has grounded sports producers for two months, offering them a rare chance to stop and think about what we see. They have some wild ideas that just might reshape the way we watch games on TV."
8. The Ocho: 📸 Biking in The Big Easy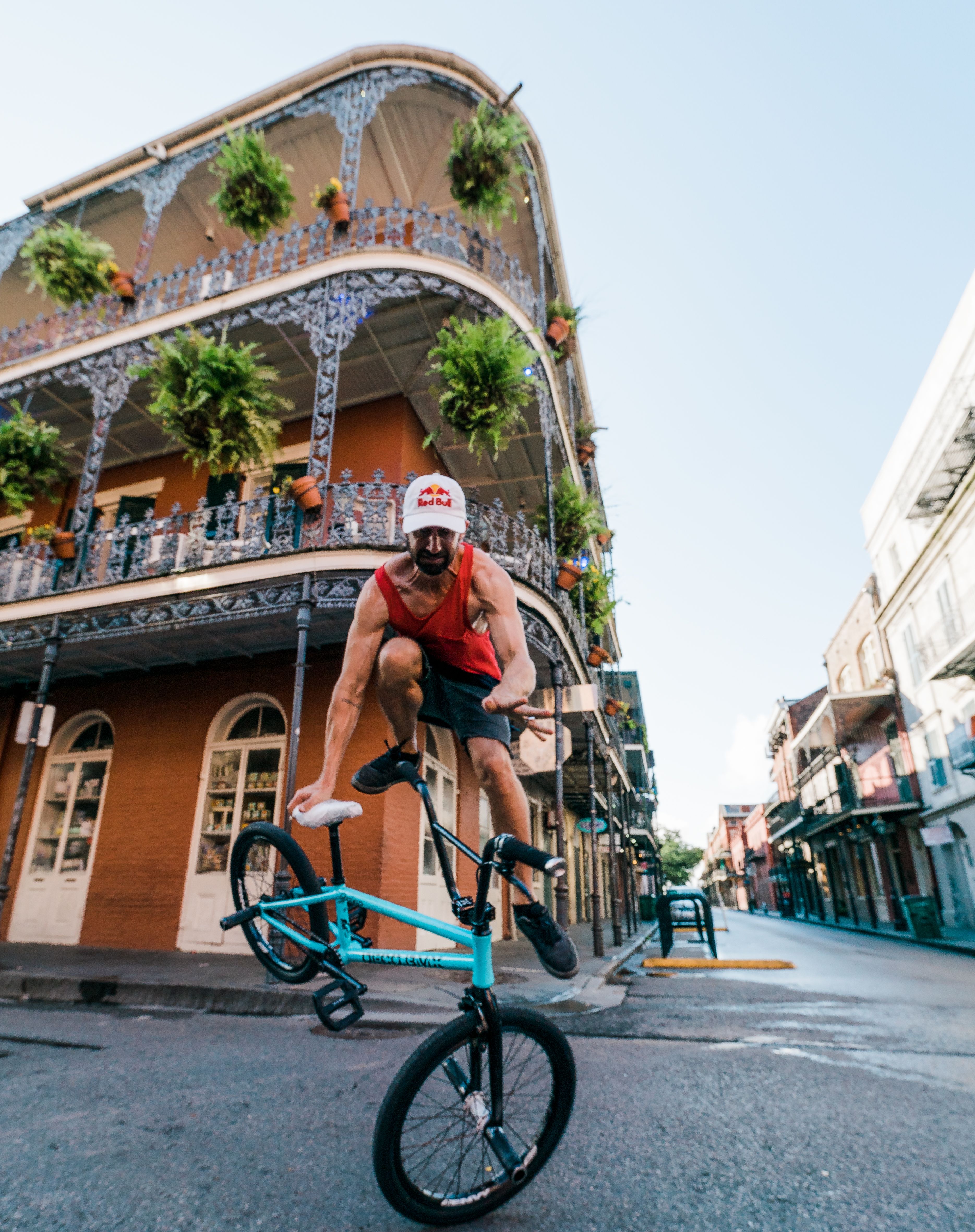 In celebration of National Bike Month — which looks a little different this year — flatland BMX legend Terry Adams took to the streets of New Orleans to show love for his home city and his sport.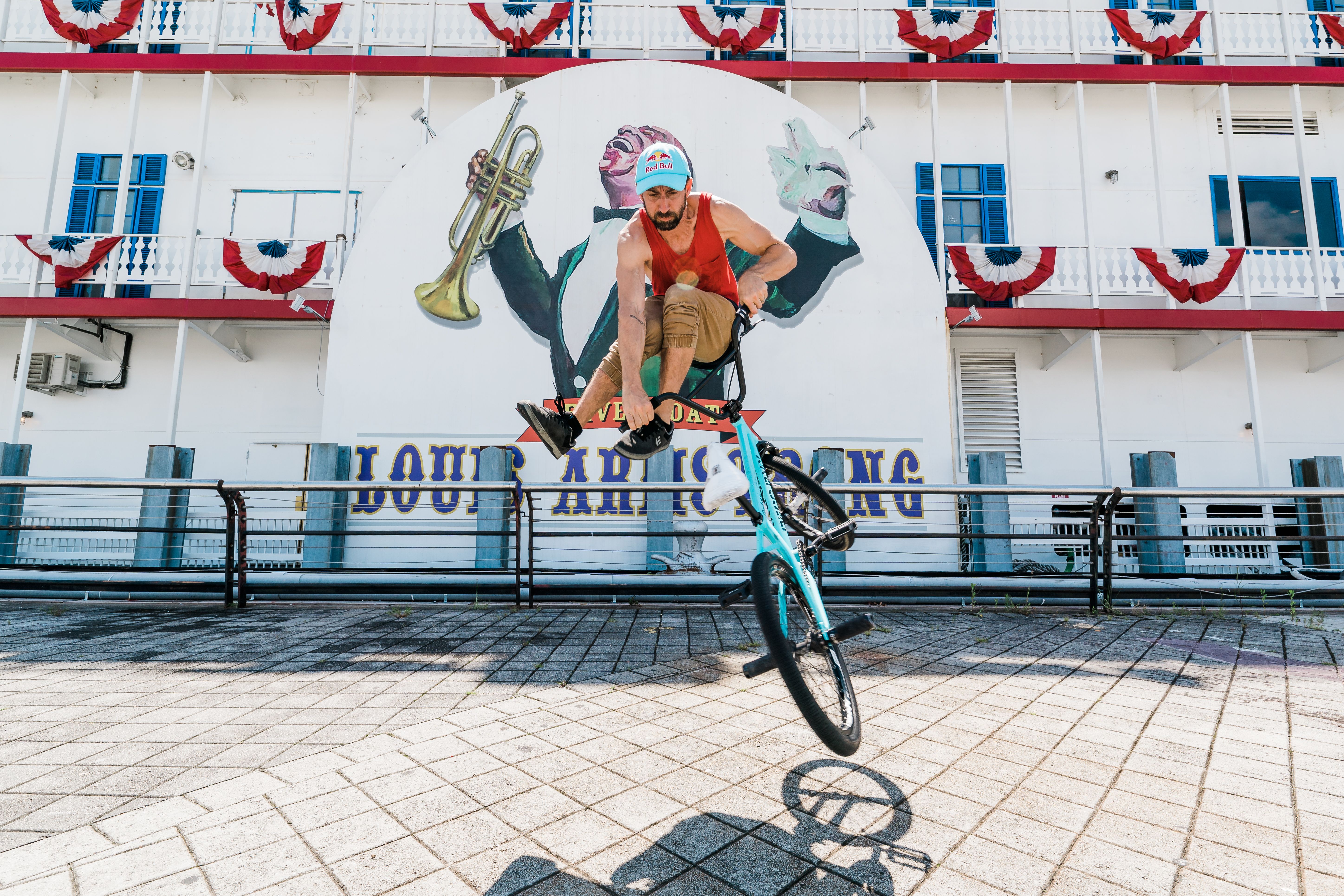 "New Orleans culture is all about feeling the great vibes and seeing all the people enjoying that atmosphere in the streets, so I can't wait to see the city back in action."
— Adams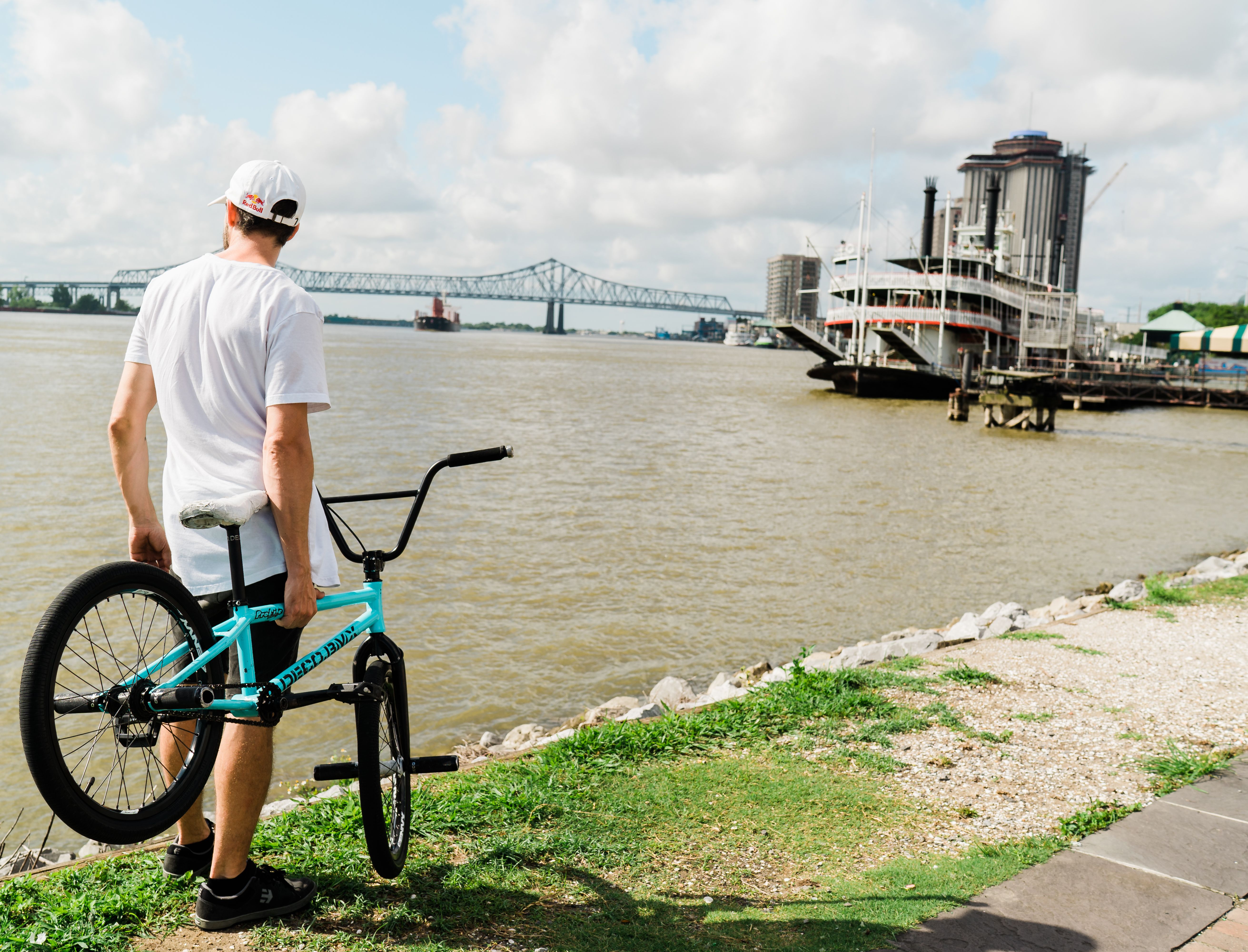 🎥 Watch: Flatland BMX 2019 World Championship (YouTube)
9. ⛳️ Golf trivia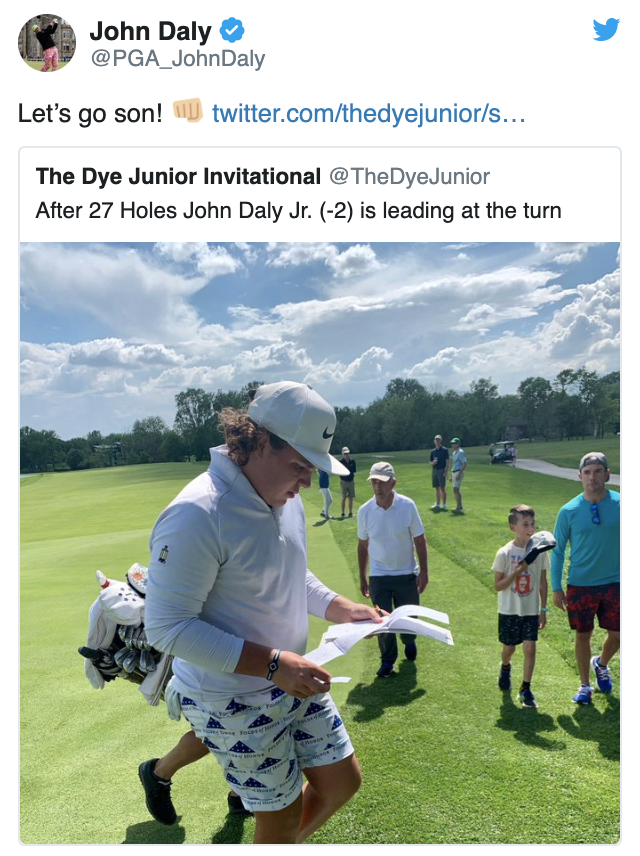 John Daly II finished tied for second at the inaugural Dye Junior Invitational at Crooked Stick, the site of his father's famous 1991 PGA Championship victory.
Question: What other major did John Daly win during his career?
Hint: Happened in 1995.
Answer at the bottom.
10. ❤️ Why we love sports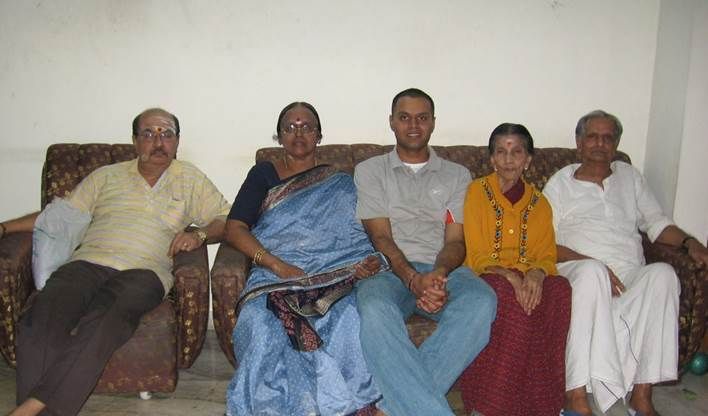 Shankar M. (Minneapolis) writes:
"I grew up in India with a sports-mad grandfather, M. Andiappan, who played and followed almost everything — cricket, field hockey, soccer, tennis, badminton.
"Back home, a 'nuclear family' is very common where 2-4 generations live together. My sister and I had the pleasure of living with my paternal grandparents until college, and they unconditionally loved us.
"Thanks to sports, my granddad and I became best friends. We used to attend cricket matches together and watch a ton of sports on TV. Because most of the sports we followed were played between international teams, games were often broadcast at weird times.
"We'd wake up at 3am to watch the Indian cricket team play New Zealand until 11am; then latch onto a game between South Africa and Australia that would go until 10pm. And we'd try to sneak in an EPL soccer game in the evening.
"Understandably, my parents, grandmom, and sister were mad at us for monopolizing the television, but the hours and hours of watching these games together, analyzing them, and ultimately going through the euphoria — and pain — of our favorite teams' results are something I'll never forget.
"While reminiscing this past weekend about what could have been — the Monaco GP, Indy 500 (huge racing fan), IPL cricket finals (go CSK!), prepping for the Champions League final (go Man U!), the NBA playoffs (go Lakers!), the NHL playoffs — I couldn't stop thinking about the precious time with my granddad.
"He passed away in 2012 due to cancer, and I was fortunate enough to fly home to be with him for the last 48 hours. One of the last conversations we had was about Roger Federer losing in the U.S. Open quarterfinals that week.
"Despite his entire body aching, he grimaced in pain at the news. I guess that's what sports does to you."
✍️ Submit your story: Do you have a fondest sports memory? Or an example of sports having a positive impact on your life? If you'd like to share, simply reply to this email. We'll be telling your stories until they run out.
Talk tomorrow,
Kendall "Home Run" Baker
Trivia answer: The Open Championship (Old Course at St Andrews)