⚾️ Good morning! Following a 90-minute delay, Athletics starter Mike Fiers tossed the second no-hitter of his career last night in a 2-0 win over the Reds.
Fiers' no-hitter comes almost exactly one year after the next most recent one, by Seattle's James Paxton on May 8, 2018.
1 big thing: Women's sports are having a moment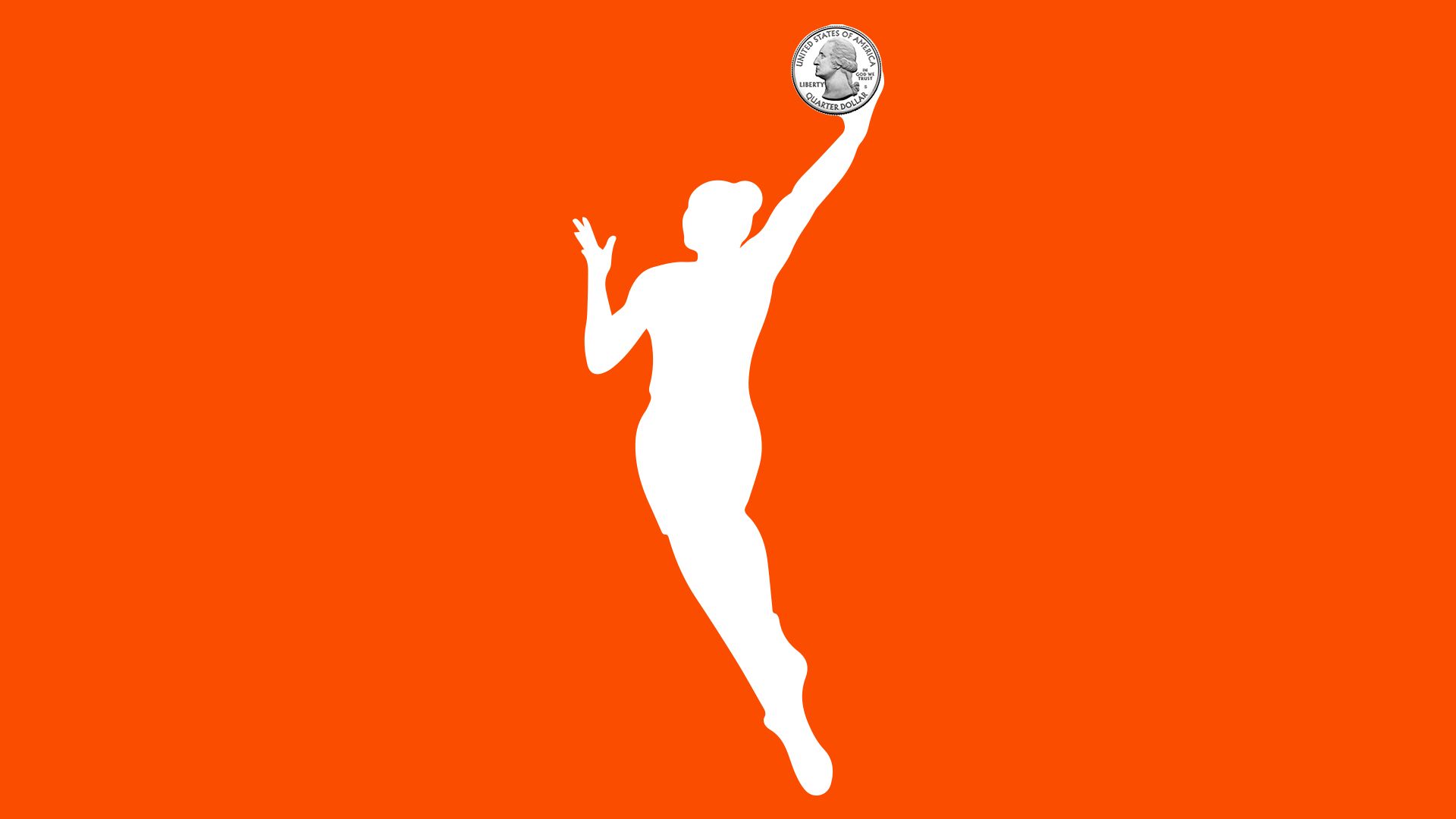 In the last few months, multiple big name brands have pumped significant dollars into women's sports, signaling that an increase in media exposure could be having a seismic impact on the business of female athletics.
What's happening: Former WNBPA director Pam Wheeler told sports business outlet, JohnWallStreet, that she believes this heightened sponsorship interest is a byproduct of the increased visibility of women's sports.
The proliferation of streaming services and the rise of social media has allowed the WNBA (and others) to reach more people, and the league recently parlayed that uptick in eyeballs into a multi-year deal with CBS Sports that will nearly double its national TV exposure.
The backdrop: Brands have historically ignored women's pro sports, as have televised news and highlight shows — two realities that go hand-in-hand.
Between 2011 and 2013, just 0.4% of all sports sponsorship investments made across all sports were in women's sports, per GumGum.
In 2014, one study found that L.A.-based network affiliate sports news programs devoted just 3.2% of all broadcast time to women's sports.
The big picture: When the WNBA debuted in 1996, the league had almost no young fans. Fast-forward to today: "My 12-year-old daughter has never lived in a world without professional women's basketball, so the fan demographics have become far more appealing to an advertiser," said Wheeler.
On top of that, you also have superstars like Serena Williams completely changing the game, evidenced by the fact that her 2018 U.S. Open final against Naomi Osaka drew 50% more viewers than the men's final.
The bottom line: As Wheeler points out, this is the first time time in women's pro sport history that sponsorship deals are being made as the result of "economic decisions, as opposed to emotional connections."
It seems brands are finally realizing that there is serious value here. Women do, after all, control 70-80% of all consumer purchasing.
What's next: Now it's up to the leagues to ensure that this influx of sponsorship cash trickles down to the players.
2. ⚽️ Liverpool pulls off comeback for the ages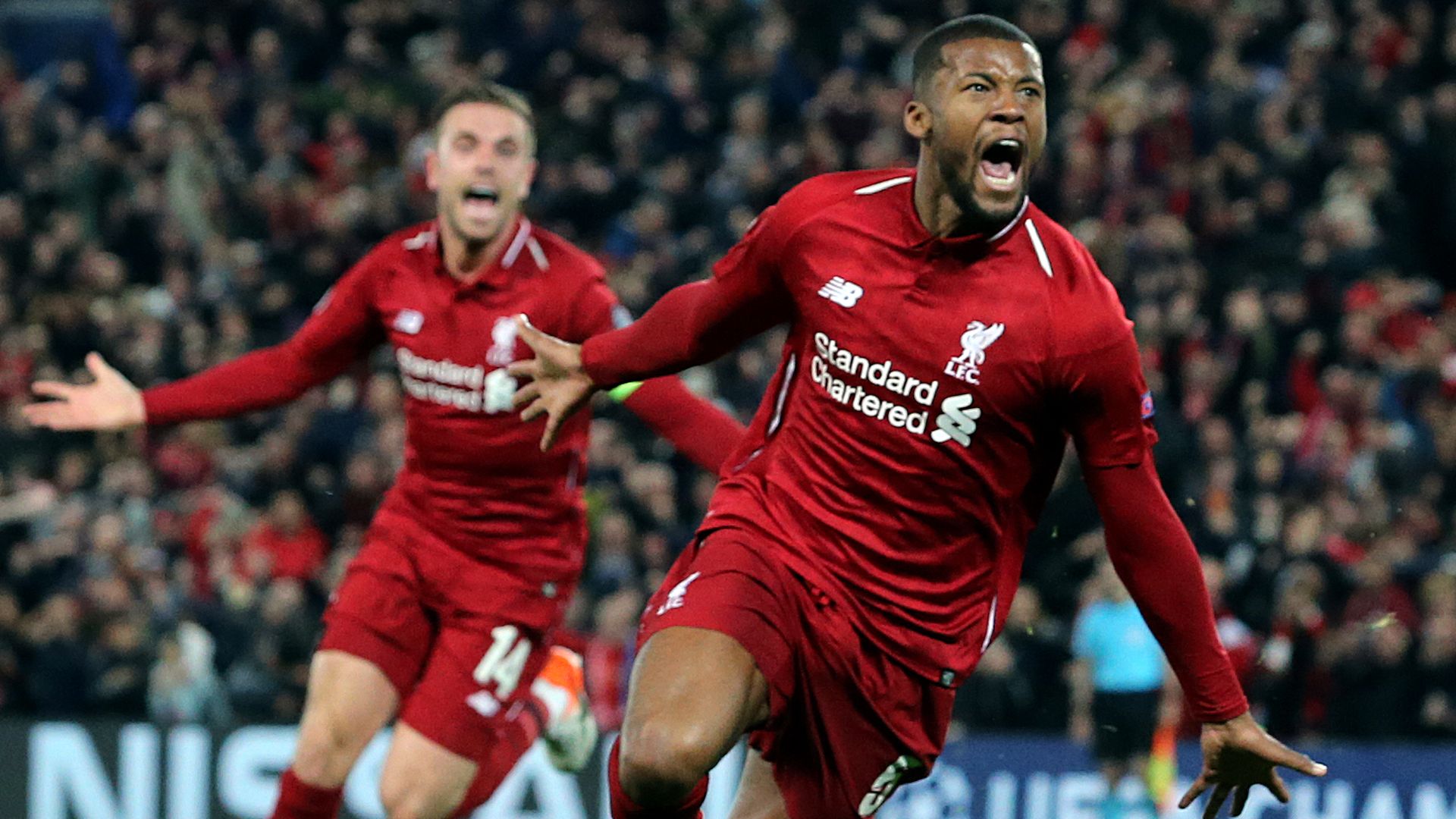 Liverpool had the faintest of hope going into yesterday's second leg of their Champions League semifinal (7% chance to win). Facing a 3-0 deficit, they needed to score four times and prevent Barcelona from netting what would likely be a decisive away goal.
To make their task even more daunting, their two superstar forwards — Mohamed Salah and Roberto Firmino — were both sidelined with injuries.
What happened: The Reds pulled off a comeback for the ages, winning 4-0 to advance 4-3 on aggregate and secure their spot in the Champions League final for the second consecutive year.
Liverpool got two goals from a makeshift striker/halftime sub (Georginio Wijnaldum) and another two from a player (Divock Origi) who was on loan at Wolfsburg at this time last season. Just unreal.
Highlight: In the 78th minute, Liverpool caught Barcelona sleeping on a corner kick and Origi scored what might be my new favorite goal.
The backdrop: For Barcelona, this is their second straight Champions League collapse. 13 months ago, they led Roma 4-1 heading into the second leg of their quarterfinal matchup, only to see Roma win 3-0 and advance on the away goal tiebreaker.
What they're saying:
"The whole game was too much. It was overwhelming. … I saw James Milner crying on the pitch after the game. It means so much to all of us. There are more important things in the world, but creating this emotional atmosphere together is so special."
— Liverpool manager Jürgen Klopp
What's next: Klopp's side will play the winner of today's other semifinal between Ajax and Tottenham (3pm ET, TNT), with Ajax leading 1-0.
BONUS: 📸 Scenes from Anfield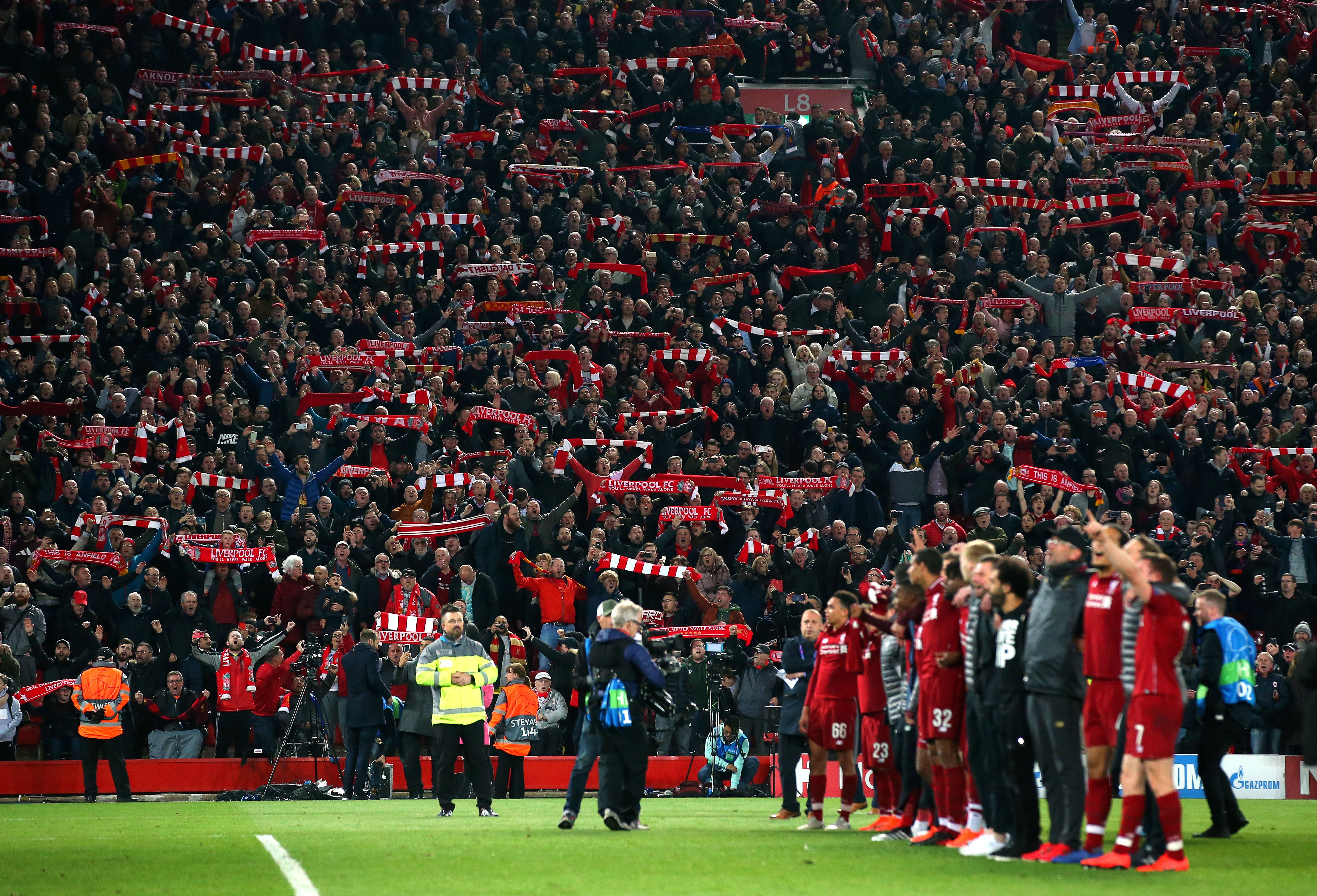 Photo: Alex Livesey/Danehouse/Getty Images
Above: "Liverpool's players stood in front of [their fans], their heads shaking in disbelief, their arms draped over one another's shoulders, as if they needed to hold on to something, anything, to make sure it was real," writes the NYT's Rory Smith.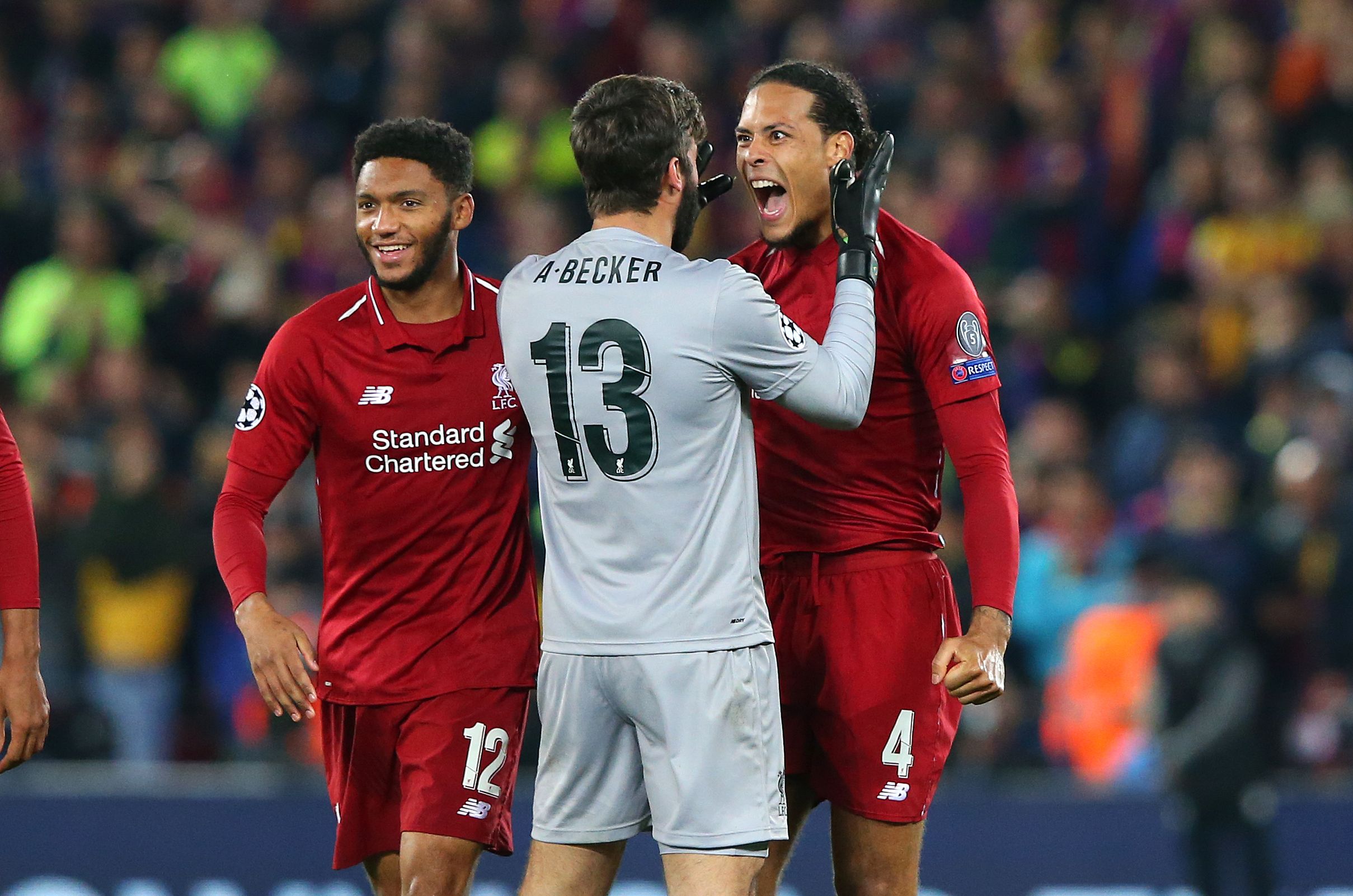 Photo: Alex Livesey/Danehouse/Getty Images
Above: Miracles are a hell of a drug.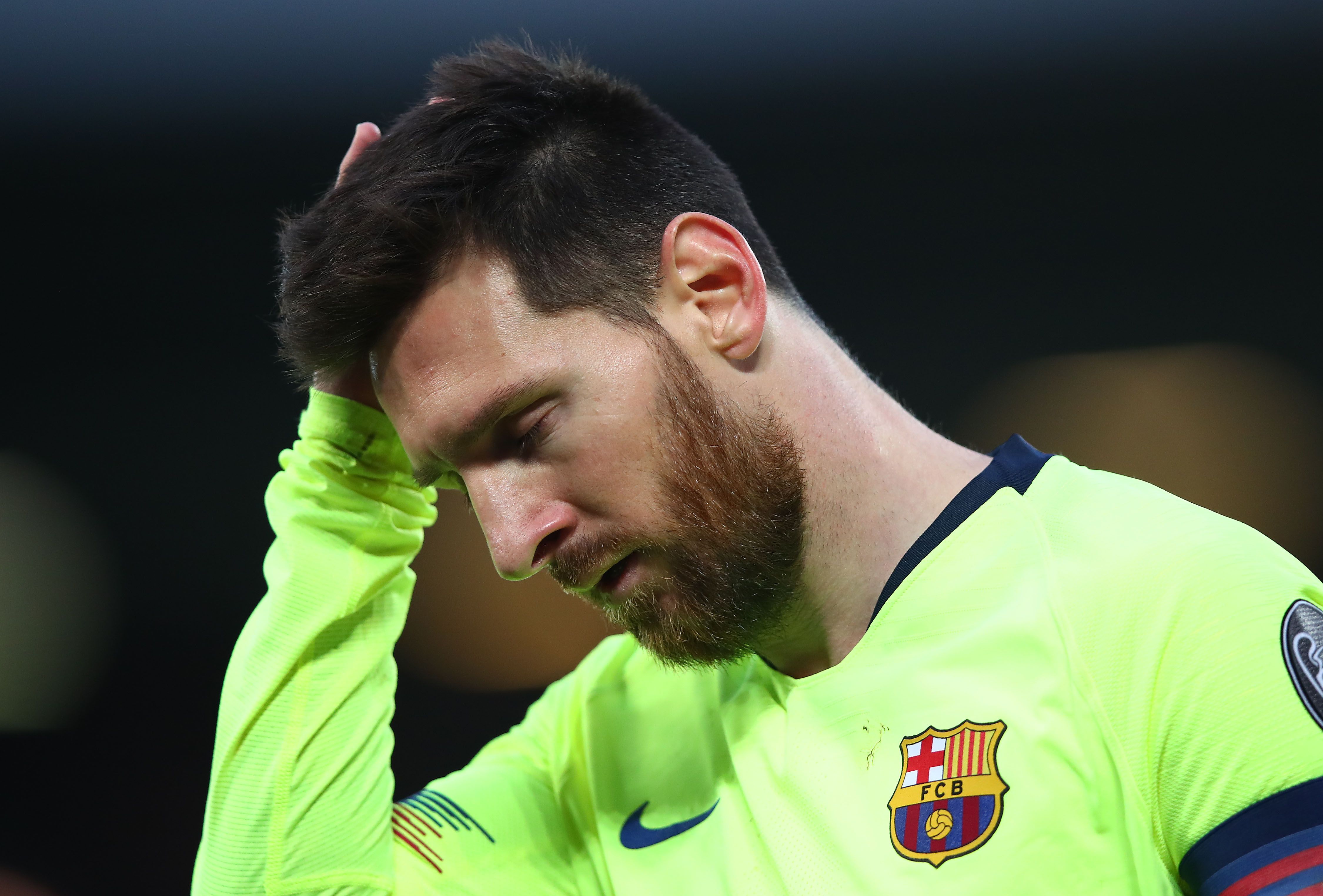 Photo: Clive Brunskill/Getty Images
Above: When the final whistle blew, "all the color had drained from Messi's face," writes Smith. "No player in soccer history has turned so many games to his will. ... This, though, proved beyond even him. There was to be no moment of salvation, no deliverance, no destiny."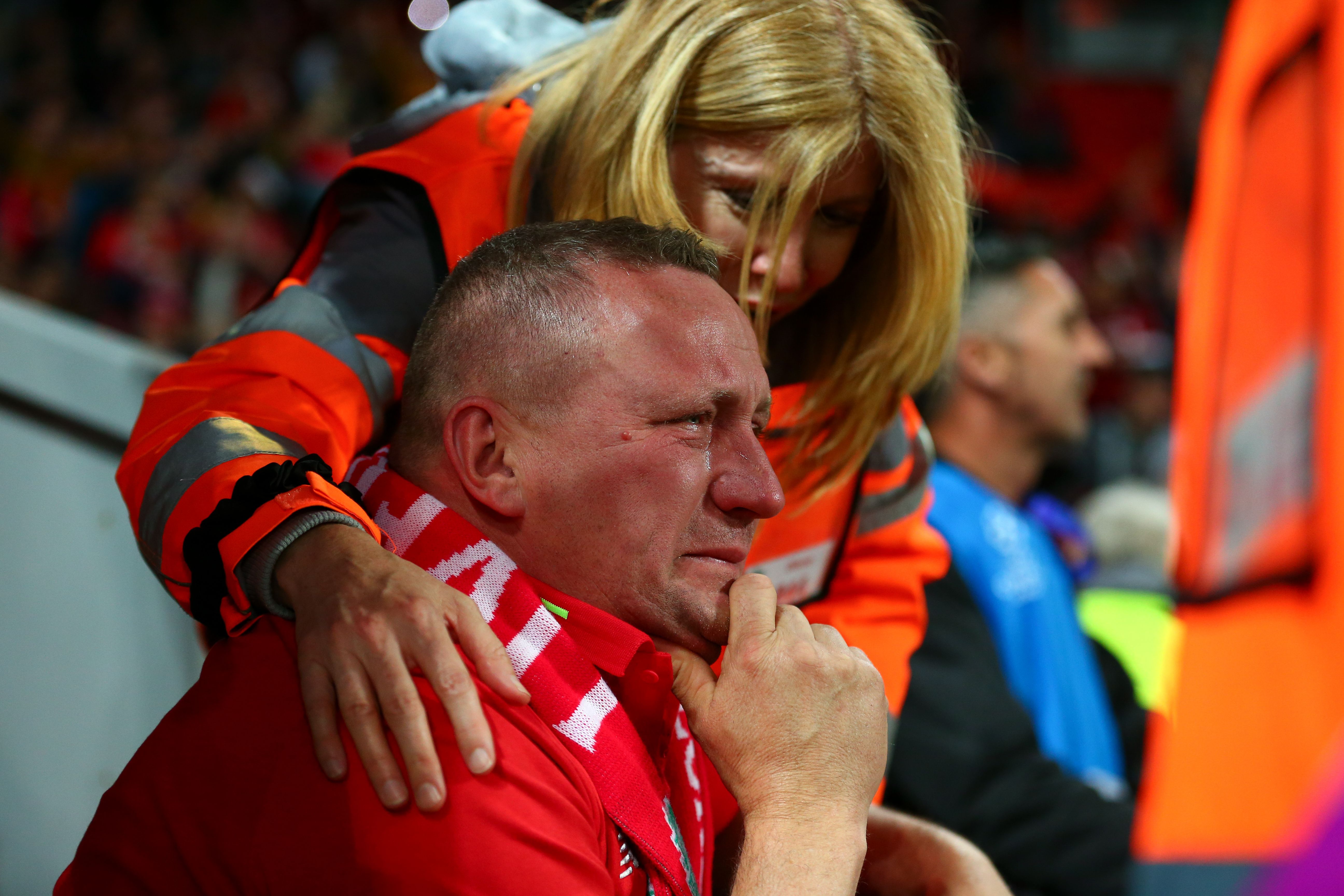 Photo: Robbie Jay Barratt/AFP/Getty Images
Above: Tears of joy. Sports, man...
3. 🏀 Golden State's death lineup isn't working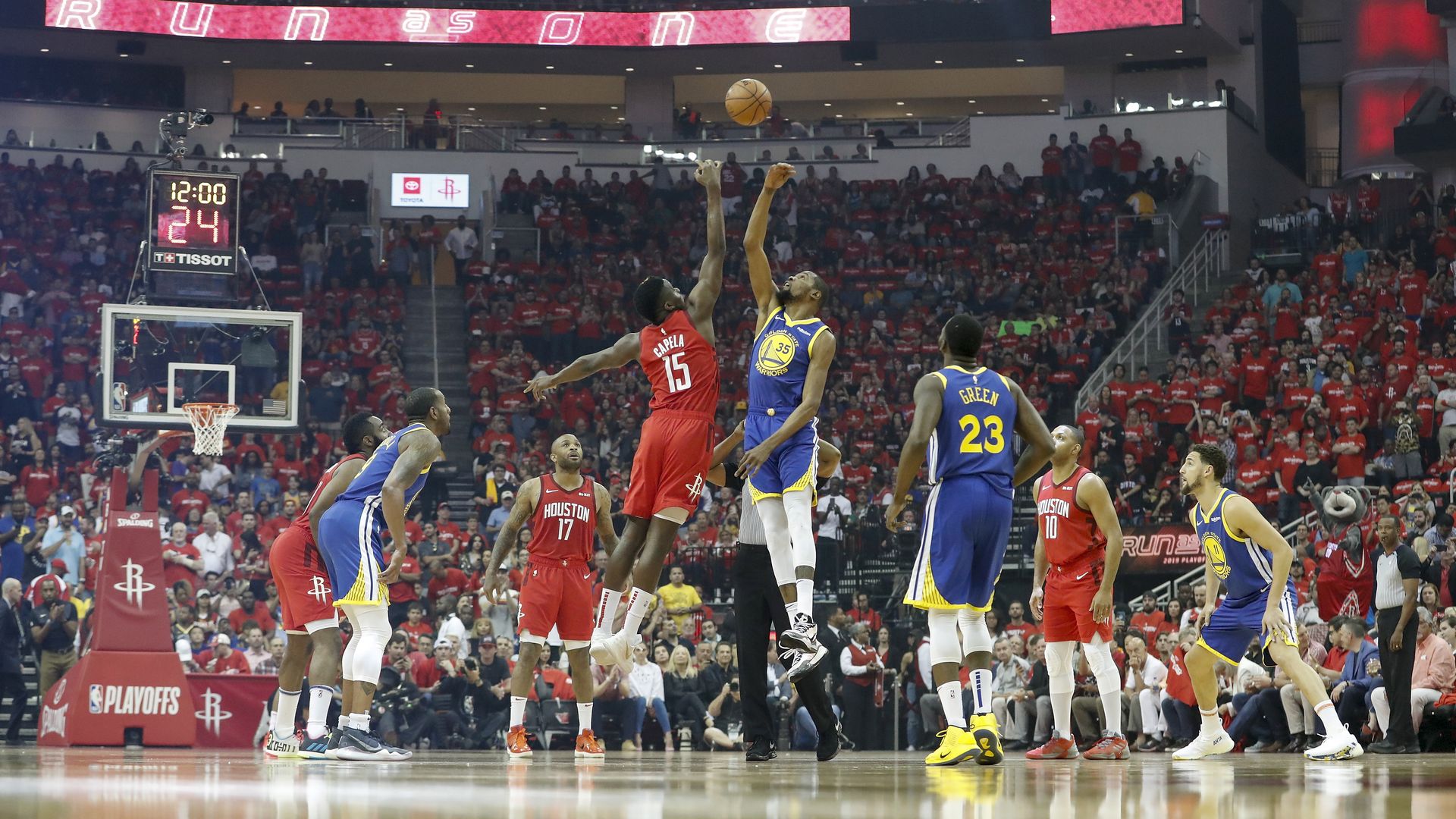 Quickly:
Go deeper:
Best stat: The Warriors' death lineup (Curry, Thompson, Durant, Iguodala, Green) has been outscored in just seven of the 32 playoff games in which they've seen the floor together. Four of those games have come this year, and the two worst games have come against the Rockets.
Best defense: The Raptors have held their opponent to under 100 points in eight of their 10 playoff games. Pretty remarkable when you consider that the lowest-scoring team this season (Memphis) averaged 103.5 points per game.
Best rant: Jay Williams unloaded on Kyrie Irving, calling his season "an atrocity." Irving will get his shot at redemption in Milwaukee tonight, though it feels like the damage to his personal brand has already been done.
4. 🏒 Blues inch closer to avoiding disappointment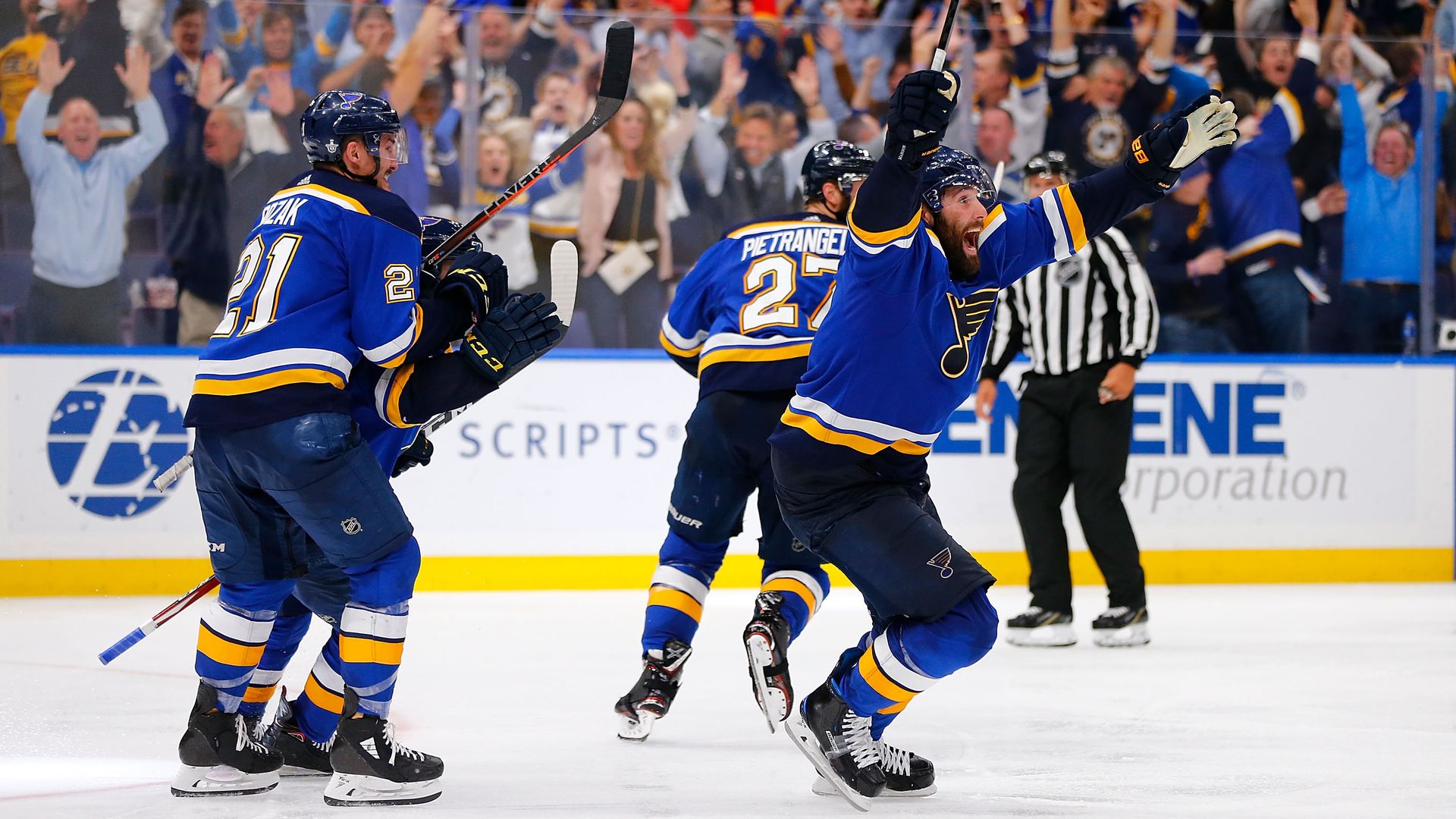 Patrick Maroon's goal in double overtime pushed the Blues past the Stars and into the Western Conference Finals. Could this finally be the year St. Louis stops disappointing its fans?
The big picture: There are few fan bases as tortured by their team's constant inability to win a championship as those who support the Blues. They're almost always good, yet they've never been able to get over the hump.
1967-1970: Three straight trips to the Stanley Cup Finals in their first three seasons as a franchise. They were swept all three times and outscored 43-17.
1979-2004: 25 consecutive playoff berths (tied for third-longest in NHL history) but only two trips beyond the second round.
Since 1989, the only teams in all of sports that have underperformed more than the Blues in terms of actual versus expected championships are the Oklahoma City Thunder, Cleveland Indians, Oakland Athletics, Phoenix Suns and Utah Jazz, per FiveThirtyEight.
The bottom line: As St. Louis inches closer to a championship (eight wins away!), their fans inch closer to finally experiencing something other than disappointment.
What's next: The Blues' Western Conference Finals opponent will be determined tonight, as the San Jose Sharks and Colorado Avalanche face off in a decisive Game 7 (9pm ET, NBCSN).
5. The latest in draft pick compensation rules
⚾️ MLB
What's happening: Although MLB is starved for quality starting pitchers, former Cy Young winner Dallas Keuchel remains unsigned.
Details: When Keuchel turned down a one-year, $17.9 million qualifying offer from the Astros, it made him a free agent while also attaching draft pick compensation to him. That means any team that signs him before the June MLB draft has to give up a pick. After the draft, that goes away.
The big picture: With the market for mid-tier veterans eroding, draft pick compensation rules make life even more difficult for accomplished players like Keuchel. Teams are already hesitant to pay up for them, and they grow even more wary when they have to forfeit a pick to do so.
🏈 NFL
What's happening: Starting yesterday at 4pm ET, teams can sign unrestricted free agents without it affecting whether they get compensatory draft picks in 2020, which means the free agent market is about to heat back up.
How it works: After free agency ends, the NFL determines which teams lost the most talent and "hands out free draft picks the way you might buy a beer for a friend who just got dumped," writes The Ringer's Danny Heifetz. Up until yesterday, signing a quality free agent would have hurt a team's standing in the compensatory pick formula, but now it won't.
Top remaining free agents: Ndamukong Suh, DT; Ziggy Ansah, DE; Michael Crabtree, WR; Eric Berry, S; Muhammad Wilkerson, DL; Jay Ajayi, RB; Jamie Collins, LB; Tre Boston, CB
6. 🥇 May 8, 1984: Soviets boycott L.A. Olympics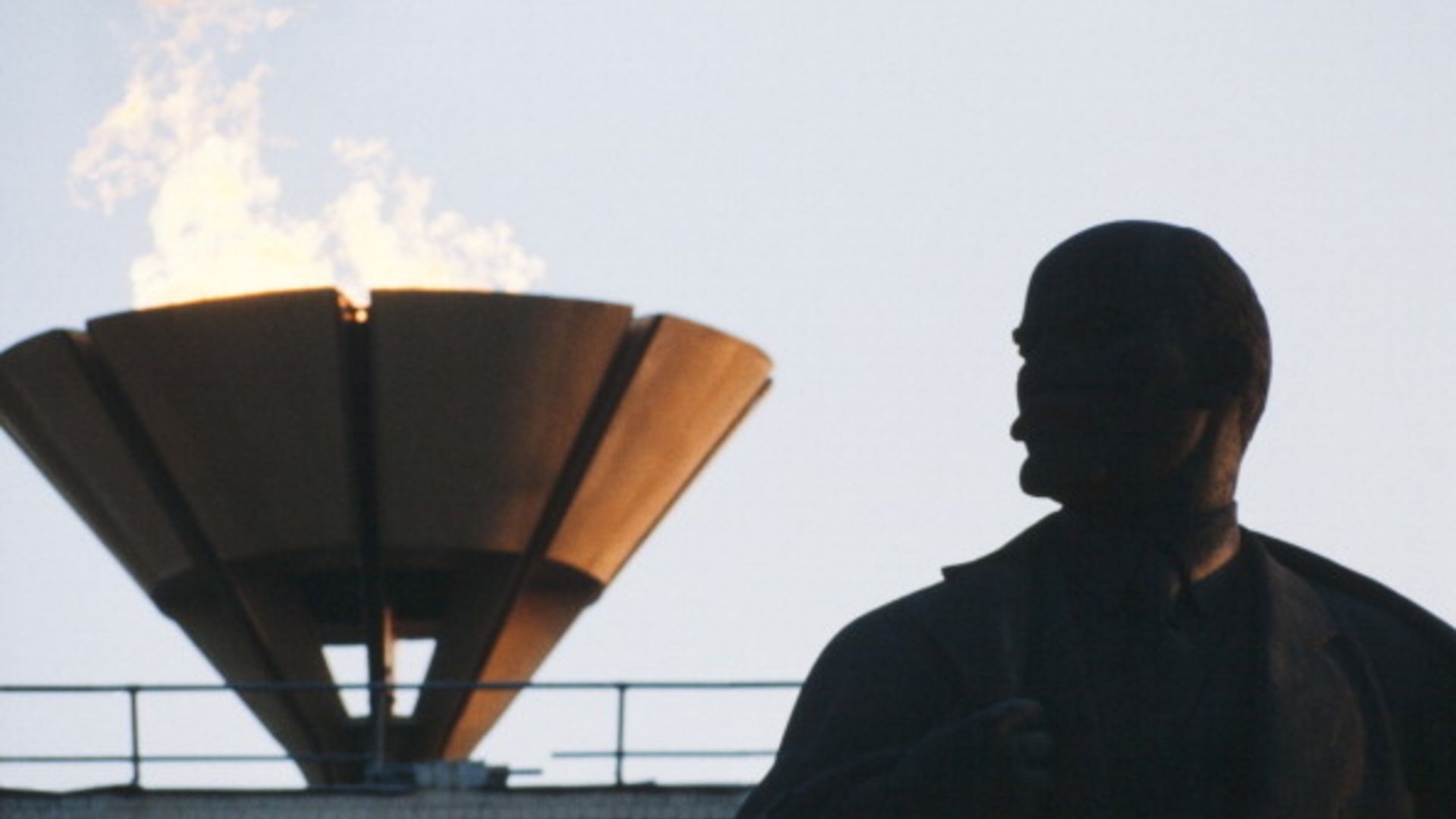 35 years ago today, the Soviet Union announced its boycott of the 1984 Olympic games in Los Angeles, citing "chauvinistic sentiments and anti-Soviet hysteria" in the U.S. as a danger for its athletes.
The backdrop: Just four years prior, the U.S. and 65 other nations boycotted the 1980 Olympics in Moscow. Many Americans believed the Soviet boycott was retaliatory.
7. ⚾️ MLB trivia
Question: Before Mike Fiers, who was the last pitcher to throw his second no-hitter?
Hint: He currently plays in the NL East.
Answer at the bottom.
8. The Ocho: 🏉 Imagine an entire town playing rugby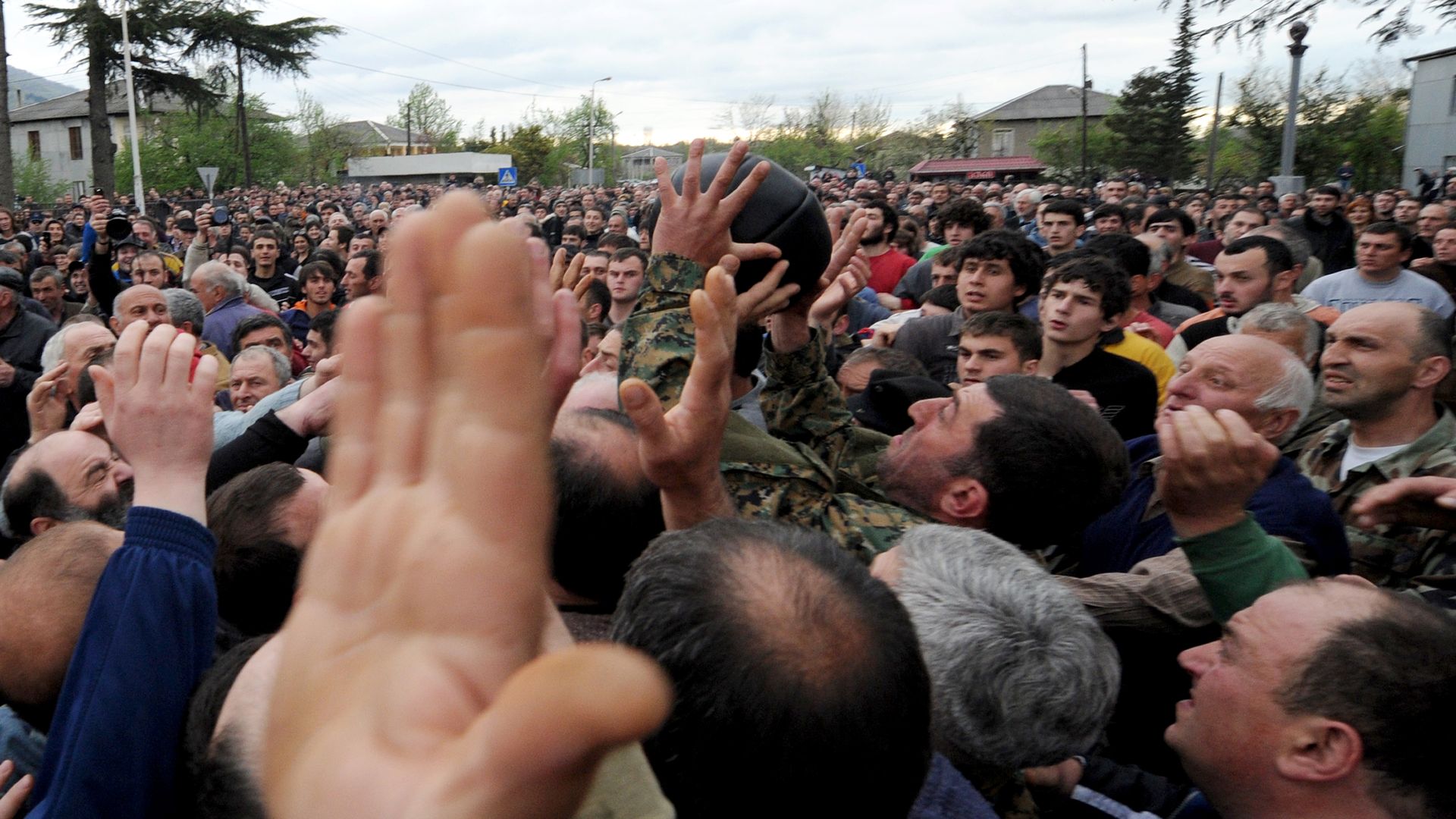 Every spring in the village of Shukhuti, Georgia, a black leather ball is sewn together to play Lelo Burti, a brutally physical folk game that's part rugby and part street fight.
Details: On game day, the village is split in two — Upper and Lower Shukhuti — and each team competes to carry the ball back to their side of town.
"There are no boundaries, no limit to the number of participants, no real tactics, and almost no rules. Women are not prohibited from playing but rarely do. The game typically lasts a couple hours. Sometimes it rages long into the night. One year it took less than 20 minutes," writes the NYT's Andrew Keh.
The ball is kept by the winning team, who immediately bring it to the cemetery and set it down at the grave of their choice to honor that person's memory.
"In all corners of the world, of course, sporting victories are invoked as tributes to the deceased. In Shukhuti, such tributes have become the sole purpose of the game, and they can carry huge weight."
See you tomorrow,
Kendall "Playoff SZN continues to deliver" Baker
Trivia answer: Jake Arrieta (April 21, 2016, while pitching for the Cubs)