March 30, 2022
👋 Good morning! You're invited to Axios' inaugural What's Next Summit on April 5. Register here to join us virtually.
Today's word count: 1,837 words (7 minutes).
Let's sports...
1 big thing: ⚽️ EPL grapples with human rights
The English Premier League has for decades enjoyed a symbiotic relationship with some of the world's most powerful suspect actors, who have flushed the sport with cash and glitz, Axios' Fadel Allassan writes.
Driving the news: Human Rights Watch has called on the EPL to implement standards that will ban people associated with human rights abuses from owning equity in clubs "to whitewash their reputations."
Amnesty International had stepped up similar calls last year, and is currently working with the EPL to review its Owners and Directors Test, which outlines conditions that disqualify potential owners.
EPL officials have "appeared to be genuinely" interested in proposals to incorporate a so-called human rights test in the OADT, says Peter Frankental, Amnesty program director for economics affairs.
State of play: Russia's invasion of Ukraine has brought heightened scrutiny to the EPL, with a crescendo of accusations that it's become a vehicle for state-affiliated billionaires to flex their countries' soft power.
The U.K. this month sanctioned two oligarchs with ties it deemed to be close to Russian President Vladimir Putin: Russian Roman Abramovich and Uzbek Alisher Usmanov.
Abramovich has owned Chelsea since 2003, but the government is now overseeing the sale of the club. Usmanov's backing has been crucial to Everton, and he previously owned over 30% of Arsenal.
The backdrop: A human rights test would likely upend the structure of the EPL, where "money is king, and regulation is laissez-faire," author James Montague tells Axios.
Montague, who examined EPL's money-driven power dynamics in his book "The Billionaire's Club," described the current OADT as "extremely light-touch" and ineffective at stopping global bad actors.
Amid a failed effort in 2017 at stopping the takeover of Southampton by a businessman who had bribed Chinese officials for state contracts, the league modified the OADT to ban those guilty of financial crimes.
Yes, but: That ban didn't stop Saudi Crown Prince Mohammed bin Salman (MBS) from becoming Newcastle United's de-facto owner in 2021, after it was taken over by Saudi Arabia's sovereign wealth fund.
U.S. intelligence has concluded MBS ordered the murder and dismemberment of Washington Post columnist Jamal Khashoggi. Saudi Arabia has repeatedly denied MBS was involved.
"If you don't think that's a crime worth failing the OADT for, I'm not sure there's any crime you could say would fail it," Montague said.
2. 🏀 Mapped: Final Four rosters
The East Coast will be well represented at the Final Fours, with five of the eight teams and 54% of non-international players hailing from there, Axios' Jeff Tracy writes.
Men's field: 39 players went to high school on the East Coast (Eastern Seaboard plus Pennsylvania and D.C.). North Carolina produced the most players (11), followed by Virginia (seven) and New Jersey (six).
Fun fact: Five high schools — all on the East Coast — will have multiple representatives in New Orleans.
St. Paul VI (Chantilly, Virginia): Trevor Keels (Duke), Jeremy Roach (Duke), Anthony Harris (UNC), Brandon Slater (Villanova)
Blair Academy (Blairstown, New Jersey): Jaylen Blakes (Duke), Keenan Worthington (Duke), Kyle Cuffe Jr. (Kansas)
Cox Mill (Concord, North Carolina): Wendell Moore Jr. (Duke), Leaky Black (UNC)
IMG Academy (Bradenton, Florida): Mark Williams (Duke), Armando Bacot (UNC)
Archbishop Stepinac (White Plains, New York): AJ Griffin (Duke), R.J. Davis (UNC)
Women's field: 22 players went to East Coast high schools, though California produced the most players of any state (seven). Five of those Californians play for Stanford, the lone West Coast team in either field.
3. 🤸‍♀️ All eyes on college gymnastics
The NCAA women's gymnastics championships begin today, and anyone missing the excitement of the Tokyo Olympics should tune in, Jeff writes.
State of play: Olympians who'd normally turn pro to capitalize on their earning potential and fame can now earn money off their name, image and likeness while competing in college.
Auburn's Suni Lee is the first Olympic all-around gold medalist to compete in college, and highlights of her routines have helped raise the profile of NCAA gymnastics this season.
This gymnastics boom isn't due only to Olympians and NIL, though. It's been trending this way for a few years, with Katelyn Ohashi's viral 2019 floor routine the inflection point.
By the numbers: Lee is the most famous and accomplished, but nine other Olympians who represented six countries in Tokyo will also compete in the NCAA Championships.
USA: Lee (Auburn), Jordan Chiles (UCLA), Grace McCallum (Utah), Jade Carey (Oregon State)
Canada: Brooklyn Moors (UCLA), Shallon Olsen (Alabama)
Spain: Marina González (Iowa State)
Great Britain: Amelie Morgan (Utah)
Peru: Ariana Orrego (Iowa State)
Singapore: Tan Sze En (Stanford)
The big picture: It's not just Olympians cashing in on NIL. LSU's Olivia Dunne — also competing this week — has earned north of $1 million thanks to being the most-followed NCAA athlete on social media, according to her website.
What to watch: 36 teams qualified for regionals, which air today through Sunday on ESPN+. Two teams from each region will advance to the final eight next month in Fort Worth, Texas.
Go deeper: Bracket (NCAA)
4. ⚡️ Lightning round
🏈 New OT rules: NFL owners approved a proposal that will guarantee each team a possession in overtime — but only in the playoffs. This comes months after the Bills weren't given a chance to score against the Chiefs.
⛳️ Tiger watch: Tiger Woods played 18 holes at Augusta National on Tuesday with his son, Charlie, and good friend Justin Thomas. He has yet to say whether he'll compete in next week's Masters.
🏀 McDonald's All-American games: Duke recruit Dariq Whitehead (Montverde Academy in Florida) won MVP in the boys game, while a pair of UCLA recruits in Kiki Rice (Sidwell Friends in Washington, D.C.) and Gabriela Jaquez (Camarillo in California) won MVP in the girls game.
🏒 Pride repeat as champs: The Boston Pride beat the Connecticut Whale, 4-2, on Monday night to win their second consecutive Premier Hockey Federation Isobel Cup (women's hockey).
5. ⚾️ Fun at the ballpark: "Banana Ball"
The Savannah Bananas, a wood-bat collegiate summer team in the Coastal Plain League, are making baseball fun again, Jeff writes.
What's happening: In 2020, the team debuted "Banana Ball," a set of nine rules designed for maximum entertainment. They've taken it on the road in 2022, with 14 exhibition games before the real season starts in May.
How it works:
Fan engagement: If a fan catches a foul ball, it's an out. This happened on Saturday and the crowd went wild.
Every inning counts: Whichever team scores more in a given inning wins a point. First to five wins (think: match play in golf).
Two hour limit: A new inning won't begin if the game has been going for two hours.
No stepping out: A strike is called if you step out of the batter's box.
No bunting: The penalty? Tossed from the game.
Steal first: Batters can steal first base on any passed ball or wild pitch.
No walks: On ball four, batters sprint around the bases until every defensive player touches the ball and it finally becomes live.
Tiebreaker showdown: Batter vs. a pitcher, catcher and one fielder. Put the ball in play and try to score before those three defenders get you out at the plate.
No mound visits: Just, don't.
The big picture: The fun doesn't stop when "Banana Ball" ends. Since their founding in 2016, the Bananas have been one of the hottest tickets in baseball by turning games into can't-miss events.
🎥 Watch: Banana Ball breakdown (YouTube)
6. ⚽️ World Cup: 27 of 32 tickets punched
The five African nations headed to the 2022 World Cup were confirmed Tuesday, while Portugal and Poland also clinched spots in Europe.
Where it stands: 27 of the 32 spots have been filled. This will be the last World Cup with 32 teams before expanding to 48 in 2026.
Europe (12): Germany, Denmark, France, Belgium, France, Croatia, Spain, Serbia, England, Switzerland, Netherlands, Poland, Portugal
Africa (5): Ghana, Senegal, Morocco, Tunisia, Cameroon
Asia (5): Qatar (as hosts), Iran, South Korea, Saudi Arabia, Japan
South America (4): Brazil, Argentina, Ecuador, Uruguay
CONCACAF (1): Canada
Go deeper: A day of World Cup drama goes down to the last kick (NYT)
7. 🌎 The world in photos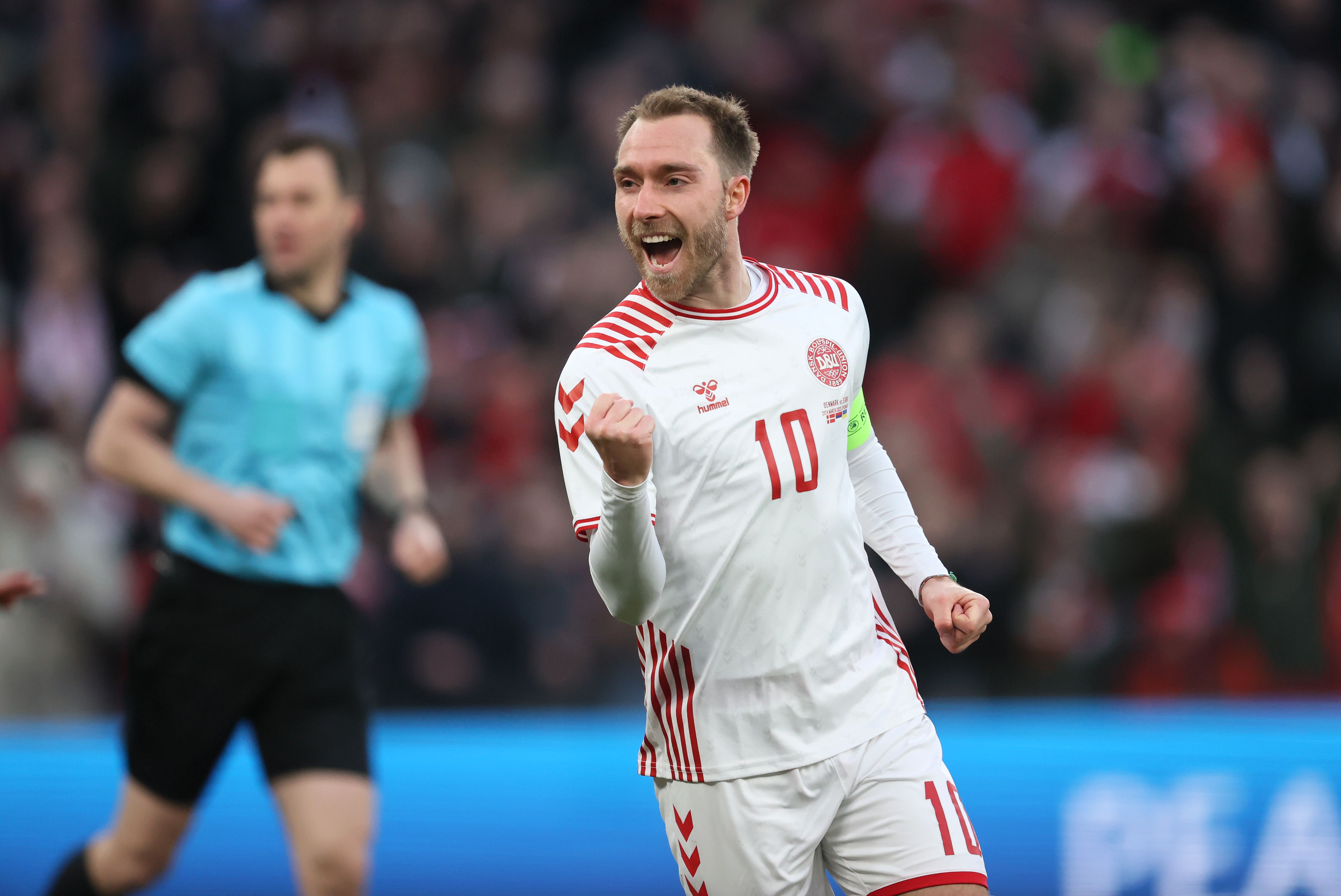 COPENHAGEN, Denmark — Denmark's Christian Eriksen scored at Parken Stadium in a friendly against Serbia, 290 days after he suffered a cardiac arrest on the very same pitch. Sports, man.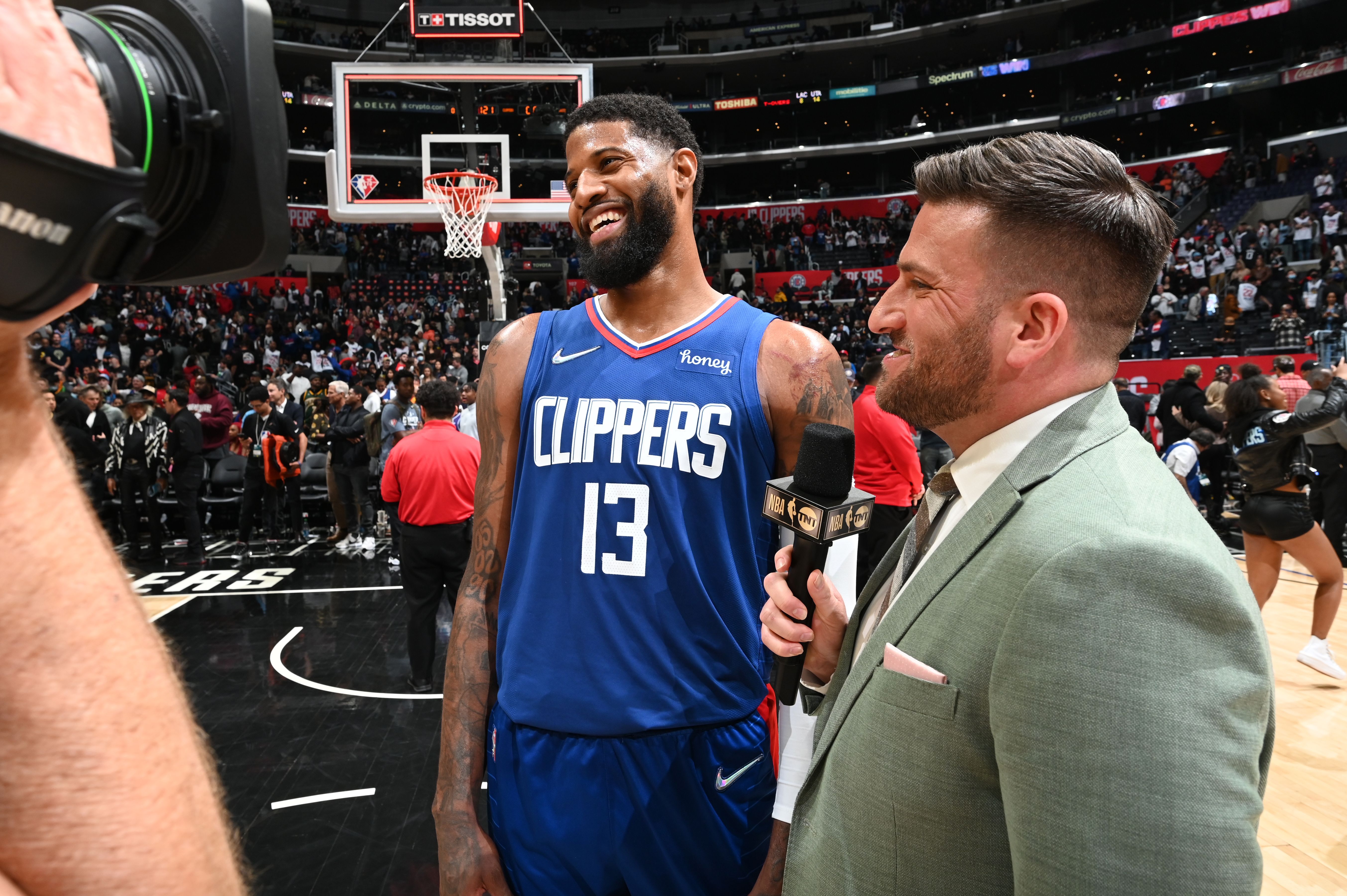 LOS ANGELES — Paul George scored 34 points in his first game back after missing three months with an elbow injury, leading the Clippers to a 121-115 win over the Jazz.
Wild stat: Despite playing just 27 games this season, George has more 30-point games (seven) than the rest of the Clippers combined (six).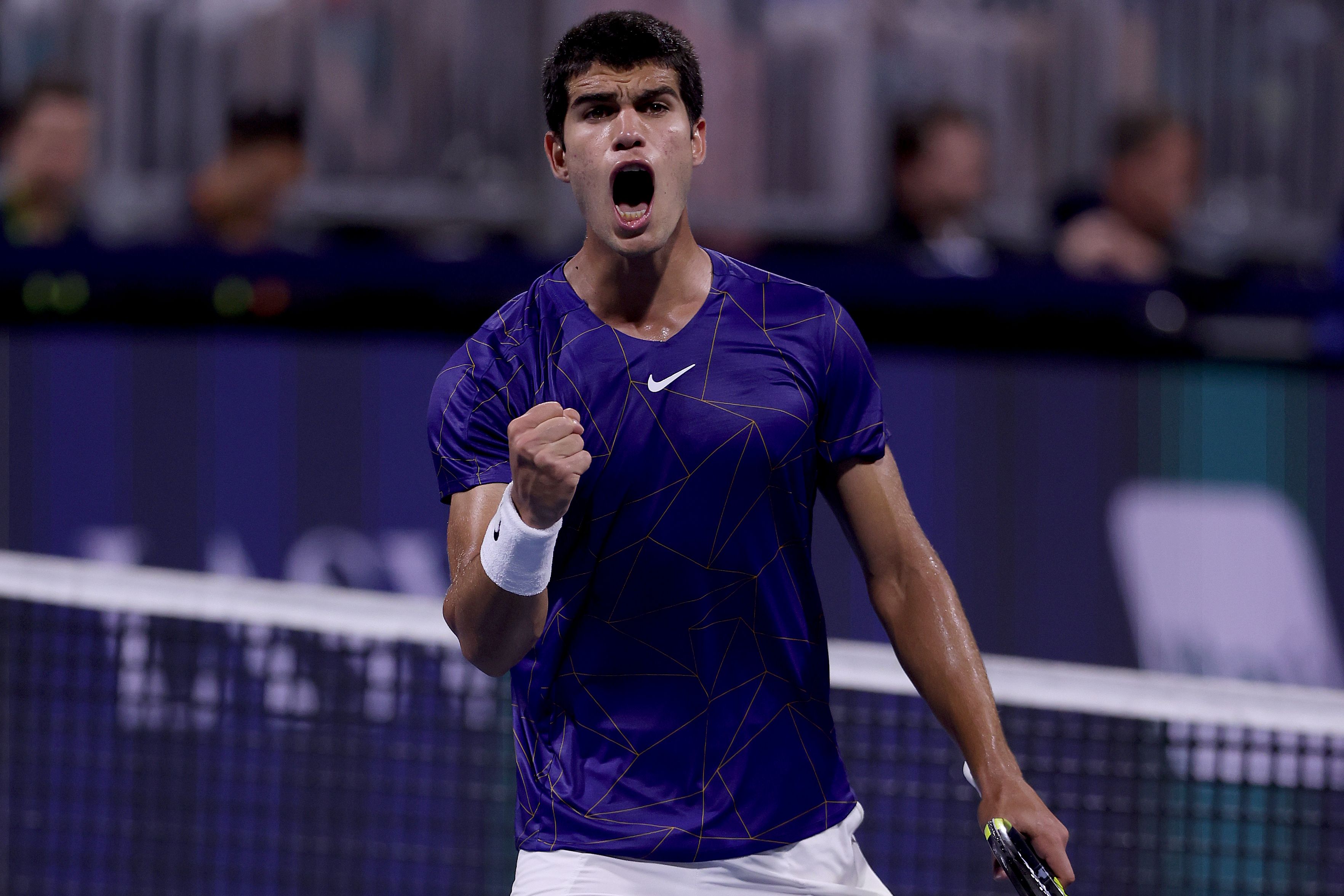 MIAMI GARDENS — Carlos Alcaraz took down Stefanos Tsitsipas, 7-5, 6-3, at the Miami Open. Get to know the name: The 18-year-old Spaniard has won five of his last eight matches against top-10 players.
8. 📺 Watchlist: Women's Clásico
The Barcelona women are the hottest team in Europe, and for the first time ever fans will get to see them play a Clásico at Camp Nou.
The match: The reigning European champions host Real Madrid in today's Champions League quarterfinal second-leg (12:45pm ET, DAZN and YouTube). Barça leads 3-1.
The crowd: 77,000 tickets were sold, far exceeding the previous record for a women's club match. For reference, Barça's normal home field seats just 6,000.
More to watch:
9. 🏀 NBA trivia
Nikola Jokić is the favorite to win MVP, which would make him the sixth player to win back-to-back MVPs this century.
Question: Name the other five.
Hint: One of them did it twice.
Answer at the bottom.
10. 💔 1 haunting read: "Can't Forget"
"When Henry Ruggs III allegedly drank too many mai tais and then raced his Corvette Stingray at an estimated 156 mph, his actions did not occur within a vacuum," writes Jeff Pearlman for SI.
Worth your time: Pearlman tells the story of Tony Rodriguez, who tried to save Tina Tintor from the burning car that Ruggs crashed into on Las Vegas' Rainbow Boulevard...
"People have told me I'm a hero. I'm not a hero. I'm not even close to a hero. A hero saves that woman. I didn't. ... To be honest, I kind of wish I'd crashed instead of her."
— Rodriguez
Talk tomorrow,
Kendall "Forfeit?" Baker
Trivia answer: Giannis Antetokounmpo (2019–20); Stephen Curry (2015–16); LeBron James (2009–10, 2012–13); Steve Nash (2005–06); Tim Duncan (2002–03)
🙏 Thanks for reading. Follow us at @kendallbaker and @jeffreytracy, and tell friends to sign up for Axios Sports.