👋 Good morning! Let's sports.
Today's word count: 1,180 (~ 4 mins).
1 big thing: 🏀 College basketball's new court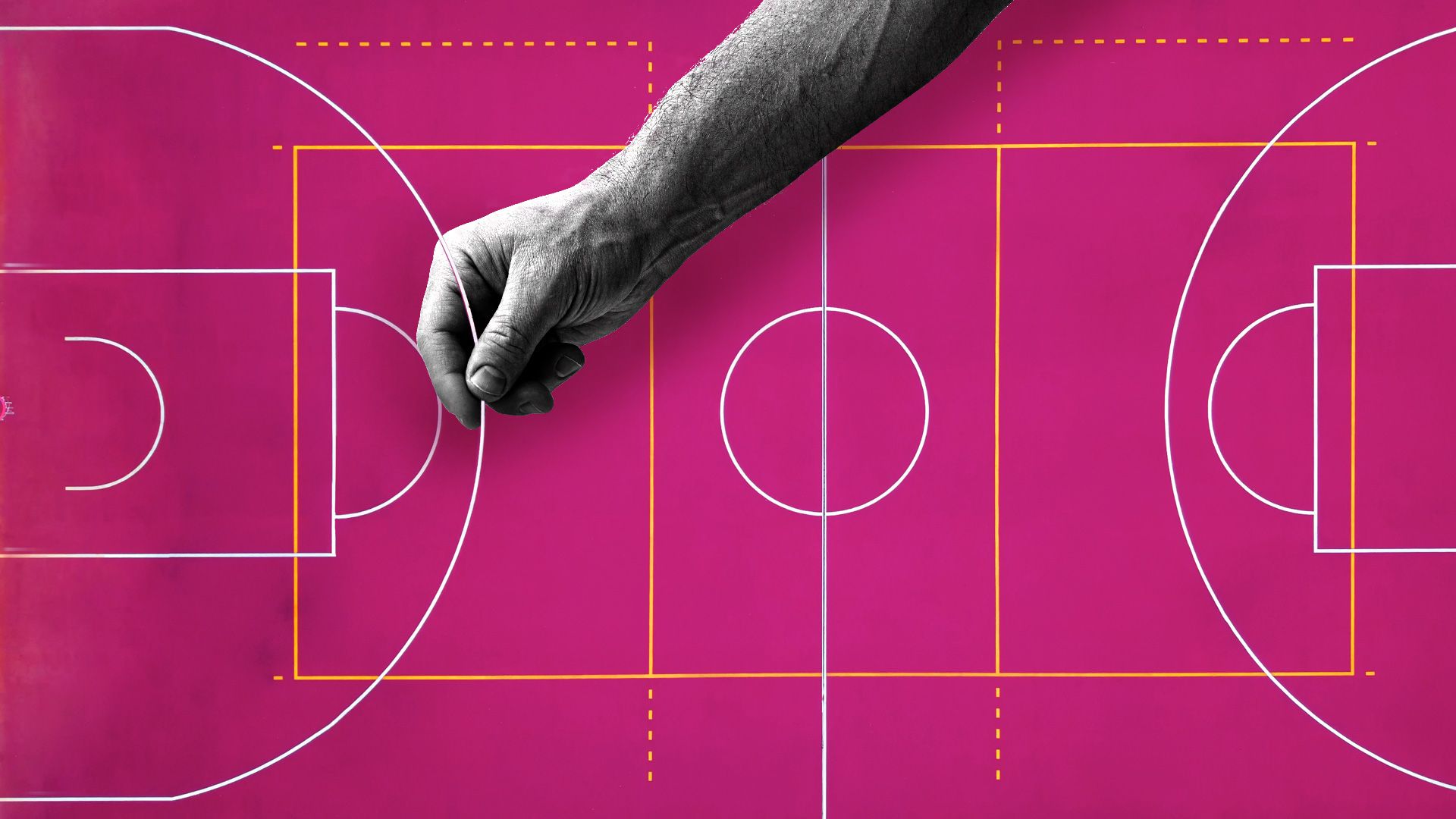 In June, the NCAA Playing Rules Oversight Panel voted to move the three-point line from 20 feet, 9 inches to the international distance of 22 feet, 1.75 inches starting next season.
According to the committee, moving the line back will (a) open up the lane for drives and cuts to the basket and additional low-post play and (b) slow the trend of threes becoming too prevalent by making them more challenging.
"After gathering information over the last two seasons, we feel it's time to make the change," said Colorado coach Tad Boyle, the committee chair. "Freedom of movement in the game remains important, and we feel this … will remove some of the congestion on the way to the basket."
Note: The new three-point line will go into effect next season for Division I but will wait until 2020-21 for Divisions II and III.
Why it matters: Like the NBA, the three-pointer has revolutionized college basketball. Now, all of a sudden, players must adjust to a new distance. Considering how much muscle memory is involved in shooting a basketball, that's a big deal.
Also, think about the logistics. "For a school like ours, we don't even have the new lines down on our courts yet," Old Dominion men's basketball coach Jeff Jones told me earlier this summer. "Due to camps and different things, we can't change them until August."
Jones thinks the quick turnaround could lead to less threes next season, especially as players who were borderline three-point shooters last season go back to shooting long twos. "But in time, everybody will adjust," he adds.
The big picture: The committee considered multiple proposals to address freedom of movement before ultimately landing on this one. Another option was to widen the free throw lane from 12 to 16 feet — the dimension used in the NBA.
That, too, would have opened up the lane for drivers and cutters. But it would have also required players to post up two feet further from the basket.
Many coaches, including Jones, feared that would have eventually led to the disappearance of the traditional low-post center and are happy that the committee didn't go that direction.
The bottom line: This story flew under the radar this summer but looks poised to play a role next season as teams adjust to their new reality.
P.S. … Who changes the lines on a college basketball court? Is it the janitorial staff? Does each school hire an outside company? Is it expensive? Does the NCAA help pay for it?
I'm suddenly extremely curious about this and can't stop picturing the athletic department intern at Big State University googling "company in area to change lines on basketball court" the day after this change was announced.
2. ⛳️ The FedEx Cup Playoffs begin today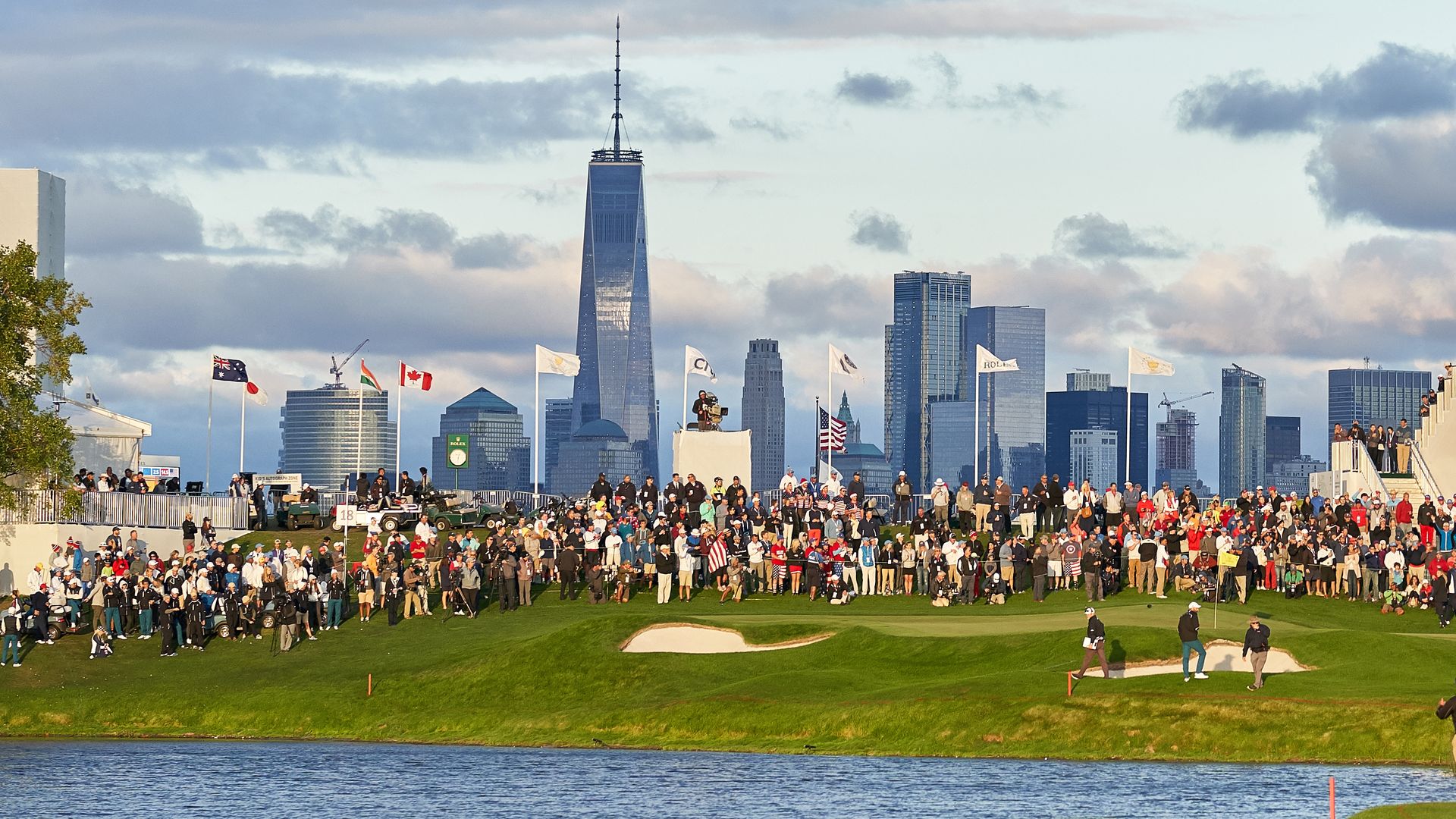 The FedEx Cup Playoffs begin today at possibly the most expensive golf course ever built — and nearly all of the best players in the world will be there (see pairings).
Details:
Event: The Northern Trust
Course: Liberty National in Jersey City, N.J. (price tag: $250M)
TV coverage: 2-6pm ET (Golf Channel)
How it works: This is the first event of the new-look FedEx Cup Playoffs, which has been streamlined and improved to make for a more exciting end to the season.
The field: 122 golfers who compiled the highest point total from the season-long FedEx Cup standings (winning a PGA Tour event, for example, was worth 500 points) are in the field this week.
New length: The competition used to end in late September but has been shortened to three weeks so that it ends before college and pro football steal America's attention.
New points system: Brooks Koepka tops the standings with 2,887 points but the winners of the first two playoff events earn 2,000 points each this year, so "like a wild-card team ... getting hot in the postseason is now what matters most, not performance before the playoffs," writes NYT's Bill Pennington.
More prize money: The payout for winning is now $15 million, an increase of 50% from last year.
Looking ahead: At the conclusion of the Northern Trust, the top 70 golfers in the standings will qualify for next week's event (BMW Championship in Chicago). After that, the top 30 golfers will advance to the finals the following week (Tour Championship in Atlanta).
3. 🏈 Tonight's slate: 11 preseason games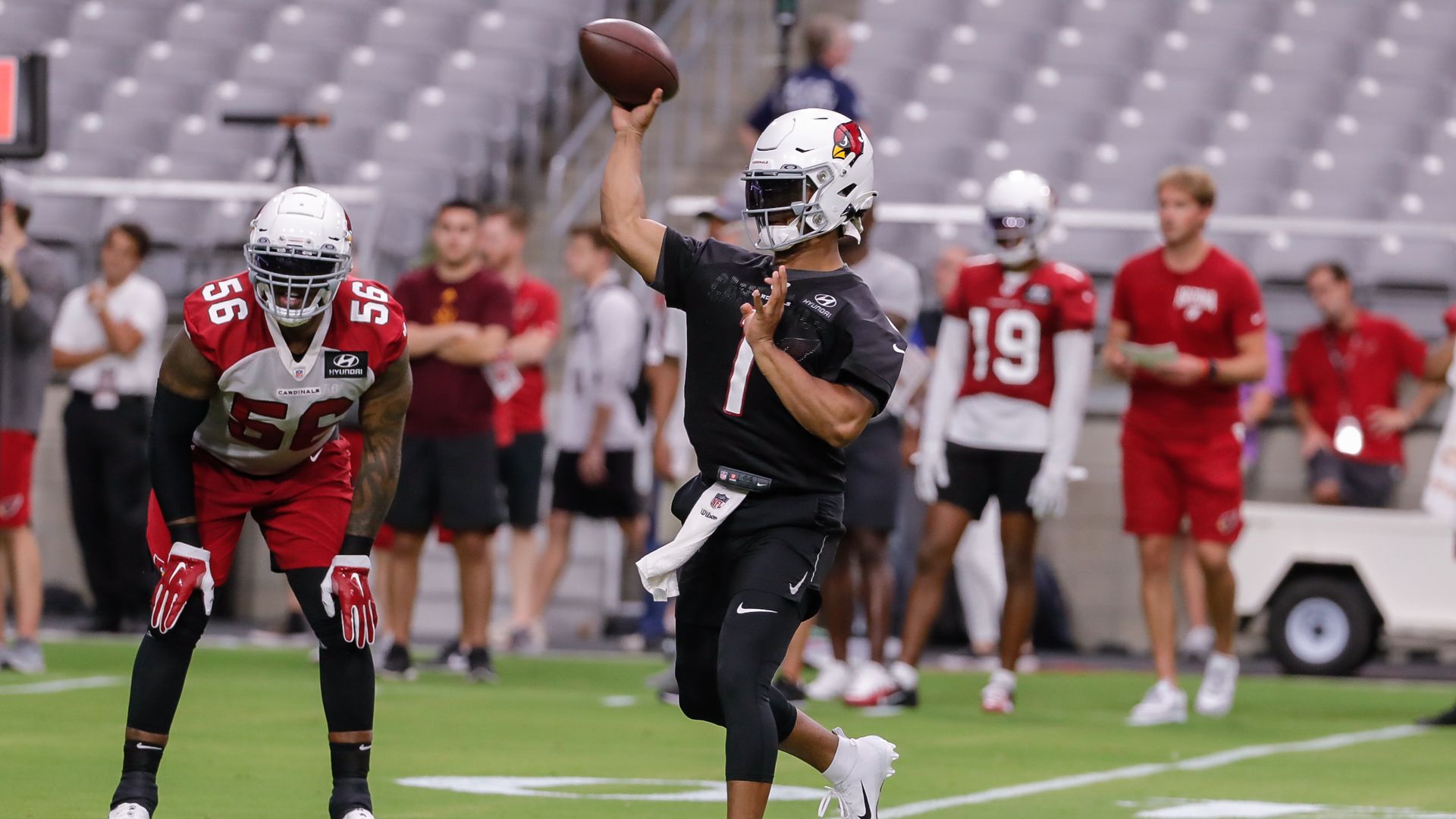 The 2019 NFL preseason officially began with the Hall of Fame Game last Thursday, but gets underway for the rest of the league this week, beginning with a loaded 11-game slate tonight.
National games (NFL Network):
Jets vs. Giants, 7pm ET: All eyes will be on Daniel Jones, the Giants' No. 6 overall pick that the team views as Eli Manning's successor. Despite having strong opinions about him on draft night, most fans have seen very little tape of Jones, so his performance tonight could change minds (or confirm doubts).
Cardinals vs. Chargers, 10pm ET: No. 1 overall pick and human highlight reel Kyler Murray will be making his NFL debut, and we'll get our first look at new head coach Kliff Kingsbury's "Air Raid" offense.
Other games (all times ET):
Colts vs. Bills (7pm)
Falcons vs. Dolphins (7:30pm)
Patriots vs. Lions (7:30pm)
Jaguars vs. Ravens (7:30pm)
Redskins vs. Browns (7:30pm)
Titans vs. Eagles (7:30pm)
Texans vs. Packers (8pm)
Panthers vs. Bears (8pm)
Broncos vs. Seahawks (10pm)
Go deeper: What Daniel Jones' mom thinks of Giants craze around her son (NY Post)
4. 🏀 NBA expands mental health program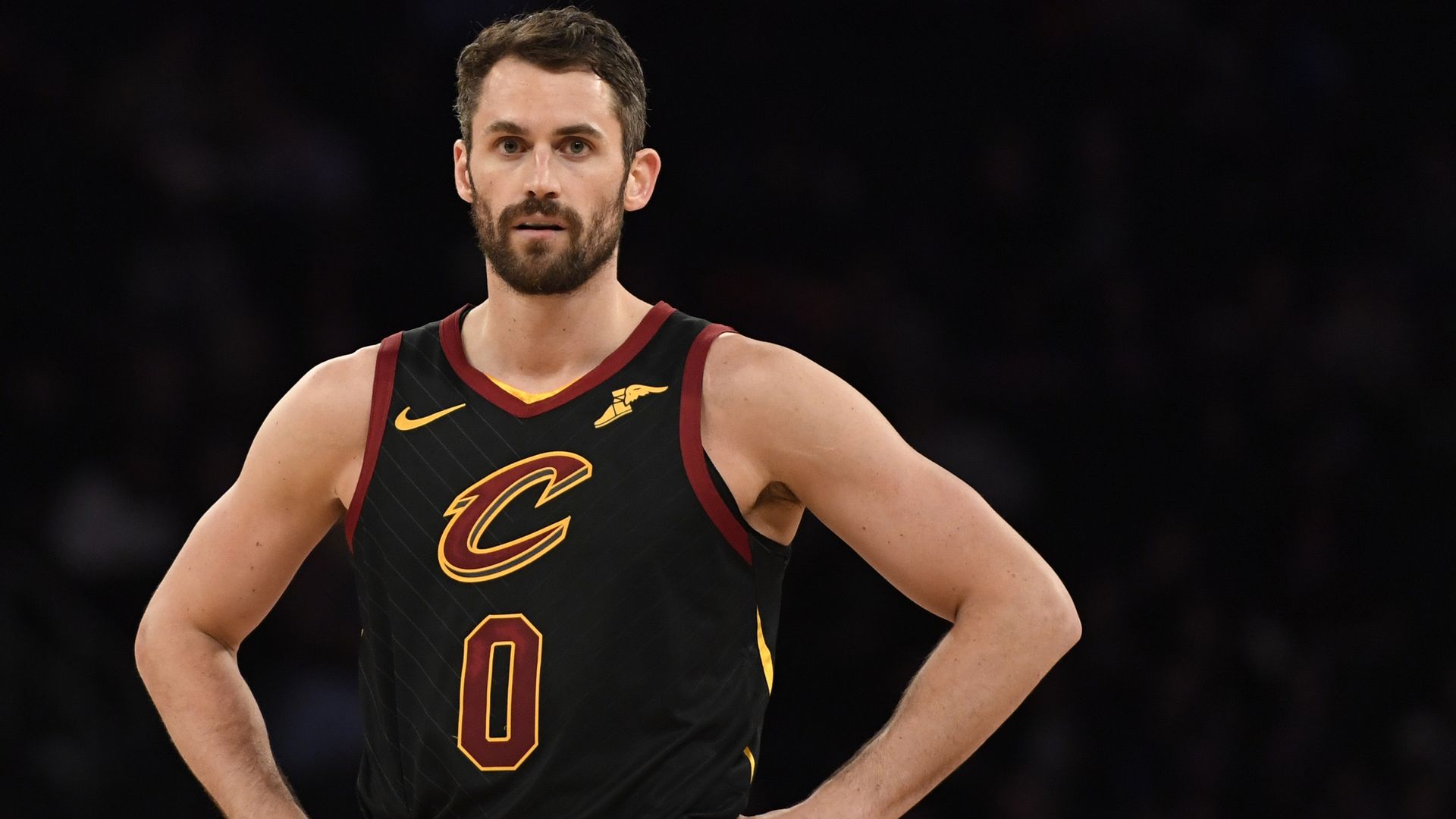 The NBA sent a memo to all 30 teams yesterday detailing an expanded set of mental health policies for next season, The Athletic's Sam Amick reports (subscription).
New team requirements:
Retain one to two licensed mental health professionals with experience in assessing and treating clinical mental health issues.
Identify a licensed psychiatrist to help manage any mental health concerns.
Enact a written action plan for mental health emergencies.
Attend a health and wellness meeting in Chicago on Sept. 12.
The backdrop: These changes come after a number of players, including DeMar DeRozan and Kevin Love, revealed their battles, so bravo to them for catalyzing positive change.
Go deeper: The NBA's happiness crisis (Axios)
5. 📚 Good reads
⚾️ Mud Maker: The Man Behind MLB's Essential Secret Sauce (SI)
"A multibillion-dollar business that embraces advanced technology and cherishes precision, Major League Baseball would prefer not to need an oozy substance harvested by one family in a secret location along the Delaware River. But for decades it has, and that won't change anytime soon."
💨 Running To Put San Quentin Behind Him (NYT)
"Markelle Taylor changed at San Quentin State Prison, where he became a marathoner. … People run for many reasons, but the sport can have a deeper meaning for someone running on the outside after years behind bars."
🏈 When Your NFL Career Is Over, Try Pro Wrestling (ESPN)
"Moving to the WWE means starting from the bottom, a sobering reality for high-level athletes who have rarely experienced what it's like to fail."
6. Aug. 8, 1992: 🏀 The Dream Team wins gold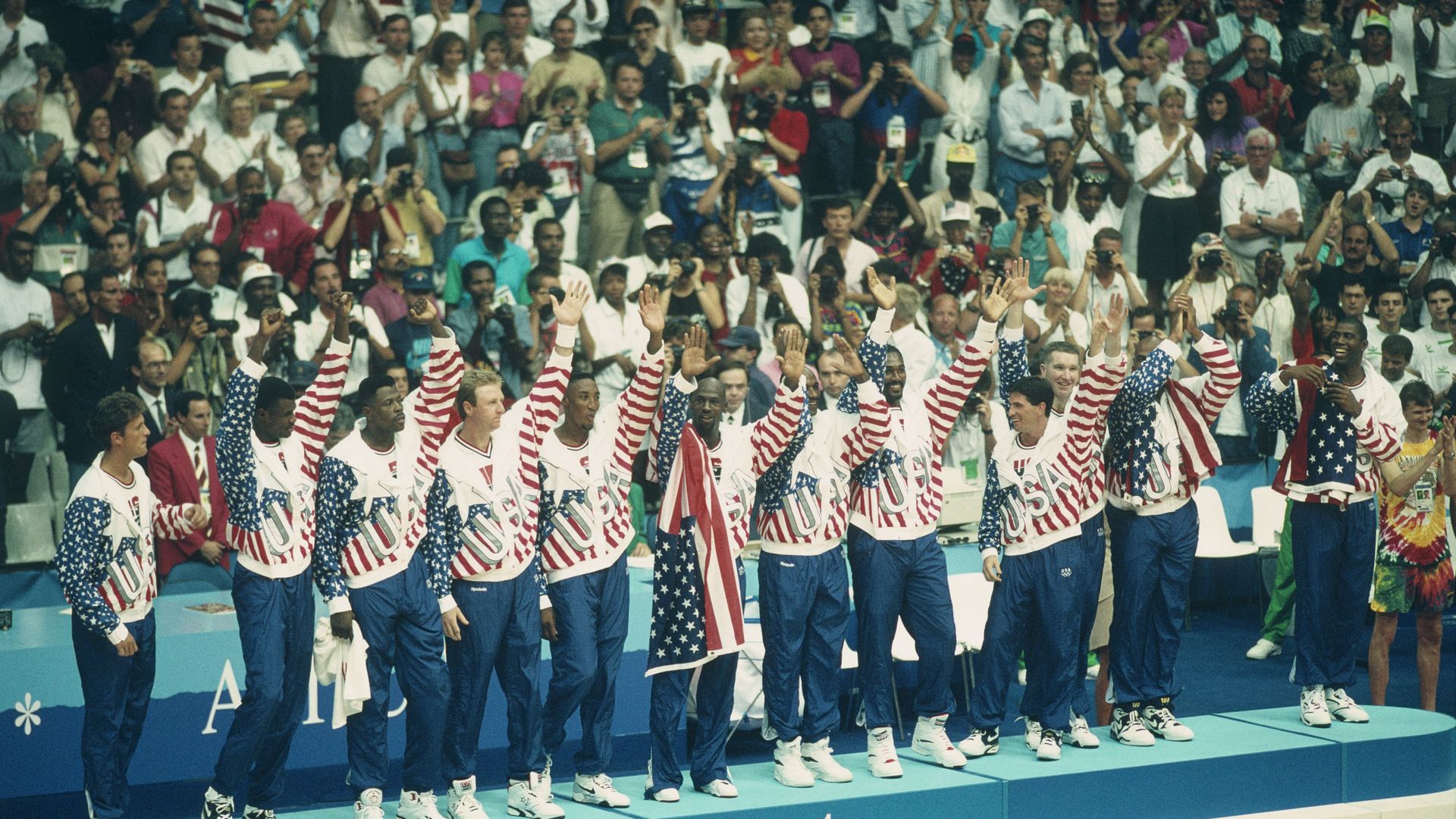 27 years ago today, the "Dream Team," featuring Charles Barkley, Michael Jordan and countless other NBA Hall of Famers, beat Croatia 117-85 to win the gold medal.
The backdrop: In the 1988 Olympics, the team won bronze with no NBA players. This team set a new standard. Since then, USA basketball has won gold in six of seven Olympic games.
Watch: The best of the Dream Team at the 1992 Olympics (Olympic Channel on YouTube)
7. 🏈 NFL trivia
Question: Who are the only two coaches who have won both the Rose Bowl and the Super Bowl?
Hint: They both won the Super Bowl with an NFC West team.
Answer at the bottom.
8. The Ocho ... happened on ESPN yesterday!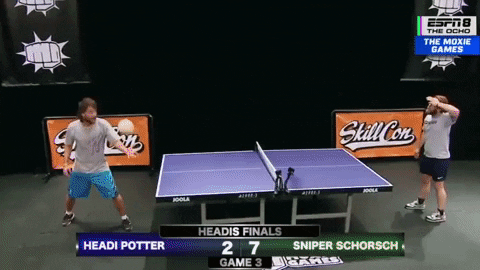 ESPN turned ESPN2 into ESPN8: The Ocho yesterday and I had a blast watching. My favorite sport was probably "Headis," which is essentially ping pong using your head instead of a paddle.
See you back here tomorrow,
Kendall "Nice upward facing dog at the end there" Baker
Trivia answer: Pete Carroll (USC and Seahawks) and Dick Vermeil (UCLA and Rams)