Axios Sports
March 24, 2022
👋 Good morning! Happy 1st birthday to Axios Latino. Sign up here for our twice-weekly newsletter.
Today's word count: 1,808 words (7 minutes).
Let's sports...
1 big thing: 🏀 The Sweet 16's NIL stars
This is the first March Madness of the NIL era, meaning athletes can monetize their fame during one of the biggest sporting events of the year.
State of play: Social media has been the most lucrative channel for athletes since the NIL era began in July, per marketing platform Opendorse. 34% of compensation has come from posting content, well ahead of signing something (18%) and licensing rights (14%).
By the numbers: UConn's Paige Bueckers and Louisville's Hailey Van Lith have the highest social media earning potential among Sweet 16 players, per exclusive data from Opendorse, and women's players make up 11 of the top 20 athletes.
Super sophomores: Bueckers ($62,900) and Van Lith ($44,200) have by far the highest social media post value, which is calculated using metrics like followers, engagement, school and sport.
Freshmen phenoms: Gonzaga's Chet Holmgren ($10,400) and Duke's Paolo Banchero ($9,000), top five recruits and projected top five NBA draft picks, rank third and fourth, respectively.
The big picture: Women's basketball players have earned 19% of all compensation during the NIL era, per Opendorse, trailing only football players (51%) and ahead of men's basketball players (15%).
The backdrop: The NIL landscape continues to evolve at a rapid pace. A football recruit reportedly got a $8 million contract earlier this month, and Adidas just announced that all athletes at its 109 D-I schools can become paid brand ambassadors.
Drew Timme is starring in TV ads for a casino located 10 miles from Gonzaga's campus as the Bulldogs chase a title. Talk about a sign of the times — a college athlete promoting gambling.
Doug Edert has signed a deal with Buffalo Wild Wings amid Saint Peter's Cinderella Run. He's perhaps the best example yet of a college athlete cashing in on overnight fame.
The bottom line: The NCAA will earn nearly $900 million from this year's March Madness. For the first time, the players who make that possible can also profit.
2. 🏈 Quarterback musical chairs
The offseason QB carousel is spinning at breakneck speed, but this game of musical chairs began in earnest three years ago, Axios' Jeff Tracy writes.
By the numbers: Just 11 of 32 teams are projected to start the same QB in Week 1 of 2022 as they did in Week 1 of 2019 — and it will be 10 if the 49ers trade Jimmy Garoppolo.
Same QB: Only three signal-callers have been their team's starter for more than five years: Aaron Rodgers (14), Derek Carr (eight) and Dak Prescott (six).
Cardinals: Kyler Murray
Ravens: Lamar Jackson
Bills: Josh Allen
Cowboys: Dak Prescott
Packers: Aaron Rodgers
Chiefs: Patrick Mahomes
Raiders: Derek Carr
Vikings: Kirk Cousins
Giants: Daniel Jones
Titans: Ryan Tannehill
49ers: Jimmy Garoppolo
Different QB: With Baker Mayfield preparing to play elsewhere and some stud QBs in next month's draft, this list is still a work in progress.
Falcons: Matt Ryan → Marcus Mariota
Panthers: Kyle Allen → Sam Darnold
Bears: Mitch Trubisky → Justin Fields
Bengals: Andy Dalton → Joe Burrow
Browns: Baker Mayfield → Deshaun Watson
Broncos: Joe Flacco → Russell Wilson
Lions: Matthew Stafford → Jared Goff
Texans: Deshaun Watson → Davis Mills
Colts: Jacoby Brissett → Matt Ryan
Jaguars: Gardner Minshew → Trevor Lawrence
Chargers: Philip Rivers → Justin Herbert
Rams: Jared Goff → Matthew Stafford
Dolphins: Ryan Fitzpatrick → Tua Tagovailoa
Patriots: Tom Brady → Mac Jones
Saints: Drew Brees → Jameis Winston
Jets: Sam Darnold → Zach Wilson
Eagles: Carson Wentz → Jalen Hurts
Steelers: Ben Roethlisberger → Mitch Trubisky
Seahawks: Russell Wilson → Drew Lock
Buccaneers: Jameis Winston → Tom Brady
Commanders: Case Keenum → Carson Wentz
3. 💉 The "Kyrie Carve Out"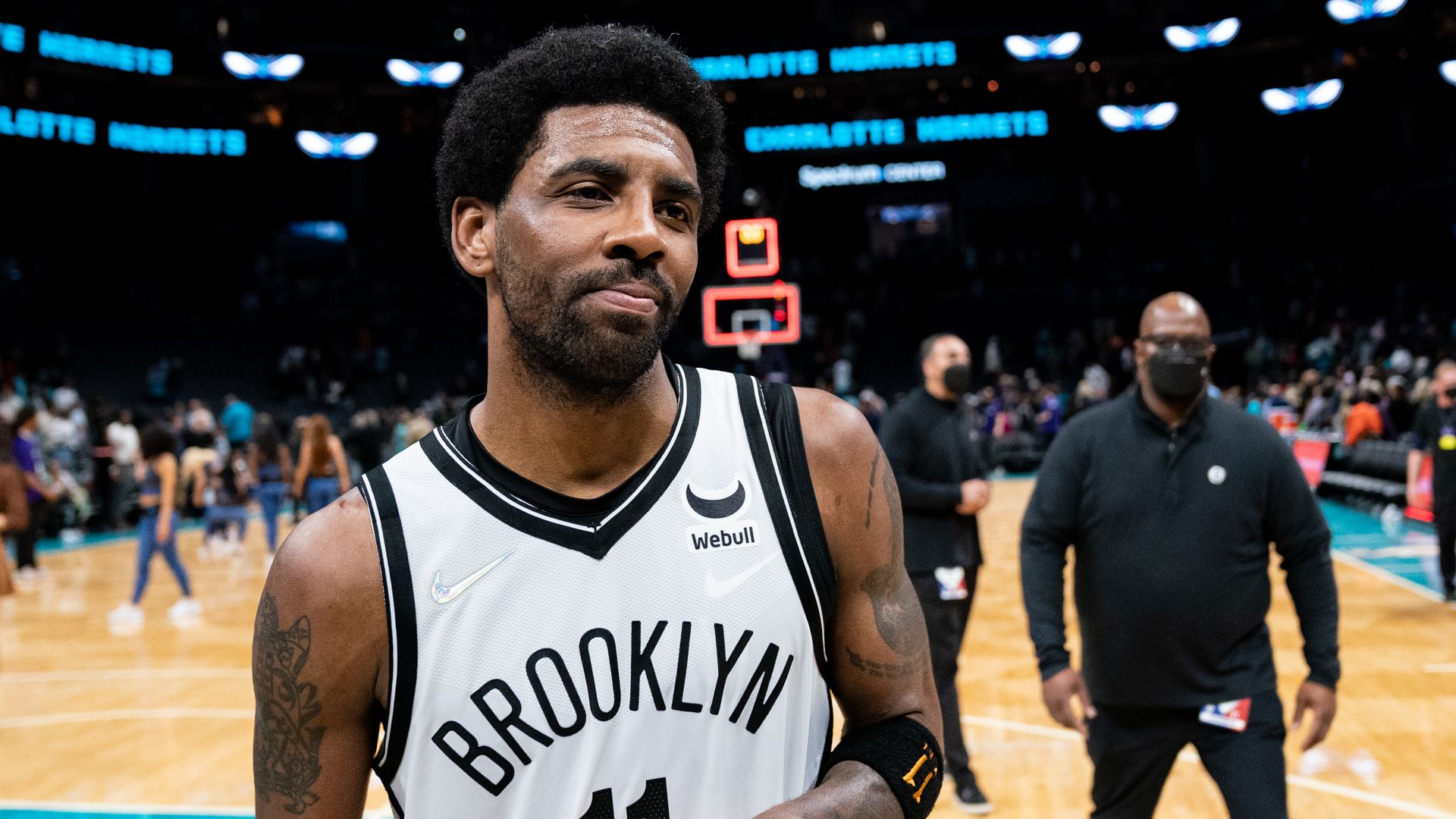 New York City Mayor Eric Adams plans to announce today that professional athletes and performers working in the city will no longer be required to show proof of vaccination, Politico reports.
Why it matters: This would allow Kyrie Irving to take the floor at Barclays Center for the first time this season. Unvaccinated Yankees and Mets players would also be eligible for home games.
What to watch: In October, The Athletic reported that Irving was not anti-vaccine (subscription). Rather, he was upset that people were losing jobs to mandates and wanted to be "a voice for the voiceless."
If this new exemption is only for athletes and entertainers — not exactly the "voiceless" — perhaps he'll continue sitting out if that's truly his stance.
The Nets are eighth in the East with nine games remaining, seven of which are in New York (six in Brooklyn, one in Manhattan). They could certainly use him.
What they're saying: The news was criticized by New York City's former COVID-19 senior adviser Jay Varma, who called the policy the "Kyrie Carve Out."
"[I]t sends a message that this is an arbitrary rule — that if you're rich enough and powerful enough and high profile enough, that you don't have to play by the same rules," he told Politico.
Just last week, Adams said there wouldn't be any special carveouts for athletes: "I'm focusing on 9 million people. I'm not looking at one person. I'm looking at my city not closing down again."
4. ⚡️ Lightning round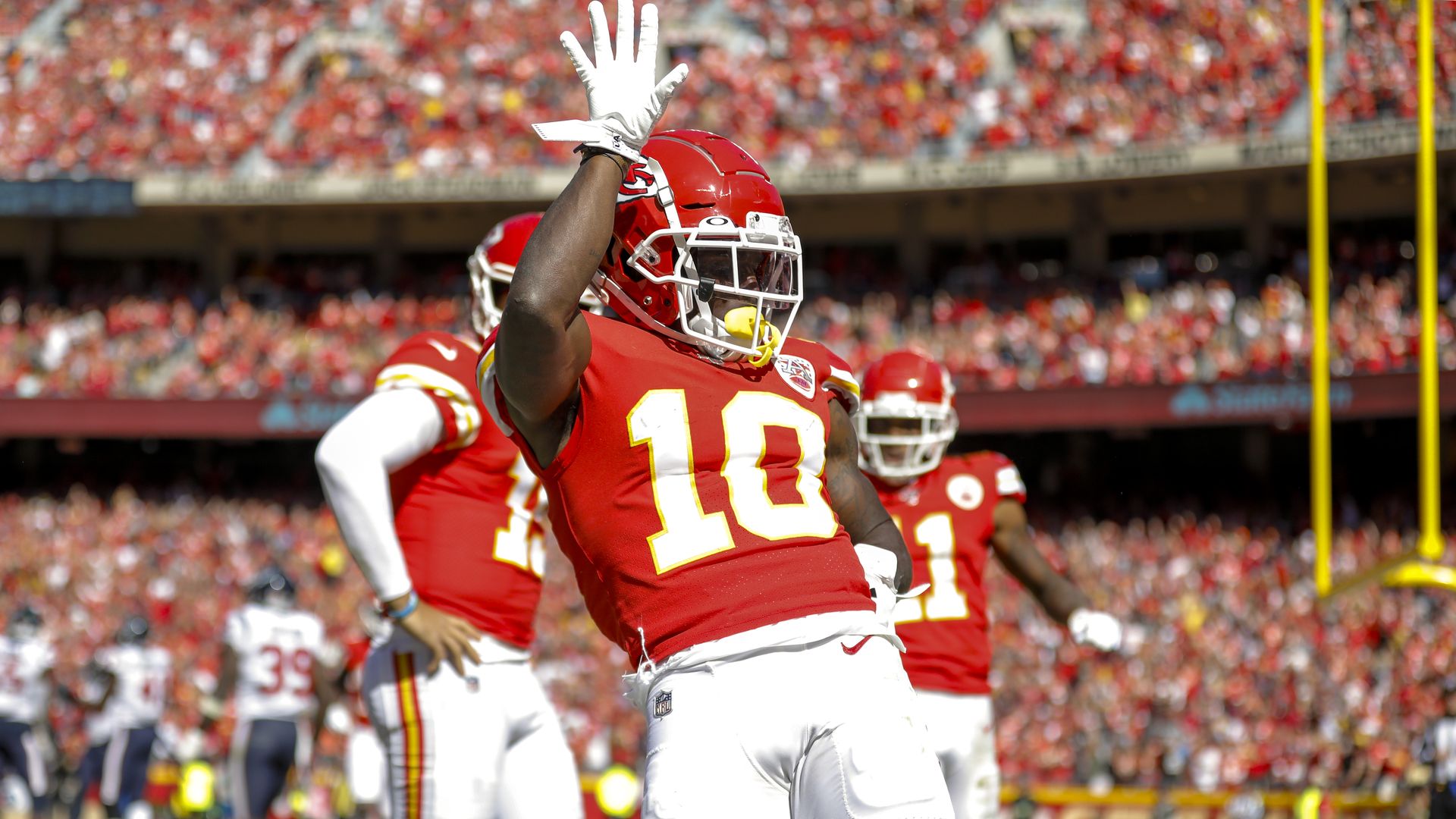 🏈 Hill blockbuster: The Chiefs traded Tyreek Hill to the Dolphins. The two QB-WR duos with the most TDs since 2018 (Rodgers-Adams and Mahomes-Hill) broke up this month.
🇺🇸 Biden appoints Delle Donne: Washington Mystics star Elena Delle Donne has been appointed co-chair of the President's Council on Sports, Fitness & Nutrition. The other co-chair will be chef José Andrés.
🪄 Mascot magic: The Orlando Magic mascot (whose name is "Stuff the Magic Dragon") did an awesome magic trick. Very on brand.
🏀 Good read: A team from everywhere finds a common language (Scott Miller, NYT)
"Arizona's march through the NCAA men's tournament is powered by an international roster dedicated to unselfish basketball."
5. ⚾️ Challenging MLB's antitrust exemption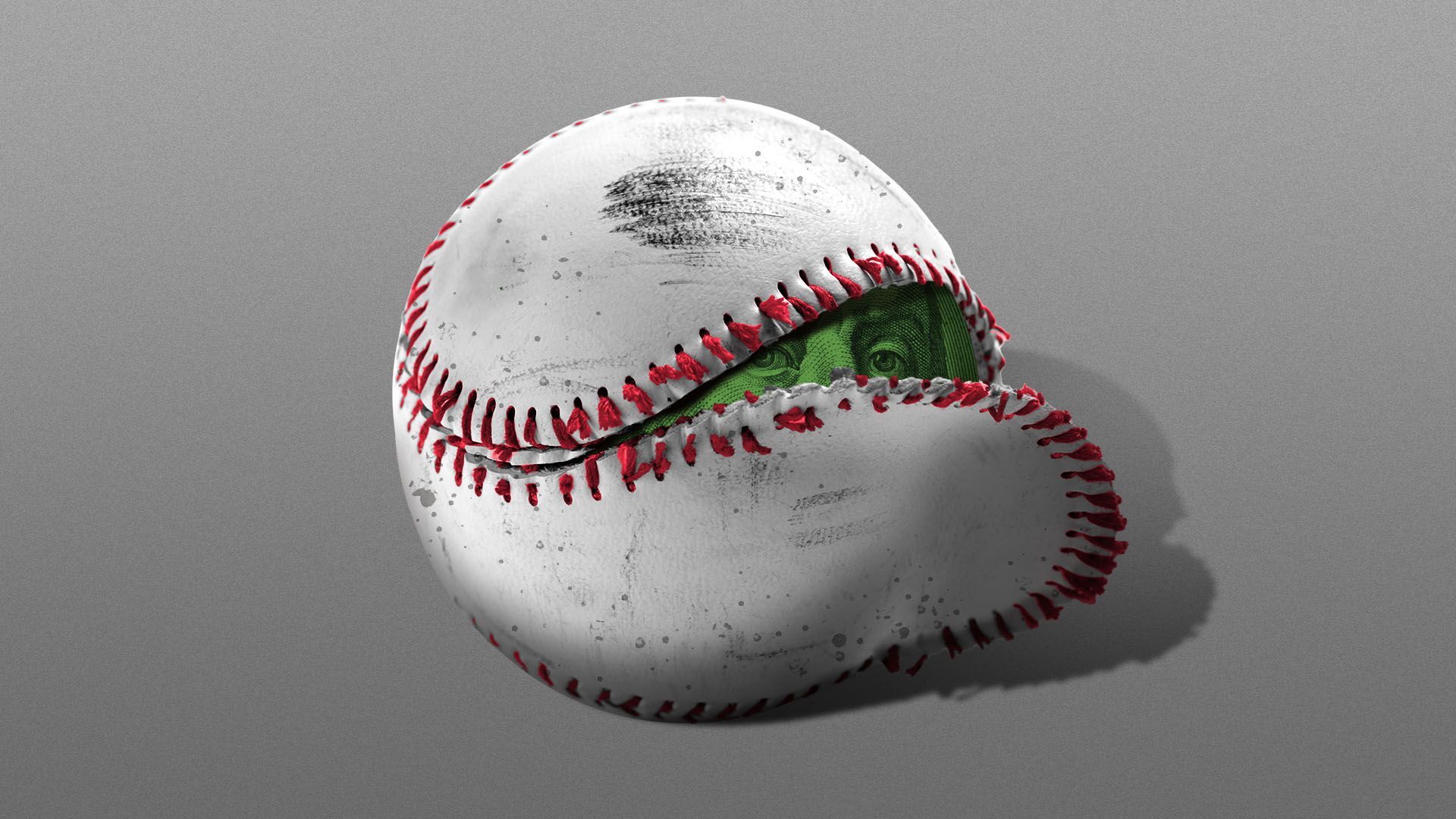 MLB's antitrust exemption turns 100 this May. If Sen. Bernie Sanders (D-Vt.) has his way, it won't reach 101, Jeff writes.
Driving the news: Sanders on Tuesday introduced the Save American Baseball Act. If passed, MLB wouldn't have as much free rein to conduct business as it sees fit — particularly in the minor leagues.
The big picture: MLB is the only league that enjoys this exemption, and politicians have frequently threatened to revoke it following events they view as unsavory (lockouts, minor league contraction, etc.).
Catch up quick: In 1915, the Baltimore Terrapins of the upstart Federal League sued MLB for violating the Sherman Antitrust Act of 1890, which prohibits anticompetitive business practices.
The U.S. Supreme Court in 1922 unanimously ruled in MLB's favor, arguing baseball games were local affairs, not interstate commerce.
The decision has been challenged through the years, most famously in Curt Flood's 1972 case arguing for free agency, but has always been upheld by the Supreme Court.
State of play: As it stands, MLB can legally squash rival leagues, prohibit franchise relocation to markets it doesn't want teams to enter and suppress minor league wages.
If the exemption were revoked, minor leaguers could negotiate contracts in a way that would effectively end the current system.
MLB also wouldn't have been able to unilaterally contract 42 minor league franchises as it did in 2020 (one of which was Sanders' local single-A team, the Vermont Lake Monsters).
6. 🏈 USFL's new rules reimagine football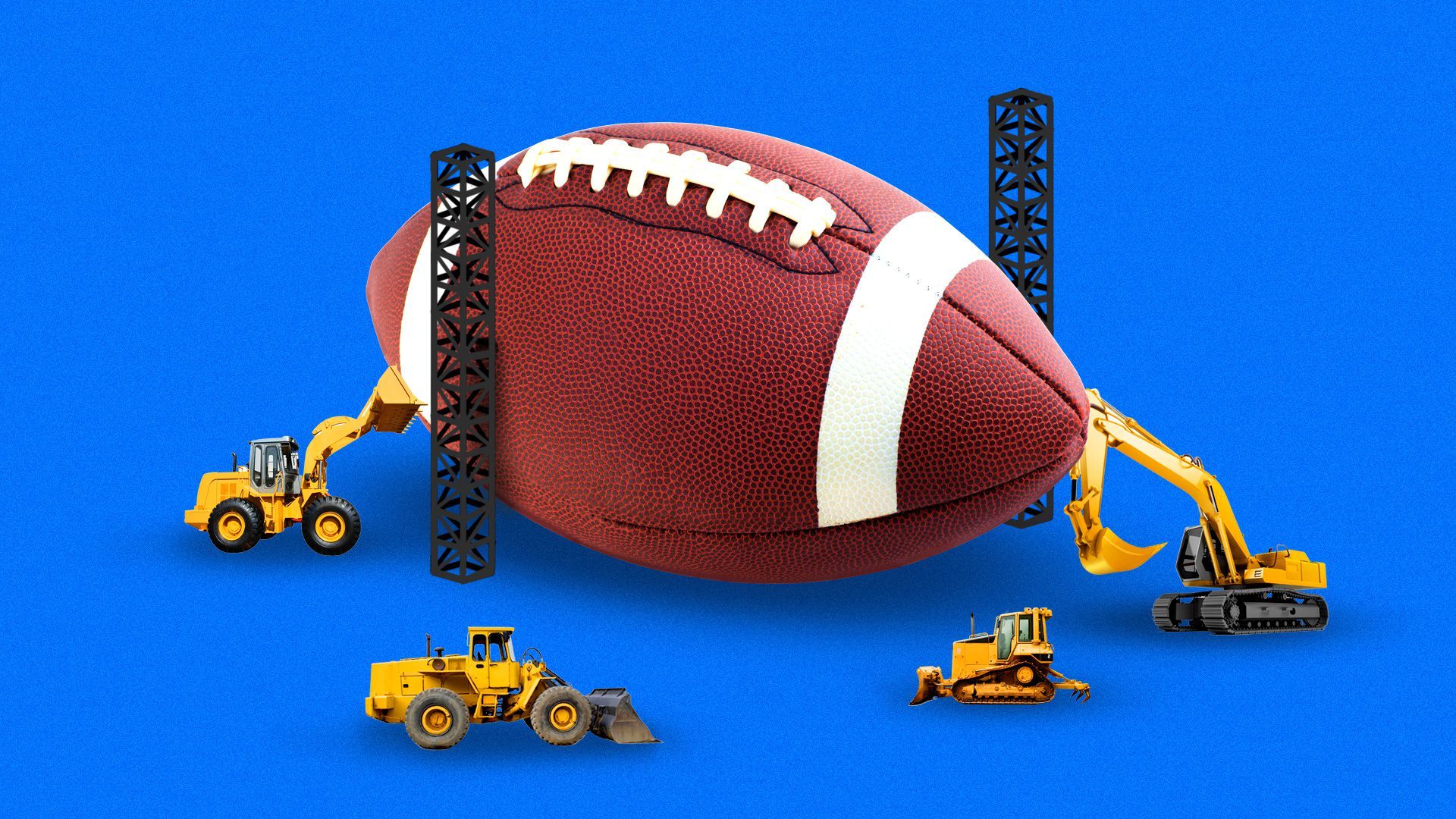 The revitalized USFL announced new rules on Wednesday ahead of its April 16 debut, many of which differ from the NFL, Jeff writes.
Some examples:
Three-point conversion: In addition to the standard PAT and two-point conversion, teams can opt for a three-point try from the 10-yard line after scoring a TD.
Overtime: Teams play a best-of-three shootout from the two-yard line, alternating possessions with each score worth two points. If it's still tied, ensuing possessions are sudden death.
Onside kick alternative: Teams can still attempt onside kicks to retain possession, but another option is to take the ball at their own 33-yard line and try to convert a 4th-and-12.
Clock stoppages: The clock will stop after first downs in the final two minutes of the second and fourth quarters to "add offense and excitement before halftime and at the end of the game."
The intrigue: Some of the original USFL's rules were adopted by the NFL, including instant replay and coach's challenges. Perhaps America's most popular sports league will be inspired once again.
Looking ahead: Eight USFL teams will play a 10-week regular season in Birmingham, Alabama, with the top two teams from each division advancing to the semifinals.
South: Birmingham Stallions, Houston Gamblers, New Orleans Breakers, Tampa Bay Bandits
North: Michigan Panthers, New Jersey Generals, Philadelphia Stars, Pittsburgh Maulers
7. 📸 Pic du jour: Mad for Madness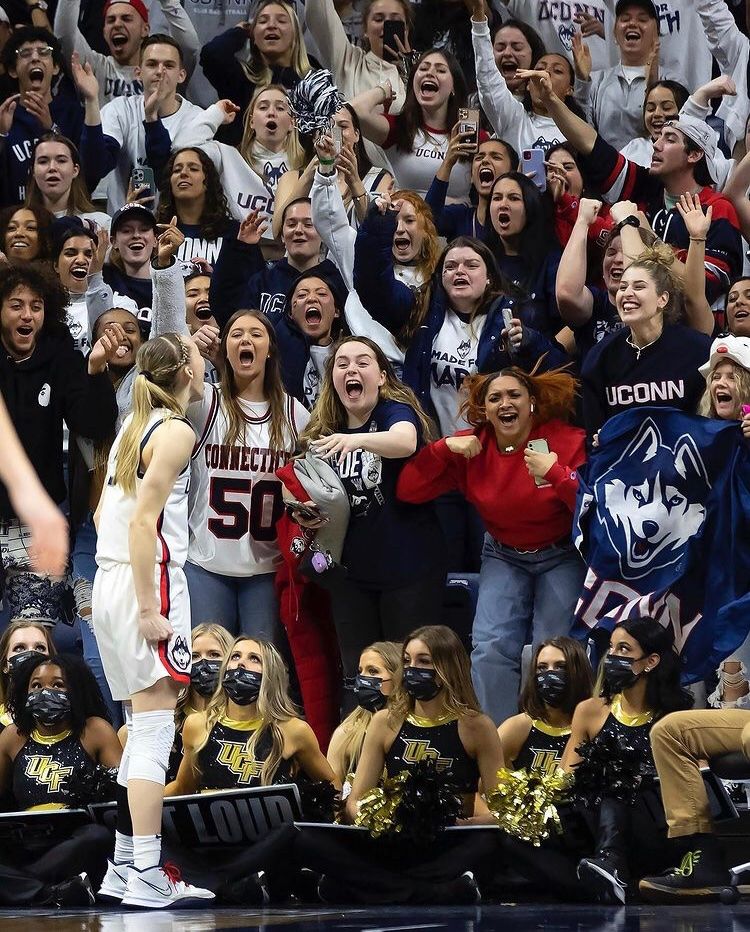 March Madness is seeing double-digit viewer increases over last year for both men and women, AP reports.
Men are up 12%: The tournament is off to its best start in five years, averaging 9 million viewers through the second round.
Women are up 15%: The second round averaged 474,000 viewers, a 25% jump from 2021.
8. 📺 Watchlist: USMNT vs. Mexico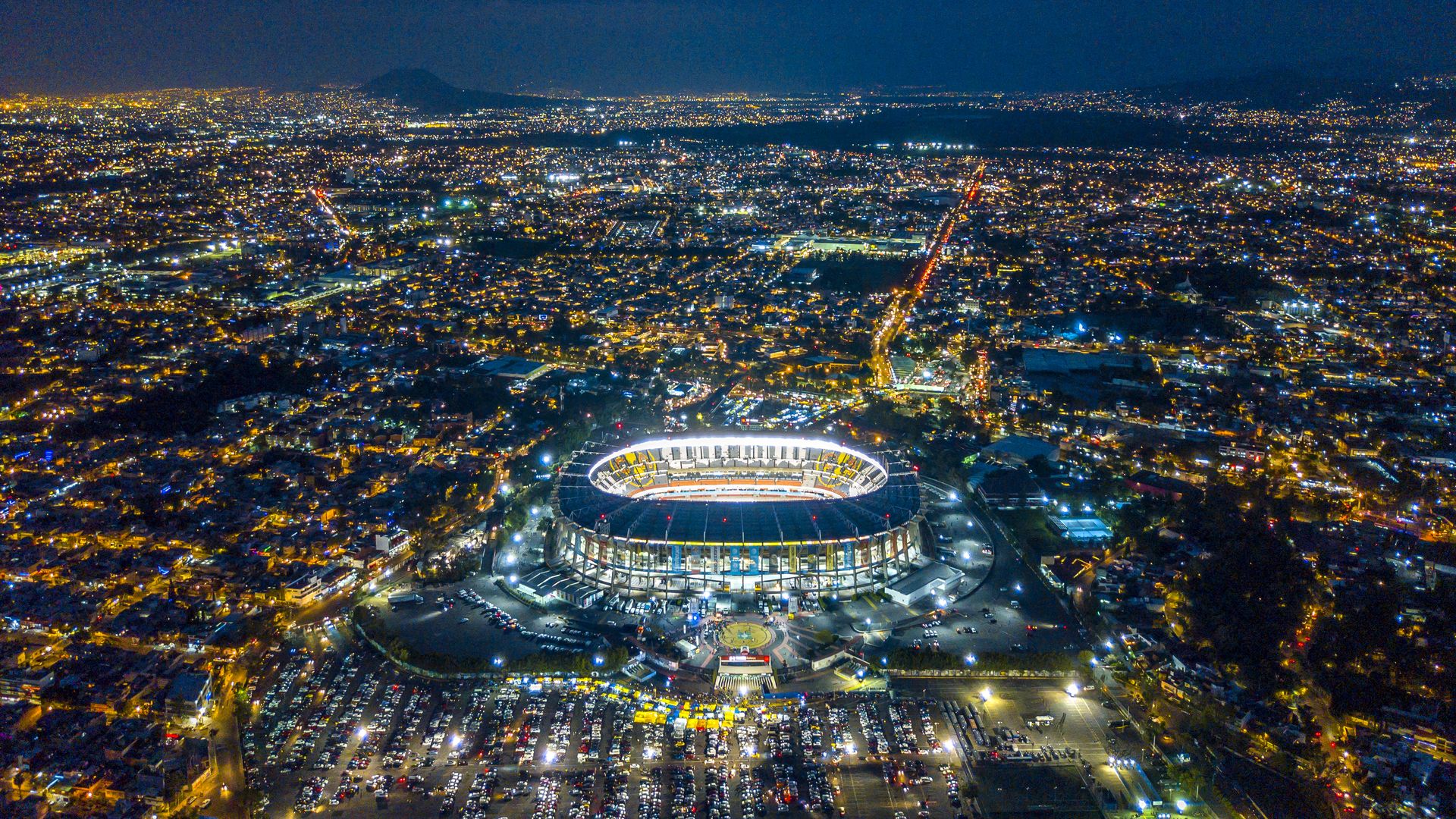 USMNT-Mexico at Estadio Azteca (10pm ET, CBSSN) headlines today's slate of World Cup qualifiers.
Unfriendly confines: The USMNT has never won a competitive match at the Azteca, and is 0-3-3 there in World Cup qualifying. The thin air provides a unique challenge.
State of play: Canada (25 points) is a win away from clinching a spot with three games left. The U.S. (21) and Mexico (21) are in line for the other two, ahead of Panama (17) and Costa Rica (16).
More to watch:
9. 🎙️ NFL trivia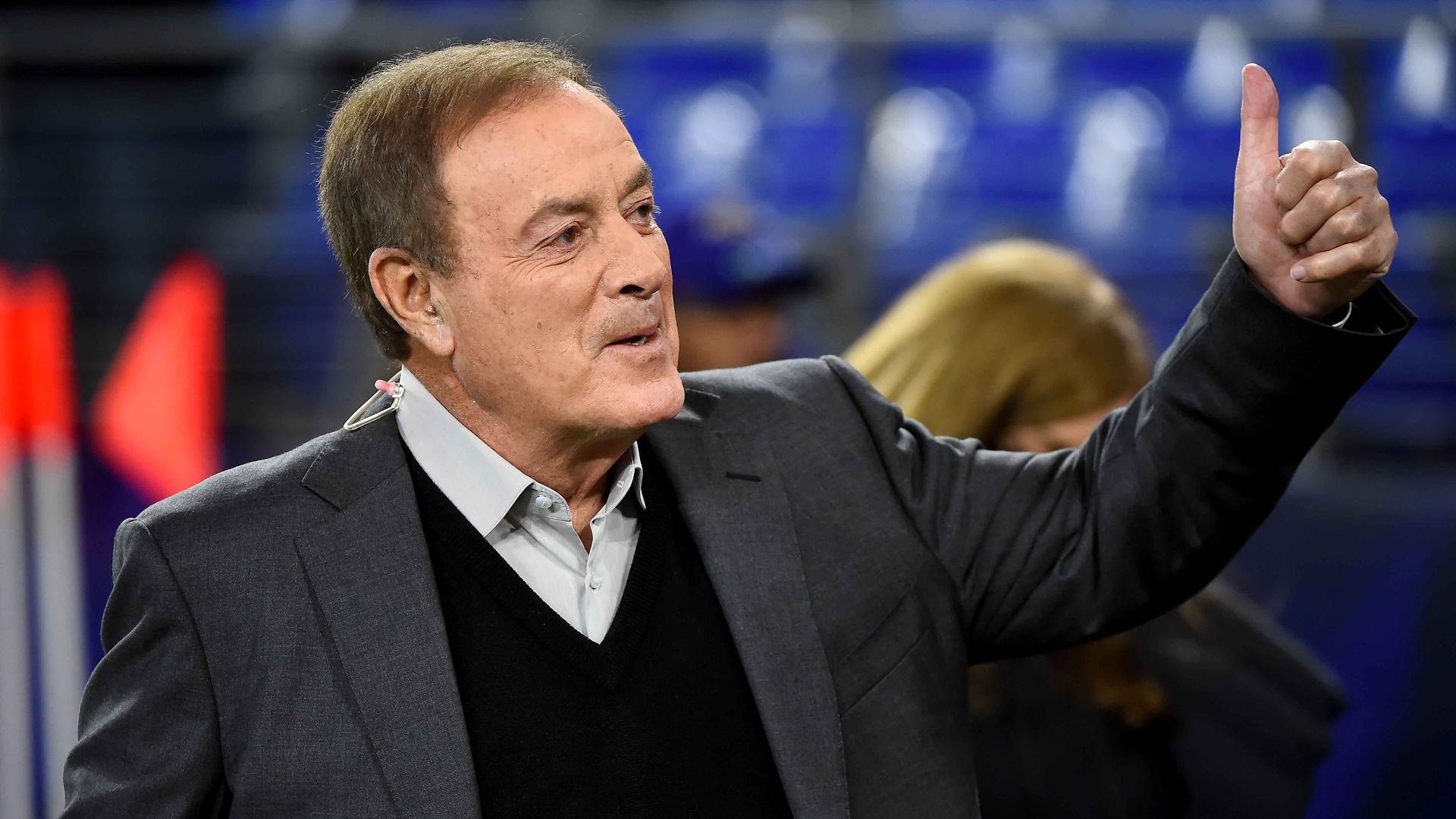 Al Michaels, who's joining Amazon's "Thursday Night Football," has been the play-by-play announcer for 11 Super Bowls, tied for the most ever.
Question: Who's he tied with?
Hint: Spent 10 years as an NFL player.
Answer at the bottom.
10. 🏀 1 fun thing: Old school mascots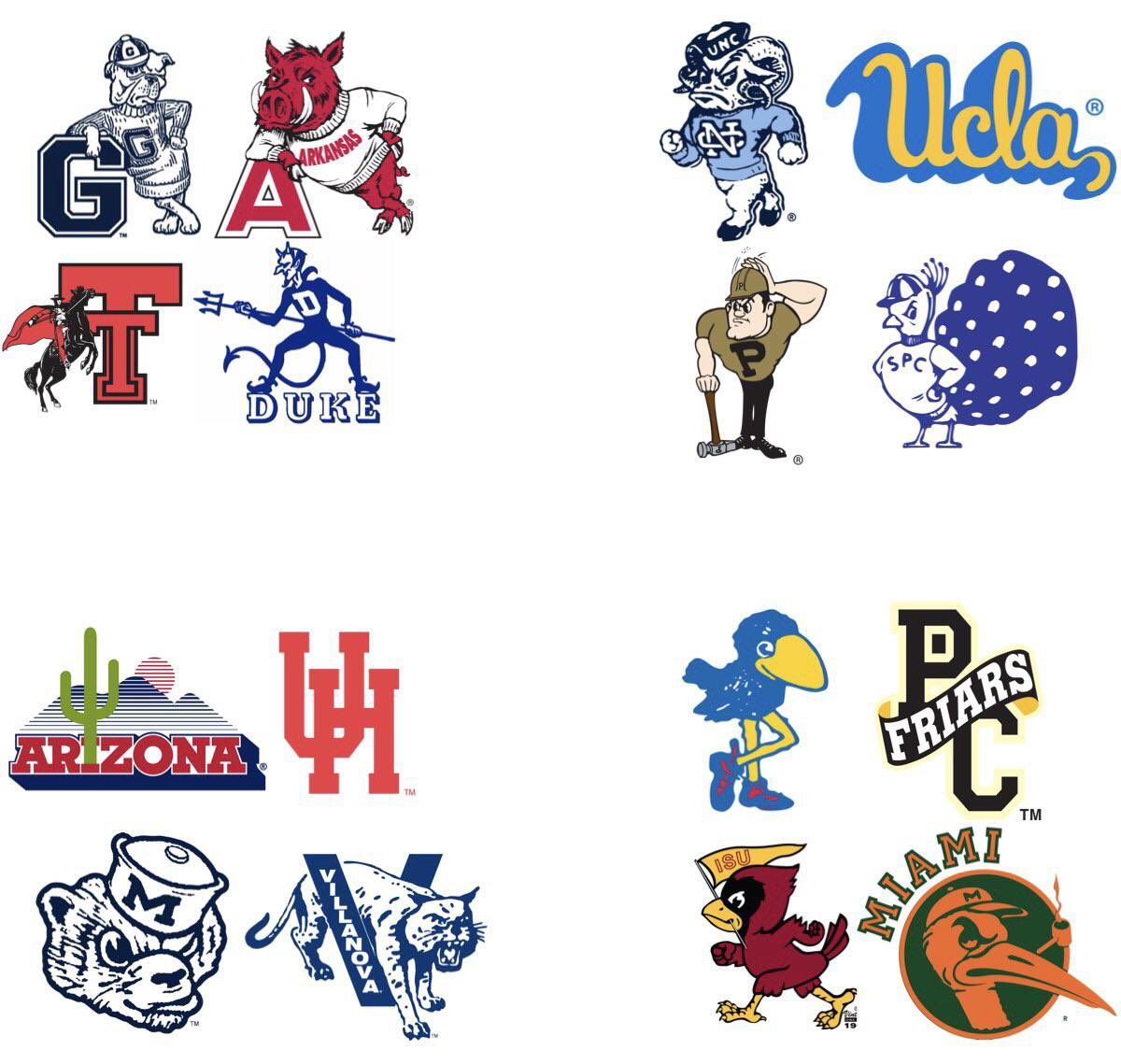 Who wins the national championship of old school college logos among the remaining men's Sweet 16 teams?
My take: I've got Arkansas coming out of the West, UCLA in the East, Arizona in the South and Miami in the Midwest.
Final Four: Arkansas beats UCLA in a close one, Miami beats Arizona in a slightly less close one.
Final: Congrats, Razorbacks! I'm a sucker for a good sweater and characters who look like they went to Monsters University.
Talk tomorrow,
Kendall "Duke +1 is a lock" Baker
Trivia answer: Pat Summerall
🙏 Thanks for reading. Follow us at @kendallbaker and @jeffreytracy, and tell friends to sign up for Axios Sports.