November 13, 2020
👋 Good afternoon! In our second of back-to-back special editions, we'll be diving into the sports media industry. Hope you enjoy! - Kendall and Jeff.
There's a ton of information, so we figured it'd make a great afternoon read. Hopefully, it goes as well with lunch as our morning editions go with coffee.
Pro tip: Our colleague Sara Fischer writes a weekly newsletter on the media industry, which hits inboxes every Tuesday. Sign up here.
We'll return to regular programming on Monday, just in time to recap NFL Sunday and Masters weekend. Who will be wearing the green jacket?
Today's word count: 2,597 words (10 minutes).
1 big thing: 📺 Cable TV's slow, painful death
Cable TV is dying a slow death, and after years of mostly denying that reality, America's major media companies are beginning to hedge their bets and prepare for what comes next.
By the numbers: 25 million homes have cut the cord since 2012, and another 25 million are expected to do so by 2025.
Looking ahead: If projections hold and the number of households with traditional pay-TV bundles stabilizes at ~50 million, U.S. media companies would lose ~$25 billion in subscription revenue, plus any advertising losses.
The big picture: Partly due to the loss of live sports, the COVID-19 pandemic will drive cable and satellite TV providers to lose the most subscribers ever, Axios' Sara Fischer reports.
The state of play: This has created a "tectonic shift" in the industry, with Disney, NBCUniversal, WarnerMedia and ViacomCBS all announcing major reorganizations in the last four months with an eye towards streaming.
Cable TV customers pay ESPN more than $9 per month, so the company has long been hesitant to cannibalize that deal by pivoting to streaming. But as cable subscriber numbers plummet, they clearly see the writing on the wall.
In the last two weeks, ESPN laid off 300 people — many of them in TV production — and moved most of its premium written content behind the ESPN+ paywall in an attempt to drive subscriptions.
A bold prediction: Every league will eventually go direct-to-consumer, sacrificing big paychecks from networks but gaining a direct relationship with their fans — and data about their customers.
In that scenario, the ESPNs of the world might start acquiring stakes in sports leagues, rather than paying for the rights to broadcast them.
For example, ESPN is paying billions of dollars to stream UFC fights on ESPN+ through 2025. What if they had just bought the UFC instead?
Between the lines: Not only is cable dying, but what it represents — linear broadcasts, studio shows, content designed to appeal to the masses — is also becoming a thing of the past.
With so many on-demand options, and a customized feed of information on social media, why would a teenager tune into ESPN or FS1 outside of live games?
And here's a really scary thought for legacy media: What happens if that teenager can't even be swayed to tune into the live games?
Because that's what's happening...
2. 🚨 Overtime: A new approach for a new generation
Endless articles have examined how young sports fans consume content. But here's the real question we ought to be asking: What content do they consume?
The backdrop: The sports media model is built on live sports rights. Networks pay billions of dollars to broadcast games, and everything flows from that.
News flash: Young sports fans don't follow sports the way their parents did. And that change in fandom gets more extreme with each generation.
The state of play: Gen Zers are about half as likely as millennials to watch sports often, and twice as likely to never watch, per a recent Morning Consult survey.
This is largely because 47% of them don't consider themselves fans. But even those who do follow sports are doing so in entirely new ways.
They watch highlights, not games; they follow athletes, not teams; they're just as interested in an Instagram story as they are in last night's box score.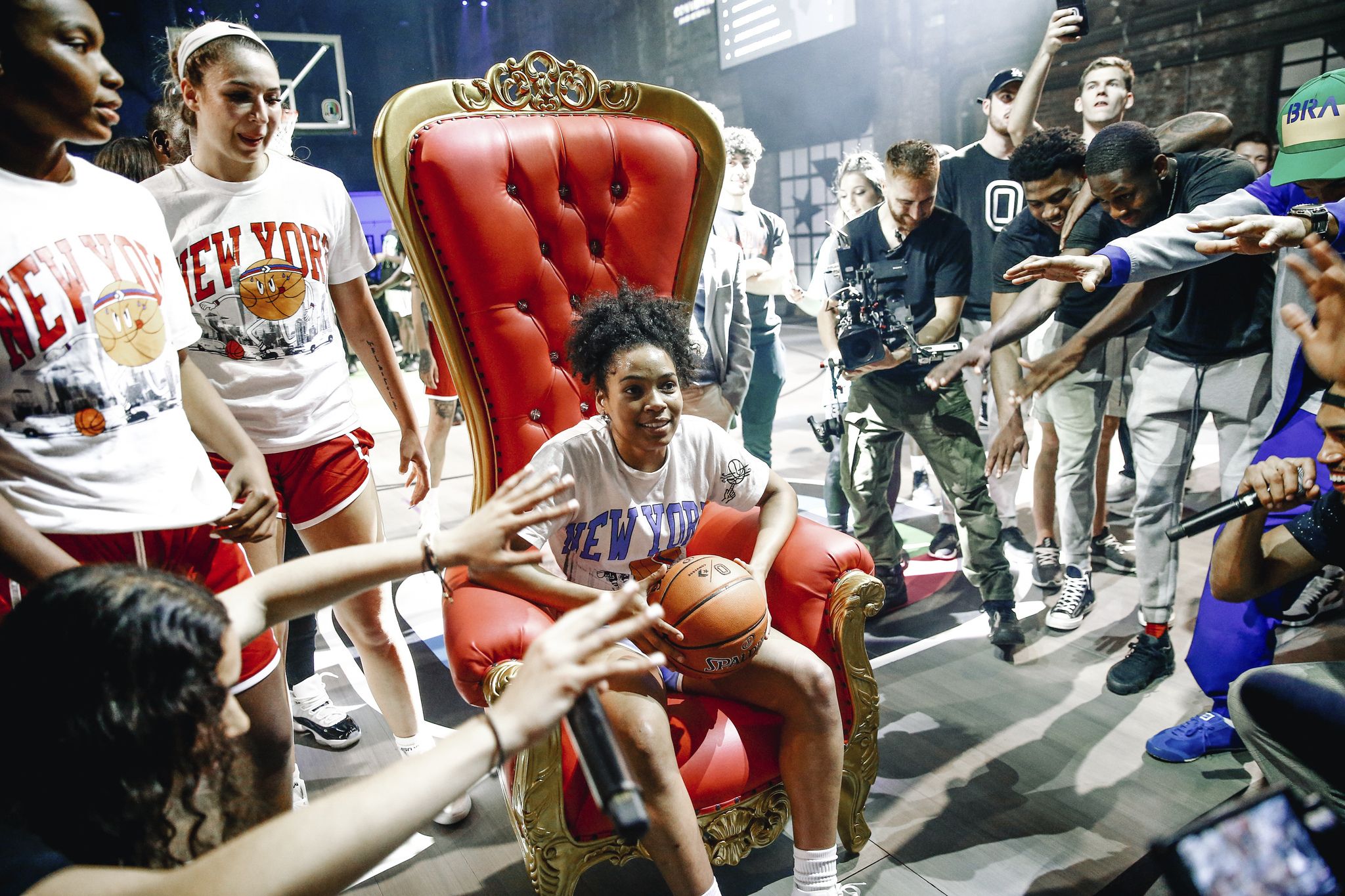 What they're saying: "Sports fandom is so much more broad and malleable now," says Dan Porter, CEO of Overtime, which made a name for itself through viral high school clips and has since become a "Gen Z sports oasis," per WSJ.
What was once viewed as "shoulder content" to support primetime programming (i.e., a behind-the-scenes look at an athlete's life) is now the content that young sports fans engage with the most.
And since it's still so undervalued, companies like Overtime, which has 45 million followers across its social channels and produces a variety of sports and sports adjacent content, have been able to leverage it.
The big picture: Legacy media companies have tried to model Overtime's approach to reach young fans. But Porter says they often misunderstand what Overtime, and social media more broadly, is about: two-way engagement.
"These companies are like, 'Oh, Overtime is high school basketball, so let's put some high school basketball shows on TV.' What they miss is that we respond to over 250,000 direct Instagram messages a year."
"We have five people who do nothing but go into the comment sections and engage with our followers," says Porter, a former WME executive.
The bottom line: 30 years ago, a kid growing up in Dallas was a Mavericks fan and watched SportsCenter to catch up on the latest news and highlights. When NFL Sunday arrived, he watched the Cowboys on the living room TV.
Nowadays, a kid growing up in Dallas is still a Mavericks fan, but he's likely an even bigger fan of Luka Dončić, who he follows on Instagram (and who has almost 3x as many followers as the Mavs).
He gets his news from social media, so there's no need for SportsCenter. When NFL Sunday arrives, he streams NFL RedZone, while watching his favorite player's latest YouTube vlog on his phone.
Go deeper: The Brooklyn startup helping high school athletes go viral (New Yorker)
3. 🎥 The sports streaming landscape
"Think about the TV ecosystem as a huge Jenga game, which is already under extreme stress. The last piece holding up the whole thing is sports," media analyst Rich Greenfield told me in March.
As sports transition to streaming, it's only a matter of time until...
4. 🎮 The Woj of esports is a free agent
ESPN's Adrian Wojnarowski breaks NBA news with his patented "Woj bombs." Jacob Wolf does the same thing for esports. Nickname: "Wolf bombs."
Driving the news: ESPN is shutting down its entire esports division, part of the latest rounds of layoffs the company announced last week.
This means that Wolf, who was already set to leave when his contract expired in January, is officially a free agent starting today.
His backstory: Wolf played Call of Duty semi-professionally as a young teenager before ultimately deciding to pursue a software engineering degree.
But by his sophomore year of college in 2014, he'd found himself on a career path as an esports journalist, thanks to his penchant for breaking news.
"I started out as a volunteer at Esports Heaven, and I immediately began networking with as many people as possible through social media," Wolf tells Axios. "Over time, those connections led me to information that only I knew."
He started breaking news and working his way up in the industry, earning enough money to drop out of school and pursue esports journalism full-time.
In 2016, when Wolf was still 19, ESPN made him the youngest non-intern ever hired at the company.
The landscape: Esports commentators often host their own shows on YouTube, but larger news publications have also gotten into the esports news business. Here's a sampling of the landscape as Wolf enters free agency...
The last word: During the end of our conversation, Wolf shared a personal anecdote about why he feels an obligation to use his platform in a positive way and always be approachable to his audience.
"At the end of the day, it's only recently cool to be a fan of video games. So a lot of our audience was the nerd that got picked on in school — and in some cases, they're the nerd that still does.
"I was that kid until seventh grade, so making people feel accepted, and letting them know that they can reach out or ask me a question anytime — that's super important to me."
Go deeper: TV-like ratings are coming to esports (Axios)
5. 💵 Creating content for sports bettors
As the U.S. sports betting market matures, a robust media landscape is forming alongside it, with companies aiming to educate and entertain bettors.
One of the early entrants is Vegas Stats & Information Network (VSiN), which launched in January 2017.
Much like Bloomberg, Cheddar and other financial news networks that broadcast from the floor of the New York Stock Exchange, VSiN produces upwards of 16 hours of daily programming from inside major sportsbooks.
The state of play: VSiN has three studios in Las Vegas (South Point, Mandalay Bay, Circa), one in Atlantic City (Borgata) and one outside Chicago (Rivers).
Circa opened two weeks ago with the "world's largest sportsbook," and VSiN has a studio inside (see below).
"The sports betting world pays attention to the numbers Circa releases, and we're right there, creating content from a place that helps open the market," says CEO Brian Musburger, who recruited his uncle and longtime sportscaster, Brent, to leave ESPN and join VSiN nearly four years ago.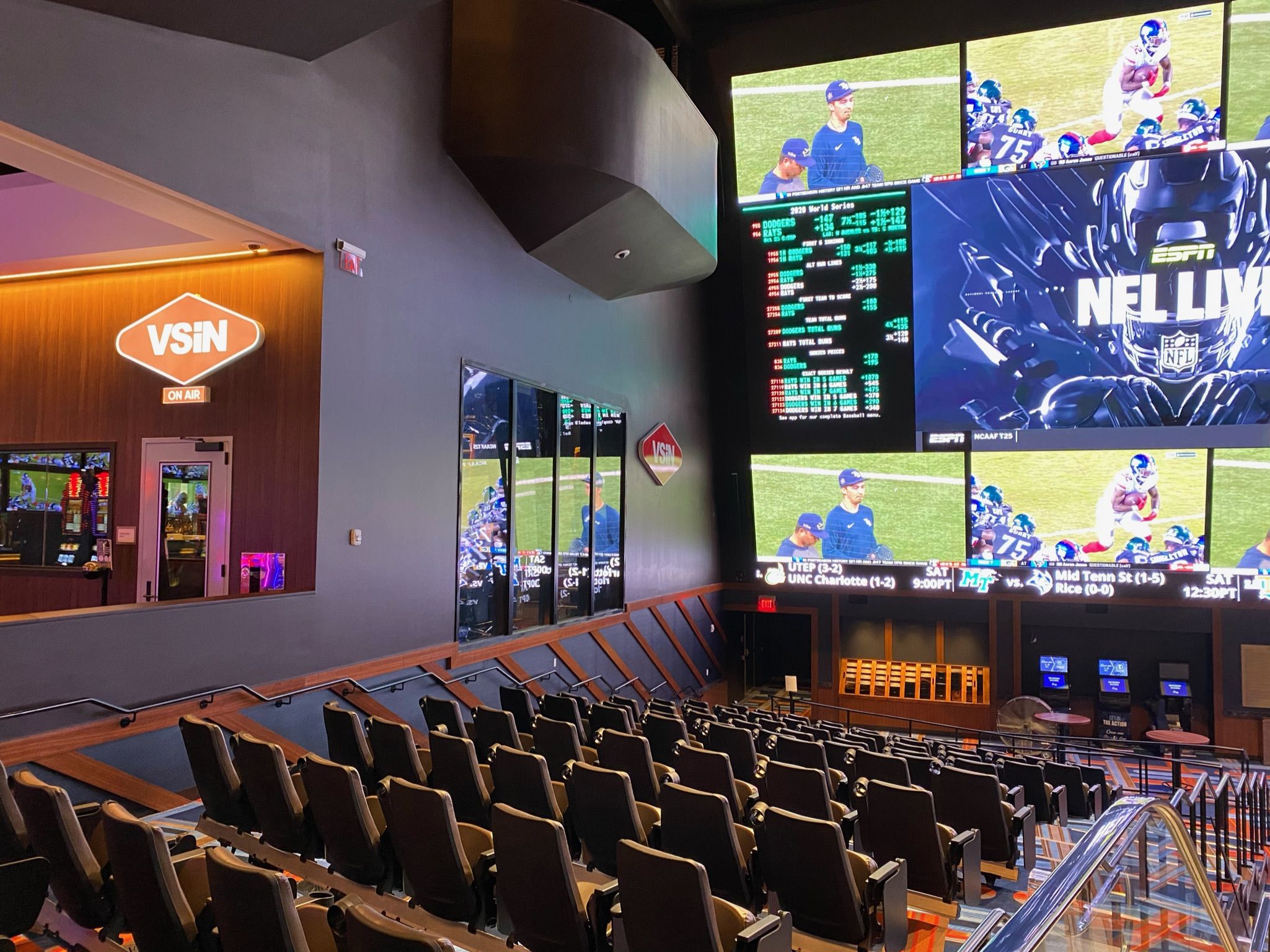 The big picture: Sports betting media can take on many different forms, from your standard handicapping show to more educational or comedic offerings.
Informative: This is VSiN's niche. "Early on we wanted credibility with hard core sports bettors, but now as the market matures we've also recognized there's a need for more 'sports betting 101' content," says Musburger.
Entertaining: Think Barstool, whose personalities don't profess to be experts, but their audience doesn't care. For them, it's about (virtually) sitting on the couch with friends, making bets and having a good time.
Mainstream: When you think of a mainstream sports betting program, perhaps you're envisioning a "SportsCenter"-style show with a betting tilt. That's essentially what ESPN's "Daily Wager" is, and "Fox Bet Live" is similar.
What to watch: Sports betting programming was once considered taboo for TV networks. Now, it's table stakes for survival and a new way to keep fans engaged.
Some networks will create their own programming, while others will pay companies like VSiN to produce shows for them (MSG+ already does this).
Meanwhile, digital outlets are creating their own content and earning affiliate revenue from sportsbooks by sending them potential customers.
Go deeper: The thriving offshore betting market (Axios)
6. 🎓 Niche sports reporting finds a home
Numerous journalists, from sports writers to tech reporters, have recently launched their own, independent publications, mostly via email newsletters.
Why it matters: The rise of independent journalism has breathed new life into niche content, with tools like Substack helping subject matter experts carve out their own corner of the internet.
The state of play: Newsletters occupy critical inbox real estate, but while some are general (say, Mike Allen's Axios AM) and others broadly cover an industry (oh hey!), others dive deeper still, writing for a small but dedicated audience.
Take Matt Brown's Extra Points newsletter, which focuses on the business of college sports. While ESPN covers the action on the field for millions of fans, Brown covers things like athletic department budgets for a few thousand.
"I'm interested in UConn's schedule. I'm interested in the finances at South Dakota. And there are people who care about that, but not 200,000 people," says Brown, who used to oversee SB Nation's college team sites.
"The beauty of Substack is you don't need 200,000 people to be interested in what you're doing — you need 3,000 who will pay for it."
Between the lines: When the pandemic shut down college sports this spring and led to the cutting of hundreds of programs, there was increased interest in the topics Brown covers, like how college sports are funded.
Meanwhile, layoffs at Gannett — whose newspapers would have been covering their local universities — created a void that Brown helped fill.
"Most college football fans just want to look at rankings and watch games," says Brown. "As soon as that came under threat, they shifted their attention to, 'Who is deciding when and how this all comes back?'"
Further reading: From Brown's Extra Points...
7. 🎙 Interview: Mirin Fader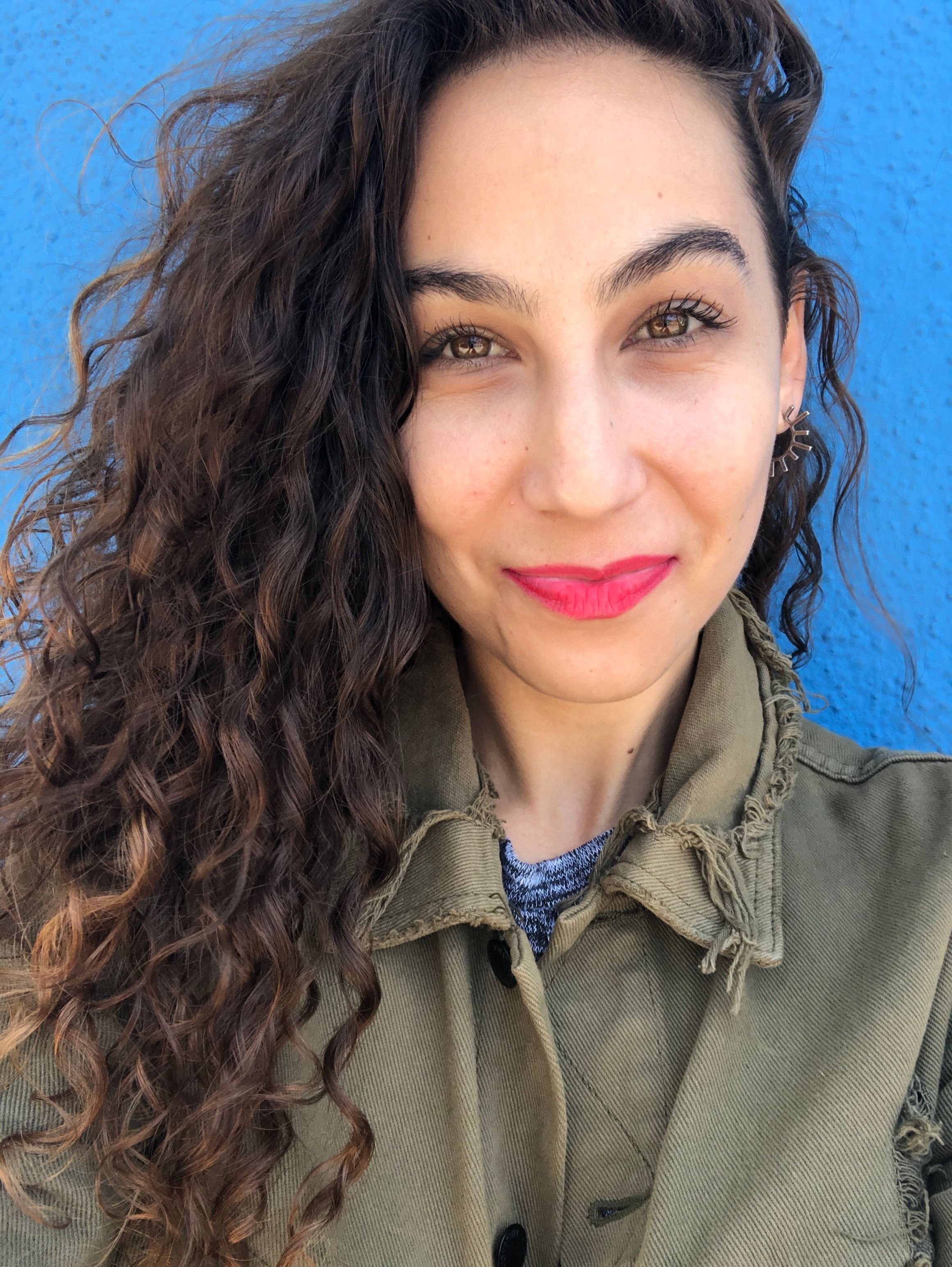 Mirin Fader is one of my favorite sports writers, and her Twitter bio explains what she does best: "I write about sports but I really write about people."
What's her writing process like? How has the pandemic impacted her work? Why cover athletes and not, say, politicians?
I wanted answers, so I called Mirin to find out. Below are some highlights from our chat, which has been edited for length and clarity.
Take us inside your writing process.
I'm looking for stories that are about more than sports. There has to be a human element. I talk to about 20 people for each story, and I've found that the most important interview is often not with your subject.
When I finish my reporting, I ask myself two critical questions: What is this story really about? And what are my best scenes? I view my writing like a movie, with scenes we flow in and out of to keep the pace going.
Then the actual writing begins. I start in the middle, which I know is weird, but I just think the gut of the story is so critical. We've all read articles with great leads or great kickers, but if the middle drags, the reader gives up.
How did the pandemic change your job?
I was terrified about what would happen to my work because I'm used to flying all over and doing face-to-face interviews. But I've been pleasantly surprised by people's willingness to be vulnerable over the phone.
During the pandemic, there's been this global humbling. For the first time, I feel almost on equal footing as my subject — human to human, rather than athlete to journalist. And I think that's made for richer interviews.
Why do athletes make such compelling characters?
There is no greater landscape for humanity than sports. We all face failure on a regular basis, but while most of us do it privately, athletes do it publicly.
The best profiles remind us that athletes are people who've gone through things just like everyone else — and that who they are under their jersey influences everything they do when they have it on.
Further reading: Some of Mirin's best work...
8. ✍️ New book: America's best sports writing
"The Best American Sports Writing 2020," the most recent (and final) edition of the acclaimed series, hit bookshelves this month.
The backdrop: Since 1991, the series has showcased the best sports journalism of the previous year, gleaned from hundreds of publications.
2020 editor: Jackie MacMullan, who has written for the Boston Globe, SI and ESPN and authored the NYT bestseller, "Basketball: A Love Story."
Series editor: Glenn Stout, who has served in this role since the series' inception. "I try to choose stories that readers will want to share with others; writing that they can return to over and over again," he says.
Featured stories: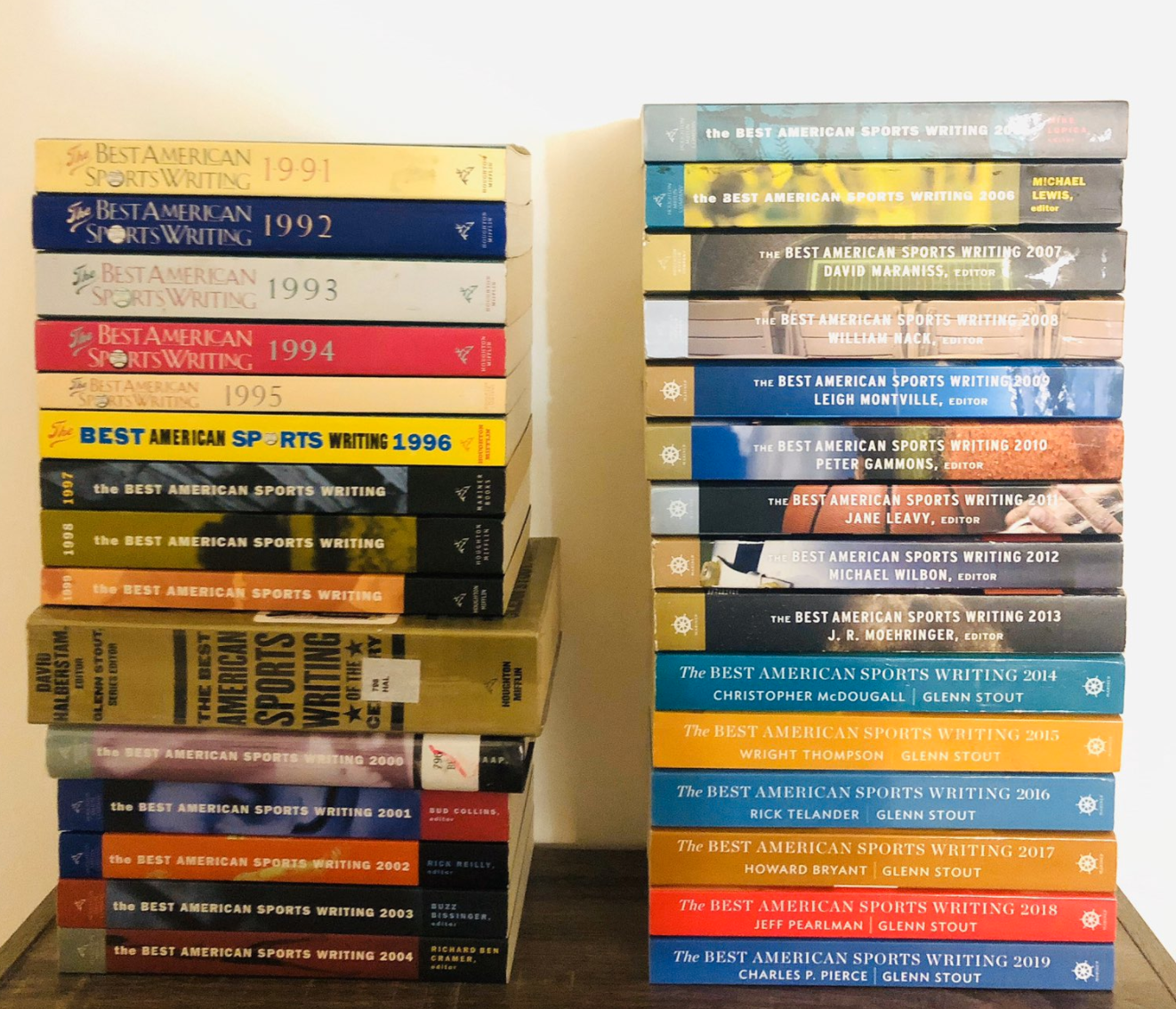 Pictured above: All 31 editions from 1991 to 2019, including my personal favorite, "The Best American Sports Writing of the Century," which sits on my desk.
9. 🏈 Super Bowl trivia
Question: Which play-by-play announcer holds the record for most Super Bowl broadcasts?
Multiple choice:
Al Michaels
Joe Buck
Dick Enberg
Pat Summerall
Answer at the bottom.
10. 🎵 A collection of sports TV theme songs
You're welcome.
Enjoy the weekend,
Kendall "Remember TV Guide?" Baker
Trivia answer: Pat Summerall (11). Al Michaels will tie him in February.