👋 Happy Thursday! Let's sports.
⚡️ Breaking: Monumental Sports — which owns D.C.'s Capital One Arena as well as the Wizards, Capitals and Mystics — is partnering with William Hill to create the first sportsbook at a U.S. pro sports venue.
🙏 Help us, help you: To help us serve content that's relevant to you, please take this short survey to tell us a little about yourself. Thank you!
Today's word count: 1,250 (<5 minutes)
1 big thing: ⚾️ Thursday night baseball
On Tuesday, the Nationals became the first D.C. baseball team in 95 years to win a winner-take-all game. And last night, the Rays out-moneyballed the A's in a battle of low payrolls.
What's next: 8 teams now remain, and the divisional round begins tonight with a National League double-header.
Cardinals at Braves, 5pm ET (TBS)
Season series: Braves 4-2
Pitching matchup: The Braves will lean on a veteran arm in Dallas Keuchel (8-8, 3.75 ERA), while the Cardinals' starter, Miles Mikolas (9-14, 4.16 ERA), will be making his postseason debut.
The backdrop: The last time these 2 teams met in the playoffs was MLB's first-ever wild-card game in 2012 — a game that will forever be remembered for a controversial infield fly.
Nationals at Dodgers, 8:30pm ET (TBS)
Season series: Dodgers 4-3
Pitching matchup: The Nationals will send left-hander Patrick Corbin (14-7, 3.25 ERA) to the mound, while the Dodgers have chosen Walker Buehler (14-4, 3.26 ERA) over Clayton Kershaw, who will start Game 2 tomorrow.
The intrigue: The top of the Nationals' rotation is filthy (Max Scherzer, Stephen Strasburg, Corbin), but no NL team had a worse bullpen ERA this year. So, if they hope to contain the Dodgers' high-powered offense, they'll need those 3 to go deep into games.
2. 🏈 NFL Week 5 Rankings
Tonight: Russell Wilson and the Seahawks (3-1) host Jared Goff and the Rams (3-1) in a battle of NFC West rivals. Kickoff is 8:20pm ET.
Line: SEA -1
Over/Under: 49.5
Networks: Fox, NFLN, Amazon
The big picture: The Seahawks are looking to win the NFC West for the first time since 2016, while the Rams are hoping to lock down their third straight division title for the first time since they won 7 in a row from 1973-79.
3. Biz roundup: Layoffs, merger, Nike scandal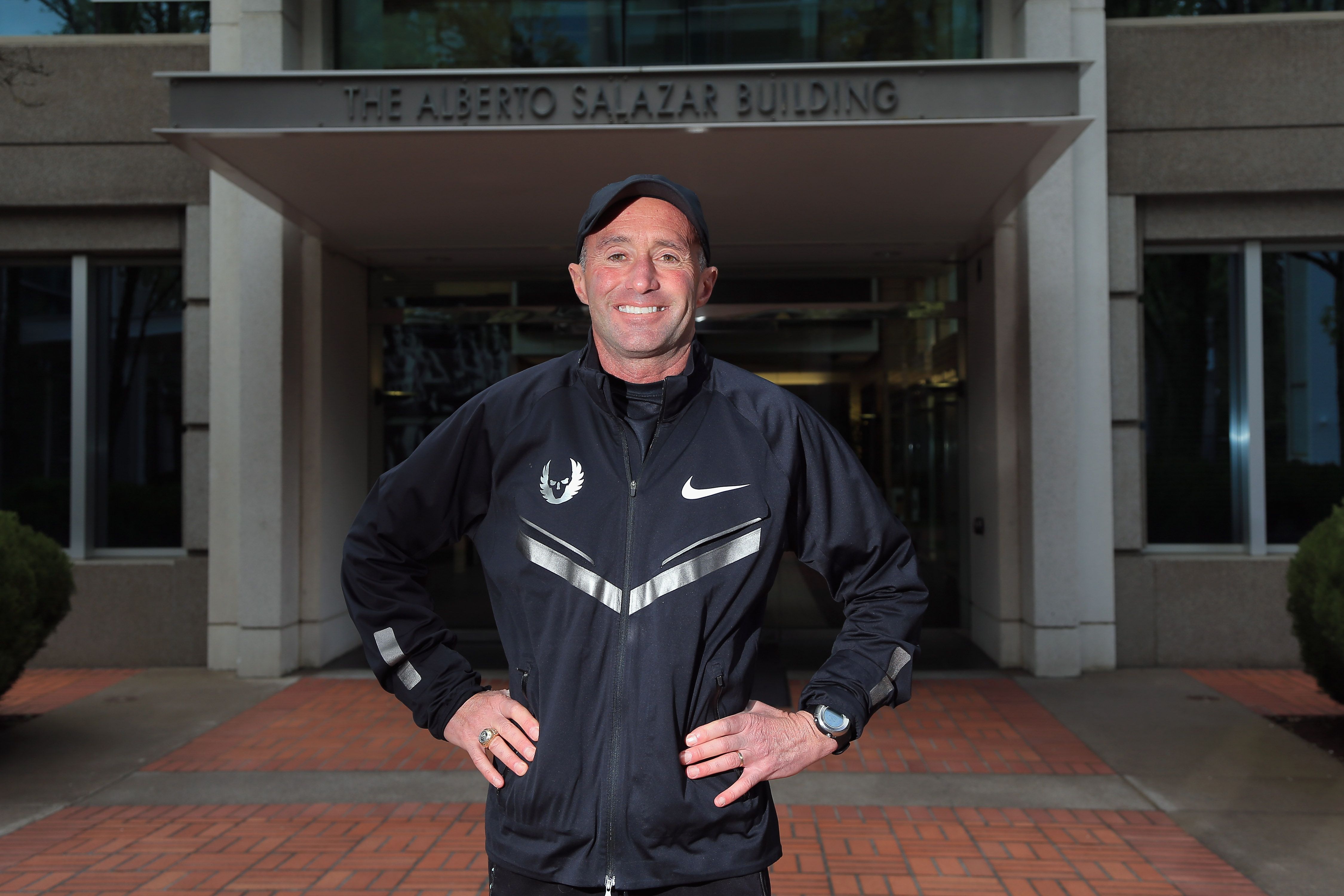 Alberto Salazar in front of the building named after him on the Nike campus. Photo: Doug Pensinger/Getty Images
🗞 Media: Sports Illustrated's new operator, TheMaven Inc., is planning to lay off more than 40 employees and replace them with contract workers as part of a broader overhaul of the company, WSJ reports (subscription).
💰 Sports betting: FanDuel owner Flutter Entertainment has acquired PokerStars owner Stars Group for roughly $6 billion, creating a sports betting juggernaut in the U.S.
The intrigue: The deal also connects FanDuel with Fox Corp., which owns a minority stake in Stars and has its own betting app, Fox Bet.
👟 Apparel: On Monday night, legendary track and field coach Alberto Salazar, head of the famed Nike Oregon Project, received a 4-year ban for doping rules violations.
The big picture: "[This] casts a shadow over Nike's vast efforts in track and field. The company does $4.5 billion in annual running sales alone, and its marketing within the professional ranks is a large part of that appeal." (Bloomberg)
4. 📸 Yesterday in photos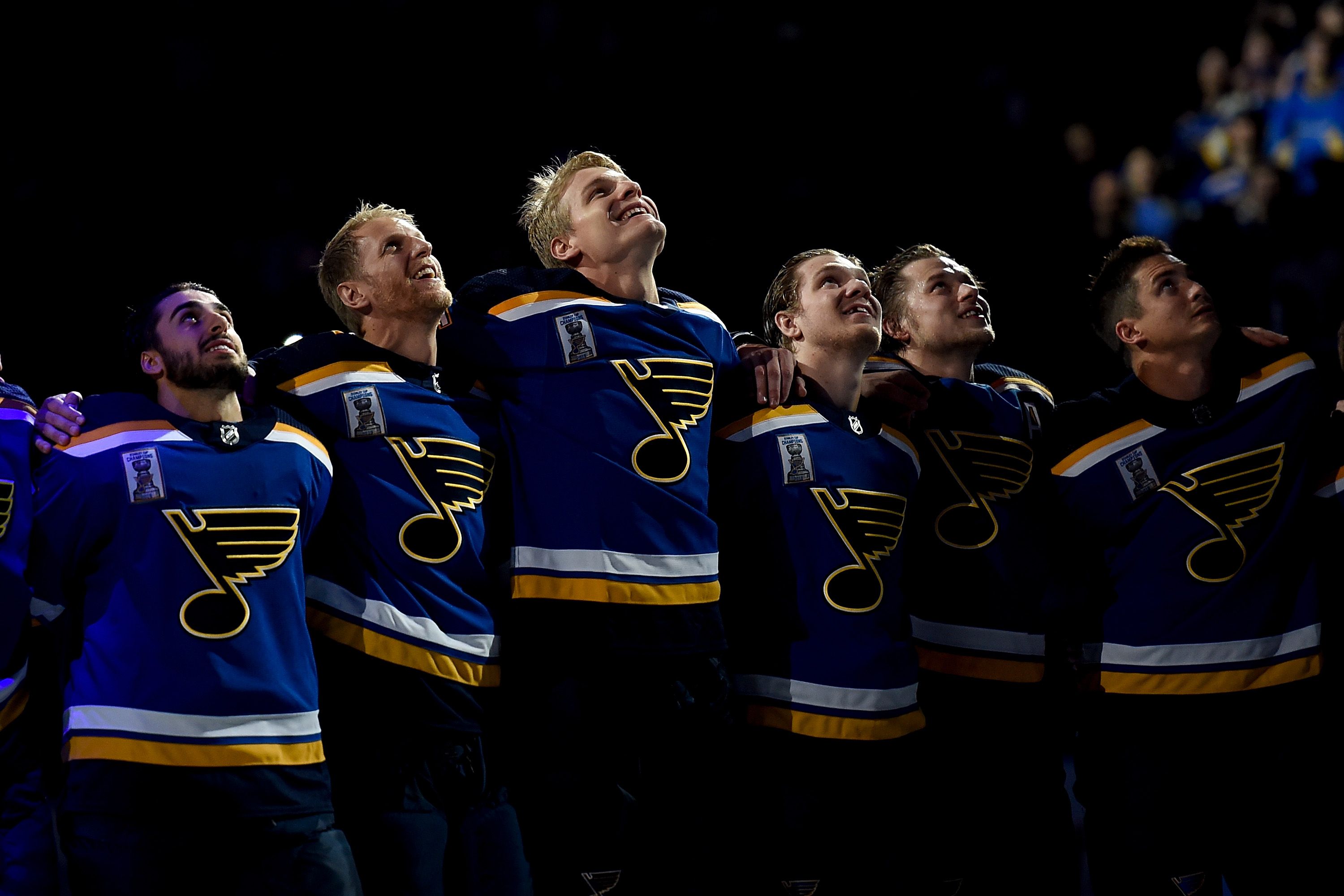 Photo: Joe Puetz/NHLI via Getty Images
ST. LOUIS — After a 51-season wait, the Blues raised their first Stanley Cup banner (and played "Gloria") ahead of their season opener against the Capitals.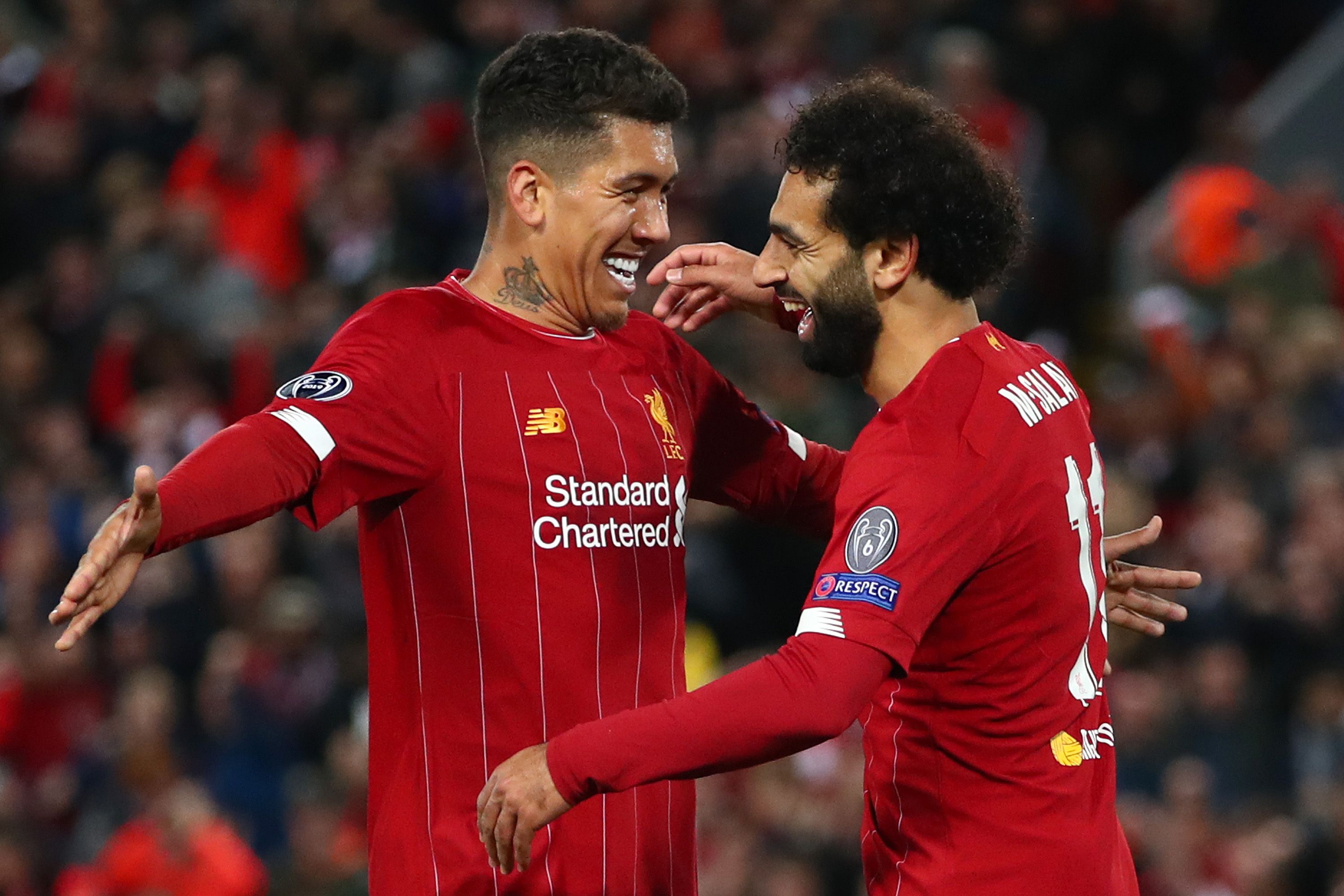 Photo: Clive Brunskill/Getty Images
LIVERPOOL, ENGLAND — Liverpool survived a major scare to record their first Champions League points with a 4-3 win over Red Bull Salzburg. Mo Salah scored the game-winner, his second goal of the game (watch every goal).
Elsewhere: Bayern Munich humiliated Tottenham, 7-2, on Tuesday, while Luis Suarez scored 2 goals to lead Barcelona past Inter Milan, 2-1, yesterday.
Go deeper: Group standings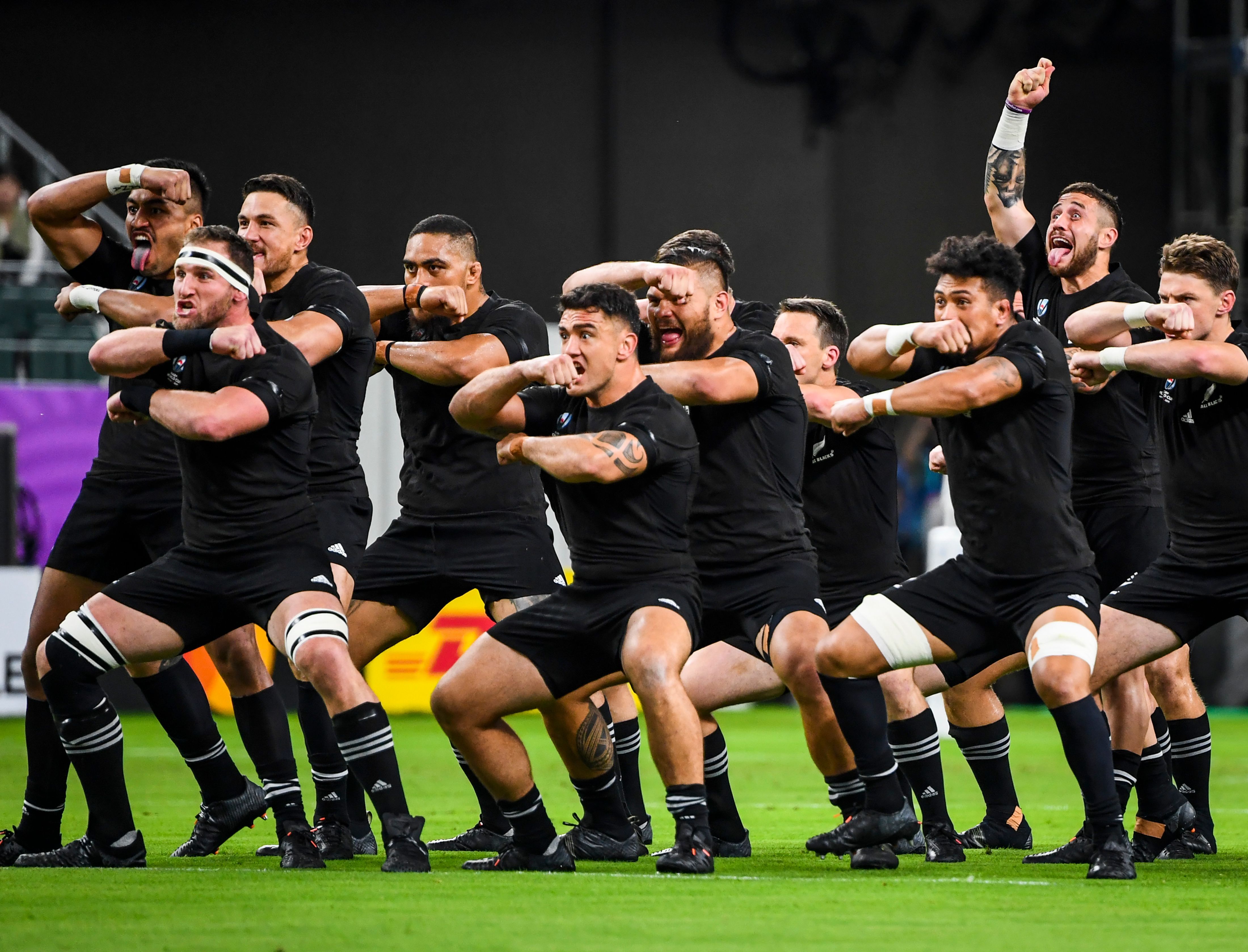 Photo: Gabriel Bouys/AFP via Getty Images
OITA, JAPAN — Ahead of their Rugby World Cup match against Canada (which they won easily), the New Zealand All Blacks performed their signature "Haka."
USA update: After losing to France, 33-9, the Americans find themselves in last place in Group C with a -62 point differential (third-worst in the field).
Go deeper: Group standings
5. 🎓 The NCAA makes rules, not laws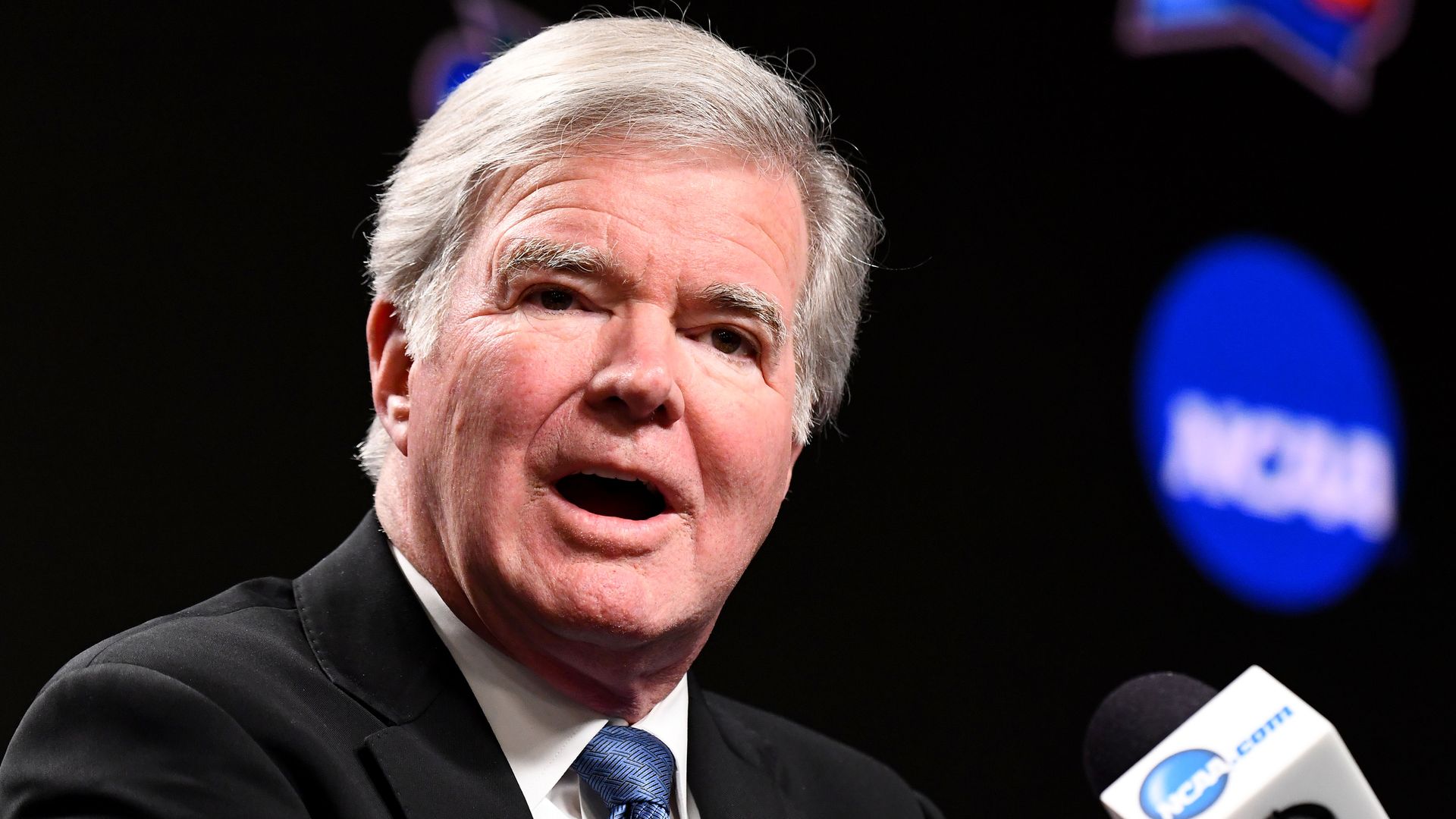 With California's Fair Pay to Play Act dominating headlines and lawmakers across the country considering similar bills, it's important to remember that the NCAA makes rules, not laws, and that it has no authority when it comes to actual legislation.
In other words: "It's illegal for an athlete to receive a huge payment from a booster in the same way it's illegal for you to collect $1,000 in Monopoly money when passing go," writes The Ringer's Rodger Sherman.
"Sure, the NCAA makes rules for how its member institutions should operate, and if you break those rules the NCAA could prevent your school from playing in a prestigious tournament or a bowl game. But it's the government that actually makes and enacts laws.
"Sometimes this can get confusing, because the NCAA has previously tried to punish schools that break laws (like when it issued sanctions against Penn State for its officials' failure to report the crimes of Jerry Sandusky) and because courts and federal agencies have previously decided to enforce NCAA laws (like the FBI's attempt to crack down on corruption in college basketball).
"When a state government passes a law asserting jurisdiction over how college athletics works, though, the NCAA can do little else besides whine and hide."
Go deeper: NCAA's defeat in California shows limits of a besieged juggernaut (NYT)
6. Oct. 3, 1995: ⚖️ O.J. found not guilty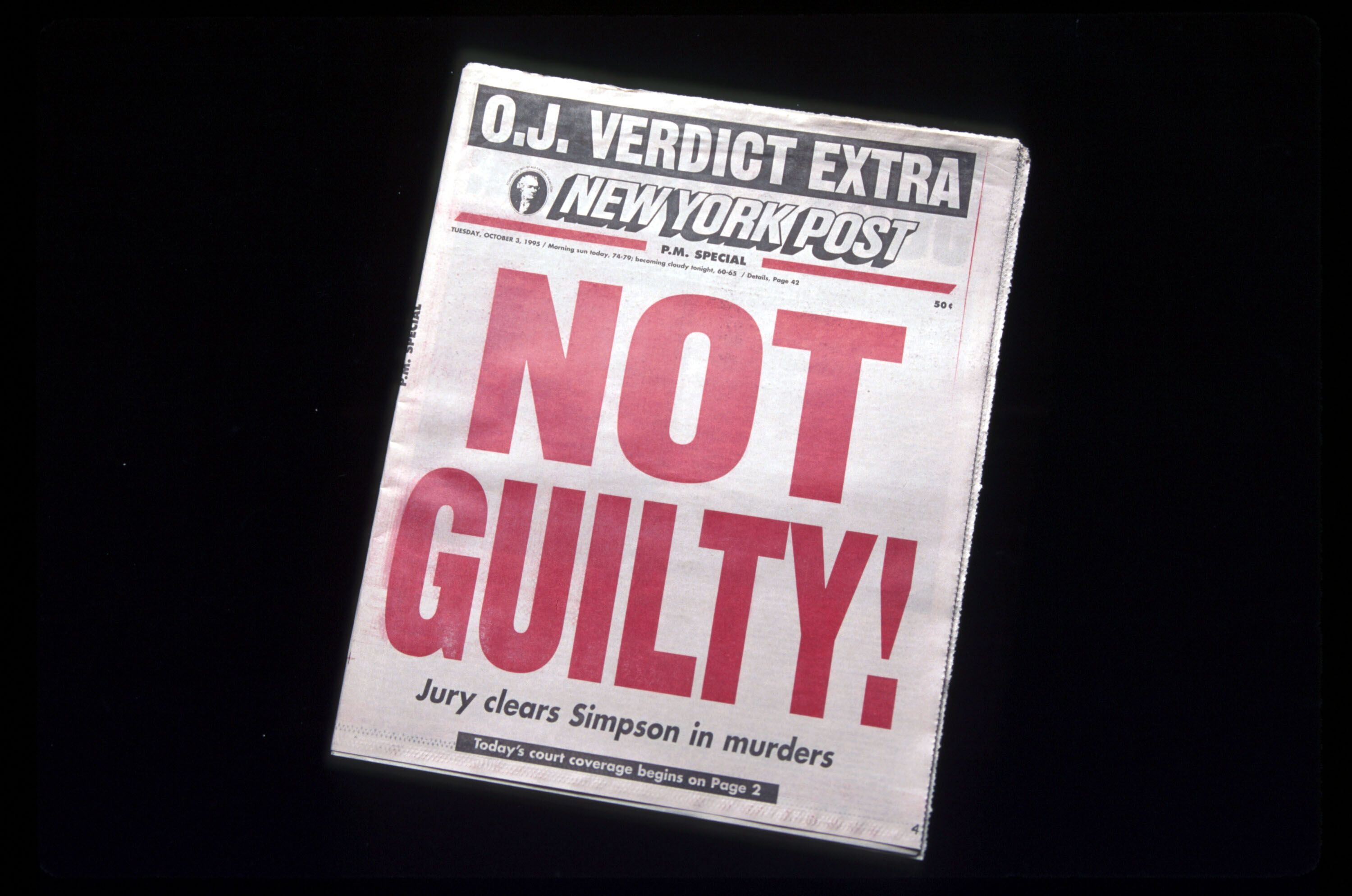 Photo: Evan Agostini/Getty Images
24 years ago today, O.J. Simpson was found not guilty of the 1994 slayings of his former wife, Nicole Brown Simpson, and Ronald Goldman — a shocking end to the "Trial of the Century."
Raw footage:
7. 🏈 NFL trivia
According to Hall of Famer Jerry Rice, Jim Brown is "without a doubt" the greatest player in NFL history.
Question: Brown's 5.2 yards per carry ranks second all-time among RBs. Who is the only RB ahead of him?
Hint: He retired in May.
Answer at the bottom.
8. Spikeball Week: 📺 Entering the mainstream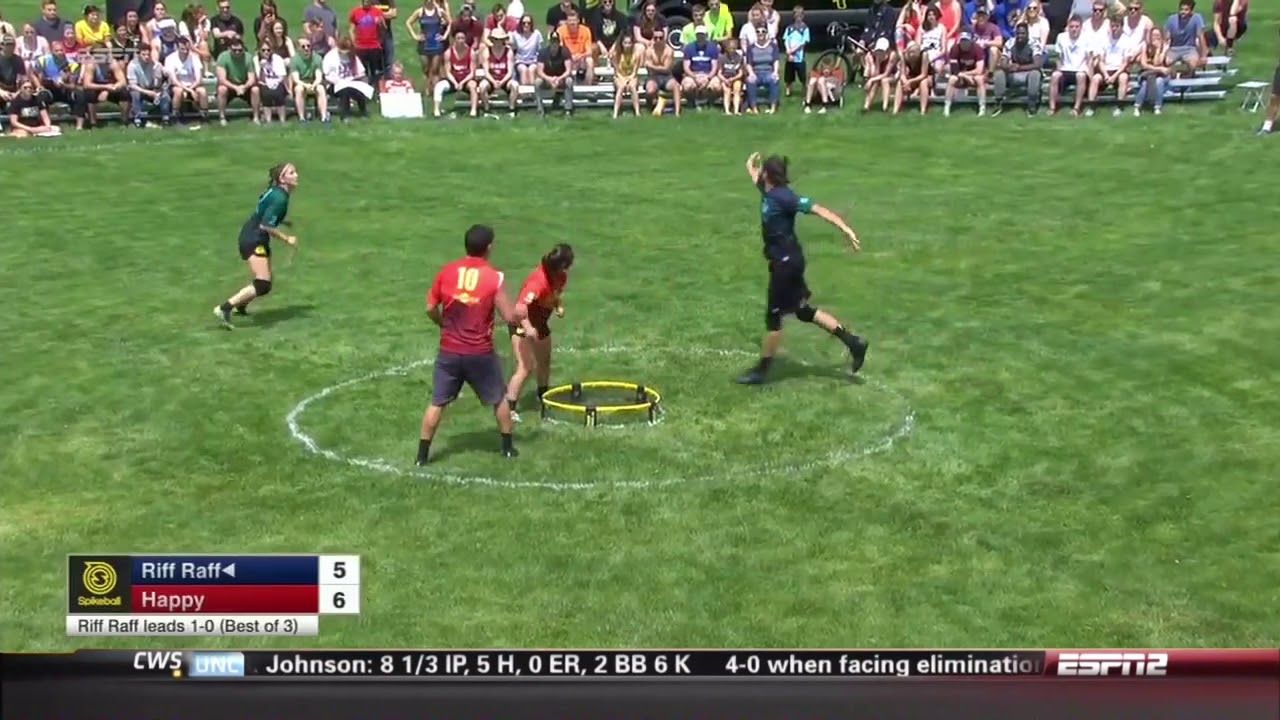 Screenshot: YouTube
With the Spikeball Nationals coming up this weekend in Richmond, Va., we're spending the week exploring the popular lawn game/sport.
Spikeball evangelists — from its top-ranked players to the company at the epicenter of its growth — have aspirations beyond it being merely a toy or a lawn game for frat bros.
The big picture: Fighting against that "fratty" image has been a challenge, but Spikeball has slowly but surely entered the mainstream and earned the label of "sport."
Media: ESPN televised 2 marquee tournaments last year, one in Lancaster, Pa. and the other on New York's Coney Island.
Sponsors: Spikeball has an official apparel partner in Savage Ultimate and an official beer sponsor in Landshark Lager.
Season format: The 2019 Tour Series consisted of 3 Tour Stops and a Grand Slam in each region (Chicago, Lancaster, Santa Monica, Nashville). It culminates this weekend at the Spikeball Nationals in Richmond, Va.
ICYMI:
9. 📚 Good reads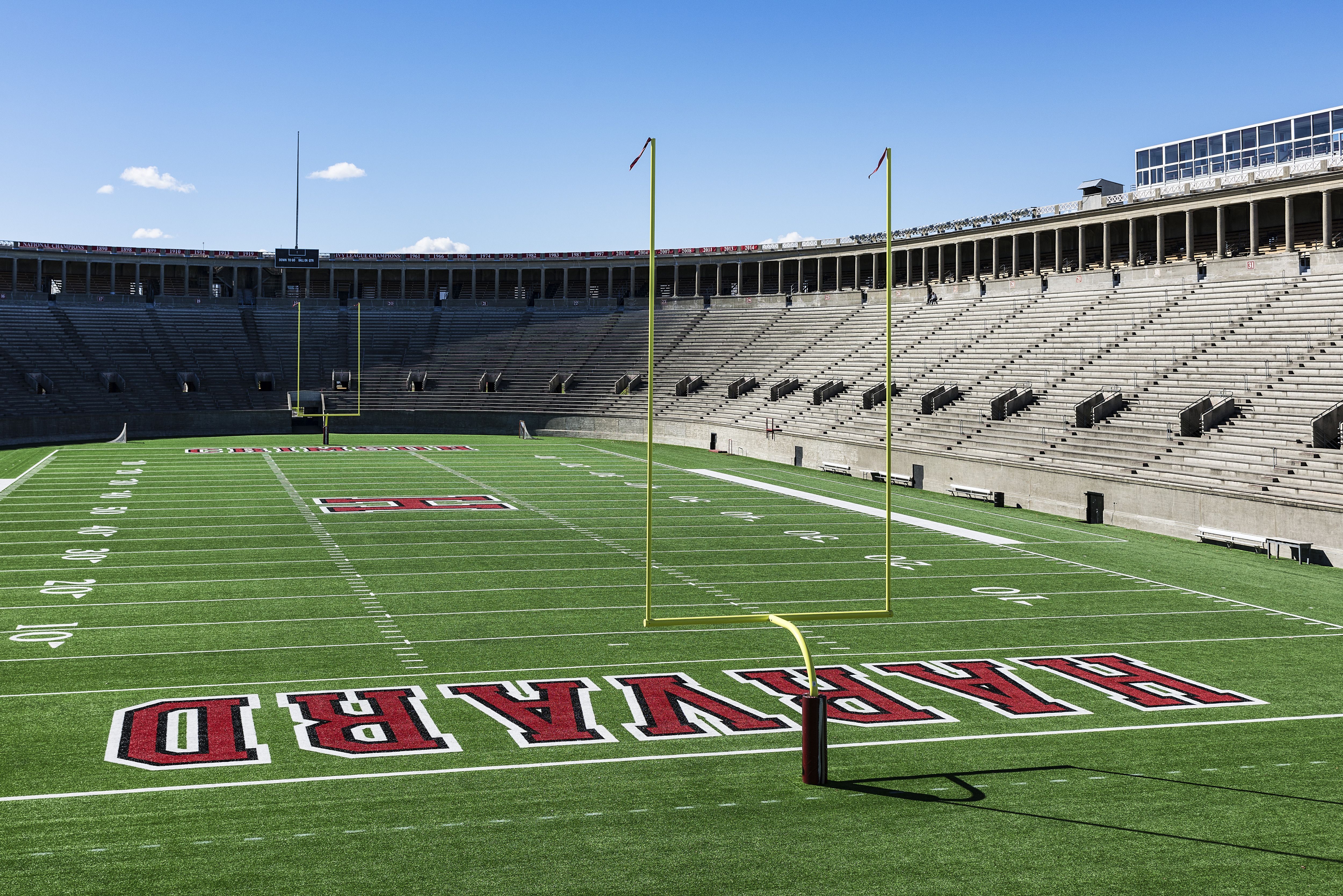 Photo: John Greim/LightRocket via Getty Images
💰 The cult of rich-kid sports (Derek Thompson, The Atlantic)
"Researchers found that between 2009 and 2014, more than 40 percent of accepted white students [at Harvard] were ALDC — athletes, legacies, 'dean's list' (meaning related to donors), or the children of faculty. Without such preferences, they said, three-quarters of those white students would have been rejected."
🏈 Jeff Hatch was dealing fentanyl. And helping addicts. Then a planned visit from the VP blew it all up. (Chris Ballard, SI)
"[Former NFL player] Jeff Hatch spent years telling audiences of his triumph over opioid addiction, to great acclaim. Then as the rehab center he worked at drew national attention, a tortuous backstory of cops, dealers and deception came to light."
⚾️ What the Reds hiring Kyle Boddy means for a changing game (Jeff Passan, ESPN)
"Boddy is a college dropout card shark who taught himself about pitching while working as a network analyst at Microsoft. The path into baseball is no longer necessarily paved through time spent playing the game. 'I will be scouring Twitter,' Boddy said, 'for the next pitching coaches with the Reds.'"
10. ❤️ Please watch this
Talk tomorrow,
Kendall "SI deserves better" Baker
Trivia answer: Jamaal Charles