Axios Sports
November 17, 2022
👋 Happy Thursday! Four more sleeps until USA-Wales, live from Qatar (2pm ET on Monday). Can't wait.
Today's word count: 2,003 words (7.5 minutes).
Let's sports...
1 big thing: 🏈 The eight true contenders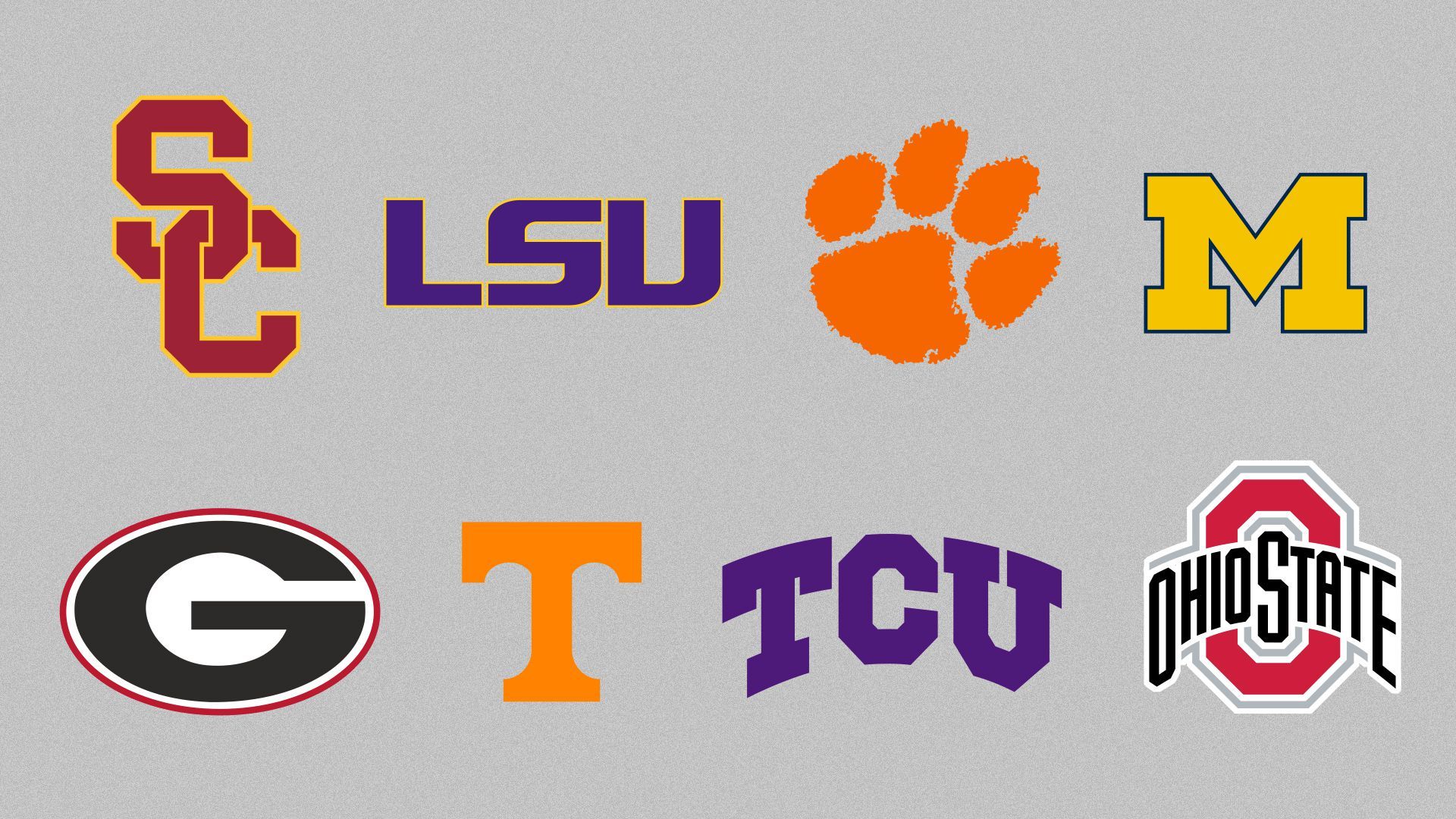 With three weekends of games remaining, eight teams have a realistic chance to make the College Football Playoff.
Georgia (10-0): The reigning champs are a virtual lock to make their third playoff appearance. The Bulldogs would need to lose two of their final three games to fall out of the field, and even then, they might sneak in.
CFP rank: 1
CFP odds: 97% (via ESPN)
Schedule: at Kentucky (Nov. 19), vs. Georgia Tech (Nov. 26), SEC title game vs. No. 6 LSU (Dec. 3)
Ohio State (10-0): Things get dicey if the Buckeyes lose to Michigan, which would leave them with no division or conference title and two pretty "meh" signature wins (Penn State and Notre Dame).
CFP rank: 2
CFP odds: 89%
Schedule: at Maryland (Nov. 19), vs. No. 3 Michigan (Nov. 26)
Michigan (10-0): Unless they win the Big Ten, the Wolverines will need chaos to ensue on conference championship weekend. A two-loss Pac-12 or Big 12 champion would help their chances tremendously.
CFP rank: 3
CFP odds: 65%
Schedule: vs. Illinois (Nov. 19), at No. 2 Ohio State (Nov. 26)
TCU (10-0): If they finish as undefeated Big 12 champs, they're in. If they lose in the Big 12 title game, they're out. If they lose to Baylor or Iowa State beforehand, they'd need a ton of dominoes to fall their way.
CFP rank: 4
CFP odds: 34%
Schedule: at Baylor (Nov. 19), vs. Iowa State (Nov. 26), Big 12 title game vs. TBD (Dec. 3)
Tennessee (9-1): The Volunteers should win out against two unranked opponents, but they need help. They probably get in over a one-loss TCU team, but a one-loss USC team with a Pac-12 title? Maybe not.
CFP rank: 5
CFP odds: 60%
Schedule: at South Carolina (Nov. 19), at Vanderbilt (Nov. 26)
LSU (8-2): The committee has never included a two-loss team in the playoff. It also has never excluded the SEC champion. If the Tigers beat Georgia in December, things could get very interesting.
CFP rank: 6
CFP odds: 5%
Schedule: vs. UAB (Nov. 19), at Texas A&M (Nov. 26), SEC title game vs. No. 1 Georgia (Dec. 3)
USC (9-1): The Trojans have a chance to end the regular season with two straight wins against ranked teams, and then a third in the Pac-12 title game. But even if they run the table, they'll still need help.
CFP rank: 7
CFP odds: 7%
Schedule: at No. 16 UCLA (Nov. 19), vs. No. 18 Notre Dame (Nov. 26)
Clemson (9-1): The Tigers already clinched the ACC's Atlantic Division and will at least be considered if they win out. But wins over Syracuse and Wake Forest look far less impressive now that both are unranked.
CFP rank: 9
CFP odds: 25%
Schedule: vs. Miami (Nov. 19), vs. South Carolina (Nov. 26), ACC title game vs. No. 13 UNC (Dec. 3)
On the outside looking in ... Alabama (No. 8 in the CFP rankings) and North Carolina (No. 13) remain in the conversation, if only to heighten the drama. But let's be real: They're not making the playoff.
Alabama (8-2): The Tide have just one win over a current CFP top 25 team (Ole Miss) and lose head-to-head tiebreakers against LSU and Tennessee. ESPN gives them better odds than USC and LSU, somehow.
UNC (9-1): Even if they beat Clemson and both TCU and USC lose, the Heels' résumé (no wins over CFP top 25 teams) would have a hard time stacking up against the Michigan/Ohio State loser and others.
2. ⚾️ Miami's historic duo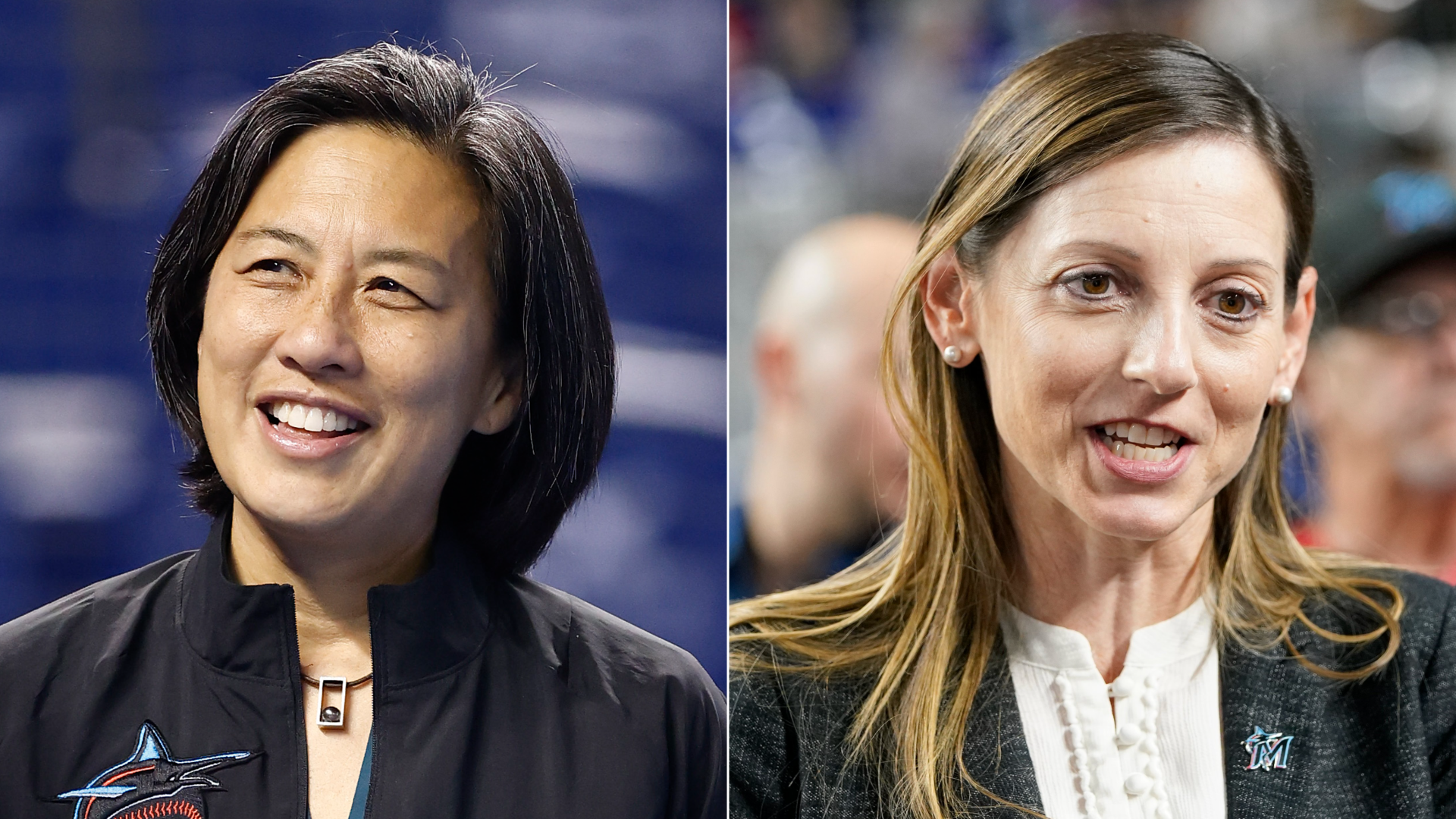 The Marlins made a historic hire this week, promoting Caroline O'Connor from COO to president of business operations, Axios' Jeff Tracy writes.
Why it matters: With Kim Ng already in place as GM, the Marlins become the first "Big Four" sports team to ever have women operating the entirety of the team day-to-day business.
The backdrop: While Ng is a baseball lifer, O'Connor's background is in finance. Before joining the Marlins in 2017 as an SVP and chief of staff, she spent nearly two decades at IBM, UBS and Morgan Stanley.
State of play: O'Connor joins a growing list of women that have recently become their league's highest-ranking female executives.
Yes, but: Though Ng and O'Connor form a historic duo in Miami, MLB's female representation still trails the other "Big Four" leagues from a broader hiring standpoint.
3. 🏈 NFL power rankings: Week 11
The top of our rankings, relatively steady for weeks, had a major shakeup after four top-10 teams lost, Jeff writes.
Snapshot: A quick glance at one team in the top third, one team in the middle and one team at the bottom…
No. 6 Dolphins (7-3): The Fins are 7-0 in games that MVP candidate Tua Tagovailoa has started and finished. He's thrown 18 TD against just 3 INT and leads the league in QBR (82.6). Keep. Tua. Healthy.
No. 20 Rams (3-6): With Cooper Kupp on IR, it's looking increasingly likely that the Rams will become just the 10th team since 1990 to miss the playoffs the year after winning the Super Bowl.
No. 26 Broncos (3-6): The good news? Their elite defense has allowed the fewest points in the league (149). The bad news? Their abysmal offense has scored the fewest (131).
4. ⚡️ Lightning round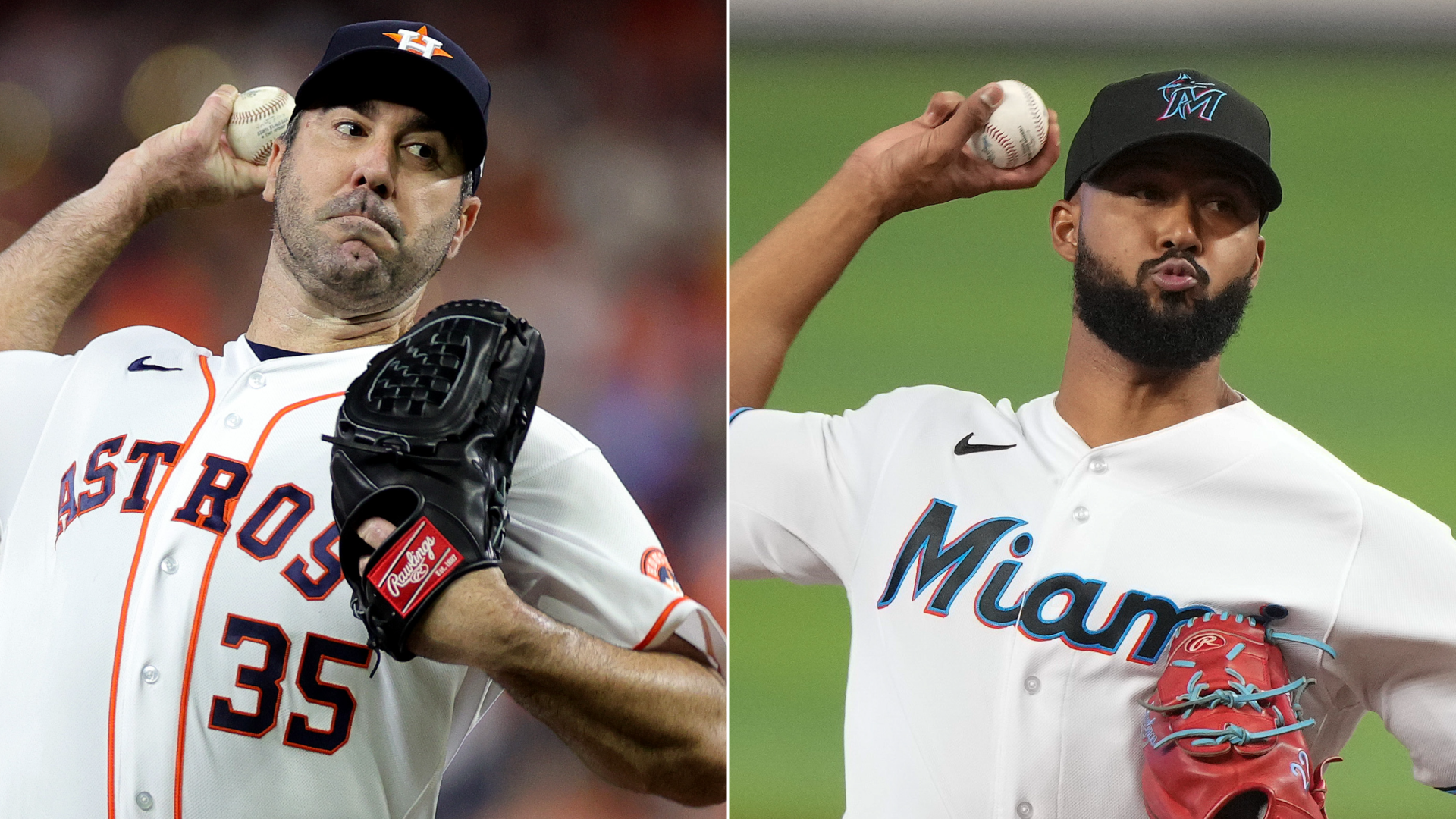 ⚾️ Unanimous: The AL (Justin Verlander) and NL (Sandy Alcantara) Cy Young winners were both unanimous choices for the first time since 1968, when Denny McLain and Bob Gibson took home the hardware.
💔 Virginia cancels game: Virginia has canceled its final home football game against No. 23 Coastal Carolina on Saturday in the wake of the fatal shooting that left three players dead.
🏀 50-spot spoiled: Steph Curry recorded his sixth career 50-point game after turning 30 years old, tying Michael Jordan for second-most all-time. But the Warriors still lost to the Suns, falling to 0-8 on the road.
5. 🍿 Now streaming: "War on the Diamond"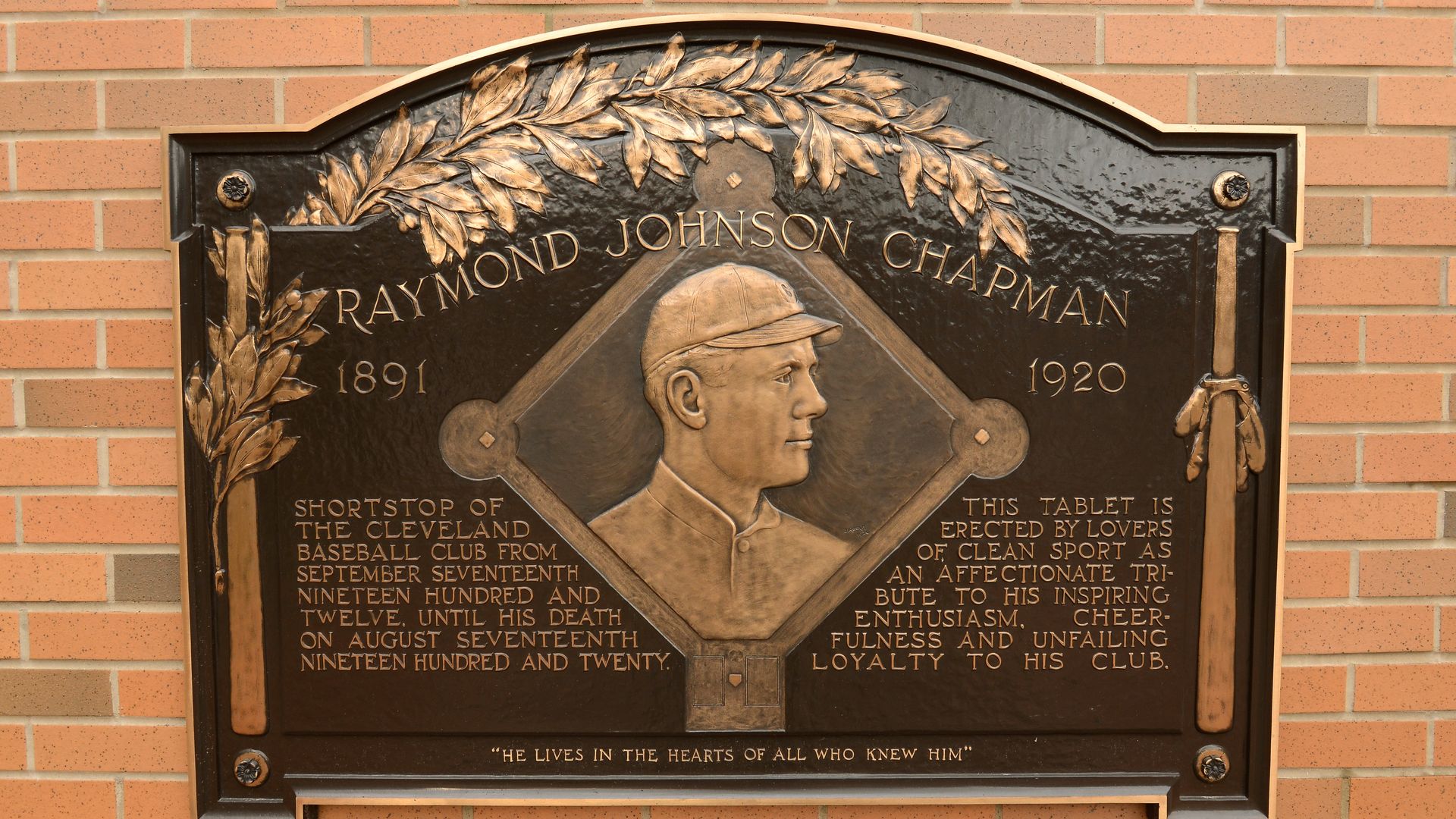 A new documentary, "War on the Diamond," delves into the infamous story of Ray Chapman — the only MLB player to die from a hit-by-pitch, Jeff writes.
The story: In the fifth inning at the Polo Grounds on Aug. 16, 1920, Yankees pitcher Carl Mays hit Indians shortstop Chapman in the head so hard the ball dribbled towards the infield. Mays picked it up and threw to first before realizing what happened.
Chapman, 29, collapsed and was taken to the hospital for emergency surgery, but died later that night.
The Indians, who were locked in a tight pennant race with the Yankees, won their first World Series two months later while wearing black armbands to honor their fallen teammate.
The big picture: The tragedy led to spitballs being banned, as it's believed Chapman was unable to see the ball — yellowed by dirt and spit — in time to react. It also led to helmets being used, though not until the 1950s.
The backdrop: Mays and Chapman were both Kentuckians, but while Mays was "perhaps the most disliked player of his era," Chapman was universally beloved.
Zoom out … Based on the book, "The Pitch That Killed," director Andy Billman's 80-minute film tells more than just Chapman's story; it also explores the ongoing rivalry between the Yankees and now-Guardians.
6. 🌎 The world in photos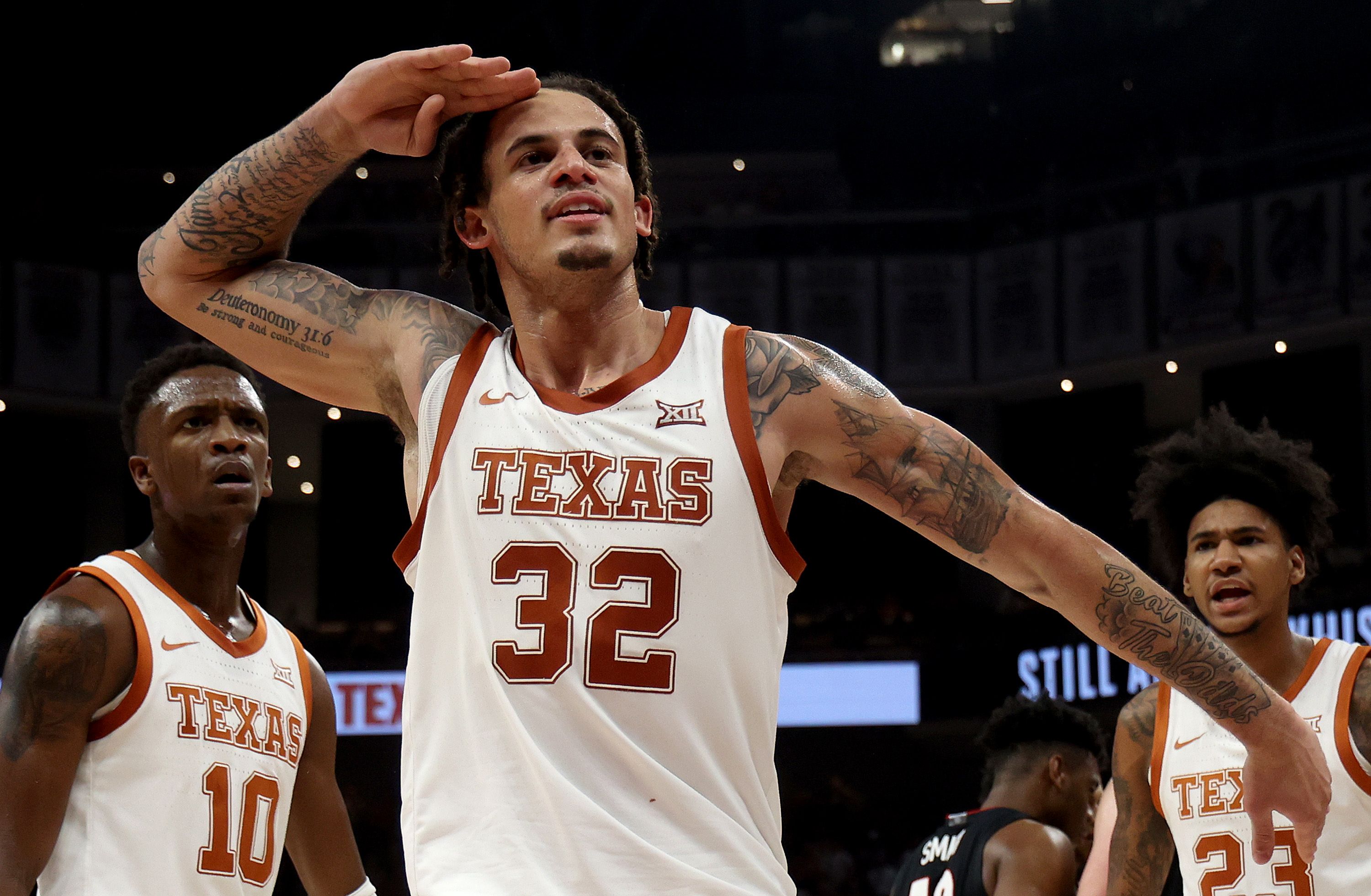 AUSTIN, Texas — No. 11 Texas smoked No. 2 Gonzaga, 93-74, in a statement victory at home, giving Chris Beard his third win over a top-2 team since 2017. The only other coach with that many? Mike Krzyzewski.
🏀 Of note: Gonzaga was an underdog entering the game, snapping a D-I record 96-game streak of them being favored.
WASHINGTON, D.C. — Shai Gilgeous-Alexander had yet another huge game (42-6-7) and hit the game-winner to lead the Thunder past the Wizards, 121-120.
🔥 Wild stat: Gilgeous-Alexander is the second player to record 10 games of 30 points and 50% FG in his first 14 games of a season. The other player? Wilt Chamberlain in 1962-63.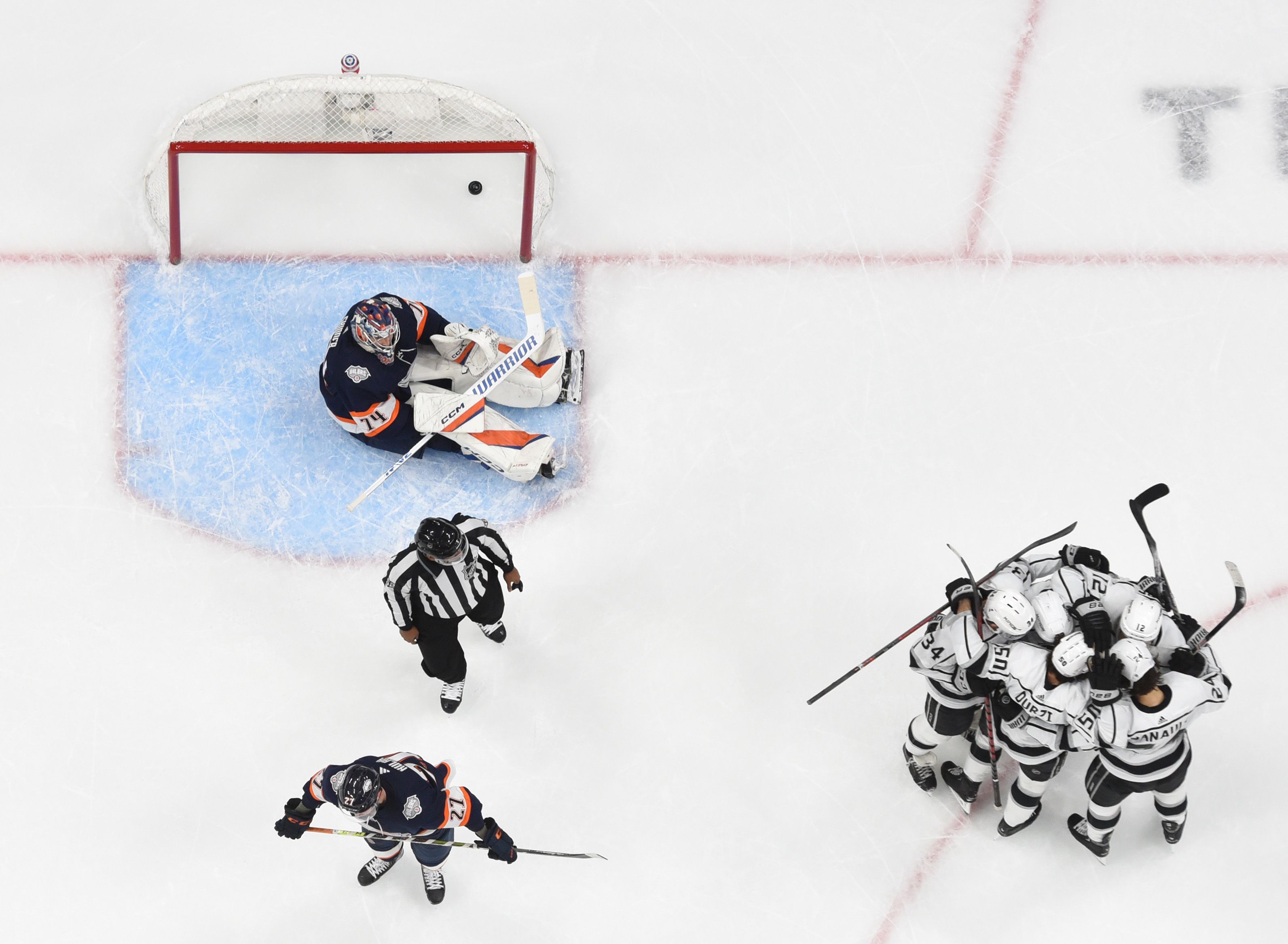 EDMONTON, Alberta — Trevor Moore's first career hat trick led the Kings to a 3-1 victory over the struggling Oilers.
7. 📺 Watchlist: Celebrity pickleball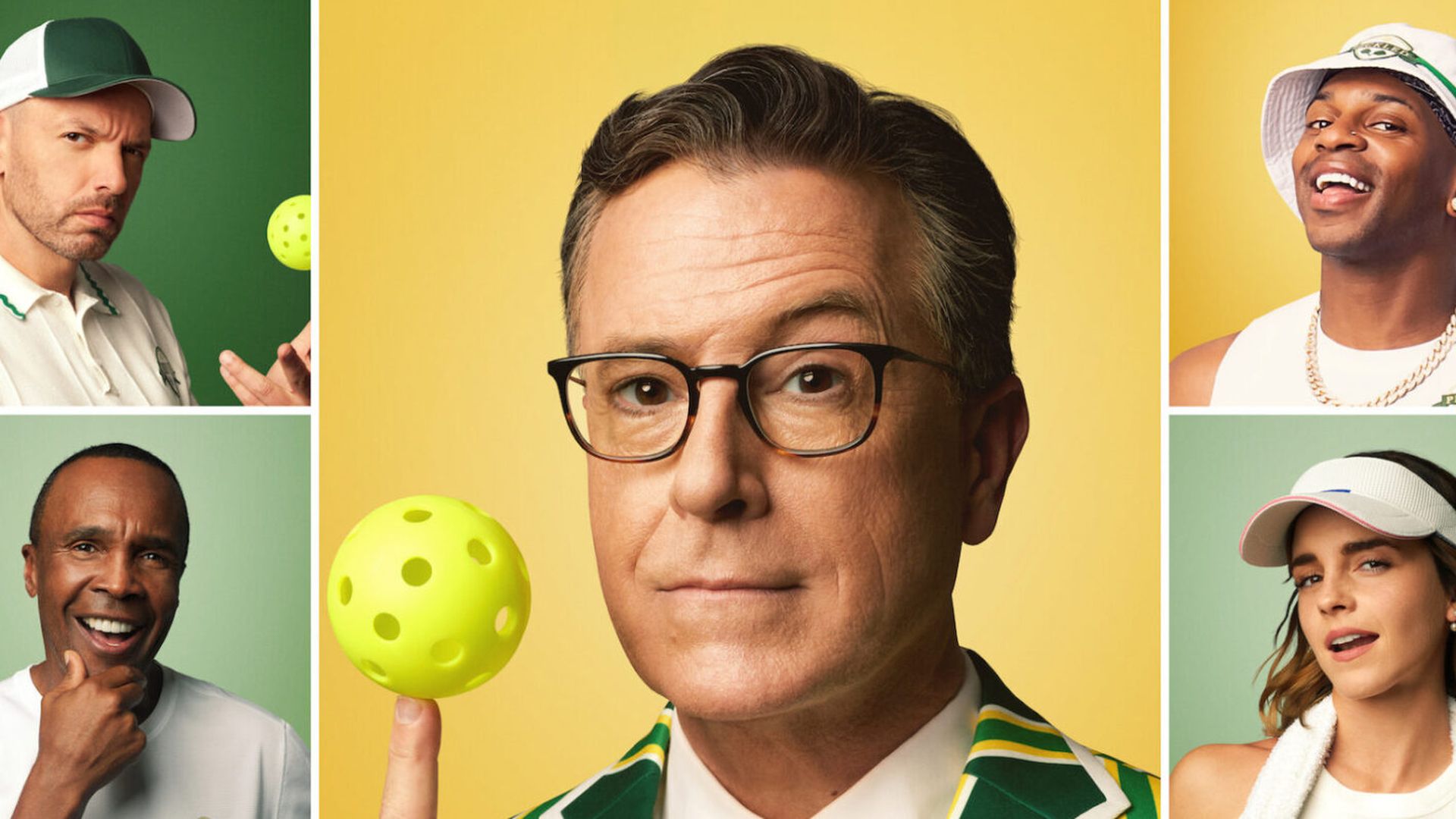 Pickleball comes to primetime tonight with a two-hour celebrity tournament special called "Pickled" (9pm ET, CBS).
Details: The tournament will raise money to fight homelessness; players include Will Ferrell, Sugar Ray Leonard and Emma Watson.
Hosts: Stephen Colbert is producing and hosting the event alongside Funny or Die and Comic Relief US, an organization that aims to break the cycle of intergenerational poverty.
More to watch:
8. 🗽 The Ocho: Breaking in NYC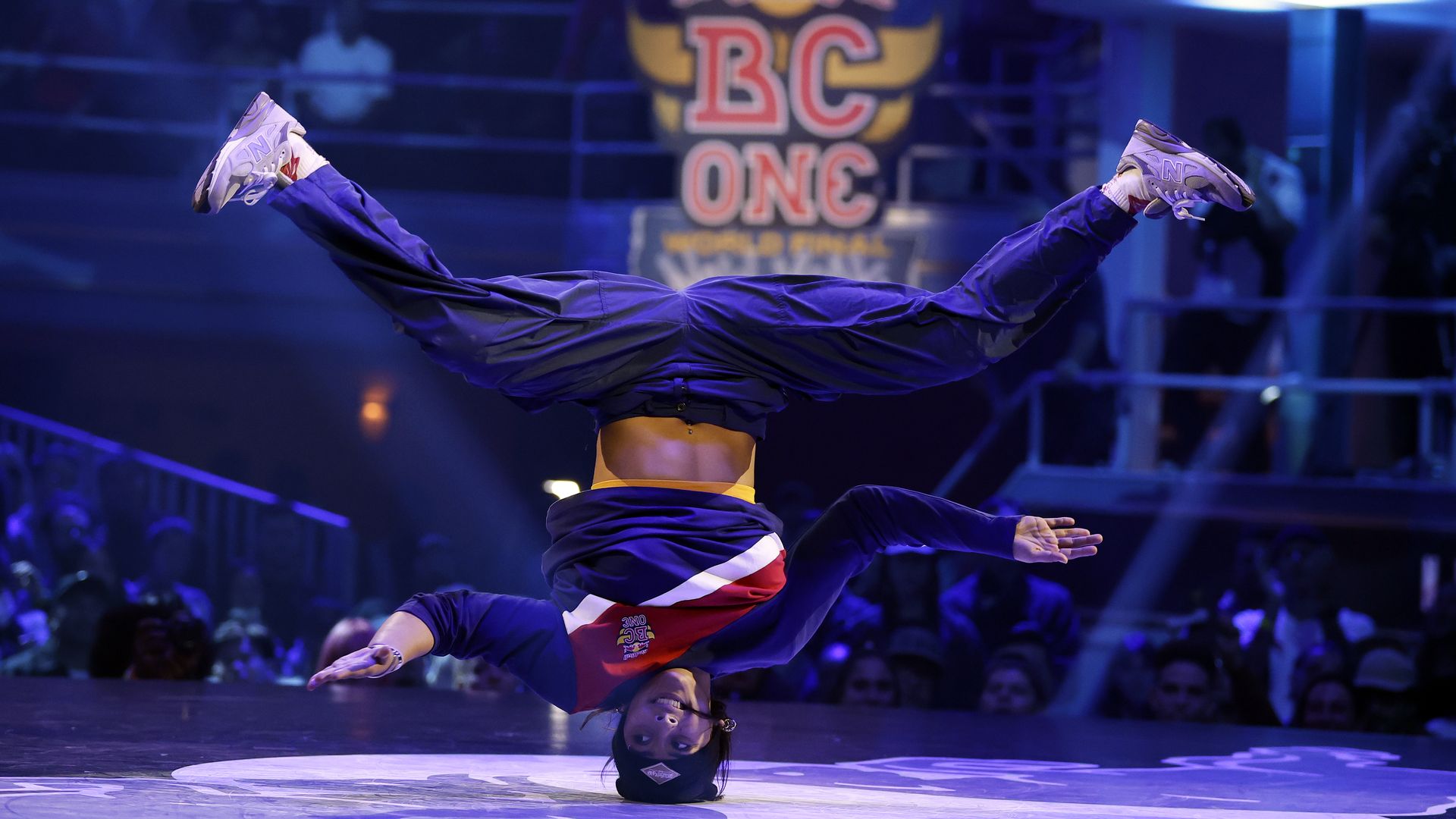 The 19th annual Red Bull BC One World Final, pitting 32 of the world's best breakers (i.e. breakdancers) against each other, was held last weekend in Manhattan — and I was lucky enough to attend, Jeff writes.
Why it matters: This was the first time since 2009 that the competition returned to NYC, the ancestral home of breaking. In less than two years, the sport will make its Olympic debut at Paris 2024.
How it works: 16 B-boys and 16 B-girls, as they're called, took center stage in front of an electric crowd at Hammerstein Ballroom for the bracket-style tournament.
Format: Battles lasted two to three rounds, with each breaker getting up to 60 seconds per turn to show off their moves set to the music.
Scoring: A panel of five judges voted based on numerous criteria, including technique, creativity, execution and personality. At the end of each battle, they held up a card with their winner — majority rules.
Results: The boys and girls finals both featured competitors from the U.S. and Netherlands.
My take … I went into the night with a novice understanding of the sport at best, but had a blast. Seriously, watch those final battles — they contort their bodies in ways that don't seem possible.
9. 🏀 WNBA trivia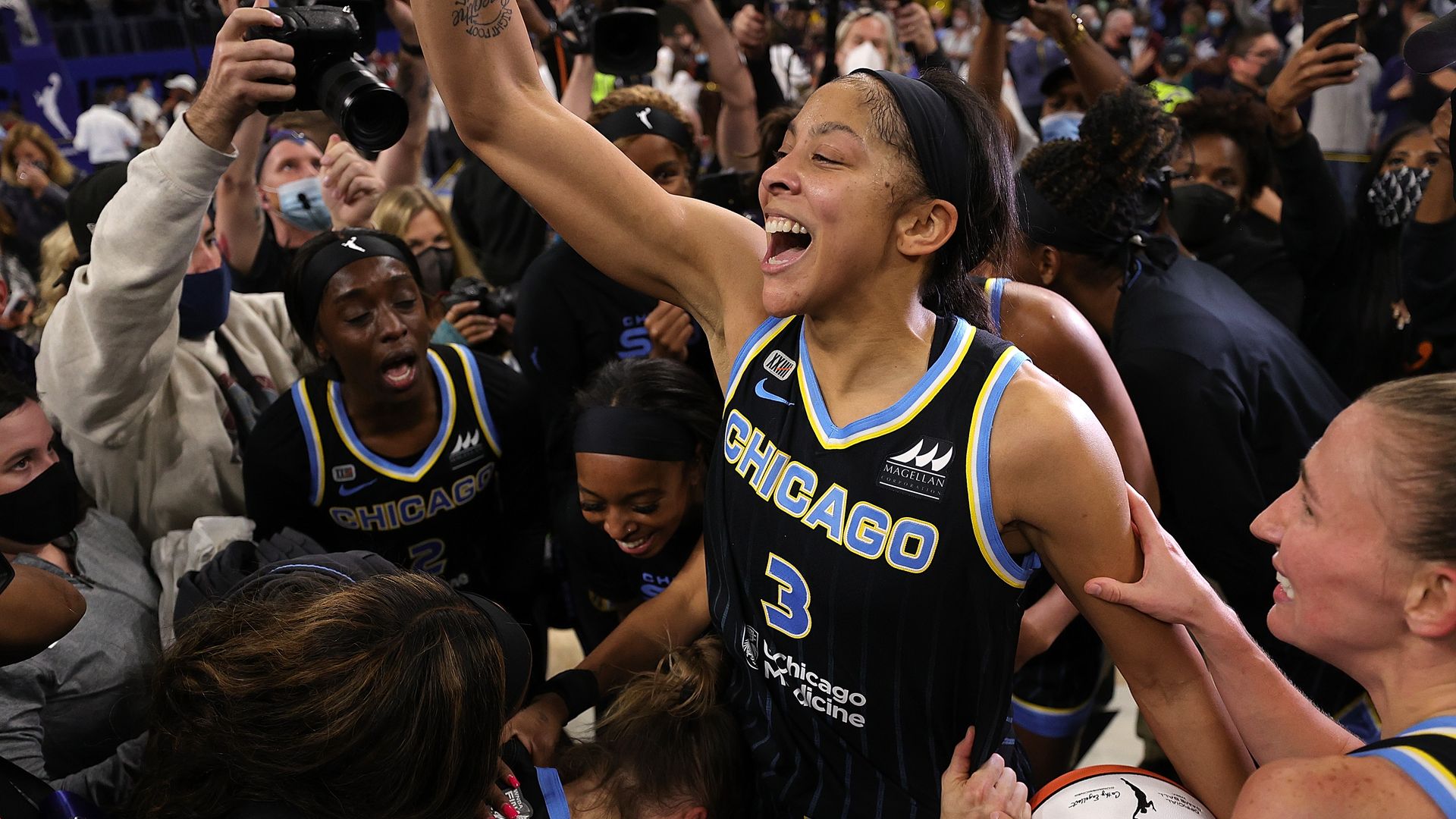 Candace Parker, who intends to return for her 16th season, is one of four players to win Gatorade Player of the Year (high school), the Wooden Award (NCAA POY) and WNBA MVP.
Question: Can you name the other three?
Hint: They all went to the same school.
Answer at the bottom.
10. 🏀 1 big dunk: Posterized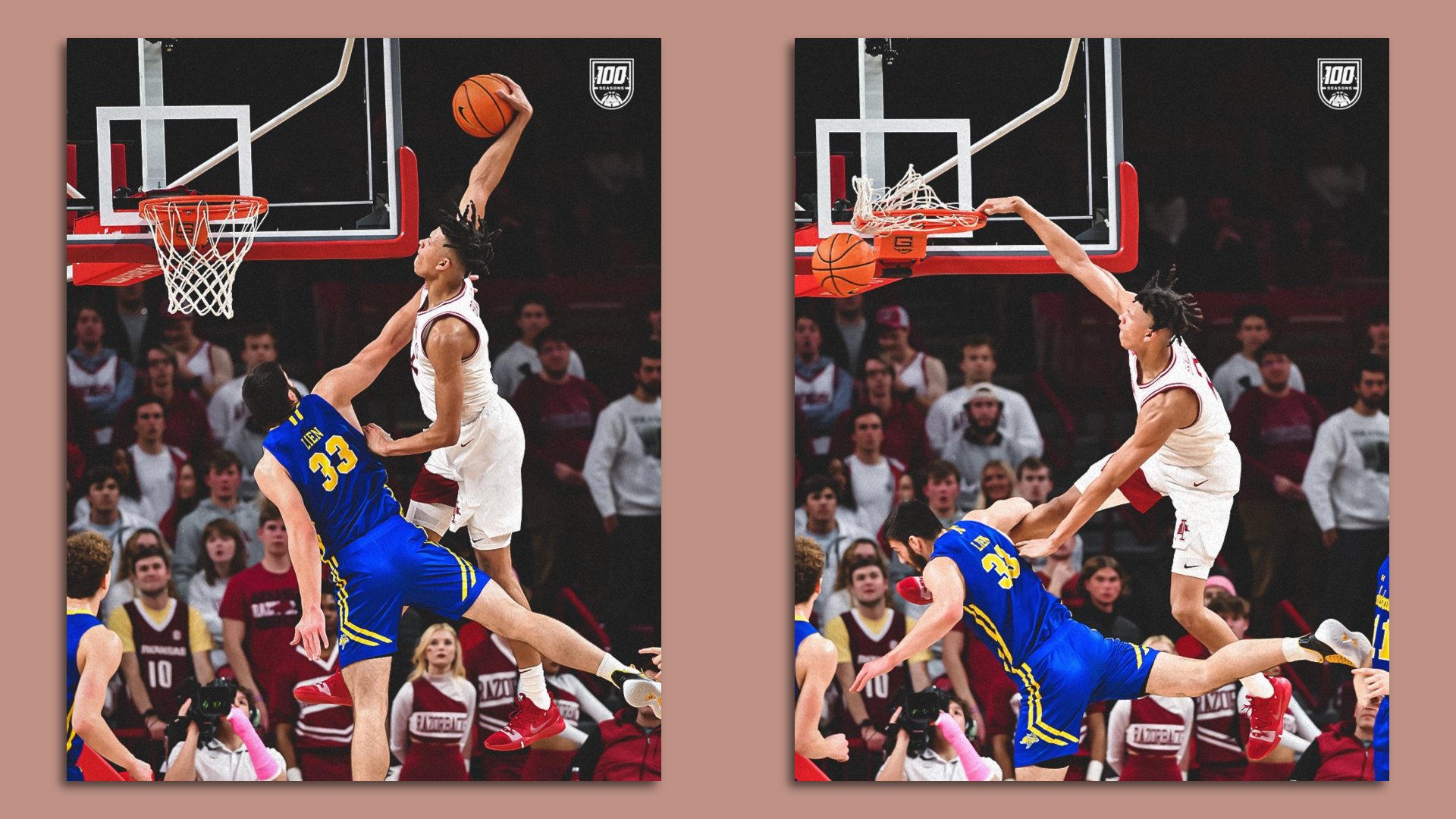 Talk tomorrow,
Kendall "Shai is unreal" Baker
Trivia answer: Tina Charles, Maya Moore, Breanna Stewart
🙏 Have a great day! Follow us for more (@kendallbaker and @jeffreytracy). Friends can sign up here. Thanks to Nick Aspinwall for copy edits.