January 27, 2022
👋 Good morning!
🏈 Breaking news: The Broncos are finalizing a deal to make Packers OC Nathaniel Hackett their next head coach, per NFL Network.
Today's word count: 1,675 words (6 minutes).
Let's sports...
1 big thing: 🥇 The cybersecurity Olympics
When Olympic athletes land in Beijing for the 2022 Olympics, they'll be loaded up with burner phones and will likely leave their own devices behind, Axios' Ashley Gold reports.
Why it matters: Experts are sounding the alarm about cybersecurity fears during the Games because of the Chinese Communist Party's known penchant for cyber espionage and desire to control online content.
State of play: The Olympics were last held in China in 2008, before the explosion of smartphones and social media. Now, cybersecurity is a major concern, and athletes are being briefed ahead of Beijing.
U.S.: "Assume that every device and every communication, transaction, and online activity will be monitored," the USOPC warned in a tech advisory obtained by Axios. The advisory says disposable computers and cell phones are encouraged.
Canada: Athletes are being educated on security in China and the risks of being hacked, per the Toronto Sun, and are being given phones and SIM cards.
Germany: Athletes are being given Samsung smartphones, and its recommended that they only use the My2022 health monitoring app (required for COVID-19 monitoring) while in China.
Australia: The Australian Olympic Committee is "providing athletes with advice on minimizing risk," and will provide its own WiFi networks in certain areas at the Games.
What they're saying: "These countries are rightly concerned ... The risk of surveillance, data theft and cybercrime is very high," Martijn Rasser, senior fellow and director of the technology and national security program at the Center for a New American Security, told Axios.
The other side: "According to China's relevant laws and regulations, citizens' personal and data privacy is legally protected and the same is true for every athlete who comes to the Olympics," Chinese Embassy spokesperson Liu Pengyu told Axios.
Yes, but: Those Chinese laws aren't meant to protect citizens and visitors from the cyber intrusions of the CCP, experts told Axios.
What to watch: Even though burner devices contain far less personal information, they can still be hacked and tracked, Jess Parnell, VP of security operations at Centripetal Networks, told Axios: "All that stuff doesn't go out the window just [because] you got a burner phone."
2. 🎾 Women's final: Barty vs. Collins
Ashleigh Barty cruised past Madison Keys, 6-2, 6-3, early this morning, becoming the first Australian woman to reach the singles final in Melbourne since Wendy Turnbull in 1980.
What's next: She'll face American Danielle Collins — who beat 2020 French Open champion Iga Świątek, 6-4, 6-1, mere hours ago — in Saturday's final.
Barty, ranked No. 1 in the world, has conceded just 22 games so far, while dropping only one service game. She's won major titles on grass (Wimbledon) and clay (French Open), but never on a hard court.
Collins, ranked No. 27, had emergency surgery just nine months ago. The Florida native was a 2019 Australian Open semifinalist and a two-time NCAA singles champion at Virginia.
Quote du jour: "I try to be the best at whatever I'm doing," Collins said last week in the most endearing way imaginable. "And if I'm not, I still tell myself I'm the best. You gotta believe it, right?"
3. ⚽️ "Snowhio": USMNT embraces the cold
The USMNT's path to the World Cup resumes tonight with the first of three upcoming qualifiers, Axios' Jeff Tracy writes.
Tonight, 7pm ET: vs. El Salvador (Columbus, Ohio)
Sunday, Jan. 30: at Canada (Hamilton, Ontario)
Wednesday, Feb. 2: vs. Honduras (St. Paul, Minnesota)
Roster: Coach Gregg Berhalter called on 28 players for this three-game slate. 13 play in MLS and 15 play in Europe.
Where it stands: Eight matches down, six more to go. The top three countries qualify for the World Cup, while the fourth advances to an inter-confederation playoff.
Canada: 16 pts (4-0-4)
U.S.: 15 pts (4-1-3)
Mexico: 14 pts (4-2-2)
Panama: 14 pts (4-2-2)
Costa Rica: 9 pts (2-3-3)
Jamaica: 7 pts (1-3-4)
El Salvador: 6 pts (1-4-3)
Honduras: 3 pts (0-5-3)
The backdrop: Since 2000, only four U.S.-hosted World Cup qualifiers have been played in sub-40-degree weather. The USMNT will host two more such games in the next week alone.
Some believe the U.S. holds an advantage in these frigid conditions because most of its players are used to the European cold, while most opposing players reside in equatorial countries.
The other side: Worse conditions could negate their technical and talent advantage over bottom-of-the-table El Salvador and Honduras.
The last word: Players seem more than ready for the challenge. As USMNT's Walker Zimmerman told SI: "I want it to be freezing. I want the snow. ... I think the guys are ready to embrace the cold."
4. ⚡️ Lightning round
💔 Rest in peace: Two years after their tragic deaths, a bronze sculpture of Kobe and Gigi Bryant has been erected at the Calabasas crash site. A larger, more life-sized sculpture is in the making.
🏀 Down goes Hope: No. 4 Trine took down No. 1 Hope, 70-62, in women's D-III action — snapping Hope's 61-game win streak. It was their first loss since 2019 (the past two NCAA tournaments were canceled).
🏀 Mack fired: Chris Mack is out at Louisville after less than four seasons. He ends his tenure with a 64-35 record (38-23 in the ACC).
⚽️ Good read: Dover's first win in 364 days (Mark Ogden, ESPN)
"There were only 486 supporters there to see it ... but after 364 days that have seen them become, statistically at least, the worst team in England, Dover Athletic finally won a game."
5. 🏈 Heart of a (Divisional Round) champion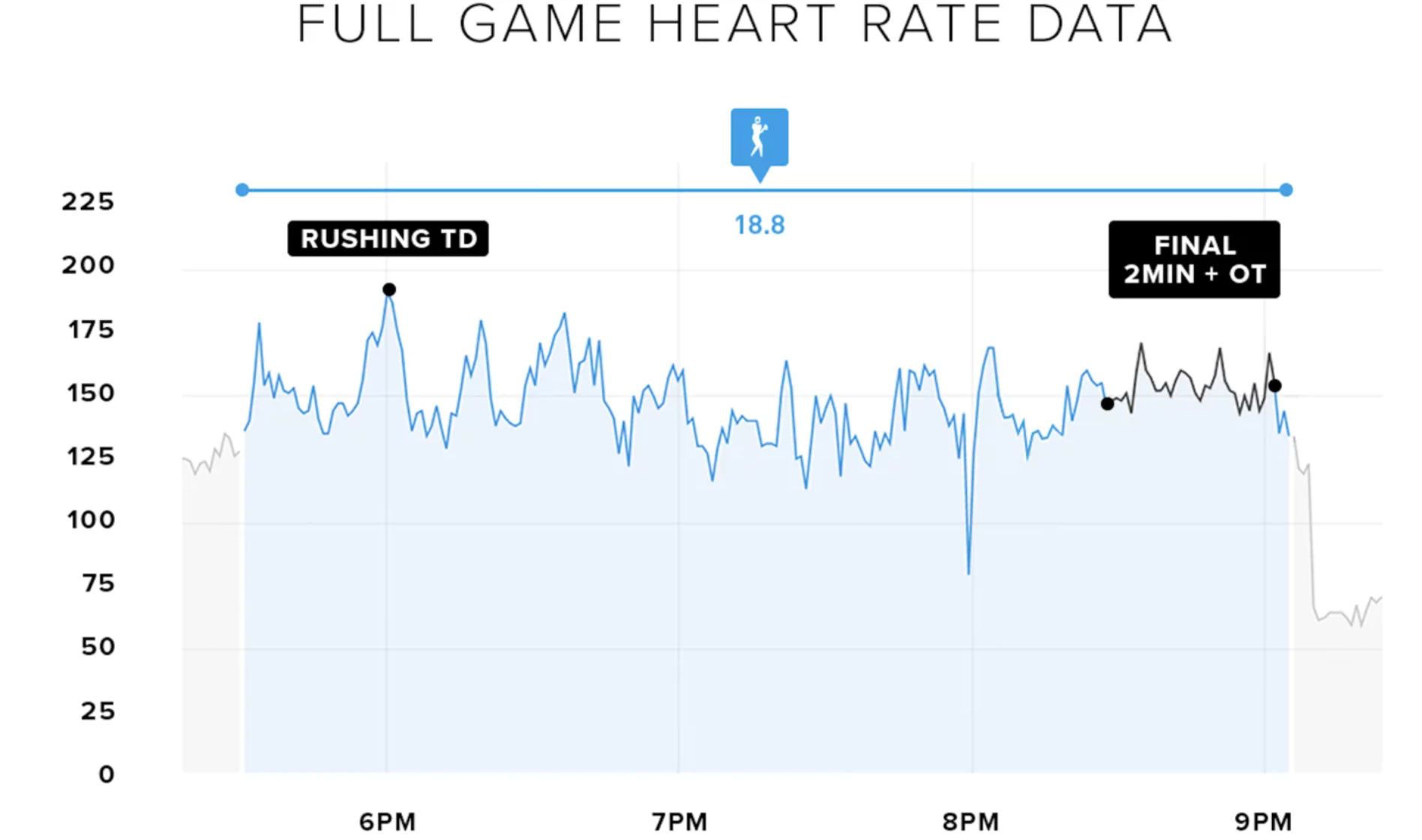 Patrick Mahomes' heroic performance against the Bills was thrilling to watch, and his in-game heart rate indicates it was equally exciting to live through, Jeff writes.
By the numbers: Mahomes wore a Whoop fitness tracker during the game, and the collected data shines some light on the kind of competitor he is when the lights shine the brightest.
His peak heart rate (191 beats per minute) came during his first-quarter TD run. But his sustained peak, as you'd expect, came during the 28 minutes of real time between the final two minutes of regulation and the game-winning score.
The biggest spikes during that hectic half hour were precipitated by game-changing plays, but his heart rate was actually lowest when the pressure was highest — achieving "flow state" in those moments, according to his trainer.
In other words, aside from his otherworldly talent, one of Mahomes' greatest assets may be the ability to stay calm under pressure.
Of note: Whoop was founded in 2012, released its first product in 2015 and really took off in 2020 when fitness tracking became a high priority. Mahomes is an investor.
6. 🇺🇸 Team USA spotlight: Alex Ferreira
In the lead-up to the Beijing Winter Olympics (Feb. 4–20), we're profiling 10 members of Team USA.
The Olympian: This is the second Olympics for Ferreira, who took home silver with a flawless halfpipe run in Pyeongchang and is currently No. 2 in the International Ski Federation's World Cup halfpipe standings.
Good genes: Ferreira's dad, Marcelo, was a professional soccer player in Argentina, and his mom, Colleen, has run 10 marathons.
Ferreira also has a goofy side. In 2018, he created an alter ego named "Hotdog Hans" and made a short film in which he tears down the mountain in old-man makeup akin to Kyrie Irving's "Uncle Drew."
The event: Freestyle skiing comprises six different event disciplines, but Ferreira competes in just one: the halfpipe.
Halfpipe format: The qualifying round features 25 skiers who get two runs each, and only their best score counts. The top 12 qualifiers advance to the finals, where they get three more runs to earn a medal.
Scoring: Five judges score each run between 1-100 based on five criteria: amplitude (height of jumps); difficulty, variety and execution of tricks; and progression (how well the run flows). Your score is the average of those five judges' rulings.
ICYMI: Emily Sweeney (luge); John Shuster (curling); Jessie Diggins (cross-country skiing)
7. 🌎 The world in photos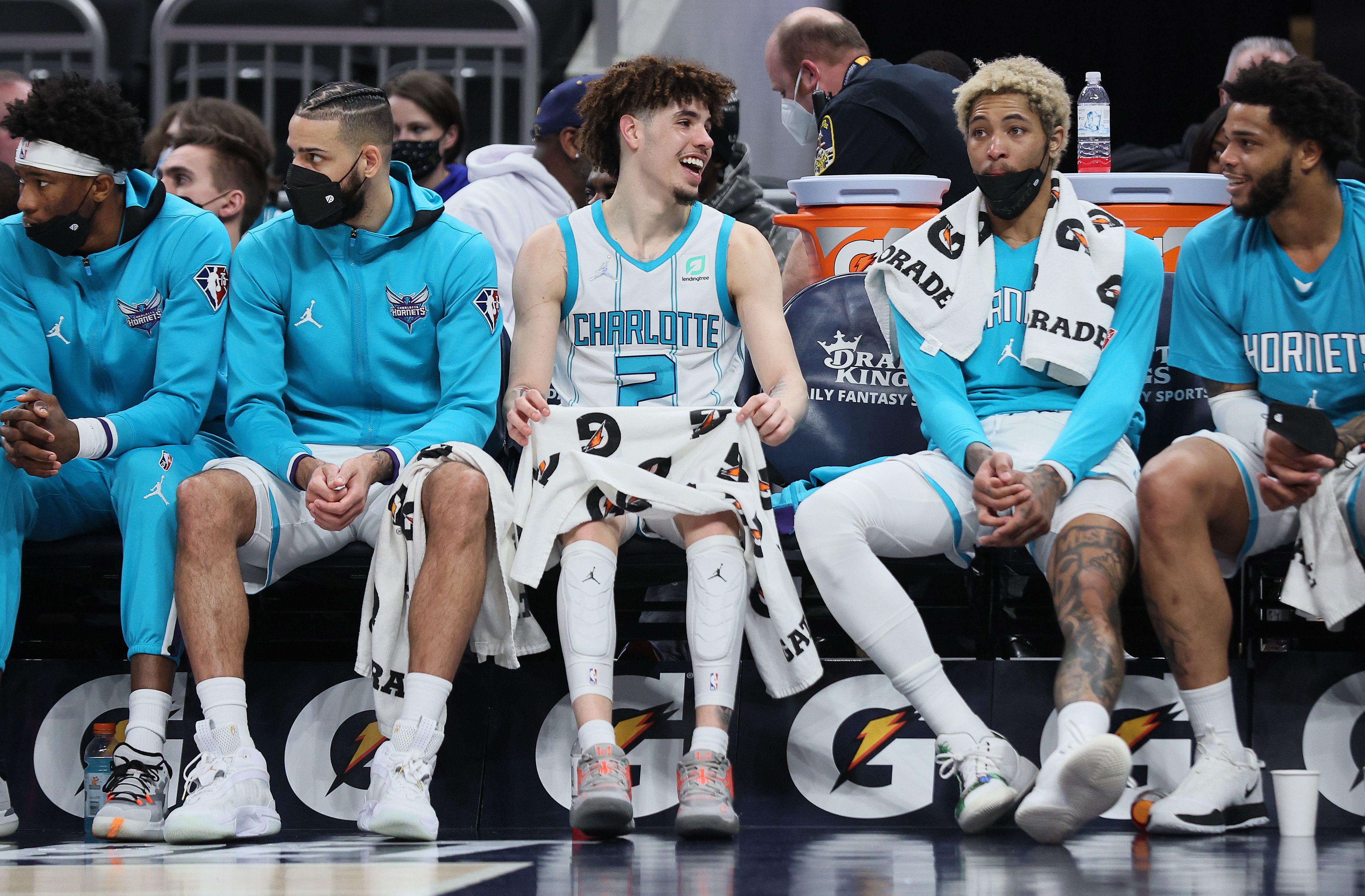 INDIANAPOLIS — The Hornets made noise in Indy, scoring a franchise-record 158 points in a rout of the Pacers. LaMelo Ball had a triple-double (29-10-13) and Kelly Oubre hit 10 threes (39 points).
Wild stat: Only two teams have scored more points in regulation this century — the 2008 Nuggets (168) and the 2019 Rockets (159).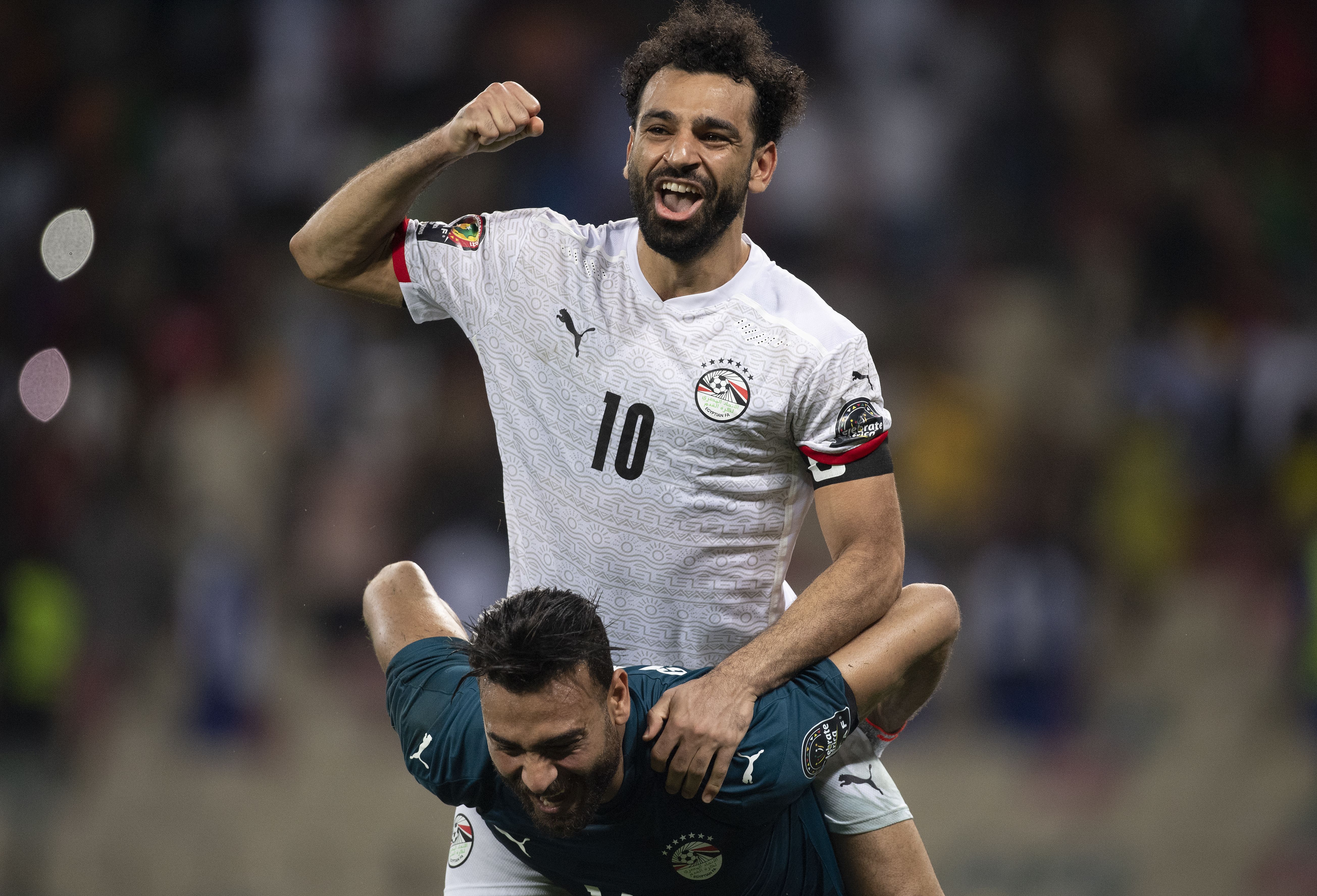 DOUALA, Cameroon — Mo Salah buried the decisive penalty in Wednesday's shootout to send Egypt past the Ivory Coast and into the Africa Cup of Nations quarterfinals this weekend.
Quarterfinals: Gambia vs. Cameroon; Burkina Faso vs. Tunisia; Egypt vs. Morocco; Senegal vs. Equatorial Guinea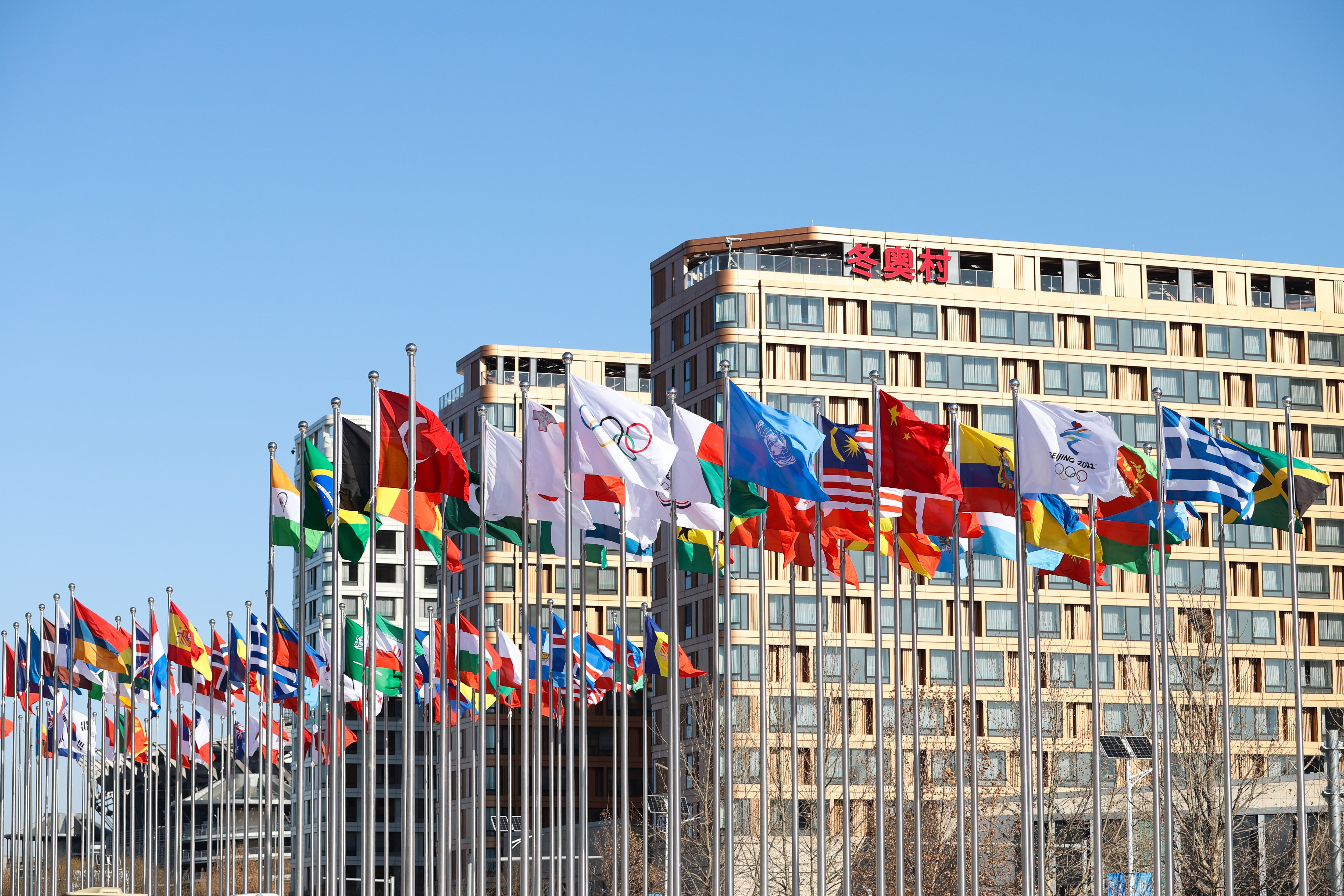 BEIJING — Flags fly at the Olympic Village, which is now officially open.
8. 📺 Watchlist: Aussie men's semis
The Australian Open men's semifinals are upon us, which means you get to watch Rafael Nadal continue his historic quest tonight. And if you're an insomniac, you can watch Medvedev-Tsitsipas, too.
10:30pm ET: No. 6 Rafael Nadal vs. No. 7 Matteo Berrettini
3:30am: No. 2 Daniil Medvedev vs. No. 4 Stefanos Tsitsipas
More to watch:
9. 🏀 NBA trivia
LeBron James, 37, already has 22 30-point games this season, the second-most ever in a season for a player age 36 or older.
Question: Who's first on that list?
Hint: Turn of the century.
Answer at the bottom.
10. 🏈 Stat du jour: 18 straight Super Bowls
The last 18 Super Bowls have all featured either Tom Brady, Peyton Manning, Ben Roethlisberger or the 49ers.
2004: Brady
2005: Brady
2006: Roethlisberger
2007: Manning
2008: Brady
2009: Roethlisberger
2010: Manning
2011: Roethlisberger
2012: Brady
2013: 49ers
2014: Manning
2015: Brady
2016: Manning
2017: Brady
2018: Brady
2019: Brady
2020: 49ers
2021: Brady
Of note: The streak extends to 20 if you change "49ers" to "Bay Area teams." The Raiders played the Buccaneers in 2003 and Brady made his Super Bowl debut in 2002.
Can the 49ers keep the streak alive?