May 25, 2022
💔 Good morning.
Today's word count: 1,396 words (5 minutes).
Let's sports...
1 big thing: ⚾️ The ball is different (again)
Home runs are being hit at their lowest rate in nearly a decade, and the culprit appears to be the ball itself, Axios' Jeff Tracy writes.
By the numbers: Through seven weeks, MLB teams are hitting 0.98 HR per game, down 20% from last year (1.22) and 29% from the all-time high in 2019 (1.39).
State of play: Put simply, fly balls aren't turning into home runs as often as they did in recent seasons.
From 2017 to 2021, fly balls hit in April and May with an exit velocity of 105–110 mph left the yard 81% of the time, per FiveThirtyEight. This year, that's down to 74%.
The same is true at lower exit velocities: 100–105 mph (45% down to 34%); 95–100 mph (13% down to 9%).
Between the lines: This year's ball is experiencing more drag, per FanGraphs, and there's no definitive answer as to why — though humidors could be playing a role.
All 30 ballparks are now storing balls in humidors to standardize the amount of moisture they retain, and one astrophysicist believes that is causing the decreased offensive output.
"The ball ain't the same as it used to be," Brewers DH Andrew McCutchen told ESPN earlier this month.
The big picture: If this sounds familiar, that's because it is. The composition of the baseball, and how it affects MLB's on-field product, has become a recurring theme over the past eight years.
Juiced: Home runs shot way up 2015-17, driving rumors of a "juiced" baseball. Studies showed the ball was indeed bouncier and experienced less drag.
HR barrage: The HR record was shattered in 2019, which MLB said was mostly due to players embracing the launch angle revolution. An independent study disagreed, suggesting balls were being machine-dried, which lowered the seams and reduced drag.
De-juiced: Rates have fallen for three straight years, and MLB said it was altering balls last season to improve consistency. But a report last winter said MLB used two distinctly different balls in 2021.
The bottom line: For the eighth straight baseball season, a major talking point is the ball — a fundamental piece of equipment that MLB just can't seem to keep consistent.
Go deeper: The ball is making everyone batty (WashPost)
2. 🏀 Dallas wins on somber night
On a somber night in Dallas, the Mavericks beat the Warriors, 119-109, to avoid a sweep in the Western Conference Finals (GS leads 3-1).
The backdrop: Game 6 was played just hours after — and a few hundred miles away from — a mass shooting at Robb Elementary School in Uvalde, Texas, that left 19 students and at least two adults dead.
"The video board went dark, the crowd hushed, the teams stood motionless, and the public address announcer's voice wavered as the show went on," wrote WashPost's Ben Golliver, describing the scene.
"When are we going to do something?!" said Steve Kerr in an emotional pregame press conference. "I'm so tired of getting up here and offering condolences to the devastated families that are out there. I'm tired of the moments of silence."
Looking ahead: No NBA team has ever overcome a 3-0 postseason deficit, and only one (2003 Trail Blazers) has forced a Game 7.
3. ⚽️ The American soccer takeover
The U.K. government has approved the sale of Chelsea to a consortium led by Dodgers co-owner Todd Boehly.
Why it matters: More than half the 20 teams competing in the Premier League next season will be backed by U.S. money, including four of the "Big Six" — Arsenal, Chelsea, Liverpool and Manchester United.
Zoom out: It's not just the Premier League. American investors are beginning to dominate throughout Europe, with ownership stakes in numerous Serie A (Italy) and Ligue 1 (France) clubs.
4. ⚡️ Lightning round
5. 💡 Most innovative team: FC Barcelona
FC Barcelona has been named the most innovative sports team in the world by Sports Innovation Lab, Jeff writes.
State of play: Barcelona earned the top spot based on SIL's ranking system, which accounts for revenue diversification, technology enablement and organizational agility.
Factors driving their No. 1 ranking include their accelerator and fan membership programs, a team-owned OTT platform and social media channels in nearly a dozen languages.
They're also one of 14 teams in the top 25 with an associated women's team. FC Barcelona Femení is particularly strong, coming off a historic 30-0 Primera División campaign that ended just short of perfection with last weekend's loss in the Champions League final.
The big picture: The top 25 most innovative teams comprise five sports and seven countries:
Soccer (10): Barcelona (1), Real Madrid (2), Arsenal (3), Manchester City (4), Manchester United (6), Liverpool (8), Roma (10), Borussia Dortmund (12), Bayern Munich (14), Lyon (16)
NBA (9): 76ers (5), Mavericks (9), Timberwolves (11), Cavaliers (27), Suns (19), Warriors (20), Nets (22), Raptors (23), Trail Blazers (25)
MLB (3): Braves (7), Red Sox (13), Nationals (24)
NFL (2): Seahawks (18), Rams (21)
NHL (1): Capitals (15)
6. 📊 Snapshot: Axios/Harris Poll 100
Companies that once seemed immune from partisan backlash are seeing their reputations plunge in response to political drama, according to new rankings from the annual Axios/Harris Poll 100.
At a glance: Here are some sports/sports adjacent companies included in the rankings and how their standing changed from last year...
3. Patagonia (down 2)
29. Adidas (up 20)
56. Nike (up 6)
65. Disney (down 28)
69. Electronic Arts (down 18)
71. AT&T (up 15)
85. Comcast (up 7)
96. Fox Corp. (up 3)
7. 🌎 The world in photos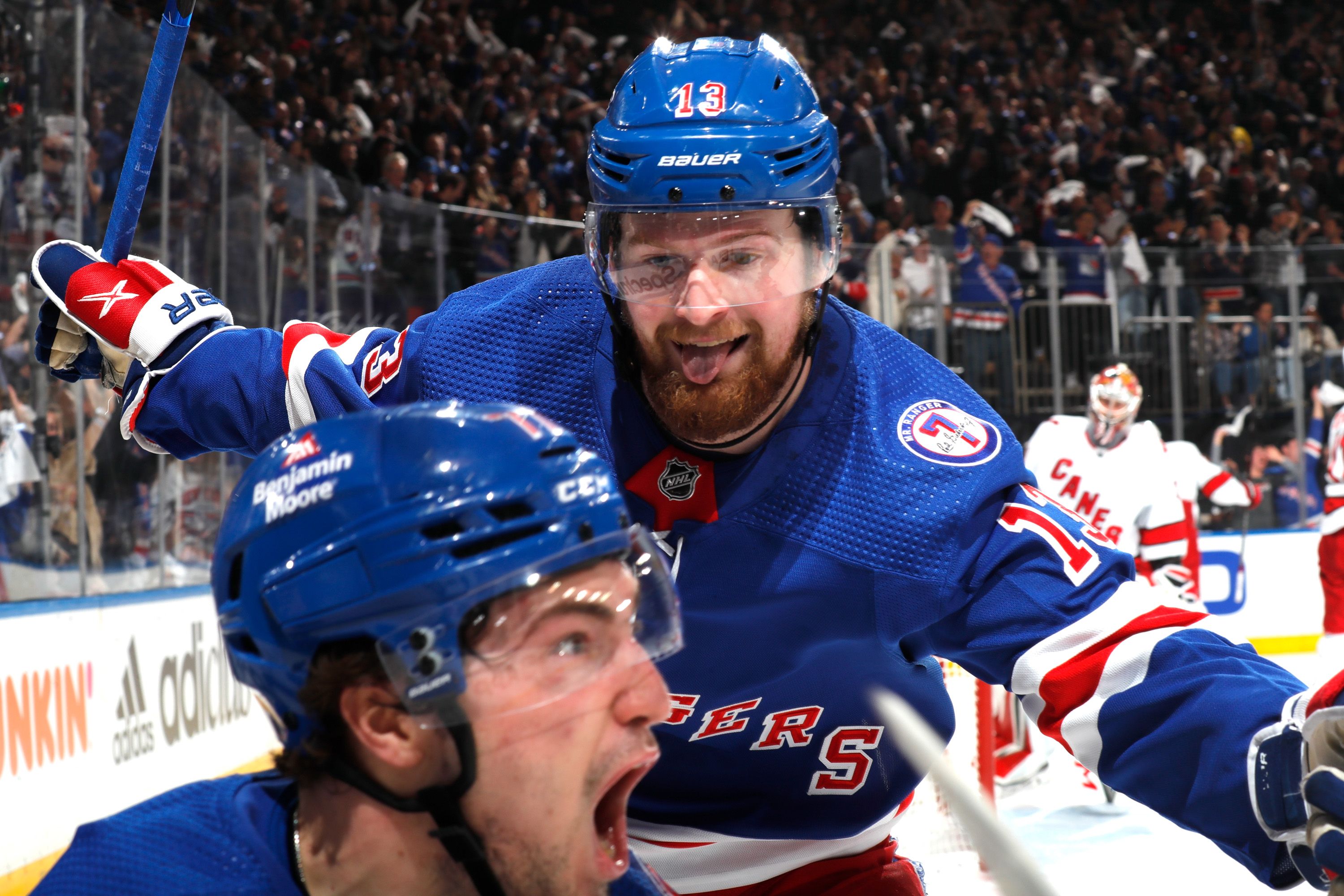 NEW YORK — The Rangers cruised past the Hurricanes, 4-1, on Tuesday to even their series at 2-2. Carolina remains winless on the road this postseason (0-5).
Elsewhere: The Oilers beat the Flames, 5-3, to take a 3-1 lead. Connor McDavid had his seventh straight multi-point game.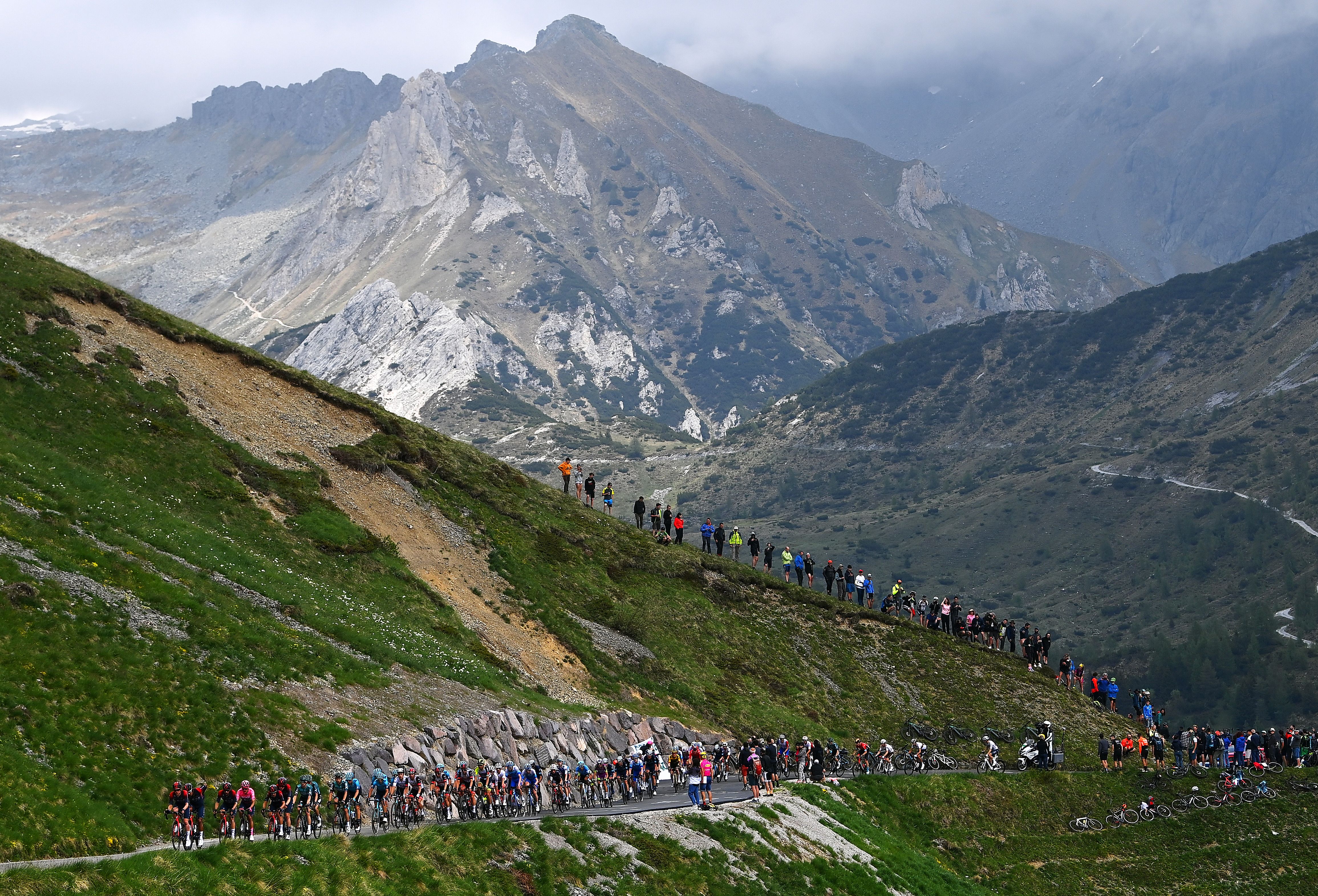 APRICA, Italy — 16 of 21 stages have been completed at the 2022 Giro d'Italia, one of cycling's three Grand Tours (Tour de France, Vuelta a España).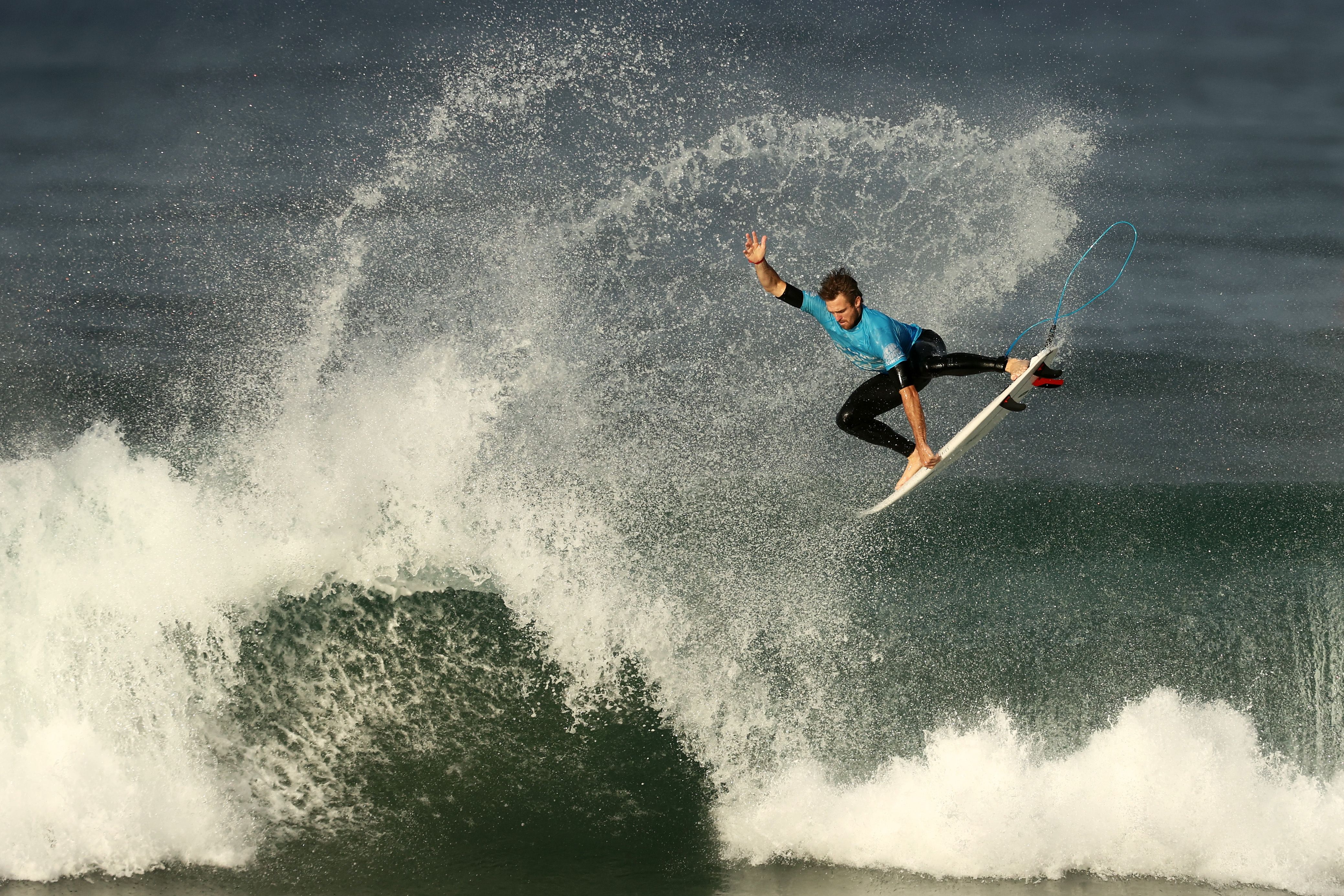 MANLY, Australia — Surfing rules.
8. 📺 Watchlist: Bizarre series continues
The Heat host the Celtics tonight in Game 5 of the East Finals (8:30pm ET, ESPN), and if the first four games are any indication, Miami should run away with this one.
By the numbers: Boston and Miami have traded routs in this bizarre series, with a 15.5-point average margin of victory so far.
The big picture: It's not just them. After Tuesday's 10-point Mavericks win, the last 15 NBA playoff games have been decided by six or more points, dating back to May 11 (Bucks 110, Celtics 107).
More to watch:
9. 🏀 NBA trivia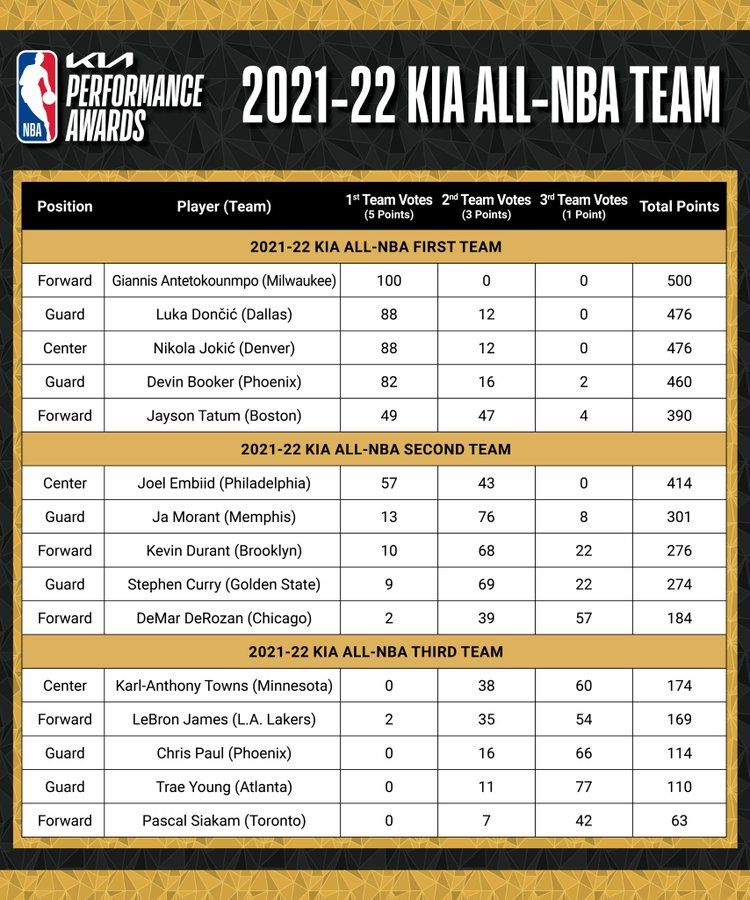 Five All-NBA players — Giannis Antetokounmpo (first team), Luka Dončić (first), Nikola Jokić (first), Joel Embiid (second) and Pascal Siakam (third) — were born outside the U.S.
Question: Which country was each player born in?
Hint: Two were born in the same country.
Answer at the bottom.
10. ⚾️ 1 fun thing: Smell good, play good
A contingent of MLB players, mostly Latin Americans, engage in a daily ritual you probably wouldn't expect on a baseball diamond: dousing themselves in colognes and perfumes, Jeff writes.
"When people go to work ... they get ready and dress up," Astros 1B Yuli Gurriel told NYT. "I see it like that: This is my job and I like to look good, and I like to smell good, too."
"If I don't have perfume on, I feel strange," added Mariners 3B Eugenio Suárez.
The big picture: Some feel more confident when they smell nice, but mostly it's just a common practice in Latin American life that has spilled onto the field. "It's something cultural," said Royals 1B Carlos Santana.
Talk tomorrow,
Kendall "Sad" Baker
Trivia answer: Antetokounmpo (Greece), Dončić (Slovenia), Jokić (Serbia), Embiid and Siakam (Cameroon)
🙏 Thanks for reading. Follow us on Twitter: @kendallbaker and @jeffreytracy. Tell your friends to sign up.