August 25, 2020
👋 Happy Tuesday! Publishing later than usual today. Hope the newsletter pairs as well with lunch as it does with breakfast.
Today's word count: 2,246 words (8 minutes).
1 big thing: 📺 Scott Van Pelt comes home
The midnight edition of "SportsCenter," which Scott Van Pelt has hosted since 2015, made its Washington, D.C. debut late last night, in the same studio that houses "Pardon the Interruption."
Why it matters: Van Pelt, a Maryland native and University of Maryland grad who began his career at WTTG in D.C., has worked out of ESPN's Bristol, Connecticut, campus since joining the company in 2001. Now, he's back home.
🎙 Interview: I spoke with SVP on Monday afternoon about the move, the show, and what it all means to him.
Hey, Scott. I want to start off by asking what this moves means to you on a personal level. How does it feel being back home?
"I grew up here. It's home. So it represents that thought to me — that idea. It's been 25 years since I left to go work for the Golf Channel, and I never really imagined there'd be a path back here, so I'm grateful.
"As for my kids, they obviously have friends and real memories from Connecticut, but to get home to a place that's so familiar, that means so much to me, and to be able to do it when they're young enough that they will largely grow up here — it's pretty amazing.
What's today been like, as you prepare for your D.C. debut?
"[Monday] was a cool day. We picked the kids up from camp and when we got home, a bunch of people from Maryland, my alma mater, were in the front yard to welcome us. Testudo, the mascot, was here, plus some coaches.
"It's really amazing, and there are moments when I'm hit by this feeling of, 'Wow, I can't believe this.' But when I get to the studio, it's the same show. So I'm trying not to turn it into anything more than that."
How will the show be different now that it's in D.C.?
Smaller studio: "It's very different. The studio in Bristol is massive, whereas this is much more intimate. It looks similar on screen, but there will be subtle differences. Our backdrop has the Washington Monument, D.C. go-go band Trouble Funk did our intro song, stuff like that."
More access: "Up in Bristol, athletes don't come by much. In D.C., there are teams right in town, so that will allow us to sit down with more people and do more interviews. I'm anxious to see how that might present opportunities."
Smaller staff: "The plan is to add more people in D.C., but for now, it's just myself, Steve [co-host "Stanford Steve" Coughlin], and one of our producers, Mike McQuade. Everyone else is in Connecticut."
How will your day-to-day life be different?
"We're going to try to do our meetings virtually as opposed to in-person. That will allow me to go in later, which means maybe I get a chance to have dinner at home with my family as opposed to leaving in the late afternoon."
"I think that just makes you happier in general, getting to spend more time with them. Does that mean that our show is different? No, but it means that the guy doing our show is maybe in a different headspace."
Where will you be commuting from?
"I'm in Bethesda, Maryland, right outside D.C. There's so much going on here, but I'm sure we'll venture into the city often.
"My kids love airplanes, so we're looking forward to the Air & Space Museum. We'll be taking advantage of what's within our radius here. There's quite a bit."
You'll be sharing a studio with Tony Kornheiser and Mike Wilbon. What kind of relationship do you have with them?
"Mike and Tony are friends, and I'm fortunate that I feel so welcome by them and their group.
"When we first started exploring this, I called Tony and said, 'Hey, if we tried to come down there and be in that space, is that gonna screw you guys up?' Because the sustained excellence of 'PTI' is such that you don't want to be the guy that screwed up the sauce.
"But he was very receptive to it. And of course, Tony being Tony, he was like, 'No, come! Because then I can just say I don't want to work, and you'll come and fill in!' He was immediately scheming for more golf.
"When I went in to rehearse the other night, Wilbon was still in the office and was sincere when he said, 'Whatever you need, please let me know.' So it's great to have that kind of support and it's cool to know our two shows are coming out of the same studio."
Did you have a favorite local sportscaster growing up?
"George Michael of 'The George Michael Sports Machine' was a legendary guy and a trail blazer in terms of showing highlights from all the games, but my role model was Glenn Brenner, a local sportscaster on Channel 9 in D.C.
"Glenn was an irreverent, funny, self-deprecating joyride of a guy who tragically passed away in his 40s. I still remember standing in the freezing cold outside the funeral home on Connecticut Ave. to pay my respects and tell his family how much Glenn meant to me."
And now that you're back home, you get to continue his legacy in a way.
"Yeah, and I think it's a great reminder that, like, I know what I do doesn't matter in the grand scheme of things — it's just sports. But I also know that if you're a decent human, and you project that into the world, that matters.
"So I try to be that guy for somebody. I try to be what Glenn was to me and so many others — this shining example of not taking yourself too seriously and having fun and treating sports for what they are."
🎥 Watch ... Last night's intro, live from D.C. (YouTube)
2. 🏈 The weirdest AP poll ever
The 85th edition of the AP preseason college football poll is the weirdest ranking ever, featuring nine teams that won't play this fall.
Led by No. 2 Ohio State, the list of ranked teams that won't play also includes No. 7 Penn State, No. 9 Oregon, No. 12 Wisconsin, No. 16 Michigan, No. 17 USC, No. 19 Minnesota, No. 22 Utah and No. 24 Iowa.
By the numbers: With 130 teams last year, 19.2% of FBS teams were ranked at any given time. This year, it will be 32.9% (25 of 76).
What they're saying: "The preseason poll has always been a speculative ranking of teams based on last year's results and knowledge about the new makeup of teams," said AP global sports editor Michael Giarrusso.
"This year, we think it is crucial to give all the teams and all their fans a snapshot look at what the top 25 would have been to open the season.
More CFB:
Louisville expects to admit approximately 18,000 fans at home football games.
NC State has paused all athletics-related activities after identifying 27 positive cases within the athletic department.
3. ⚾️ MLB's makeshift minor leagues
When the minor league season was canceled but MLB opted to play, big league clubs enacted "alternate training sites" to act as temporary farm systems, Axios' Jeff Tracy writes.
Why it matters: The sites provide prospects and fringe players with a place to stay in game shape, but like so many other solutions during the pandemic, this is less about perfection than making the best of a bad situation.
The state of play: In normal years, each organization has roughly 275 players spread among its big league club and minor league affiliates. This year, that number was capped at 60.
Active roster: 28 of the 60 players are in uniform and eligible to play on game days.
Taxi squad: Three of the 60 players travel with the team in case an injury or positive test occurs on the road. One must be a catcher.
Training site: The remaining 29 players practice and play together at one location, which must be within 100 miles of the team's home ballpark.
The sites: Of the 30 training sites, 20 are affiliated minor league stadiums and 10 are either colleges, independent ballparks or other facilities.
For example, the Dodgers are at USC, the Braves are at Coolray Field (Triple-A ballpark), and the Rangers are at their former home, Globe Life Park, just across the street from their new home, Globe Life Field.
How it works: These guys come to the park each day for what amounts to an extended pseudo-spring training.
They take batting practice, do defensive drills, get personalized instruction from coaches and play intrasquad games.
The games can be challenging, as there are rarely enough bodies to field two full teams, or enough pitchers to get through nine innings.
MLB has considered allowing teams to add 15 players to their alternate sites to combat this problem, but it hasn't done so yet.
The big picture: The chasm between elite prospects and lesser-known names will likely grow this season, as players already considered future big leaguers train at alternative sites, while the remaining ~200 players fend for themselves.
The bottom line: It's not perfect — it's 2020.
4. 📸 Yesterday in photos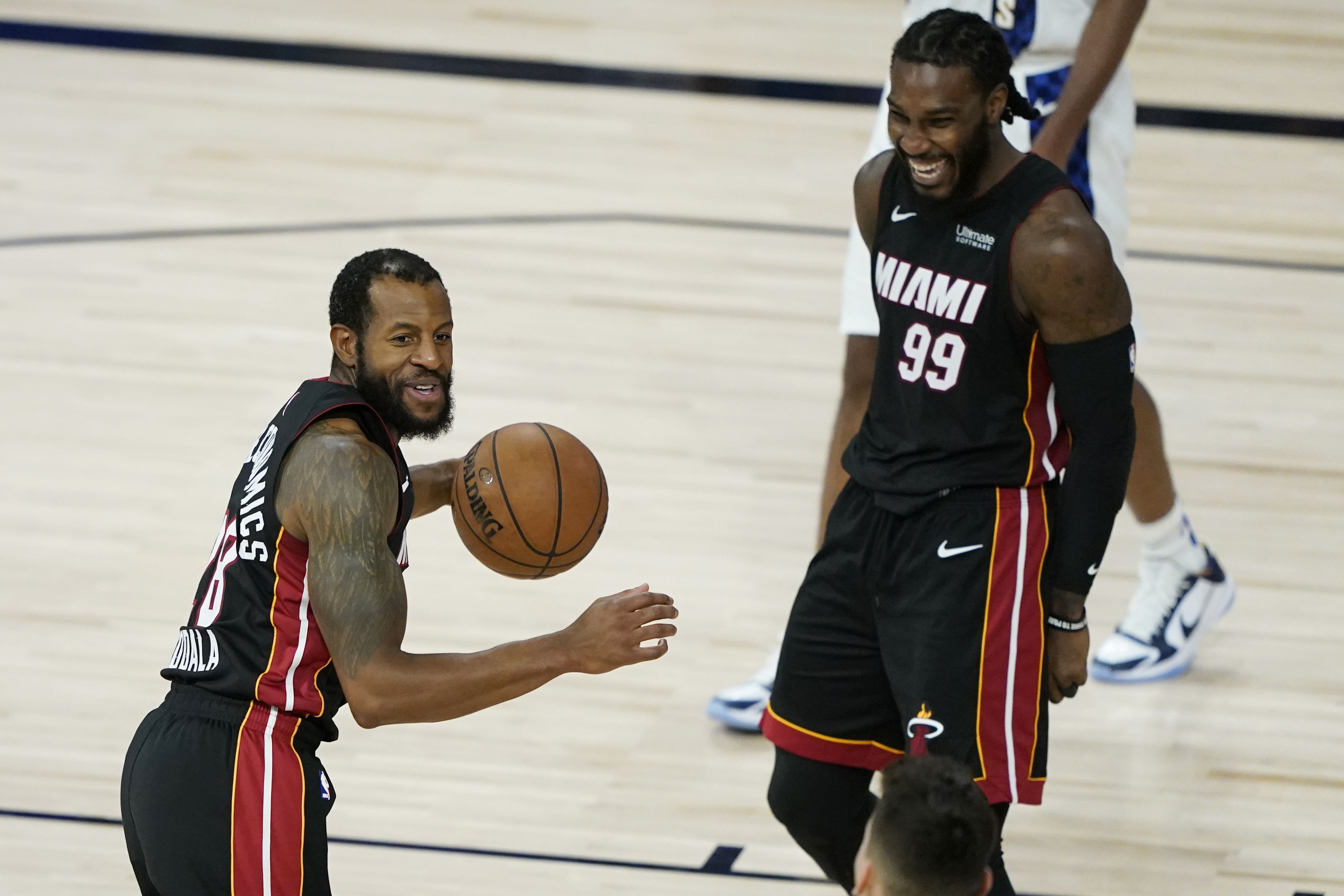 LAKE BUENA VISTA, Fla. — The fifth-seeded Heat completed a first-round sweep of the fourth-seeded Pacers, beating Indiana 99-87 behind 23 points from Goran Dragic. Miami moves on to face the winner of the Magic-Bucks series.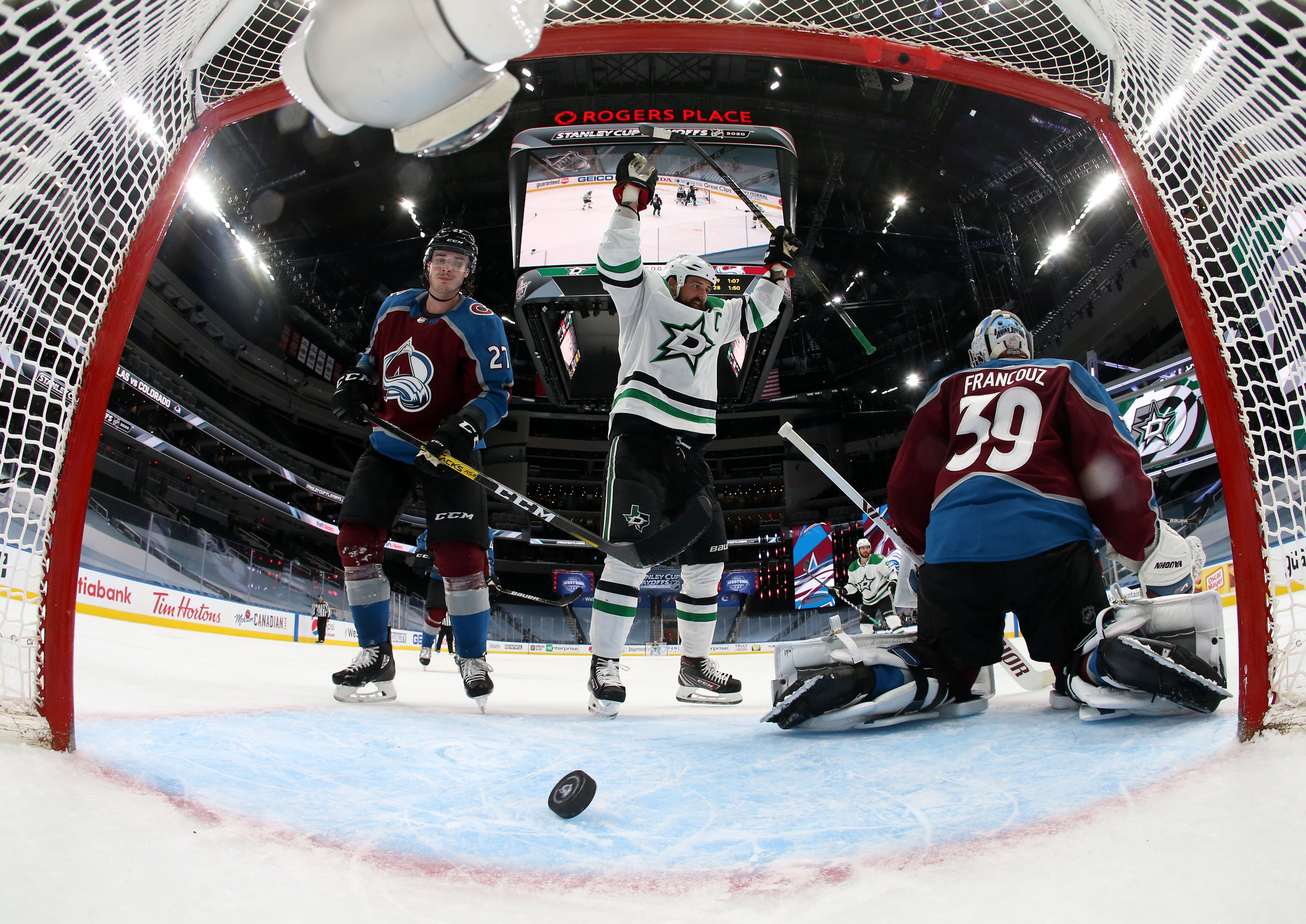 EDMONTON — The Stars rallied from a two-goal deficit to beat the Avalanche, 5-2, and take a 2-0 lead in the second-round series.
More scores: Islanders 4, Flyers 0 (NYI leads 1-0)
Today (NBCSN): Bruins (up 1-0) vs. Lightning, 7pm ET; Golden Knights (up 1-0) vs. Canucks, 9:45pm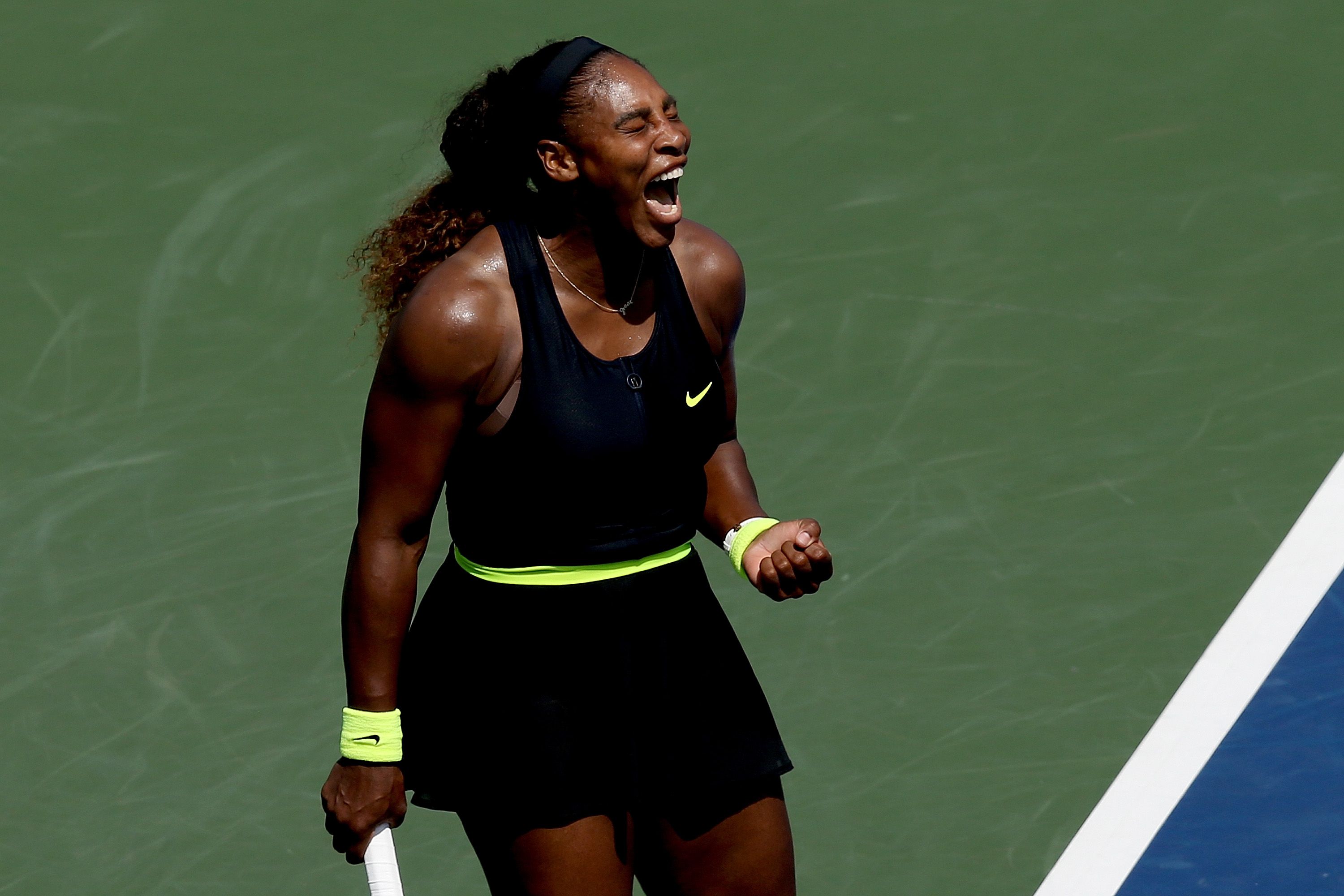 NEW YORK, N.Y. — Serena Williams was pushed to the brink in her longest match since 2012 but ultimately edged Arantxa Rus, 7-6 (6), 3-6 (6), 7-6 (0), to reach the Round of 16 at the Western & Southern Open.
NYC's doubleheader: As a result of the pandemic, the Western & Southern Open — long held in Mason, Ohio — is being played at the Billie Jean King National Tennis Center, which will host the U.S. Open right afterwards.
Go deeper: Tennis' most ambitious doubleheader in years (NYT)
5. 🏈 NFL fan policies: Where things stand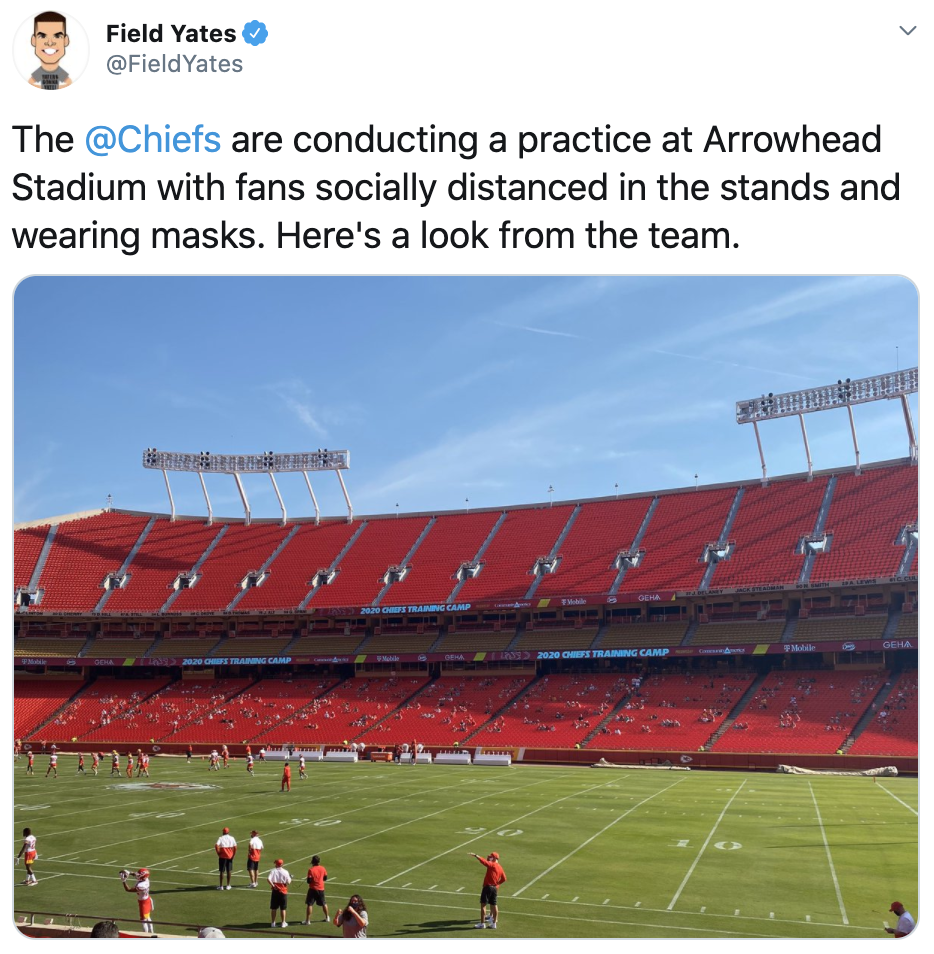 Bills coach Sean McDermott blasted the NFL on Monday, saying it's "honestly ridiculous" that some teams will have fans while others will not.
Where things stand: The NFL season kicks off in 16 days (Texans at Chiefs, Sept. 10) and teams have announced a variety of attendance policies.
No fans all season (3): Bears, Raiders, Washington Football Team
No fans "until further notice" (4): Bills, Eagles, Giants, Jets
No fans for first home game (1): Broncos
No fans through September (9): Falcons, Lions, Packers, Patriots, Saints, Seahawks, Texans, Titans, Vikings
Reduced but unspecified capacity (3): Bengals, Cowboys, Steelers
10-20% capacity (1): Ravens
20-25% capacity (4): Chiefs, Colts, Dolphins, Jaguars
No plan announced (7): Browns, Buccaneers, Cardinals, Chargers, 49ers, Panthers, Rams
6. Aug. 25, 1922: ⚾️ Cubs 26, Phillies 23
98 years ago today, the Cubs beat the Phillies, 26-23, in the highest-scoring game in MLB history.
By the numbers: The teams combined for 51 hits — also a record. There were 17 extra-base hits and 21 walks, while 18 players had at least one RBI. Thanks to a combined nine errors, a staggering 21 of the 49 runs were unearned.
Game summary: The Cubs led 26-9 after six innings (did they even respect the game?) and appeared headed for an easy victory, but the Phils nearly mounted an epic comeback with 14 runs across the final two frames.
The setting: The game was played at Cubs Park, which underwent a huge renovation later that year under the watchful eye of new owner William Wrigley Jr. Five years later, in 1927, the chewing gum magnate renamed it Wrigley Field.
Fun fact: The second highest-scoring game ever was a 23-22 shootout on May 17, 1979 between ... the Phillies and the Cubs. That time, Philly won.
Go deeper: The story of Wrigley's ivy (Baseball Hall of Fame)
7. 📚 Good reads
💔 On Kobe Bryant Day, L.A. council members promise to rename road outside Staples Center (Des Bieler, WashPost)
"Kobe Bryant Boulevard 'will be a reminder to everyone, young and old who drive down it, there is no obstacle too big and that with the #Mambamentality, anything is possible.'"
⚽️ Soccer played through the pandemic. Now it has to do it all again. (Rory Smith and Tariq Panja, NYT)
"Strict rules and player sacrifices allowed Europe's leagues to complete their schedules. But the coronavirus hasn't abated, and the new season brings new risks."
🏈 Position U 2.0: Which schools produce the most talent at each position? (David M. Hale, ESPN)
"Oklahoma takes over as QBU, but which schools hold the crowns for every other position?"
8. The Ocho: ❄️ Japanese snowball fighting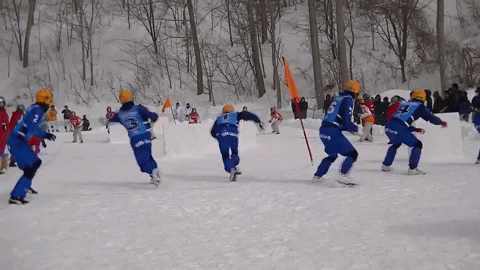 Yukigassen — literally "snow battle" — is the Japanese sport of snowball fighting. It began in 1988 and has since expanded globally, with tournaments in places like Japan, Finland, Armenia and Australia, Jeff writes.
How it works: It's essentially capture the flag with the added benefit of also being an elimination-style snowball fight.
The 36x10 meter court has seven barricades to hide behind as you attempt to capture the flag without getting hit. If neither team captures the flag, the team with more players remaining wins.
Teams of seven are given 90 specially-made snowballs per three-minute round. If you get hit, you're out. First team to win two rounds wins the contest.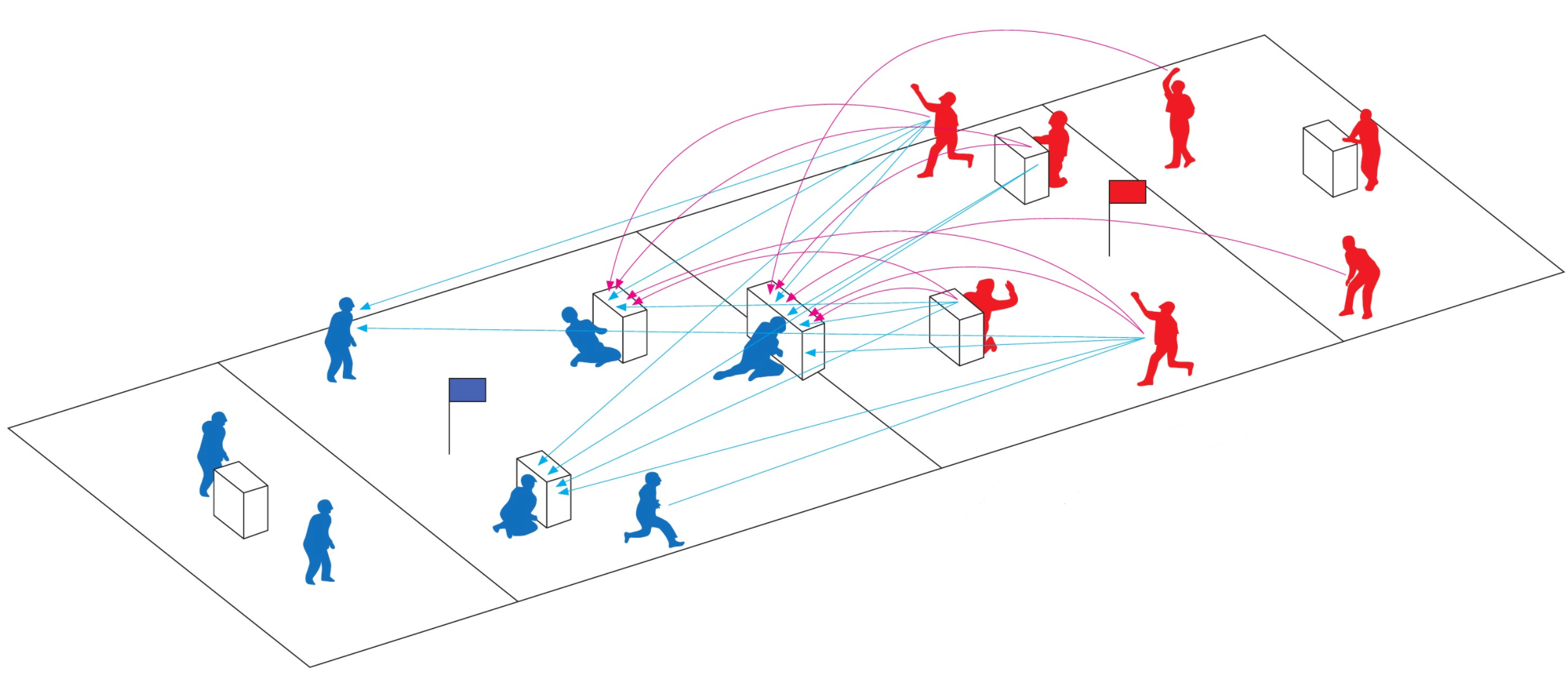 🎥 Watch: 11-minute documentary (YouTube)
9. 🎥 Monday's top plays
Bonus: 🏀 NBA trivia
Before his ouster on Monday, Brett Brown was the seventh-longest tenured coach in the NBA, hired by Philadelphia in 2013.
Question: Who are the six ahead of him?
Hint: Two from the East, four from the West.
Answer at the bottom.
10. ❤️ Why we love sports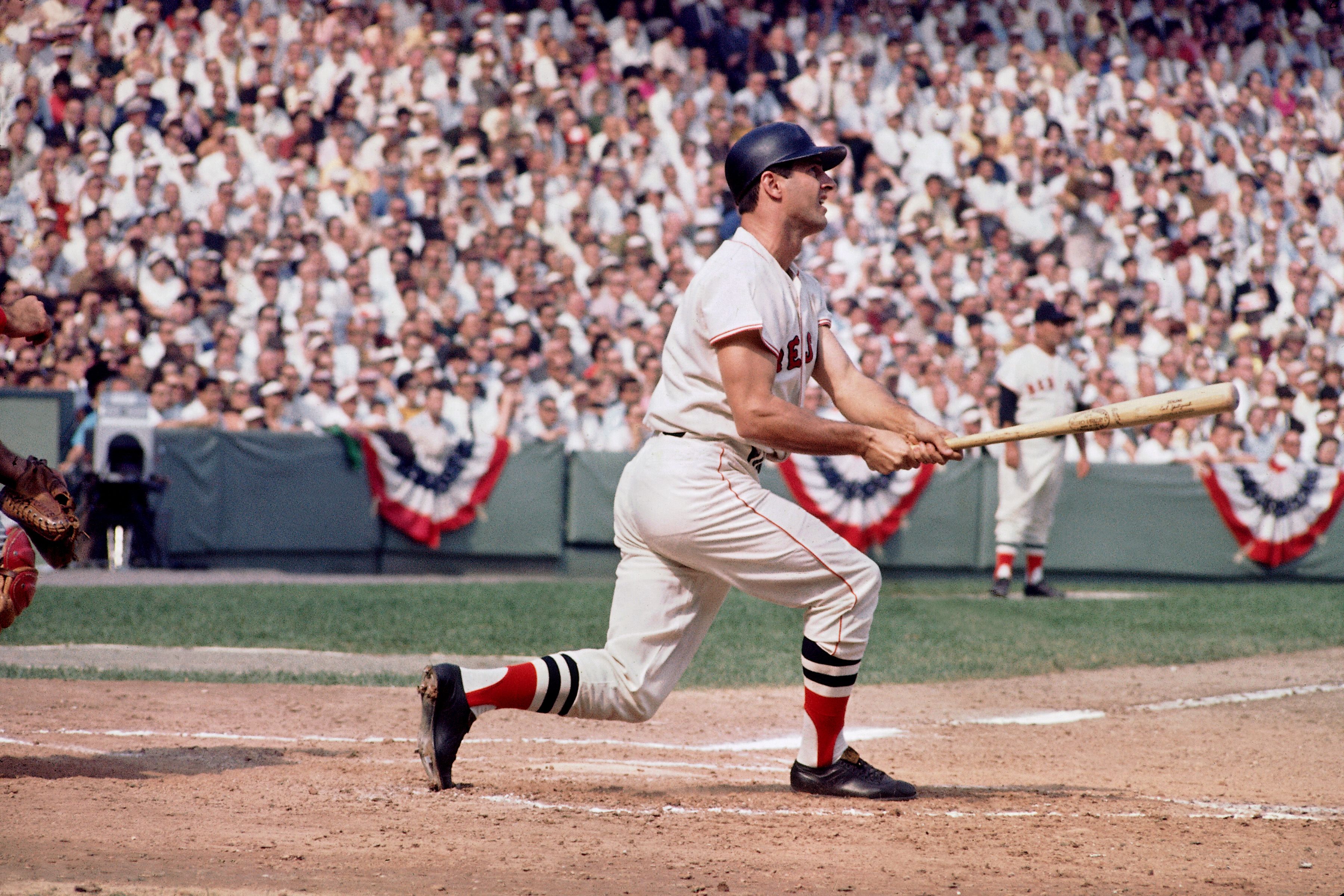 Andy F. (Boston) writes:
"Where I grew up in Connecticut, you were either a Yankees fan or a Red Sox fan, and the split was about 50/50. At age seven, I chose the Red Sox following the 1967 "Impossible Dream" season.
"I stayed up late to watch the 1975 World Series against the Big Red Machine, only to be heartbroken in Game 7. I rushed home from school in 1978 only to witness the extreme disappointment of Bucky Dent's home run.
"I actually popped Champagne with my family right before Bill Buckner's tragic error in 1986, and watched the crushing loss in 2003, when Grady Little left Pedro in too long against the dreaded Yankees.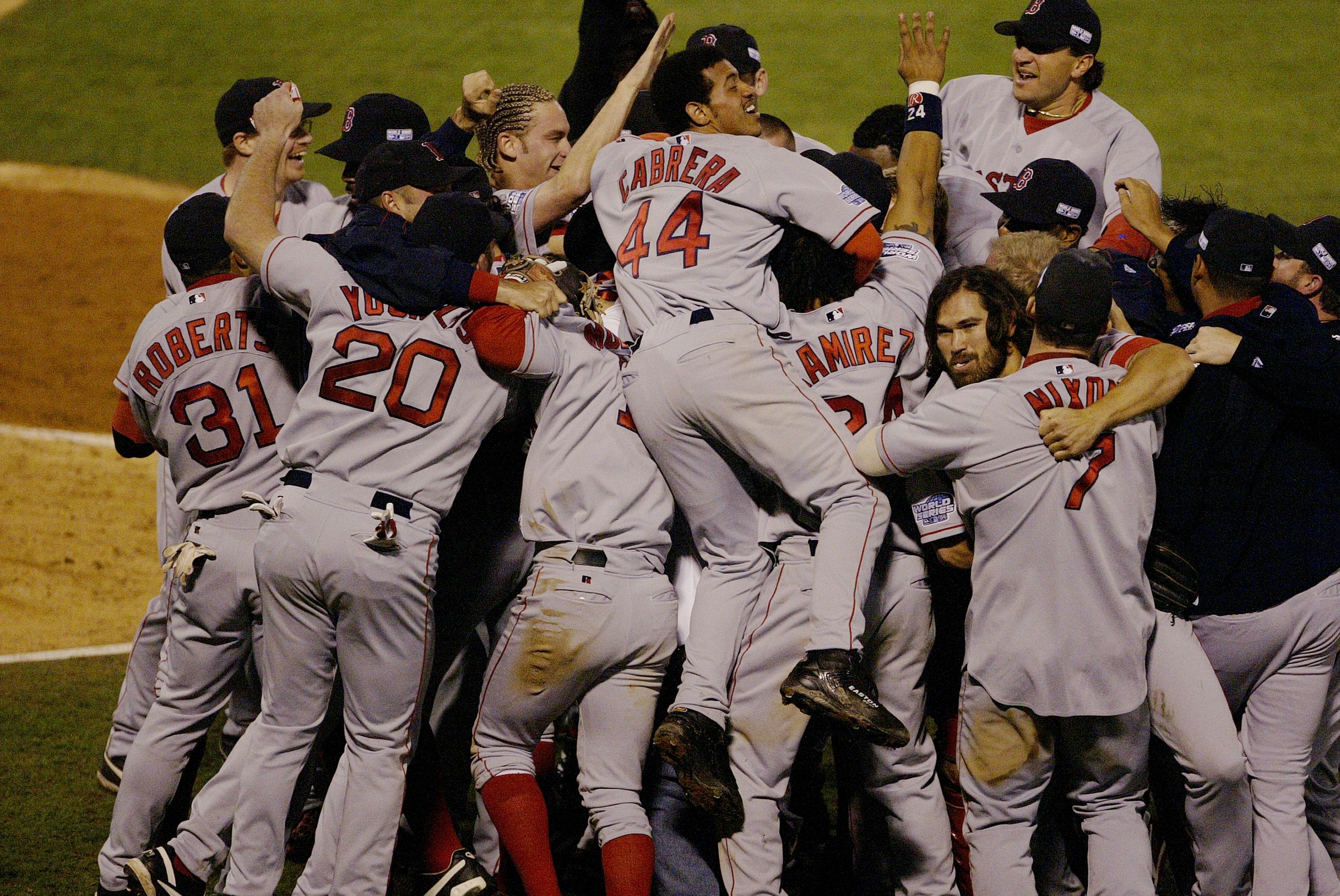 "By this time I had my own family and was wondering whether I had done a disservice to my children by encouraging them to be Red Sox fans.
"Then came the magical October in 2004. After a glorious comeback against the Yankees in the ALCS, the Sox swept the World Series, somehow washing away almost 40 years of frustration and disappointment.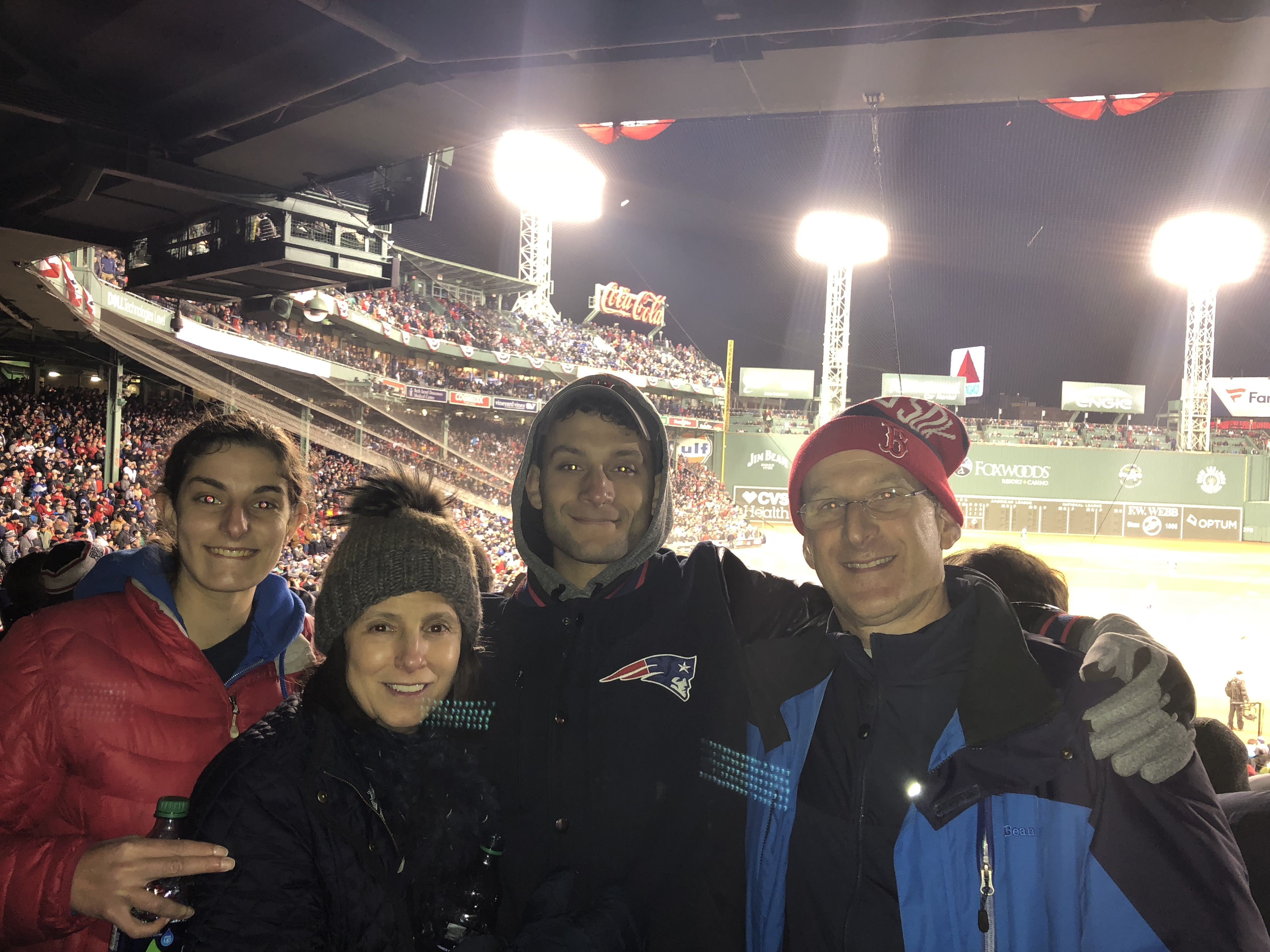 "In the years since, I've been fortunate to share many more Sox triumphs (including three more World Series!) both at home and at Fenway Park with my wife and kids, who are now grown.
"The Red Sox are part of the fabric of our lives, and I believe these games have made our family closer, creating memories that we will always cherish no matter what disappointments, or curses, life throws at us."
✍️ Submit your story: Do you have a fondest sports memory? Or a story about sports having a positive impact on your life? To share, simply reply to this email.
Talk tomorrow,
Kendall "Japan gets it" Baker
Trivia answer: Gregg Popovich ('96); Erik Spoelstra ('08); Rick Carlisle ('08); Terry Stotts ('12); Doc Rivers ('13); Brad Stevens ('13)