March 02, 2022
👋 Good morning! For the first time in 27 years, baseball has canceled regular-season games because of a labor fight.
📆 Coming tomorrow: A special edition newsletter on the MLB lockout, where we'll cover the negotiations from every angle.
Today's word count: 1,880 words (7 minutes).
Let's sports...
1 big thing: 🏒 All eyes on Ovechkin
Alex Ovechkin, a longtime supporter of Russian President Vladimir Putin, has an opportunity to become as impactful off the ice as he is on it, Axios' Jeff Tracy writes.
Driving the news: Ovechkin's comments on Friday regarding Russia's invasion of Ukraine felt purposefully non-committal.
"Please, no more war," he said, while also calling Putin "my president" and adding that "it's a hard situation right now for both sides."
"I am not in politics," said the Capitals superstar, while sitting six miles from the White House. Problem is, that's not entirely true.
The backdrop: Friendship doesn't necessarily equal endorsement, but Putin and Ovechkin have become friendly enough over the years that the line has more than blurred.
Ovechkin campaigned for Putin's re-election in 2017, starting a "social movement" called Putin Team to rally more supporters.
Earlier that year, Putin sent him a wedding gift and personally called to congratulate him and his wife on their marriage.
Consider this: The NHL has suspended relationships with Russian business partners in response to the invasion, while Ovechkin — one of its biggest stars — poses with Putin in his Instagram profile picture.
The big picture: "[The war is] not something I can control. It's not in my hands," Ovechkin said Friday. He's right, of course, but he still has more influence than most.
Putin loves hockey, and Ovechkin is the best player Russia has ever produced. He's also the most famous Russian athlete in the world, and one of the most recognizable Russians, period. His words have power.
Zoom out: The NHL is 5% Russian, by far the most among North America's major leagues. Ovechkin is the face of that contingent, but hardly the only one impacted by the current state of affairs.
The bottom line: Ovechkin has spent his career beloved in Washington, D.C., and revered in Russia. He's currently walking a tightrope so as not to rock the boat either way. Will he change course?
Go deeper: Russian forces land in Kharkiv (Axios)
2. 📺 NBA ratings: Dubs shine, Nuggets disaster
The Warriors are poised to have the NBA's highest local TV ratings for the fifth time in six years, while the Nuggets are staring down the wrong kind of history.
By the numbers: Golden State averaged a 7.63 rating on NBC Sports Bay Area through mid-February, SBJ's John Ourand reports. That's more than double the second-place Cavaliers' 3.74 rating on Bally Sports Ohio.
Cheers to Chicago: The much-improved Bulls (2nd in the East) have been one of the season's biggest success stories both on and off the court, with ratings up 83% on NBC Sports Chicago.
Two-team cities: The Knicks' ratings (1.43 on MSG) are nearly double the Nets (0.72 on YES), while the Lakers (1.84 on Spectrum SportsNet) are more than triple the Clippers (0.55 on Bally Sports SoCal).
And then there's Denver ... The Nuggets' 0.19 rating is on pace to be the lowest NBA local rating in at least 15 years — and it's all thanks to a business dispute.
Altitude Sports, the network that broadcasts Nuggets games, has been in a stalemate with Comcast, the state's largest cable provider, since September 2019. Dish Network doesn't carry it, either.
As a result, hundreds of thousands of Denver-area sports fans haven't been able to watch the Nuggets during one of the best stretches in franchise history. They're missing the Nikola Jokić experience!
"We're losing a generation of fans," says Colorado's House Speaker Alec Garnett, who has co-sponsored a bill that would give the state's attorney general the power to effectively end extended blackouts.
Zoom out: Altitude also broadcasts the Avalanche, who just became the fourth team in NHL history to win 40 of its first 54 games, and the Rapids, who won the MLS Western Conference last year for the first time ever.
Go deeper: The Nuggets have never been better, but their fans can't watch them (The Athletic)
3. 🇺🇸 USA spotlight: Oksana Masters
Oksana Masters, already primed to be one of Team USA's biggest stars at the upcoming Paralympics, will be under an even bigger spotlight given her Ukrainian roots, Jeff writes.
Her story: Masters, 32, was born in Ukraine with several radiation-induced defects due to the nearby Chernobyl nuclear disaster.
Put up for adoption at birth, Masters bounced around three orphanages until she was 7, when finally an American woman, Gay Masters, adopted her and brought her home to New York.
Now, she's a 10-time Paralympic medalist — across rowing, cycling, cross-country skiing and the biathlon — and one of just six Americans with golds at both the Summer and Winter Games.
That success, and her inspiring story, has made her one of the world's most marketable Paralympians, with endorsements from Nike, Visa, Toyota and others.
The big picture: If one thing were to define Masters, it wouldn't be her hardships or athleticism, but her resilience.
After enduring countless surgeries — including the amputation of both legs by age 14 — she turned to sports as a salve, and something clicked. "Sports did save her life," her mother told NYT.
Each new challenge presented an opportunity. Forced to retire from rowing due to a back injury in 2012, she turned to cycling and skiing, which she still dominates today.
She dislocated her elbow a week before Pyeongchang 2018 — then won five medals. She had a tumor removed 100 days before Tokyo 2020 — then won two golds.
The last word: "Everyone has hardships," Masters told Self. "Some are just more physical and obvious."
🎥 Watch: The real Oksana Masters (YouTube)
4. ⚽️ Map du jour: Football factories
Portuguese soccer club Benfica has had the world's most profitable youth academy over the past seven years, according to a report from the International Centre for Sports Studies, Jeff writes.
The big picture: Academies develop talent for two purposes: bringing players up to the senior club, and/or selling them to another club for a fee.
Top 10:
🇵🇹 Benfica: $422.5M
🇪🇸 Real Madrid: $367.9M
🇫🇷 Monaco: $317.7M
🇳🇱 Ajax: $315.5M
🇫🇷 Lyon: $301M
🇩🇪 Leverkusen: $237.4M
🇮🇹 Atalanta: $235.2M
🇬🇧 Chelsea: $234.1M
🇵🇹 Sporting Lisbon: $233M
🇬🇧 󠁧󠁢󠁥󠁮󠁧󠁿Liverpool: $190.6M
By the numbers: The top 50 academies, spanning nine countries, generated a combined $11.2 billion in transfers since July 2015.
English clubs led the way ($2.3B), followed by France ($1.8B), Spain ($1.6B), Italy ($1.2B), Brazil ($1.1B), Germany ($1B), Portugal ($878.4M), Netherlands ($790.3M) and Argentina ($631M).
Benfica's biggest transfers in that time have been João Félix to Atlético Madrid ($140M), and Rúben Dias ($75.6M) and Ederson ($44.4M) to Manchester City.
5. 💵 What $4 million in memorabilia looks like
Multiple world records were set at a two-day sports memorabilia sale by Heritage Auctions this week.
Clockwise, from left:
$480,000: One of seven ticket stubs from Jackie Robinson's 1947 Dodgers debut; most expensive sports ticket ever sold at auction.
$675,000: A pair of Air Jordans worn by Michael Jordan during the Bulls' 116-107 loss to the Bucks on April 1, 1986.
$2.19M: The jersey worn by Mickey Mantle when he played his final game as a Yankee on Sept. 28, 1968.
$468,000: The only known full ticket from Michael Jordan's 1984 NBA debut, a 109-93 Bulls win over the Washington Bullets.
6. 🌎 The world in photos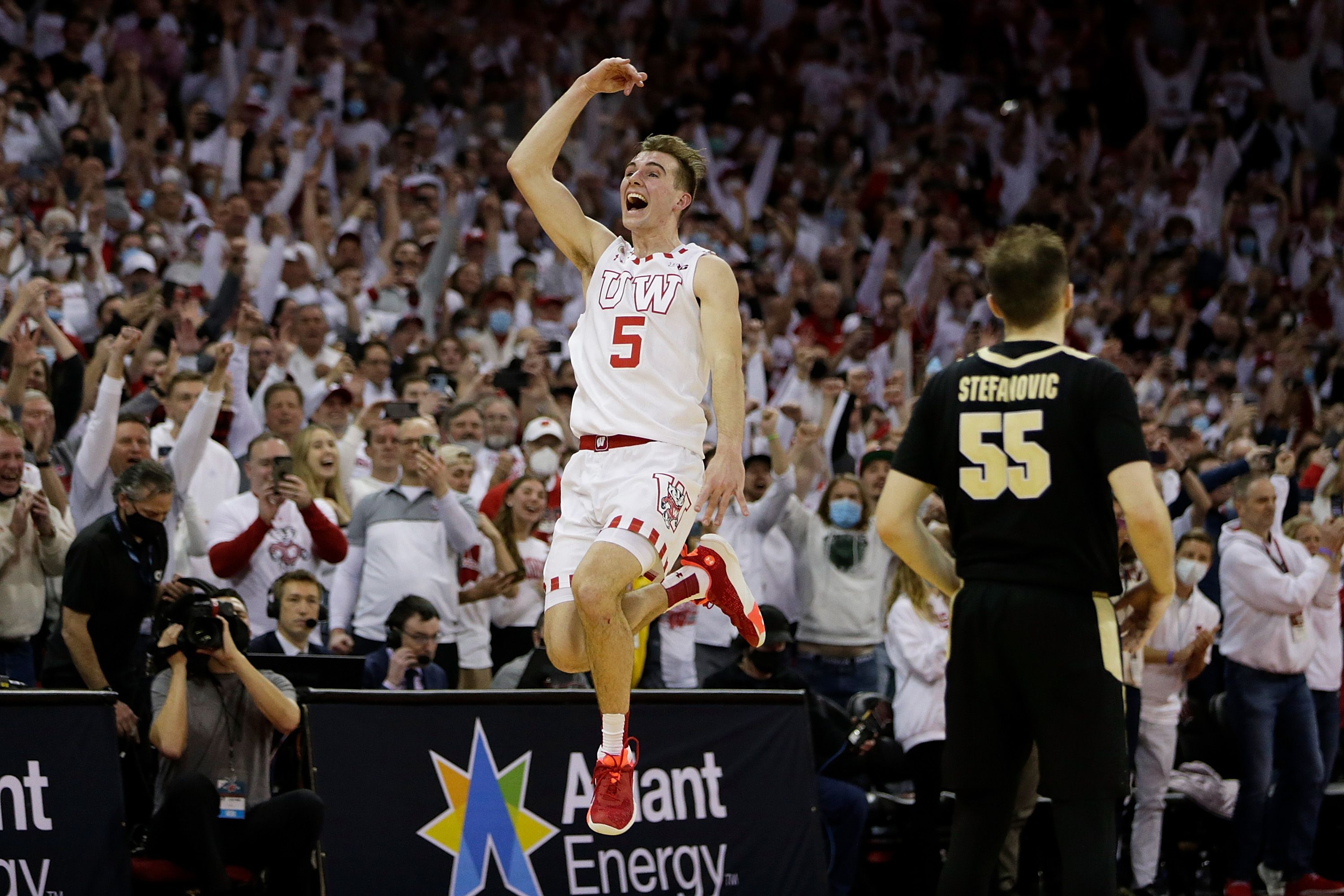 MADISON, Wis. — Chucky Hepburn banked in a three with 1.5 seconds left to lift No. 10 Wisconsin past No. 8 Purdue, 70-67, and help the Badgers clinch a share of the Big Ten regular-season title.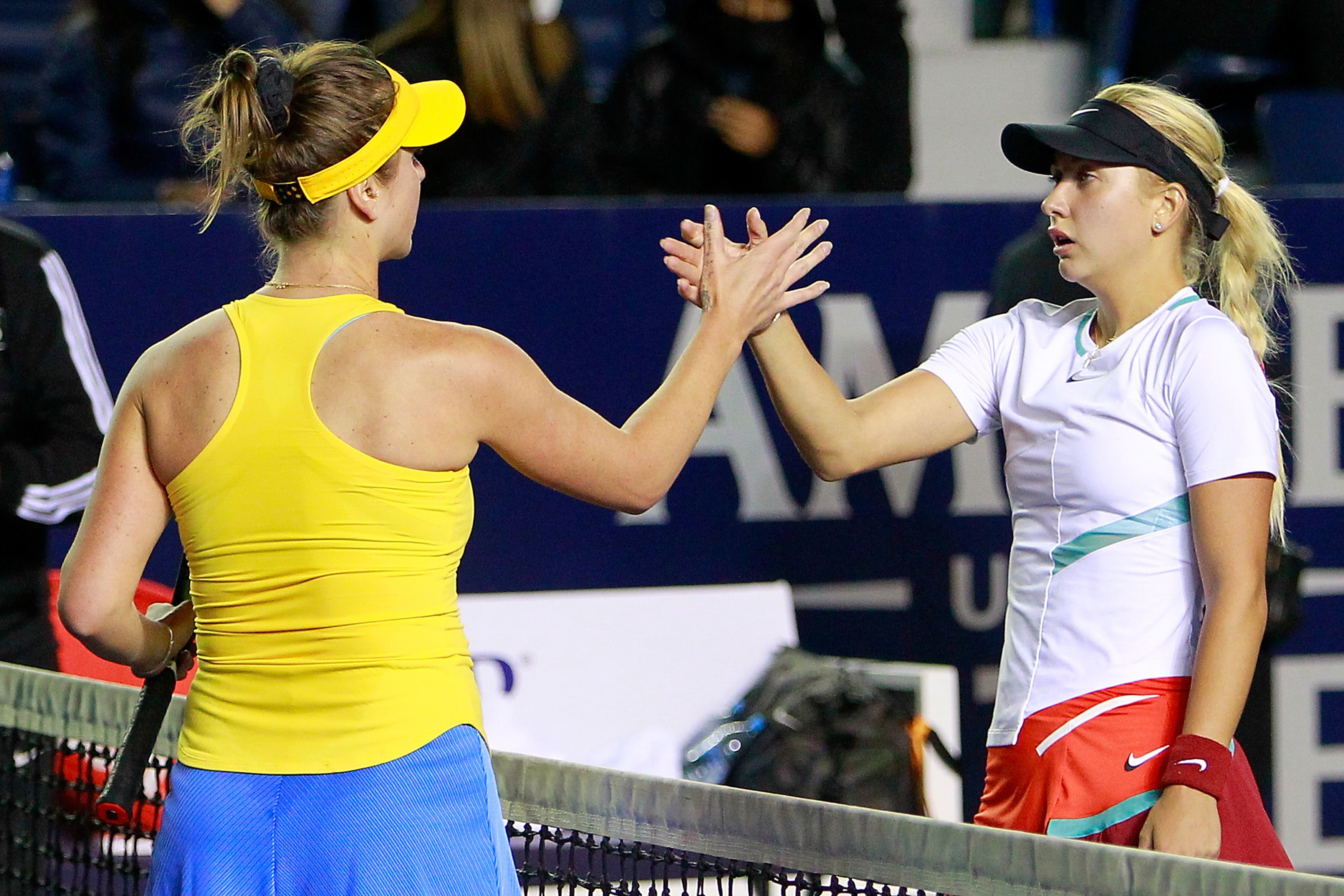 MONTERREY, Mexico — Ukraine's Elina Svitolina wore yellow and blue en route to beating Russia's Anastasia Potapova in the opening round of the Monterrey Open.
What she's saying: "I was on a mission for my country," said Svitolona, who will donate her prize money to the Ukrainian army.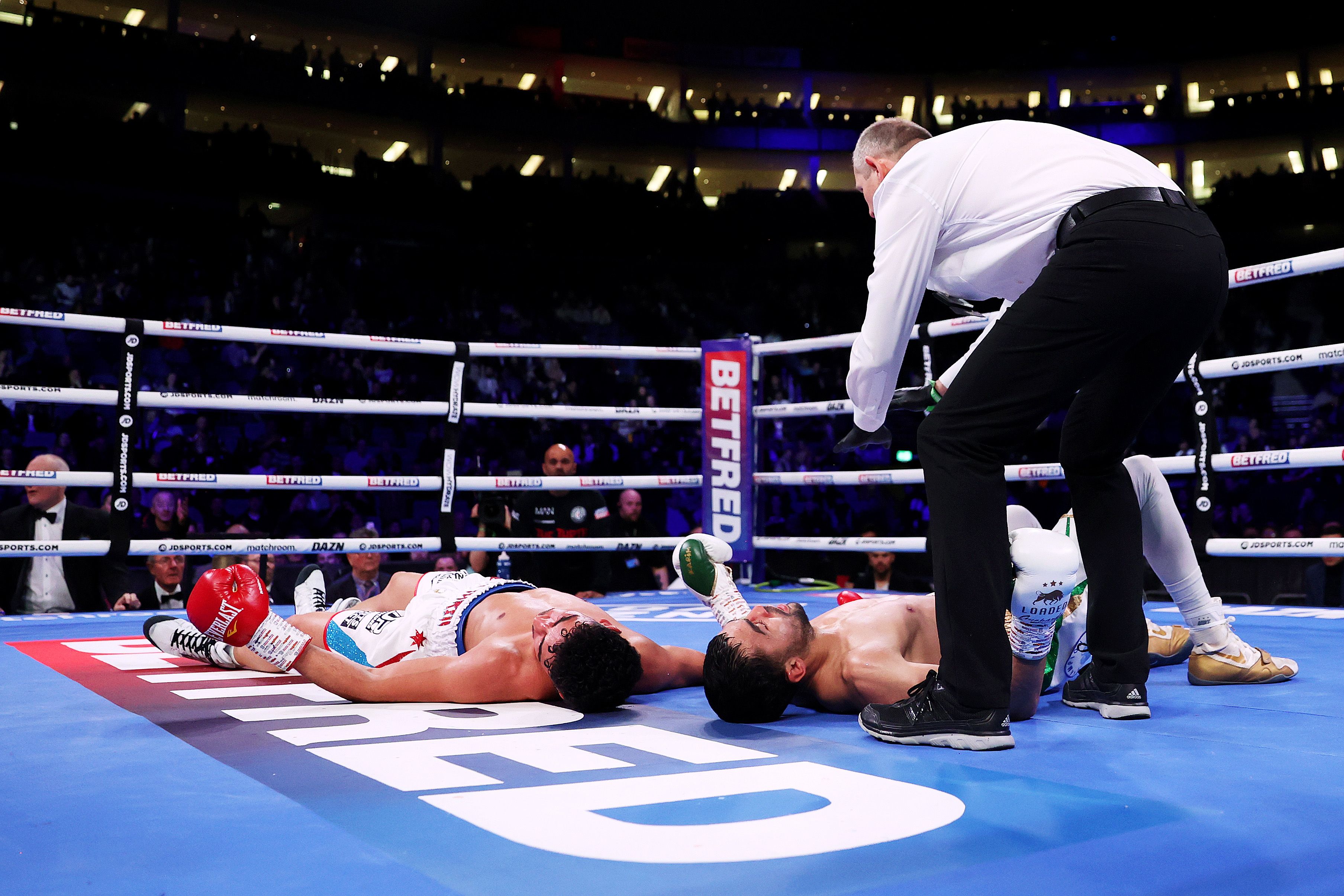 LONDON — Both boxers down!
7. 📆 March 2, 1962: Wilt scores 100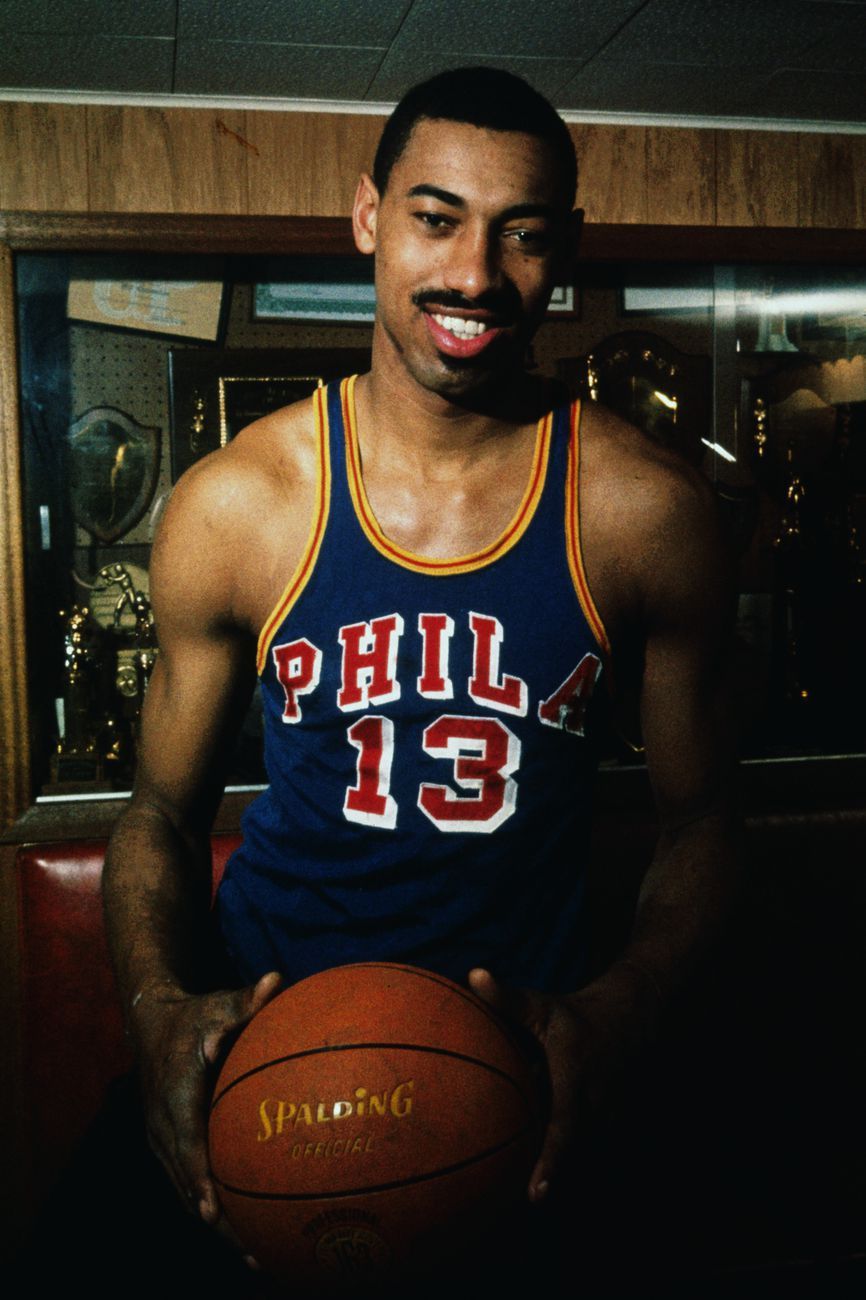 60 years ago today, Wilt Chamberlain scored an NBA-record 100 points in the Philadelphia Warriors' 169-147 win over the New York Knicks, breaking his own record (78 points) from three months earlier.
Playing all 48 minutes, Chamberlain also set NBA records for field goals attempted (63), field goals made (36), free throws made (28), most points in a quarter (31) and most points in a half (59).
Wilt averaged 50.4 points and 25.7 rebounds per game that season. That week, he averaged a whopping 70 points per game, exceeding 60 in all four of them.
The backdrop: The game was played at Hershey Sports Arena in Hershey, Pennsylvania, a town of fewer than 15,000 people. It wasn't televised, and the only recovered radio broadcast is of the fourth quarter.
"We get to Hershey about two or three o'clock in the afternoon. There were no hotels for us to stay in because we wouldn't do those kinds of things in those days. We went straight to the arena where we had to wait around for five or six hours before the game."
"In this arena they happened to have a shooting gallery, little penny arcade, so some of the guys went there and I started shooting rifles ... and I couldn't miss anything. So if there was ever a clue that I was gonna have a hot day, this was definitely the clue."
—
Wilt Chamberlain
The aftermath: In the locker room, Warriors stat guru Harvey Pollack scribbled "100" on a white sheet of paper, creating an iconic image. Then Chamberlain headed to Harlem to celebrate.
Al Attles, 85, and Tom Meschery, 83, are the only surviving members of the Warriors who played in the game. They recently listened to the radio broadcast together, Meschery for the first time.
"I remember thinking in the third quarter that something special was happening," he told NYT. Something special indeed.
🎥 Watch: The night Wilt scored 100 (YouTube)
8. 📺 Watchlist: The old and the new
Tonight's TNT doubleheader features the NHL's oldest and newest arenas.
Madison Square Garden: Blues at Rangers (7:30pm ET)
Climate Pledge Arena: Predators at Kraken (10pm)
More to watch:
9. ⚾️ MLB trivia
What was Tony Gwynn's batting average when the MLB strike began on Aug. 12, 1994 and resulted in the season being canceled?
Answer at the bottom.
10. ⚽️ 1 streaming thing: Soccer, unbundled
U.S. Soccer on Tuesday announced an eight-year deal with Turner Sports to air more than 20 USMNT and USWNT games annually on TNT, TBS and HBO Max.
State of play: When this deal kicks in next year, high-level soccer will air on the following networks and streaming services, notes Sportico's Jacob Feldman:
ABC
beIN Sports
CBS
CBS Sports
DAZN
ESPN
ESPN+
Fox
FS1
FuboTV
HBO Max
NBC
Paramount+
Peacock
TBS
TNT
Twitch
USA
The bottom line: The streaming era, aka "The Great Unbundling," has created a fragmented media landscape that is, quite frankly, absurd at times. Just ask soccer fans, who are drowning in passwords.