November 23, 2021
👋 Good morning!
📆 Coming tomorrow: The NWSL is turning 10, and the USWNT is still fighting for equal pay. Tomorrow, we dive deep into the state of women's soccer.
Today's word count: 1,713 words (6 minutes).
Let's sports...
1 big thing: ♟ Chess' grand reintroduction
The World Chess Championship between Norway's Magnus Carlsen and Russia's Ian Nepomniachtchi begins on Friday, 1,094 days after Carlsen won his fourth consecutive title, Axios' Jeff Tracy writes.
Why it matters: During the long, COVID-fueled layoff, chess entered a new era, and with the championship finally here, the age-old game is ready for its close-up.
By the numbers: When the world shut down in March 2020, countless activities exploded in popularity, but few experienced bigger booms than chess.
Chess.com, the leading online platform, had about 30 million members when the pandemic began. By February 2021, it had 57 million. Today? Nearly 76 million.
Sales increased, too, bolstered by Netflix's mega-hit, "The Queen's Gambit." In the five weeks after its October 2020 release, sales of chess sets (87%) and books (603%) skyrocketed in the U.S.
The big picture: Most booms died down as the world opened back up, but chess has sustained its momentum by evolving in real time.
Chess pros like five-time U.S. champion Hikaru Nakamura began streaming games on Twitch in March. By June, he had 400,000 followers; now he has 1.3 million.
Non-chess Twitch streamers also began playing, turning chess into an esport and introducing millions more to the game.
Carlsen himself put on a virtual tournament in April 2020 that featured more exciting, rapid- or blitz-style games, garnering 2.7 million hours of viewership across two weeks.
Between the lines: The title match — a best-of-14 duel held at Dubai's Expo 2020 — is shaping up to be an all-timer between the potential GOAT and an intriguing challenger.
Carlsen, who plays by the book better than anyone, has held the title since 2013, when he took down then-five-time reigning champ Viswanathan Anand.
Nepomniachtchi plays a lightning quick, aggressive style that could spell trouble for the champ. "He's not afraid of Magnus," one grandmaster told FiveThirtyEight. "I don't think he's afraid of anybody."
How to watch: You can follow along on NBCSN, which is airing an hour of coverage each night as it capitalizes on the game's newfound popularity.
Go deeper: The business of being World Chess Champion (NYT)
2. 🏈 NFL power rankings: Week 12
The first-place Patriots, winners of an NFL-best five games in a row, have leapt into the top five of our power rankings, Jeff writes.
State of play: They've reached these heights on the strength of the league's best defense and on the arm of rookie QB Mac Jones — our current pick for Offensive Rookie of the Year. More awards picks...
MVP: Tom Brady, TB (runner-up: Patrick Mahomes, KC)
Offensive Player: Jonathan Taylor, IND (Cooper Kupp, LAR)
Defensive Player: Myles Garrett, CLE (T.J. Watt, PIT)
Offensive Rookie: Jones, NE (Ja'Marr Chase, CIN)
Defensive Rookie: Micah Parsons, DAL (Patrick Surtain II, DEN)
Coach of the Year: Kliff Kingsbury, ARI (Bill Belichick, NE)
📆 Coming up: Three games are on Thanksgiving, headlined by Bills-Saints, followed by a weekend slate, headlined by Rams-Packers.
3. ⚾️ A-Rod, Big Papi headline HOF ballot
The 2022 Baseball Hall of Fame ballot was released Monday, featuring 30 players, including 13 making their debut, Jeff writes.
First-timers:
Carl Crawford
Prince Fielder
Ryan Howard
Tim Lincecum
Justin Morneau
Joe Nathan
David Ortiz
Jonathan Papelbon
Jake Peavy
A.J. Pierzynski
Alex Rodriguez
Jimmy Rollins
Mark Teixeira
How it works: Players need at least 75% of the vote in a given year to be elected, and have just 10 years to reach that threshold. They must also receive at least 5% any year to remain on the ballot.
Voters, who can select up to 10 names each year, are Baseball Writers' Association of America members with at least 10 consecutive years of service.
401 voters cast a ballot last year, meaning 21 votes were needed to remain and 301 were needed for election.
State of play: Controversial stars Curt Schilling (71.1% last year), Barry Bonds (61.8%), Roger Clemens (61.6%) and Sammy Sosa (17%) are entering their final year on the ballot.
Eight of 11 newcomers last year fell off after the first vote. Only Mark Buehrle (11%), Torii Hunter (9.5%) and Tim Hudson (5.2%) get a second chance.
Scott Rolen, entering his fifth year, was the only other player to receive at least 50% of the vote in 2021 (52.9%).
Ballots are due on Dec. 31, and results will be announced on Jan. 25.
Go deeper: A new Hall of Fame ballot is a chance to remember (NYT)
4. ⚡️ Lightning round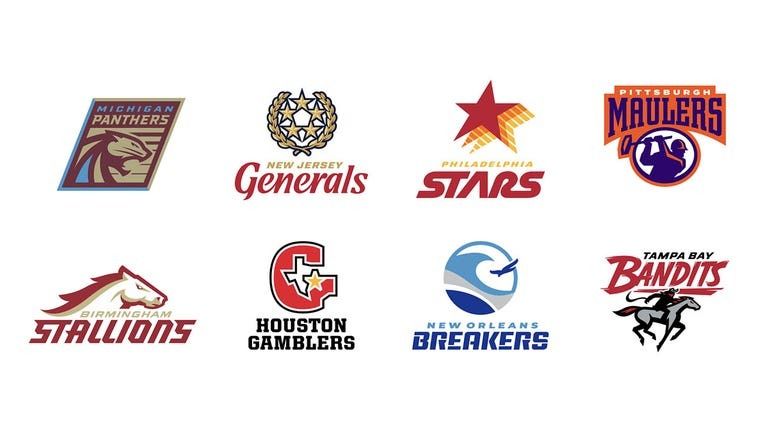 🏈 USFL reborn: The USFL will return in April with eight teams: Birmingham Stallions, Houston Gamblers, Michigan Panthers, New Jersey Generals, New Orleans Breakers, Philadelphia Stars, Pittsburgh Maulers and Tampa Bay Bandits.
🎓 NIL for good: Michigan RB Blake Corum started the holiday cheer early, using NIL money to buy 100 Thanksgiving turkeys for families in need.
🏈 No fun league: Pat McAfee went on an epic rant against the NFL's new taunting policy, targeting his ire at one ref in particular he dubbed "the fun police."
🏀 Dancing king: Iman Shumpert on Monday became the first former NBA player to win "Dancing with the Stars."
⚽️ Good read: The rise and fall of the soccer hooligan who ruled Manchester (Reid Forgrave, SI)
"A murder mystery wrapped in a history lesson wrapped inside a sweaty, ecstasy-fueled rave."
5. 🏀 Men's poll: No. 1 vs. No. 2 tonight
Gonzaga and UCLA remain firmly atop the rankings ahead of their heavyweight matchup tonight in Las Vegas (10pm ET, ESPN), Jeff writes.
State of play: The Bulldogs and Bruins earned all but one first-place vote. Purdue grabbed the final vote and jumped to No. 3 following wins over No. 18 UNC and No. 5 Villanova.
In: No. 17 Arizona and No. 21 Seton Hall joined the rankings, buoyed by wins over No. 20 Michigan (which fell 16 spots). No. 18 BYU and No. 25 Xavier are also now ranked.
Out: Oregon fell all the way from No. 12 after getting embarrassed by BYU, while Ohio State, UNC and Maryland also dropped out.
📆 Coming up: No. 6 Baylor, No. 19 Auburn and No. 22 UConn are part of the eight-team field in the Bahamas for the Battle 4 Atlantis, tipping off tomorrow ... No. 1 Gonzaga plays No. 5 Duke on Friday in Vegas.
Go deeper: Power rankings (ESPN)
6. ⚽️ Qatar 2022: One year out
The World Cup is just under a year away, as Qatar 2022 kicks off on Nov. 21, Jeff writes.
Why it matters: This will be the first World Cup held in the Arab world, and the last to feature 32 teams before expanding to 48 in 2026. It's also the first World Cup held outside May, June or July to avoid Qatar's searing summertime heat.
Notes:
Who's in: 13 of 32 countries have already qualified, including host nation Qatar (No. 51 in FIFA world rankings). Also in: Belgium (No. 1); Brazil (No. 2); France (No. 3); England (No. 4); Argentina (No. 5); Spain (No. 7); Denmark (No. 9); Netherlands (No. 10); Germany (No. 11); Switzerland (No. 13); Croatia (No. 15); Serbia (No. 23).
Venues: Five of eight stadiums have already been inaugurated, and two more will join them next week at the Arab Cup. Lusail Stadium, the largest venue and site of the final, opens next year.
Migrant workers: There are plans to develop a workers' rights center in Qatar, where more than 6,500 migrant workers have died in the past decade — many while working World Cup-related jobs.
Go deeper: A year to go, Qatar World Cup still feels heat of scrutiny (AP)
7. 🌍 The world in photos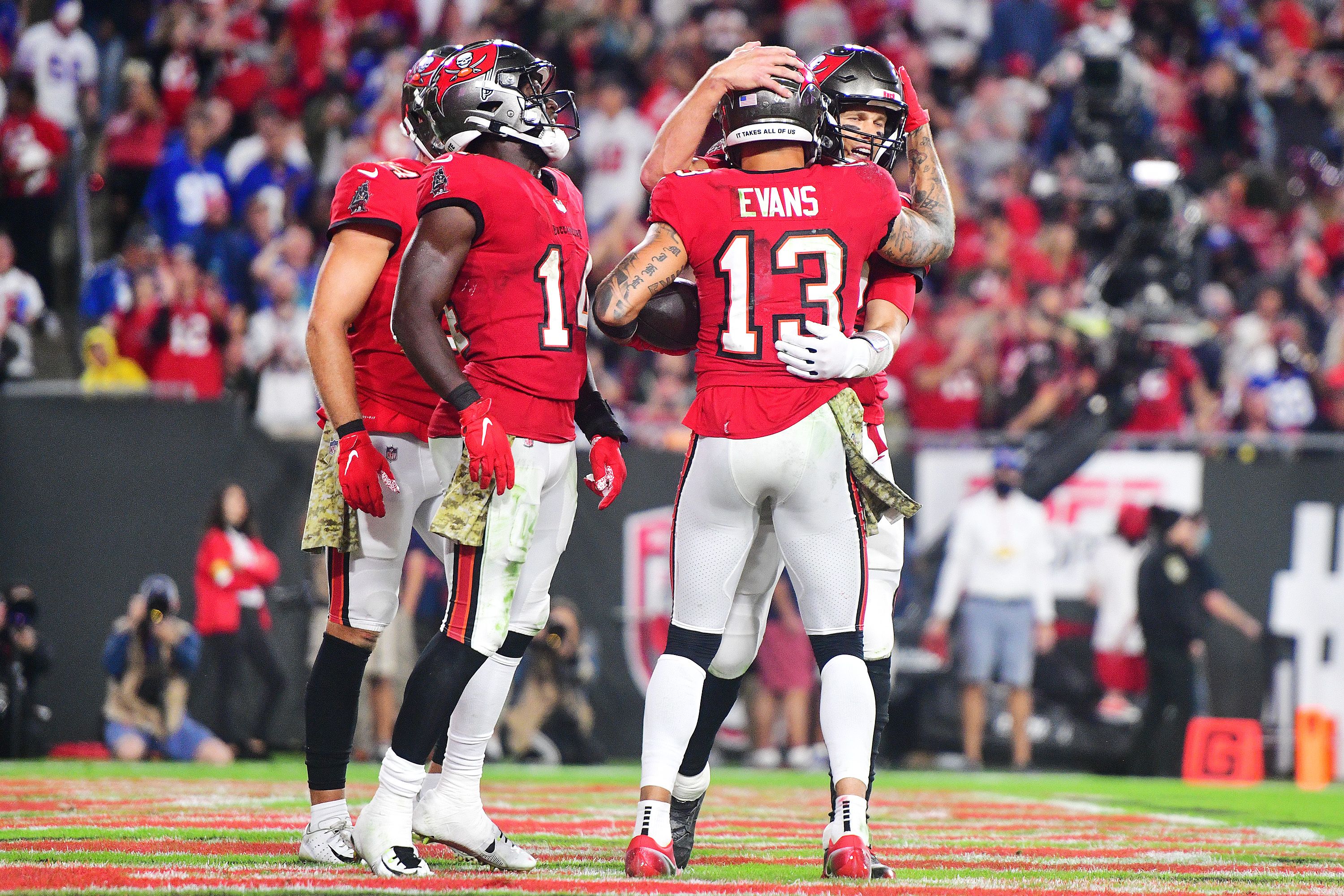 TAMPA, Fla. — The Bucs coasted to a 30-10 win over the Giants on Monday, snapping their two-game slide and opening up a two-game lead over the Saints atop the NFC South.
Franchise history: WR Mike Evans scored his 72nd TD, passing Mike Alstott for most by a Buc.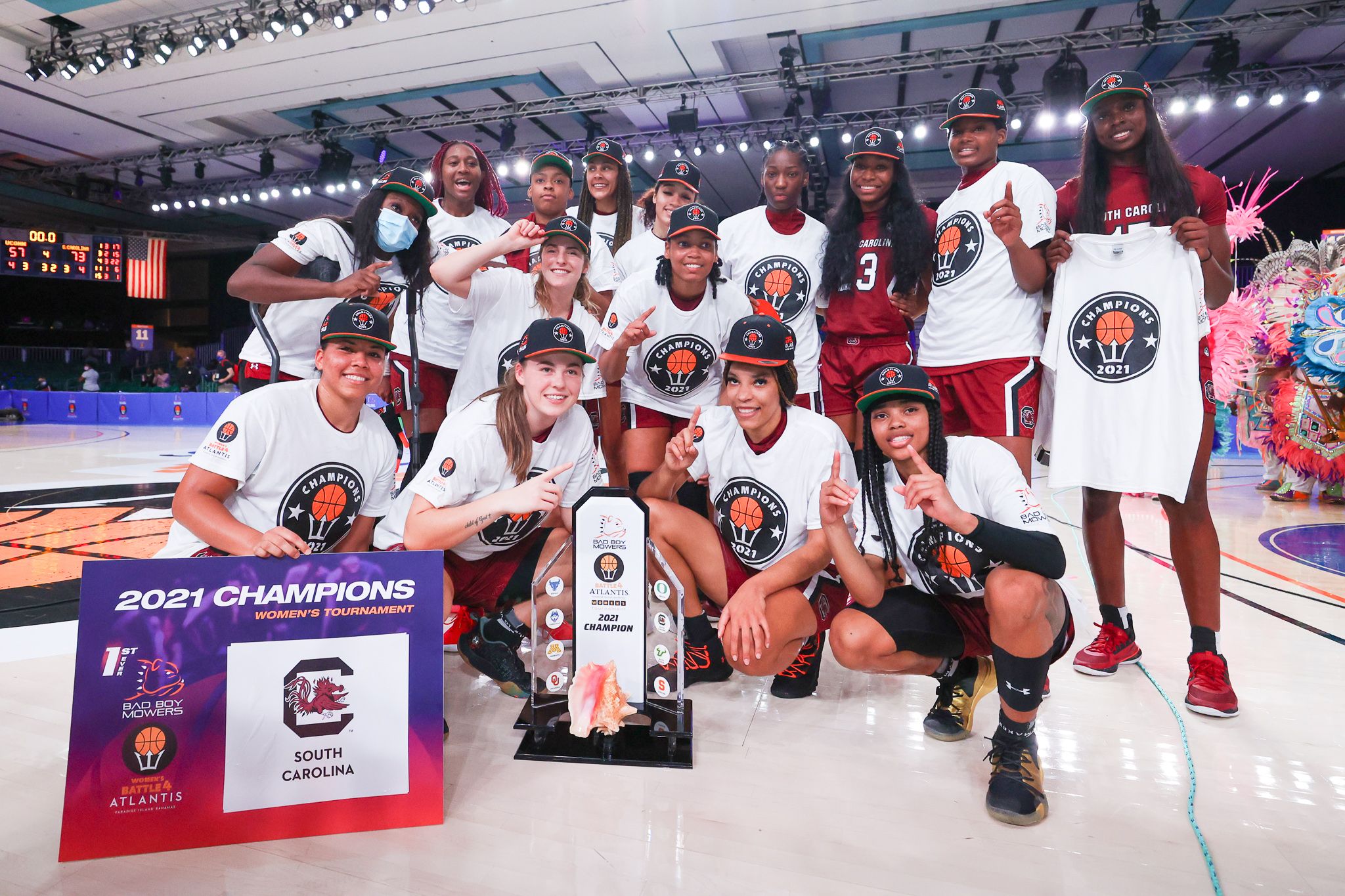 NASSAU, Bahamas — South Carolina solidified its grasp on the No. 1 ranking, turning a 12-point deficit into a 73-57 victory over No. 2 UConn to win the inaugural women's Battle 4 Atlantis.
Wild stat: The Huskies were outscored 16-3 in the fourth, tied for their worst fourth-quarter point differential in five years.
SAN ANTONIO — The Suns beat the Spurs, 115-111, to win their 13th straight game behind a trio of 20-point efforts from Devin Booker (23), Deandre Ayton (21) and Cam Payne (20).
What's next: Phoenix will try for 14 straight tomorrow in Cleveland.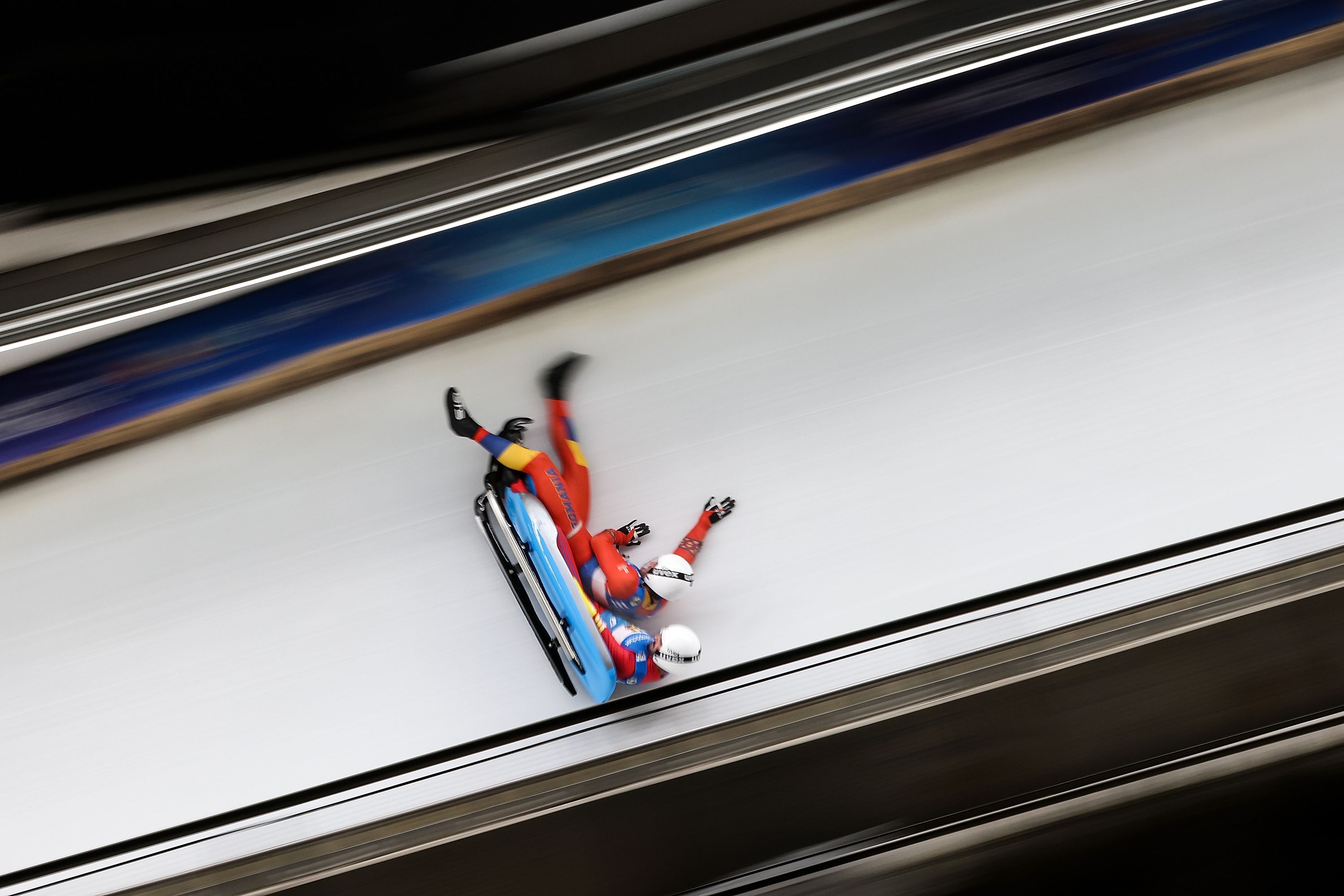 BEIJING — Here we have two Romanians losing control of their sled at the season-opener of the Luge World Cup, an Olympic test event.
8. 📆 Nov. 23, 2018: The Match debuts
Three years ago today, Phil Mickelson beat Tiger Woods in the inaugural edition of "The Match," taking home a $9 million prize.
The big picture: The success of the casual event (both golfers were mic'd up) led to a recurring series, with all subsequent editions raising money for charity.
The Match (2018): Mickelson def. Woods (Shadow Creek in Las Vegas)
Champions for Charity (2020): Woods and Peyton Manning def. Mickelson and Tom Brady (Medalist Golf Club in Hobe Sound, Florida)
Champions for Change (2020): Mickelson and Charles Barkley def. Manning and Steph Curry (Stone Canyon in Oro Valley, Arizona)
The Match 4 (2021): Bryson DeChambeau and Aaron Rodgers def. Mickelson and Brady (The Reserve at Moonlight Basin in Big Sky, Montana)
What's next: The fifth edition is this Friday (4pm ET, TNT), with DeChambeau and Brooks Koepka facing off at the Wynn Golf Club in Las Vegas.
🎥 Watch: Highlights (PGA)
9. 🏈 College football trivia
Alabama on Saturday tied the FBS record for most consecutive 10-win seasons with 14 (2008-present).
Question: Whose record did they tie?
Hint: 1987-2000.
Answer at the bottom.
10. 📚 New book: The ruthless rise of HBO
"Tinderbox," a new book from James Andrew Miller chronicling the extraordinary rise of HBO, hits shelves today.
Between the lines: In the book, Miller — perhaps best known for his ESPN tell-all "Those Guys Have All The Fun" — details the changing role sports has played for HBO over the years.
"One of the surprises of Miller's book is how much of early HBO was built on sports, rather than movies or TV dramas. ... The network's first program of any kind was a Rangers–Canucks game."
"He's able to trace the decline to 1999, when HBO announced it would stop airing Wimbledon matches after 25 years ... The biggest blow for fans — and the one that produced a sense of longing for the old days of the network — was HBO's loss of boxing in 2018."
— Bryan Curtis,
The Ringer
Talk tomorrow,
Kendall "More of a Backgammon guy" Baker
Trivia answer: Florida State
🙏 Thanks for reading. For more sports coverage, follow us on Twitter: @kendallbaker and @jeffreytracy.