🎉 Happy Friday! You made it.
⚾️ ALCS Game 5: Justin Verlander and the Astros are 1 win away from the World Series, but James Paxton and the Yankees aren't dead yet. Tonight, 7pm ET on FS1.
📺 Heads up: "Axios on HBO" returns on Sunday! This week, Sen. Lindsey Graham and Sen. Mitt Romney talk impeachment and we dive into the future of esports. 6pm ET/PT on HBO.
Today's word count: 1,556 words (5 minutes)
1 big thing: 👶 The fight against specialization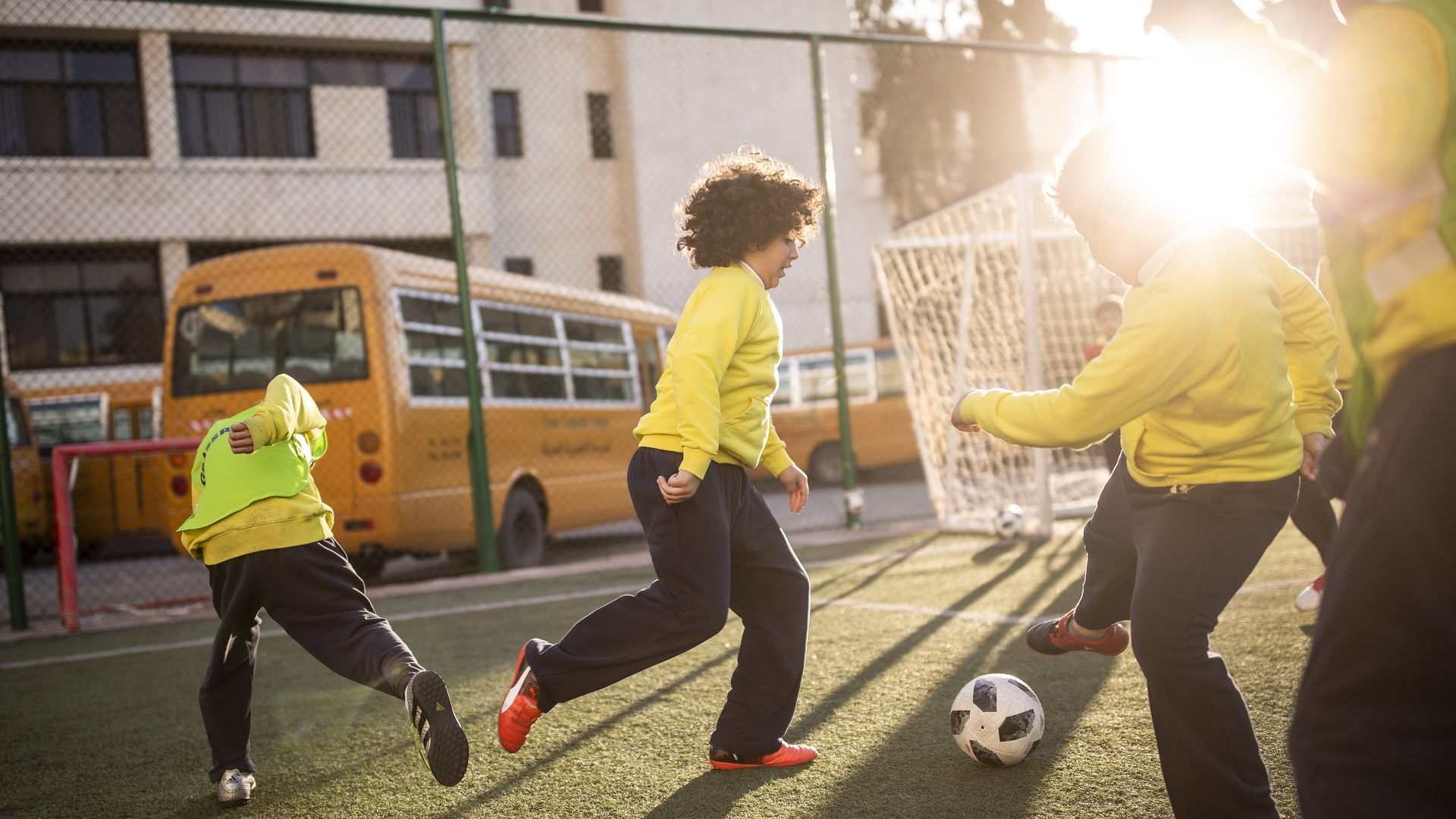 Amid growing concern about a rise in injuries and burnout among youth athletes who specialize in one sport, the National Athletic Trainers' Association has issued new recommendations urging parents to dial it back.
The recommendations:
Delay specializing in a single sport for as long as possible.
Participate in 1 organized sport per season.
Play each sport for no more than 8 months per year.
Rest for a minimum of 2 days per week.
Recover by taking ample time away from sports at the end of each season.
Rule of thumb: A child's age equals the number of hours per week he or she should spend in organized sports. For example, a 12-year-old shouldn't participate for more than 12 hours per week.
By the numbers: Youth sports specialization has had a particularly large impact on basketball, where kids who play year-round between the ages of 7 and 19 could participate in more than 1,000 games, according to estimates.
For reference, 30-year-old James Harden has played 881 games in his NBA career — and that includes the playoffs.
Add it all up and it's no wonder why today's players — after years of putting constant stress on the same bones, muscles and joints — are so physically worn down by the time they reach the NBA.
The big picture: In addition to preventing injuries and burnout, there's also evidence to suggest that playing multiple sports can improve, rather than hinder, a young athlete's trajectory — shocking news, I'm sure, for parents and kids who thought year-round specialization was the only path to stardom.
"There is a myth that it takes a single-sport specialization to succeed. In fact, we're learning from research and anecdotal evidence that there is actually an opportunity for athleticism to improve if you expose the body to different sports and different movements."
— NATA president Tory Lindley,
per NYT
Go deeper:
2. 👟 Nike's magic running shoes ignite debate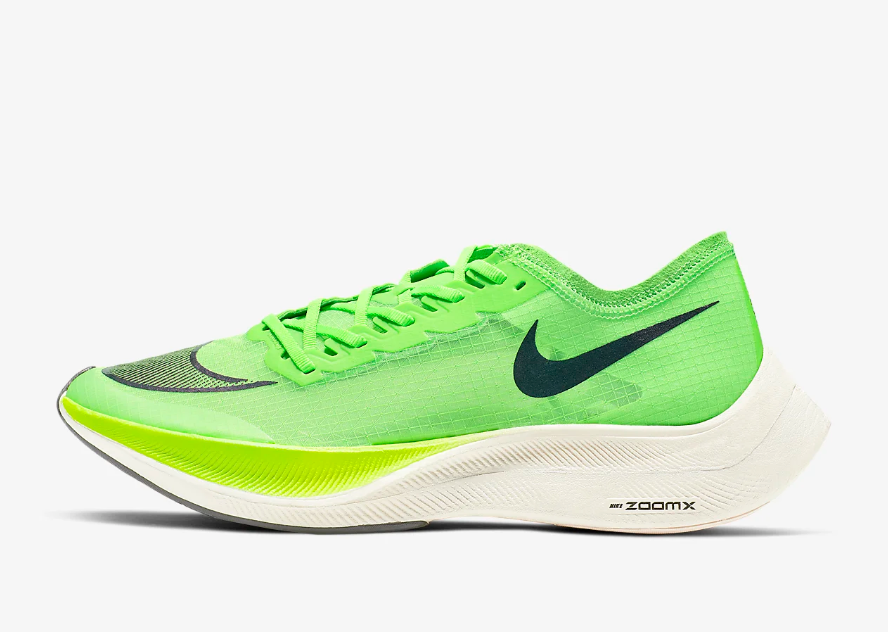 The Nike ZoomX Vaporfly Next%. Screenshot: Nike.com
Last weekend, Eliud Kipchoge became the first human to run a marathon in under 2 hours and Brigid Kosgei shattered the women's marathon record.
Key detail: They were both wearing a pair of Nike shoes called the "Vaporfly," which have proven controversial because of the performance boost they seem to provide.
In the last 13 months alone, male runners have recorded the 5 fastest marathon times ever — all while wearing a version of the "Vaporfly."
Why they're better: They have a carbon fiber plate embedded in the midsole, which acts as a spring and provides more energy return.
Driving the news: After receiving numerous complaints from runners who believe the shoes provide an unfair advantage, the International Association of Athletics Federations (IAAF) has put together a team to "consider the issues."
Why it matters: "It appears that running, the original and most elemental of sports, now faces the same tradition vs. scientific innovation challenge that other sports have encountered," writes NYT's Amby Burfoot.
"Think: tennis rackets, baseball bats and, perhaps most similar, competition swimwear — those polyurethane-based suits that were banned starting in 2010."
The bottom line: The outcome of this debate will affect everything from stock prices (Nike and their competitors) to who wins the marathon at the 2020 Olympics.
P.S. ... Speaking of the 2020 marathon, the IOC announced on Wednesday that it will be held in Sapporo, rather than Tokyo, due to heat concerns.
3. 📸 Coast to coast: Last night in photos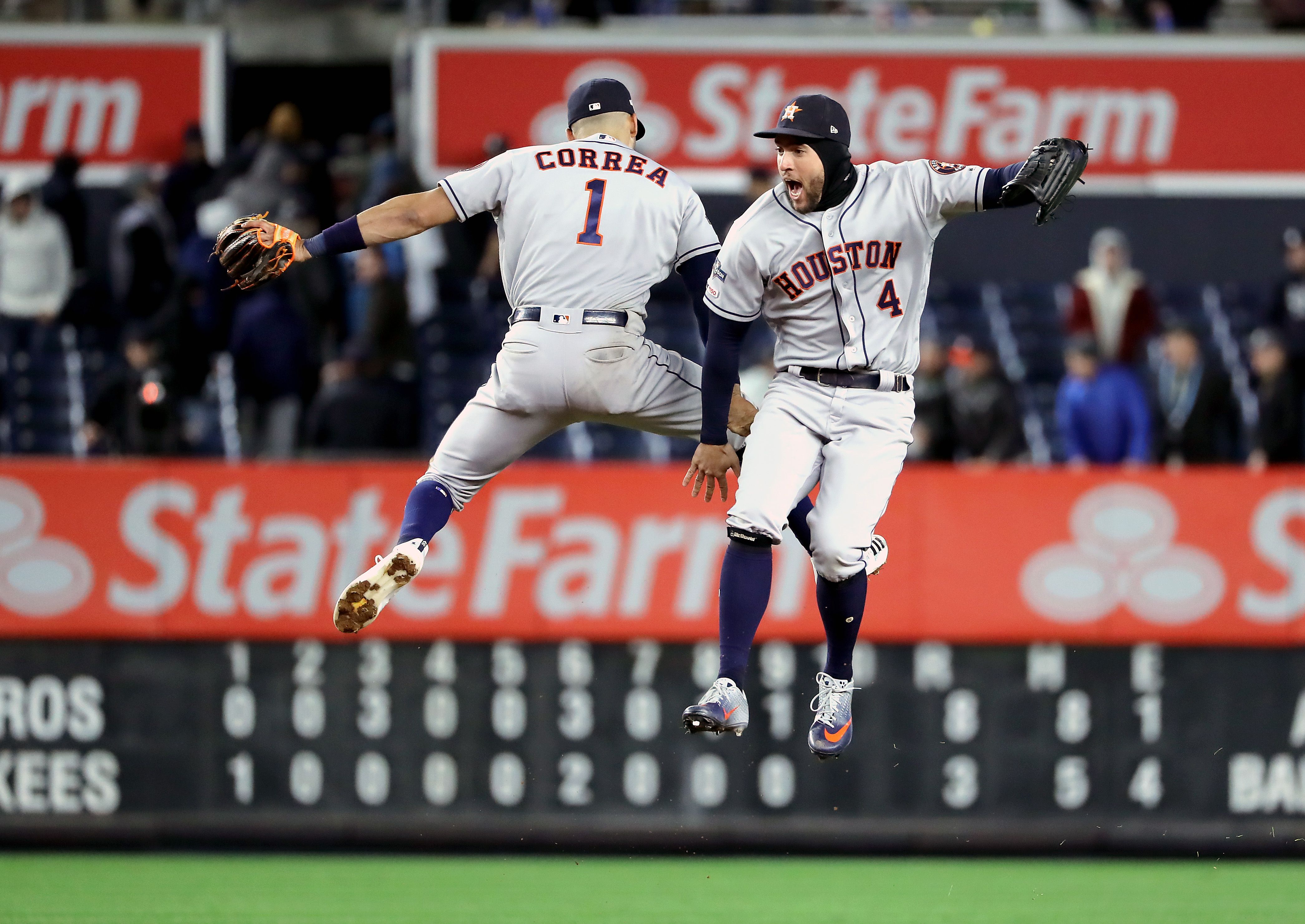 Photo: Elsa/Getty Images
NEW YORK — George Springer and Carlos Correa each hit 3-run bombs in the Astros' commanding 8-3 win over the Yankees, giving Houston a 3-1 lead in a suddenly lopsided ALCS.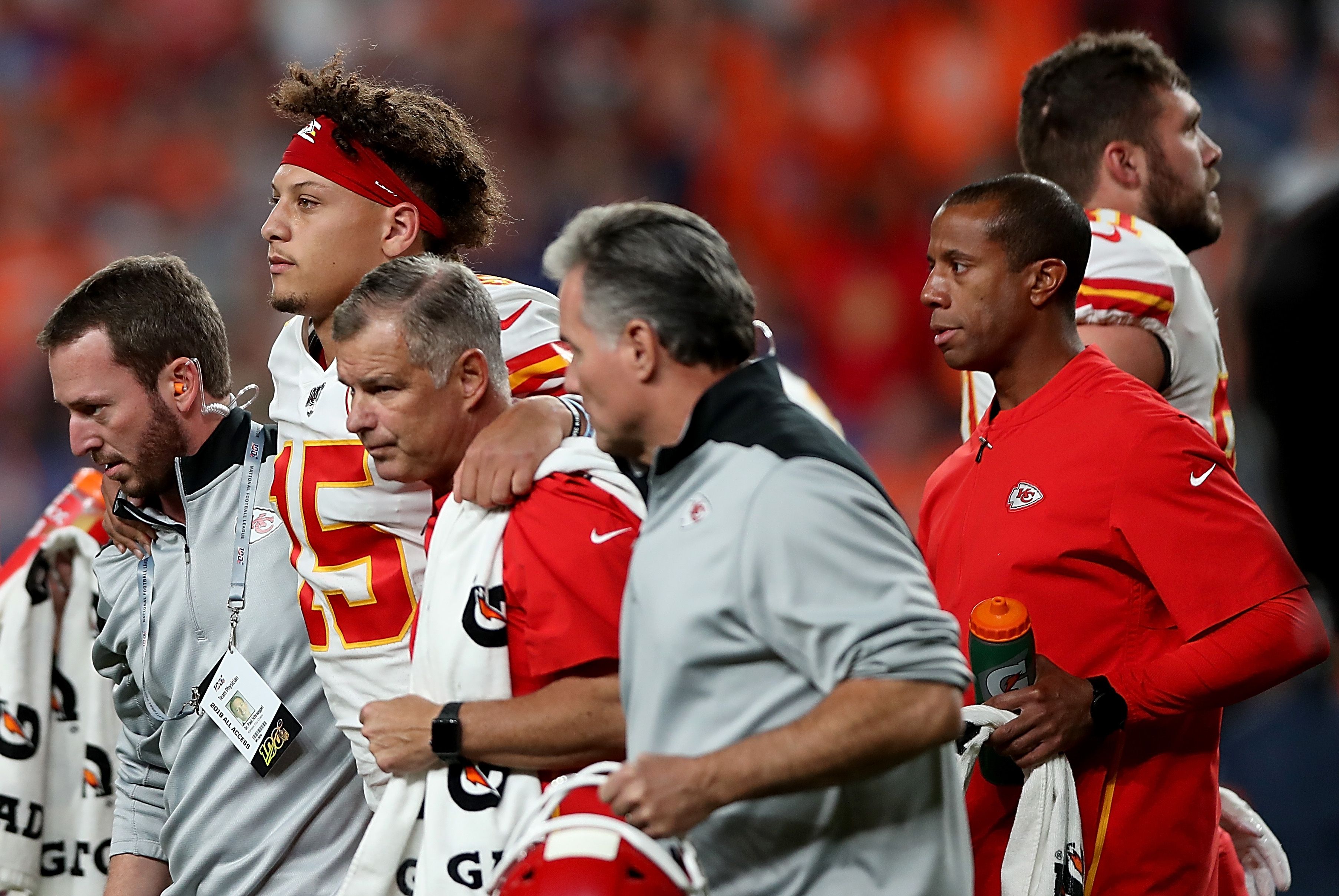 Photo: Matthew Stockman/Getty Images
DENVER — Superstar QB Patrick Mahomes dislocated his right kneecap in the 2nd quarter of the Chiefs' 30-6 win over the Broncos, a devastating blow for his team and the NFL as a whole.
What they're saying: "His knee didn't even look like a knee. It was all out of whack. I couldn't even describe it," said Chiefs TE Travis Kelce.
What's next: "Bracing possible, surgery possible ... Not a large number of comps for players returning from kneecap dislocations. Matthew Stafford missed 4 weeks in 2009," tweeted football injury expert Jene Bramel.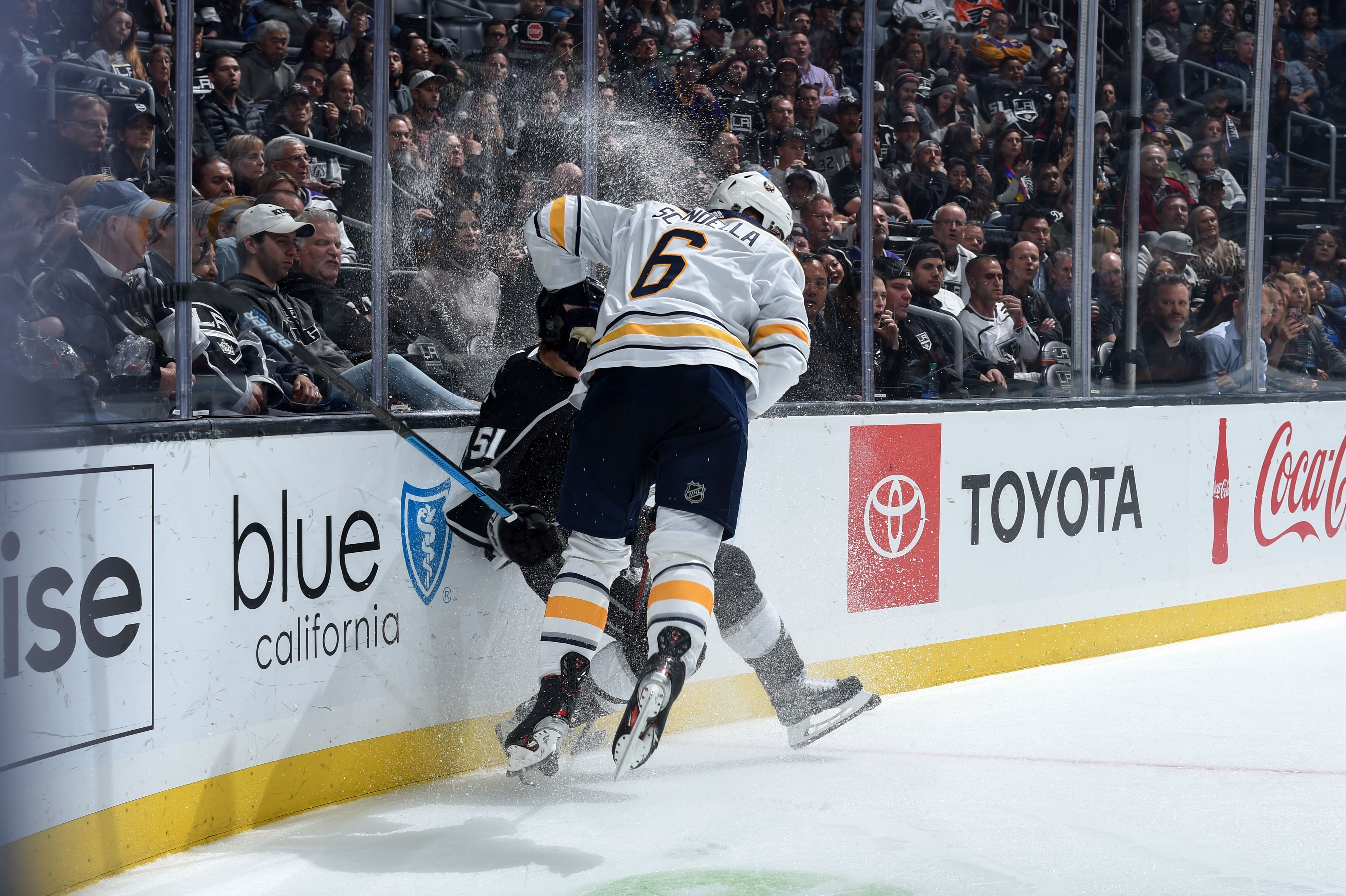 Photo: Juan Ocampo/NHLI via Getty Images
LOS ANGELES — Marco Scandella and the Buffalo Sabres picked up a 3-0 victory over the L.A. Kings to improve to 6-1-1, good for an NHL-best 13 points.
4. ⚽️ The 2019 MLS Cup playoffs are upon us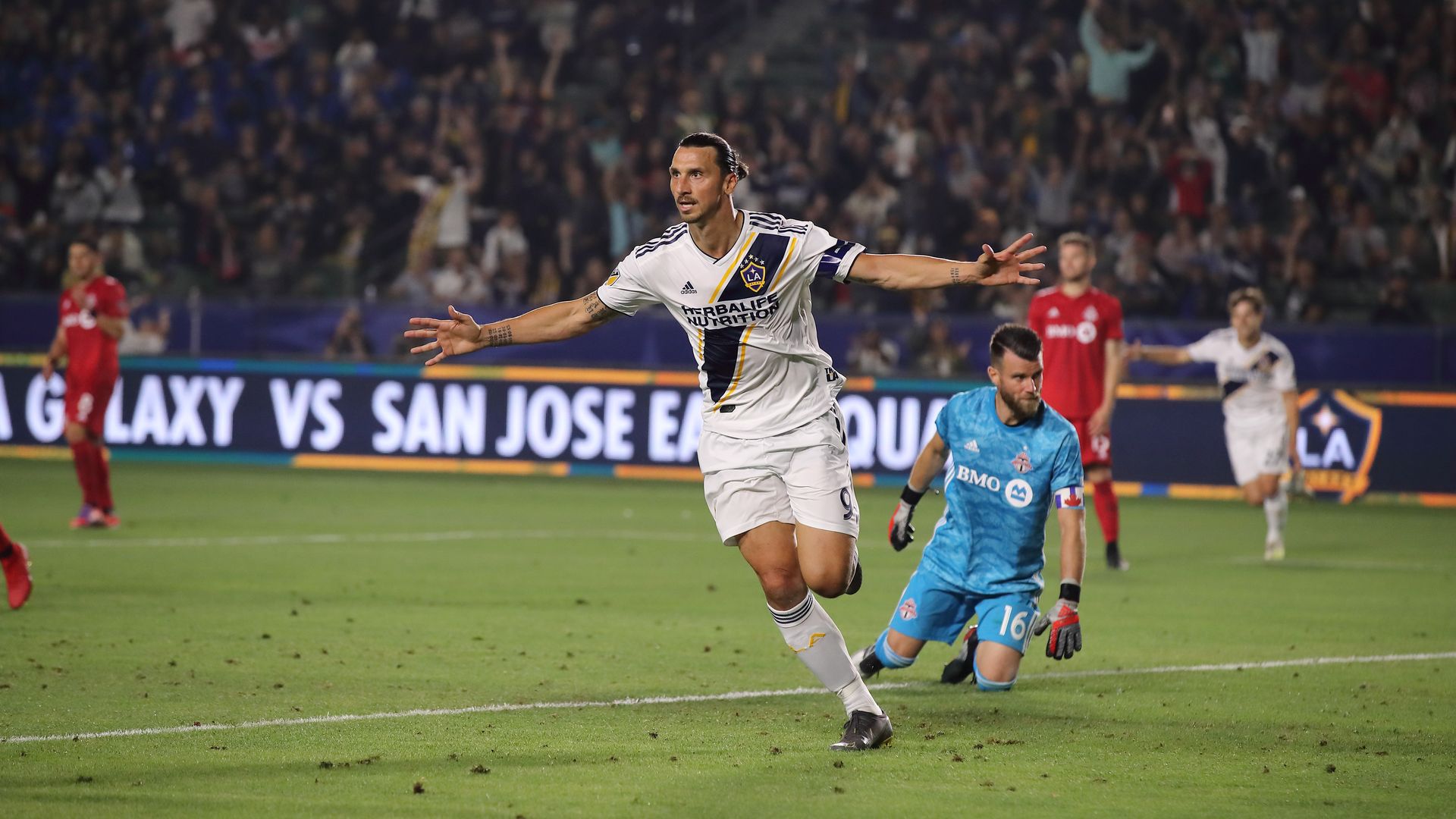 Major League Soccer's new single-elimination playoff format will be put to the test over the next 3 weeks.
Coming up: Things get started this weekend with 6 first-round matchups. Higher seed hosts.
Saturday's slate:
1pm ET: (2) Atlanta United vs. (7) New England Revolution
3:30pm ET: (2) Seattle Sounders vs. (7) FC Dallas
6pm ET: (4) Toronto FC vs. (5) D.C. United
10pm ET: (3) Real Salt Lake vs. (6) Portland Timbers
Sunday's slate:
3pm ET: (3) Philadelphia Union vs. (6) NY Red Bulls
8:30pm ET: (4) Minnesota United vs. (5) LA Galaxy
Looking ahead: The winners advance to the Conference Semifinals, which will take place on Wednesday and Thursday of next week. The top 2 regular-season teams — LAFC and NYCFC — got first-round byes and await the winners.
The intrigue: If Zlatan Ibrahimovic and the Galaxy win, they'll face Carlos Vela and LAFC next round, which would be super spicy.
Go deeper:
5. 🏈 CFB midseason All-America team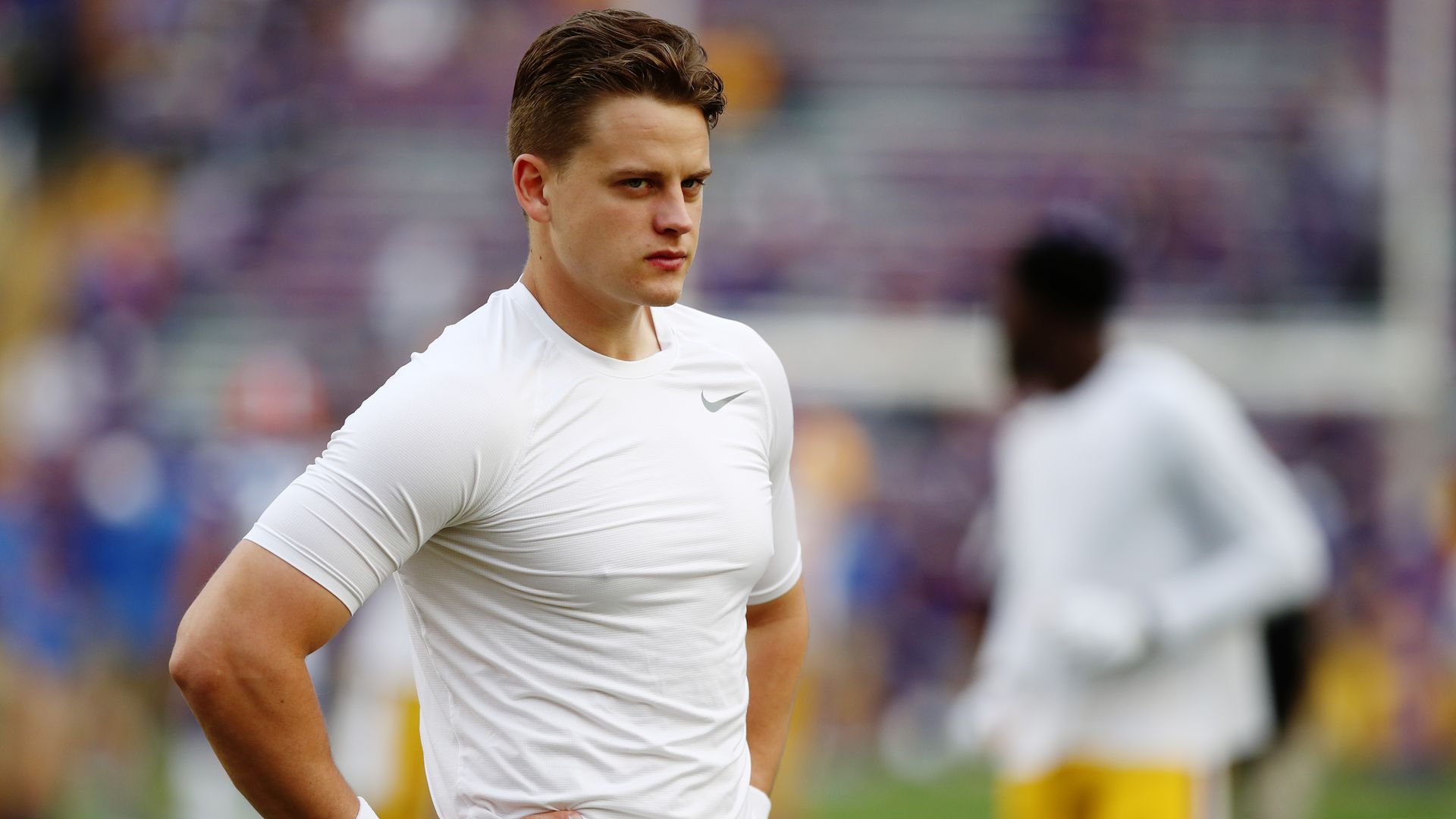 How can you choose among record-setting QBs like Joe Burrow, Tua Tagovailoa and Jalen Hurts? How can you choose the best receiver in the Big 12? Or the country's best kicker? ESPN tried.
Offense
QB: Joe Burrow (LSU)
RB: Jonathan Taylor (Wisconsin), Chuba Hubbard (Oklahoma State)
WR: CeeDee Lamb (Oklahoma), Justin Jefferson (LSU), DeVonta Smith (Alabama)
T: Penei Sewell (Oregon), Andrew Thomas (Georgia)
G: Wyatt Davis (Ohio State), Michael Onwenu (Michigan)
C: Creed Humphrey (Oklahoma)
All-Purpose: Lynn Bowden Jr. (Kentucky)
Defense
DE: Chase Young (Ohio State), Jonathan Greenard (Florida)
DT: Derrick Brown (Auburn)
LB: Kenneth Murray (Oklahoma), Isaiah Simmons (Clemson), Zack Baun (Wisconsin), Evan Weaver (Cal)
CB: Jeff Okudah (Ohio State), Derek Stingley Jr. (LSU)
S: Douglas Coleman III (Texas Tech), Xavier McKinney (Alabama)
Special teams
P: Max Duffy (Kentucky)
K: Brandon Talton (Nevada)
KR: Jaylond Adams (Southern Miss)
6. Oct. 18, 2018: 🤯 The 18th "sports equinox"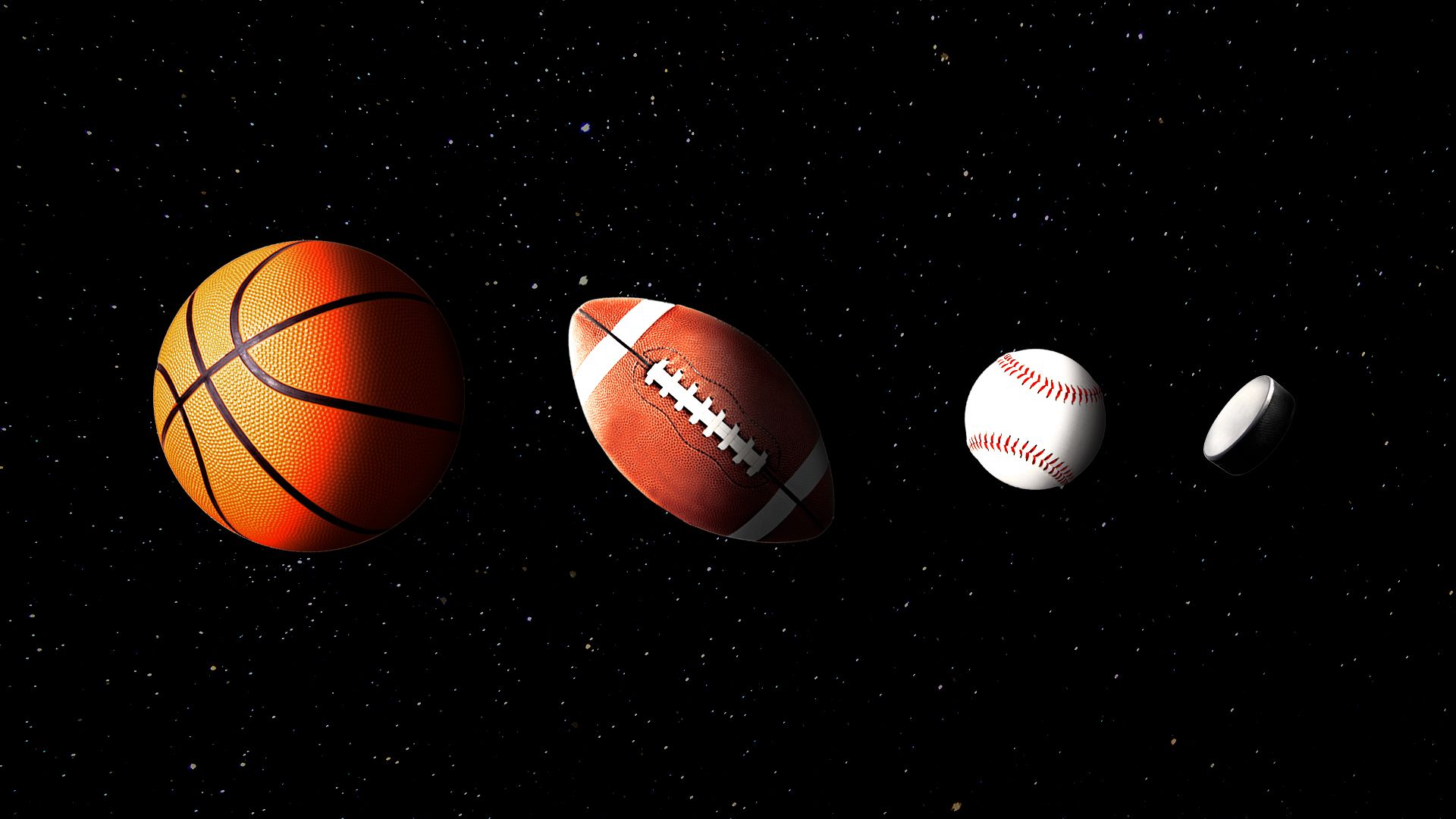 One year ago today, all 4 U.S. major sports leagues (NFL, NHL, NBA and MLB) were in action on the same day — the 18th "sports equinox" to ever take place.
Bonus: Major League Soccer and college football were also in action.
The backdrop: There was a 16-year period (1985-2001) without a single sports equinox. But now that Thursday Night Football is a fixture, the NBA starts earlier, and the World Series starts later, they're more frequent.
Looking ahead: Unless the World Series ends in a sweep, the 19th sports equinox will take place on Sunday, Oct. 27.
7. 🏀 NBA trivia
Bradley Beal, who signed a 2-year max extension with the Wizards yesterday, was 1 of 6 players to average 25 points, 5 assists and 5 rebounds per game last season.
Question: Can you name the other 5 players?
Hint: They've all won MVP awards.
Answer at the bottom.
8. The Ocho: 🏉 Rugby World Cup quarterfinals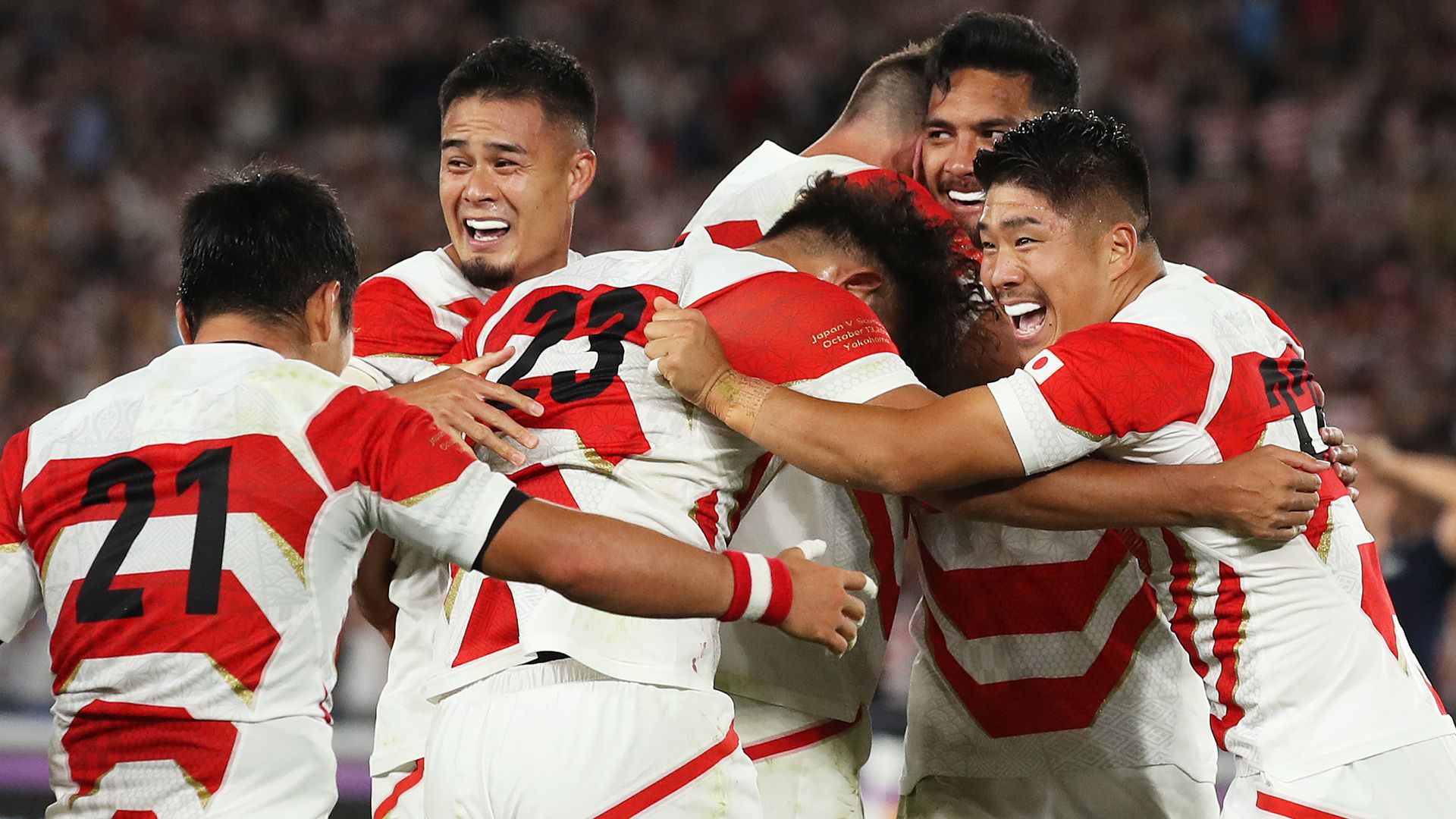 The story of the Rugby World Cup has been host country Japan, which beat Ireland, Scotland, Samoa and Russia to become the first Asian country to ever win its group.
Up next: In this weekend's quarterfinals, Japan will face its most formidable foe yet, South Africa.
Saturday: England vs. Australia; New Zealand vs. Ireland
Sunday: Wales vs. France; Japan vs. South Africa
9. 📚 Good reads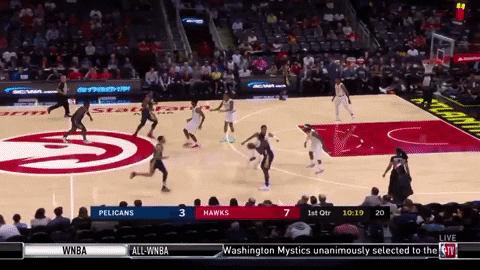 🏀 The Pelicans are using Zion Williamson like a running back and it's working (Mike Prada, SB Nation)
"The Pelicans' offense is built around a simple idea: there's no stopping the Williamson freight train once the engine gets started. That's why they've done everything possible to give Williamson that head start."
🎮 This small Pennsylvania school wants to be the Notre Dame of esports (Alex Andrejev, WashPost)
"If [tiny Harrisburg University] can establish a brand of excellence in college esports similar to what traditional powerhouses such as Alabama or Duke have done in football and basketball, the thinking goes, it can elevate the profile of the school as a whole."
🏈 What Art Briles brought to the town that never asked for him (Kelsey McKinney, Deadspin)
"Briles landed in this town like a meteor, and he brought with him not only constant scrutiny and media attention, but complicated moral and ethical questions ... There was always a silver lining to point to, though ... Art Briles was going to win a lot of games."
10. 🎧 Podcast Club: The Sterling Affairs, Ep. 5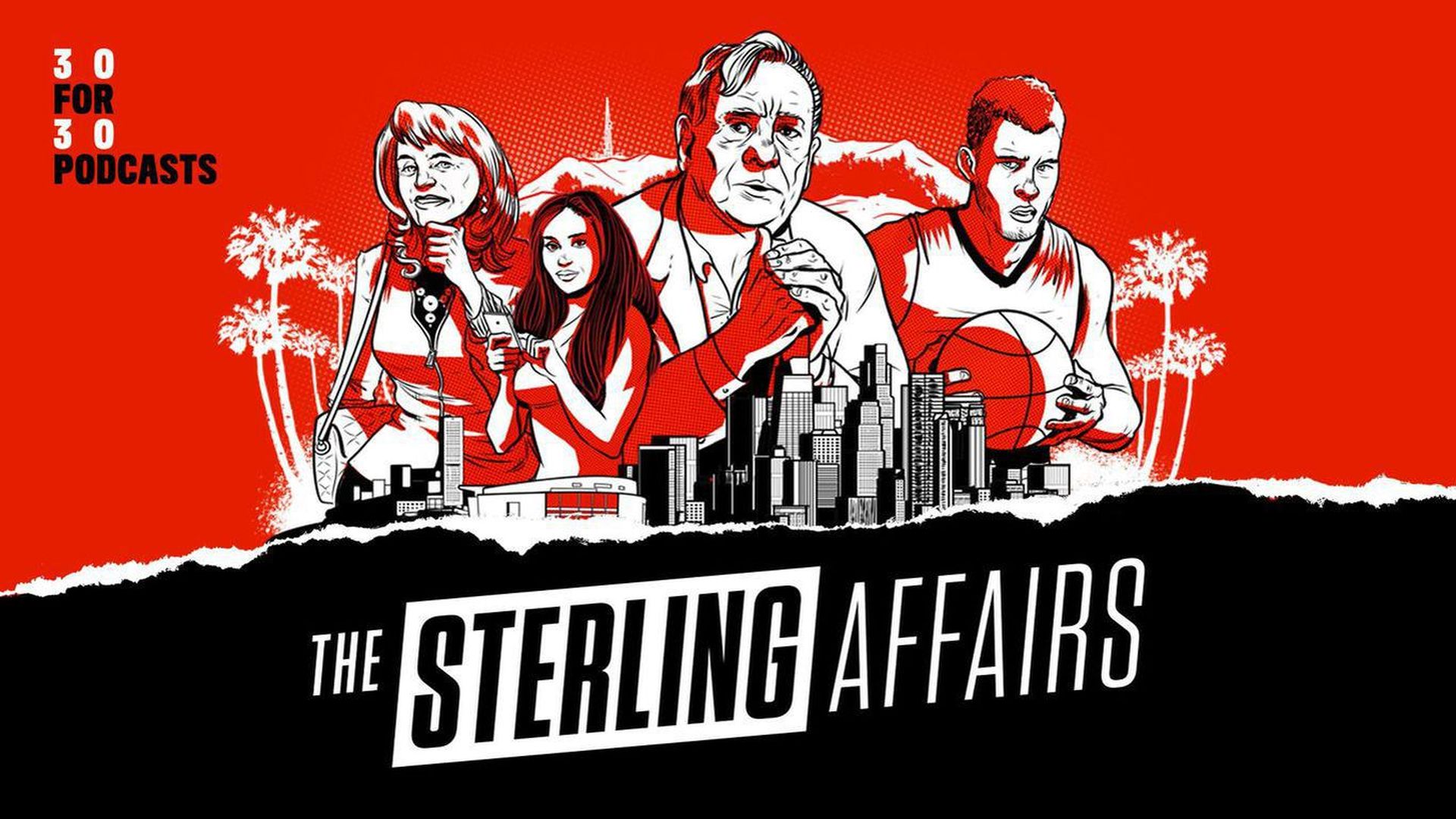 This week, we're listening to "The Sterling Affairs," a 5-part podcast about basketball in Los Angeles, a ruthless real estate empire and the scandal that rocked the NBA.
How it works: We listen to one episode per day and briefly recap it the following morning before proceeding to the next one.
⏪ Yesterday's episode: "Fallout" — When the explosive tape of Donald broke, it came at a moment when power in the NBA was changing. Players, owners, and a new commissioner were faced with a major test that would re-shape the league.
Pat Byrne (Suffolk, Va.): "Listening to Episode 4 really highlighted to me how unfair it was to put so much pressure on the Clippers' players to take action for racist behavior that had been publicly going on for years. It's sad to see the type of behavior you can get away with if you're really wealthy."
John VandeHei (Oshkosh, Wis.): "Thanks for turning us on to this. So much more than just the headlines we were reading. As Paul Harvey used to say, 'now you know the rest of the story.'"
▶️ Today's episode: "Not Fit" — The Donald Sterling story comes to an end where it all started — with a showdown in court. This time, though, it was Donald vs. Shelly.
🎧 Listen: Ep. 5: "Not Fit" (51 minutes)
💬 Comment: Thanks to everyone who left a comment this week! This was one of the most successful experiments I've run and definitely something we'll be doing again. Enjoy the finale.
Talk Monday,
Kendall "Joe Burrow looks like Tim Robbins" Baker
Trivia answer: LeBron James, Steph Curry, James Harden, Kevin Durant, Giannis Antetokounmpo