Axios Sports
October 29, 2020
👋 Good morning! Let's sports.
Reminder: We're launching Axios Local in four metro areas: Denver, Des Moines, Tampa-St. Petersburg and Minneapolis-St. Paul.
If you live there, or you're just curious to see what local news looks like in Axios newsletter form, sign up.
Today's word count: 2,236 words (8 minutes).
1 big thing: 💵 Sports owners' political donations
Sports team owners in the four largest North American leagues (NFL, NBA, MLB, NHL) have donated over $46 million in federal elections since 2015, according to research conducted by ESPN and FiveThirtyEight.
By the numbers: Over the past three elections, $35.7 million of that money (77.4%) has gone to Republican campaigns and super PACs, compared to $10.4 million (22.6%) to Democrats.
The Trump donors: Nine owners have contributed to the Trump campaign or Trump super PACs during the 2020 election cycle.
⚾️ MLB: Charles Johnson, Giants; Todd Ricketts, Cubs; Robert Plummer, Dodgers
🏀 NBA: Dan DeVos, Magic; Tilman Fertitta, Rockets
🏒 NHL: Bill Foley, Golden Knights; Peter Karmanos, Hurricanes
🏈 NFL: Mike Brown, Bengals
🏟 Multi-league: James Dolan, Knicks/Rangers
The Biden donors: 15 owners have given to the Biden campaign or Biden super PACs, though at smaller totals, with overall contributions roughly half that of the Trump donors listed above.
⚾️ MLB: Laura Ricketts, Cubs; Tom Werner, Red Sox; Billie Jean King, Dodgers; Ilana Kloss, Dodgers; Jim Pohlad, Twins
🏈 NFL: Arthur Blank, Falcons; Arthur J. Rooney II, Steelers; Mary Kelly, Broncos; Zygi Wilf, Vikings
🏀 NBA: Marc Lasry, Bucks; James Dinan, Bucks;
🏒 NHL: David Bonderman, Kraken; Herbert Fritch, Predators
🏟 Multi-league: David Blitzer, 76ers/Devils; Peter Gruber, Warriors/Dodgers
The big donors: Of the 11 owners who have contributed over $1 million since 2015, nine directed that money to Republican causes or candidates.
🔴 Republican: Charles Johnson, SF Giants ($11M); Dan DeVos, Magic ($2.3M); Philip Anschutz, L.A. Kings ($1.8M); Jimmy/Susan Haslam, Browns ($1.6M); Dan Gilbert, Cavaliers ($1.5M); James Dolan, Knicks/Rangers ($1.5M); Ken Kendrick, Diamondbacks ($1.4M); Janice McNair, Texans ($1.4M); Robert Castellini, Reds ($1.2M)
🔵 Democratic: Peter Angelos, Orioles ($2.1M); Laura Ricketts, Cubs ($1.7M)
Between the lines: So long as money drives American politics, wealthy sports owners will be in close proximity. But their motivations can be different.
"Some ... are hobbyists who like the action, while others like having their proverbial name on the wall of a longstanding American institution like a major political party," ESPN's Kevin Arnovitz writes.
"Some enjoy the ego gratification that comes with exclusive company, while others are just returning a favor for a friend who gave to their philanthropic project."
2. 🏀 Jazz sold to tech entrepreneur Ryan Smith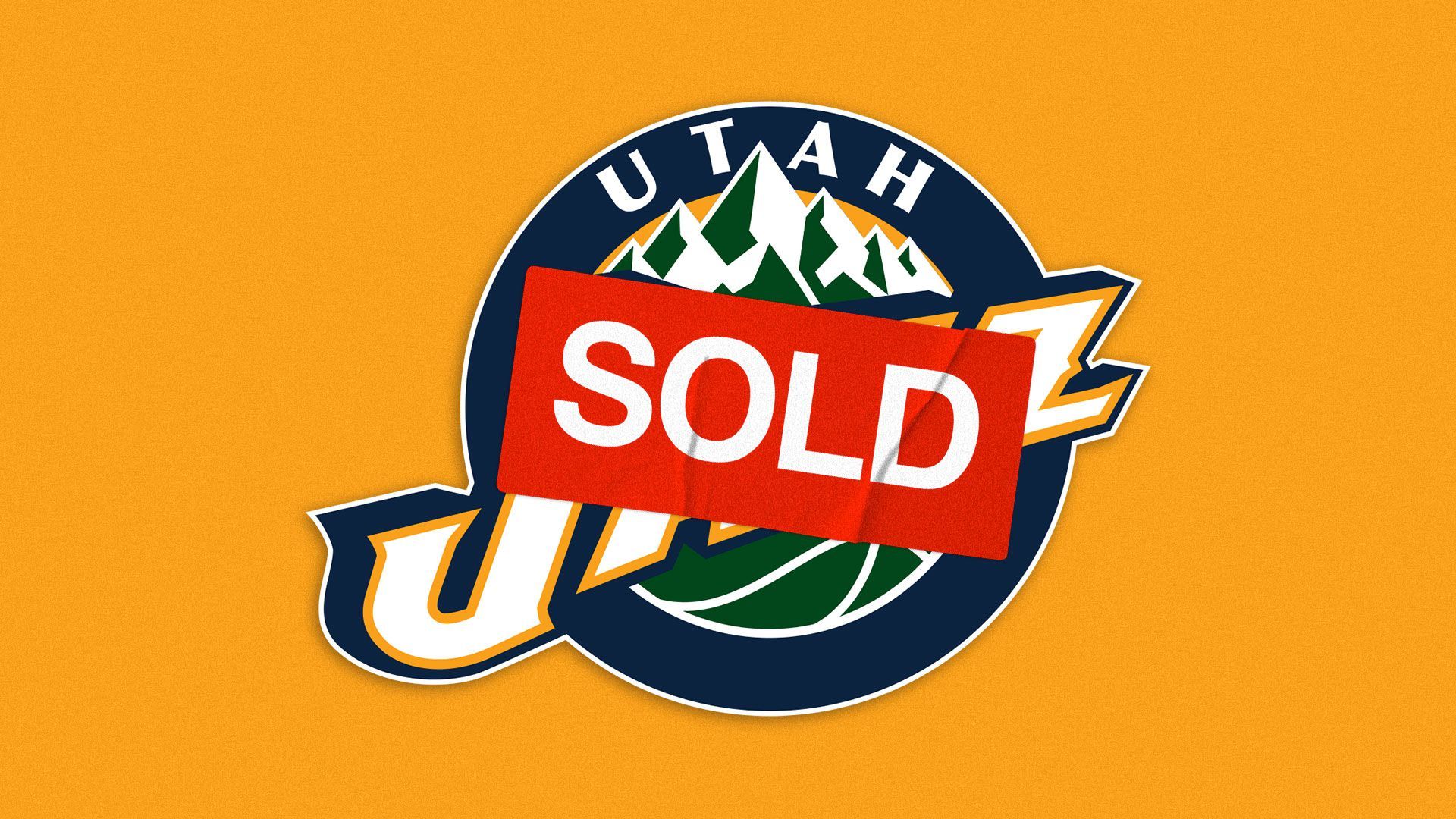 The Miller Family has agreed to sell the Jazz to Ryan Smith, the co-founder and CEO of Utah-based software company Qualtrics.
Price: $1.66 billion, per ESPN.
Details: The sale includes majority interest in the Jazz, Vivint Smart Home Arena (the Jazz's home court), the G League's Salt Lake City Stars and the Class AAA Salt Lake Bees minor league baseball team.
The backdrop: Gail Miller and her late husband, Larry, purchased control of the Jazz in the mid-1980s, quelling fears that the team would relocate.
Led by coach Jerry Sloane and the superstar duo of Karl Malone and John Stockton, Utah quickly established itself as a Western Conference power.
Under the Millers, the Jazz had 16 50-win seasons, won nine division titles and made two trips to the Finals, losing to Michael Jordan's Bulls both times.
The new boss: Smith, 42, is a lifelong Utah resident and BYU alum who grew up cheering for the Jazz. He even played in their youth league, Junior Jazz.
"I've approached Gail and the Millers a couple times. There's no secret about my interest in the NBA [and] in the Jazz," he said Wednesday morning.
Qualtrics, which was acquired by SAP for $8 billion in 2018, has been the Jazz's jersey patch sponsor since 2017 but donated the patch to "5 For The Fight," a cancer research campaign.
What's next: Utah's two All-Stars, Donovan Mitchell and Rudy Gobert, are both eligible for huge contract extensions this offseason, so Smith has some major decisions to make — and big checks to cut — right away.
3. 🏈 NFL Power Rankings: Week 8
After seven weeks, the Steelers are the only unbeaten left. Now, they'll travel into enemy territory, with a Sunday afternoon matchup against the rival Ravens, Axios' Jeff Tracy writes.
Conference spotlight: As good as the AFC North has been (Steelers, Ravens, Browns), it still trails the mighty NFC West, whose four constituents all land in our top 13.
Seahawks (5-1): They have an electric offense and a porous defense (though adding Carlos Dunlap should help). That makes for great entertainment, but could spell disaster if they're on the wrong end of a barnburner come January.
Rams (5-2): L.A. is the exact opposite: dominant defense, inconsistent offense. It's also worth noting that four of their five wins have come against the dreadful NFC East.
Cardinals (5-2): A diminutive speedster with a cannon leading an offensive juggernaut that struggles to stop the ball on the other end. Sounds familiar!
49ers (4-3): San Francisco started 2-3 and appeared headed for disaster after losing multiple players to injuries. But even with key guys still missing, the Niners are looking frisky.
⏱ Tua time: Rookie QBs Joe Burrow and Justin Herbert have been phenomenal. Now, Tua Tagovailoa will try to shake up the race for Offensive Rookie of the Year. His first test comes Sunday, at home against the Rams.
Coming up (full schedule):
Tonight: Falcons at Panthers (-2.5)
Sunday's best games: Rams (-3.5) at Dolphins; Steelers at Ravens (-3.5); Saints (-4) at Bears; 49ers at Seahawks (-3)
Sunday night: Cowboys at Eagles (-8)
Monday night: Bucs (-10.5) at Giants
4. 🔍 Apparel spotlight: Under Armour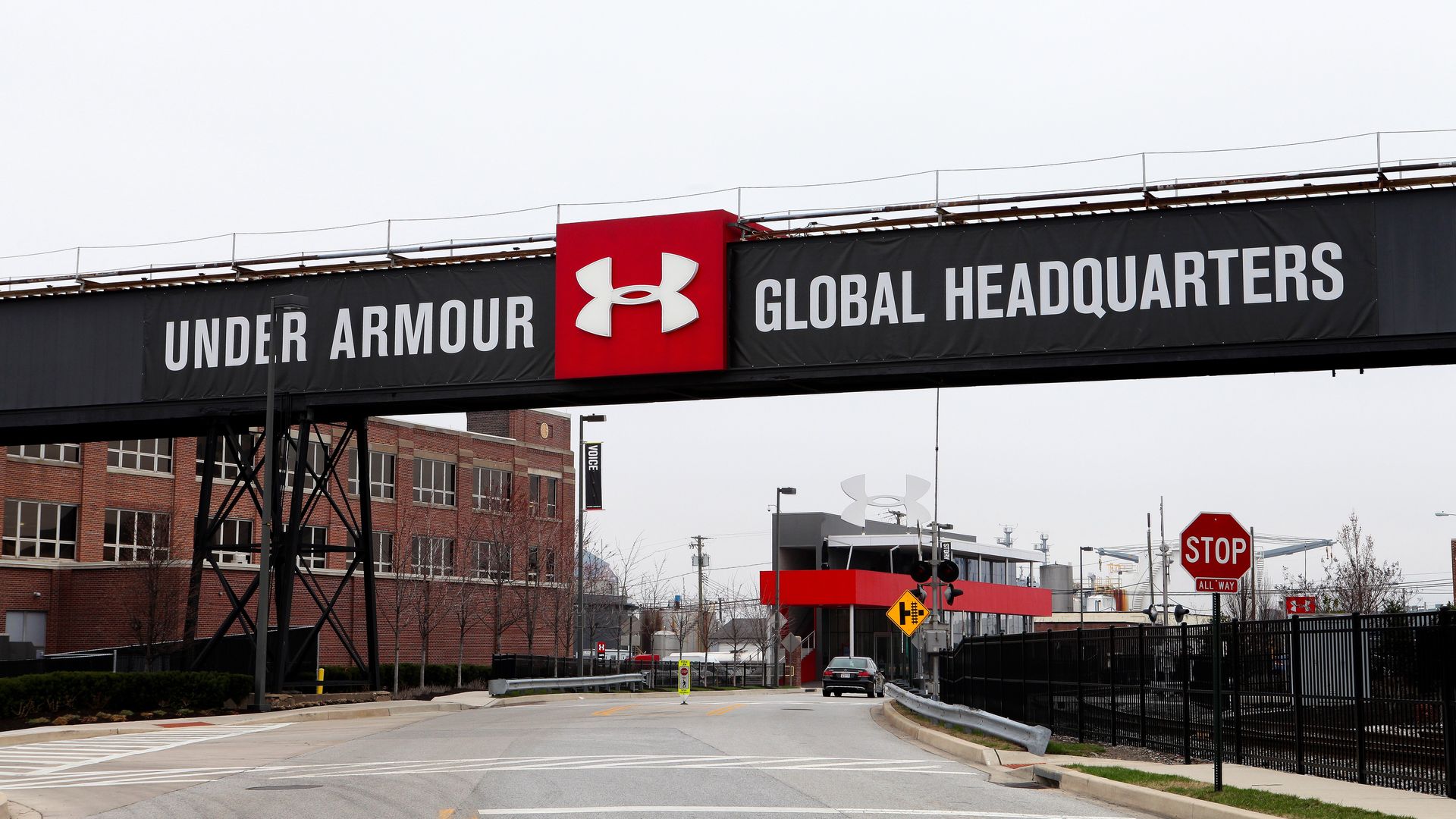 This week, we're examining the sports apparel industry through the lens of some of its biggest players.
Under Armour was once viewed as a true disrupter, but things have changed in recent years. When earning are released tomorrow, the company is expected to report a 15th straight quarter with less than 10% growth, Jeff writes.
Snapshot:
Stock price: $13.31
2020 H1 sales: $1.64 billion
CEO: Patrik Frisk (January 2020–present)
Top sponsored athletes: Stephen Curry, Bryce Harper, Tom Brady, Michael Phelps
Founding story: As a fullback at the University of Maryland, Kevin Plank ('96) hated constantly changing out of his sweat-soaked shirts at practice, but realized his compression shorts didn't have the same problem.
After graduating, he worked out of his grandmother's basement and made a prototype of a shirt using the same moisture-wicking fabric as his compression shorts. On Sept. 25, 1996, Under Armour was born.
Fun fact: Plank used the British spelling, "armour," only because the toll-free vanity number for "armor" was unavailable.
Timeline:
1998: UA moves into its new HQ on the Baltimore waterfront.
1999: UA shirts are featured in Oliver Stone's "Any Given Sunday," leading to an explosion in brand awareness.
2003: UA debuts its first major commercial, "Protect this House."
2005: UA goes public and becomes the first U.S.-based IPO in five years to increase by at least 100% during its first day of trading.
2006: UA releases its first shoe, a football cleat, with the "Click-clack" ad. It also becomes the NFL's official footwear supplier.
2010: Annual revenue reaches $1 billion for the first time.
2014: UA makes its biggest move into the women's market and releases the "I Will What I Want" campaign with Misty Copeland and Gisele Bündchen.
2015: After acquiring three different fitness apps (MapMyRun, Endomondo, MyFitnessPal), UA launches its digital arm — Connected Fitness.
2016: Dwayne Johnson partners with UA to design and promote a line of footwear and training apparel called Project Rock. Thanks to his social reach (202 million IG followers), most items sell out within 30 minutes.
Where it stands: For 26 straight quarters — Q2 2010 to Q3 2016 — UA reported at least 20% year-over-year revenue growth. But since then, no quarter has surpassed 13%, and the past two have been negative.
The problem, according to BTIG analyst Camilo Lyon, is a lack of innovation. "It hasn't evolved from what it was a decade ago, while consumers — and other competitors — have," he tells Axios.
"Until there is someone who can really lead the charge on innovation, the business is just going to meander to varying degrees of low profit margins ... There's nothing that says they'll rebound just because. They need to earn it."
Apparel Week:
5. 👟 The pandemic's toll on road racing
COVID-19 has taken a toll road racing, with the number of finishers in timed races dropping nearly 95% year-over-year between mid-March and mid-October, per WSJ (subscription).
The state of play: Of the six designated World Marathon Majors scheduled for 2020, four (Boston, NYC, Chicago, Berlin) were canceled and two (Tokyo and London) were radically scaled back.
Looking ahead: The 2021 Boston Marathon, which is typically held in April, is postponed until at least next fall, the Boston Athletic Association announced Wednesday.
Between the lines: When they return, "races are not going to be the way they were," Todd Henderlong, the owner of an Indiana race series that has been offering in-person events since May, told NYT.
To avoid crowded starting lines, participants could take off in heats at pre-assigned times, and thus spend most of the race running solo.
Water stations are health risks, so races will likely require runners to bring their own water, sports drinks and snacks.
Participants at a half marathon in Arizona next month will receive a neck gaiter in their race packets and must wear it or another facial covering at the race start, and when passing runners.
6. 🏆 The 2020 Clio Sports Awards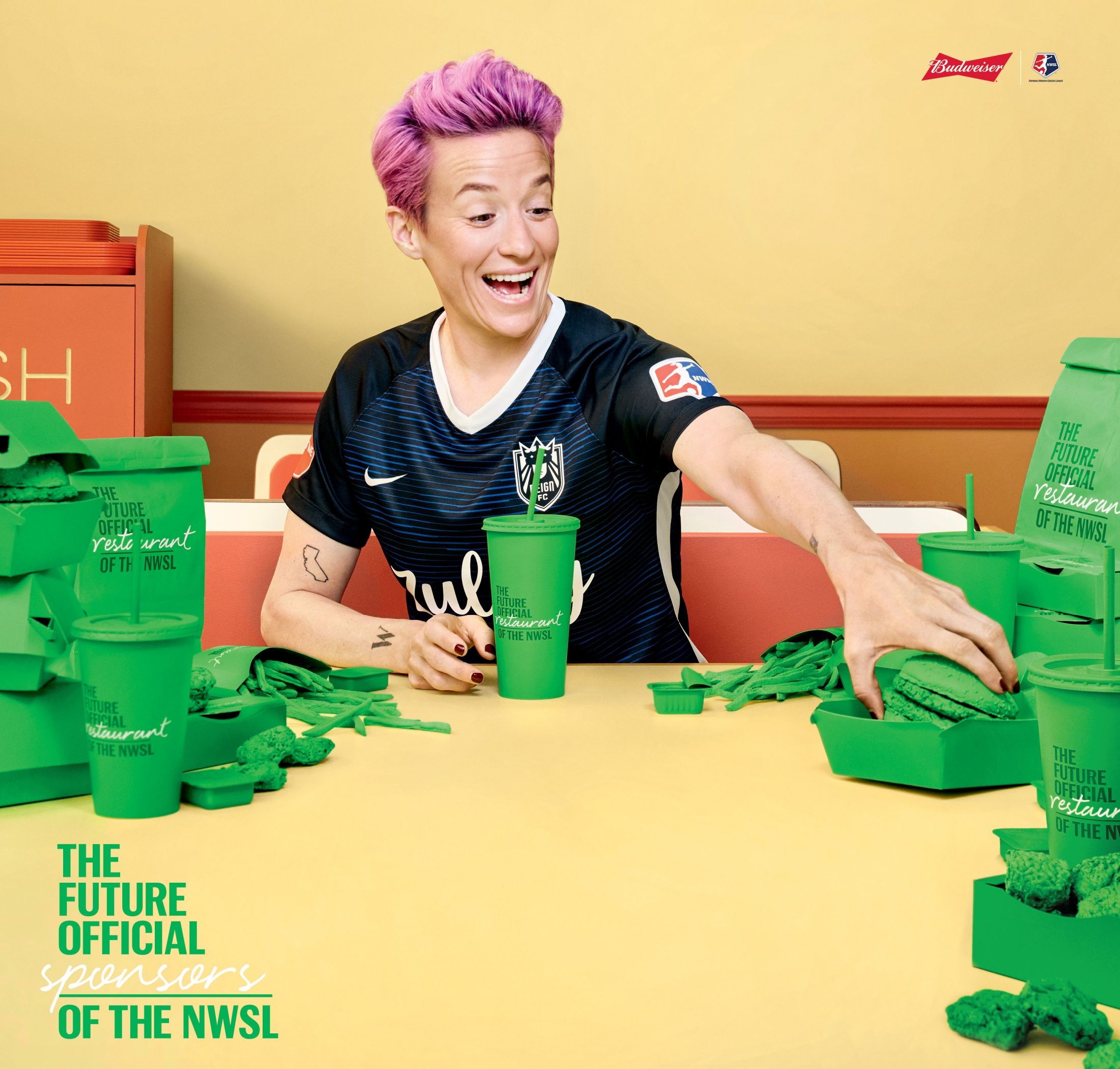 "Future Official Sponsors of the NWSL," an ad campaign to address soccer's sponsorship gap, won three Grand Clios at the 2020 Clio Sports Awards, an annual event honoring creativity in advertising.
Brand: Budweiser
Agency: VaynerMedia
Details: Following the USWNT's 2019 World Cup victory, Budweiser took aim at the NWSL's lack of corporate sponsorship, which helps fund player salaries.
While MLS had 24 official sponsors, the NWSL had just three. So Vayner created a campaign that featured nine placeholder products for major sponsorship categories like toiletries and timepieces.
Megan Rapinoe promoted the products as though they were real, to give brands an idea of what sponsoring the league could look like.
For the 2020 season, the NWSL added six new sponsors — P&G, Secret Deodorant, CBS, Twitch, Google and Verizon — and the league announced a nearly 20% increase in its salary cap.
More Grand Clio winners: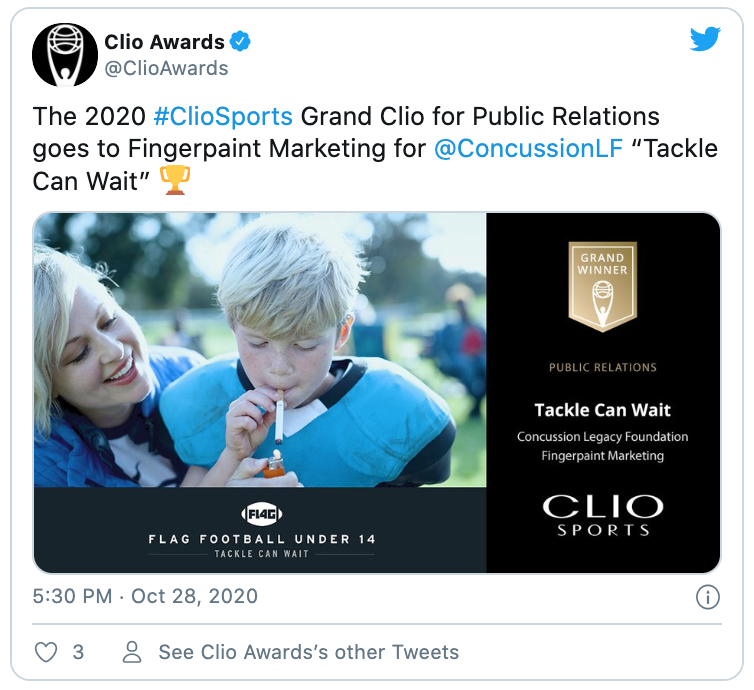 More Clio winners: Dozens of other campaigns were awarded Gold, Silver and Bronze. Some of my favorites:
Go deeper: All 2020 Clio Sports winners
7. ⚡️ Lightning round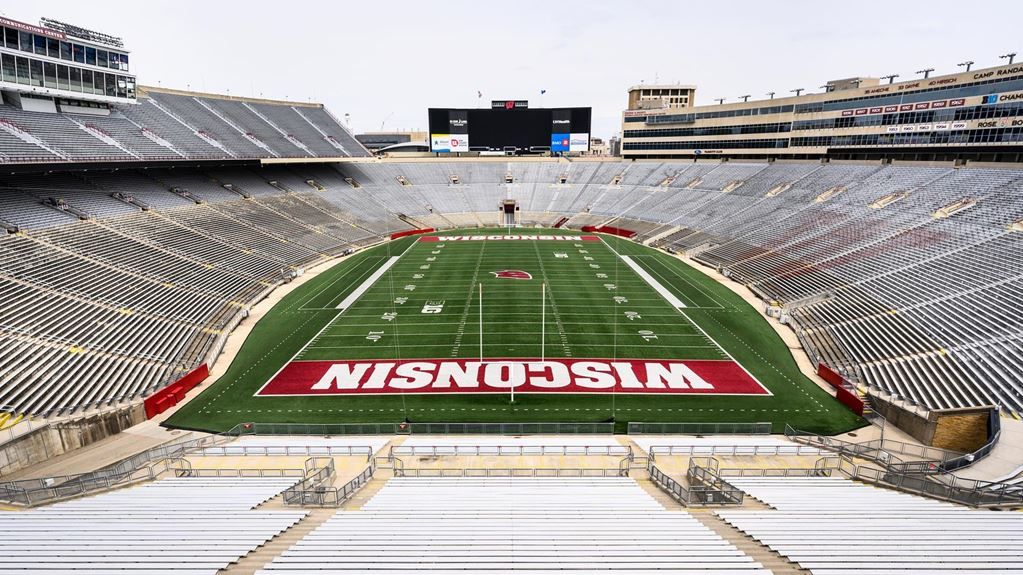 🏈 Big Ten disaster: Wisconsin canceled Saturday's game against Nebraska due to a COVID-19 outbreak. The Big Ten's schedule left no room for make-up games, so both teams are now on seven-game schedules.
⚾️ World Series ratings drop: The 2020 Fall Classic averaged 9.79 million viewers, per Nielsen. That's a 36% drop from the previous low of 12.7 million during the Giants' four-game sweep of the Tigers in 2012.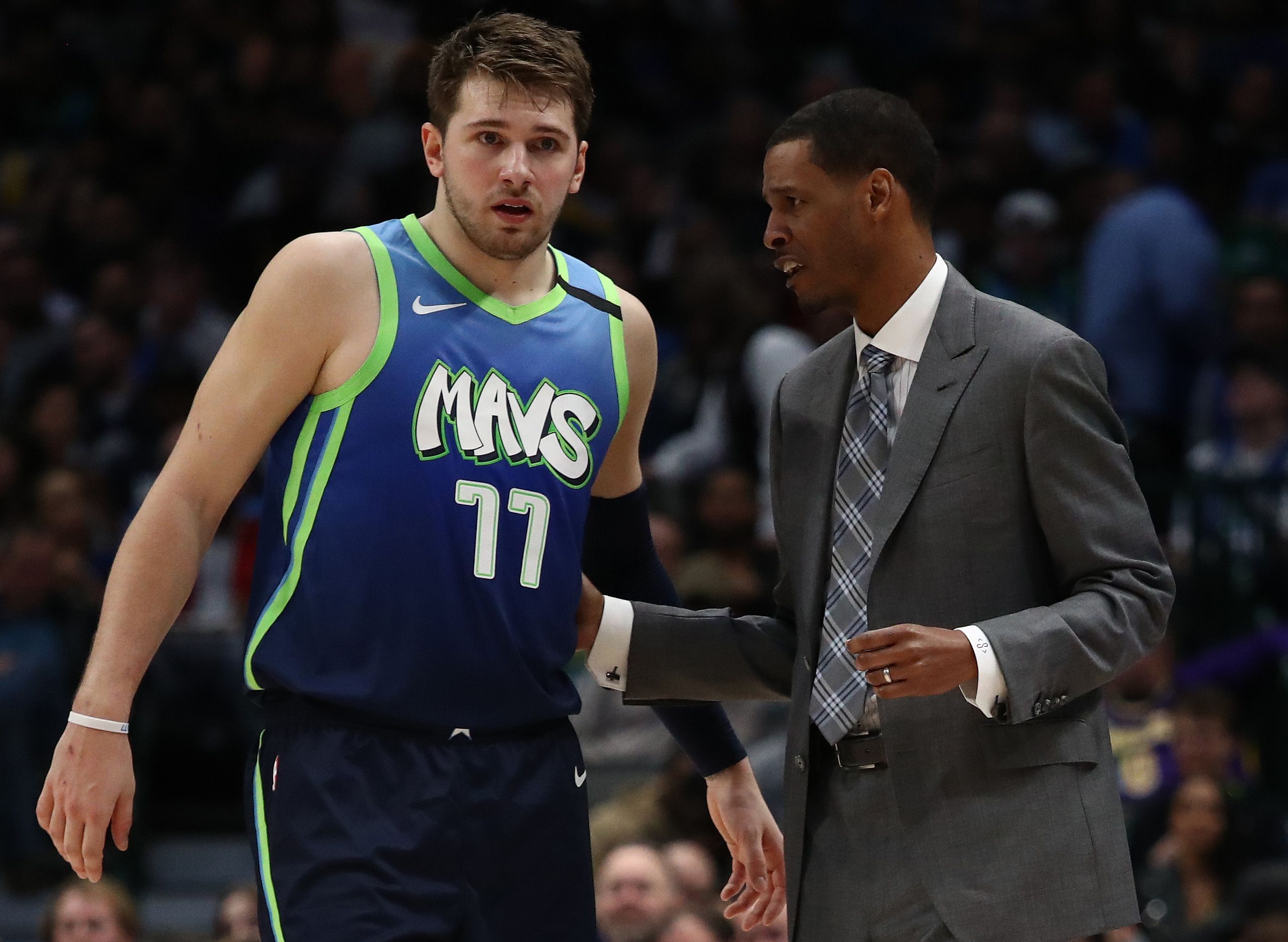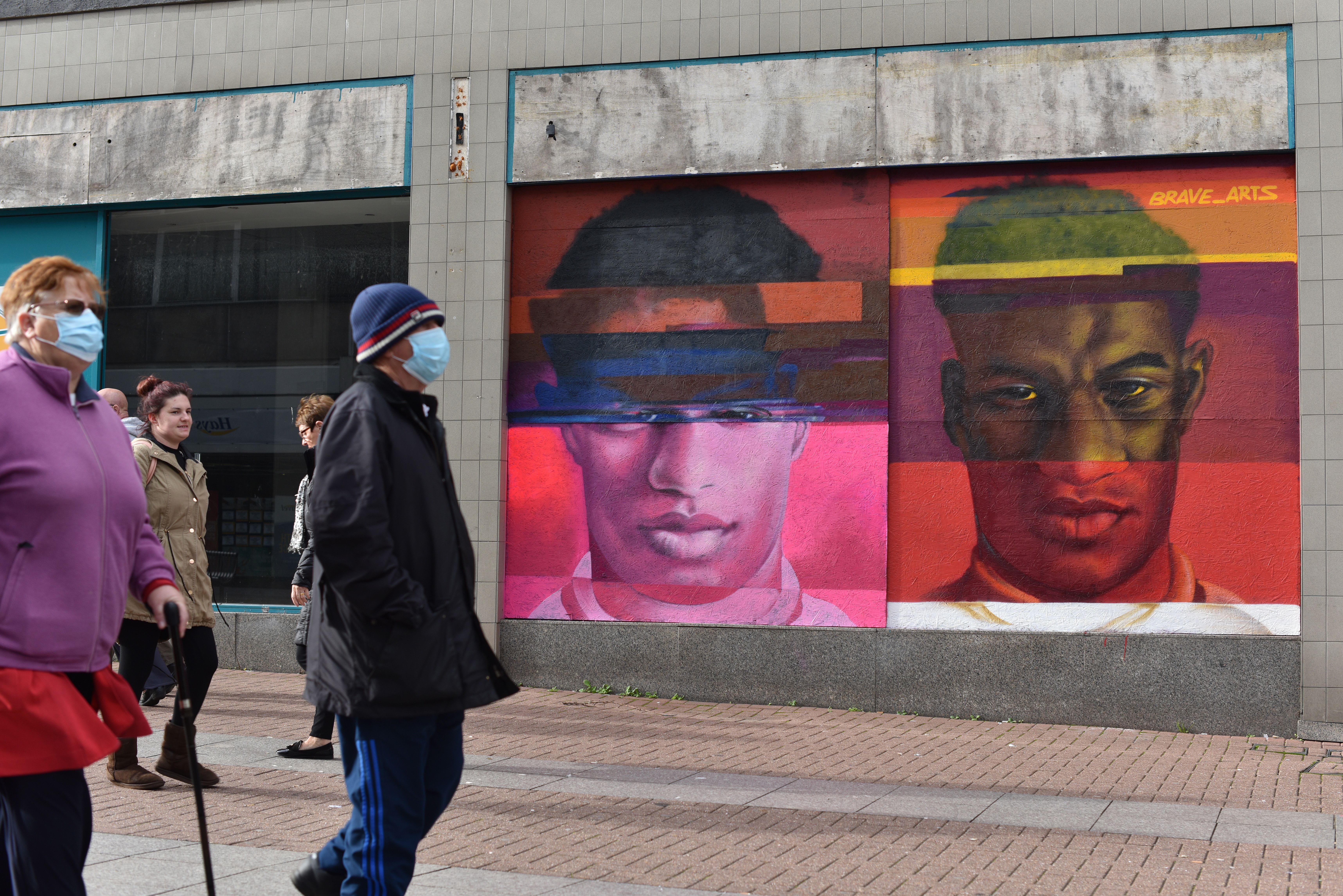 ⚽️ Marcus the Great: Marcus Rashford is everywhere. When he's not scoring goals for Manchester United (hat trick Wednesday), the 21-year-old is pressuring politicians and having murals painted in his honor (see above).
🎙 25 years, 0 titles: Joe Benigno is retiring after a 25-year career as a sports radio host on WFAN in New York City. During that time, his teams — the Mets, Jets, Knicks and Rangers — never won a single championship.
"25 years on the air, and not one of my teams won a championship. Saw everybody but the Jets in the final ... but 25 years, no title. It's unbelievable."
— Benigno
8. Oct. 29. 1960: 🥊 Ali's first fight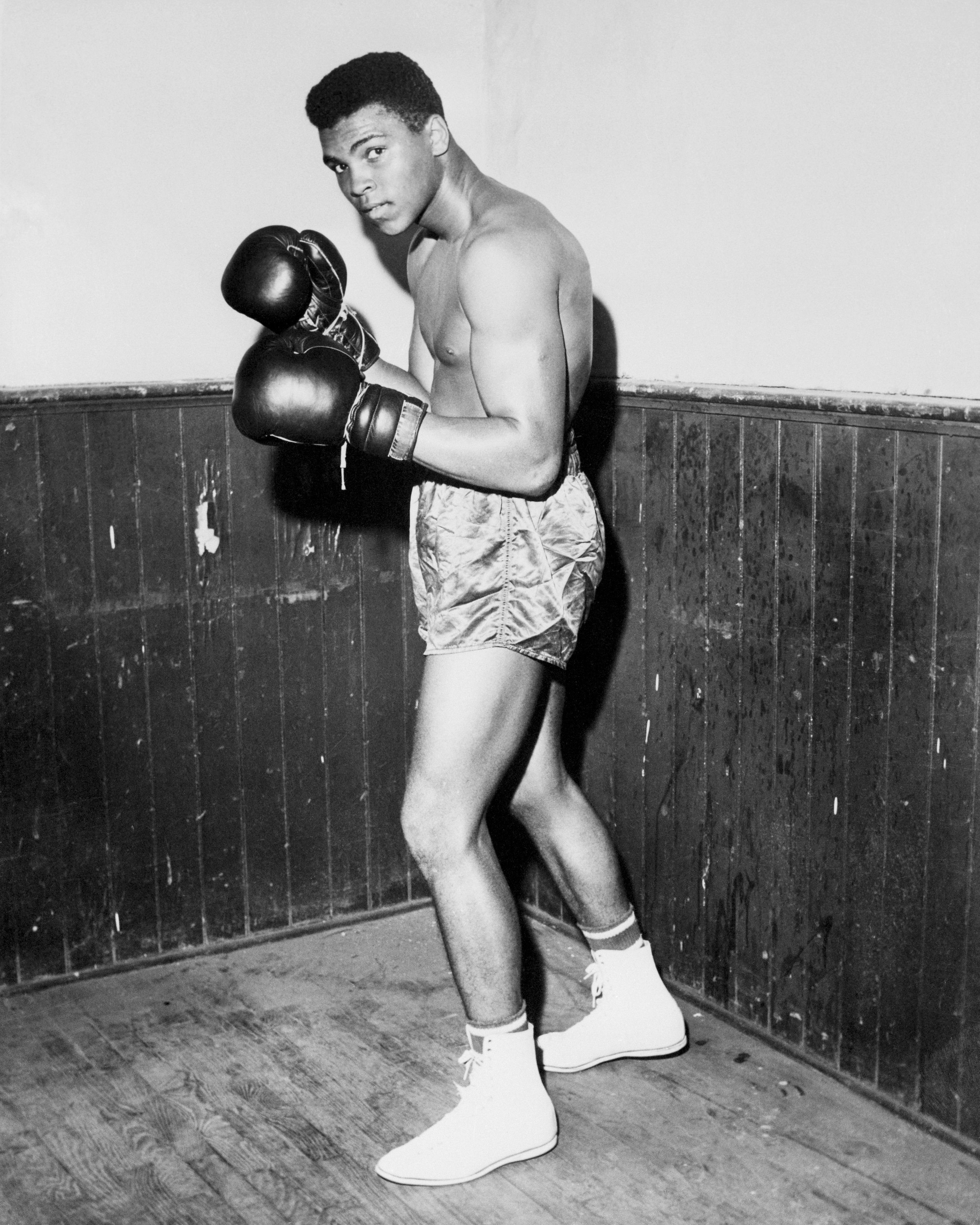 60 years ago today, Cassius Clay had his first pro fight, beating Tunney Hunsaker in a six-round bout at Louisville's Freedom Hall.
By the numbers: 6,180 fans were in attendance; Clay earned $2,000 for his victory, while Hunsaker took home $300 in defeat.
The backdrop: The 18-year-old Clay was just a month removed from winning gold at the Rome Olympics, and promoters wanted to get him in the ring.
They turned to Hunsaker, a 30-year-old police chief from Fayetteville, West Virginia, who was nearing the end of his part-time boxing career.
The aftermath: Clay converted to Islam the following year, and in 1964 changed his name to Muhammad Ali before becoming the greatest boxer who ever lived.
Hunsaker remained Fayetteville's police chief for 38 years, though he did fight seven more times, the last of which put him in a coma for nine days.
🎥 Watch: Fight footage (YouTube)
9. 🏈 NFL trivia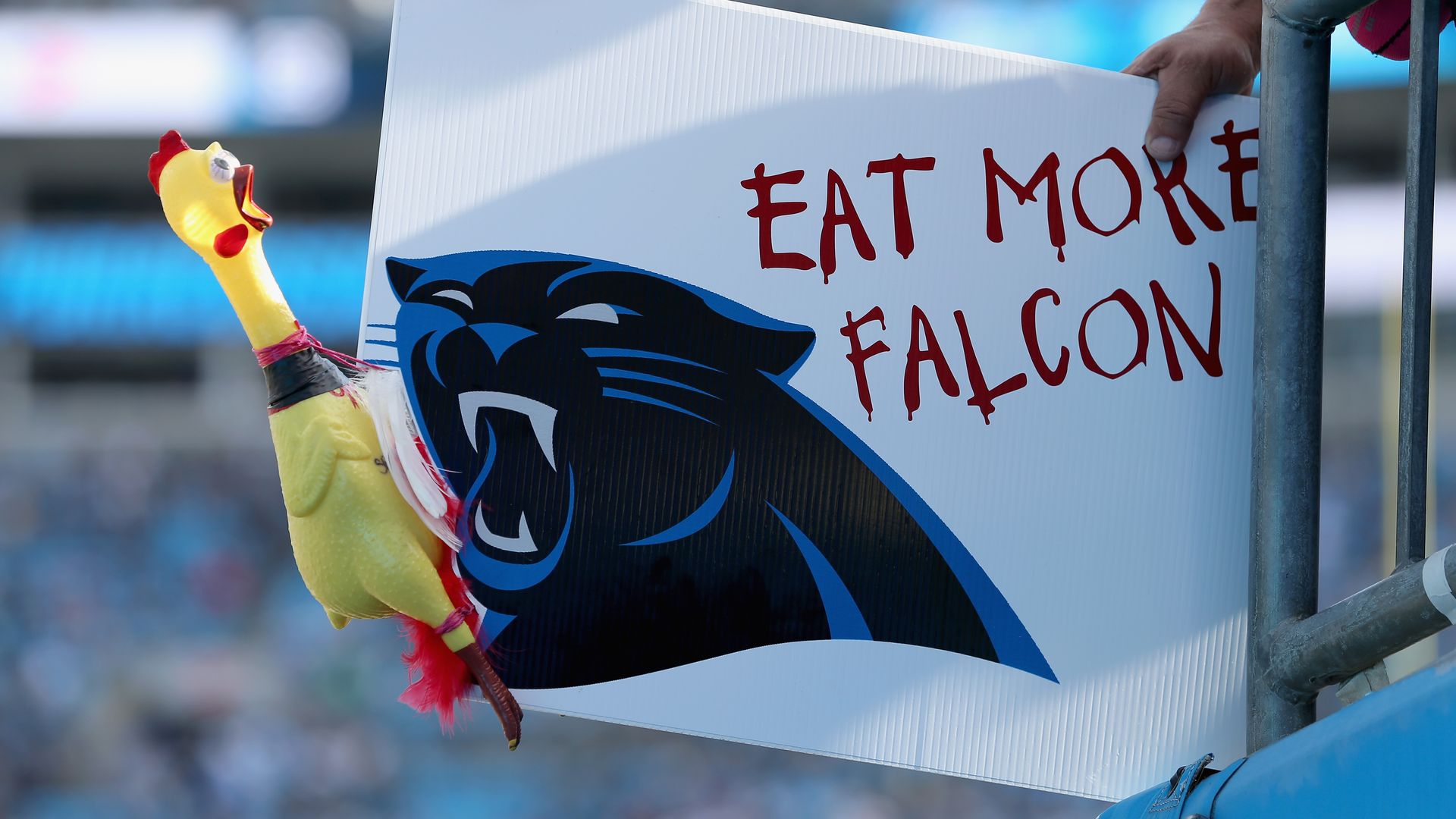 Three NFL franchises are 0-2 in Super Bowls, and two of them — the Falcons (lost in 1998 and 2016) and Panthers (2003 and 2015) — go head-to-head tonight.
Question: Who's the third team?
Hint: AFC. Lost twice in the same decade.
Answer at the bottom.
10. 😷 Map du jour: The third wave
Eight months into this pandemic and the virus is spreading faster than ever in the U.S., Axios' Sam Baker and Andrew Witherspoon report.
On average, nearly 72,000 people tested positive for COVID-19 every day over the past week — the highest seven-day average on record.
Twice in the past week, the U.S. has set a new record for the most cases in a single day.
📆 Coming tomorrow: How the third wave affects sports
Talk tomorrow,
Kendall "Trust the Daryl" Baker
Trivia answer: Bengals (1981 and 1988)